Date: 290608
Flight: BA 8768
Departure: ZRH 1930 (sched.); 2015 (push); 2025 (t-o)
Arrival: LCY 2010 (sched.); 2050 (ldg); 2050 (on stand)
Aircraft: Type – BAe 146-200 Reg – G-FLTB
Seat/Cabin: 1F/Club Europe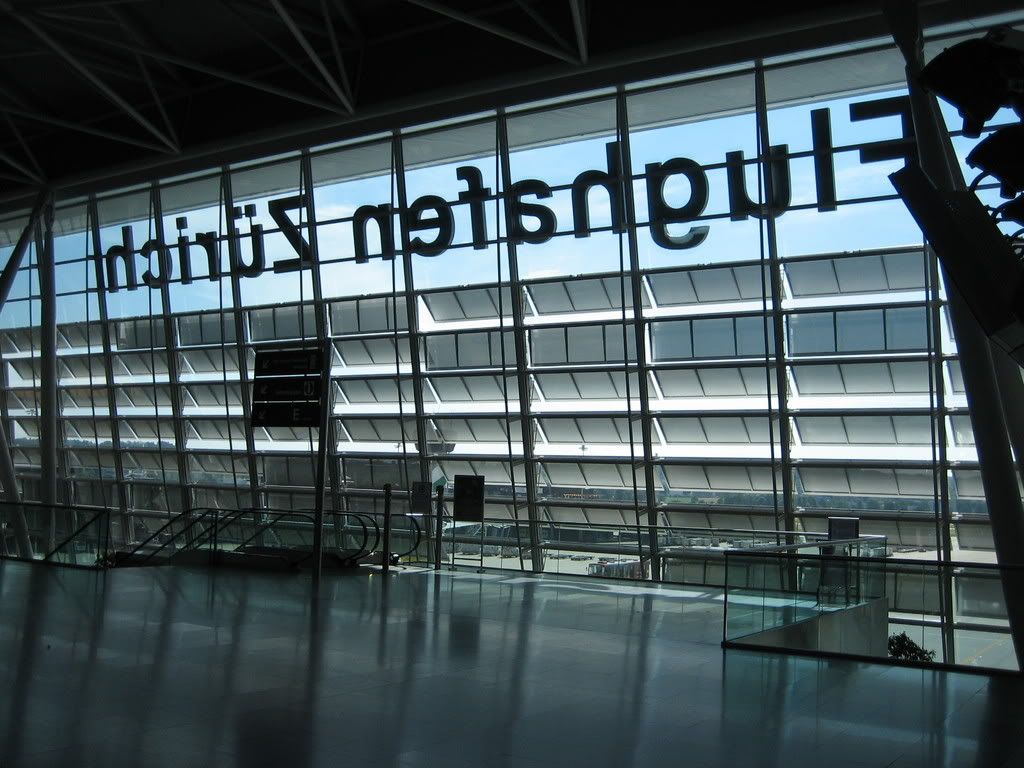 If you ever find yourself pitching up at an airport 6 hours before your flight, Zurich airport is one of the better places for this to happen. Not only is its architecture very pleasing, with light, modern and clean interiors, but a lot of thought has been given in making it friendly to the aviation enthusiast, of whom there seem to be quite a few in Switzerland. When I arrived on the expansive viewing terrace in the warm afternoon sunshine, there must have been a good 60 or so people up there. Screens inside the small café display flight information and speakers outside allow you to listen in to ATC and pilots' communications. Activity was mainly European including Edelweiss A320, Lufthansa A321, BA A319, SAS MD-80 and several Swiss A320s and A319s. Highlights were the Emirates A340-500 and a World Cargo MD-11. The aviation model shop was open, but their chip-and-pin card reader wasn't working which for me was probably a blessing in disguise. All in all, I quite fancy coming back to ZRH for a plane-watching day trip some time.
At about 4pm, I headed downstairs to check-in. After getting a 'proper' boarding card to replace the one printed out at the hotel, I headed through passport control. The departure lounge was spacious and uncrowded, with a sensible balance between retail and public space and plenty of places to sit. Anyone from BAA reading?
In the face of adversity, trying to make an obstructed view look like an artistic shot. Hasn't really worked, has it?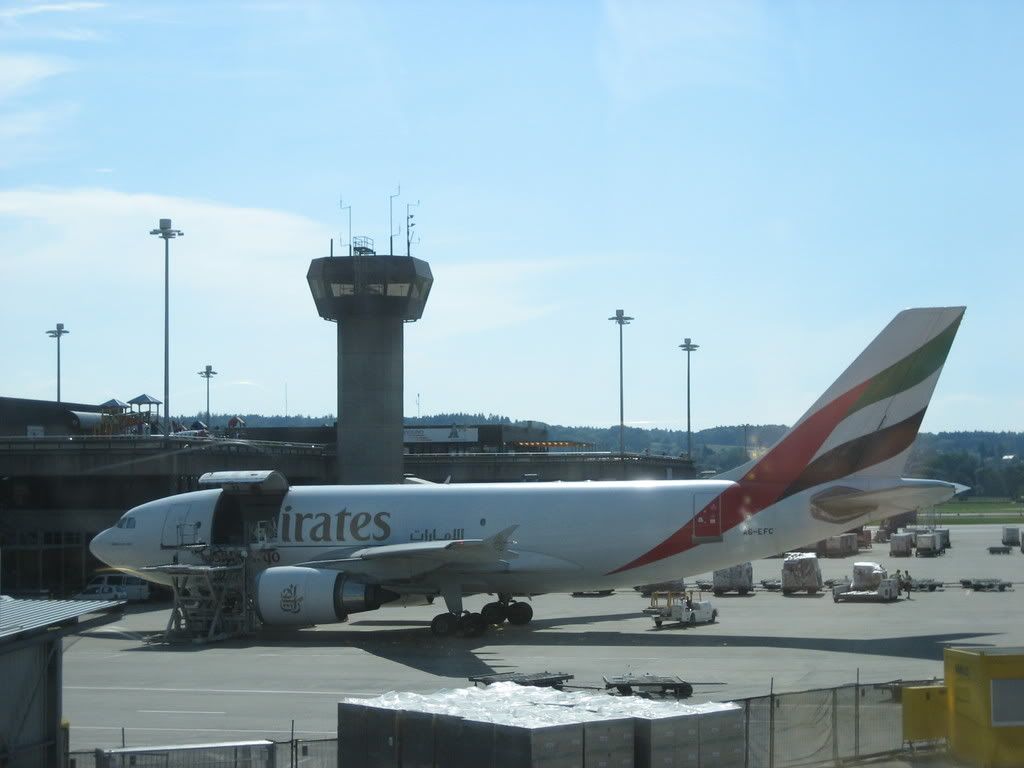 Emirates A310-300F just arrived
A selection of Swiss Airbus narrowbodies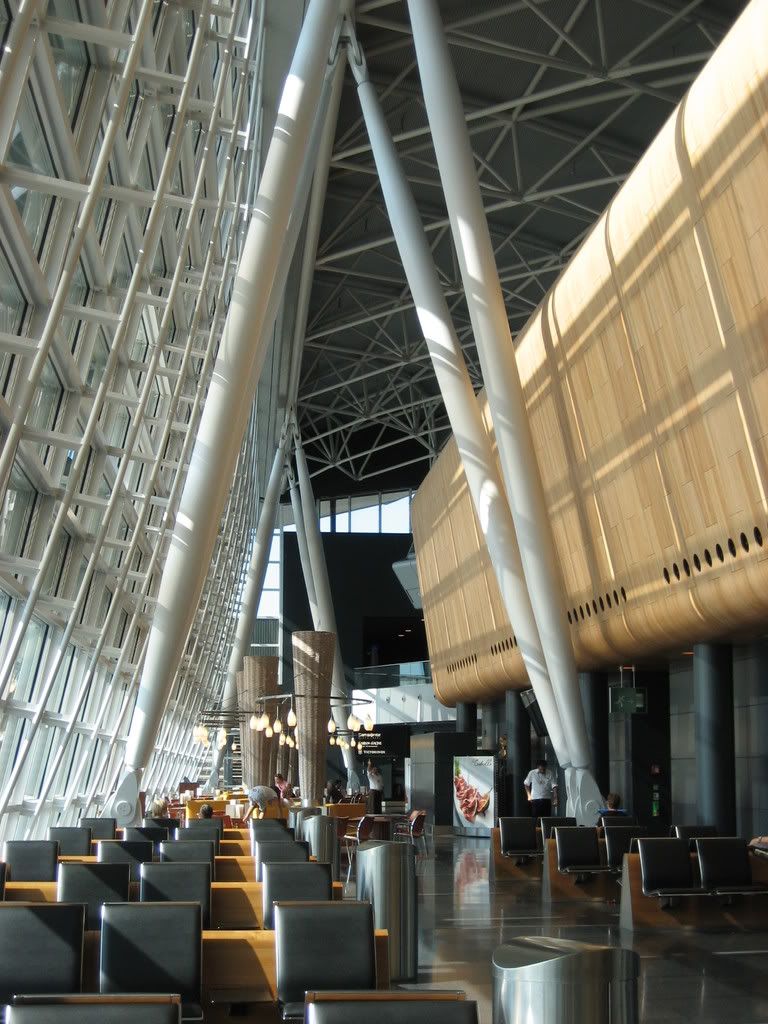 The uplifting architecture of ZRH. Apron views and plenty of seats – is it really so difficult to design an airport?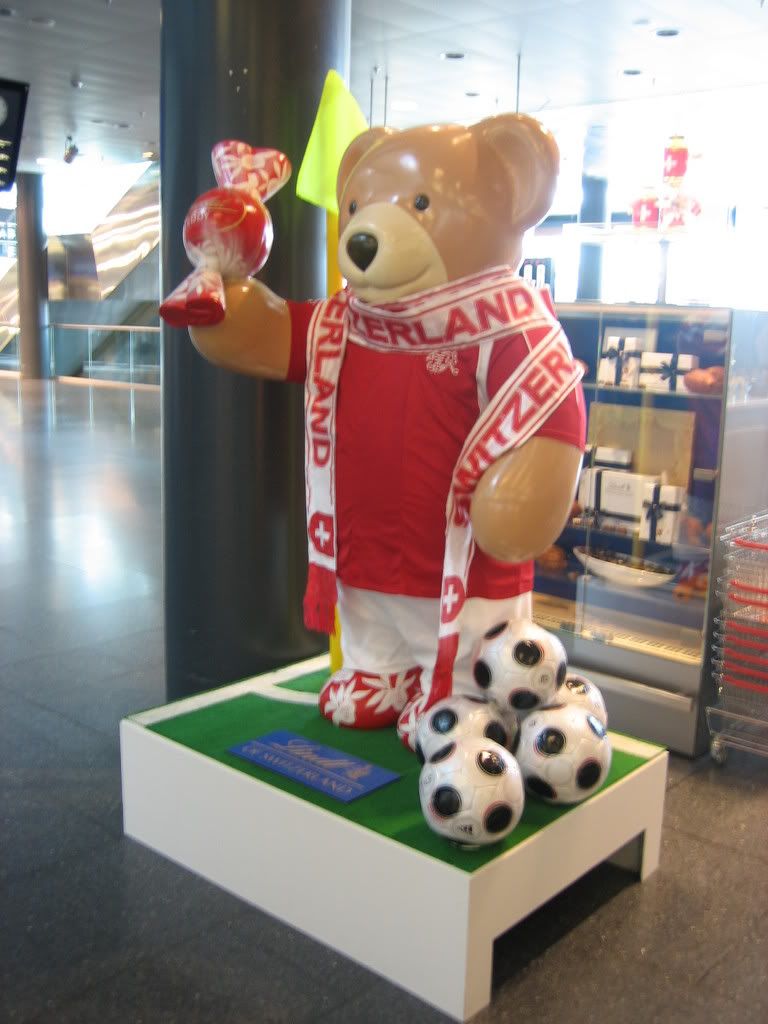 Thanks to Euro2008, they've gone a bit football-crazy in Switzerland, but compared to what the SBB have done in Zurich Hauptbahnhof (see below), this effort seems decidedly less ambitious.
Is there a football tournament going on here? What, really? But I didn't think England were playing?
BA use the Dnata Skyview lounge at Zurich which is very conveniently located if you're traveling to LCY where the B gates are used to bus you to the aircraft, but considerably less convenient if you're heading to LHR and have to trek out to the mid-airfield concourse via the underground train. Dnata, the airport management and services arm of the Emirates empire, have a significant presence at ZRH. The lounge was pleasant, with a mediocre selection of wines, beers and snacks, but I was surprised it didn't have it's own washroom facilities which seemed a little poor. No boarding announcements were made so it was necessary to keep getting up to check the TV monitor, a short journey negotiating tables and plants that grew progressively more hazardous as more wine was consumed. This situation only worsened when departure was put back from 1930 to 1955 due to the aircraft arriving in late.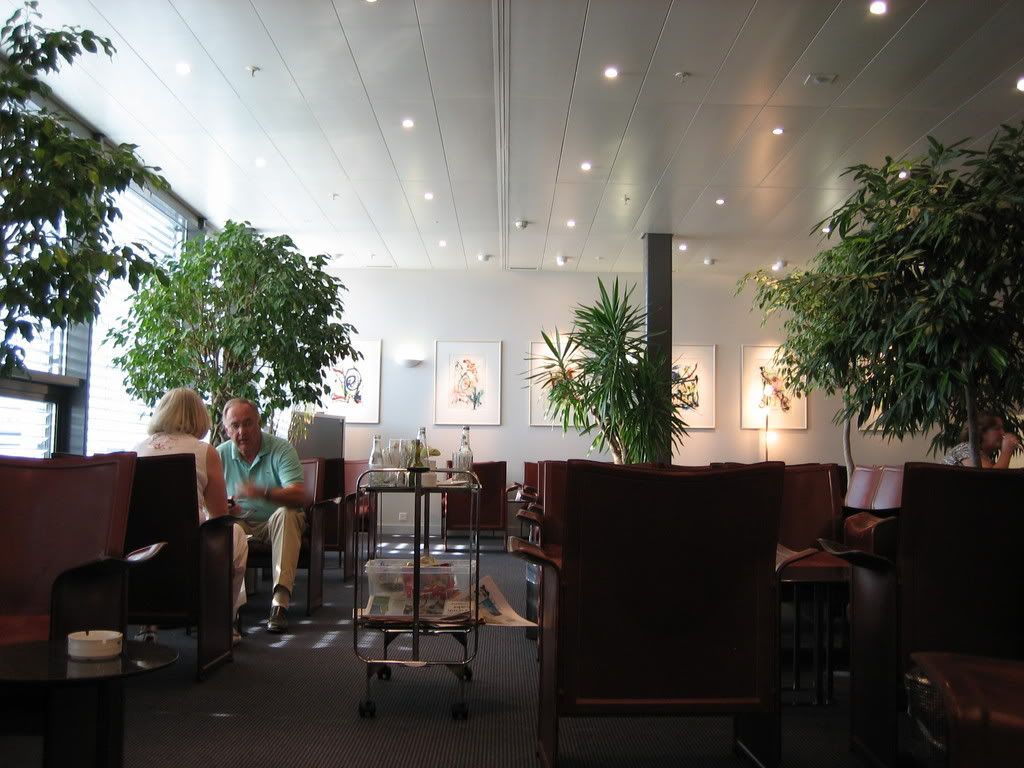 Dnata Skyview Lounge
After a friendly and highly efficient (would you expect anything less?) security check at the entrance to the B gates, the full complement of 41 passengers for BA 8768 had assembled by 1930.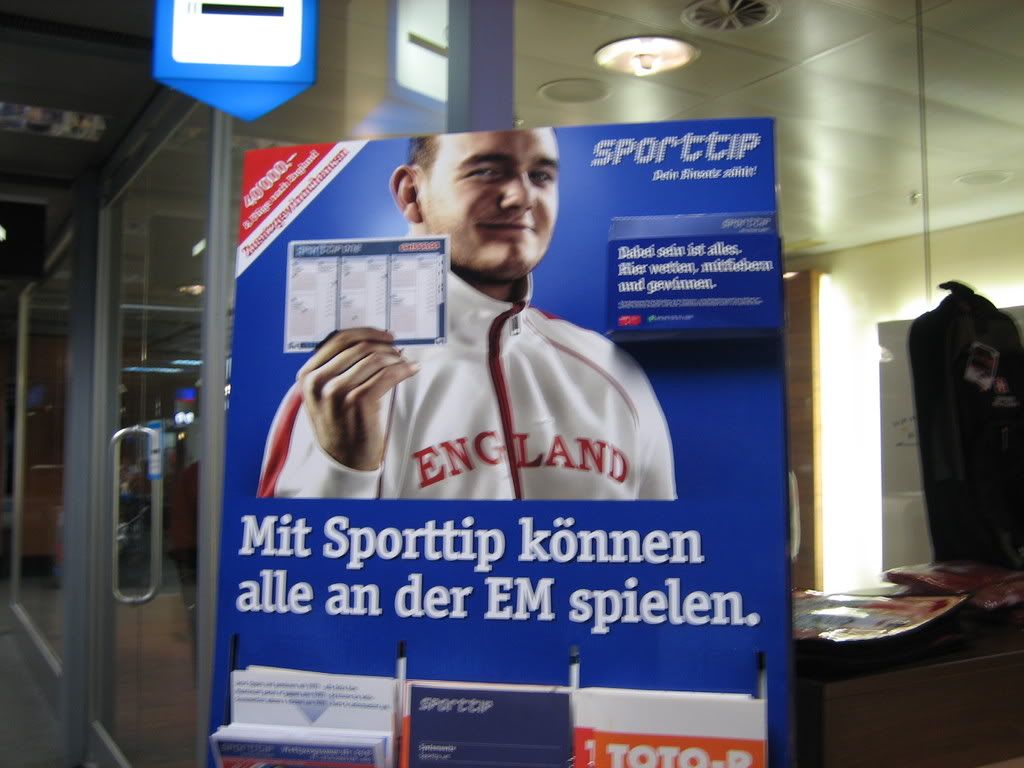 I thought the Swiss were nice people until I saw this, not so subtly positioned opposite the LCY gate.
Just before 2000, we boarded the bus that finally pulled up at the aircraft steps while the Dnata Switzerland staff were still on board, furiously vacuuming and emptying rubbish sacks. The plain white fuselage and tail with just BA titles and speedmarque showed this was not one of BA's own aircraft, but a BAe 146-200 being wet leased from Flightline. With a light load this evening, everyone was seated quickly and after a welcome message and manual safety demo, we were finally taxiing by 2015 and airborne by 2025 following a delightfully noisy, roaring take-off.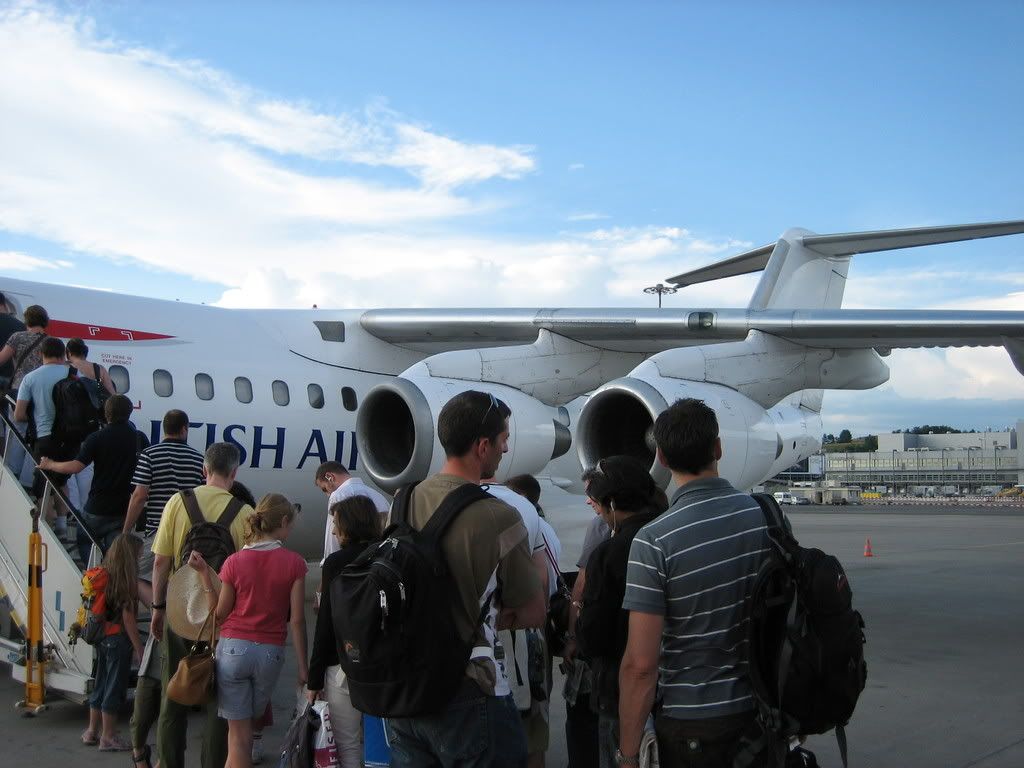 Boarding underway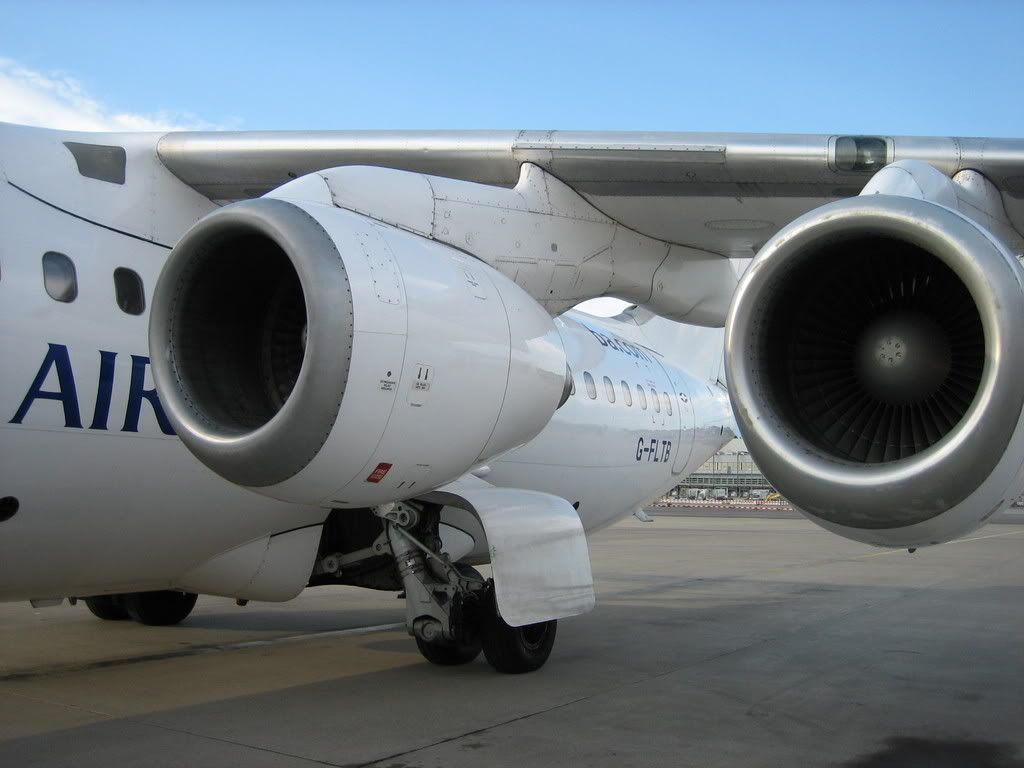 G-FLTB bereft of blue belly and union flag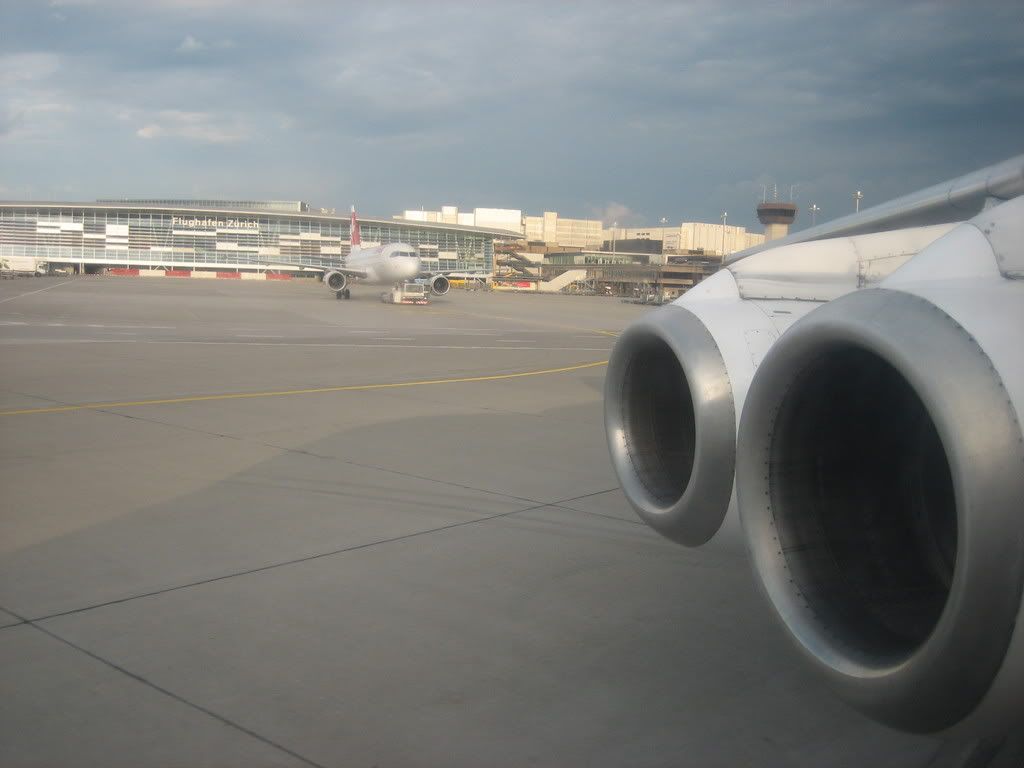 Taxiing to runway 32
Here's a link to the take-off video:
http://www.youtube.com/watch?v=enX_E-0Kvwk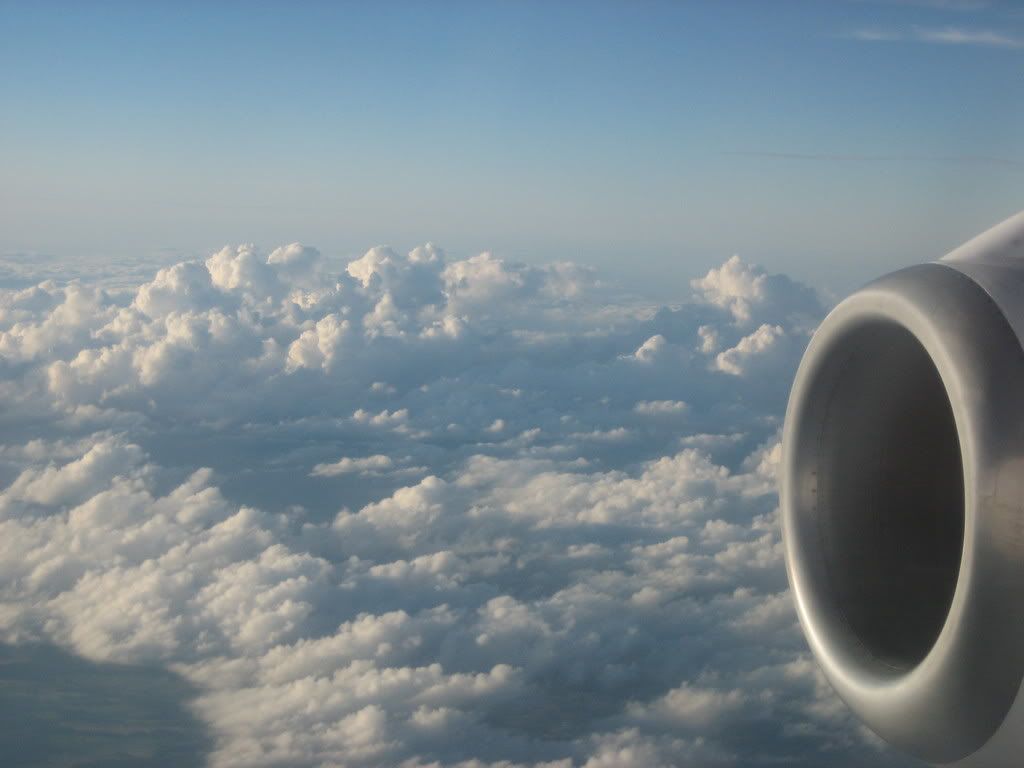 Climbing to 28,000 feet
The aircraft interior was in a pretty poor state. The carpet was well-worn, the overhead panelling had accumulated a dirty patina and bits of plastic moulding were broken or missing from around the side lighting. And the windows badly needed a good wash. Overall, the cabin looked grubby and I was quite surprised BA hadn't insisted on it being given some much needed attention to bring it up to the sort of standard you imagine they would demand.
Apart from that, it was very bumpy, incredibly noisy – and absolutely brilliant! I hadn't been on an Avro/146 for a few years and had almost forgotten how great these little rockets are.
The inflight service was reasonable, though the Flightline crew lacked some of the finesse and attention to detail that you'd expect (and usually receive) from their BA counterparts. The meal was delivered at top speed and all at once so that the tea, which arrived as soon as the tray had been put down, had gone tepid by the time I'd eaten the main course. The champagne hadn't been chilled and was served in a glass with ice cubes, which was a new one on me! Still, the F/A, Dawn, was charming, with a friendly manner and winning smile. She had been expecting to go to Dublin, but a last minute change had resulted in G-FLTB and her crew working the Zurich route instead. She was based with Flightline at MAN and had travelled down to London earlier in the day.
For those of you for whom the meal is the most important component of your flying experience, here are the details and obligatory photo: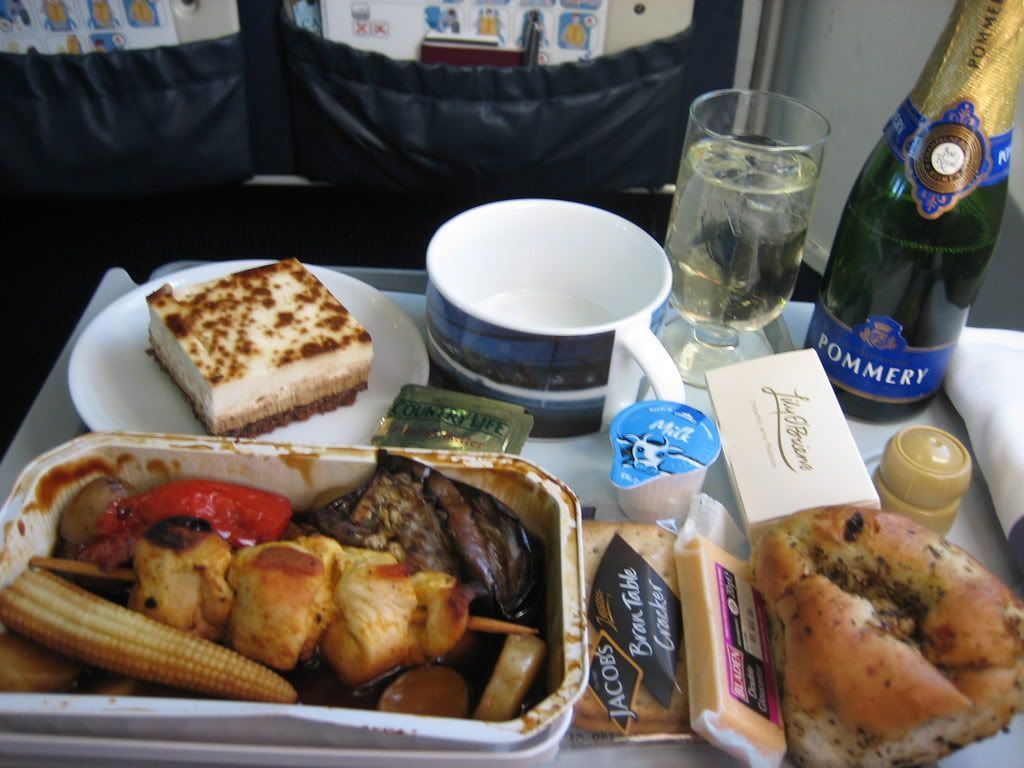 Dinner: chicken kebab, roast vegetables and new potatoes in viscous gravy of dubious chemical provenance; herb bread; cheddar, butter and crackers; chocolate cheesecake; chocolates
This will upset all the Swiss readers (but delight all the Irish ones): the Lily o'Brien chocolates are better than any Swiss chocolate I've had. There, I've said it. Let the lynching begin…
The forward galley spills out into row 1 on the left side of the cabin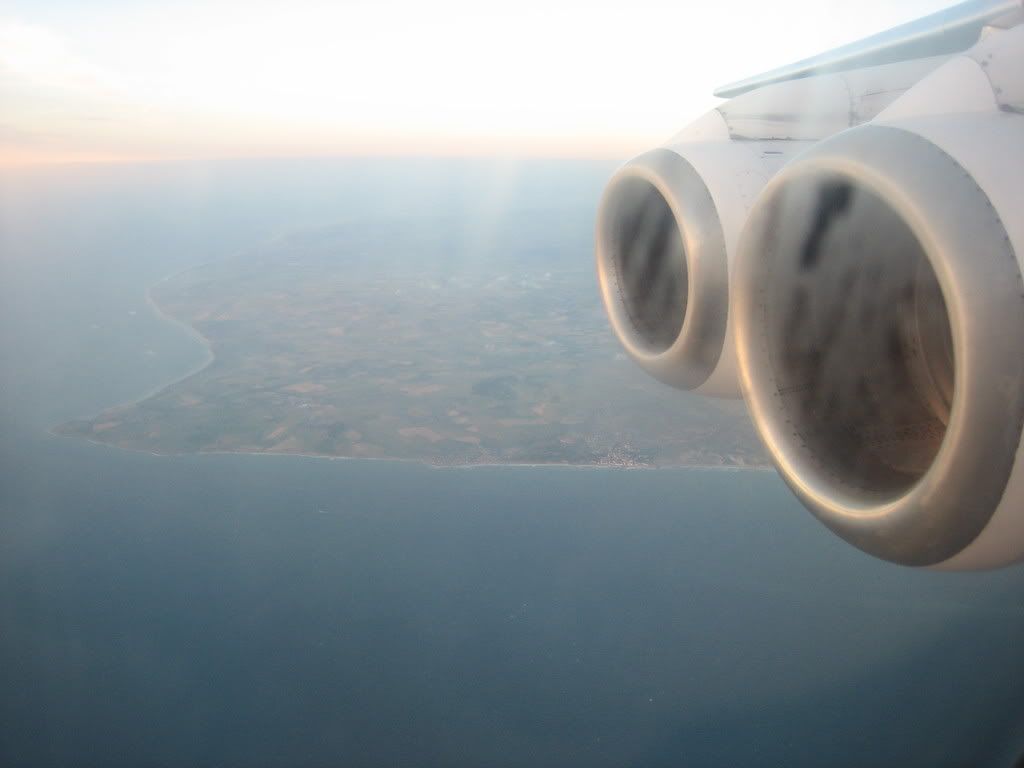 Heading out over the English Channel leaving the northern European coast behind. Apologies for the scratched/dirty window.
Descending westwards over the Channel
Southeast coast of Kent. Folkestone and the Channel Tunnel rail terminal visible in the lower half of the photo. If you squint with one eye and stand on your head, you might just make out the port of Dover top right.
I'd chosen to sit on the right side of the cabin in the hope that we would approach LCY from the west which gives you great views of many of the famous London landmarks as you skim overhead, but it soon became apparent we were on final for runway 28, so I had to make do with the slightly less inspiring views of industrial south Essex.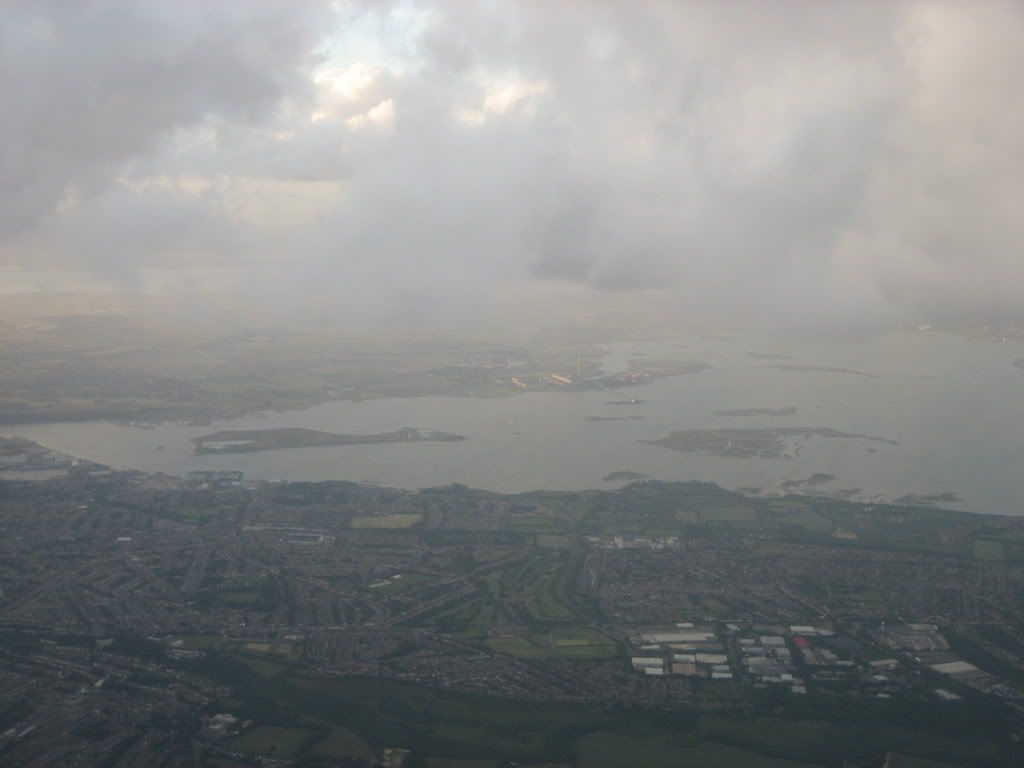 Rochester and the River Medway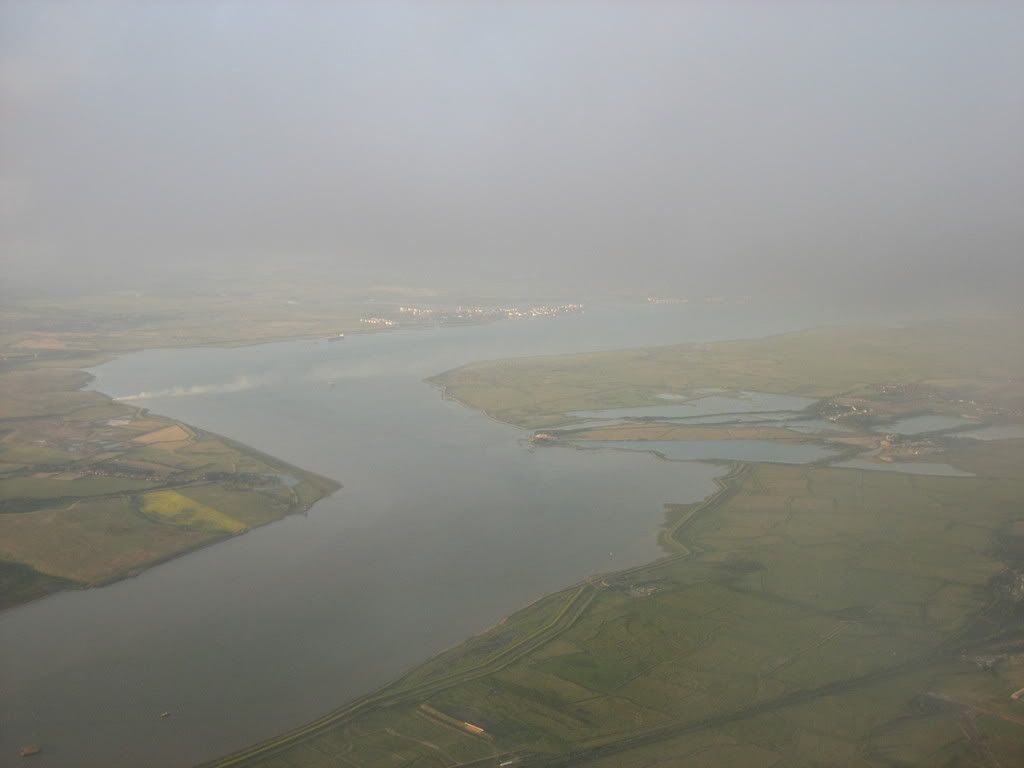 Crossing the lower reaches of the Thames
On final to runway 28 at LCY
And here's the link to the landing video:
http://www.youtube.com/watch?v=WB5wF-T6198
We landed smoothly at 2050 and were on stand moments later. LCY is a delightful airport. A short walk across a ramp that's always buzzing with activity leads you into the tiny terminal from which you can emerge, with luck, after only a few minutes. There was the usual warm welcome from HM Immigration Service, whose rebranding to 'UK Border Agency' has clearly done nothing to improve their mood or demeanour. After a wearisome marathon by Docklands Light Railway, London Underground and finally a coach, I was back home in Oxford a shade before midnight. Phew.
Disembarking G-FLTB at LCY
G-FLTB at LCY. Photo taken hastily as there were a few disapproving looks from the rampers!
Overall, I was really impressed with ZRH and would certainly like to head back to indulge in a day of plane-watching. It was just brilliant to be back on an Avro/146. So cramped, so noisy, so full of character. The sensation of flight seems somehow much more alive than in the oh-so-ubiquitous A320s or 777s. But for inflight product, I would certainly have preferred to have been on one of BA's Avros where, from previous experiences, I remember the standard of cabin and service being much higher.
One final thought, I showed the photos from the trip to a friend. "Nice views from the plane, though it's a pity the engines always got in the way." Sigh. What can you say?
Many thanks for reading and happy flying to you all.