Hi, dear readers,
Time to write another report and bring it online here. I lately enjoyed some inner-German flights (a multi-segment report on LH is already online), and now it was time for me to do 'something new'.
About 2 months before the actual flights, I noticed an interesting aircraft scheduled on a Sunday operation between DUS and MUC. It was saying type 330, AB flight, for the summer period only, it seems. So, I took my shift schedule from work, looked up my rare free Sundays, and checked the fares.
All-in for this flight, EUR 67,00. Not bad, considering a new aircraft type for my log.
After booking this leg, I secured transportation by the Dutch railways from my hometown to Dusseldorf Flughafen (Airport). I noticed an interesting offer for a non-refundable/non-changeable fare in First Class, on the ICE International high-speed train. First part of the journey was on a Dutch domestic intercity service with a change to the ICE at Utrecht Central Station. So, also this fare was purchased
.
Now, I still had to get back home, from MUC…, something different. Trains take long, single fares are high. So I really needed to take advantage of my airline staff benefits, and called my ticketing office to issue a single MUC-AMS, valid on KL or LH. I won't mention the fare, but it was not much
Some weeks before my flights, I checked the schedules again, and noticed a downgrade of equipment for my flight to '320' and later to 'EQV'. I was a bit disappointed by now. Times got better 2 weeks later, when aircraft type mentioned '332' now. We'll see!
Finally, the day came to travel.
Sunday, June 15, 2008
I took the local train to Schiphol (AMS) Airport, changed to the intercity service towards Utrecht. Nice red leather seats in First Class. Whole carriage for my own
So, travelling was convenient on this early morning. I changed at Utrecht, onto ICE International trainservice # 105. Departure was on schedule. I took my reserved single window seat (window/aisle). These seats have good legroom, recline is reasonable, a TV screen featuring 2 channels, and music (when you use headphones, from the armrest). Bar service take orders from your seat, and deliver also to your seat.
The ride was comfortable, but the train was busy as always. Many travellers, lot of talking etc. I decided not to take pictures, as I didn't want to disturb others.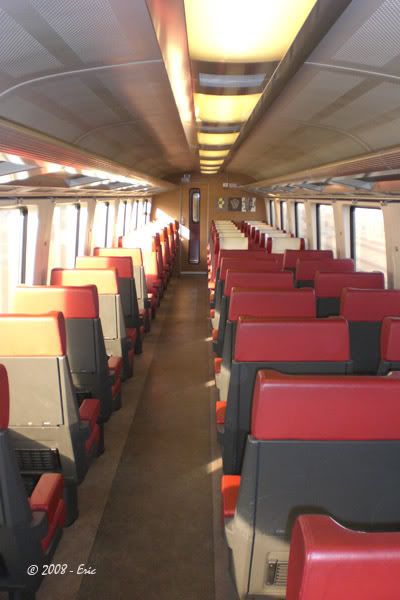 1st Class section in Dutch domestic Intercity service
At Duisburg Hbf, I changed to a regional service for DUS airport. All on time, and arrival was about 10 minutes later.
I went to the check-in area first, used the SSCI machine and selected out of many free seats. At least no problem to secure a window seat. My TopBonus number was printed on the boarding pass, although you won't earn much points anymore nowadays on AB. It's hard to obtain some status and to get free flights together (I recently already lost my Silver status
).
After check-in, I took the Skytrain back to the trainstation, where the observation deck is located. I bought a ticket (fee: EUR 2.20), and enjoyed a few hours on the roof, with some interesting traffic as well, and some sunshine!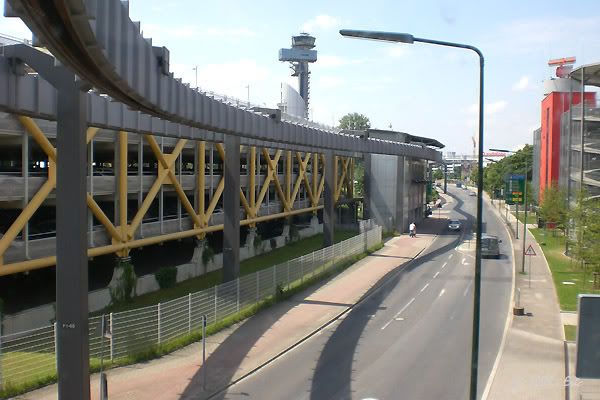 SkyTrain running between terminal and railway station at Dusseldorf Airport
Time came to fly, I took that same Skytrain back to the terminal, went through security, which was a real breeze at DUS. Terminal seems a bit outdated, not much shops around. Also lots of construction works going on at the various gates. Maybe they will change the building into a more modern/convenient one. Time will tell, I think.
The boarding gate, B55, was still not occupied, so I took my seat. After a while, some staff showed up, and finally the long awaited Airbus A330 showed up, following the 'follew-me' car. I was surprised, and also happy, to see that my aircraft was in full 'new' LTU colourscheme. I think it's the only example flying as such, before it will be repainted in the AB colours.

'My' A330-200 arriving from…. somewhere far away!
I expected boarding soon, and on-time, as the aircraft arrived early enough. The servicing outside seemed ready, but 2 male agents at the gate were having more fun together, then giving information to the passengers. No info at all, and we were passing the scheduled departure time. I was getting a bit upset, as I'm airline staff myself, I know how to treat passengers, but of course, AB is not one of the worlds leading airlines… So, I convinced myself to stay calm and to wait, patiently.
Finally, boarding was starting from 14:25hrs, using a single fingergate for this widebody aircraft.
DUS-MUC
Flight No.:
AB6033
Date:
15JUN08
STD:
1410
ATD:
1455
STA:
1525
ATA:
1603
A/C:
Airbus A330-200
Reg No.:
D-ALPD
Seat:
46A – Economy Class
My 1st ride on an Airbus 330, so also the first on this machine. This made my day
.
View Large
View Medium


Photo © Carl Hendriks - MST-Aviation
I took my seat. Made of blue fabric material. Legroom: very, very poor!
Also no personal IFE system on this long range Airbus. Only screens fitted throughout the cabin. On the ground, the airmap was showing, once in the air, the system was switched off completely and nothing was shown for the entire remaining of the flight.
Total rows count until 50, basically in a 2-4-2 seating. From row 47~50 it's in 2-3-2 layout.
The seatpocket offered me; 1 safety card (Air Berlin Group), 1 disposal bag, 1 inflight magazine.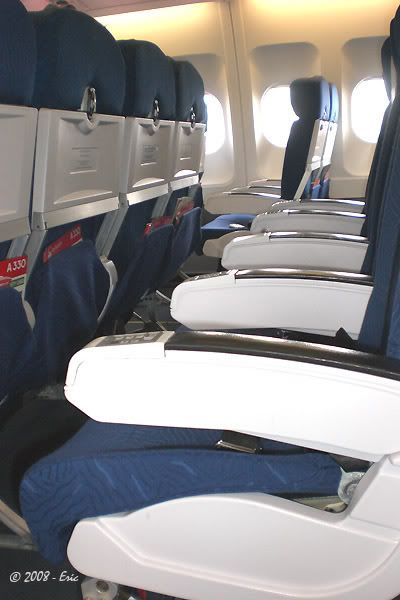 Not much legroom on the Air Berlin A330's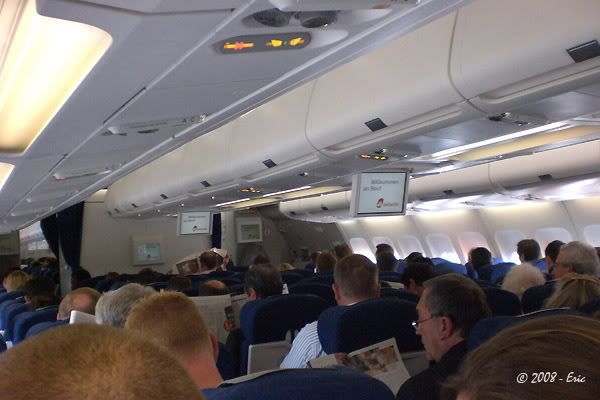 Cabin view of D-ALPD, full-house!
Load on this flight: near 100%. I was really surprised to see so many people on a standard domestic service to MUC, on a midday Sunday flight. Unbelievable. This flight also didn't proceed to another longhaul destination, and terminated at MUC.
Boardig finished in 20 minutes. After a call mentioning boarding completed, the crew cross-checked doors, and a safety video started on the screens. It was in German and English language. After this video the cabin was checked and we got pushback.
Taxiing was rather long, as we had to make a longer ride due to construction works going on at the main taxiway. Finally we turned onto runway 23L for our departure;