Stockholm/ARN and the 737-600 for the first time
Hej, hej, dear readers,
Sweden during midsummer, that sounds not bad, isnt it?.
With my special preference for the Scandinavian countries, I´ve thought not that long and booked these trip to Stockholm.
1.)
Tuesday, 24.06.2008
STR (Stuttgart-Echterdingen) - TXL (Berlin-Tegel)
Duration: 55 minutes
Service LH 287 operated by Lufthansa Boeing 737-500 D-ABJI
Scheduled: 06.50 // 08.00
Actual: 07.15 // 08.10
Gate: 114 Seat: 21A
Load factor: 95%
Fare: 47,29 EUR per LH leg
History:
31.10.1991: Delivered to Lufthansa
Leg no. 24 on the 735 and the first on this machine
Monday evening, once again time to try online check-in for my flights the next day.
Four legs ahead, one, two and four ok by LH´s website, but not leg three.
A try at SK´s website fixed the problem, dont ask me why.
06.30 am was the printed time for boarding, present at the airport around 06.00 am.
Also today, security at T1 was busy with long lines and once again no time to wait at T3.
STR early morning: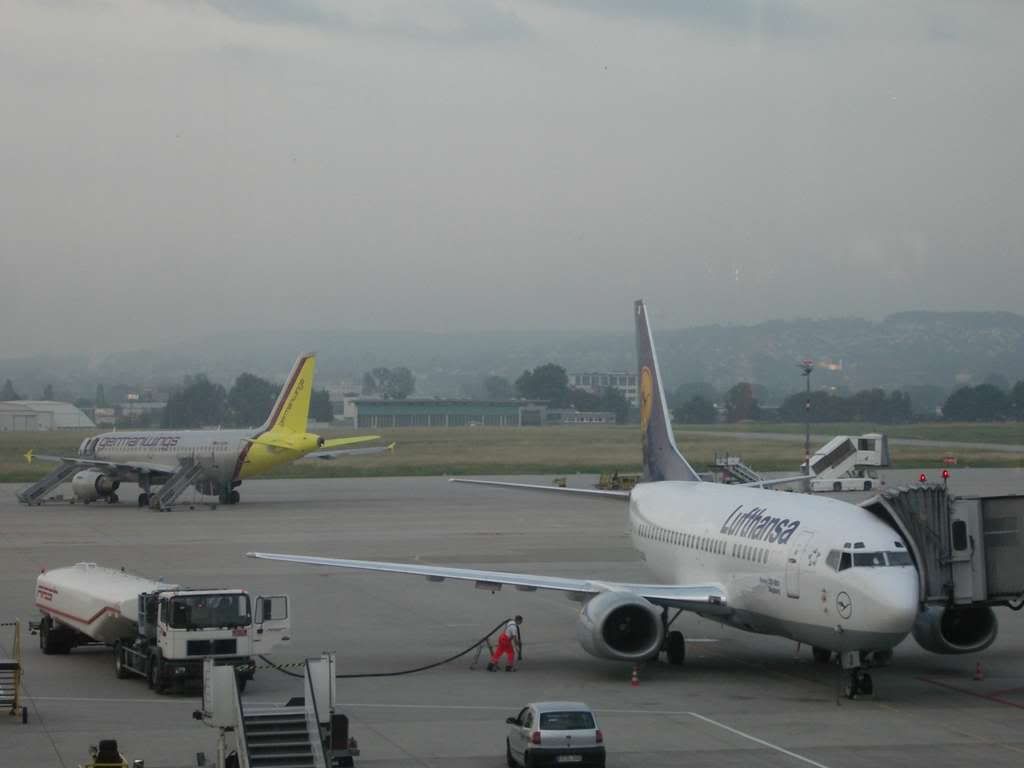 Boarding by a finger in T1, some construction work there, only limited space and seats at my gate.
T3 is much more comfortable nowadays.
Nearly ontime the gate was opened and I´ve walked down the airbridge to a "new" B737-500 for my log.
Close up: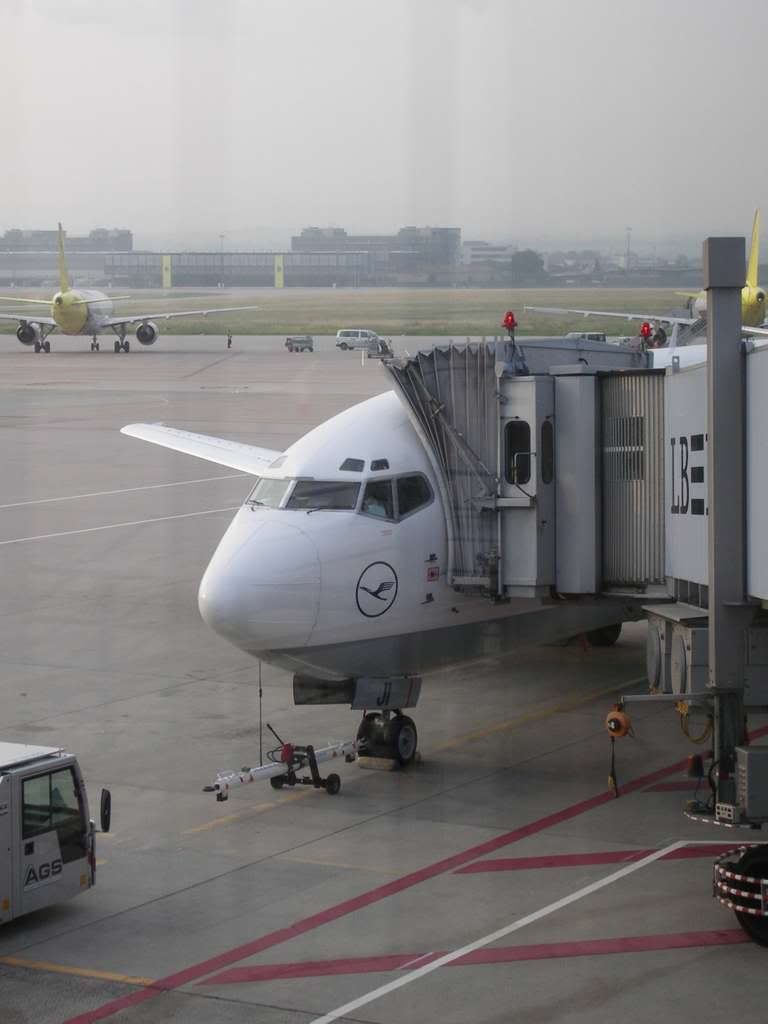 Three friendly females on this machine. The cabin in good conditions with dark grey leather seats, comfy, and good legroom.
Today was the last Berlin parliament meeting ahead to the summer vacation periode, so let me call this flight the
"Member of parliament-shuttle" with nearly half the plane separated for biz class.
A friendly welcome from the flightdeck on the ground, the pilot wished us all together a nice flight.
Cockpit crew was from Germany.
Departure from runway 25, the usual route to ERF and LEJ.
Some turbulences while we passed a strong wind area at 30.000 feet. Detailed explanations from the captain.
Cruise level 34.000 feet.
Free drinks on offer.
Approach into TXL was very long and slow, it seems once again heavy traffic there.
Touchdown on runway 26R slightly behind schedule.
TXL with nice weather: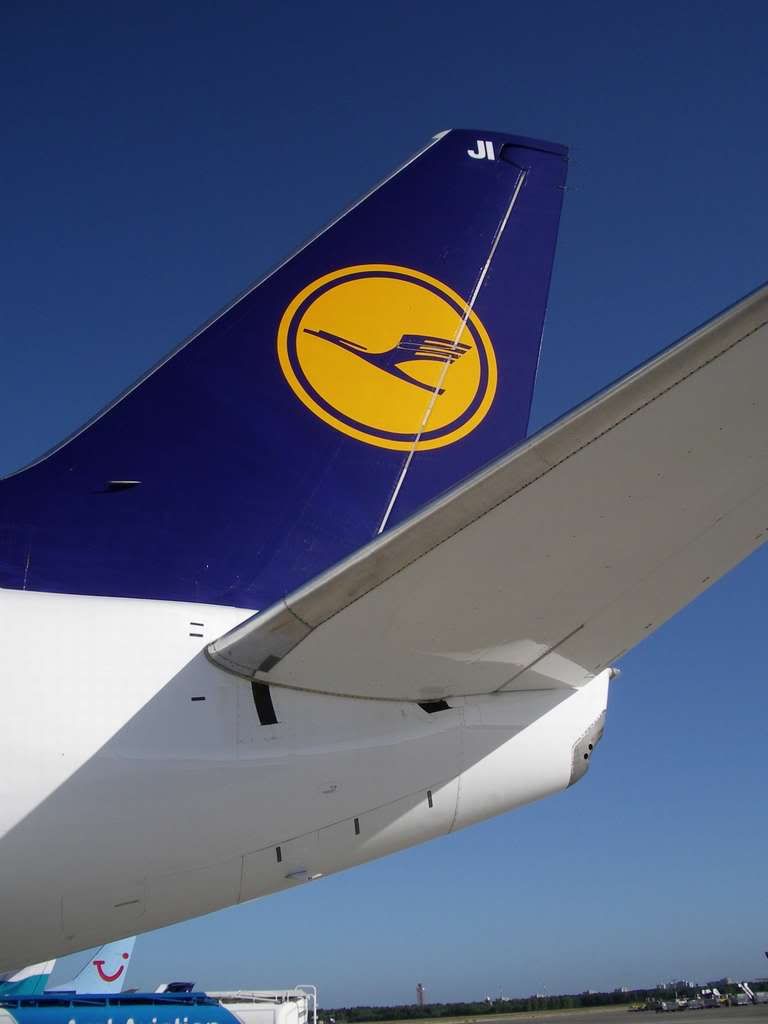 Interesting neighbour: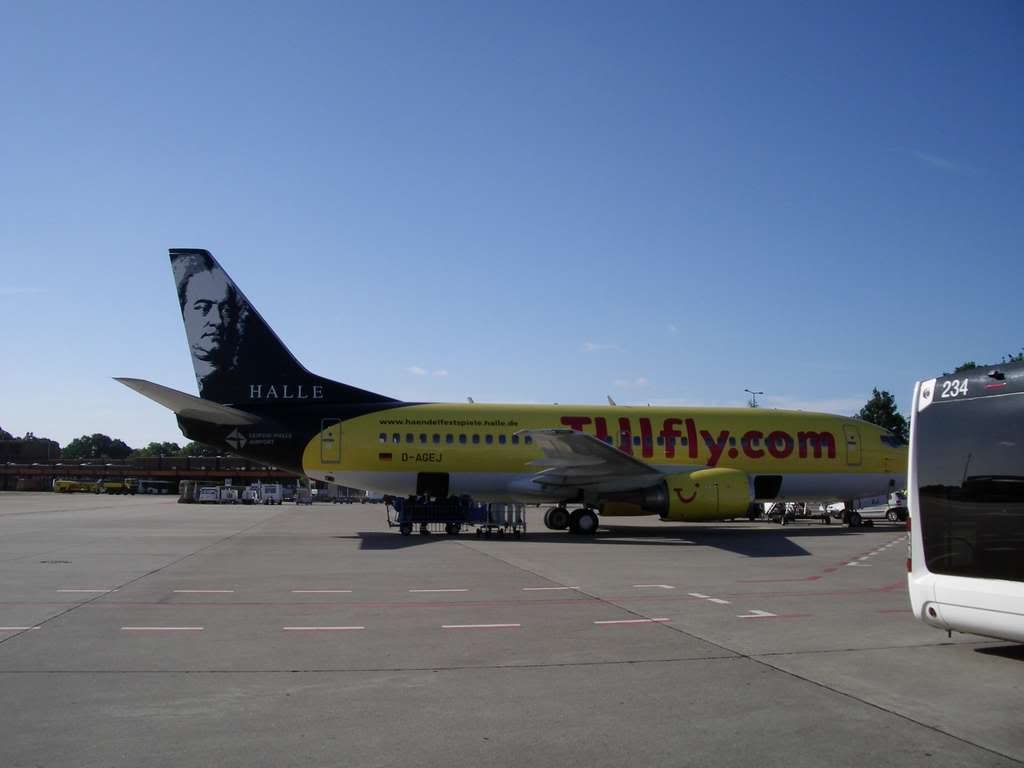 Deboarding: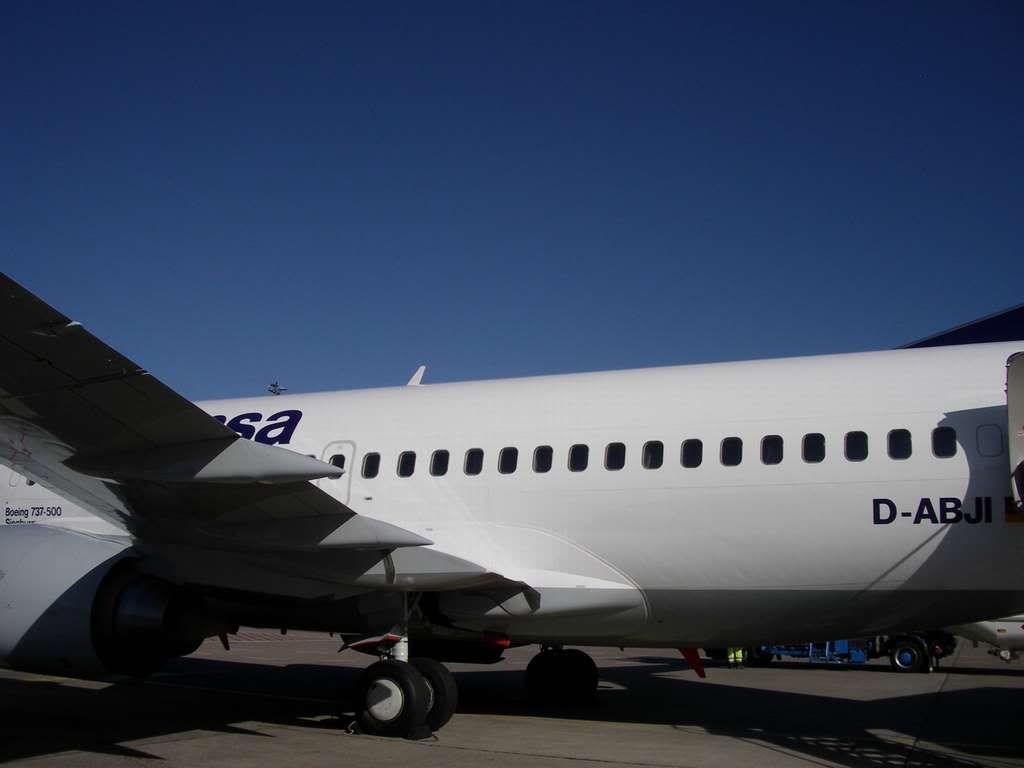 And again: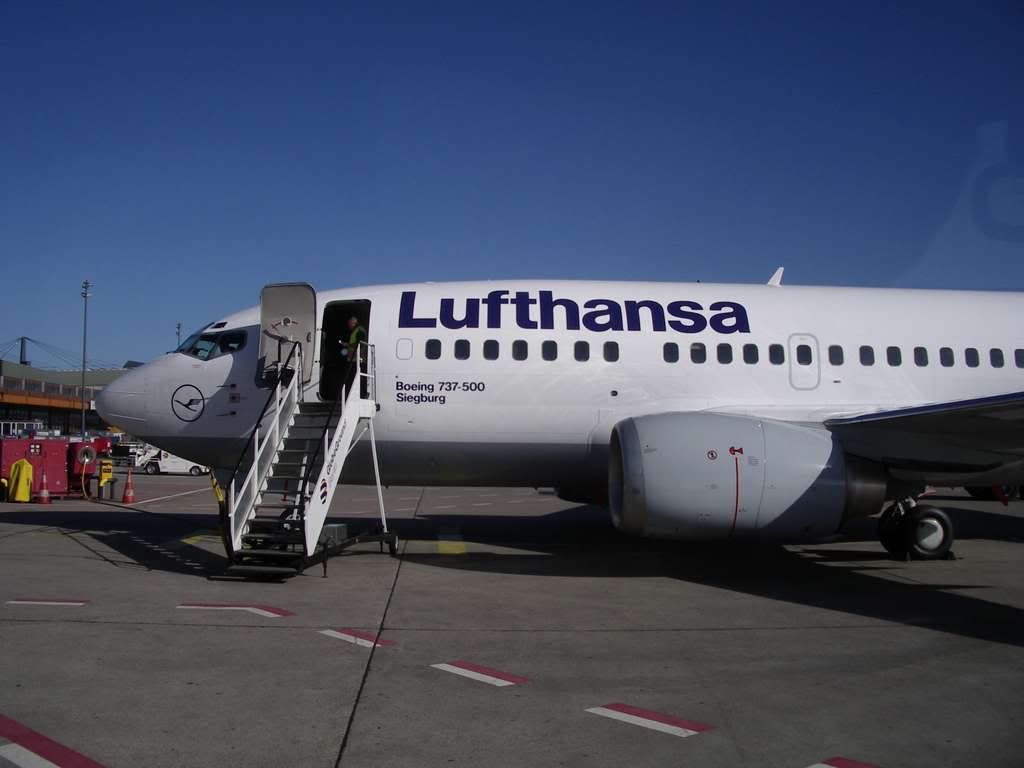 Apron deboarding and by bus to the terminal, we had to wait some minutes in the bus till we´re allowed to enter the baggage reclaim area,
filled up with pax from earlier flights.
2.)
Tuesday, 24.06.2008
TXL (Berlin-Tegel) - ARN (Stockholm - Arlanda)
Duration: 1 hour, 30 minutes
Service SAS Scandinavian Airlines SK 2678 operated by Transwede Avro RJ85 SE-DJN
Scheduled: 09.35 // 11.05
Actual: 09.55 // 11.25
Gate: D70 Seat: 16A
Load factor: Around 70%
Fare: 51,07 EUR per SK leg
History:
13.05.1993: Delivered to Crossair
31.03.2002: Further to Swiss
01.11.2005: Now with Swiss European
18.05.2007: Finally to Transwede
Leg no. 5 on the RJ85 and the first on this particular machine
Time to walk a bit around TXL till I´ve passed security again.
My gate was in the terminal extension with one security for all D departures, used for example by Tuifly and else.
No time to wait there and at the gate minutes ahead to scheduled boarding at 09.05. am.
The screens showed some 15 minutes delay, it seems no problem for me.
The OK service to PRG at the gate beneath was cancelled and they called all pax one after the other to the gate for rebooking.
Some of them seems not amused.
Finally my machine arrived and parked on the apron.
Taxi SE-DJN: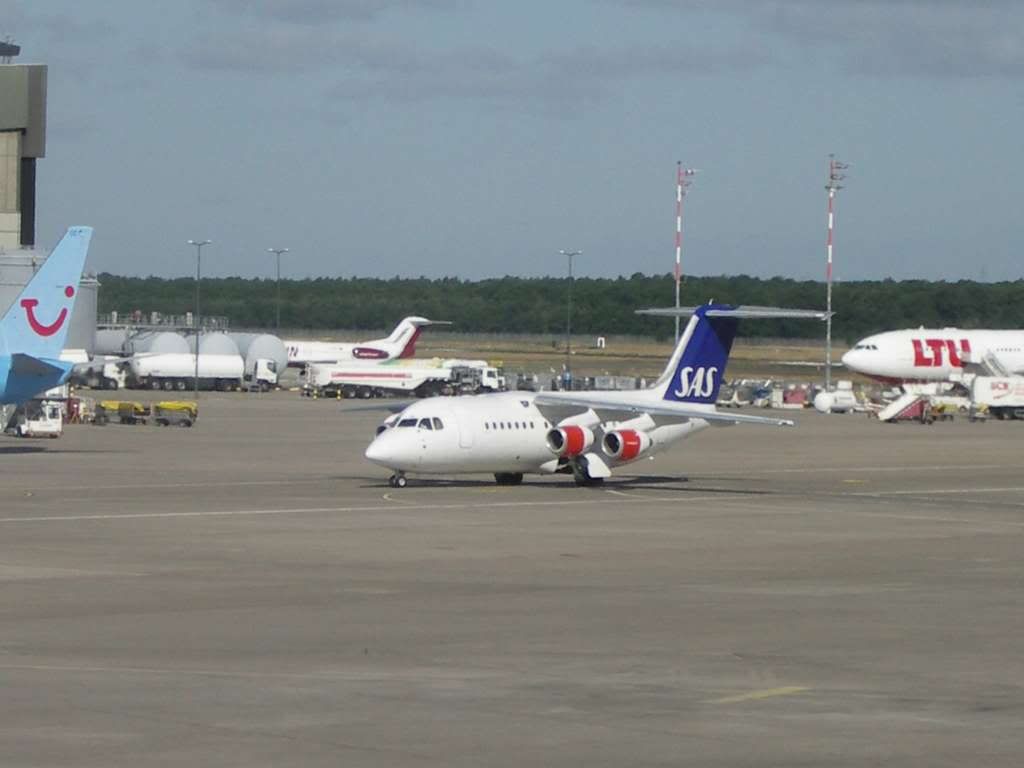 And parked: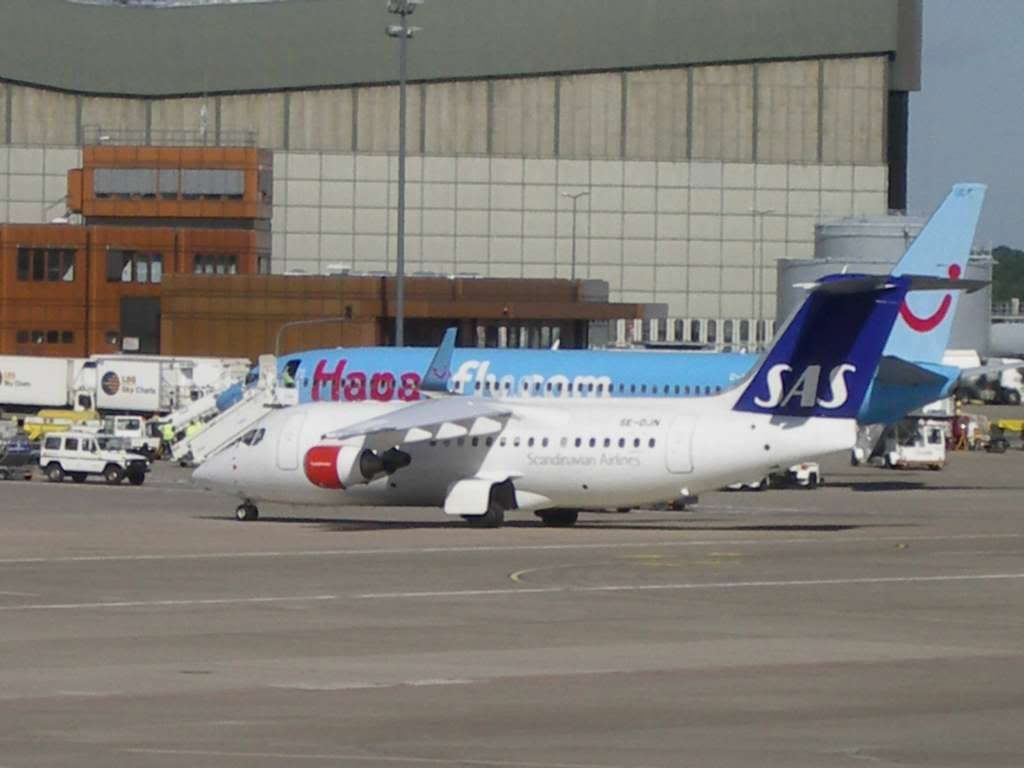 Some football guys there: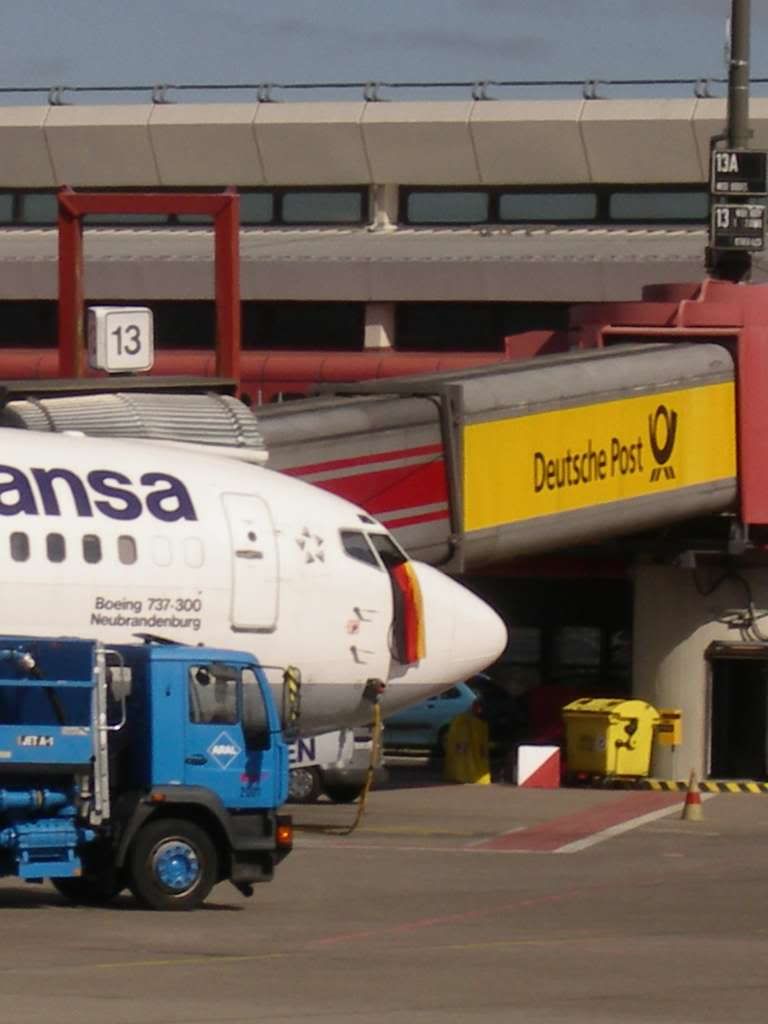 Boarding started, by bus to the plane soon thereafter.
Nice machine:
Nice engines: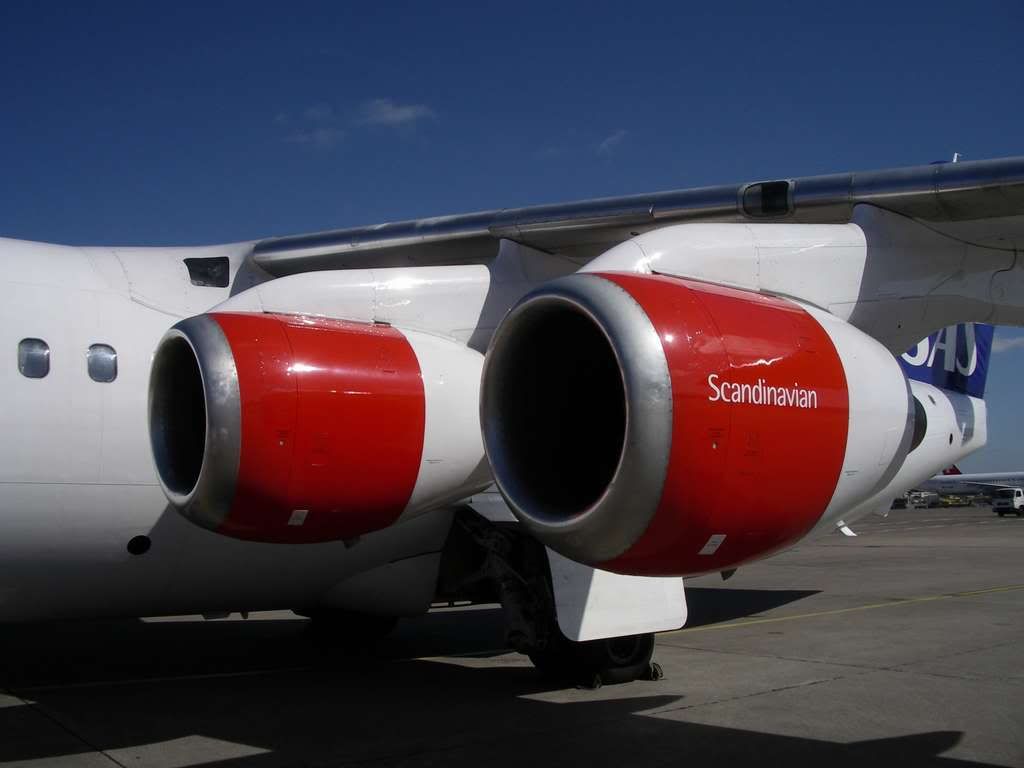 Boarding:
And again:
Two friendly experienced female FAs on this service. The machine fitted with dark grey leather seats, somewhat dirty, low legroom.
A really heavy guy seated in 18B, so I´ve hat a short chat with one of the FA´s and changed to 16A, better this time.
The captain greeted us, from Sweden, but it seems he was born in the balkan states.
"Hi folks, welcome, we´re ready to go, but there is no pushback truck available at the moment, so we had to wait for some more minutes".
Departure finally from 26L, the route leads us east of Rostock, over the baltic sea and further east of Malmoe.
Eastern Germany: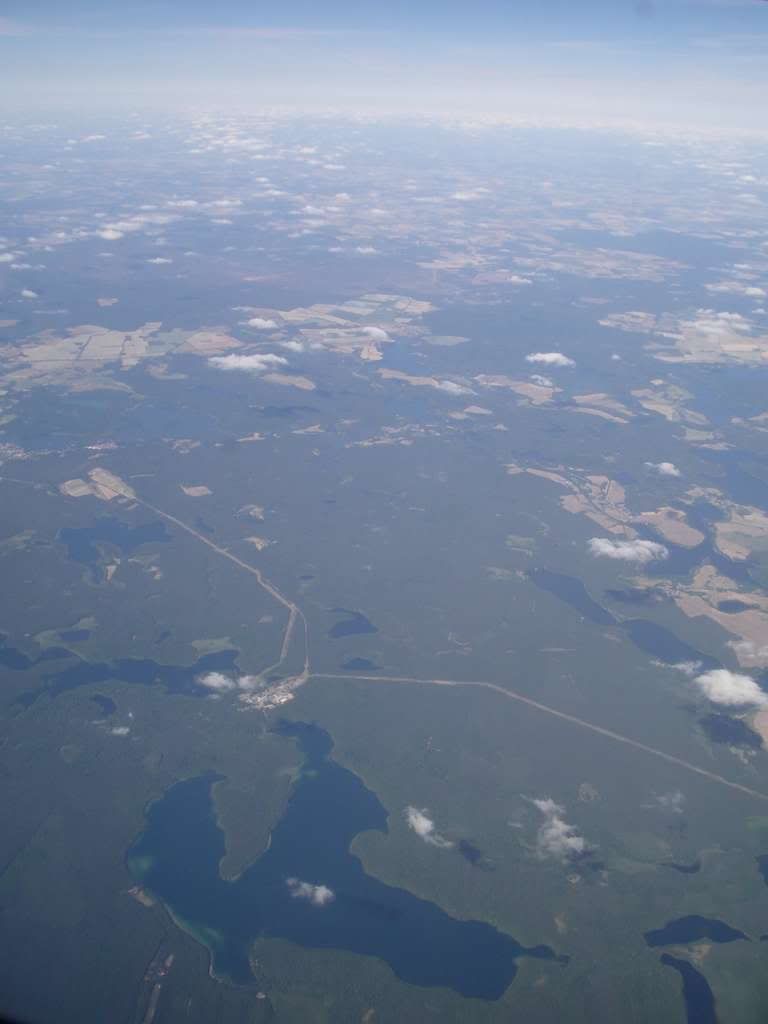 Approaching Sweden: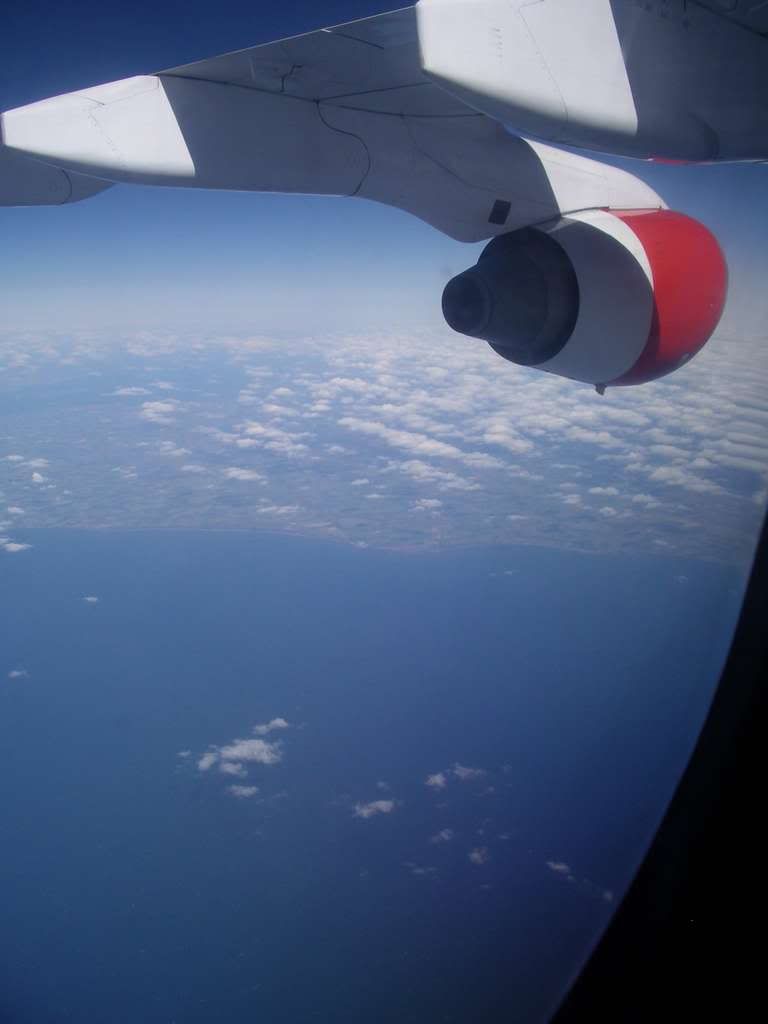 The swedish coastline:
Sweden: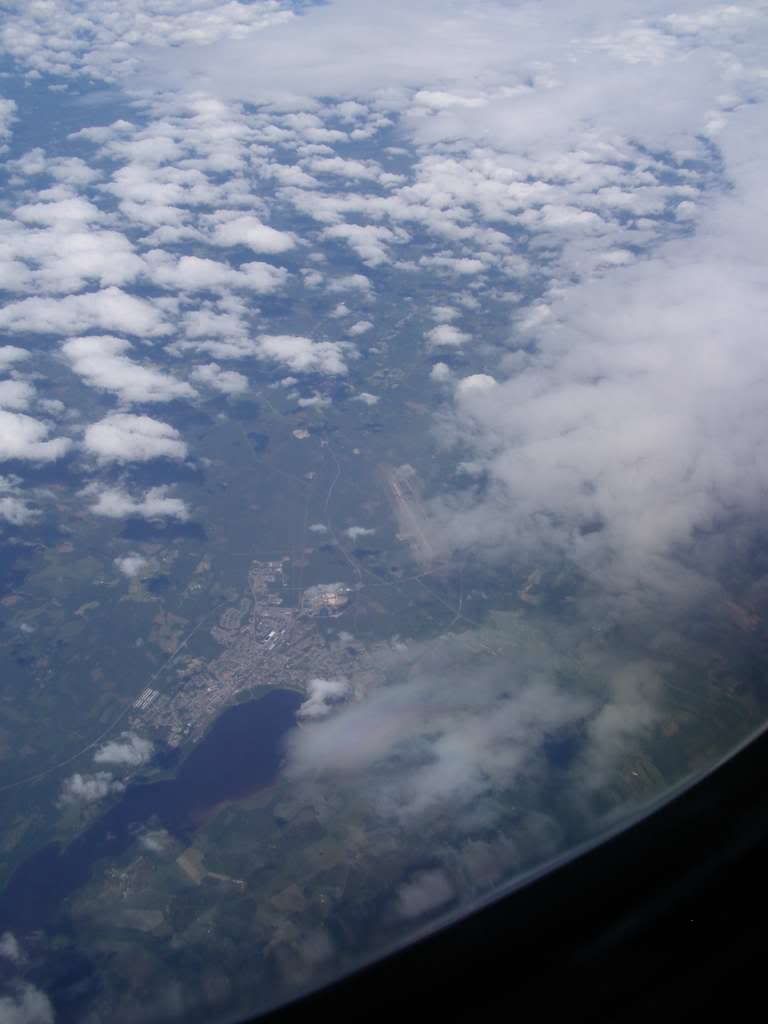 Cruise level 30.000 feet. No free service.
The captain was once again on the speakers in the same relaxed way
"Folks, we´ve entered Swedish airspace now, enjoy the rest of the flight", followed by weather informations for Stockholm.
Touchdown on runway 01L, 20 minutes late and finger deboarding at the new terminal extension building.
Another interesting neighbour: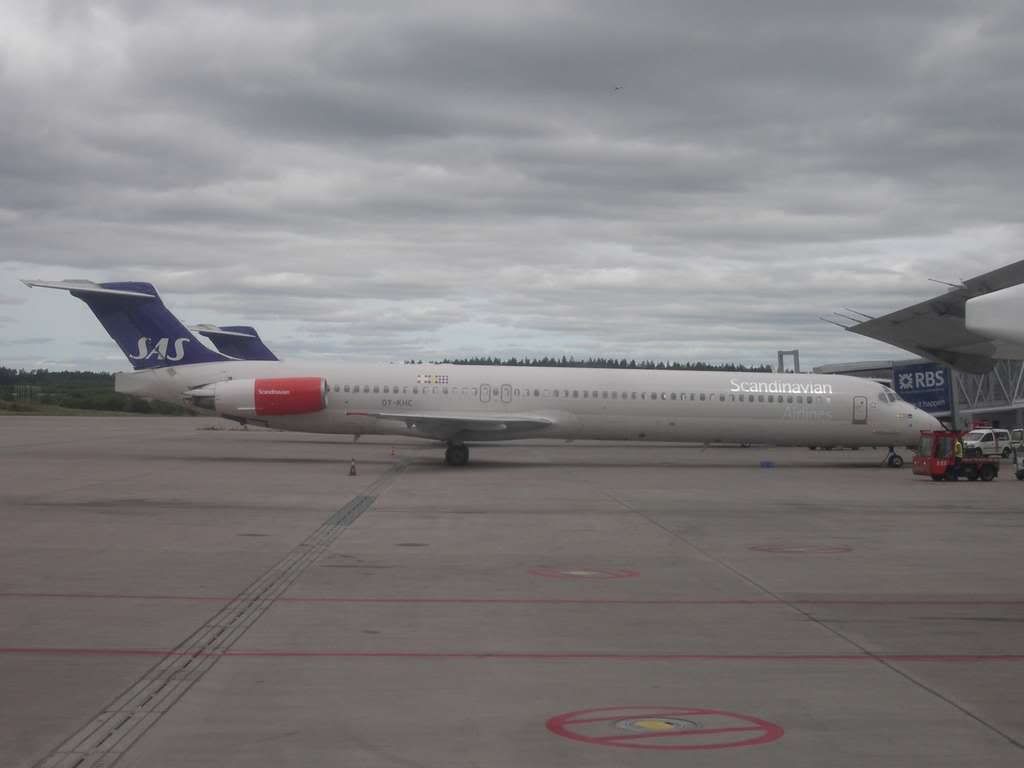 Parked: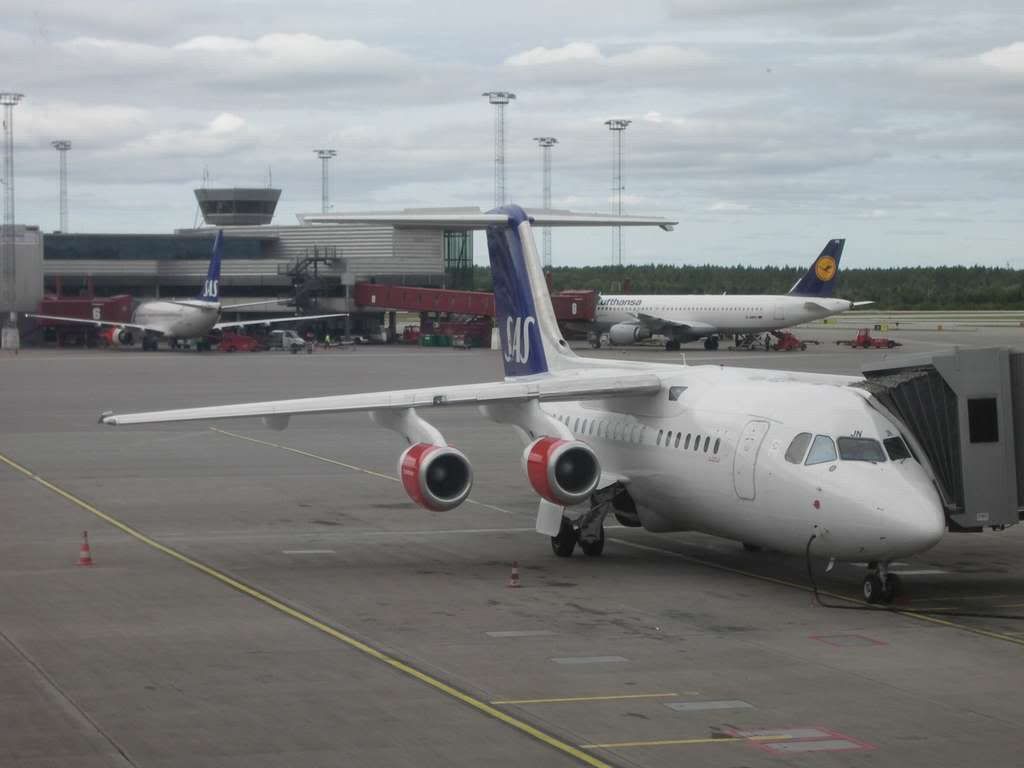 MD heaven: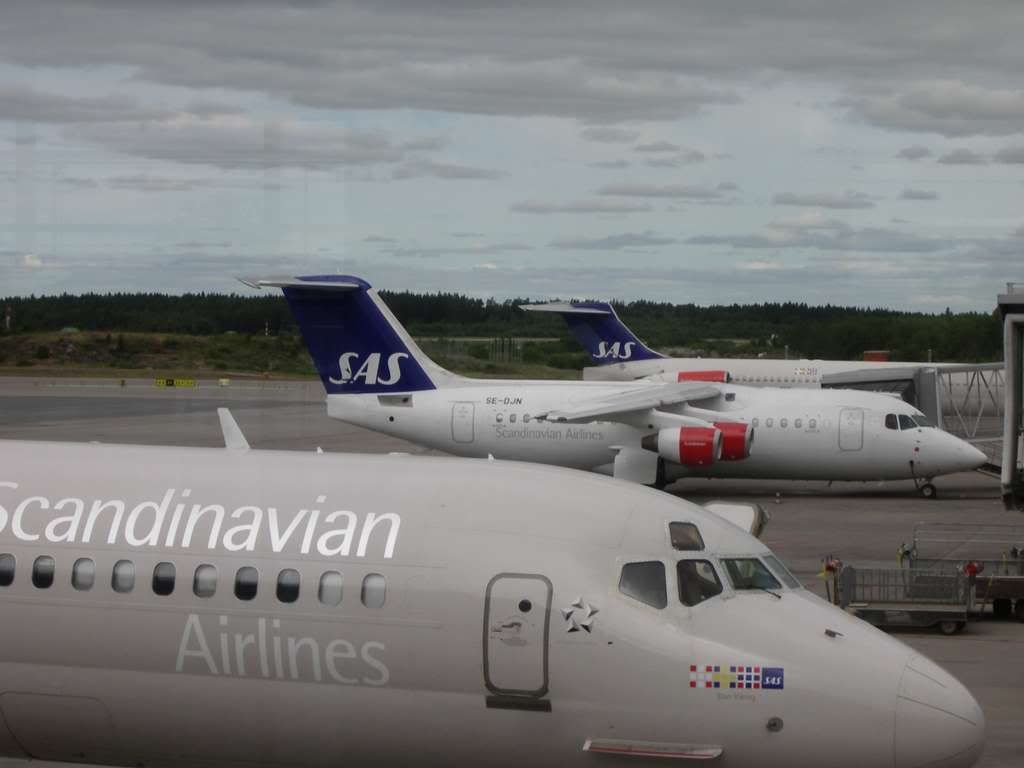 A long way to walk till baggage reclaim and the exit.
Flygbussarna departed perfectly to the city when I´ve reached the bus stand, SK 179.-- return, acceptable for the nearly one hour drive.
Some pix from my first city visit in Stockholm:
Welcome to Sweden:
Soldiers...: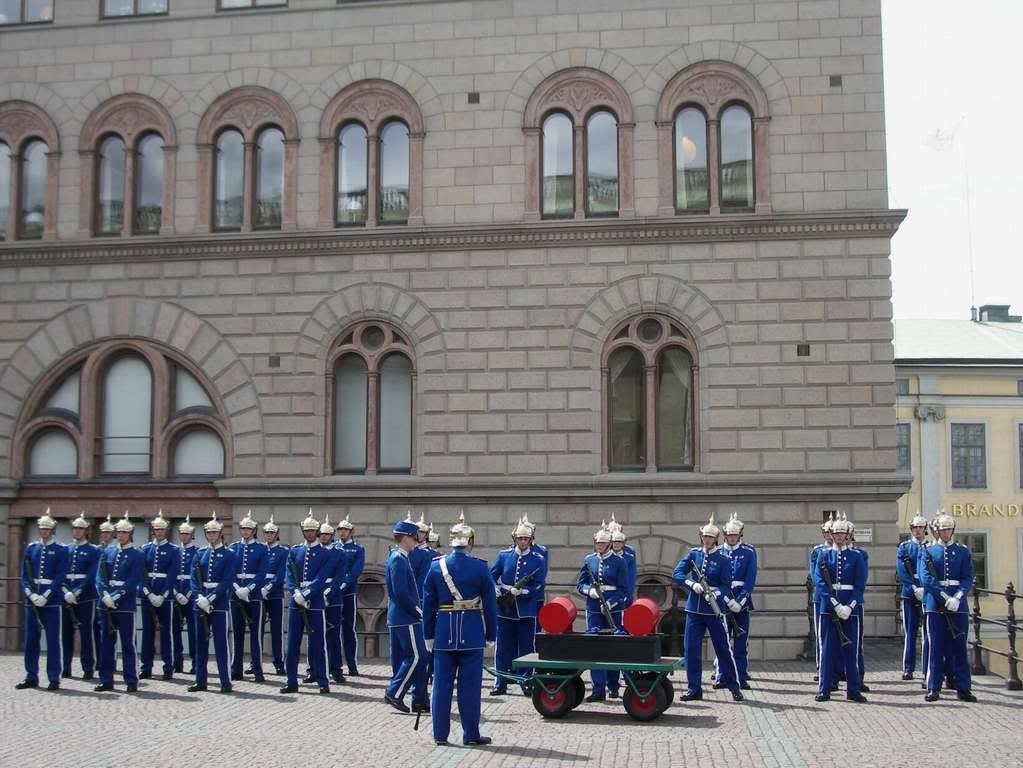 ...and guns: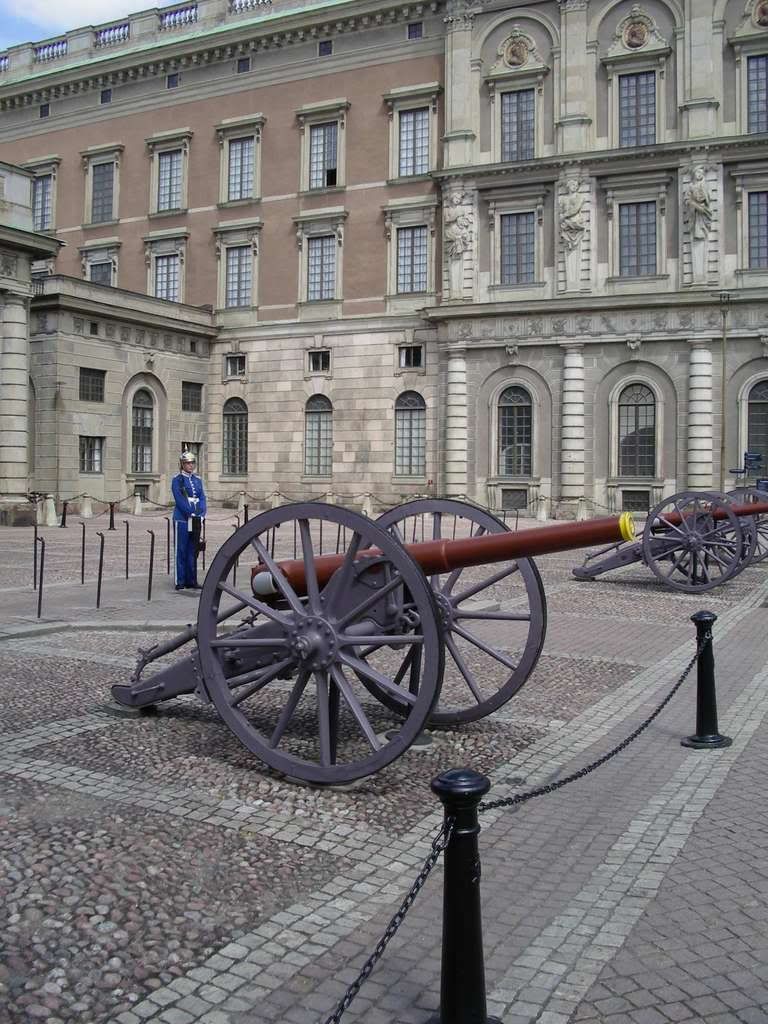 Again: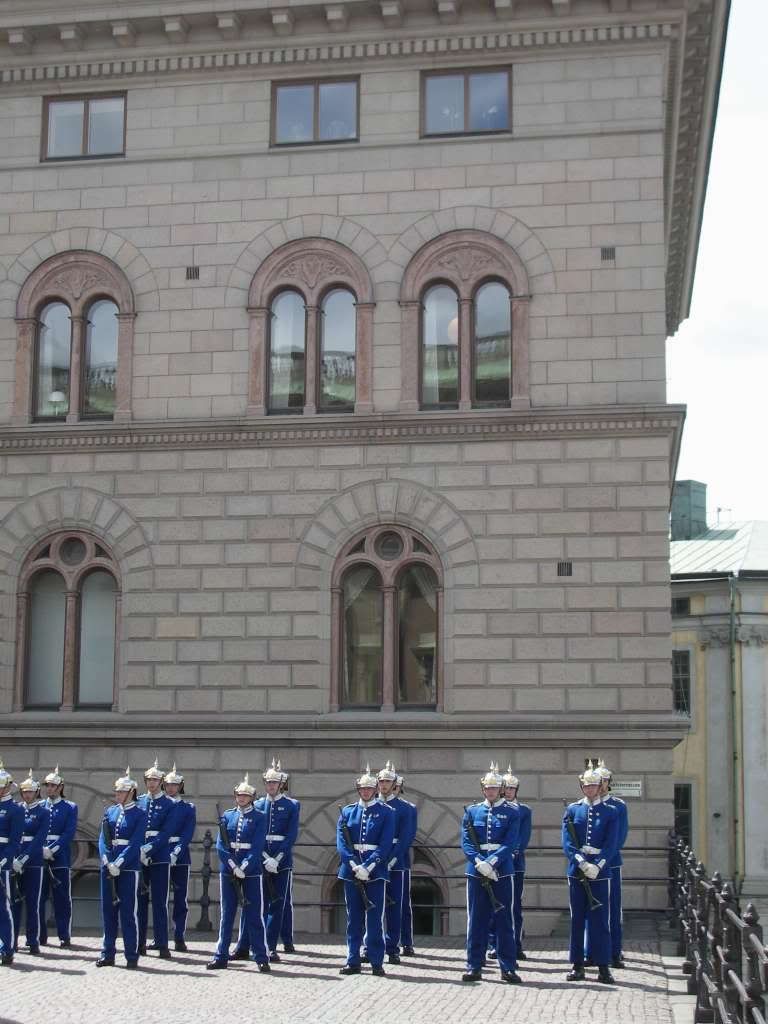 The castle: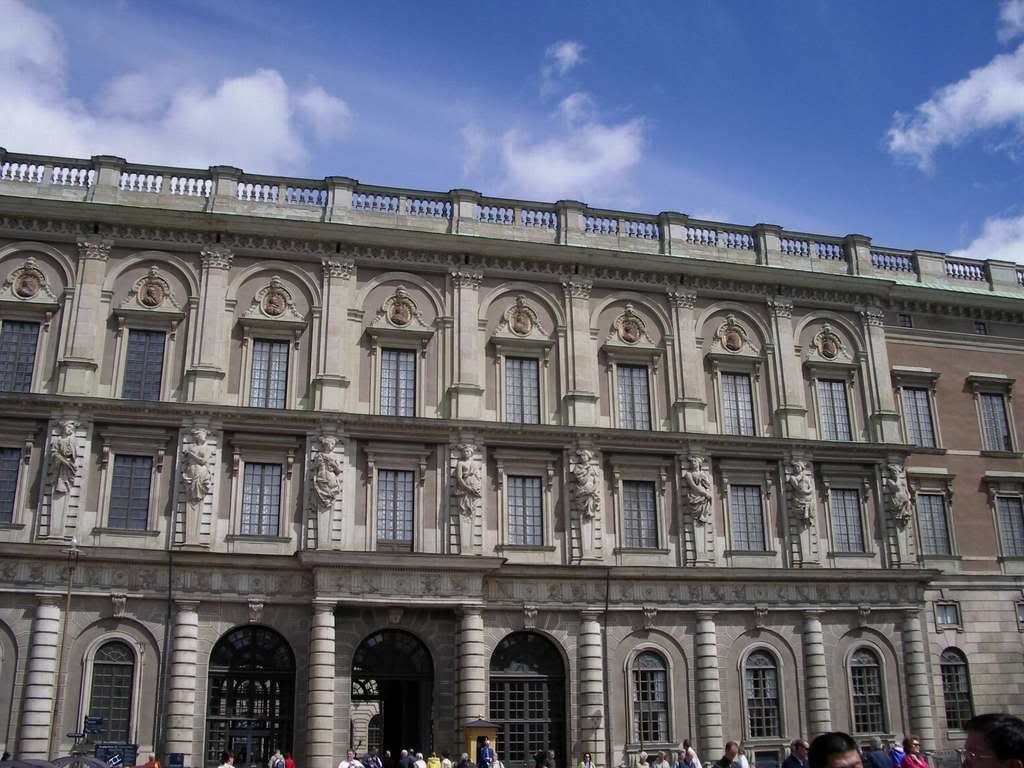 Nobel foundation:
Tyske kirka: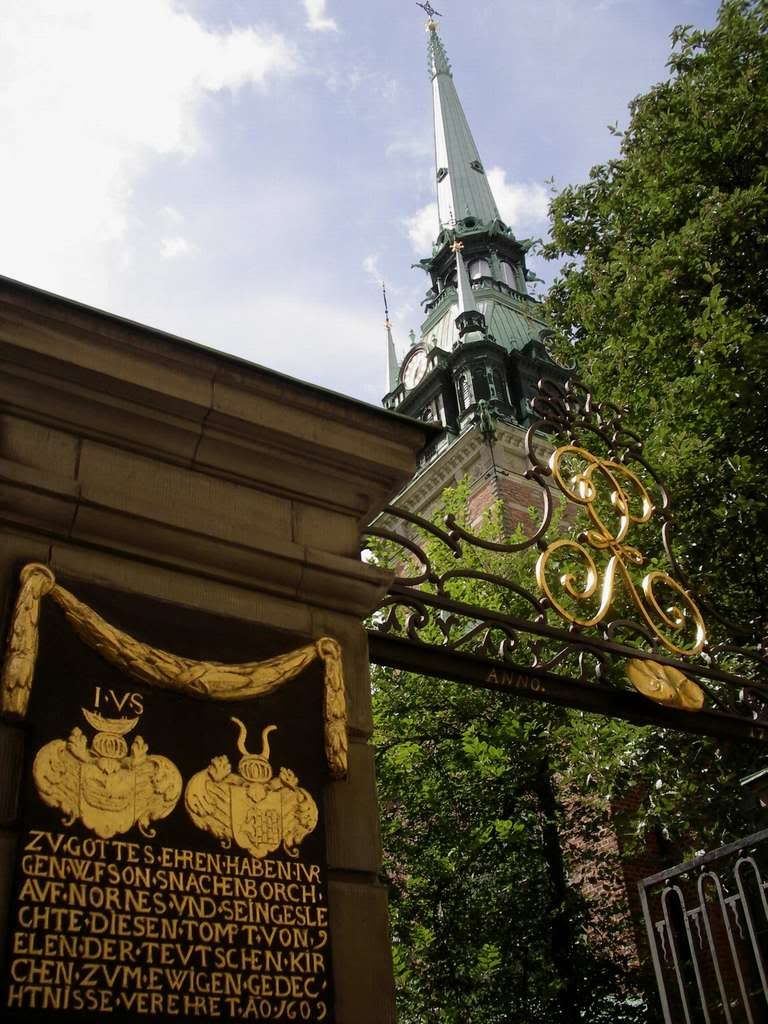 Interesting architecture:
Also a maritime city: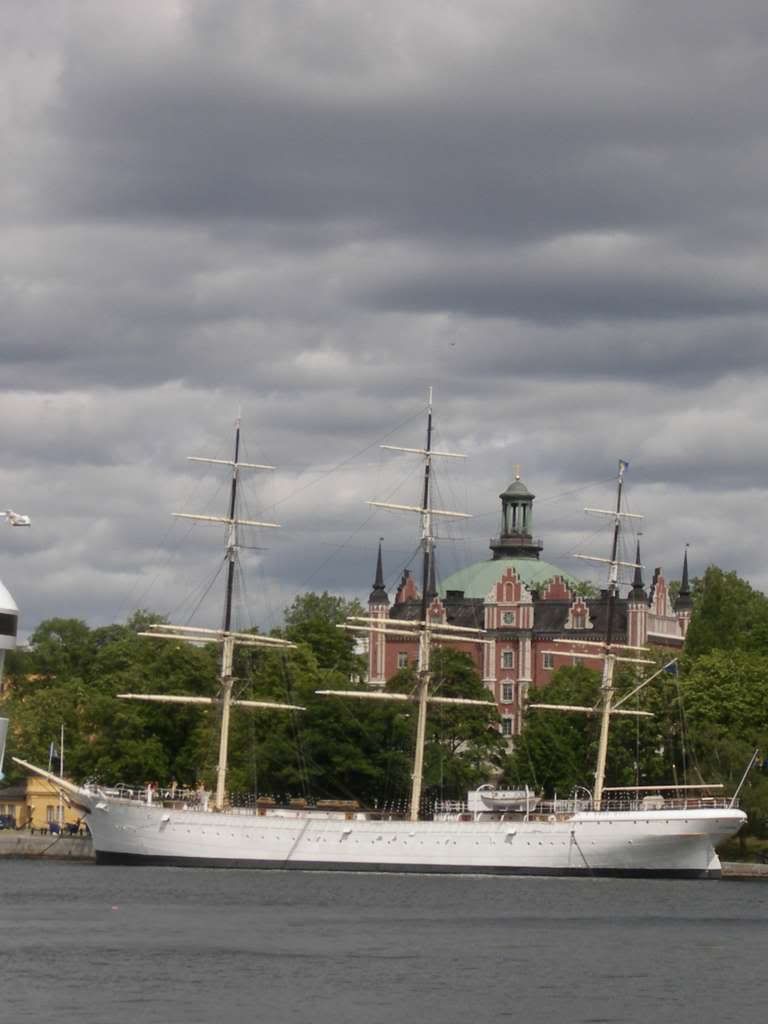 More: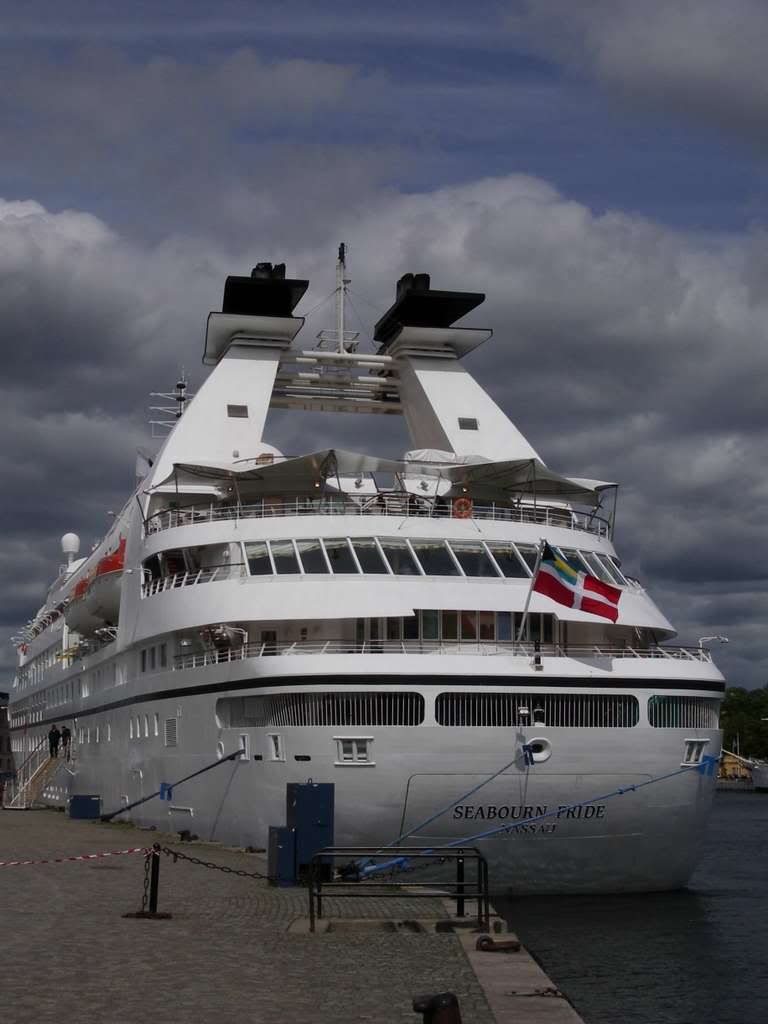 3.)
ARN (Stockholm-Arlanda) - FRA (Frankfurt-Rhein-Main)
Duration: 1 hour, 55 minutes
Service SK 673 operated by SAS Boeing 737-600 LN-RRR
Scheduled: 16.50 // 19.00
Actual: 17.05 // 19.00
Gate: 14A Seat: 22F
Load factor: 100%
History:
15.09.1999: Delivered to SK
Premiere, leg no. 1 on the 736
Back at the airport at around 4.00 pm, time enough to walk again to the recently opened T5 extension.
I like that scandinavian architecture, wooden floor, airy and spacious, not bad.
T5 extension: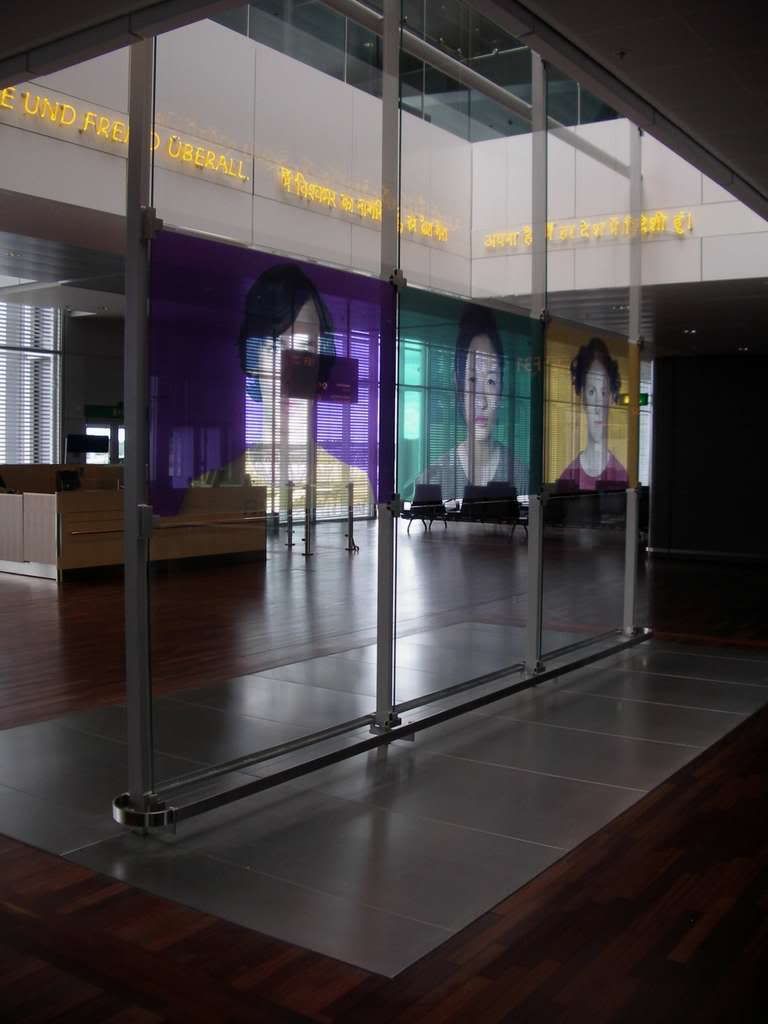 And again: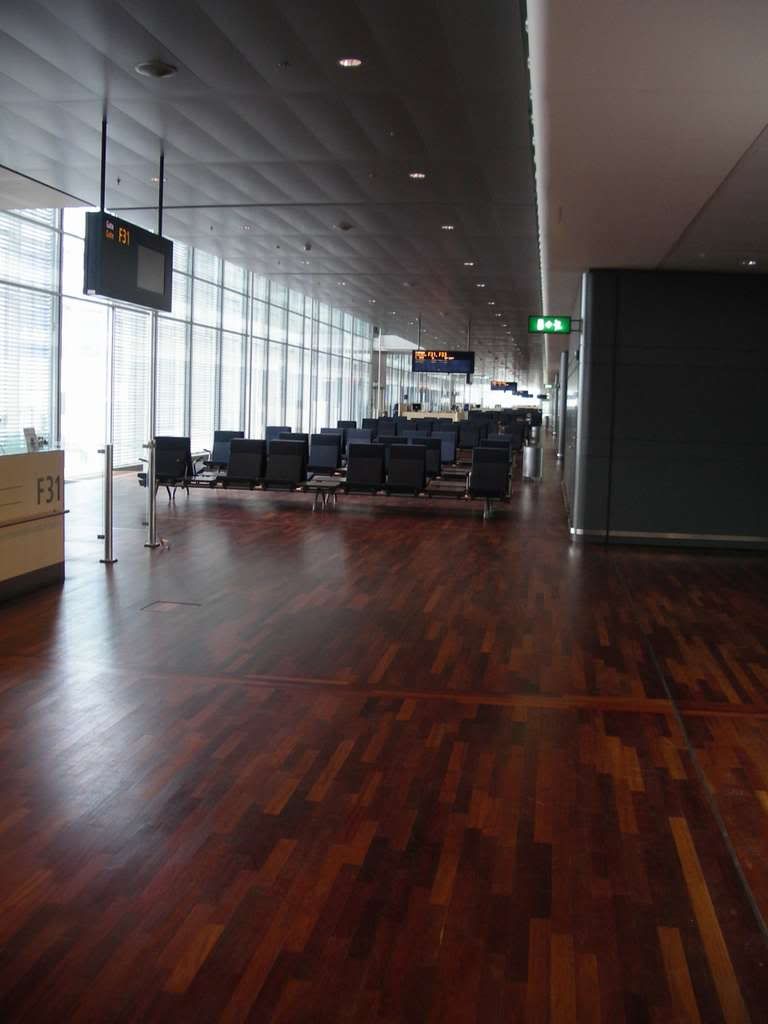 Big taxi: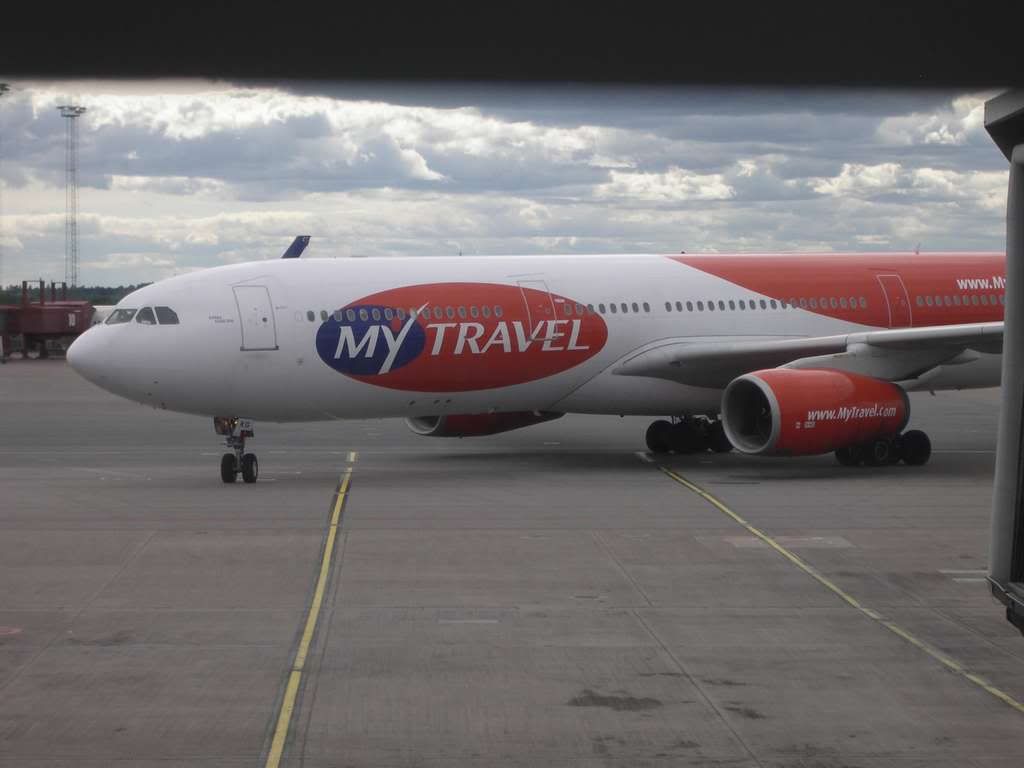 Close enough:
Further to a new addition into my log, the first ever flight on the 737-600.
Lots of pax around, looks like a good load today.
Ontime boarding, the plane was parked when I´ve reached the airport earlier.
My machine in the middle:
Closer: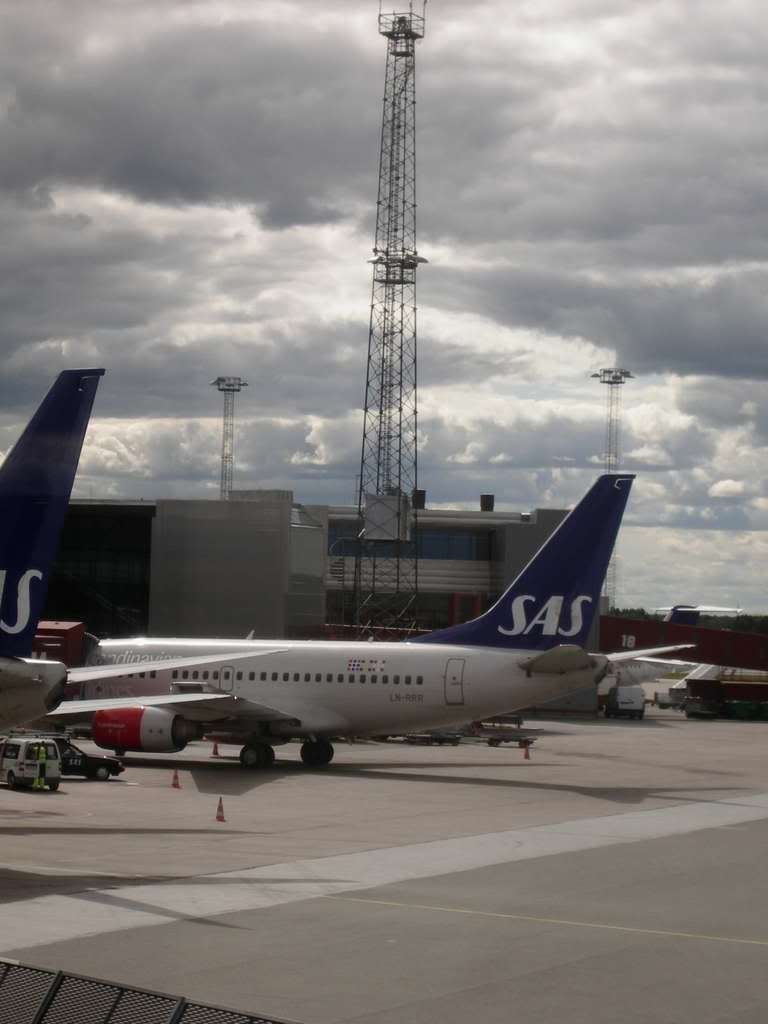 This time one male, two females, all real experienced FA´s.
Dark blue fabric seats, clean, good looking, legroom was ok.
Seating was a surprise, row 22 was 3/2 with me on the right decision 2 seater.
The guy beneath me was also a surprise, but not a positive one, fat and sweaty, a plastic bag with beer cans gave him enough joy to fly today, weird.
Departure from runway 01L, no free service also on this leg.
Cruise level impressive 41.000 feet, from what I´ve read the absolute maximum, via CPH and HAJ to FRA.
Reaching Germany: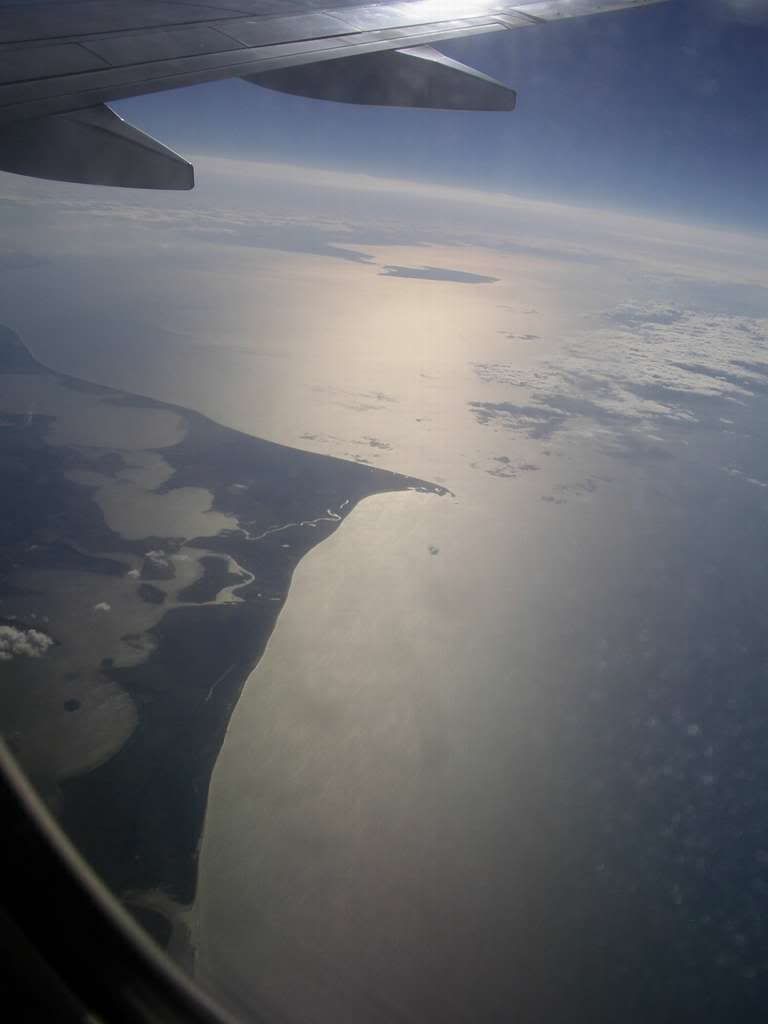 The flight deck crew was from Scandinavia. A short information inflight about route and weather, once more short ahead to FRA with weather and arrivals informations.
Touchdown on runway 25R perfectly ontime.
The captain was at the door and wished us pax a nice day, a good chance for me to ask about a flightdeck pic.
The office:
Finger deboarding at the A gates.
At the gate:
4.)
Tuesday, 24.06.2008
FRA (Frankfurt-Rhein-Main) - STR (Stuttgart-Echterdingen)
Duration: 25 minutes
Service LH 1358 operated by Lufthansa Boeing 737-300 D-ABXL
Scheduled: 20.25 // 21.05
Actual: 20.40 // 21.05
Gate: A02 Seat: 24A
Load factor: Around 80 %
History:
05.12.1986: Delivered to LH
Leg no. 30 on the 733 and the first on this machine
Time enough to walk to the end of the A pier, some plane spotting there.
And back to my gate some minutes later.
A view to FRA ops showed me D-ABXL on the leg to STR.
A nice surprise, the oldest B733 in Lufthansa´s fleet, earlier arrived at 6 pm from DUS.
Bus transfer.
Oldie boarding: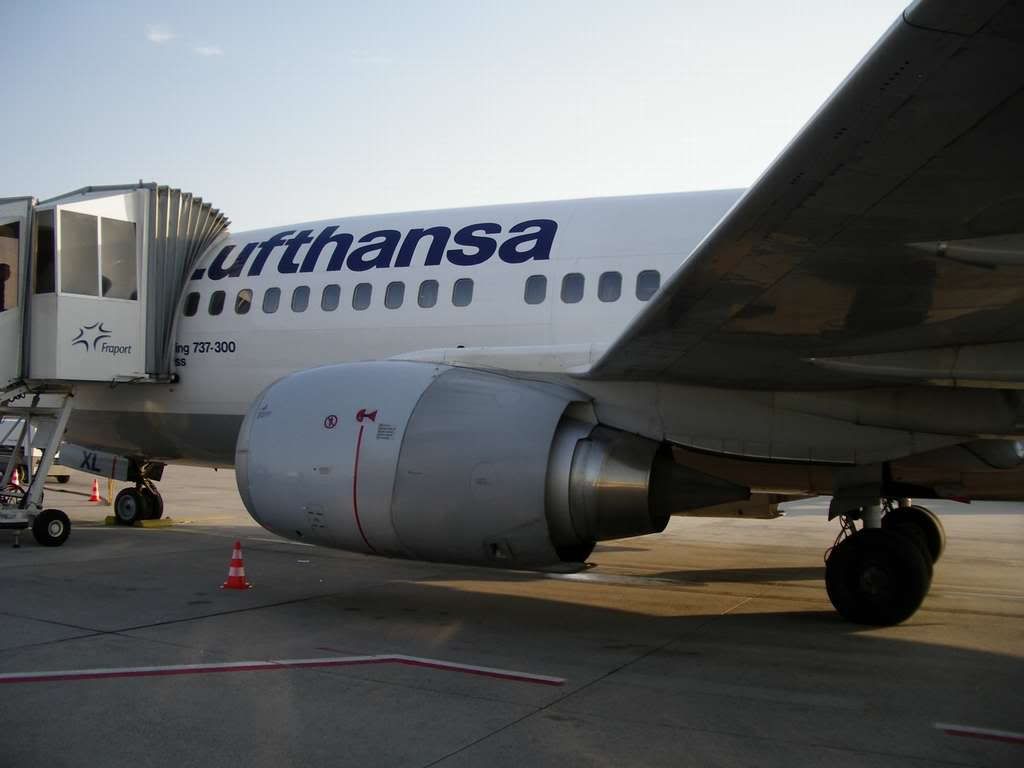 Again: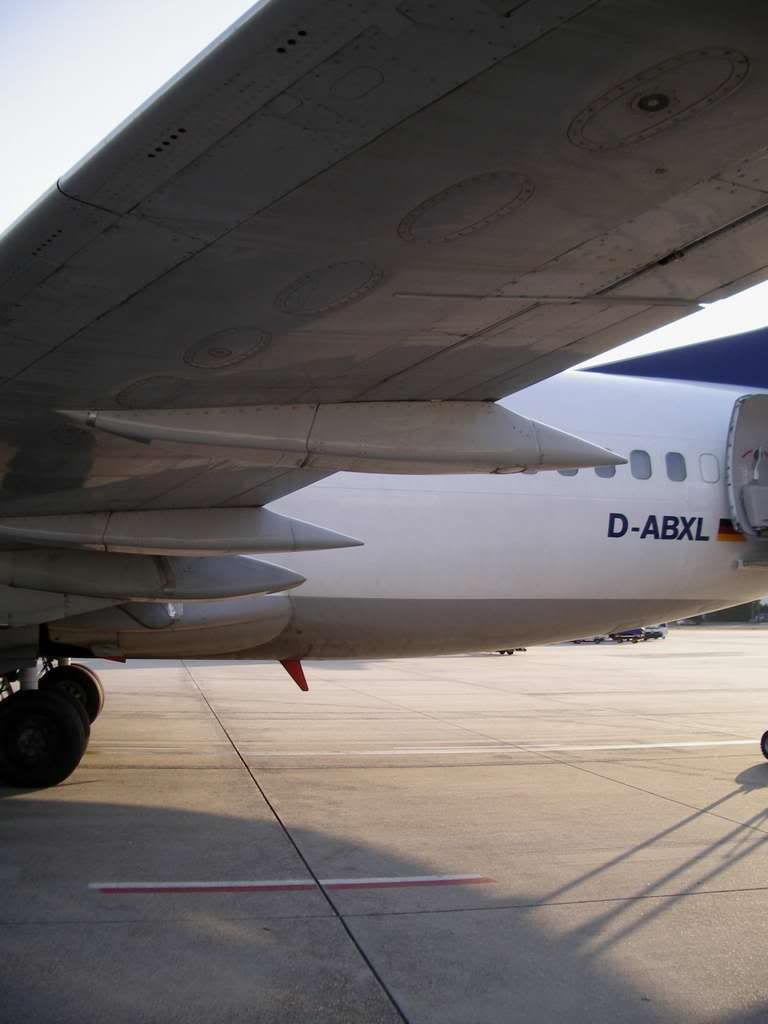 And again: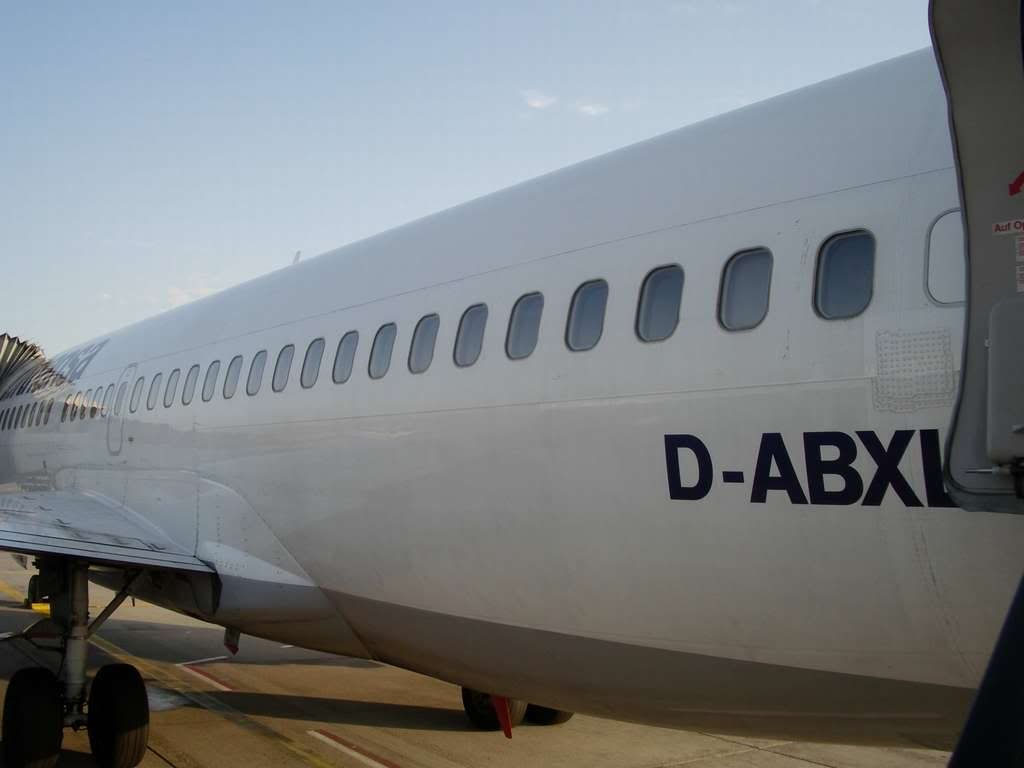 The cabin fitted with dark grey leather seats, clean and well maintained, legroom was ok.
Ask someone non-aviation interested, they surely cant believe that this machine is nearly 22 years old.
Three friendly female FA´s on this service.
I´ve boarded late and once again my seat was taken. A short discussion and I´ve secured the window again.
A friendly welcome with detailed informations on the ground from the flightdeck. The crew was from Germany.
The pilot announced ten minutes to wait till start up ATC clearance.
Departure from runway 18. Once more informations short ahead to STR.
No route or flightlevel details, no service on this leg.
Touchdown on runway 25 perfectly ontime.
Technical problems?: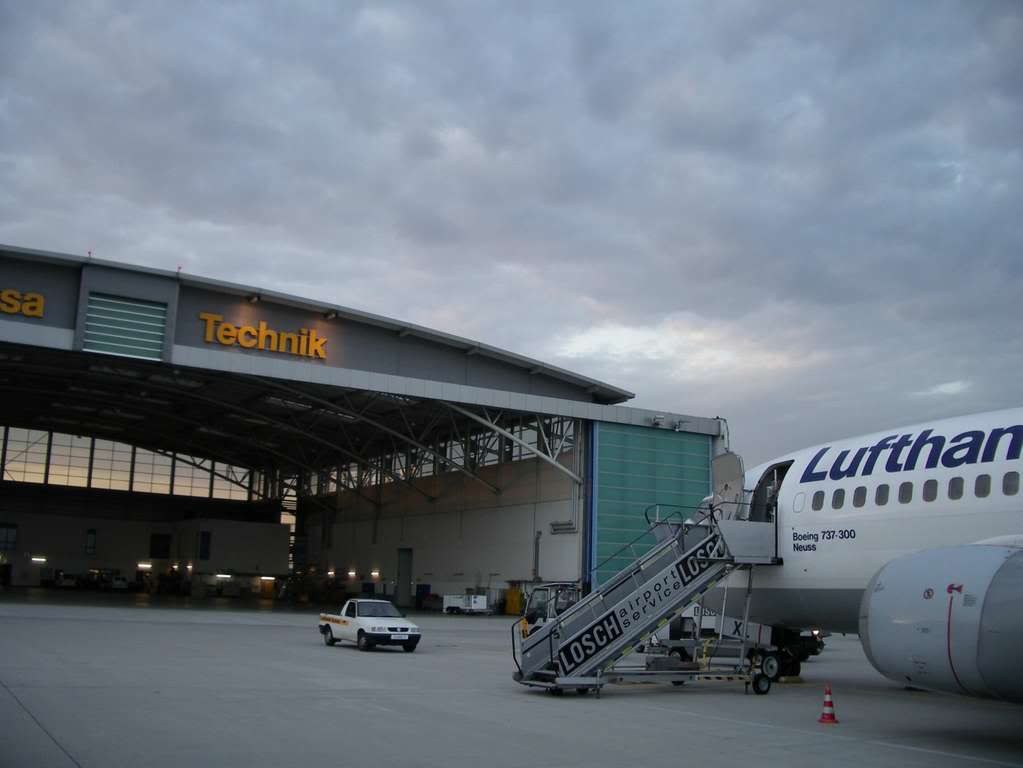 Bye-Bye: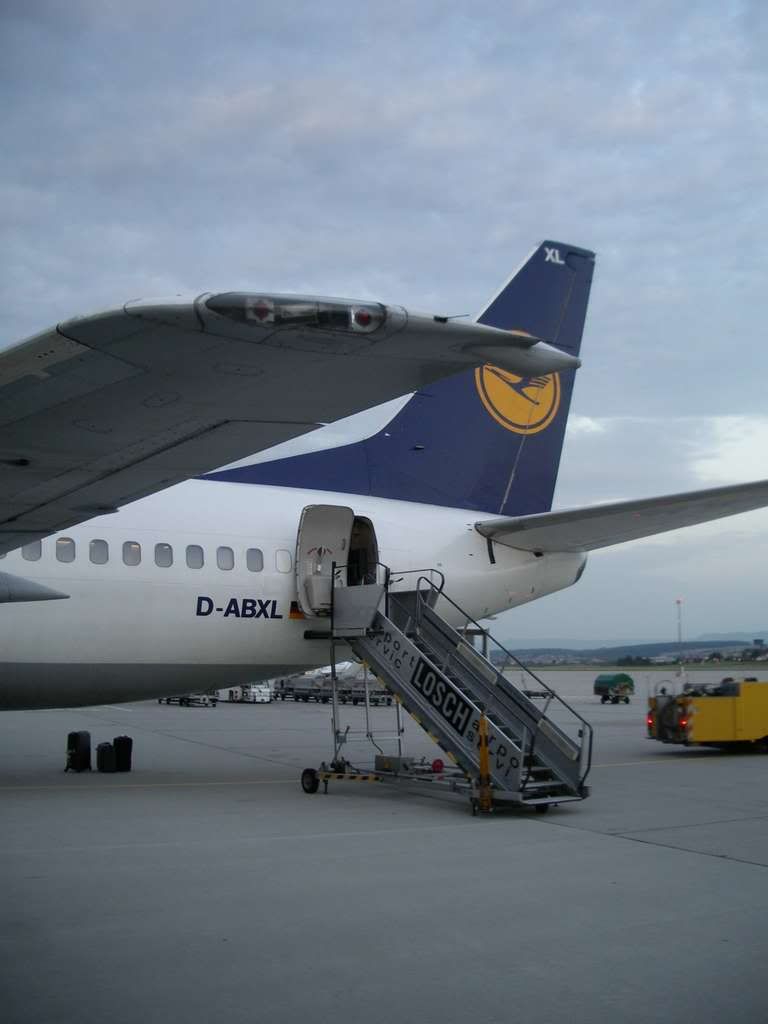 Bus deboarding and once more on the way back home with a short night ahead.
Friendly crews both on LH and SK, interesting metal, especially the cute 736, but also the oldie 733.
Good fares and a real interesting city, visited for the first time.
So all together a good day, no problem to fly LH and SK again.
Comments welcome,
Markus (FLIEGER67)