Hi everyone!
Well I'm writing my third trip report here in A.net, this time was a domestic flight from MEX to REX with Aeromexico, the purpose of this trip was visiting some friends and relatives in the Rio Grande Valley Area and Aeromexico offer the cheapest ticket flying to REX and then driving to McAllen.
I booked online the flight for July 11th, Aeromexico offers 3 daily flights to REX, 2 of them operated by Aeromexico Connect in the ERJ145, I choose to fly with AMX, which is the second flight departing at 17:00 and arriving at 18:20.
Finally the day came and at 14:00 a person that works for my dad picked me up at my house and drove me to the airport, yes I know it was 3 hours before departure time but it was Friday and who knows how the traffic was going to be, fortunately there wasn't any traffic and the ride to the airport took less than 25 minutes arriving to terminal 2 at 14:20 and straight to check-in with Aeromexico which was also empty! Good thing after that I walked through the departure level passing Delta and Continental check in areas, the food court and had some food, then visited the little museum, and then head over to Hall M to pass through security. Before going on with the report here are some pictures of the Terminal 2.
Main entrance to terminal 2, departures are on the upper level, arrivals on the lower level
View Large
View Medium


Photo © Ricardo Morales Centeno - APM
Departure level mezzanine: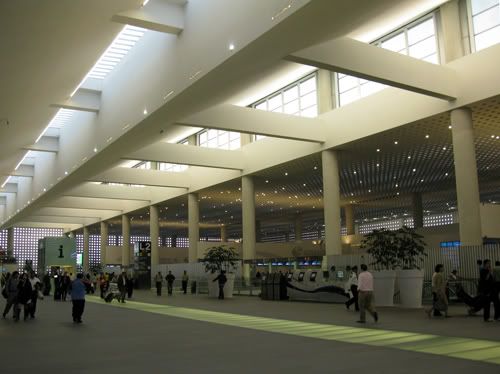 Delta and Continental check in area: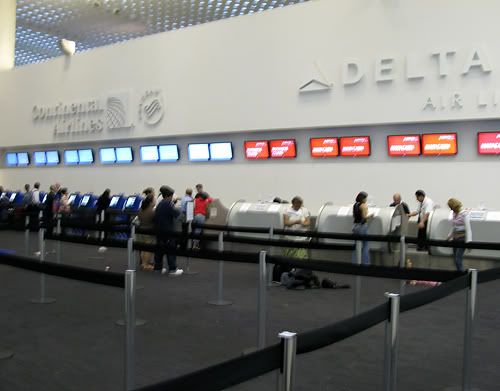 Food court, you can find whatever you want to eat in here! It's really good!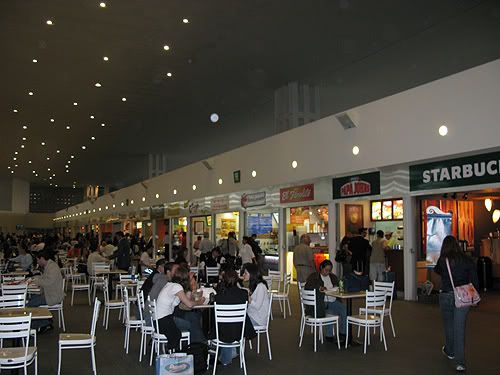 Part of the museum which have very cool archeological stuff from ancient cultures from Mexico: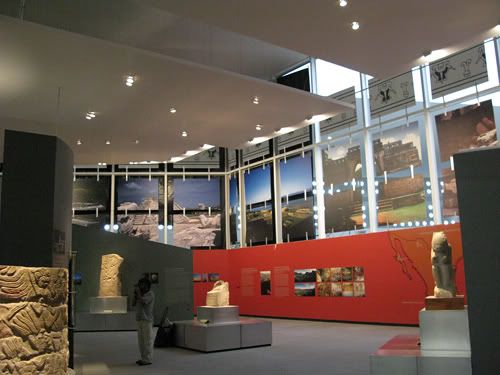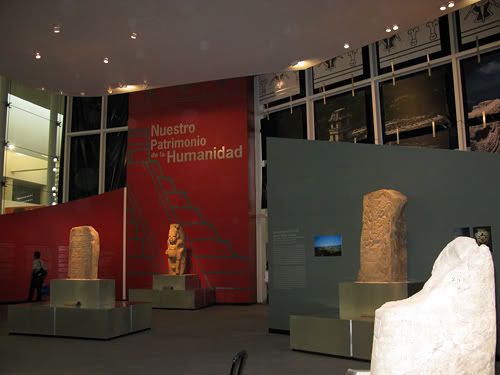 Clearing security was a little slow although there was almost no people, but the "cop" or security officer or whatever is call is slow as hell while checking that the boarding pass matches de one with the ID. Anyway after that pass through the X-ray machine and all that, and finally I was at the gate area, walking and seeing the new terminal which let me tell you I really like it!, good restaurants, a new brand for Duty Free , lot's of space and very good design. Here are some more pictures from the Terminal.
View from the moving walkway that connects the domestic departure gates with the international departure gates:
View from the same spot, looking at the domestic gates with a couple of Maddox at their gates: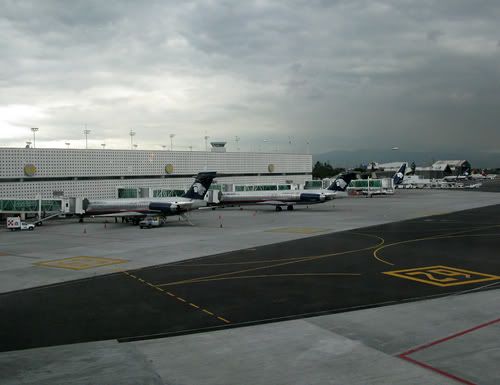 LOL again from the same spot, a 737 taxing to the gate, and N746AM second 777 deliver to AMX waiting patiently at the hangar before being tow to the gate and depart to Madrid as AMX001: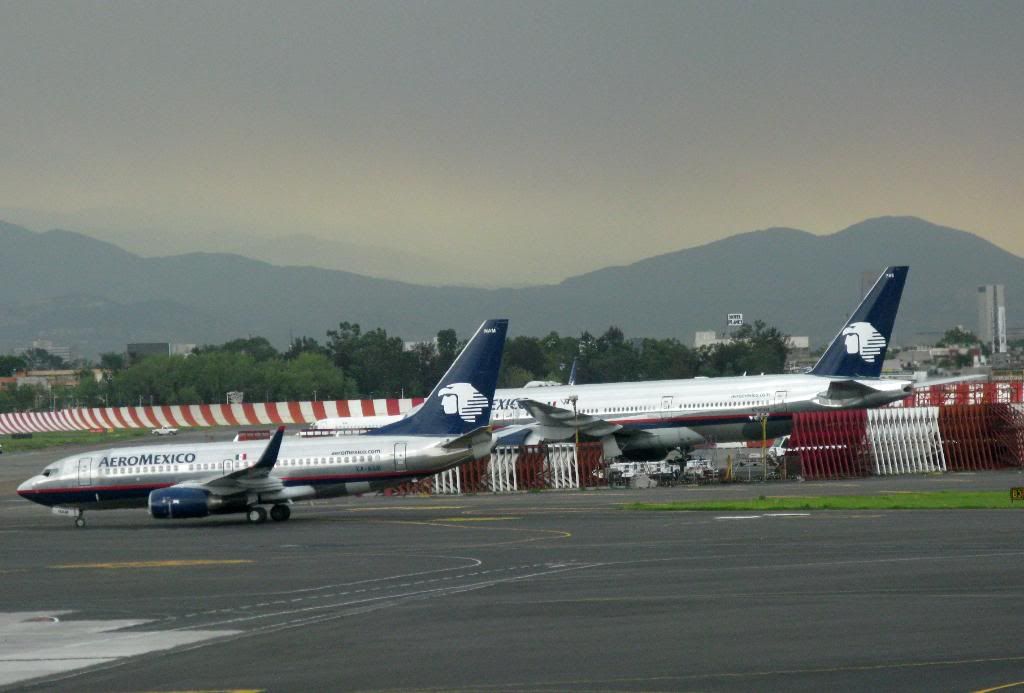 Sign at the internationals gates and view of the waiting area: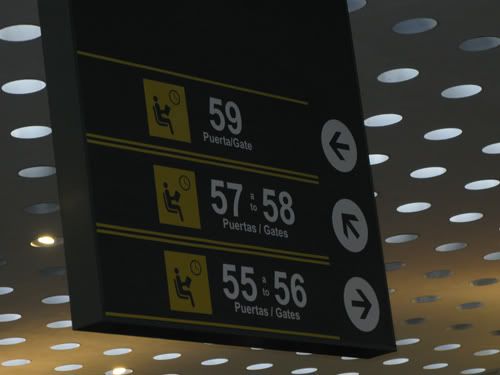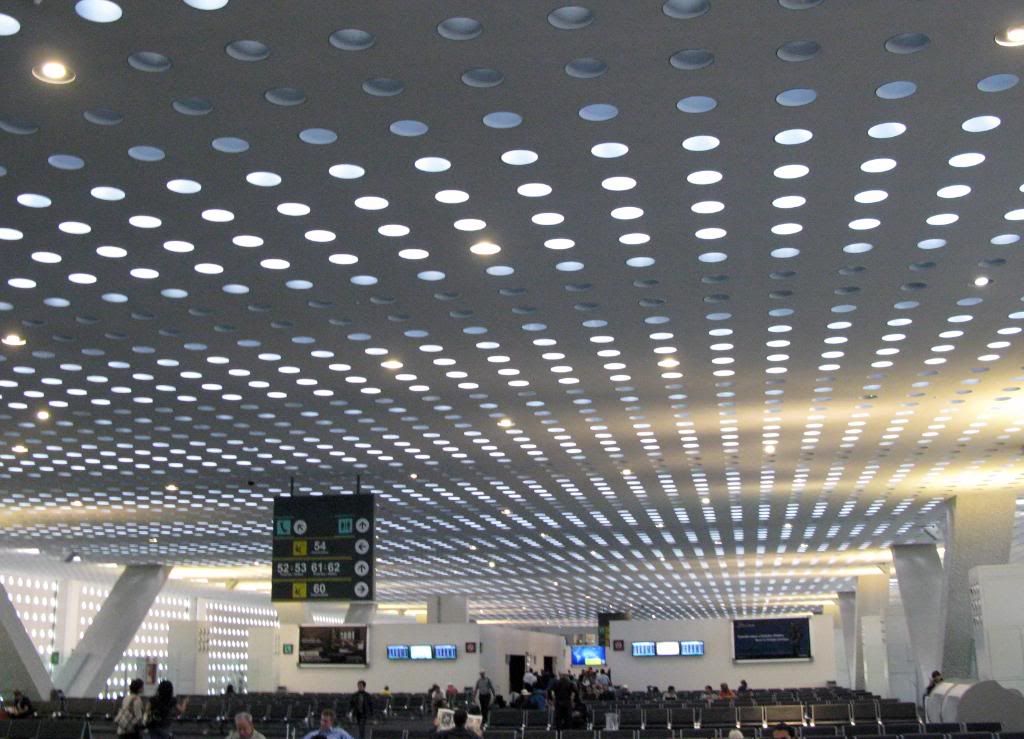 After that I start searching at the TV Monitors for my gate that turns to be gate 69!
And I walked all the way to gate 69 and sat there for awhile waiting for boarding time, chatting on msn and chilling out, here are some pictures from my gate.
View of terminal 1 with one 767 which I'm not sure from what airline it was.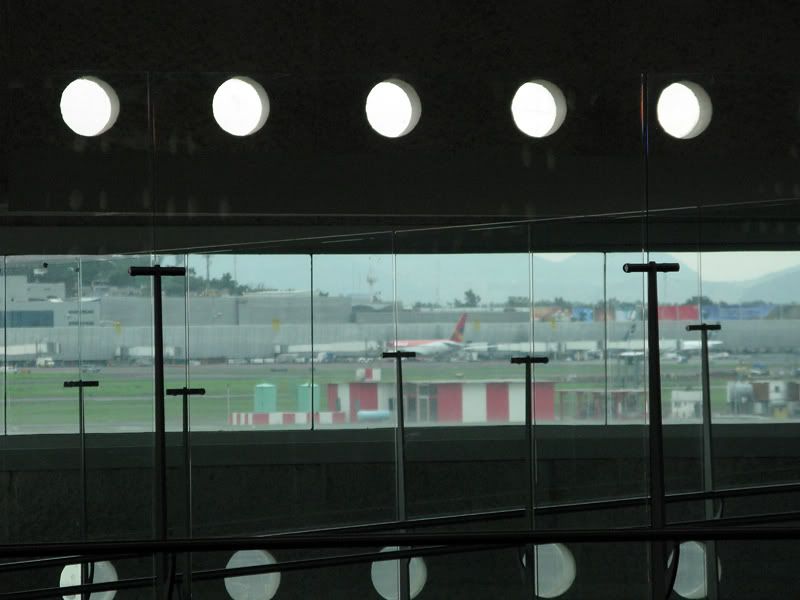 Departure's monitor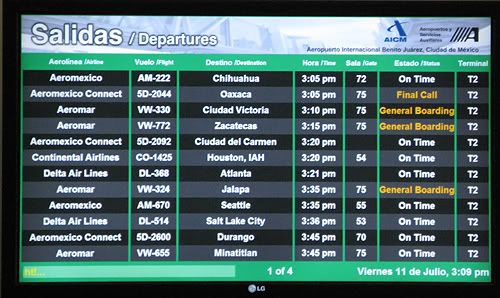 At my gate: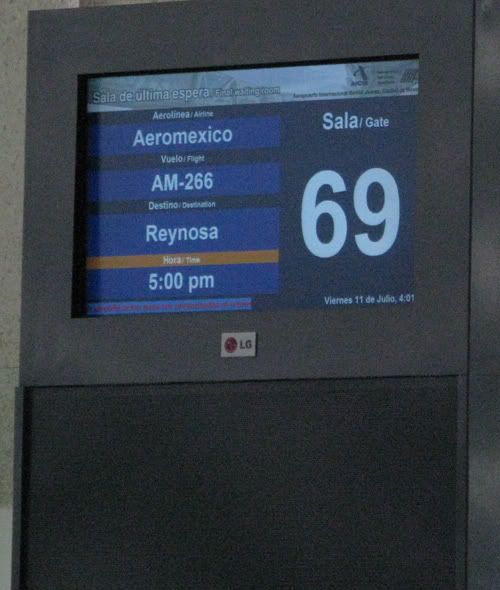 N746AM finally at the gate: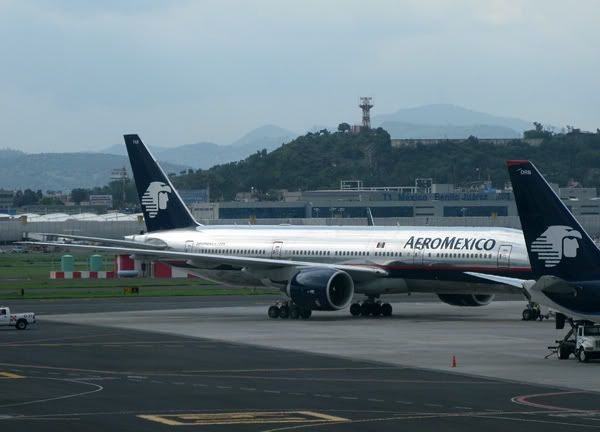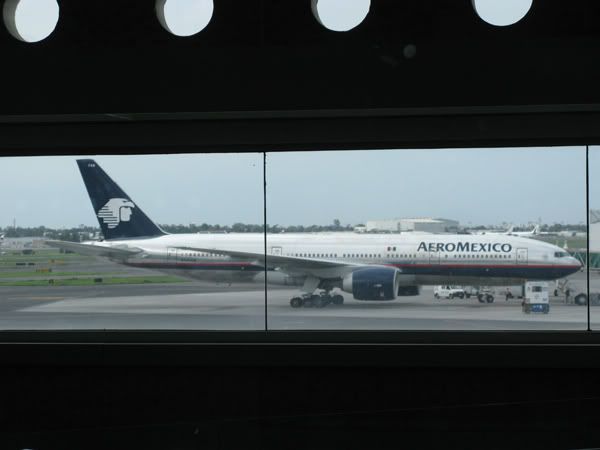 After that they announce that my flight's gate was change to gate 72, so I walked over there and there where already checking boarding passes, but still no boarding, just the pre-boarding stuff. I saw an E190 arriving to the gate, so I run to get a picture of it, sadly it was already at the gate and just got this one: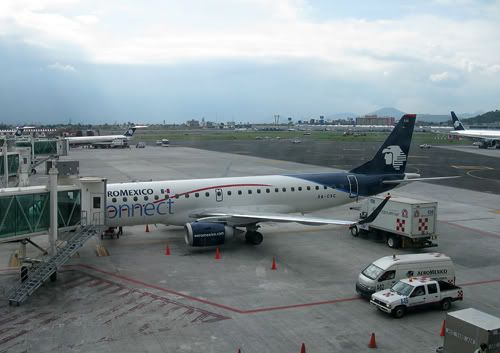 This are famous dude's that believe that taking pictures of airplanes is a crime, or maybe that we are bad guys planning bad things, anyway, I hope someday they will open their closed minds I doubt it, but well we can all dream!!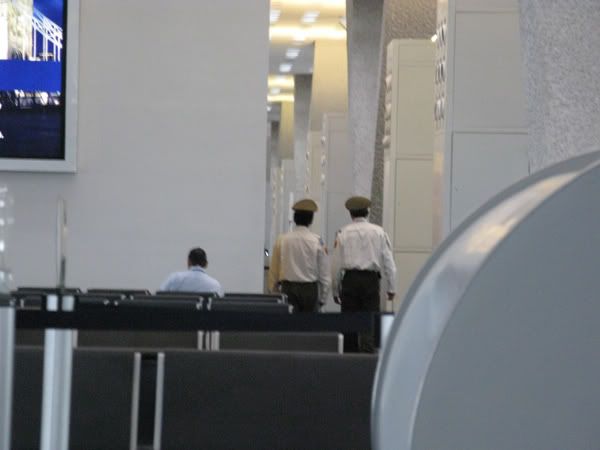 Finally! 1650 boarding was call starting with hum… 5 passengers in Clase Premier and then boarding from the back of the plane to the front.
Aeromexico 266
Mexico City – Reynosa
Deperture: 17:00
Actual Departure: 1810
Arrival: 18:20
Actual 19:17
Airplane: McDonnell Douglas MD-87 XA-TWA
These gates are really strange because you need to go down through a ramp and the walk to the airplane through the gate, here are some pictures!:
XA-TWA: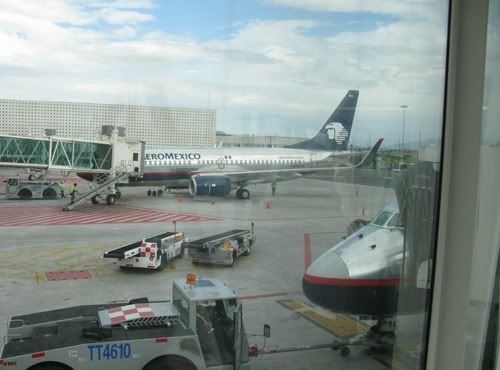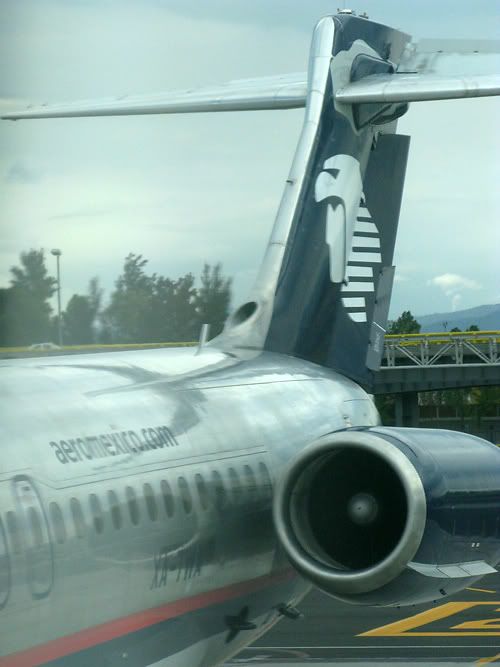 Sky Team logo: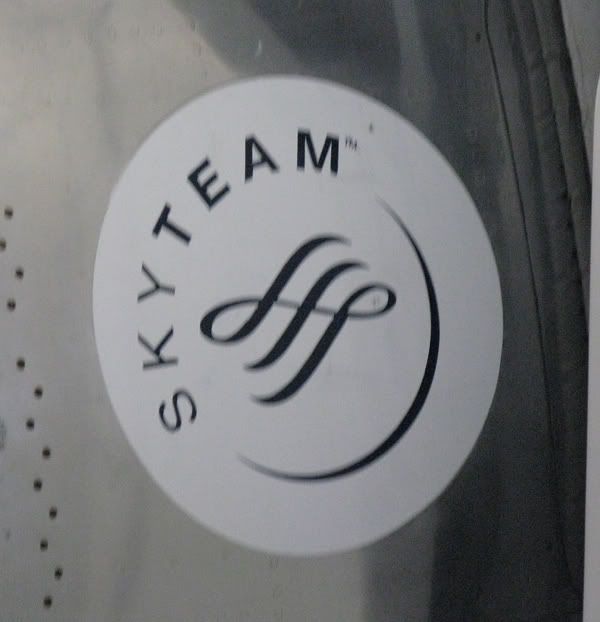 All passengers were really quick in taking their seats and ready to pushback at 17:10, but no, nothing happens, and time passed and nothing! Finally the captain came in and first apologize for the delay and the explain us that we were delay because they haven't FUEL the plane! Yes our airplane didn't fuel enough to complete the trip, finally after waiting for 40 minutes, the fuel truck came in, we were fuel and ready to go at 17:50, at 17:55 we were pushback from the gate and ready for taxi to runway 05R, more pictures:
View from my seat 23A with XA-CTG arriving to the gate: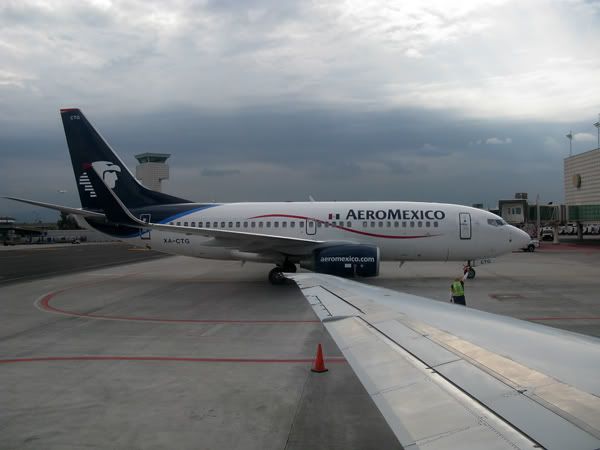 Row 24 was empty so I took this picture while waiting for the fuel truck:
Engine:
During pushback:
Another MD87: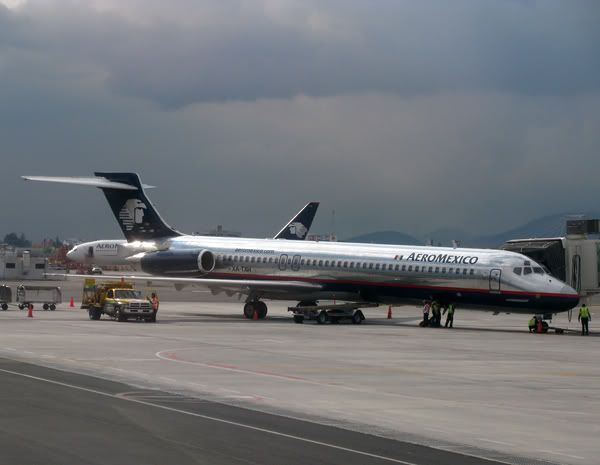 Connect ERJ145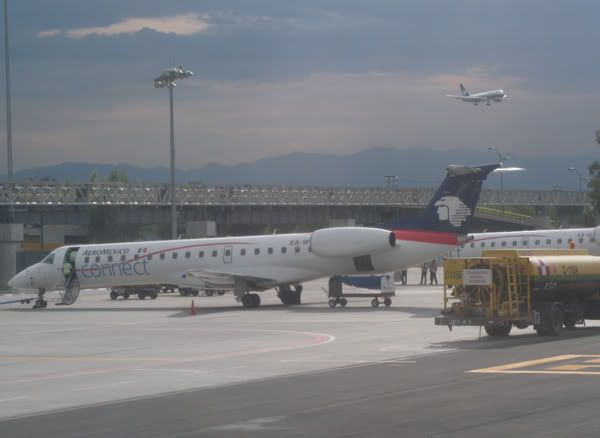 Finally we began our taxi to 5R passing near AMX hangar, with a 777 being prepare for the night flight to China or Brazil.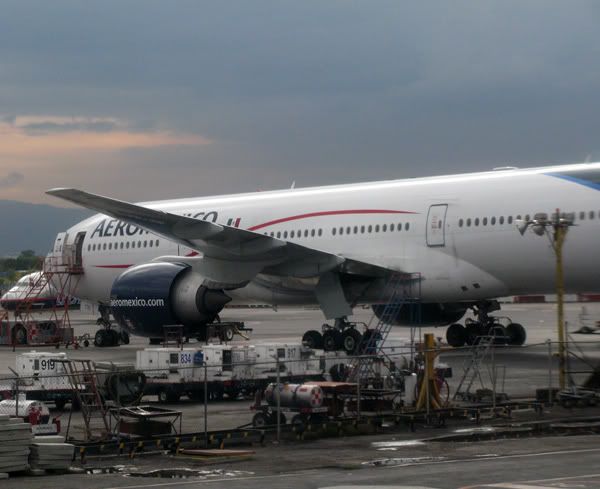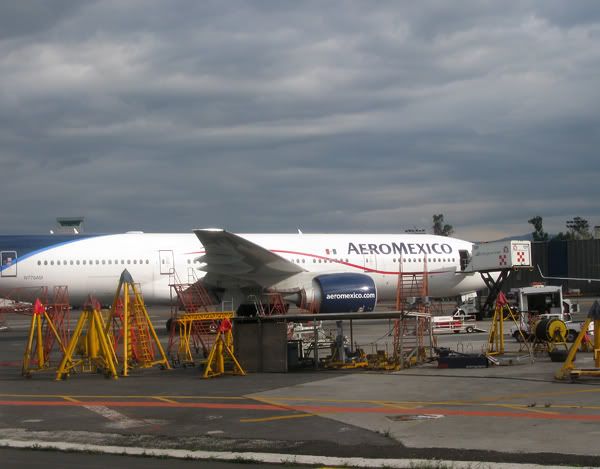 Here is one of the MD87 use by Aeromexico Travel use for charter flights: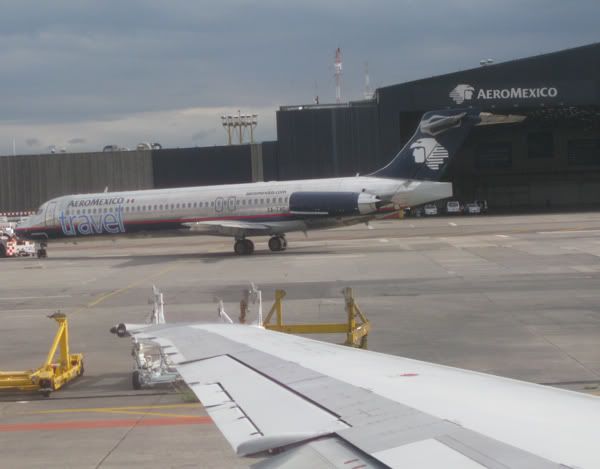 Global Air or Ex. Global Air 732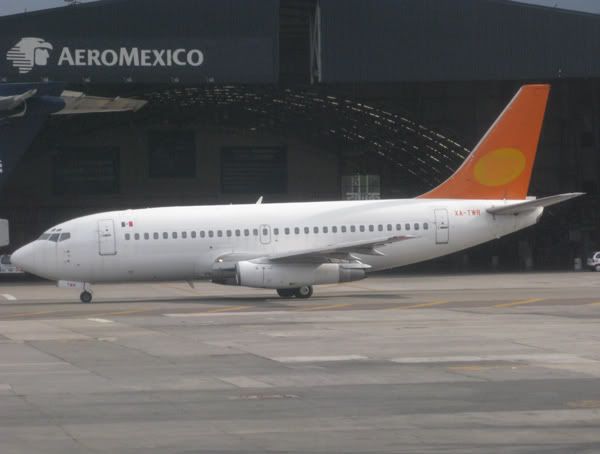 Some abandon airplanes. I don't know what the status of RepublicAir but here we have a picture:
And after 1 hour and 10 minutes delay finally it was our turn on runway 5R for departure with a Mexicana Airbus landing on runway 05L:
KLM685 at the gate after arrival from Amsterdam: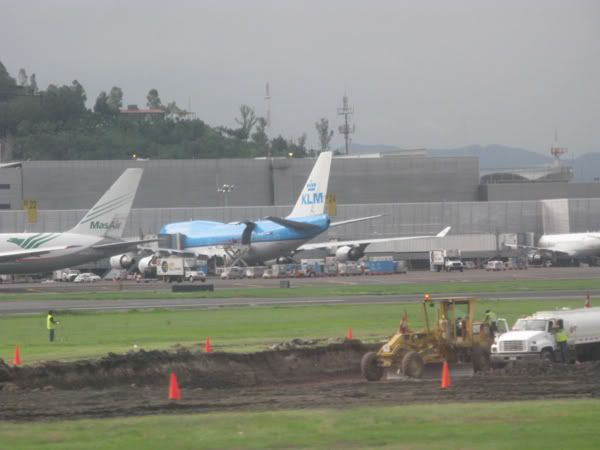 Air France 438 from CDG, nice to see again the jumbo in Mexico: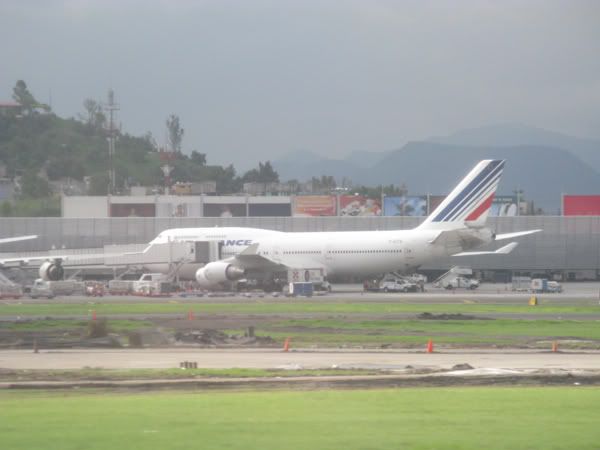 Rolling on 5R with MXA Airbus coming to stop on 5L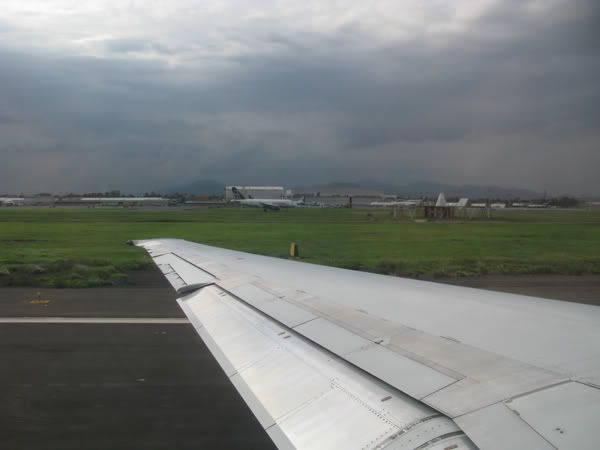 And… airborne! Climbing away from Mexico City: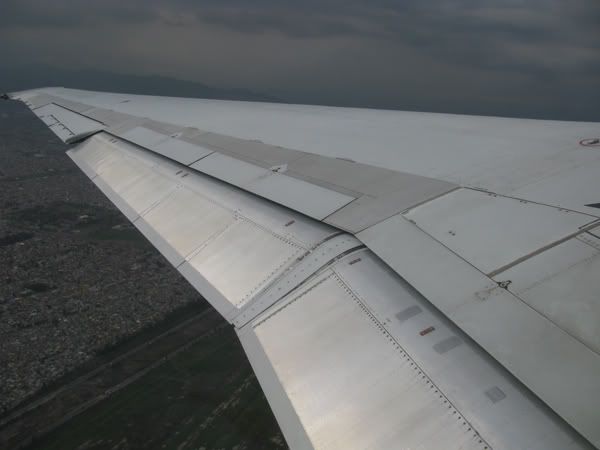 Big City and its only one part of it:
Climbing through some big, gray, nasty clouds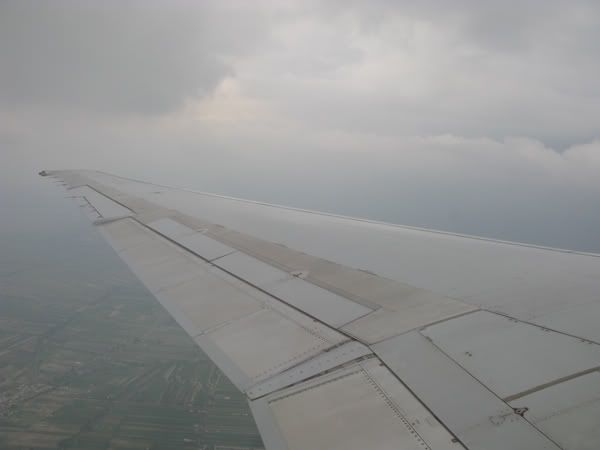 The flight was really smooth, at 33,000 as announced by the captain in flight service was just some peanuts and beverage service, flight attendants were really kind and nice, always smiling and enjoying their work.
Finally pitufo skies!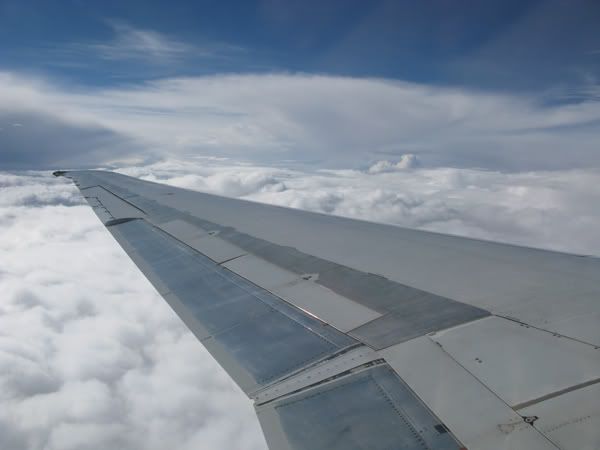 Another view from row 24: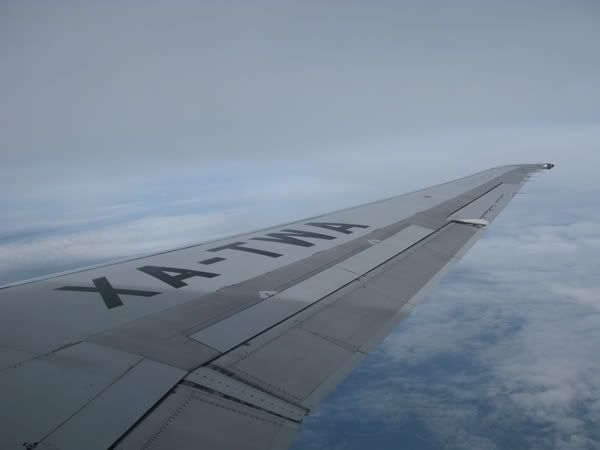 After 50 minutes we began our initial descent into Reynosa, also very smooth, the spoilers were needed in order to help us slow down: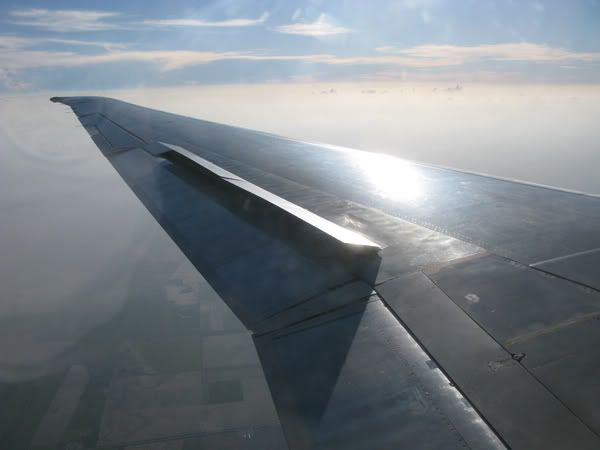 Flaps set during our approach into Reynosa:
Overflying the highway from Cd. Victoria to Reynosa:
Video of part of the approach and landing in REX:
Slowing down spoilers already up:,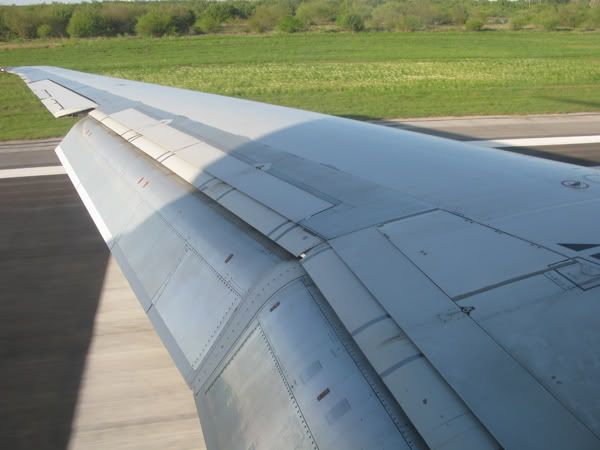 REX is really a small airport, no taxiways at all so we backtrack and taxi via runway 13-31 to the stand.
Arriving to our stand: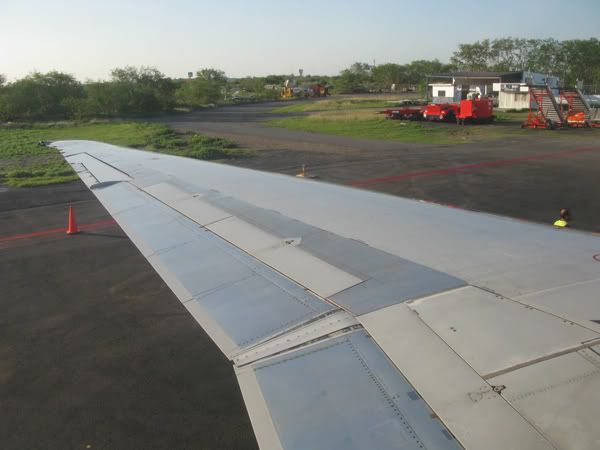 Some abandon airplanes or junk?
Leaving the airplane after a great flight!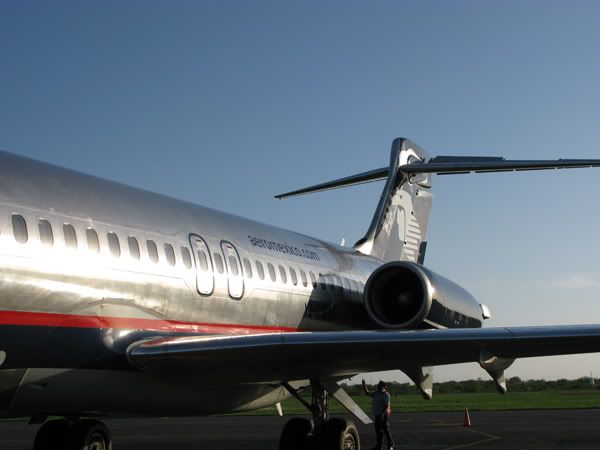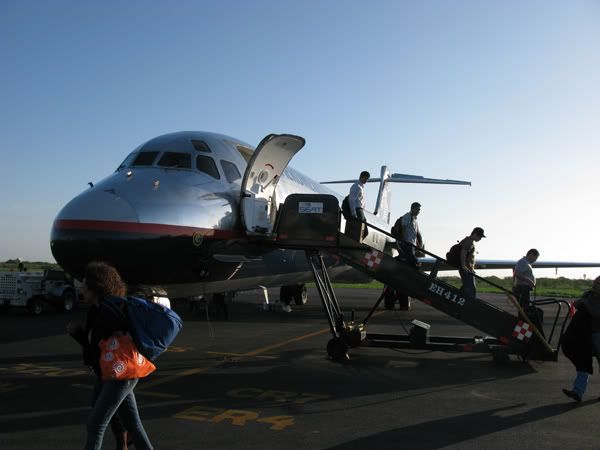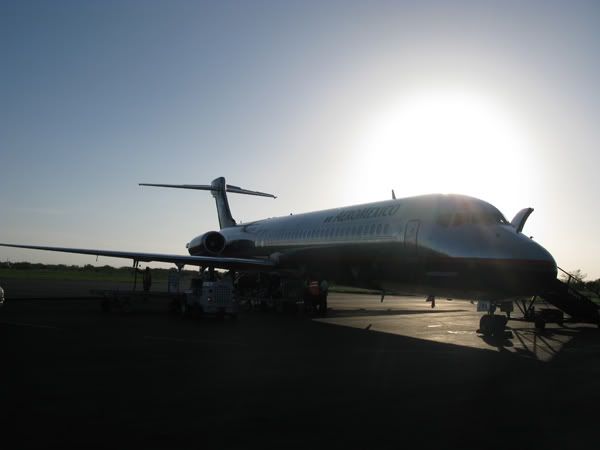 Welcome to Reynosa:
Could this be the smallest tower at an airport?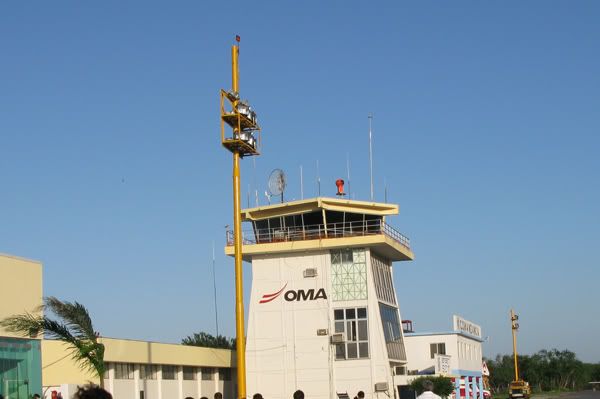 The sun going down, and ground team working quickly for the return flight to Mexico City!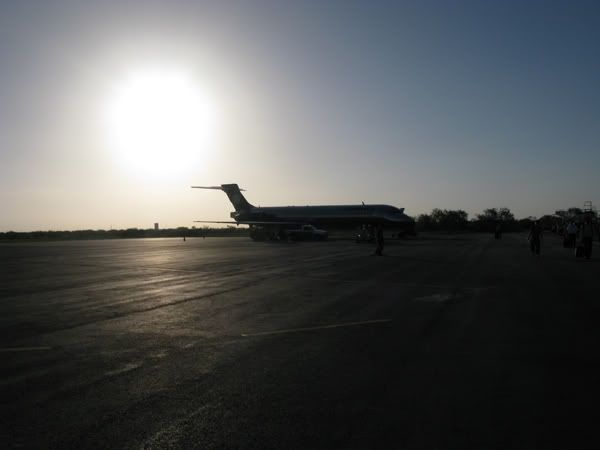 Thanks for reading! Hope you enjoy the pictures! Comments are always welcome!
Take care everyone!!
Jorge.