I decided to blow some of my Star Alliance miles and go for a weekend away at short notice. I always find that Miles and More offer good award availability, even only a few days before departure. In fact I booked the trip on Wednesday, leaving on the following Saturday.
I wanted to go to Copenhagen as it is one of my favourite cities. I also wanted to enjoy the longer midsummer days, Danish design, and hopefully good weather.
I also wanted to take the most complicated routing possible, as flying is most of the fun. There was an opportunity to travel LHR- VIE- CPH with Austrian. An unorthodox routing perhaps, but what the heck.
05.07.08 OS452
Dep LHR Terminal 2 09.25
Arr VIE 12.45
Airbus A321 Seat 7 F
Somehow I don't mind getting up early on Saturday if I am catching a plane. ☺ I got to the airport in plenty of time and there was not much of a queue at the Austrian Business Class desks. I was held up by a group of Australians going via Vienna to Dubrovnik, whose paper tickets were not being accepted by the system.
As I had already checked in online, it was just a case of getting my bag tagged. Star Alliance never fail to attach the Priority tag. On other carriers it can be hit and miss.
There was no one at Security, and being more than familiar with the shops at T2 I headed directly to the Lufthansa lounge. Why are LH lounges so dreary?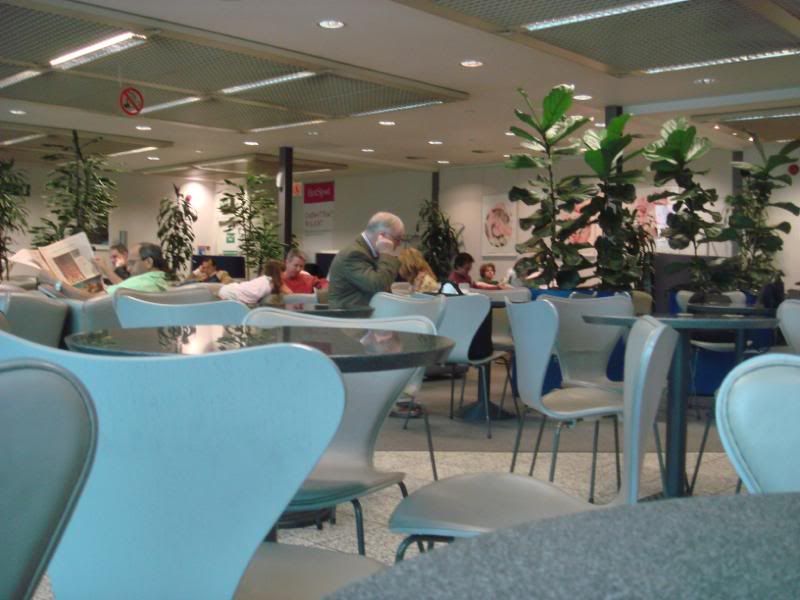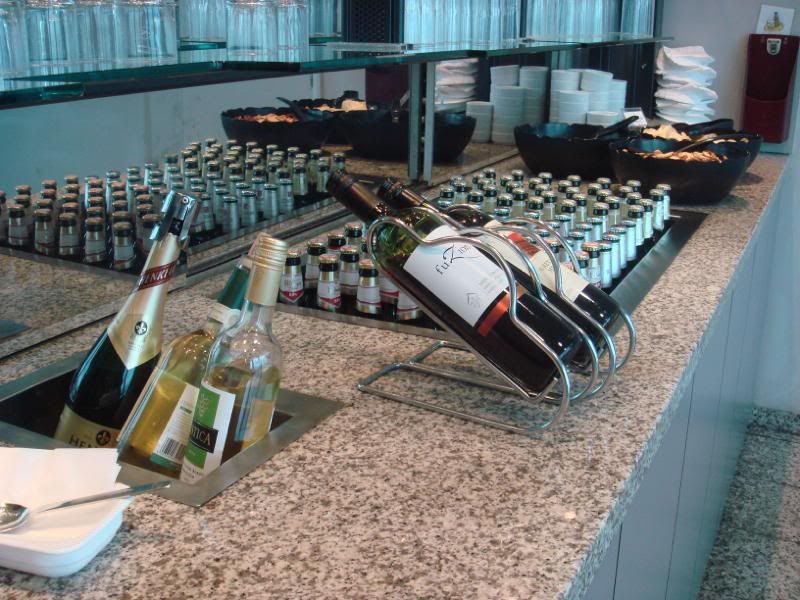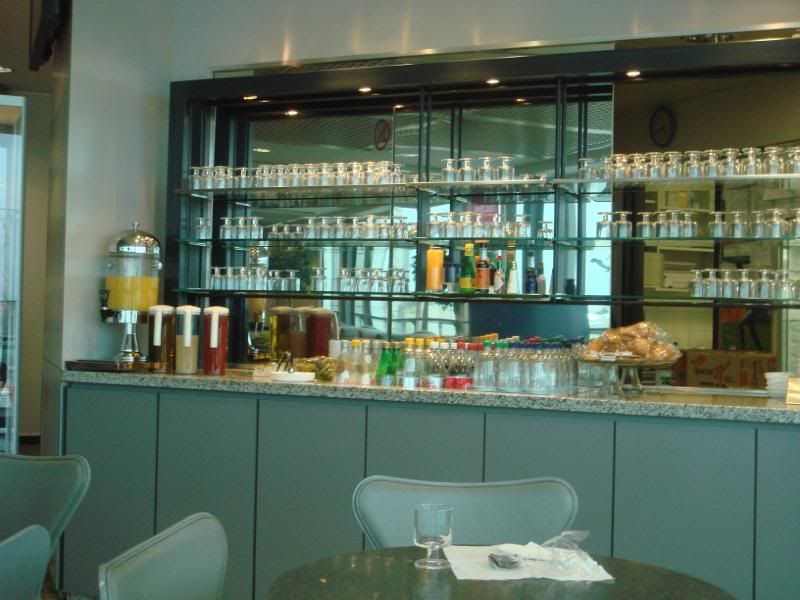 They really do need a facelift. There was an adequate selection of pastries and cereal, and the best thing about the lounge is the view over the ramp.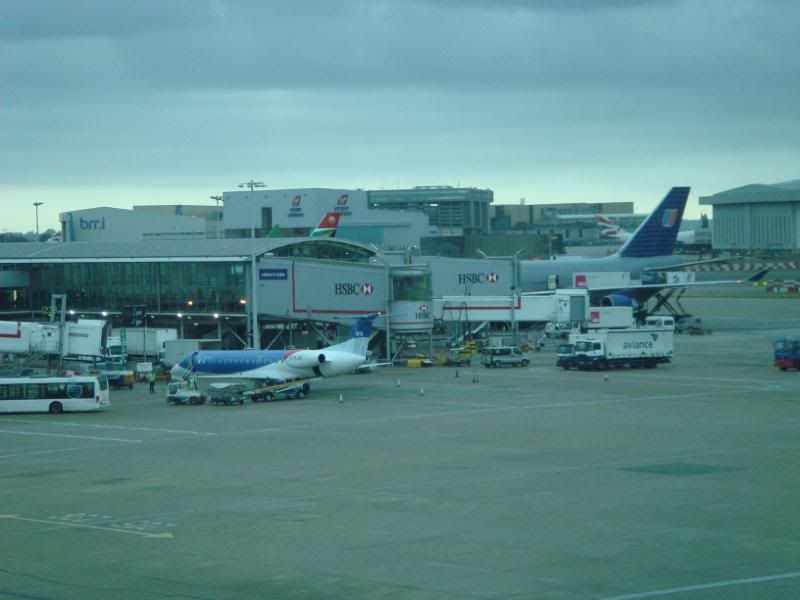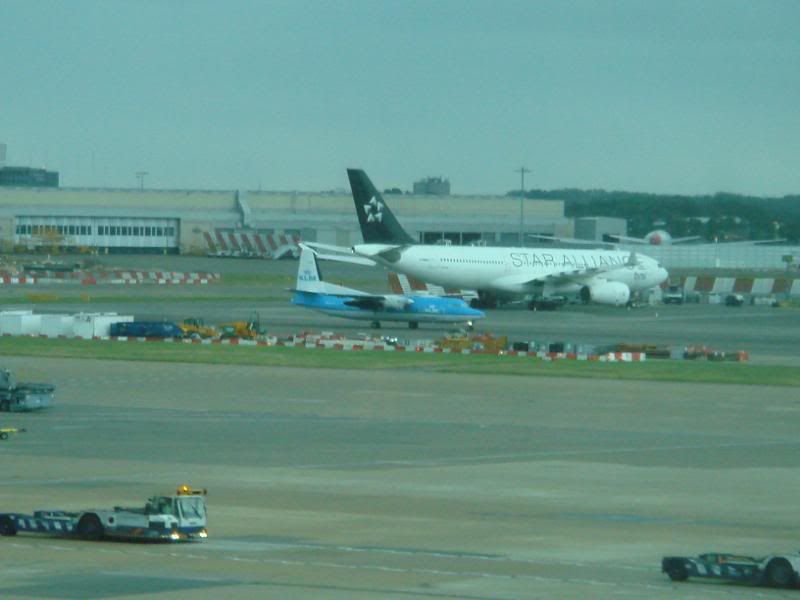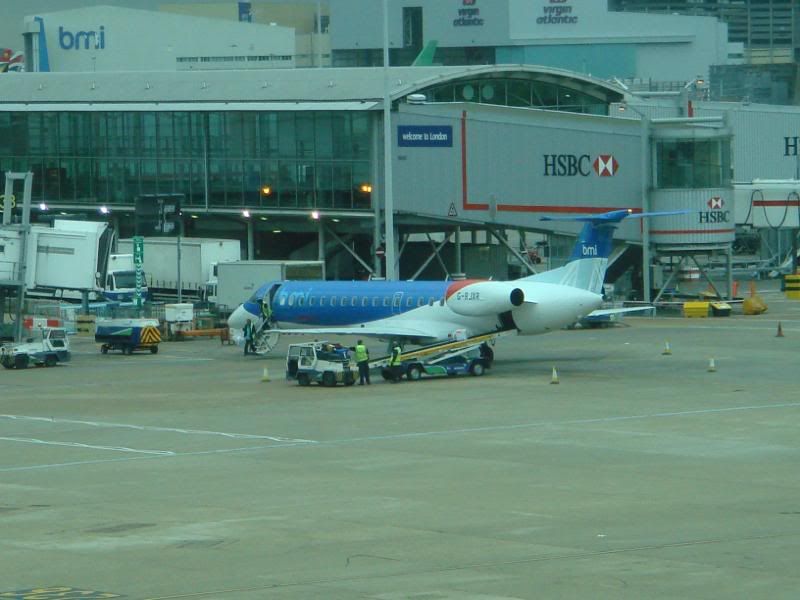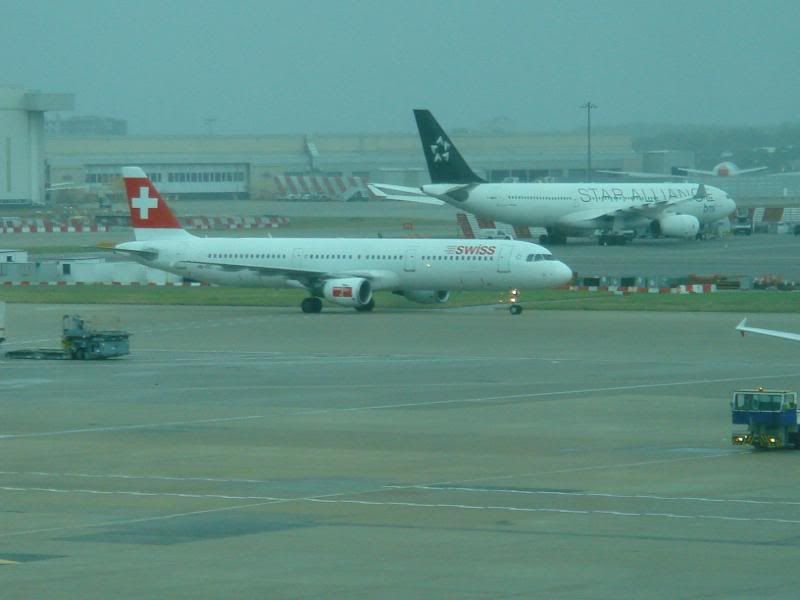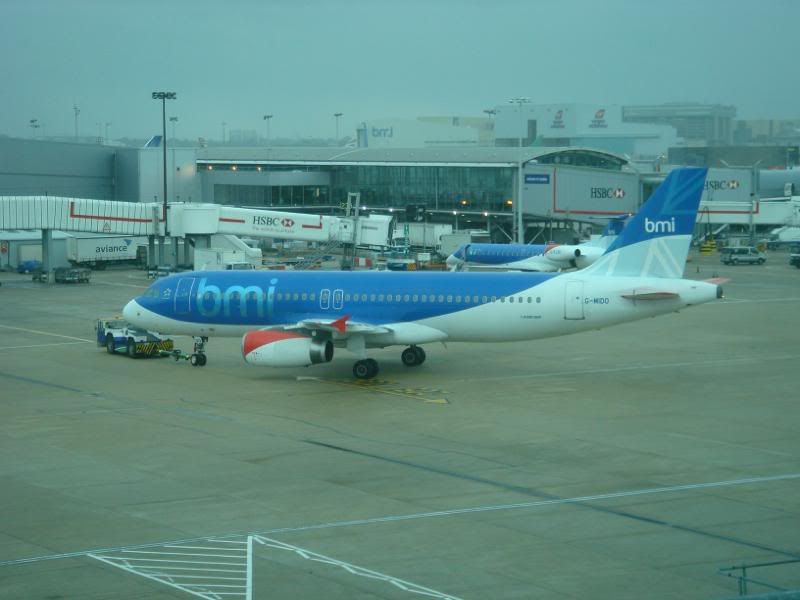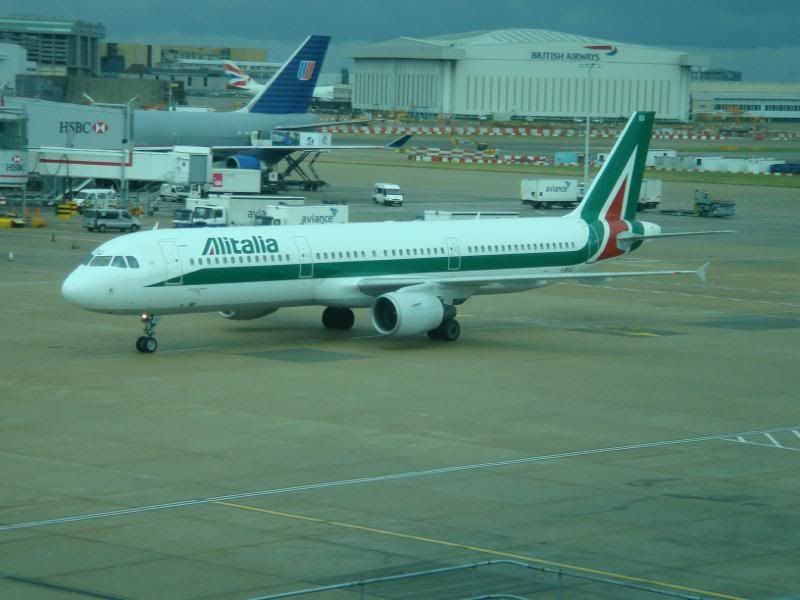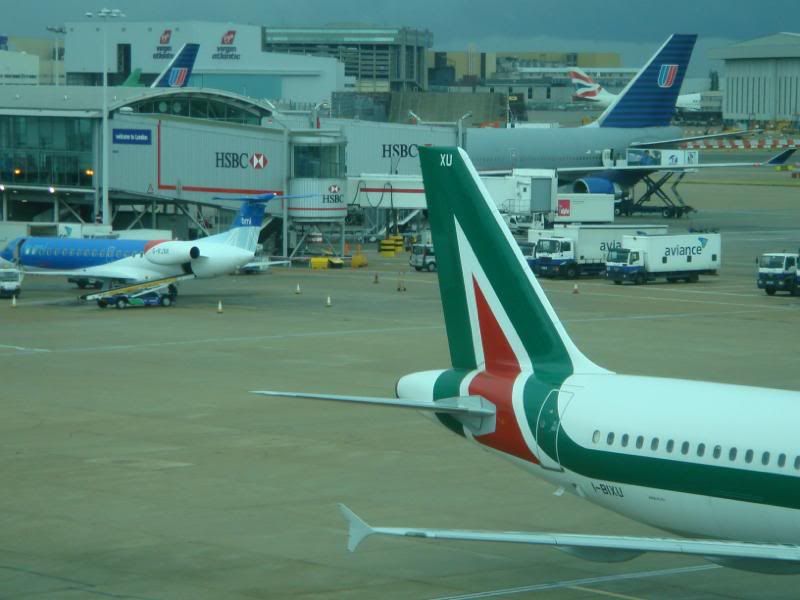 After a while I decided to head down to the gate, which was the usual cramped scrum that we know and love at Terminal 2. Lots of passengers with babies and a long wait to board.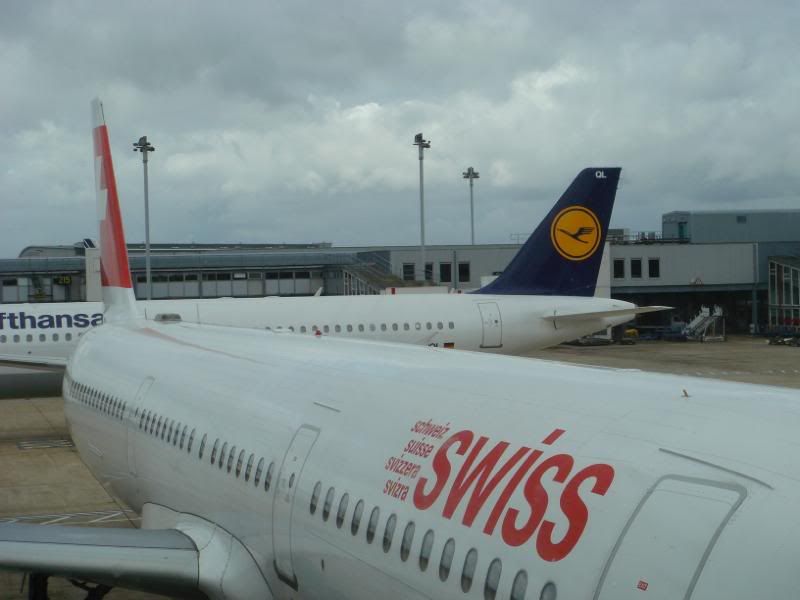 Boarding was done by row and business class passengers could board any time. I decided to wait for the queue to subside, but it was all fairly organised and swift.
The cabin of the A321 was in immaculate condition and the crew looked very smart in their uniforms. The Strauss waltz playing over the PA reminded me that I could only be travelling to Vienna! The middle seat is kept empty in business class, which was about 75% full, and economy seemed to be near 100%.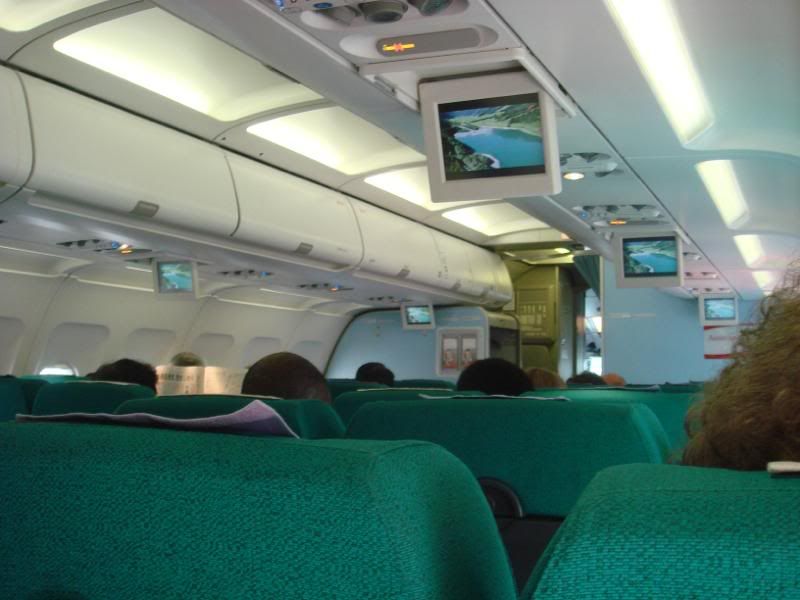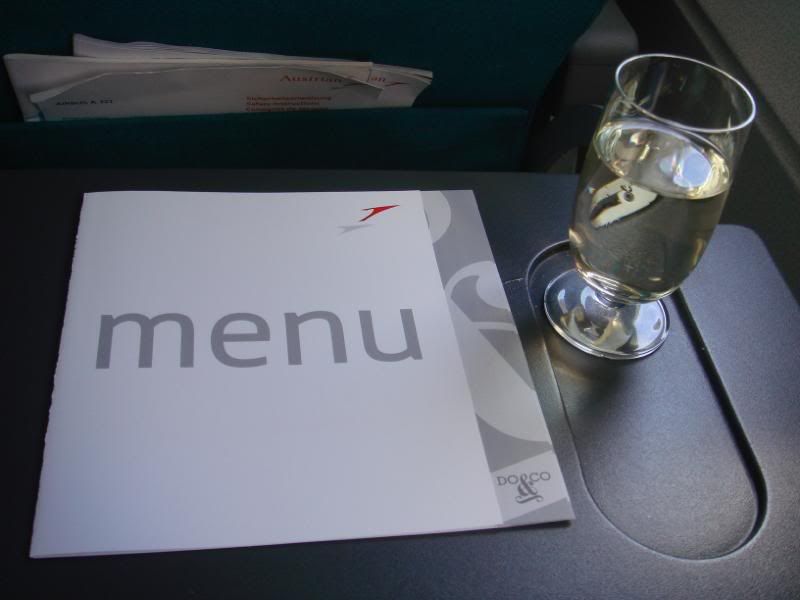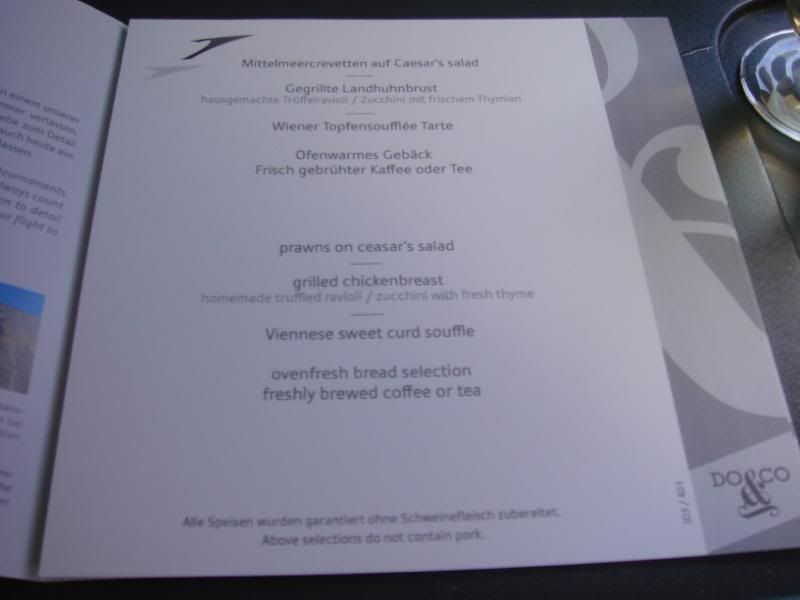 Before pushback we were given hot towels and a menu. Then newspapers and magazines were offered. We pushed back on time and had a short taxi to the holding point. Quite a long take off run- all those buggies in the hold, I expect.
As soon as the crew were released we were offered champagne, juice or water. Champagne of course! As the flight left at 09.25, I was surprised that we were being offered lunch.
Headsets were passed out- the inflight entertainment consisted of several music channels, plus the airshow, interspersed with news about Austrian and the usual "Just For Laughs".
A full bar service was then offered, followed by the food trolley. I think that it is a nice touch to offer a hot dish and menus on European flights.
The food was really excellent- the quality was just superb, and we were offered regular refills of bread and drinks.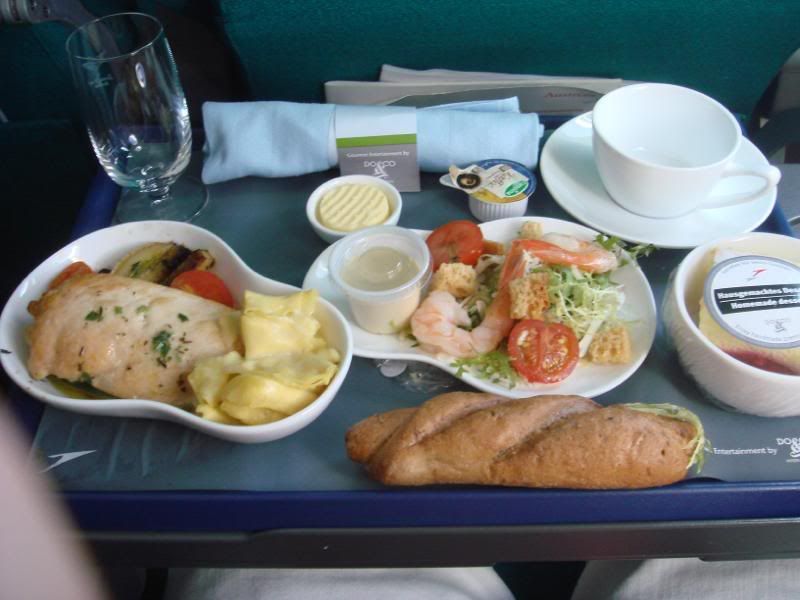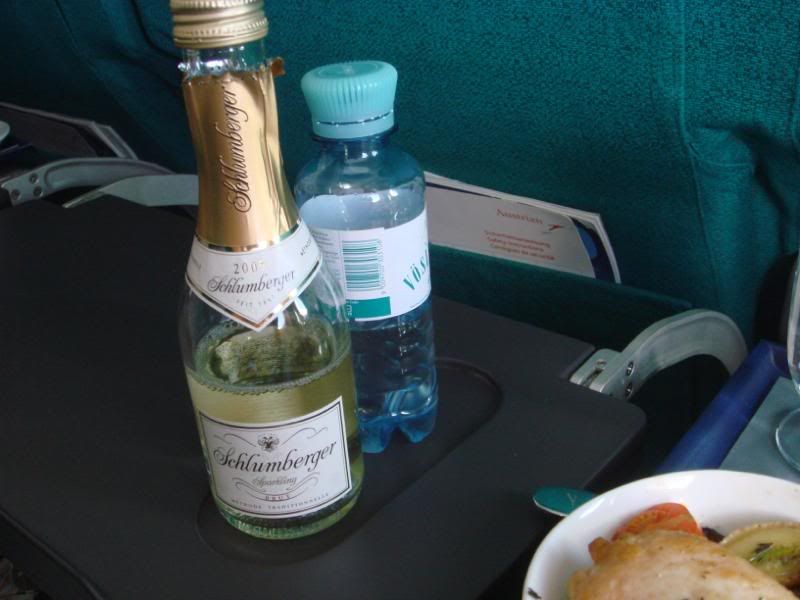 Coffee service followed, again with more refills offered. The crew really did an outstanding job and I was very impressed with the service offered by Austrian.
After the meal was cleared away, chocolates were offered. Our routing today was London- Brussels- Frankfurt- Linz- Vienna.
As we began our descent, information for connecting passengers was displayed on the overhead screens. Swiss also do this, and it really helps, especially as I noticed that the gate for my onward flight to Copenhagen had changed since I received my boarding pass at Heathrow.
Nearing Vienna, the weather improved and overflew VIE on our approach.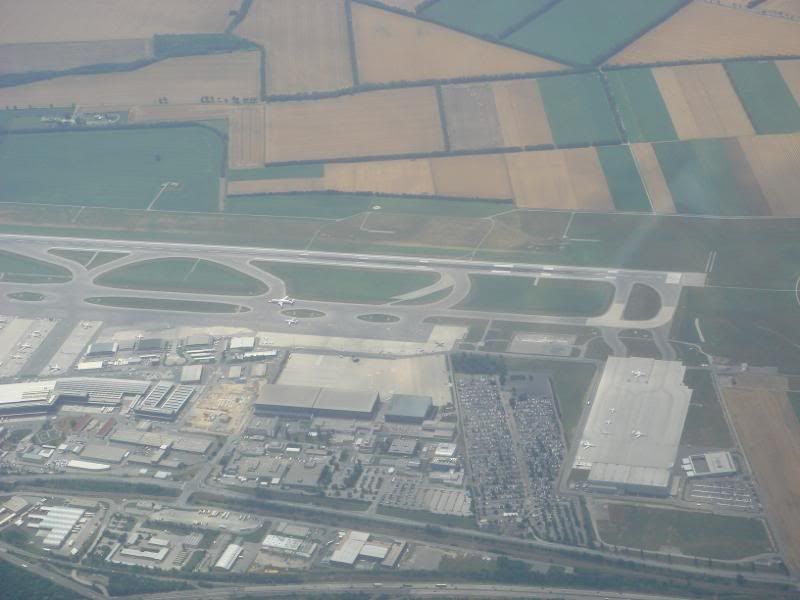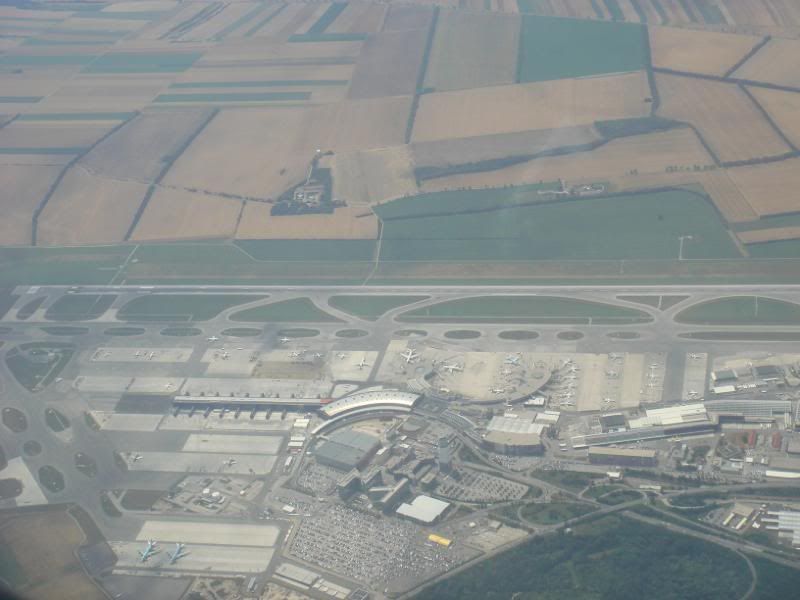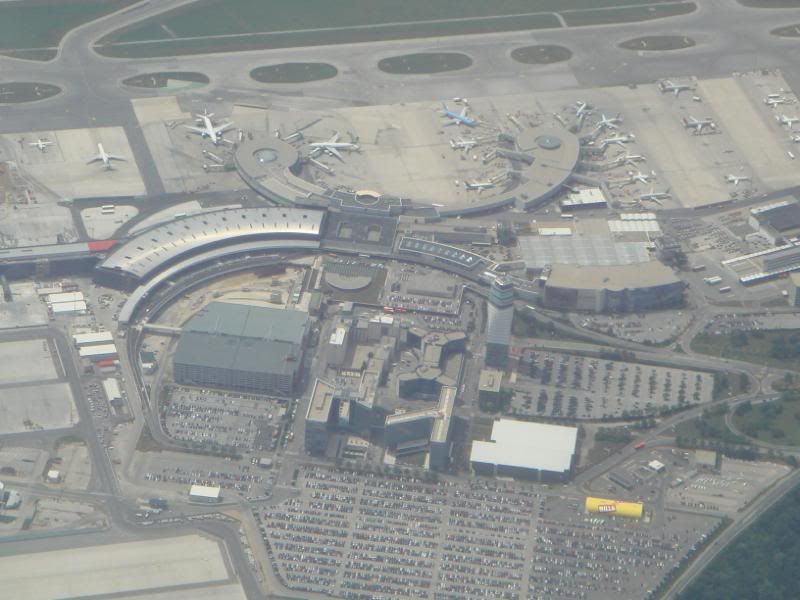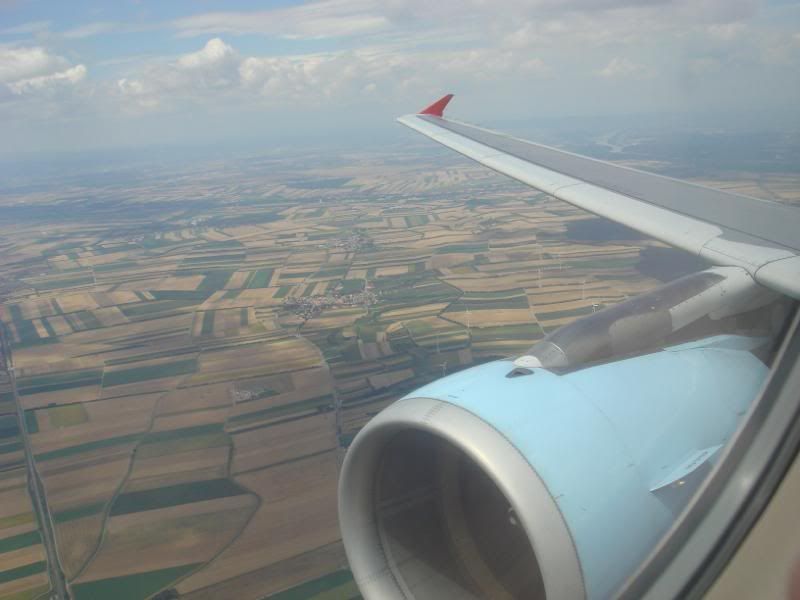 We made a smooth touchdown and taxied past the various Fokkers and Dashes that make up the Austrian Arrows fleet.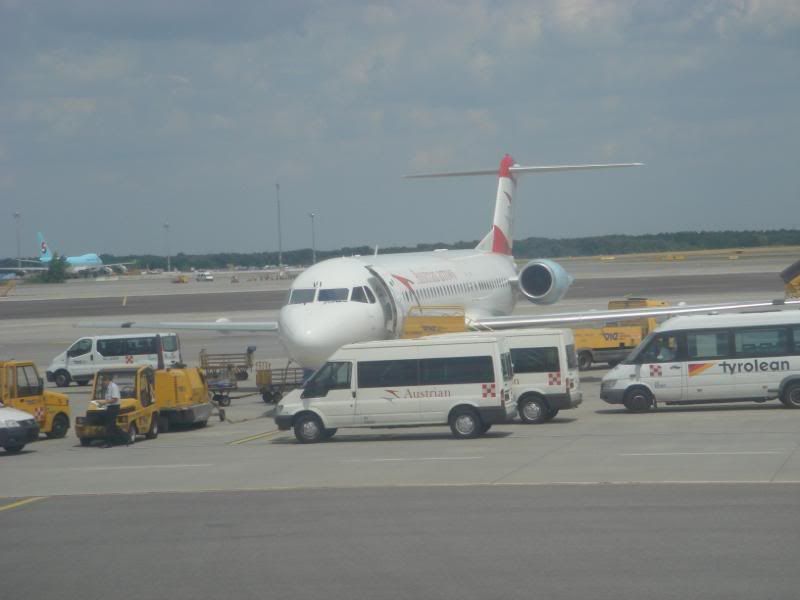 We parked at a jet bridge in the non-Schengen area (A gates), next to both a 767 and 777 of Austrian.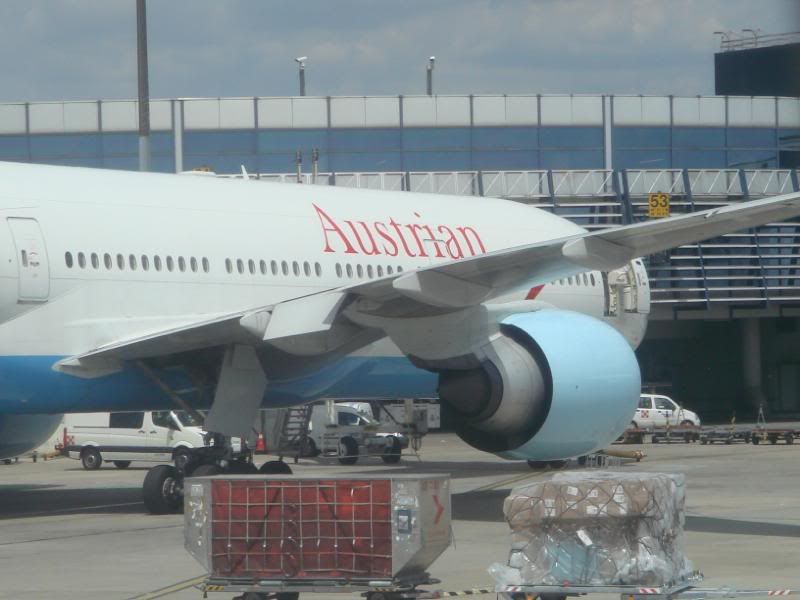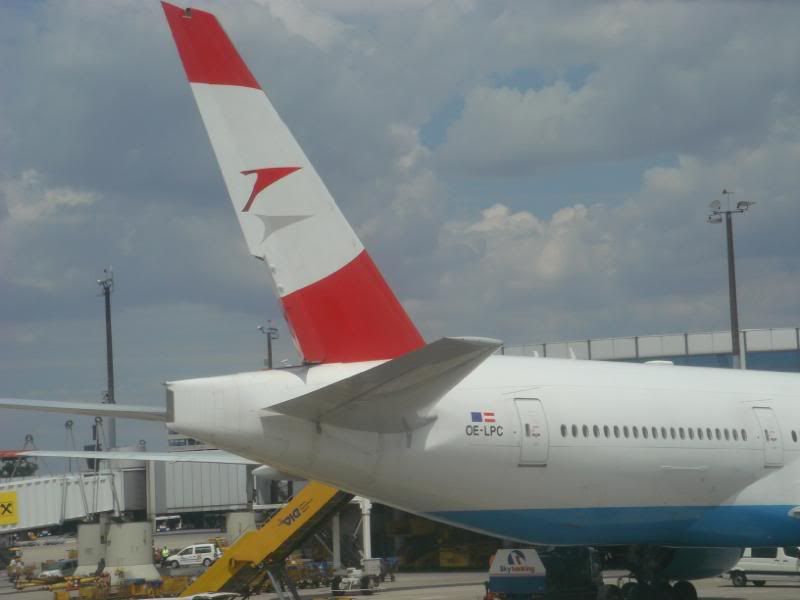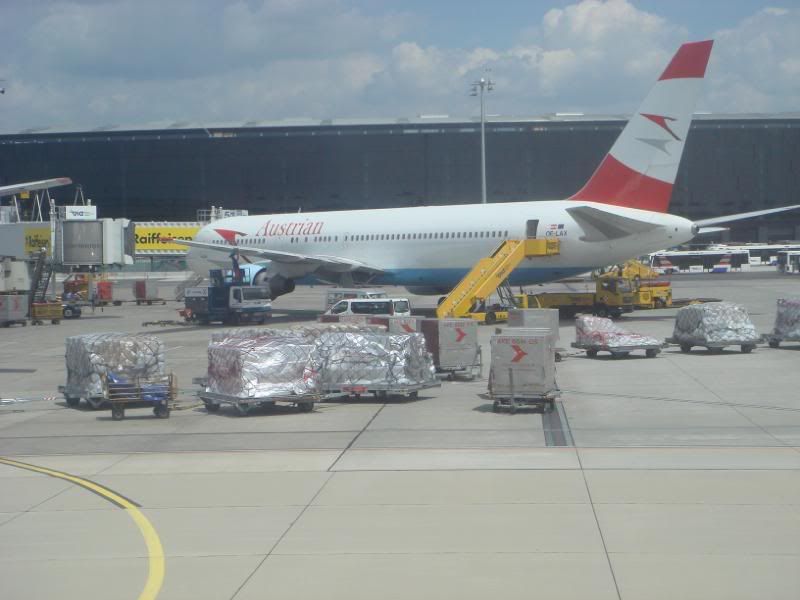 I went to the transfer desk to check on my gate for the next flight and was re-issued with a new boarding pass. The Austrian ground staff are also very friendly, and easy to spot in their distinctive red uniforms.
Vienna's airport is quite compact and there are no long distances between gates really, although a new pier is also nearing completion. I passed through immigration and entered the Schengen section of the terminal (B gates) and went upstairs to the Austrian lounge.
The lounge has to be one of the nicest that I ever visited. It is decorated in a very distinctive way and one area offers great views of the ramp.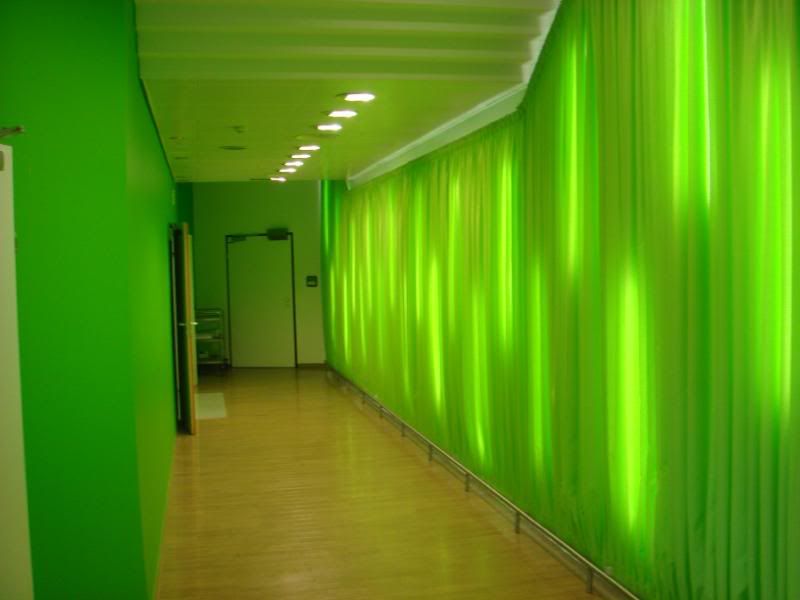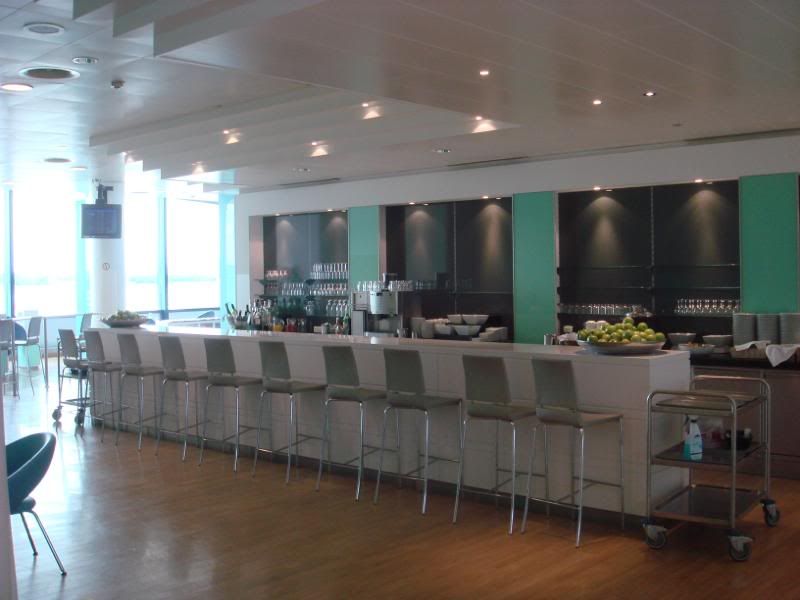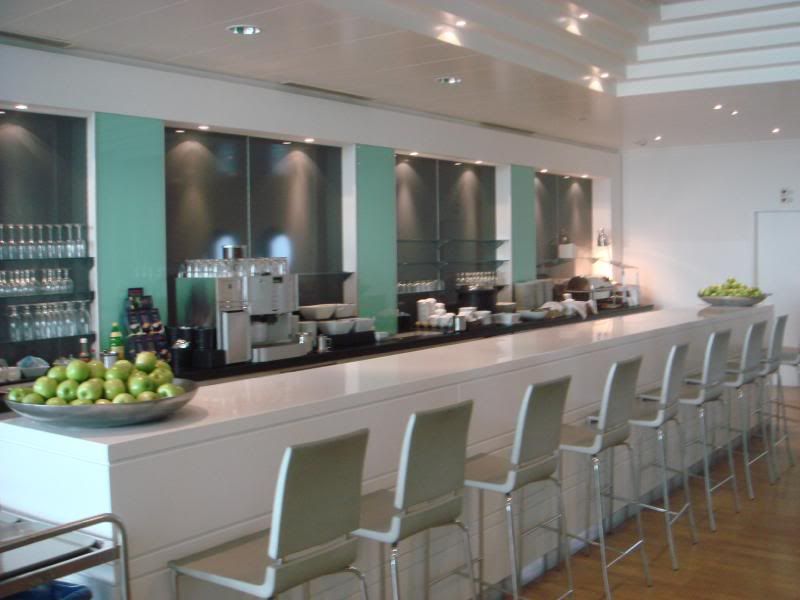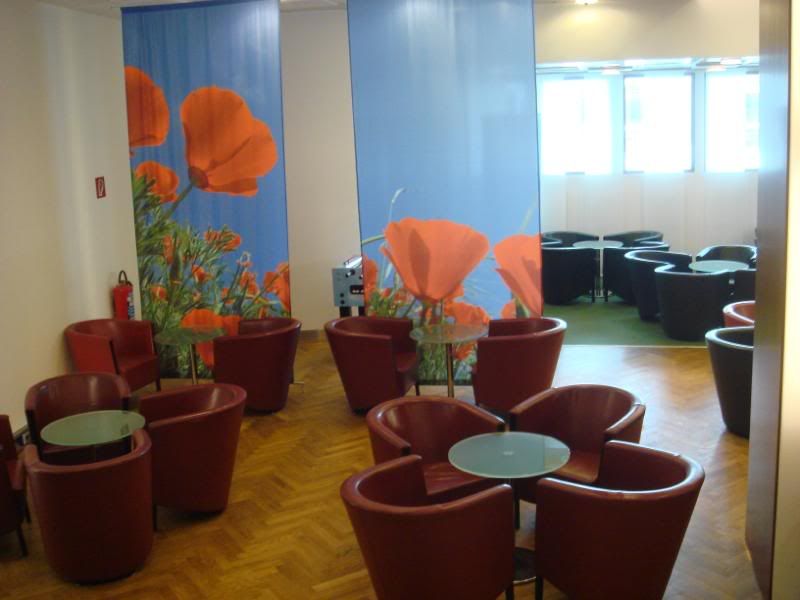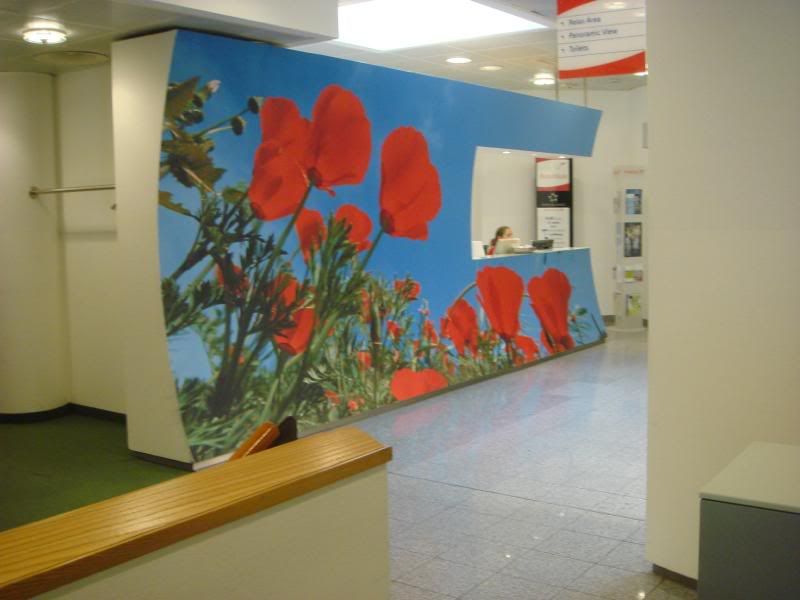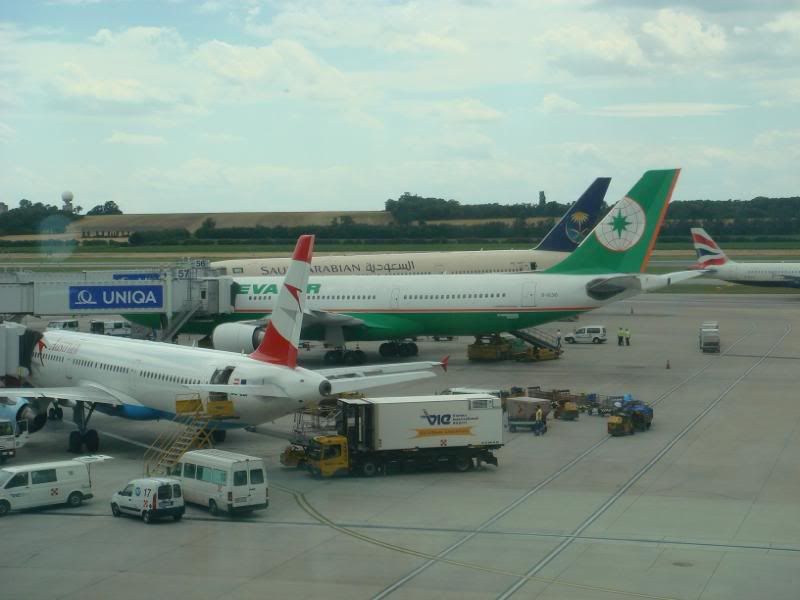 There was some hot food available as well as the usual snacks and drinks, and I settled back with a drink to enjoy some spotting in between flights.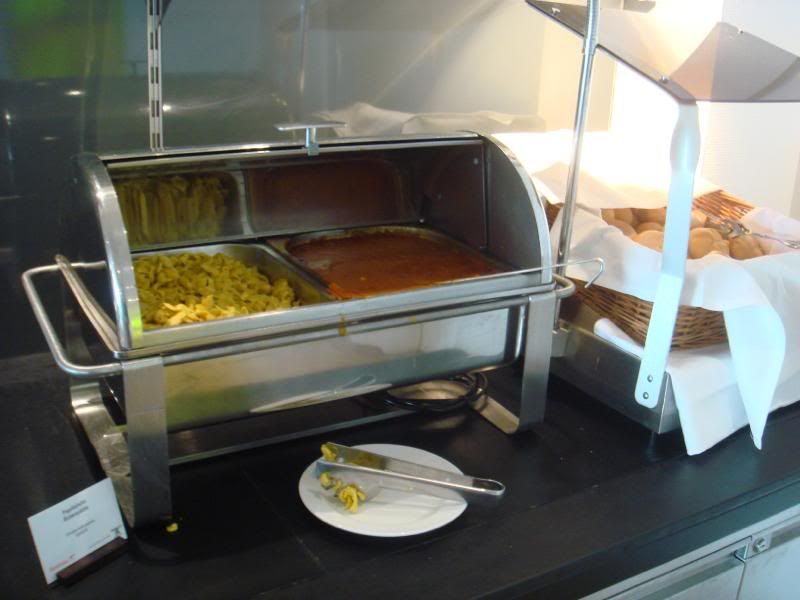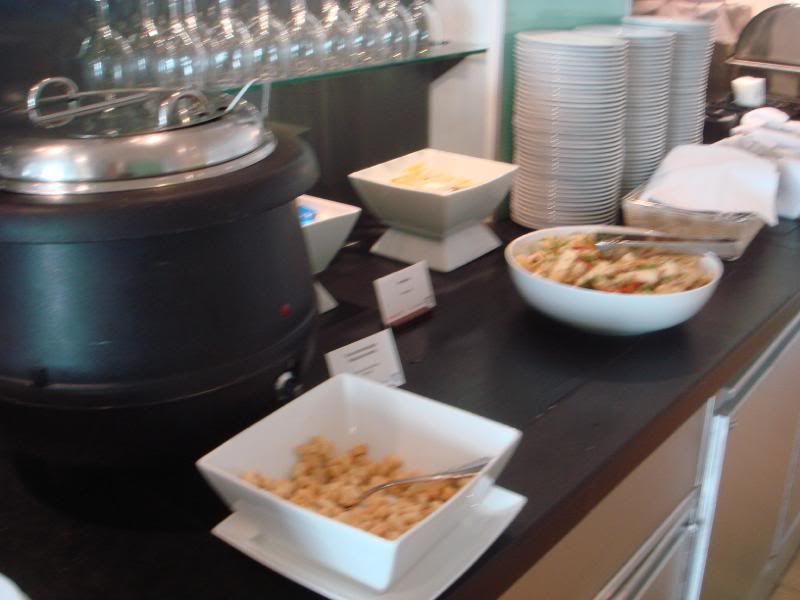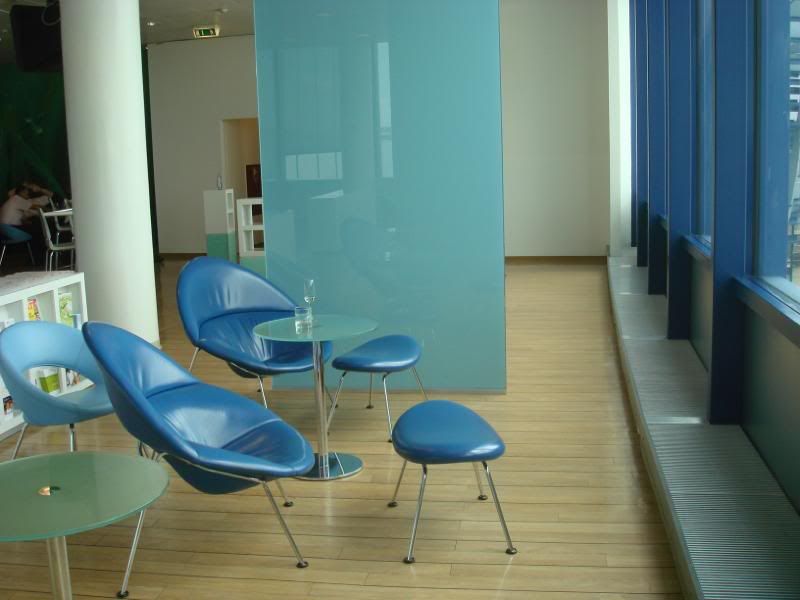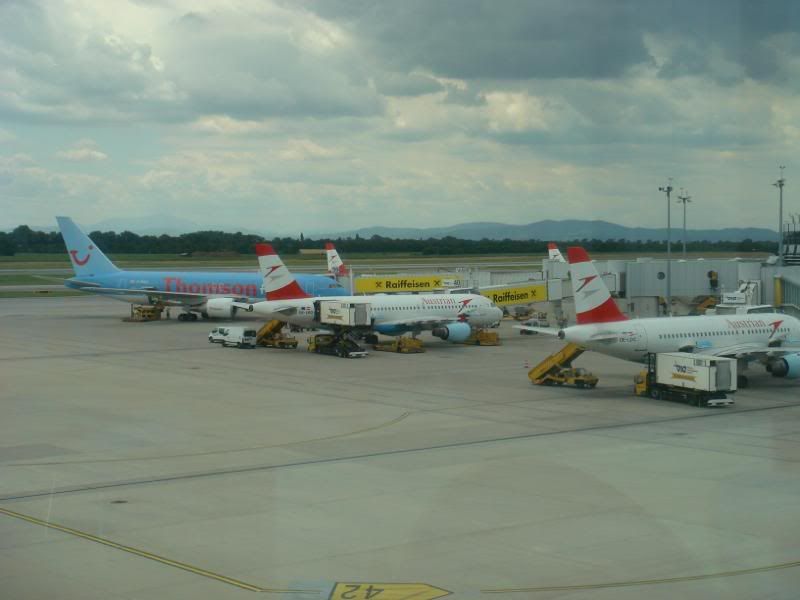 All too soon it was time to go to the gate, which was a very short walk away. This was a bus gate and judging by the assembled passengers, the F100 that would take me on to CPH would be quite full today.
The last time I travelled on a F100 was in the days of KLMuk from STN to AMS (showing my age here!), so I was looking forward to another trip on these beautiful birds.
OS303 VIE- CPH
Dep VIE: 13.50
Arr CPH: 15.40
F100 Austrian Arrows, operated by Tyrolean. Seat 4A.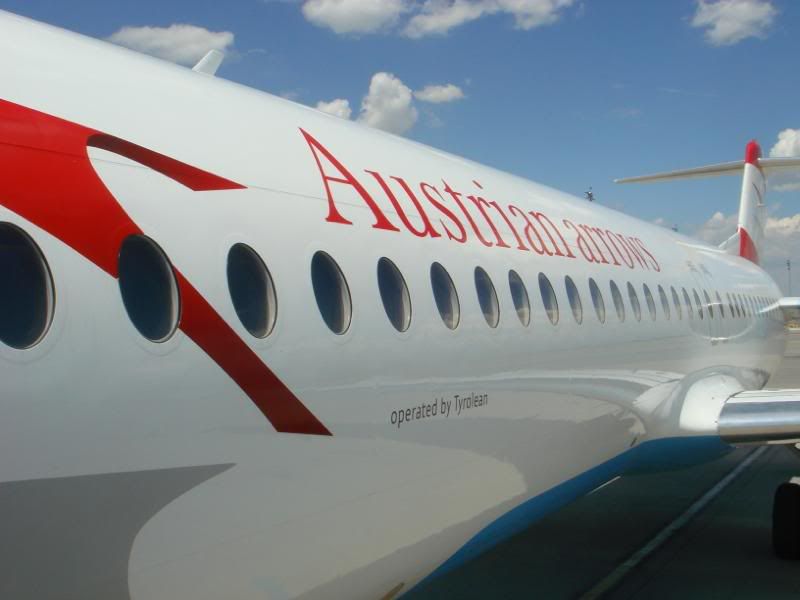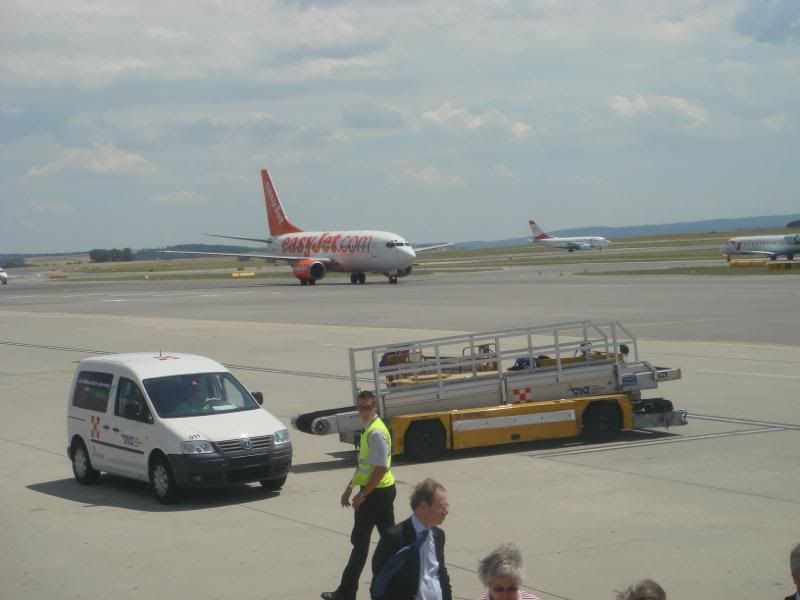 Another A-Netter?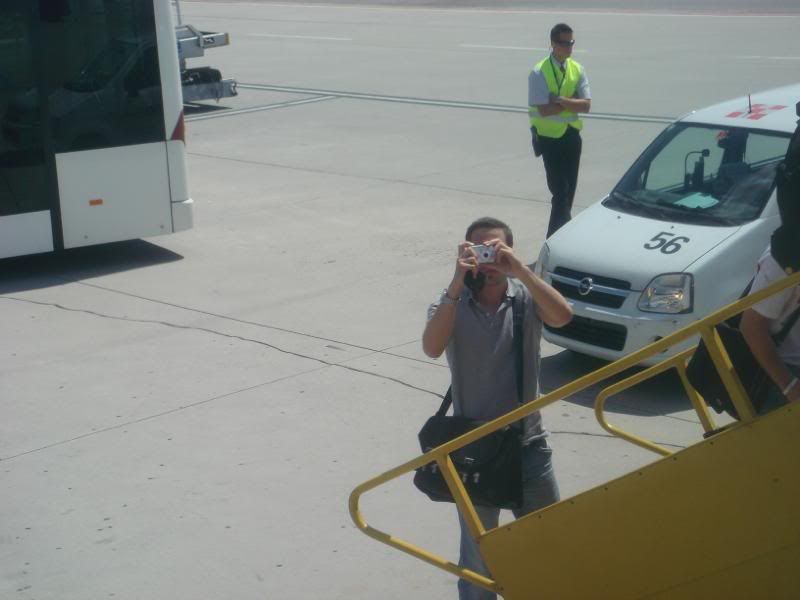 Again the cabin was in immaculate condition and we were greeted by a very friendly, all female crew.
Boarding was relaxed and although near full in Y, I counted 5 passengers in Business. The windows on the F100 seemed much larger than I remembered. I like the back row in business class as usually there is more chance of not having a neighbour, and it feels more private.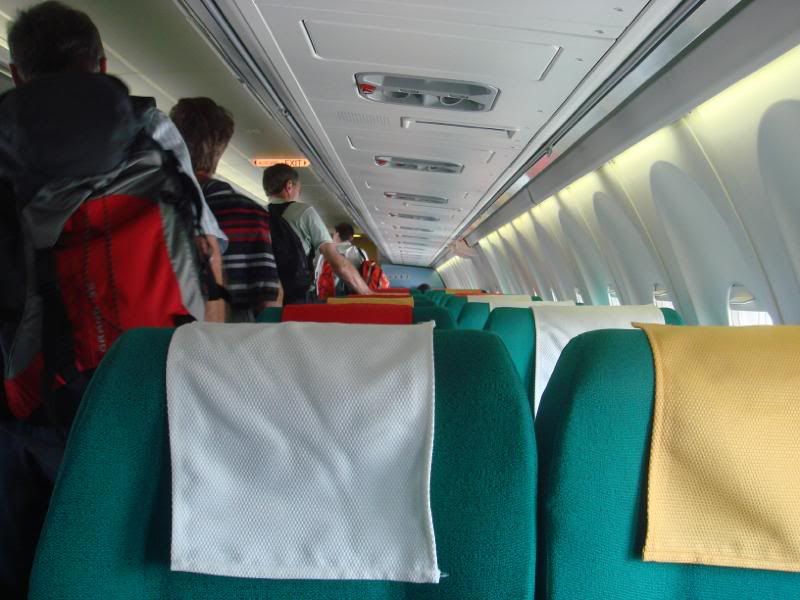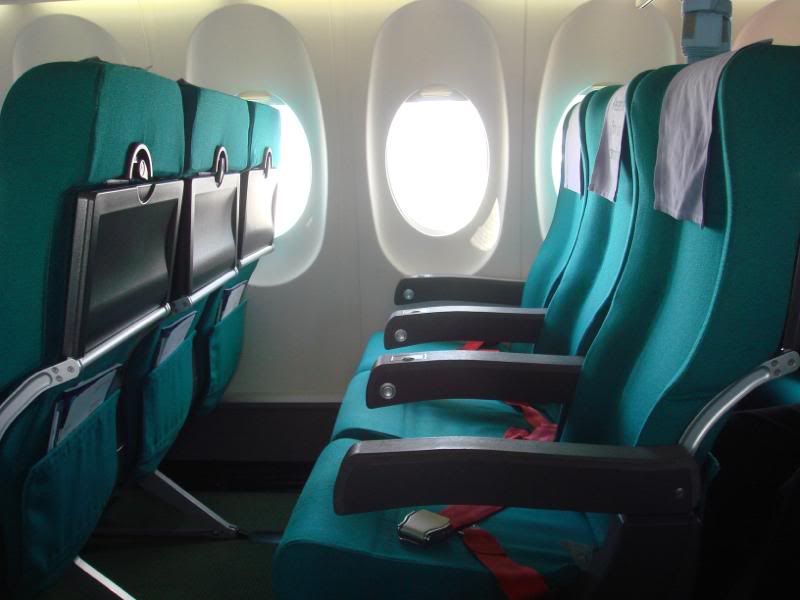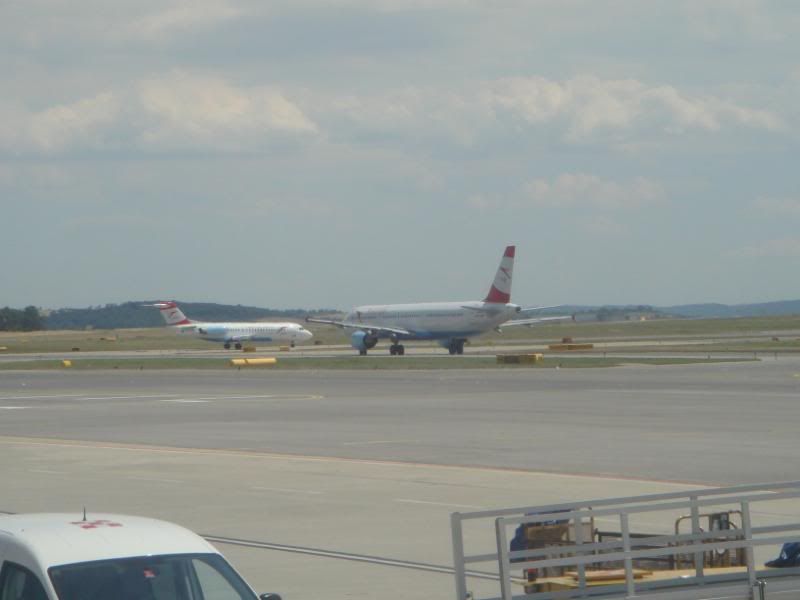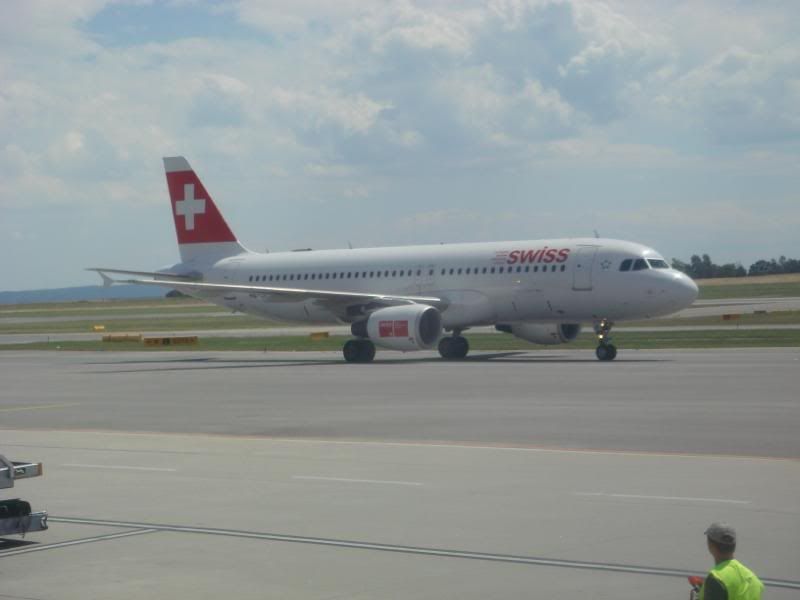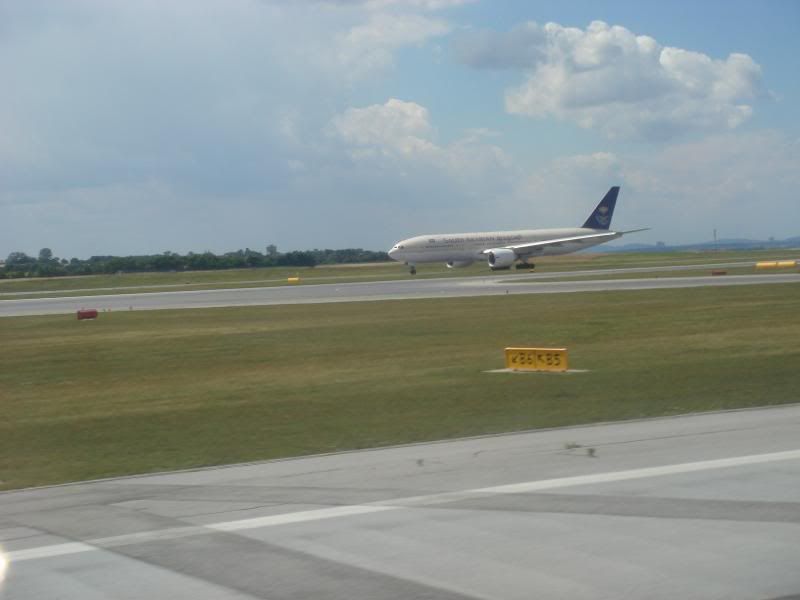 Magazines and newspapers were offered, and we pushed back more or less on time in brilliant sunshine. I had a feeling that I was going to enjoy this flight. The crew and the passengers seemed very relaxed on this Saturday afternoon.
As we took off I had a good view of the construction work going on at VIE- looks nearly complete?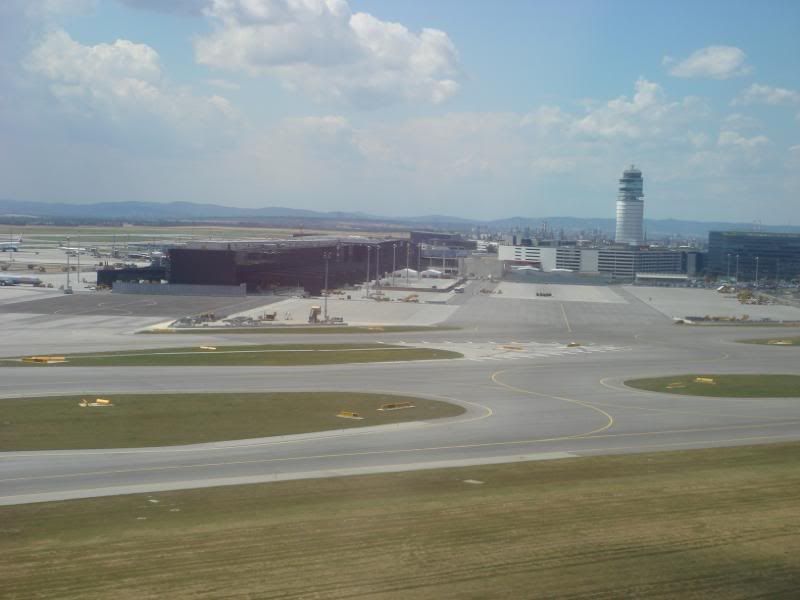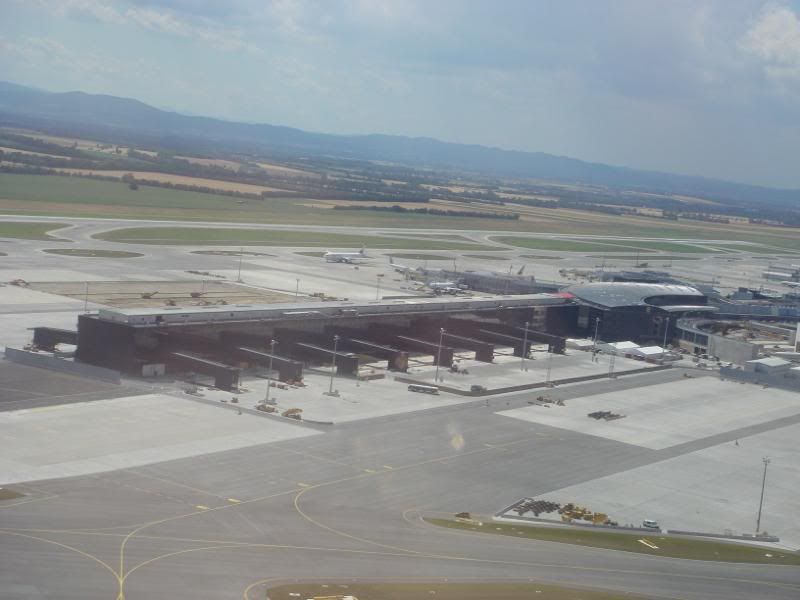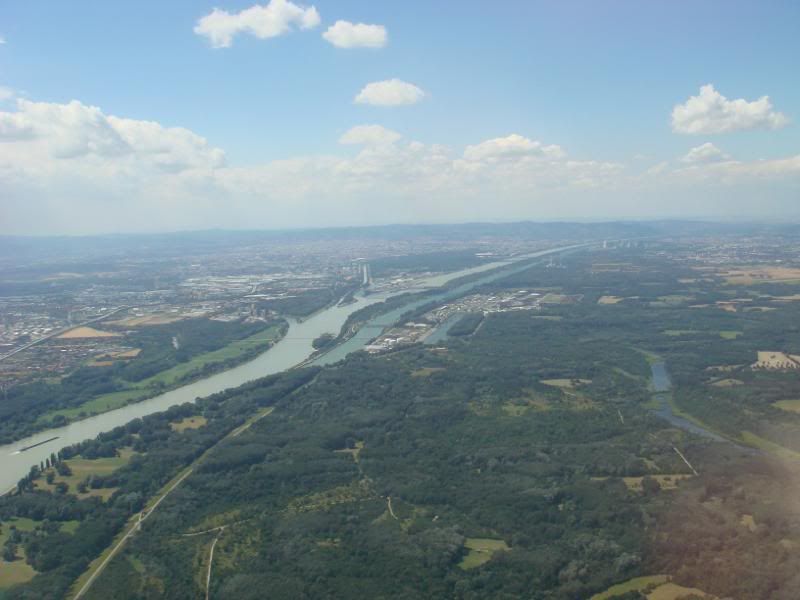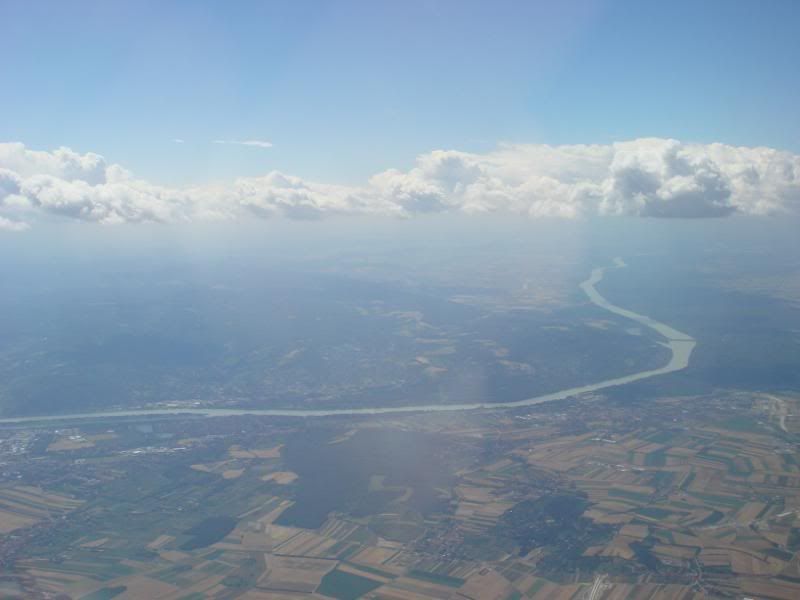 As we levelled off, hot towels and a menu was offered, followed by a bar service. Again the food and service was excellent and I began to wonder why I had not flown OS for so many years.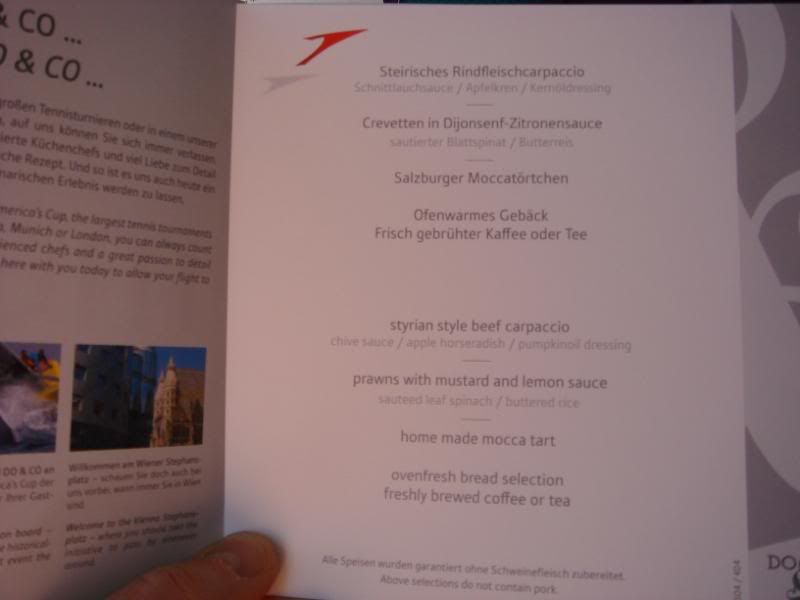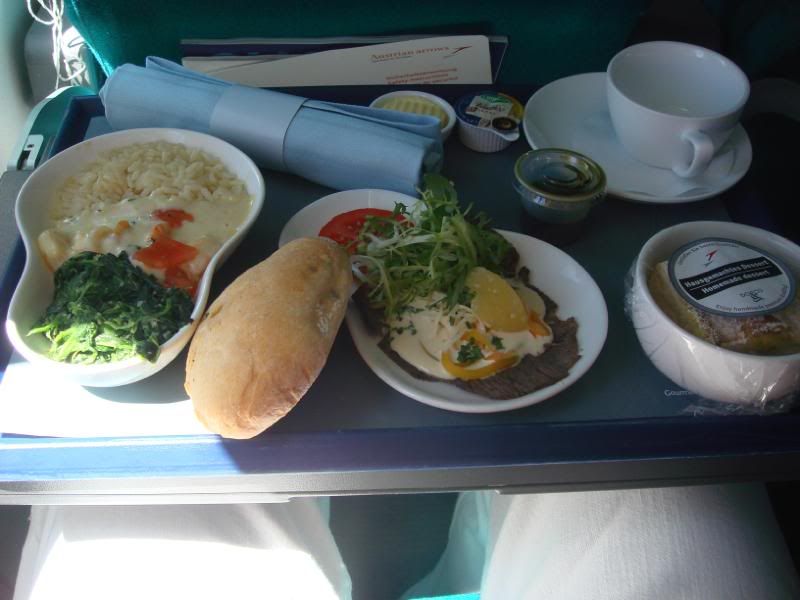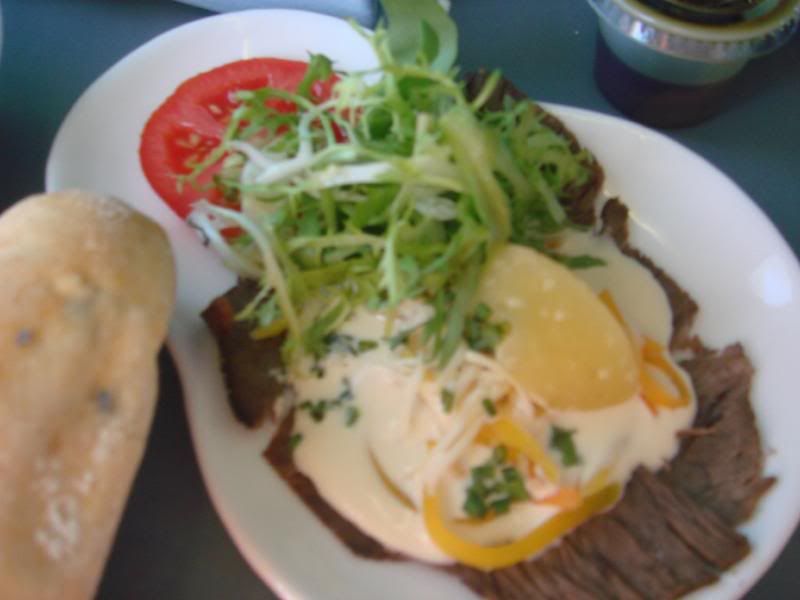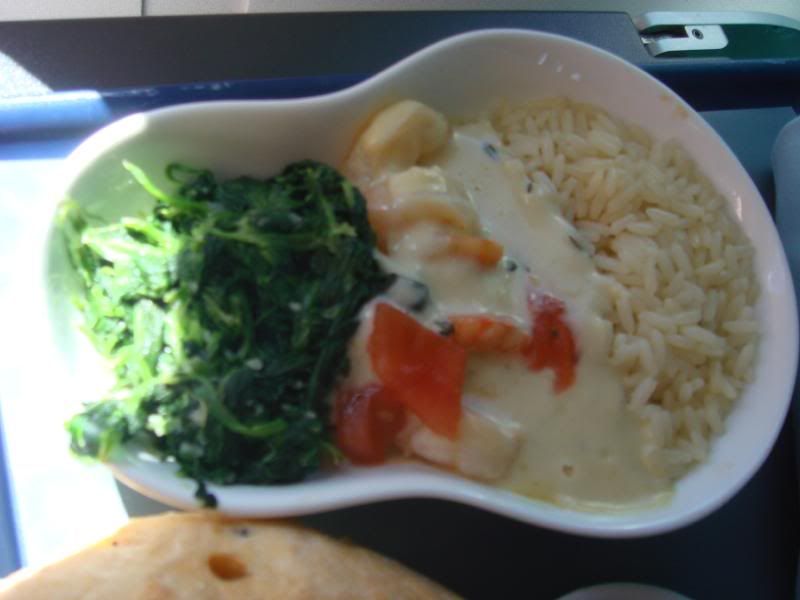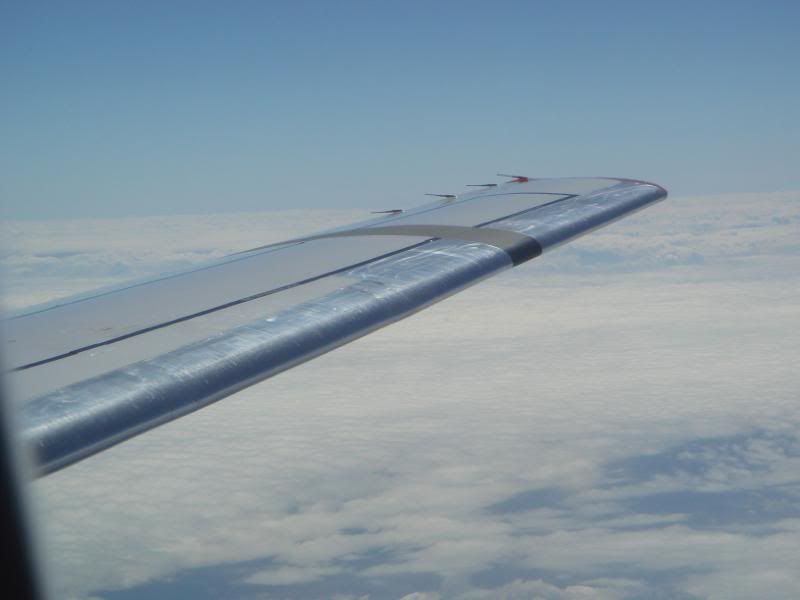 As I was eating my lunch, I had a good view of Berlin-Schonefeld, and then Tempelhof as we flew directly over Berlin. Unfortunately scattered cloud spoiled my pictures of them.
Can you spot Tempelhof in this photo?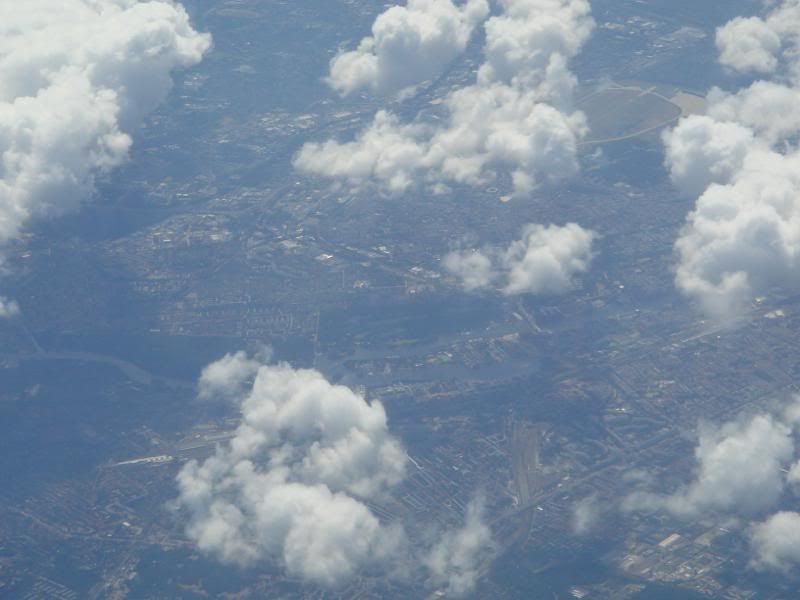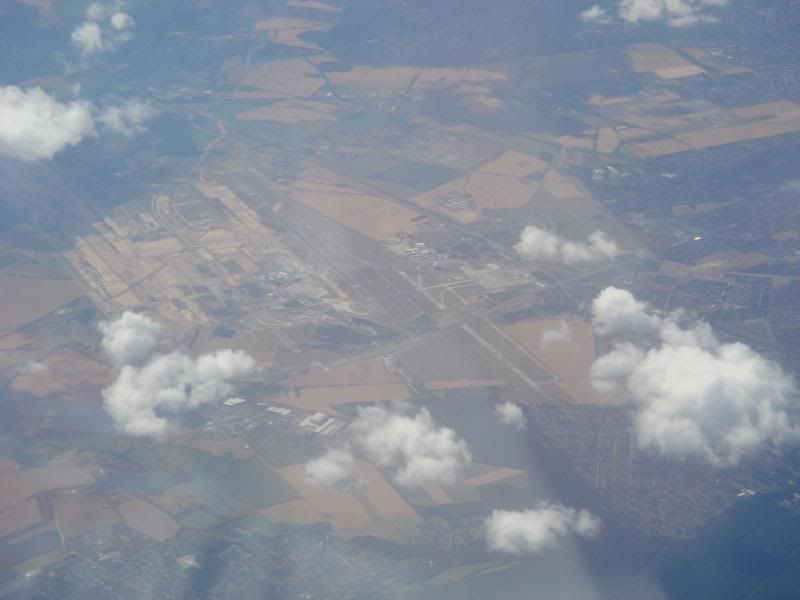 As I was finishing my coffee the Baltic coastline came into view.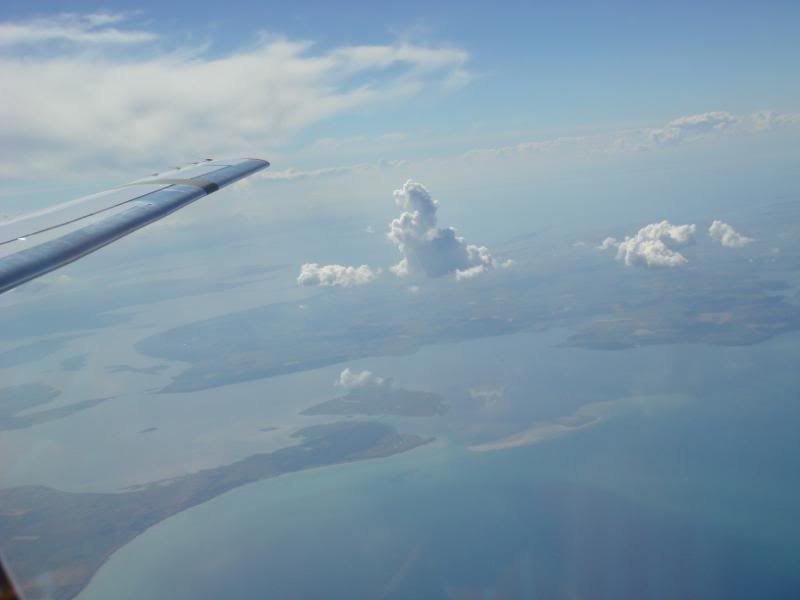 As we neared Copenhagen it seemed that someone had gone out and left the oven on! ☺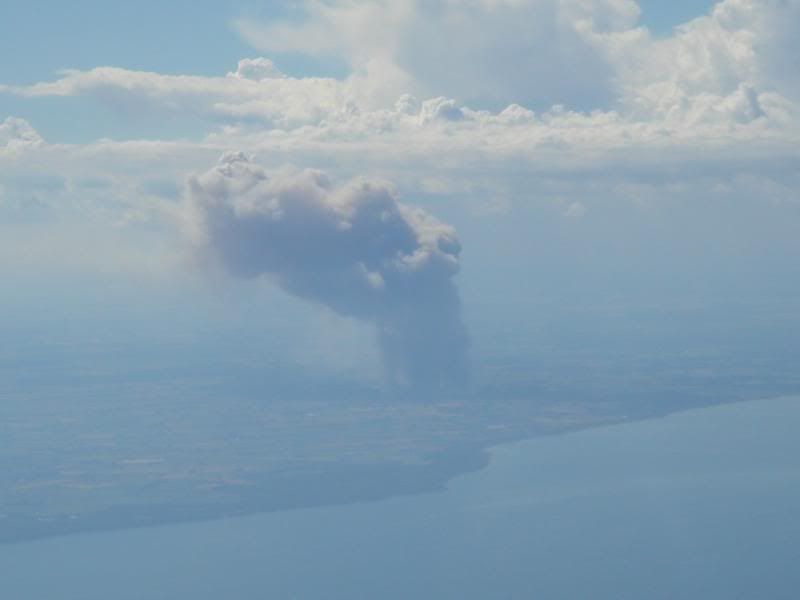 Do any Danish people know what was the cause of this fire?
We approached over the Oresund and touched down in a hot and sunny CPH.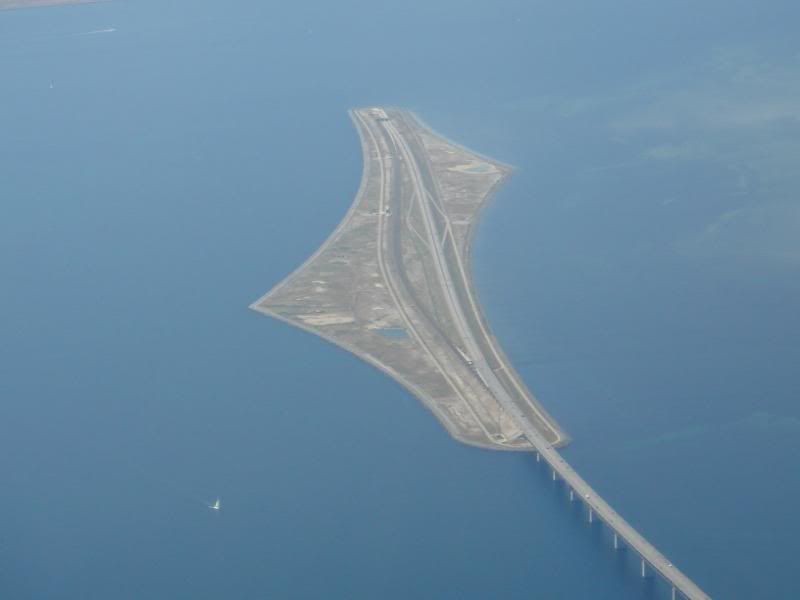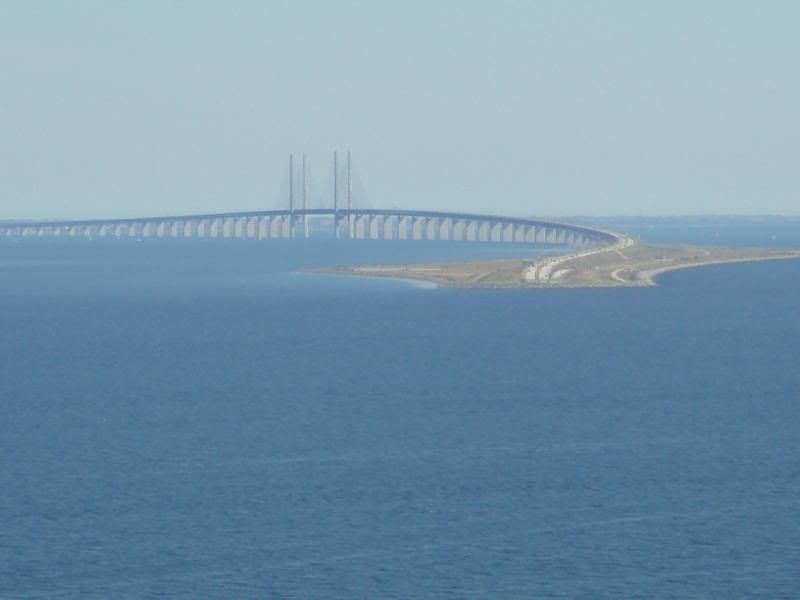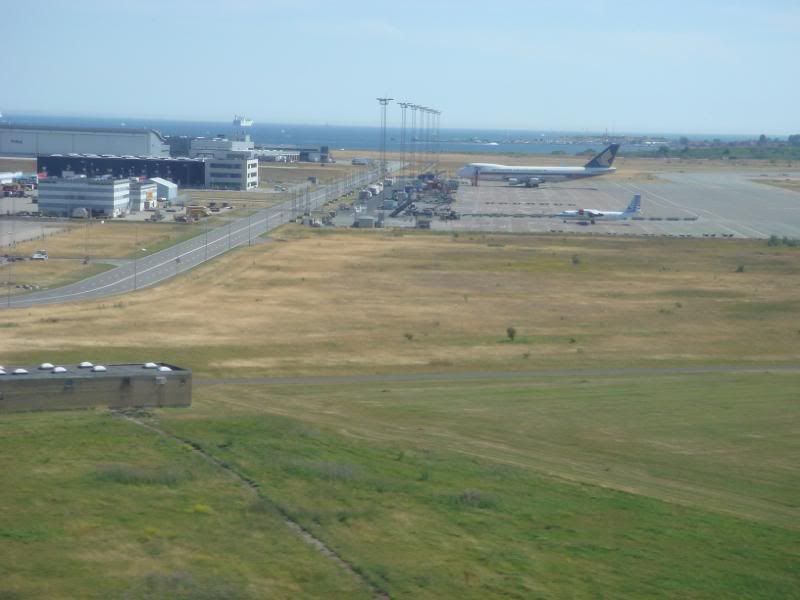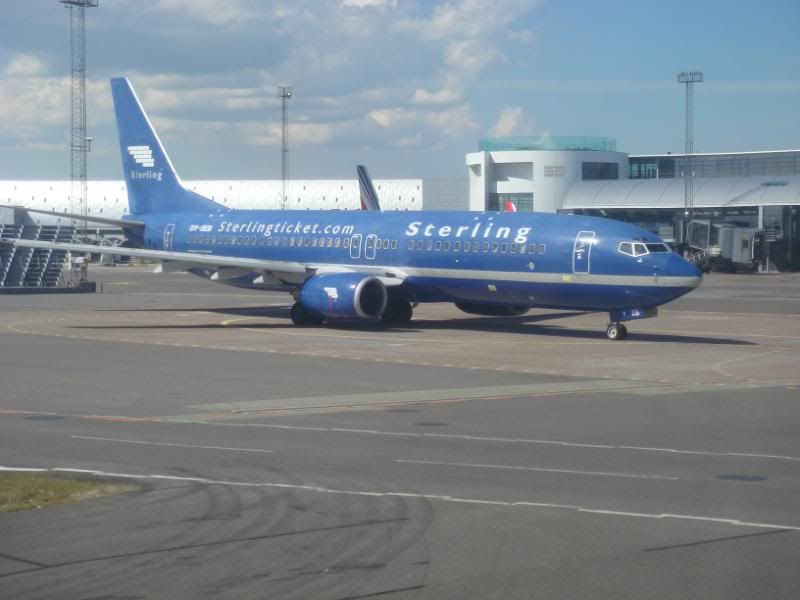 With so many SAS and Sterling aircraft, it could only be CPH. Kastrup is one of my favourite airports in the world, but it was very busy with many locals leaving for holidays in the sun, and as arriving passengers mix with departing passengers, it was quite a hassle to get to baggage reclaim. The belts at CPH are shared by several flights at a time, but soon I saw my trusty red Rimova emerging from the chute.
In no time I was on the train to Copenhagen. Trains in Denmark are of course excellent, fast and clean. Cheap too in comparison with the UK.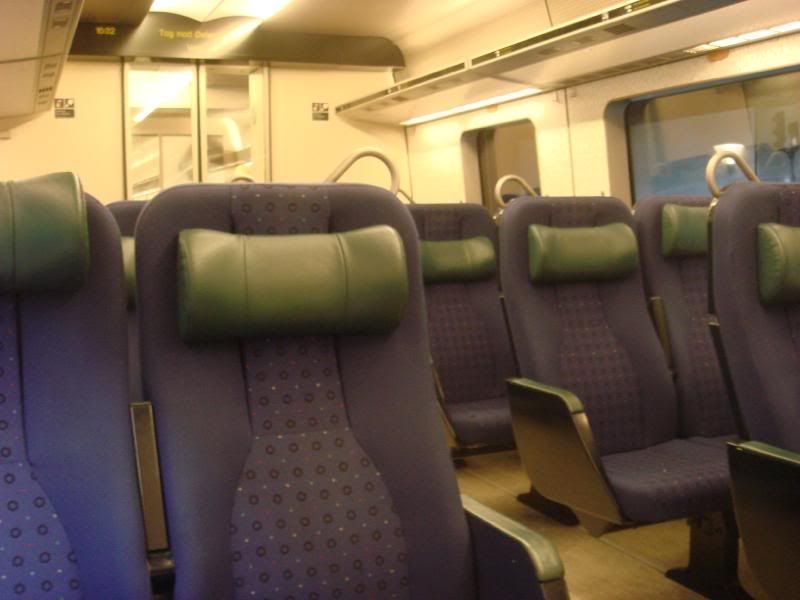 I dumped my bag at the hotel and went straight out to do some sightseeing and sample some of that excellent Danish beer.
Here are some photos.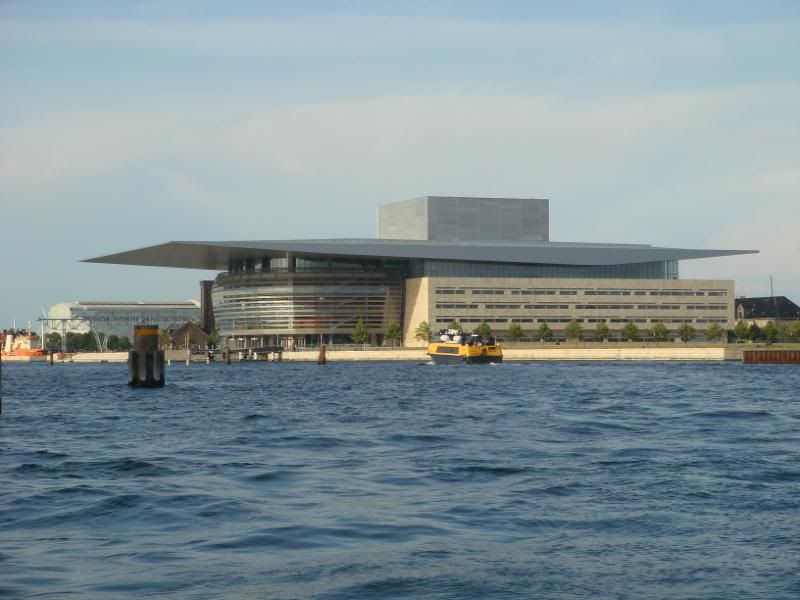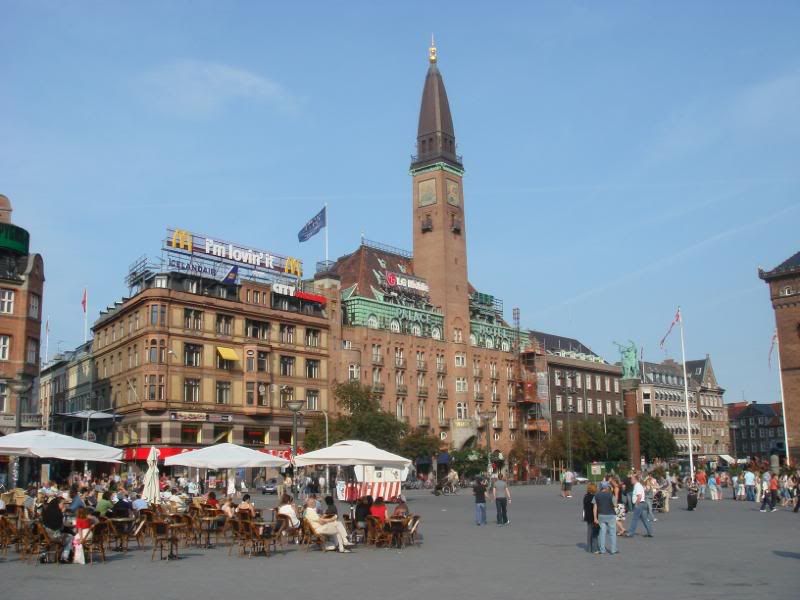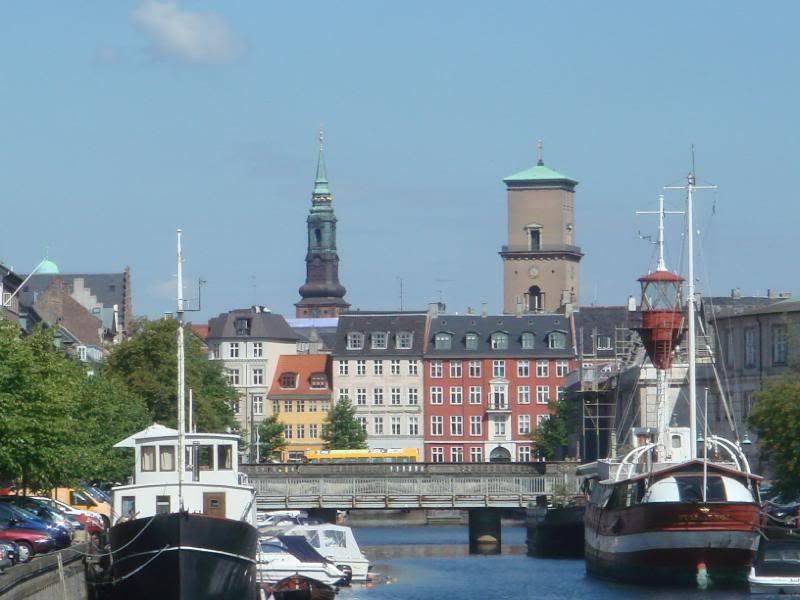 I had a great weekend and I also squeezed in a quick visit to Malmo.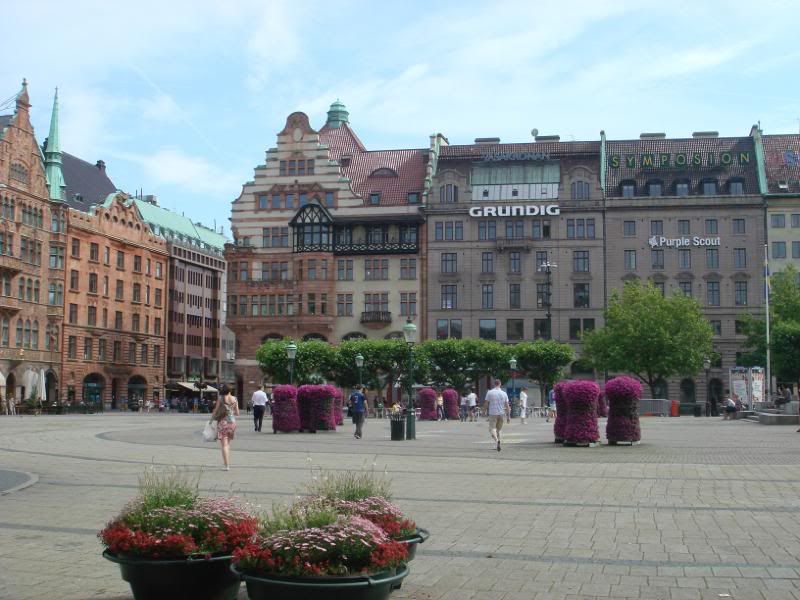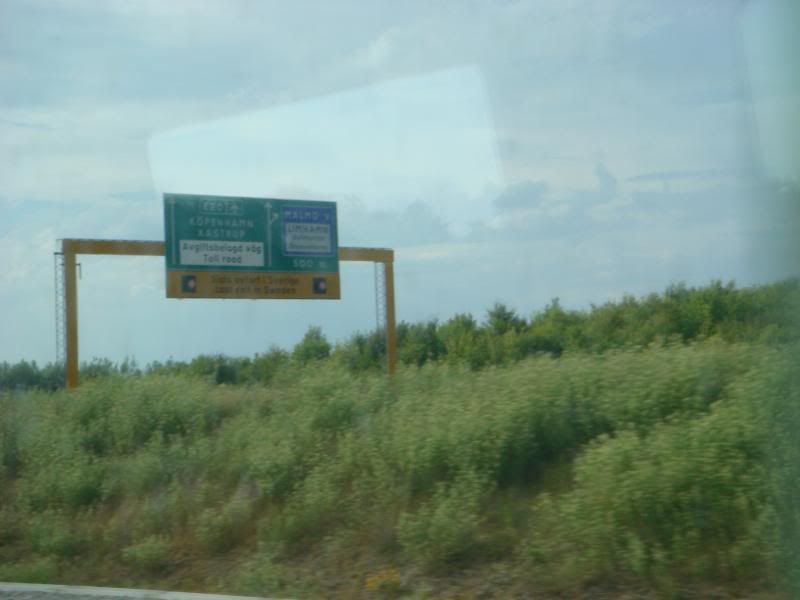 On Monday morning I did some last minute shopping and sightseeing before taking a taxi from the hotel at lunchtime. It is a short drive to Kastrup and the taxi driver was telling me how much he liked watching UK television programmes in Denmark- especially "The Bill" and "Heartbeat". I had to tell him that both these are not too typical of life in the UK. Then again….
When I arrived at Terminal 3 in Copenhagen, the crowds were literally jaw-dropping. I could not believe the chaotic scene and I had to fight my way to the business class check in.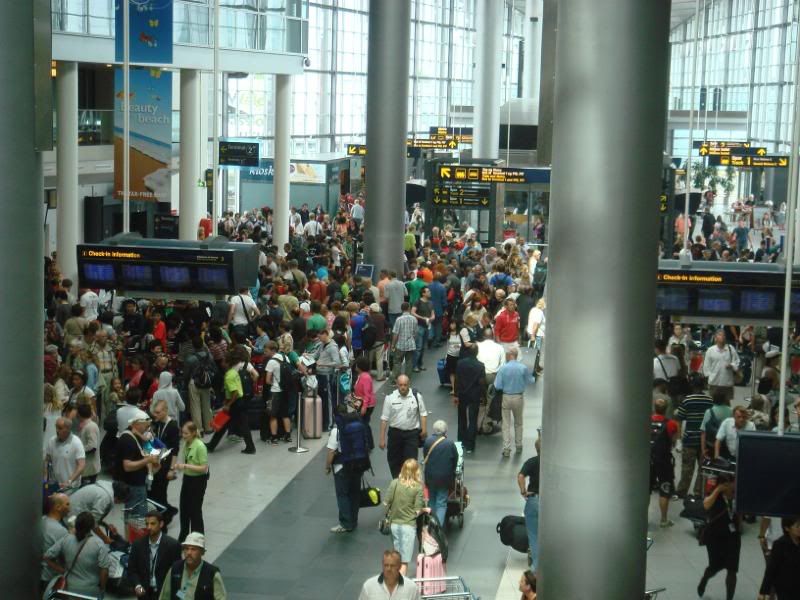 It seemed that it was the major weekend for going on holiday for the Danes. Luckily there were very few people at the business class check in and I was issued with my SAS- branded boarding pass. I had tried to check in online the previous day, but I could only do so for the VIE-LHR sector. For the CPH-VIE flight I was given 1A. I am not normally a fan of 1A, especially as this means a strong likelihood of someone sitting next to me. I was told to collect my onward boarding pass at Vienna and the agent asked if I wanted my bag checked through to Heathrow. D'uh! She was very nice though. She applied my Priority tag- this time it was a Singapore Airlines tag(!).
I took the escalator up to Departures level and went through security, where I had to remove my shoes, belt, laptop etc. Having said that, given the sheer numbers of people passing through CPH that day, the whole process was superbly efficient, fast and friendly. I also noticed that they have channels just for families, which is a good idea.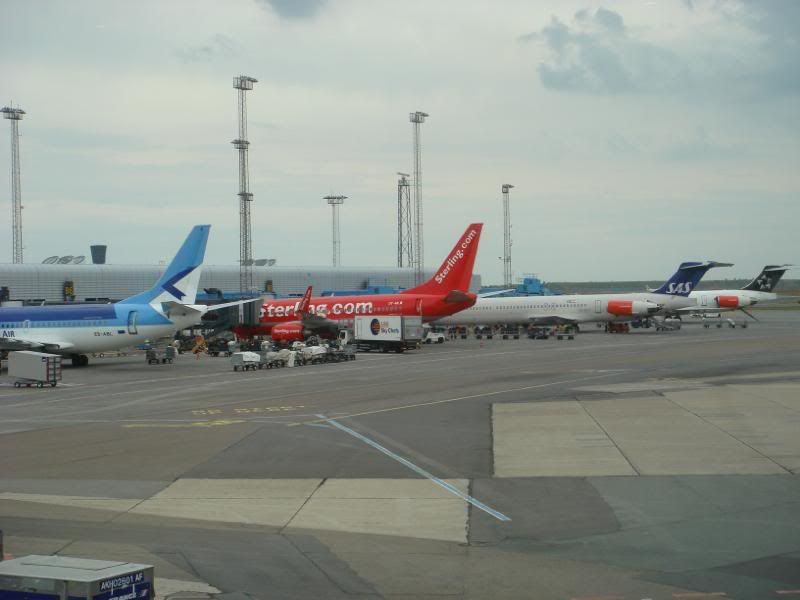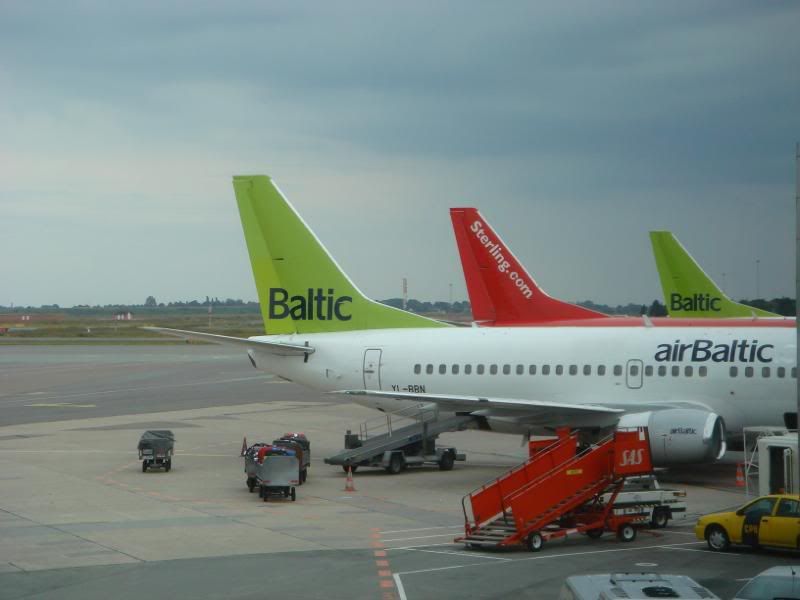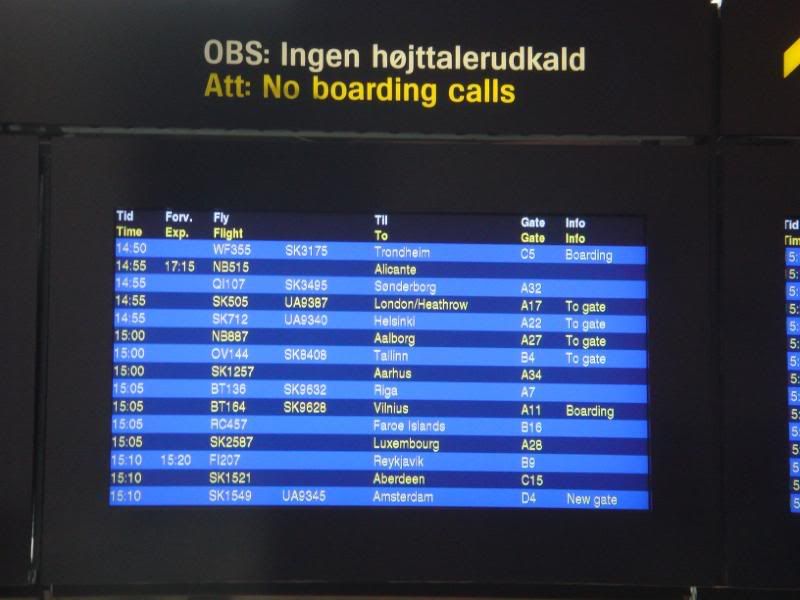 Kastrup also has some great shopping, and for fans of Danish design products, it is just too tempting. After a while I decided that my credit card could sustain no more, so I headed for the SAS lounge.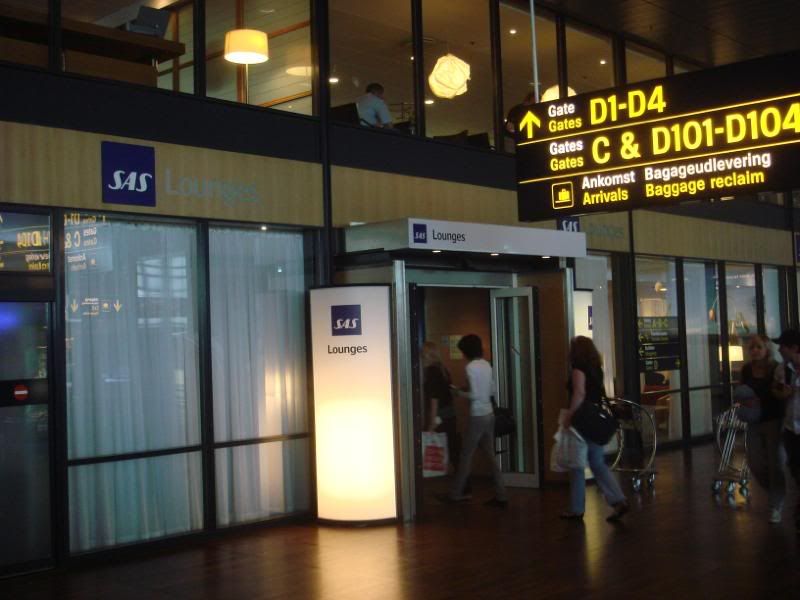 The SAS lounge is a very pleasant experience. It is on 2 levels and divided into different areas so it does not feel too soulless. They have a large model of an SAS 767 in the entrance. I thought that SAS got rid of them by now?
The lounge has free wifi and a good selection of food and drinks. They even have a fire going- which was a bit strange in July, but it was a nice touch.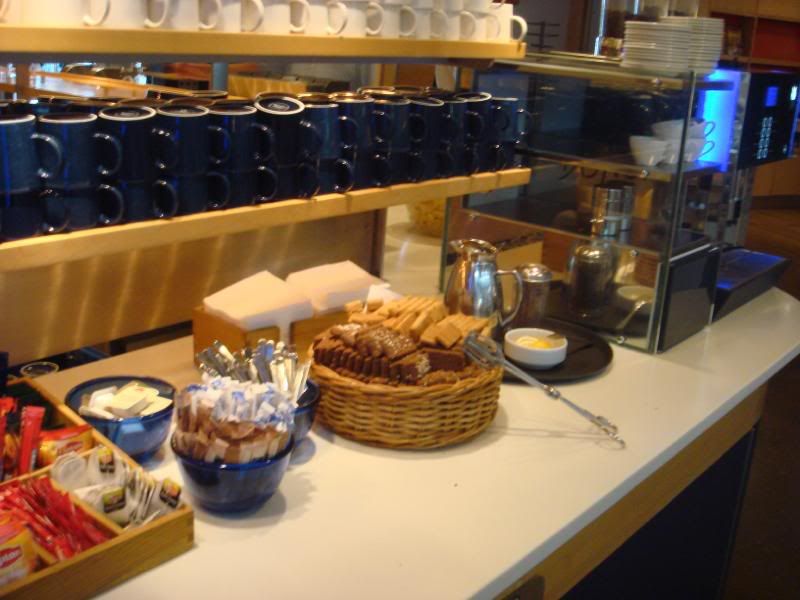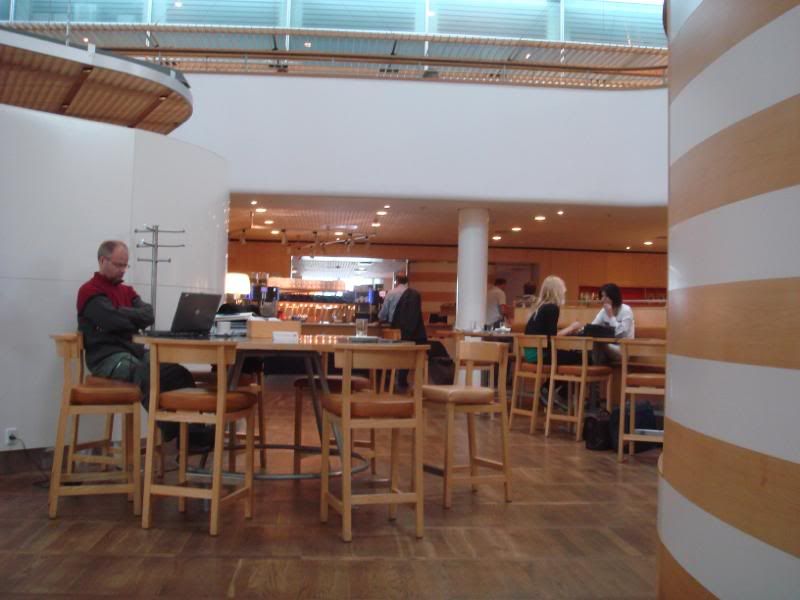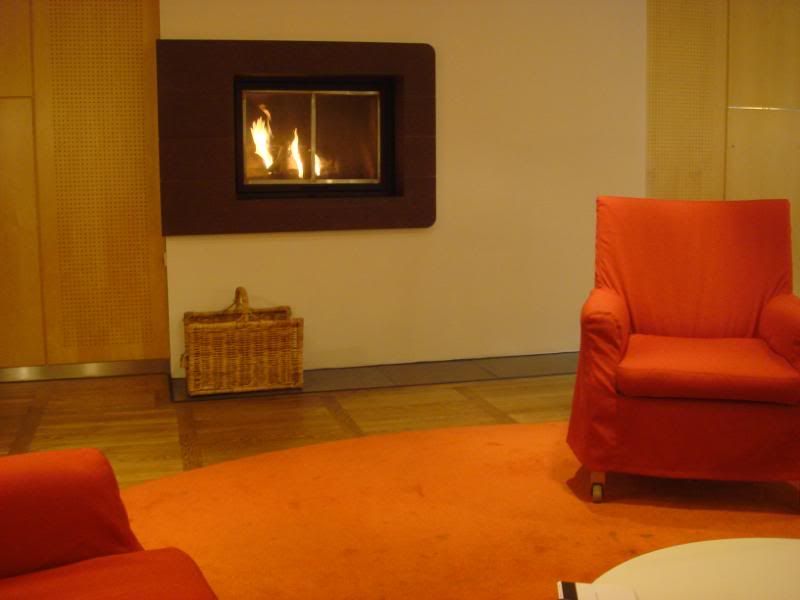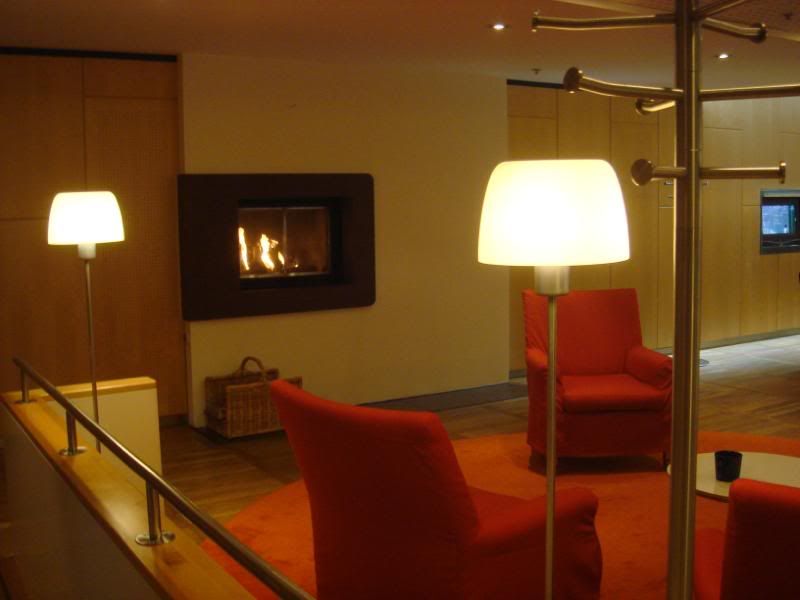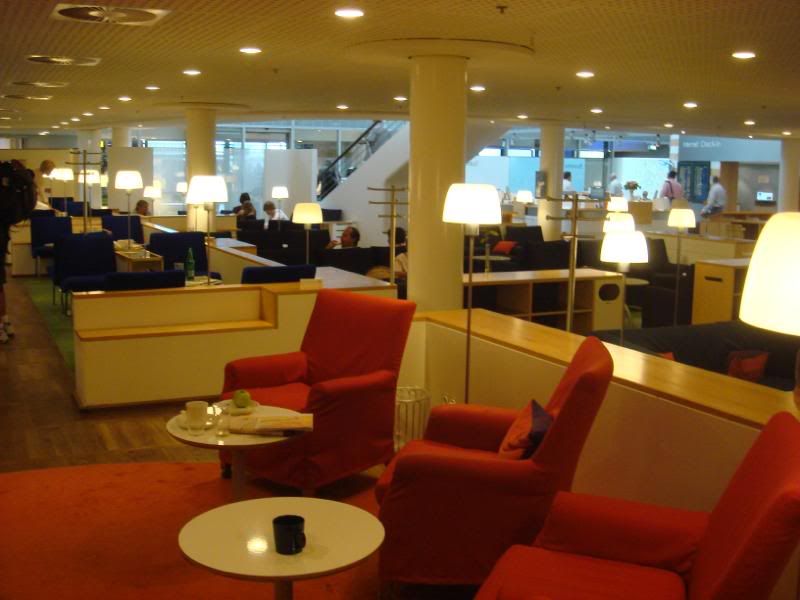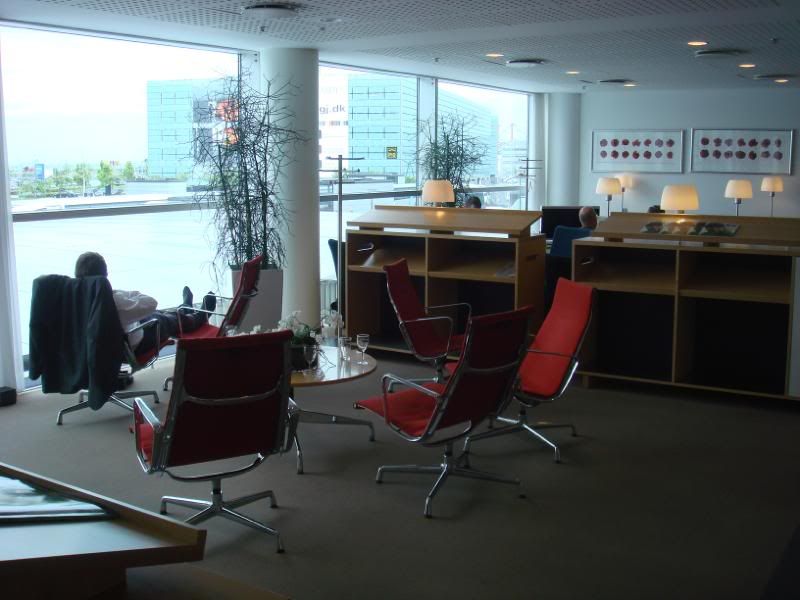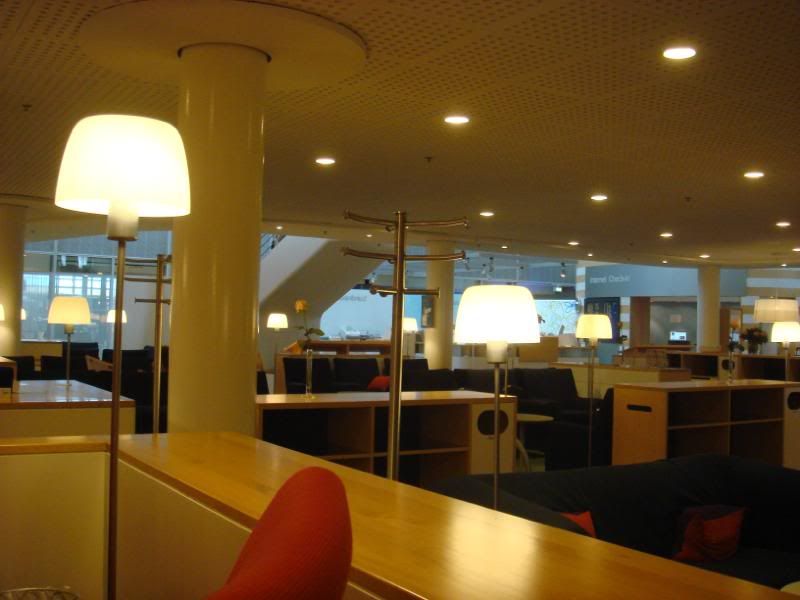 The lounge staff were friendly and attentive, and the lounge made for a welcome haven from the chaos outside. I spent a pleasant hour there reading and relaxing before heading to the gate.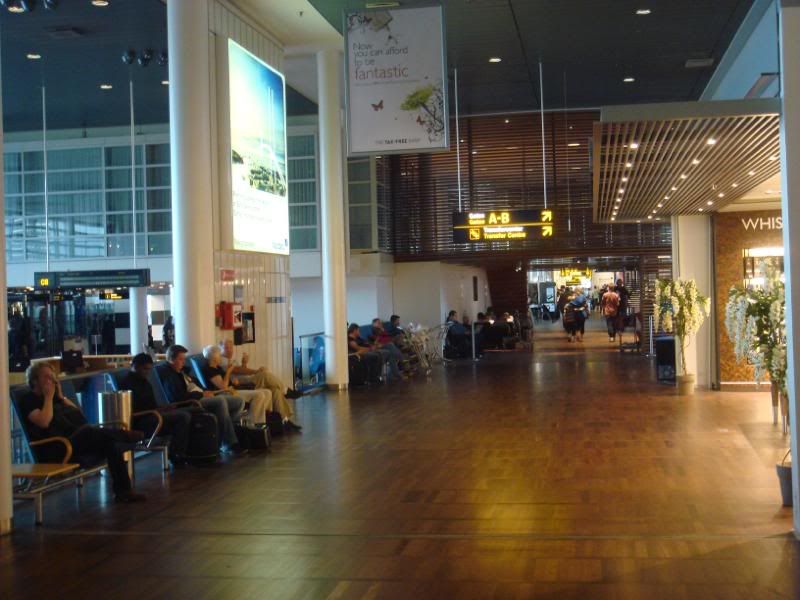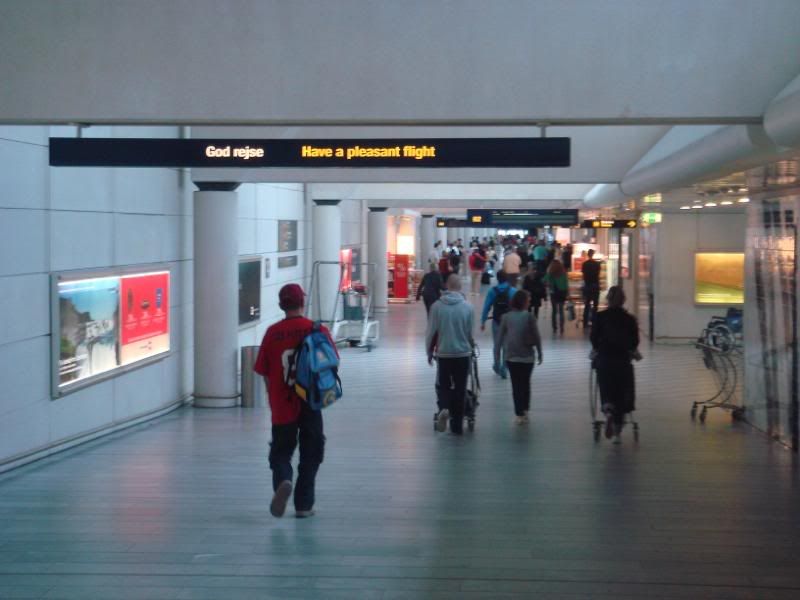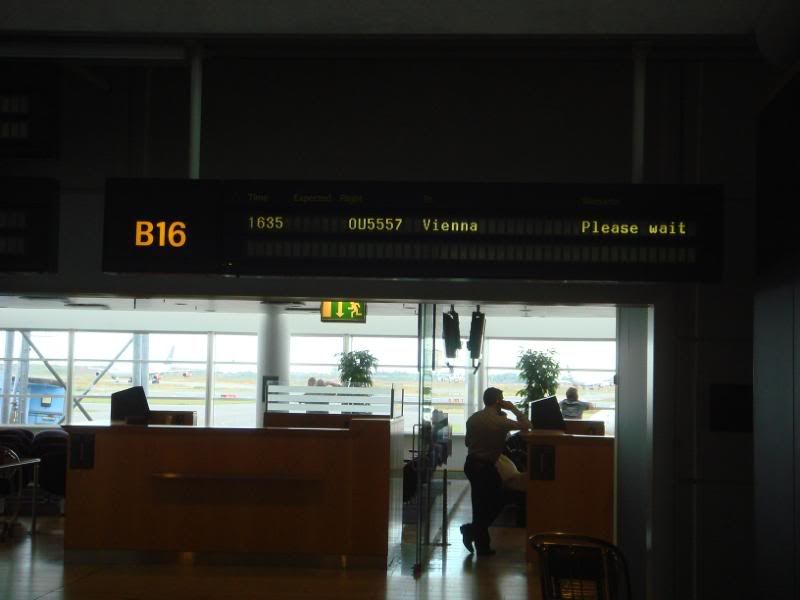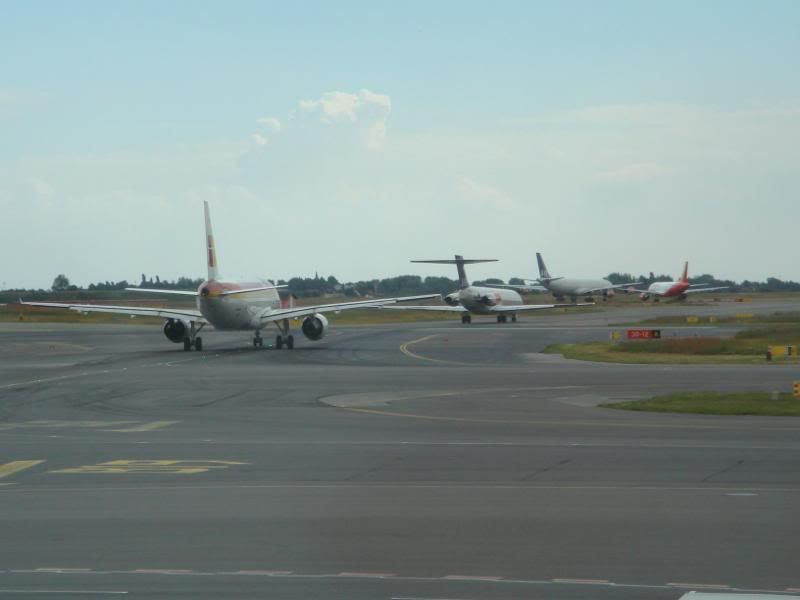 OS304 CPH- VIE
Dep CPH: 16.35
Arr VIE: 18.25

Fokker 70, Austrian Arrows, operated by Tyrolean. Seat 1A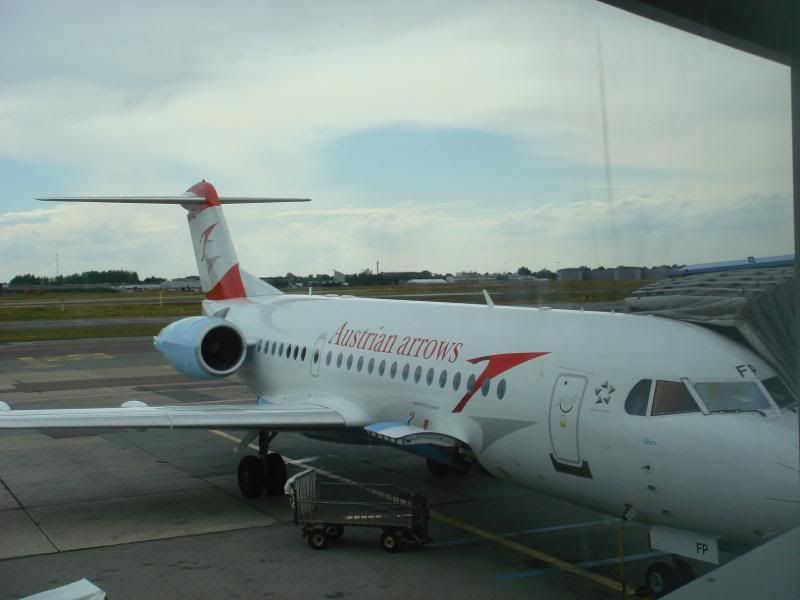 Our cute little Fokker was parked at the end of the pier, seemingly dwarfed by surrounding aircraft. As I watched the loading taking place, I noticed my red case on the cart- so at least it was not left behind.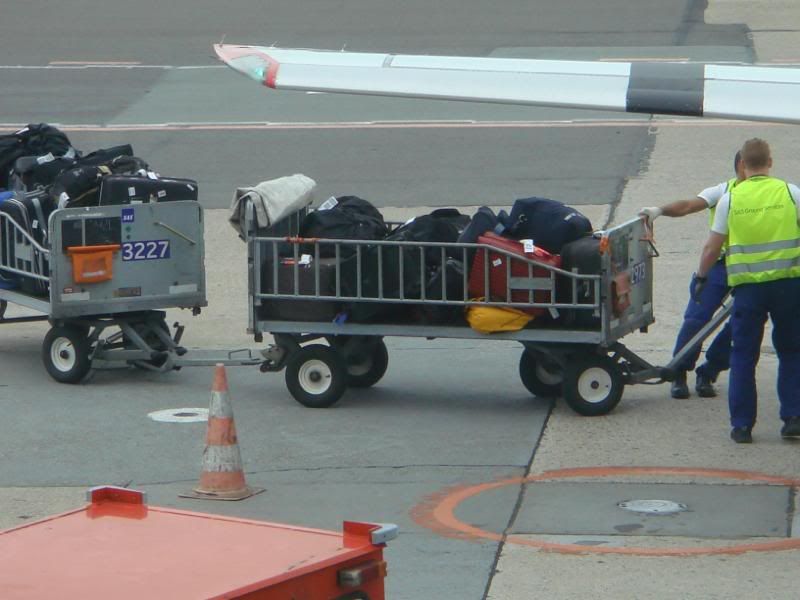 Today business class was full, as was the economy section. It was not so bad having someone seated next to me, as we got chatting.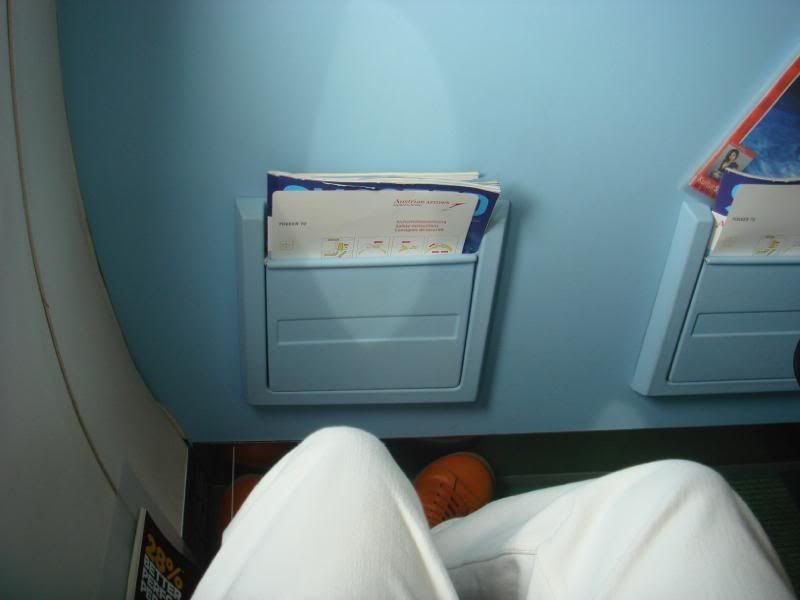 Again menus and towels were handed out, before take off this time. The meal was the same that I had on the previous LHR-VIE flight, so I did not bother to photograph it.
I could hear a dog barking during boarding. It seemed to come directly from beneath my feet! Of course there was a dog being transported in the hold. He kept barking throughout pushback and the safety demo. I wonder if he was sedated at all for the flight? Eventually his barking was drowned out by the engine noise as we took off, but the moment that we landed in Vienna, I heard barking again.
It felt like a very leisurely take off roll- in other words, slow. We seemed to almost struggle to climb and at one point the engines cut back so much that I thought that we were about to stall! Probably just the noise abatement procedure at CPH?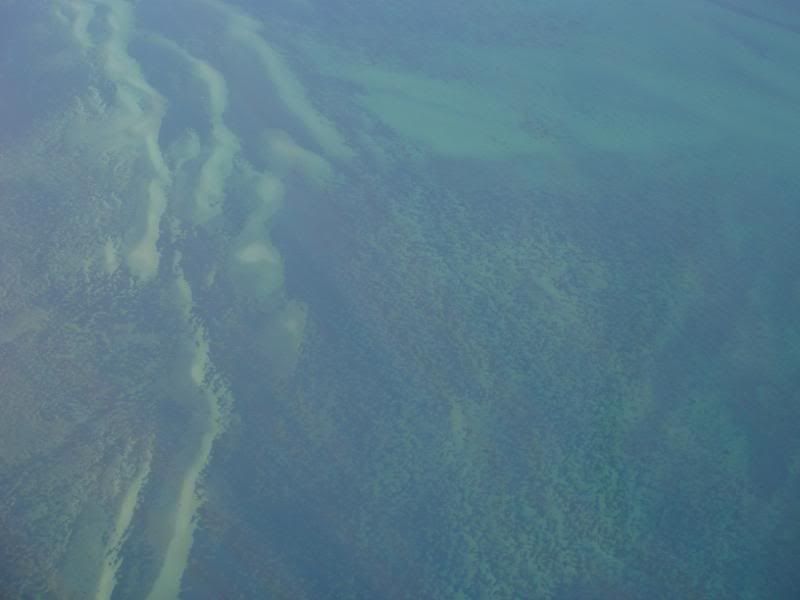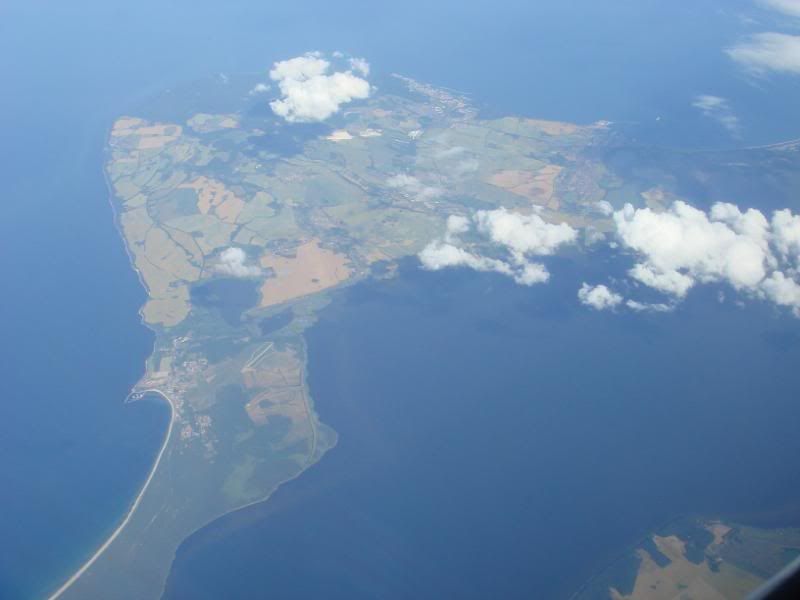 As we levelled off the flight attendant came to offer a Campari cocktail. It was very good. The Tyrolean girls are just stunning. Very beautiful and they offer a really excellent service. The meal was the usual high standard. As we got closer to Vienna the weather worsened noticeably and on our approach we were thrown about quite a bit. We landed beneath leaden skies at the now familiar Vienna airport.
We were bussed to the terminal, just managing to dodge a shower, and I went to the Austrian transfer desk to collect my onward boarding pass. At this point I was asked for my baggage receipt. The agent then entered the number into the computer, without which, my bag would not have left Vienna!
I went to the non-Schengen Austrian lounge. I have to say that it is certainly the poor cousin of the Schengen lounge. Although it offers a decent view of movements and a part of the ramp, it is much smaller and felt cramped in the evening rush hour. It really reminded me just how extensive Austrian's network is in Central and Eastern Europe. It felt more like SVO than Vienna.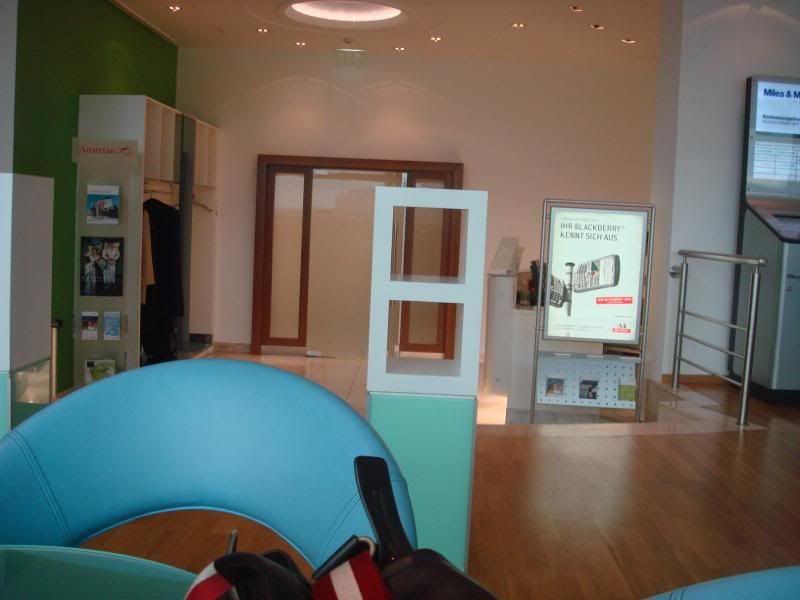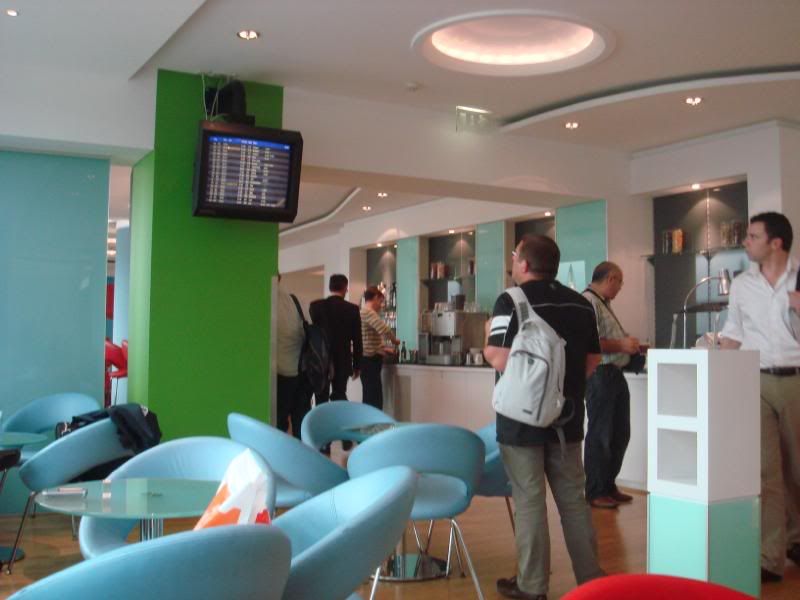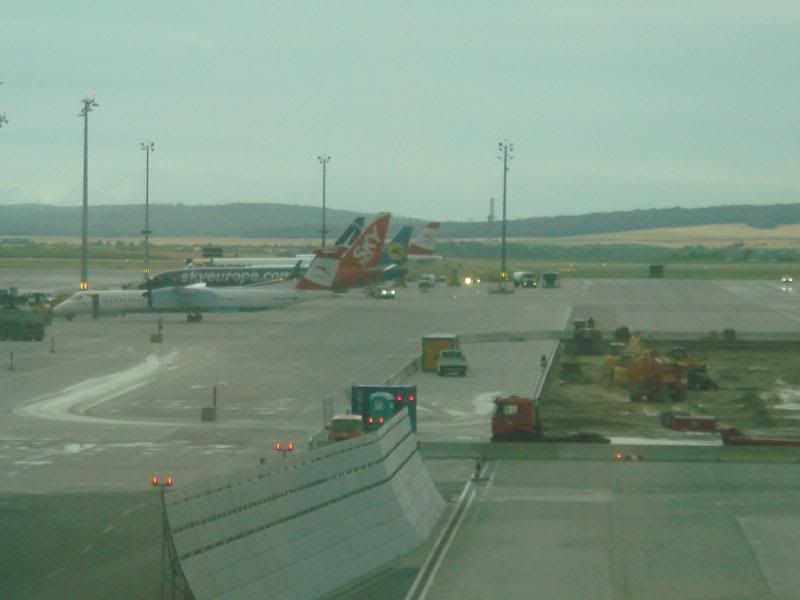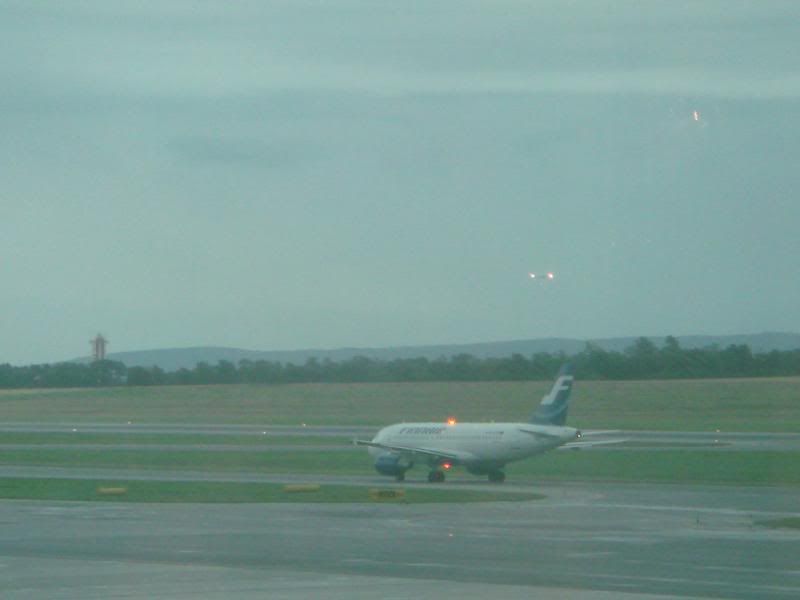 I had a few glasses of prosecco and used the free wifi. Then the weather got a lot worse as a thunderstorm passed over.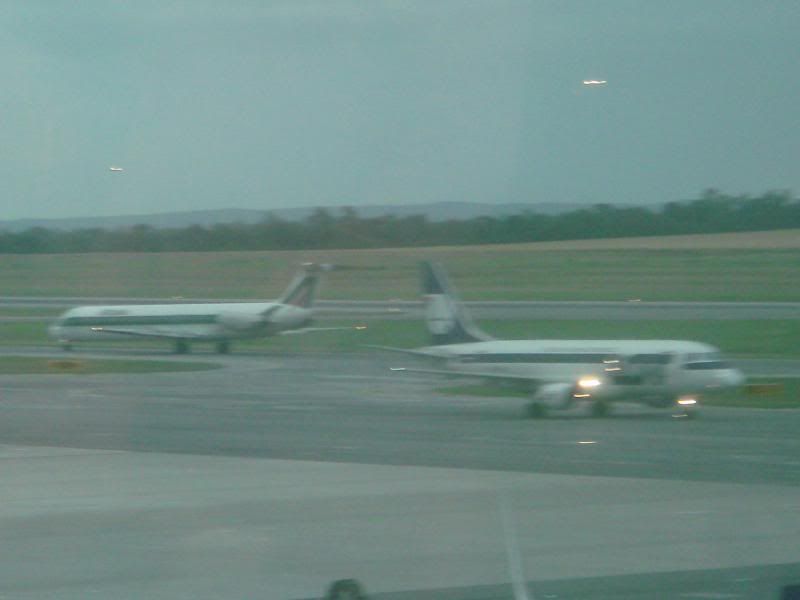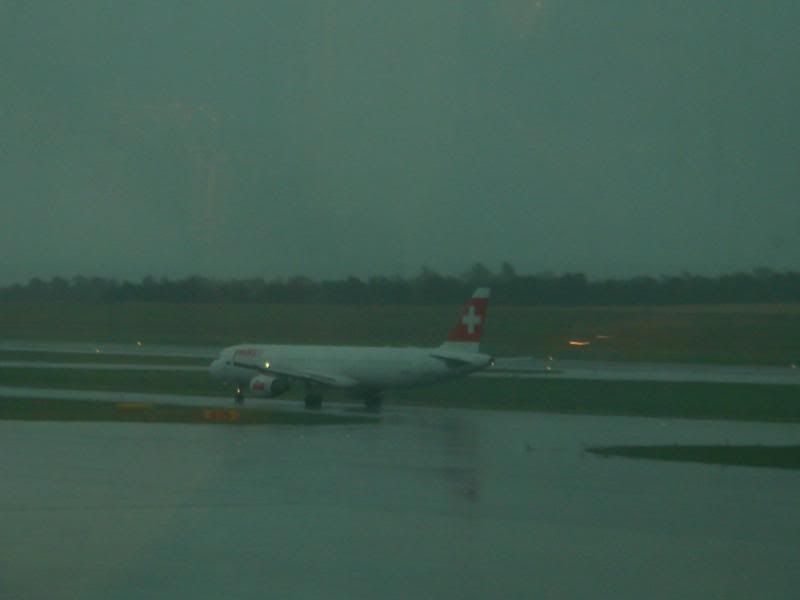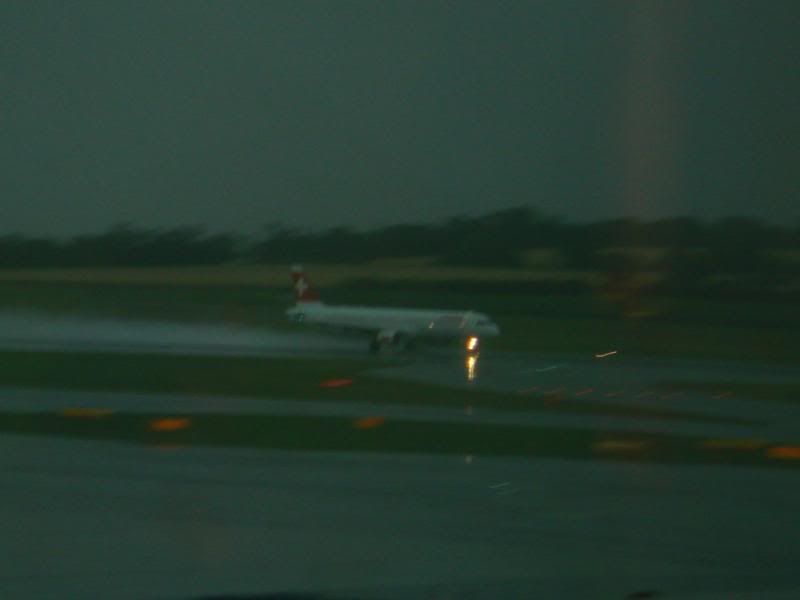 My flight to Heathrow was due out at 19.45. The information screen then displayed the dreaded, "More information at 19.45". This later changed to more information at 20.05, then 20.30, then a departure time of 21.00. It seemed that storms in London had caused an inbound delay, compounded by the bad weather at Vienna, which let to the closure of the ramp during the storm.
The lounge staff were good humoured and kept us informed, and gradually the lounge emptied out, and I began to wonder if we would be spending the night in Vienna.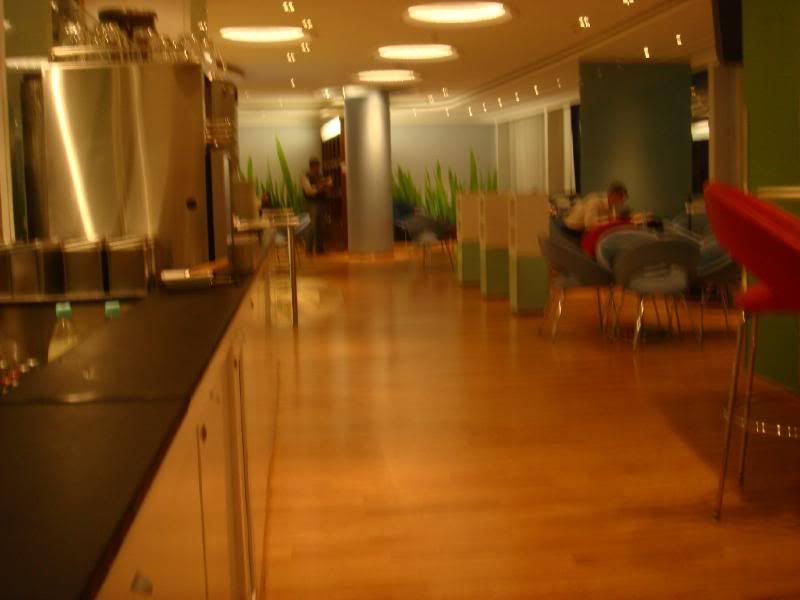 OS304 VIE- LHR
Dep VIE: 19.45 (21.55)
Arr LHR: 21.20 (22.50)
Airbus A321. Seat7F
At 21.15 boarding was finally announced and I proceeded down the now-deserted airbridge as the last passenger to board. Even then we would not be going anywhere fast as the ramp was closed due to the thunderstorm passing over.
I settled into my seat. The business cabin was less than half full, and I was immediately offered another Campari cocktail.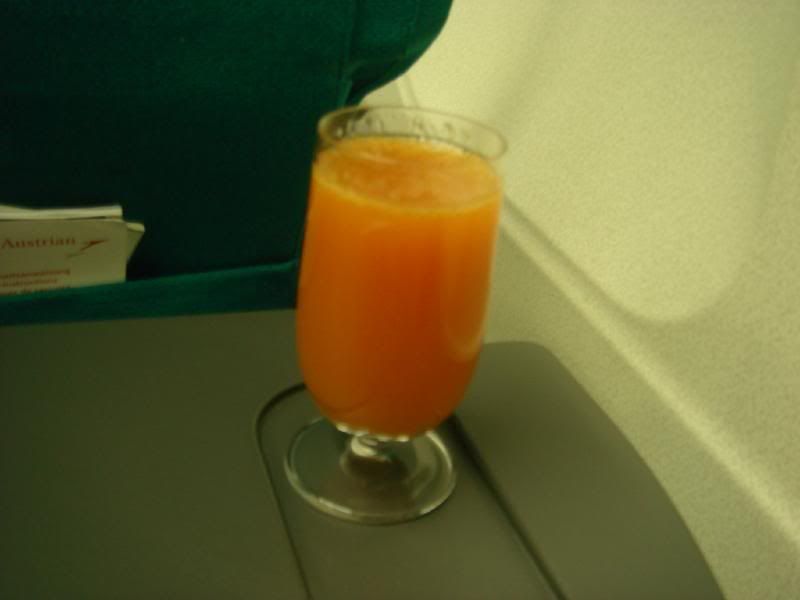 http://img.photobucket.com/albums/v7...enhagen%20July%202008/DSC02151.jpg
In the meantime, orange juice and water were also handed out in Economy.
As I looked out of the window, the weather did not seem to be improving at all. As I sipped my drink, I decided that there was little point in stressing about the delay.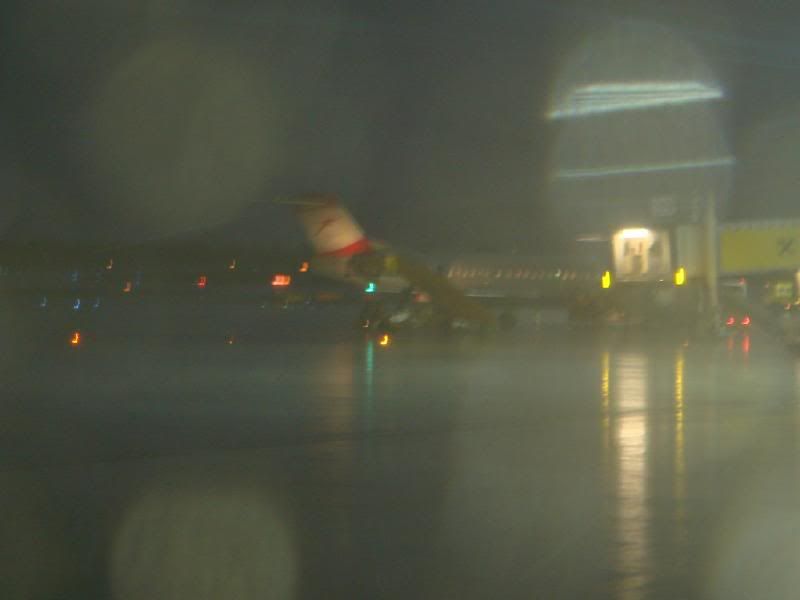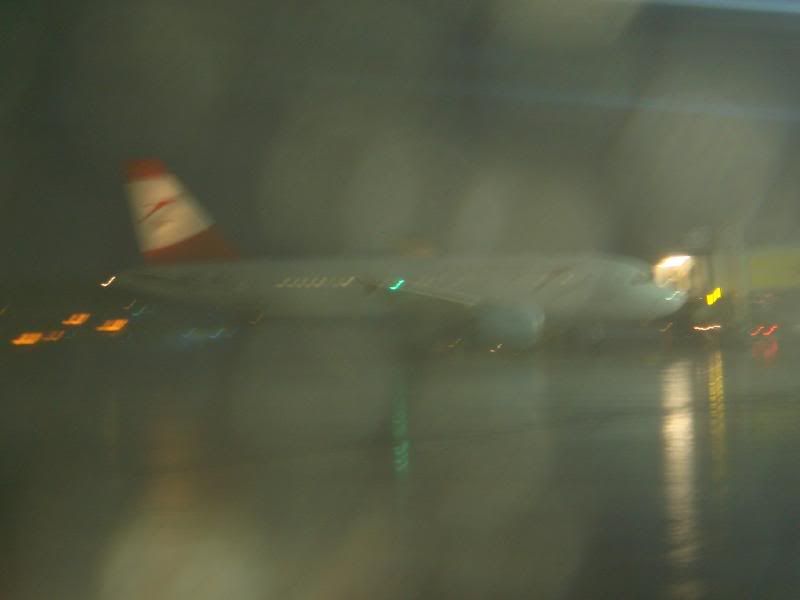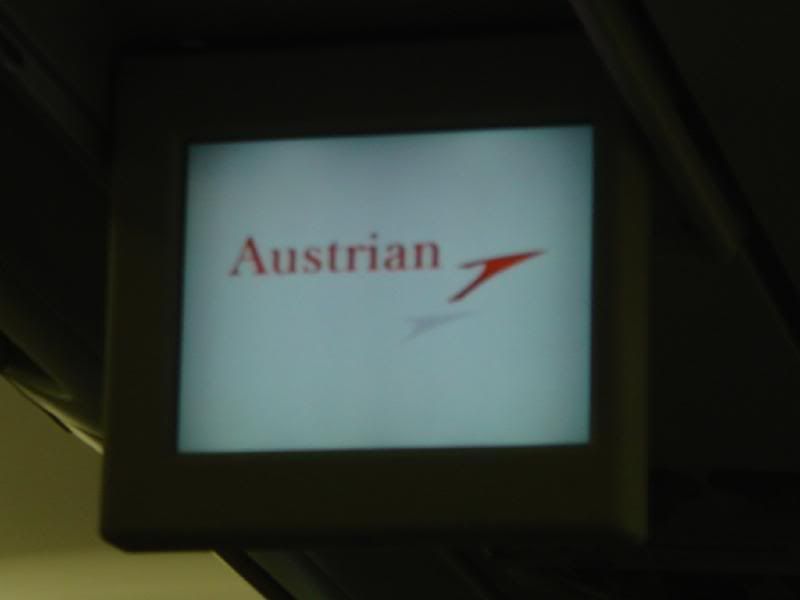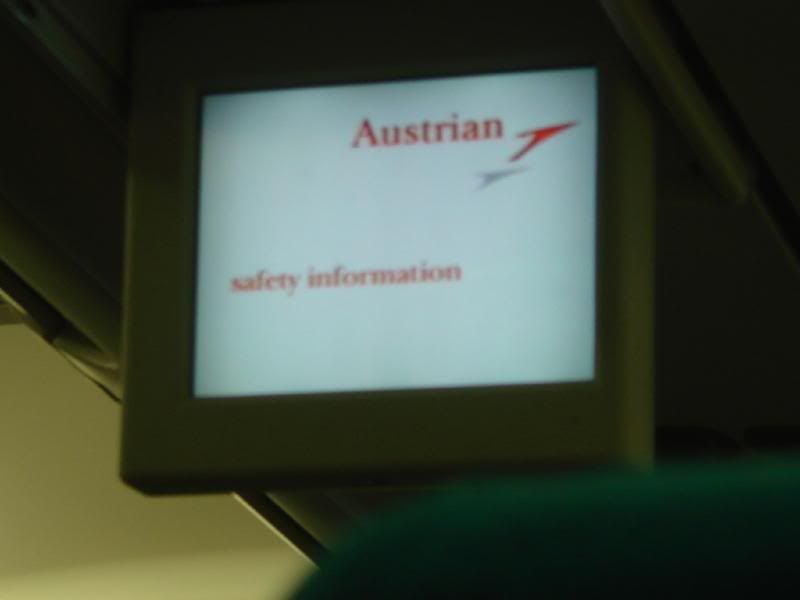 The security demo was played on the overhead screens and we finally pushed back at 21.45, taking off 10 minutes later, heading out over the north of Vienna. As we climbed above the cloud layer, the last vestiges of daylight were visible in the western sky, and we would follow it.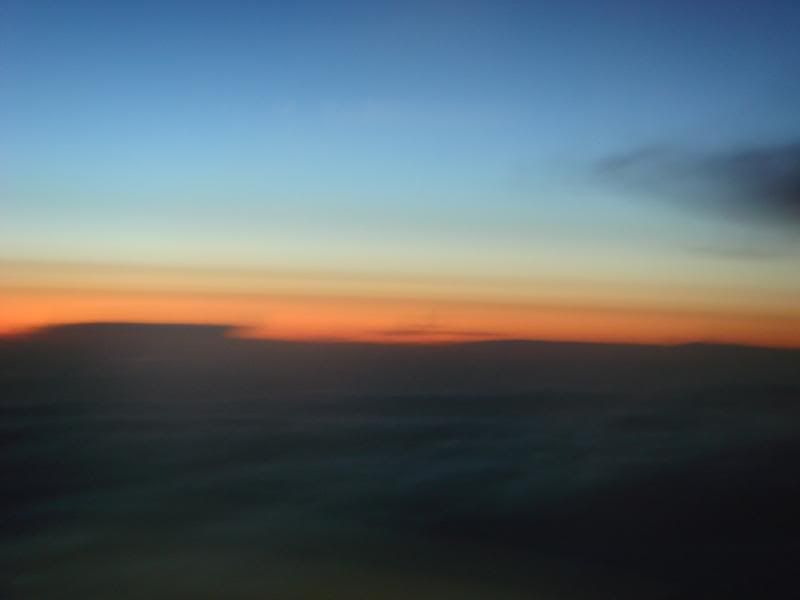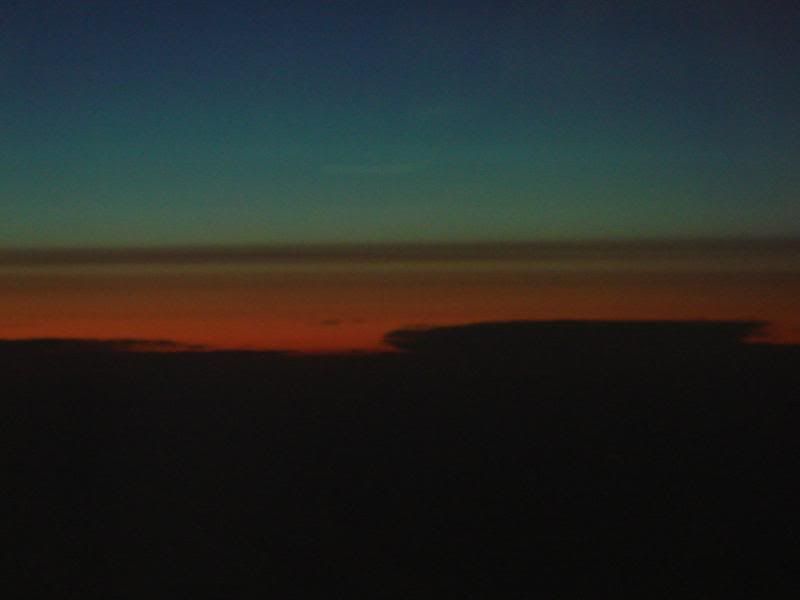 Again, hot towels and menus were distributed, and it was hello again to the meal that I had eaten on the VIE- CPH sector. By now I was hungry and it certainly went down well.
Styrian Beef Carpaccio; Prawns in Mustard and Lemon Sauce with Spinach and Rice; Mocha Cake.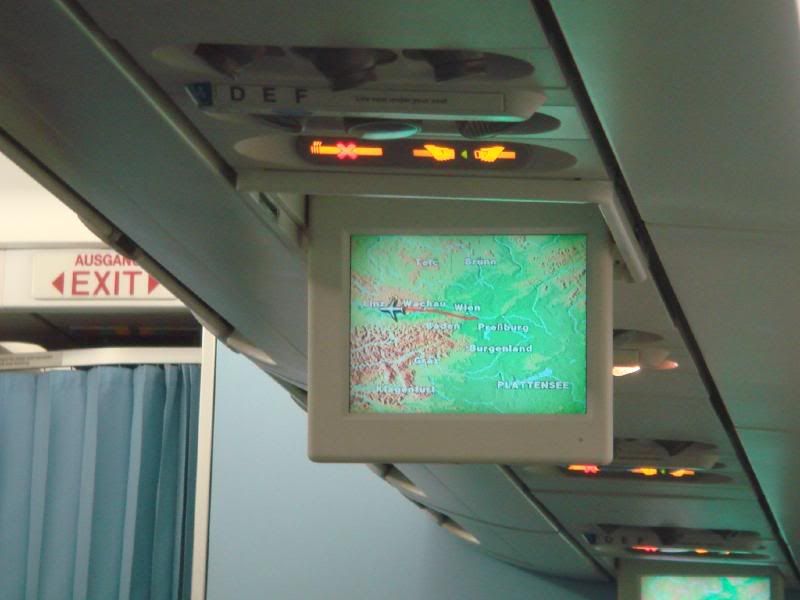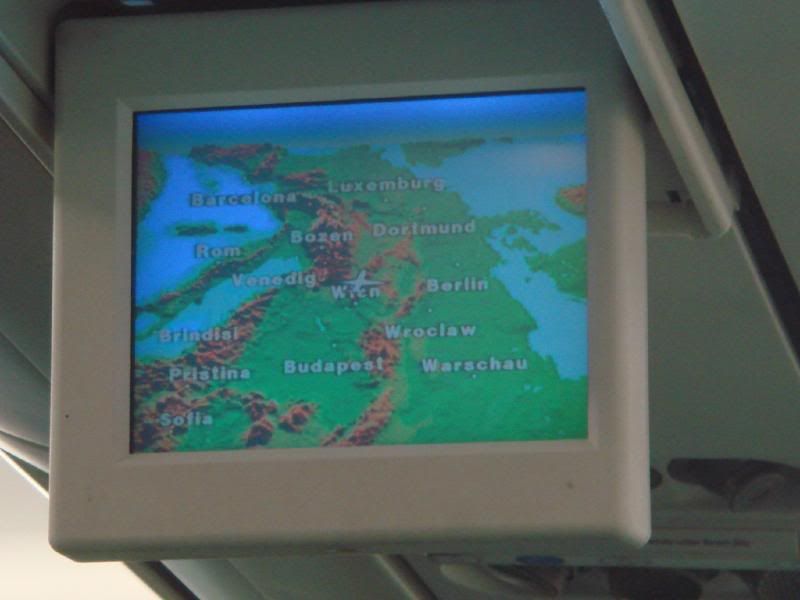 The service was relaxed and unhurried as we crossed Germany and Belgium. After the meal I was offered a digestif, so I opted for a Cointreau with ice.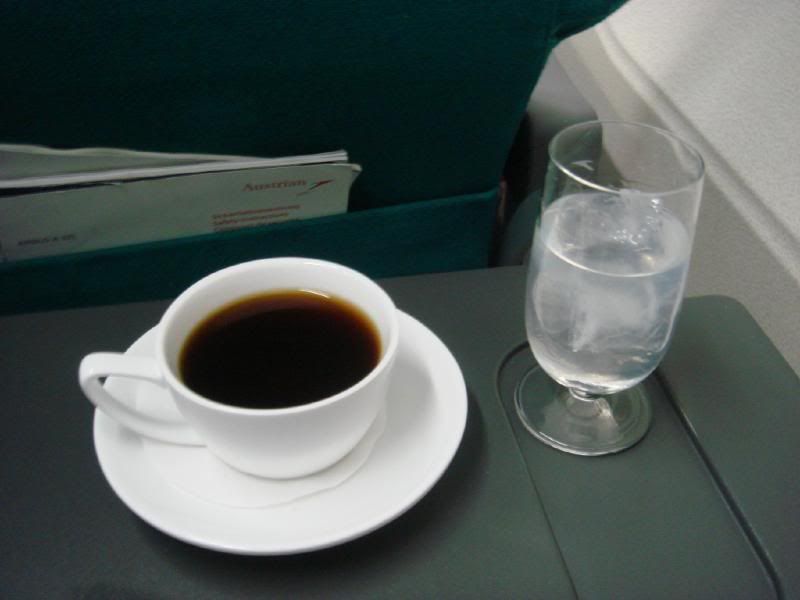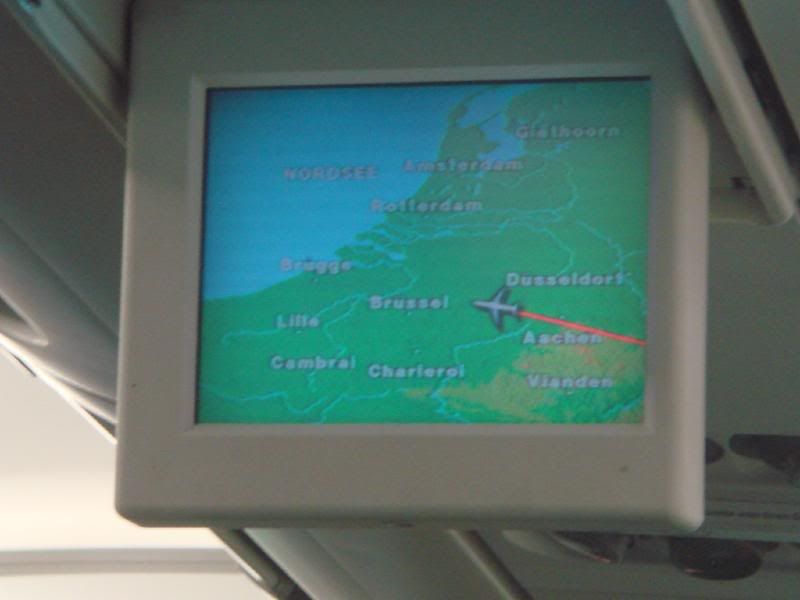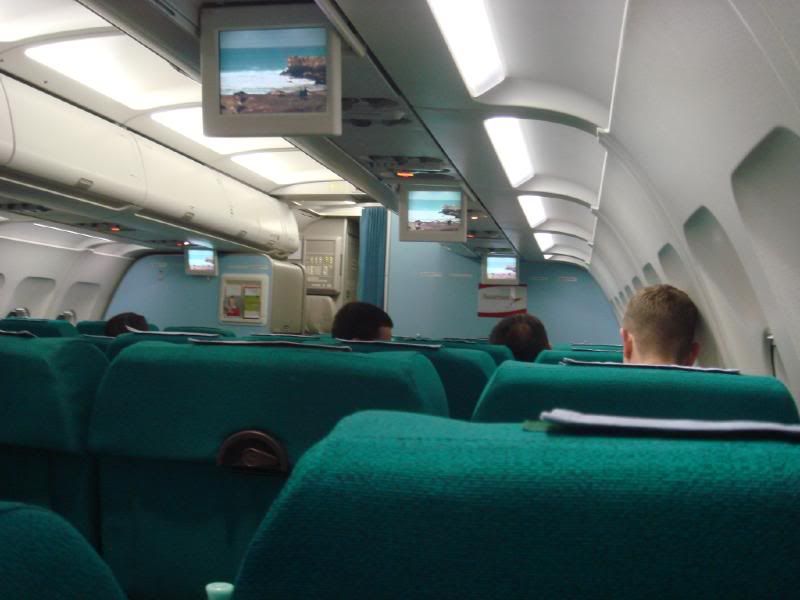 One of the benefits of arriving so late is that there was no need to spend endless time circling over London. We made a fairly direct approach over Essex and the City, landing at 22.50.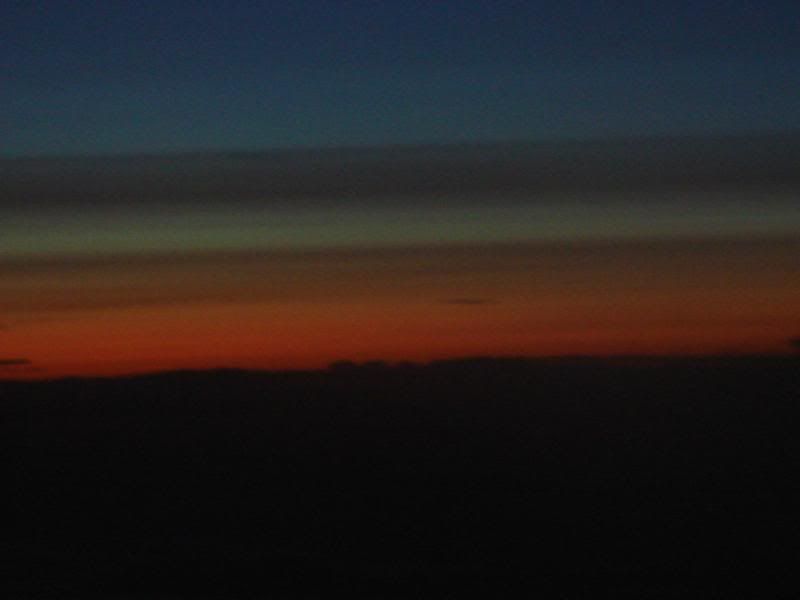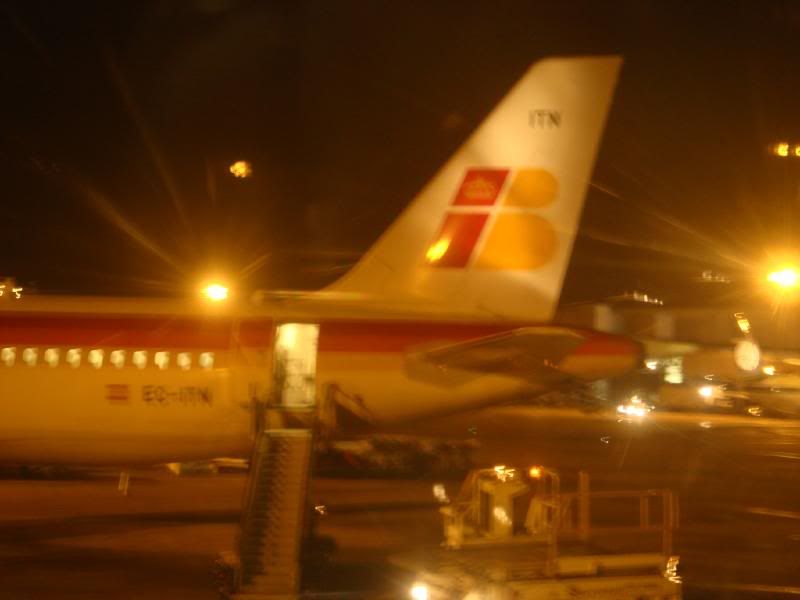 When we finally got to the gate, we were informed that there would be a delay, as we would be disembarking by steps. 10 minutes later the steps finally arrived. Then when we entered the terminal the door from the gate was locked and alarmed.
An Austrian gentleman asked a BAA employee if we had arrived in Africa by mistake, to which her reply was, "You can go back to Africa if you want!". Welcome to the UK.
The immigration hall was complete chaos. Passengers on BA flights from Warsaw and Nice had somehow ended up in Terminal 2. The reaction of the immigration staff was to shout at them, telling them that it was their fault as they had gone the wrong way, and that they should go back to Terminal 1. Given that there were a few hundred people from these flights, I rather imagine that they were directed the wrong way in the airport. Welcome to the UK again….
By this time, my bag was already on the belt, and I went home, reflecting on how poor the average passenger experience is at Heathrow. It may be falling down, but the total lack of customer service skills by many of its Staff just make it all worse. What an introduction to the UK!
I had an excellent trip. I am scratching my head wondering why I have not flown OS more often. They really do offer excellent and consistent service that is a thing of the past with other airlines. Perhaps I have finally found an airline that beats LX on short hops? I will certainly make sure that OS features in my future travel plans.
The Austrian slogan used to say, "Like a smile in the sky". I can only agree, and I hope that, whoever takes them over, that things stay as they are with Austrian- a great airline with a very user-friendly hub.
Thanks for reading.