June 2nd.
The morning started early, like midnight early. Having gotten off work at eleven thirty, and with Mumsy having been carping at me all week for booking a flight too late in the day, I called Delta to see about Same Day Standby on the 615am from Denver to Long Beach via Salt Lake City, never mind that getting on that flight meant I'd get no sleep, as I'd have to leave for the airport at three in the morning. Having gotten through the first time, I was told I need to call back after 315am. So, three hours later, I called back, waited on hold for thirty minutes, and gave up. Since I live 50 miles from the airport, I'd not be able to make it on time, even if I did get on the "oh god it's early O'clock" flight.
So, at eight o'clock, I loaded myself and my rollaboard into the Ravmobile for the trip to the airport.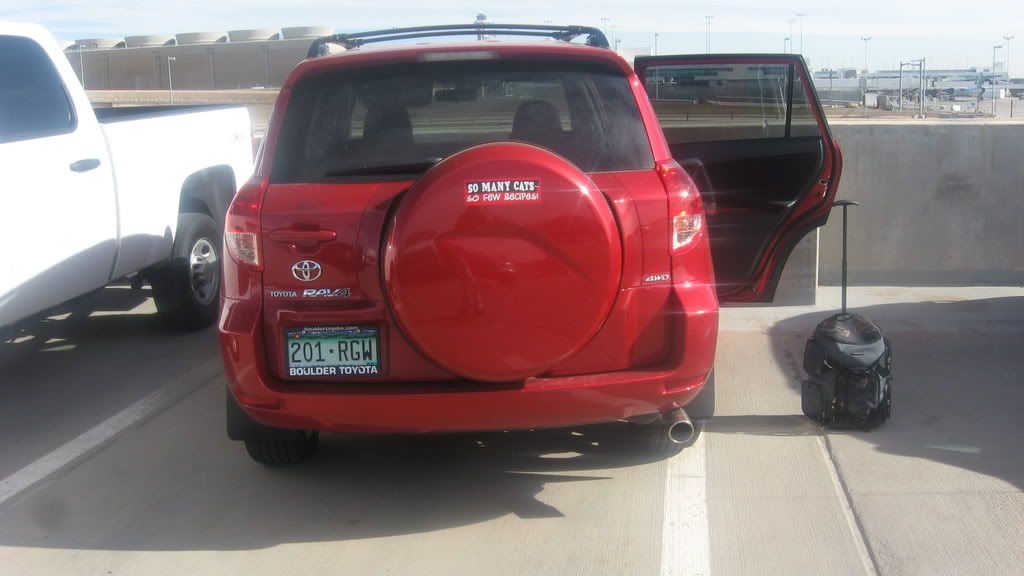 The bumper sticker says "So many cats, so few recipes" the irony is I'm a cat lover.
Having already checked in online, I bypassed the ticket counter and headed for the A concourse bridge.
"The usual suspects."
I made my way to the C concourse, to sit, relax and "burn one"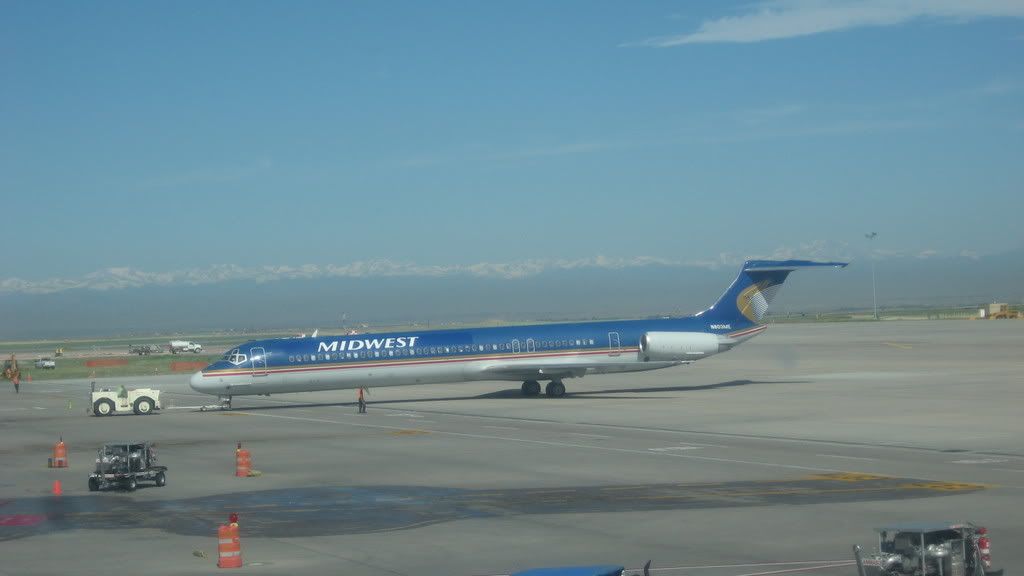 A Milwaukee Bound MD-80.
Who knows where this 737-300 is going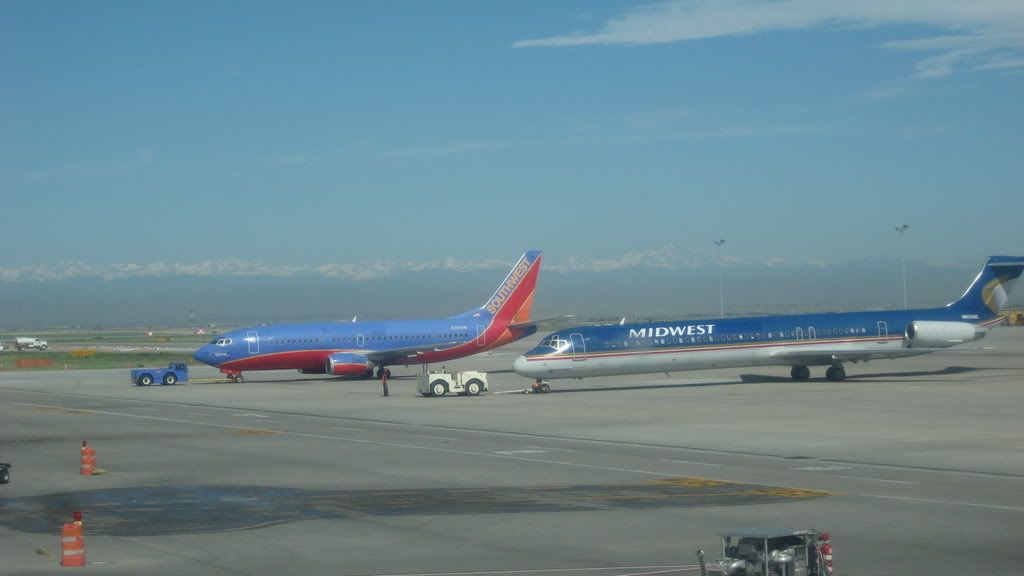 The two 80s work horses lined up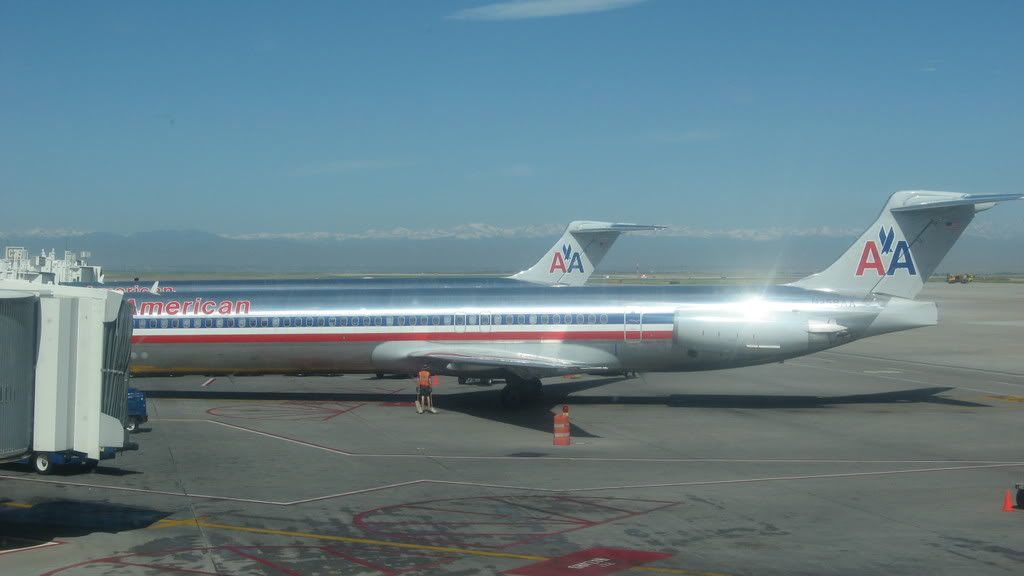 The workhorse of the AA fleet. Where's it going? Either Chicago or Dallas.
Having gotten my nicotine fix, I ambled down to C-44, where my sixth CRJ-200 was just arriving.
Now I must say I am very disappointed at this turn of events. Delta? Where's the love? Wasn't too many years ago when Salt Lake City flyers would be treated to a 757, 767-200 (I flew on the Spirit of Delta from Denver-Salt Lake) or even her majesty the 767-300 (I flew on my first 767-300, N127DL from Denver-Salt Lake) but nowadays with the -300ERs and half the 767-400s dedicated to the international runs (we used to get 763ERs in Denver too, on the Atlanta run, and once upon a time, long long ago, we even used to get the L1011. That was back before DIA was even a gleam in the eye of the crooks who gave it to us.) and the 763Ds being used for higher density leisure runs, we're relegated to the 757 to Atlanta,
MD-88s and CRJ-700s to Cincinnati and mostly CRJs to Salt Lake with an MD-90 and 737-800 thrown in just to spice things up.
1 Delta 3888 Denver-Salt Lake City CRJ-200 N449SW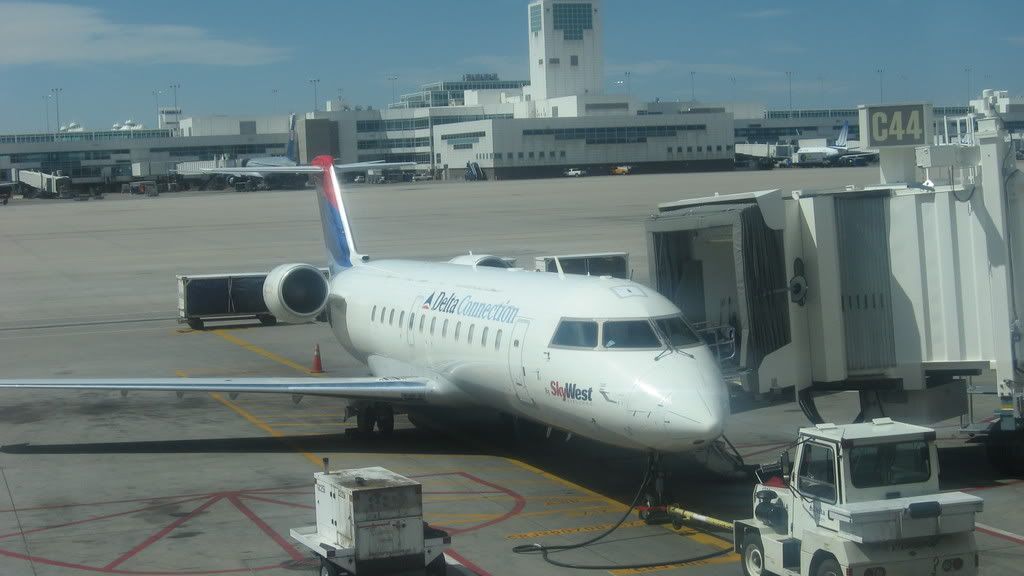 My ride to Salt Lake City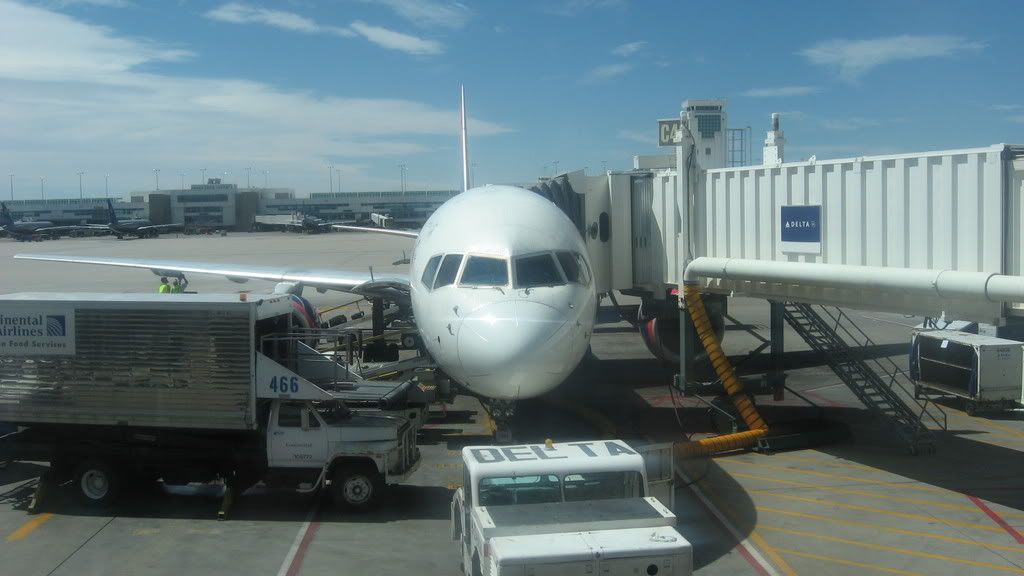 I wish I was on this instead.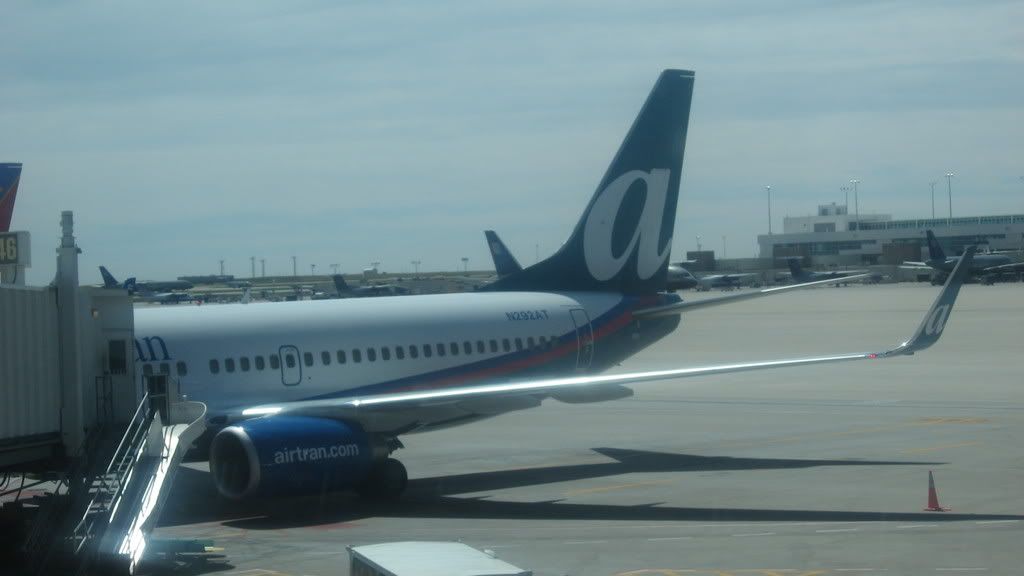 Delta's competition at C-46.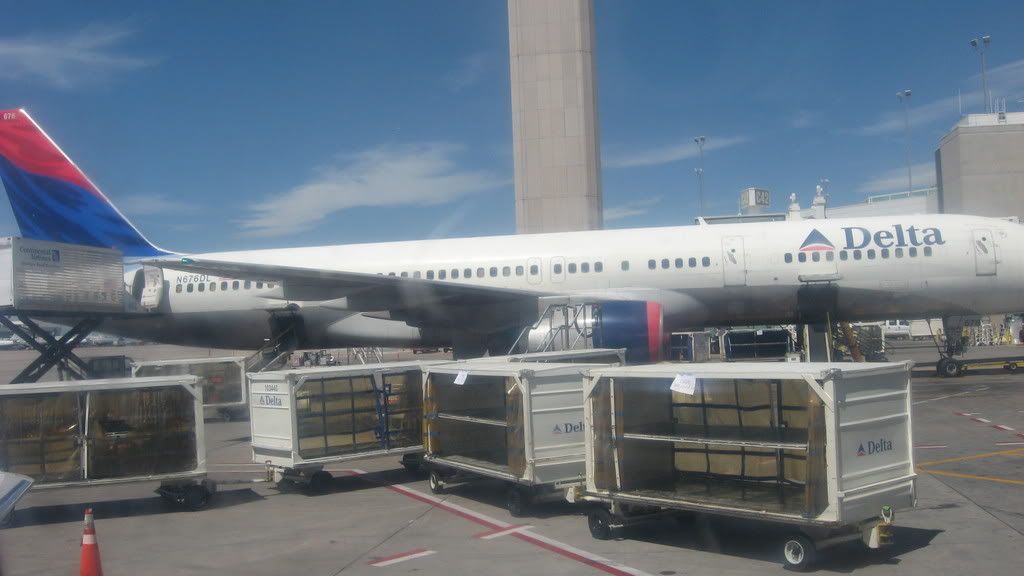 Ever wonder how small a CRJ is? This is a 757 as seen from inside an RJ. This 757 is going to Atlanta.
With all 50 of our warm bodies onboard, we strapped in and got underway. The short one hour trip to Mormonland still provided some great scenery, not to mention the usual coke and peanuts from Skywest.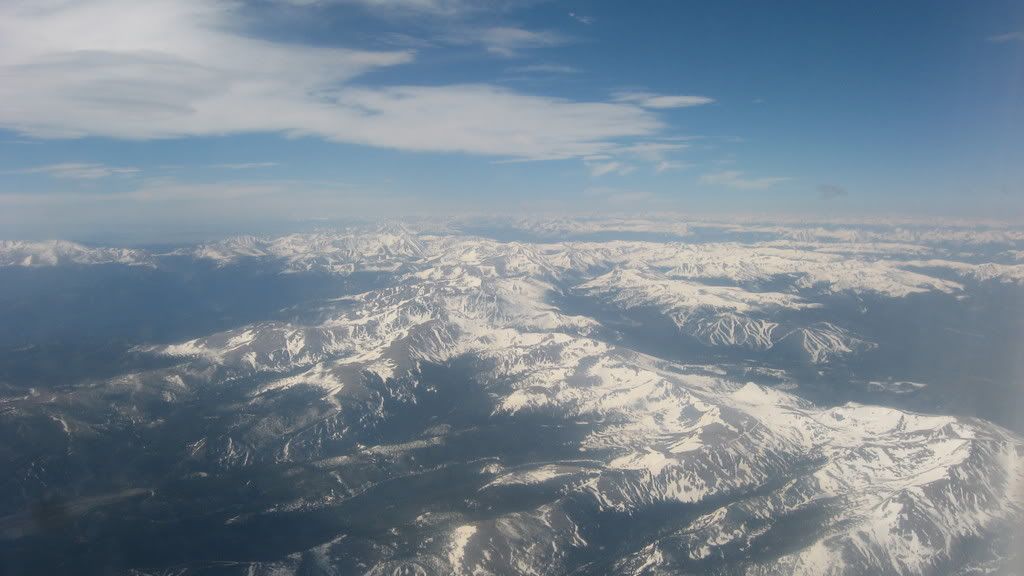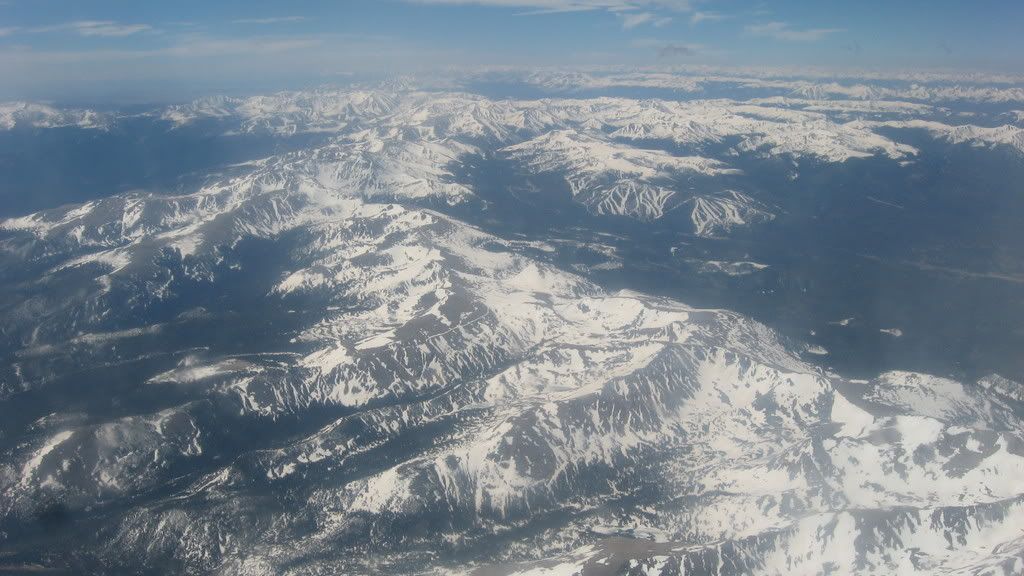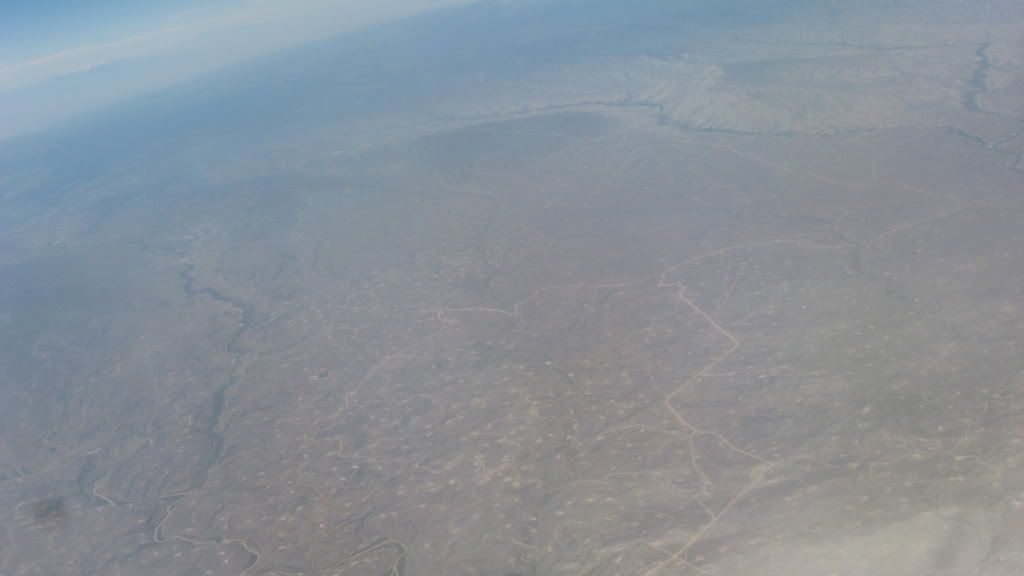 Welcome to flat, boring Utah.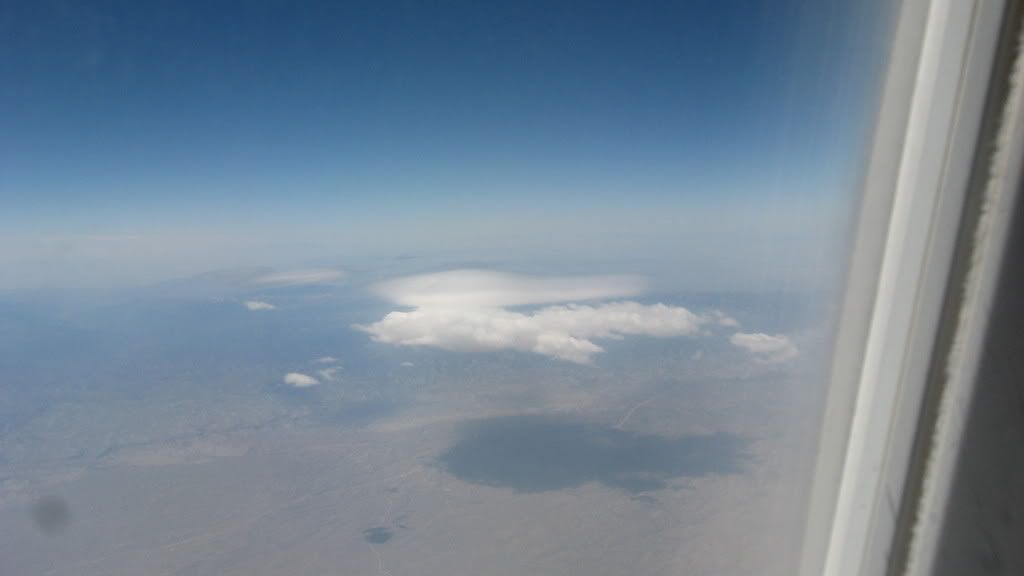 A lonely little cloud.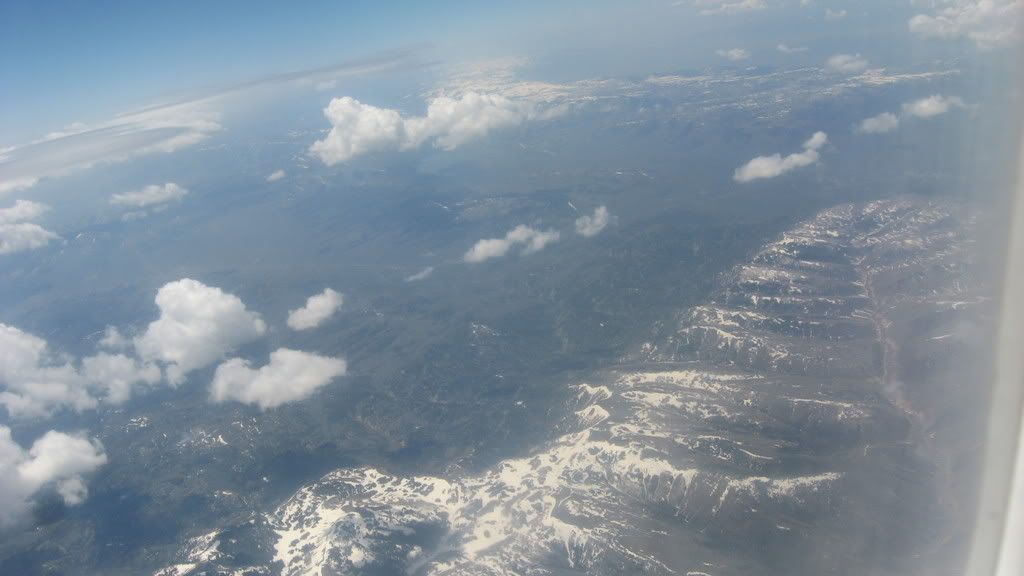 An hour or so after we departed, CRJ number six was officially in the books as we arrived at the Delta Connection Terminal. I now had two hours to kill before CRJ number 7 would take me to Long Beach, the one Southern California Metro Area airport I had yet to fly into. Irony dictates that I actually lived in Long Beach for four years.
Coming off the plane I was already figuring in my mind whether I had enough time to go outside for a smoke, after all, every airport in America is now smoke free. Well not every one, yet. Salt Lake, despite being the capital of the completely vice free Mormon religion has smoking lounges in every concourse. Yay for salt lake! All us smokers are going to send them Christmas presents!
My least favorite turbo prop. The first time I flew on the E120, with ASA back in the early 90s, the thing vibrated so bad my rear end was literally numb. I swore I'd avoid them as much as humanly possible. So far, I've succeeded, flying on only 3.
Having gotten my fill of the Delta Connection terminal, where there really isn't much to see, other than Embraer 120s, I decided to head upstairs and see what else there was to see. On the D concourse, another smoking lounge beckoned me in.
"Wavy Gravy" heading for Cincinntati. Besides the original widget I grew up with in the 70s and 80s, I like this scheme the best.
The D concourse, in the middle of the day, was pretty much empty. Still, I walked down to the end.
It was on the way back that I noticed something intriguing. At D-2 there was set up a large gateway of balloons, what was that about? Were they celebrating something? I remembered reading something about Delta launching service from Salt Lake to Paris, that wasn't today, was it?
It was.
Not wanting to miss my first, and possibly only inaugural arrival, I went around the corner to the café, where I cozied up to a window and watched the inevitable march of DL 171 from the runway to D-2.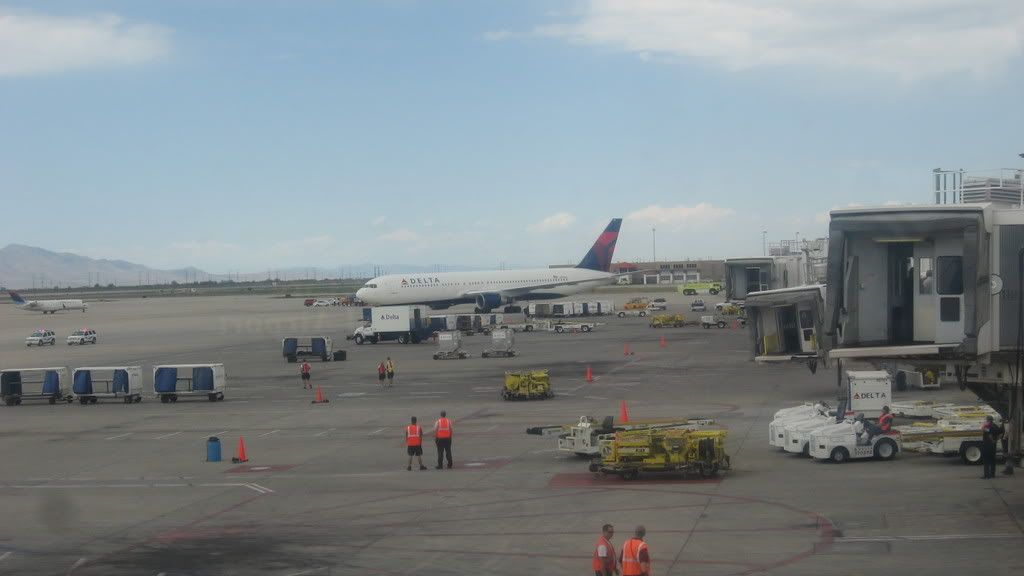 Having been given the water cannon salute, courtesy of the SLC airport fire department, N175DN advances towards her gate. I note that she's wearing the new colors, was this purposeful? Or just luck of the draw?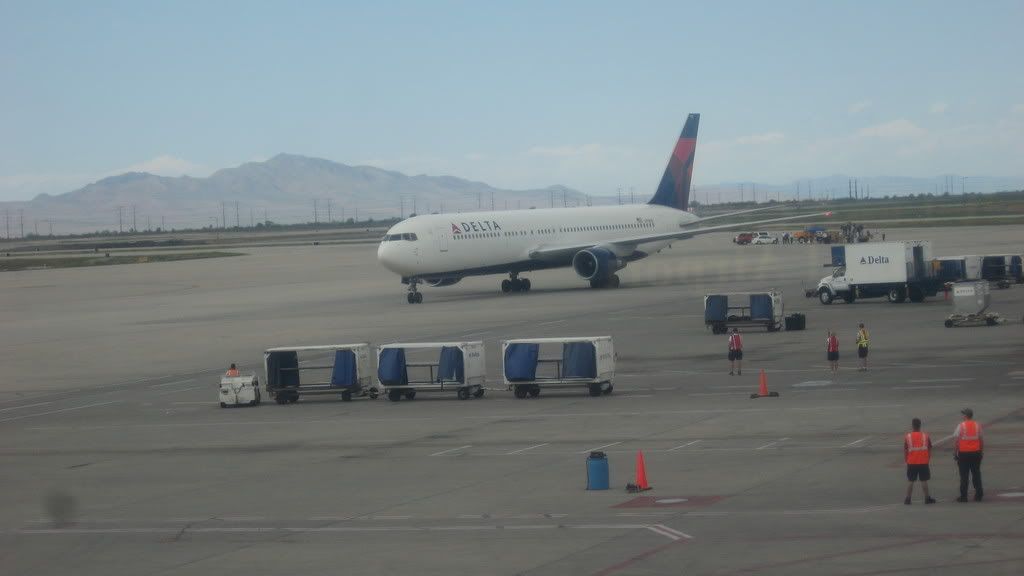 Closer
Closer!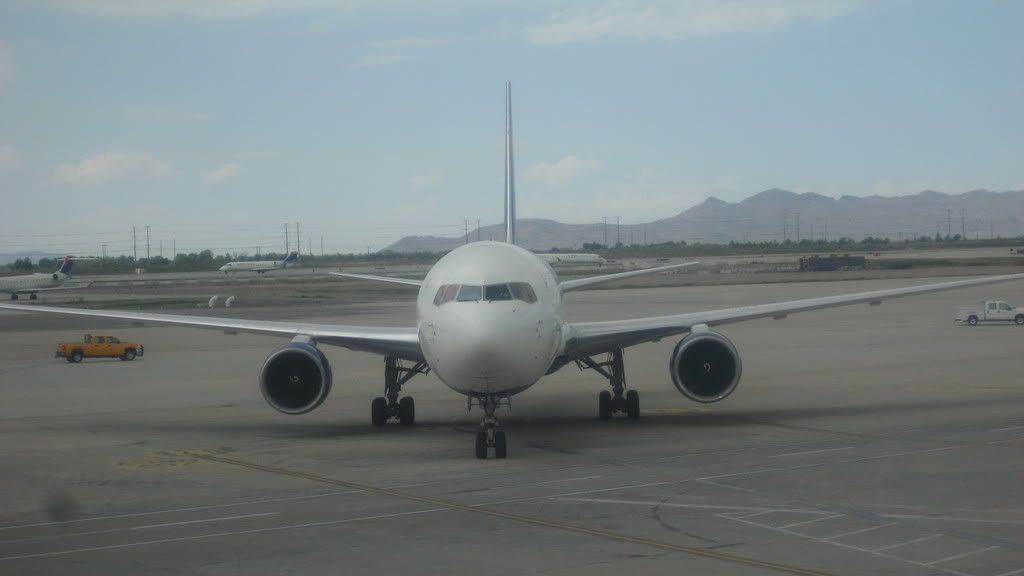 Turning in towards D-2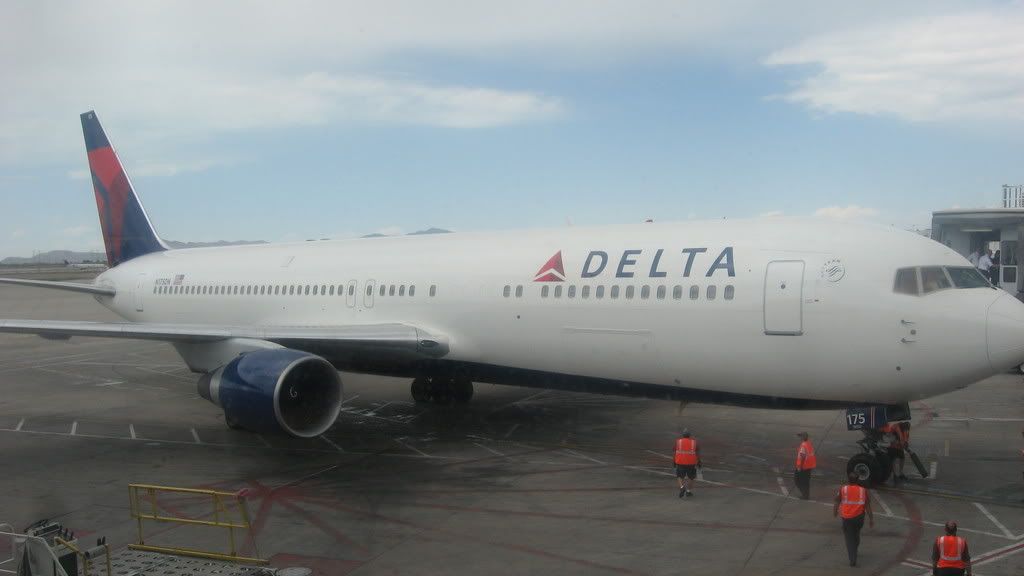 And she has arrived! I have to admit that pictures really don't do the new color scheme justice. Seen in person it is quite striking, simple and businesslike, yet somehow elegant.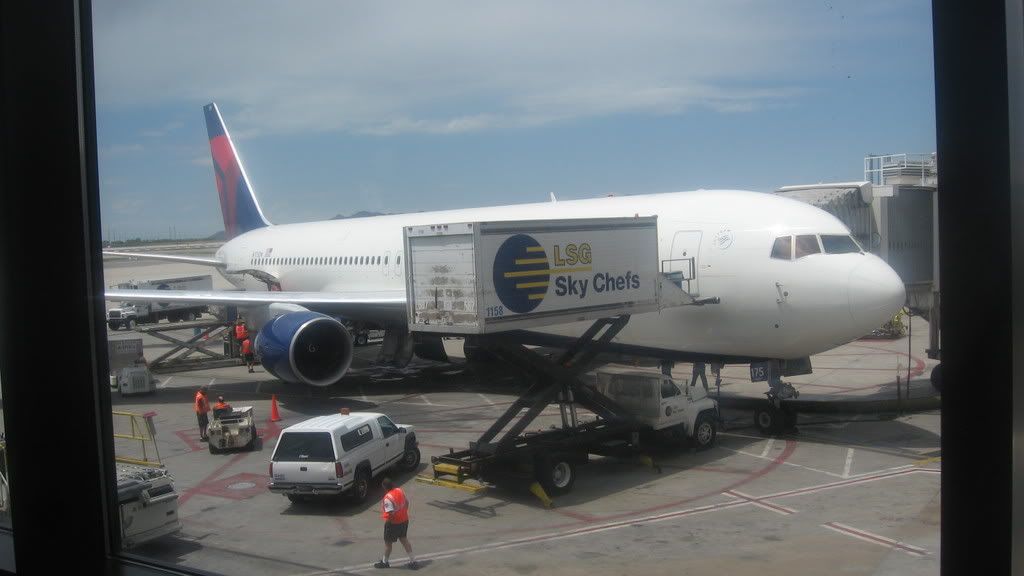 And the service trucks arrive to welcome her in, and unload ten hours worth of used BusinessElite service items.
Before I reluctantly headed back down to Connection Central, I noticed something funny. Ship 175, the fourth oldest 767-332 in the Delta fleet, arrived from Paris, the cargo loader came up, opened the forward compartment, and, it was empty. With nothing to unload, the forward compartment was reclosed and I went back down to my gate.
There really isn't much to see at Connection Central, other than a few Embraers going from E-85. You sit in the huge waiting area, and wait. As time went by, I migrated over to E-62 and waited some more, before finally being called for boarding and thus making the long walk to E-24, where CRJ number 7 was waiting.
2 Delta 3979 Salt Lake City-Long Beach N429SW CRJ-200
Ship 429 was parked at the very end facing the building, so no real way to get a picture of her. People trickled down the hall, handed over boarding passes and headed outside, up the ramp and onboard.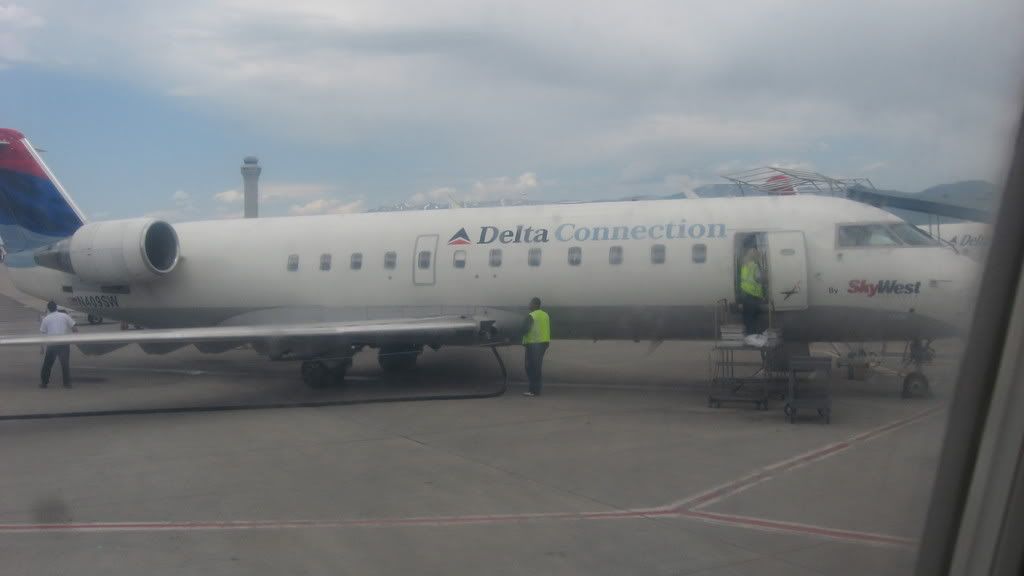 The plane next door. Identical to ours.
The great salt lake? Not sure, some scenic body of water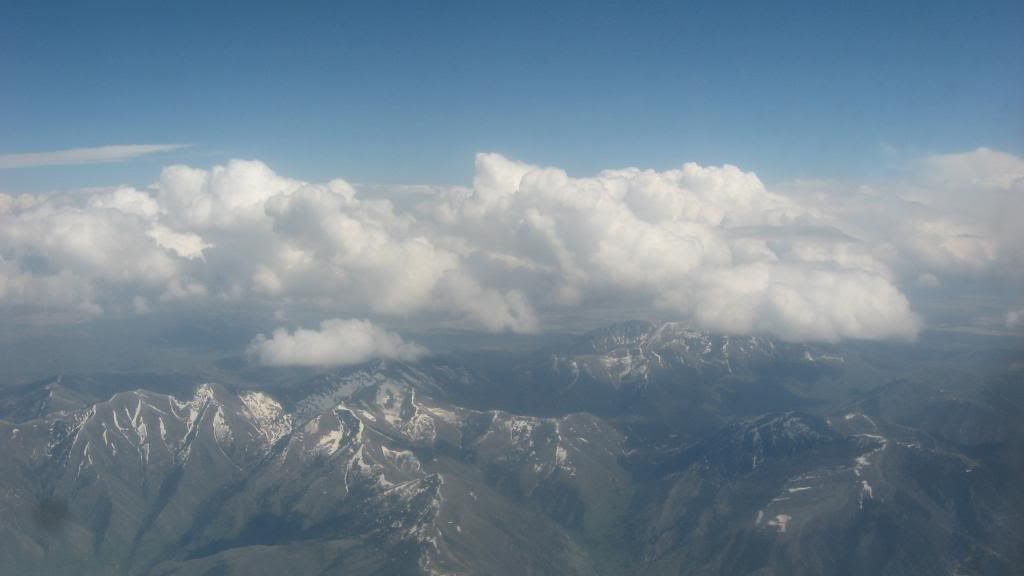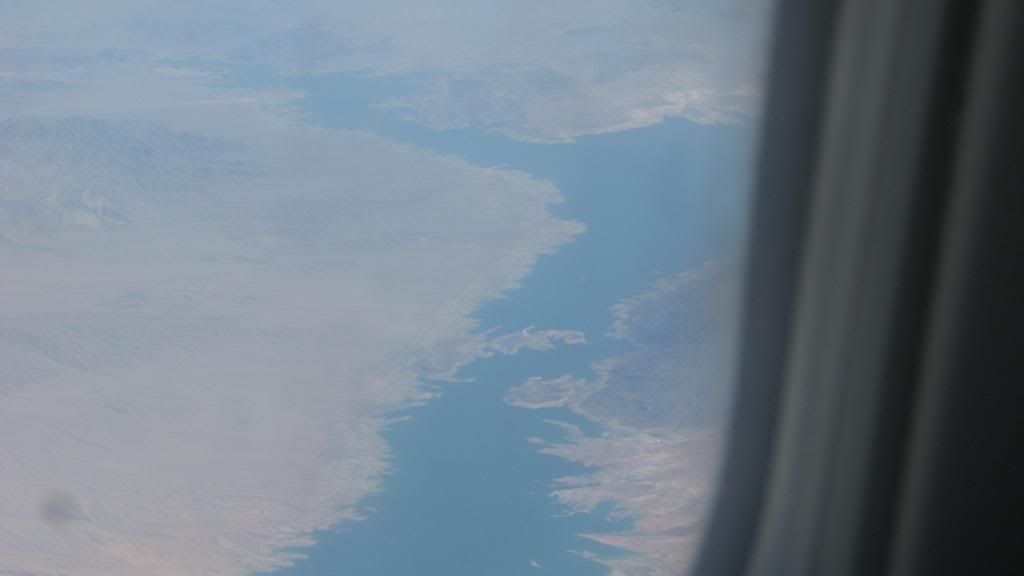 The consensus seems to be that this is lake mead
The great wide open, Nevada?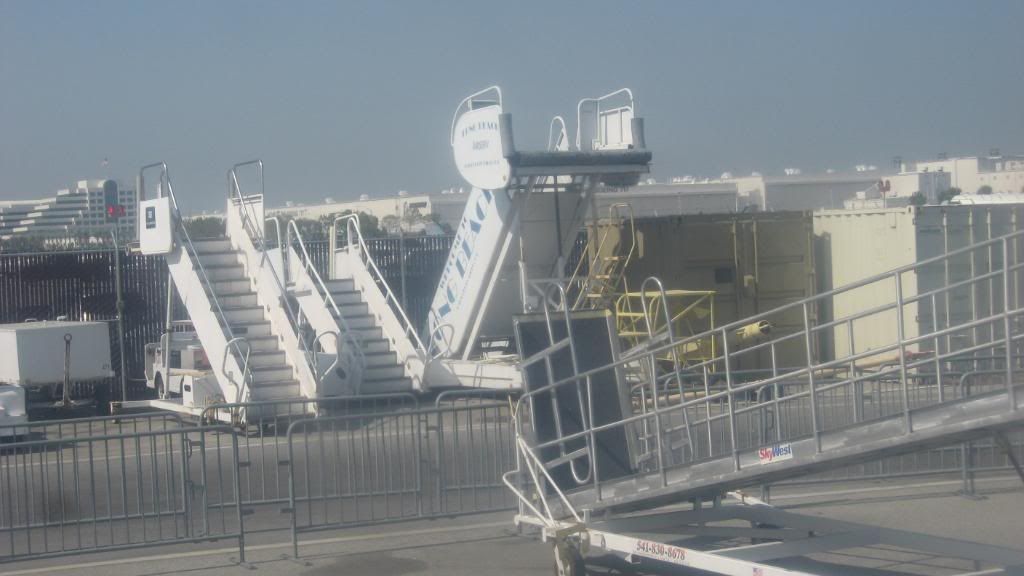 Welcome to Long Beach
The California sunshine welcomed me as I descended yet another ramp and made my way through the temporary building that served to house "terminal two" with it's resident airlines Alaska, Delta, and USAir. Baggage claim was outside, as was a smoking area. One more cigarette, then I called dad and eric to come pick me up.
The next surprise came as we headed into town, dad decided to treat eric and I to a night on the Queen Mary! What a magnificent vessel, steeped in history, not to mention haunted. I'm sorry to say, I had no paranormal experiences, no thumps or bumps or knocks in the night, no cold chills to indicate the presence of a ghost or ghoulie, just the presence of a magnificent piece of british engineering that still stands, beautiful as ever 72 years after she made her maiden voyage.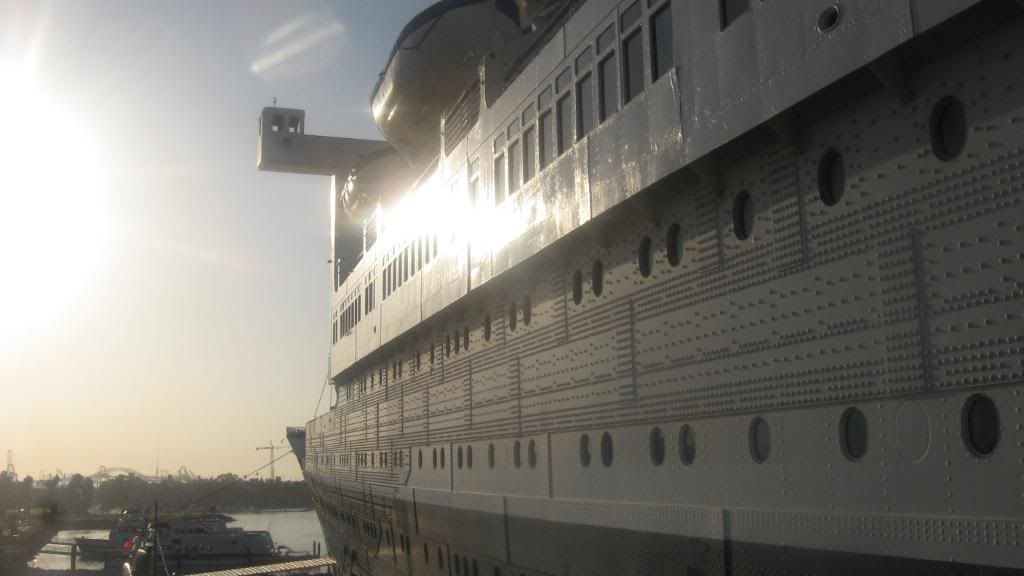 Looking towards the bow.
Looking astern
Dinner was at one of my old hang out spots, a place called "Greasy Spoon" by me or "Famous Burgers" on the sign. If you're ever in Long Beach check them out, tenth and Anaheim is their location. The mindbogglingly huge menu had both dad and my brother thinking "heart attack!" I had my usual, two grilled cheese and a large milk.
With dad and Eric both being "early to bed, early to rise" types, it was back to the Queen for some shuteye.
6/3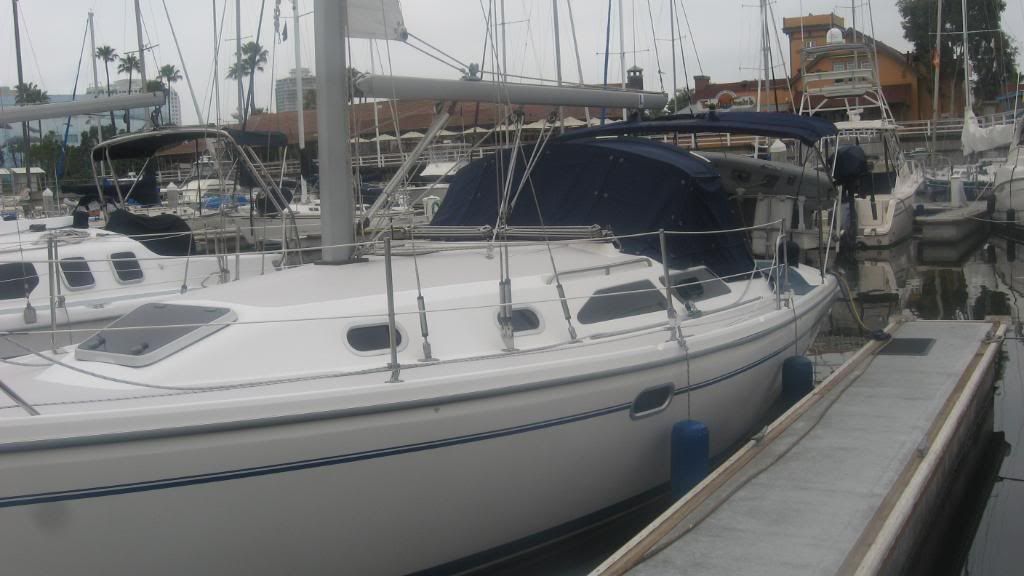 Breakfast was at another old hang out spot of mine, Gladstone's Donuts, at seventh and Termino, accompanied by more teasing moans and groans from my health conscious father and brother. following that we headed to the harbor and our accommodations for the night
.
Through a sailing club membership, dad had charted a 31 foot sailboat for the week. After making the necessary preparations, mainly buying ice and beer, we headed out into the harbor for a half day shakedown "cruise." Dad and Eric would be heading to Catalina tomorrow, I wasn't going on that excursion. Then again, I don't do open water on small boats. I was more than happy to stay in the confines of the rather large Long Beach Harbor.
Some images from our sailing trip: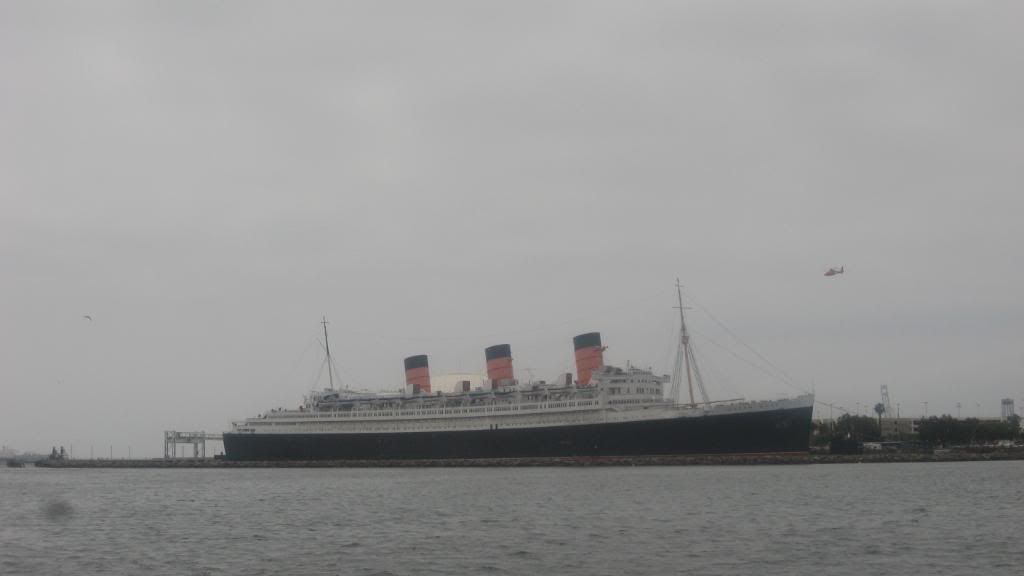 The QM as seen from the Harbor.
Seals lolling on a buoy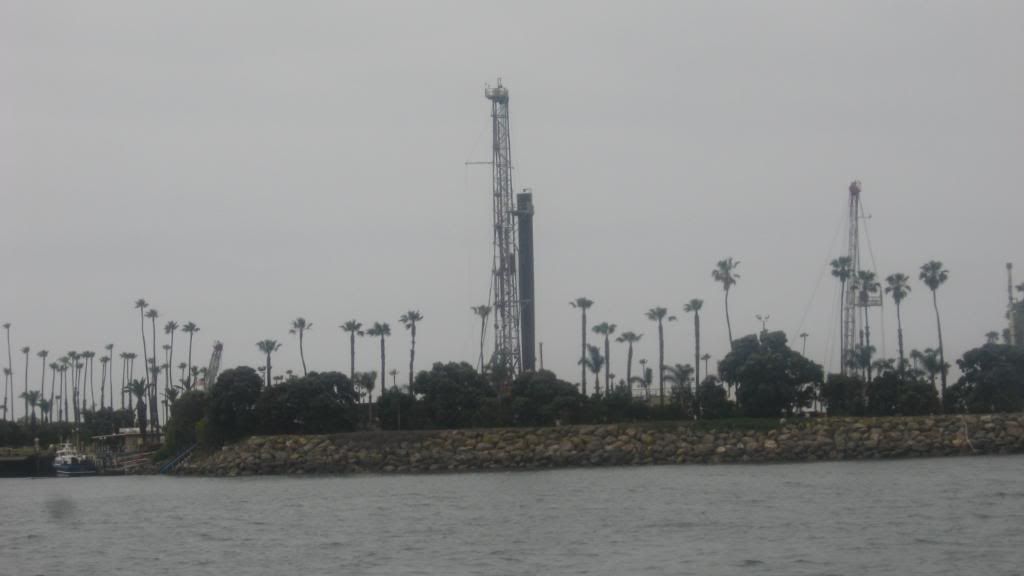 "Oil Island" an artificial island in the harbor that hides oil refining equipment.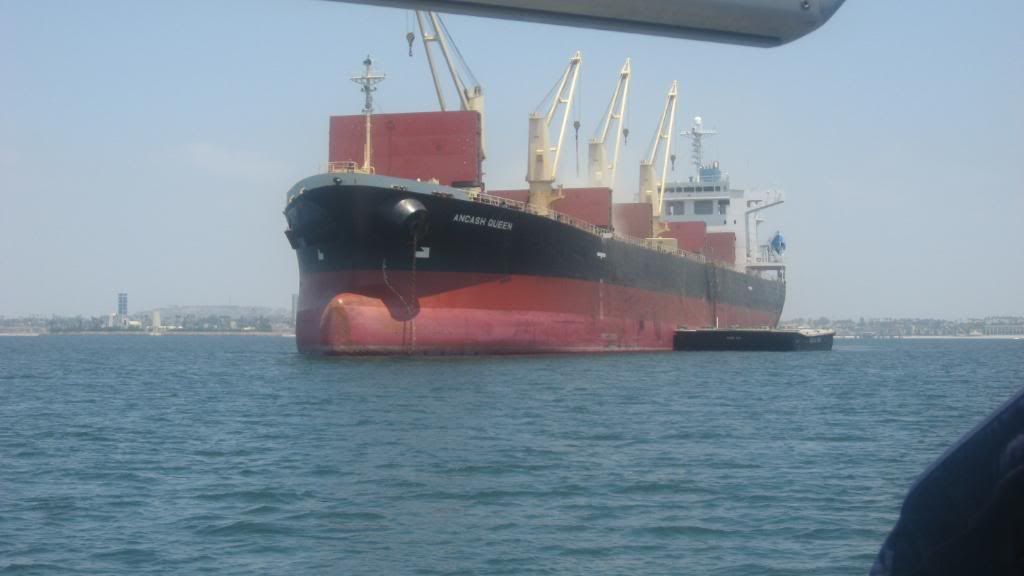 One of two tankers we sailed past periodically.
The other tanker. We weren't sure why it seemed to be listing.
Returning back to port, we spent the rest of the afternoon happily doing nothing other than taking a short hike up to a lighthouse and back.
6/4
It was up bright and early for my 650am flight back to Denver via Phoenix. After being dropped off at the appropriate hour of 530, I checked in and got my boarding pass.
3 US 2821 Long Beach-Phoenix N919FJ CRJ-900
Long Beach airport is perhaps the most "dysfunctional" and least modern of the five Southern California Airports (although some would argue Burbank is a good contender for the "least modern" award.) I've been to. The terminal is a combination of the 1940s era main terminal, which, since American pulled out, is used exclusively by Jet Blue, and a temporary second terminal. Once I checked in and passed through security I entered the second terminal, which consisted of one room and three gates for three different airlines, Alaska, Delta and USAir. My CRJ-900 was already waiting, at gate 21, as were an Alaska 737-800 and a Delta CRJ-200.
The morning 737-800 to seattle.
Unfortunately, there really was no good opportunity to photograph my CR9, as it was sitting behind a clutter of fences and ground equipment. Soon enough boarding was called and I walked outside into the greyness then climbed up the ramp and onboard. Long Beach, in case you're interested, like Burbank, has no jetways.
The CRJ-900 really left no lasting impression other than the very uncomfortable seats. I can't imagine how people can sit for up to three hours in those Mesa Airlines seats, rock hard. One hour was enough for me.
A slight ground delay in Phoenix paused us for a few minutes on the taxiway, allowing the 738 to get out before us, but soon enough we were on our way. The one hour flight was short, and there wasn't much to see, as clouds blanketed the whole of the LA basin.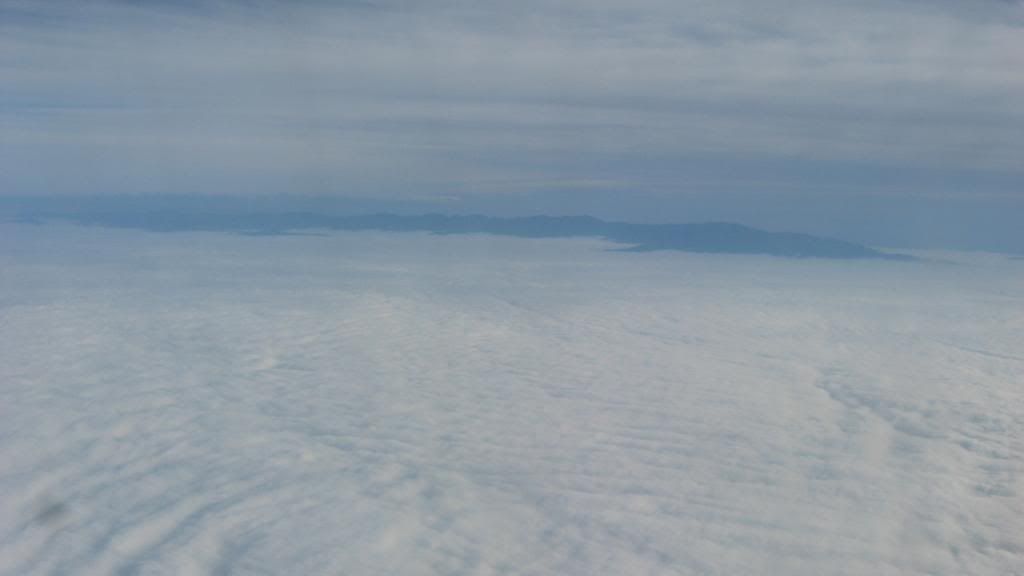 Somewhere under this blanket of clouds live eight million people.
Of course once you pass over the mountains, it's a pretty short ride to Phoenix.
Once I got to Phoenix, the rush was on, I had to change terminals. After some slight confusion, I found the bus and headed for terminal three and Frontier.
4 Frontier 424 Phoenix-Denver A319 N906FR
Coming into the terminal, having passed through the rather long and serpentine security area, I headed for my gate, to find really nothing going on yet, so I wandered around.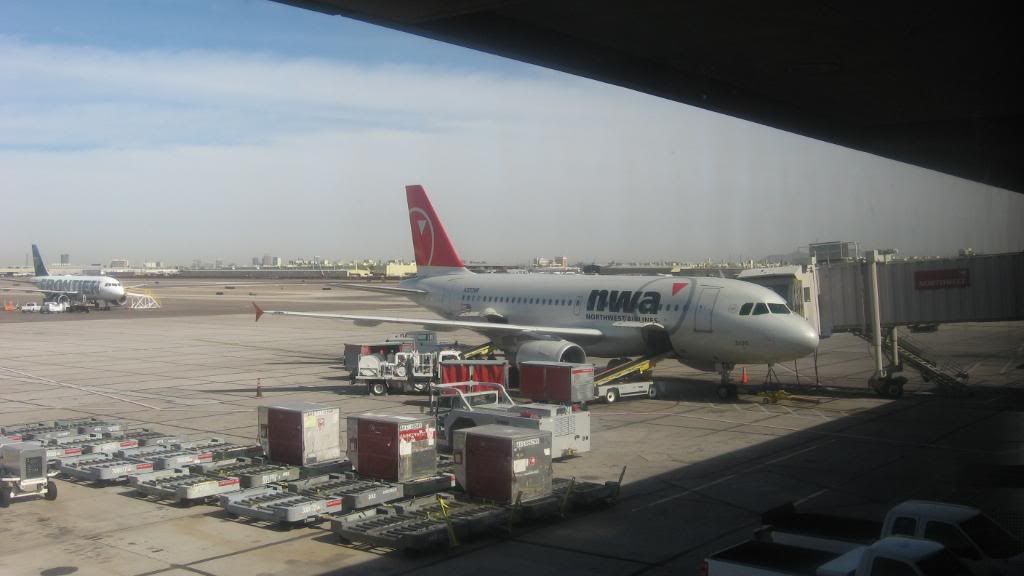 NW A320 sitting at gate 322 getting ready to go to Detroit or Minneapolis. Four hours is a long time to spend with no IFE, hopefully, once Delta "comes onboard" they'll restore IFE to the airbuses.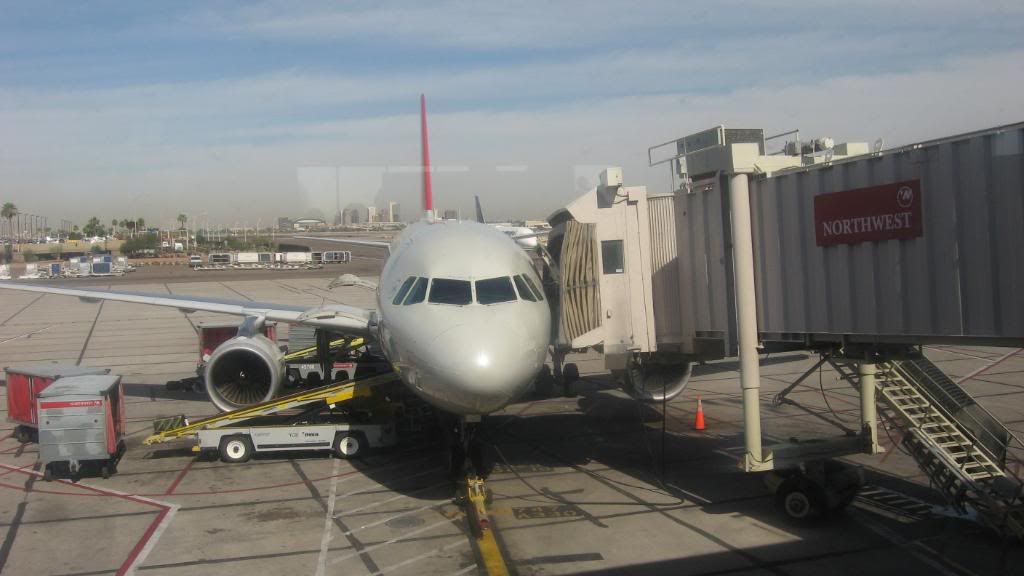 Head On.
Getting ready to go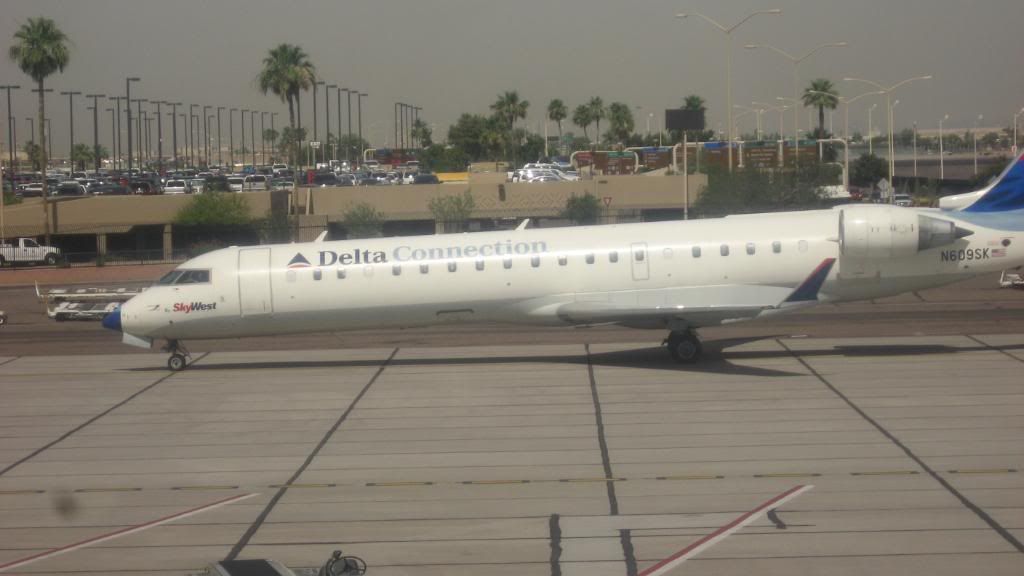 DL CRJ-700 inbound from SLC. Out of all the versions of the CRJ I've flown on (four) I like the -700 the best. I can't explain why, there's just something about it.
"Andy" coming in to take me back to Denver.
I have to say I was unimpressed with Frontier. I feel no need to fly them again.
The big selling point for Frontier is supposed to be their onboard PTVs, and I was fully looking forward to enjoying those PTVs. I slid into my window seat, put the camera away and buckled in. The first thing I noticed was that the TV wasn't free. It was either three or five dollars depending on the flight length. What a rip. Three bucks for an hour of tv. My second complaint came after I coughed up the three bucks to watch. Deciding that none of the programming really interested me, I tuned to the flight mapper. The quality was terrible! Furthermore, I was bombarded by Ads! Now come on! If you're going to make me pay three bucks to watch, the least you can do is cut out the really irritating ads that pop up every other minute.
The service was okay. I got my coke and enjoyed the flight on my favorite airbus narrowbody. It was mercifully short and the flight tracker really didn't provide the kind of information I wanted like altitude, speed, time and distance to destination, what I'd expect on a flight mapper, it just gave an overview of the route of flight. Pretty disappointing IMO. Hey Frontier! I want my three bucks back!
Soon enough, we were descending once again on the mile high city and pulling to a stop at A-50, the same gate I left from the last time I flew Frontier (Jet Express) a little more than a year ago, and I was schlepping the rollaboard back to the car. With good traffic, and the toll road, I could get home with enough time to get some sleep before I went to work at six. All in all another great weekend visiting my home away from home, Southern California.
A harbinger of things to come, the LH A343 waits for her return trip to Munich at A-43, I'll be on this flight in two weeks, assuming the F/As aren't still on strike. LH 481 will be A340-300 number five, and who knows, maybe the gutless wonder will start to grow on me.