Hi, dear readers
It took a while to get something online again. Not due to the lack of flights taken by me, but more due to lack of time lately. Thank you for those who waited patiently for this report
Summer time in Europe, means working time for me. As I am an employee with a large Asian airline, I might have to work at other airport to cooperate or organize the handling of charter flights. Every year, my company is chartered to operate a series of charters, and I was entitled to pay a visit to Sweden on this purpose. Not bad at all, of course!
E-tickets (KL) were arranged by my collegues from the administration department, and were delivered into my mailbox a few days in advance of the actual travel. Strange enough, the outbound flight got a different class-coding then the return flight, and I was only able to check-in for Y-class. Never mind, thinking that C would be full, and as a duty-traveller, I have less rights then revenue passengers.
So, I checked in online, took one of the vacant window seats; 24A, and printed my boarding pass. I checked the airport systems and they showed PH-BGC (dlvd 28May2008) for my flight, which would mean the newest addition to the Boeing 737 fleet! I was quite happy to see this one for my flight.
July 20, 2008
Quite early for me, this Sunday morning. I arrived in the departure hall at Schiphol Airport, and was badly astonished to see queues of about 200 metres (!) for KL's Economy class. All these people were waiting for baggage drop-off. I was really not happy with the situation, and not likely to queue. I decided to wear my airline ID, jumped through the waiting people into the Business Class area, which was more quiet. Also 2 staff travel check-in desks are located near this section, which I queued. But since I flew confirmed, I tried my luck at one of the empty drop-off points for C class, and I was served promptly.
Security was a breeze, nice for a change (AMS security people are usually a bit domineering). I checked my gate, and noticed C08 was assigned to handle my flight. During my walk down to the gate, I bought some magazines to spend my time off in my hotel room.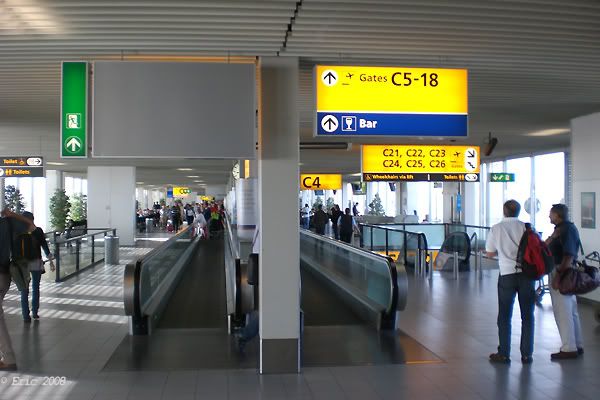 C concourse at Amsterdam Schiphol Airport
A less nice surprise came at the gate; I noticed an aircraft change on my flight! I would still be a new registration for me, but not on the new PH-BGC.
Meanwhile my collegues also arrived, and we had a small chat about our seating assignments. The others were all seated in C, and therefore I tried my luck at the counter. They informed me about a ticketing error but couldn't change it at this stage. They advised me to introduce myself with the purser during boarding (she was informed about my case by groundstaff).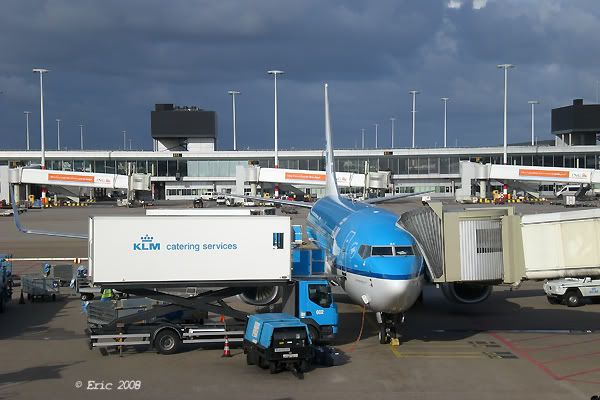 My aircraft, Boeing 737-800(WL) PH-BXK prior to boarding
AMS-ARN
Flight No.:
KL1109
Date:
20JUL08
STD:
0920
ATD:
0921
STA:
1120
ATA:
1114
A/C:
Boeing 737-800(WL)
Reg No.:
PH-BXK
Seat:
24A – Economy Class, change to 02F (Europe Select)
This was my 35th ride on a series
–800
Boeing 737 and the first time on this frame.
View Large
View Medium


Photo © Jules Meulemans
After my try at the counter finished, I boarded immediately. A friendly female purser greeted my during embarkation, and I introduced myself to her. She confirmed a mis-ticketing and offered my an upgrade to any available seat in C. Since 02F remained empty, I decided to take this window seat. The rest of my row was empty for the rest of the flight.
Doors closed on time, and a welcome was given by the purser, in Dutch, English, and Swedish (!) language. I was positively surprised by her skills in Swedish. KLM,
!
Also the captain said hello. He informed about our departure runway, the weather, the route to be flown (we would avoid Danish Airspace due to radar construction works) and the short flighttime (estimated 1:35hrs).
Meanwhile, a selection of (international) newspapers were offered, including the Sunday issue of the 'Telegraaf'.
Pushback on schedule, and we had to taxi to runway 36L, using the 'South' taxiway and parallel to runway 36C. Some rainshowers passed the airport.
Until takeoff, no further service was given to C class. No pre-flight drink etc.
Takeoff was powerful, and I enjoyed watching outside. I was able to see the city of Amsterdam on my right side. Lot of clouds as well, which let me decide to continue reading.

Taking off from runway 36L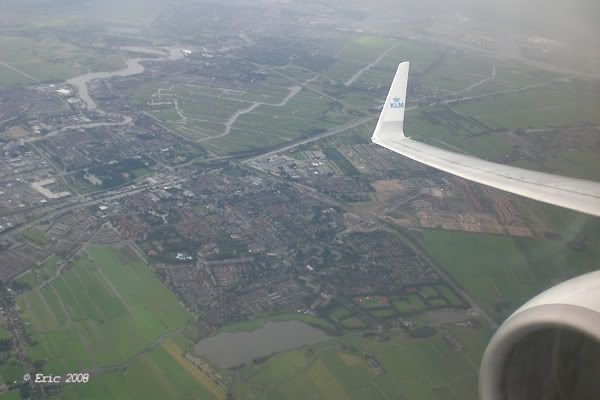 A view outside after take-off
Service started shortly after we reached a calmer stage of the flight. Hot towels were given out. Followed by a selection of water and juices. I really prefer the orange juice served by KL in C-class over any other inflight OJ. It seems to be freshly squeezed and taste is very good!
Another juice was given later.
Then the breakfast was served to all passengers, except me. The purser came to apologize that she was out of meals and they didn't have a spare one for me. Instead of a tray, I was offered 2 sandwiches from Economy class, wrapped in plastic. What can I say about that; although I shouldn't expect anything, a legacy carrier should always have one or more spare meals available in case they will have 'show-go' on the flight. Last minute additional (revenue) passengers might expect the same treatment on a carrier like KL, I think.
Anyway, I took the sandwiches (one with strawberry jam, the other cheese), and got another juice, and a coffee.
By the way; seating in KL Europe Select C-class is 3-3, same as Economy offers. All seats are for sale, also middle seats
. The cabin on my flight was set with 15 seats, occupied by 2 revenue pax and 4 non-rev's (me and collegues). Economy was pretty fully loaded, with at least one seat available (to be 24A LOL!)

Blue is in the Air
Rest of the flight was uneventful. No good views down to earth. To many clouds around. During approach, we got a pre-landing informations about our arrival gate (gate no. 13) and the local weather forecast.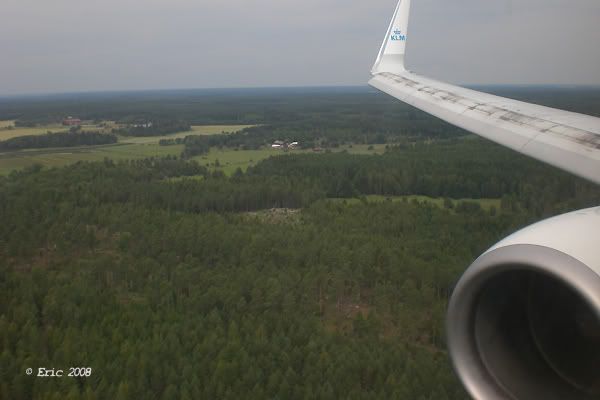 Getting closer in to ARN / Stockholm Airport
We softly touched the Arlanda concrete of runway 19R. Parking was indeed in front of 'SkyCity' at gate 13. I later discovered that my hotel room would be facing this apron. Other traffic around was mainly all Scandinavian (SAS, Air Express, Sterling, Nordic etc.).
Baggage took about 20 minutes to arrive, but it was delivered without fail, and that's most important!
During my stay I was able to pay a afternoon visit to downtown Stockholm, enjoyed the cleanliness of this city and took the "Under the Bridges of Stockholm" 1:50hrs boat tour. This is a city to visit again!
Info for airline staff; the Arlanda Express trainservice offers a 50% discount to airline staff (ID ticket), which is quite worth it.
The actual handling of my flight went without troubles, so the overall experience was successful and we had an 'ahead of schedule' departure. This is how we like it. After my work, I finalized the flighthandling (documents, after briefing etc.) and said goodbye to the local people involved with it.
Meanwhile, date should be set to
July 22, 2008
. Time to fly back home!
I check myself in for seat 04A, confirmed in C, this time. Baggage checked in at the counter. Priority label was attached without fail, and I got information about where to find the lounge.
Still 90 minutes to spend, me and a collegue quickly passed security and headed for the Menzies lounge at ARN. Once we checked in the lounge, we found a poor selection of food. Only some crisps and nuts, some cheese and small cookies available. Of course a normal selection of drinks. Also (I think free) PC's with internet. The lounge looked cheaply furnished and colour settings were not my personal taste. On the other side, it offered a few good seats with nice views on the apron. And a good chat with a collegue always helps to enjoy the time in a lounge.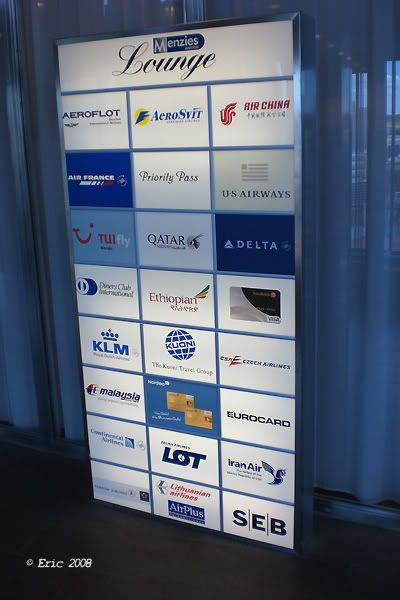 Menzies Lounge at Arlanda Airport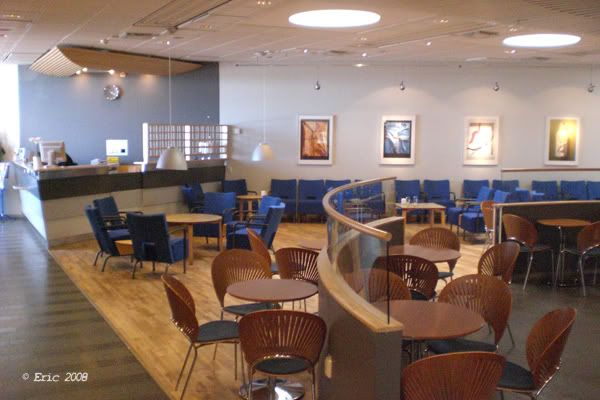 Menzies Lounge Arlanda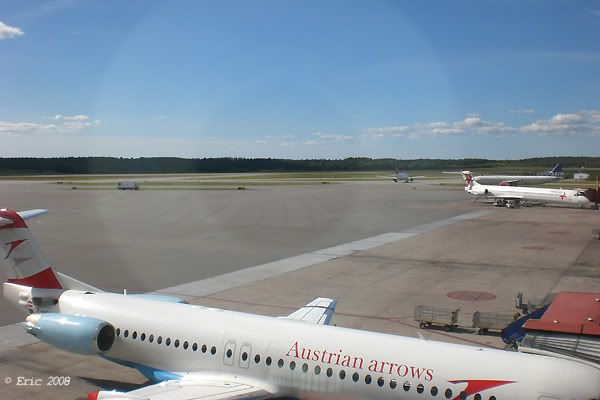 Menzies Lounge Arlanda ; view on the apron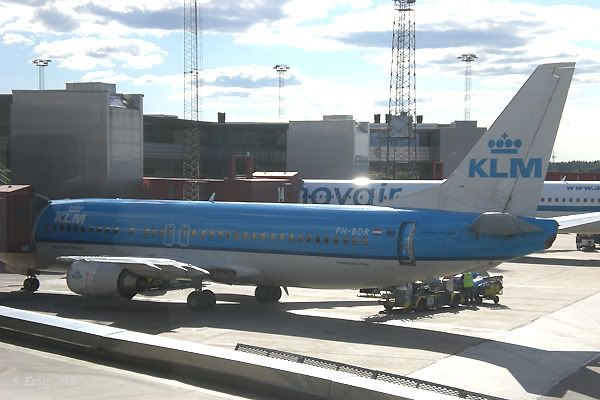 My aircraft to serve ARN – AMS, an old-generation Boeing 737
Once back at the crowded gate no. 12, boarding was announced at 17.10hrs, 20 minutes before departure. Greeted by a very friendly purser. I took my seat. In front of me (3A/3C) 2 very loud speaking American citizens, which reclined seats immediately. I decided to move on to 05A, last row in the C-class cabin.
ARN-AMS
Flight No.:
KL1116
Date:
22JUL08
STD:
1730
ATD:
1740
STA:
1935
ATA:
1923
A/C:
Boeing 737-400
Reg No.:
PH-BDR
Seat:
04A – Business Class, change to 05A
This was my 9th ride on a Boeing 737-
400
and the second time on this PH-BDR..
Also my 91st time on any Boeing 737
Quite an impressive number of times already.
View Large
View Medium


Photo © Spencer Wilmot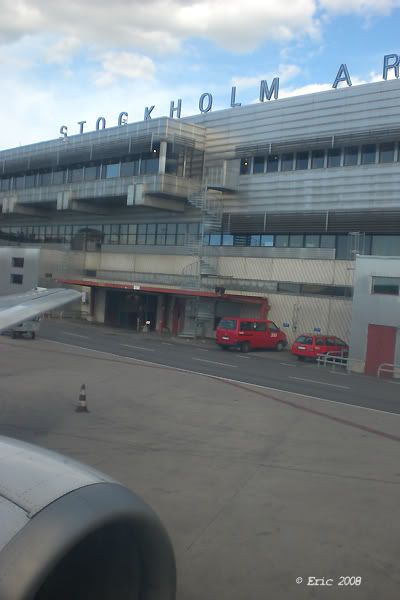 Bye Bye Stockholm!
The cabin was hot inside, apologies from the crew and information about a broken APU. After engine start it would become more comfortable. Also newspapers offered in C. Welcome by the purser in Enlish and Dutch.
Load in Europe Select; 9 pax out of 27 seats (33%) of which only 4 revenue pax. The other were my team mates.
Late block-out, due to startup with the use of a jetstarter. Short taxiing although, we used runway 19R.

Climbing into the air!
Europe Select class was served by the purser. This was a more senior female, and she is for sure a person who knows how to treat passengers. She gave so much attention to me (and the others), that it almost didn't look like the general KL service. This flight was to become a really good experience!
First drink was offered; I ordered white wine. When it came, she also gave an additional glass of water, and a small bag of smoked almonds. I now firstly noticed her extra attention into details.

First drink service
Not long after, she handed me a hot towel and asked me about the dinner. She served beef, or pasta meals. I asked if any pork/meat was used in the pasta, and she confirmed it was vegetarian. Good for me, so I opted for the pasta. When it came, on a tray, she also presented another bottle of white wine. She said, Mr. M.., you will like another wine together with your meal. There you go!
The meal itself was good. It was called 'Fiochetti Mediterranean'. Temperature was alright, presentation was good. Also 2 pieces of bread were given to me. Only negative opinion is about the cutlery used; it were plastics. That just doesn't belong in any Business Class.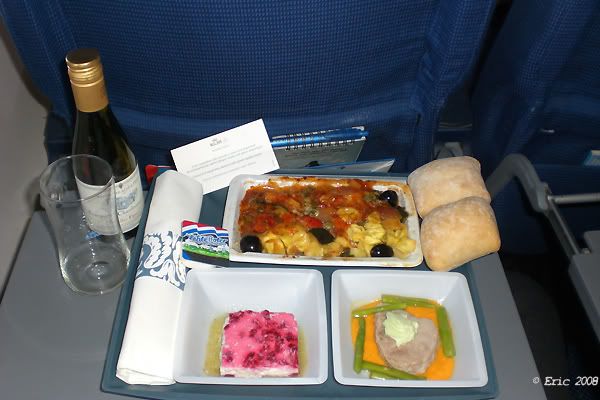 Dinner time on KL1116 + another white wine
Meanwhile we experienced some turbulence, and the captain informed us about it, and it was due to changing winds at high altitude.
Together with the meal came a starter; Pork Medaillon with wasabi-cream and dried fruit, accompanied by carrot-ginger coulis and green asparagus (I didn't eat it), and a dessert; Coconut & raspberry dessert with green-apple sauce (taste was very good!).
When I finished, the tray was collected almost immediately. This purser was checking her cabin for the whole time without resting. She was really looking after us!
She approached me again, and offered an after-dinner drink. I decided for a baileys with ice. When she delivered it to me, in a longdrink glass filled for over 50%, and another miniatur bottle of baileys, I gave her my compliments about her good service. She was very pleased to hear that.
She immediately came back to my seat, and offered now ice-cream as well. A large Ben&Jerry's Strawberry Cheese-Cake was given to me!

Ben&Jerry's + Baileys on KLM's 'Europe Select'
I continued reading in the newspapers, watched outside the now and then, and purchased a new fragrance from the onboard sales cart.
Closer to Amsterdam, during the initial approach, the purser came again with a coffee and cookie (Crispy biscuit with caramel filling).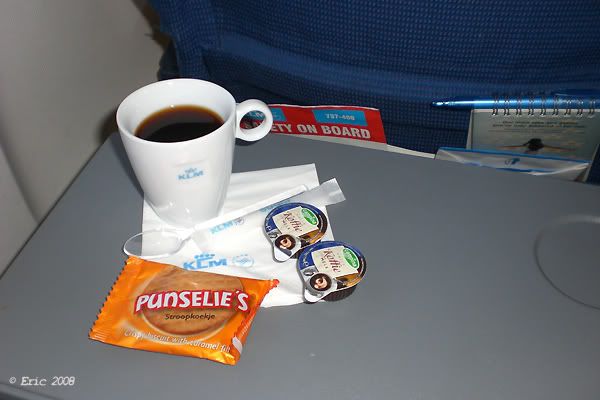 A coffee to finish the flight to Amsterdam!
We approached from the Northeast, over Groningen. By the way; complete routing of the flight was: ARN-NYO-BLL-GRQ-LLY-AMS.
The purser cleaned up the empty cup and we had a nice chat about my work and her stay at Stockholm. She even took a seat next to me during this conversation. Then, she had to do pre-landing announcements so she left again. After the announcements were made, she came again and offered me 2 bottles champagne
, to enjoy at home with my partner, since I've been away from home a few days! Wow, can you believe this?! Also other passengers were now offered a bottle of wine or champagne to take home. Some pax declined, others accepted.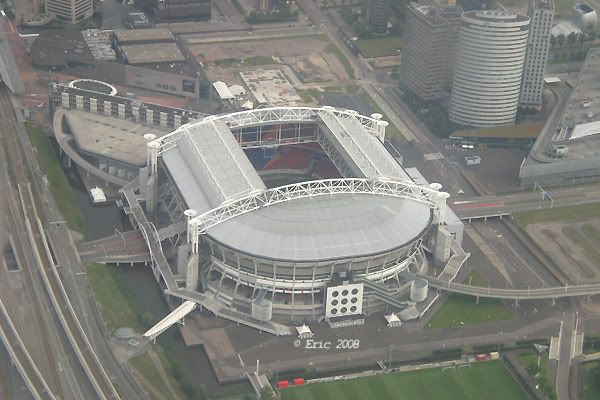 It seems that we're getting close to AMS. Amsterdam ArenA (home of Ajax)
Landing was coming closer since we flew already over the city of Amsterdam/Amstelveen. Runway 27 was assigned for us. It went smoothly and a short ride towards the terminal complex. Gate D44 (D72 Schengen) was our final destination. Upon disembarking, I gave my compliments for another time, said Thank You, and goodbye. Bags were delivered on the belt at 19:55hrs, 30 minutes after landing.
Conclusion; AMS-ARN was good. Staff was really friendly and assisted me into C, despite the wrong ticketing by their reservation staff. Not good that they got out of meals, which means even not 1 backup meal on this flight, which is quite risky. Service was not personal at all, and crew was not very attentive, but gave the standard KL service for C class.
ARN-AMS is a different story. It all depends on the crewmembers. The purser on my flight was top-class! She deserves compliments, as she really cared about her passengers. She also said to me; when I fly myself, I also want to be treated like this. This is an important thing! I experienced so much attention, very personal service (calling me by name all the time), and food/drink service was just perfect.
Nice to get the presents to take home, being 2 bottles of champagne. This was KLM as I never experienced them before on any other short-haul flight in C/Europe Select Class. This is how it should be forever!
Thanks to KLM, thanks to you as well, for reading. Comments, questions, please post them here and I will reply to you again!
Cheers,
Eric