OVERVIEW
The Embraer E-jets (E170, E175, E190, E195) are quite rare in South America. That's why I saw my recent trip to Ecuador as a great opportunity to test the E190 for the first time, flying TAME's examples.
Part of my trip involved traveling from Baltra (GPS) to UIO. The flight stopped in its way to Quito in Guayaquil. Even though the flight after Guayaquil anyways continued to UIO (in the same common A320), I decided to change flight number (and airplane) there for a later flight, with the E190.
Due to an equipment change, I ended up in a magnificent 727, but I didn't know that by then.
Complicated, huh?
GYE
The boring TAME A320 (powered with CFM engines, strange, the A320 in which I went to GPS had IAE engines) arrived on time at GYE, and, after a short taxi, we were at our gate.
A PA from the crew announced to all Quito bound passengers to stay on board, and that the stop would last about 40 minutes.
Not for me, I was indeed going to Quito, but in a very anticipated E190 trip.
Fortunately, the bags were checked all the way through to Quito, so I didn't have to worry about them at all in GYE. Actually, as I learned afterwards, the bags were never taken off the A320; they arrived quite earlier than me to UIO.
In summary, I was soon out landside in GYE. Took the opportunity to take a picture of the Domestic Arrivals area.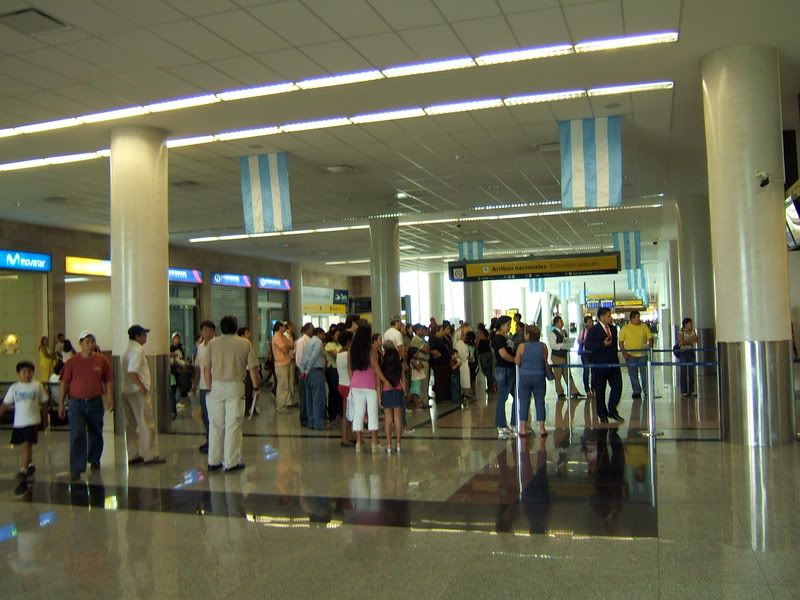 Before going airside again, I walked a bit through the terminal, and exited it for a few minutes. Beautiful airport!
Where are we?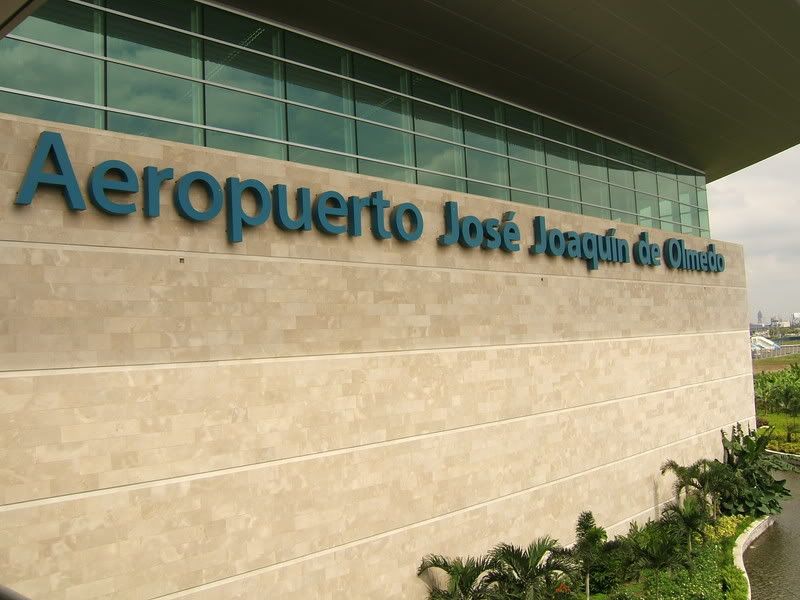 Security was a breeze. Being this a domestic flight, there was not Immigration, Passport stamping, etc... For somebody from Uruguay, where there are no domestic flights, this is quite a novelty.
EQUIPMENT CHANGE
The gates area have a great look over the apron and aircraft. From there I had a very good look of various arriving (and departing) planes, including "my" TAME E190 and a beautiful TAME B727.
As soon as the E190 parked at a gate, I knew something was off. It was not the gate in which my flight was going to depart.
According to the Flight Board, the plane in the gate the E190 docked was going to UIO as well, but departing 15 minutes after my flight.
It didn't have a flight number, it was simply EQ ESP (Especial? –Special?)
A charter flight.
The E190 that usually covered my flight was reassigned that day to a charter flight.
Opportunity to fly the E190? Lost.
At least I caught a good glimpse of it. So near and yet so far away....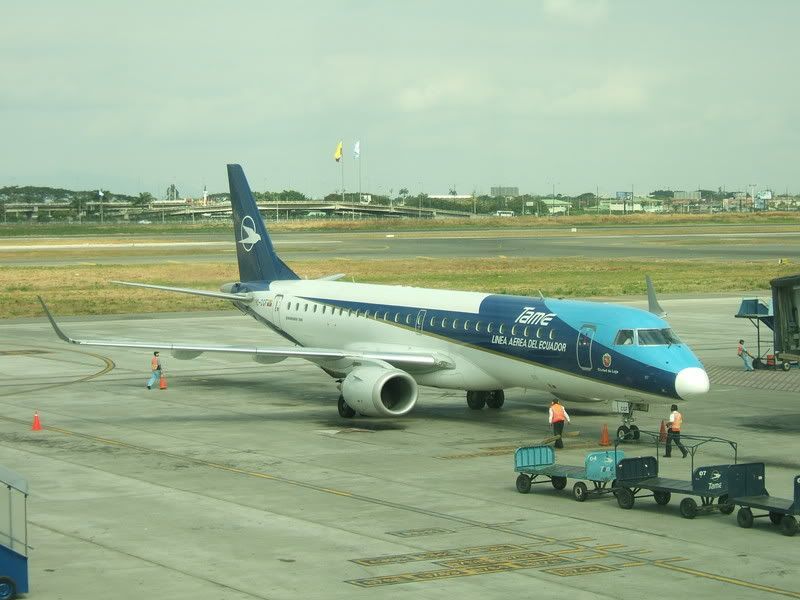 .....................................................
THE FLIGHT
But my day lit up when I saw what had just docked at "my" gate.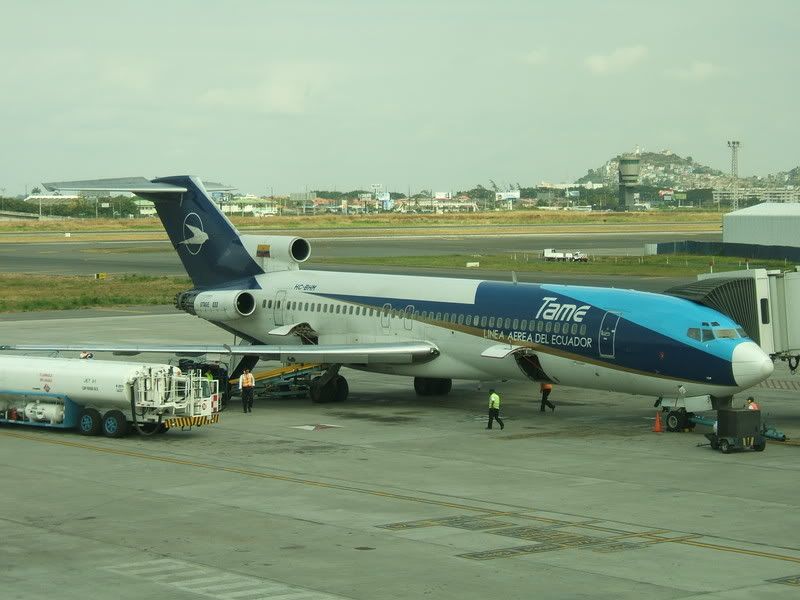 The last time I flew a 727 was about ten years ago, a long, long time ago.
I realized the E190 is the future and that there will be plenty of chances to fly on it; but on the B727?? Don't think so.
And I always considered myself a big fan of the 727. I was also eager to meet this old lady again, after so many years, when I used to fly her very frequently with LAB - Lloyd Aéreo Boliviano.
The 727 always looks magnificent.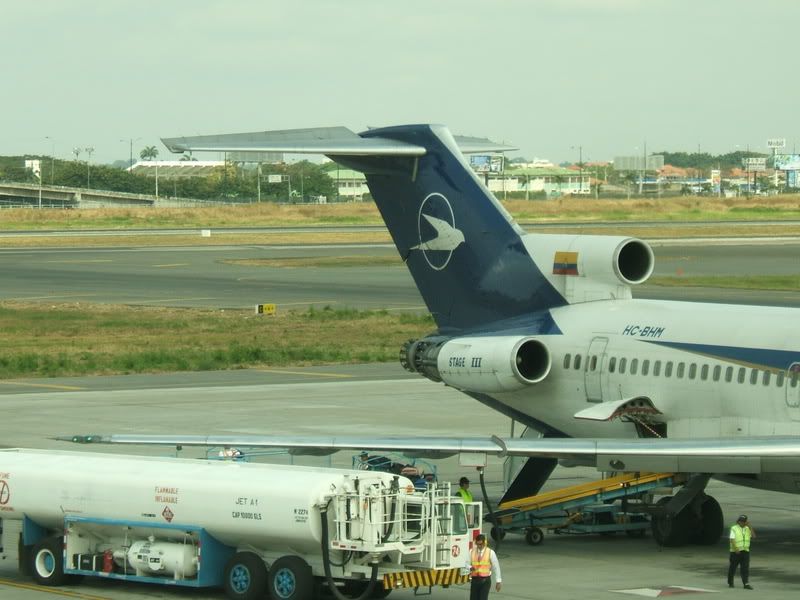 Soon boarding was called. The interior looked old, but well, you'll expect that on a 727, right? However, it was very clean and perfectly maintained.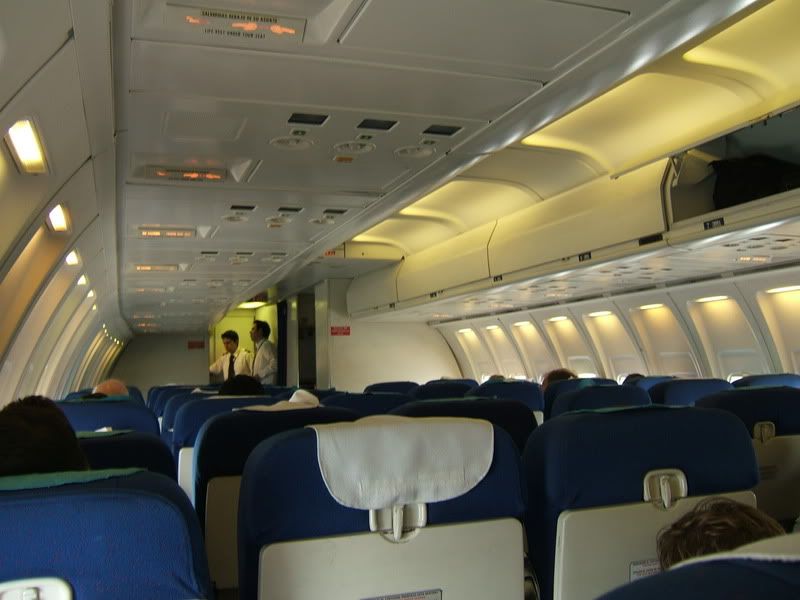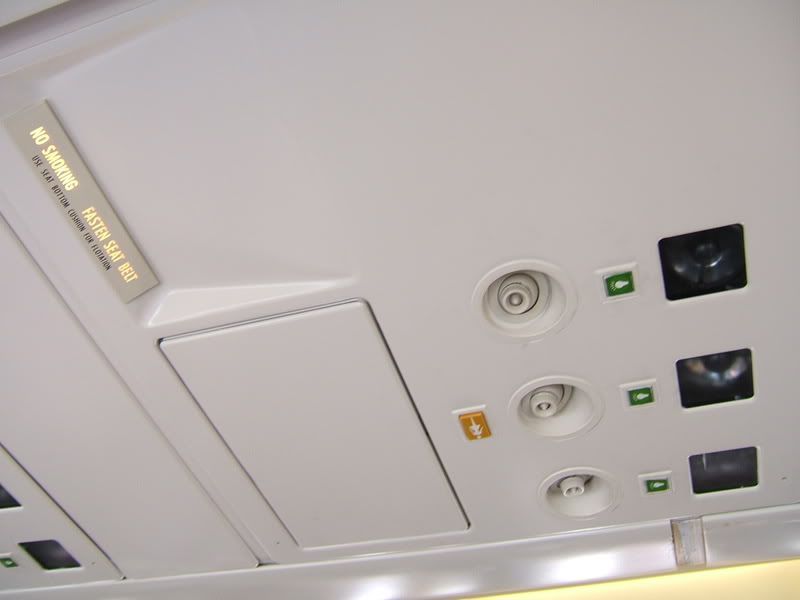 Old fashioned seat pockets...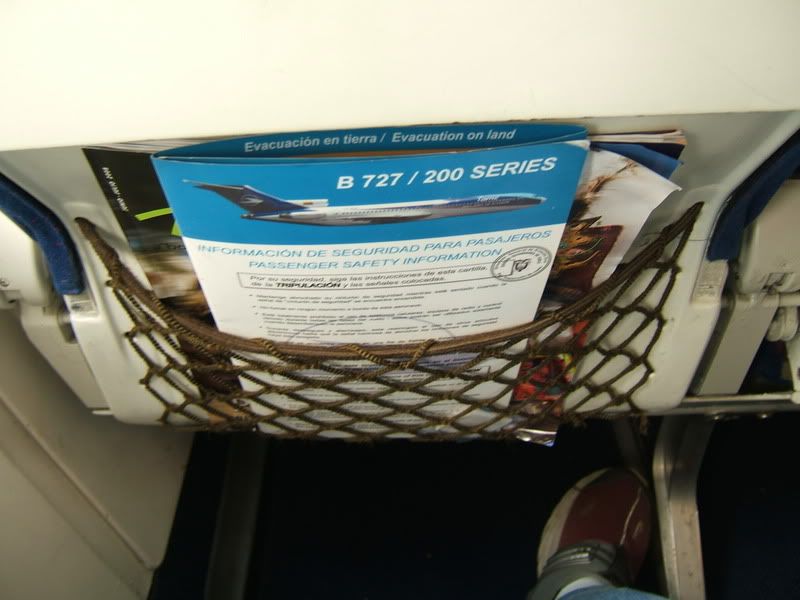 During boarding, a lady passenger approached the man that was seated two rows in front of me. It seemed they both had the same seat assignment. The FA, knowing we had a very light load, directed the female passenger to any other seat she liked; and then investigated what had happened.
The crew soon realized what happened.
The flight (just as my original one) had originated in Galapagos (San Cristobal island – not Baltra), with final destination UIO via GYE. The passenger two rows in front of me was only checked in to GYE.
He threw a little tantrum, it seems he paid for a ticket to UIO in a travel agency, etc... and refused to deboard. Finally, after a lot of insisting from the cabin crew, he had no choice but to deboard, purchase a last minute ticket to UIO, and travel an hour later. He was quite angry with the travel agency, though.
At about that time a very pretty young woman entered the plane. The cabin went silent for a minute and then seemingly everyone stood up and approached her with a camera, paper and a pen (autographs) She turned out to be a famous contestant in Ecuador's version of "Bailando por un sueño" (Dancing for a dream)
As you can see in this picture, the load was quite low.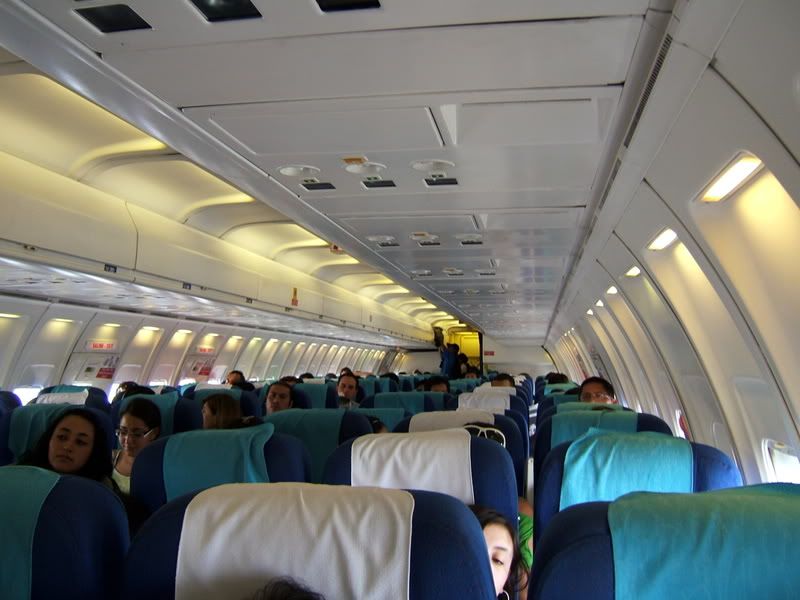 Cabin door was closed, safety briefing done (manually, of course) and we started moving towards the runway.
At about that time I was treated to a display of the 727´s impressive slats.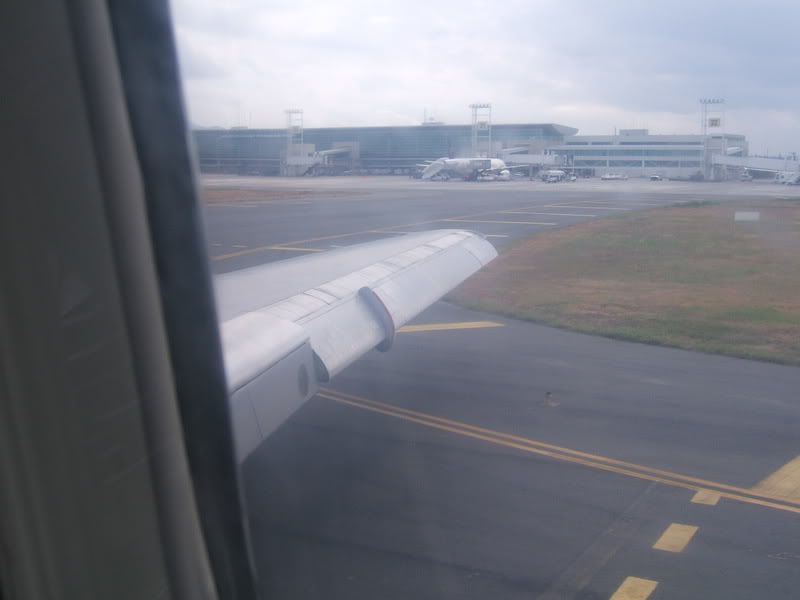 Takeoff was in the direction of Guayaquil center. A left turn made us pass right over the Malecón. All passengers were treated with a very nice view of it before it disappeared below clouds.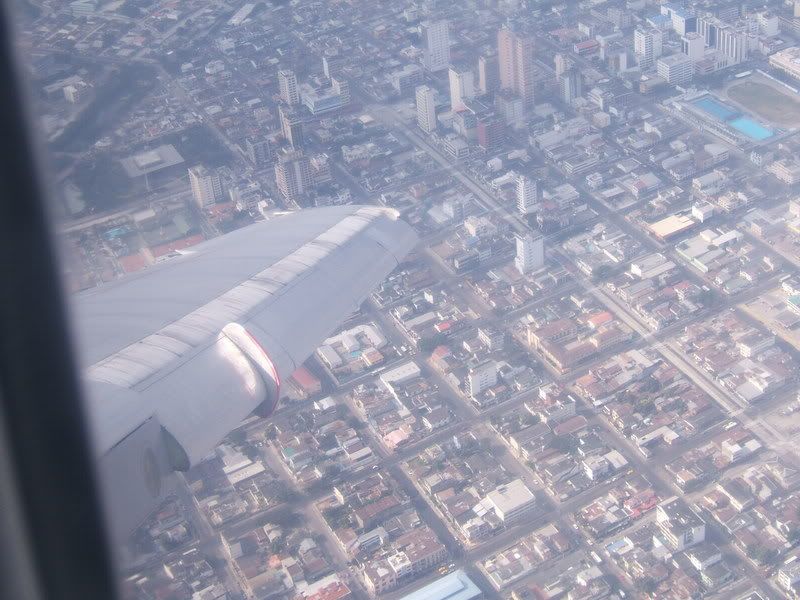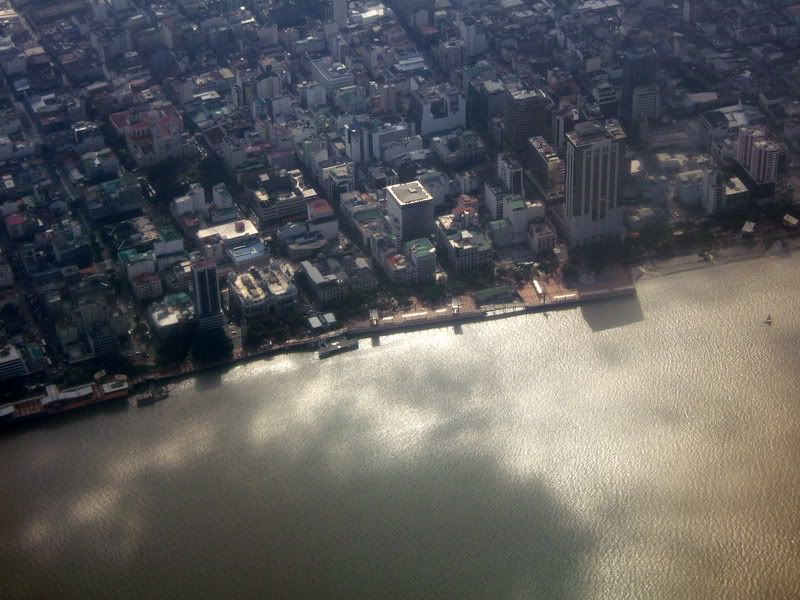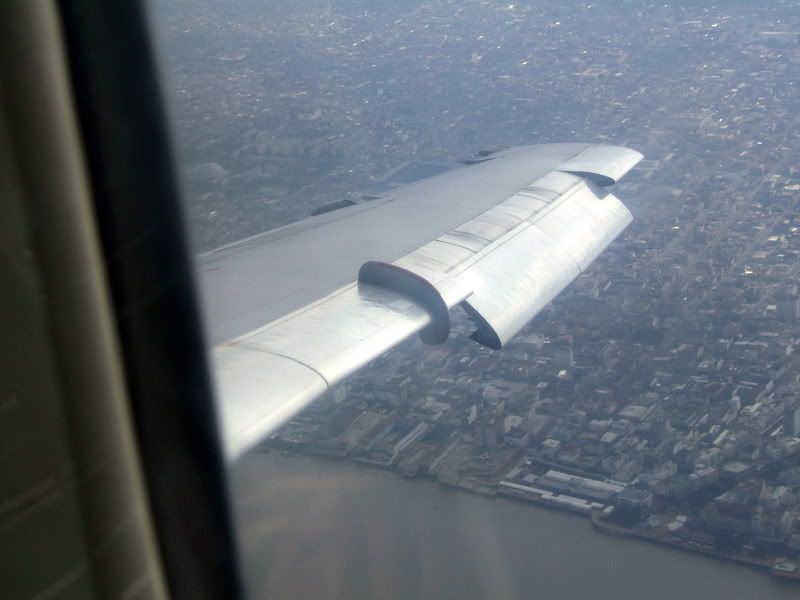 How amazing it is to fly on a 727!!! Unfortunately, all the way from GYE to UIO, and the beautiful scenery en route. were covered in clouds. Didn't matter to me, I was in a 727, that's enoug.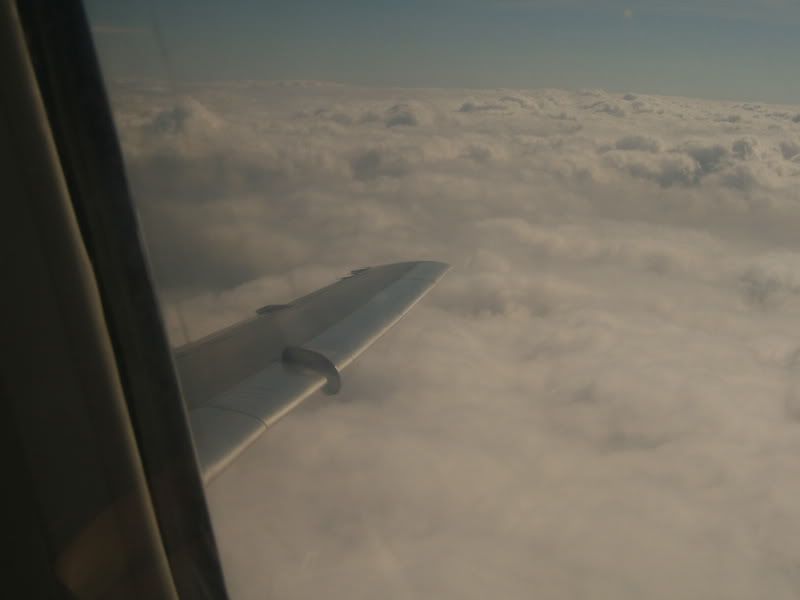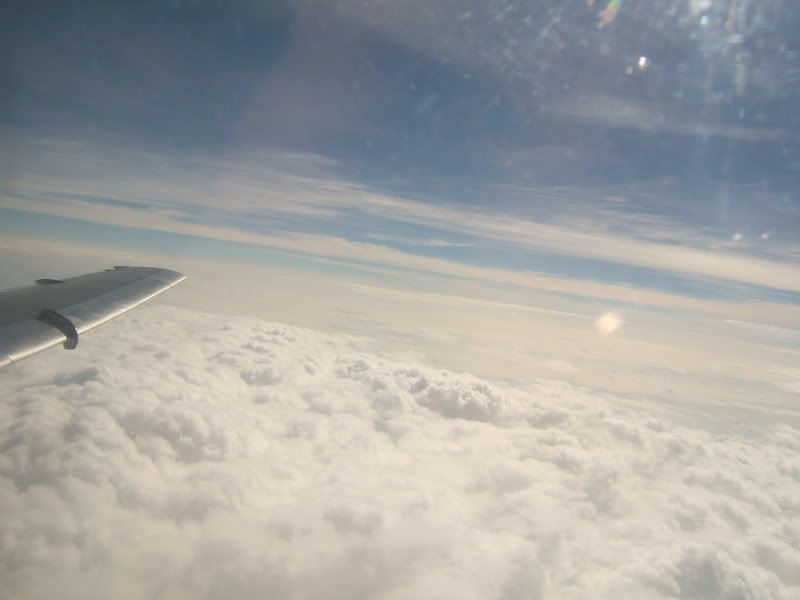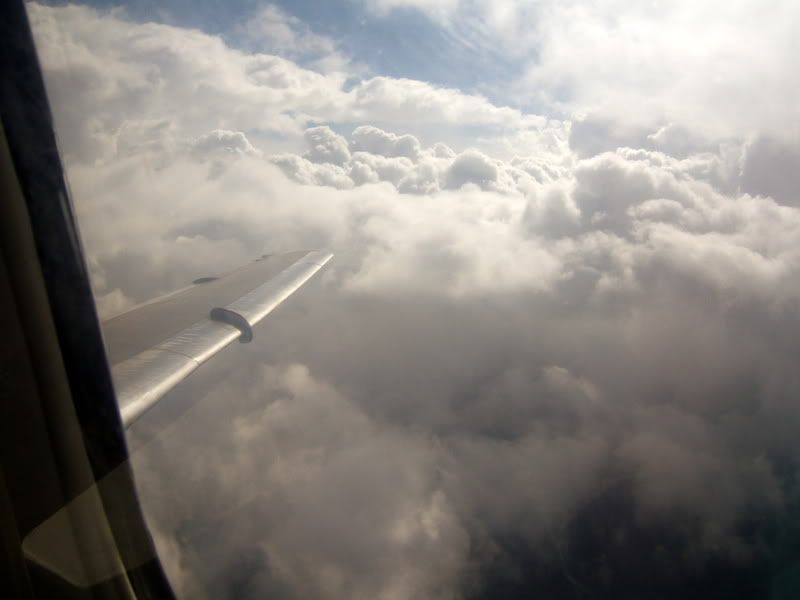 727...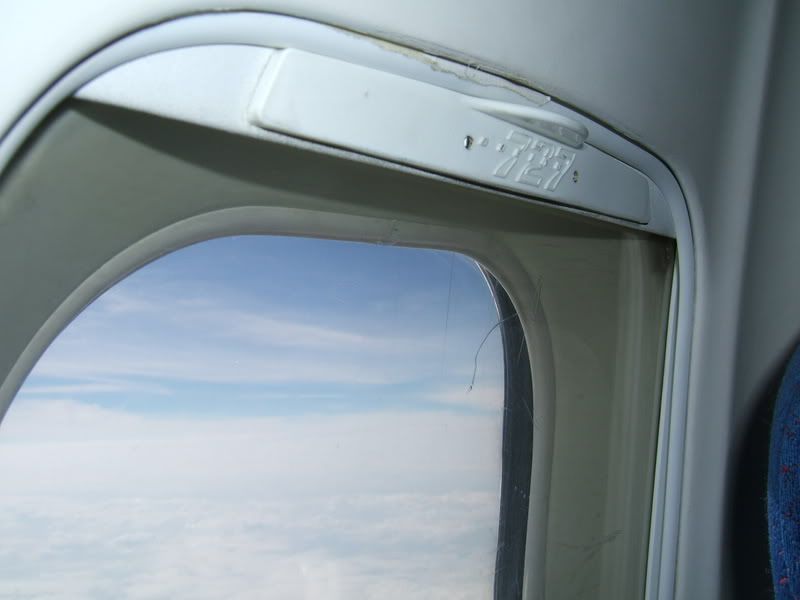 Service on this short flight consisted on a drink service plus a pancake. Excellent for the flight's duration, and certainly better than nothing at Pluna on the similar length MVD-AEP flight (see my previous TR on Pluna´s new CRJ900NexGens)
Soon after the cabin crew picked everything up, descent started. We were soon inside thick clouds...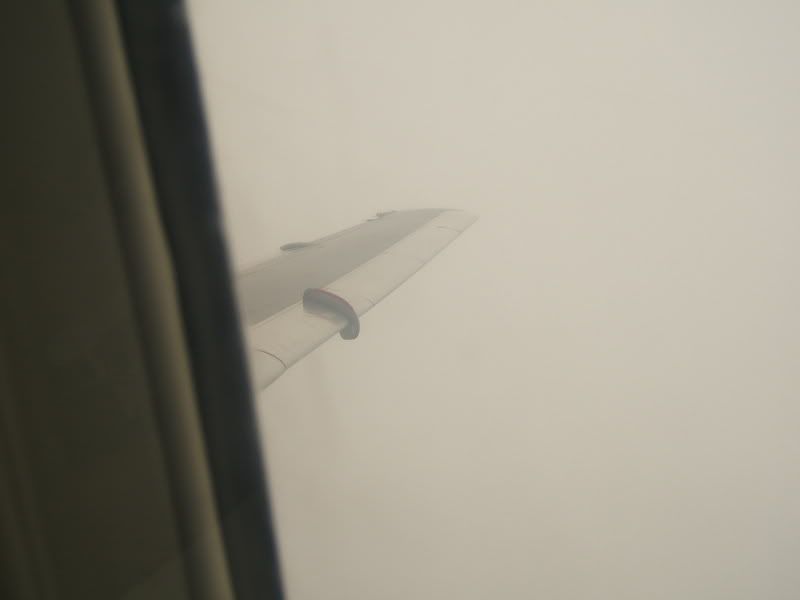 Then we finally got a glimpse of what laid below.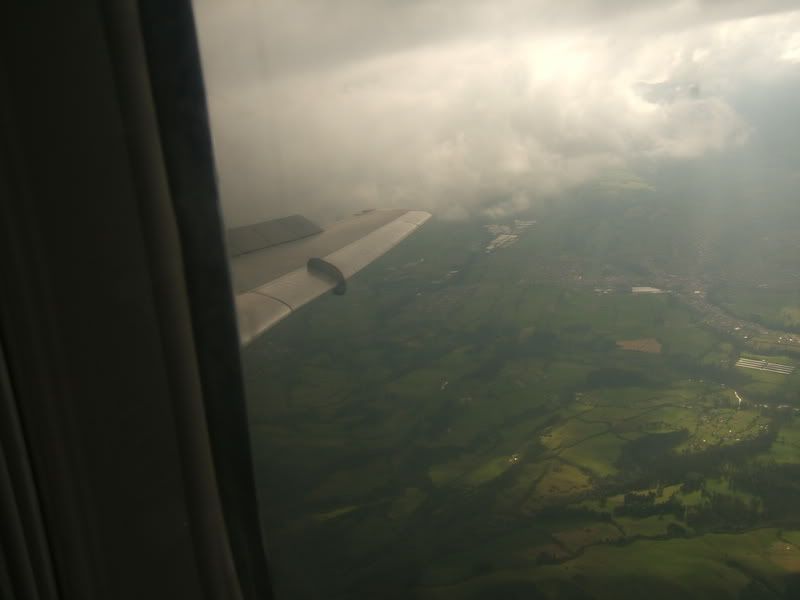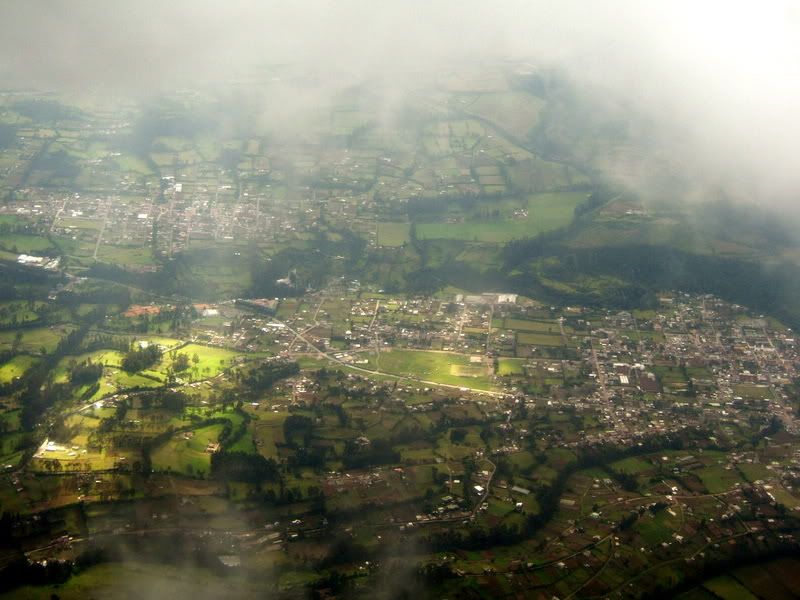 Speedbrakes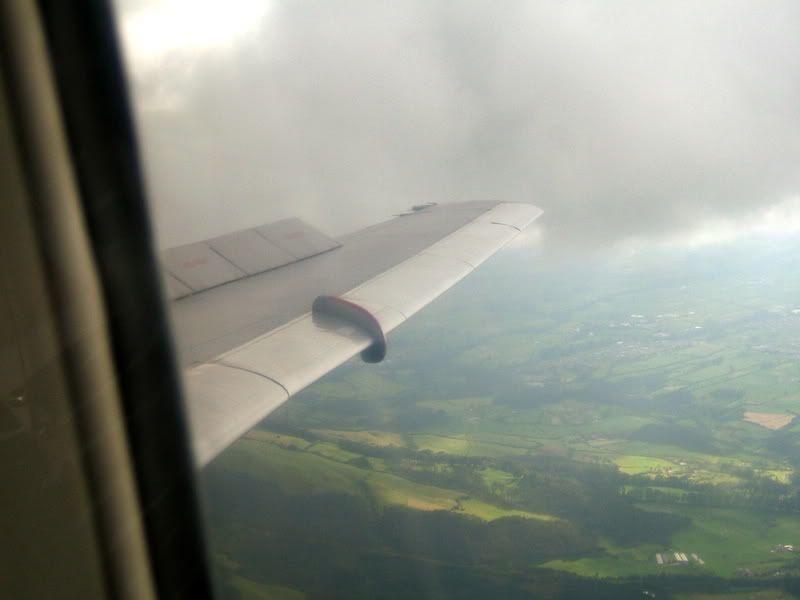 And we were treated with those awesome slats again.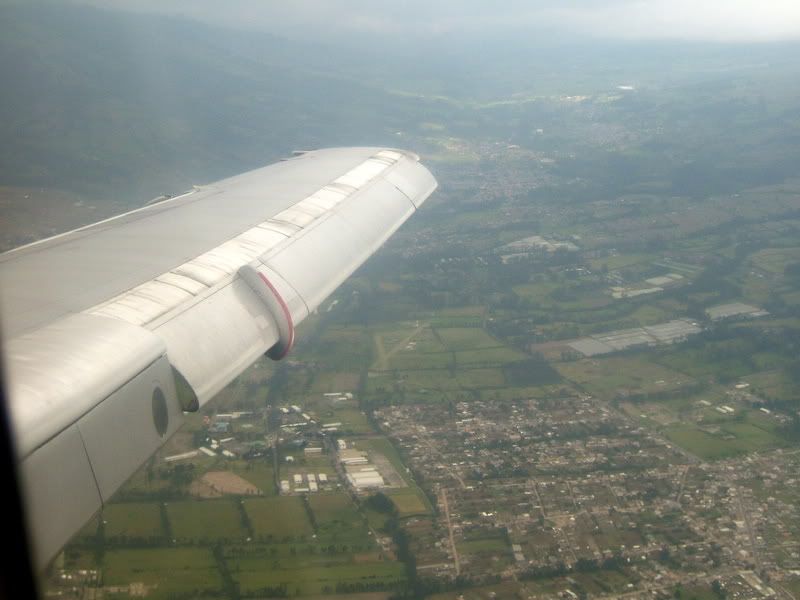 A first glance of Quito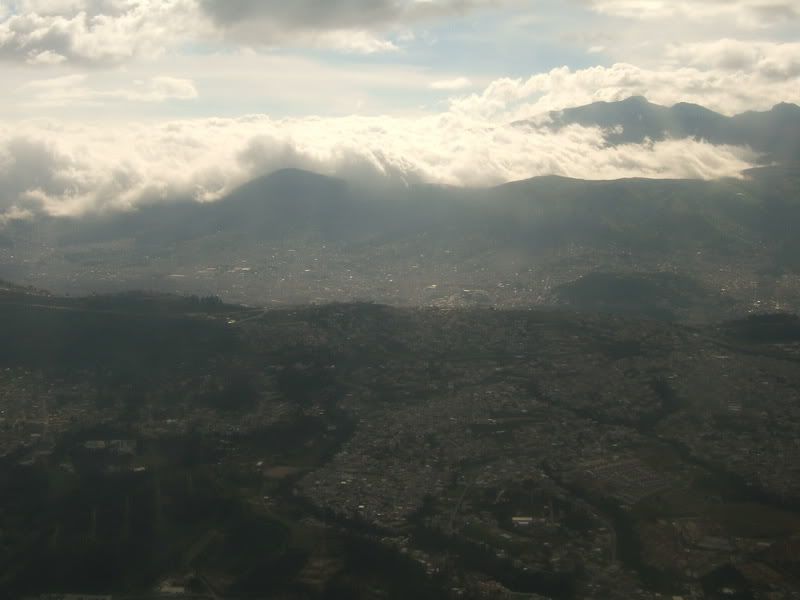 And landing. At the end of the video, you can get a glimpse of IB´s unfortunate A340-600.