Hello Dear readers, here is part 2 or my 3 part trip.
01.08.08 EK3801 A380-861 A6-EDA 23A
1st Flight on this aircraft & 2ND A380 Flight
SCH DEP 11:00 SCH ARR 16:45
ACT DEP 11:05 ACT ARR 16:30
View Large
View Medium


Photo © Alejandro Espinoza
View Large
View Medium


Photo © Alejandro Espinoza
Having arrived on VS400 I proceeded to check-in for EK3801
I had expected EK to put up banners and general promote this historic day, however this was sadly lacking,
At check-in I enquired as to J class availability, basically had any seats freed up?? - appears 1 window seat had opened up, I snapped it up, sure glad I did too!
I had to visit the ticket desk and pay the difference, took about 5 minutes then headed to the dedicated check-in desk for US bound EK flights, went smoothly enough thought the agent seemed to have trouble getting to grips with me leaving JFK for Europe on the same day after such a long flight!
Got my boarding pass and a lounge invitation, still not sure why they have to write these things out, seems like a waste of paper/card to be honest!
Passport control and security was pretty easy, again First & Business have a dedicated lane to use, saves getting in line with the great unwashed.
I will say the First/Business check-in area was not that great, looks quite dated compared to the layout/offerings from say BA and VS.
The walk from security brings you to duty free
great if you want to buy stuff, but a pain if you don't want anything, masses of people, reminds me of T3 @ Heathrow, a zoo!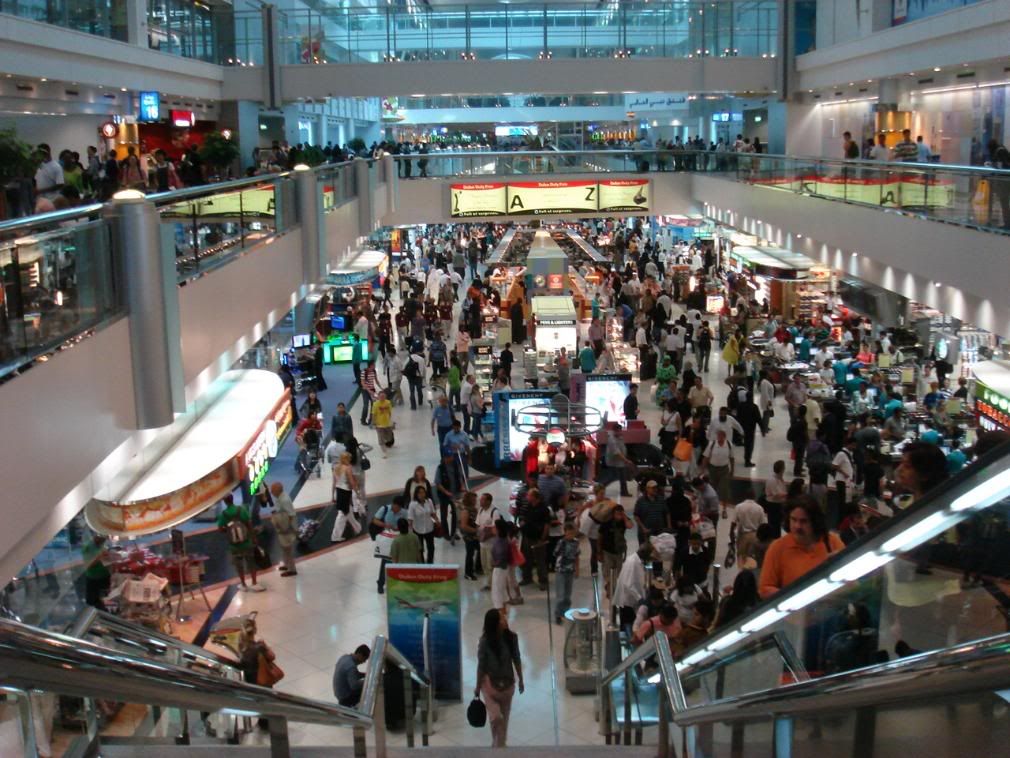 Once up to the next level, departures, I took a walk along to try and get some spotting in and snap some pix of the A380. Be warned, DXB is not great for spotting, it's hard to read reg numbers of the planes parked at the gates and there are people everywhere, the whole place in the early morning is a nightmare to navigate, hot, stuffy, you'll be drenched in sweat before you know it. I've not been here long but have developed a dislike for the place already.
After a quick walk to try and get in some spotting, enough was enough, decided to hit the lounge.
I chose the lounge closest gate 25, this being the gate allocated for our departure.
Upon arrival the reception agent wanted to take my lounge invite but I asked to keep as a memento of the day, no problem, she copied the details onto another and let me have the original, why copy the detail??
By now I was hot as hell, had a nice sheen of sweat on me and had been in the same clothes for some 10 hours, thankfully the lounge had a couple of showers and 1 was free. Whilst refreshing, the shower room lacked any form of ventilation, the ceiling was covered with damp stains and you were wet as soon as you had dried off, rubbish! – That said, I did feel much better even if I was soaked in a new layer of sweat!
Luggage for the trip
Shower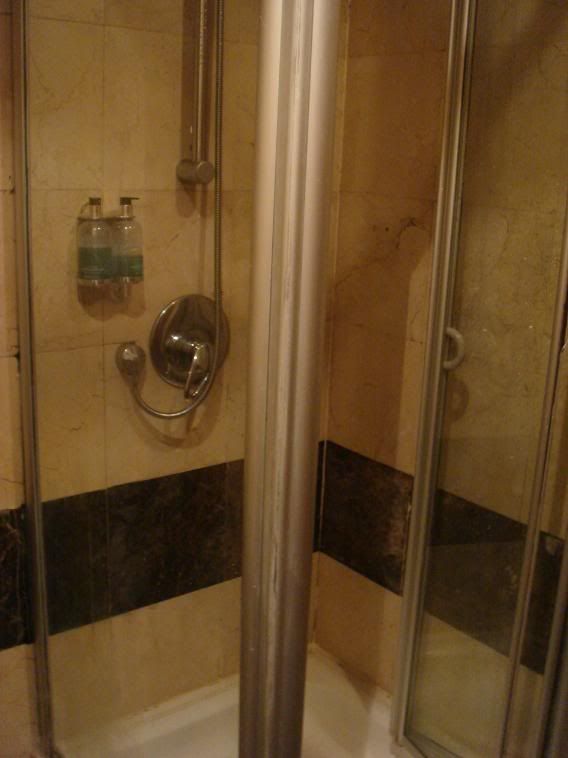 I managed to find a table next to the window, grabbed a paper, OJ and coffee, relaxation at last! – The lounge had free wifi so I checked my inbox and checked the most important web site in the world, A.NET to see what was going on, I noted Roni was already at the gate. A text or 8 to MissBA319131 back in London and I headed down to the gate around about 10am ish.
View from the lounge
There appeared to be nothing special at gate 25 for the flight, a passport & boarding pass inspection and I was through. I had been advised to show my ticket stub to the girls in the gate area to receive our gift – this was an Emirates bag with a couple of goodies, nice but quite poor compared to the gift SQ gave out on their inagural A380 flight.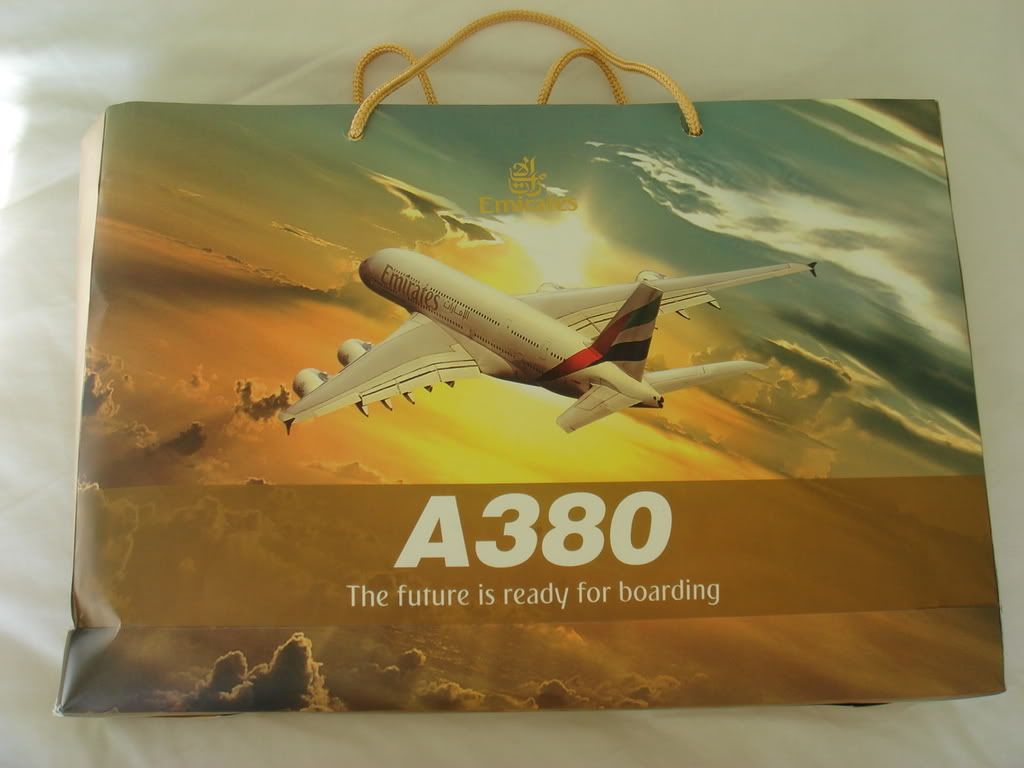 The whole affair was quite a complete contrast to the SQ affair, I had expected EK to really promote this day, the inagural flight of their 1st A380 and the first A380 powered by the new engine alliance GP7200.
I sat near the window and managed to catch a couple of local's who will never fly to LHR, really need to re-visit this place where I can get some good spotting in, it's a paradise! – Anyway, I good looking chap approached, it was Roni! We had a bit of a chat, boarding for First & Business was called so we headed off, stopping for numerous pictures along the way!
Boarding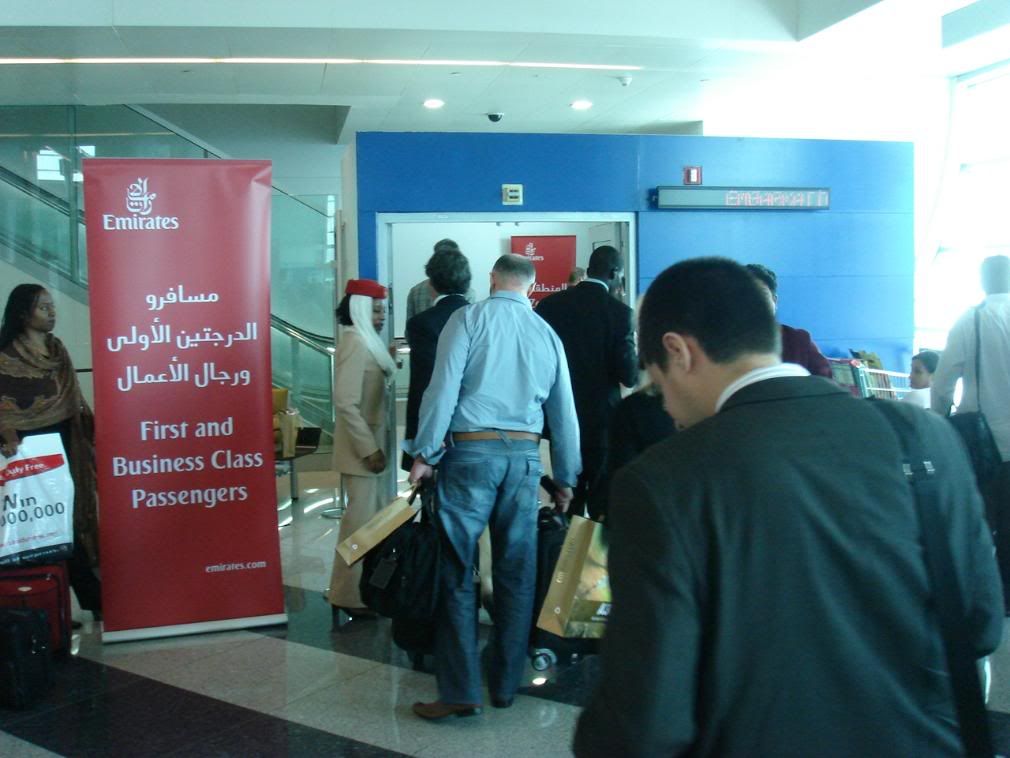 View of the boarding area
Here is our baby!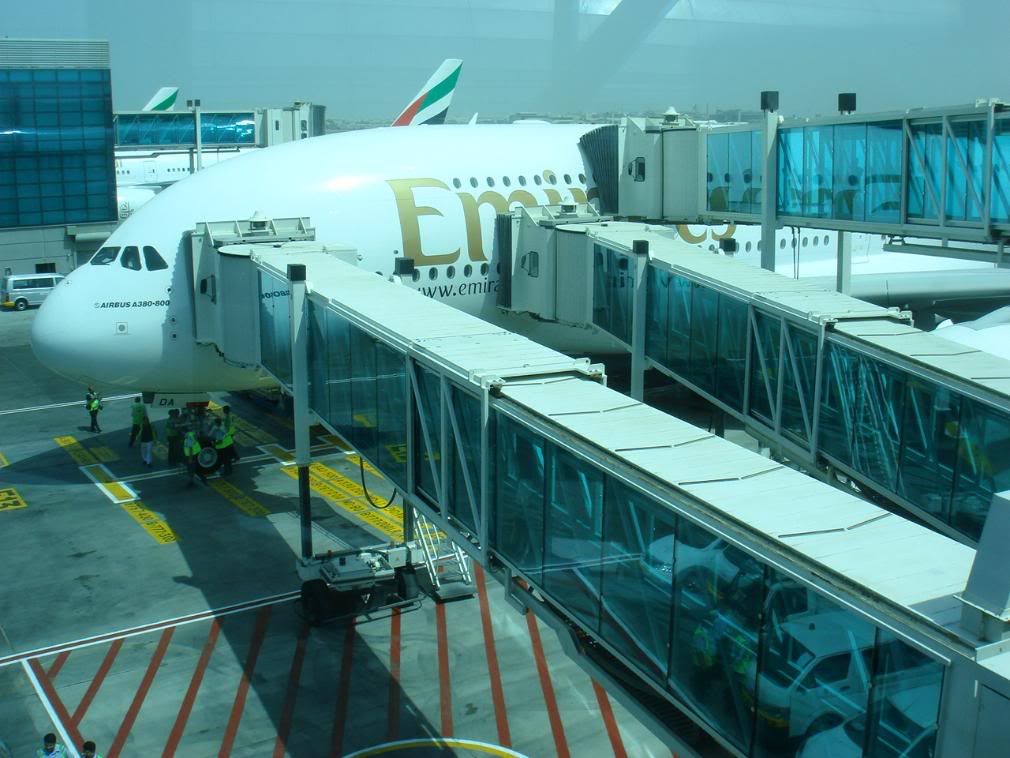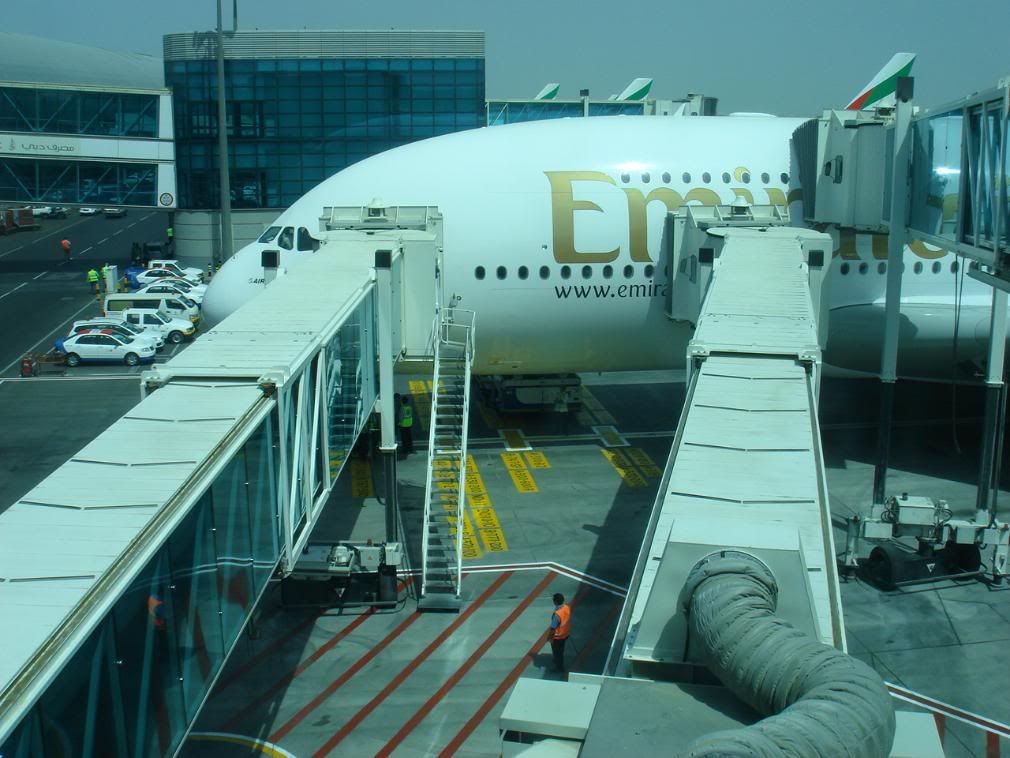 Roni heading down the jetway.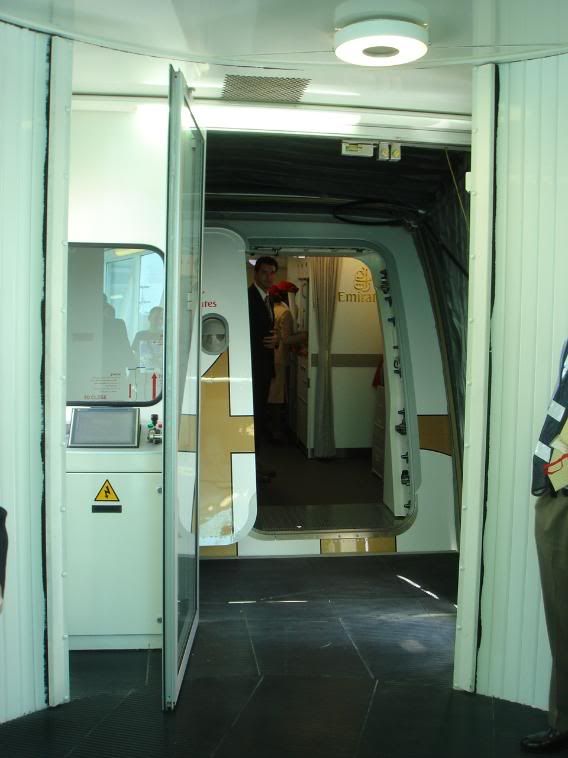 Once aboard we both headed right, me row A, Roni in K.
Pretty impressed with the seat, beats the pants off the VS seat I flew in on and is better than the BA Club World seat.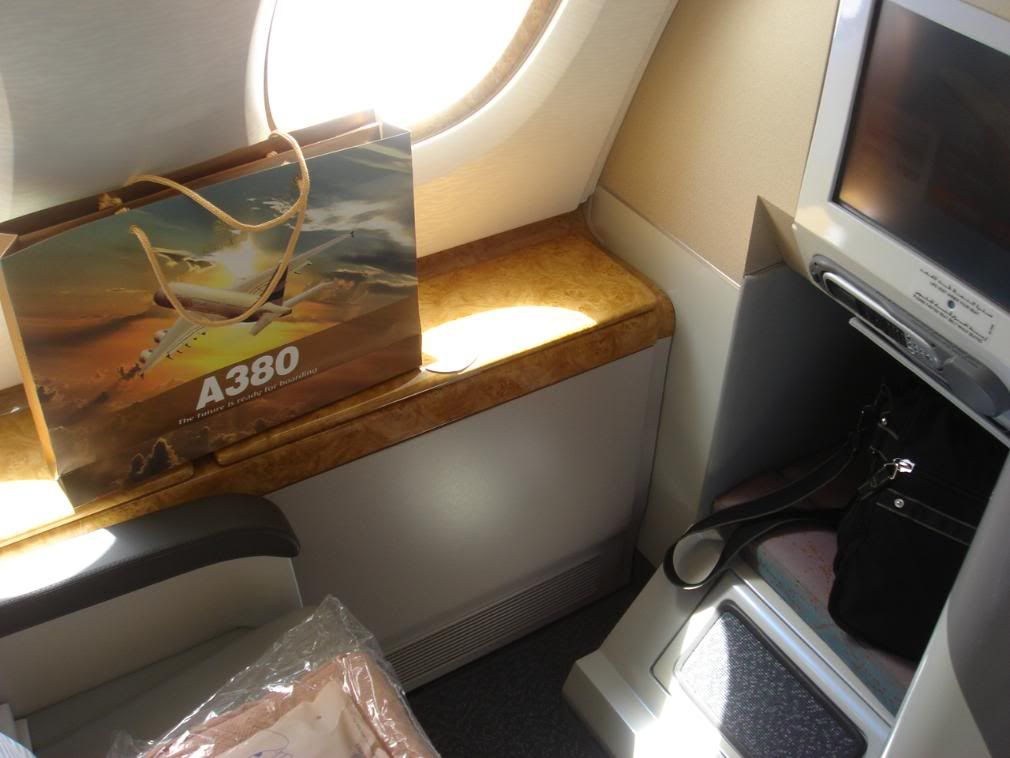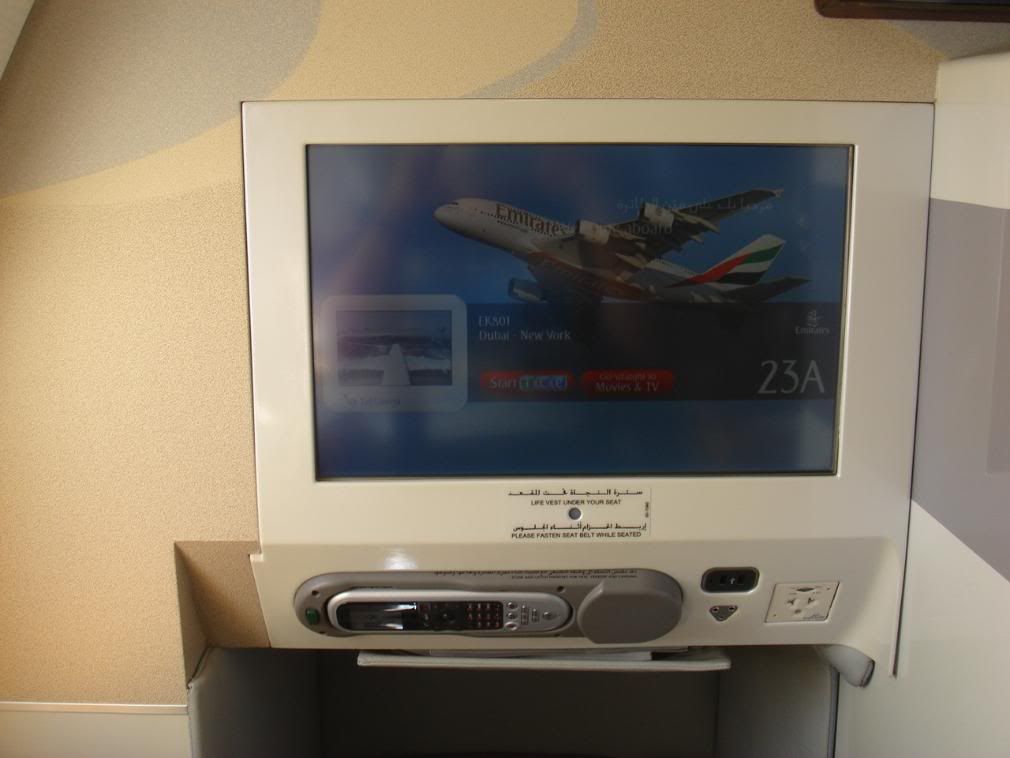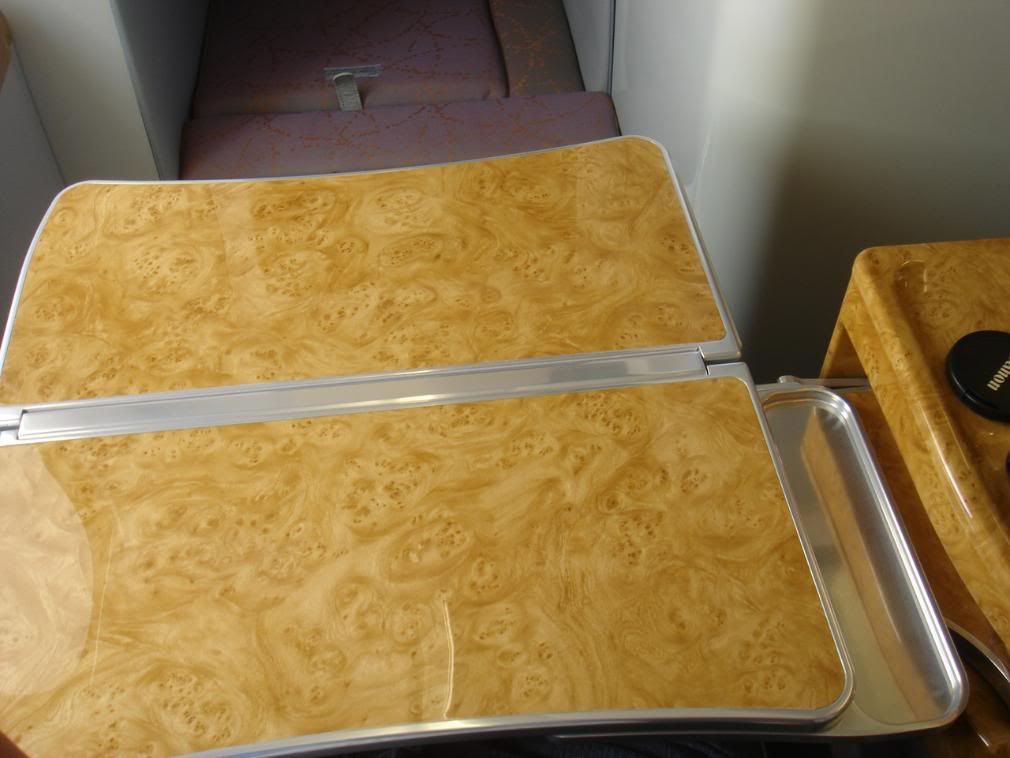 I will say the side window storage bins open too easily, your arm tends to move off of the arm rest and end up on the storage bin, usually making it open!
Power supplies, plug etc
Amenity kit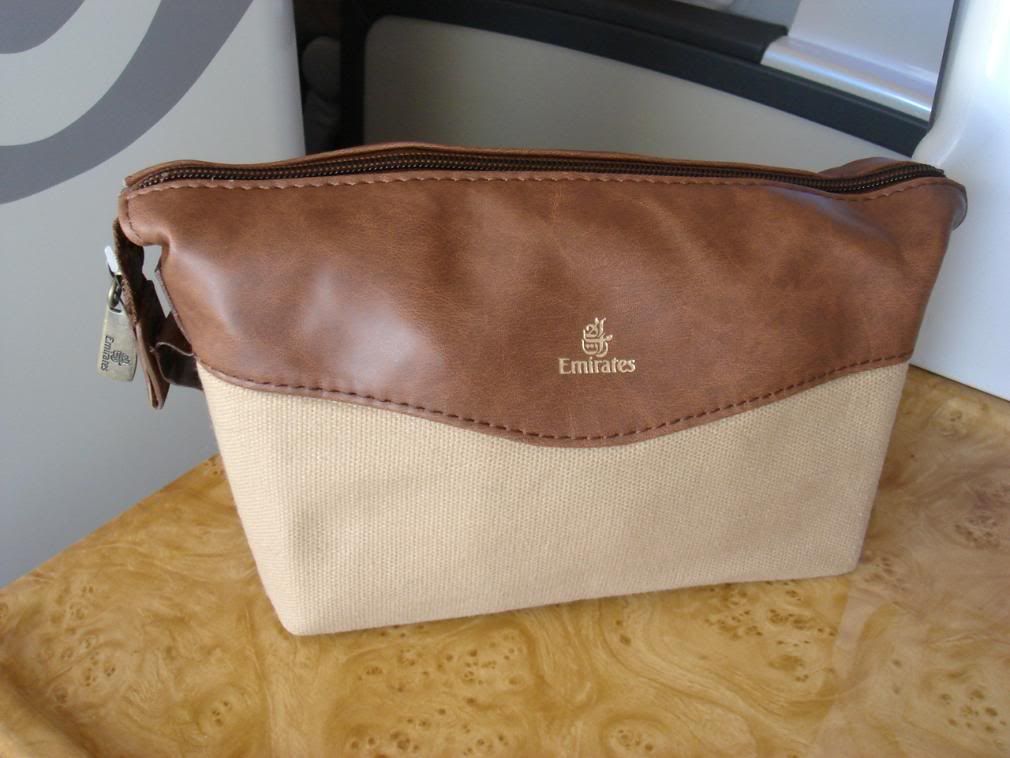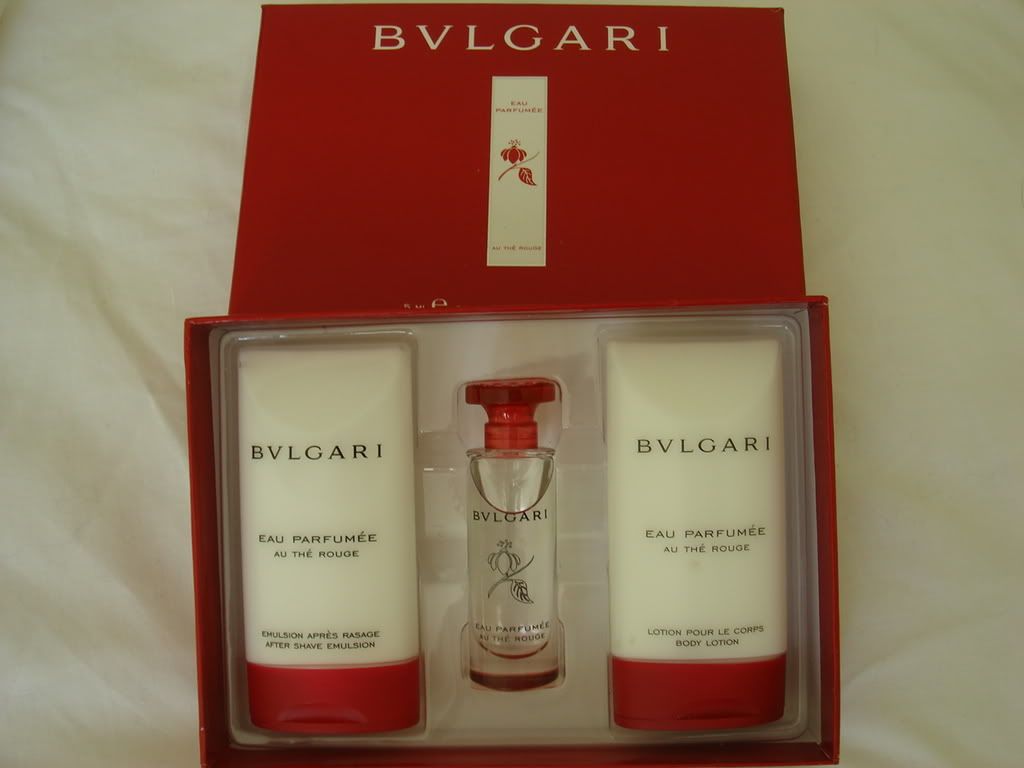 As expected, camera's were in abundance as everyone took pictures of the fixtures and fittings, at this point we were allowed to visit First Class, so took the opportunity to get a few shots of the showers along with the seats.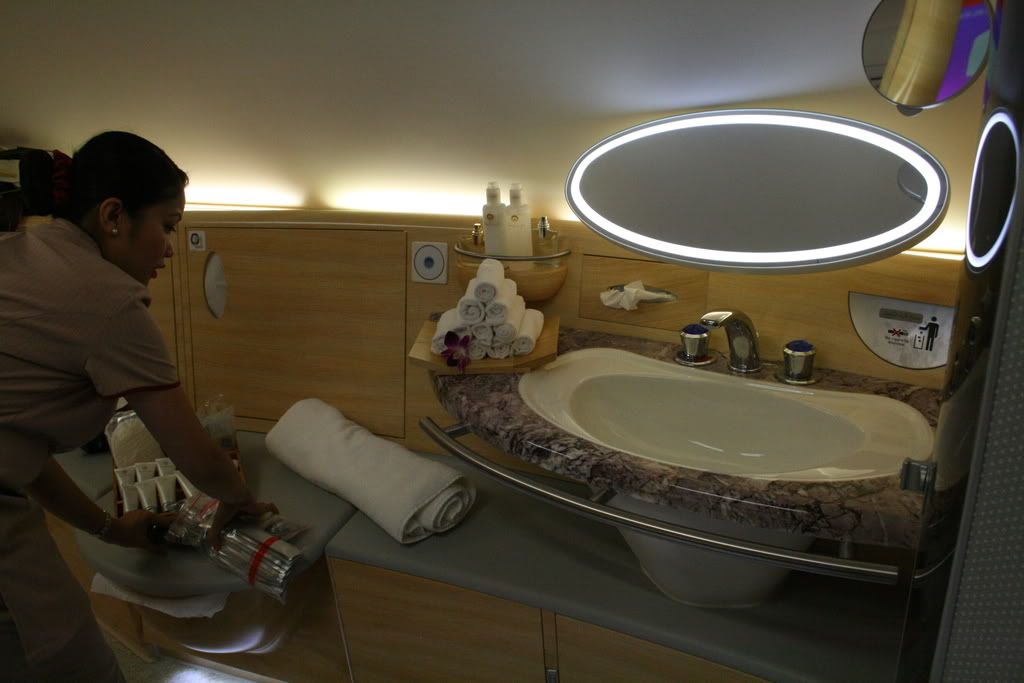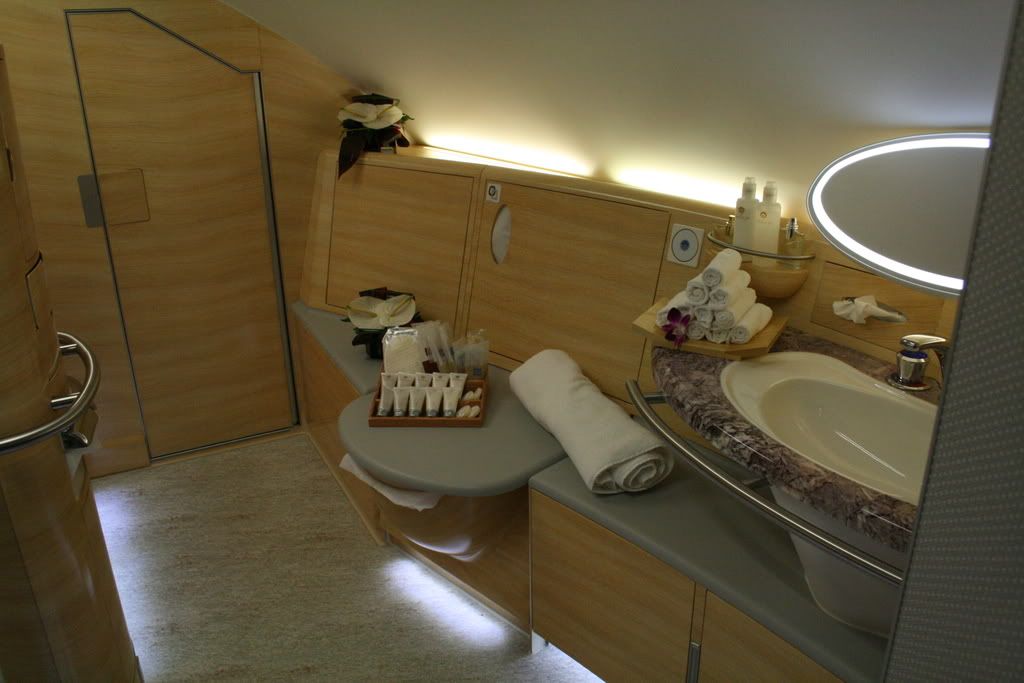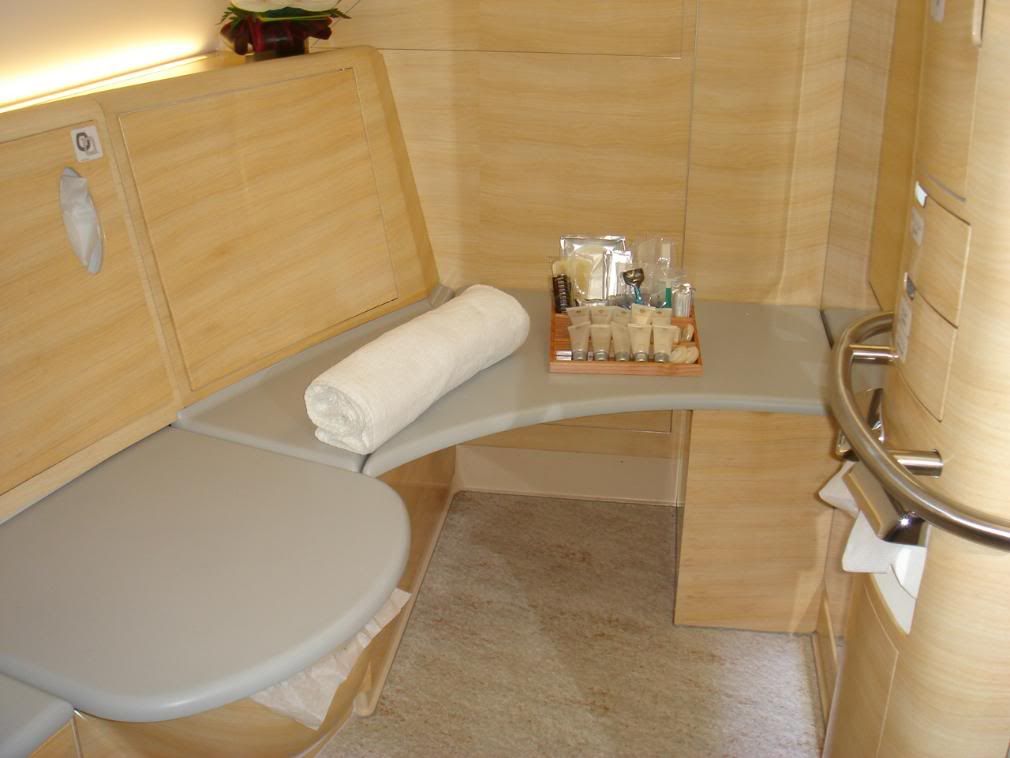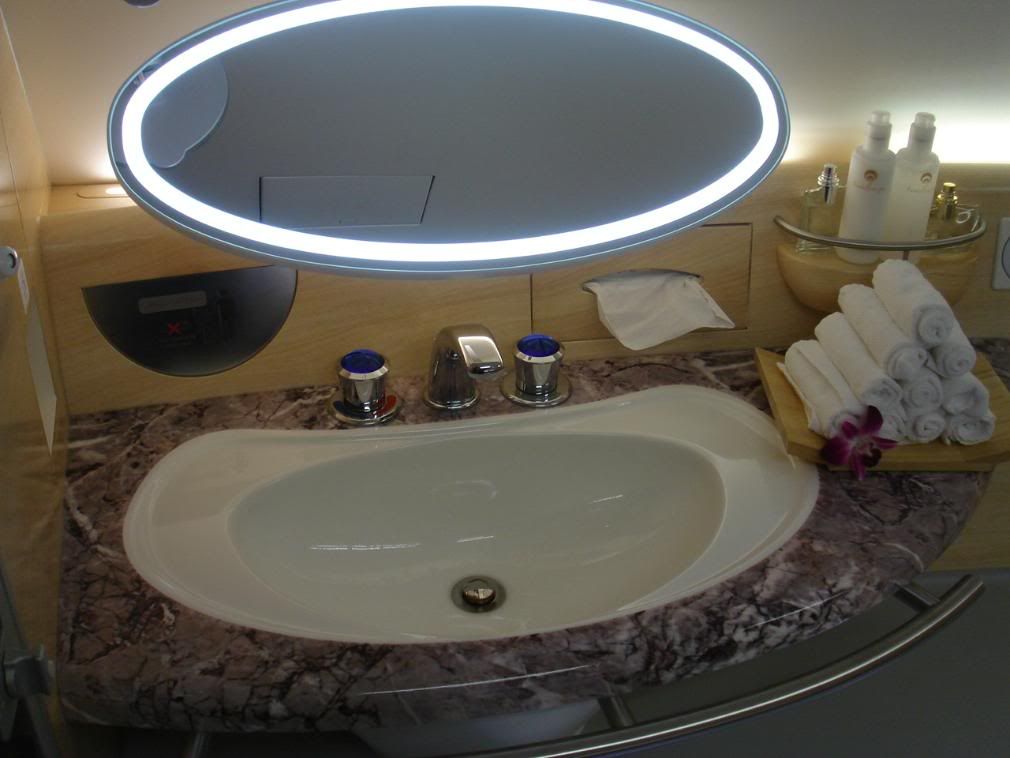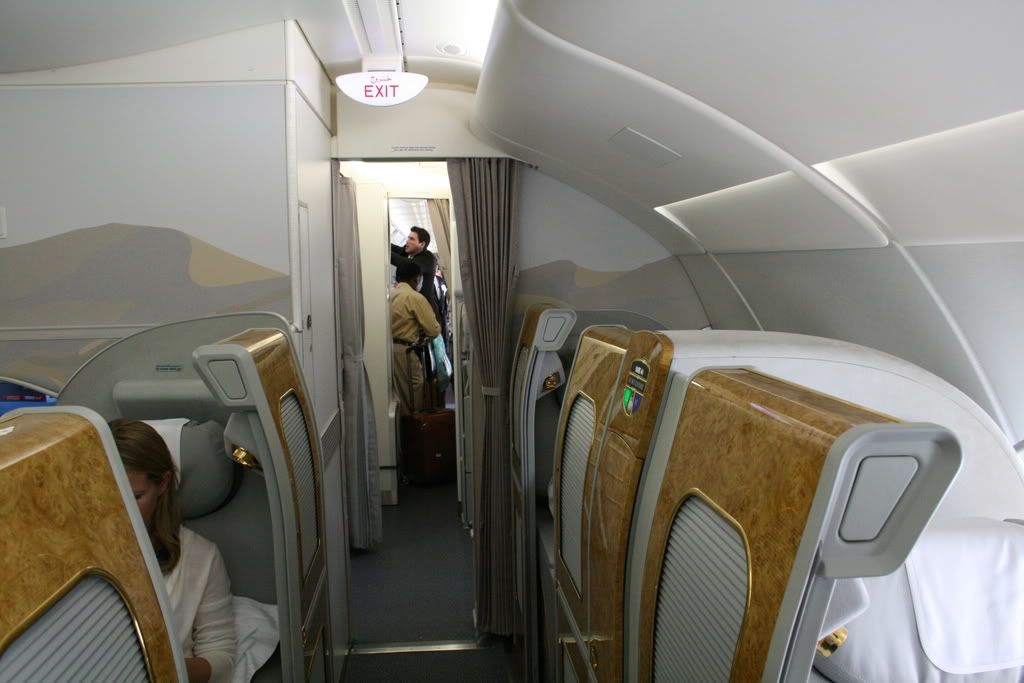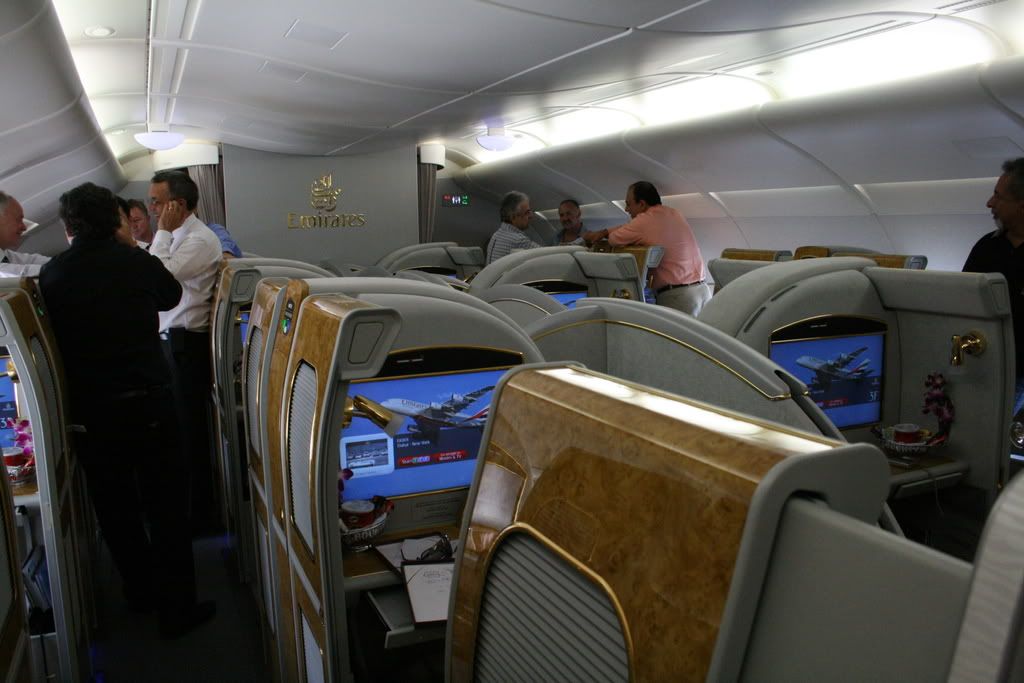 More Business Class pictures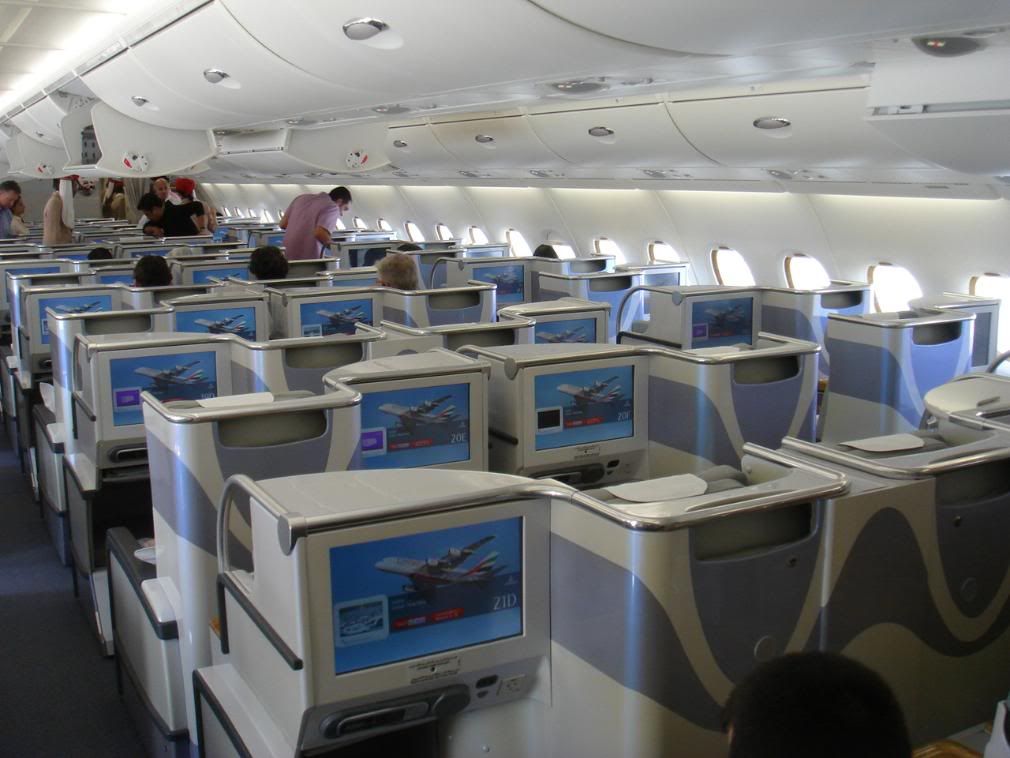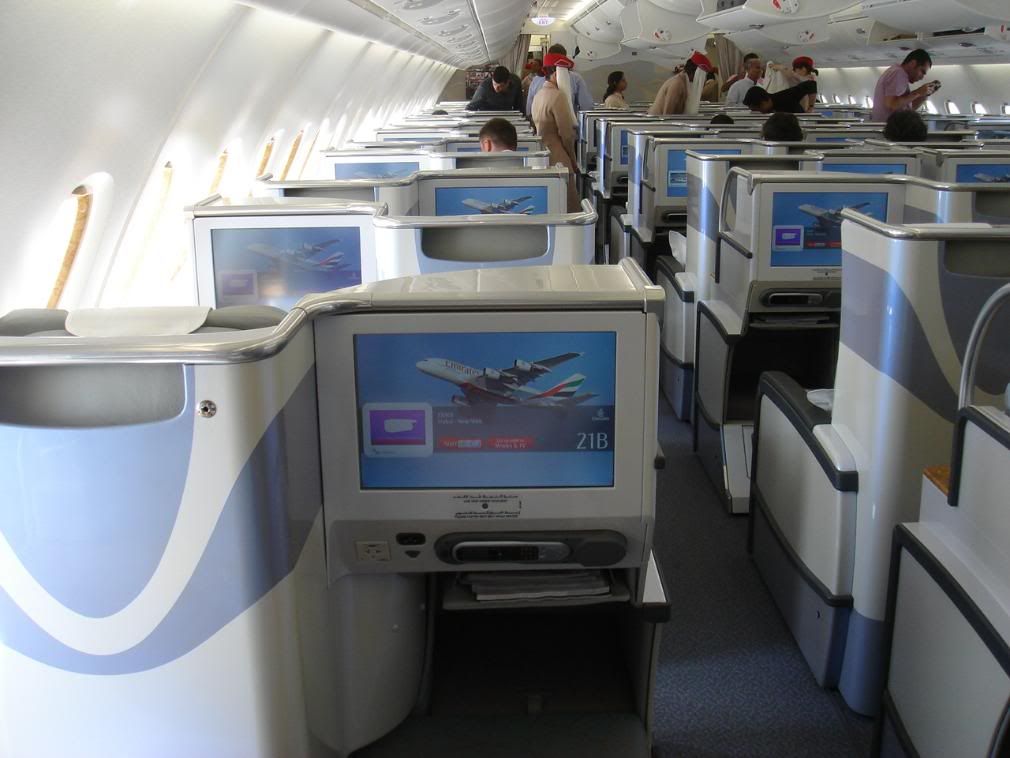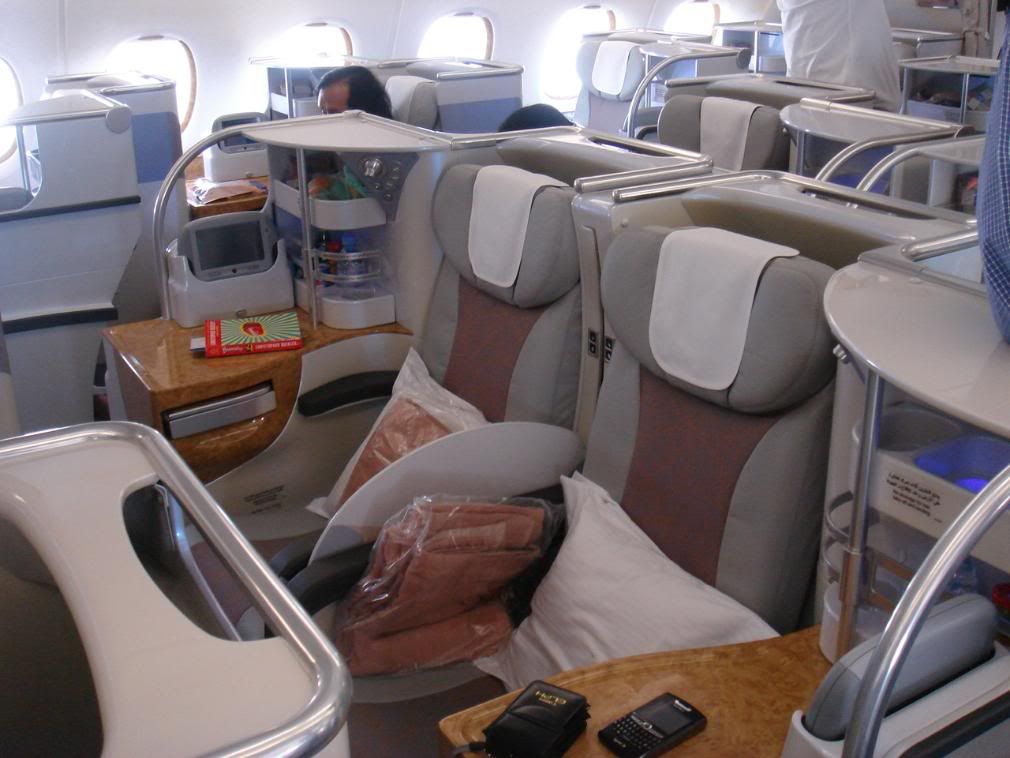 At the top of the front staircase is this water feature, it's real too!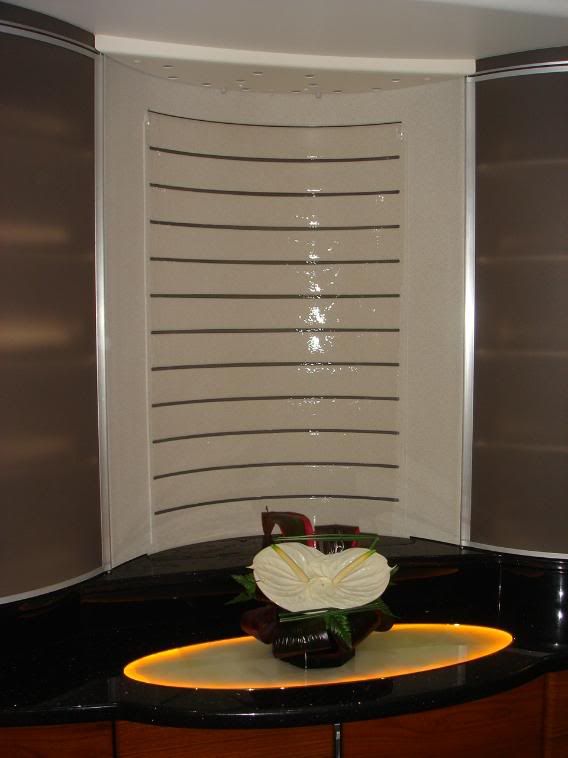 The crew served pre-departure drinks, water, OJ & Champagne - Moet & Chandon Grand Vintage 2003 – no guess which I took!
View from my seat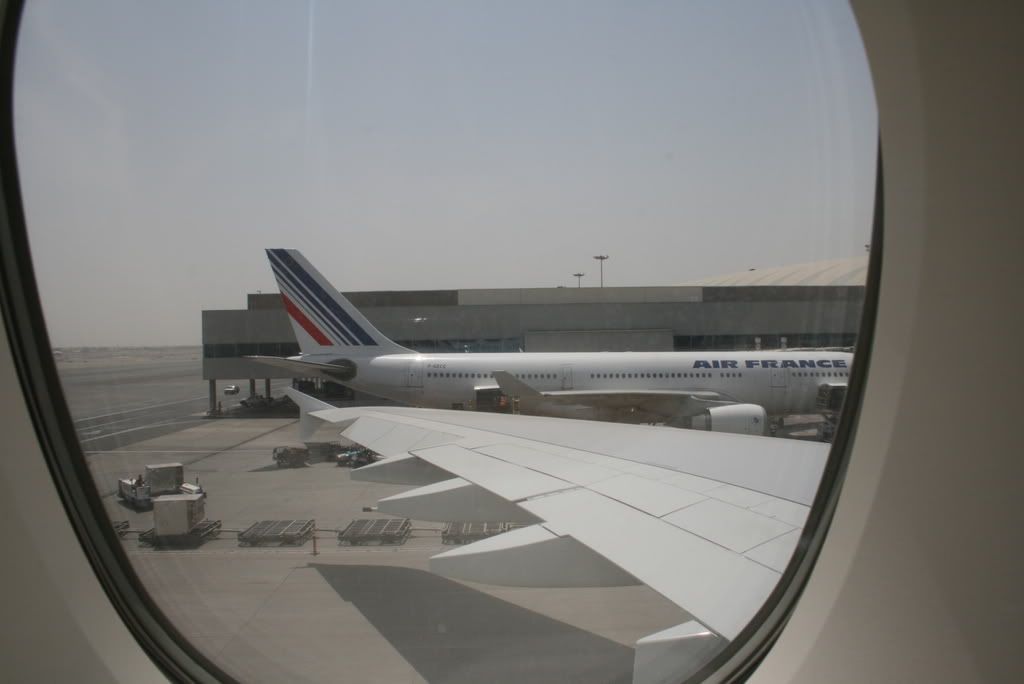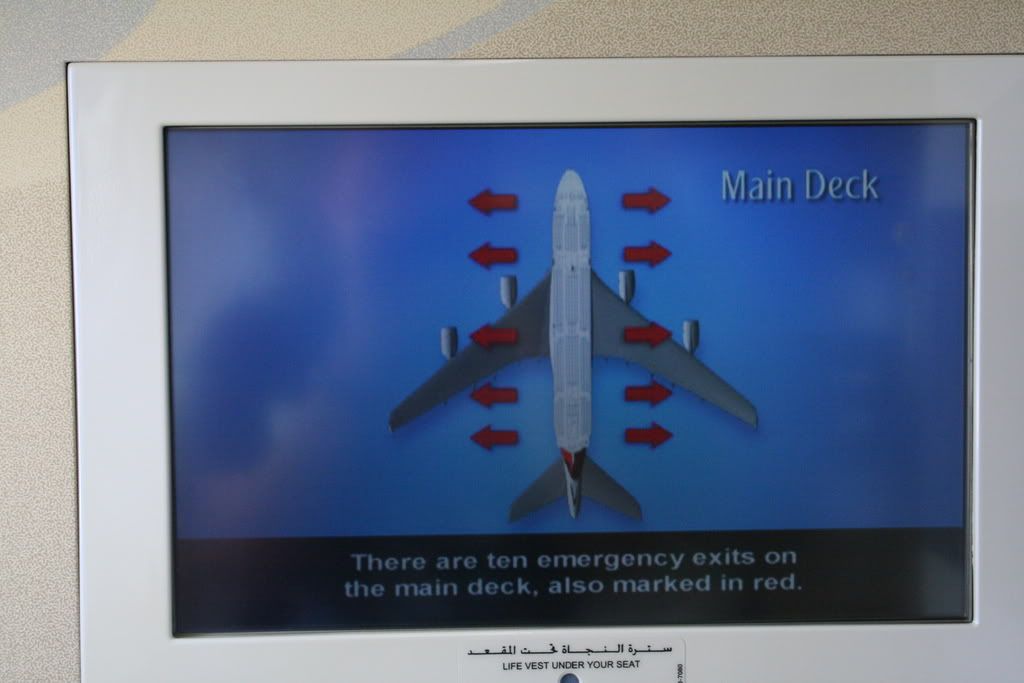 As per my last A380 flight, push took me by surprise, you don't feel it, you only notice it if you happen to be looking out of the window at the time!
A short taxi out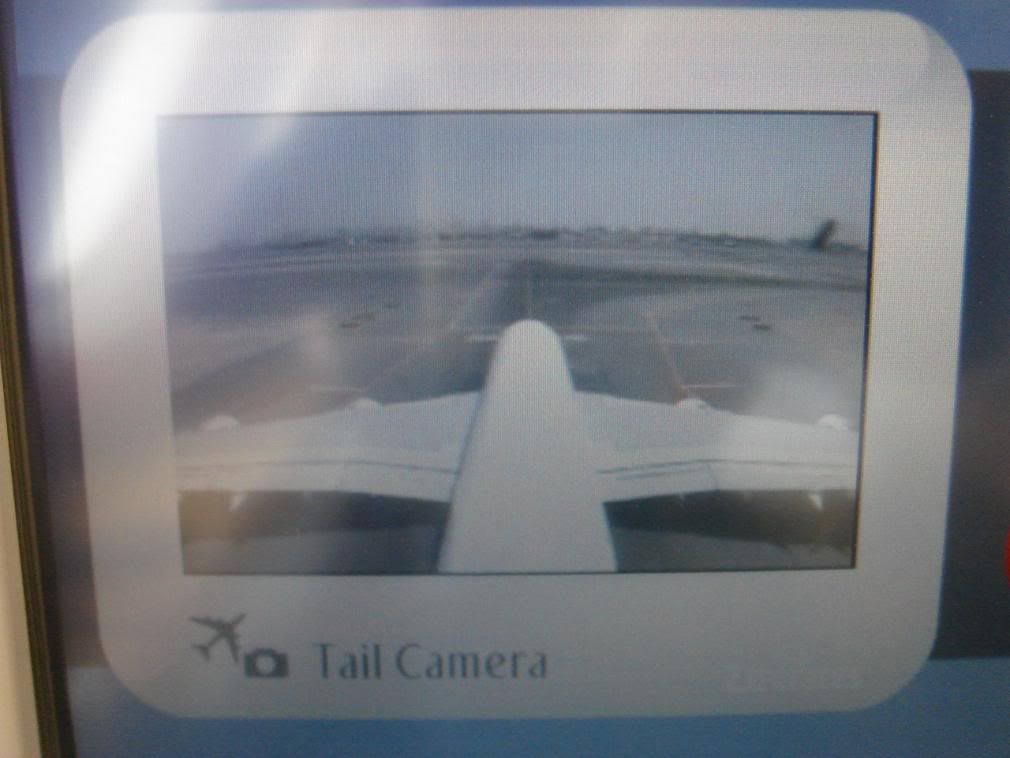 and a long takeoff run wheels were up at 11:20, a small amount of applause could be head through out the cabin. The guy from Engine Alliance was behind me in 23B so I guess he was happy.
Climb seemed very slow, much slower than my SQ380 flight, so much so I did wonder if we were in fact climbing……………… thankfully we were!
Once the seat belt sign was extinguished that was it, the madness began, people all over the place, cameras out again, the rear bar area was packed, it's a great place to hang out and much more user friendly than the VS area. I imagine it's fantastic at night when the mood lighting is on, Roni has been commissioned to report on this on the return night flight.
The curtain divides have arrows on to show where to open
Here are a few pictures of the bar area:-
Me before it was set up
Seating in the bar area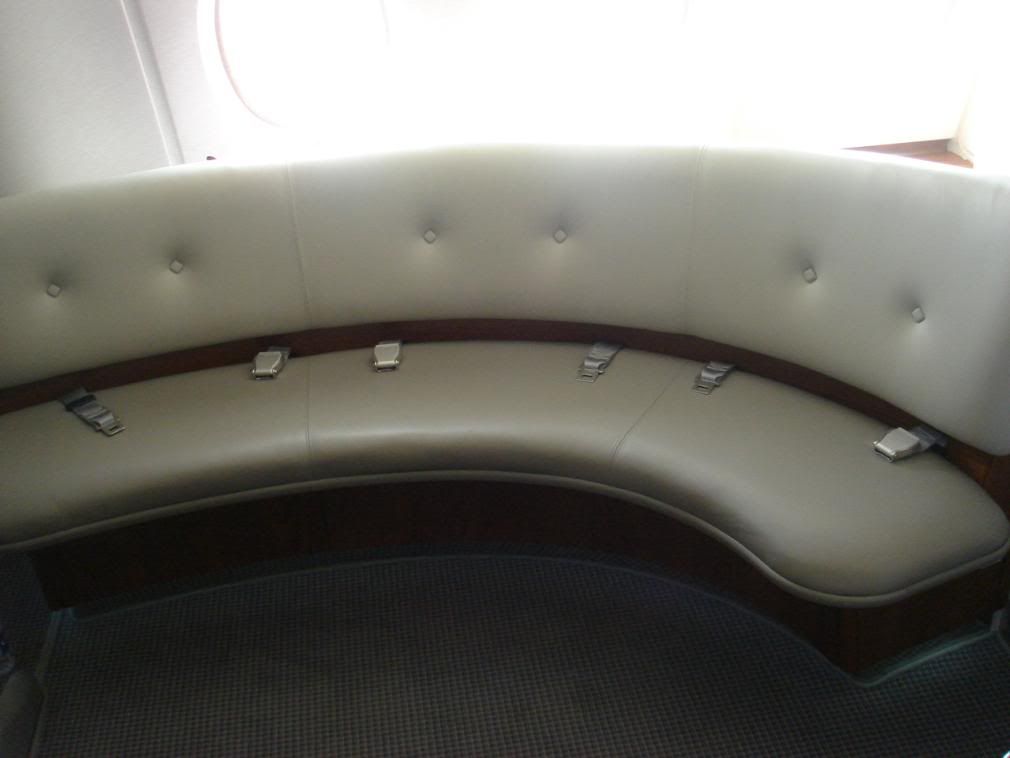 EK top brass!
Door
Menu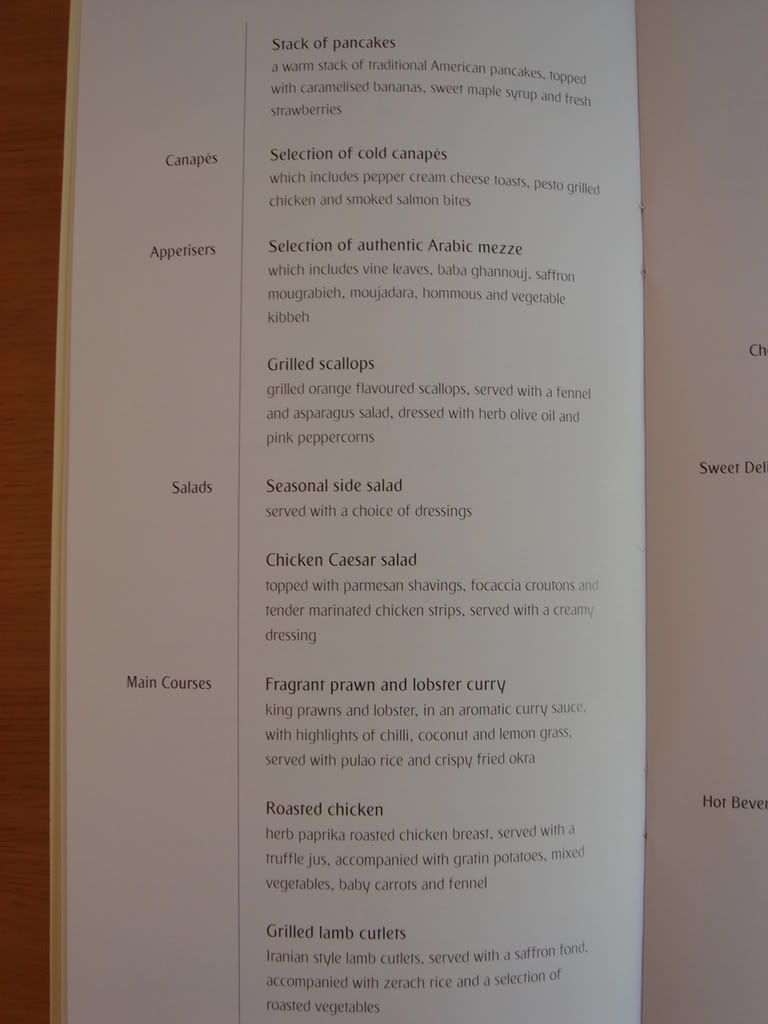 Meal service began around 1pm Dubai time, I say 1pm, it depends where you were sat on the plane, some areas had finished their meals before others had received starters.
I took the Lamb with a salad to start, both were excellent as was the chocolate tart which followed, not good for my wedding diet though!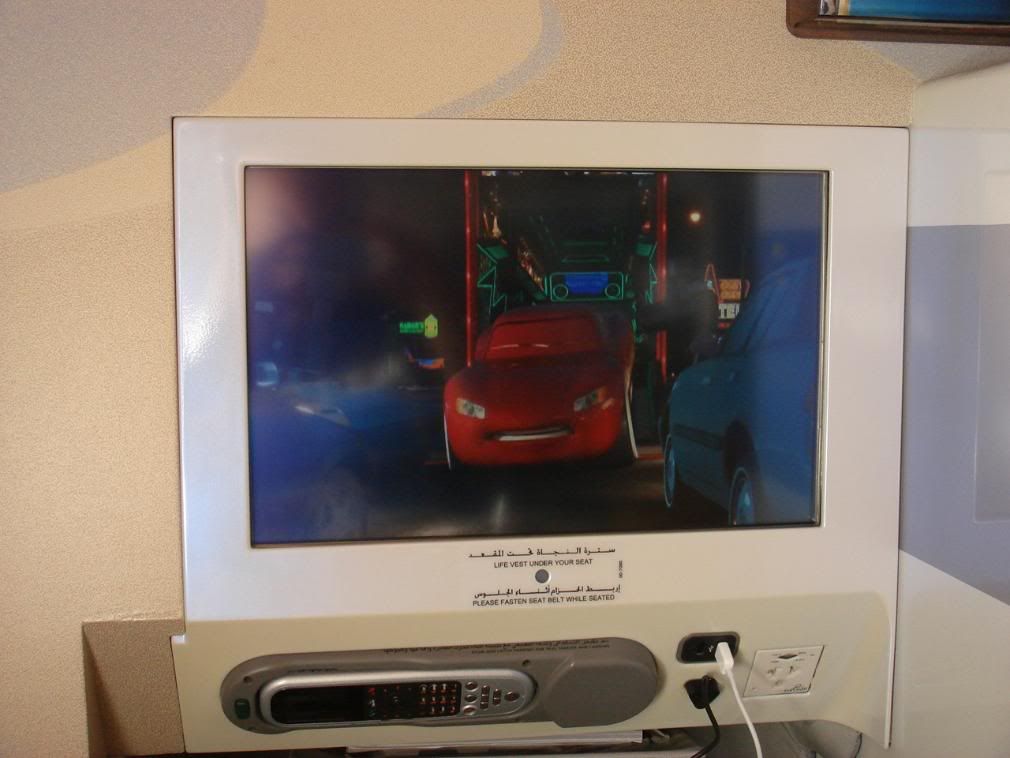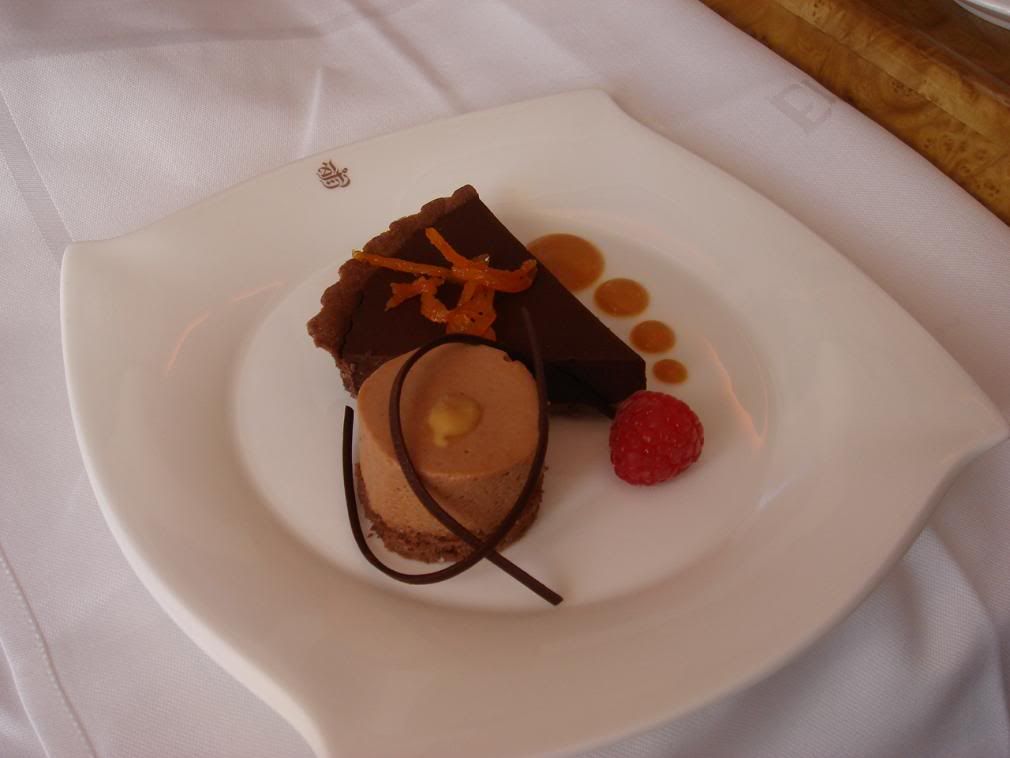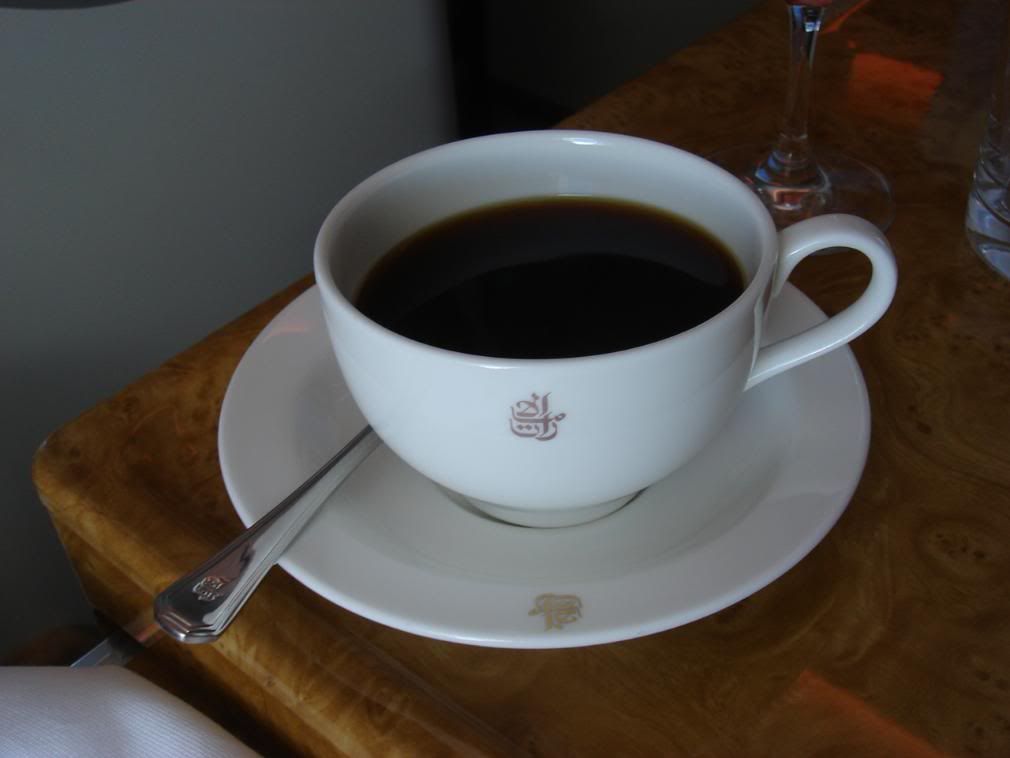 I chose the Californian Ridge red, an excellent choice which I stuck with through out the flight, very drinkable.
Toilet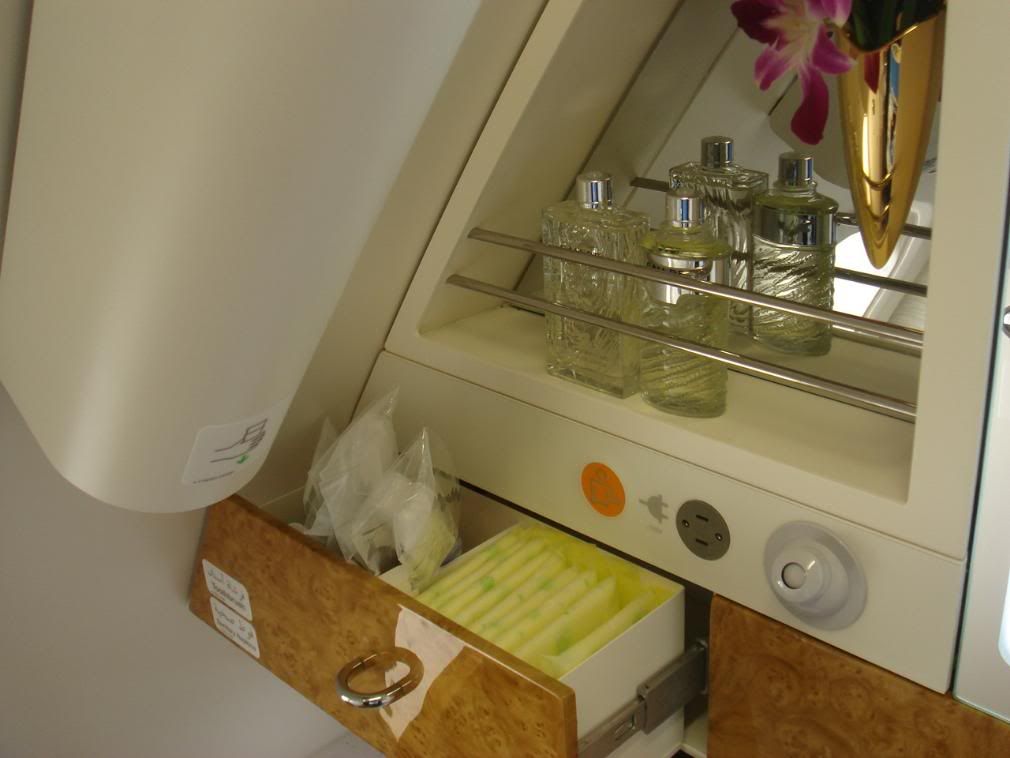 After lunch Roni & I did a bit of exploring including heading down to the lower deck. The crew had pulled a retractable barrier to stop economy passengers trying to visit us, there were many on the stairs as we headed down asking how life was upstairs.
Galley
Down the back staits to the lower deck
The lower deck as you may know is all economy, mostly a 3-4-3 layout. The seat pitch appears to be quite generous, say 33 or 34, however, if travelling in this class, try and snag the forward section which ends at row 50, that's the most private/smallest cabin.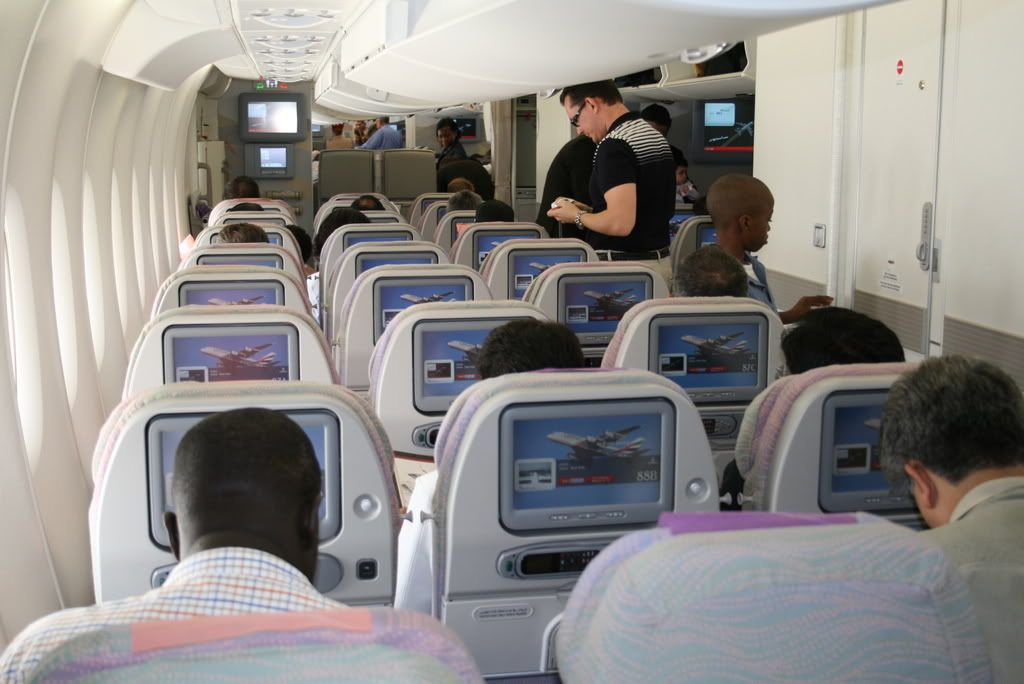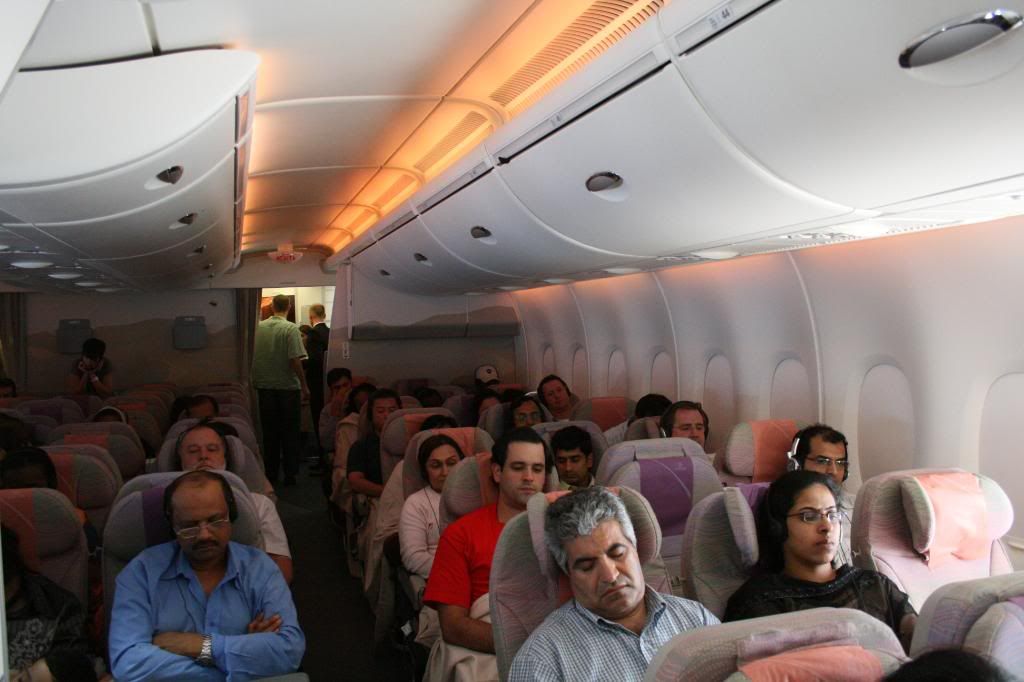 I noted the rear lavatories had queues at least 10 deep at one point, nice.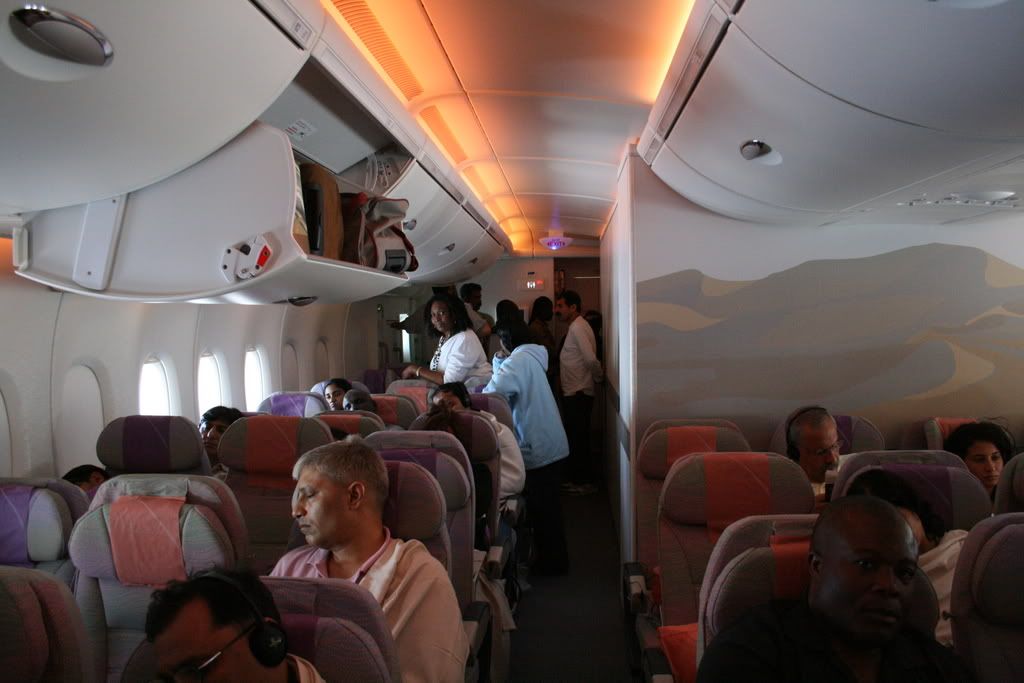 The stairs to First Class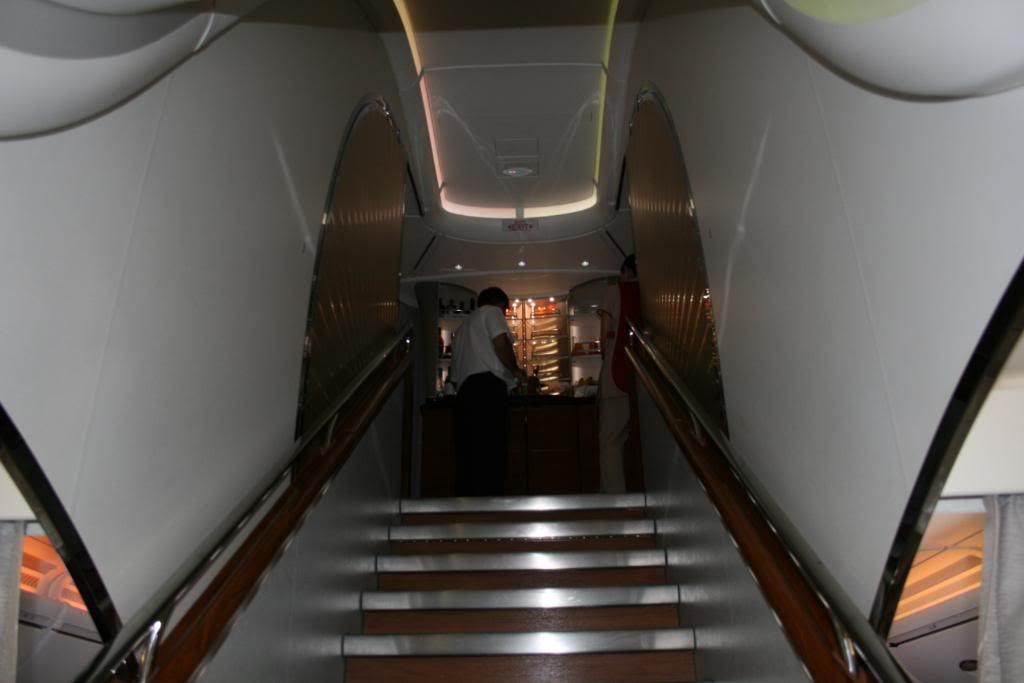 Economy with the window shades closed
Roni having a snack.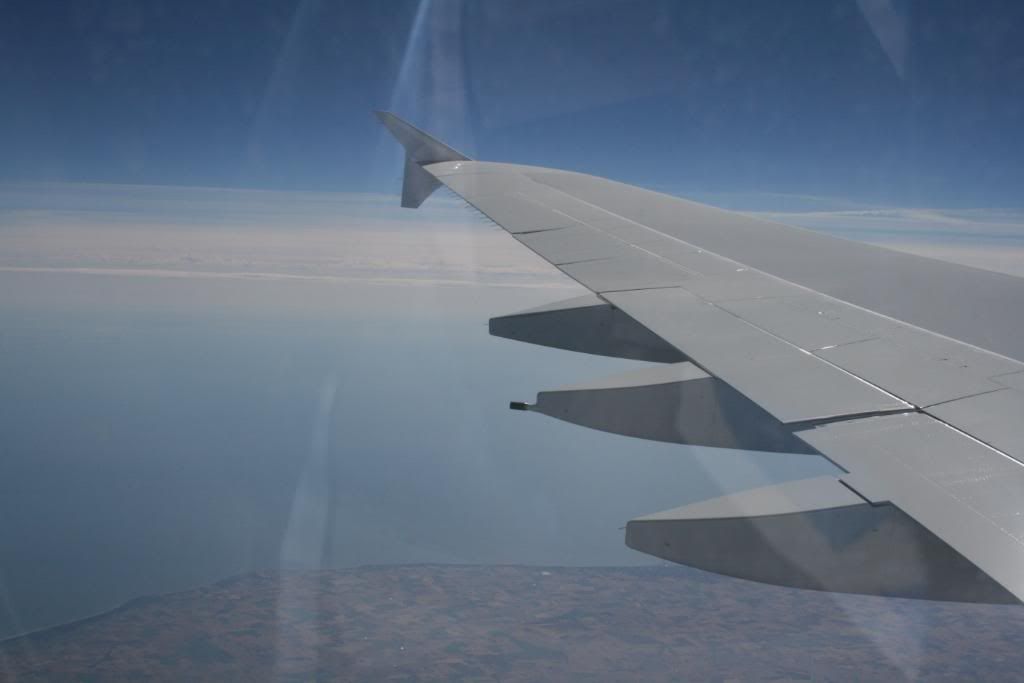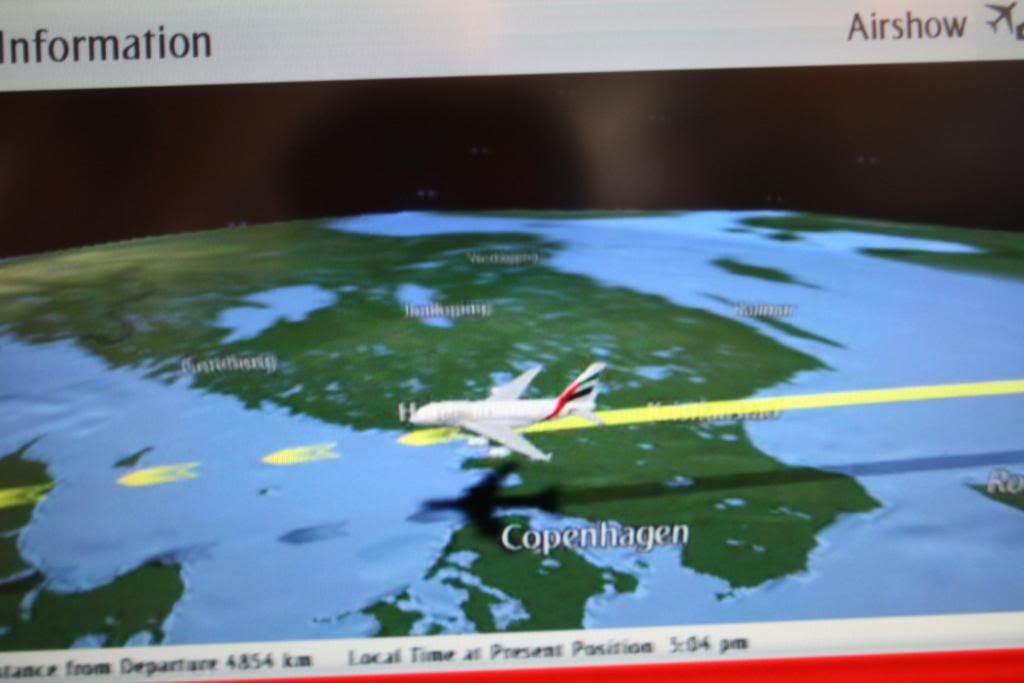 The crew were having issues with the galley equipment, several carts appeared to be abandoned through out the plane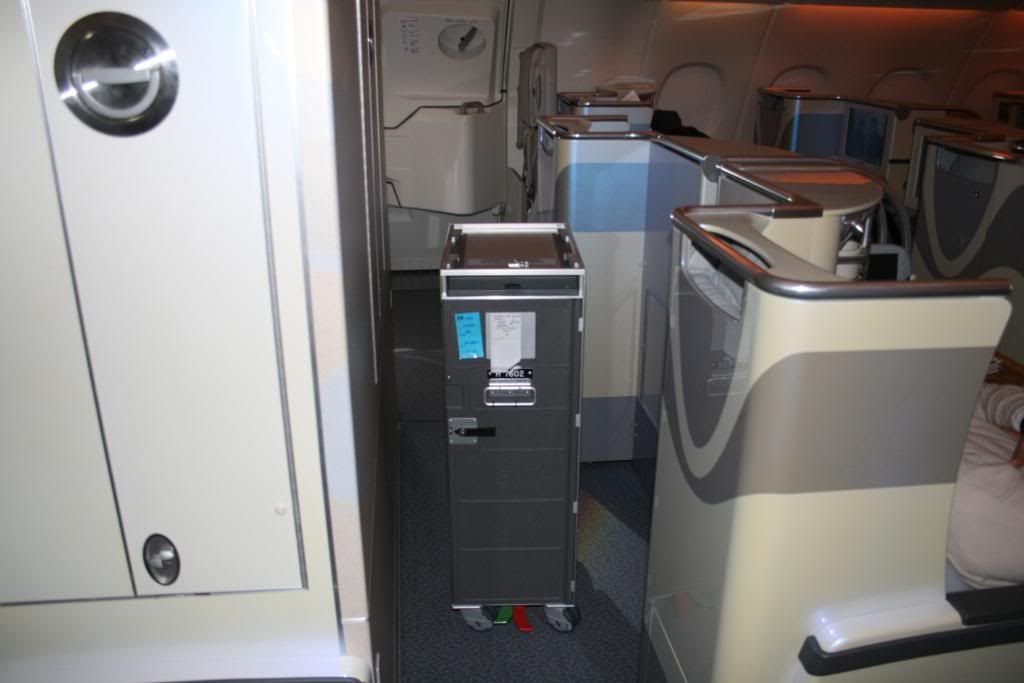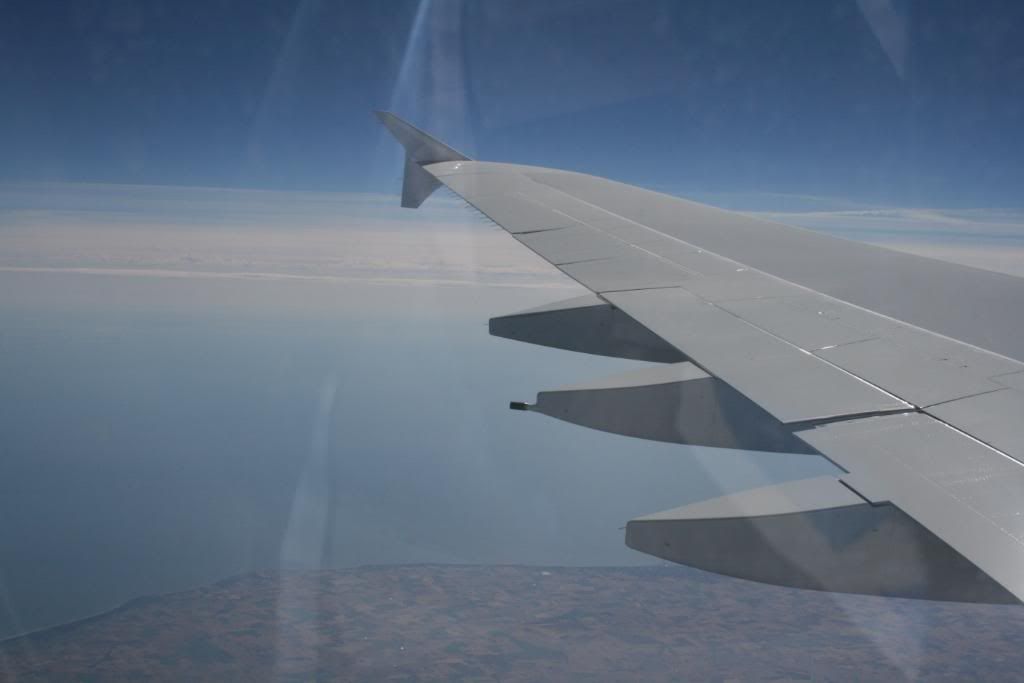 Crew rest area in the rear of economy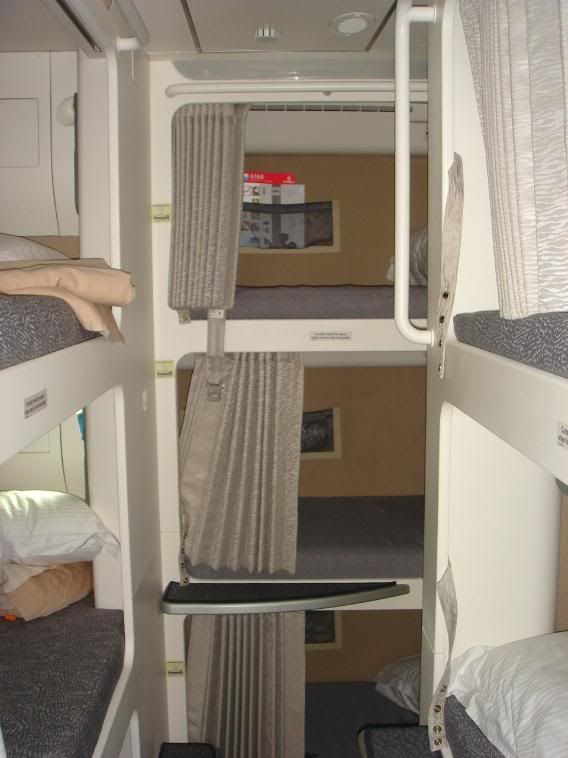 Logo on the wall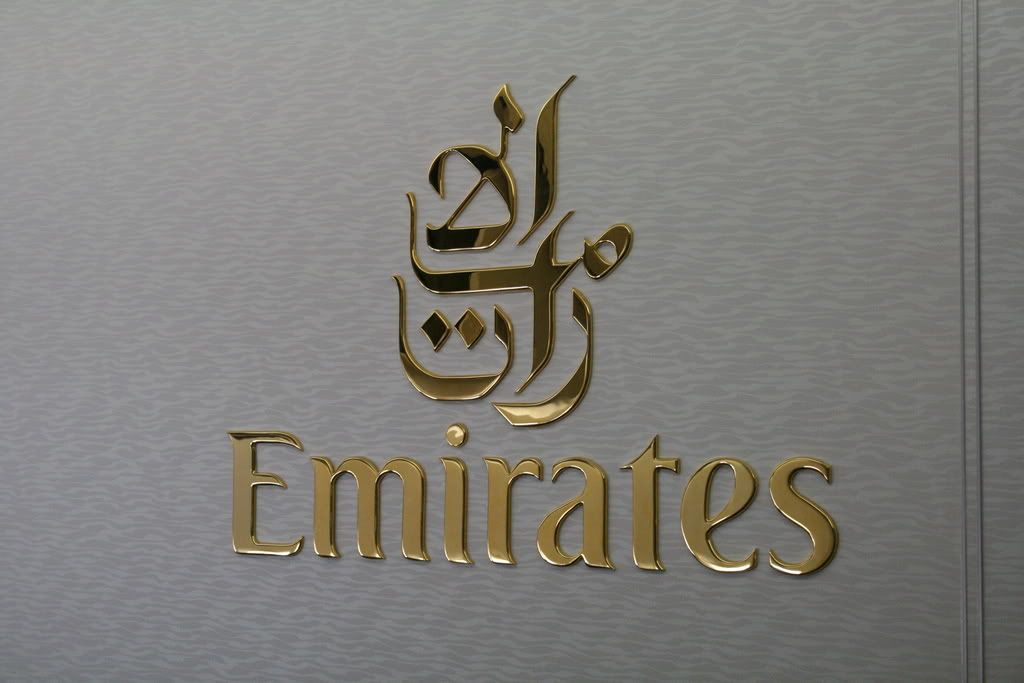 After much roaming, and drinking at the bar I headed back to A.NET work.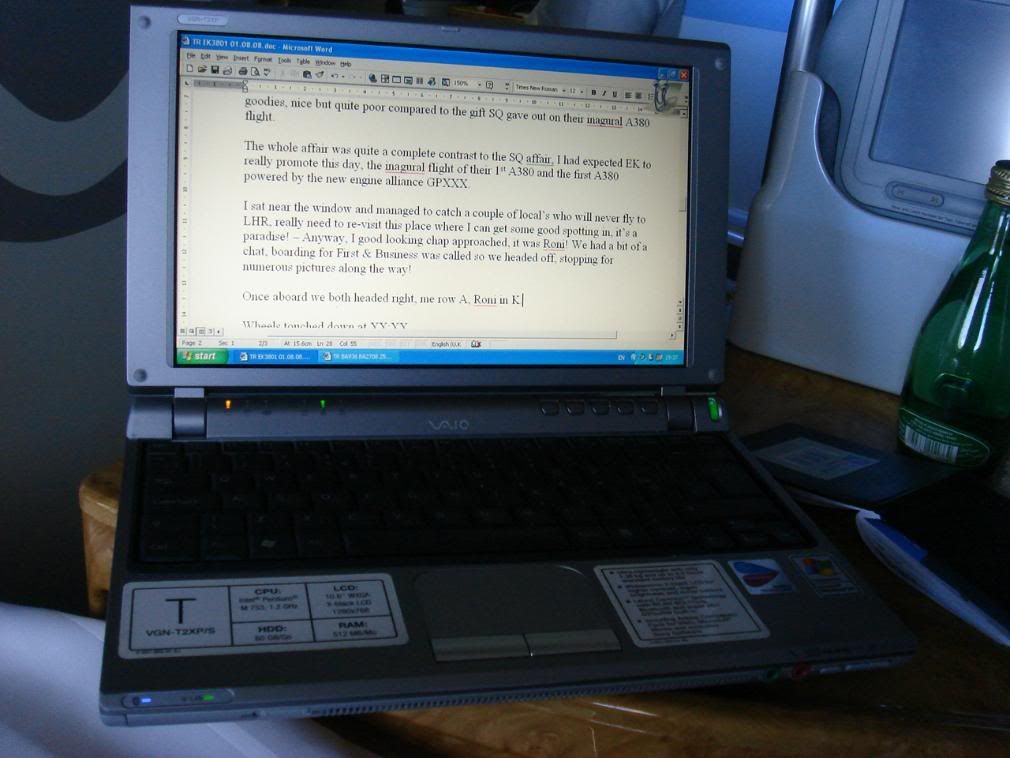 At one point I got a bit tired so put the bed in lie flat mode, pretty comfortable, dropped off for about 4 hours.
Another snack when awake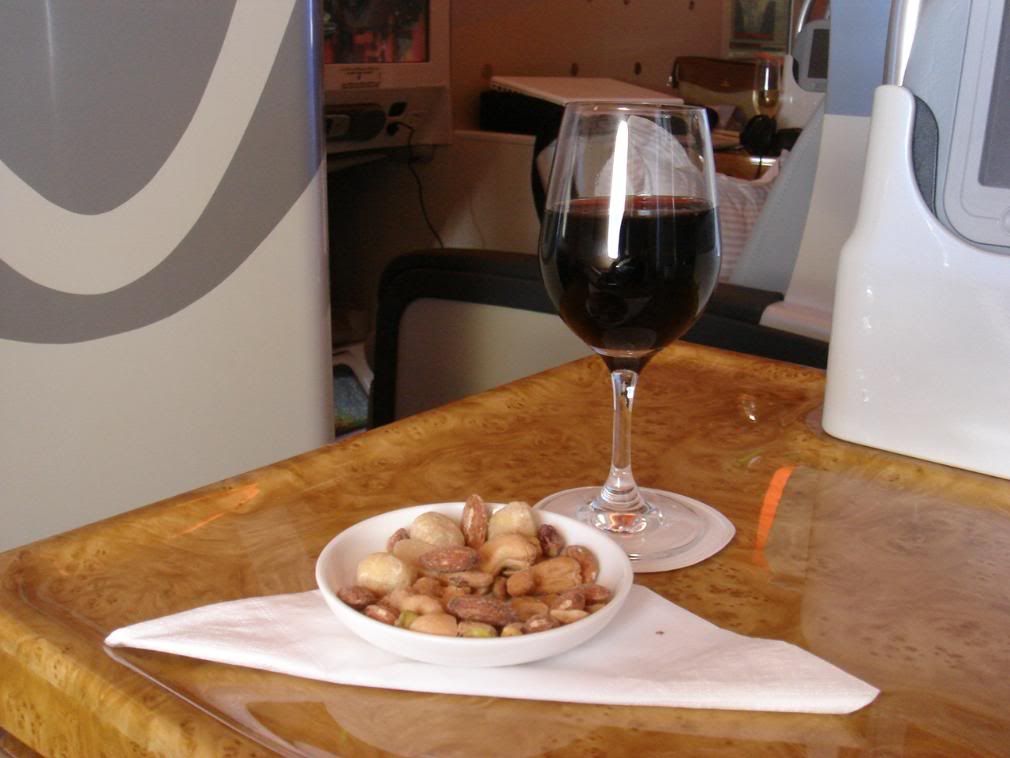 Charging equipment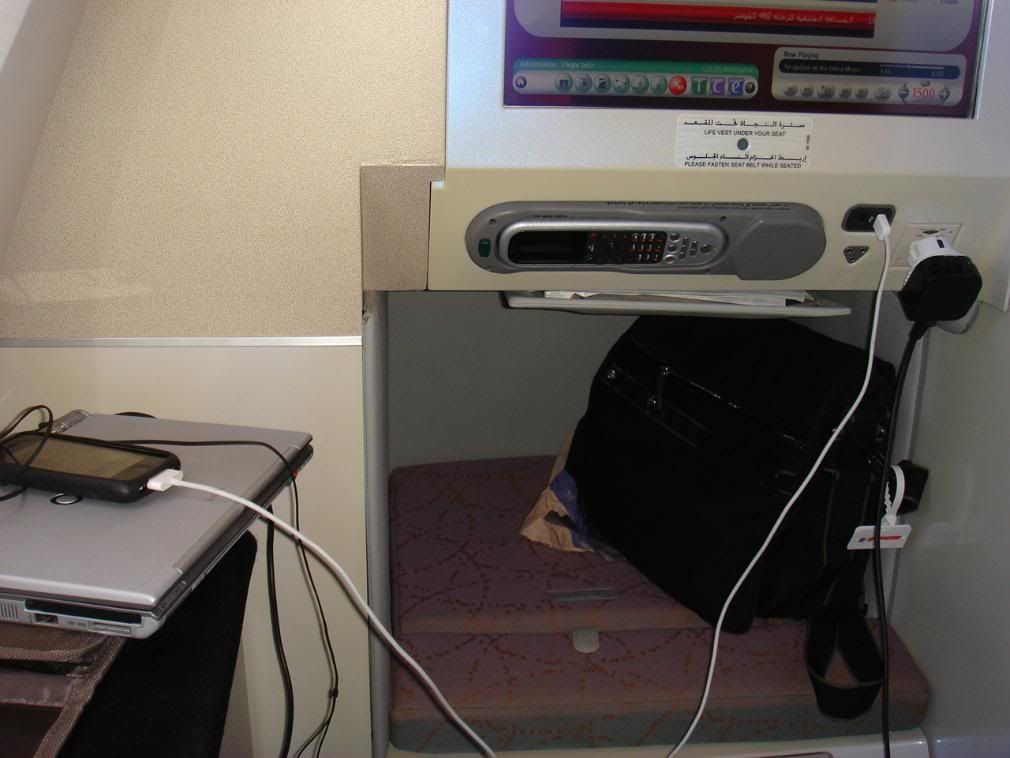 Last orders were taken at 21:00 Dubai time and served shortly after, well some were. Roni came back, his meal was over and done with, I'd yet to have the table set up!
Took the chicken this time, followed by the cheese plate, all went well except the wine never managed to arrive, nor did the port to go with the cheese, the error was realised but by then everything was pretty much eaten.
Hmm, a bit limp,,,,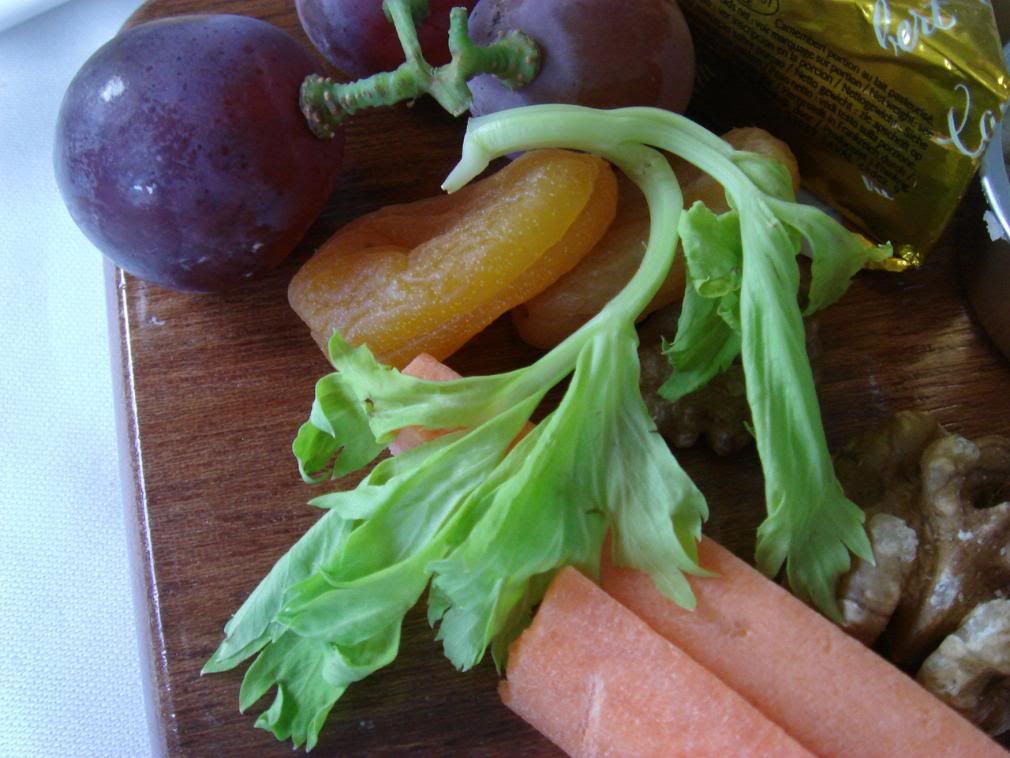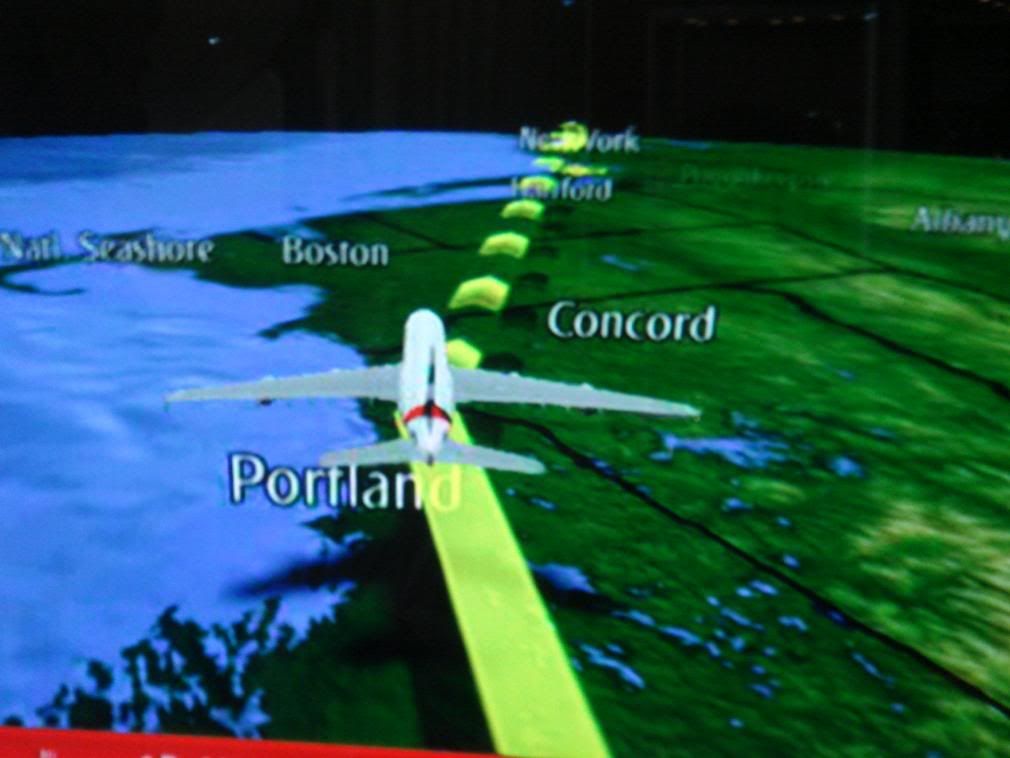 Business Class with the window shades down
Descent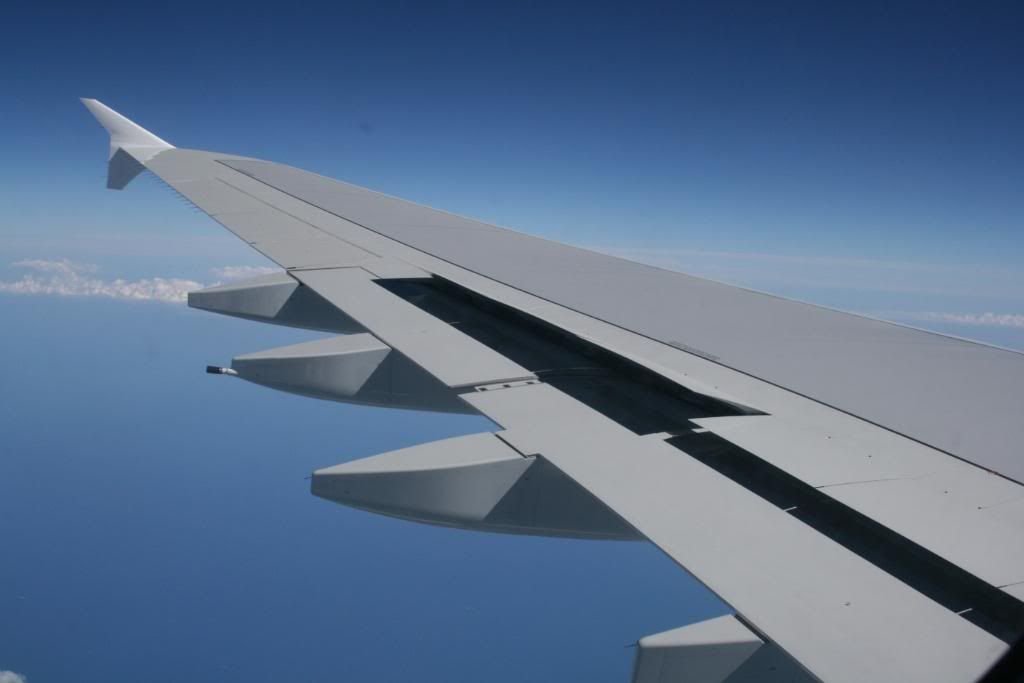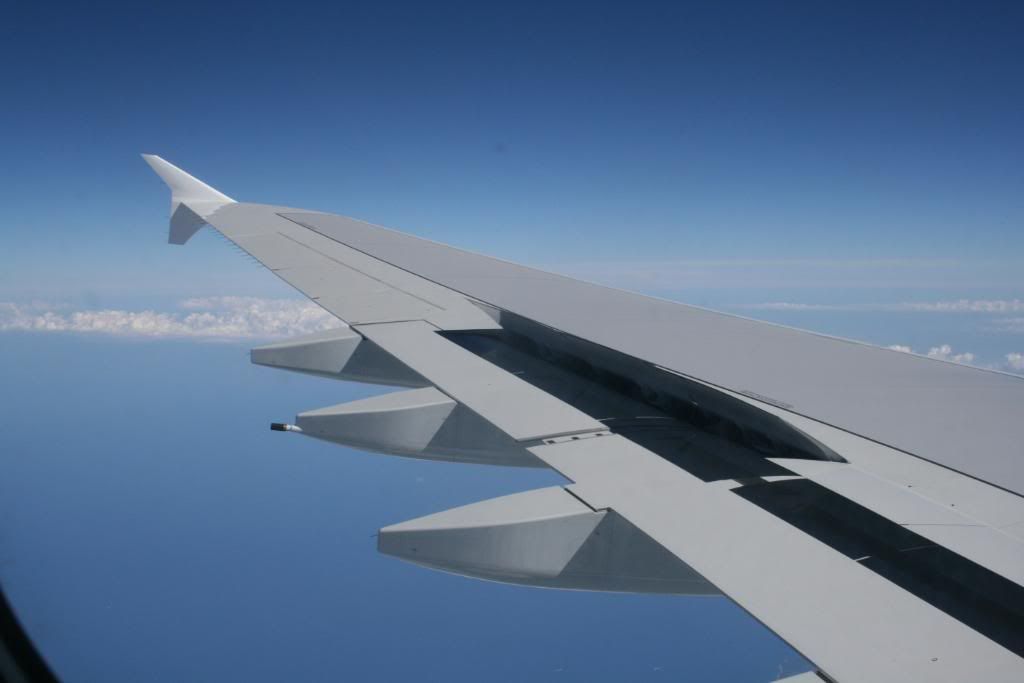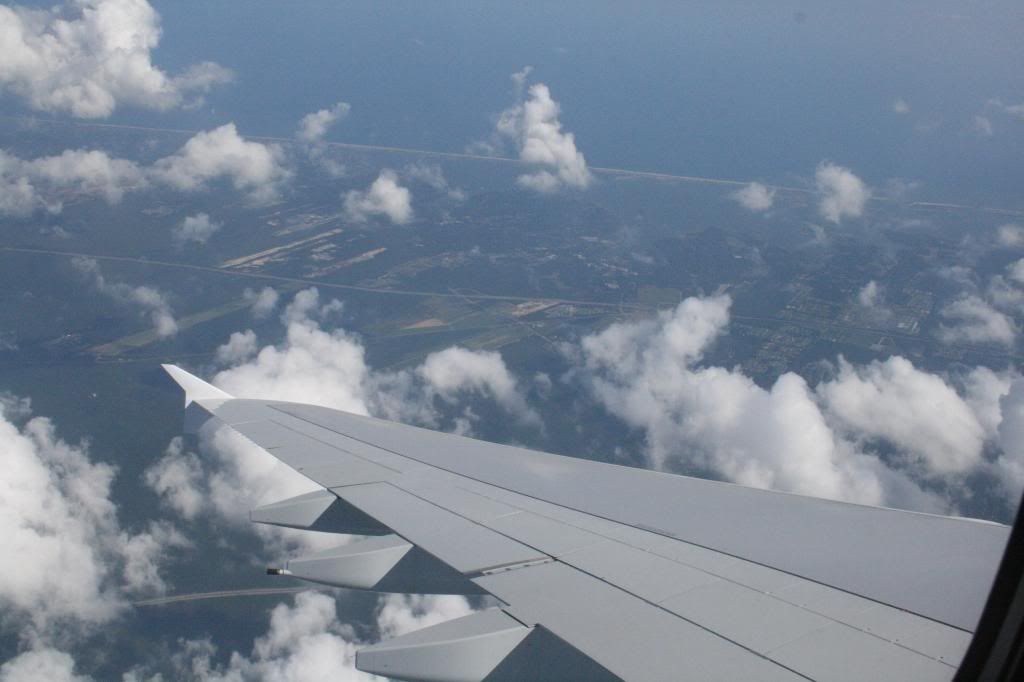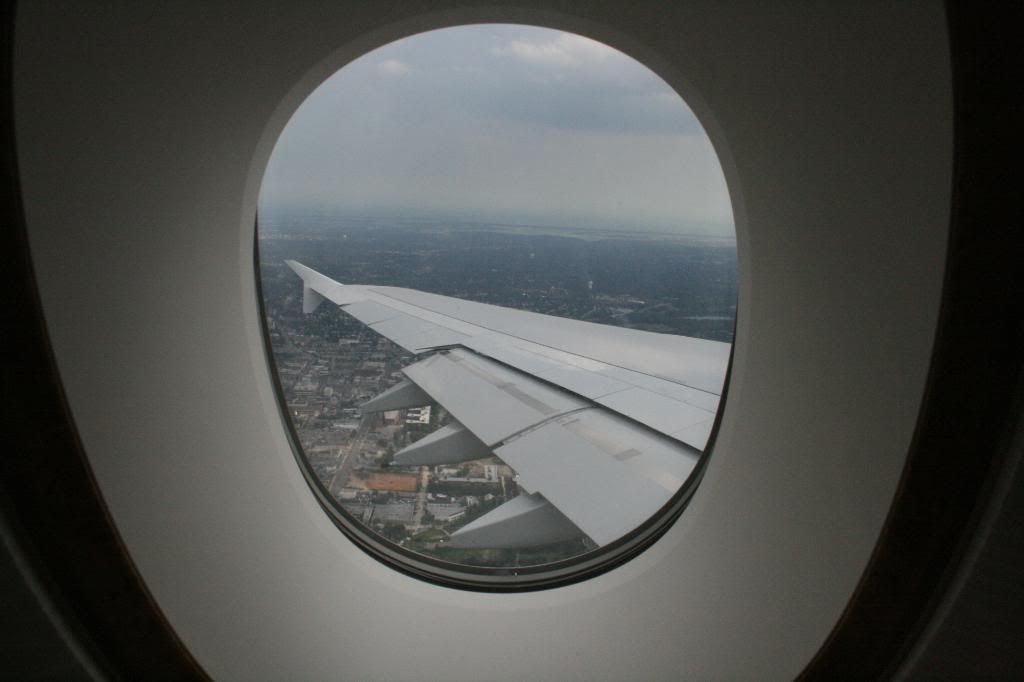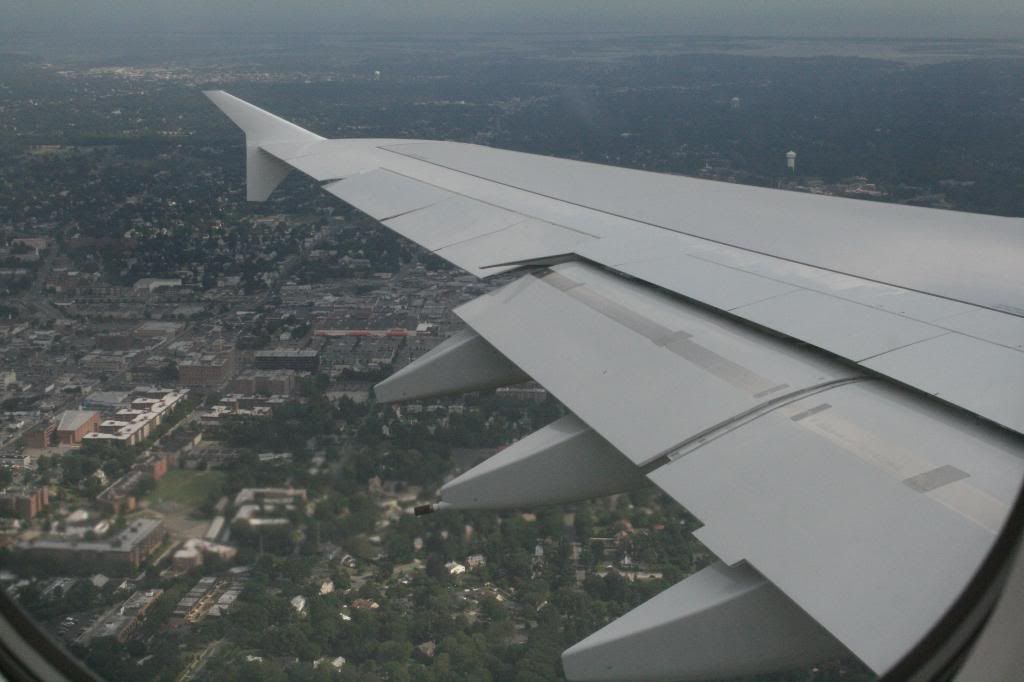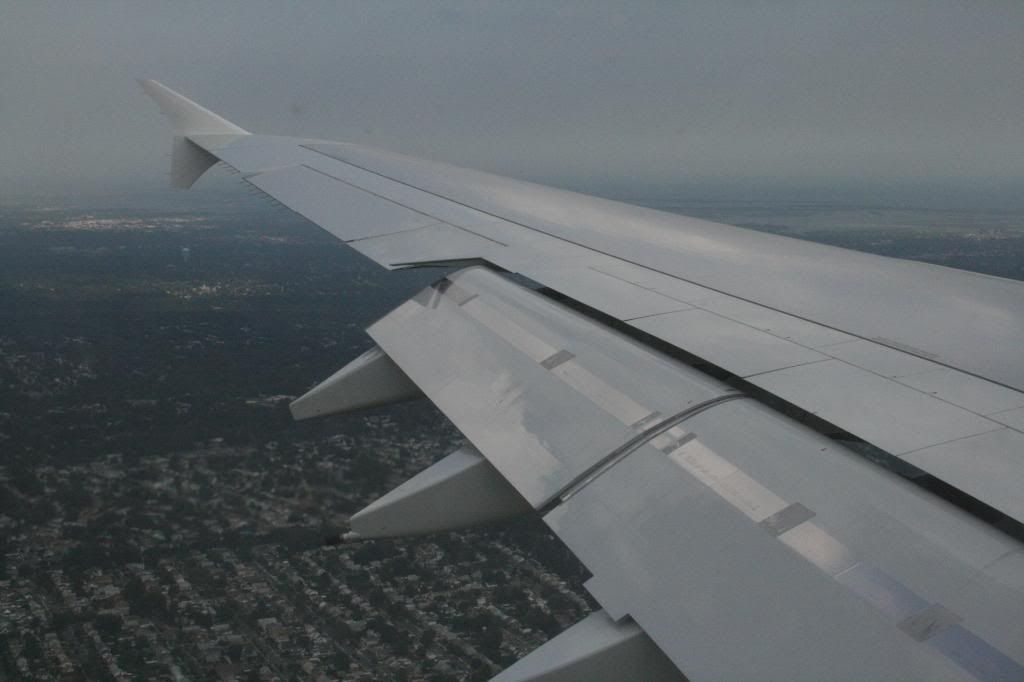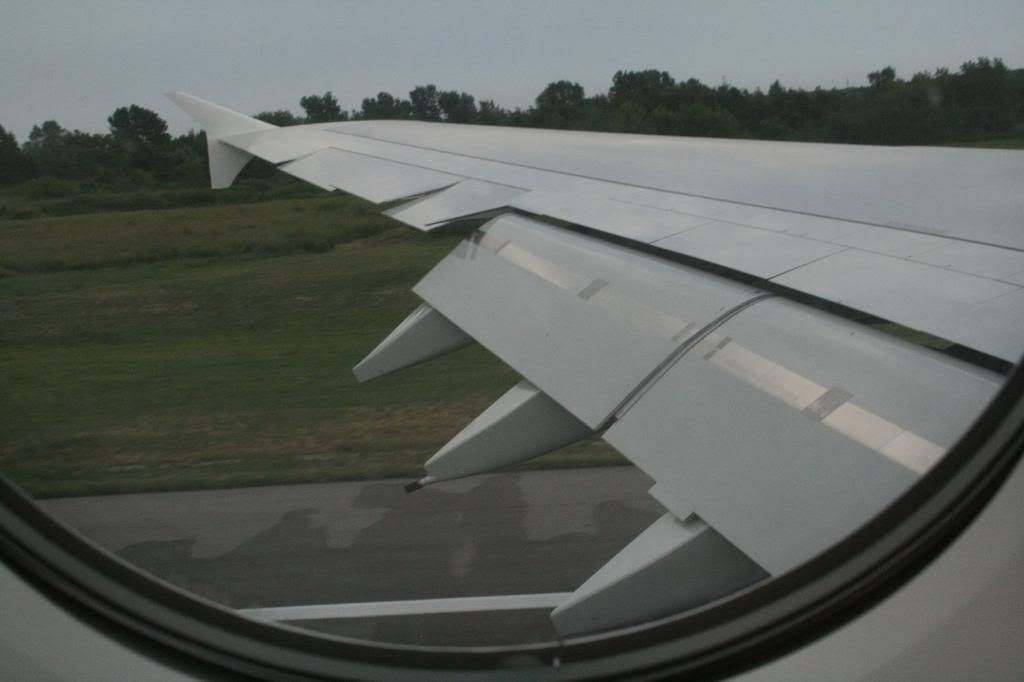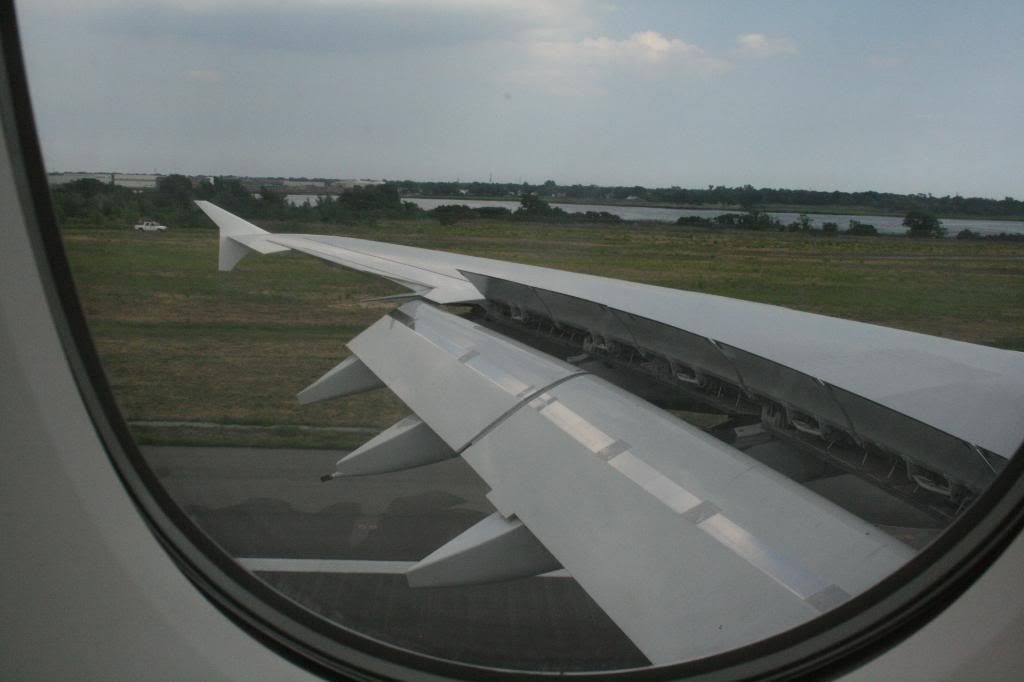 Wheels touched down at 16:30, not the smoothest landing ever though, I think he planted the plane rather than kissed the runway!
Total flight time was 13:10 on the dot!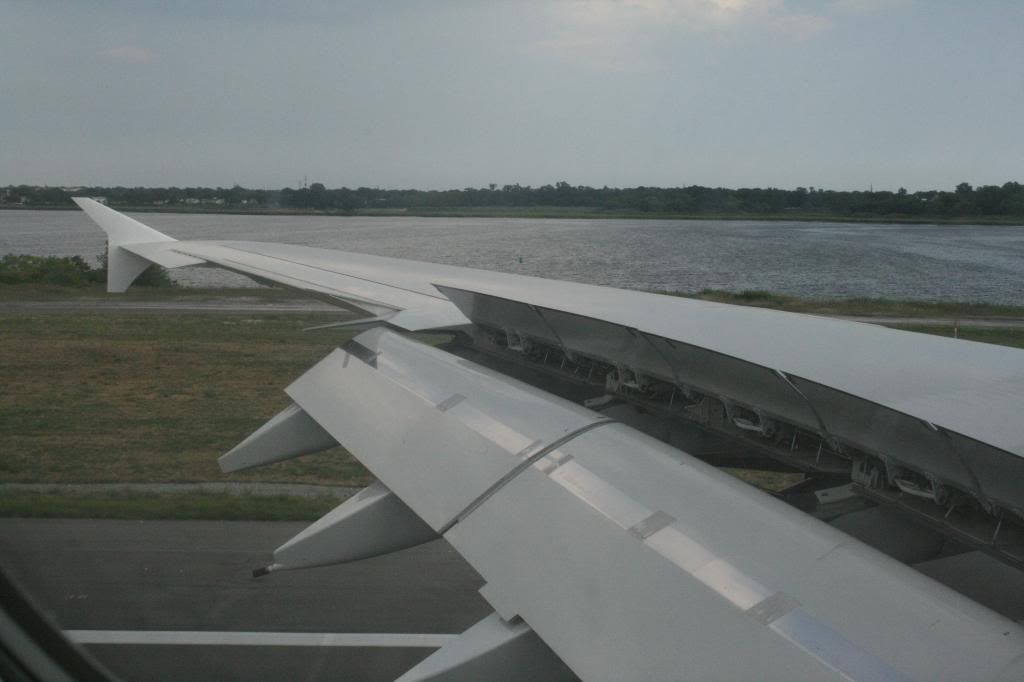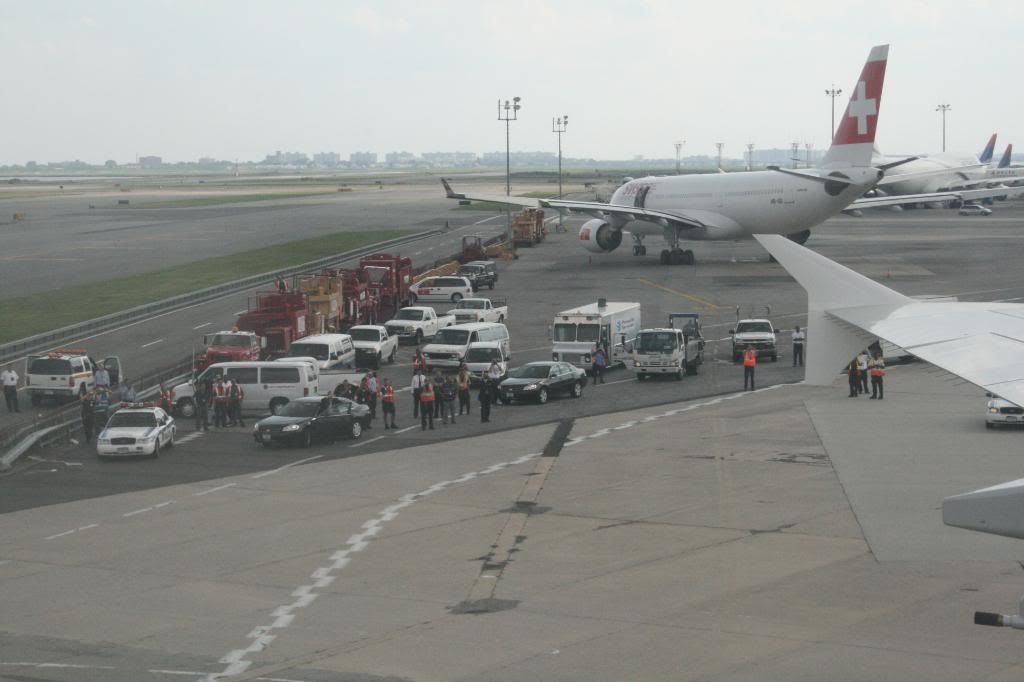 the cockpit announced that the fire service would be giving the plane a water cannon welcome, it was noting to worry about.
Here is a picture of the event, I was lucky to catch it, such a short blast of water, don't actually think it touched the plane.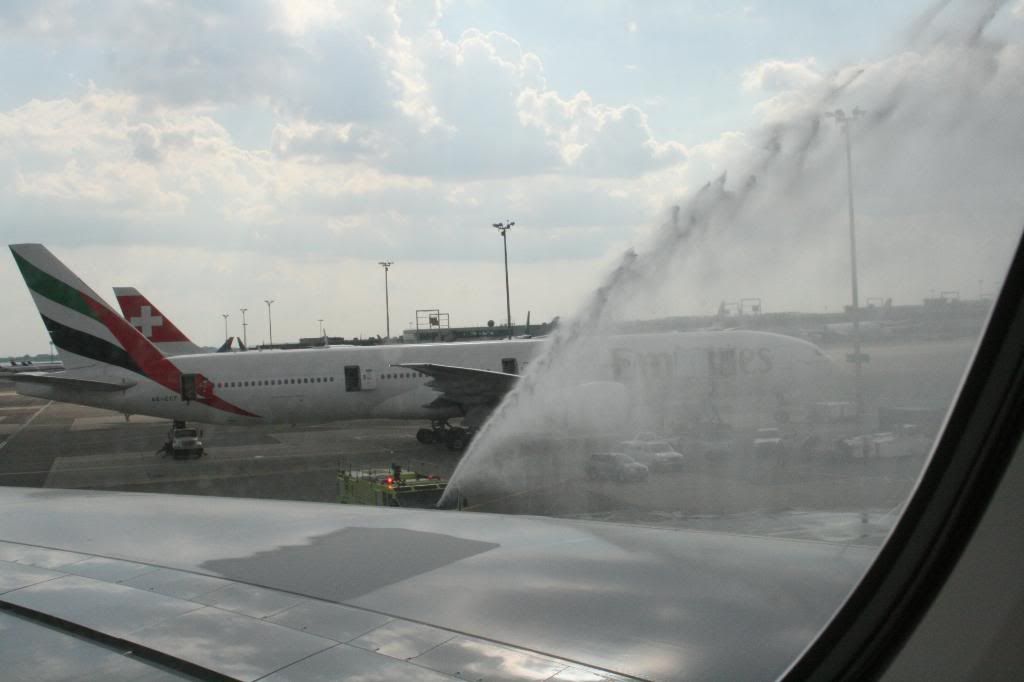 One of these 2 is my next ride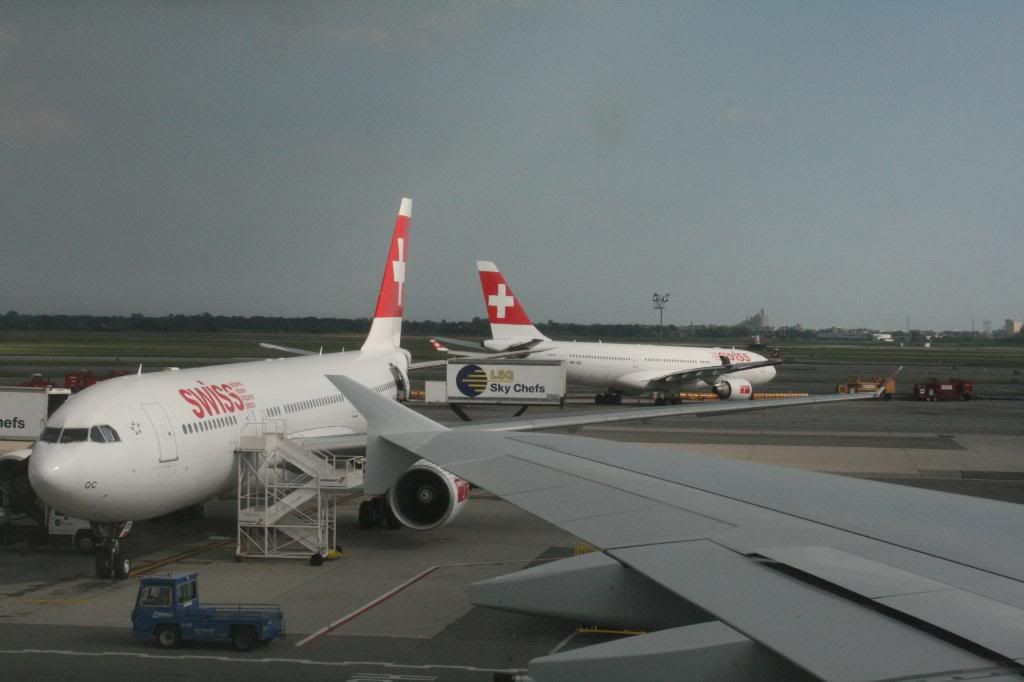 Saw this bird in DXB earlier today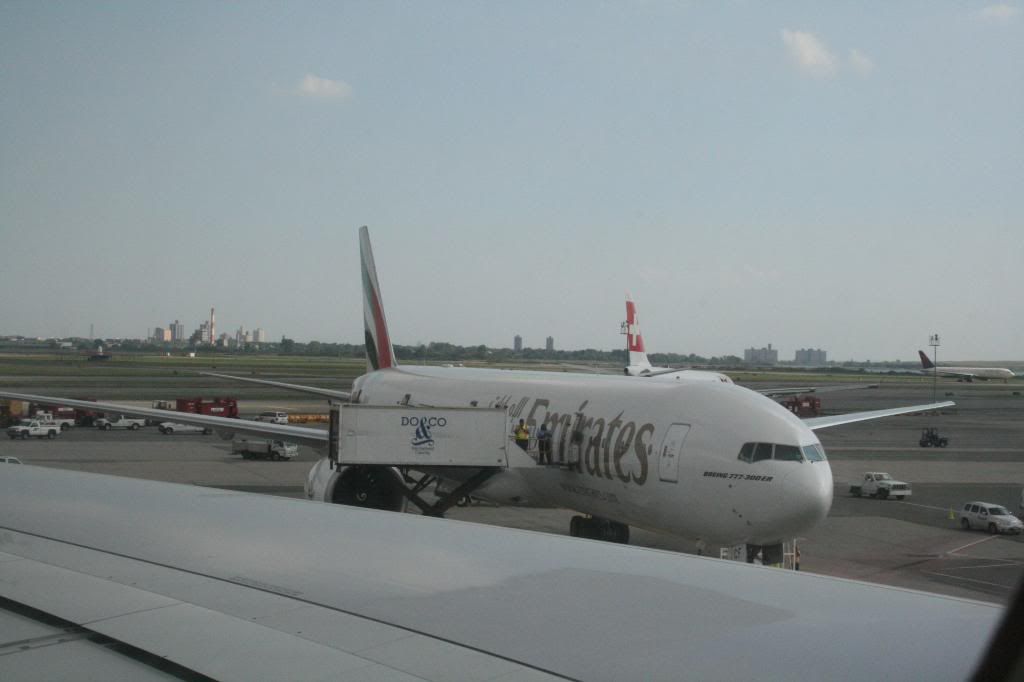 A slow taxi to Terminal 4, parking to the right of an Air India 77W, this plane would be heading for London later that evening.
Immigration was pretty heavy for this time of day, Roni has a US passport, he was through and outside having a smoke even before I got to a counter!
Once through we met up again, headed up to departures, then outside into the sun, lovely evening there, would have been nice to spend a night on the town, but no, return trip's awaited us, me to LHR via ZRH, Roni back to DXB on A6-EDA.
We both headed to our respective check-in's before meeting up to go and hit our lounges.
Thanks for some good company and conversation Roni, look forward to meeting up again.
The crew were excellent on this flight, nothing was too much trouble.
I don't remember all the name's (sorry) but Toby and Bec, many thanks, you were excellent!
Summing Up:
Whilst the service was patch at times, drinks not appearing with meals or second courses taking a long time to follow, this was all down to lack of time getting to know the aircraft, they got it Tuesday night, 3 days later they had the first flight, the small problems are quite forgivable at this point as they get to know the aircraft.
F & J cabins are excellent, layout is great, seats superb. Economy is pretty good but I'd not want to do this particular flight in economy, several passengers in the immigration queue who had flown in economy said they would not take the same route again, preferring to take a 1 stop flight instead.
Many of you will know this is my second A380 flight, both on inagurals. The A380 is a superb plane on which to fly, it is roomy and depending on customer fit out, a comfortable aircraft too. I might be wrong, but the SQ RR machine seemed quieter than this EA powered one, anybody else travelled on both and can advise their opinion?
Thanks for reading, hope you enjoyed the trip so far, next part, LX15 & LX to follow!
Kind Regards
Mark
Future confirmed flights:-
LX JFK – ZRH 332 (F)
LX ZRH – LHR 321 ©
BE LGW-IOM – D84 (Y)
BCI IOM – JER – DO3 (Y)
BE JER – LGW – 190 (Y)
BA LHR-JFK – 744 (J)
CO EWR-HNL – 764 (J)
HA HNL-ITO – 717 (Y)
HA ITO-HNL – 717 (Y)
HA HNL-OGG – 717 (Y)
HA OGG-HNL – 717(Y)
AA HNL-LAX – 752 (F)
BA LAX-LHR – 744 (J)
SN LGW – BRJ – AR1 (Y)
SN BRU – THF – AR8 (Y)
BA TXL – LHR – 320 (Y)
BE LTN-IOM - D84 (Y)
BE IOM-LTN - D84 (Y)