Background
In Summer 2007, I decided that I wanted to visit Switzerland for about a week in 2008, as a small holiday after the end of 6th form. Initially I was only planning on flying Economy, however I decided to look around at the Business fares on AF, KL, LH, LX and BA to ZRH. Once again BA came out on top at around £360 return. In August, I received around £300 - as I already had about £100, my mind was made up. I booked the flights the next week, and that was that! Much later on, my parents decided to make it a family holiday. They wanted to search for the cheapest flights to and from ZRH, leaving the task to me. Initially U2 seemed to be the cheapest; however LGW-ZRH with BA came out cheaper at around £160 return for 2 people. This also suited as we'd both be leaving from London airports and they could drop me at LHR first, before going on to LGW.
Outbound
Airline
: British Airways
Flight Number
: BA0716
From
: London Heathrow (Terminal 5)
To
: Zurich - Kloten International
Depart
: 13:40
(Actual)
: Off Stand - 14:01, Airborne - 14:31
Arrive
: 16:25
(Actual)
:Touchdown - 16:55, On Stand - 17:00
Aircraft
: Airbus A319
Registration
: G-EUPM
Class of Travel
: Club Europe
Seat
: 3A (Window)
Our journey started at 2am on Friday 25th July. The motorways down to London were quiet and we joined the M25 about 2 hours later, which was slightly busier but nothing that would cause any trouble. Originally, I had planned to be dropped off at LHR T5 before my parents would continue on to LGW. However, this would've meant I'd arrive at T5 about 4am... and since my flight didn't depart until 13:40 it was just too much time, even with lounge access to keep me occupied. I looked at the National Express website and saw they had plenty of options between LGW and LHR, and opted to take the 06:30 direct to Terminal 5, arriving at 07:15. Onwards we proceeded to LGW, my first visit to the airport. After we parked up at the Summer Special' car park, we caught the courtesy bus to the North Terminal and arrived about 10 minutes later.
Once inside the terminal, which was relatively busy, I took my parents to the BA Self Service Kiosks, and printed their boarding passes for their flight, BA2750 at 08:05. After this, they queued and dropped off their bags at the fast (debatable) bag drop, and we proceeded downstairs for a few drinks. Soon enough, 06:15 rolled around and I walked down to the coach pick up point and awaited my coach to Terminal 5. Two of NEX's newest coaches pulled up but neither were mine... the guy operating the coach to Bradford said he was dropping at T5 only for LHR, and I could get on his. I said goodbye to my parents, loaded my luggage onto the coach and got onboard. The M25 wasn't too bad, even at 06:30, and we arrived at Terminal 5 bang on 07:15. Not bad, as I'd been expecting the M25 to be a car park. A few observations – the LGW North Terminal looks tired and well used, but I suppose it's functional. Maybe I'm just spilt by Terminal 5 though! The coaches were relatively new to the NEX fleet, yet they were dirty inside and the seats uncomfortable. The seat pitch was also pretty bad for someone of my height, and I wouldn't really want to be onboard for anything more than an hour. However, it got me there on time so I'm not particularly bothered.
I collected my luggage and headed to the lifts to take me up to level 5 of T5, Departures.
Once inside I immediately noticed it was much busier than on my last visit to. I headed to the Self Service Kiosks and printed off my boarding pass, and made the hard decision of which lengthy queue for fast bag drop (they really shouldn't call it that...) I wanted to join. After around 20 minutes in line, another desk was finally opened, and I was able to check my bag in. The lady dealing with me gave me a shock when she said I couldn't check in until 3 hours before my flight – luckily she noticed I was flying Club Europe, apologised and said of course she could. Phew! After this she recommended I use both South and North Galleries since I had so much time on my hands. I liked the recommendation, and she dealt with me efficiently and with a friendly attitude. After watching my bag disappear, I walked over to South Security and was met by lengthy queues – however, as soon as I arrived they opened another screening channel and I moved to that line. This meant I was done in less than 5 minutes, and I didn't even have to remove my shoes this time. I emerged on the upper level of the departure lounge, and decided it was time to head to the Galleries South lounge.
Now, I'm sure it's very nice for First passengers to get into the lounge and Concorde room, but they don't half make you work for it in Club! After a long tour of the BAA Shopping Mall, travelling down one floor, I came to the entrance of the Galleries South – where I had to go back up some more escalators, and up once more! Finally I arrived and I went straight to the table area near the food, since I'd had no breakfast. I can't remember exactly what was on offer, but there was a varied selection from cereal, croissants and bacon rolls, to cold meats and fruits. I opted first for a plate of cold meats, which were actually quite nice. In the following hours spent in the Galleries South, I managed to polish off 8 bacon rolls... and it probably would've been more had I not wanted to seem like a greedy pig (although I did a good job anyway
). They really shouldn't leave all this food out for me...
Haha. One gripe I have about the lounge is the refrigerators they use to store the cold drinks... I don't know whether it's just because they're so fully packed, or whether it's a fault with them – but even reaching right to the back produced a cold can of Coke! I still had several anyway, but warm Newcastle Brown isn't one of my favourite drinks! Luckily the wines, I tried a Sauvignon Blanc, were chilled enough. Other than this, the lounge was very smart, modern, spacious and well laid out. I do fear, though, at busier times it would be a tad too full. I went over to the work area where I managed to spend some time on the PCs checking emails and speaking to a few friends, whilst spending the last hour or so lounging around with numerous cups of teas at the windows near 09R, giving fantastic views of taxiing and departing aircraft.
At about 11:30 I decided it was time to go and have a look at the North Galleries. After trekking down the masses of escalators, and passing once more through the BAA Mall, I came up the escalators to the North Lounge. First off, it's much smaller than the South lounge, and has slightly less on offer in the way of food and drink – however, I found it quieter and with less people in. There's also an area through some glass doors which leads to a balcony sort of thing. I again snaffled the bacon rolls (oh dear), and headed to the PCs with another cup of tea. These PCs have the best view – right out over 09L, so I watched a fair few arrivals coming right past the window – that is until they switched the runways to the 27s! At about 13:00 I was still waiting for my flight to show a gate number – all other flights before, and some after, had now received their gate, but mine was still showing nothing. I thought to myself, there's either a delay, or we're flying out from one of the closer A gates. It turns out I was correct on both accounts! At around 13:10, 10 minutes before the scheduled gate closing time, gate A9 showed. I picked up my bag and walked the short journey straight out of the lounge, down the escalator, and first left to gate A9 – I'm glad I chose the North Galleries last now!
Arriving at gate A9, as most passengers had already turned up, there were few spare seats going. I chose to stand up and wait instead. By 13:30, boarding was announced and it was very clear now that we'd be departing later than planned. As I was standing right next to the gate, I was the first into the queue and first to board – just as well, since BA doesn't do priority boarding for Club Europe passengers, it seems. I headed down the stairs to the air bridge, and reached our A319 for the afternoon – G-EUPM. The older female purser greeted me at the door and checked my boarding pass and thanking me. There were only 3 rows of Club Europe on today's flight, and I had purposely chosen 3A for several reasons. In the event Club is full, I would have nobody sitting directly next to me in an A seat, and sitting further back you have less chance of having someone next to you at all if the flight is less than full. So I sat down and settled into my comfortable seat for the flight.
I kept my eye on the passengers boarding, but alas nobody sat next to me – nice! The only other person in my row was a young man in 3F. Today's load in Club Europe was 66%, but I don't know what the load was in Euro Traveller, though it was fairly high. Shortly after boarding was complete, the Captain came onto the PA and apologised for the delay, citing the late arrival of the inbound for our delay, which had a knock-on effect. Another reason for our delay was that a passenger had failed to make the flight, and we had to wait for their baggage to be offloaded. He said we'd be pushing back in about 15 minutes, and that we'd be a bit later as they were operating at a reduced flow on the particular routing we would be taking to Zurich today. He also noted that the weather was good for our flight and we should expect it to be smooth for the duration. The male member of cabin crew at the front of the aircraft came around before pushback with hot towels, which I thought was nice – nice and clean, and it woke me up a little bit after my long day before. The purser then came and collected them. Pushback occurred at just after 14:00, so we already had a 20 minute delay to contend with. The safety video was shown on the overhead screens, and we started our long taxi down to runway 27L.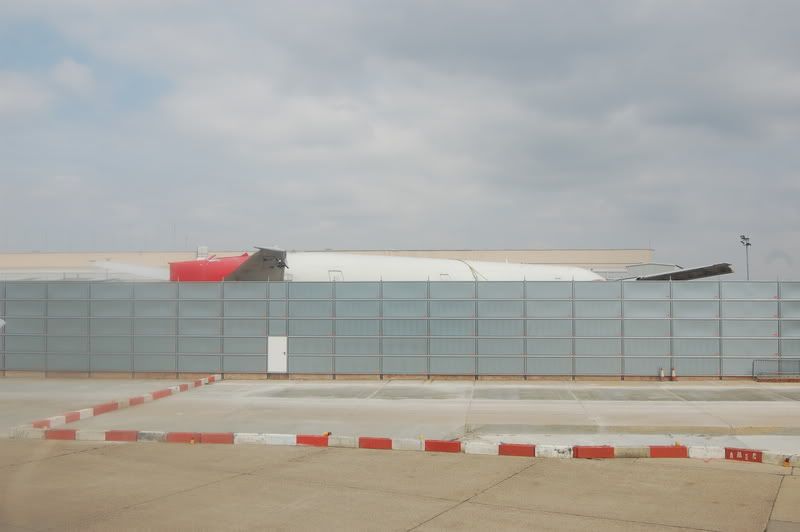 Passing the stricken G-YMMM
There was a fair queue for takeoff; we were behind a BA 757, BD 757 and a BA 744. At one point the Captain again came on to announce that we were in the queue for takeoff and would be about 5 minutes, and as he was finishing up the BD 757 in front of us applied some thrust and it was shaking our Baby Bus around a fair bit. Never experienced that before! After the BA 744 had departed, we lined up on 27L, and 2 minutes later we started our takeoff roll. We rotated into the London skies at 14:31, some 30 minutes after push, and immediately hit some light turbulence, possibly from the BA 744 previously, and took a sharp turn to the left over the reservoirs, affording us a relatively good view (aside from the haze) of Heathrow after departure.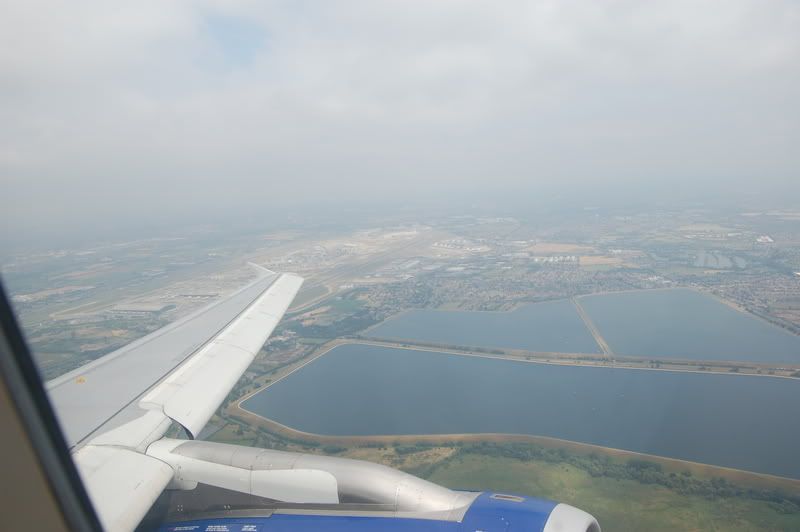 We continued our ascent to cruise altitude and about 15 minutes after departure the curtains behind my seat were closed so as to separate the Club Europe cabin, and the meal service began. The purser distributed the meal trays to the passengers, and a warm selection of breads was available from the bread basket. The one I chose was fantastic – very soft and just warm enough. The meal consisted of a Prawn Salad with Chocolate Mousse for desert. The Prawns were just right, and the sauce they were served in tasted great, just a little spicy, but not too much. The salad was crisp and tasted okay, especially with the prawns. The Mousse also tasted great. All in all I was impressed with the food offering in Club Europe, as it tasted great and was served tastefully, with metal, BA branded, cutlery and BA china and glass. The purser again came around with the bar trolley, from which I selected a Vodka and Coke. I didn't realise there was so much Vodka in the bottle, and poured it all into my glass... woops. Let's say it was a little too strong as I couldn't fit all my Coke in! I'll never make that mistake again, that's for sure... The service by the purser was with a smile, efficient and friendly... but that was about all. It wasn't anything spectacular. After the bar service I chose tea – it wasn't too bad, considering it's on a plane. The trays were collected and I was able to settle in for the rest of the flight and take some photos, and just sit back, recline and relax. One thing I noticed is that after the meal service, the purser and FA stayed mainly in the galley, and we didn't really see them again until it was time for landing. A very different story compared to the return!
We were cruising today at 39,000ft and the weather below was relatively clear with small clouds dotted around everywhere.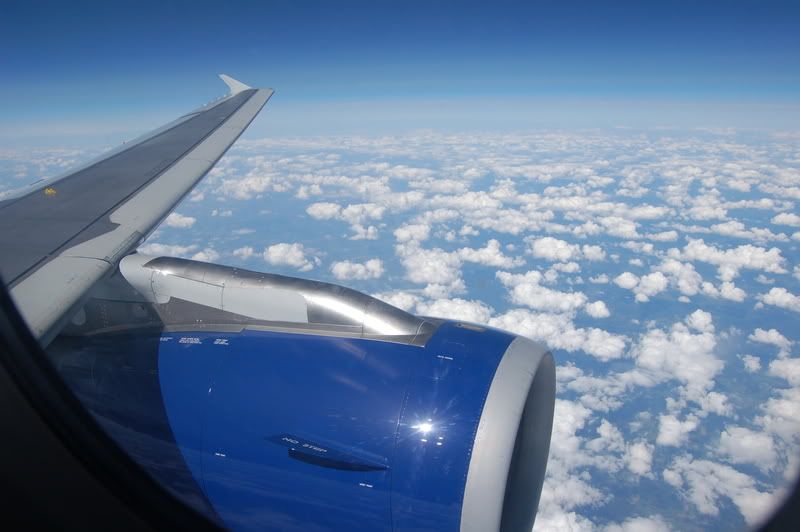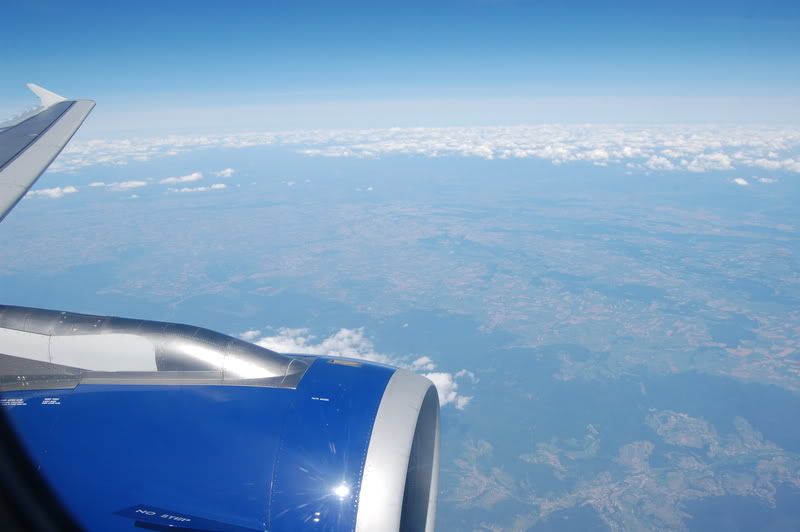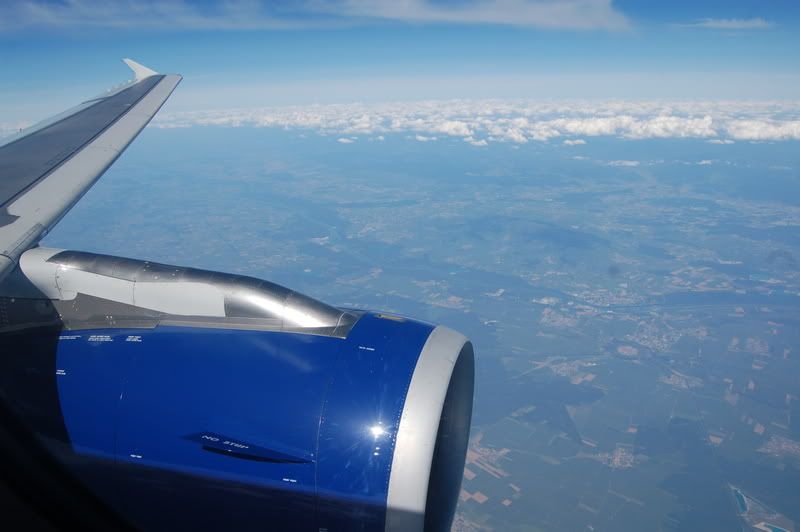 The seats in Club Europe boast a slightly larger seat pitch than Euro Traveller, and since I'm tall I really noticed the difference and enjoyed having slightly more personal space. The seats were very comfortable and I managed to relax nicely, while the B seat is squashed inwards leaving A and C with slightly wider seat widths, something which I also enjoyed. The DEF seats don't really have this, hence why I went with an A seat. Unfortunately, the couple in row 2 A and C were the only two in the cabin to recline their seats... all the way back. Ah well, it wasn't so bad during and after the meal service. During cruise, the First Officer announced over the PA that we would be landing in about 40 minutes, which translated into a 16:50 arrival time, and that we'd made up some time despite head winds. He also said that the weather in Zurich was sunny, and would likely stay that way for the rest of the week – great news! A little over 30 minutes from Zurich, just after passing Strasbourg to the left, the throttles were idled back and we began our slow descent into Zurich.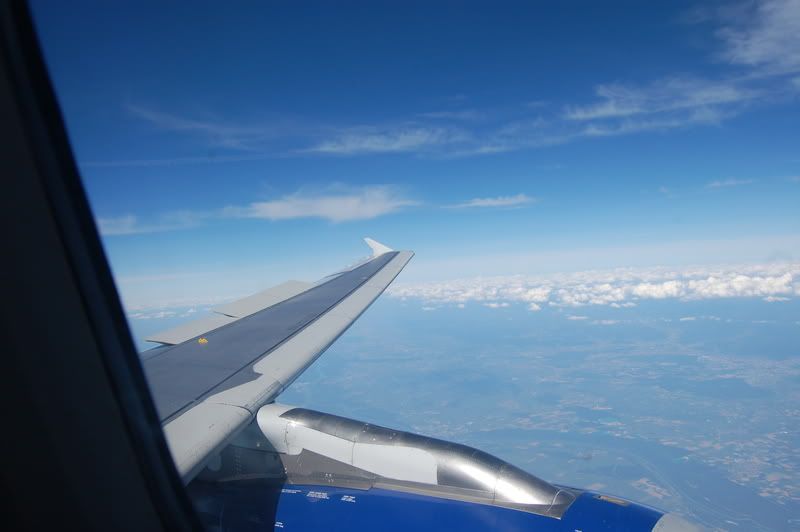 We flew from the North, to the East, to the South, and eventually back up to the West and North on our approach, basically completing a 360 degree turn near enough, circling Zurich Airport, which must have been on our right hand side. On the left, however, we did get fantastic views of the snow topped mountains to the East. During this, the curtains between Club and Euro were drawn back ready for landing.
We made one final right hand turn to line up with Runway 14 at Zurich, and following the theme of the latter stages of approach, we encountered numerous strong bumps on final. The aircraft was banking left and right and pitching both up and down, so it was certainly an entertaining approach from a passenger perspective! We overflew several small villages on approach, and also a Swiss Army knife carved into the ground – very good!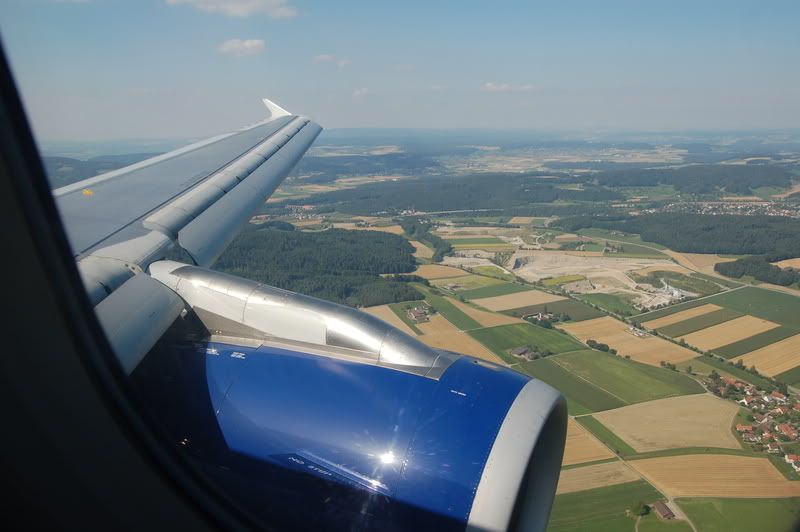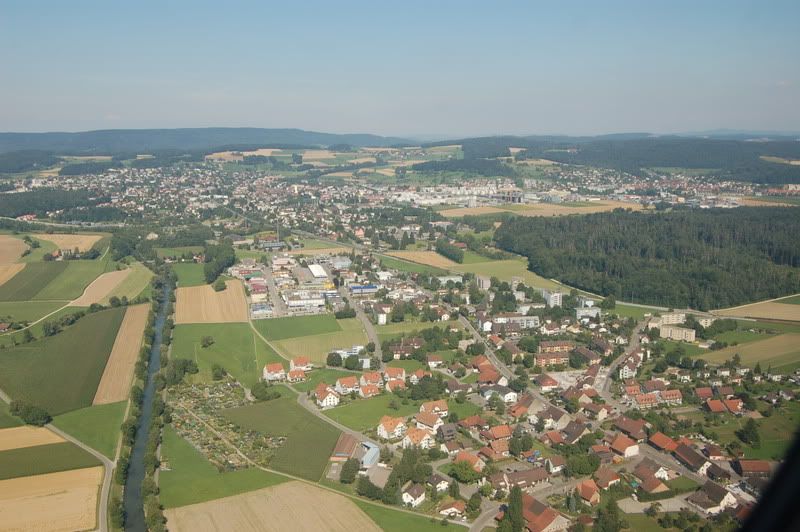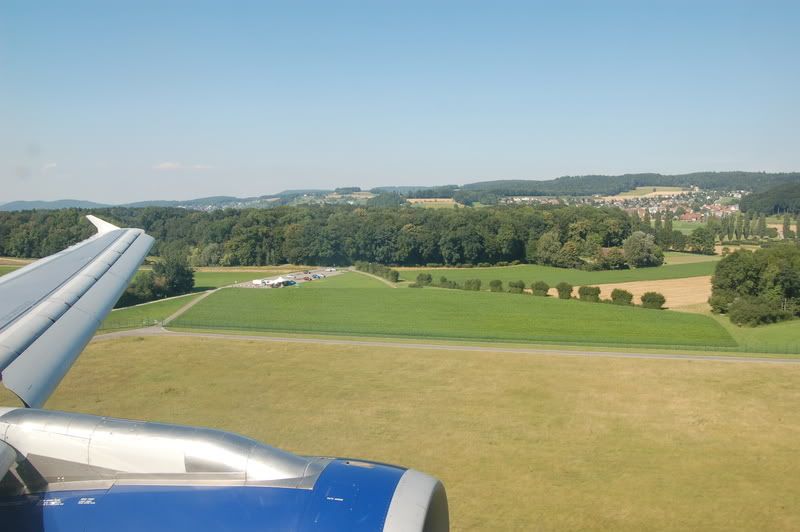 We flew over the threshold of Runway 14 while still fighting for control. We flew further down the runway and seemed to float for a while, before slamming down on 14 and reversing and braking to slow us down.
We exited the runway using the high speed exit just in front of Dock E, and the spoilers remained deployed after turning off the runway.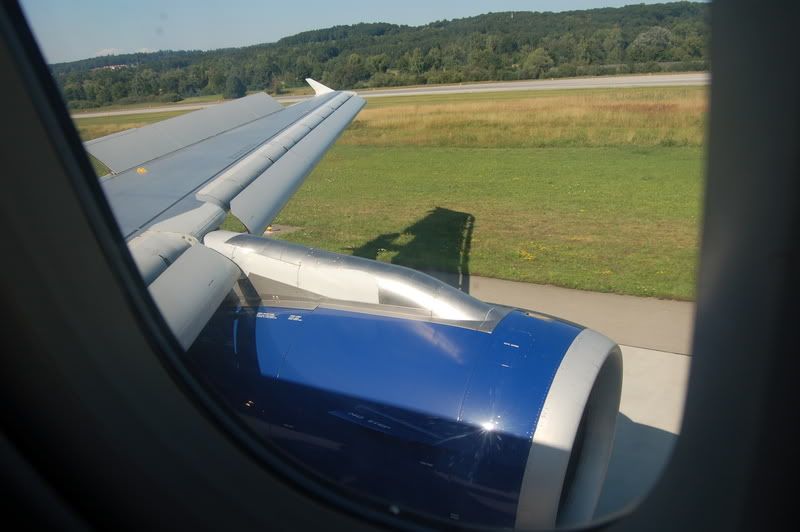 We taxied around one side of Dock E, meaning I got a good view of the parked aircraft at the terminal, including the following;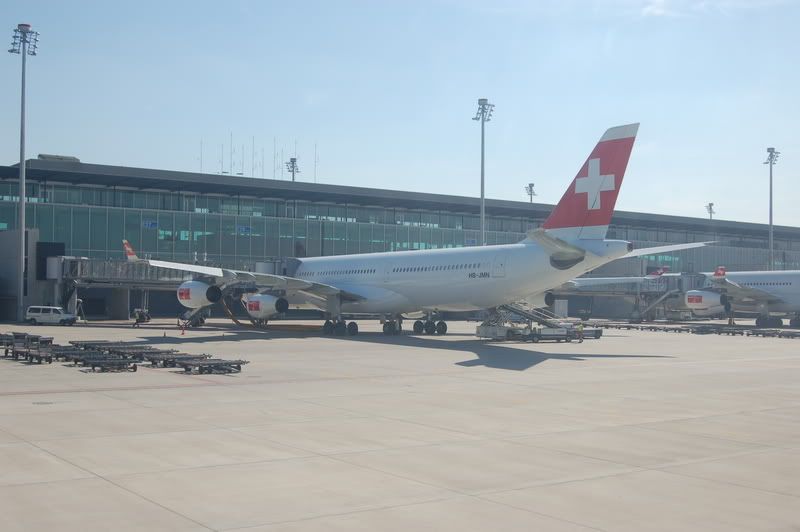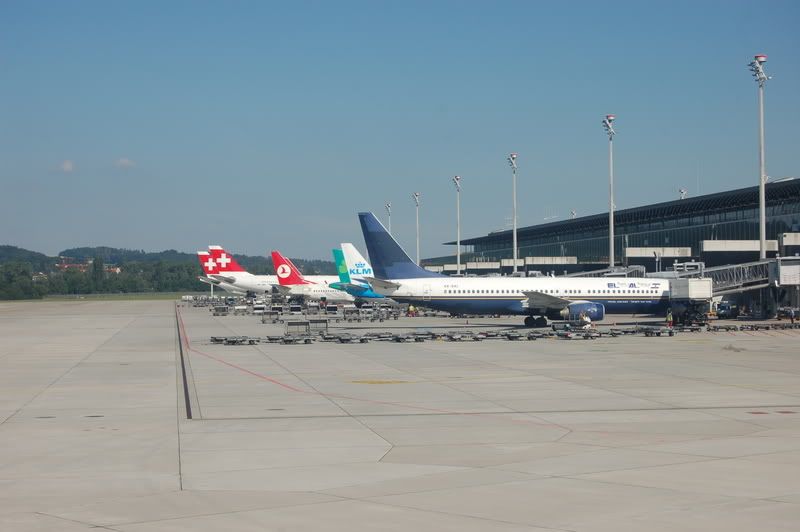 We eventually taxied around to the other side of Dock E, and pulled onto stand E58 where the engines wound down.
Being in Club Europe, we managed to get off relatively quickly after I'd collected my coat and bag. As soon as I stood in the jet bridge it was clear it had been standing in the open sun all day – the temperature inside was sweltering! I was glad to be out and into Dock E where it was nice and cool. I followed the signs along the length of Dock E to arrivals and baggage claim, and found myself down some escalators and at the Terminal transit train station. A few minutes later one arrived and we were travelling under the tarmac at a fair speed and arrived at the main terminal. I followed the signs once more and up to Passport Control – I was through in a few minutes and my bag arrived on the belt about 5 minutes after I did. I collected it and waited for my parents, who had arrived in Switzerland some 5 hours ago, to pick me up outside Arrivals in the hire car.
Switzerland
What can I say about Switzerland... it's an amazing country! I've come back feeling like if I spoke better German, I'd actually love to go and live there. Everyone is polite and nice (save for Touristy areas), the cities and towns are clean, transport is excellent (and very efficient!) and it's just... great. The weather was fantastic to boot too! The weather forecast was a bit dodgy, expecting rain, but every day we had sunshine, with temperatures ranging from 25c to 35c! During our time there we visited several places including; Zurich, Luzern, Interlaken, Stechelberg, Mürren, Montreux and Geneva. We also visited a few sights such as Rheinfallen in the North near the German border, and took a boat trip from Luzern to Weggis. There is so much beautiful scenery in Switzerland, it's just absolutely stunning. 7 days truly wasn't enough and I'm confident we'll return to Switzerland in the future! While there, I also satisfied my longing for aircraft
I went to Zurich Airports Observation Decks on Saturday, and spent the day there, also going on the Unique 1 ¼ hour airport tour, which affords some great views and close-ups of aircraft, whilst also stopping several hundred metres from the runway at the cross-runway area.
Inbound
Airline
: British Airways
Flight Number
: BA0711
From
: Zurich – Kloten International
To
: London Heathrow (Terminal 5)
Depart
: 11:05
(Actual)
: Off Stand – 11:43, Airborne – 11:53
Arrive
: 11:55
(Actual)
:Touchdown – 12:27, On Stand – 12:33
Aircraft
: Airbus A320
Registration
: G-BUSJ
Class of Travel
: Club Europe
Seat
: 5A (Window)
I had managed to check in online the day before, and found our aircraft was to be an A320, rather than the scheduled A319, which I was particularly excited about. I selected 5A, for the reasons mentioned in the previous report, which was again the last row of Club Europe on the aircraft. We got up at about 6am in order to have breakfast early and get out by 07:30. We arrived at the airport at about 07:45 and dropped the rental car back, before catching the lift to the level on which BA's check in area (Check in 2) is located. We proceeded to the Self Service Kiosks and printed off our boarding passes, before I headed to the dedicated Club Europe check in, only to be told to use the Euro Traveller check in as nobody was manning the Club one. My parents accidentally entered the American Airlines economy check in, as the check in area is badly signed. They eventually followed me around to the check in. I was first at the desk and the lady checked me in quickly, adding a priority tag to my bag as I was travelling Business Class, something they didn't do at Heathrow! Following this, my parents checked in and were held up by a faulty baggage belt not taking bags away from check in. This was fixed and they were able to check in. We quickly headed to passport control, and I joined a separate line to my parents, where I was simply waved through without the guy even checking my passport... never had that happen before!
We entered the airside area, and my parents flight (BA2751 to LGW) was departing from the B gates, while mine was again from Dock E. We wandered around for a while in the cool and modern terminal, having a quick drink. At around 09:20 I decided to head over to the E gates, so bid farewell to my parents, and headed down the escalators to the trains. I just missed one train, but again another wasn't too far behind. Once at Dock E I went up the escalators, following a woman with a cat in a bag... strange sight and it wouldn't shut up! I entered security, and was asked to take my camera out of my hand baggage to be screened separately, while I went through without any problems. I followed the signs upstairs to the Bellevue Lounge, and was welcomed in by a friendly lady on the desk. This lounge sure isn't the Galleries, but it's functional, has free laptops to use for internet, and has an okay selection of drinks, but food is certainly lacking. It was quiet, however, and allowed me to get something to drink while browsing the net and chatting to friends. At around 11:00, my flight showed as "Late Arrival" and departure time was pushed back to 11:20. I spent a while looking out over the apron and watched a few arrivals on runway 28, including my own delayed A320, registration G-BUSJ, some 50 minutes late. After this I went downstairs and walked the short distance to gate E43 – after 20 minutes, they finally started boarding and I joined the lengthy queue that had formed. No priority boarding again... BA should really stop advertising priority boarding for Club Europe, when it doesn't happen!
At the door, the younger female FA greeted me and checked my boarding pass. I walked to seat 5A and sat down, again settling in nicely. While boarding continued, the FA made an announcement that today's flight was full. Once boarding was complete, I noticed I had all of row 5 for myself – bonus! 4A also remained empty as well, meaning nobody could recline into my face! The load in Club Europe today was 52%, and Euro Traveller was 100%. The Captain apologised for the delay, saying it was due to a late inbound at Heathrow. Our slot had been pushed back to 11:45, so we eventually pushed back at 11:43. During, the crew performed the manual safety demonstration. G-BUSJ is one of the oldest A320 in BA's fleet, and thus has no TV's overhead. It is also showing signs of its age – ceiling panels are falling down, and the walls look dirty. However, it did its job fine. We waited for an Air Berlin 737 to takeoff before entering runway 28 and starting our roll. We rotated at 11:53 and took off to the west, flying right past the hotel we'd spent the last 7 nights in. We continued west for a while, passing various lakes and Zurich, before turning north and continuing to our cruise altitude.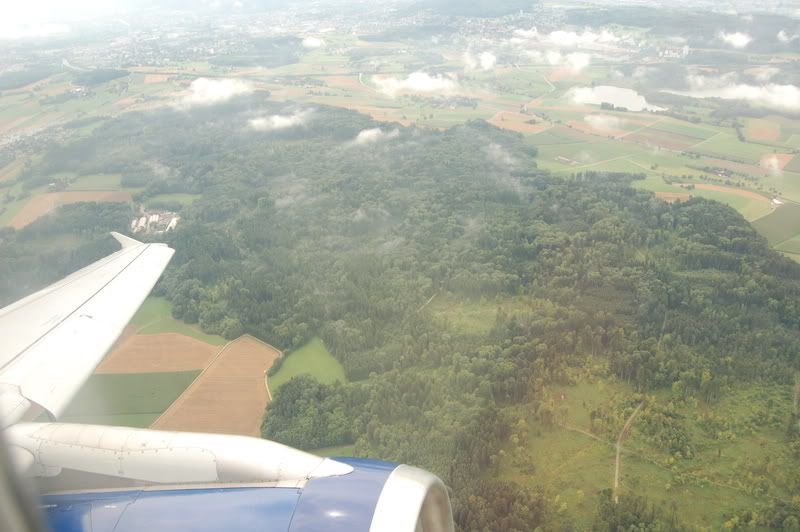 Meal service was started by the older female purser during cruise, and it consisted of a cold platter of various hams with tomato, olive, goats cheese and herbs. The meats tasted gorgeous, and the salad items were again crisp. This was followed by a fruit salad, with Kiwi, Melons, and Grapes. All of it tasted fresh and the Grapes were particularly juicy. The bread basket was again passed round, and the roll was again nice and warm. The drinks trolley came round and I again had tea. This is where the crew differed from those on the outbound –they regularly came round offering refills of tea/coffee/drinks and also came around again with the bread basket. They really paid attention to you and served efficiently, with a smile. They also didn't retire into the galley for the remainder of the flight; they were out in the cabin until half way through descent. A very enjoyable service!
We continued to fly over Europe, which was largely covered in cloud except for in a few places. We flew through some high level cloud during the meal service which led to prolonged turbulence, which made it challenging to eat and drink. The First Officer came on halfway to London and said we'd made up some time due to direct ATC routings, and estimated an On-Stand time of 12:20 if all was well.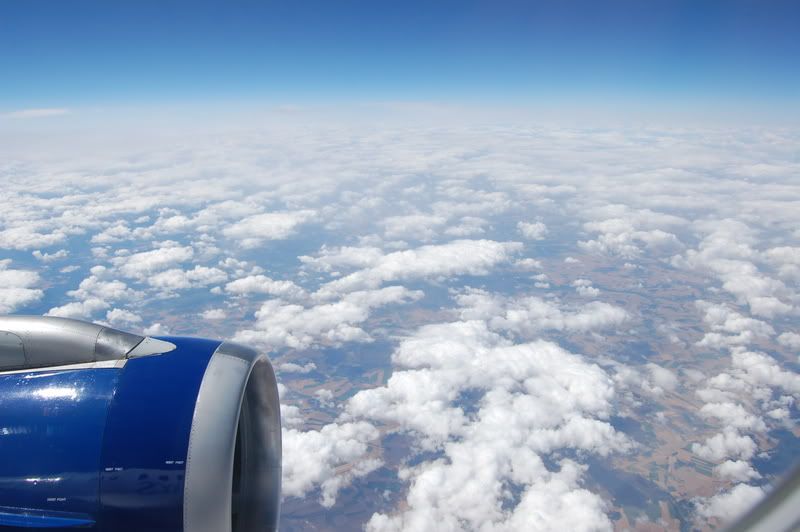 We approached the English Channel, which signalled our departure from continental Europe, and started a very steep descent.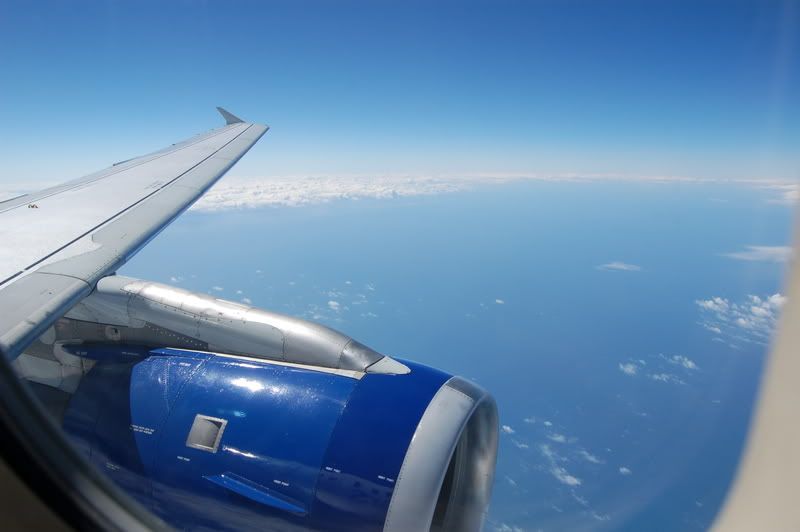 Soon afterwards, we hit the English coast and started descending over the towns of England.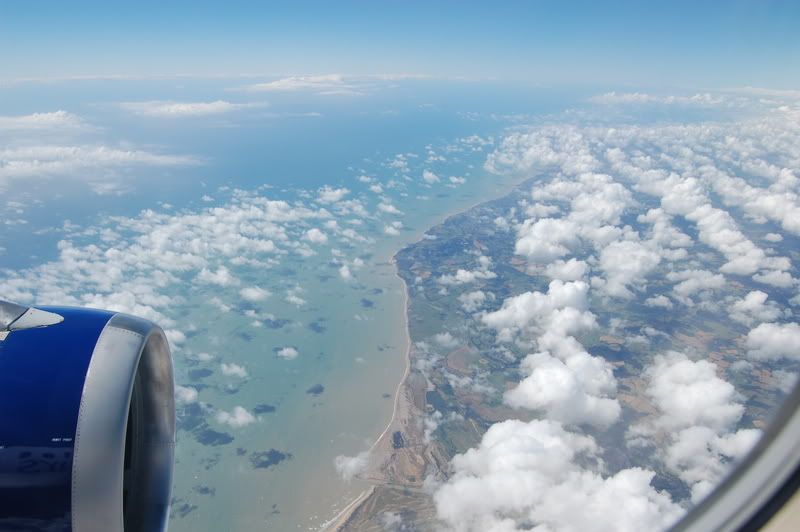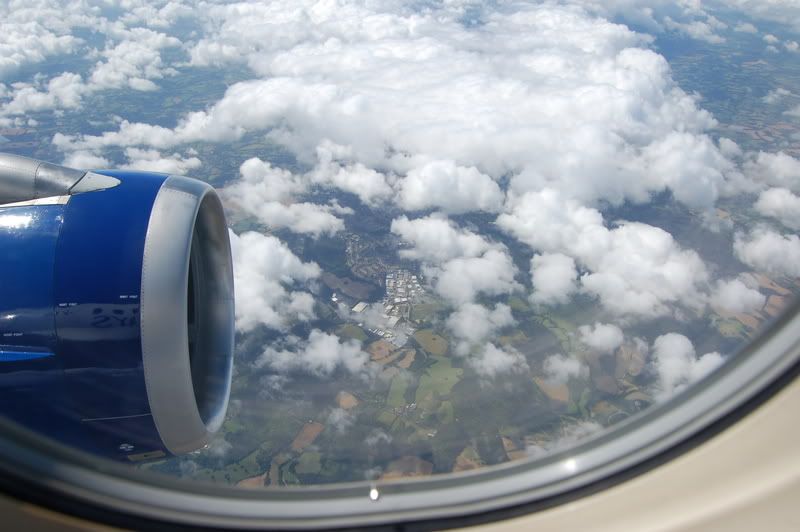 We started a shallower descent the closer we got to London. The First Officer again came on, as promised, to inform us that we'd be in the hold for about 4 turns (20 mins), so this would push our arrival back to at least 12:25. And so, we started circling over Biggin Hill. At one point, a BA A319 flew right above us as we were turning – quite a sight!
After the 4th turn, we left the hold and flew toward the East. There was a large mass of cloud which we descended through on our approach, leading to a few bumps and jolts, and even a few minor drops.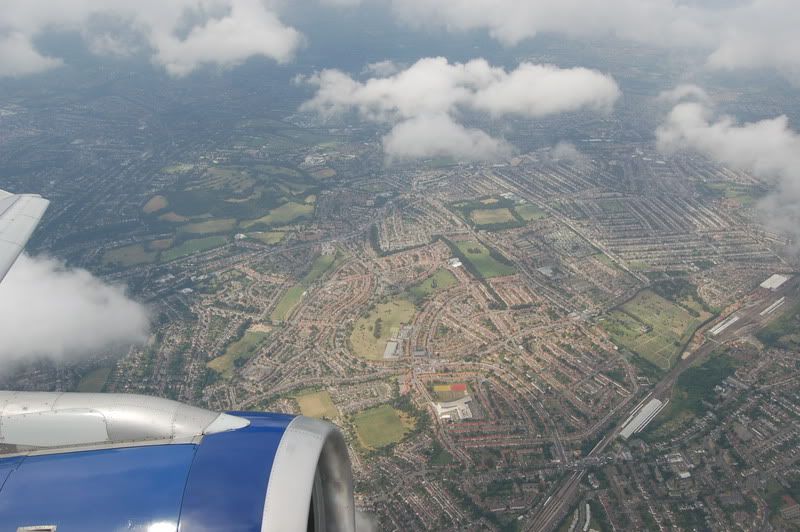 We turned to line up on the ILS for runway 27L at Heathrow and passed numerous houses, industrial areas, Twickenham Stadium and the A30 near Myrtle Avenue. Once again, just as in Zurich, the final approach was very bumpy, with the aircraft pitching up and down, banking left and right again.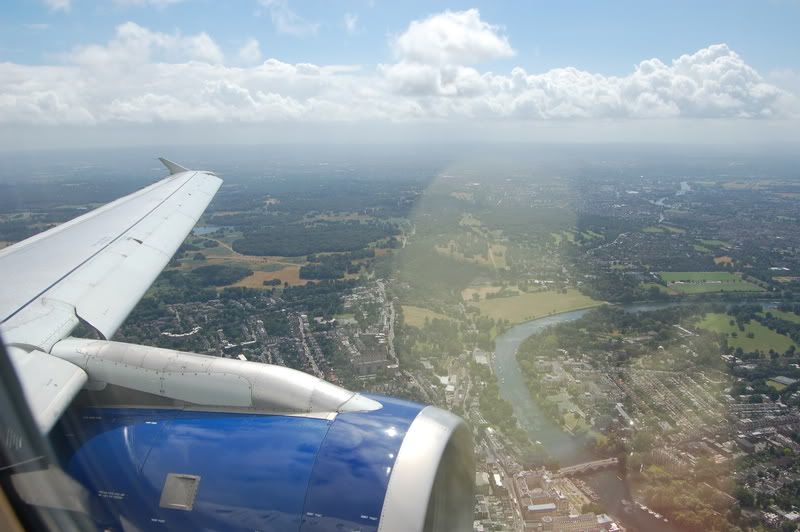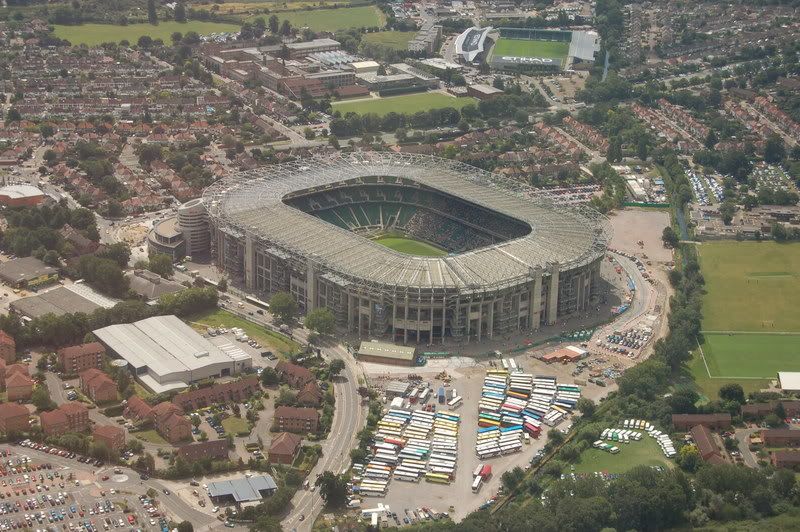 We came in over the threshold and it was clear a rain storm had just passed over LHR as the runway was wet. We touched down at 12:27, and rolled out all the way to Terminal 5, passing the line-up at Terminal 4 on the way.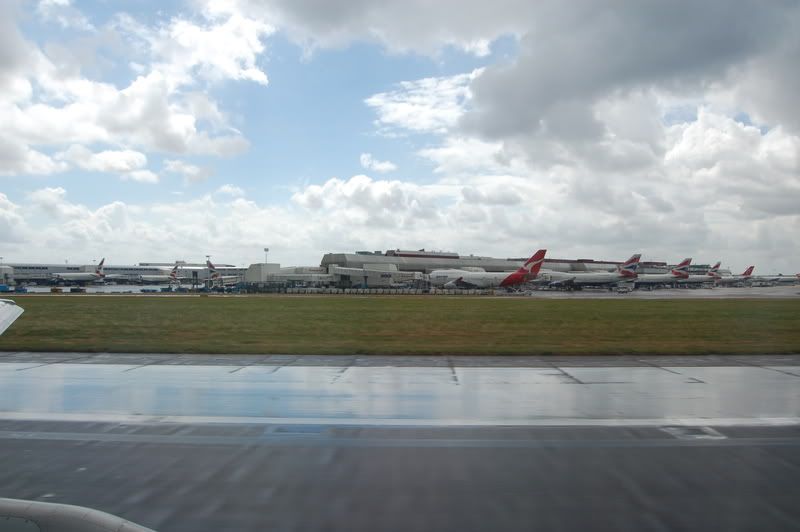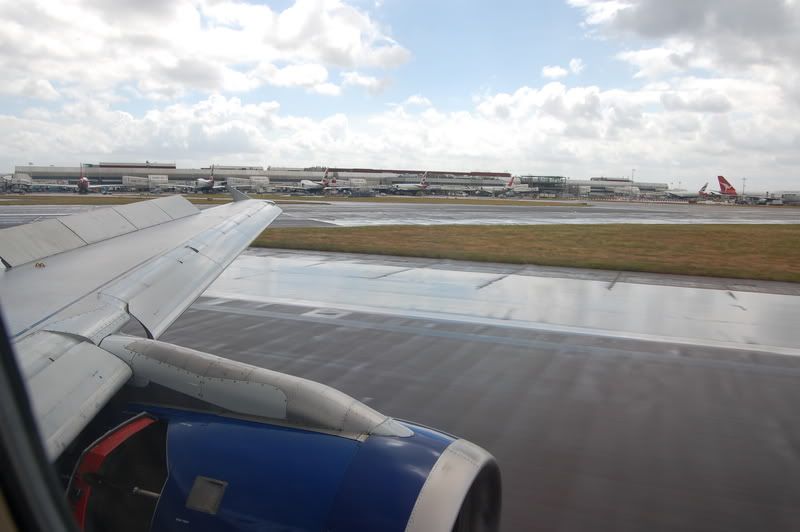 We taxied straight up to Terminal 5A and parked up at Stand 522.
And so the flight came to an end. We were quickly off after the jet bridge was attached, following the signs for Arrivals and Baggage Reclaim. A short time later I arrived at Passport Control, going through the EU and UK Citizens Channel, which was empty, so was done in under a few minutes. I walked round to baggage belt 4, where our bags were coming out. So much for the priority tags! My bag was still in the thick of it, and came out about 5-10 minutes after they started coming out. I collected it and proceeded through Customs to Arrivals, where I relaxed in the chairs and waited for my parents to come and pick me up after their arrival at LGW.
Overall Impressions
British Airways have once again proved to me that they are a more than capable airline, and should the occasion arise I will travel with them again in the future. The Airbus aircraft are all comfortable, and the seats in Club Europe definitely offer that little bit extra personal space which is much appreciated when you're tall. The food offerings were both decent, and enough to satisfy. The service on the outbound could have been improved, but the inbound was great – I couldn't have asked for more. However, aside from that, both crews were pleasant and efficient. Both aircraft were clean, but G-BUSJ is definitely showing its age and doesn't really make a good example of BA. Terminal 5 is functioning well, and it's nice to see it a bit more full now. It's still a fantastic terminal, modern, spacious, and I love the Galleries lounges. Zurich is similarly a very nice airport, especially the airside in the main terminal – Dock E, though, is superb and very modern. Both flights were delayed by inbound flights, so there's not much to comment on there really. I didn't mind too much anyway. Would I buy a Club Europe ticket again? No, it's not worth the price I paid, but I damn well enjoyed myself!
Overall Rating
: 8.5/10
Thanks for taking the time to read all of this, if you're still awake by now
I do apologise for the quality of some of the photographs... I didn't realise how dirty my camera was before I took it away, so please excuse the dust spots on the earlier photographs. I also apologise for not taking many photographs of the lounge/meal either – I'm not really up to doing that stuff, as I'd rather enjoy my time aboard, which taking photos can sometimes detract from.