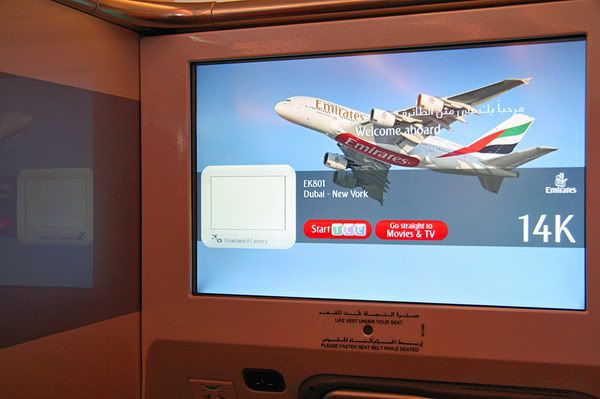 … On This special day, a celebration of what is now will mark a milestone in tomorrow's history…
When only yesterday it was just a mere fantasy, today it is nothing but reality. A vision that was once the future has now become the present, as it is, right in front of you. So many feelings were sensed, so many emotions were felt, and so many words I will always want to say, but I am only left speechless.
My heart was pounding hard, my pulse was about blow my insides, and my hands were shaking like there's no tomorrow. What on earth was going on I thought? The raging fire that was feeding off my flesh was suddenly put to rest as I approached the big beast himself and thought, yes indeed, the future has arrived, and it is now ready for boarding…..
Welcome to my 8th Trip Report.
This trip report will cover both Emirates A380 Inaugural flights DXB – JFK – DXB on the same day, in Business Class.
My previous Trip Reports can be found here:
CX: JFK-HKG-DXB In Y A346/772 (Lots Of Pics/Vids)
(by
Ronerone
Aug 28 2006 in Trip Reports)
Etihad: Pearl 2 AMM, Coral Right Back Pt 1 PixVids
(by
Ronerone
Jul 4 2007 in Trip Reports)
Etihad: Pearl 2 AMM, Coral Right Back Pt 2 PixVidz
(by
Ronerone
Jul 5 2007 in Trip Reports)
Cathay Delight: A Trip To Asia's World City
(by
Ronerone
Oct 5 2007 in Trip Reports)
Suvarnabhumi, The Etihad Way!
(by
Ronerone
Jan 18 2008 in Trip Reports)
Ultra-Competitive, Ultra-Long Haul: EY Vs EK
(by
Ronerone
Mar 21 2008 in Trip Reports)
This Is Royal Jordanian!
(by
Ronerone
Apr 12 2008 in Trip Reports)
Syrian Special Performance, Featuring Sam Chui
(by
Ronerone
May 23 2008 in Trip Reports)
This trip was had been planned ever since Emirates announced that 'daily scheduled A380 services to JFK are to start on 1st October 2008'. A lot has happened since that announcement, and many changes occurred that lead to an earlier inaugural flight. Nevertheless, my persistence got the best of me, and there was no way this plane was to leave without me. The series of events that lead to the inaugural flight are summarized in the timeline below.
December 2007
Emirates announced that its first A380 destination will be to JFK and that daily scheduled service will commence on 1st October 2008.
January 2008
I booked a one-way ticket on the inaugural flight on 1st October, in plans to take a week off, travel around, and return on a different itinerary.
June 9th, 2008
By this day, rumors had already spread all over a.net that the inaugural flight will be on 1st August instead of October. I was hoping that it wouldn't be since I had already made arrangements to be off from work. Confirming this rumor, was a call I received from the Emirates Office informing me that the A380 inaugural flight will in fact be on 1st August. Since that day was a Friday, I decided to go and come back on the same day, and so I booked another one-way ticket to return on the A380.
July 14th, 2008
I received another call from the Emirates Office, informing me that there will be media filming on board and asked if it was alright with me. They also informed me that I had to sign a waiver at Check-In.
July 24th, 2008
I decided to call the Emirates Office and reconfirm my bookings, for the millionth time, only to learn that my DXB-JFK reservation had been cancelled. The reason being, was because I had two one-ways booked on the same day so EK thought it was a double-booking error, and decided to randomly cancel one of them without notifying me. After several angry calls and emails to their Office, my booking was re-instated within a few hours. I understand that it may be a procedure to cancel a booking when they see an irregularity like this, but I did not appreciate that they did not contact me prior. On what basis did they assume I was only traveling from JFK to DXB rather than the other way around? They have been quite consistent in calling me to notify me of updates on this flight, so why couldn't they do the same for this particular case?
Wednesday July 30th, 2008
As Thursday was a public holiday, I decided to head over to Dubai and spend two nights chilling out in the 'calm before the storm'. I met up with friends, went clubbing, got drunk, laid by the pool, and so on and so forth.
A stay at the fabulous Raffles Dubai was just the type of rest & relaxation I needed before the craziness that was coming my way. After only two previous stays at this hotel, it has become my absolute favorite hotel in Dubai. Forget Shangri-La, Dusit, or any other; the Raffles is like nothing I have experienced (except for The Peninsula of course!).
My Room At The Raffles Dubai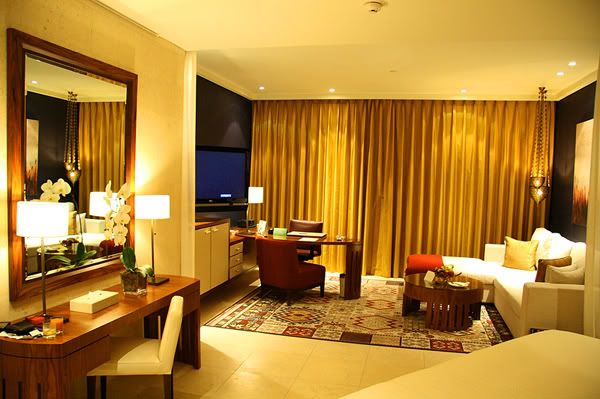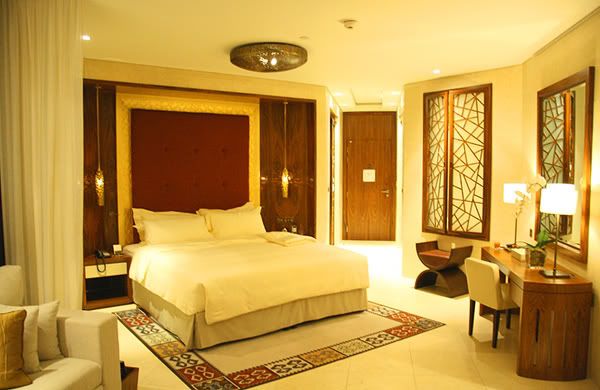 Friday August 1st, 2008
I woke up at 5AM to shower and get ready for my trip as I wanted to be at the airport as early as possible so I wouldn't miss a thing. By 6:30AM I was all set to go, so I headed downstairs to check-out, get in my car, and drive to the airport.
After the usual traffic jam that was leading to the terminal, I arrived at 7:30AM, parked my car in the long-term parking garage, and headed towards the terminal. At the departures area, Emirates has allocated a special area for its premium USA-bound passengers.
Emirates First & Business Class USA Check-In Entrance
I tried looking for any signage relating to the inaugural flight, but unfortunately I found nothing. In fact, it was like any other day at the check-in area. How surprising I thought, as I had really thought that EK would do something spectacular, just like SQ did with its inaugural flight. After all, this was the first commercial A380 flight to the USA.
By 7:45AM I presented my passport and ticket to the check-in agent, who immediately took my documents and processed my way through the system.
"Mr. Hawi, today's flight to JFK will be operated by the Airbus A380, and it is the first commercial flight to the USA"
"Yes, I am aware of that, and this is why I am traveling today"
"Then I can rest assured that you will have a good time today. I would like to ask you to sign this waiver form as there will be media filming on board"
"You can film me as much as you like"
Within approximately five minutes I was handed back my passport and ticket, and had received my boarding pass to JFK and my lounge invite. Interesting to note, is that the boarding passes are now plain white, and not red, blue, or green anymore.
Boarding Pass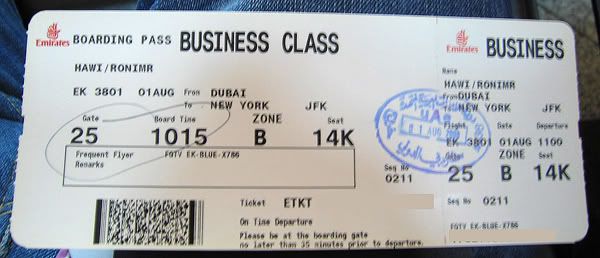 Lounge Invite
I proceeded through immigration and security, and then the long trek to the main airside terminal building that this airport is renowned for. By 8AM I had arrived at the ever-so crowded terminal building. I realized that I had hit one of EK's crazy morning banks.
I pushed and shoved my way through the cattle of people that were just roaming in every direction. It was then when I stumbled across a very subtle sign that celebrated the inaugural flight by itself, as it was evidently ignored by everyone else.
Before heading to the lounge for a quick breakfast, I went to Gate 25 to see what was going on, and to also get a view of the aircraft. At the gate, which was still closed at the time, I noticed a group of staff loading large amounts of boxes inside the holding area. It seemed like they were preparing for something, but it was obvious that it was going to be something simple. Finally however, I spot the big beast that was to be my ride for the next 25 hours or so.
The Emirates A380 (A6-EDA)
I then headed to the Emirates Business Class Lounge, which I am very well oriented with, and was only aiming for a quick bite to eat before heading back out. The lounge is always crowded, dirty, and no where will you find privacy, peace, or quiet inside.
Emirates Business Class Lounge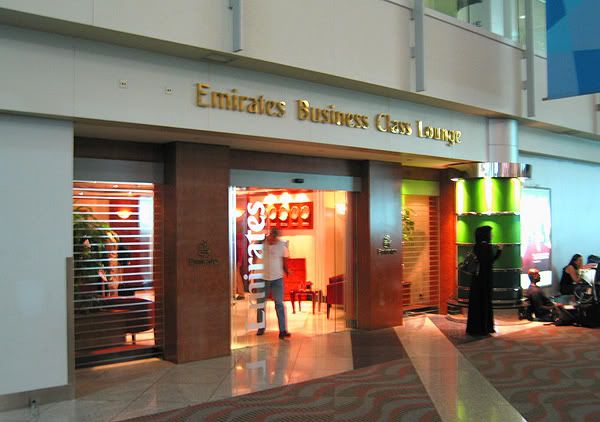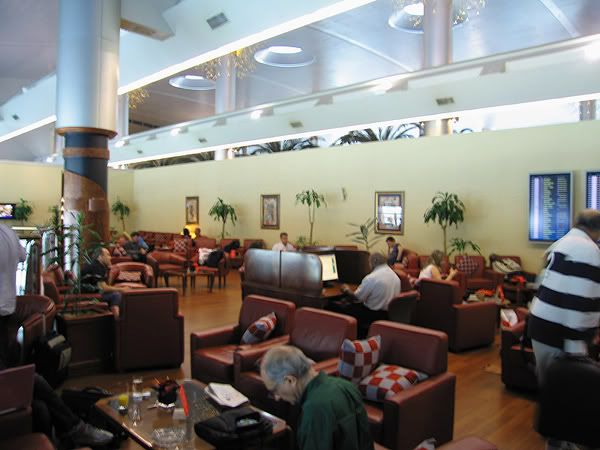 My Breakfast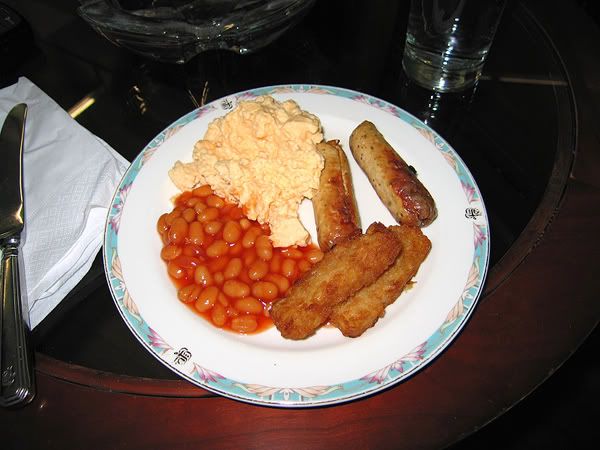 After my tasty breakfast, I headed to the gate around 9AM. By that time, the gate had already opened, and Emirates Group Security Staff were standing in front of the gate, checking all passengers' passport information. As I approached the security agent, he took one look at my boarding pass and advised me to peruse the lounge for a little more time as there still was a ways to go till boarding. I declined his offer and so after checking my passport, he ushered me to walk inside.
Approaching the gate agent, she smiled as she took my boarding card, tore off her major portion, and handed back my smaller stub. "Enjoy your flight on the A380 Mr. Hawi"
There was no security check at the gate this time around, which is unlike the usual on USA flights. As I walked inside the holding area, a table was set up at the entrance that had hundreds of EK A380 goodie bags, with two beautiful EK girls handing bags to all passengers.
"Good morning sir, welcome to the inaugural flight, this gift is for you"
"May I take a picture of you two please?"
"Sure, but wouldn't you like to be in the picture?"
Me & The Emirates Girls
Goodie Bag
I sat around for a little while and played around on my laptop. After logging on to a.net, I learned that Mr. BA319-131 was in the vicinity of the EK Lounge and was heading towards the gate shortly.
Soon enough, someone wearing a BOAC T-shirt walked past me and took a seat by the corner behind me. For some strange reason, I felt a wave of Deja-Vu when I saw him; Deja-Vu that reminded me of one of the SQ inaugural flight Trip Reports. I spent a few moments to wonder why I am suddenly reminded of that report, when I realized that this was Mark, and that it was his picture in his trip report.
I gathered my stuff and hopped right over by his side and introduced myself. We spent the rest of the time obsessing over planes and over our expectations (or lack of them rather) of the inaugural flight.
By 10AM a pre-boarding announcement was made, advising us that boarding will commence shortly with premium passengers and those with children to board first. Then at 10:25AM a boarding announcement was made, when we gathered our belongings and headed towards the aerobridge.
The Aircraft
The Aerobridge Leading To The Upper Deck
Door 1L On The Upper Deck
As I arrived at the door of the aircraft, I was greeted by a German Male Cabin Crew, who took one look at my boarding pass and smiled.
"Welcome on board Mr. Hawi, Seat 14K is right this way, past the galley and to the right of the two pretty ladies over there"
"Thank You"
"Enjoy Your Flight"
By 10:30AM, I was on board the A380.
CONTINUED BELOW