Hey all,
Well, back with another international TR. I really had no plans of being able to do much nonrev travel this summer - much less overseas - given the typical summer load factors. But, a unique opportunity presented itself that I just couldn't resist
Anyhow, some of you may remember I posted a TR awhile back as "the captain's son" flying DTW-KIX on one of my dad's flights, can be found here:
https://www.airliners.net/aviation-fo...ums/trip_reports/read.main/123555/
Anyhow, at the end of June he told me he had a HKG at the end of July, which I was very surprised to hear since HKG is one of the most senior trips at NWA, and my dad is relatively junior on the blockholding 747-400 seniority list. I tried to not keep my hopes up considering NW's NRT-HKG-NRT flights tend to consistently go full, but the Nonrev God's finally decided to give me a break, and the trip eventually worked out!! Over the span of 6 days, the full itinerary ended up being:
DEN-MSP-NRT / NRT-HKG / HKG-NRT / NRT-PDX / PDX-EUG-DEN
Anyhow, on with the TR:

23 July 2008
NW19, MSP-NRT
Block Time: 12 hours, 00 minutes
747-451, N673US, Fleet# 6313
Seat: 11A, Main Deck World Business Class
Load Factor:
World Business Class: 85%
Coach: 80%
View Large
View Medium


Photo © Bruce Leibowitz
I usually don't include anything of domestic flights in my TR's, but here's a note of interest to some. When I arrived bright & early for the NW 630a flight to MSP, I was very surprised to see an AA 763 sitting across the way in Concourse C at DEN. AA hasn't sent scheduled widebodies to DEN for years, so I asked why it was there. Apparantly a divert for mechanical reasons, that had to sit overnight. The plane was bound from HNL, either from ORD or DFW, I forget which.
AA 763 in DEN - very rare catch!!
So, once at MSP, I met up with a.nut KingAir200. We shot the bull for awhile, grabbed chinese food for lunch, and before too long it was time for NW19 to NRT to start boarding. As a lot of a.nuts can appreciate, I chose to fly to NRT from MSP since I didn't yet have that line on my FlightMemory page. I've tried to avoid MSP in the past though given the relative large numbers of must-ride nonrevs. Commuting 757 crews to NRT, WHQ personnel, etc.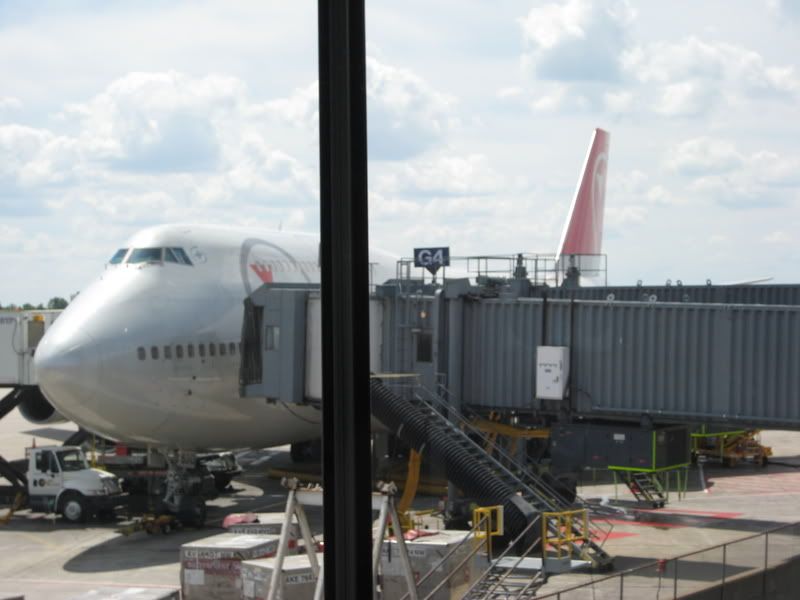 Ship 6313 at the gate in MSP. Sorry about the bad angle.
My dad was flying NW11 from DTW that day, which is scheduled to get in 30 minutes after NW19 from MSP - which I was counting on, given possible customs delays or the like. Anyhow, before long I was given seat 11A on the main deck in World Business Class. On the NW 744's, I do love the top deck, but for taking pictures and videos, rows 11 and 12 are easily the best, with respect to view of engines and the wing.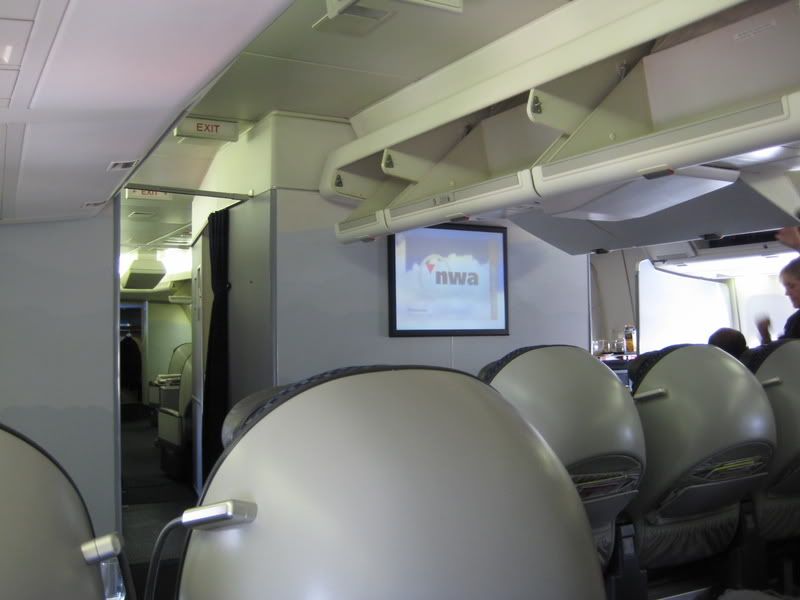 Aft J-cabin during boarding on ship 6313.
PTV while still on ground - not yet showing the map or any programming.
After a 55 minute boarding process, the CS agents finally shut the door, and we were off to NRT.
Just prior to pushback. The A333 next door was NW42 to AMS.
After a relatively short taxi, we were ready for takeoff. I've experienced a few "rocket takeoffs" on 757's, 738's, and others which are really fun of course, but the ones I most look forward to are the heavy international ones with the long takeoff rolls. I love it!!