Hello dear readers, here is the 3rd part of my recent trip.
01.08.08 LX15 A330-223 LX-IQI 3K – First Class
1st Flight on this aircraft & 9th A330 Flight
SCH DEP20:45 SCH ARR 10:55
ACT DEP 20:36 ACT ARR 10:35
View Large
View Medium


Photo © Jerome Zbinden
Having parted company with Roni I headed over to the Swiss lounge to chill out before my next flight.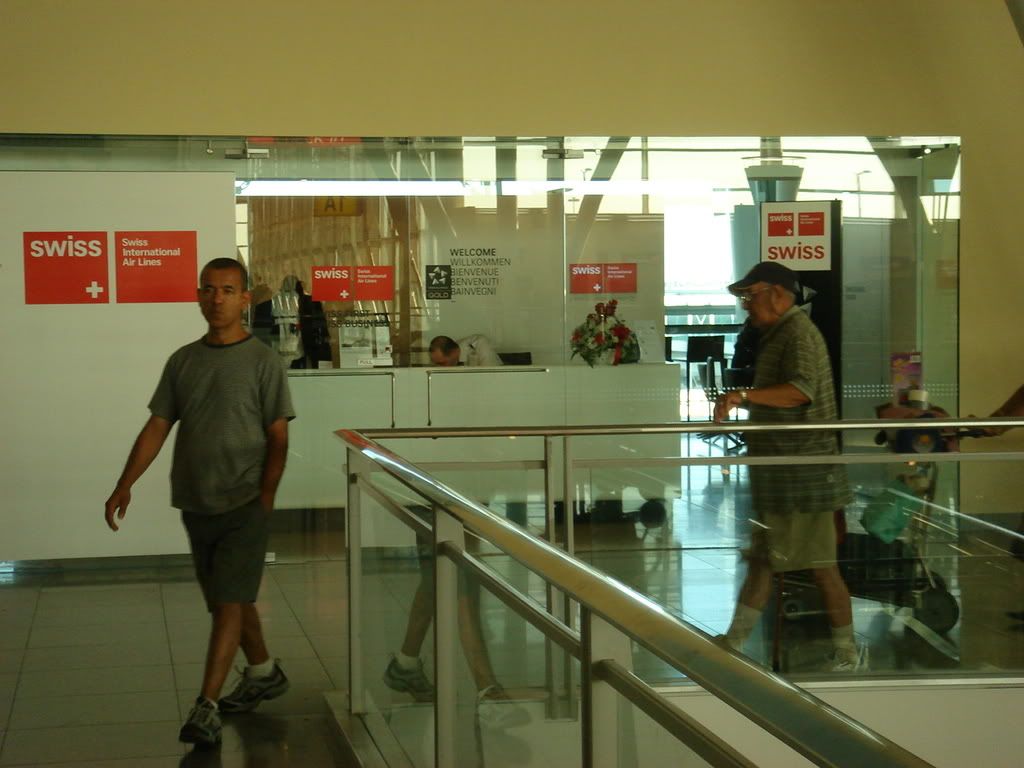 Since I had a dreaded SSSS on my BP, the lounge agent suggested they escort me to the gate 10 minutes ahead of the normal time, this to ensure I did not suffer delays at security.
The lounge is split into 2 areas, one for First the other for Business passengers. The First lounge was quiet, only 2 other passengers in there , 1 other arrived later on.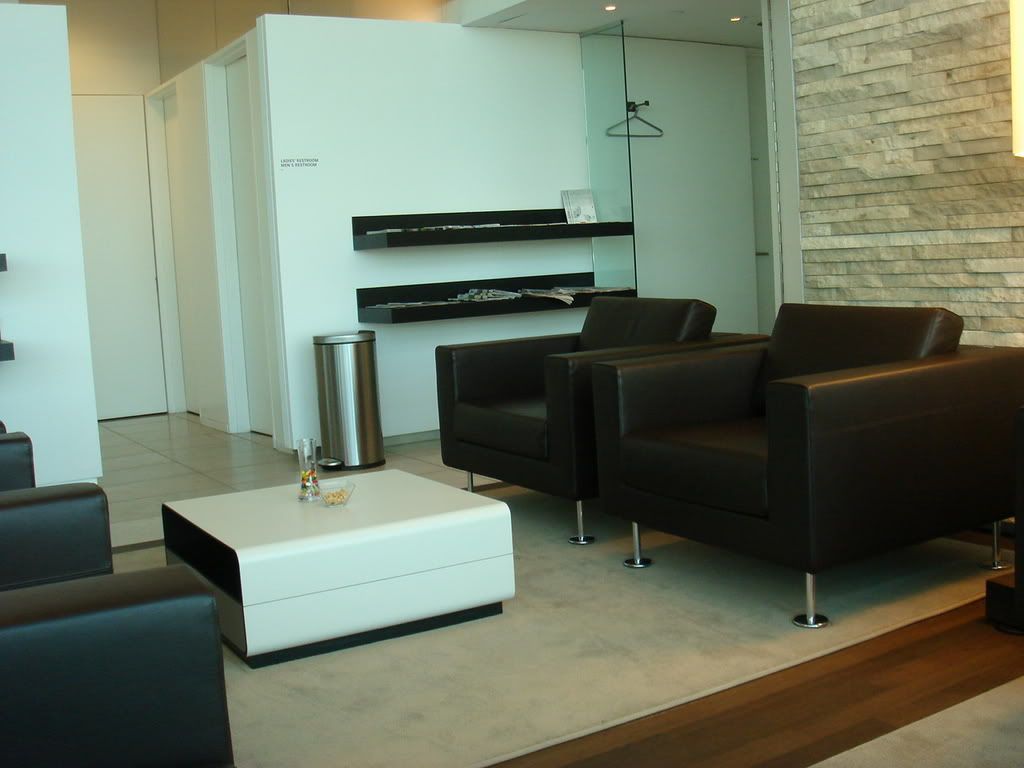 Despite a superb previous flight with EK, I felt in need of a shower and change of clothes, thankfully the Swiss lounge does have a shower, yippee!
The shower was a good size, clean and looked well maintained, much superior to the showers EK have back in DXB.
I emerged much refreshed in clean clothes, certainly felt more human, though I think the large quantities of booze EK supplied me were also having a wearing effect, a couple of Ginger Ales and I was feeling much better, if fact I'd have stayed off the booze but Swiss have Sam Adams in the lounge, can't resist that stuff!
Snacks/Drinks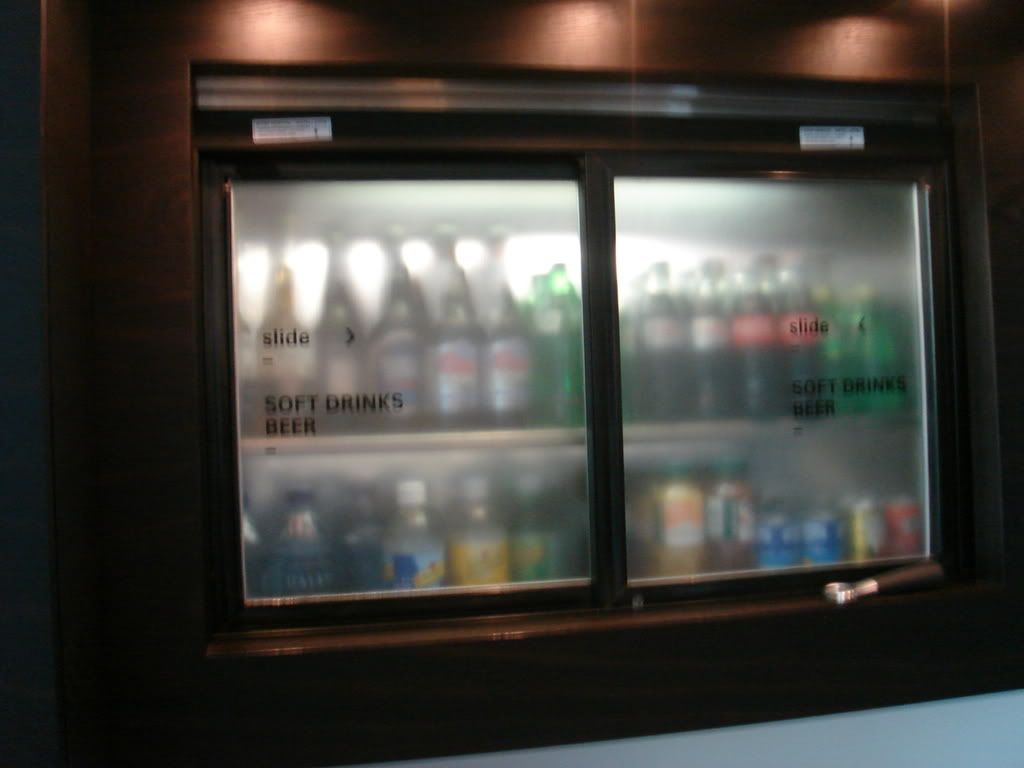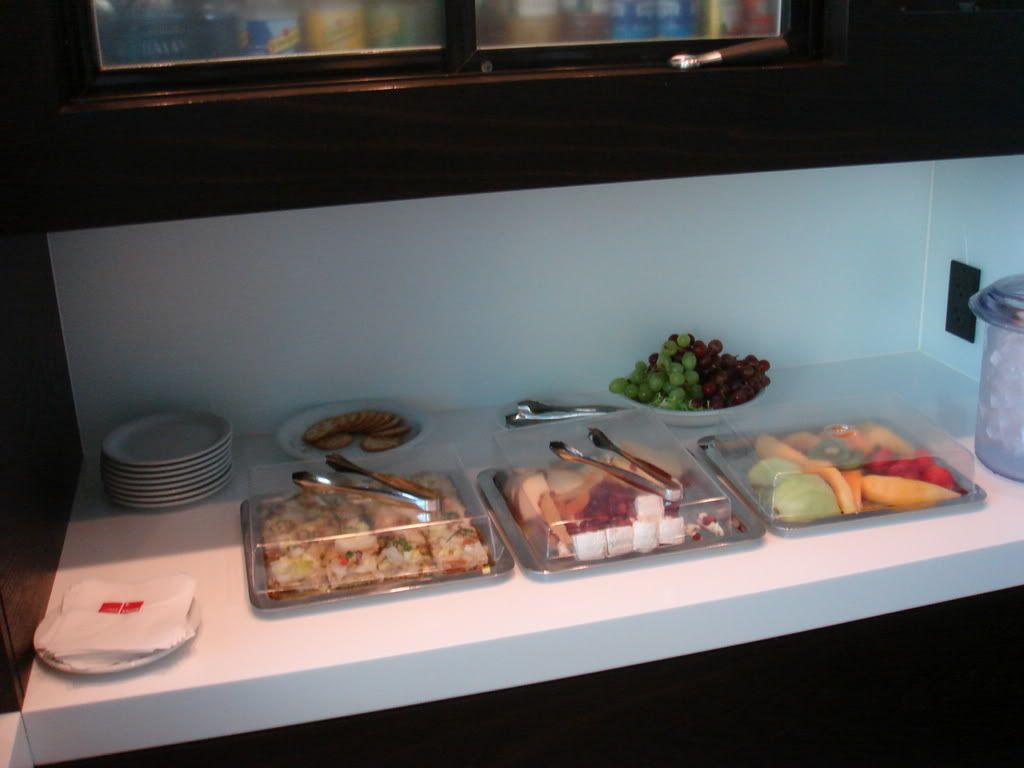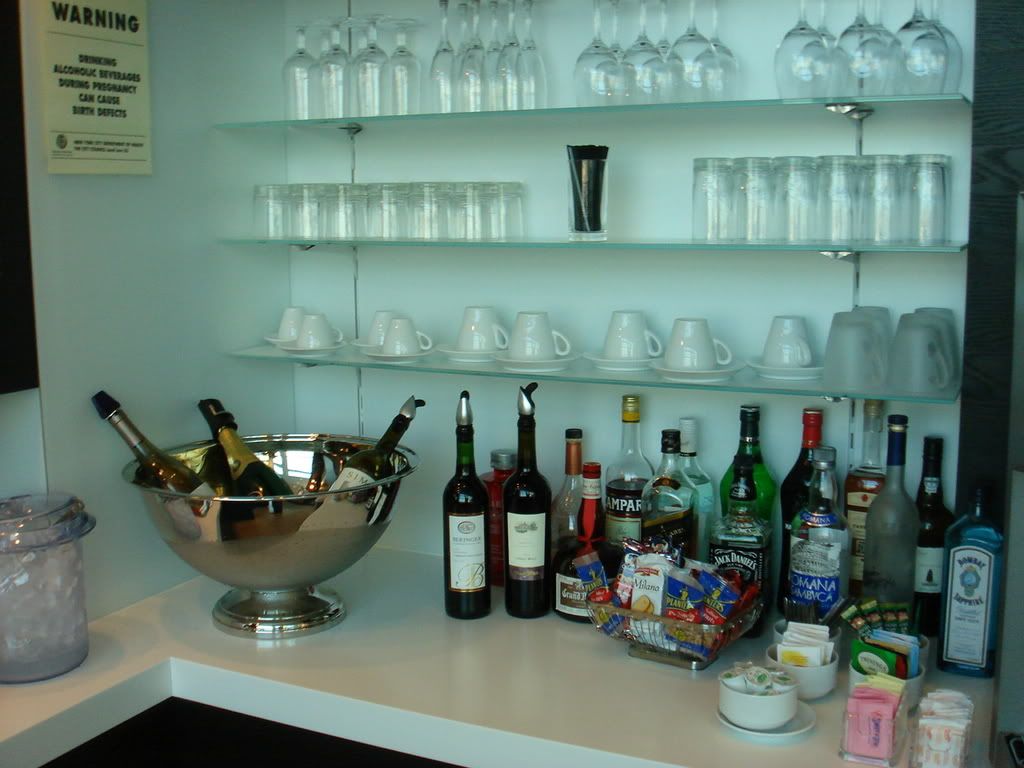 Despite the short time in the lounge, I managed to note 13 new planes for my log.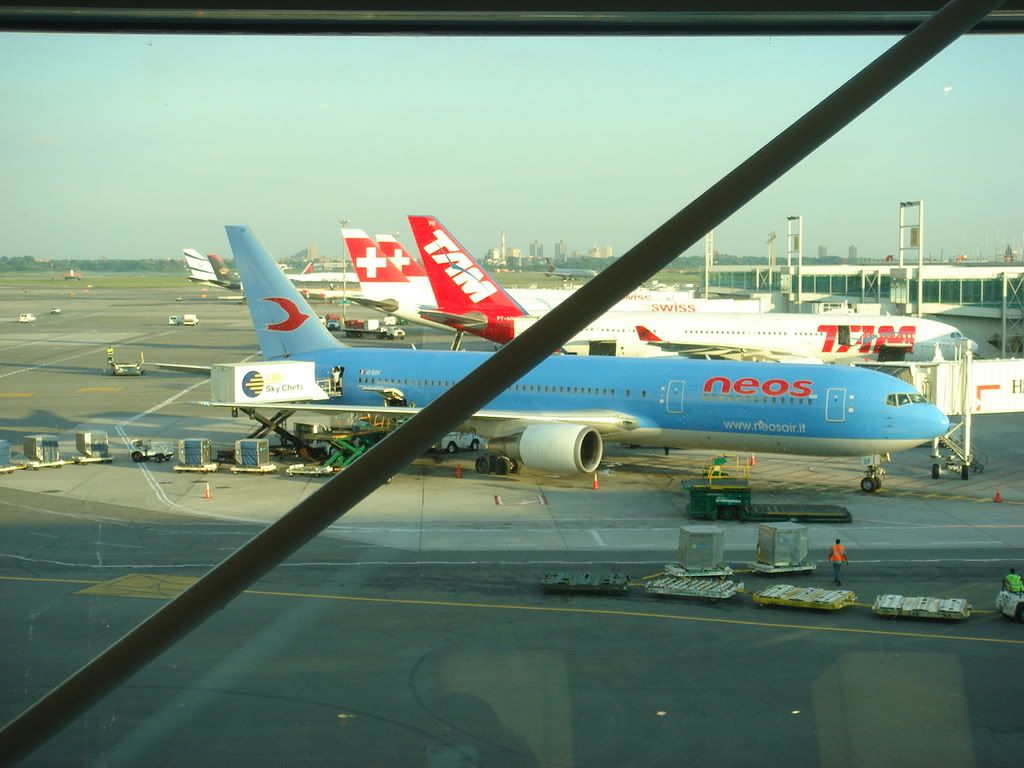 Boarding was announce at 19:50, just as my escort arrived to take me down to security, this appears to be something done for all First passengers.
The security area for our gate (31) was only a short walk away.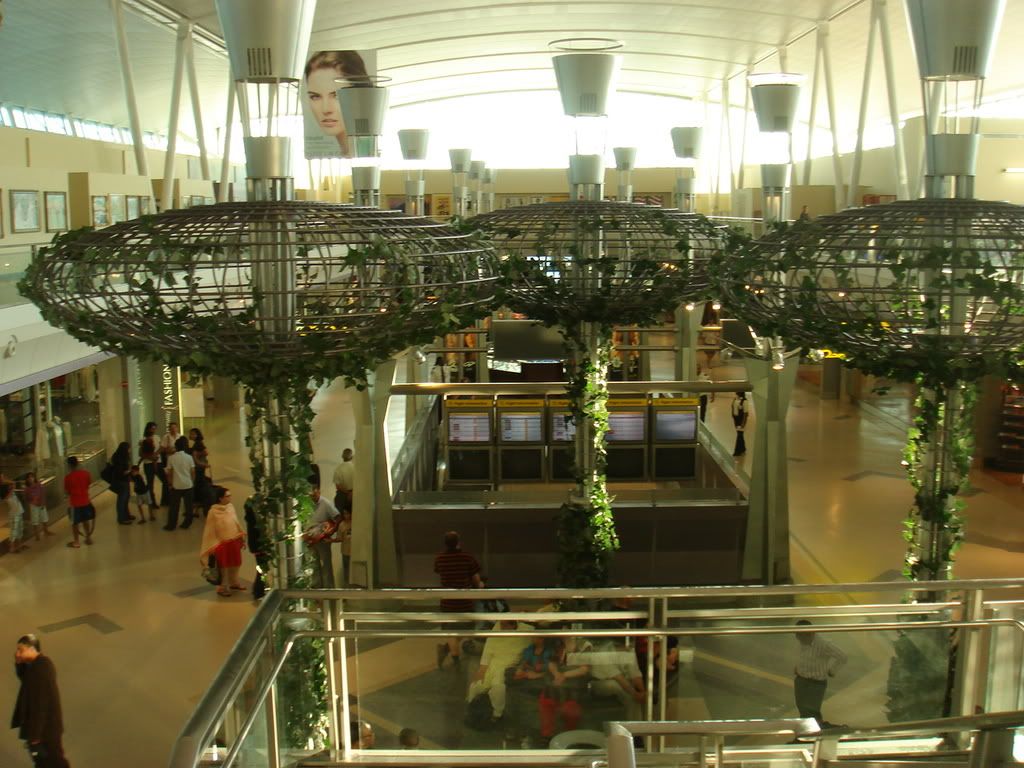 I have to say I was not looking forward to the special SSSS screening, expecting my bags to be emptied out and me strip searched or something, ok slightly dramatic perhaps, anyway, what a simple and quite pleasant experience it was. It appears the TSA agents have been on a customer service course as they were all extremely polite through out the whole experience, I must say I was really impressed, well done TSA!
On the way to the gate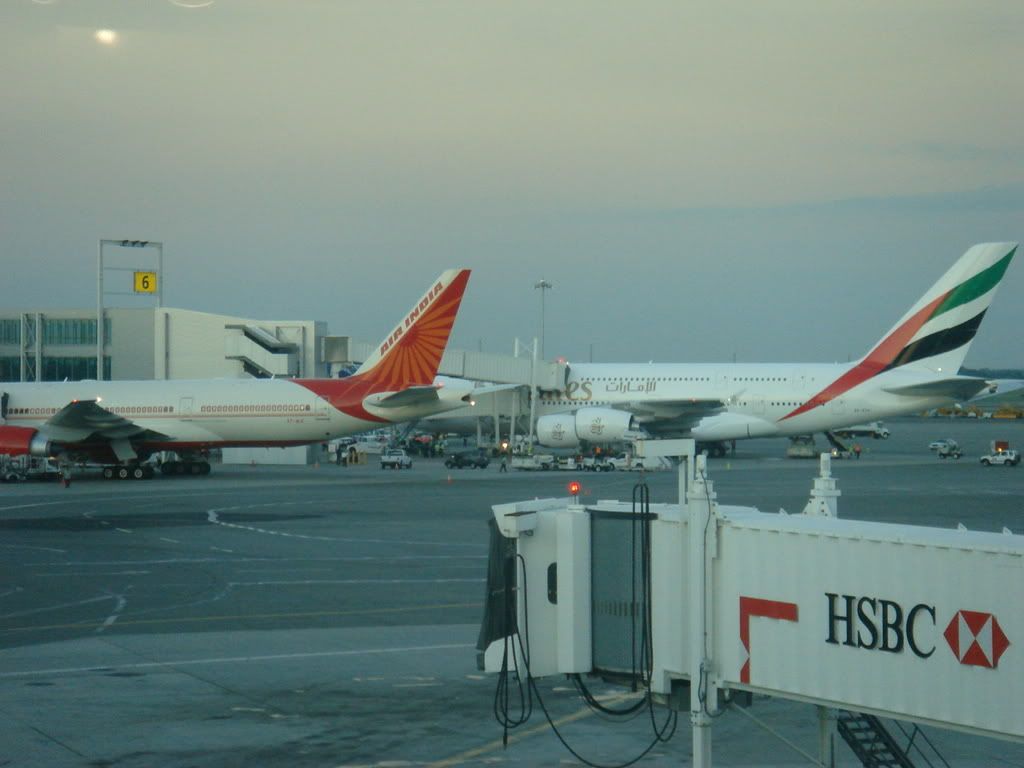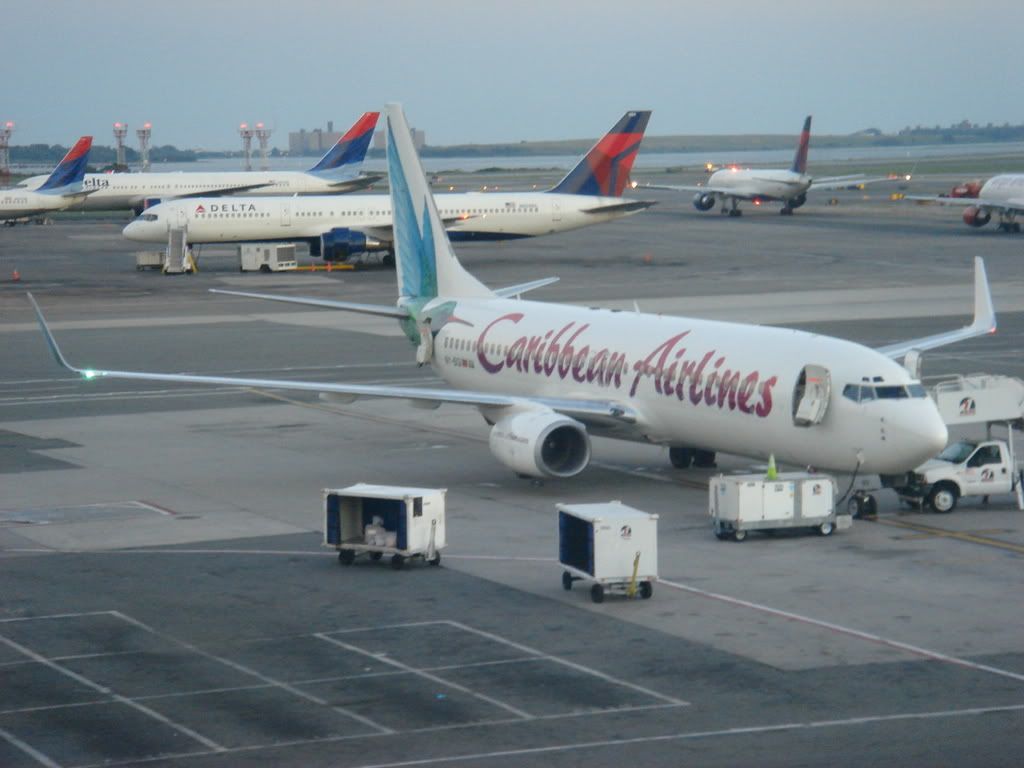 Boarding was almost complete by the time I arrived at the aircraft, I was among one of the last passengers to board.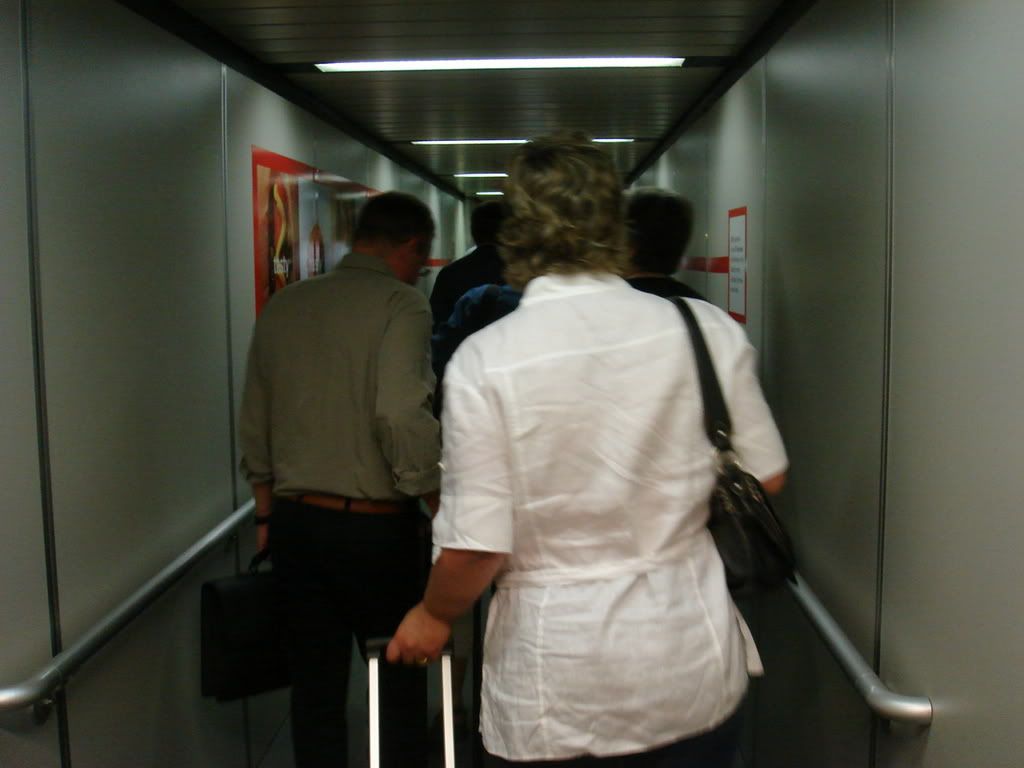 A friendly greeting at door 2L and then escorted to my seat, 3K today and in the last row of Swiss First Class on this A330-200.
Carry-on luggage stored, reading materials etc having been removed, I sat down, the cabin staff quickly appeared offering drinks, I took Champagne.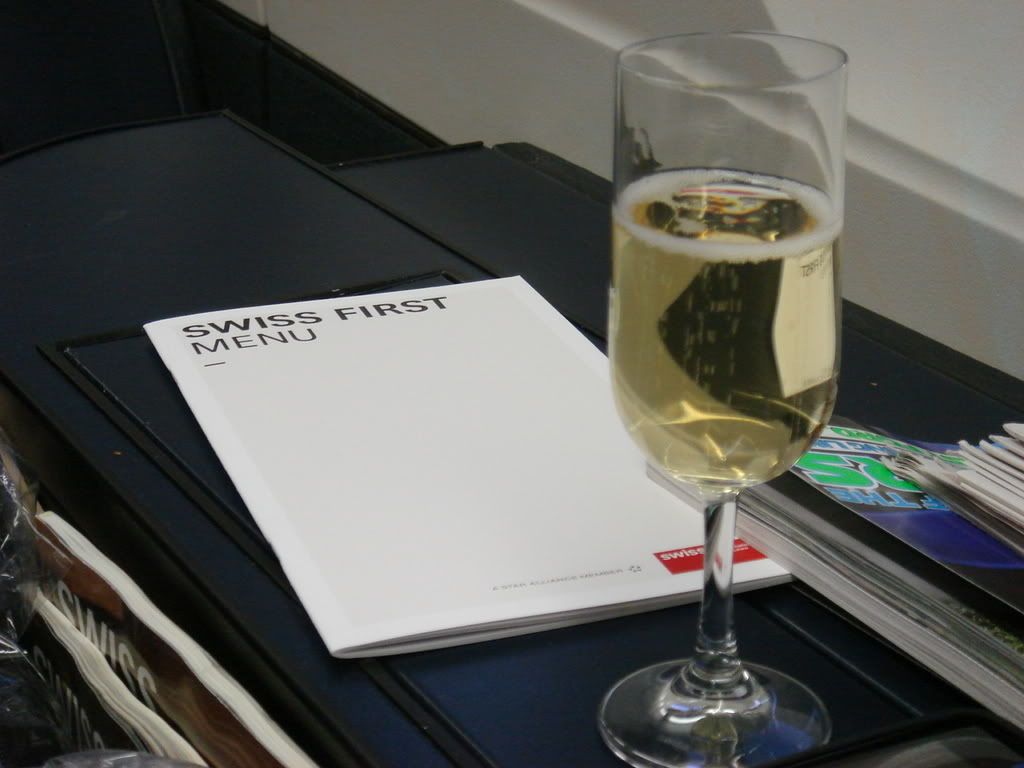 I have to say the legroom was huge, actually it's too much really, unless you have the bed fully out you never use it and even then there's still room at the end of it!
Despite these being the old First Class seats, they were still very comfortable though the seat equipment, ife etc was showing it's age.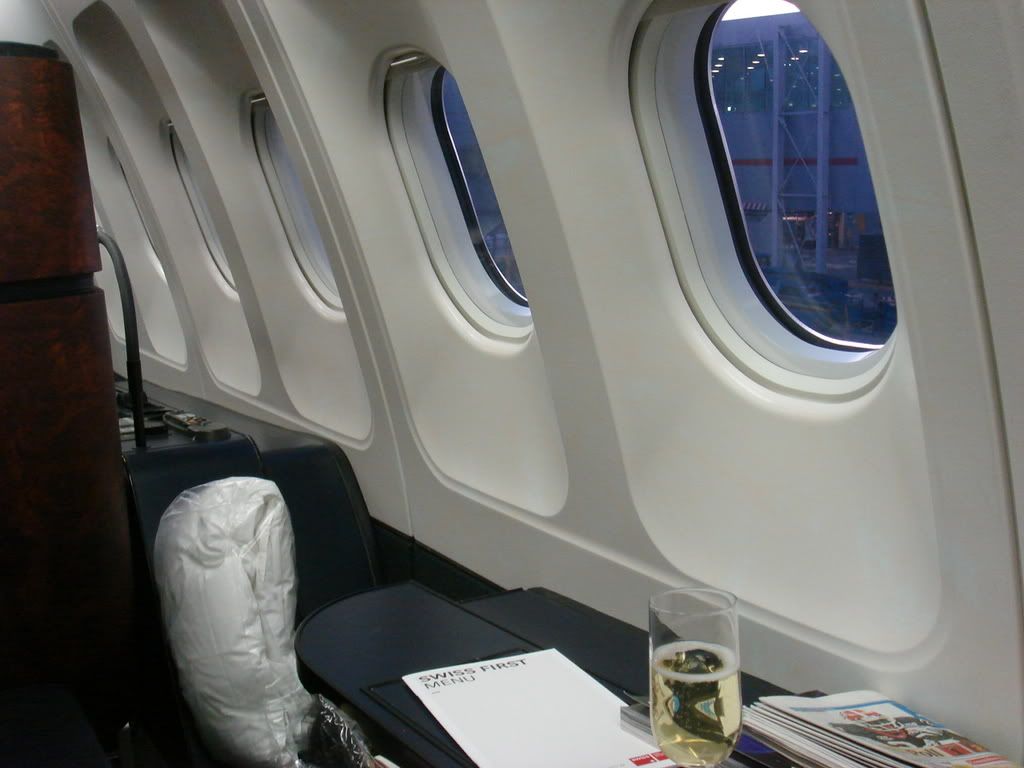 The last First occupant arrived, so tonight's load up front consisted of 4 passengers out of a possible 12.
Ammenity kit
Push occurred slightly early, though we seemed to taxi for quite some time, our turn at the runway finally appeared and we left US soil at 21:53.
Takeoff!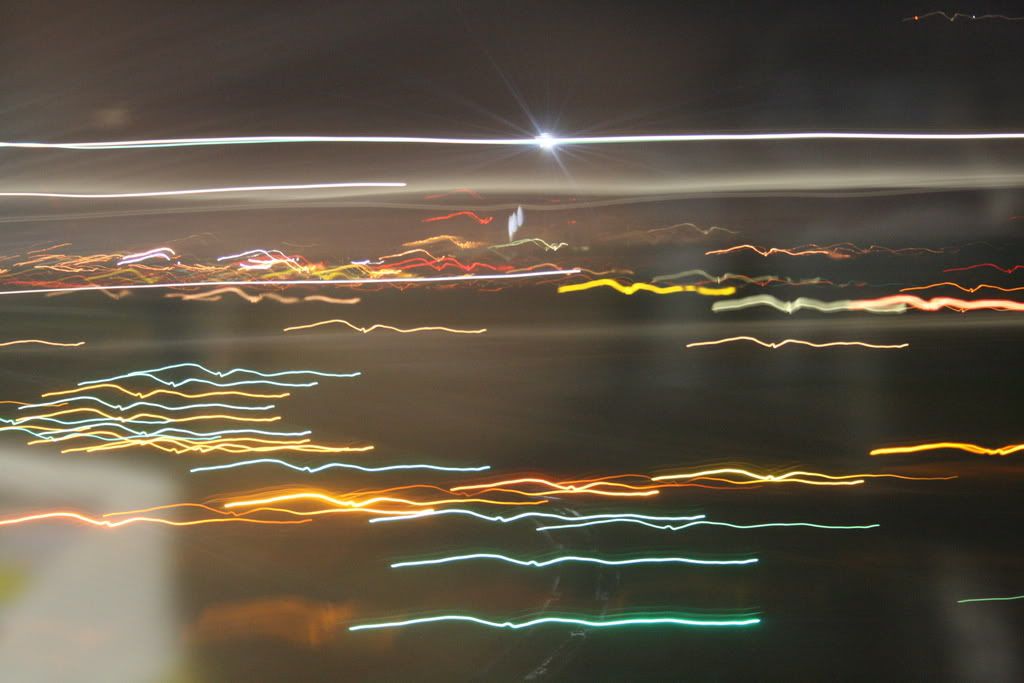 I do enjoy travelling on A330's, such a nice and quiet plane, especially forward of the engines.
As soon as the crew were released they came around to take this evenings dinner orders or set the beds up, my 3 cabin companions all decided to have their beds made, appears I was the only person planning to eat this evening.
I appear to have misplaced the menu so cannot give more details of the menu or provide pictures, but I took the beef , this was very good and a cheesecake with a raspberry compot, that was really good!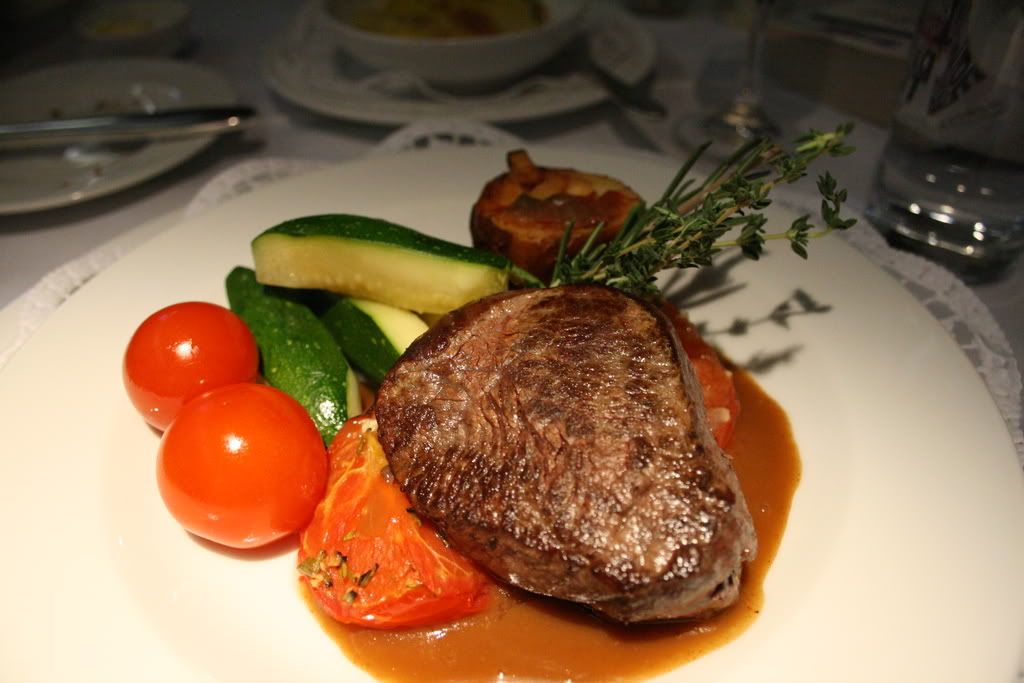 I passed on breads and starter as I wanted a quick service, starting to feel a little worn by this stage.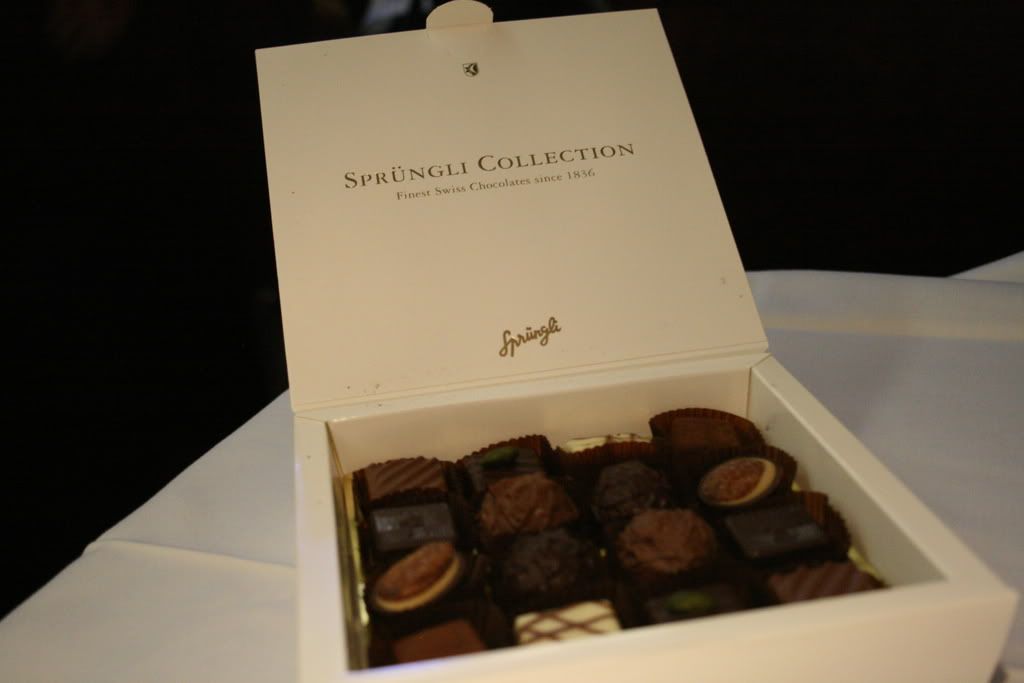 Despite the chocolates being offered I declined, I need to be in the right mood for chocolate, now was not one of those moments.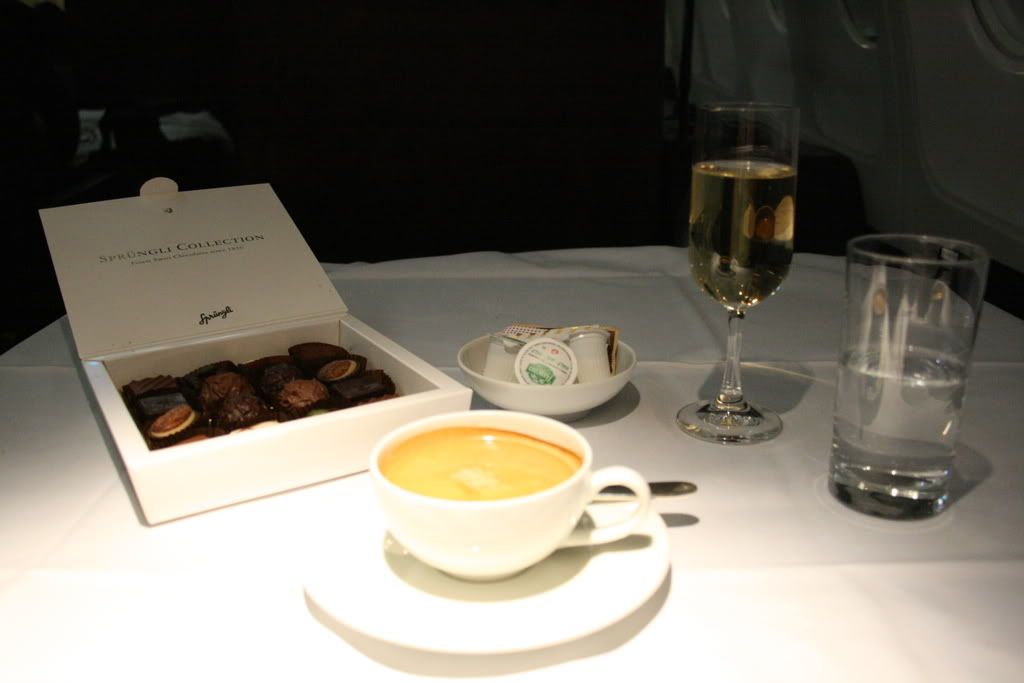 I stuck to the champagne, though took sparkling water too, actually being given a whole bottle.
After a quick visit to the 'boys'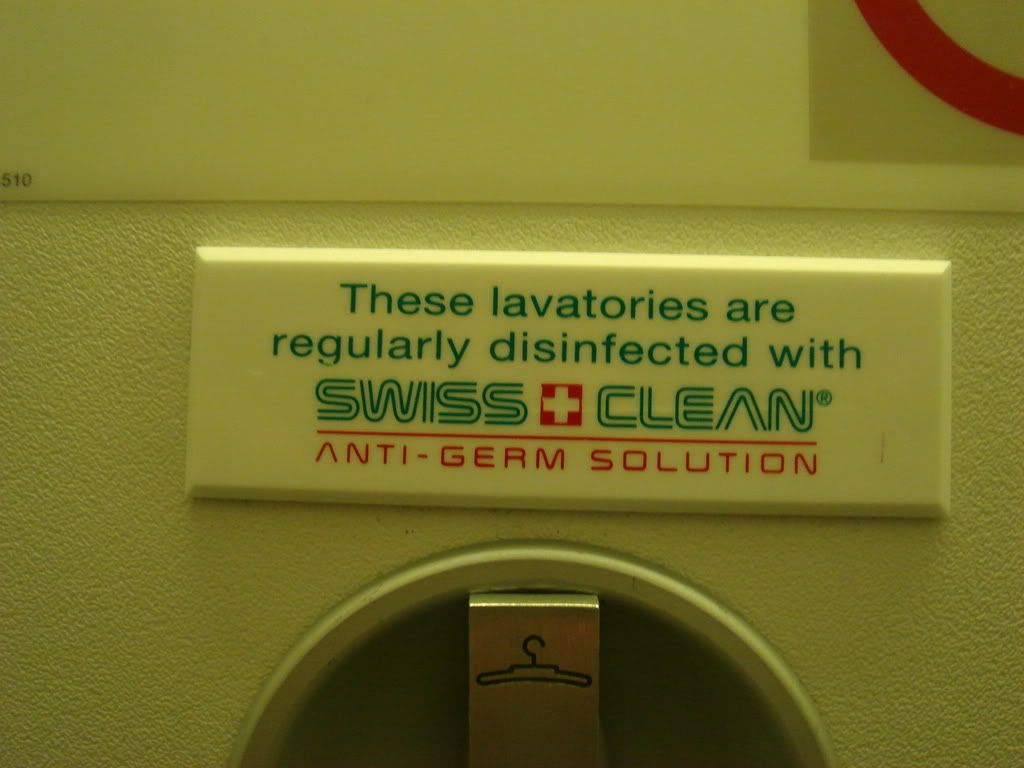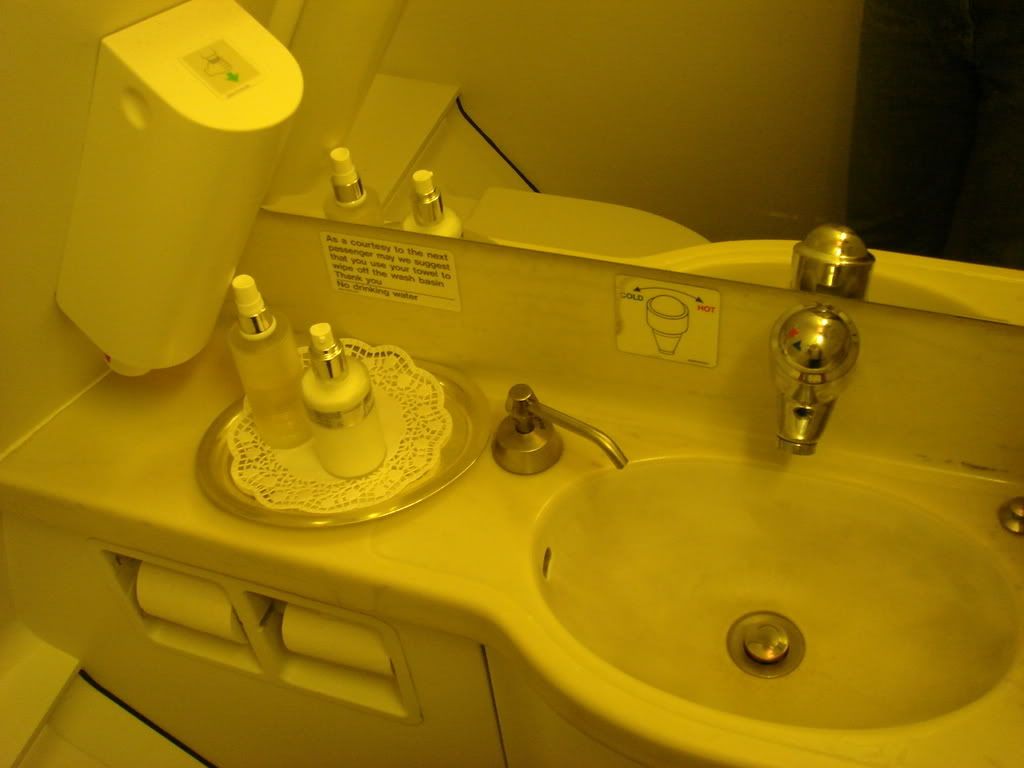 I headed through the galley, the FA asking if it was time for bed so I said yes and he rushed off to make my bed for me.
My bed for the night
Despite these being the old seats, they suited me just fine, manager a good few hours, waking up around 1.5 hours before landing.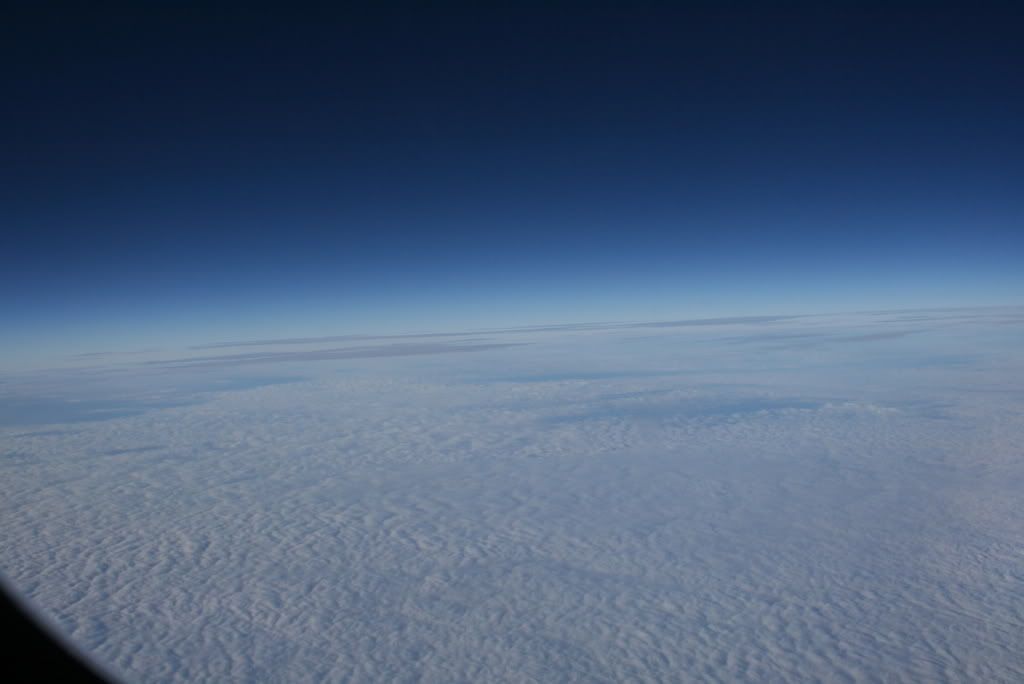 Feeling awake enough, I got up and started to pack away the duvet, caught in the act the friendly FA rushed out of the galley to finished the job, given the low load and me being the only active person, guess it kept him slightly occupied!
Feeling peckish but not too much, I just took juice, fruit, yoghurt, coffee and a croissant, nothing special but the juice tasted freshly squeezed and the yoghurt's presentation and taste was good – much prefer it being served in a bowl rather than in a plastic tub!
The remains of the bottle of water from last night got replaced with a fresh one, this despite my objections that it was still ok – great service!
Just before descent, the remaining 3 passengers woke up, they all too a quick something to eat/drink – hot towels were also passed out.
I had expected one of the much touted Swiss chocolates to be offered before landing, alas not to be – OA260 always seems to get these!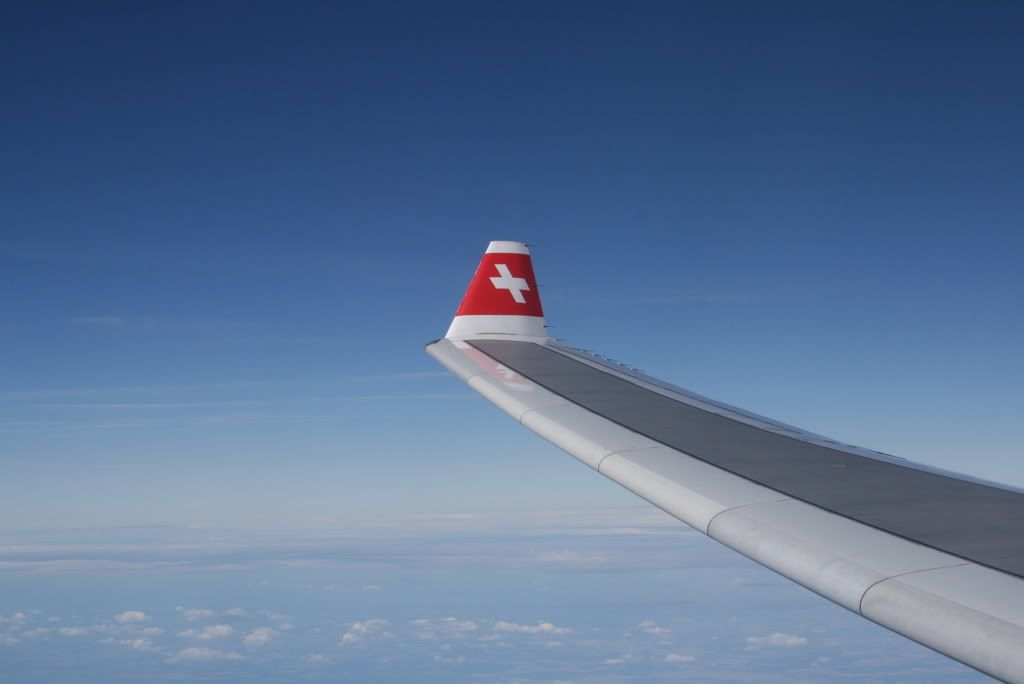 The crew had it pretty easy up front on this flight, what an easy bunch of passengers!
Approaching Zurich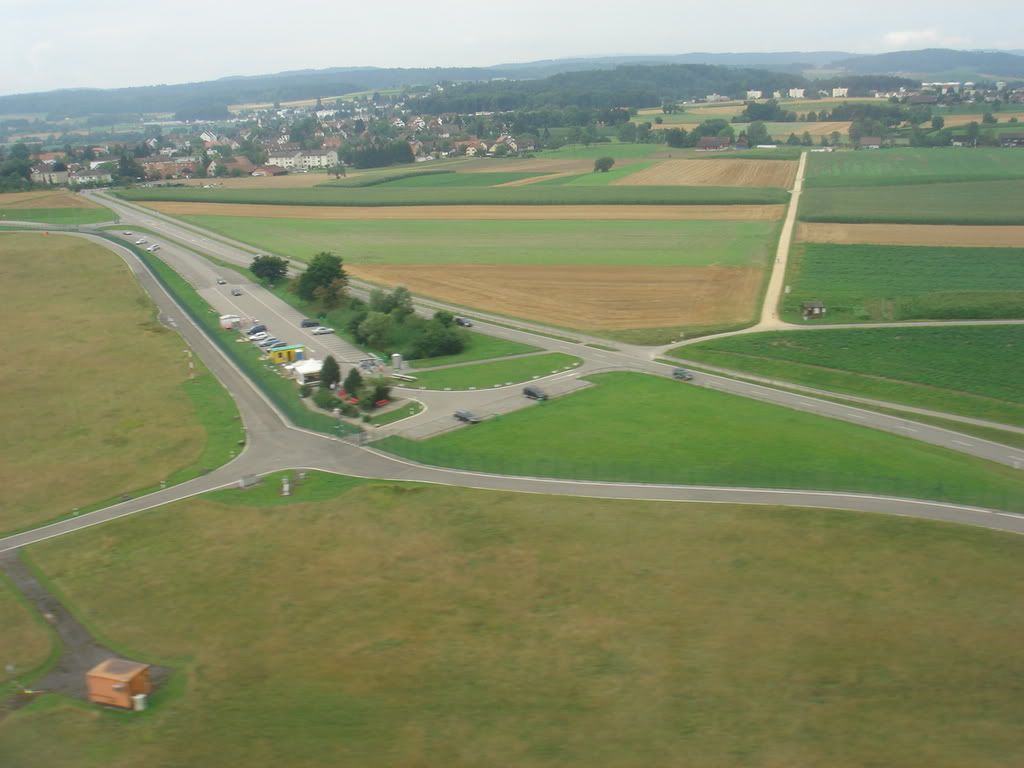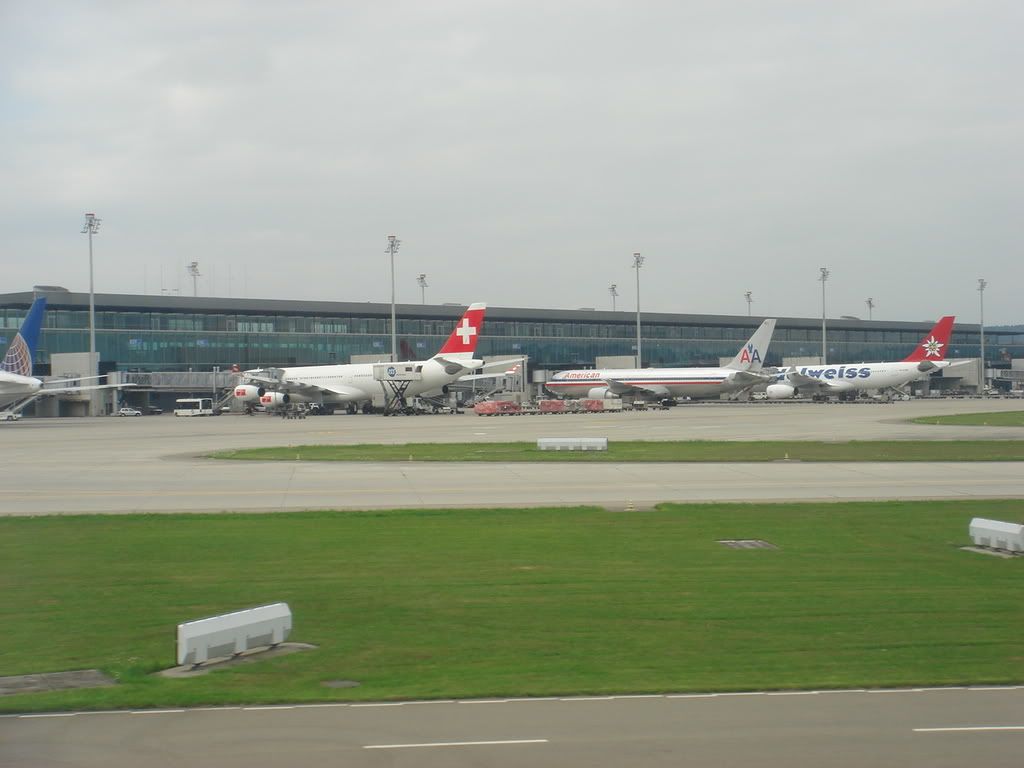 Once parked, I thanked the crew, they held back other departing passengers to allow me off, then headed off to the lounge near the A gates to rest prior to my next flight in just under 2 hours.
All in all I quite enjoyed the flight, though being quite a short flight, you don't get to feel the real First Class experience, would be good to try out on a proper long haul.
Down to the train.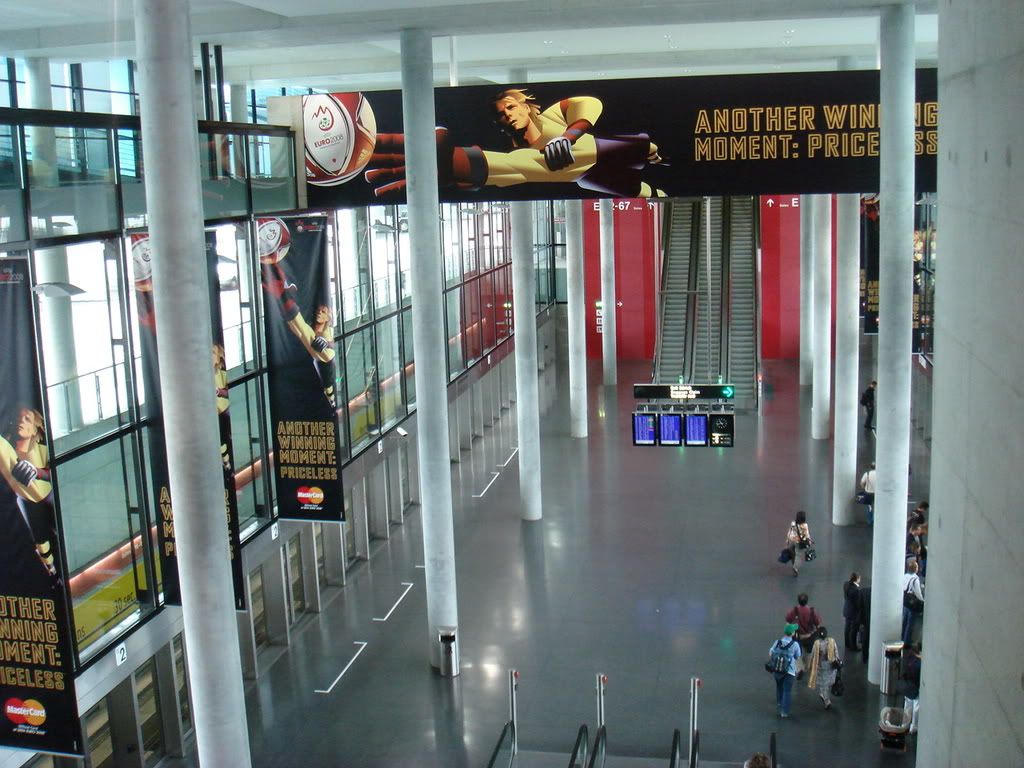 Exterior of the lounge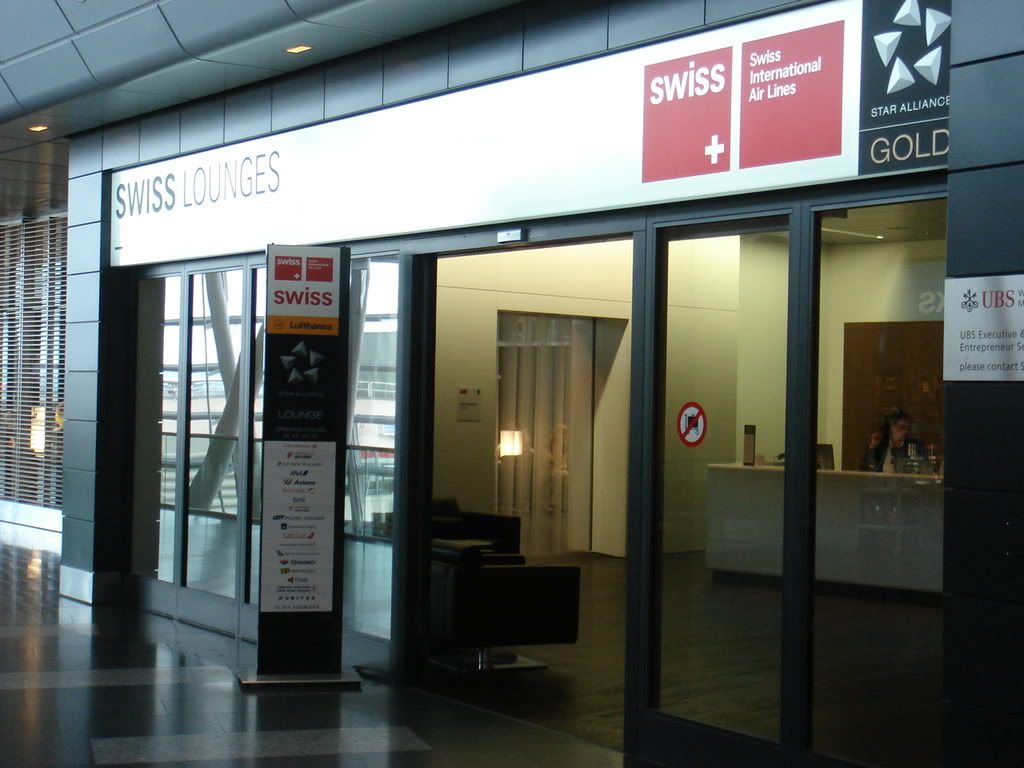 I did visit the long bar but you can smoke in there and people were, so never stayed, seemed to lack decent ventilation.
The lounge was ok, but nothing special or perhaps I was just too tired to fully appreciate it?
I killed a little time in the lounge before heading down to the gate.
The A gates have a separate security channel for First/Business passengers, ahead of me some LH crew tried their luck to use it but were turned away.
Despite my EK ammenity bag making it through SSSS screening at JFK, the staff here made me break the seal and inspect the contents, interesting............
Once at the gate I noted our flight had been delayed by 30 minutes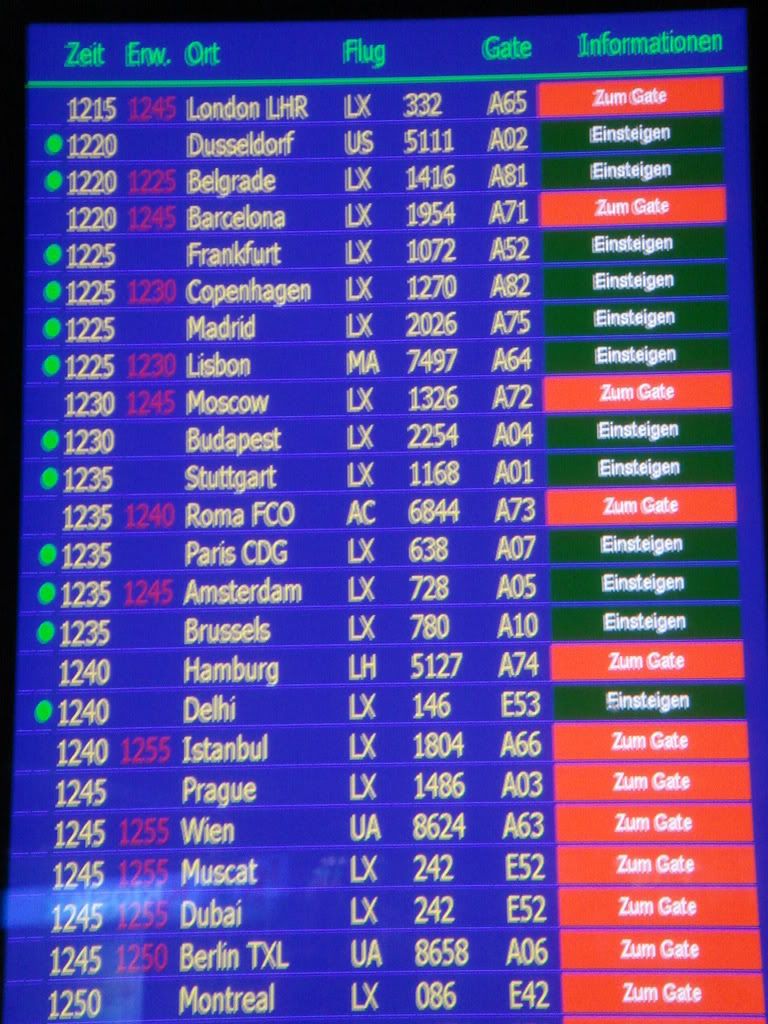 so I did a bit of spotting, made 12 new birds, so a pretty good use of time.
02.08.08 LX332 A321-211 LX-IOK 3K – Business Class
1st Flight on this aircraft & 22ND A321 Flight
SCH DEP 12:15 SCH ARR 13:05
ACT DEP 12:56 ACT ARR 13:30
View Large
View Medium


Photo © T.Laurent
Boarding actually started as 12:25, though there was no pre-board for Business Class, being dead beat and just wanting to get my seat I enquired at the desk as to the lack of pre board, the lady replied it was more important to get the economy passengers seated. I appreciate the flight was running late but why upset premium passengers??
My ride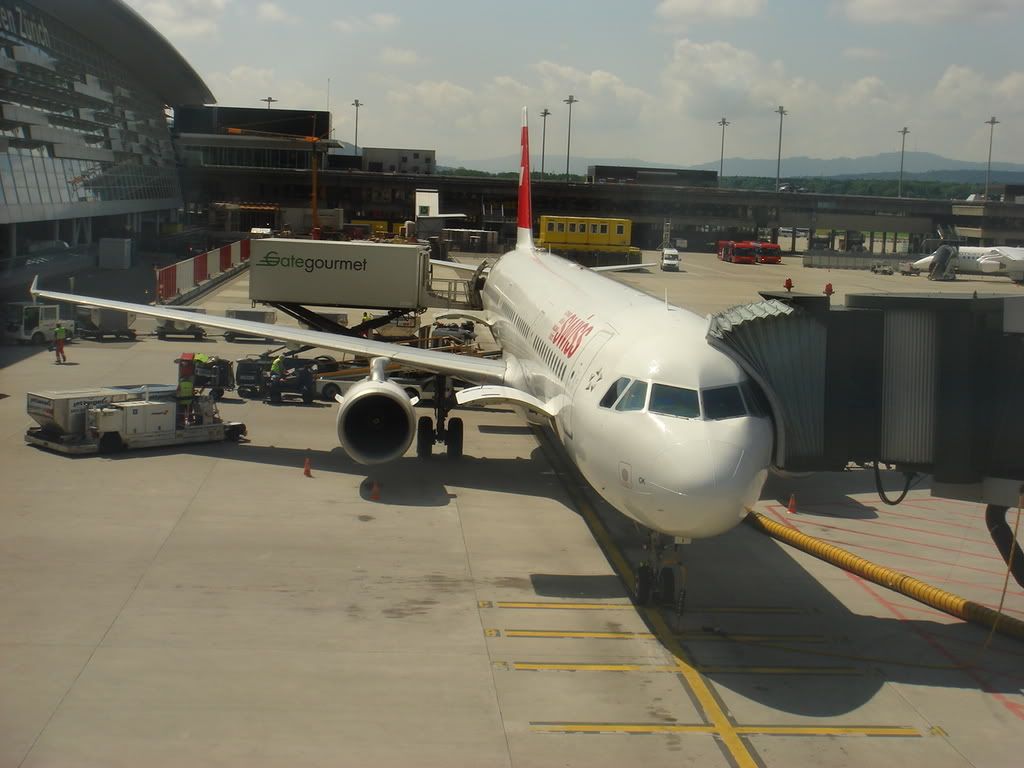 I was among the last to board, being told the flight was full and they would have to check my hand luggage, then she noted my seat/class, opp's, sorry!
Once aboard, I was the last business passenger, though thankfully there was still space for my luggage in the overhead.
Business was configured in 3 rows of 2, the middle seats having that plastic 'board' across them, a full load up front today.
Front door closed at 12:49.
The crew distributed newspapers, a 'refreshing towel' and a small bottle of water to those who wanted refreshments, the water was welcome as it was quite warm – nice weather in Zurich today.
Push occurred at 12:56, with a relatively short taxi out to our departure runway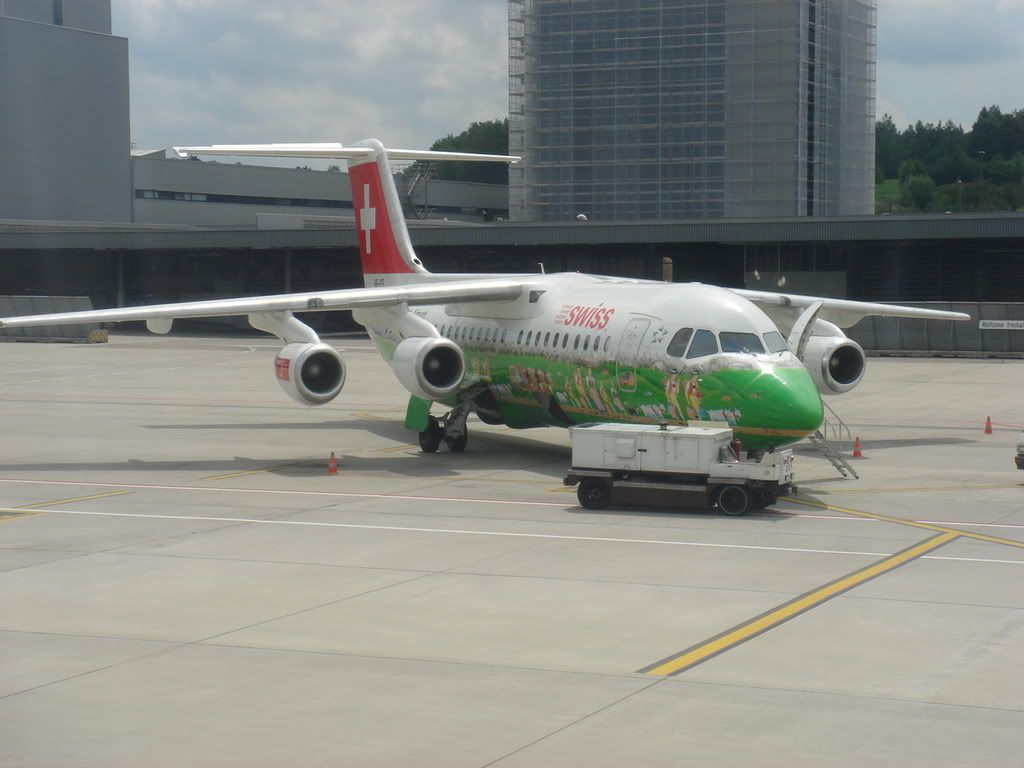 wheels up as 13:11
So this is where clouds are made
Shortly after takeoff the meal service commenced, the FA serving our cabin starting from the last row working her way forward.
The meal was very tasty and quite the right portion for this time of day – I took sparkling water to drink.
The rest of the flight was pretty uneventful and I dozed.
Some pictures during descent.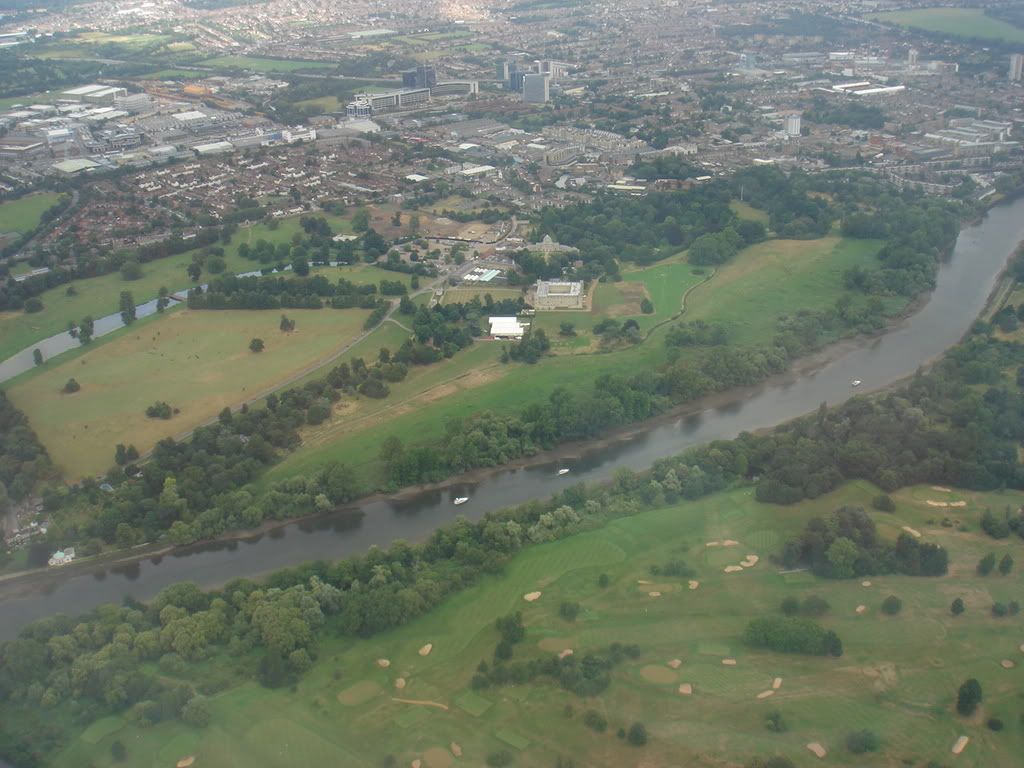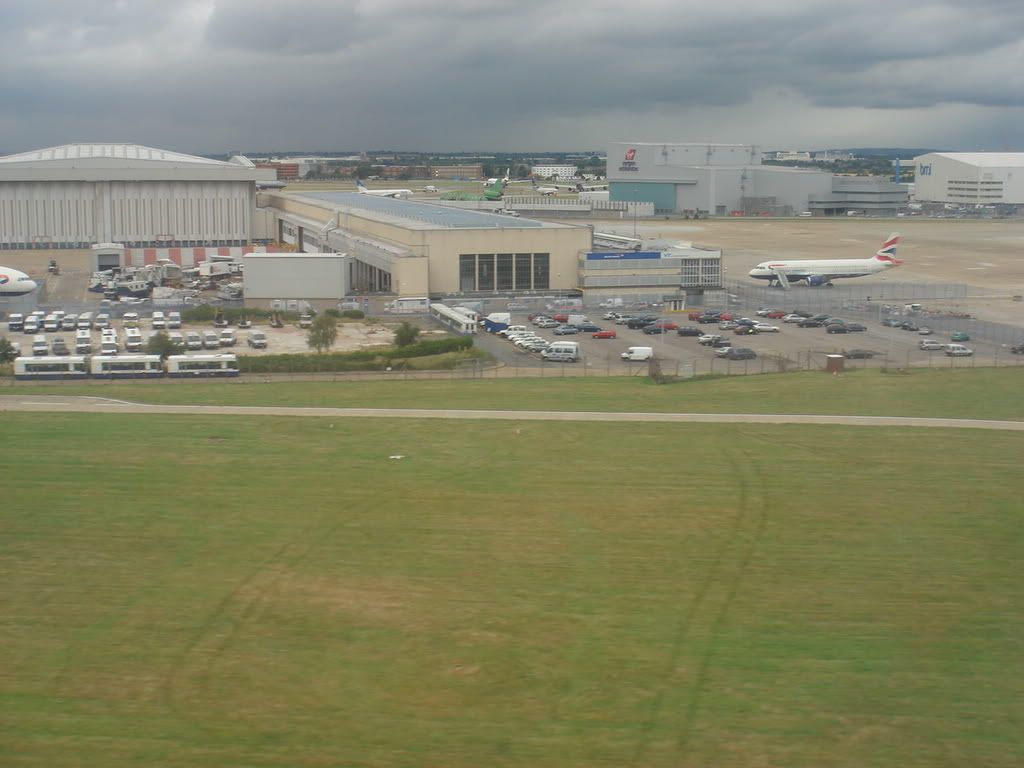 Wheels touched down on 27L at 13:30 local time, some 1h:19m of flight.
Short taxi to the gate and a long walk to passport control!
That's about it really and yes, we did get a famous Swiss chocolate on this flight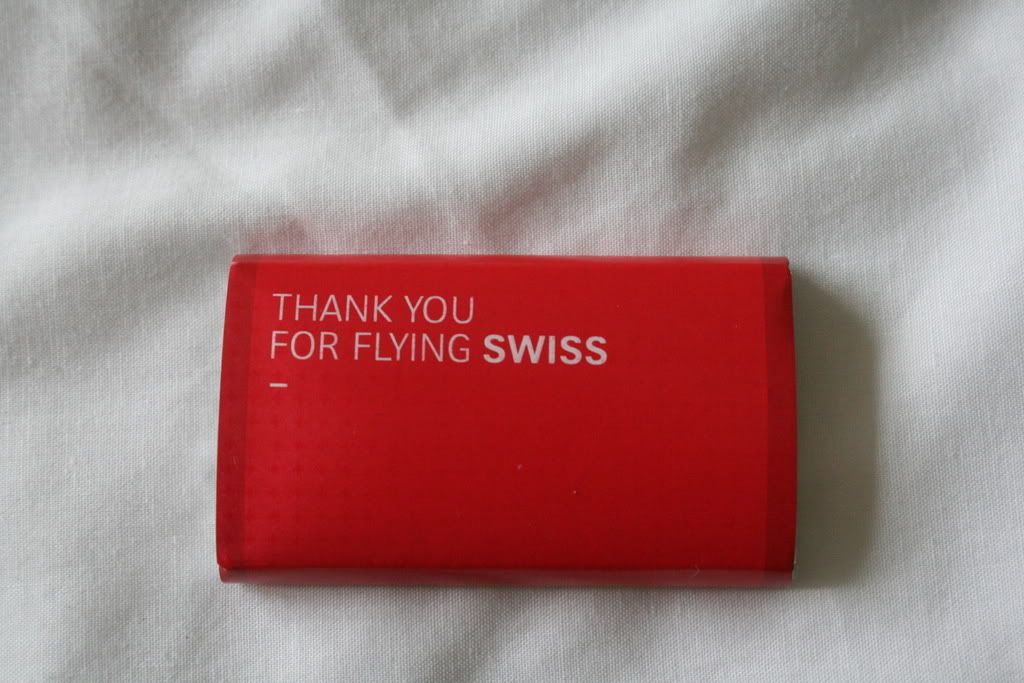 Hope you enjoyed this final instalment.
The trip was long but was well worth it, had a blast! - 4 planes,almost 27 hours flying and only 2 nights away from home!
Kind Regards
Mark
Future confirmed flights:-
BE LGW-IOM – D84 (Y)
BCI IOM – JER – DO3 (Y)
BE JER – LGW – 190 (Y)
BA LHR-JFK – 744 (J)
CO EWR-HNL – 764 (J)
HA HNL-ITO – 717 (Y)
HA ITO-HNL – 717 (Y)
HA HNL-LIH – 717 (Y)
HA LIH-HNL – 717(Y)
AA HNL-LAX – 752 (F)
BA LAX-LHR – 744 (J)
SN LGW – BRJ – AR1 (Y)
SN BRU – THF – AR8 (Y)
BA TXL – LHR – 320 (Y)
BE LTN-IOM - D84 (Y)
BE IOM-LTN - D84 (Y)