VLM and the Fokker 50
Hoi, dear readers,
the Fokker 50 is still not that much covered in my log, VLM airlines will be a new entry.
So, time to bring it together with another day around Europe.
With the VLM leg quickly booked, it was not that easy to reach my departure airport RTM from STR.
Finally I´ve found an acceptable way connecting a flight to DUS with a train ride to RTM.
Only a few hours after reached home from
https://www.airliners.net/aviation-fo...ums/trip_reports/read.main/130958/
it was time to go for another ride to the airport.
Friday, 25.07.2008
STR (Stuttgart-Echterdingen) - DUS (Düsseldorf-Rhein-Ruhr)
Duration: 40 minutes
Service AB 6835 operated by airberlin Airbus A319 D-ABGC
Scheduled: 07.00 // 08.05
Actual: 07.20 // 08.00
Gate: 331 Seat: 24A
Load factor: around 70%
Fare: 40,04 EUR per AB leg
History:
01.06.2005: Delivered to Independence Air/US
20.04.2006: Further to airberlin
Leg no. 39 on the A319 and the first on this machine
Boarding time was printed for 06.15 am, check-in was done manual the day before in DUS.
That means no need for an early arrival at STR, no time to wait at security and at the gate around boarding time.
The female agent called me to the desk. Any problems?. Not that really, an equipment change from the new built A319´s to the older machines
with only 24 rows. I was checked in for seat 25A.
As usual with AB, boarding started not that early, around 25 minutes prior to departure by bus.
With some AB A319´s flown lately I´ve nevertheless hoped for a new reg.
It seems I was lucky today, one of the ex-Indy birds waited on the apron, not bad for the first flight of the day.
Early morning at STR: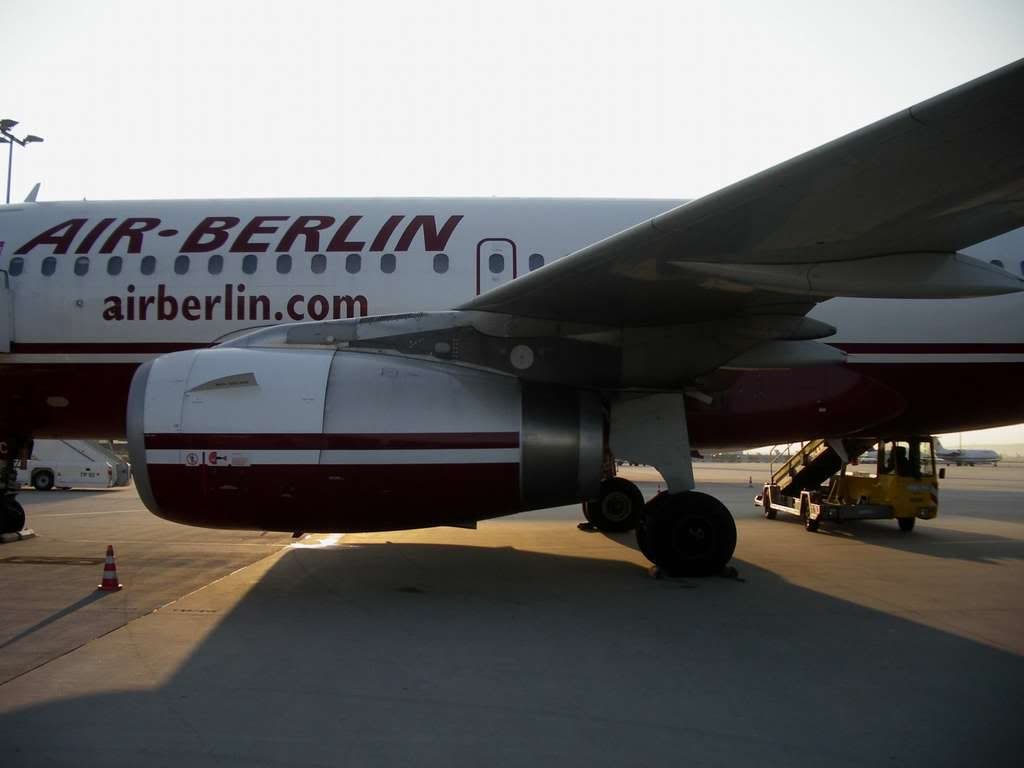 A new reg!: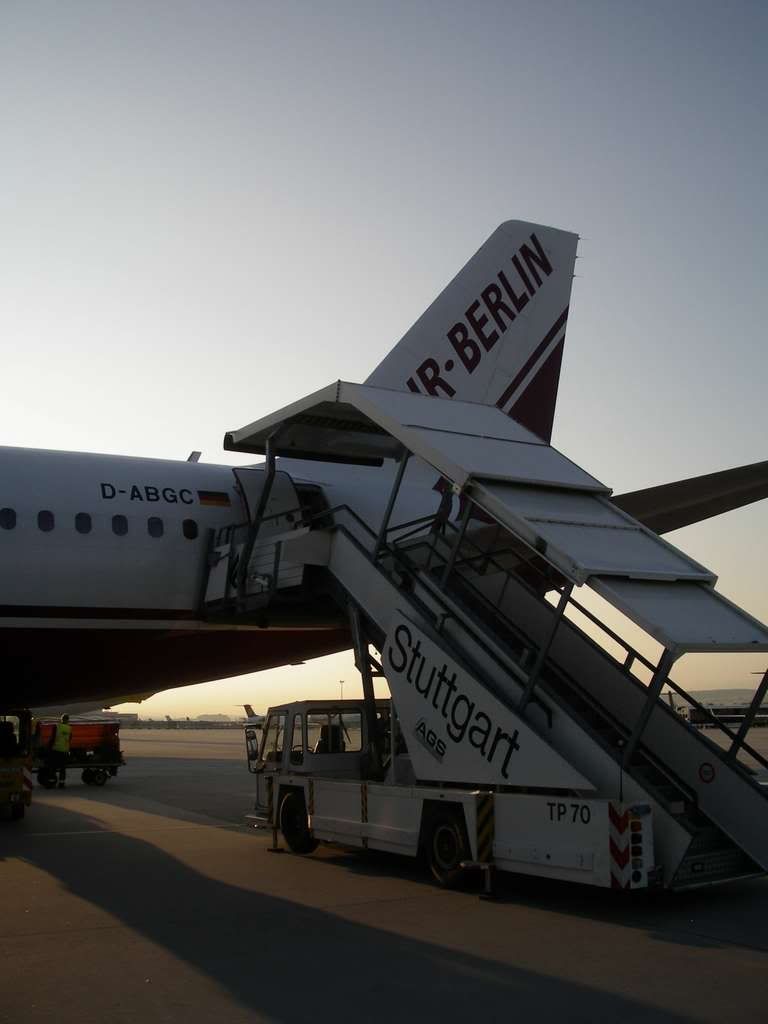 Three friendly females in service on these machine.
The cabin fitted with the blue grey leather seats, clean, comfortable, good legroom.
A friendly welcome from the captain during boarding and further to a departure from runway 07.
Newspapers, magazines, drinks and snacks on offer, all for free.
The FO was once more to hear inflight, but less detailed. Therefore no flightlevel or route information.
How I like these colours:
Nice weather on the whole route, looks like a hot upcoming day.
Touchdown on runway 05L and bus deboarding.
Arrived at DUS: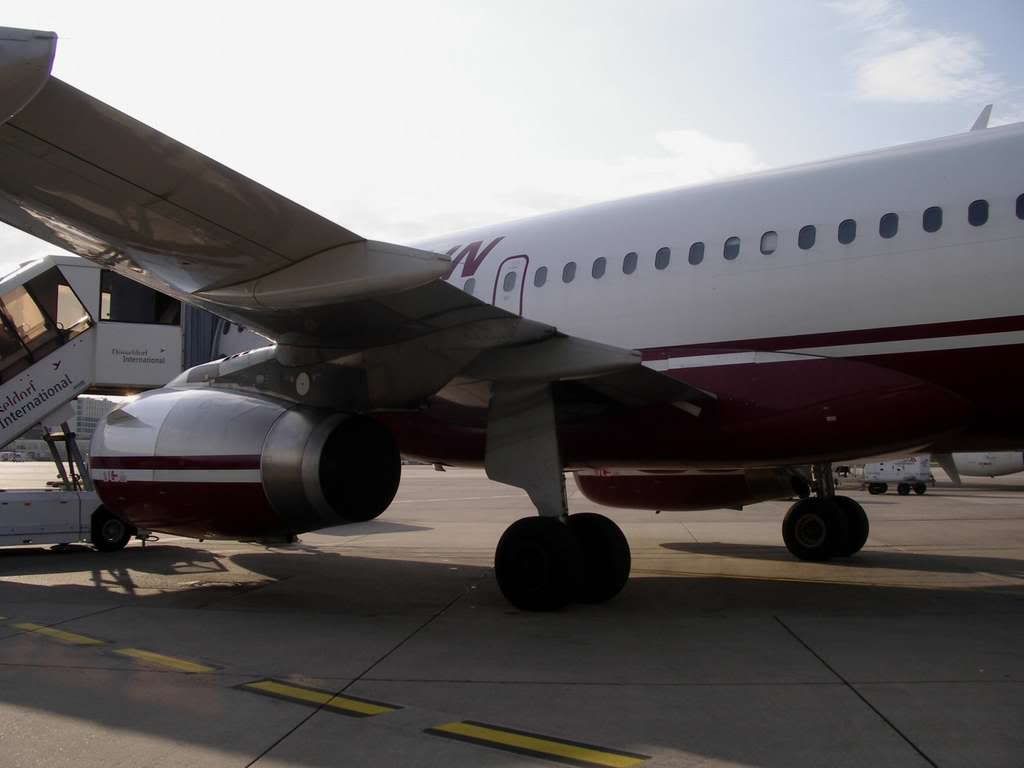 Further with the not always properly working DUS-Skytrain to the airport station, by regional train to Duisburg,
with Deutsche Bahns ICE International to Utrecht and by the NS IC service to Rotterdam Centraal.
DUS-Skytrain:
Unbelievable but true, 14.-- EUROS for the whole tour from DUS airport to Rotterdam Centraal
and these together with an upgrade to First Class while they had some problems with the climatization.
Some pics from Rotterdam:
De Doelen:
Climbing up some clock tower?:
Down by the river: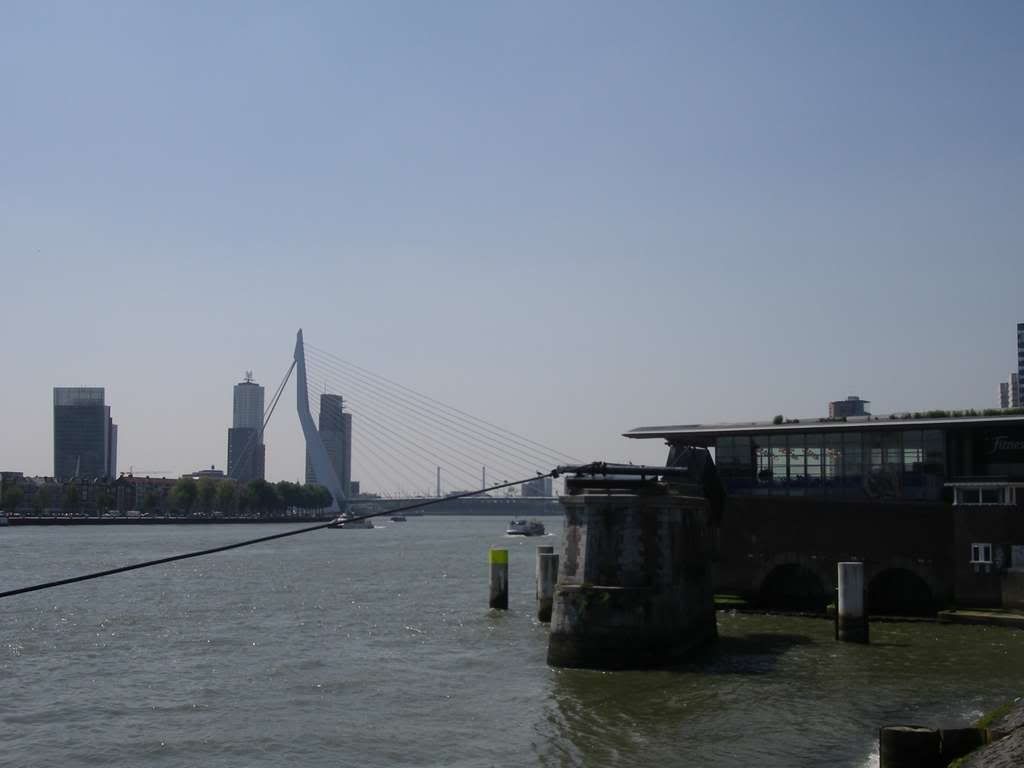 Fantastic architecture:
A historic ship:
Contrasts: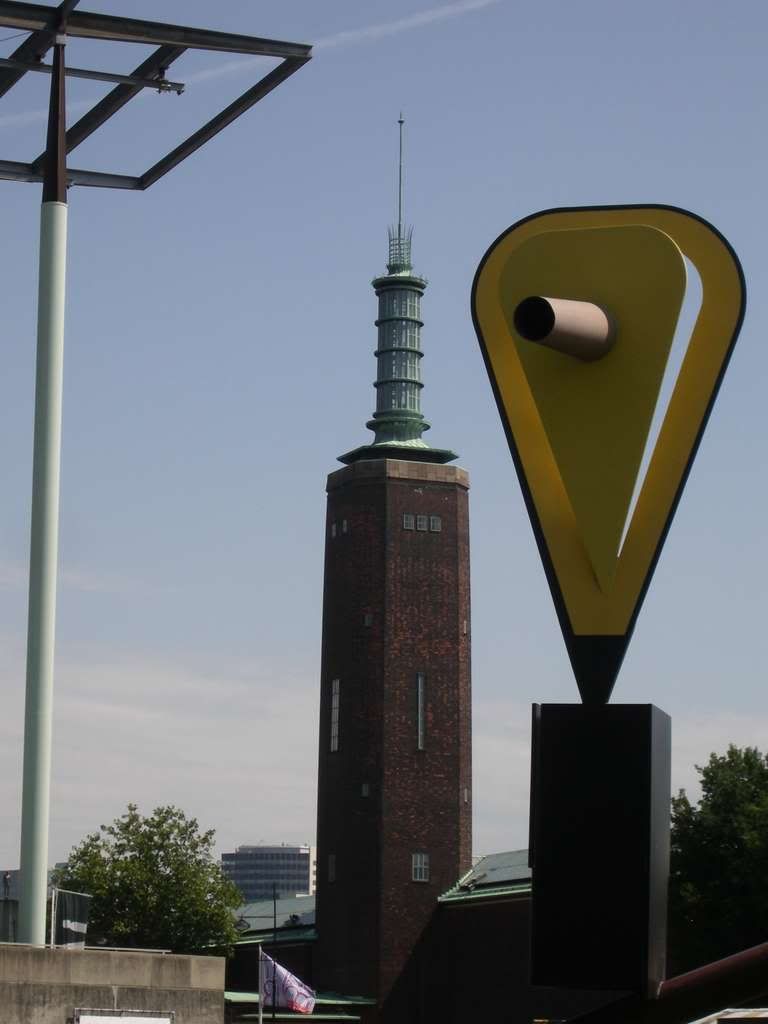 The netherlands architecture institute:
Friday, 25.07.2008
RTM (Rotterdam-Zestienhoven) - HAM (Hamburg-Fuhlsbüttel)
Duration: 1 hour, 10 minutes
Service VG 257 operated by VLM airlines Fokker 50 OO-VLE
Scheduled: 17.45 // 19.00
Actual: 17.45 // 18.55
Gate: 6 Seat: 12D
Load factor: around 60%
Fare: 78,50 EUR
History:
27.10.1988: Delivered to DLT/Germany
17.03.1994: In service with VLM
01.01.2001: Back to LH Cityline
01.05.2007: Again in service with VLM
Leg no. 3 on the F50 and the first on this machine
The airport is well connected with the train station by a frequently running bus service, EUR 2,40 oneway.
So, pretty early at the airport, around 4 pm for the 5.45 pm departure.
Some spotting from the outside, but it was so hot this day, that I´ve decided to go airside and enjoy the climatization.
Transavia:
VLM: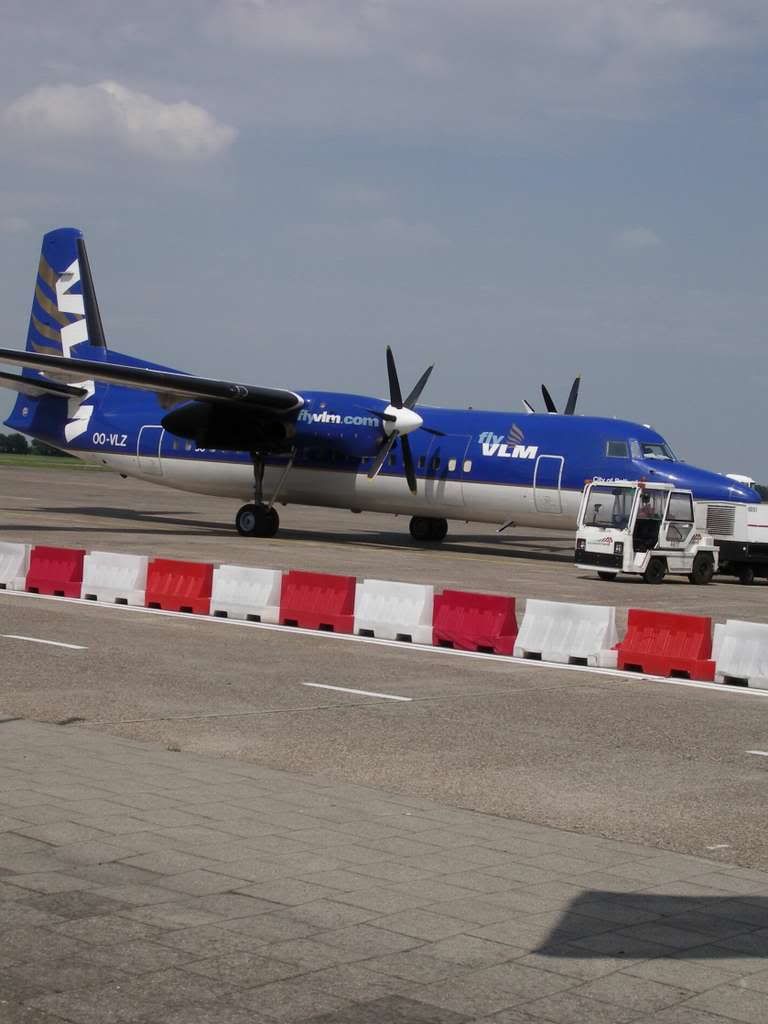 Check-in was done the day before online.
Some heavy clouds coming up, but I was lucky again, it remained dry till my departure.
RTM is a small building with a restaurant and limited seating spaces, overcrowded till two, so it seems fully booked HV flights to
Heraklion and Faro boarded and quiet and comfortable thereafter.
Only short ways to go, a quick security, so a mostly biz place with several departures to London, LCY with VG and also LHR with KL.
Not bad at all.
No VG arrival on the screen prior to my flight, but three F50´s parked on the apron together with a KL Cityhopper machine.
That sounds like one of these will be mine.
Great apron view: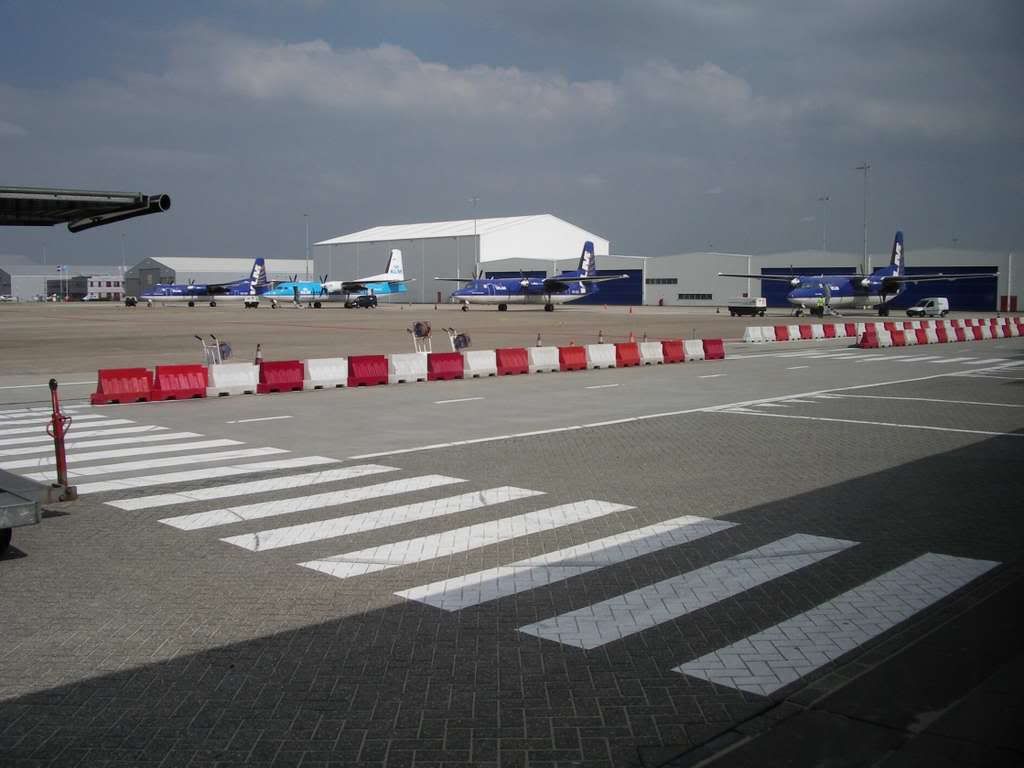 One departure earlier to London-City, pax boarded the first parked plane and when the crew arrived and opened the door at the second one,
I´am nearly sure that this will be my ride.
Ontime boarding, bus service to the plane.
My machine: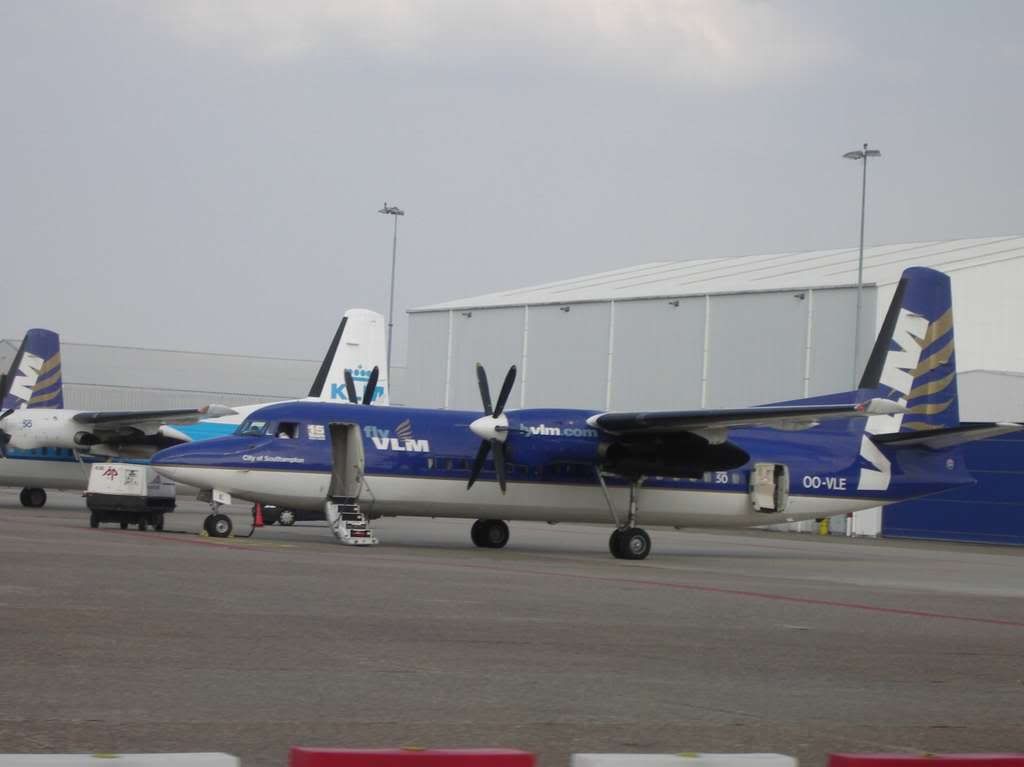 Closer:
Boarding: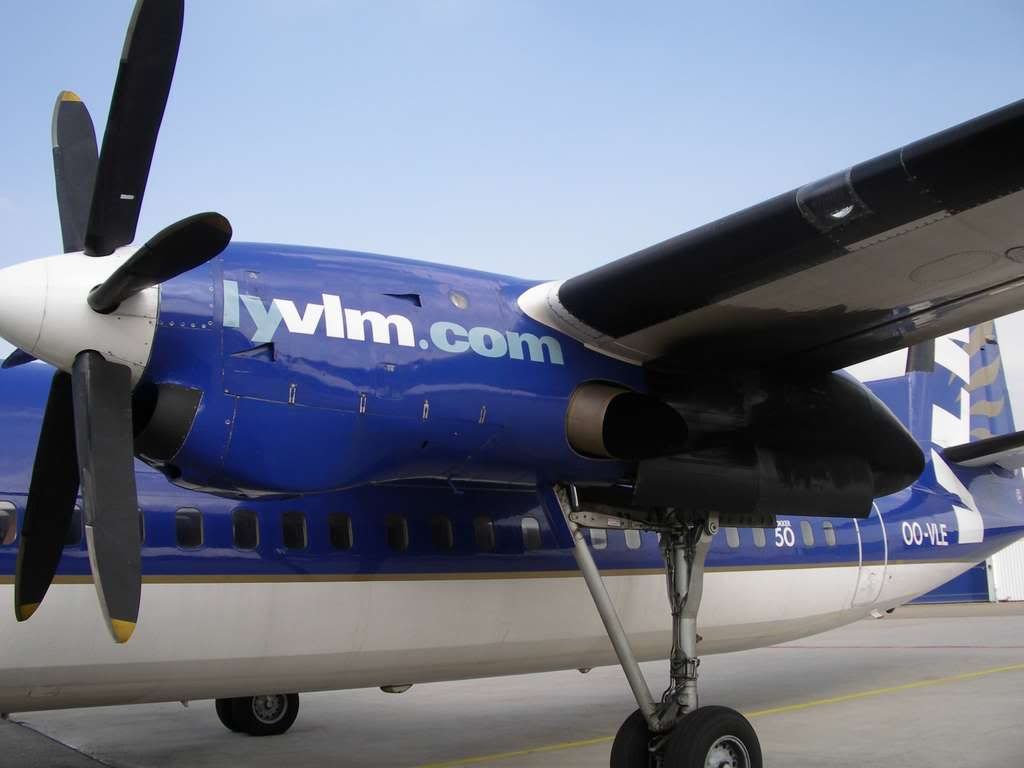 Also at VG, the gate agent picked up my self-printed sheet and gave me a classic boarding pass.
A real good looking machine.
Bright hard, brown leather seats with alu armrests, comfortable. Some oldfashioned details clearly visible, lights, vents and else.
Cabin:
Two very friendly female FA´s.
Service together with a sandwich:
Departure from runway 06, some circling around the clouds after departure, the weather cleared up with good views till HAM.
Inflight:
Good service, a short weather and arrivals information from the cockpit during approach. It seems the cockpit crew was from Belgium.
Airbus Finkenwerder: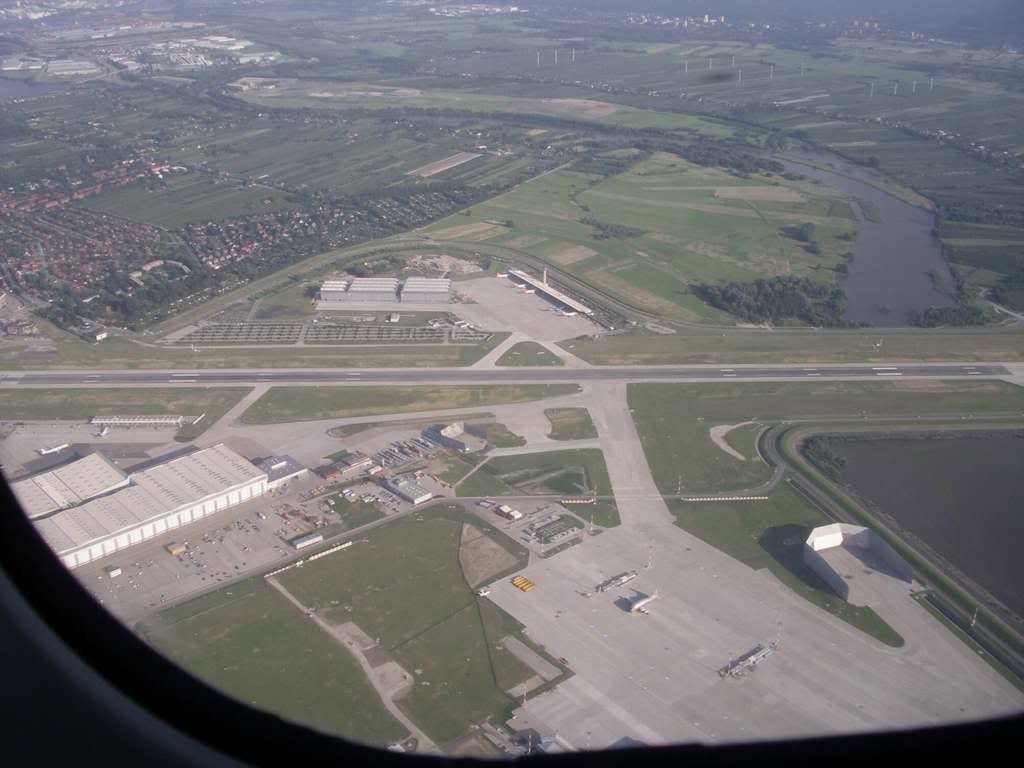 The harbour:
Touchdown on runway 05 . I´ve asked for a cabin pic, no problem there, thanked the crew and gone by bus to the terminal.
Friday, 25.07.2008
HAM (Hamburg-Fuhlsbüttel) - STR (Stuttgart-Echterdingen)
Duration: 50 minutes
Service AB 6663 operated by airberlin Airbus A319 D-ABGA
Scheduled: 20.05 // 21.20
Actual: 20.40 // 21.30
Gate: C07 Seat: 24A
Load factor: around 95%
History:
04.02.2005: Delivered to Independence Air/US
22.04.2006: Further to airberlin
Leg no. 40 on the A319 and the second on this machine
This leg closes the gap between the VLM flight as the main target and my homeport STR.
Kosmos Antonov:
Private heavy departure:
The plane arrived some minutes late from STR, boarding started soon thereafter.
Taxi: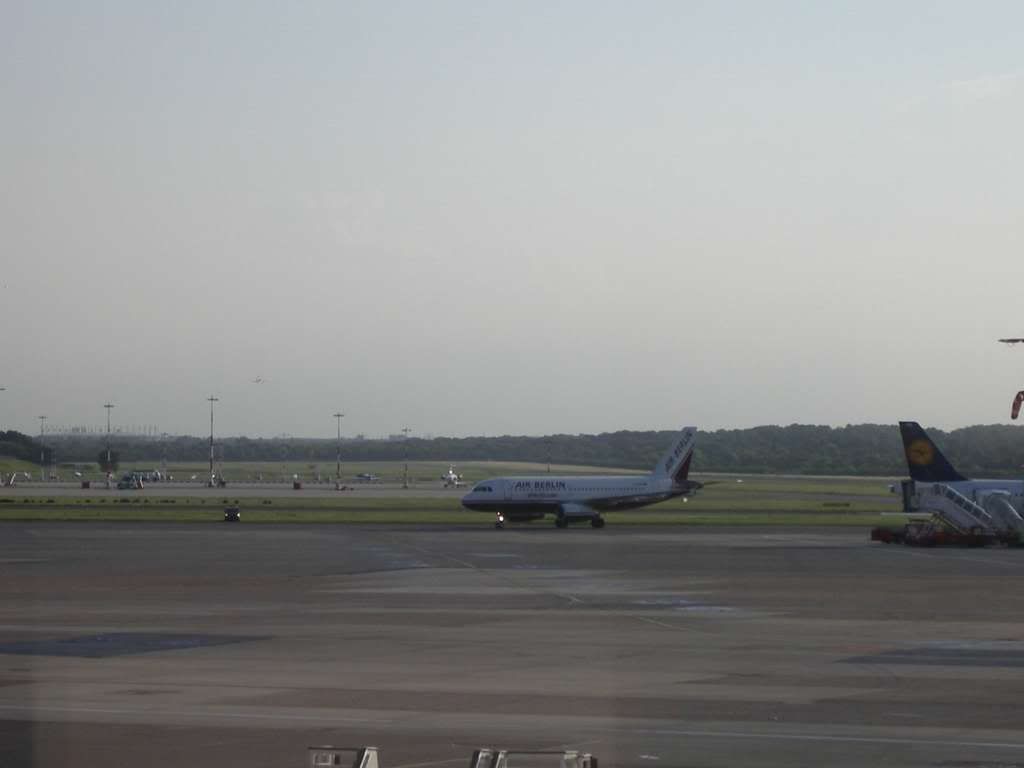 Closer:
And closer:
A new reg.?:
Not today:
Also on this flight, three friendly female FA´s.
The machine fitted with the grey, blue leather seats, clean, comfortable so far.
A very friendly and funny welcome from the pilot during boarding. The cockpit crew was from Germany.
Departure from runway 15.
Newspapers, snacks and something to drink for free.
The FO as the pilot flying was once more on the speakers inflight, but not detailed.
No flightlevel information, the route was via HAJ.
More clouds south of HAJ, but no problems at all, circled around.
Approach into STR was interesting, we´re passed the city center very low at the northern part´s,
managed a sharp left turn not far from the Daimler factory in Sindelfingen and touched down soon thereafer at runway 07.
Deboarding by bus, on the way back home with a bit more time than yesterday for the next departure the next day.
VLM and the Fokker 50, as the main intention for this trip, very interesing and real recommendable to fly.
The city of Rotterdam offered more than expected, also a place for a short visit.
Not that much to say about the ab services, ontime, good fares, ok so far.
Some confusion at the ab DUS desks when I´ve checked in Thursday afternoon for
STR-DUS and HAM-STR this day, but finally no pproblem at all.
Comments welcome,
Markus (FLIEGER67)
Upcoming:
Germany (CRJ7/F100/B462)
Sweden (F100/F70/J31/B737)
Germany (A319/D328/A319)
Belgium (B735/RJ85/RJ85/B737)