Feedback always appreciated.
Trip Report: 054
Flight Category: J-ILR (See Report End)
Date: 18 Jun-08
SDT/SAT/Delay: 1230/1605/09:35 hrs (Delayed: 02:10 hrs)
Flight:
LOT Polish Airlines LO 006
, 5067 miles
Routing: WAW-JFK
Aircraft: 762
Seat: Business, 1F
I > Background:
I had been on a tough away assignment for 3 months and earned a well deserved break by the time the engagement was over and June had rolled in. Instead of going back to Caracas directly, I decided to visit a few random places I had not been to in a while. After a trip to Santiago and Barcelona, I was called to a business meeting in Warsaw … and then to Miami (via Newark).
While a quick search on A.Net tells me that this is the first report on LOT's trans-continental Business Class, I could have sworn I saw a report on a similar flight. Anyways, c'est la vie.
II > Pre-Flight:
a) Before Airport:
LOT Polish Airlines is the "flag" carrier of Poland. Another often overlooked member of the Star Alliance, LOT provides an "interesting" list of city connections from its hub at Warsaw. In 2003, LOT became the 14th member of the Star Alliance and is currently still controlled by the Polish government (51%). In the midst of airline consolidation, it will be interesting to see the form in which LOT survives the next 10 years.
This last minute ticketing was done through LOT's office in Warsaw. While I tried to book a ticket using their clean website at
www.lot.com,
I got time out errors each time and resigned myself to a trek to the CTO. The CTO was very efficient and surprised at my one-way J class purchase to EWR … guess not a lot of people buy walk-up J tickets to EWR on LOT. Anyways, while the ticket purchase itself was smooth, I was annoyed by the inability of the agent to book me into my preferred seat. Found it extremely weird. I just don't understand why J/P class passengers who pay a premium are not offered their choice of seat.
b) At Airport:
One of the "joys" of buying a premium ticket is the ability to show up relatively late to the airport and check-in just an hour prior to the flight. Since I was scheduled to fly on LOT 11 to Newark (with departure at 1310), I lazily got out of my bed and made it to Okęcie international airport at 1200 to stare at a departure board saying that the flight had been cancelled! What?! I was at the ticketing office the day before – could they not have mentioned the same? Moreover, the ticketing office had 2 mobile numbers and my Westin hotel contact – could they not have called a full fare paying premium passenger to let him know of that?! Uugh. Anyways, keeping my cool, I made it to the Star Gold desk with a helpless lady who directed me to re-ticketing. Since the re-ticketing line was huge, I asked the guy who was "manning" the crowd at the Star Gold desk to help. Now, this guy was helpful (though, un-empowered) and pushed his way to the front of the ticketing desk with my e-ticket and passport. The re-ticketing woman kept on saying that there was nothing she could do and asked the guy to send me to the LOT office. Off I ran, to the LOT office where this man (it was a scene from a 1970s Soviet movie) was puffing on his cigarette reading a newspaper as around 10 passengers were trying to figure out what to do. The guy reading the newspaper did not give a damn that my flight was cancelled. I kept on asking to be put on the JFK flight – and he kept on saying that it was full. After a heated 5 minute conversation where my "chaperone" kept on reminding the "head guy" that I had a J ticket, it clicked on him, and he booked me on the JFK flight. Ok, it was now 1220 and I had to go back to re-ticketing to "collect the printout". Running to re-ticketing (and internally having accepted that I am going to miss the flight), I went to the counter and was given a slip authorizing a J class seat on the JFK nonstop. Next stop was actual check-in. Now the e-ticketing was done in error and a very experienced and kind agent frantically typed on her machine to match the e-ticket numbers (she was angel). Boarding passes were issued and my hold luggage accepted at 1229 … I had 1 minute to get to the flight. But wait. I had to go to another counter and have my passport verified for entry into Uncle Sam and my passport stamped. Then, I ran back, to collect my boarding pass! LOL. So off I went after thanking my chaperone. There was a special security lane for J class passengers and soon I was at the "entrance" where you are stamped out of Schengen area. I made it to the gate at 1236 … convinced that I had missed my flight. However, when I got there, there was nothing but chaos, pandemonium, and a lot of yelling back and forth in Polish. Of course, the flight was over-booked (due to the EWR cancellation), but it seemed that several people had boarding passes to the same seat etc.
Needing to sit down and catch my breath and wonder about my hand luggage, I sat down next to a poor young Canadian girl. She had a Business class award ticket issued by United Airlines on the EWR nonstop. Since her flight was cancelled, and perhaps because she was not fluent in Polish and assertive enough, LOT station manager (the same smoking dude) had told her that she would have to buy a new ticket in lieu of her LOT ticket. Apparently, since it was United stock, LOT was not liable to transport her anywhere! WTF?! This 21 year old girl was in tears and with the gate agent being besieged by angry Poles had nowhere to go. I gave her the number of a contact I had in LOT and told her to contact him immediately. It was incredible. After a few minutes into the drama, the LOT station manager arrived yelling at his fellow Poles. I approached him again and asked about the Canadian girl … he was incensed that I would argue against him and kept on saying how her ticket was United stock and not LOT's responsibility! Anyways, I told her to contact my friend at LOT (God, it helps sometimes working in this zoo of an industry) and decided to board the plane because I was getting a serious headache from the understandable mob situation outside.
OK. So I board the aircraft and am shocked to see that the 762 still features old style J seats. Even more shocking is that these seats are cramped in a cabin reminiscent of U.S. domestic class J seats. I mean, the seat pitch is just disgraceful. I would have a welcome drink … but the cabin crew is busy placating the riot that is already going on inside as somehow the gate agents had boarded passengers with same seat numbers. I started laughing as it reminded me of an experience in Central African Republic more than a Star alliance partner in the most important new European Union country. After almost two hours of fighting, negotiations, intense yelling, and me trying to look at the positive side that my bag would probably make it, the captain finally announced that we were ready to fly. The "problem" had been solved by giving a bunch of Y class passengers an operational upgrade (I was the only ticketed J passenger). I could not help but feel sorry for the Canadian girl who had a award ticketed J and was denied boarding. Really sad, and a very poor reflection on LOT. I did mention this to the crew who in a resigned manner asked me to write to the head quarters … which has been done with a copy to Star Alliance.
In case you did not figure it out, both J and Y load were 100%
.
Airport - External:
(Warsaw Airport)
Check-in: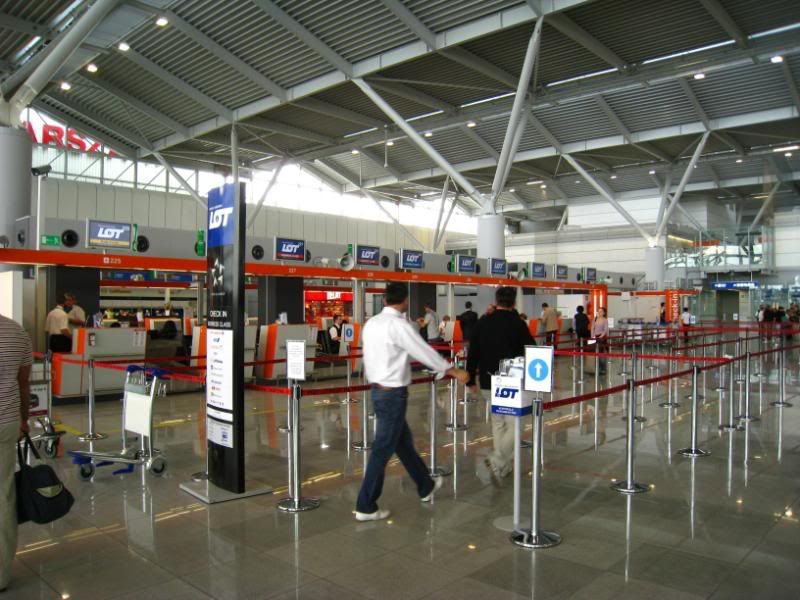 (Re-ticketing desk)
Airport - Internal: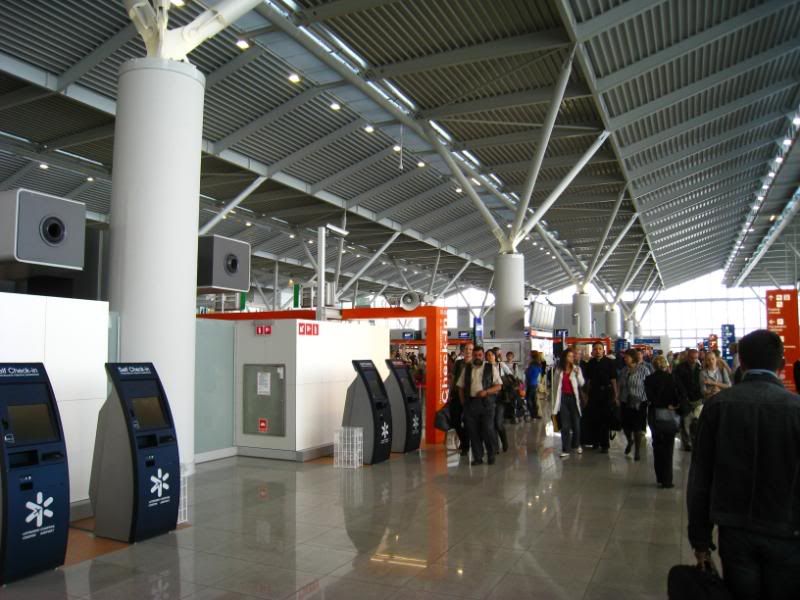 (FIDS – notice the canceled EWR flight – and the other cancelations)
(Post-Security – always have time for pictures ... as I had resigned to missing the flight)
Scenes of the tarmac:
NONE
Lounge
NO TIME
.
Boarding:
(Boarding gate chaos)
(Musical chairs inside…get of my seat b**tch*)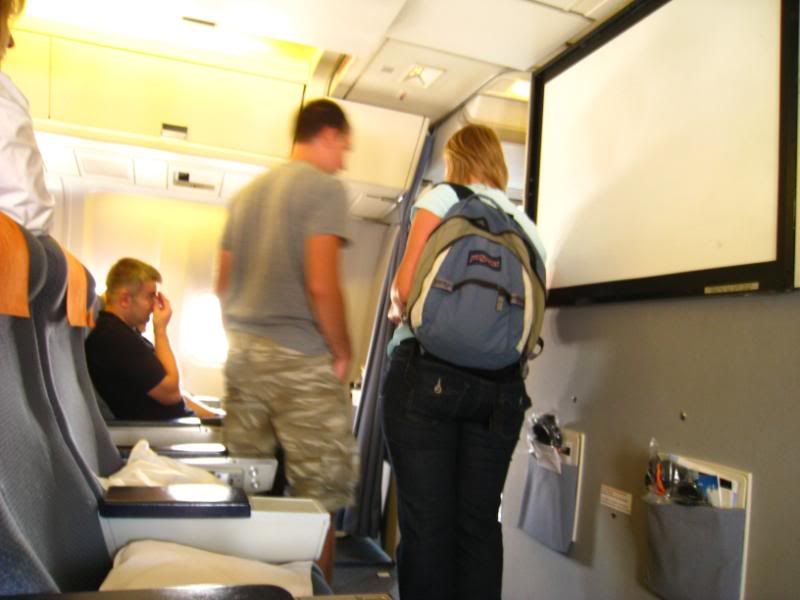 III> In-Flight:
a) Service Schedule + Impressions:
Random warm water after push-back … I think the crew were utterly tired already. Lunch served soon after take-off. Prior to landing, a second meal service. Several runs of water and snacks.
b) Aircraft + Seats:
LOT uses a 2-2-2 J layout in their 762. I was mega-disappointed as their in-flight magazine from earlier flights showed a lie-flat layout. These seats were bearable, but not something I'd like to take on an overnight flight. Legroom became abysmal and J bathroom had NO amenities!
Aircraft:
(LOT's 762 playing hide-and-seek with me at JFK)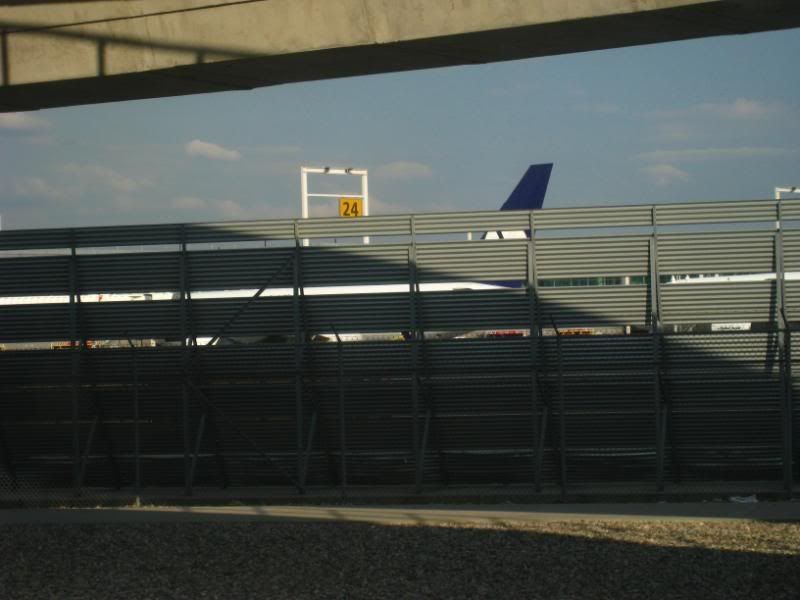 Views from Aircraft:
(LOT Star Alliance aircraft bound for YYZ I believe)
(Goodbye Warzawa)
General Seat Views + Seat Legroom
(Legroom was way worse away from the bulkhead)
Seat Recline + Angle View:
Cabin: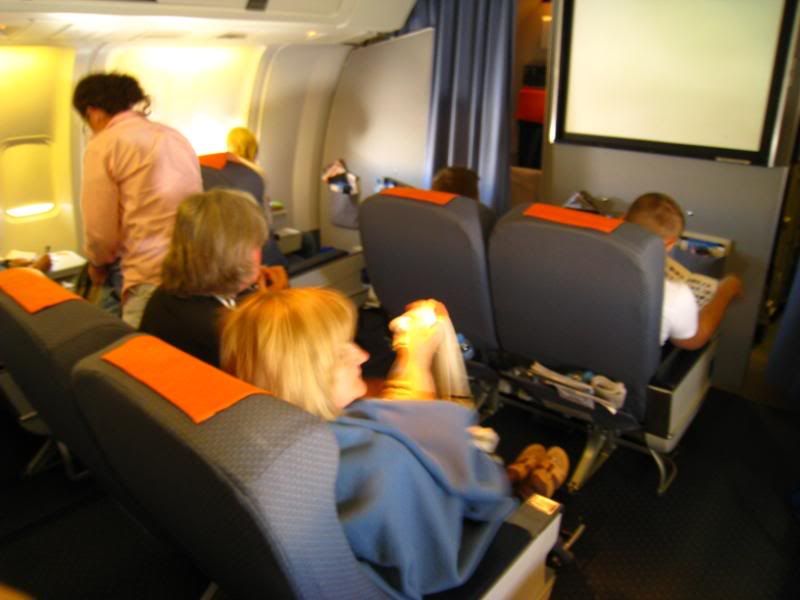 (Bathroom without amenities)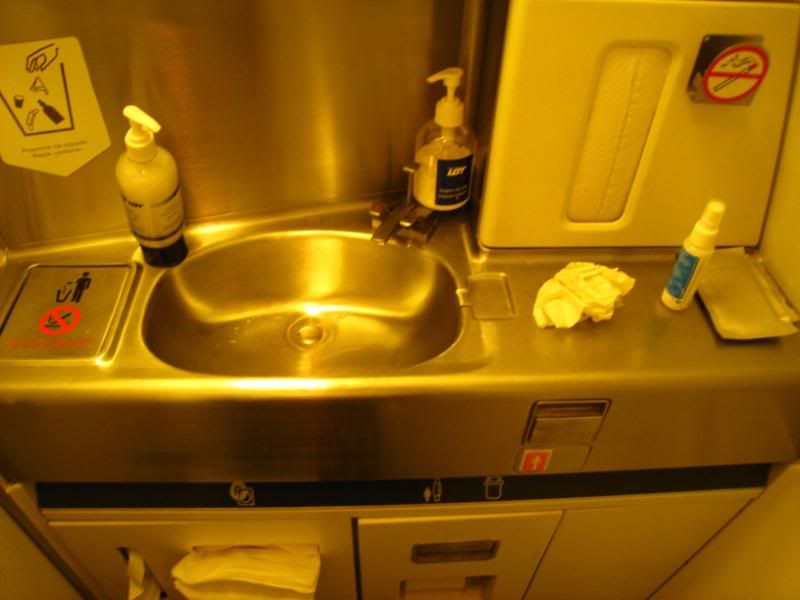 c) Meal + Beverage:
Warm water was served during push-back. Soon after climb, a rather elegant menu was presented by the awesome lead crew member Ms. B. Since I was the only ticketed J passenger, I felt she treated me extra special by explaining the menu choices and asking me what I wanted.
Lunch was OK. The appetizer portions could have been bigger, and my chicken was a little too "TV dinner" for me. Having said that, the entire service was conducted impeccably by Ms. B and she was always checking-in on me asking me if I wanted anything else and/or if I wanted additional drinks. Wine menu and other alcoholic beverages were more than adequate. During in-flight Ms. B came over to ask me if I wanted anything periodically and there were several snack and water runs … which impressed me tremendously as it was MUCH superior than the standard European disappearing act made famous by Iberia, Air France, Lufthansa, and KLM. Dinner was served soon after take-off. Pre-landing, another small skimpy meal service followed – again served with grace, style, and warmth by Ms. B.
(Menu)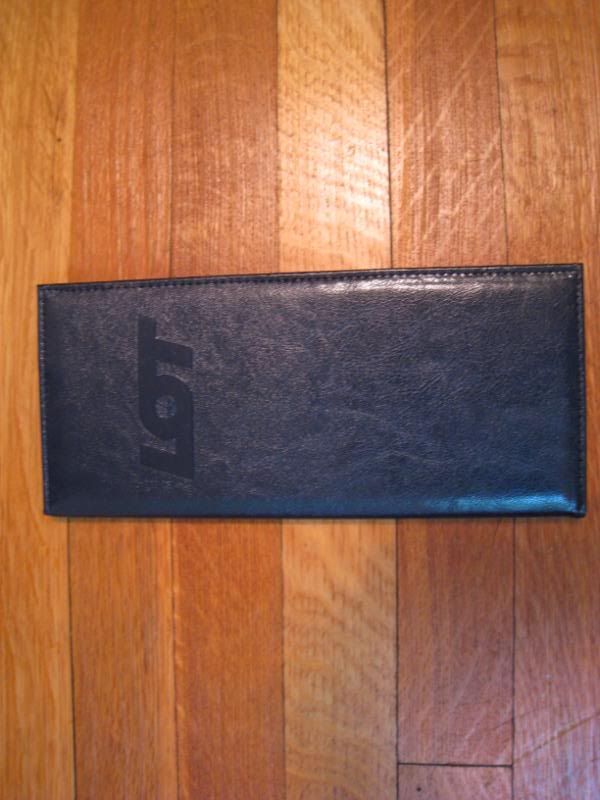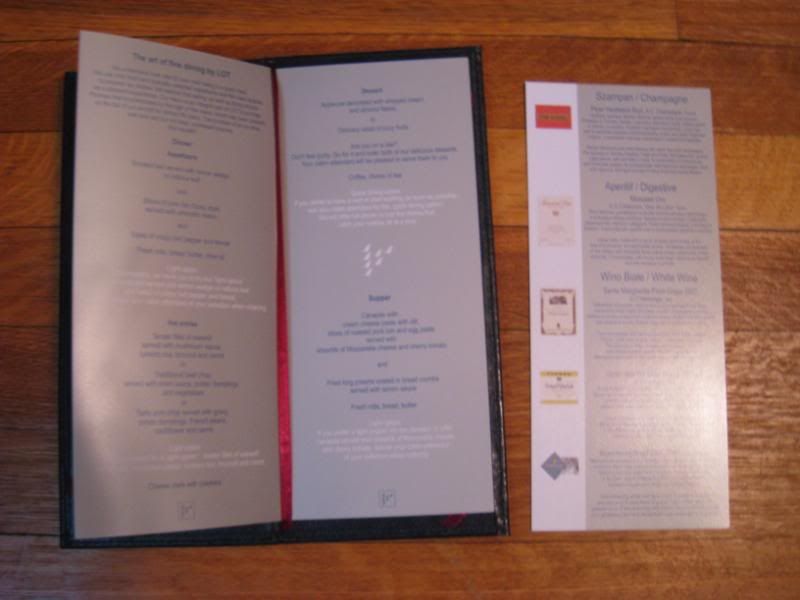 (Warm water at pusback)
(Lunch)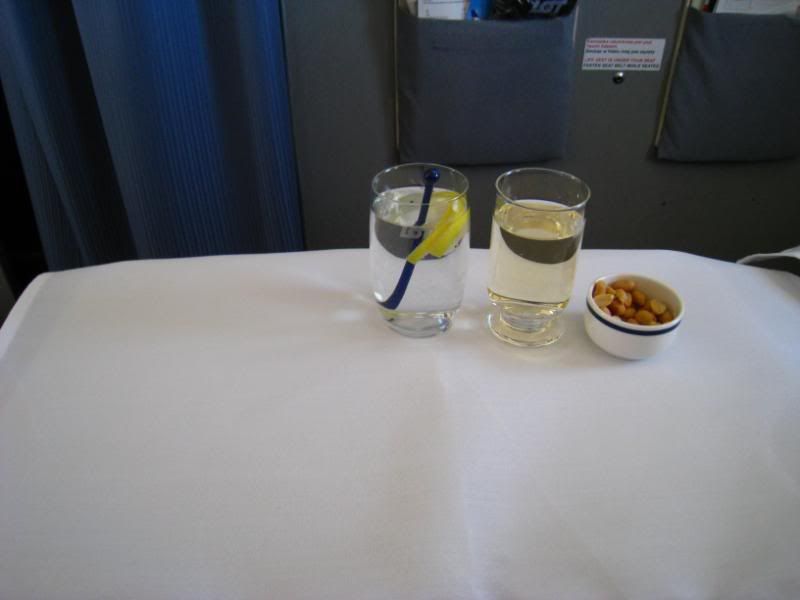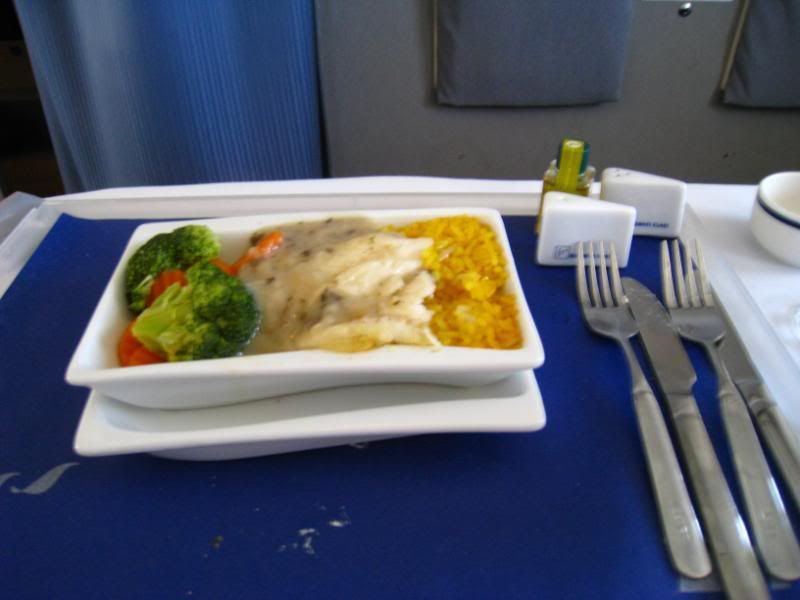 (Dessert was very retro 1980s 707 Y class)
(Yummy snack run mid-flight)
(Pre-arrival snack)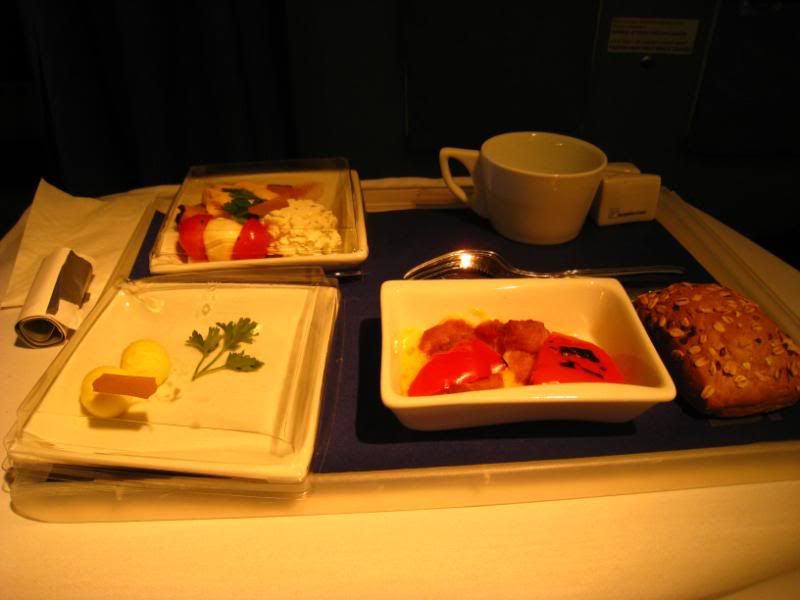 d) In-flight Entertainment:
LOT 762's come with overhead screens and showed some movie called Outsourcing about some American dude moving to India to train someone and then fall in love. Besides the antiquated overhead screens, all J passengers were given an individual unit – while the choice of movies were poor, thankfully, they came with decent headphones and an intuitive screen. I was surprised though that the main movie was started 3 hours into the flight. Additionally, the in-flight magazine was actually a pleasant read.
(Some kind of video about how much Poland has transformed since 1991)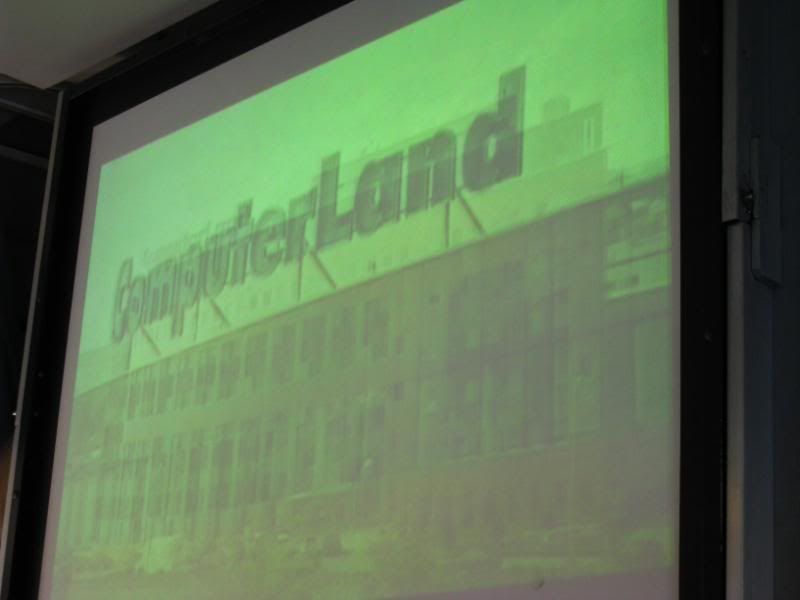 (This was cool – a step by step of how LOT's route network evolved over time)
(Regular headset)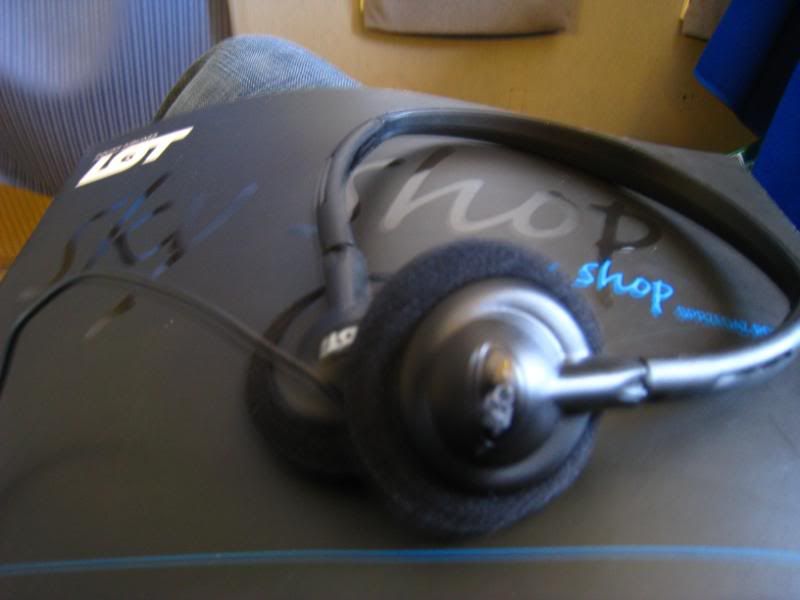 (In-flight unit)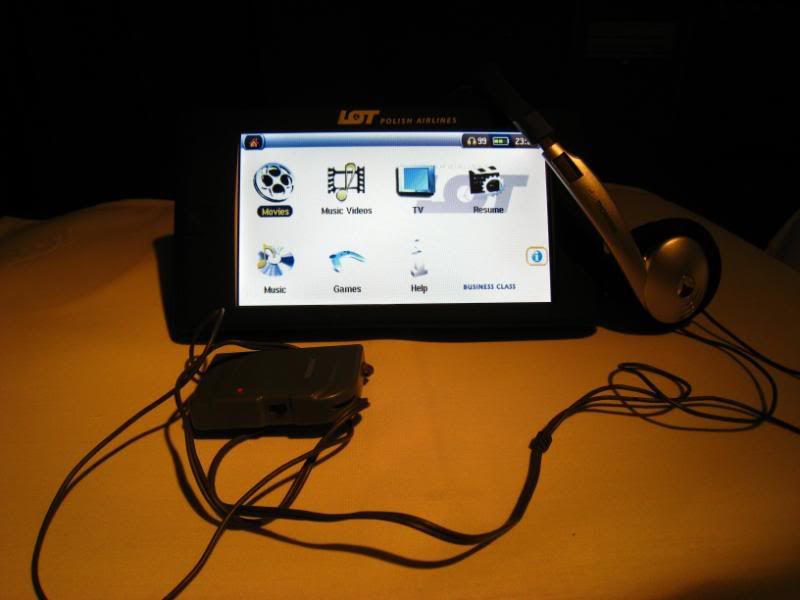 ("In-flight magazines", Boarding Passes, etc.)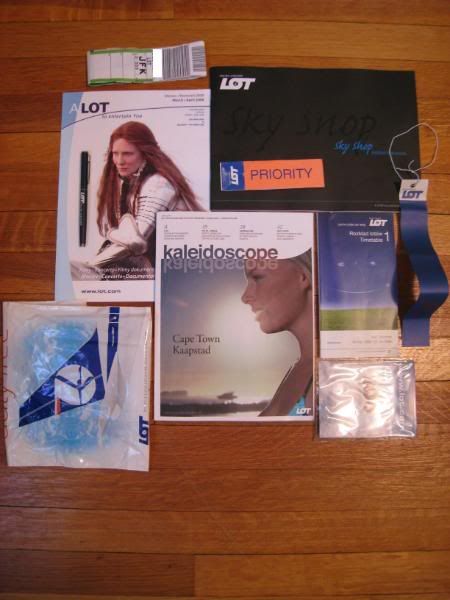 e) Crew:
Possibly the single greatest redeeming quality of the flight was an excellent crew. As I have always maintained, a crew "makes" or "breaks" a flight. Ms. B and her crew were no different. She profusely apologized for the delay and chaos and strongly encouraged me to write to LOT management. She had tremendous insight into airline operations, and I was clearly blown away by her knowledge and understanding. Throughout the flight, her colleagues and her would do runs of water and snack and she was always there smiling and doing a great job. She exemplified Polish hospitality and I felt like I was visiting a distant relative rather than being stuck at an abysmal J class going almost 10 hours. The entire service had professionalism and warmth – something missing from many airlines in the world and in Europe in particular.
IV> Post-Flight:
The 2+ hour delay meant that connections were lost for many. For those of us from the EWR flight, there was no provision to get us to EWR … despite the fact that I had a Continental onward to Miami. There was no ground crew greeting LOT passengers and the one baggage representative told me that LOT's responsibility ended with me landing in New York Kennedy … despite that the entire ticket was full-fare and done on LOT stock. UUGH.
(Arriving @ JFK – and parked next to a 777 of Egypt Air – notice the Star Alliance livery – I had to do a double take as I had no idea they had joined Star in mid June. And, they hadn't
. BTW, is it me … or do I think MS' entry in Star was very low-key?)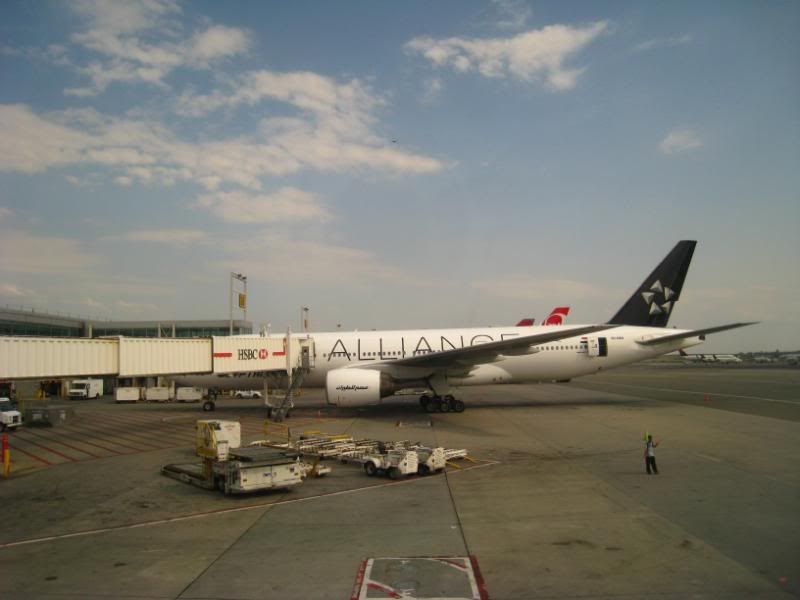 (JFK T4)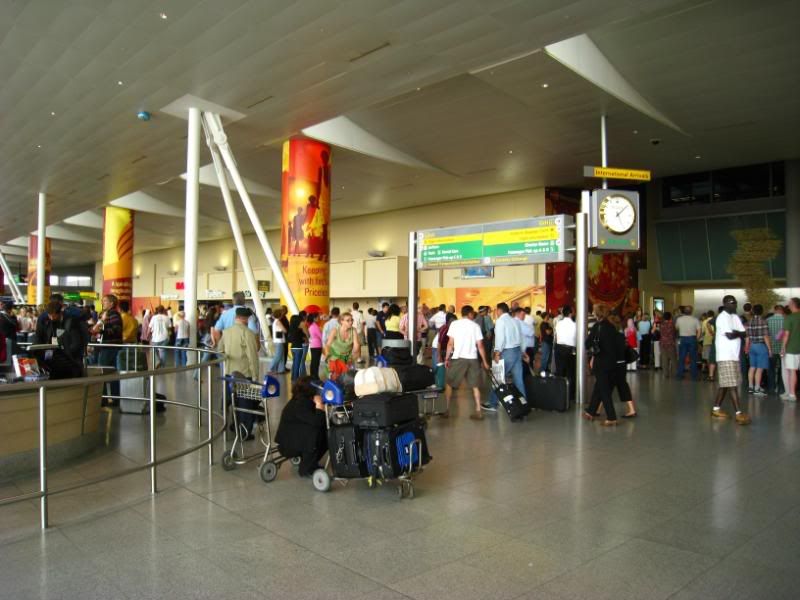 (From Air Train)
V> Impressions + Scores:
I wish I could say positive things about LOT's J class product. Ground service at both WAW and JFK was horrid. The agents just did not care. I was lucky that I can afford to fly J class and have enough connections to help me when difficult. I can only imagine the ordeal say old grandmother Ms. Wiśniewski or Ms. Kowalski has to go through to visit her precious Andrzej or Agata when the moody LOT station manager keeps on smoking and reading his newspaper … or worse, when Ms. W or Ms. K arrive at JFK instead of EWR. I would like to imagine that the strength of the immigrant community pulls through … but that is not the way it should happen and that is not the way paying passengers should be treated.
Additionally, J class was way too "old school" and entertainment and food options just about average. LOT is definitely an "old school" airline that has not shaken the vestiges of its past. If given a choice, I would avoid LOT … especially in transcontinental night-flights on J … except of course if wonderful Ms. B and her cohorts are their to see me relax during the flight.
PS: Ms. B – if you are reading this, a stellar letter of recommendation has been dispatched to LOT and Star.
1.0 > RESERVATION: 6.0
2.0 > CHECK-IN: 1.0
0.5 > LOUNGE: N/A
0.5 > BOARDING: 1.0
2.0 > SEAT: 6.0
0.5 > AIRCRAFT OVERALL AMBIENCE: 7.0
1.0 > IFE: 7.0
2.0 > CREW: 9.0
2.0 > FOOD: 6.0
0.5 > BEVERAGES: 7.0
0.5 > A.KITS + OTHER FREEBIES: 8.5
0.5 > DISEMBARKATION: 4.0
1.0 > ON-TIME RECORD: 2.0
WEIGHTED OVERALL IMPRESSION (WOI): 5.39
(Pre-flight WOI of all reviews: 6.44)
* Weighted Overall Impression (WOI) aligns scores with what matters most. Weights are indicated alongside each category.
(Scores are based on comparison with other airlines in THAT class of service – No comparison of Y vs. F for example)
VI> Other Trip Reports:
PREMIUM:
8.61:
Air Canada (49): YYZ-SCL: 06/2008
8.11:
Aeroflot (33): MOW-DEL: 09/2007
8.04:
Korean Air (40): NRT-ICN: 10/2007
8.02:
Delta Airlines (24): JFK-CDG: 08/2007
7.82:
Singapore Airlines (06): EWR-SIN: 09/2006
7.14:
Swiss (52): SCL-GRU: 06/2008
6.93:
Delta Airlines (18): SEA-JFK: 11/2006
6.81:
Air Canada (17): ICN-YYZ: 10/2006
6.70:
KLM (32): EBB-AMS: 08/2007
6.25:
Korean Air (45): NAN-ICN: 10/2007
6.11:
TAP Portugal (53): GRU-OPO: 06/2008
5.75:
Singapore Airlines (16): CCU-SIN: 10/2006
5.64:
NorthWest (46): ICN-NRT-SEA: 10/2007
5.39: LOT (54): WAW-JFK: 06/2008
4.42:
Air France: CDG-JNB (25): 08/2007
ECONOMY: Long + Medium:
9.26:
Air India (48): JFK-DEL: 02/2008
7.38:
Avianca (01): BOG-LIM: 07/2006
6.26:
Jet Blue (21): CUN-JFK: 02/2007
6.06:
Air Canada (04): YYZ-YVR: 09/2006
5.89:
USA 3000 (19): PUJ-BDL: 01/2007
5.79:
Air New Zealand (42): RAR-NAN: 10/2007
5.46:
TAP Air Portugal (23): OSL-LIS: 05/2007
ECONOMY: Short
8.56:
Paramount Airways (38): BLR-MAA: 09/2007
8.24:
Kingfisher (14): IXA-GAU: 10/2006
7.87:
Indian (34): BOM-MAA: 09/2007
7.72:
Alliance Air (13): CCU-IXA: 10/2006
7.57:
Indian Airlines (10): DEL-CCU: 09/2006
7.23:
West Jet (03): YYC-YVR: 09/2006
7.15:
JetLite (37): BOM-GOI: 09/2007
6.70:
Spice Jet (09): CCU-DEL: 09/2006
6.63:
Air Fiji (44): NAN-SUV: 10/2007
6.58:
Air Tran (02): EWR-MDW: 08/2006
6.44:
CO Micronesia (39): ROR-YAP: 10/2007
6.41:
Pacific Sun (43): NAN-SUV: 10/2007
6.37:
Skybus (47): SWF-CMH: 02/2008
6.33:
Kenya Airways (29): NBO-BJM: 08/2007
6.31:
Indigo (15): GAU-CCU: 10/2006
6.22:
Air Link Swazi (28): MTS-JNB: 08/2007
6.22:
Air India (36): HYD-BOM: 09/2007
6.13:
Adam Air (07): SIN-CGK: 09/2006
6.13:
Air Rarotonga (41): RAR-AIT: 10/2007
6.00:
Transairways (27): INH-MPM: 08/2007
5.95:
Air Canada (05): ALB-YYZ: 09/2006
5.85:
SAS Norge (22): OSL-AES: 05/2007
5.81:
LAM Mozambique (26): JNB-MPM: 08/2007
5.69:
Air Deccan (12): IXZ-CCU: 10/2006
5.67:
Rwanda Air Exp (30): KGL-NBO: 08/2007
5.07:
Go Air (35): MAA-HYD: 09/2007
5.00:
Sky Airline (51): IQQ-SCL: 06/2008
4.96:
Valuair (08): CGK-SIN: 09/2006
4.78:
Air Comet Chile (50): SCL-IQQ: 06/2008
4.74:
Fly 540 (31): MYD-LAU: 08/2007
4.33:
Viva Aerobus (20): ELP-MTY: 02/2007
4.11:
Air Sahara (11): CCU-BOM: 09/2006
(Note on Codes: Y – Economy, J – Business, F – First :: I/D – International/Domestic :: SR/MR/LR – Short/Medium/Long Haul)
VII> Other Pictures:
Some other pictures.
(Amenity kit)
(Random things they give you on flight – how cute and old school)
(Clubbing in Barcelona for my friend's birthday – any guesses what the club is
)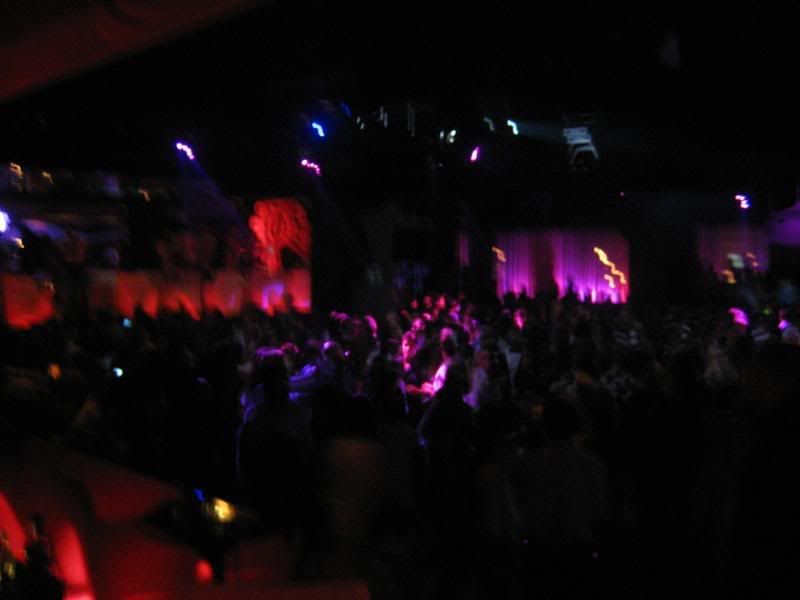 (Warsaw)
[Edited 2008-09-03 10:32:31]