Dear Readers,
It has been a while since my last report. In the meantime I didn't fly too much either so I was happy to be flying again. The purpose of this trip was to go and work at our HQ in ZRH for a week. Due to my shift plan I found some time to explore ZRH airport and also the city itself.
So I hope you enjoy my report and pictures. Feedback is appreciated as always.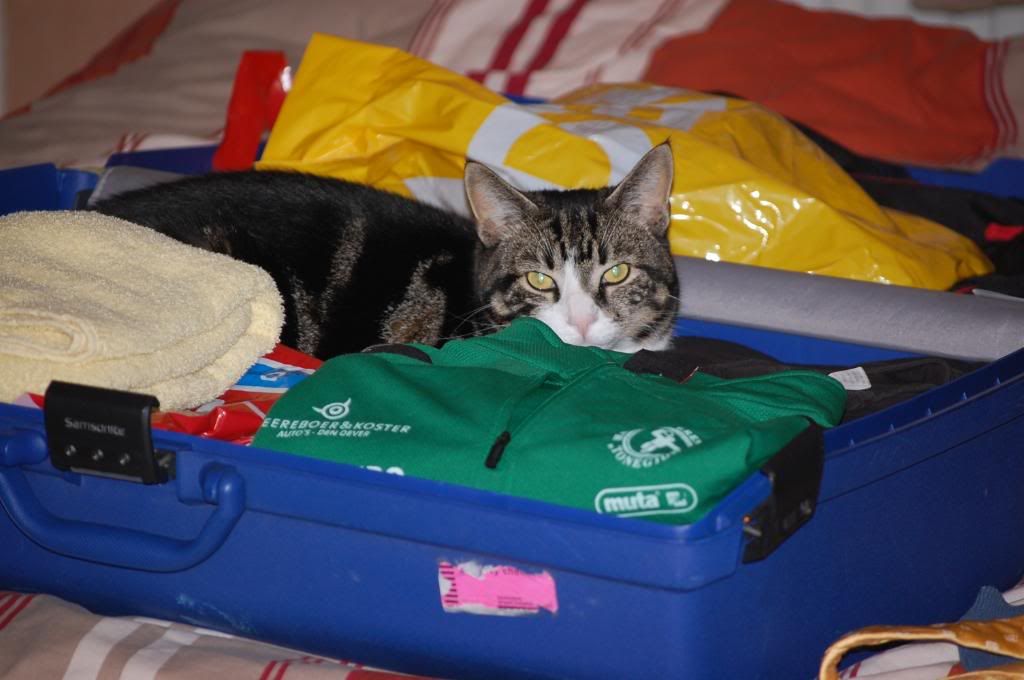 Again my cat didn't plan to stay home  
Last Sunday I had my flight to ZRH , booked the week before on LX.
I planned flight LX 735 which was scheduled as an Avro RJ100.
Although the RJ85 and 146-300 are already covered, I was looking forward to this at it would be a new (sub) type to my personal log.
Check in was done online on Saturday evening and during the process I found out that there was a schedule change and the flight would be operated by a 320. You can imagine that I was slightly disappointed then...
I preselected seat 4A which was the front row in Economy class, printed my boarding pass all within a couple of minutes.
Then Sunday came, and we had decided that my GF would bring me to the airport by car, so she could use the car during the week. I was at the airport quite early and we said our goodbyes. After the bag drop off, I went outside again to have a last smoke, as inside there are no smoking areas anymore at AMS.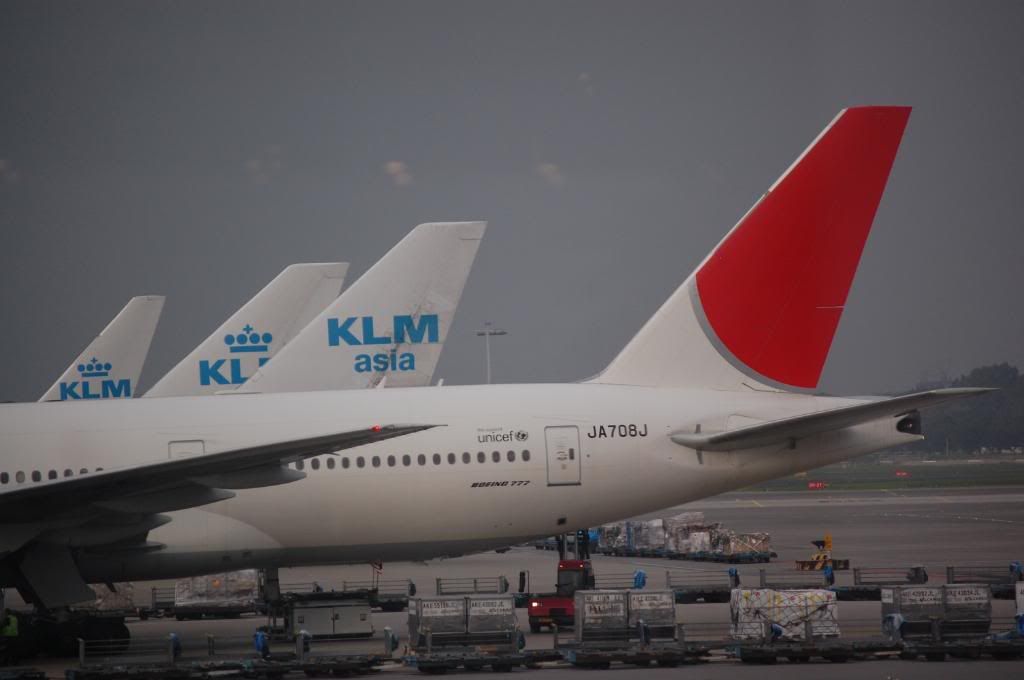 JL 777 JA708J tail for Airbuseric
AMS terminal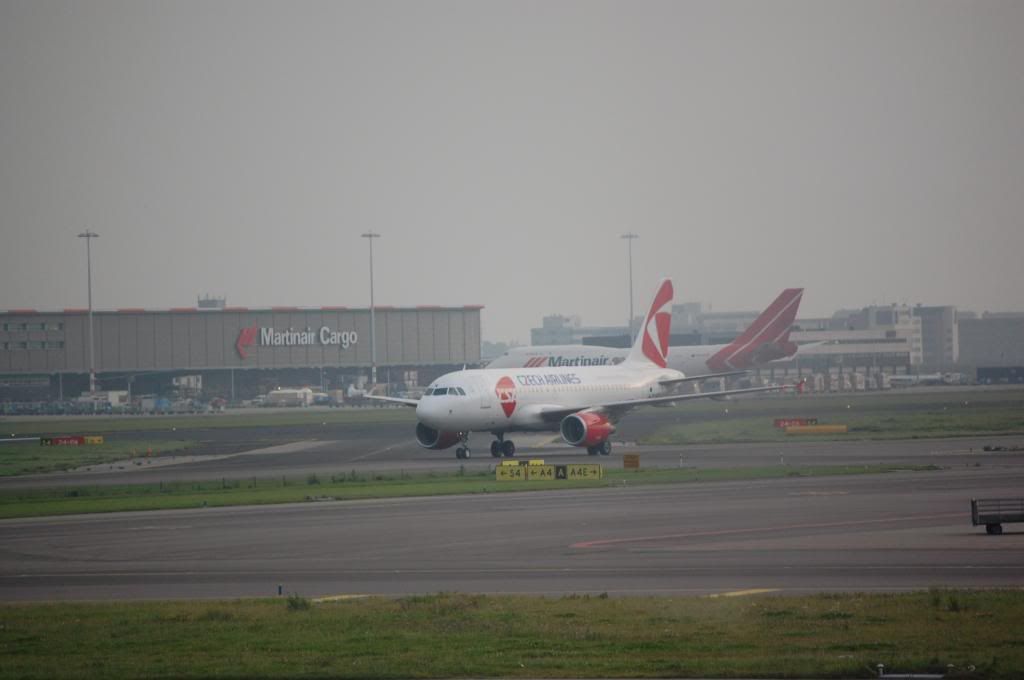 OK A320 could not read reg.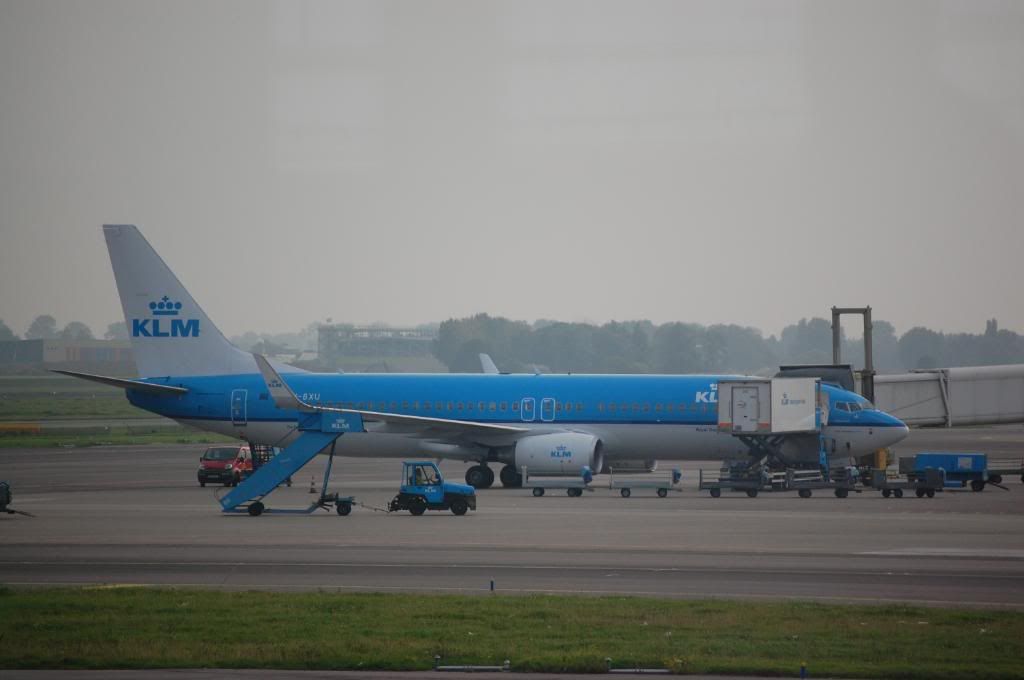 KL 738 being serviced PH-BXU
Meridiana 319 EI-DEZ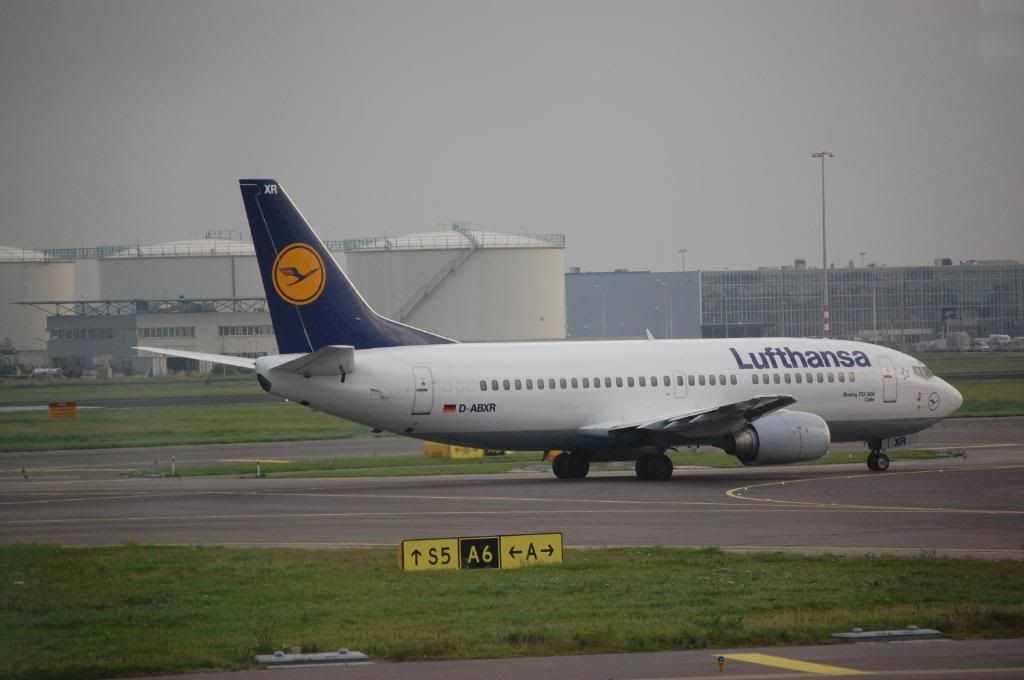 LH 733 D-ABXR
I already noticed that it was not too busy at passport control so within 1 minute I passed customs and went to the gate at the D-concourse. The assigned gate for today was D18, next to a BA 734 bound for LGW and on the other side a BD E135 which I believe was bound for ABZ.
As you probably know security checks for non-Schengen flights are done at the gate in AMS, so after a short wait and some spotting we all had to leave the waiting area, which was screened for any items left by passengers.
Then the check opened and I was through as first again. This mend some more spotting at the gate, and I was just in time to see our A320 coming into the gate.
LX 320 HB-IJM
LX 320 HB-IJM
almost at her stand
As I saw the machine approaching, my earlier disappointment was gone instantly as the 320 was the Hopp Suisse machine! My first flight on a non standard livery!!
Flight : LX 735
Stretch : AMS-ZRH
Date : 21 sep 2008
Aircraft : Airbus A320-200 ( msn 635 )
Registration : HB-IJM
Delivered : 29-nov-1996 to Swissair, since 2002 Swiss International Airlines.
Seat : 4A
Load : 85%
Gate : D18
10th flight on the 320 and the first on this machine
Boarding was started after not to long, and I waited until most passengers boarded.
We were welcomed by the crew very nicely and I sat down on my window seat.
Soon boarding was completed and we were ready for push-back.
The safety instructions were done on the drop-down screen, but due to my seating position, facing the C-class curtain, I could not see any of those screens from my seat. This is something were LX needs to work on, as for inexperienced travellers this information is quite handy.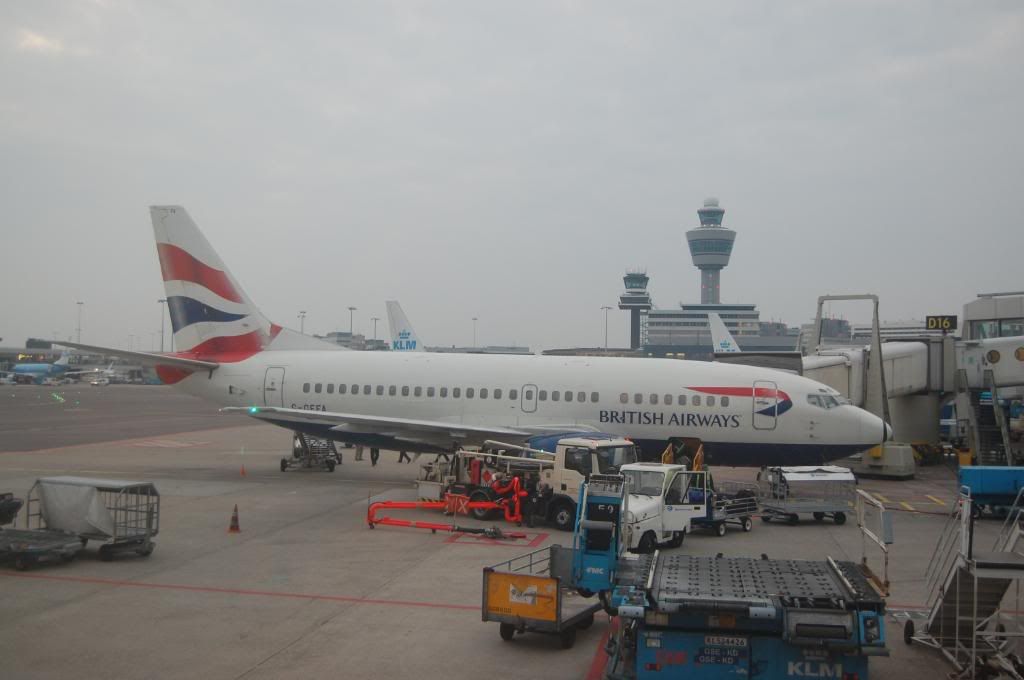 BA 734 to LGW G-GFFA
After the engine start we commenced our taxi route towards runway 36L which means a mere 15 minutes of taxiing. We were nr. 2 for take off after a KL Fokker 100 and we soon rocketed into the Dutch Dusk. We turned right into an easterly direction and soon service was started by the crew. 3 female and 1 male F/A were serving the passengers. Crew was very friendly and gentle, although the F/A serving my sandwich and coke could not enjoy me answering in German. Somehow she seemed less nice to German speaking passengers. Perhaps her German was not too good. The slim-line Recaro leather seat was clean and comfortable. Actually the whole plane was looking quite good, although the cleaning team of Lavos in AMS could have done a better job.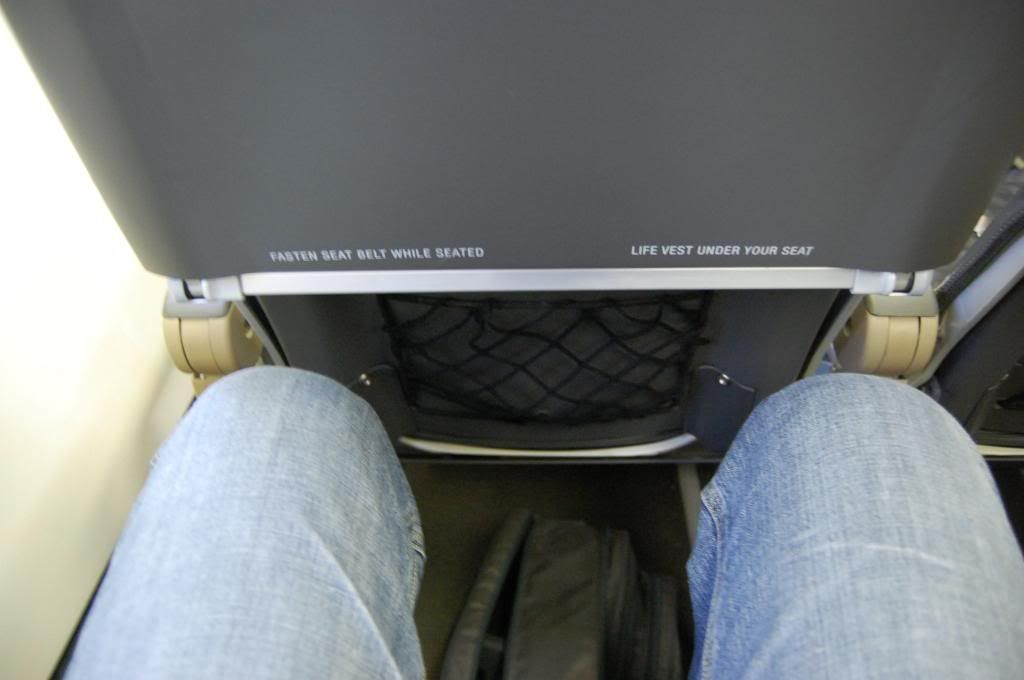 Legroom was good.
Our flight path took us over LEY-DUS-STR-ZRH and descent was already started after some 45 minutes. We approached ZRH from the east and touched down very gently. Trust reversers and brakes were activated and we were soon at our taxiing speed.
Our arrival gate was a finger-gate at the A concourse where all European and North-African destinations are handled. A short walk through customs and passport control and I was in ZRH again!
The next evening I went exploring the city, but could not make too many pictures, due to nightfall and not bringing a tripod with me.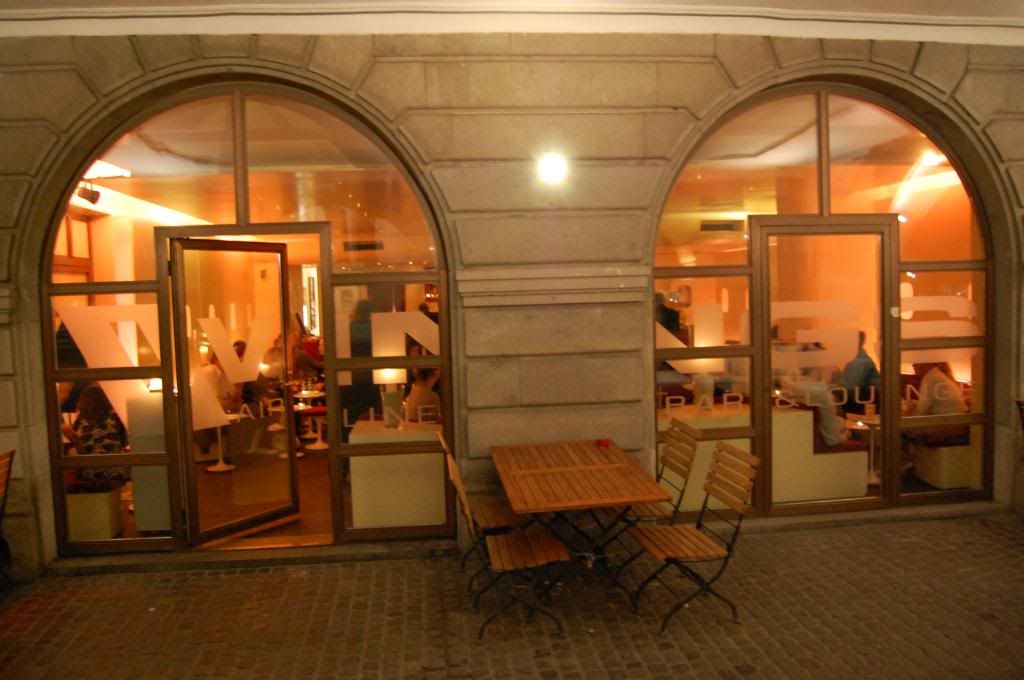 WINGS a bar in the city run by SR people. I ate a 747 Hamburger with SR cutlery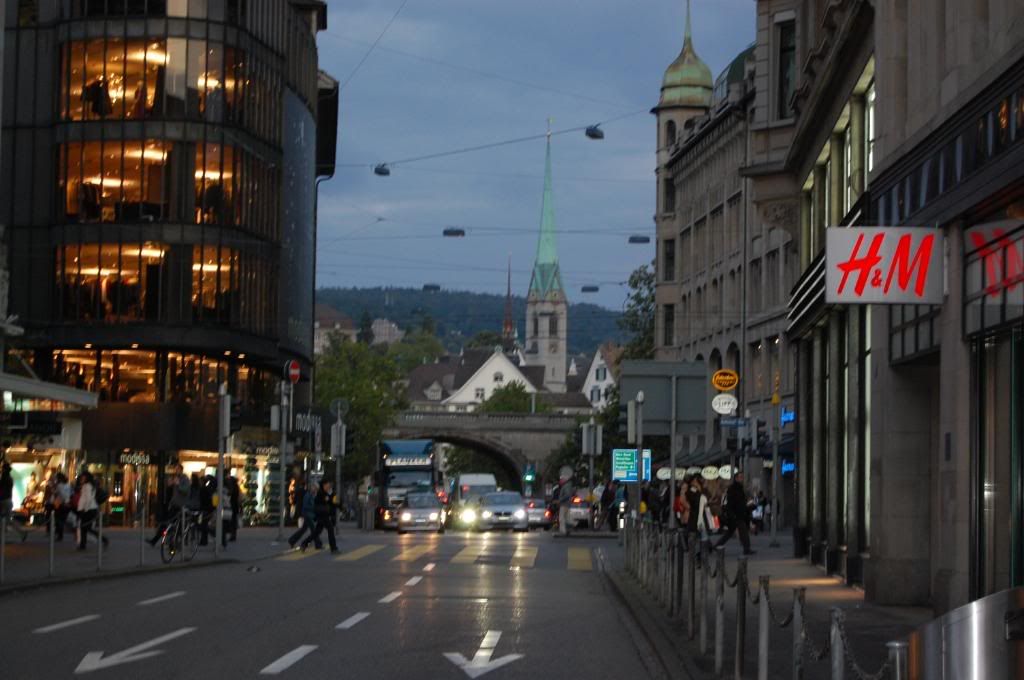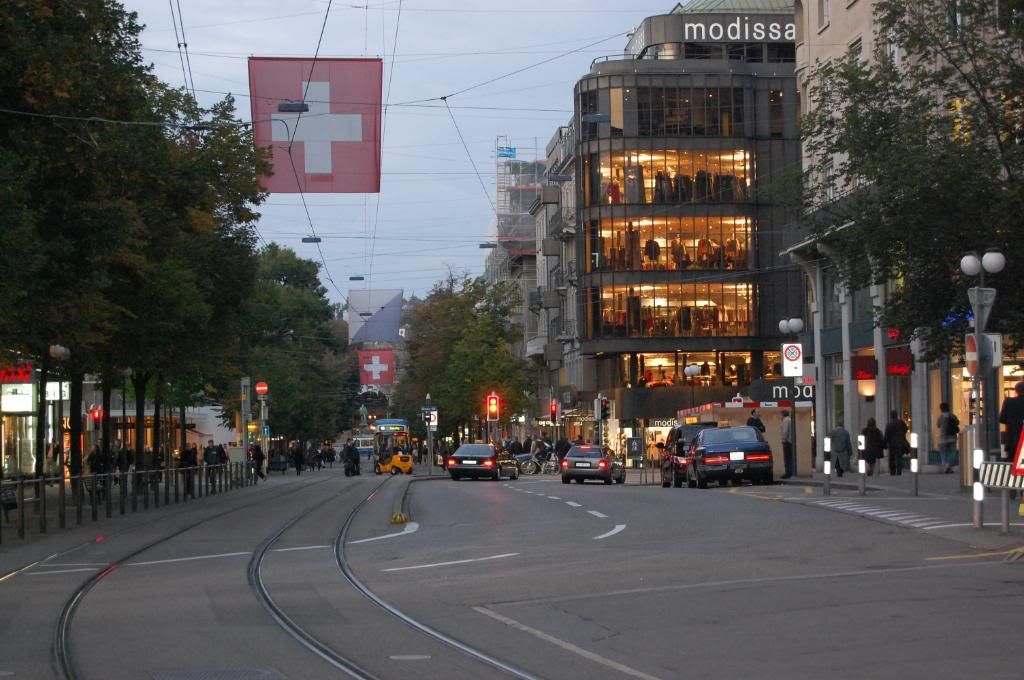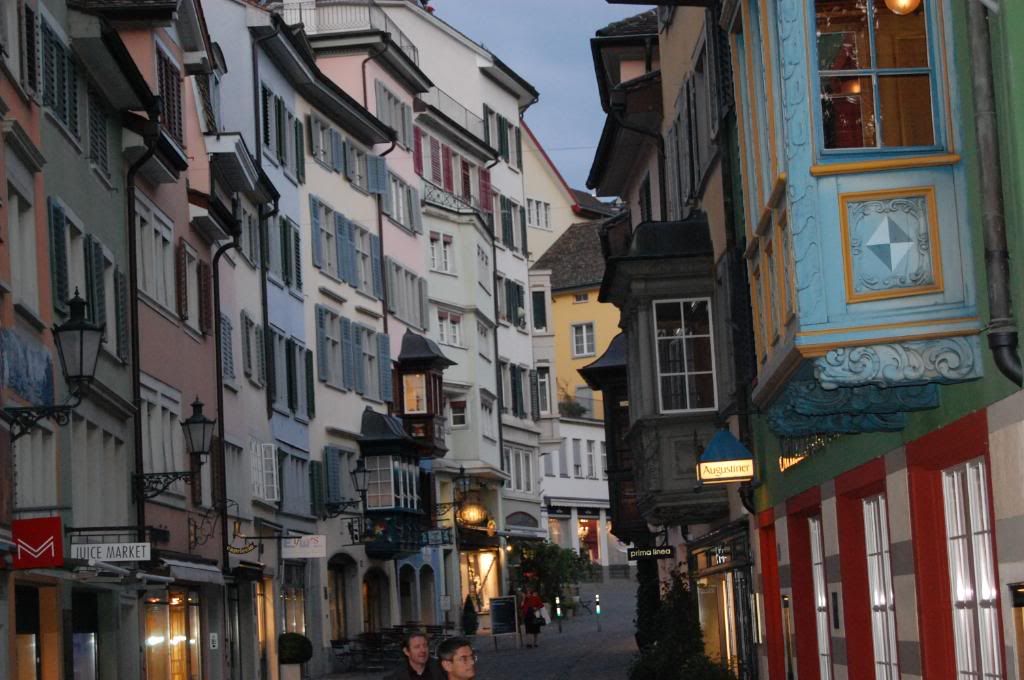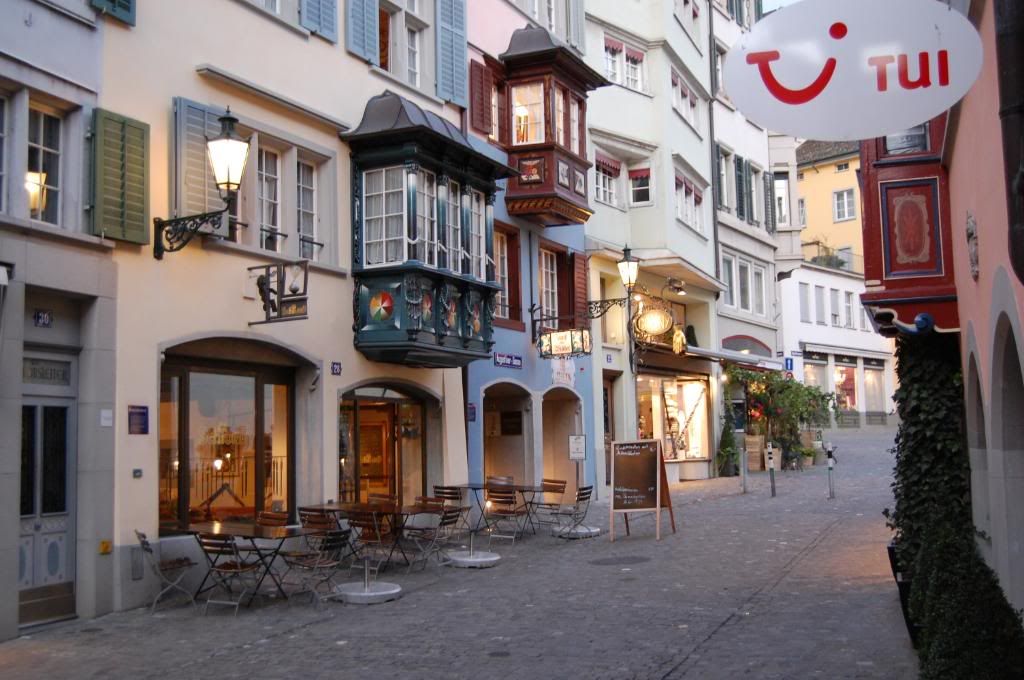 Something modern in here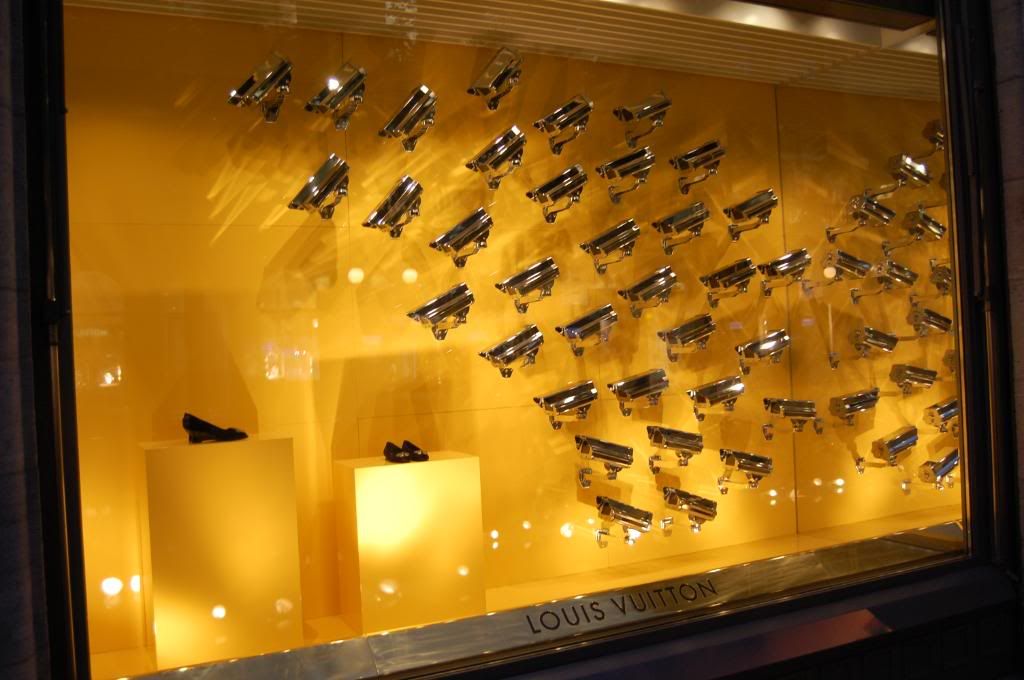 Expensive shoes with some security camera's  
The Lake
On Wednesday I did some spotting at the airport.
CityJet AR8
German Wings 319
BA 734
AB 737-700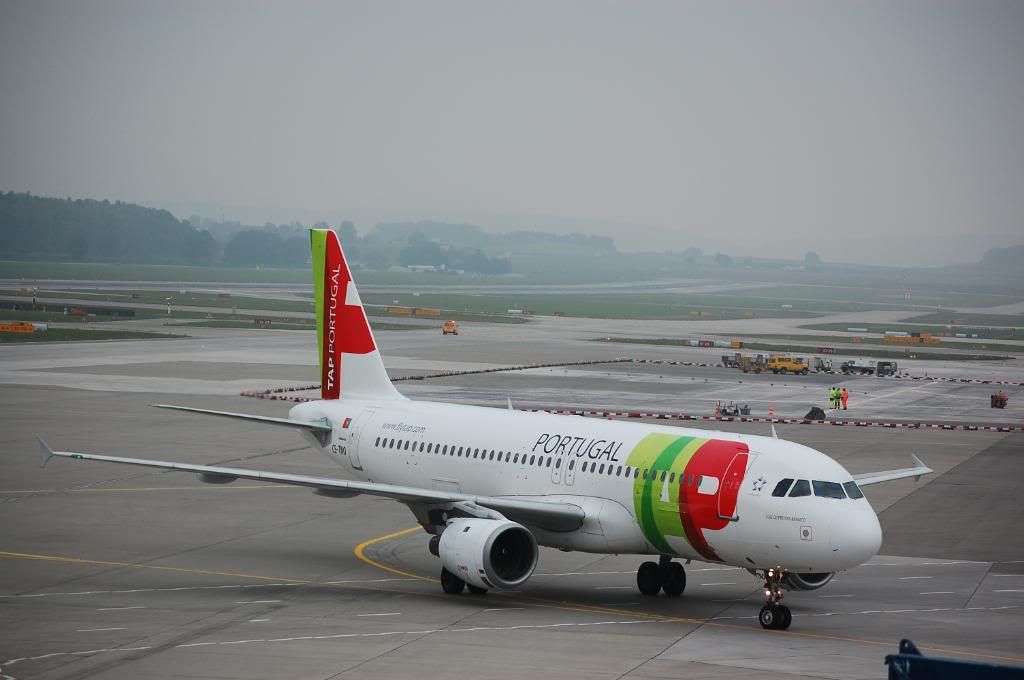 TP 320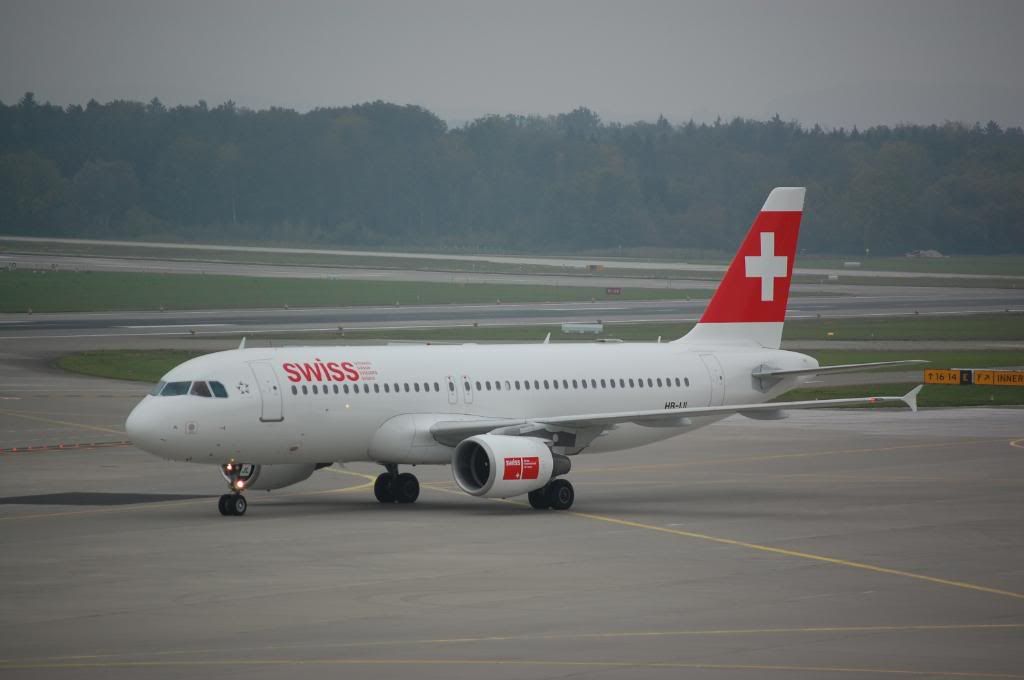 LX 320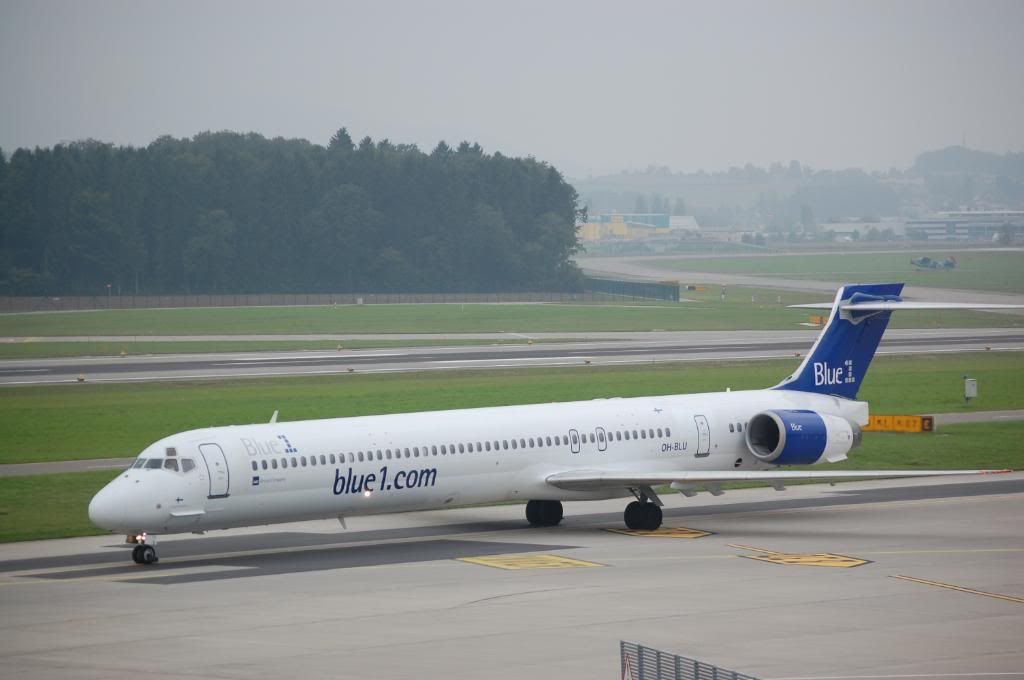 Blue one MD-90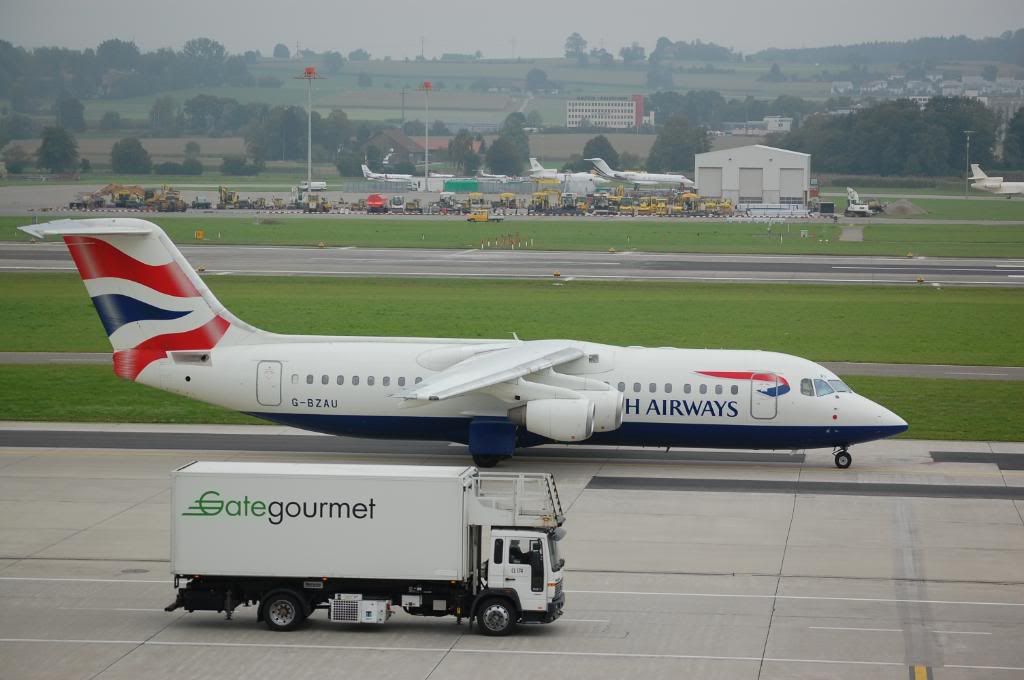 BACF RJ100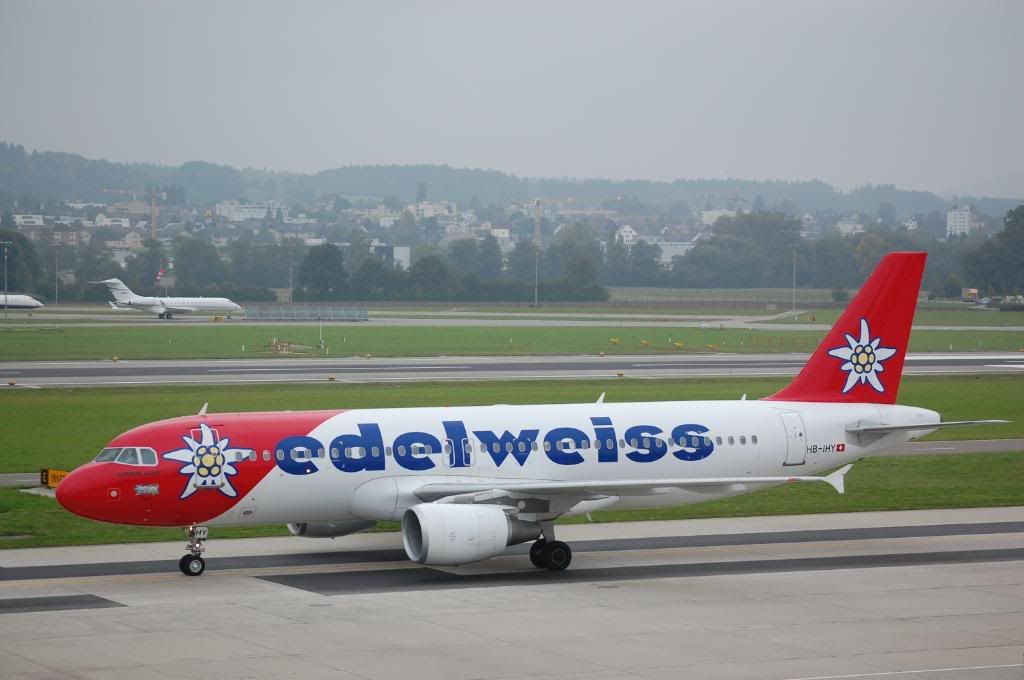 One of the nicest liveries around ZRH. Edelweis 320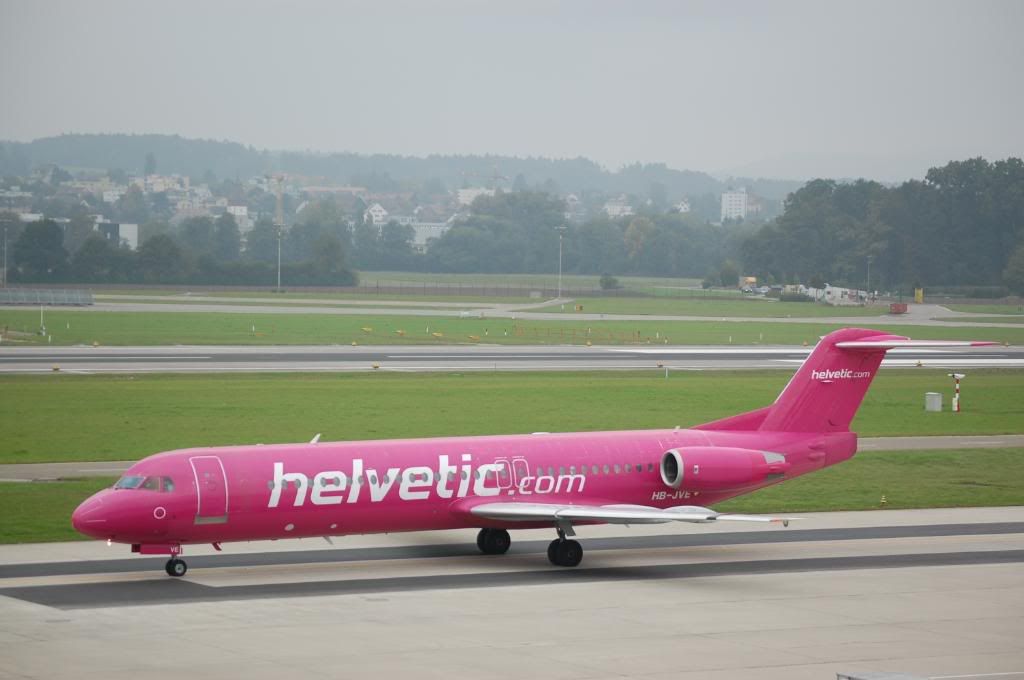 Pink Fokker 100
UA 763
Then Thursday came. I had to work until six, and agreed with a friend of mine, who is F/O at BACF to meet, as he would be night stopping in ZRH aswell. Then my mobile went of, it was my friend, telling me he was still stuck in ZRH, had to go to LCY and return to ZRH again, but didn't have a clue when they could leave. ATC Swanswick had technical problems, and the whole LON area was radar blinded.
So I thought, ok let's go to the airport, and make some shots of him waiting for better times.
Then he called again, and they were told that their whole flight was cancelled, and they would stay in ZRH. By now he had been sitting in the cockpit for four hours, and was bored and cold. So we could meet up after all, which really added some value to my week in ZRH.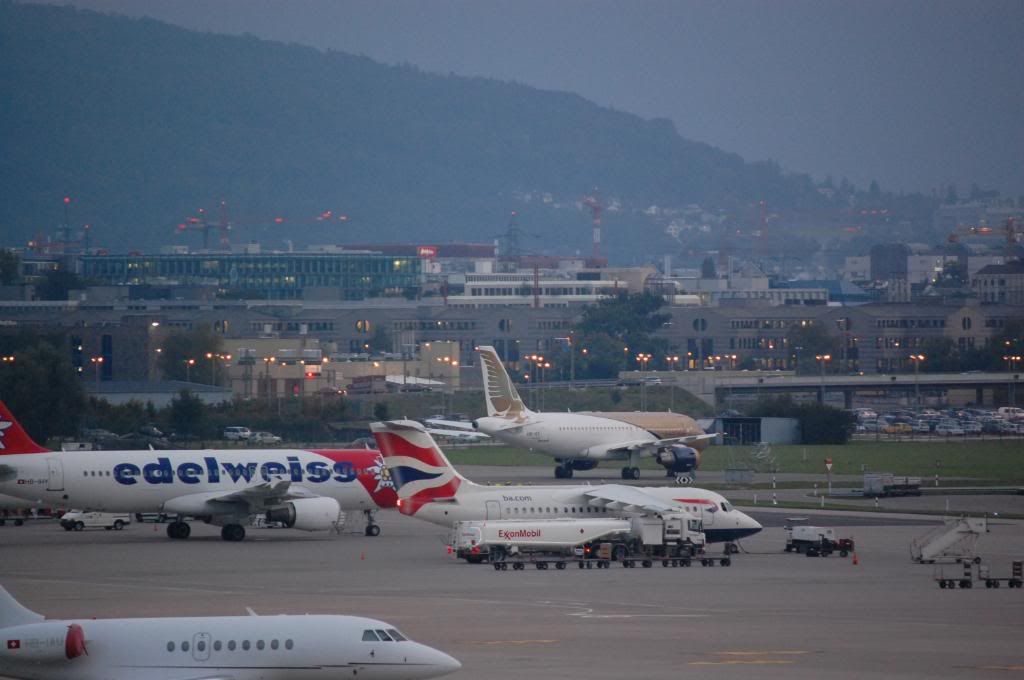 My friend waving through the window, BACF AR8
Still there, and not departing that day anymore.
Friday came and after work it was time to go back home again. Looking forward to see my girl and besides this, some flying ahead.
For this flight an A320 was scheduled and I knew at web check in earlier that day, that it would be a full flight. I could only select aisle or middle seats, so I picked 11C an aisle seat at the emergency exit row. I was at the airport early again, so I could do some spotting in played with my new 200mm Objective on my Nikon Camera. But first I needed to buy some tax-free stuff. Cigarettes for myself and some nice perfume for the GF.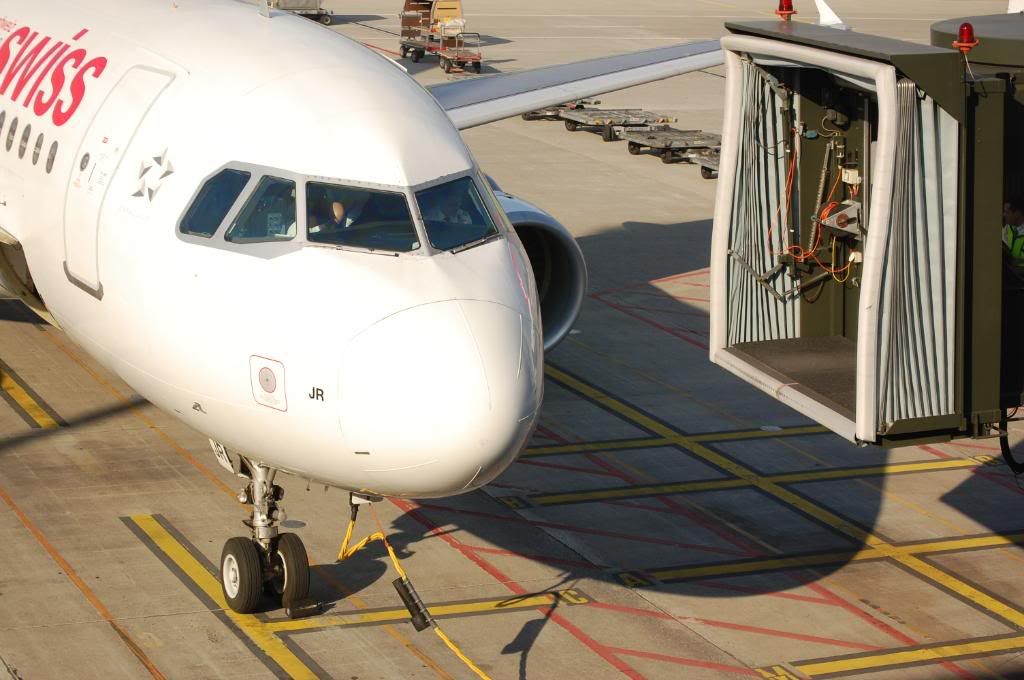 LX 320 HB-IJR docking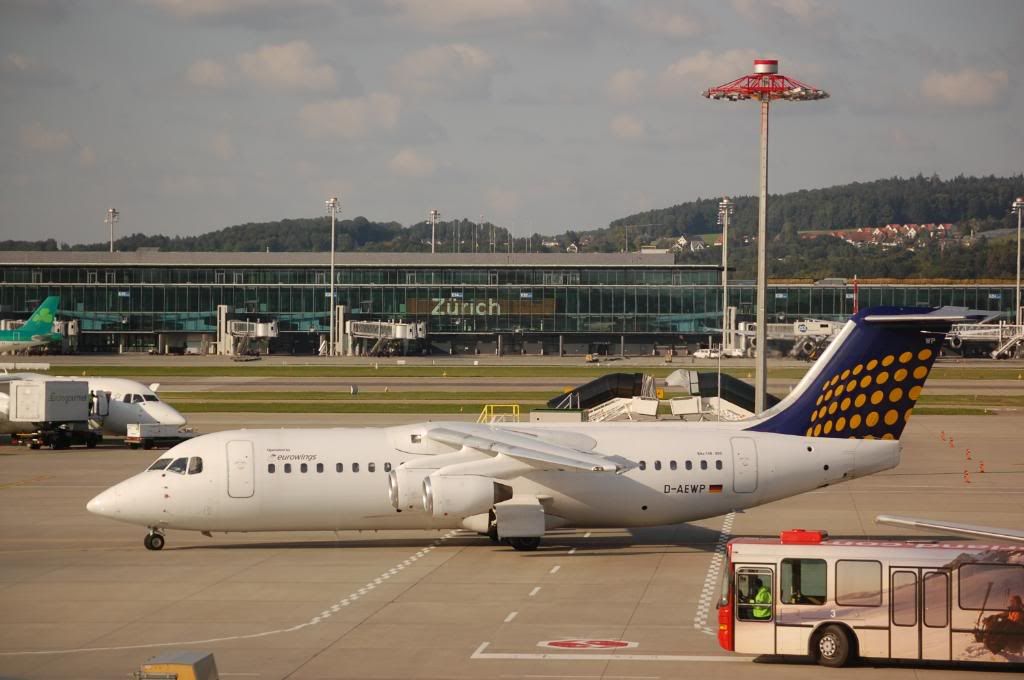 Eurowings Bae 146-300
SK MD-82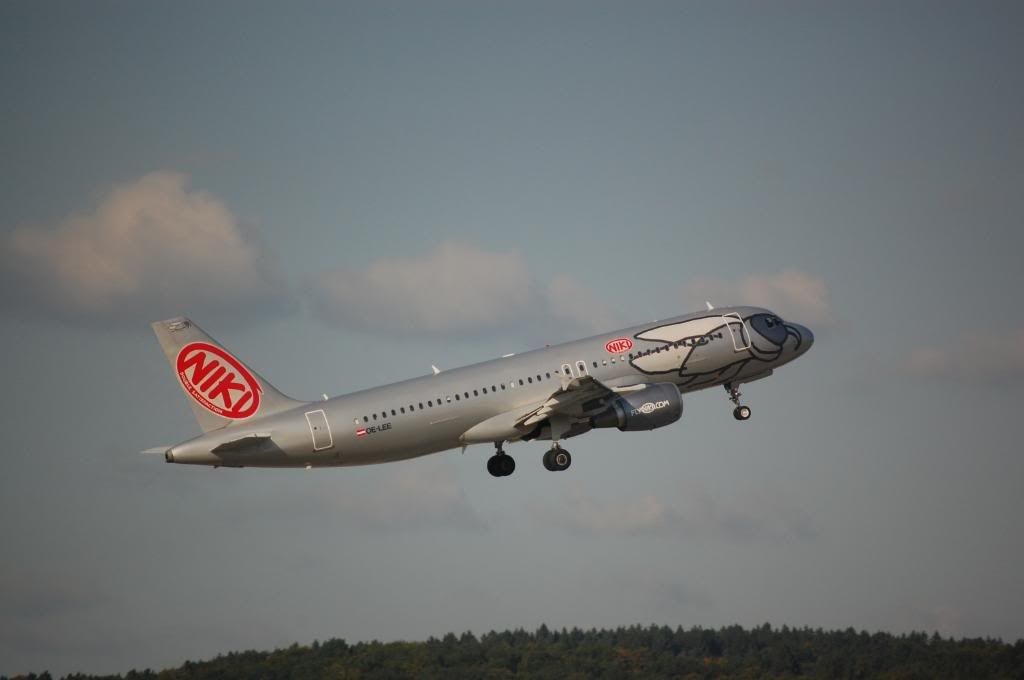 Niki 320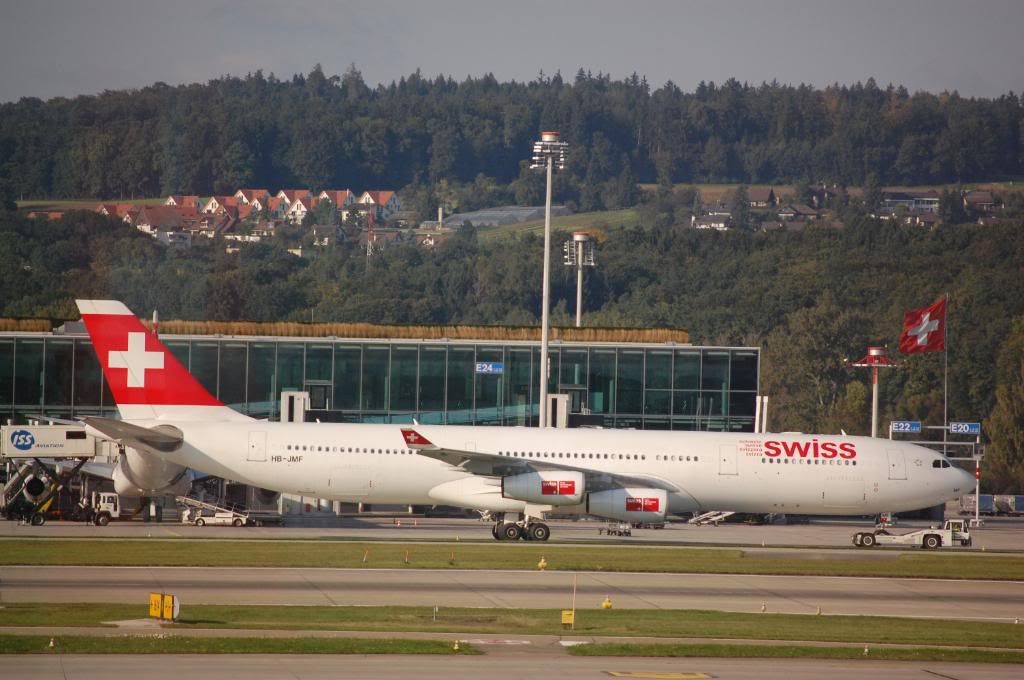 LX 343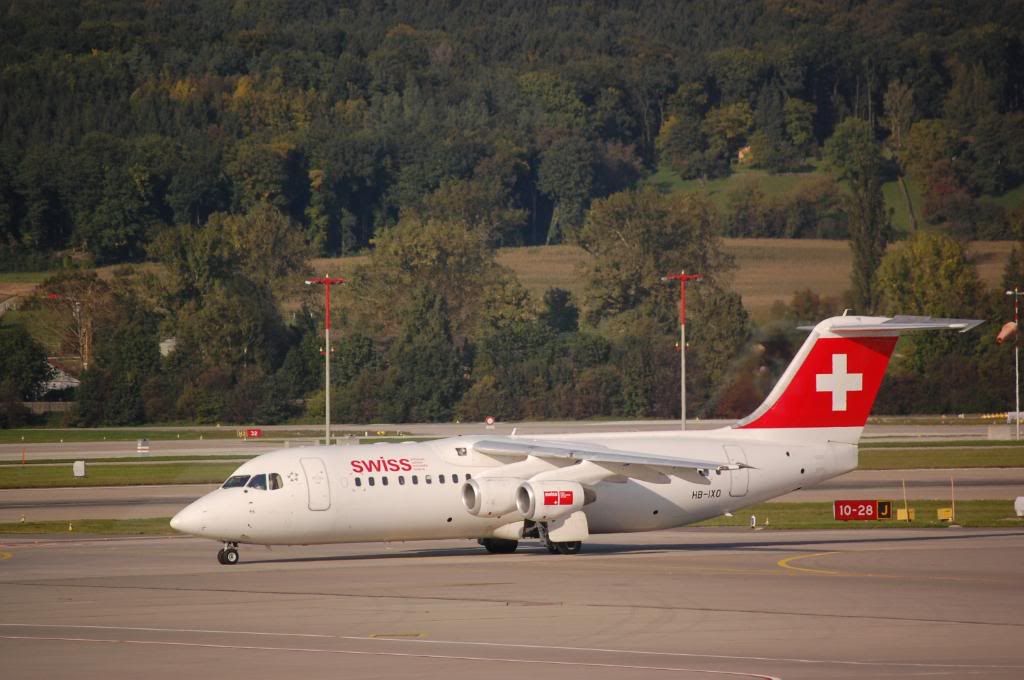 LX AR1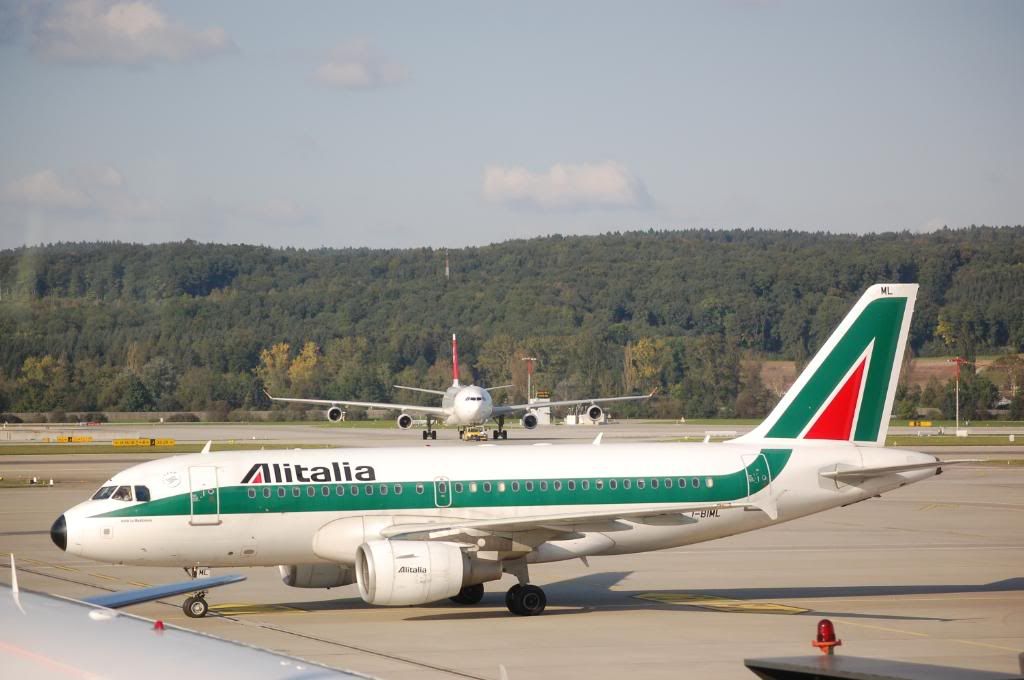 AZ 319, perhaps for the last time in real life.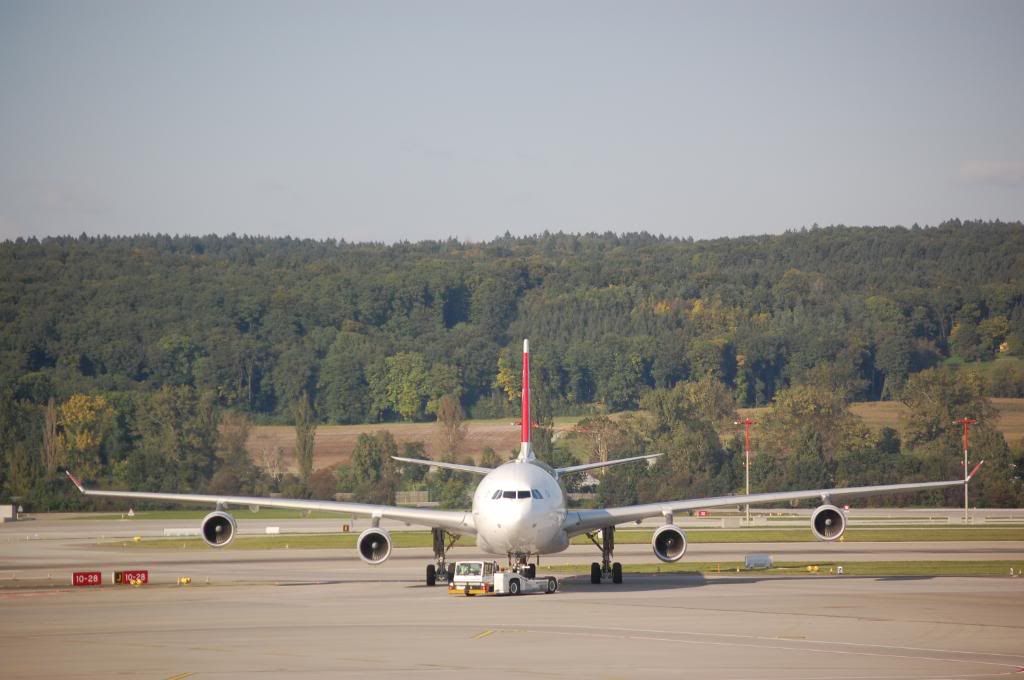 LX 343 head on
EI 320
LX 320
Flight : LX 734
Stretch : ZRH-AMS
Date : 26-sep-2008
Aircraft : Airbus A320-200 ( msn 574 )
Registration : HB-IJH
Delivered : 29-02-1996 to SR, 20-08-2004 to TK, and 14-05-2007 to LX
Seat : Jump
Load : 110%
Gate : A63
11th flight on the 320 and the first on this machine
After the spotting, I went to gate A63, a gate just after security check.
This place is too small to handle a full 320, there is just not enough room for everybody.
Here ZRH should make some changes.
As I already noticed that it would be a full flight, but had a confirmed seat and ticket, I decided to go to the service desk and offer my normal seat. The gate agent was very happy with this, as this would mean one offload less on this flight. He went inside the airplane to ask the captain if he would accept staff on a jump seat.
The captain had no problem with it, but I had to go on the Jump seat in the aft galley.
For me this was not a problem, as it was my 3rd ride on this seat already.
I waited boarding until almost everyone was on board. I then went inside and made me somewhat comfortable in the rear of the aircraft.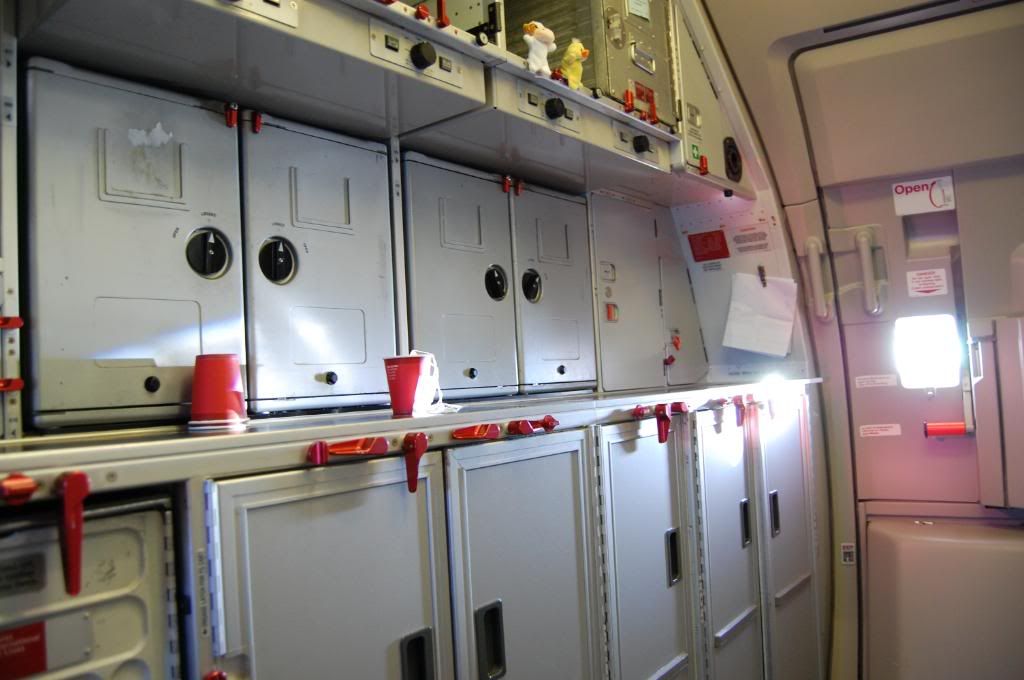 the galley, during flight
One of the two F/A's at the back quickly explained we what I should do in case of emergency as I was sitting next to door 2R.
Soon we got the green light from the tower, and could start taxiing. As you sit with your face backwards it is somewhat a strange feeling, but hey we are only taxiing.
We were nr.4 in line for take off and made a rolling start eventually. Now this is where it really gets weird if you are not used to it. Taking off on an airplane with your face backwards, is a very strange feeling. Not that it is uncomfortable, but just strange.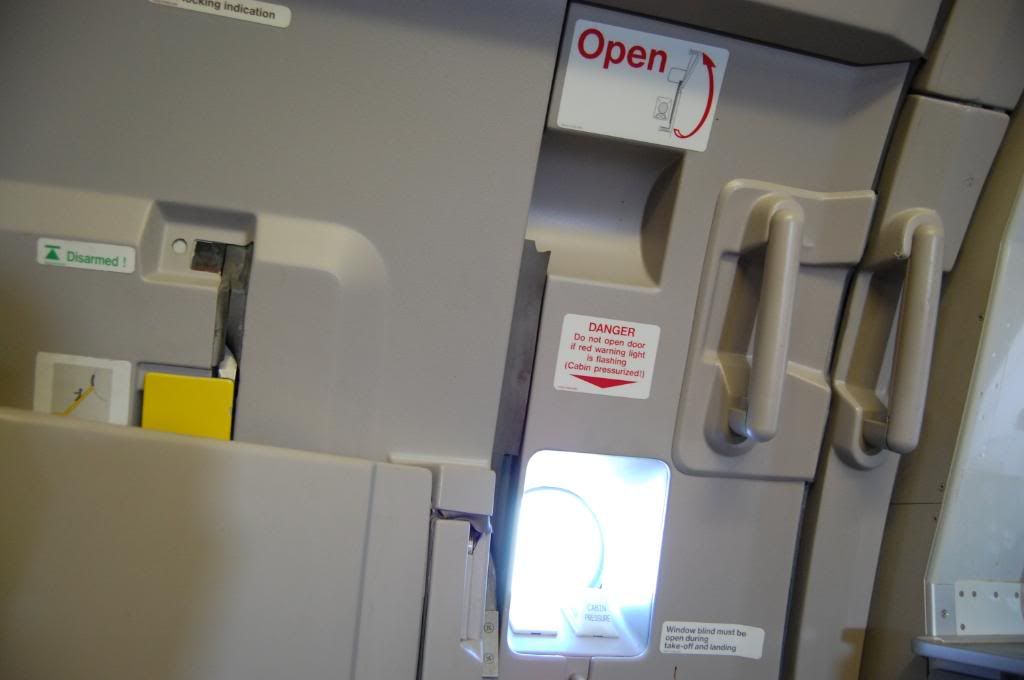 My window at 30000ft.
Our climb was pretty bumpy but soon we flew through less bumpy airspace and the crew could start their service. The crew existed of 3 female F/A's and a male Maitre du Cabin.
The crew had a very busy flight, as they needed to serve 161pax with a bread roll, drinks, tax-free products and cleaning. And all this within an hour, due to the flight not being longer  
One of the F/A's from the back had tough times as it was only her 3rd week after finishing her F/A training, but she did very very well!  
Soon descent came, and before I knew we were already on short final at AMS.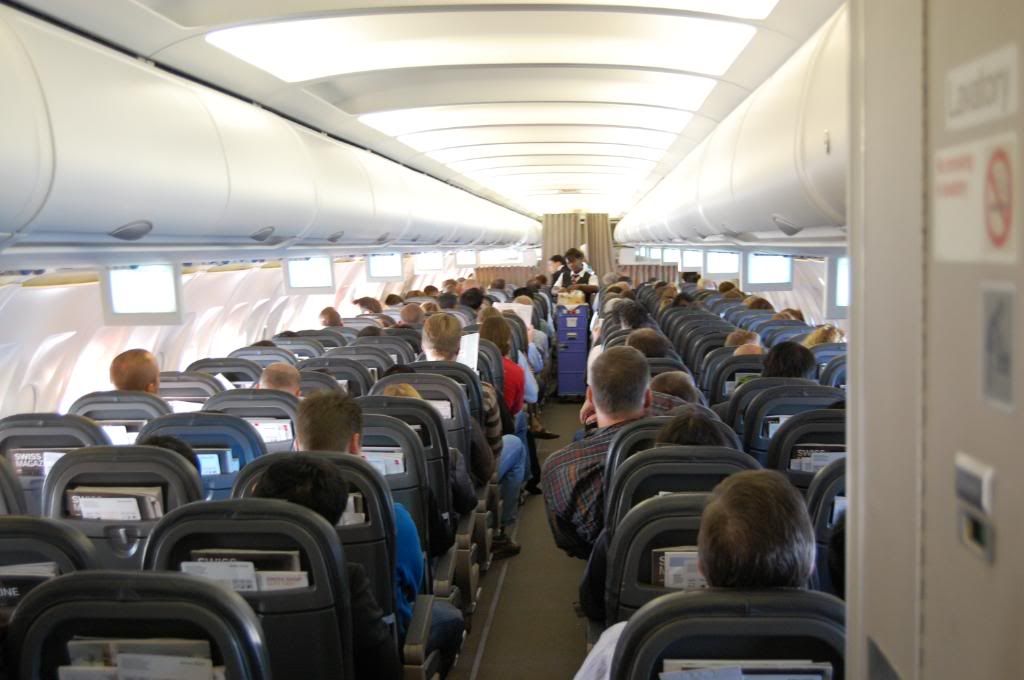 Our route was over France, Luxembourg and Belgium, but due to the fact I had no window, I can't tell you which route exactly.
We soon made a perfect landing on rwy 36R and taxied back to our gate at the D-concourse.
As I was at the far back of the plane I was the last passenger to leave the plain, and thanked the crew for their nice flight.
Then through passport control and wait for by baggage to arrive. This took very long this time, something I don't experience too often at AMS. But finally my suitcase came on belt nr. 4 and I was ready to go outside again. There my GF was waiting for me and we both went home happily.
Thank you for taking the time to read my report!
I hope you enjoyed it. Feel comfortable to leave your comments!
Joost ( D-ALCE )
[Edited 2008-09-28 01:07:06]
[Edited 2008-09-28 01:16:57]