Recently I was on a one-week holiday in Tuscany, visiting the city of Florence and the Island of Giglio, a small island near the Tuscan coast, south of Elba. I started my trip in Florence as Lufthansa offers a weekly non-stop flight between my home airport Stuttgart (STR) and Florence (FLR) every Saturday during summer season. The flights are operated by franchise partner and Stuttgart's home carrier Contact Air within the Lufthansa Regional brand. On all other days, and during winter, Lufthansa serves FLR from FRA (six daily flights) and MUC (seven daily flights). I booked my flights about four months in advance and still got one of the 99.00 Euro-tickets (return, including all taxes).
Saturday, 20 September 2008
Stuttgart (STR) – Florence (FLR)
Airline: Lufthansa (operated by Contact Air)
Flight number: LH 2670
Scheduled departure time: 11:20
Scheduled arrival time: 13:10
Type of aircraft: ATR 72-500
Registration: D-ANFL
This aircraft was built in 2001 and delivered to Eurowings. In 2005 it was transferred to Contact Air where it is operated on behalf of Lufthansa Regional.
And here are two pictures of the aircraft with its previous operator Eurowings:
I arrived at Stuttgart Airport by train about two hours before the departure of my flight. There were quite some queues at the regular check-in, so I decided to use one of the check-in machines where I selected seat number 16A, a window seat in the back of the aircraft. Then I went to one of the two bag drop-off counters where a friendly agent tagged my luggage and wished me a good flight.
The Lufthansa check-in in Terminal 1: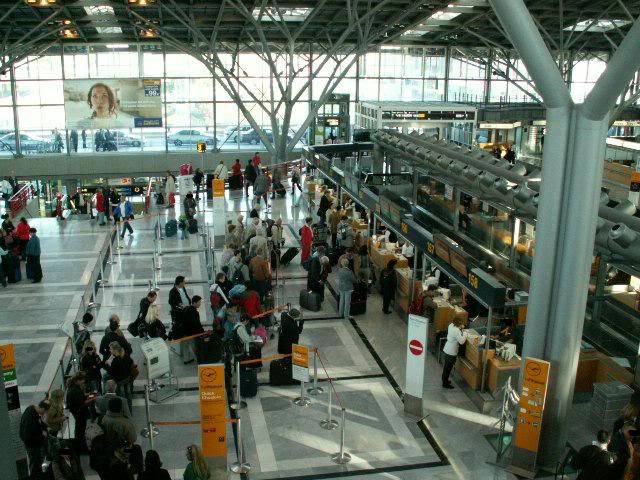 After some time on the viewing deck, I passed security check quickly and proceeded to gate 162, a bus gate on the ground floor in Terminal 1. The area was quite busy with other Lufthansa Regional (and partner) flights to various European destinations (BCN, BIO, TXL, VIE and others). German and international newspapers were available in the gate area.
At 10:45, the aircraft for my flight to FLR, D-ANFL, arrived from HAJ, 10 minutes ahead of schedule. Boarding started shortly after and a bus took all passengers to the aircraft which was parked on a remote parking position on the apron.
Boarding D-ANFL: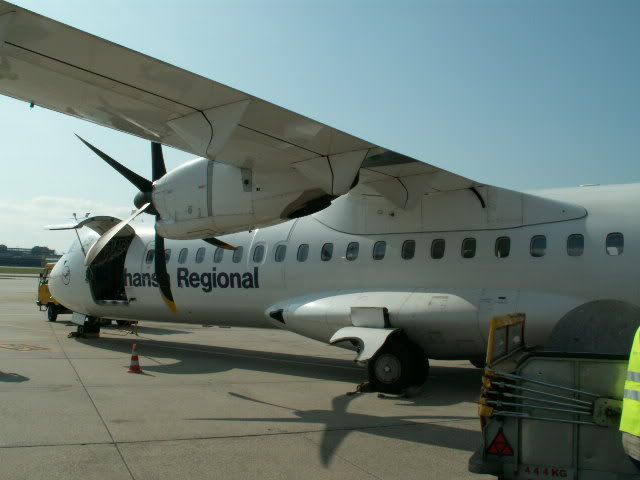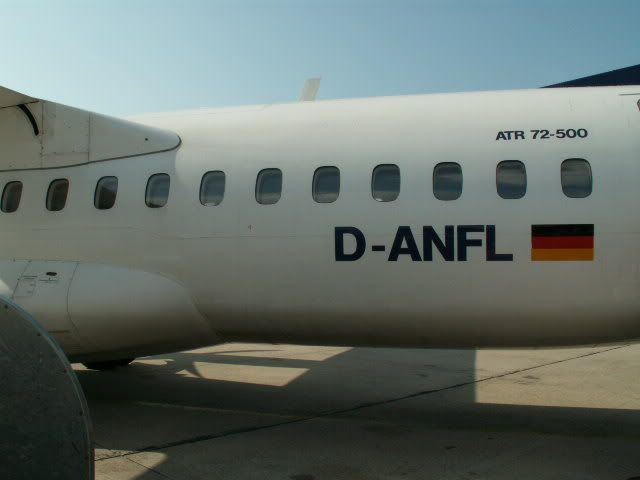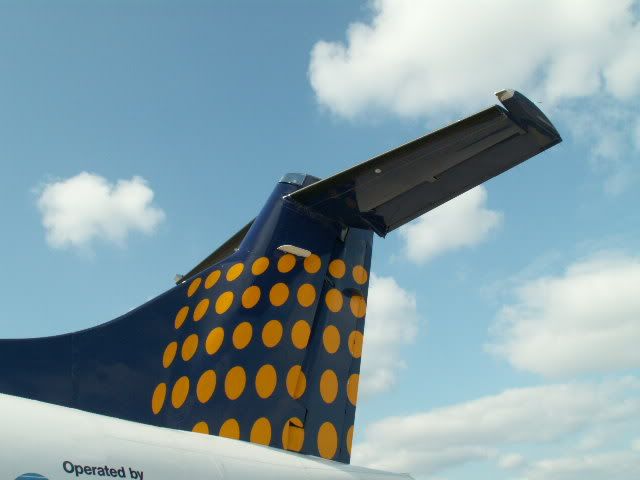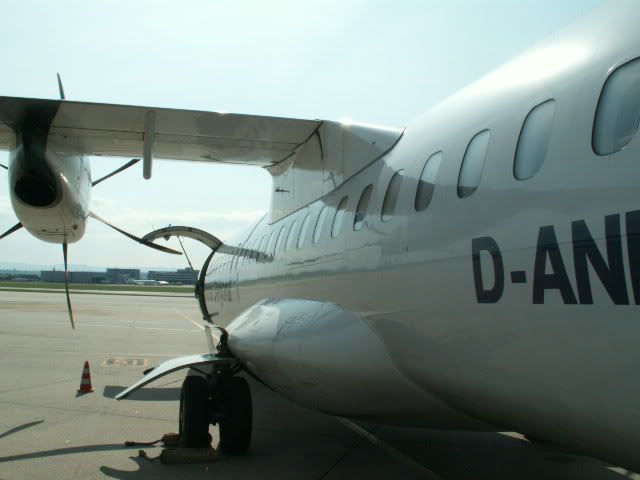 We were welcomed by two friendly female flight attendants wearing Contact Air uniforms. The cabin was equipped with dark blue leather seats; everything was well maintained: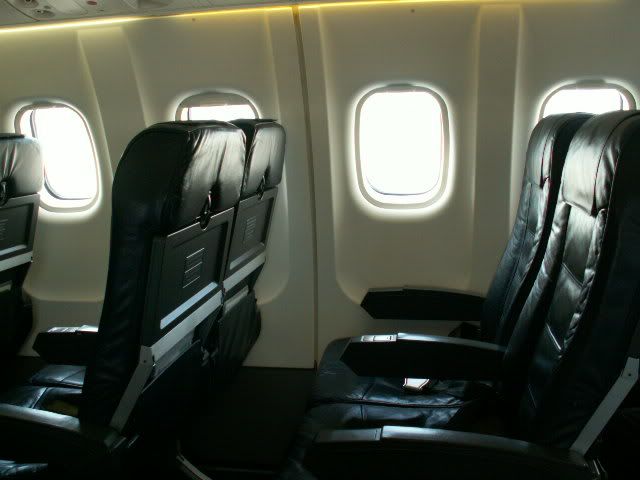 There were about 40 passengers on board (load factor of nearly 60%); all of them were Economy Class passengers, so no Business Class on this flight as it was a typical leisure flight. After a welcome announcement from the flight deck, we were off-block soon. It was only a short taxi to runway 07, so cabin crew had to be quick to finish their safety announcements. There were no other aircraft ahead of us, so we took off in eastern direction immediately: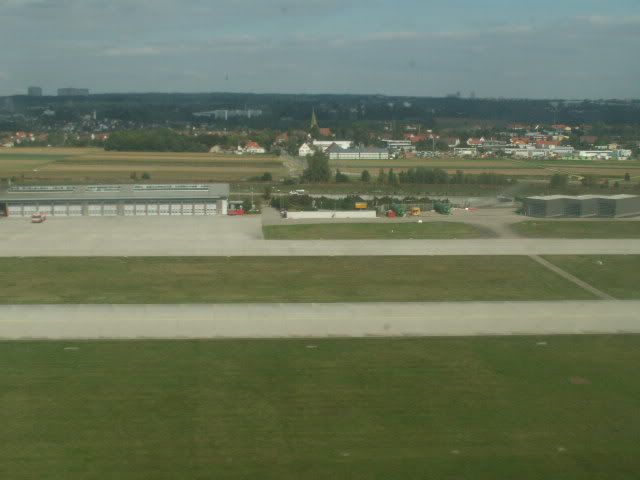 The town of Ostfildern with the housing area "Scharnhauser Park":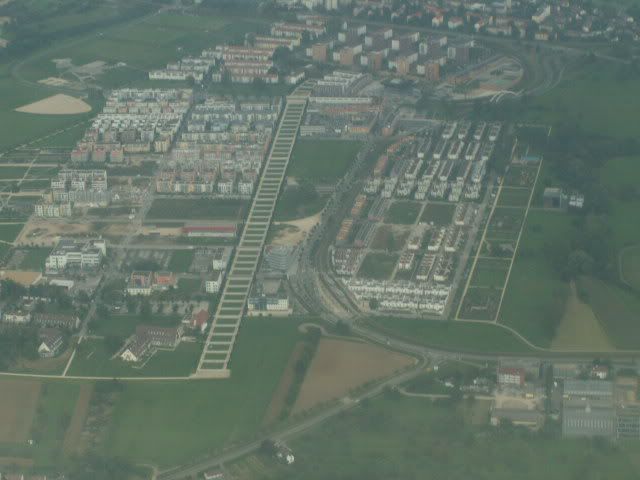 The Neckar Harbour at Plochingen and the "S-Bahn-Betriebswerk" (depot of regional trains):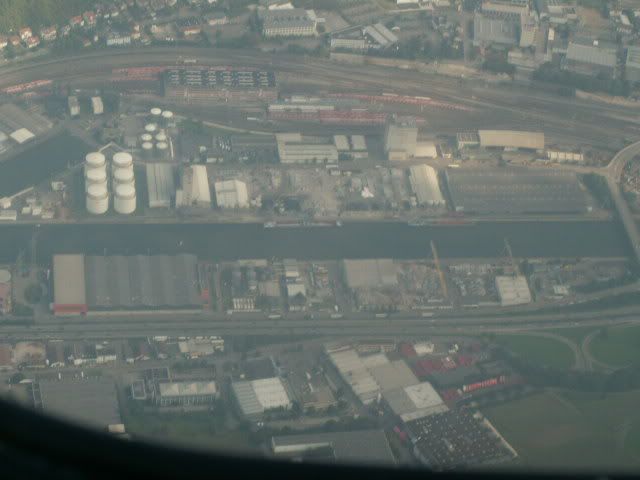 When we had left the STR-area, there were light clouds. But fortunately the view got better when we were further south.
An in-flight cabin shot: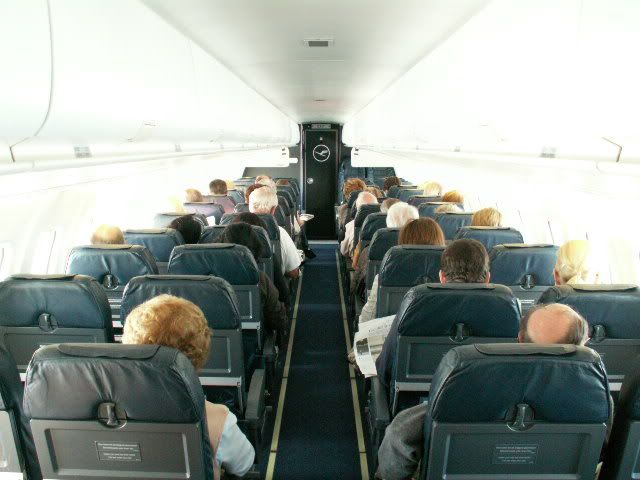 The Lake Constance in the upper right corner of this picture: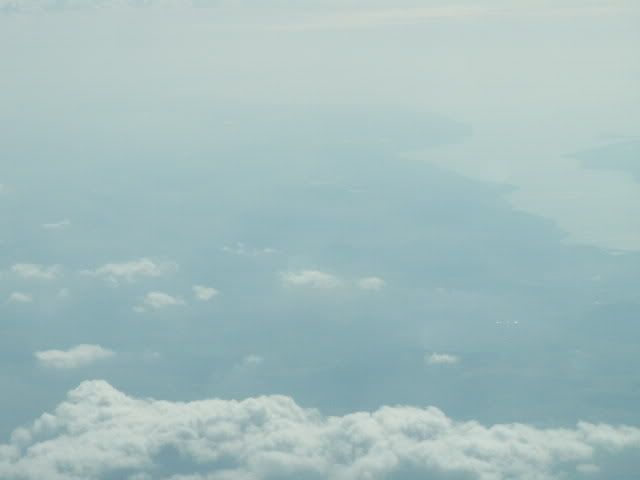 The "Rheinfall" near Schaffhausen, in Switzerland: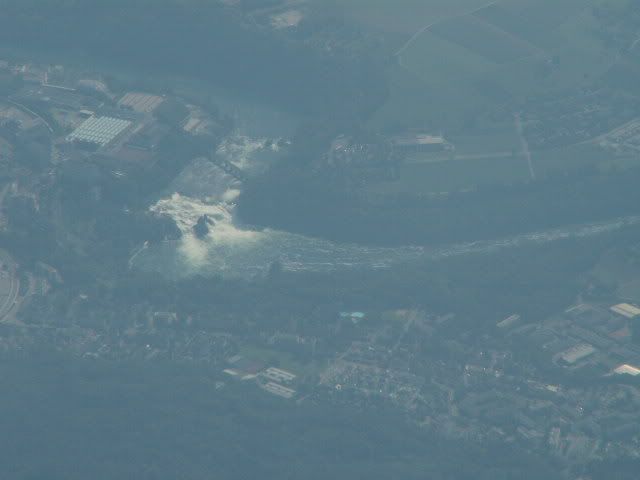 Zurich Airport: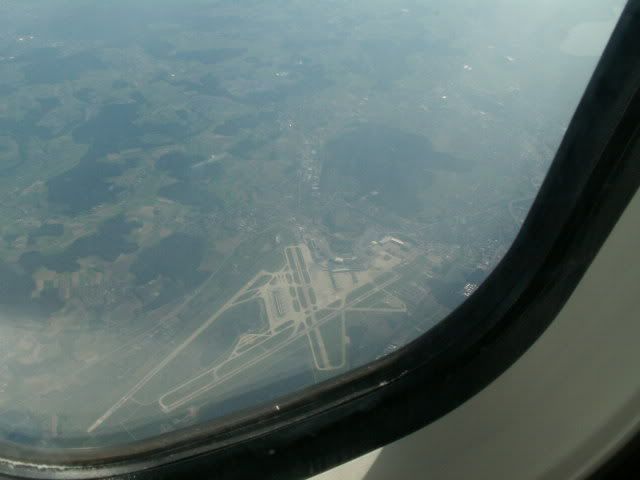 Cabin crew came around with their meal and drinks service. Every passenger got a small bread roll (ham or cheese for choice), a chocolate bar and hot and cold drinks:
According to the information from the flight deck our cruising altitude was only 20,000 feet which was great as there were some good views over the Alps: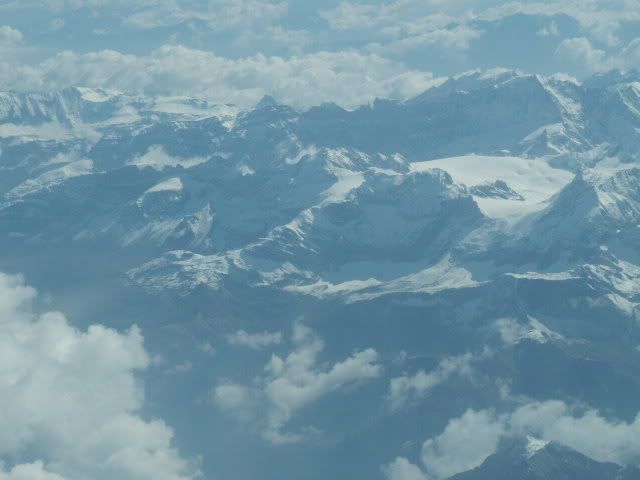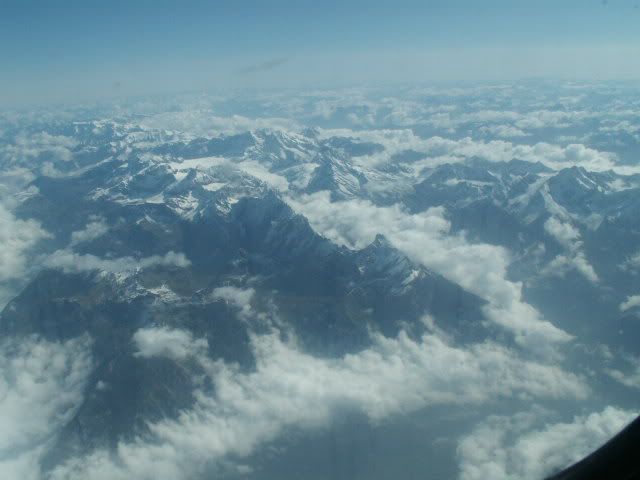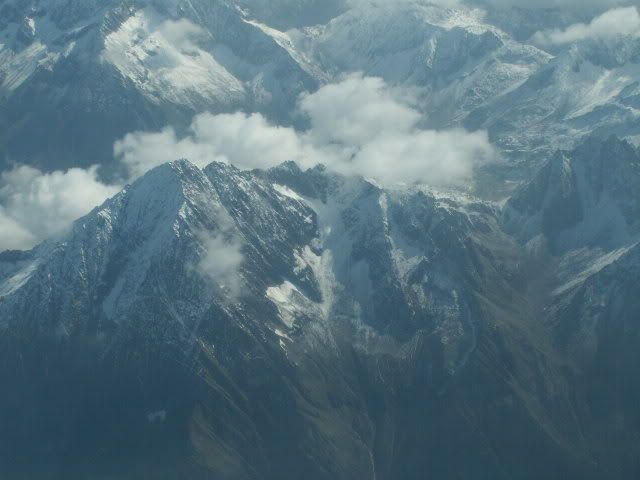 Lago Ritom in Southern Switzerland: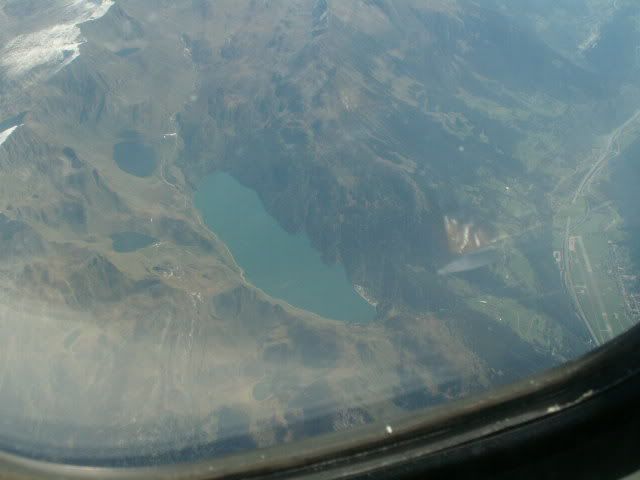 Ambri Airport, a former Swiss Air Force airbase: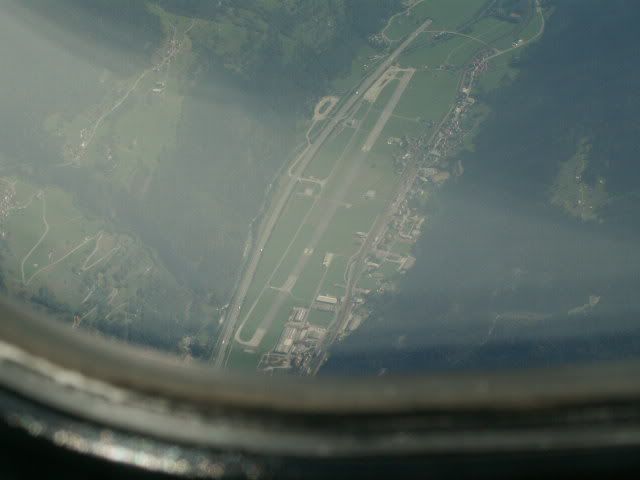 Lago Maggiore: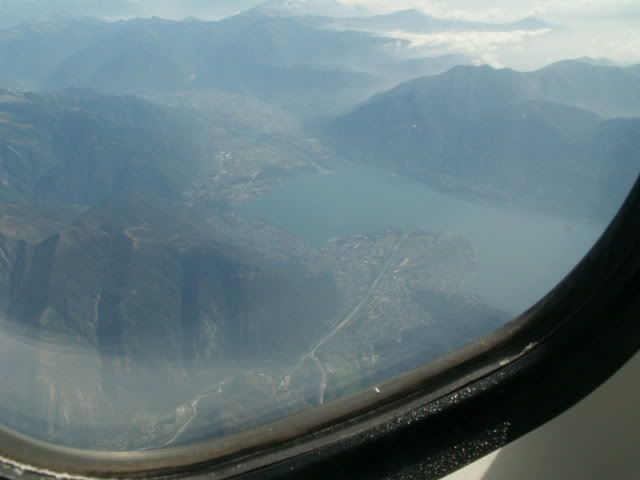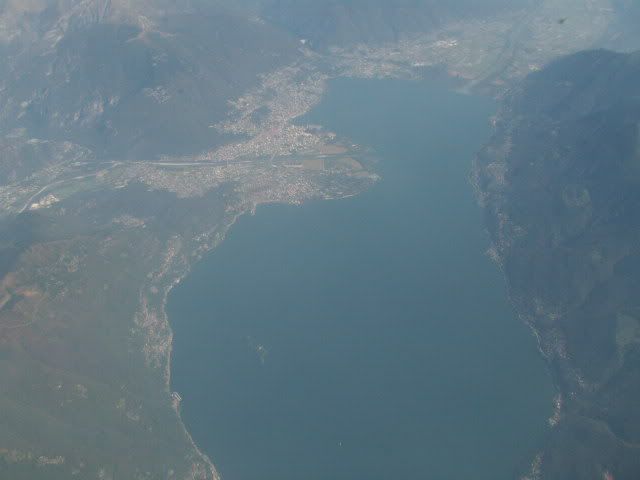 The captain made another announcement and informed us that after having crossed the Alps we would now fly via Parma to Florence. As it was quite windy in the area, there might be some turbulence during descent.
Northern Italy: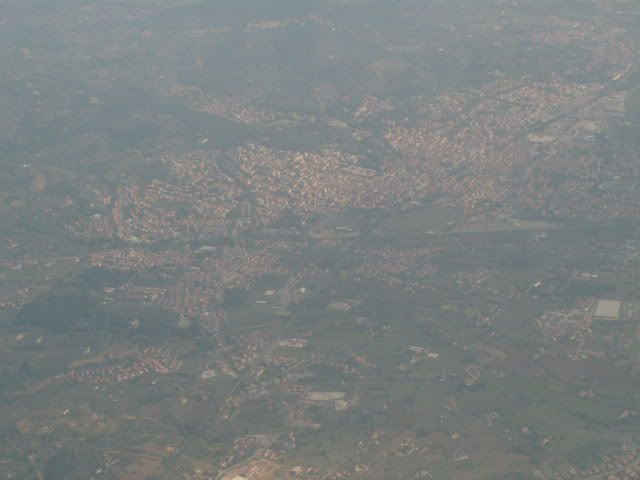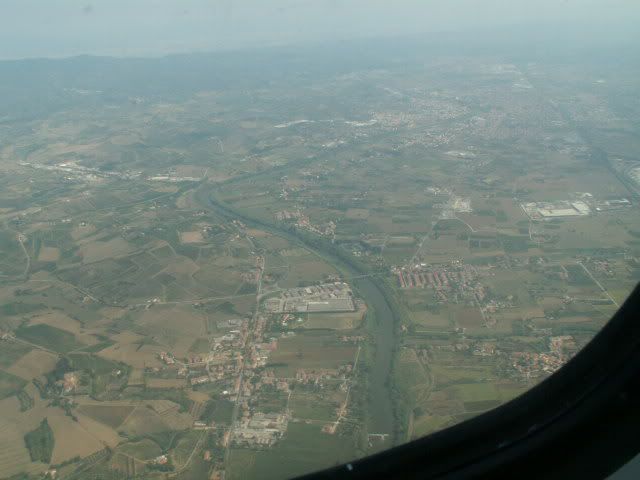 Tuscan landscape: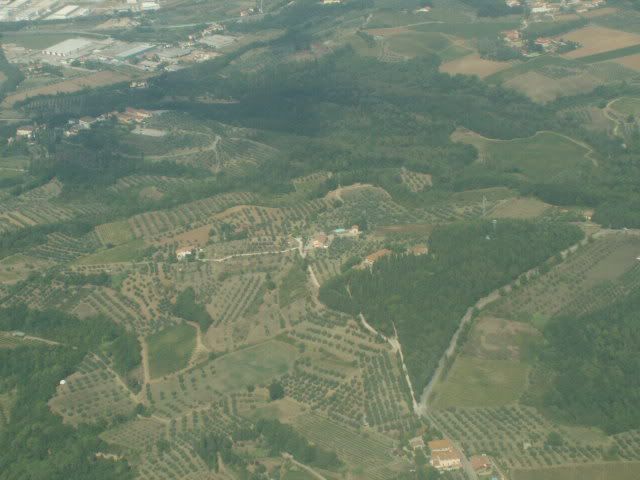 Reaching the area of Florence: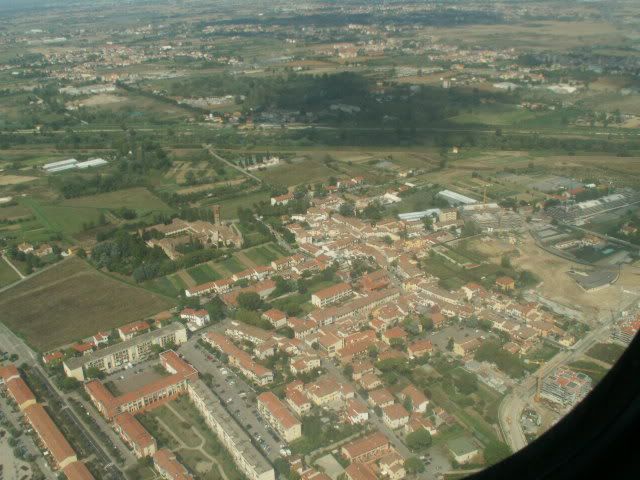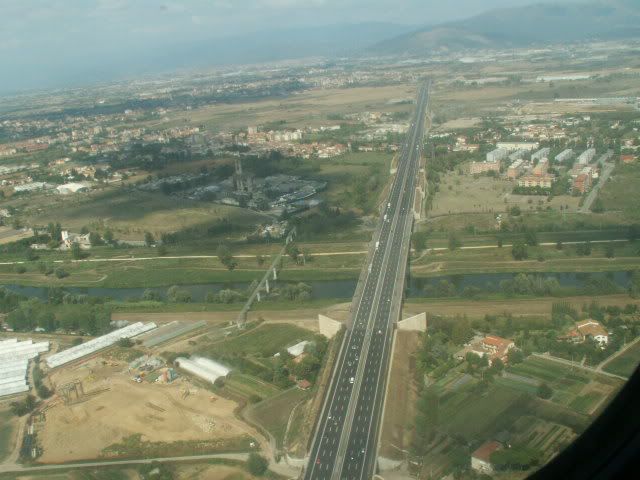 Approaching FLR: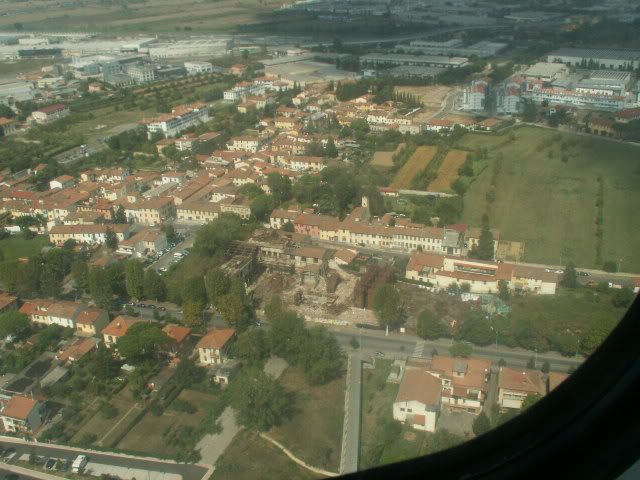 A bus depot: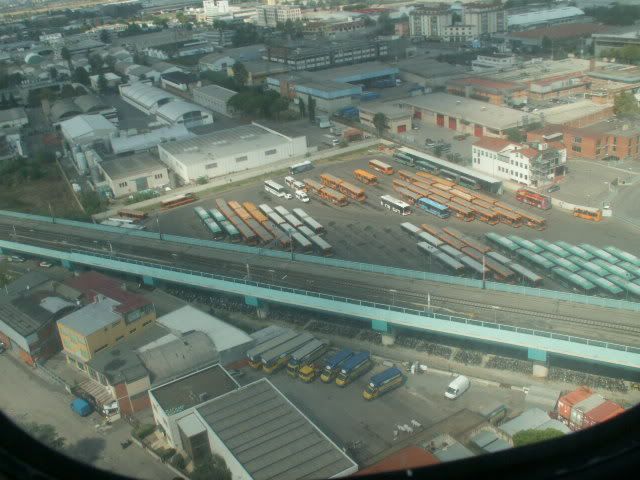 Touching down on runway 05: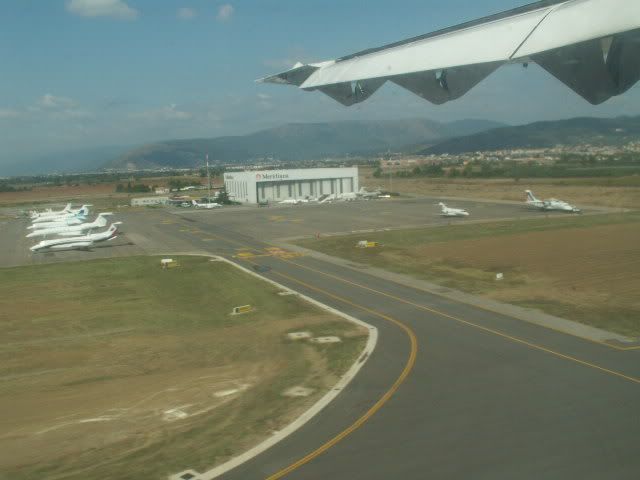 After coming to stand on the runway, our aircraft turned around and taxied back on the runway as there is no parallel taxiway. We reached a parking position on the apron where all passengers left the aircraft: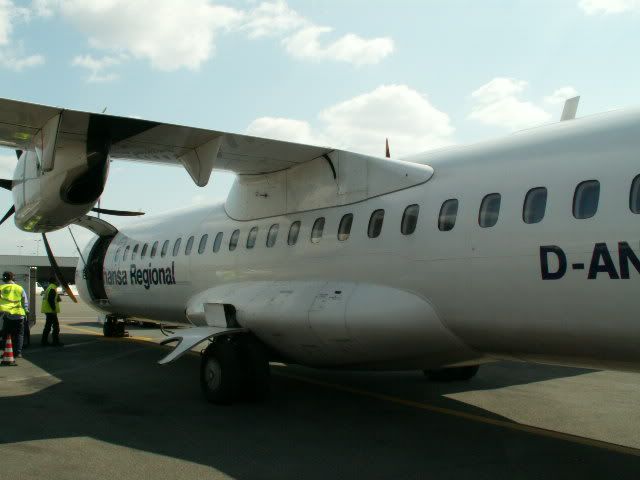 A bus took all passengers to the arrivals facilities of the terminal. An apron overview, taken from the bus: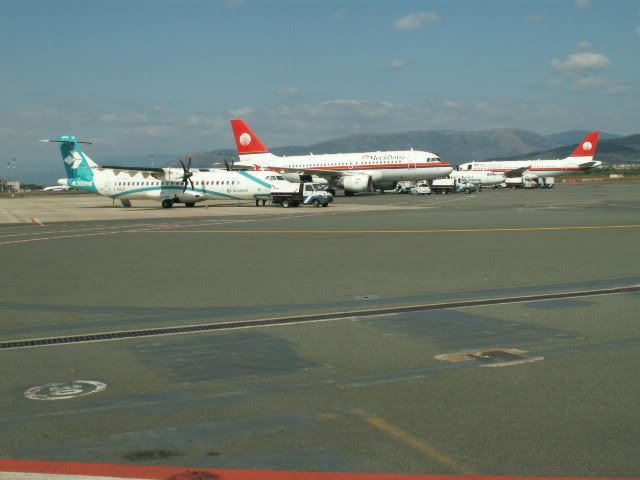 Luggage arrived quickly and I took a bus to city centre (EUR 4.50).
For those of you who are interested, here are some destination pictures as well:
Florence Cathedral, one of the most famous sights of the city: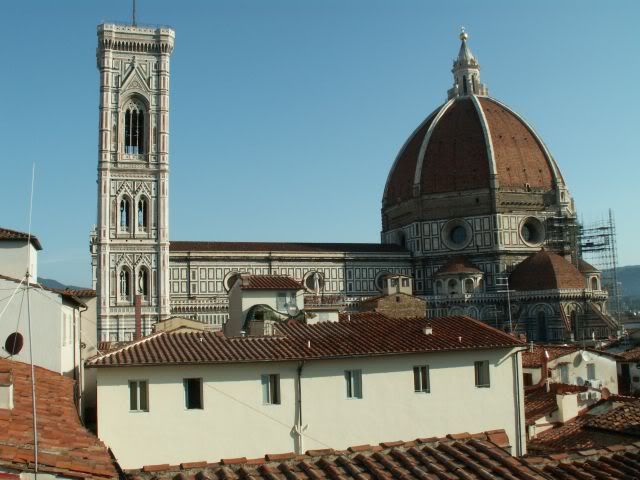 View from the "Campanile", the tower next to the cathedral: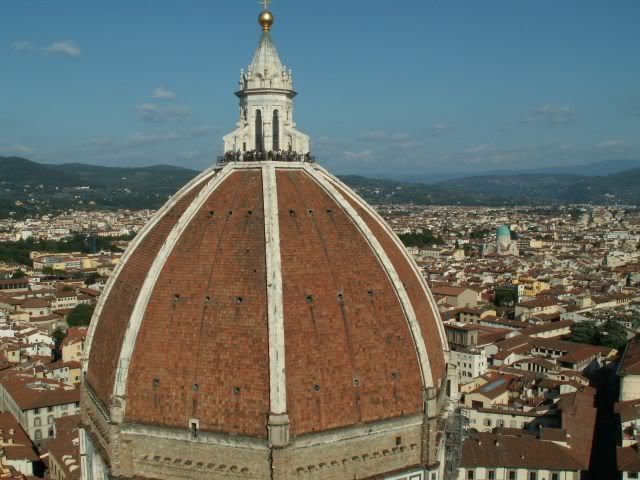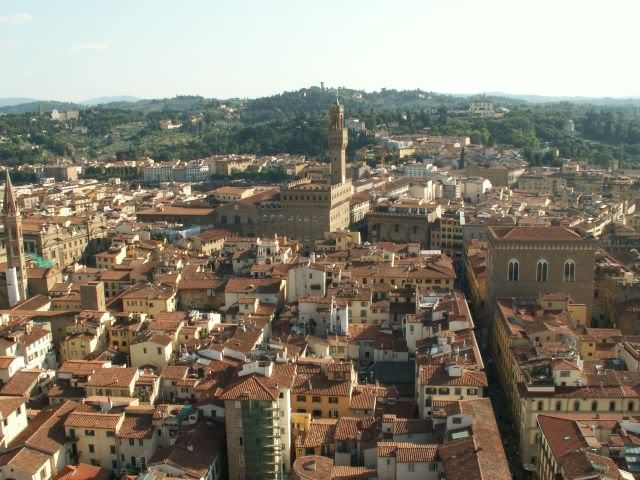 Ponte Vecchio, an old bridge over the River Arno, with lots of shops on it (mostly jewellers):
City overview, taken from Fiesole, a small town near Florence: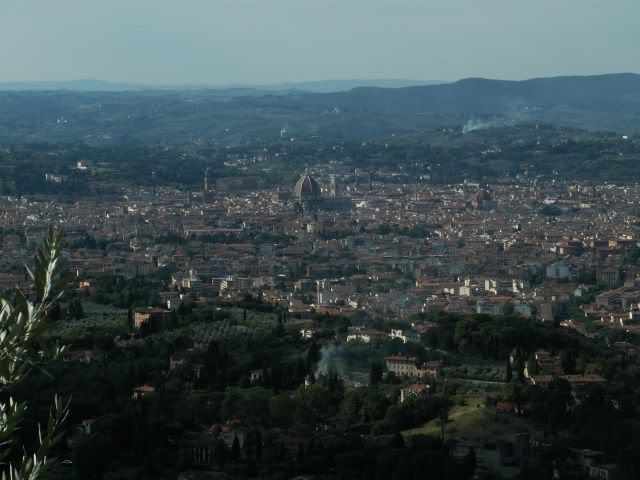 After three days in the city I took a train South (3.5 hours) and then a bus to Porto Santo Stefano, a small harbour town somewhere half-way between Pisa and Rome. From Porto Santo Stefano, the Island of Giglio can be reached within one hour by ferry: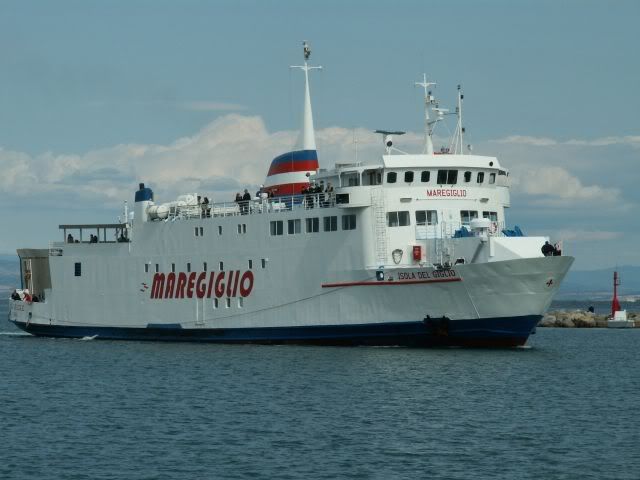 Giglio is a really beautiful island with a great landscape (mountains, forests and beaches and only small, old towns). The island is much less crowded than other Mediterranean Islands (well, at least in the off-season) – maybe because it isn't that easy to get there as there is no airport close by, and also the number of ferry connections is limited. Al in all, it is a really unique place. Here are some impressions from the Island of Giglio as well:
The harbour of Giglio Porto, in the early morning light: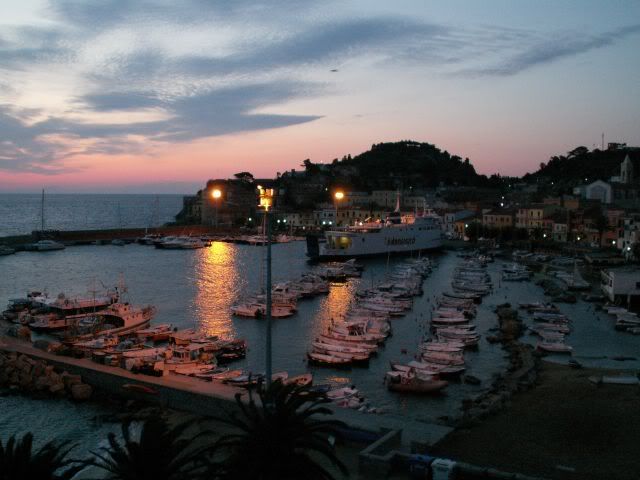 The old town of Giglio Castello, located on a mountain: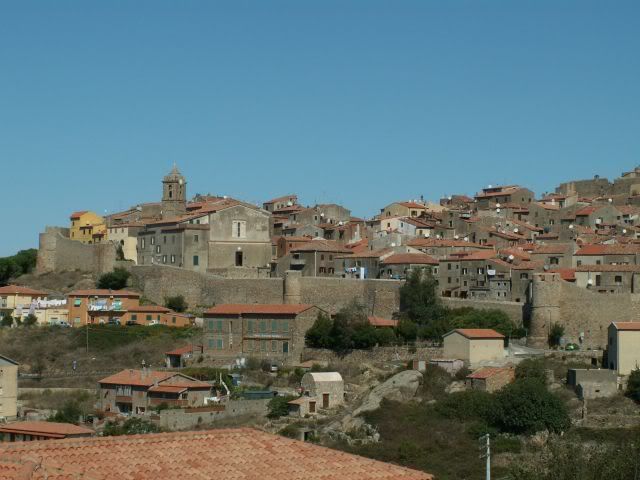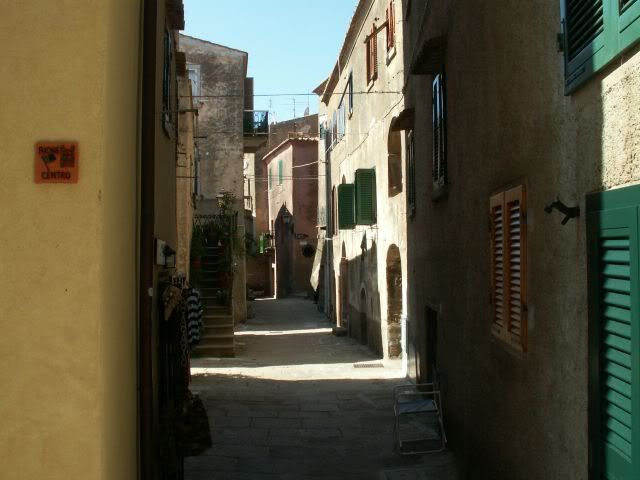 The beach of Campese, located in a small bay: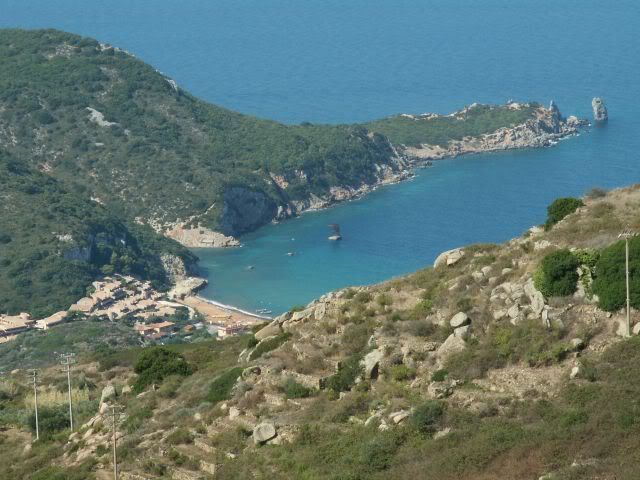 The coastline near Campese: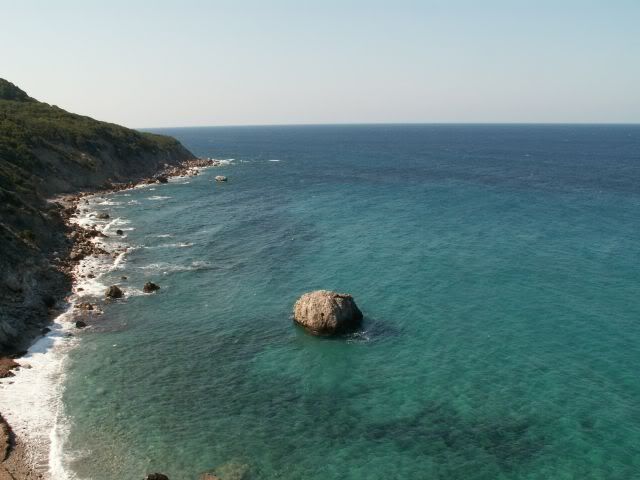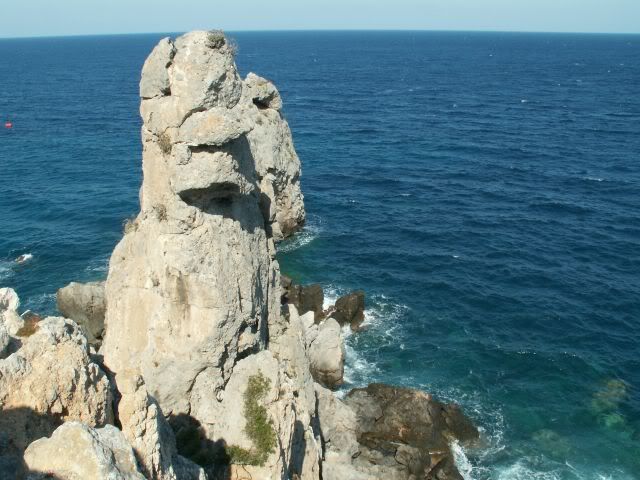 Sunset: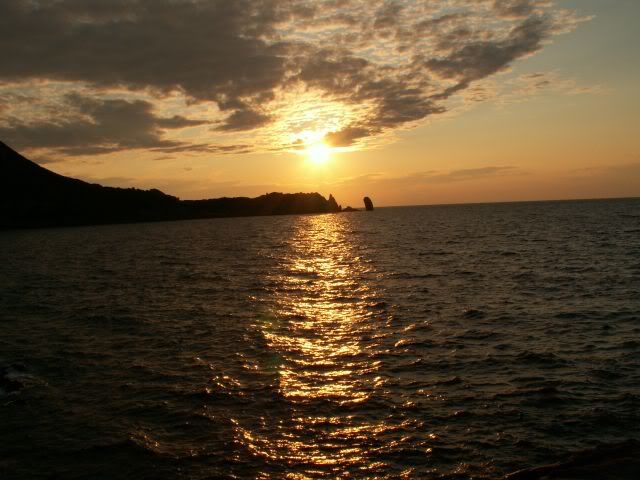 After three days on the Island of Giglio, I took the ferry, the bus and the train back to Florence where I spent one last night in a hotel near the airport.
Saturday, 27 September 2008
Florence (FLR) – Stuttgart (STR)
Airline: Lufthansa (operated by Contact Air)
Flight number: LH 2671
Scheduled departure time: 13:55
Scheduled arrival time: 15:45
Type of aircraft: ATR 72-500
Registration: D-ANFJ
This aircraft was built in 2001 and delivered to Eurowings. In 2005 it was transferred to Contact Air where it is operated on behalf of Lufthansa Regional.
And here are two pictures of the aircraft with its previous operator Eurowings:
I arrived at Florence Airport by free hotel shuttle, about three hours before the departure of my flight. The airport is rather small with one terminal and a single runway. Here is a picture of the terminal building: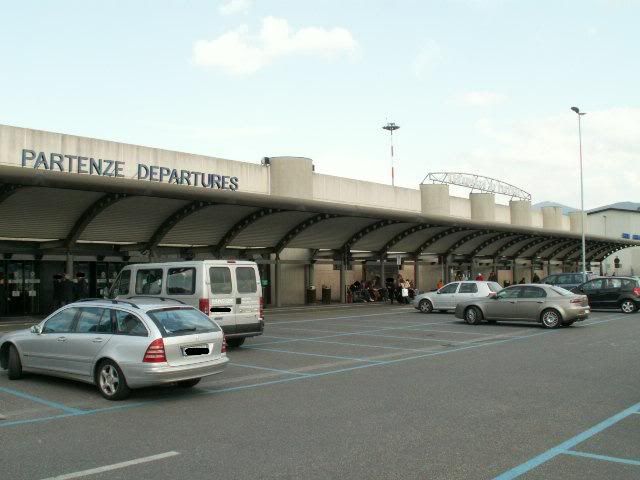 I was surprised to see that LH is the biggest airline at FLR (regarding the number of flights) with six daily flights to FRA (all Avro RJ 85) and seven daily flights to MUC (operated by Air Dolomiti ATR 72). Besides, there is the weekly flight to STR during summer. Meridiana has three A 319 based at FLR and serves various domestic and international destinations. AZ only offers four daily flights to FCO. Besides, the airport is served by many major European carriers like AF, LX, OS, SN and others.
With four LH-flights departing within 90 minutes and four check-in counters open, the queue was quite long. So I decided to use the self-service check-in machine where I chose seat number 16A, the same as on the outbound flight. Then I proceeded to the bag drop counter where a friendly lady of ADF (Aeroporto di Firenze) who handle the LH-flights at FLR told me in fluent German that luggage could be taken in not earlier than two hours before departure. So I had to wait nearly an hour. I didn't find a landside spotting position, neither outside (high fences everywhere) nor inside the small landside area of the terminal that was quite crowded: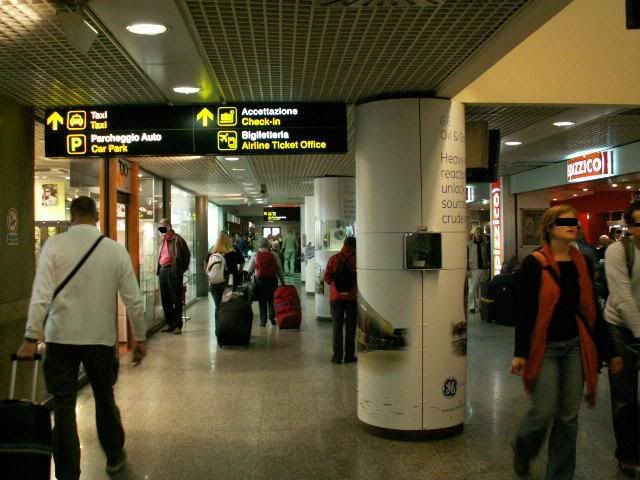 After an hour I retuned to the bag drop counter, got rid of my luggage and passed security check quickly. The airside area of the terminal is much nicer with a self-service restaurant offering good views to the apron: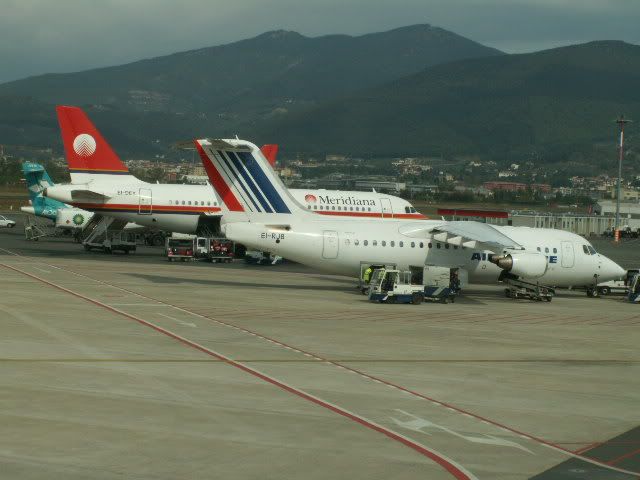 At 13:10 I could watch "my" aircraft arriving from STR on time: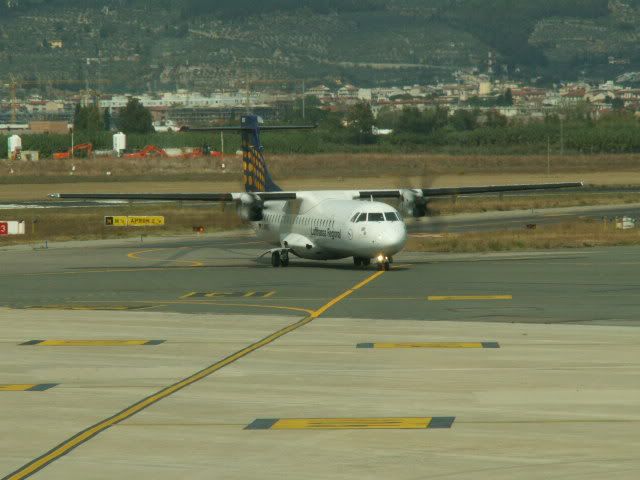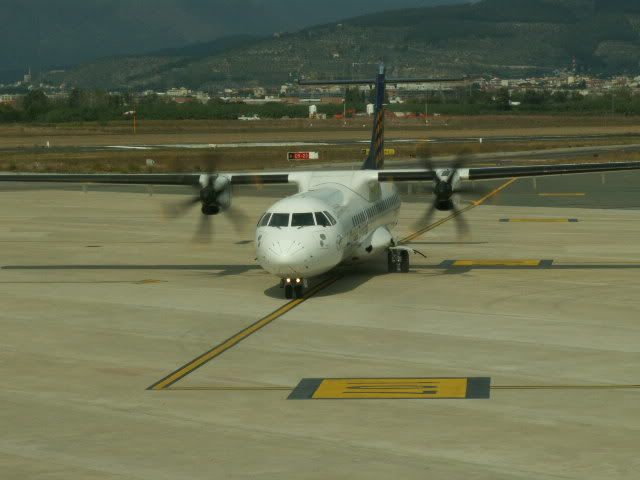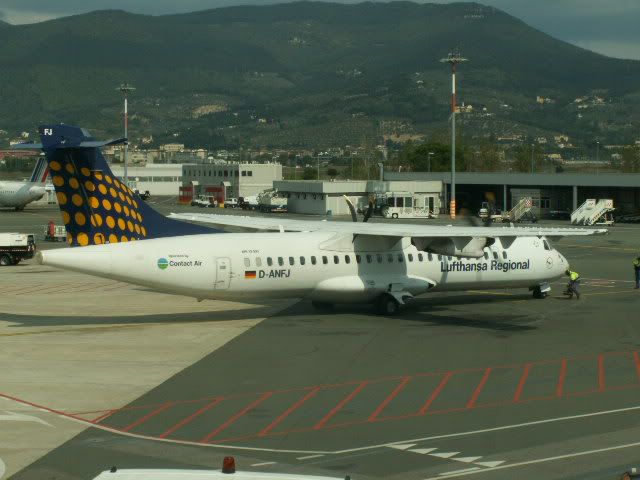 About 25 passengers disembarked the aircraft. This was going to be the last non-stop flight between FLR and STR for this year as it was a seasonal flight. I went downstairs to the gate area where I had a look at the departure screen: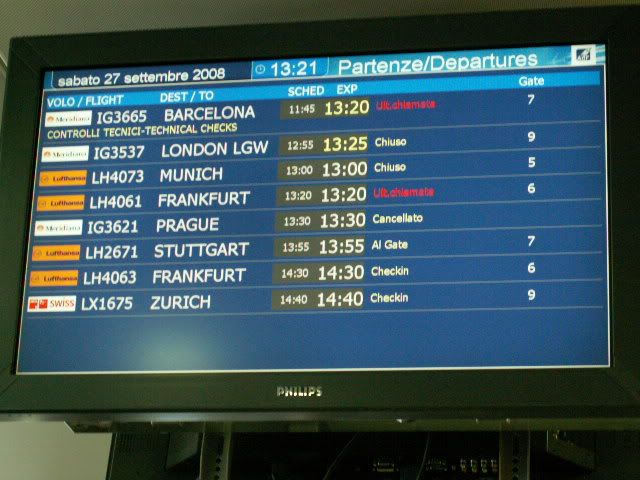 When I passed by the FRA-gate, I heard a passenger complaining loudly to the gate agent "I don't accept this! I have paid for the ticket and I want to get on that flight!" I walked on and didn't listen to this conversation any further – sounded like a typical overbooking situation to me at that moment, but later I would find out more…
The gate area: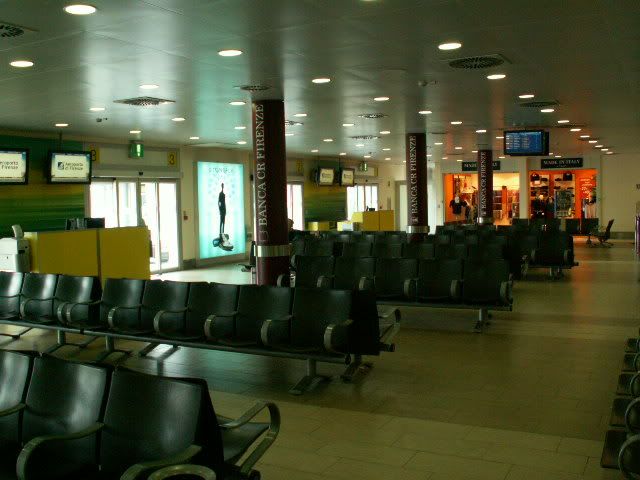 Departure time came and went. As the aircraft had arrived on time and two gate agents were present, I wondered why boarding didn't start. In the next moment, the screen showed a delay of 20 minutes; in the same moment I received an automatic SMS from LH telling me that my flight would be delayed for 30 minutes.
In the next moment, one of the gate agents came into the waiting area and talked to the passengers, again in fluent German, as (nearly) all passengers were Germans. She didn't use a microphone and told us that there were difficult weather conditions outside with strong tail-winds. That's why they had to reduce the weight of the aircraft to be able to take off. The airport is located in a valley surrounded by some high mountains and the runway is quite short which can make flying conditions difficult in some weather situations. At least 2,000 kilograms had to be offloaded which meant that at least 21 passengers couldn't fly. These passengers would be bussed to Bologna where an LH-flight to FRA would leave at 18:50, so these passengers would reach STR with the last FRA-STR service at 22:55 (seven hours behind schedule). The agent told us that LH would pay for the bus and every passenger going via BLQ and FRA would receive a free meal, which meant on the other hand that no further compensations were to be made as it was a weather issue. There were a bit more than 60 passengers booked, among them two large groups with more than 20 people in each of them, so the decision about who would stay was made only between these two groups; no individual passengers were involved. What followed was a discussion between the people of these groups, but all in all the situation remained calm. The gate agent had explained the situation in a very detailed and objective way
and most passengers understood that it was a security issue. One group consisted of mainly elderly people, so in the end the leader of the other group agreed that they would take the tour via BLQ and FRA. Boarding for the remaining passengers started shortly after and 41 people were bussed to the ATR 72 "D-ANFJ" bound for STR. It was going to be my second flight with this particular aircraft after a flight from BRE to STR in 2007, when the scheduled Avro RJ 85 went tech and was replaced by the ATR.
Two female flight attendants welcomed the passengers; the captain made a welcome announcement as well. He apologized for the delay and told us that he and his crew would take us to STR as quickly as possible, but it was only the standard text. To be honest, I would have expected some more detailed information about the weather situation from the flight deck as well, either now, on the ground, or later during flight. We went off-block at 14:50, about one hour behind schedule, and taxied to runway 05. At the beginning of the runway, the flight crew drove up the engines while the breaks were still set, then we accelerated very quickly and climbed up into the air: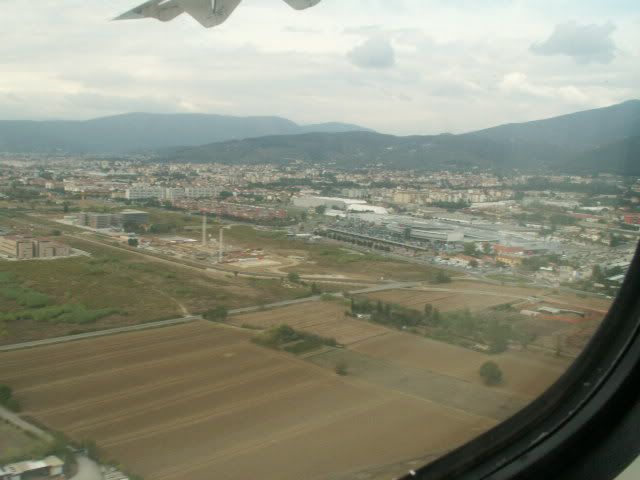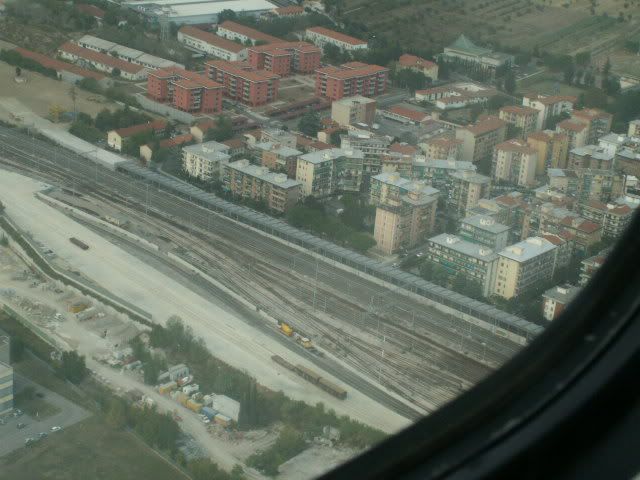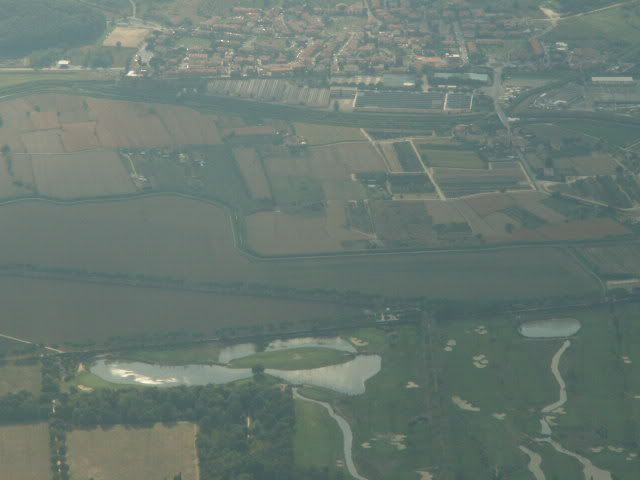 Soon we were up in the clouds, and a bit later the Alps came into sight again: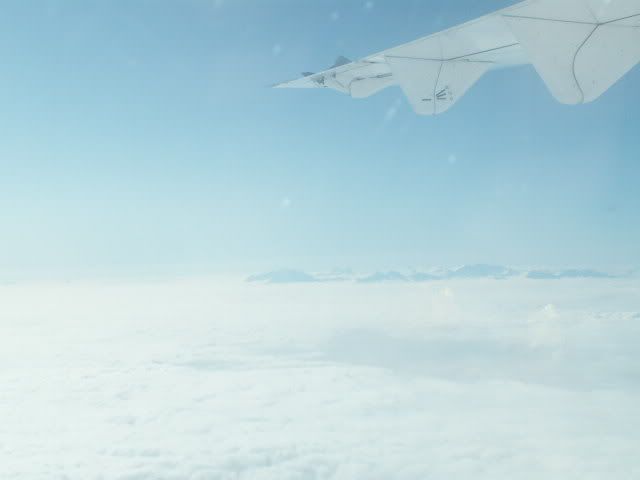 Service was the same as on the outbound flight: bread rolls with ham or cheese, a chocolate bar and hot and cold drinks. The first officer made an in-flight announcement, told us that they would try to make up some time and informed us about the weather at STR.
Some more pictures from the Alps – I always find it impressive to cross these high mountains by air: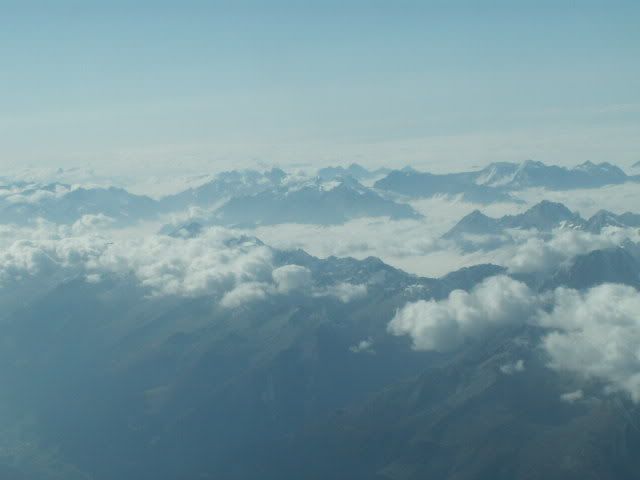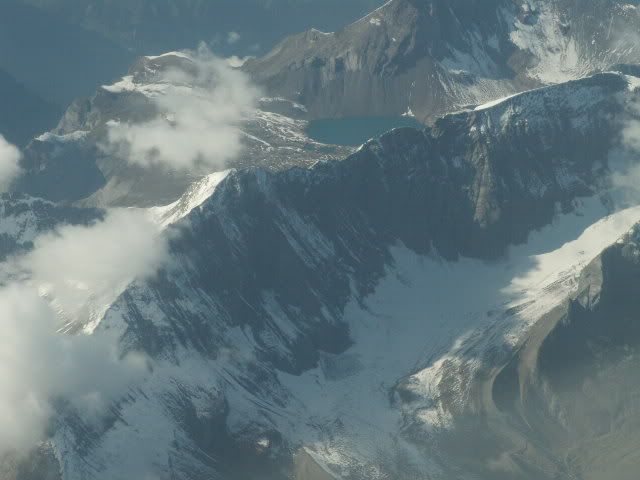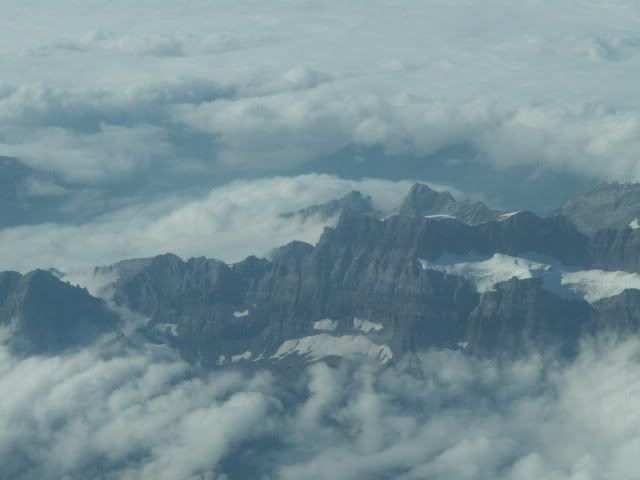 After crossing Southern Germany, we reached the STR-area again: The town of Gaertringen: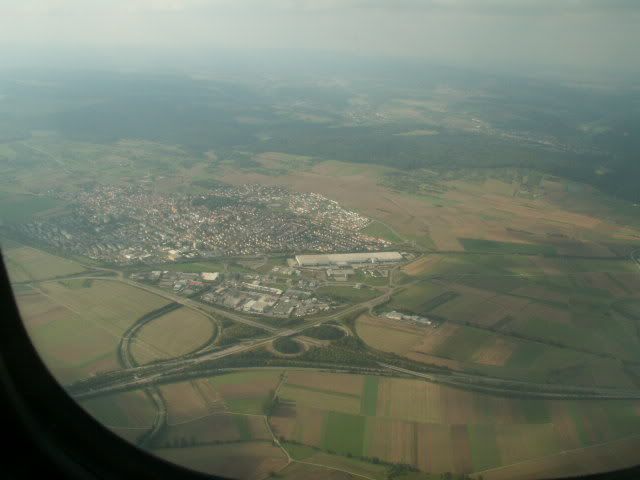 The city of Boeblingen: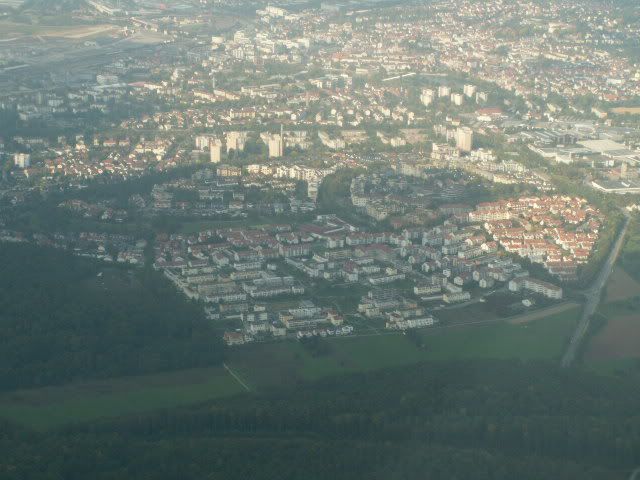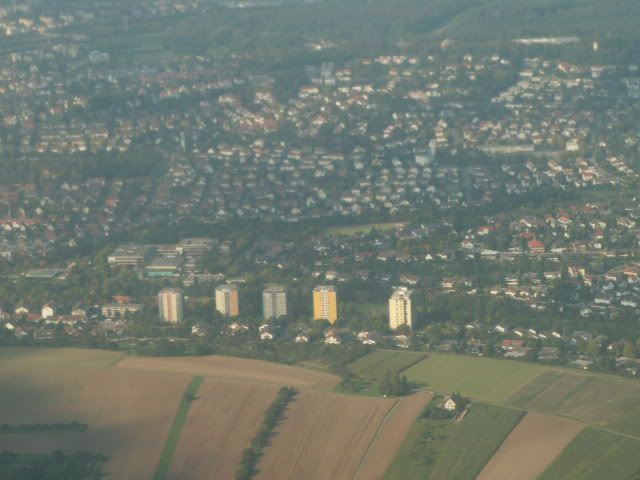 The town of Schoenaich: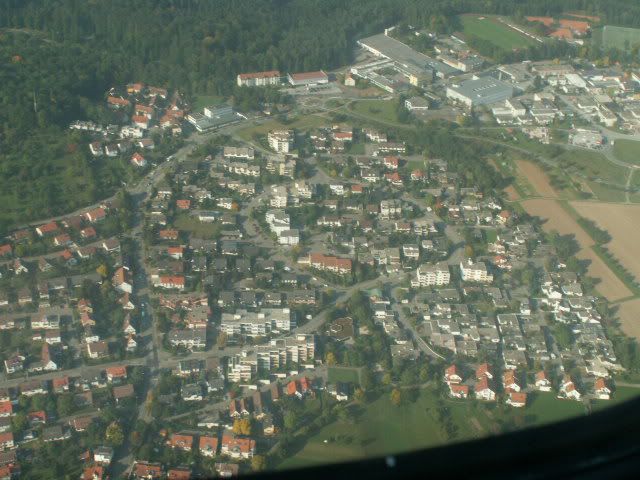 The "Siebenmuehlental" (Seven Mills Village):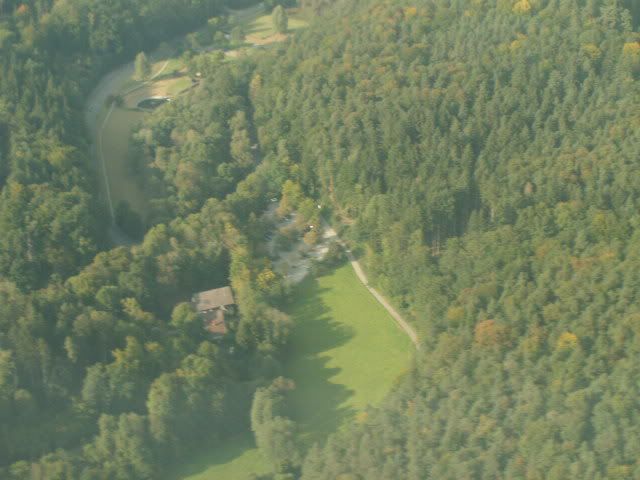 Final approach: the town of Echterdingen: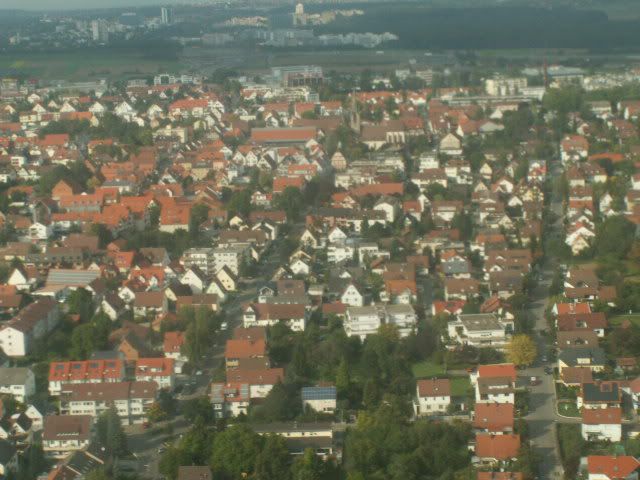 Reaching STR again: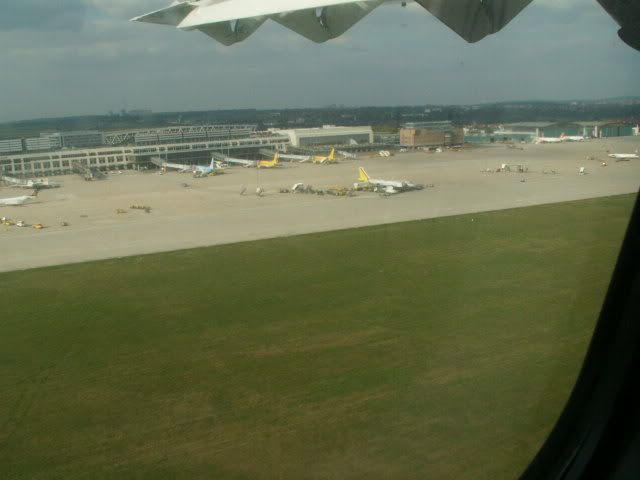 We touched down on runway 07 and taxied to a parking position on the apron. We were on-block at 16:20, so the delay had been reduced to 35 minutes.
Leaving D-ANFJ: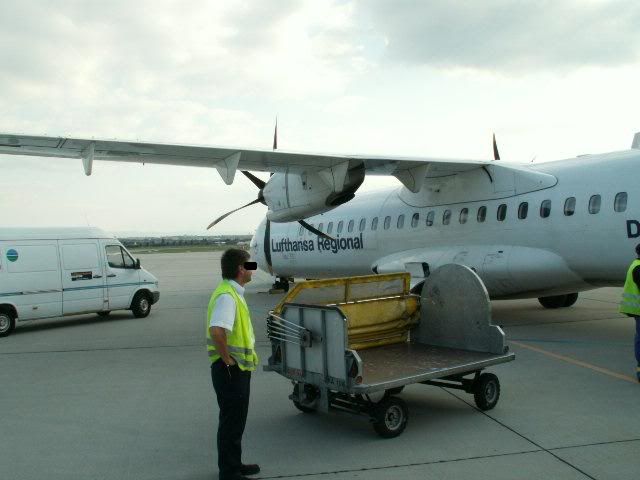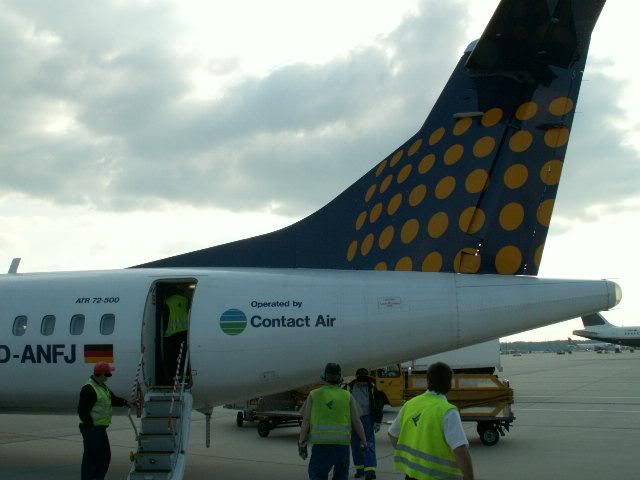 All passengers were bussed to the arrivals facilities of Terminal 1. The screen above one of the luggage belts showed two LH-arrivals from BCN and FLR; both flights were flashing. However, I could see only BCN-luggage on the belt. After some time, the belt was stopping. The BCN-passengers had collected their luggage, but all FLR-passengers were still waiting. Soon both flights disappeared from the screen. It came to my mind that our flight had probably taken off without any luggage due to the weight restrictions at FLR. Together with another passenger, I walked over to the baggage tracing department of LH. I asked the lady if it was possible that the flight from FLR had arrived without any luggage at all. She replied "Oh yes, we got a telex from FLR saying that the luggage of about 40 passengers wasn't on the flight, but we were still hoping it was not true" …
Don't get me wrong –flying without luggage rather than leaving even more passengers behind was definitely the right decision. But announcing a separate luggage belt and letting people wait there for no luggage to arrive at all is somehow bad style in my opinion. I would have expected some information at an earlier time, either from the captain (he should have known that we were flying without luggage – after all it was probably his decision) or at the latest from the ground crew at STR as they had obviously known about the situation as well. Anyway, soon all three counters of the lost-and-found area were staffed and all FLR-passengers were queuing up. I made a short description of my luggage to one of the agents, got a receipt and was told that my luggage would be delivered to my home address as soon as it would arrive. This happened three days later as the weather situation at FLR stayed difficult for two more days, and after that they had to deal with masses of luggage left behind. But on Tuesday evening, a driver delivered my trolley to my home address.
Conclusion:
All in all these were two very nice flights with a reliable and friendly service and good value for money. LH once again proved that they are able to find solutions quickly when something goes wrong, and the weather situation at FLR wasn't LH's fault. The ground staff at FLR acted in a professional way. The only thing that could have been a bit better was the (missing) information about the luggage. But my overall impression was still positive.
Thanks for reading my report. Questions and comments are always appreciated.
Regards
Christoph