Date: September 7th, 2008
Airline: Qantas Airways
Registration: VH-OJF
Name of Aircraft : City of Perth
Aircraft: Boeing 747-400
Departure City: SYD Sydney Australia
Departure Time: 10:00
Destination: JNB Johannesburg South Africa
Arrival Time: 16:15
Scheduled Flight Time: 13hr 15min
Class: Economy Class
Seat: 37H (moved to 37K)
The next morning was a huge contrast from the two previous days... It was beautiful and sunny and I was leaving for Johannesburg ! What a load of crap... I had been trapped in my room for 2 days because it was cold and raining and now the sun was in full swing...
Any-who...
I went to the airport, got dropped off in front of the Qantas check in area and went to the Stand-By check in counters.
The lady told me the flight was so-so and that I might not get on as there are sometimes problems with payloads... So I went and got a couple of donuts at Krispy Kreme and sat not far from the check in counters.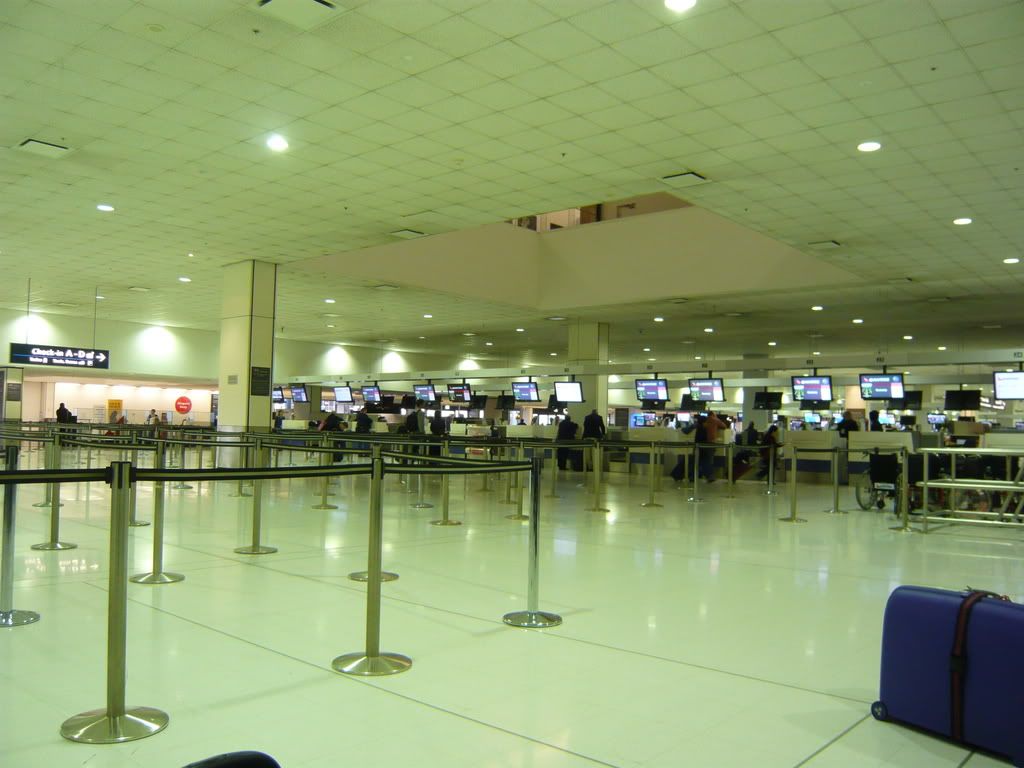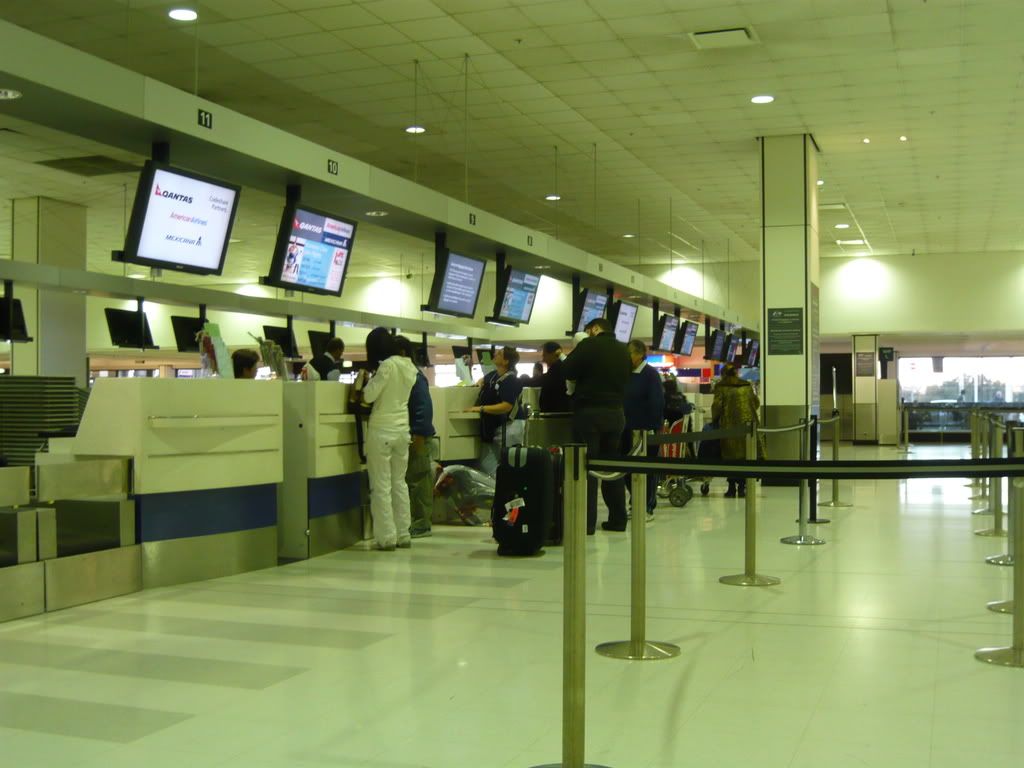 15 minutes before I was supposed to go and see if I got on, I heard my name on the public address. I went there and was greeted by perfect news... I got on...
I handed over my suitcase and made my way to immigration and security check.
Views of our ride to JNB, City of Perth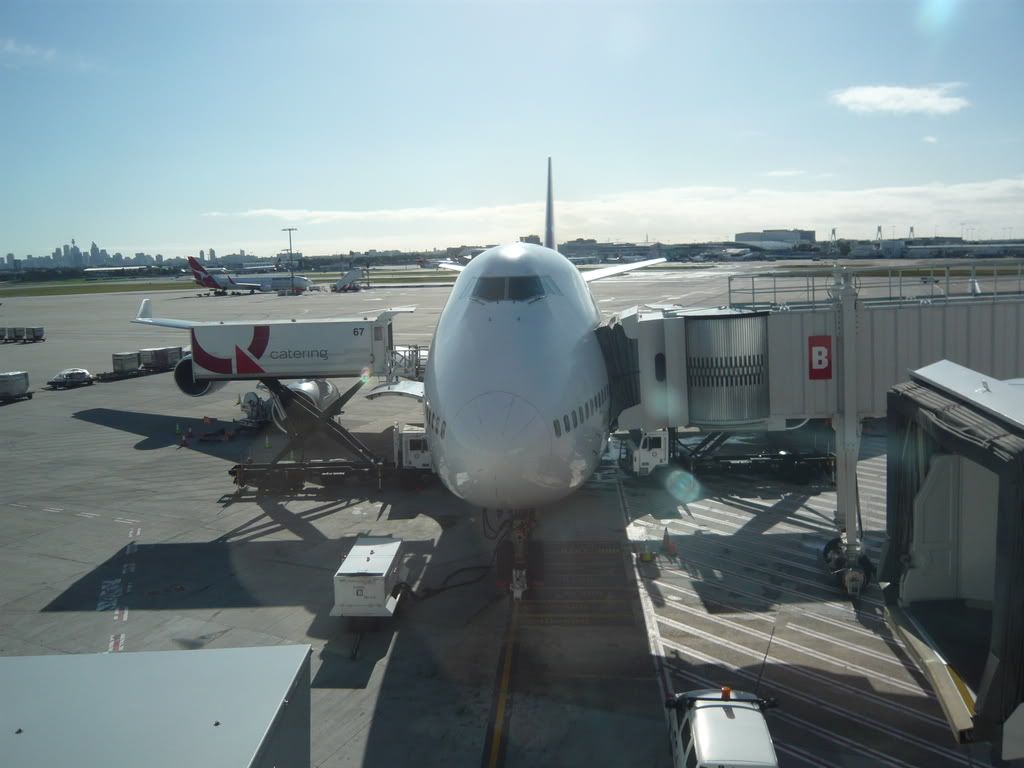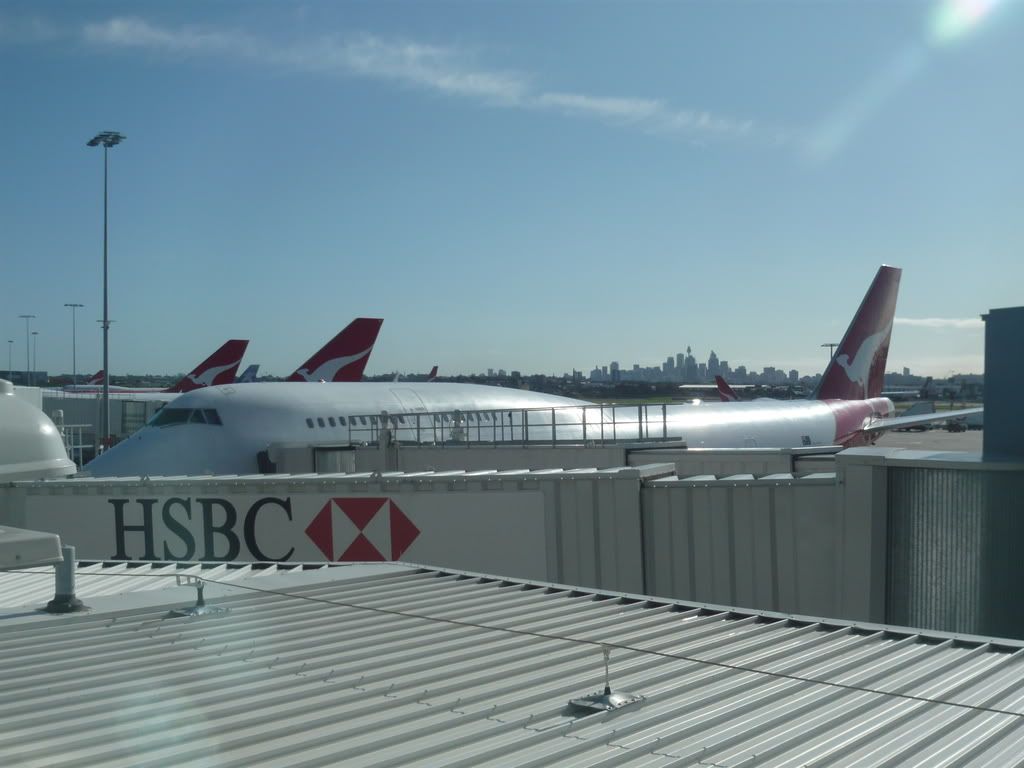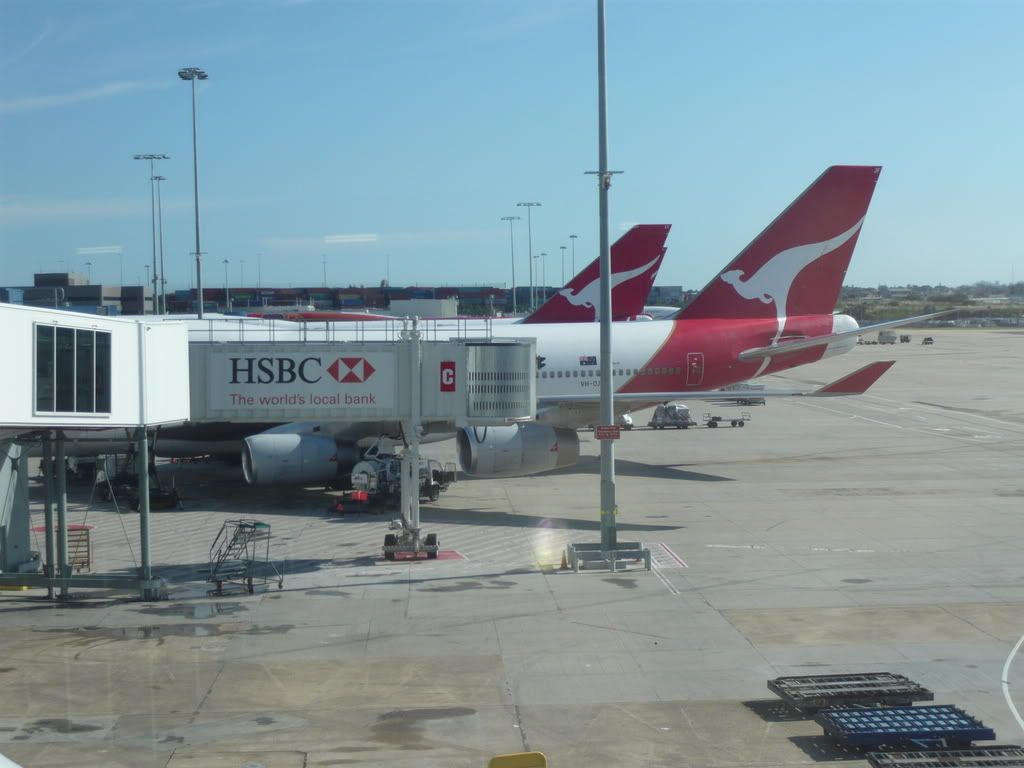 Sat in the boarding lounge and took my computer out and went on the internet to speak with my other half who had to stay home due to his work...
After a while boarding was announced and people started to all queue up to get on board.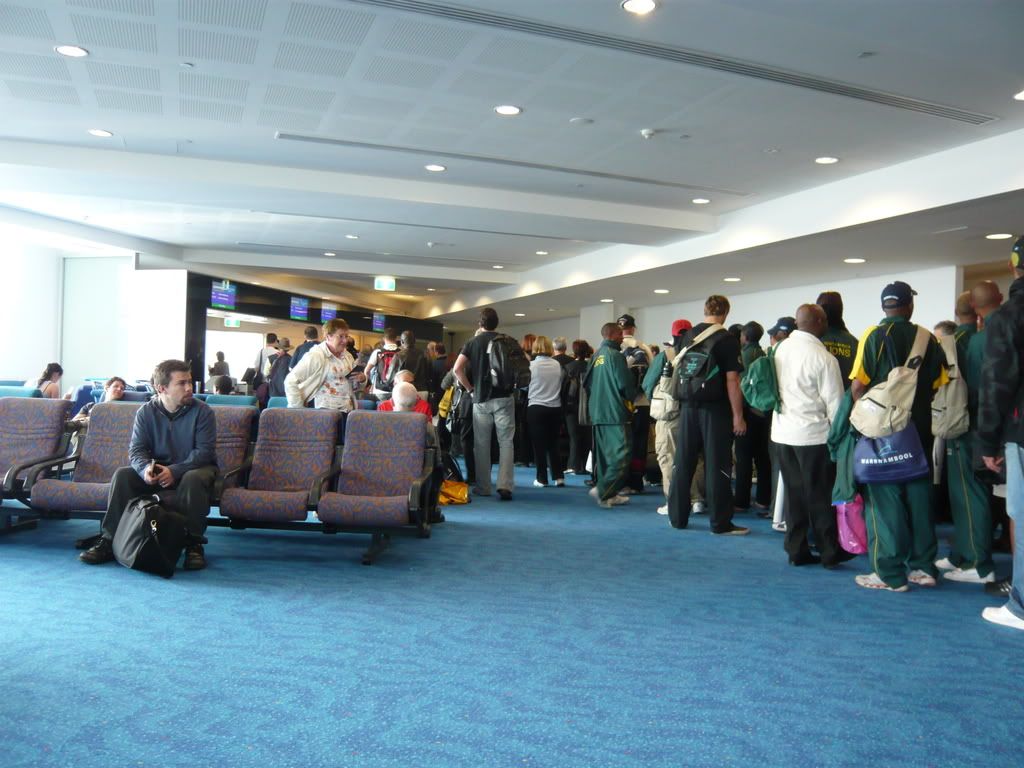 While I boarded I noticed that the boarding gate we were at was an A380 ready gate and it looked brand new compared to the others.
All passengers were greeted at the door by the cabin service manager or director... Can't remember how QF calls them. he was assisted in his task by a very nice older lady.
I really like the QF uniforms as they retain some very traditional patterns, unique to Australia.
Got to my seat which was originally 37H. I was seating next to a South African couple travelling with their older parents and asked if I wanted to swap seats with them and take the window. I of course replied with the affirmative as I didn't mind the window, in the contrary.
The cabin looked really full and there was only a couple of seats left in the economy class cabin, this due probably to the cancellation of the flight to JNB 2 days ago.
Cabin was clean and the colour scheme was nice and reminiscent of the australian outback with the red earth...
The cabin attendant seated at door 3L was always smiling and nice to the passengers.
Before we taxied he handed out menus with details of our meals for the flight.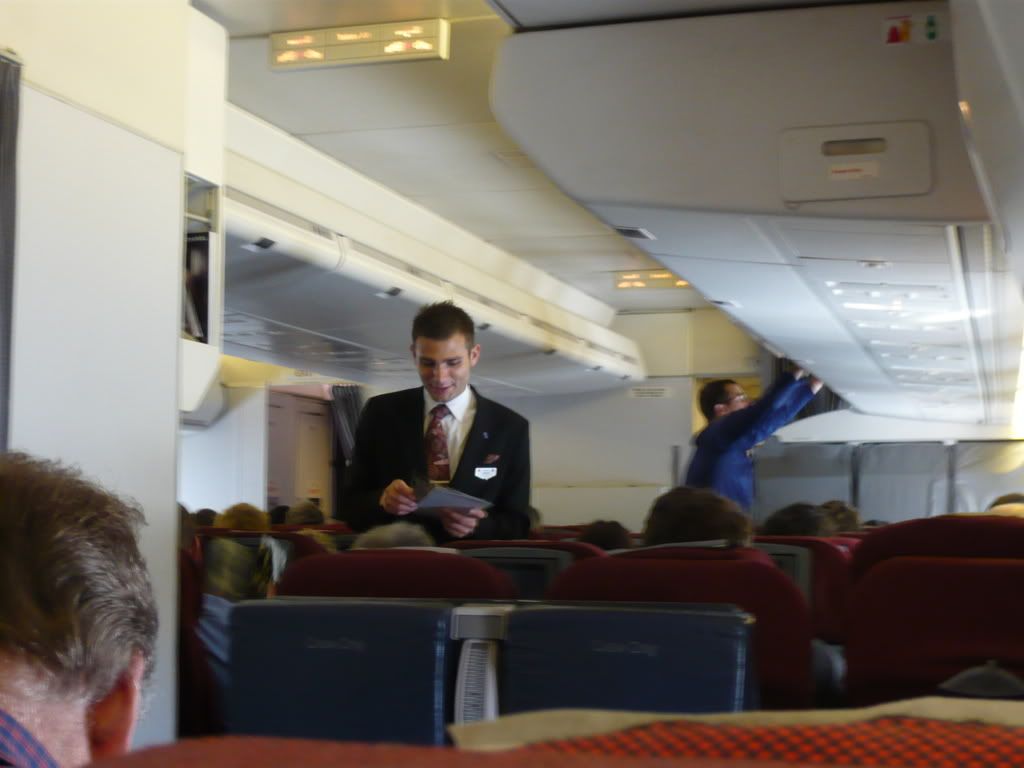 the legroom (I'm 187 cm, so quite tall)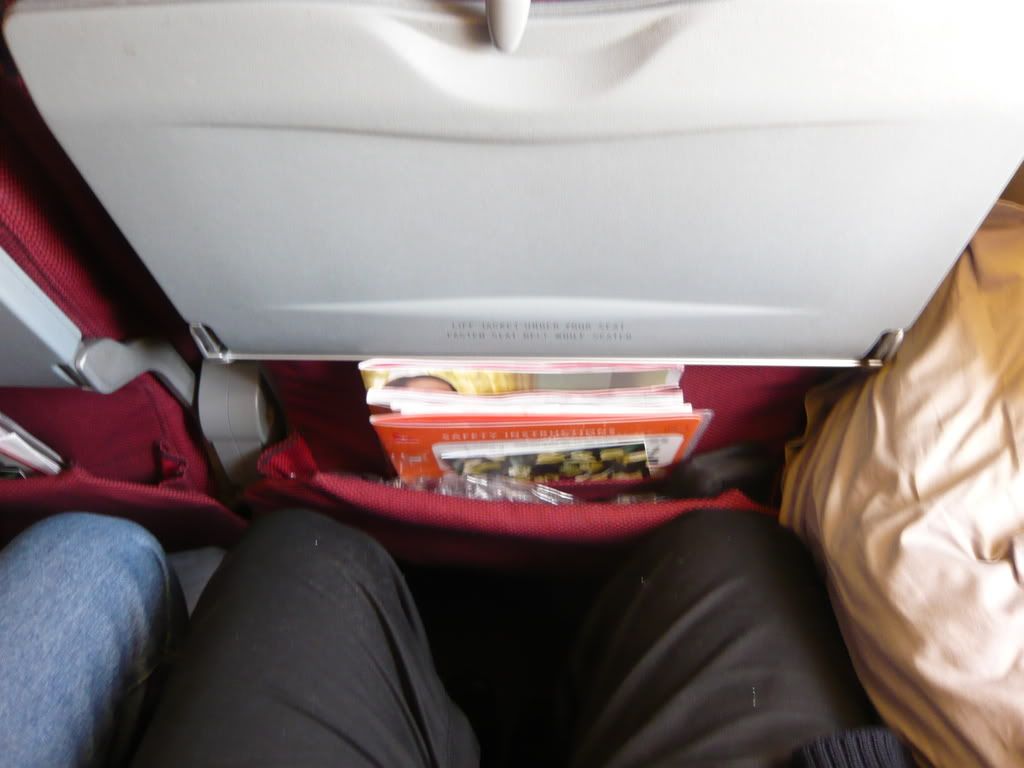 The view from my window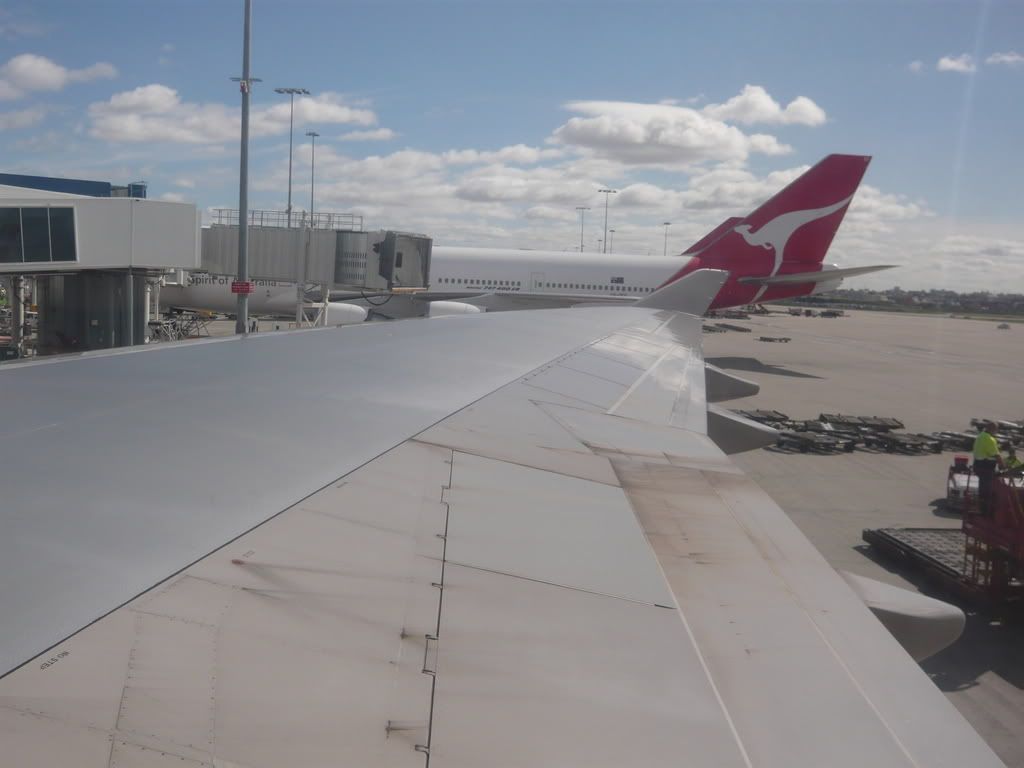 When we pushed back I had the chance to once again see Wunala Dreaming getting ready to fly to LAX and JFK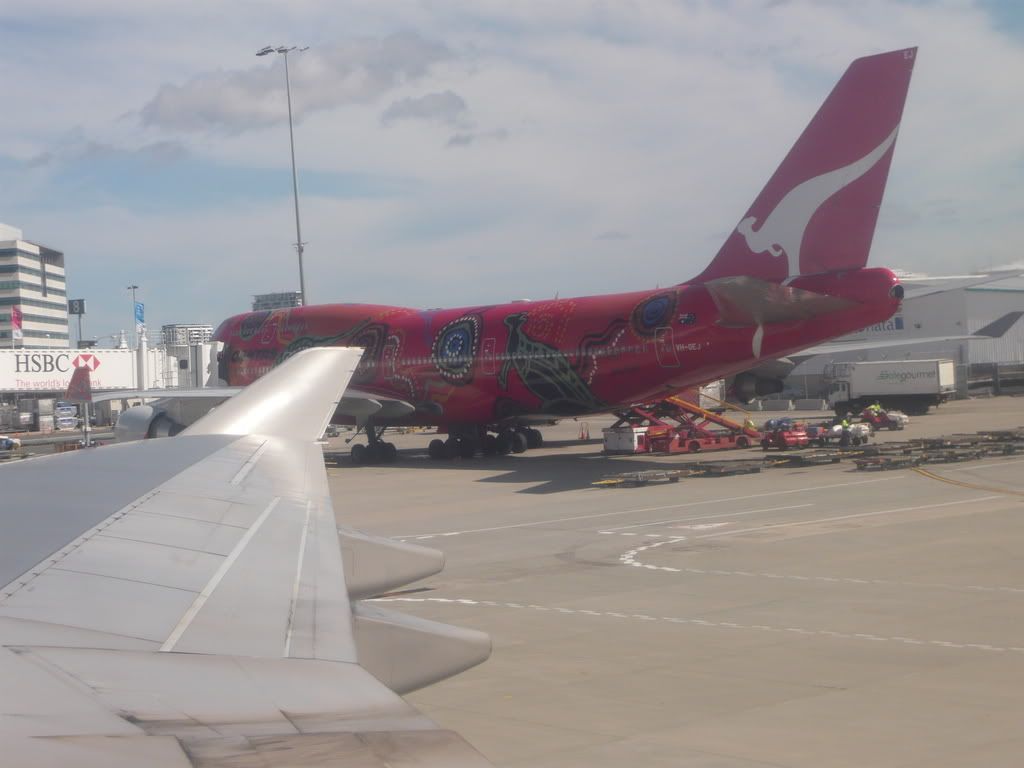 The demos were done while we had our very very long taxi which had us cross the runway to get near the domestic terminals so we had to wait for a few planes that had to take off or land...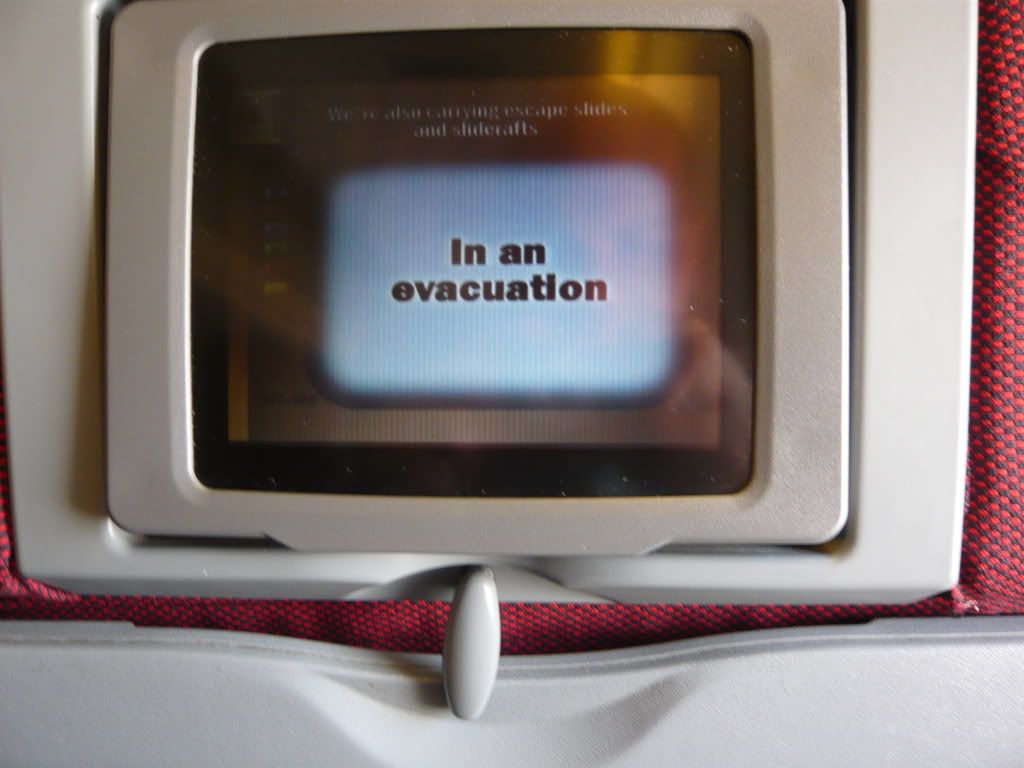 744 getting ready for a flight to the USA as well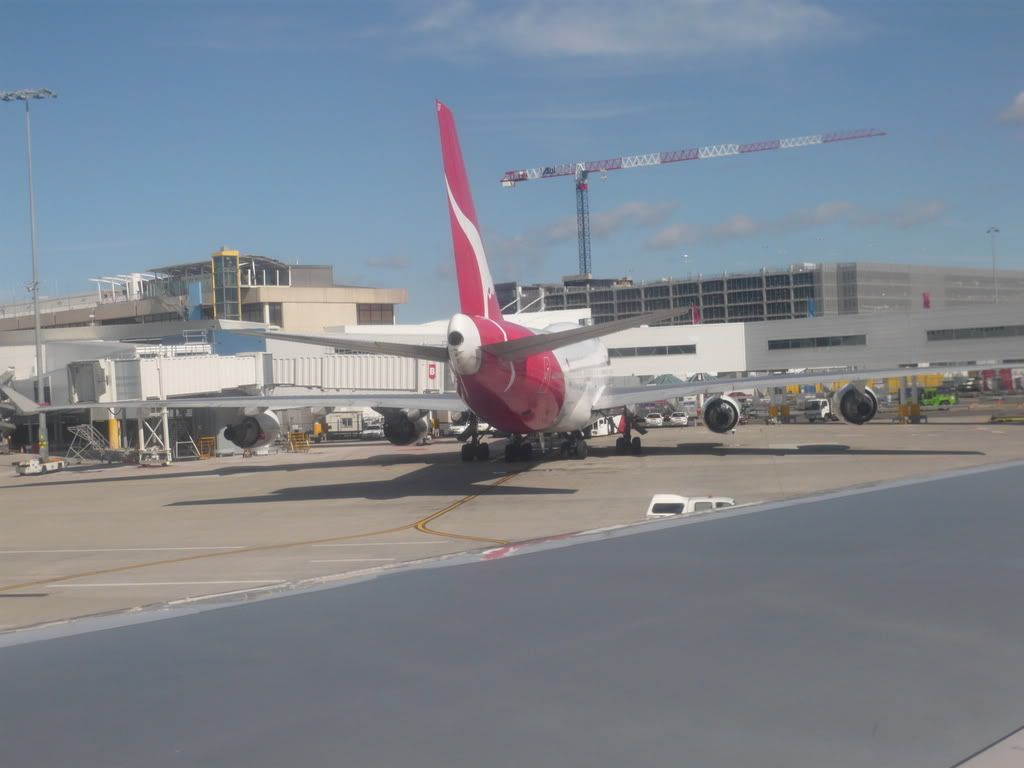 PTV with views of SYD harbour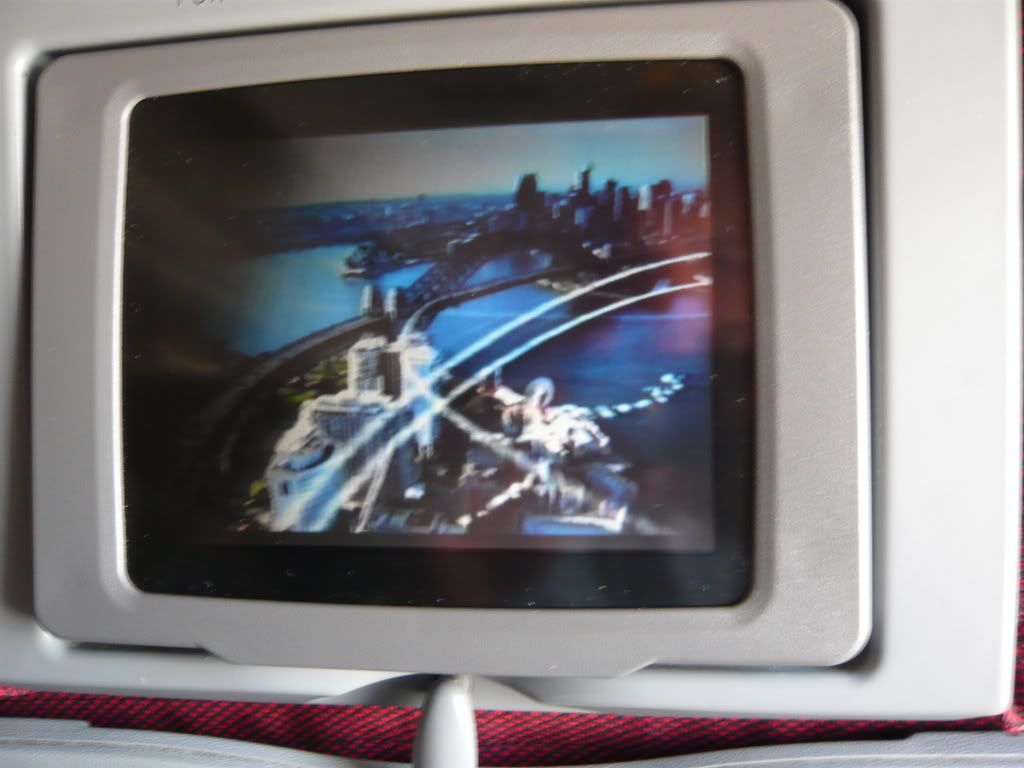 This is where we were parked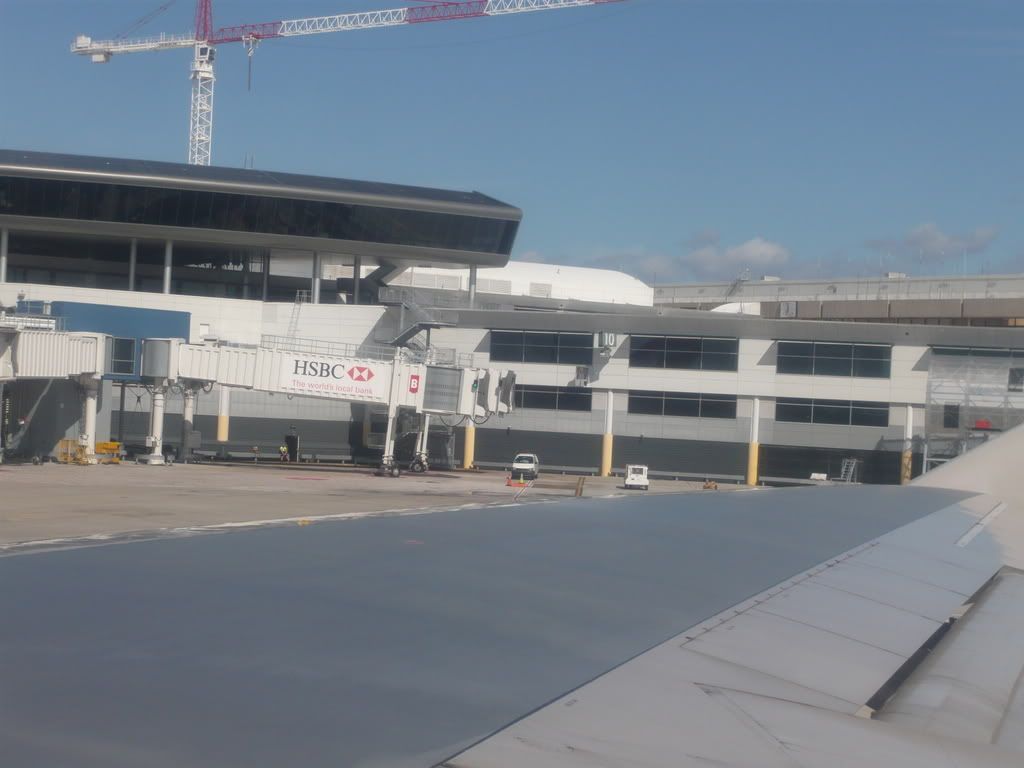 Air Canada 777 crossing the runway before us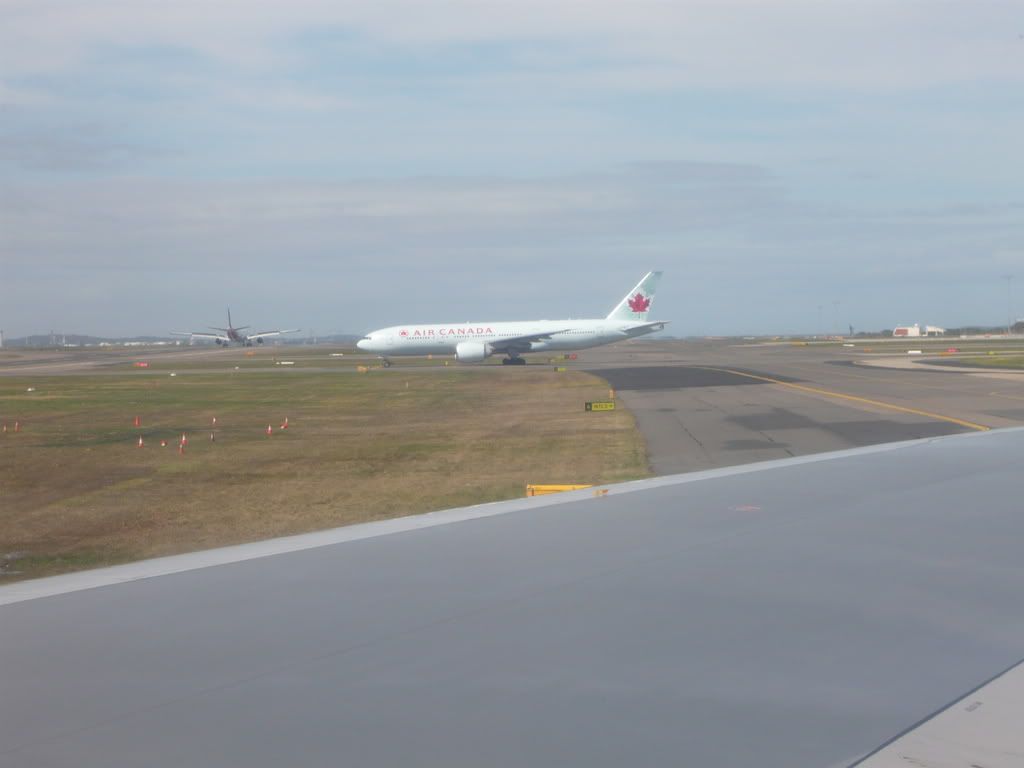 Few heavies visiting SYD
Our Cabin attendant at his jumpseat (he used to work for Emirates before coming back to SYD)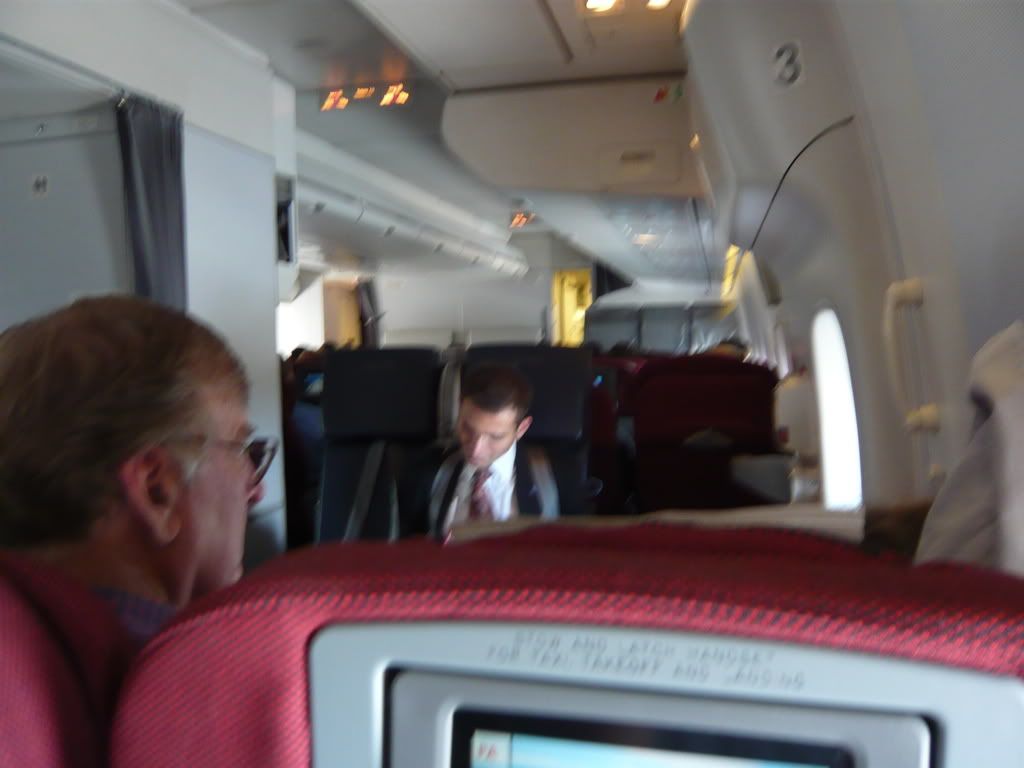 Qantas Boeing 747-300 at the domestic terminal, not too many of these left (flew on it tho in 1998 on JNB-HRE-PER-SYD/SYD-PER-JNB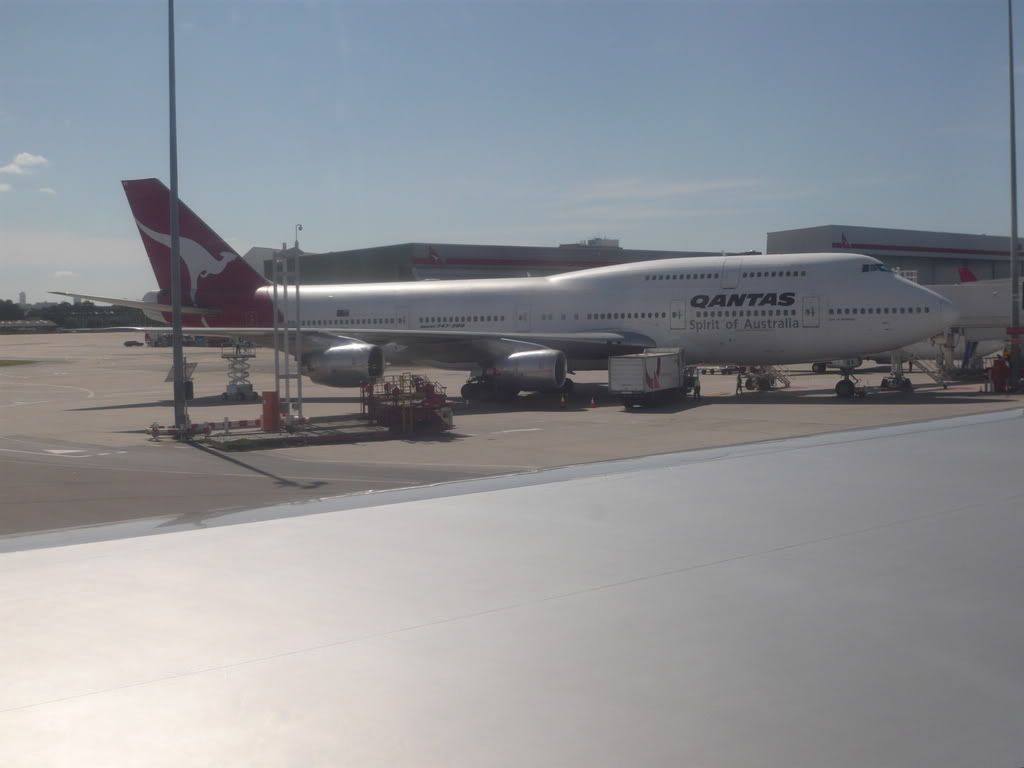 Just about to line up with a Virgin Atlantic A346 resting before starting its journey back to London Heathrow via HKG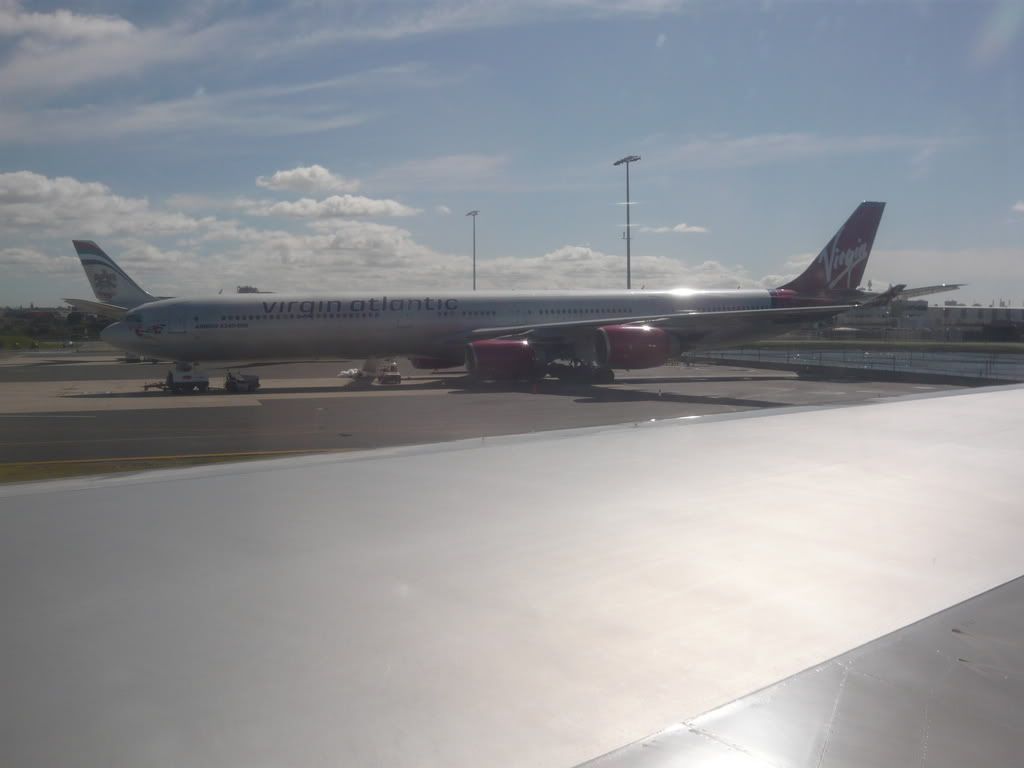 Speeding down the runway with a few nice regular visitors such as LAN, Philippines, Vietnam Airlines or the SQ A380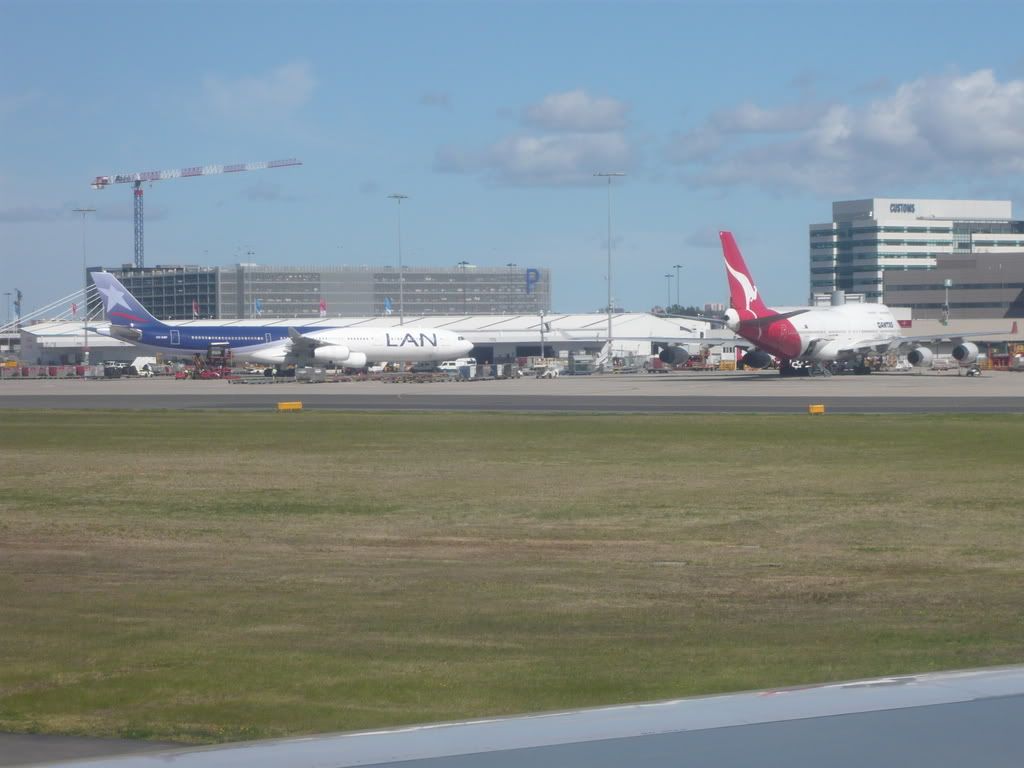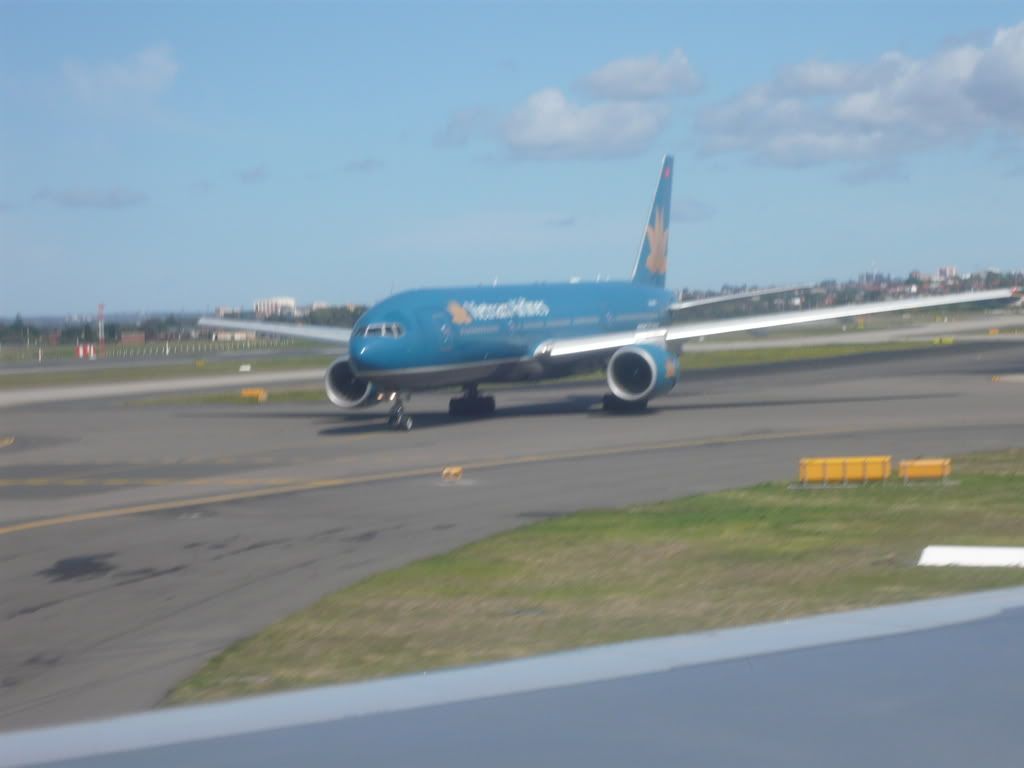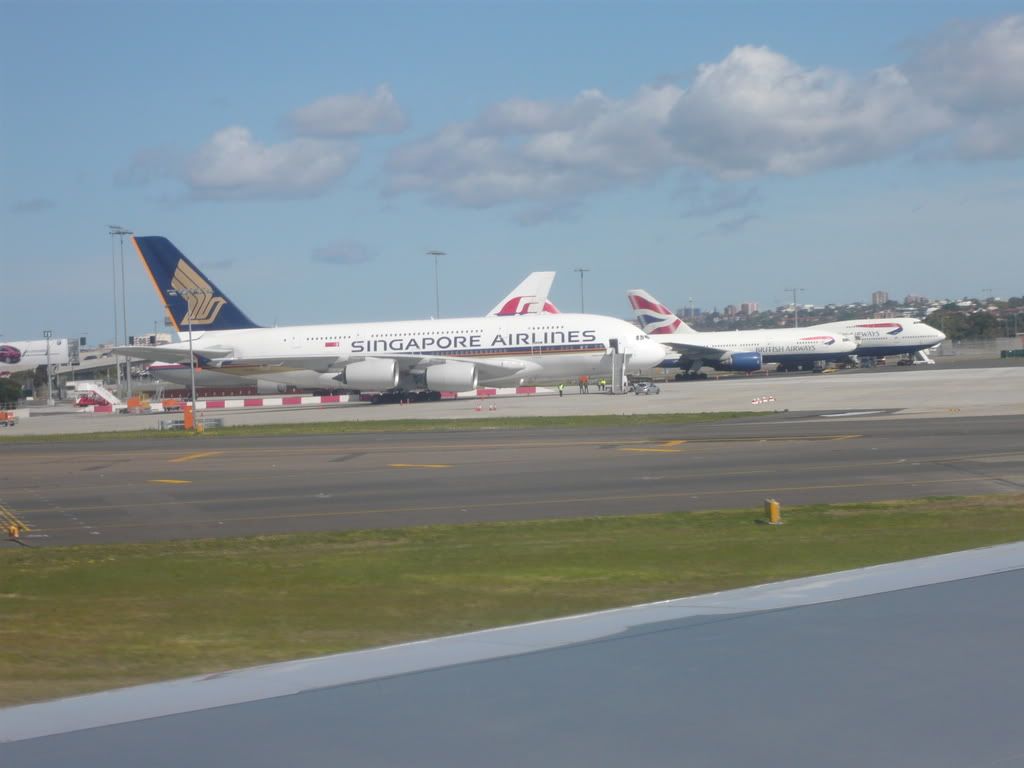 And we took off...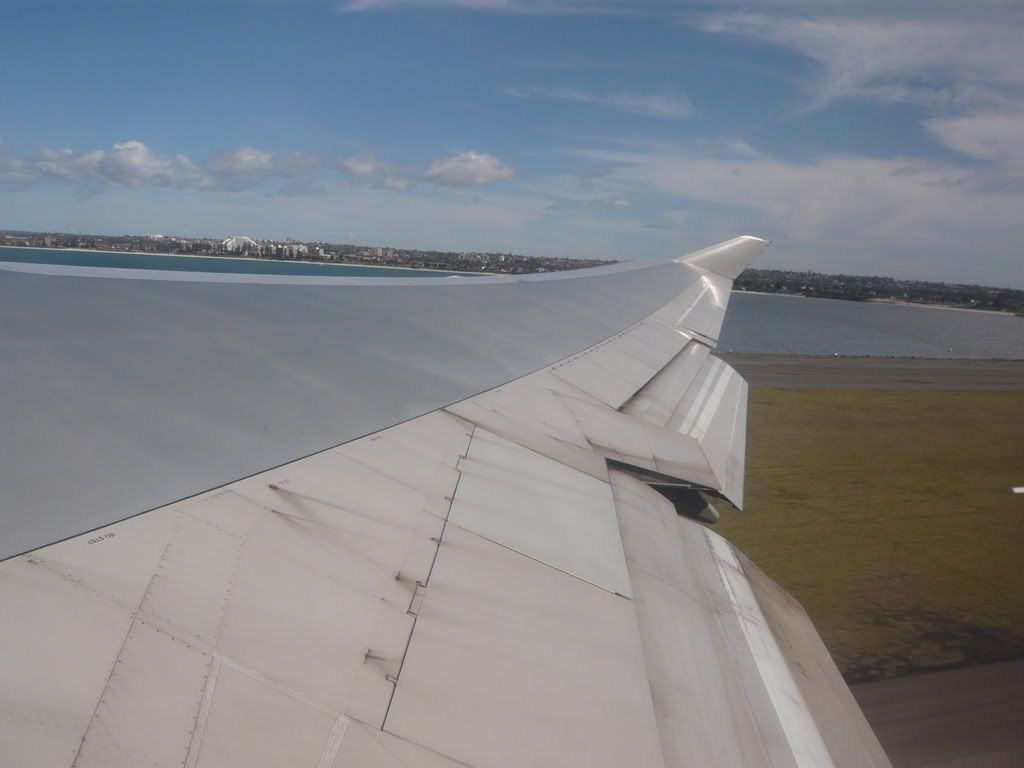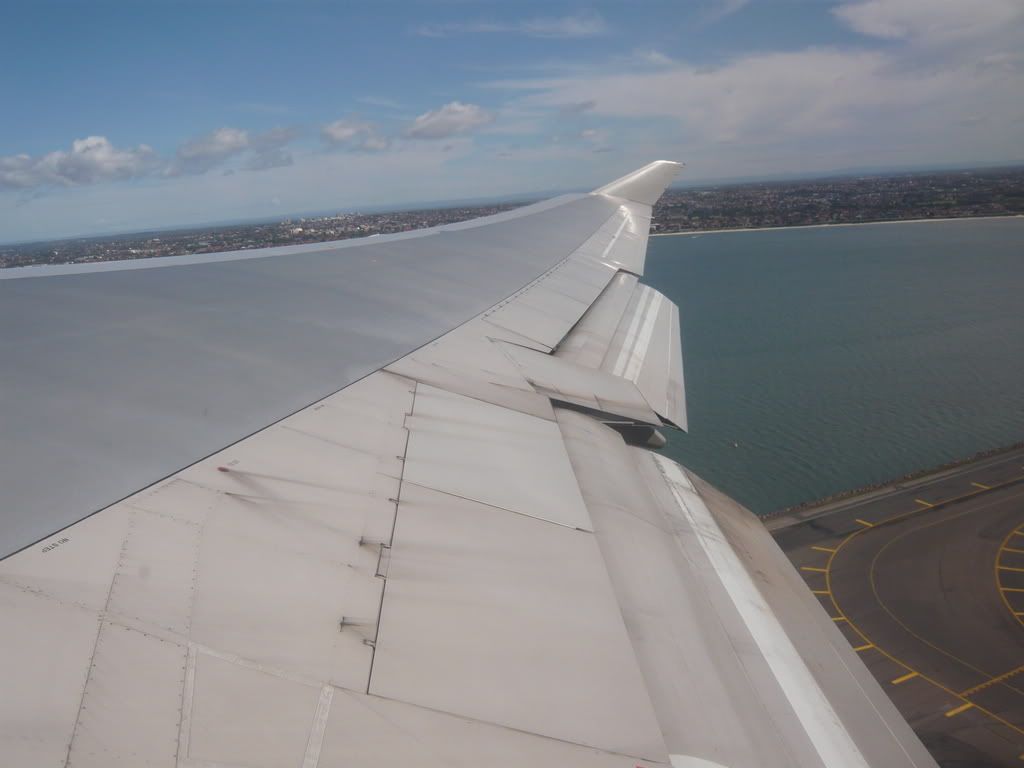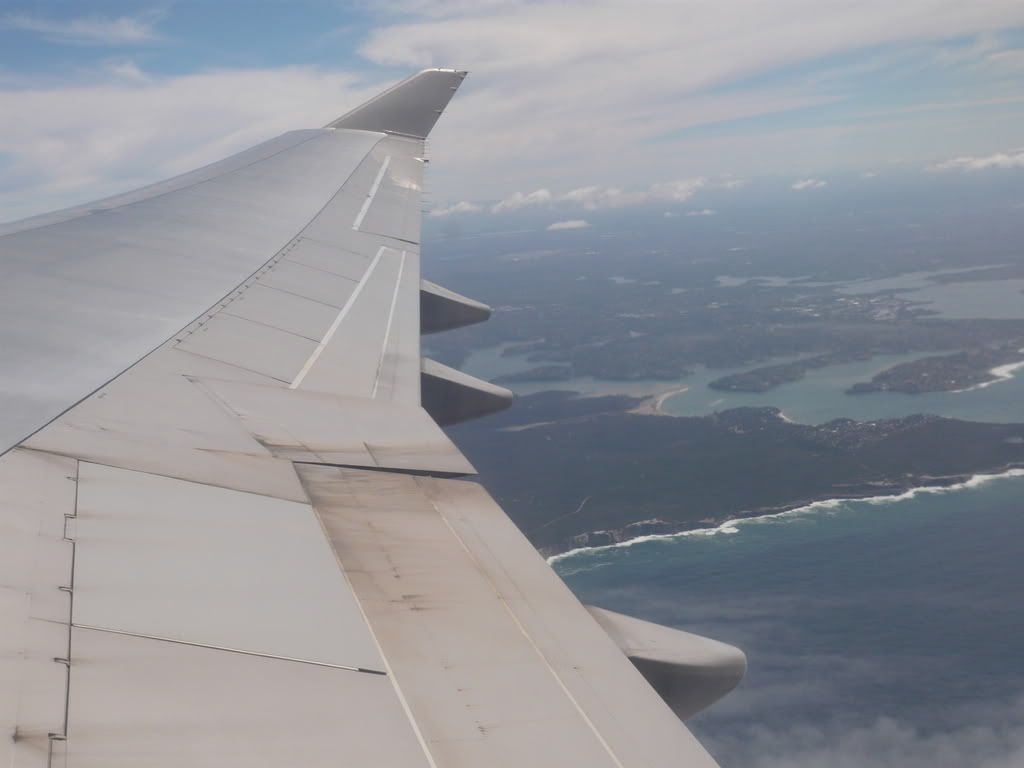 PTV screen shot with the kids from the QF add from a few years ago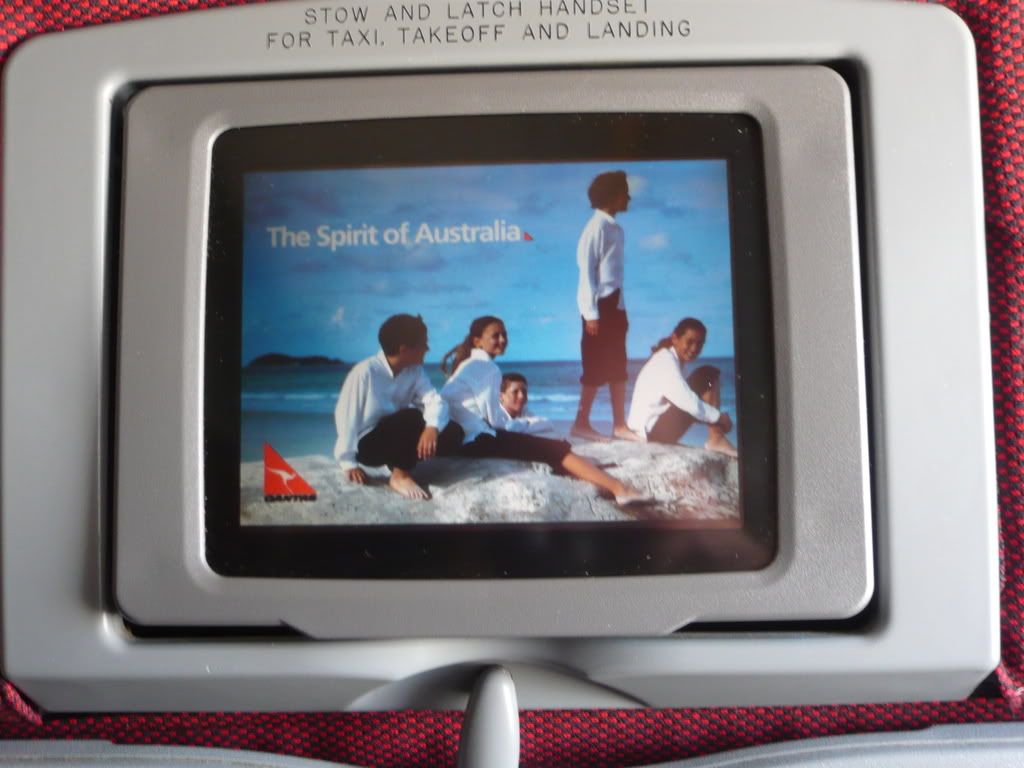 After we had finished climbing the crew went in action and served the drinks followed by lunch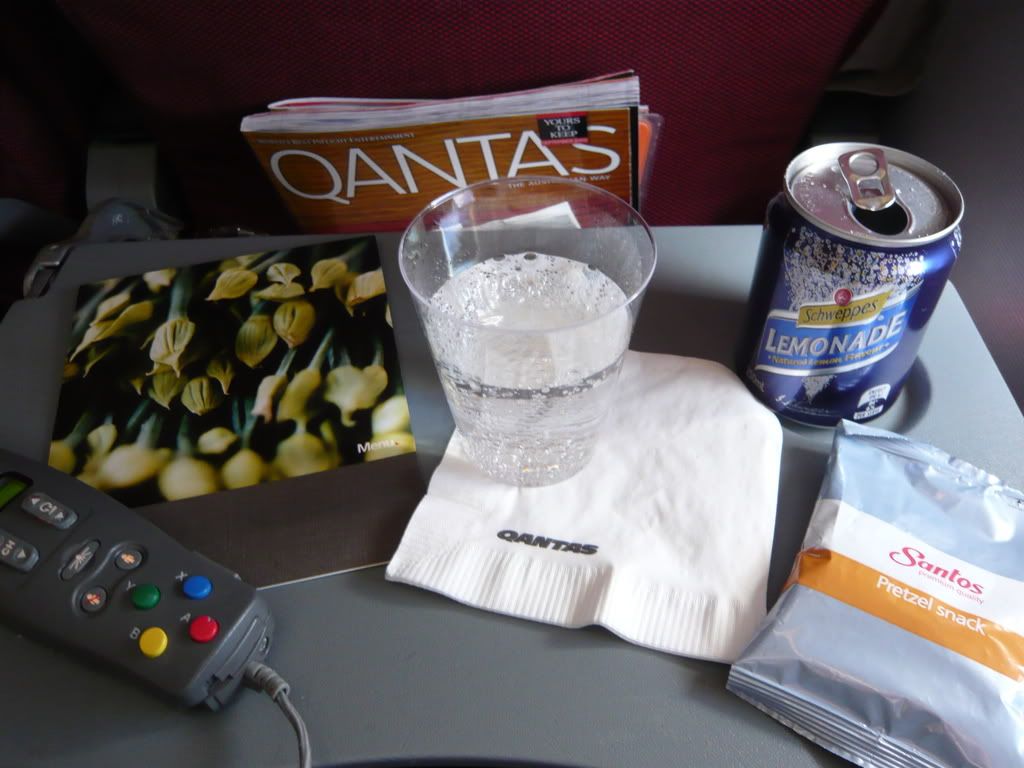 With the packet of crackers open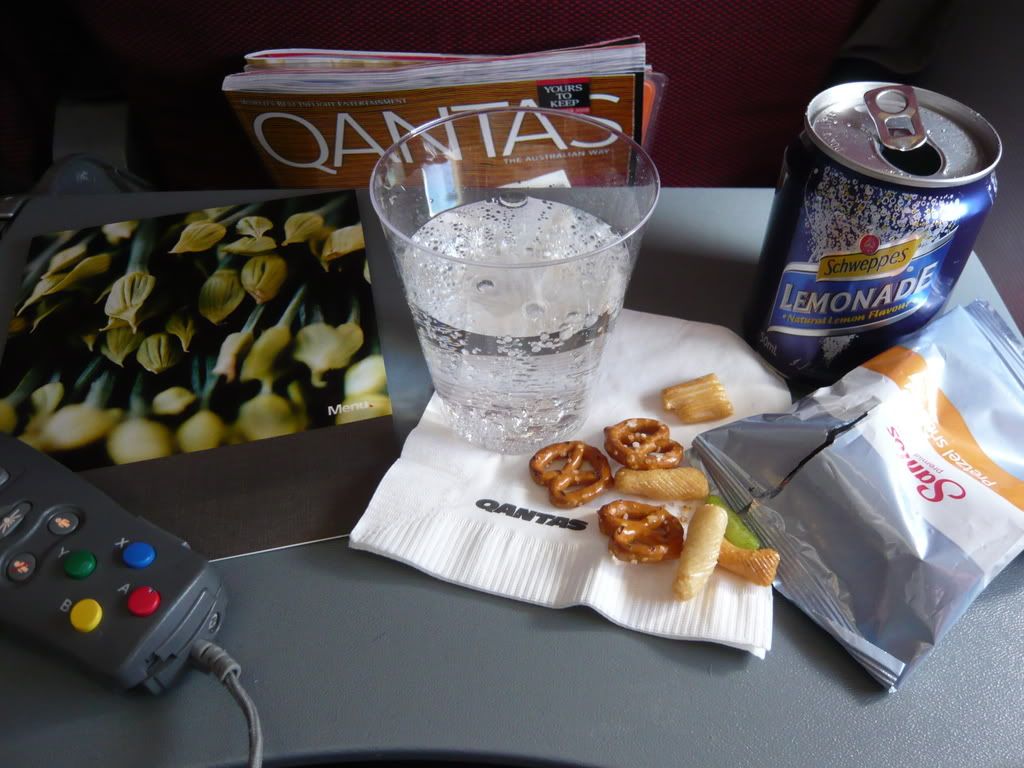 I can't remember what lunch was but it was really nice !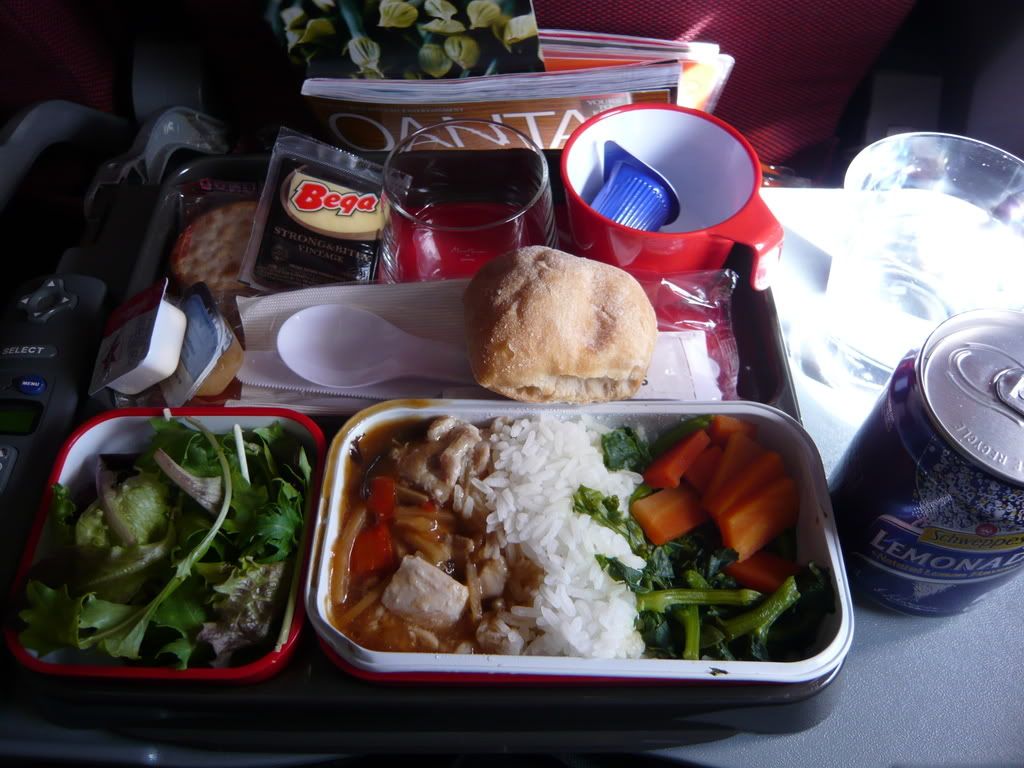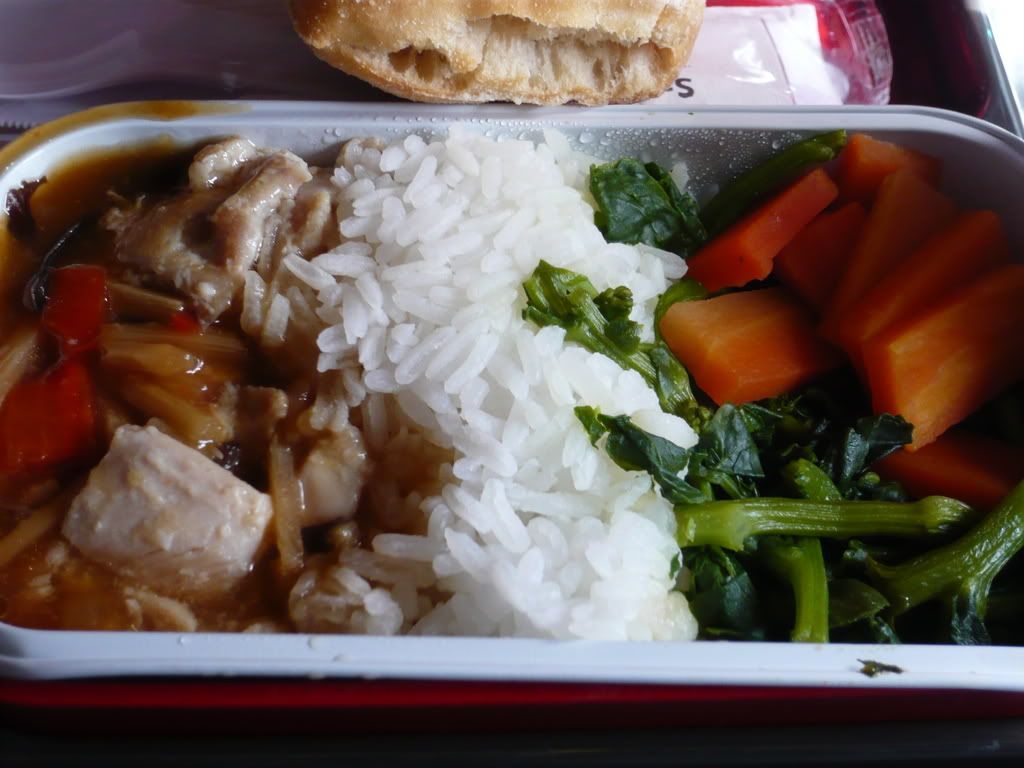 A loooong way to go...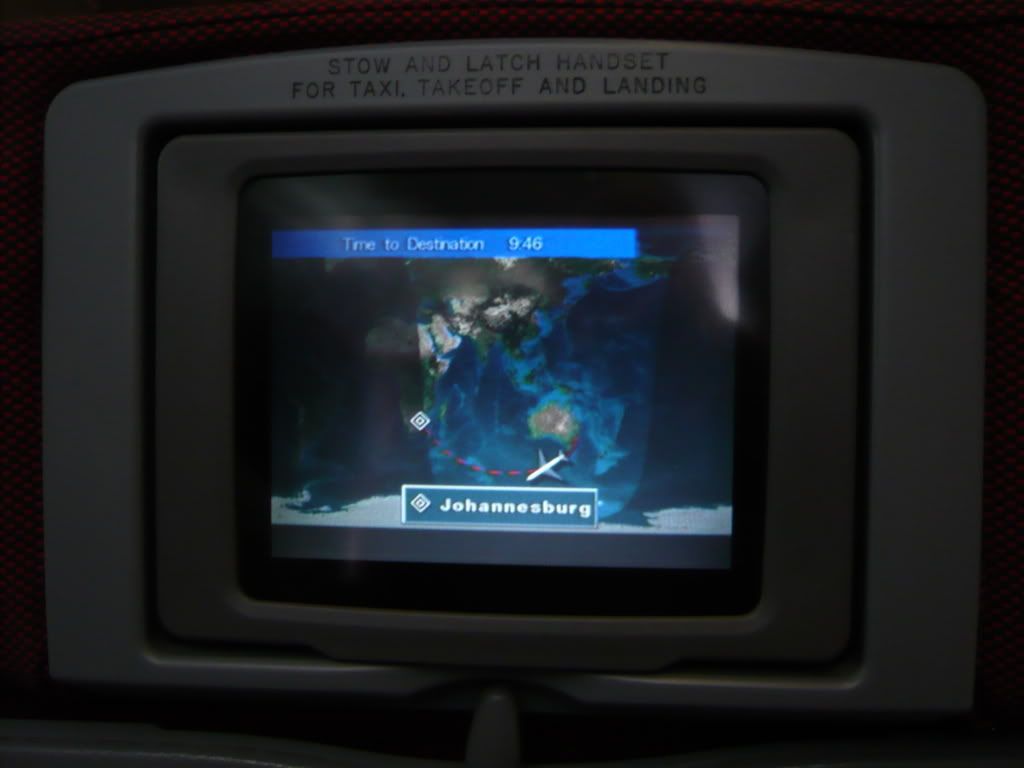 Mid-flight "snack on Q" with a bag loaded with goodies !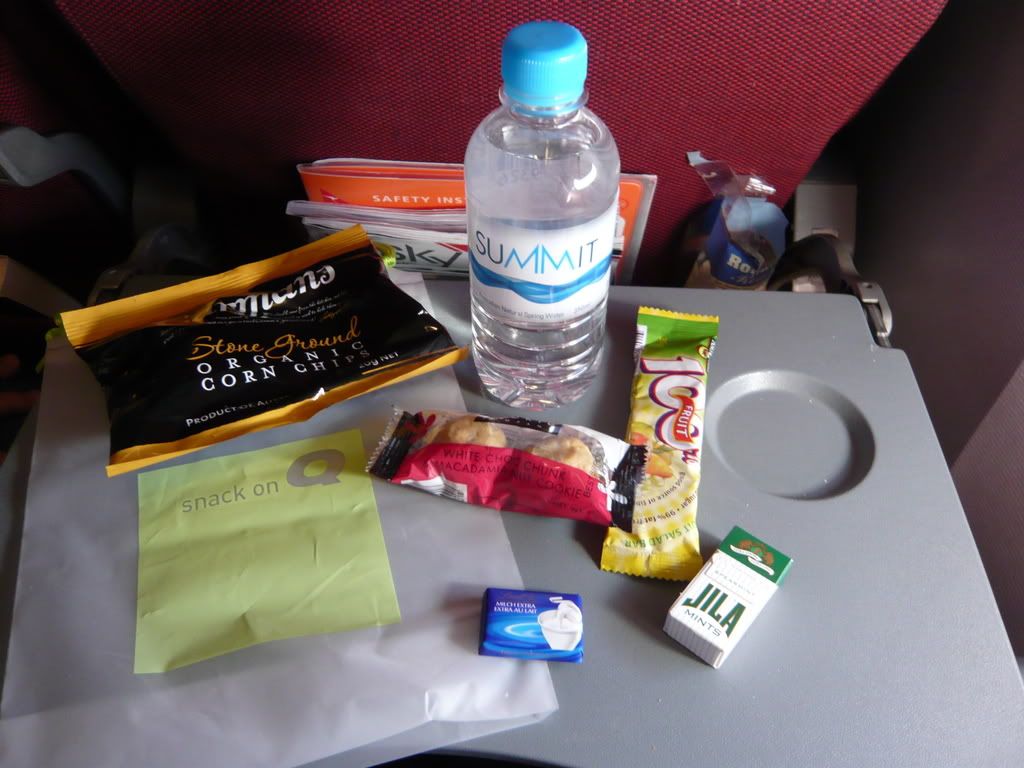 I only took the bottle of water and haven't used the rest...
After another couple of hours we were given a hot drink, either some mint tea or hot chocolate with pink marshmallows served in beautiful QF cups with the new kangaroo logo !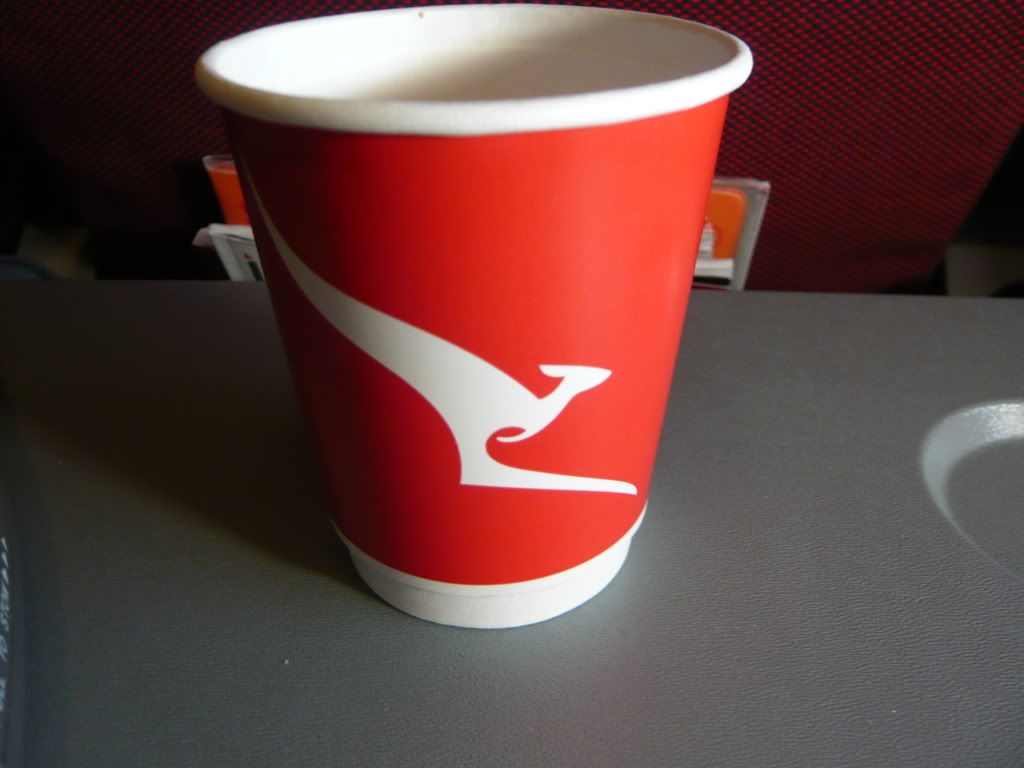 It is about that time that the whoe video system crashed and one by one the rows went down all the way to First Class.
The crew was really nice and apologetic and did their best.
After contacting SYD they decided to reboot the whole system and everything went smoothly after that.
Before we arrived in JNB another meal was served which was also very nice and tasty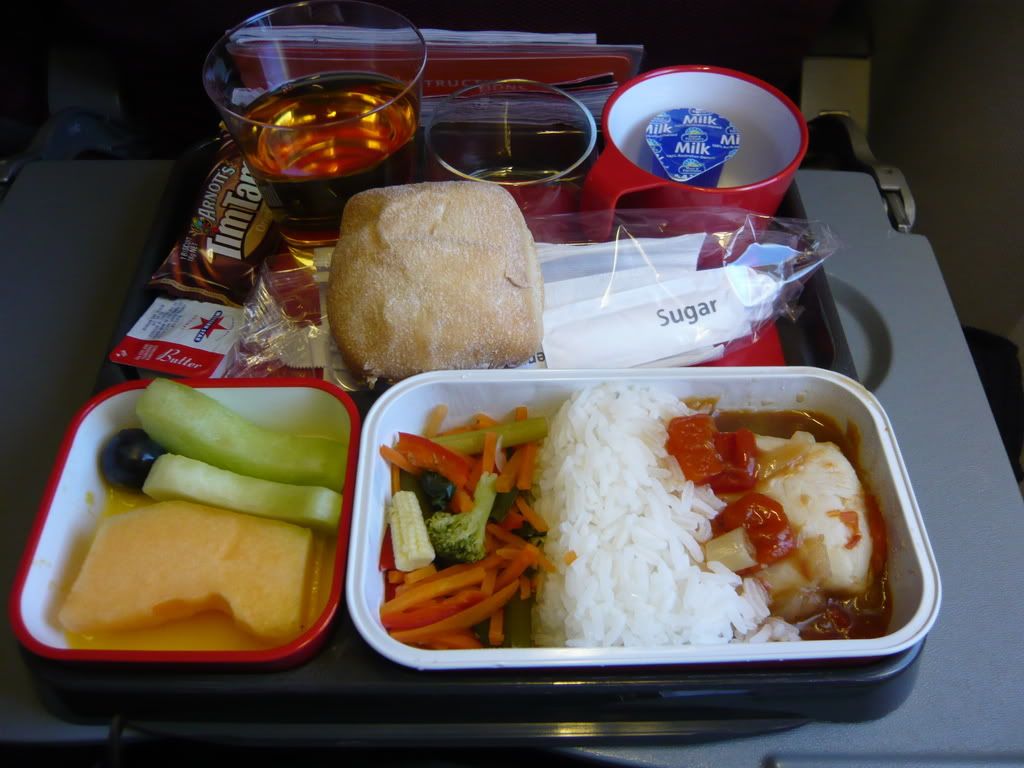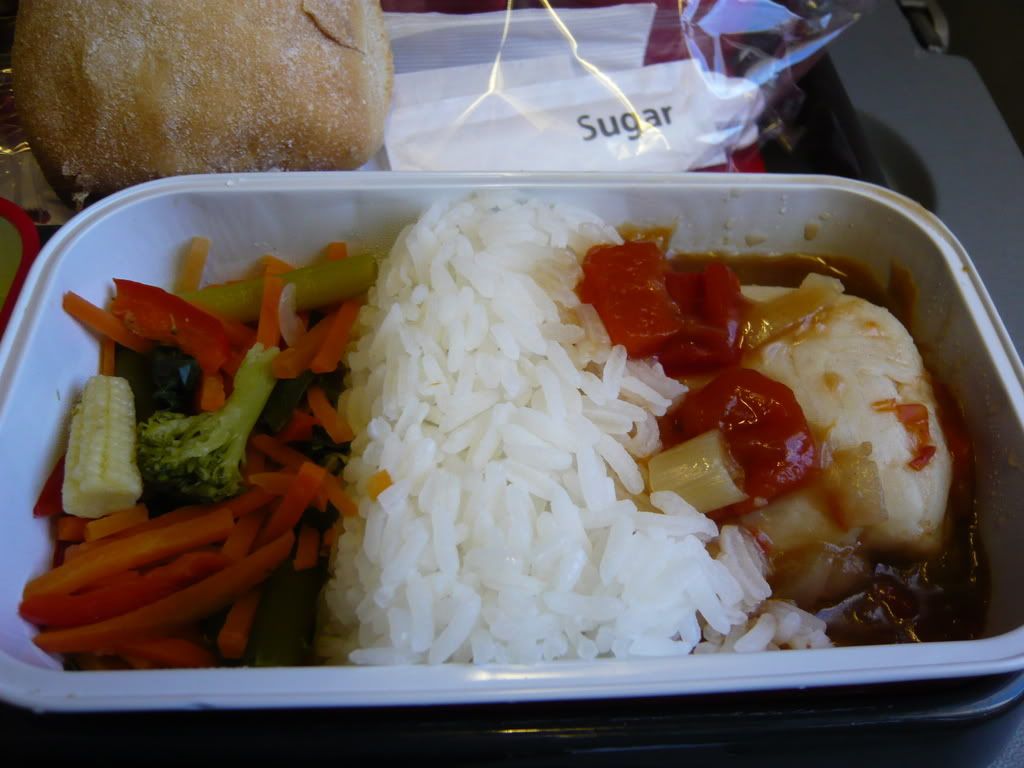 Massive wing of our 744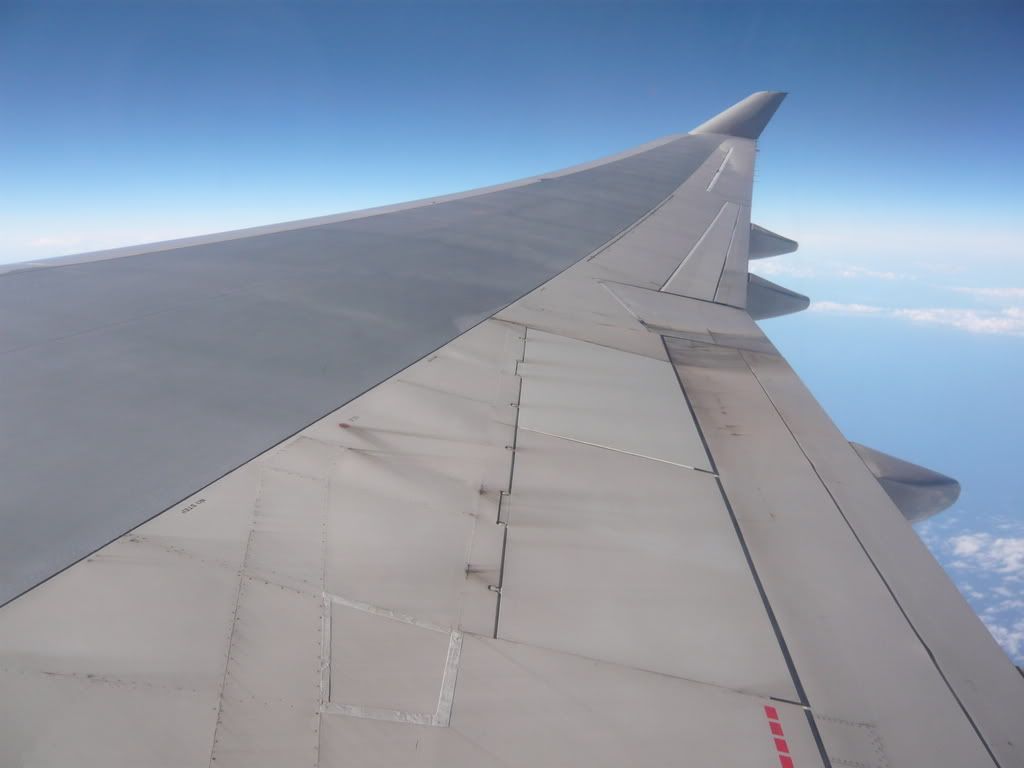 Getting close to South Africa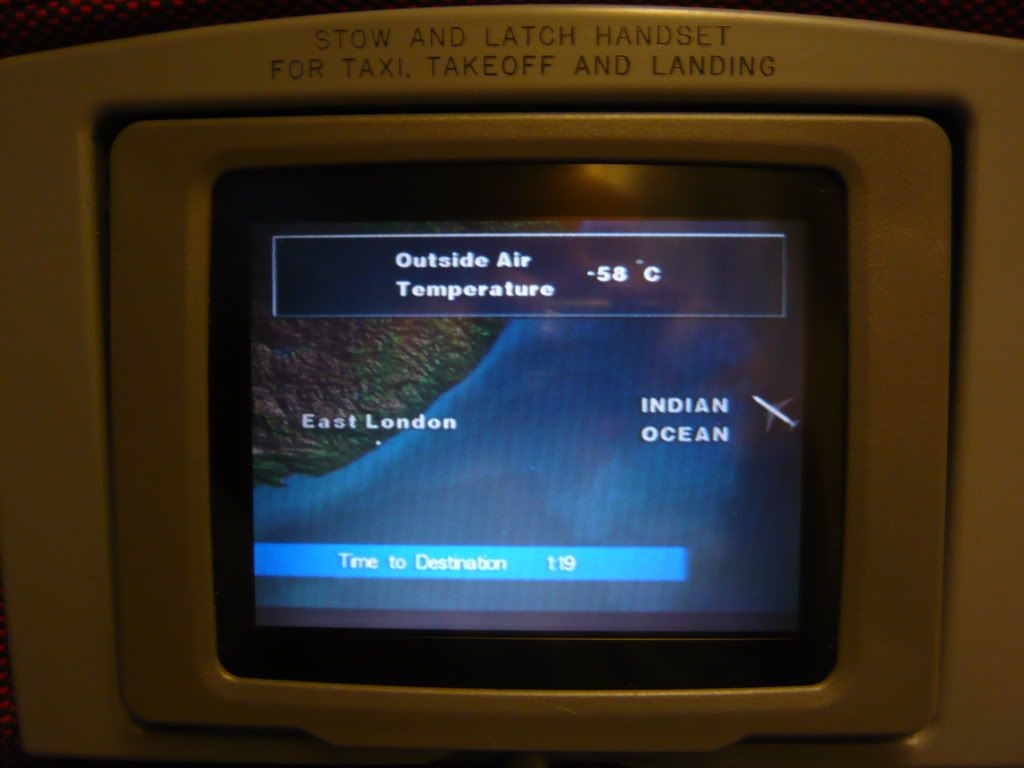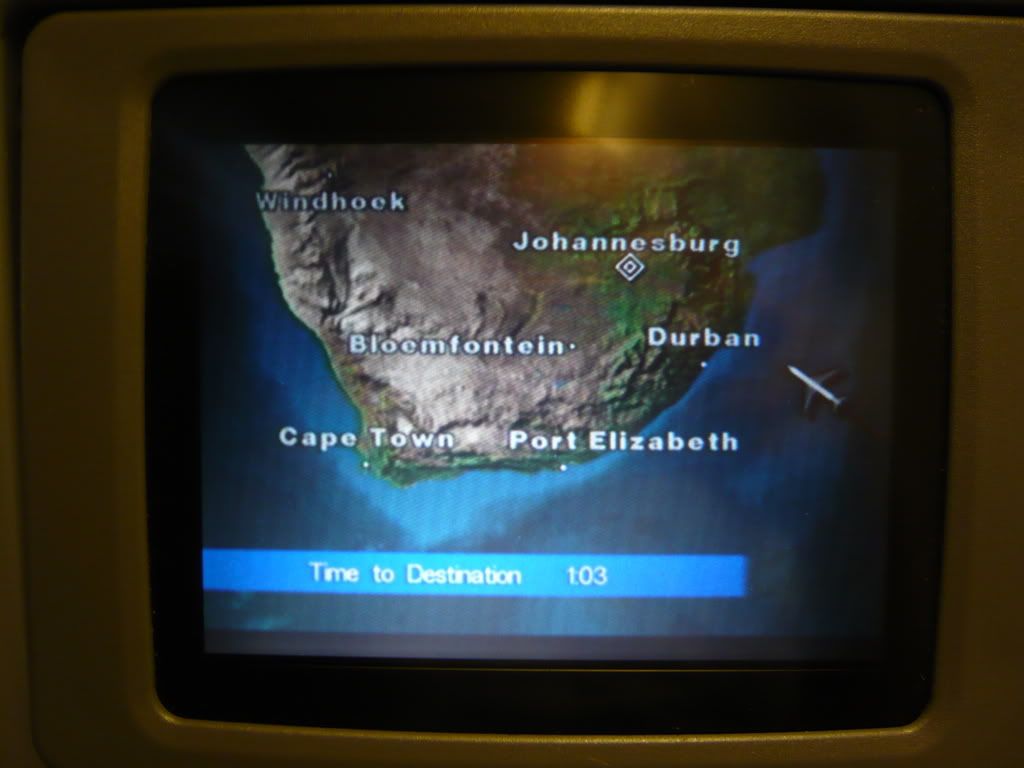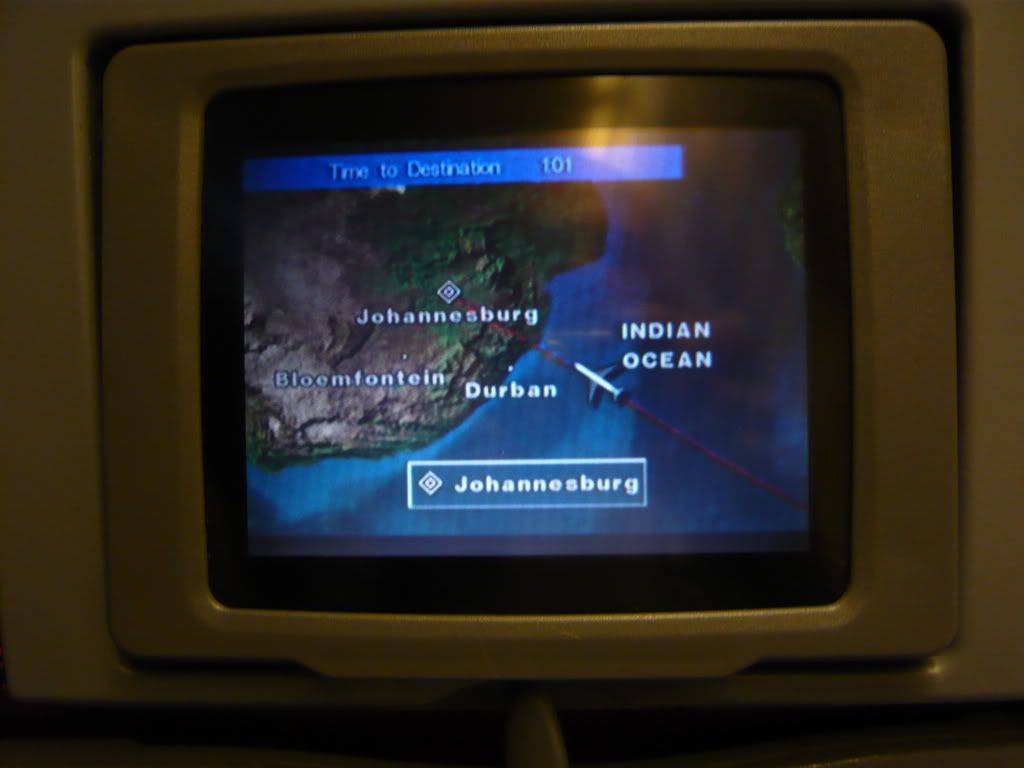 Our Journey in red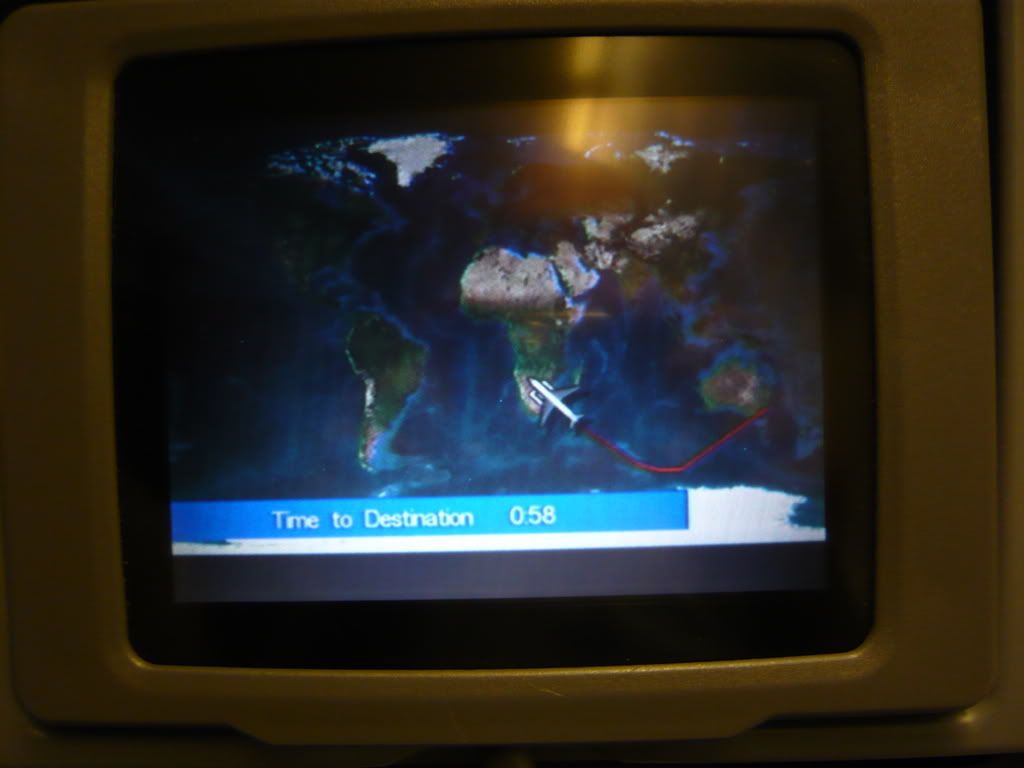 South African coast
Our first view of South Africa, 80 mile north of Durban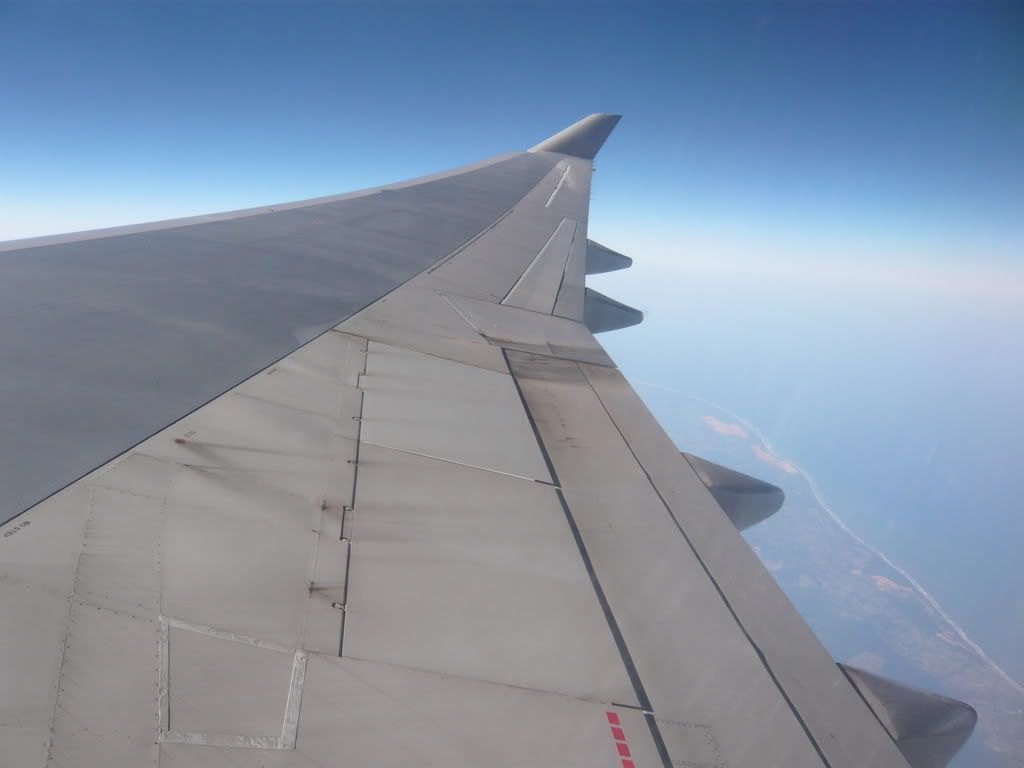 Cabin shot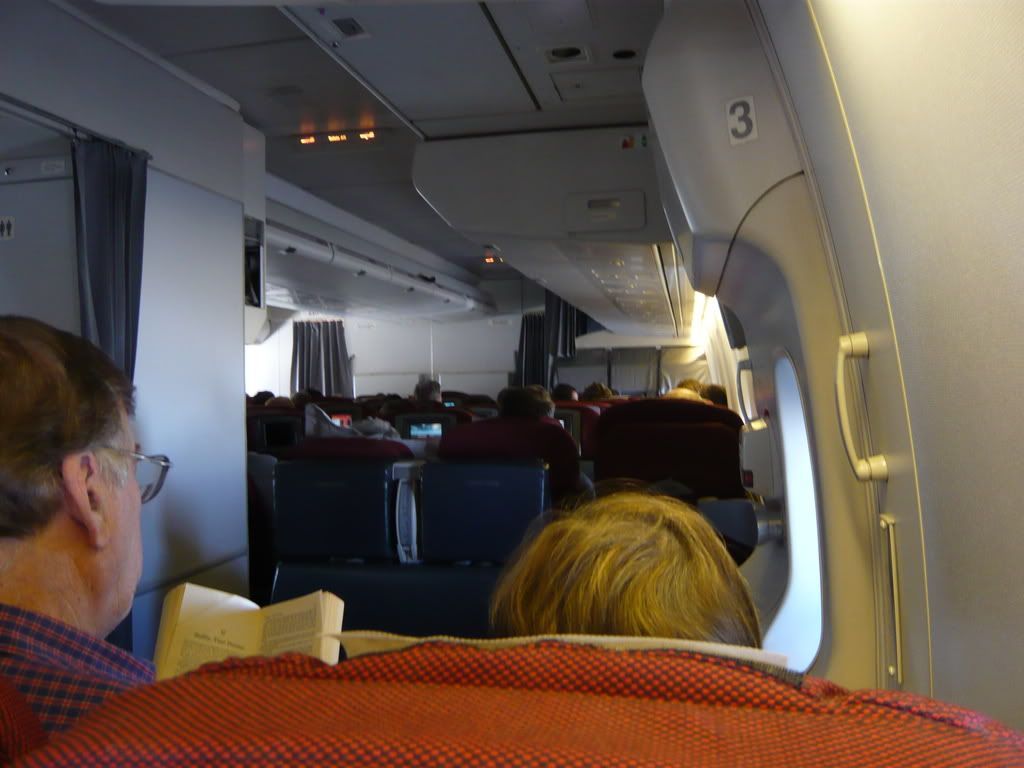 Getting closer to JNB
Getting ready to land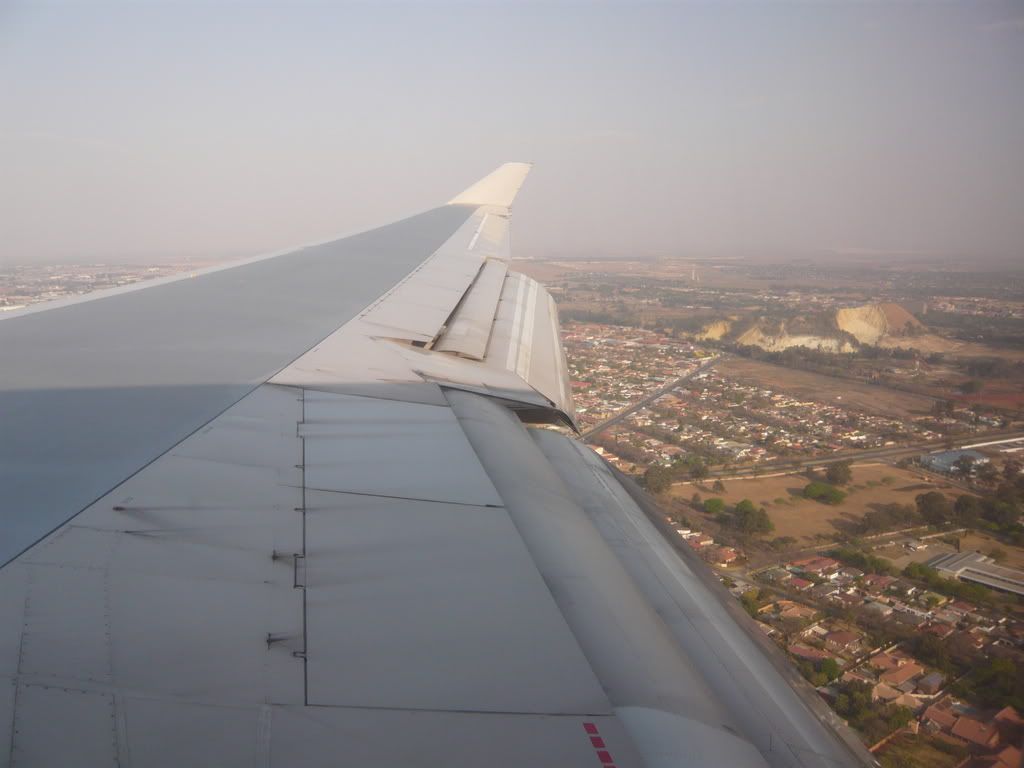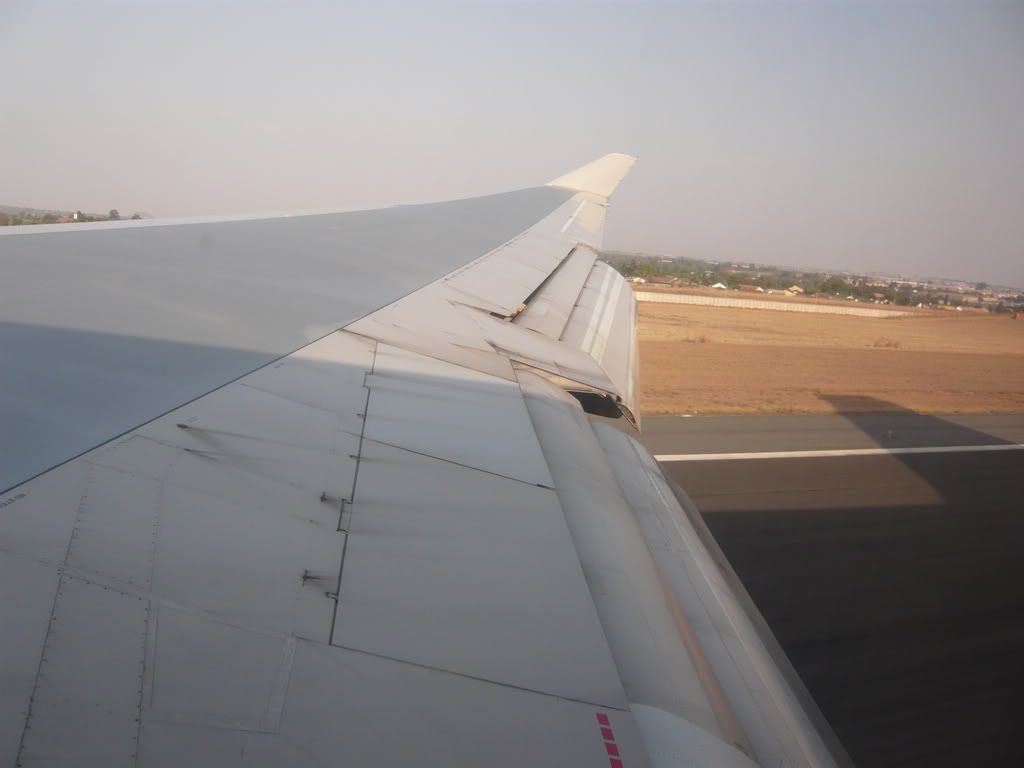 And we touched down ! Welcome back to terra firma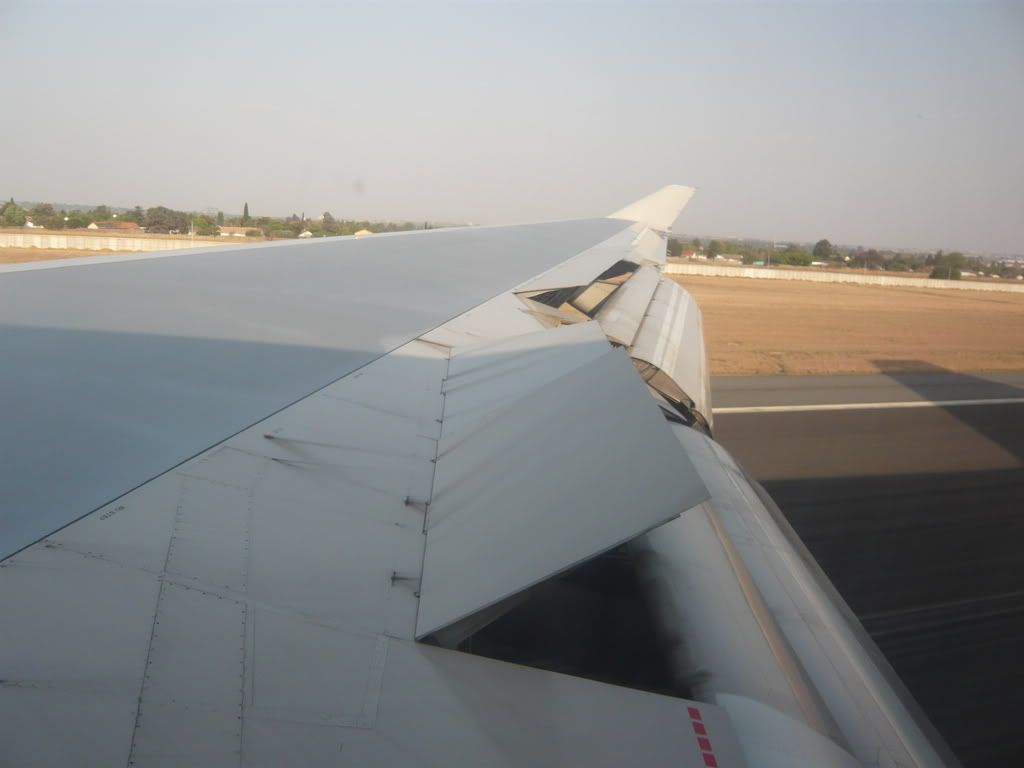 Tons of planes parked at OR Tambo international Airport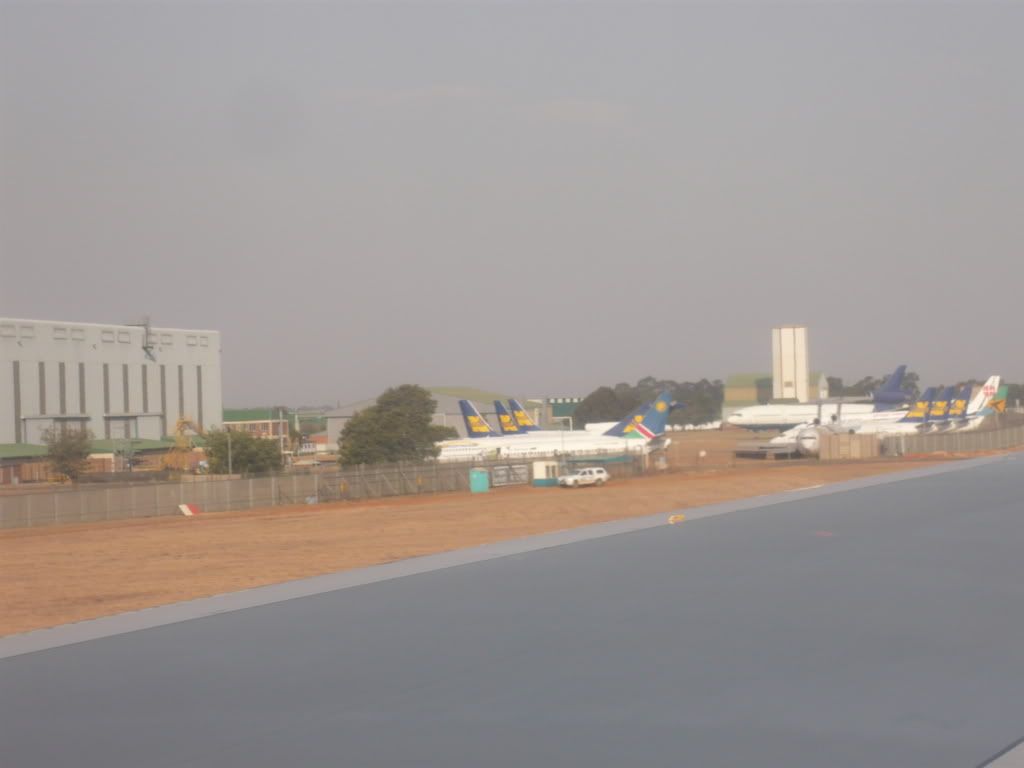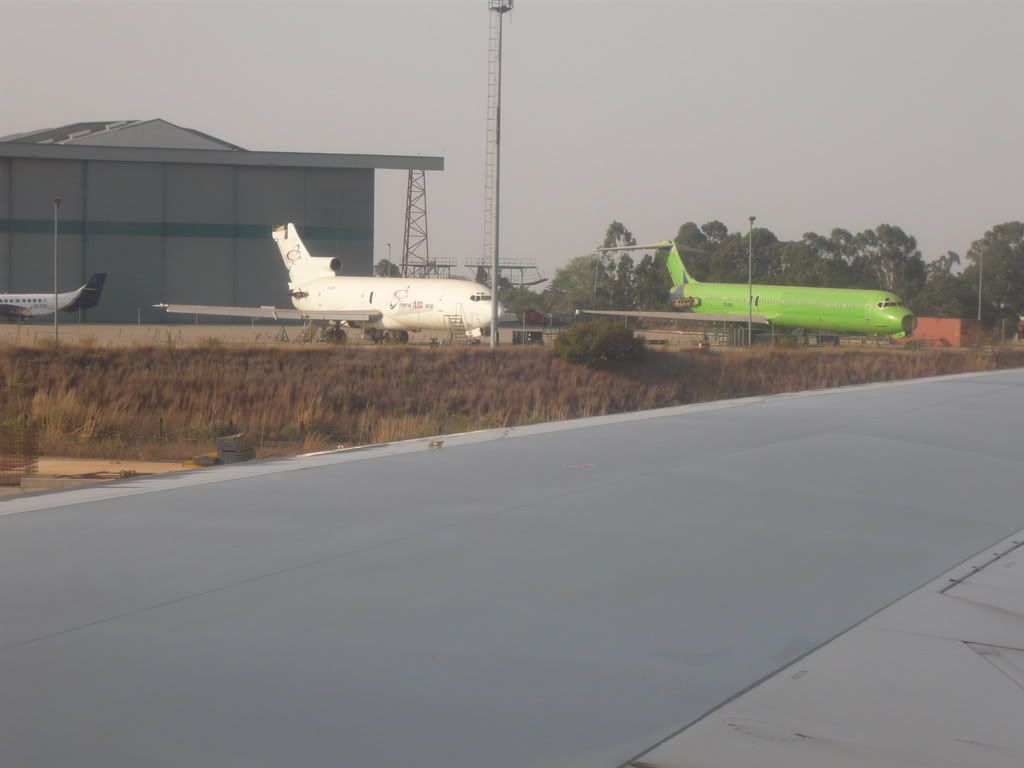 Planes of the defunct Nationwide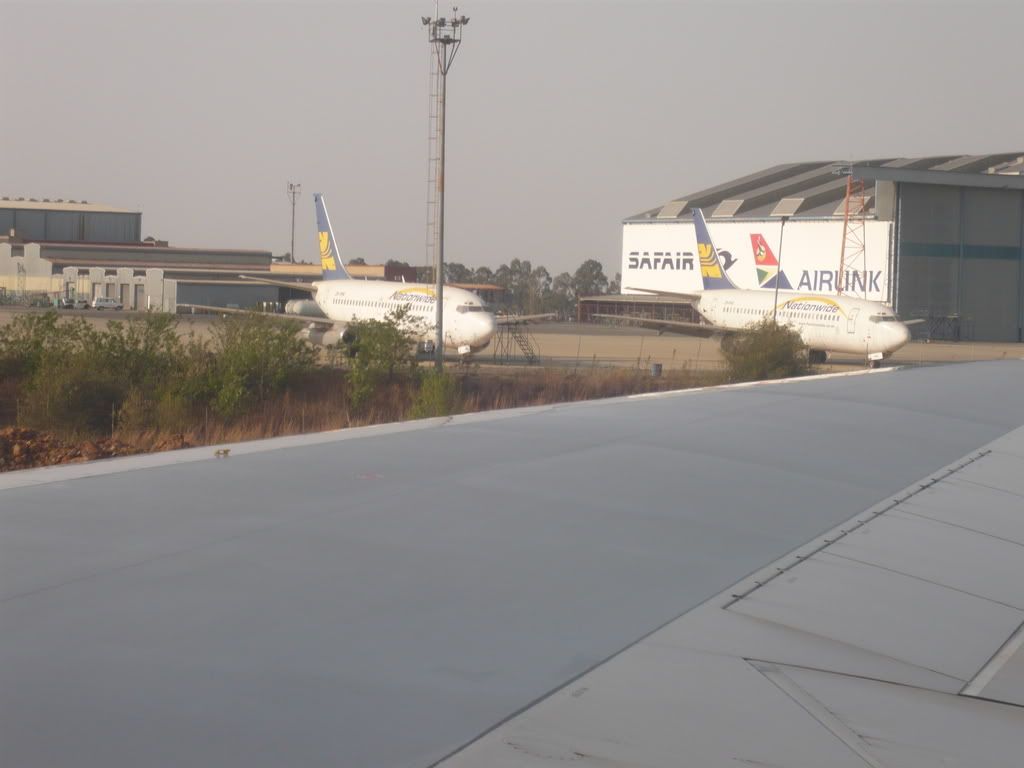 The earlier arrivals from Europe mainly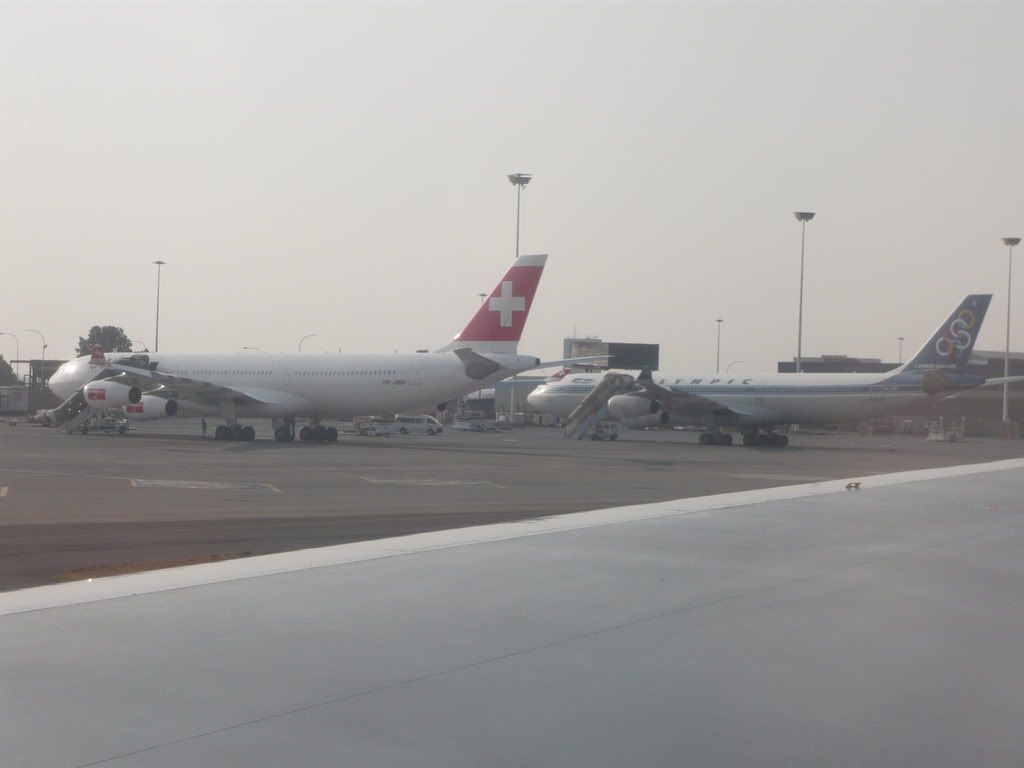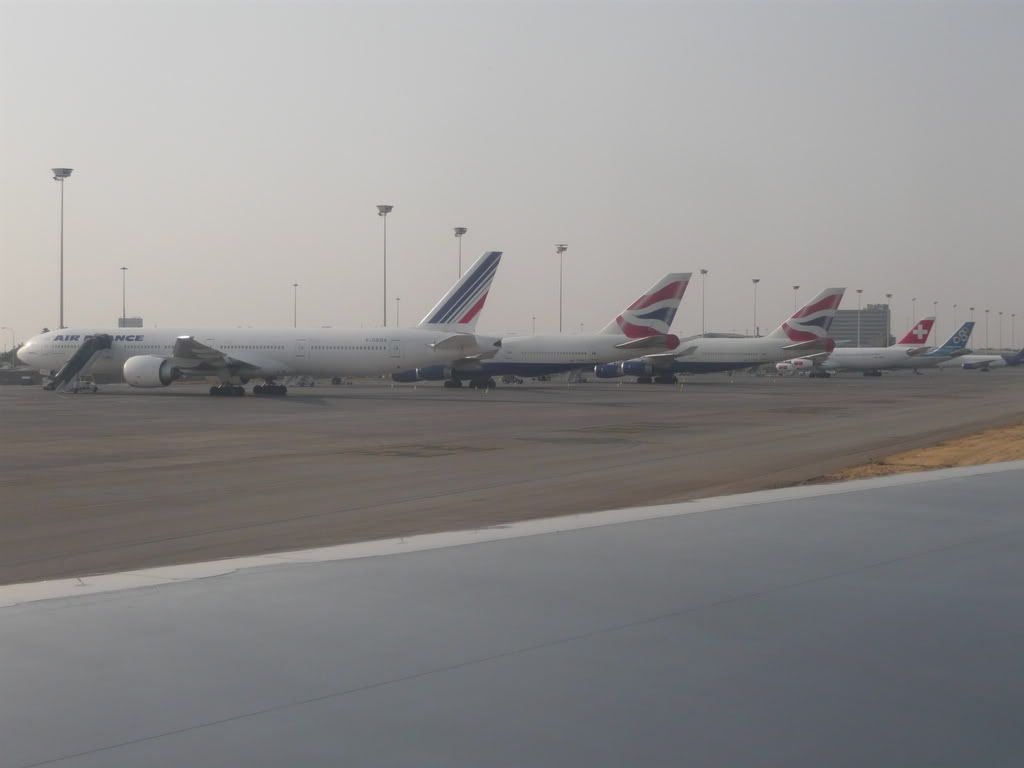 We saw a Virgin when we left, here is another one...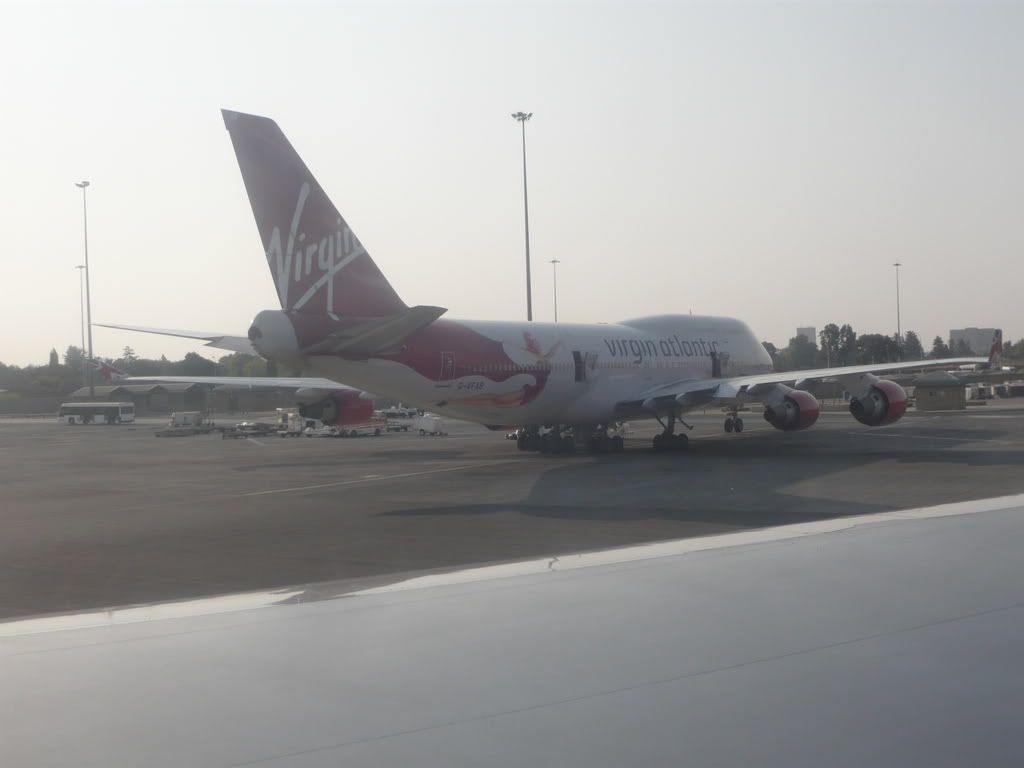 This EK flight arrived at the same time as us inbound from Dubai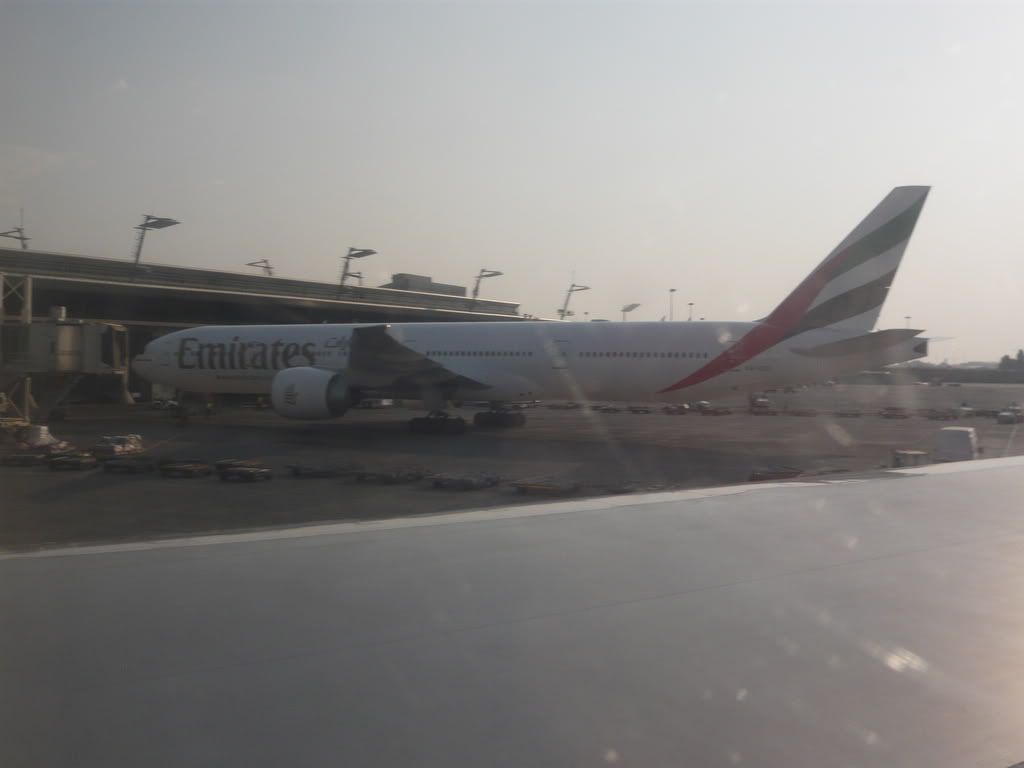 Thank you for flying us to JNB Qantas !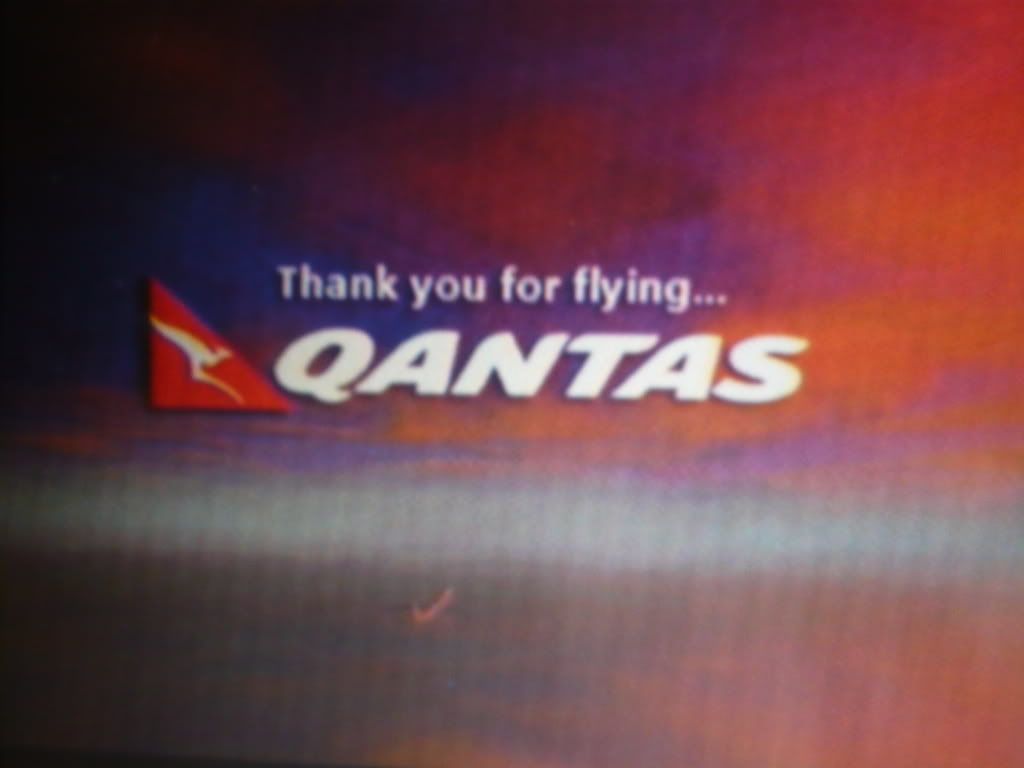 The beast resting after a job well done !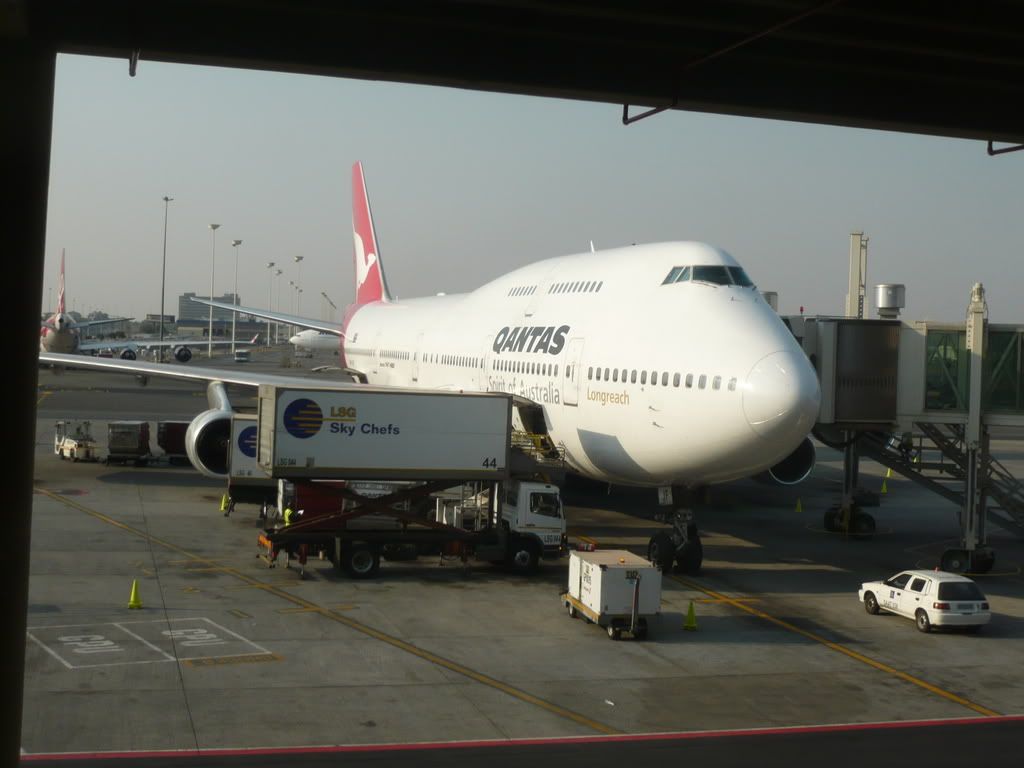 Walking inside the new part of the terminal. The arrival hall was opened a couple of days before I landed in JNB as there were reports on TV the next evening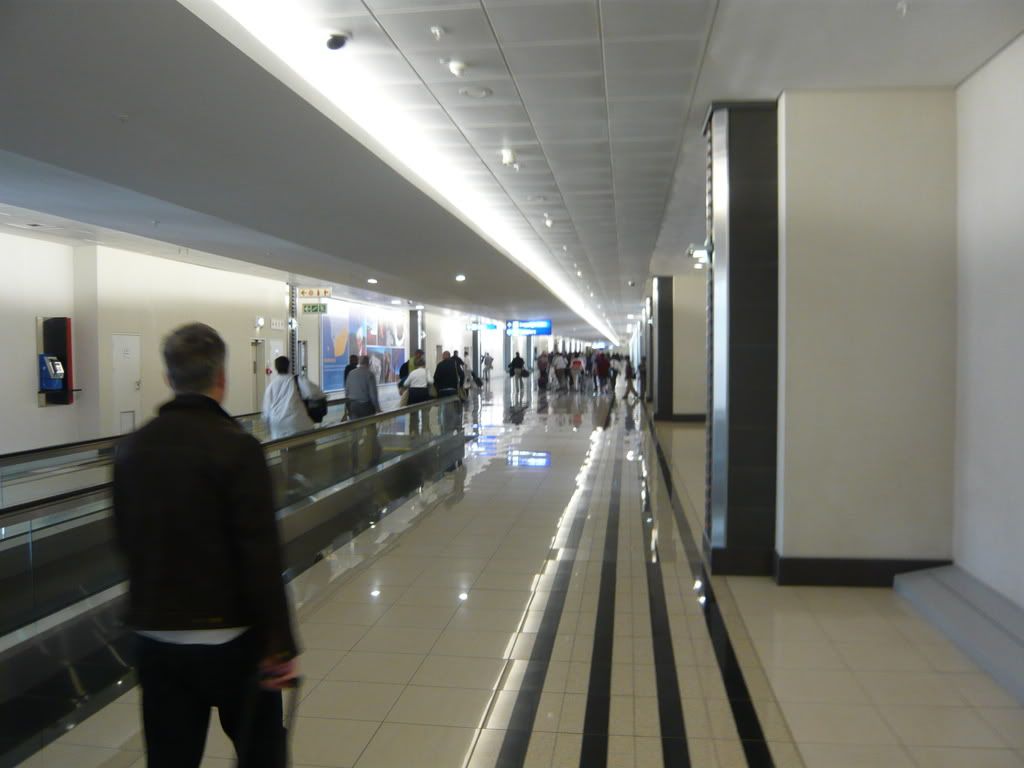 I than went thru passport control and got told off because it was a little too full for the womand stamping it and she was patronizing me about making space available for her before I get to the counter as I had a printout of my electronic visa stapled on the last 2 free pages...
Then had to way a while for the bags and when they came out I went out and got a taxi to go to my hotel in Sandton City.
I was staying at the Balalaika hotel, which is very convenient as it was a walking distance from Nelson Mandela Square and Sandton City.
Pictures of the room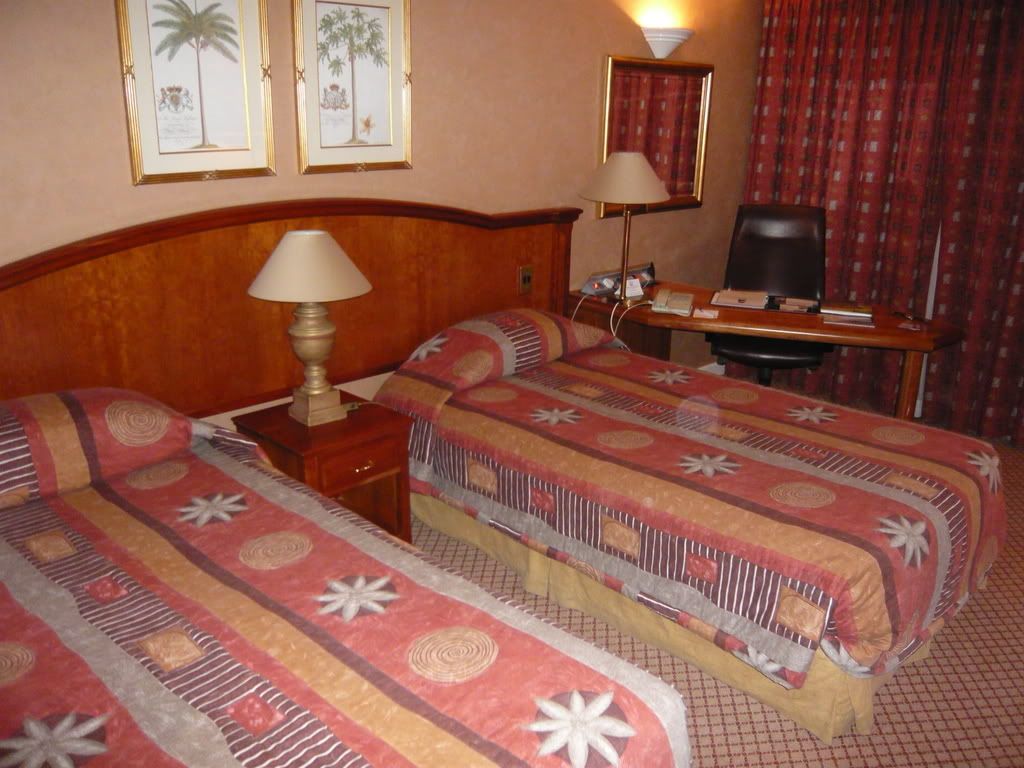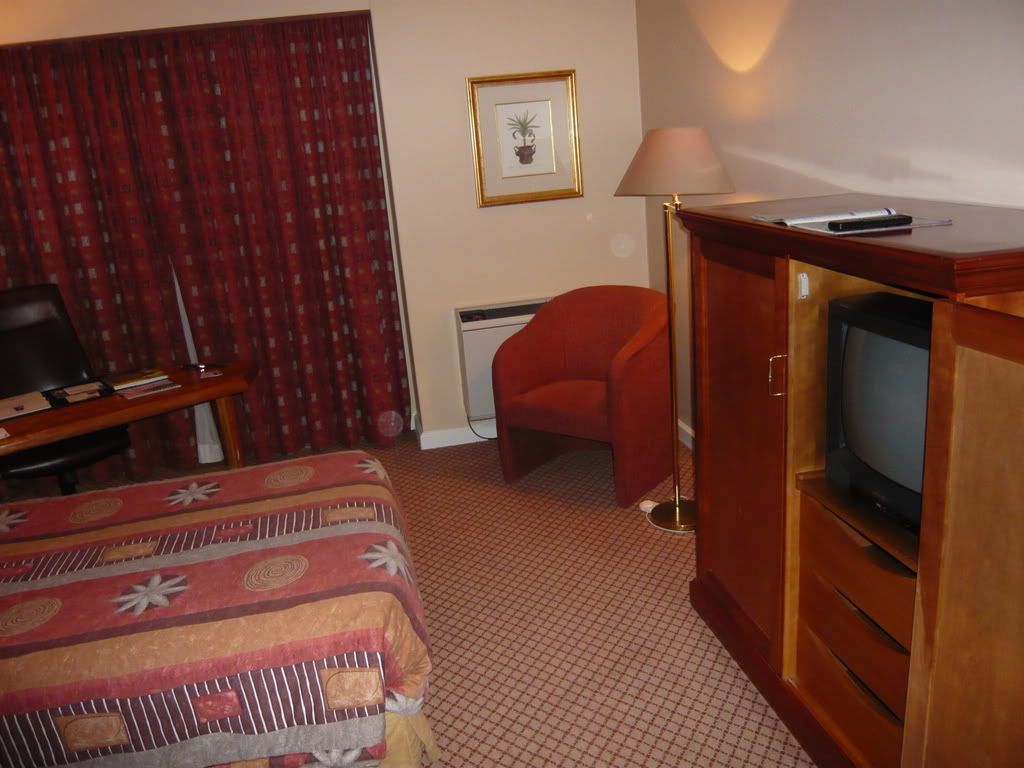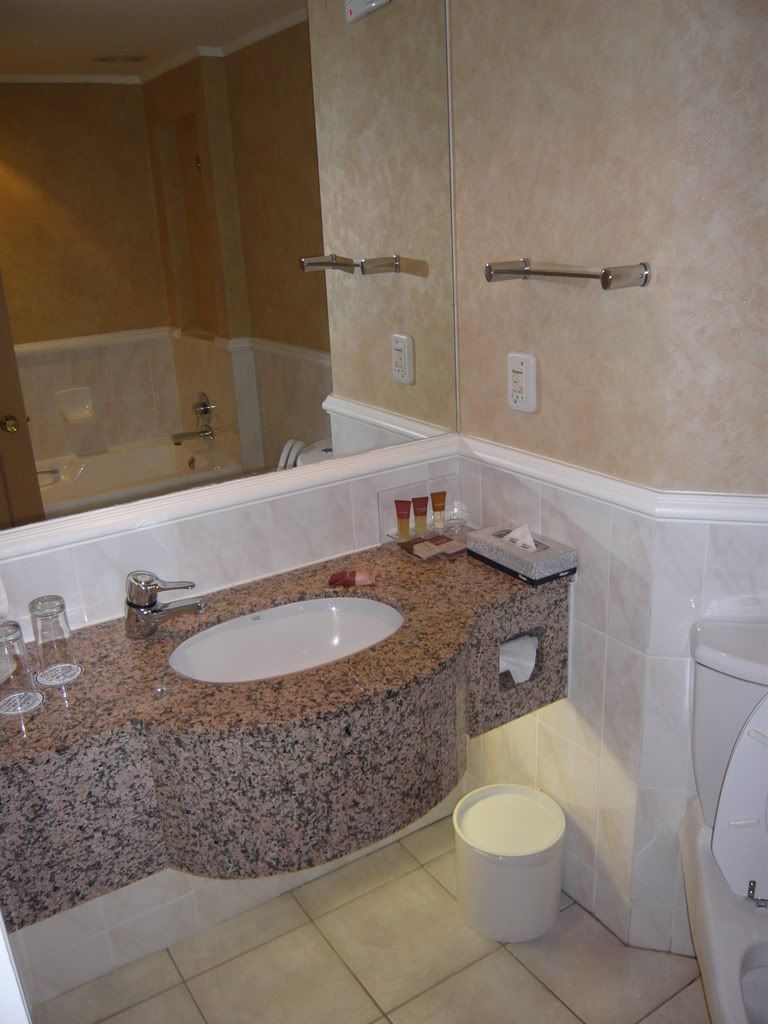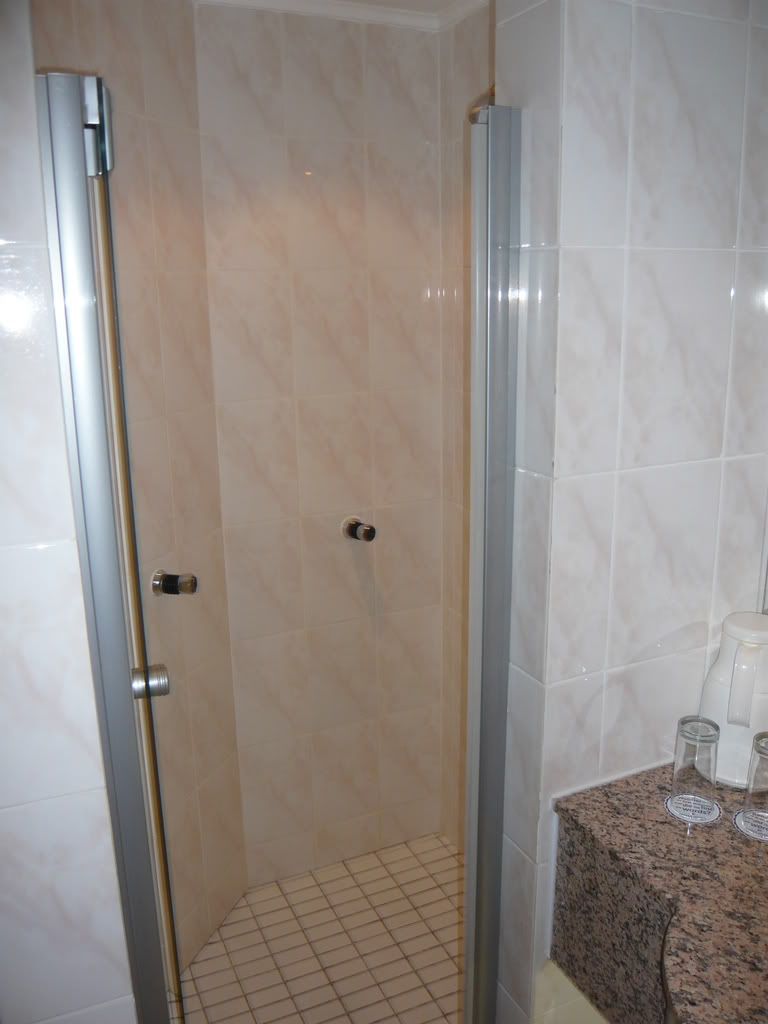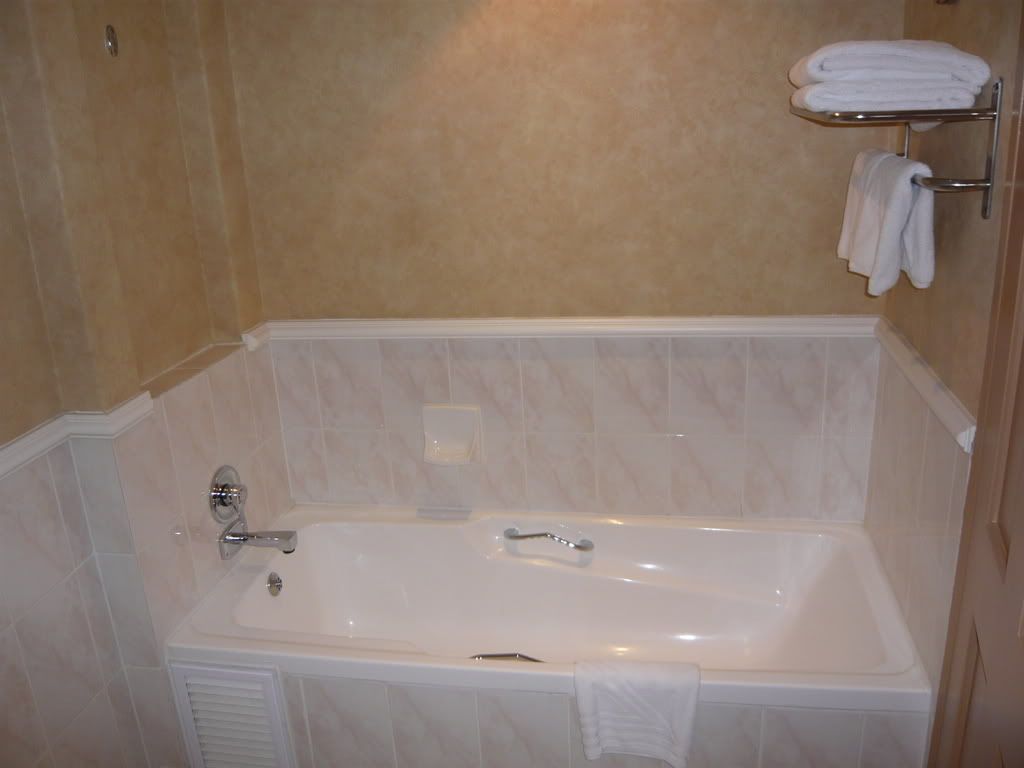 After a nice shower and some rest and internet I went out for dinner, on my own.
Had a nice dinner of beef carpaccio and than a salad with fried cheese at the Tivoli Italian restaurant next door to the hotel.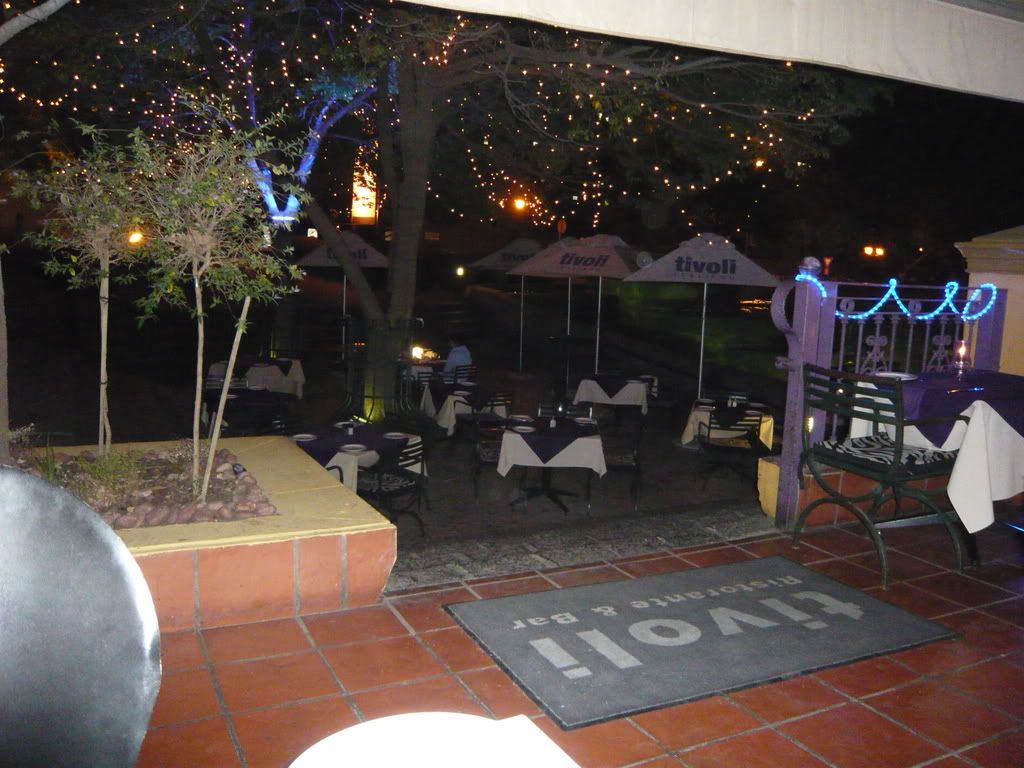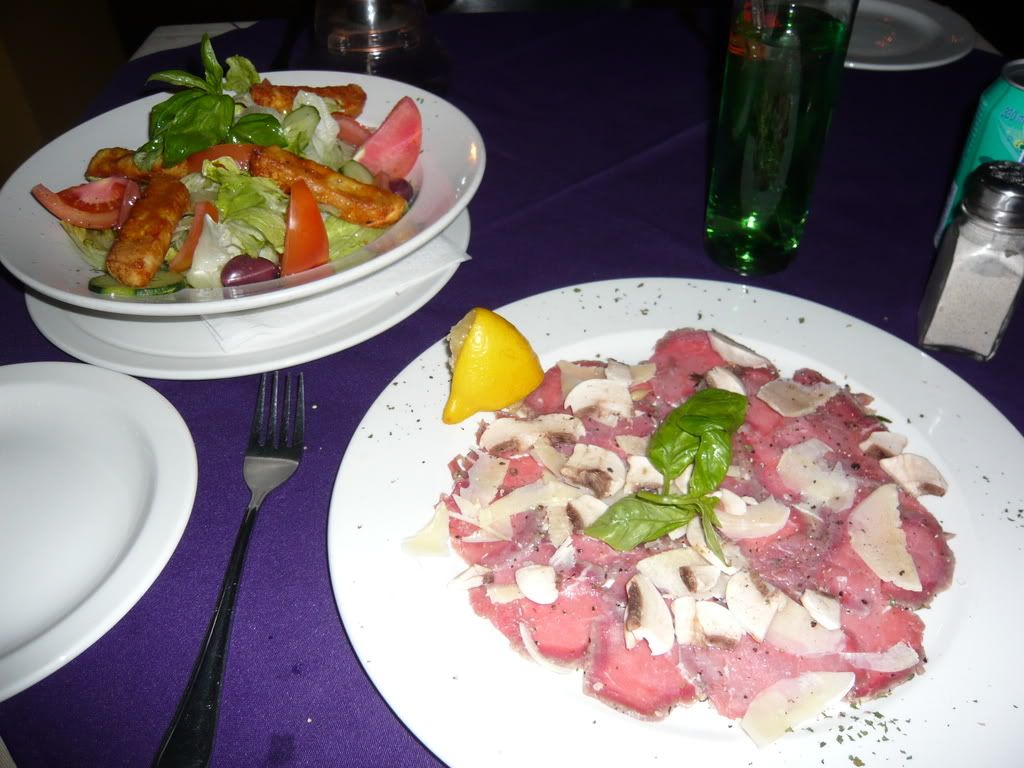 And you can't go to South Africa and not drink a Creme Soda ! and a green one please !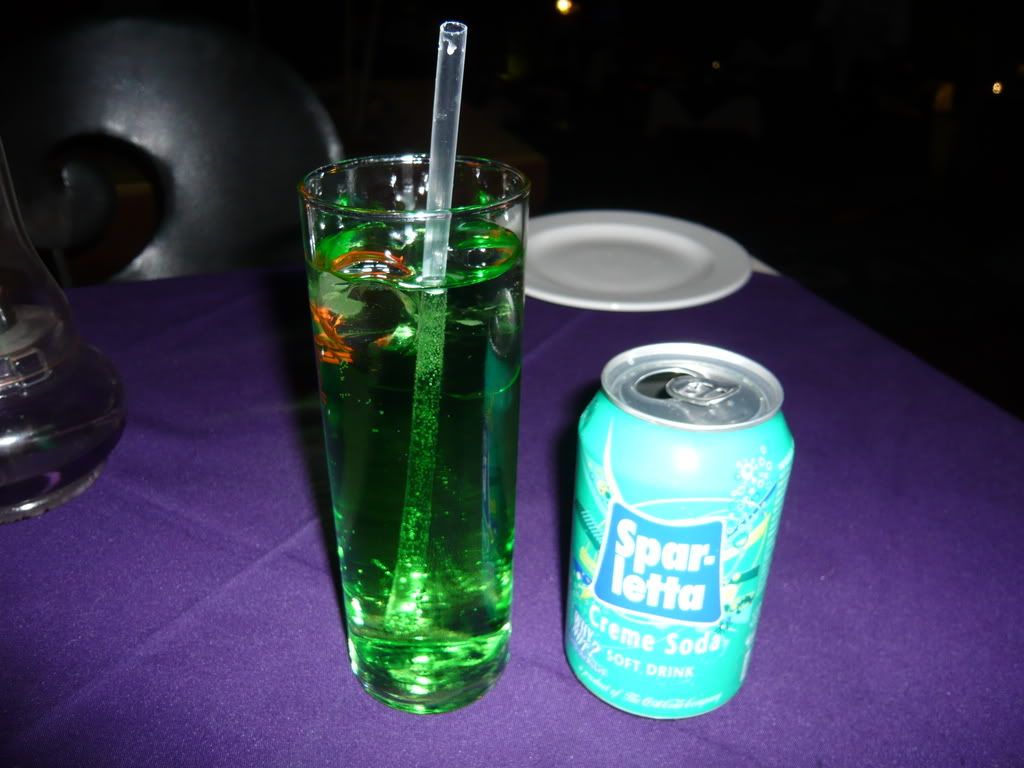 This concludes my SYD-JNB flight with Qantas.
Qantas is clearly an excellent airline and I was amazed at how much QF gives to the passengers in economy, food, drinks, snacks, ice cream, hot chocolate etc...
The IFE program was easy to use and had loads of choices and the crew was absolutely perfect !
Happy Flying,
AF Cabin Crew