Meeting at BRU or my tribute to the airport cathedral!
Hello, dear readers,
it seems, there´s a long, long time ago, since I´ve done my last leisure trip.
Ok, around ten weeks, for sure a long time for me, after two biz related cancelled trips in September.
Me and a group of fellow A.netters thought during the summer months about doing a daytrip together.
Where will we go?. Time to search for an interesting target.
Finally Roger (RogerBCN) and Ori (Stylo777) cant do the trip, but
Mark (BA319-131) and Eric (Airbuseric) fixed also flights for the day.
So the decision was, meeting at BRU for a couple of hours spotting and aircraft enthusiastic discussion and doing a flight together
out of BRU. Enough introduction, lets go!.
Here´s the routing:
http://maps.google.de/maps/ms?ie=UTF...71885872.000458eba2259033ecc2d&z=6
1.)
STR (Stuttgart-Echterdingen) - HAM (Hamburg-Fuhlsbüttel)
Duration: 1 hour
Service LH 137 operated by Lufthansa B737-500 D-ABIH
Scheduled: 07.05 // 08.15
Actual: 07.30 // 08.30
Gate: 117 Seat: 21F
Loadfactor: Around 85%
Fare: 56.33 EUR
History:
12.02.1991: Delivered to LH
Leg. no. 25 on the B735 and the first on this machine
I´ve checked in online Tuesday evening without any problem. That means, no need to be early at the airport
Wednesday morning.
STR or better Apcoa changed the fare structure at the airport car parks, so my usual space was not the place to go this time.
Two Euros more for the day, but also at the storey nearest to the terminal, acceptable so far.
Busy security at all three places, it seems the fastest way at T3. Some minutes thereafter I was at the gate for my first flight of the day to HAM.
Completely dark outside, no chance for a good picture.
Lots of pax at the gate, looks like a good load.
The plane was nightstopping there, the registration not visible from my place, hopefully something new.
Good morning STR:
Boarding started some minutes late, not the best impression, I´ve remember some HAM problems back in summer.
A friendly "Have a nice flight" from the female gate agent later I´ve boarded the plane.
I´ve checked the reg during boarding, it seems like a new one, not bad.
One female, two male FA´s, the males in a better mood.
Also a friendly welcome from the german captain, he informed us about heavy departure traffic from STR and a slot in about 15 minutes.
Ok, no problem so far, finally we´re pushed back and taxied slow to the runway, no. eight to departure from 07 in eastern direction.
The cabin well maintained, clean, good legroom, fitted with the usual grey leather seats.
Free drinks and coffee on offer. The sky was cloudy on the whole route, but the flight was calm.
Between STR and HAM: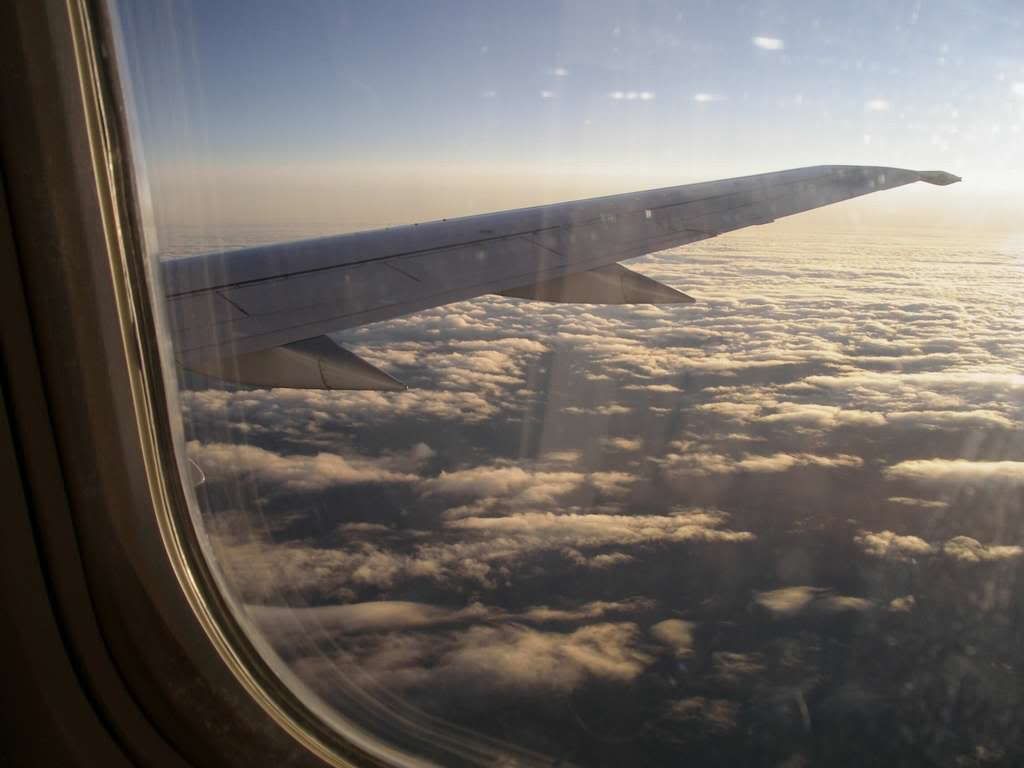 No more comments from the flightdeck, so no level or route information.
Touchdown on HAM´s runway 33 some 15 minutes late, a quick taxi and airbridge deboarding.
My machine at HAM: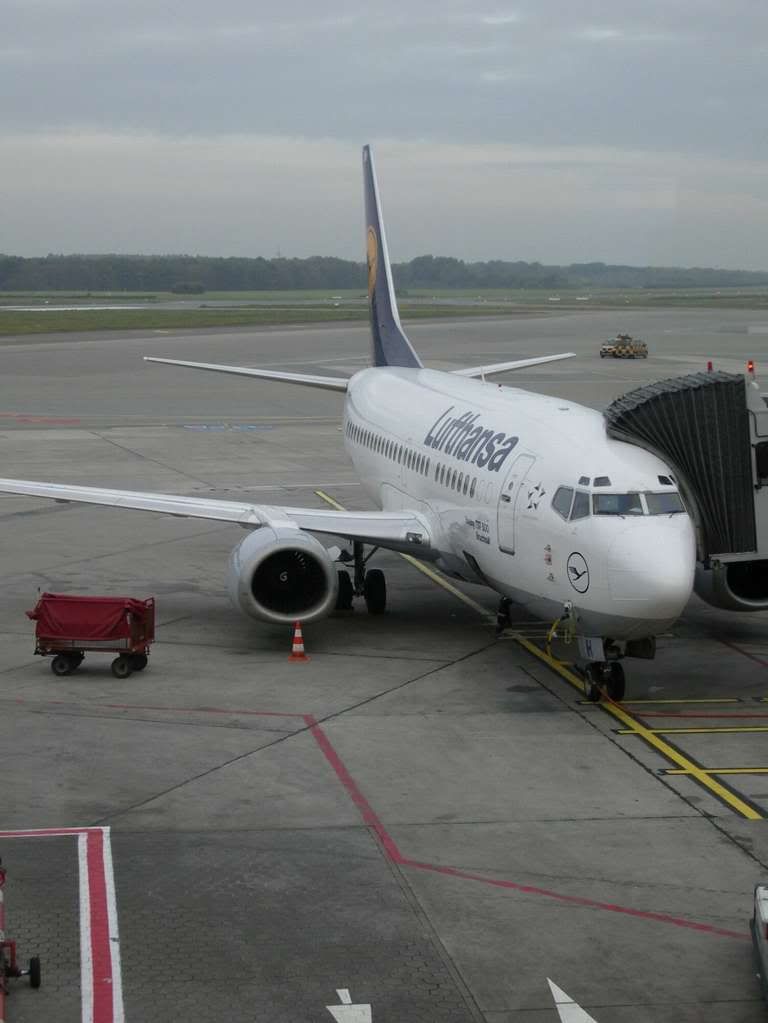 2.)
HAM (Hamburg-Fuhlsbüttel) - BRU (Brussel-National)
Duration: 1 hour
Service SN 2624 operated by BrusselsAirlines Avro RJ85 OO-DJX
Scheduled: 10.35 // 11.45
Actual: 10.40 // 11.40
Gate: C11 Seat: 16F
Loadfactor: Around 60%
Fare: 49,50 EUR
History:
22.11.1996: Delivered to DAT
15.02.2002: Ferried to SN
25.03.2007: And further to BrusselsAirlines
Leg no.6 on the RJ85 and the first on this machine
It looks like a better experience at HAM this time.
No extra security check on the way to the gate for leg no. 2.
Check in was also done online.
HAM airport action: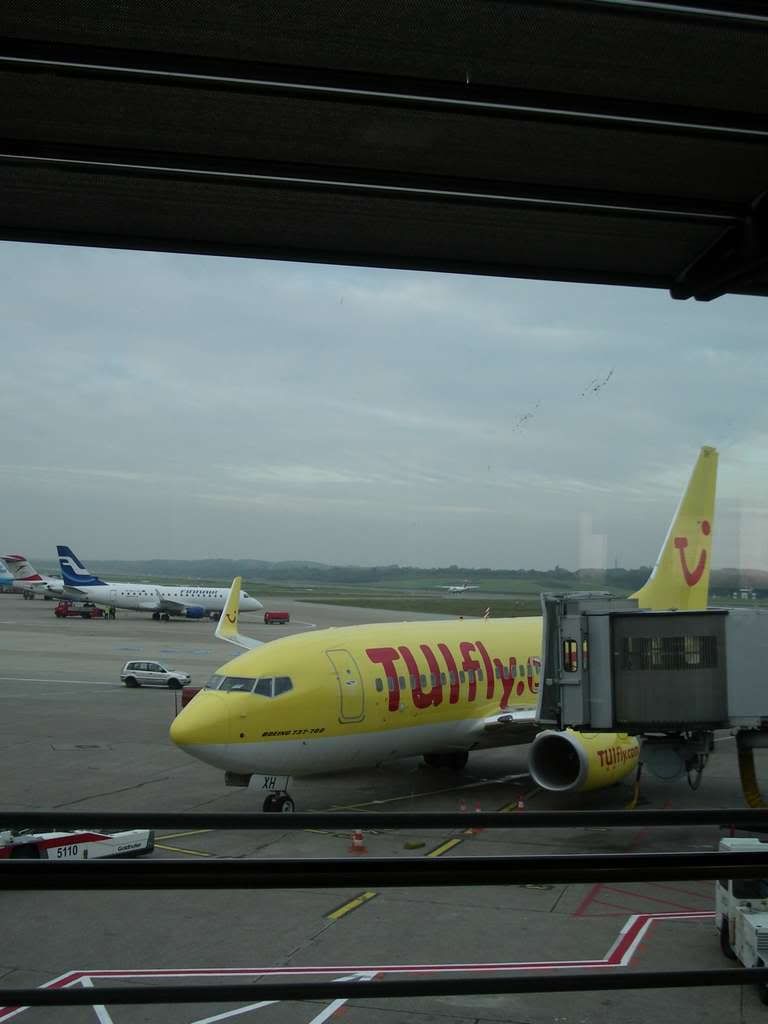 Nice machine: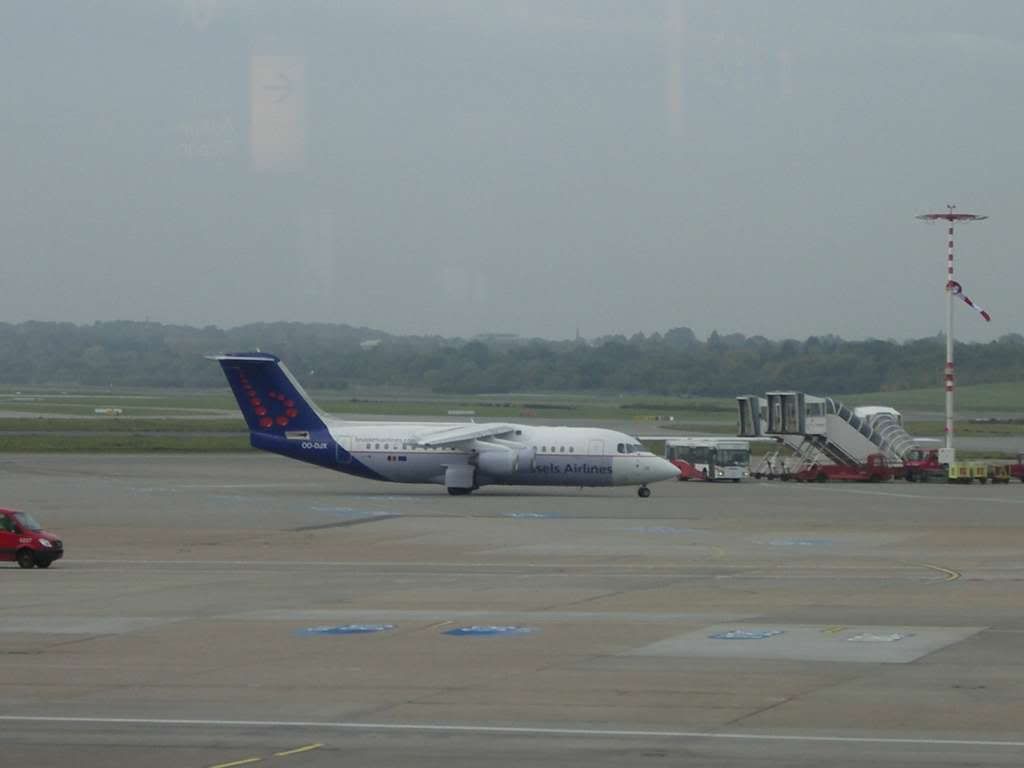 This time bus boarding from the ground floor.
Settled down, doing some SMS texting and waited for boarding.
Interesting was a scene at the gate when they called us.
LH operates also to BRU some ten minutes ahead to my flight.
One elderly male in biz coat was in the line, but the female gate agent denied him from boarding the plane.
Why?. He was booked on LH, some discussion and he finally jumped away, but the screens showed the LH flight was closed.
Sounds not that good for his way to BRU.
Approaching my plane: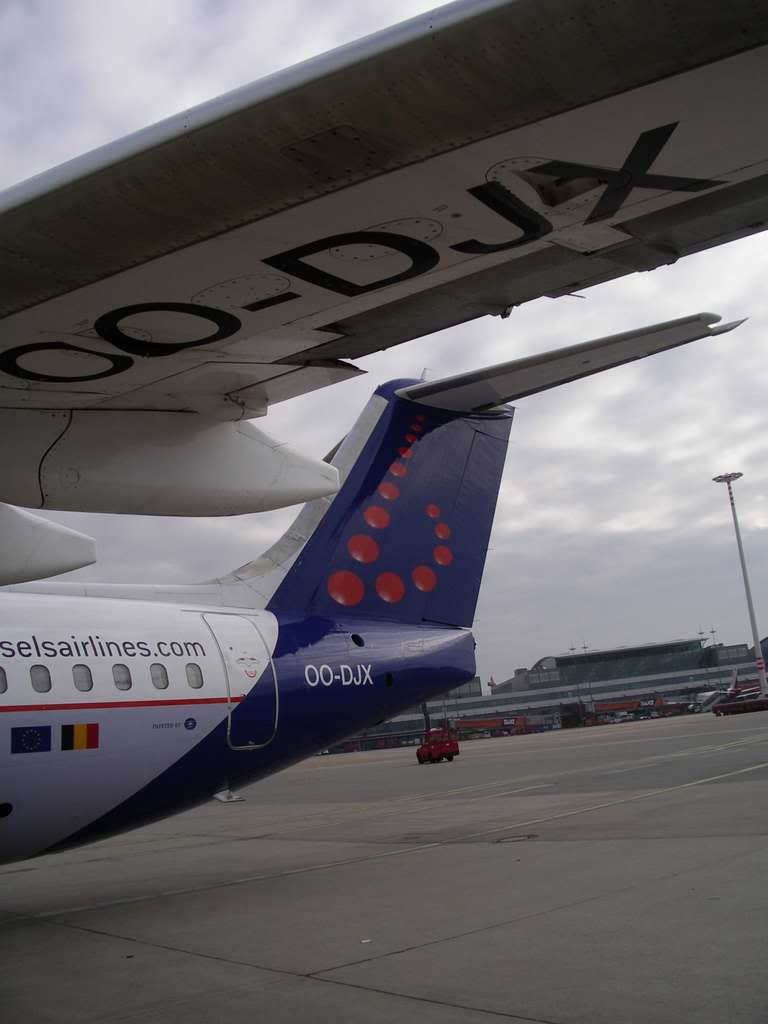 Boarding: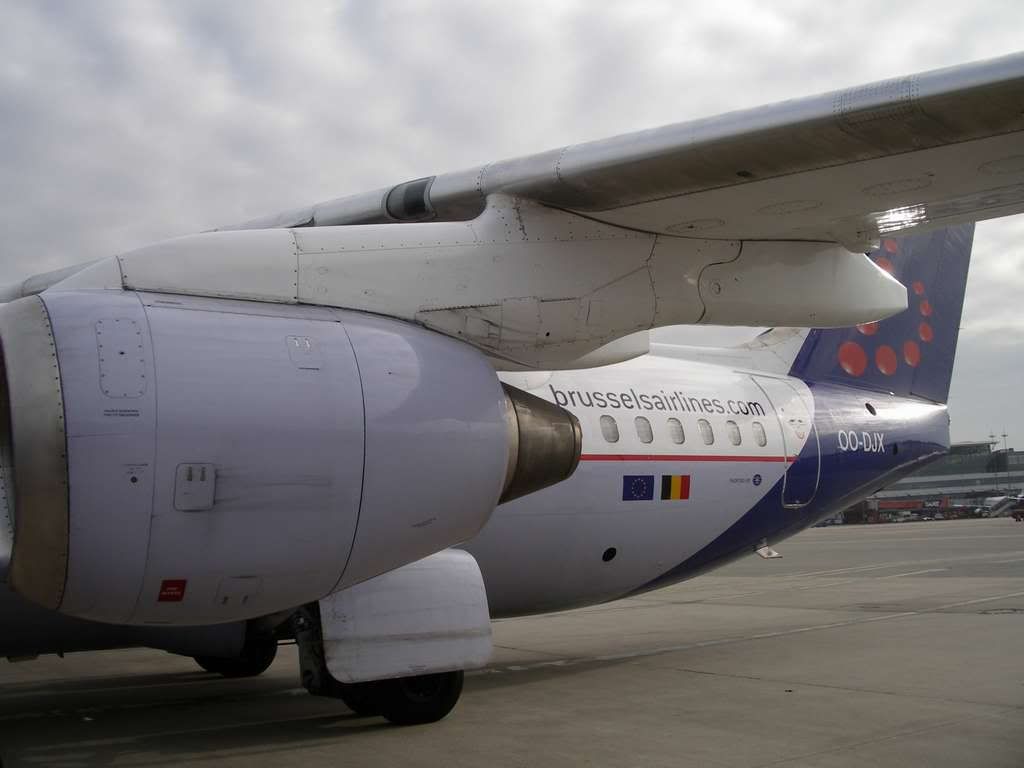 En detail: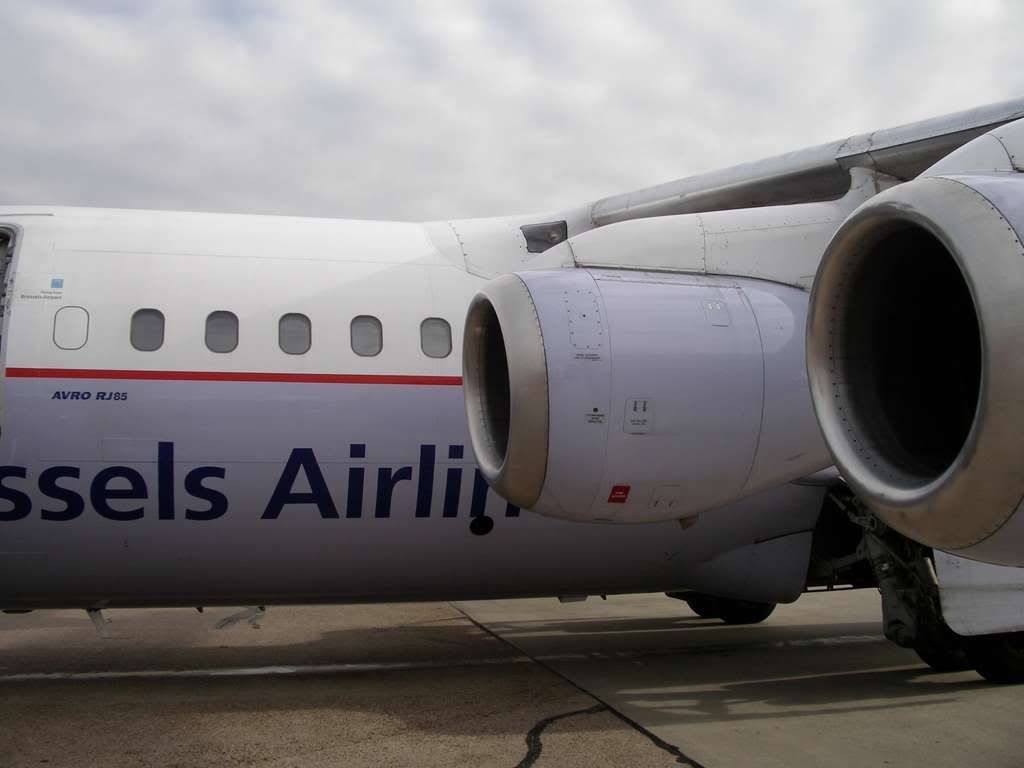 No problem doing pix there at HAM. One male, one female FA, both friendly.
The cabin fitted with dark blue leather seats. Signs of well usage clearly visible, low legroom, so not the best first impression.
Indoor shoe shot: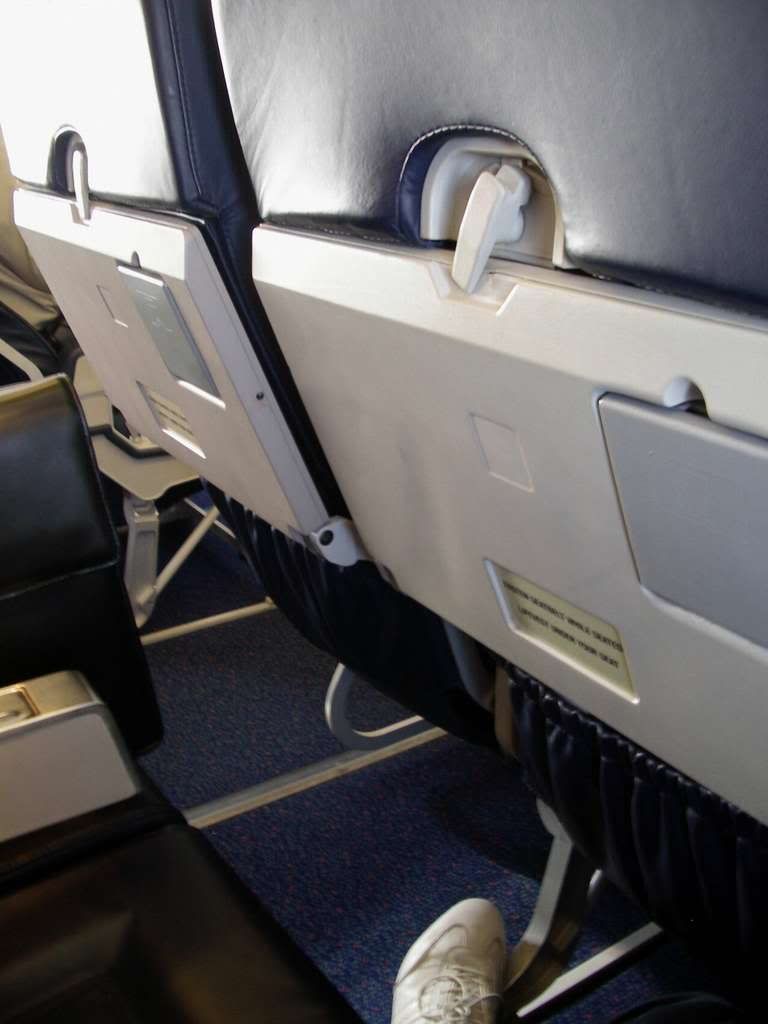 Also a friendly welcome from the Captain, he was from Belgium.
Departure from runway 23, again mostly cloudy on the route, but a calm flight.
Between HAM and BRU: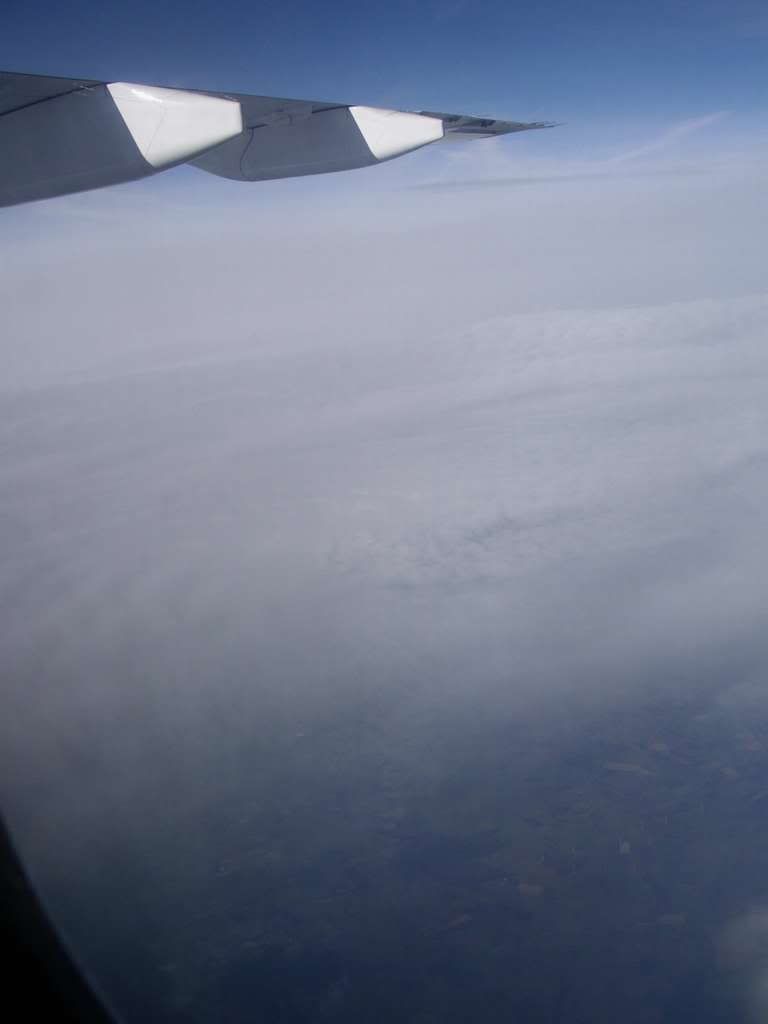 One more friendly goodbye during descent into BRU from the flightdeck.
No service beneath some sweets, no more detailed route or level information.
Touchdown on runway 25R ontime, only a short way to the finger gate for deboarding.
BRU airport action: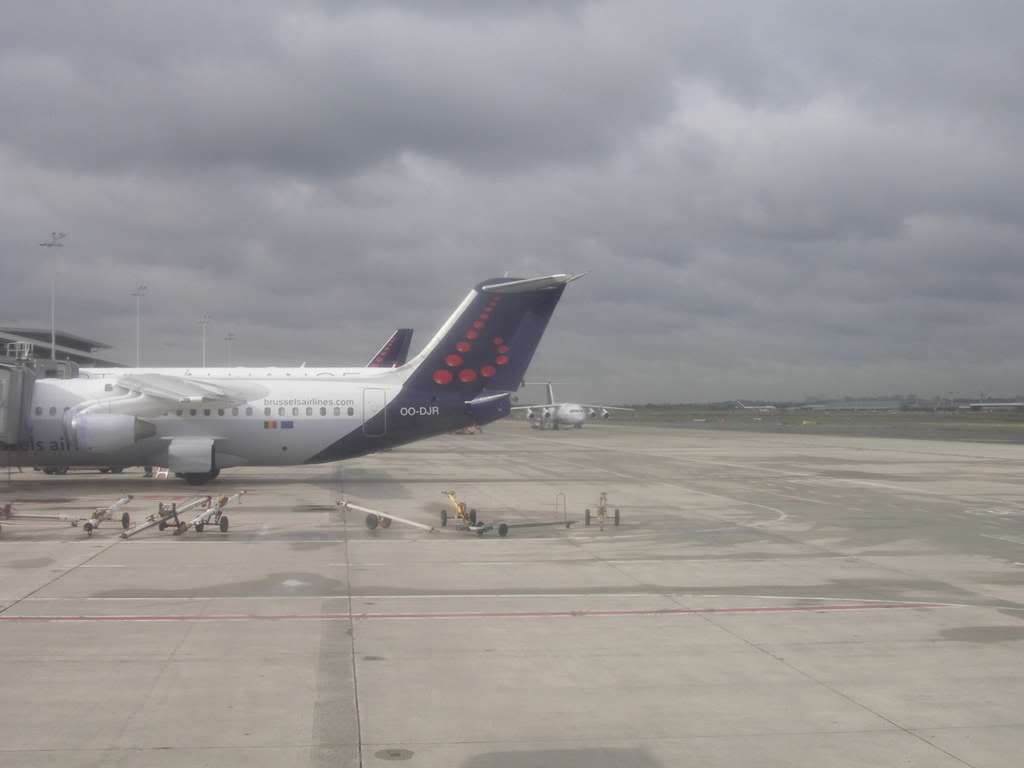 Switched on the mobile and was welcomed by my fellow spotters who noticed my arrival.
I was guided to the restaurant, forgot the name, on level three with a very good view to the apron.
Time goes by rather quick with some enjoyable aviation discussion and some coffees later it was time to go for the next flight.
3.)
BRU (Brussels-National) - THF (Berlin-Tempelhof)
Duration: 1 hour, 15 minutes
Service SN2585 operated by BrusselsAirlines Avro RJ100 OO-DWE
Scheduled: 15.00 // 16.25
Actual: 15.15 // 16.30
Gate: 58 changed to 53 Seat: 20A
Loadfactor: Around 70%
Fare: 49,99 EUR
History:
27.05.1998: Delivered to DAT
15.02.2002: Further to SN
25.03.2007: And finally to BrusselsAirlines
Leg no. 5 on the RJ100 and the first on this particular plane
Berlin-Tempelhof will be closed at the end of October, the best reason to fly together to Berlin.
Nearly no time to wait at the security check points. Check in was also done online.
Departure board: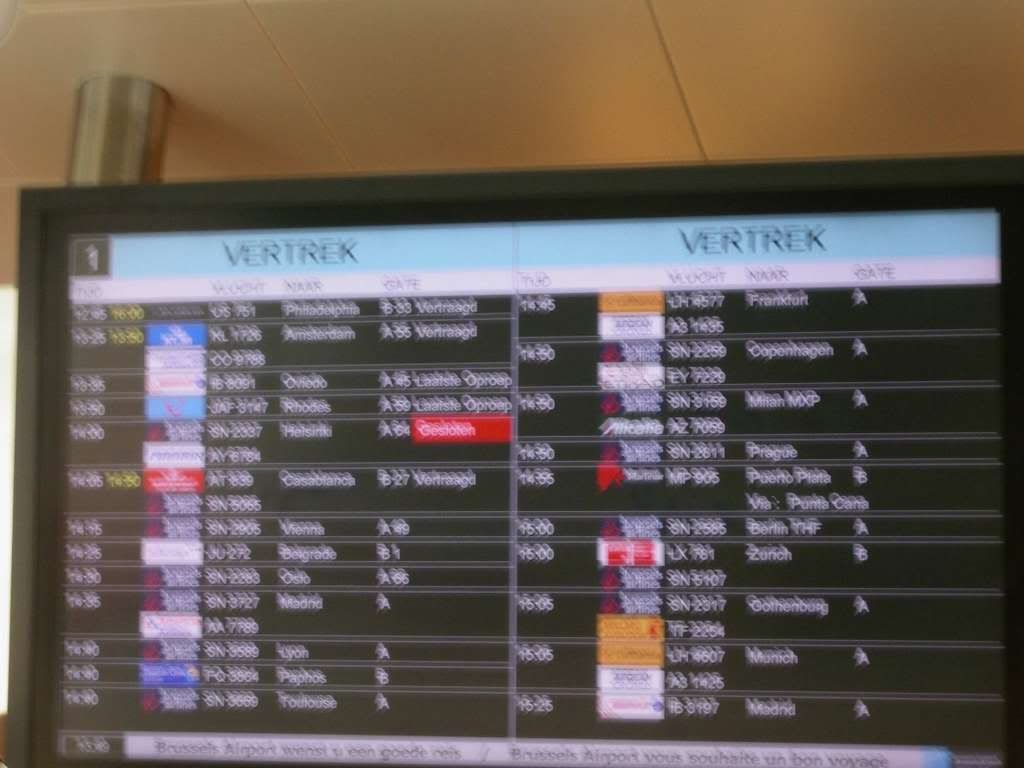 Our gate was in the new terminal, an impressive structure, large and airy, not bad from my point of view.
The terminal:
My machine: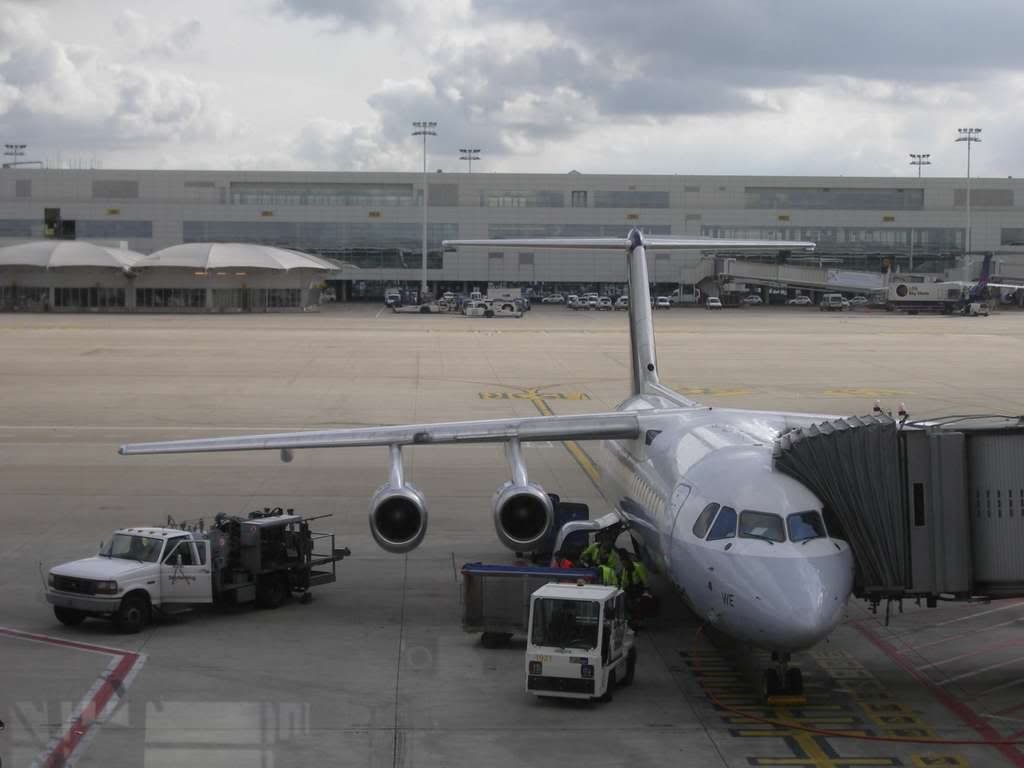 Ground handling:
Boarding: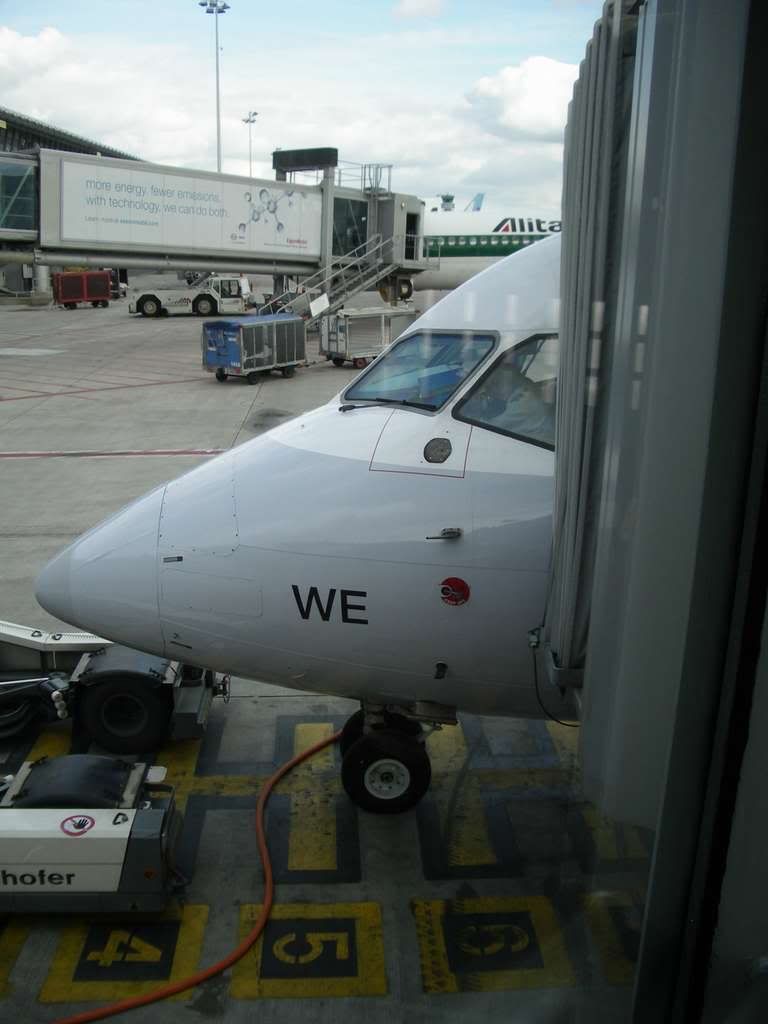 The plane arrived and boarding was called soon thereafter by an airbridge again.
Two female FA´s on this service, not that especially friendly.
Again dark blue leather seats, cleaner than the earlier RJ85, better legroom.
A nice, but less detailed welcome from the male captain, according to the name he was from Belgium. It seems that was a kind of checkflight,
a female FO and also the jumpseat occupied.
Departure from runway 25R, cloudy on the first part of the leg, the sky cleared up near THF.
The small restroom:
Between BRU and THF: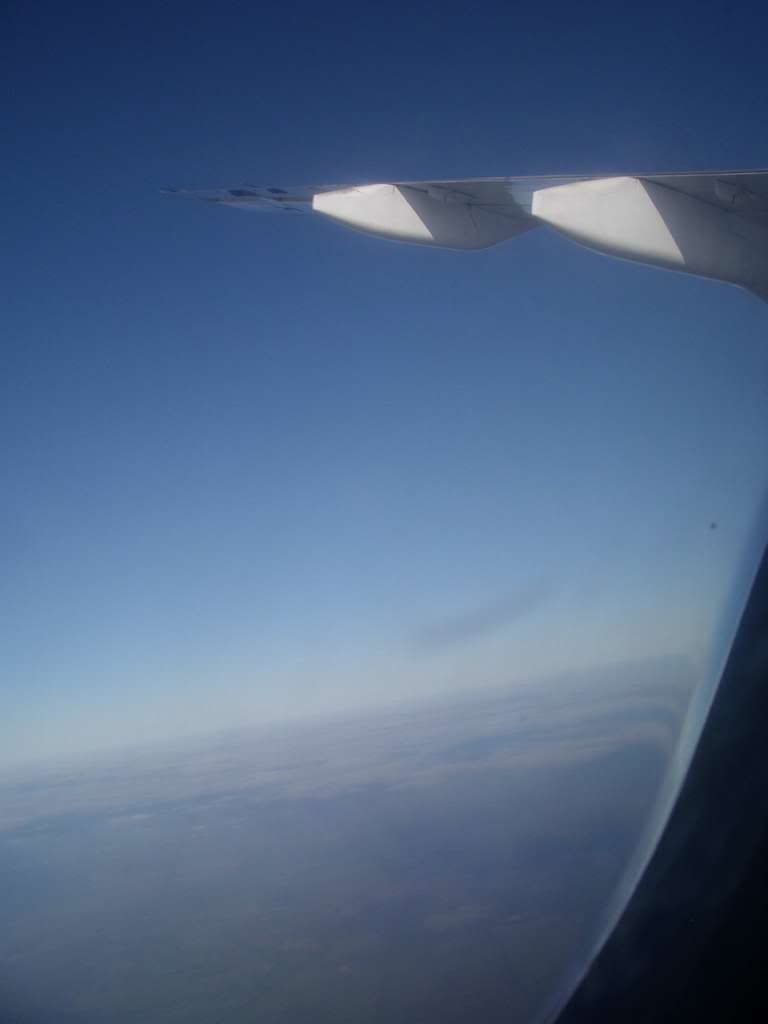 No free service in b light economy. A friendly goodbye from the captain during our approach,
no more information about level and route.
The approach was rather interesting, flying low over the houses, following some railtracks and finally touchdown on runway 09R.
A long taxi and welcome under the roof covered apron of THF airport.
Hello THF: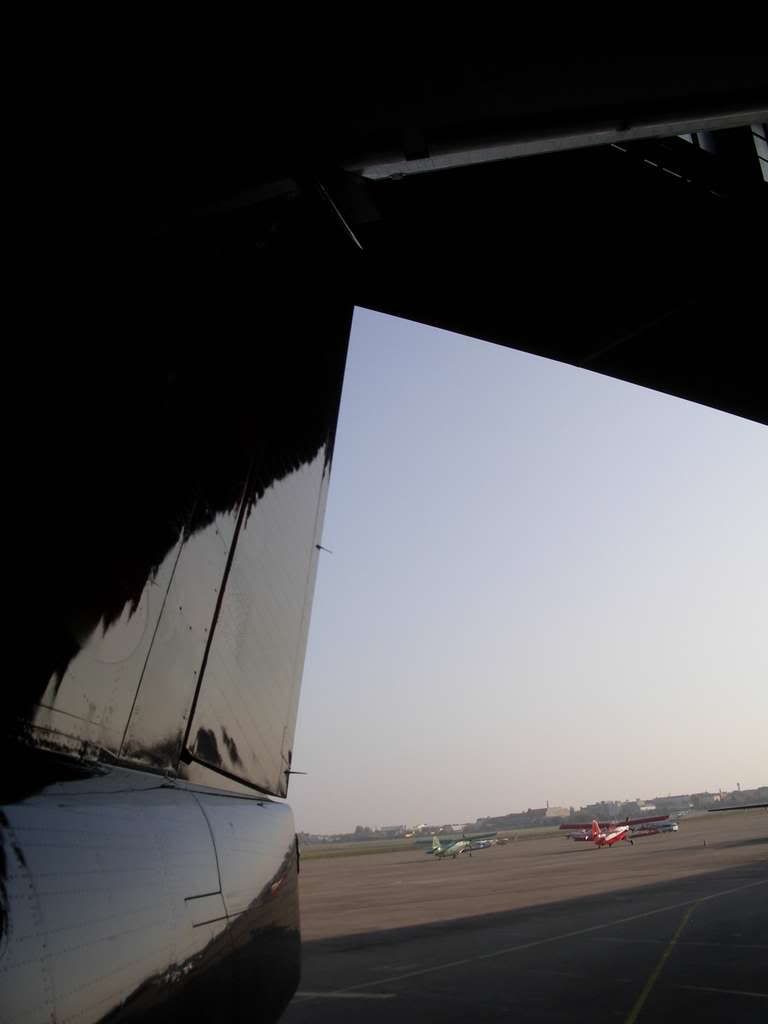 Deboarding:
Tail shot: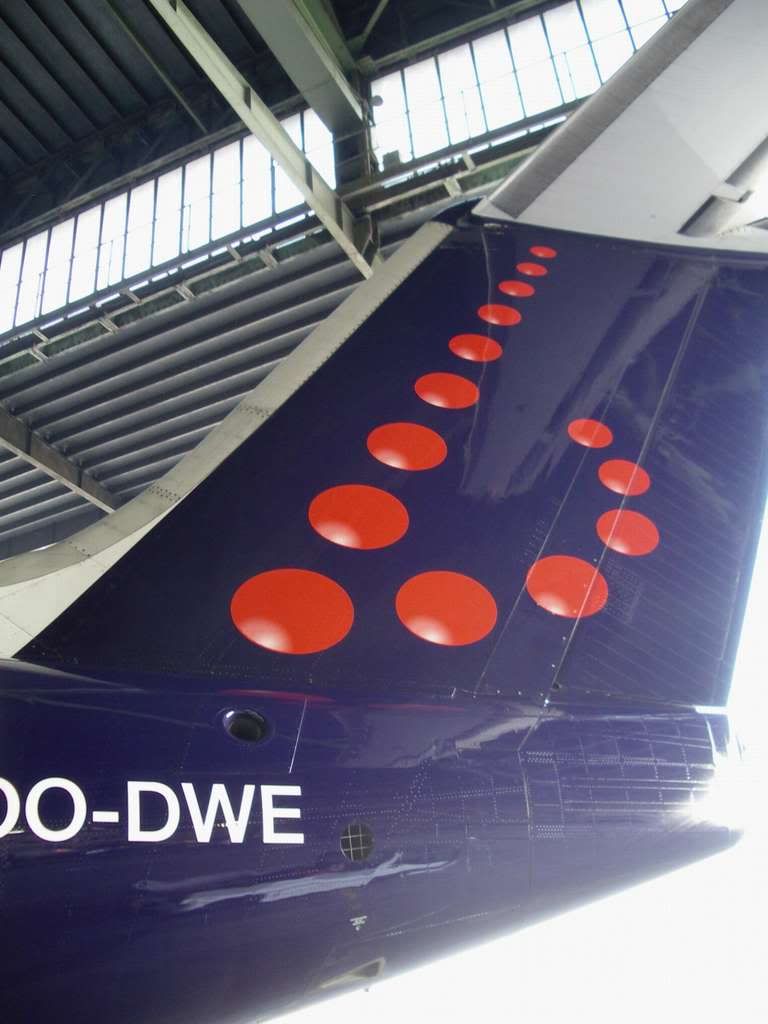 My machine under the roof: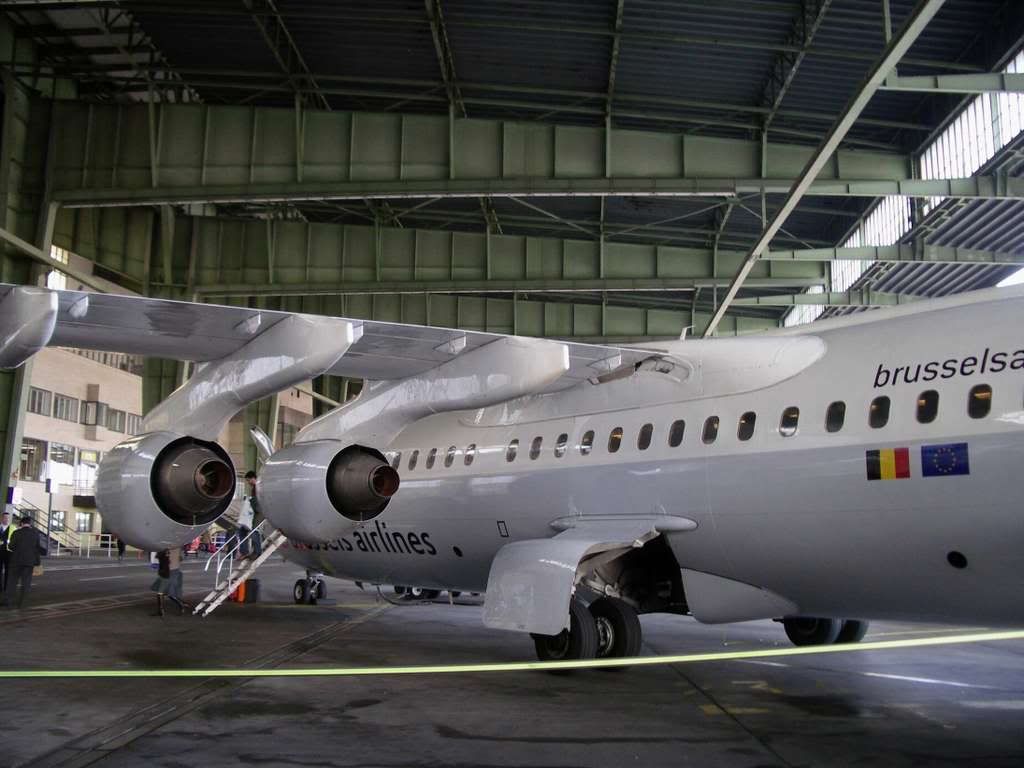 And again: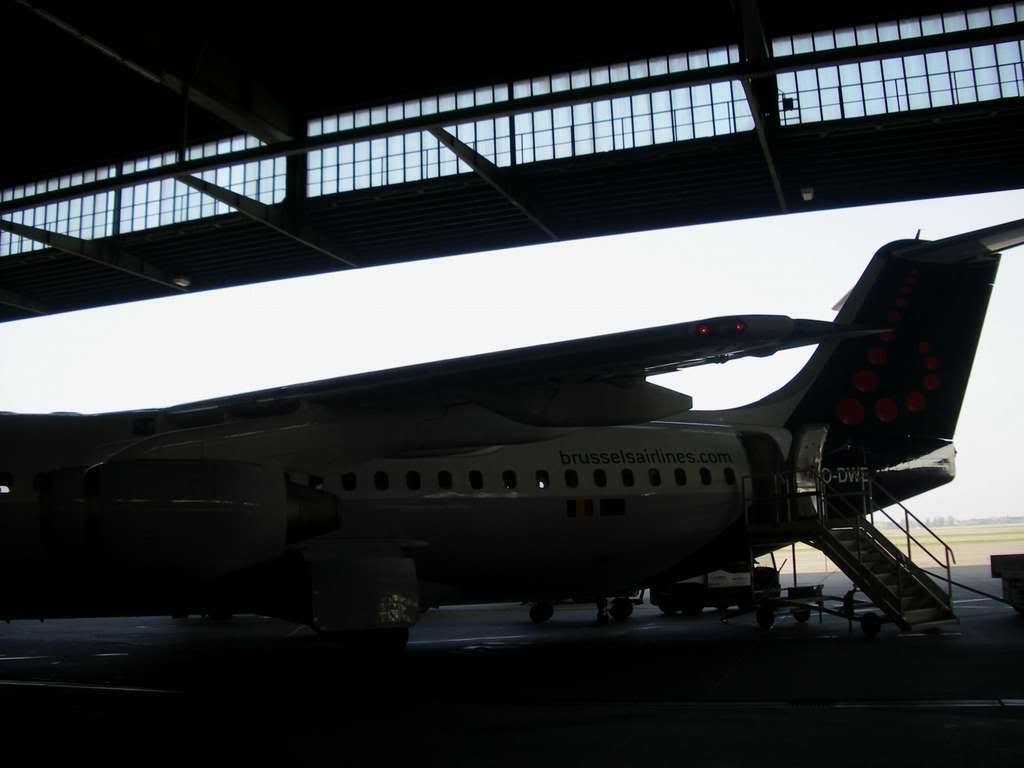 Another nice visitor: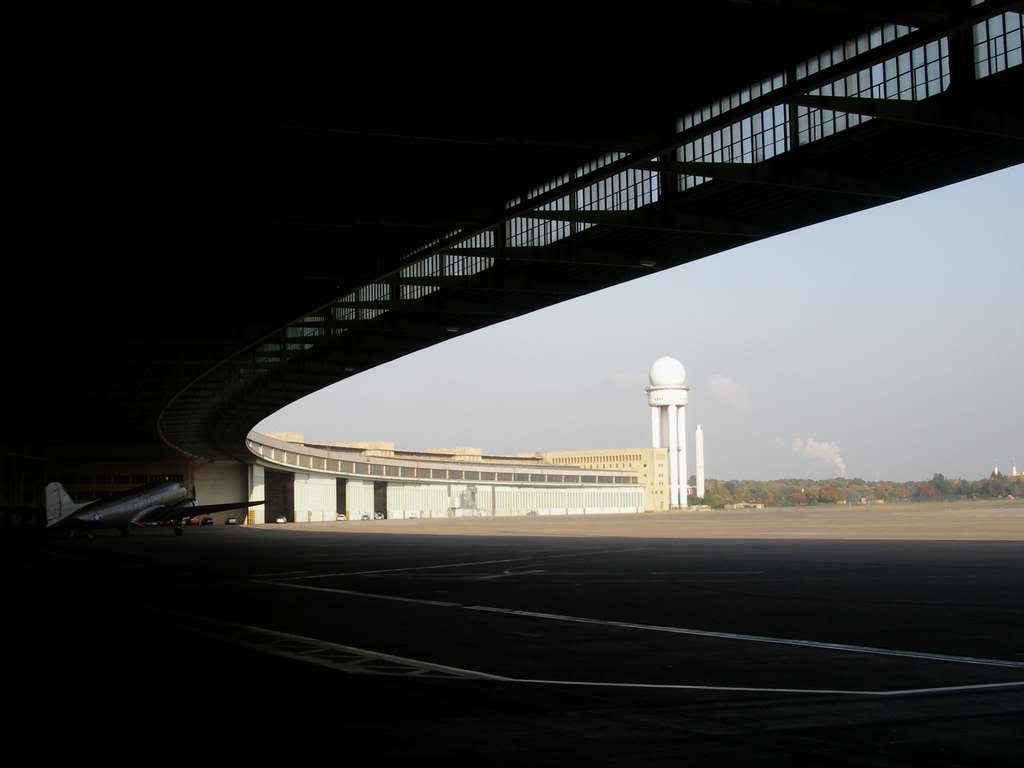 Apron view: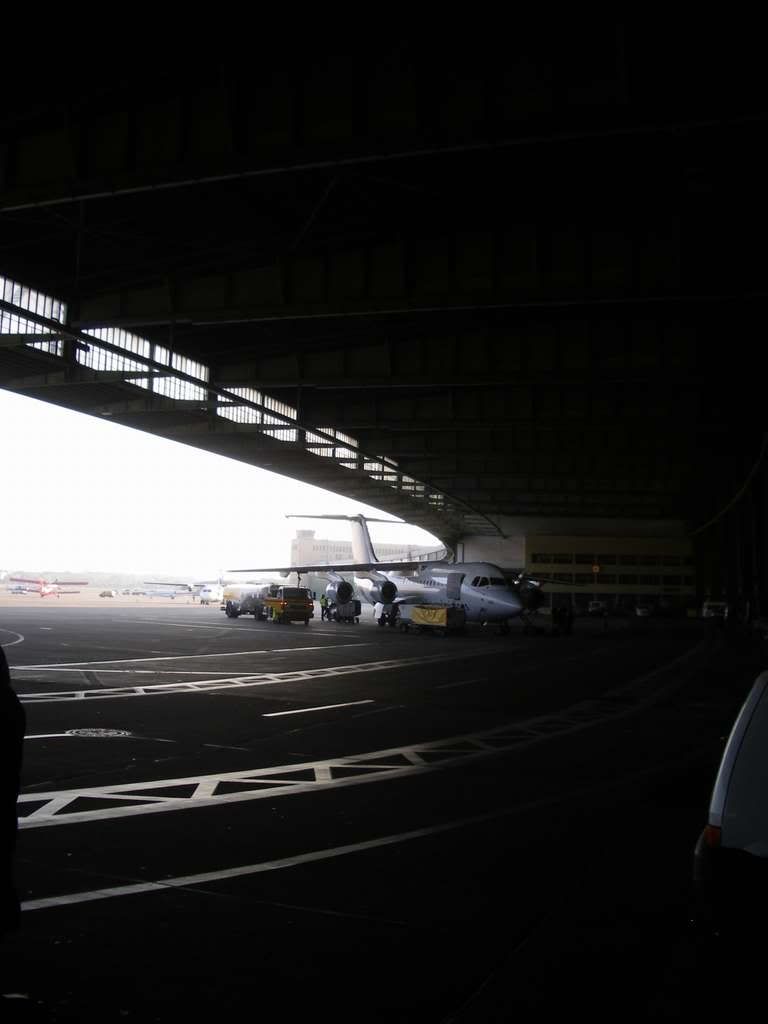 And again: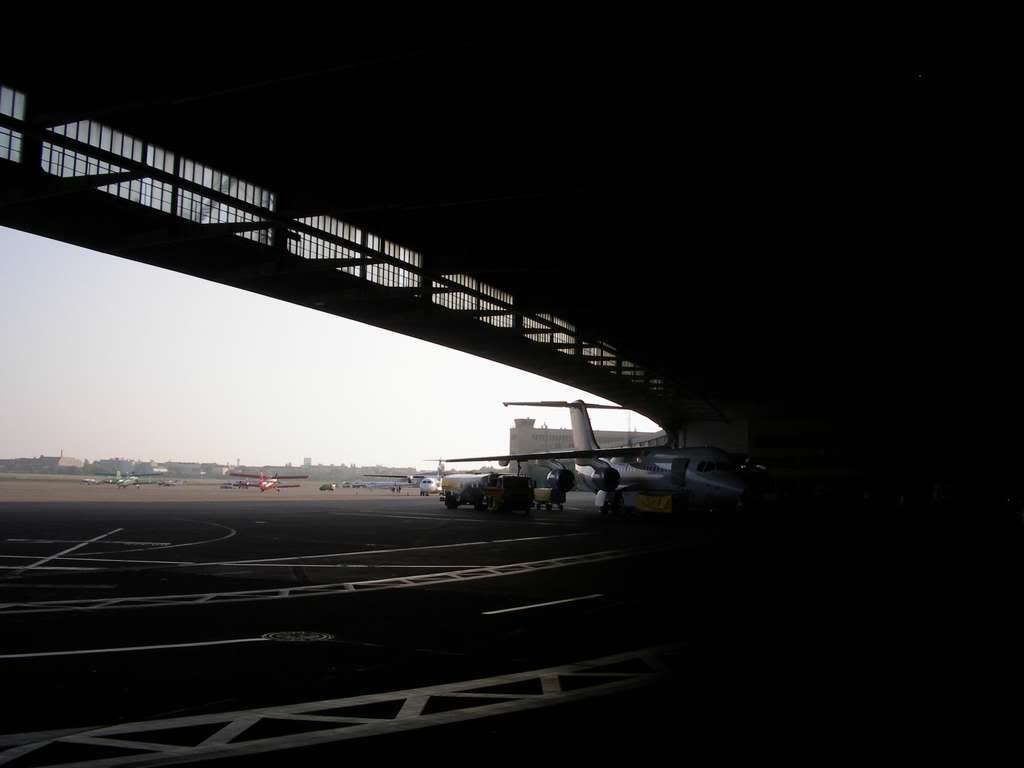 Self service to the entrance, lots of pax doing pix, we´re not the only interested there.
Baggage area:
The exit:
The "Rosinenbomber":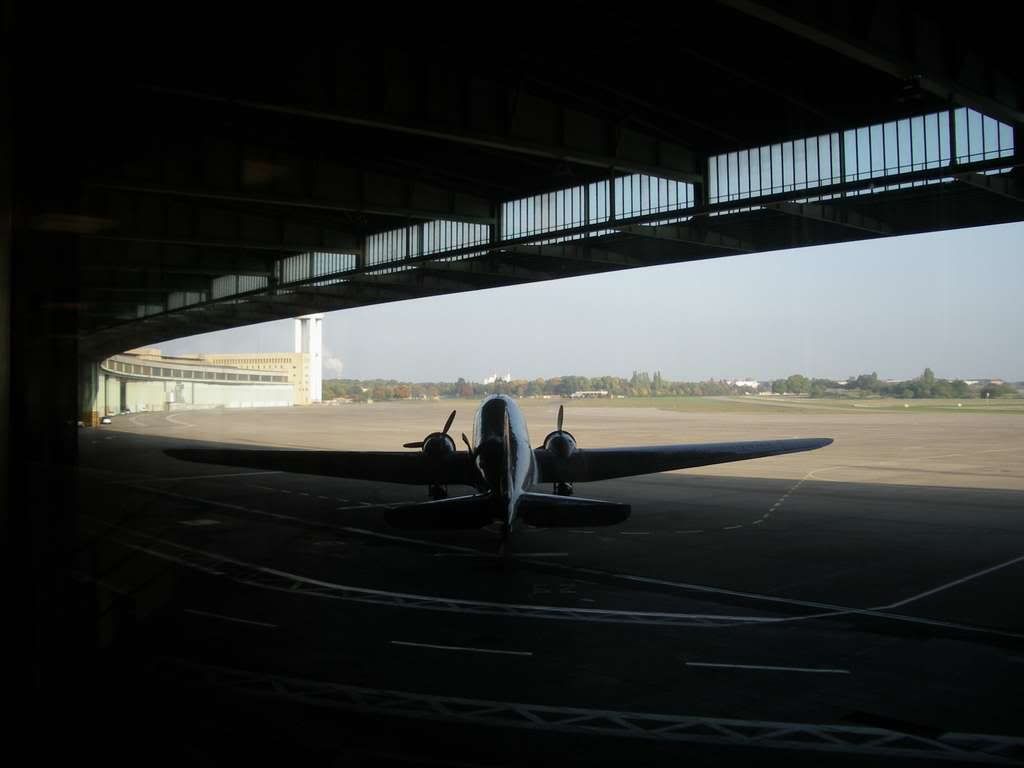 More apron view: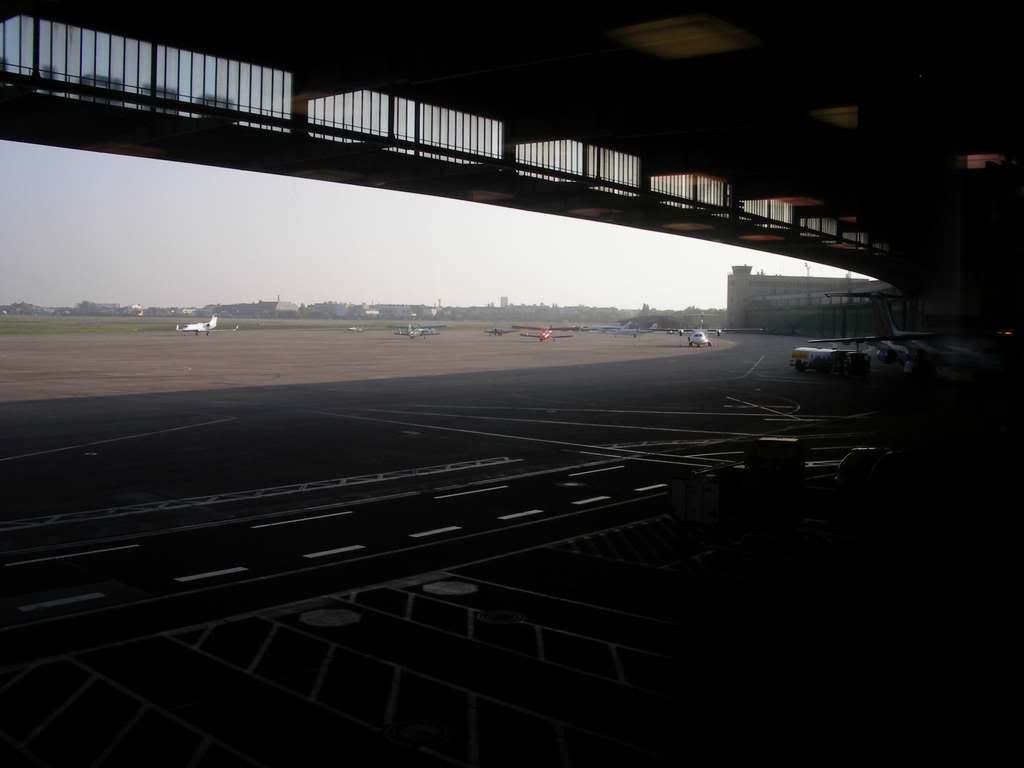 If you ever been to THF, then you know why i call it the airport cathedral, such a special feeling inside, you dont want to talk and disturb the silence.
The Rosinenbomber crew walked around in unifrom preparing for a flight, a film team doing some preparations for the next set, simply stunning.
Hungry?: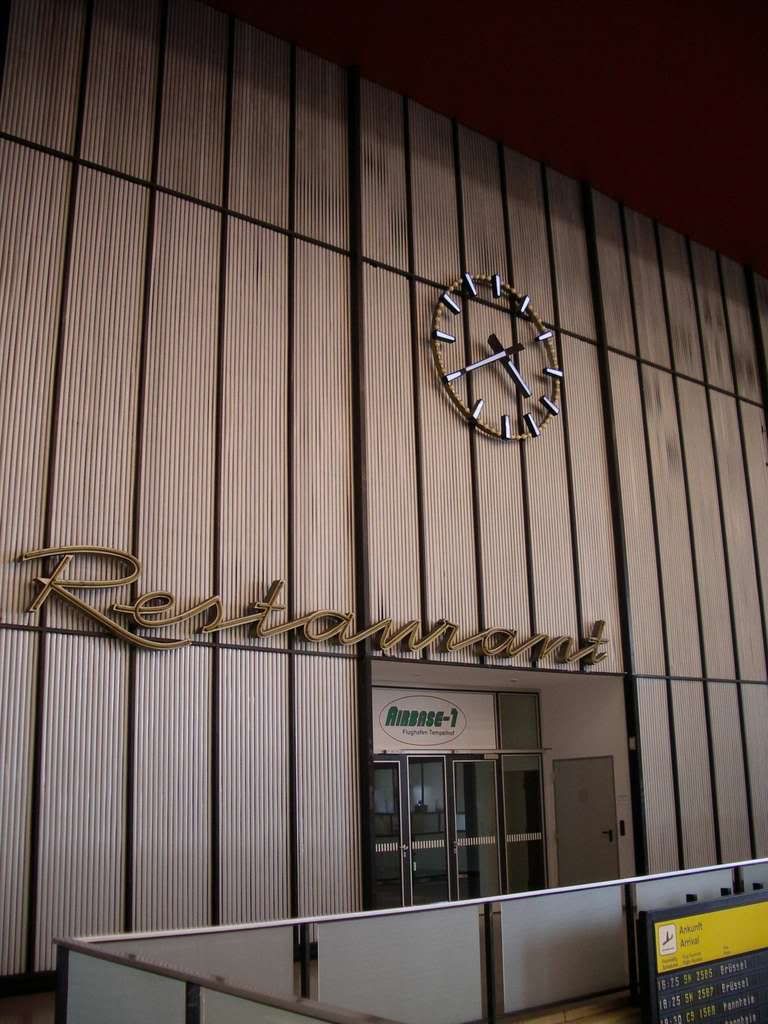 The terminal: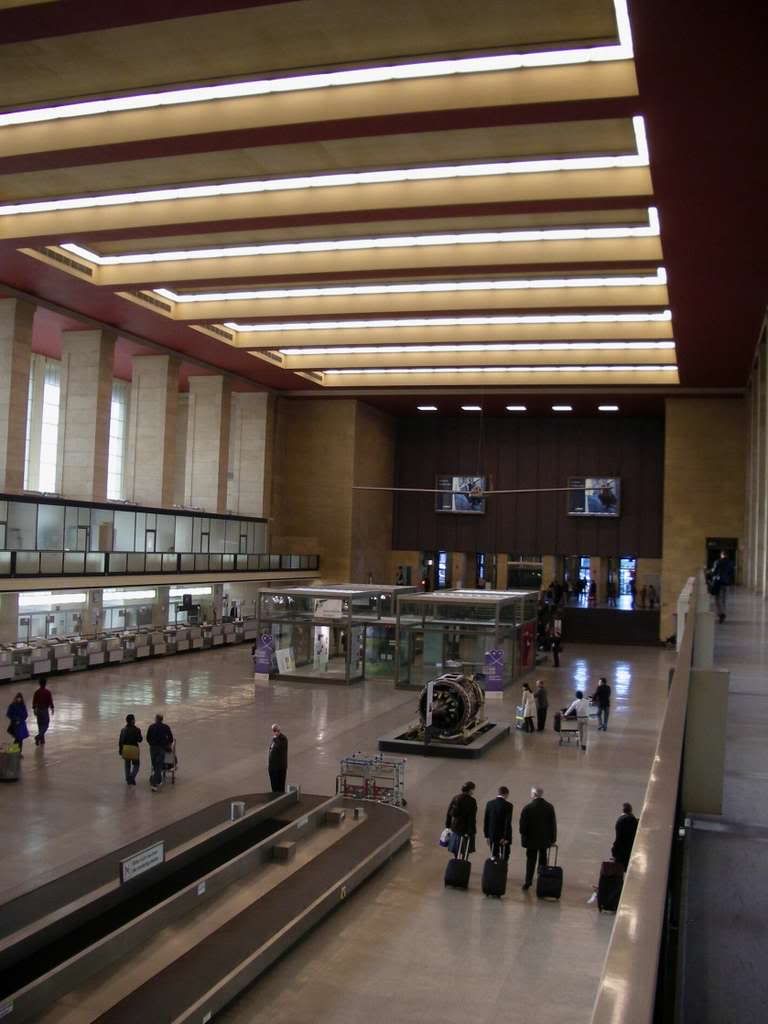 Once more: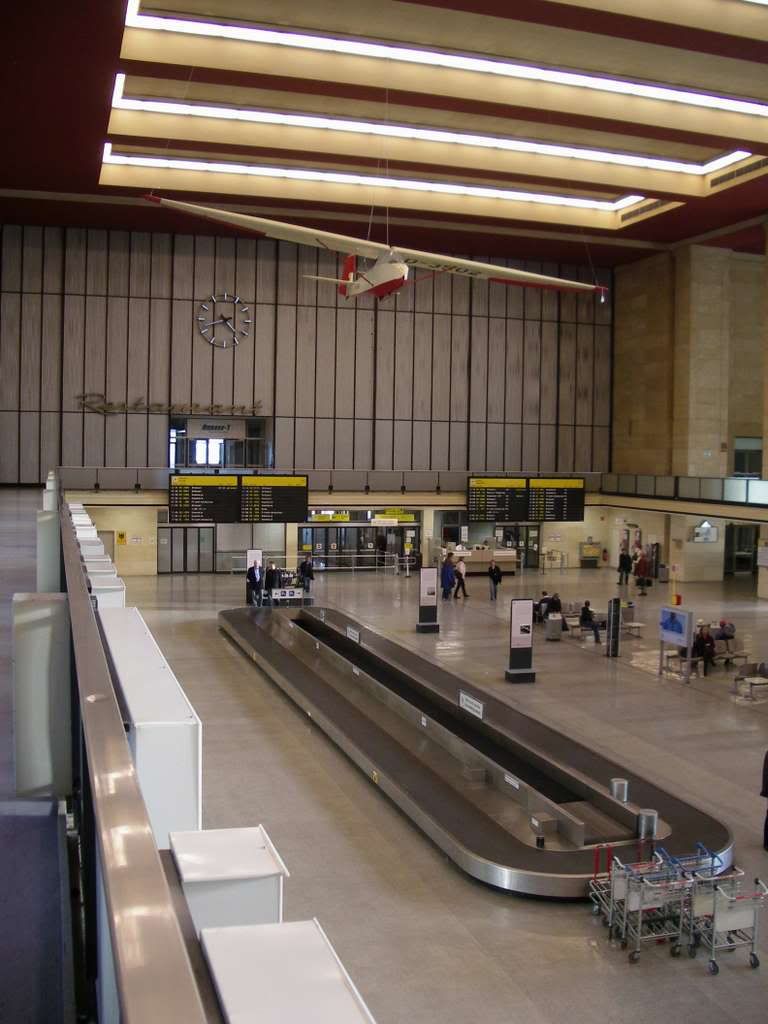 From above:
And the front view: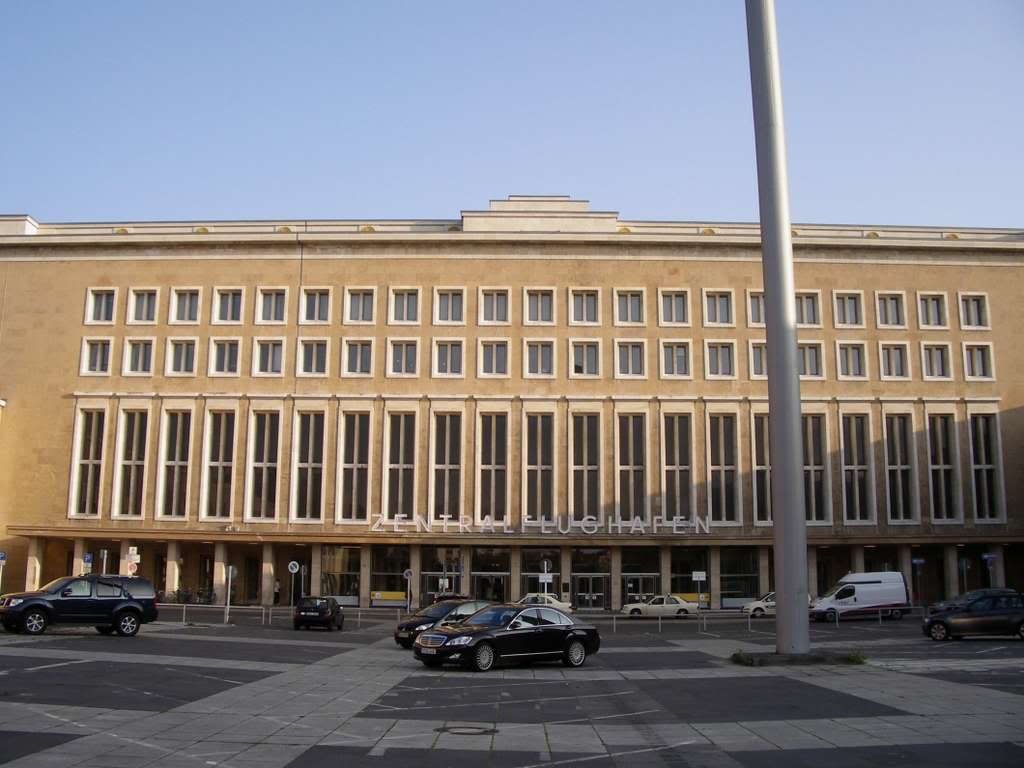 Finally time to leave THF, we proceeded by subway and bus together to TXL where all the flights to STR, LHR and AMS will depart later.
4.)
TXL (Berlin-Tegel) - STR (Stutgart-Echterdingen)
Duration: 50 minutes
Service AB6541 operated by airberlin Airbus A319 D-ABGF
Scheduled: 19.00 // 20.15
Actual: 19.10 // 20.00
Gate: C51 Seat: 25A
Loadfactor: Near 100%
Fare: 7500 miles and 28.-- EUR Taxes and fees
History:
09.07.2007: Delivered to AB
Leg no. 41 on the A319 and the first on this machine
We´re arrived at TXL only some minutes prior to my scheduled boarding time.
Check in was also done online.
So time to say goodbye, pass security again and only two or three minutes later boarding for my flight was called well ontime.
The plane was parked directly ahead to the gate, so self service boarding this time.
While I was on several AB A319´s the last time, I´ve hoped for a new entry. And lucky me, it was a new one.
My ride back home: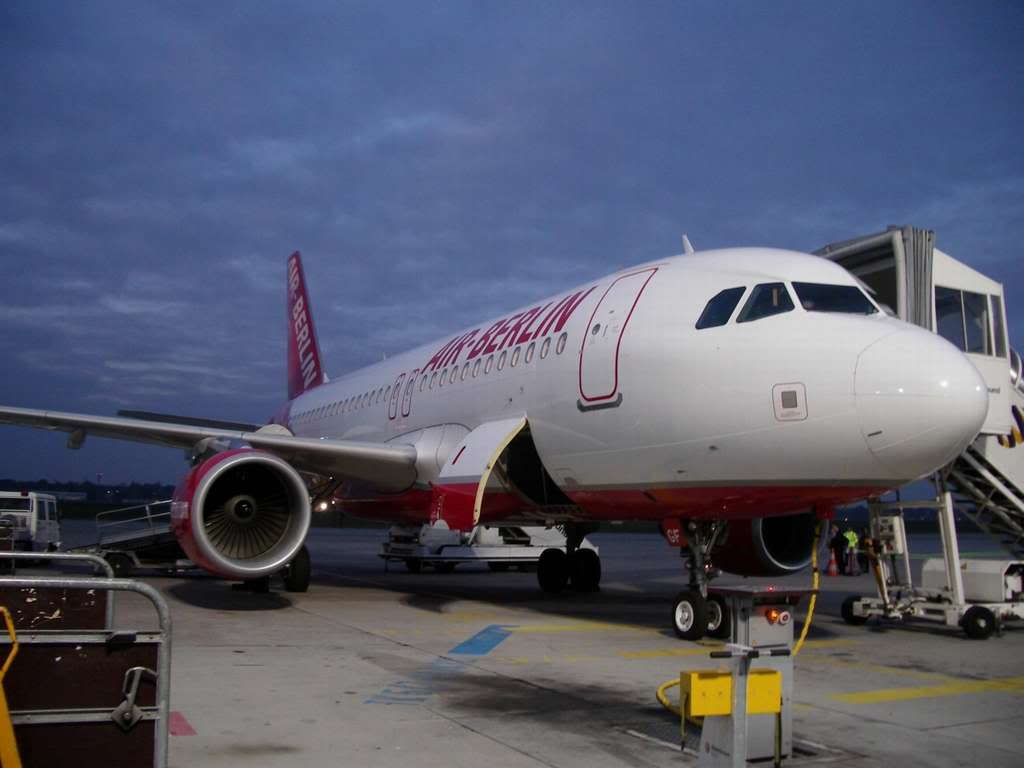 And again: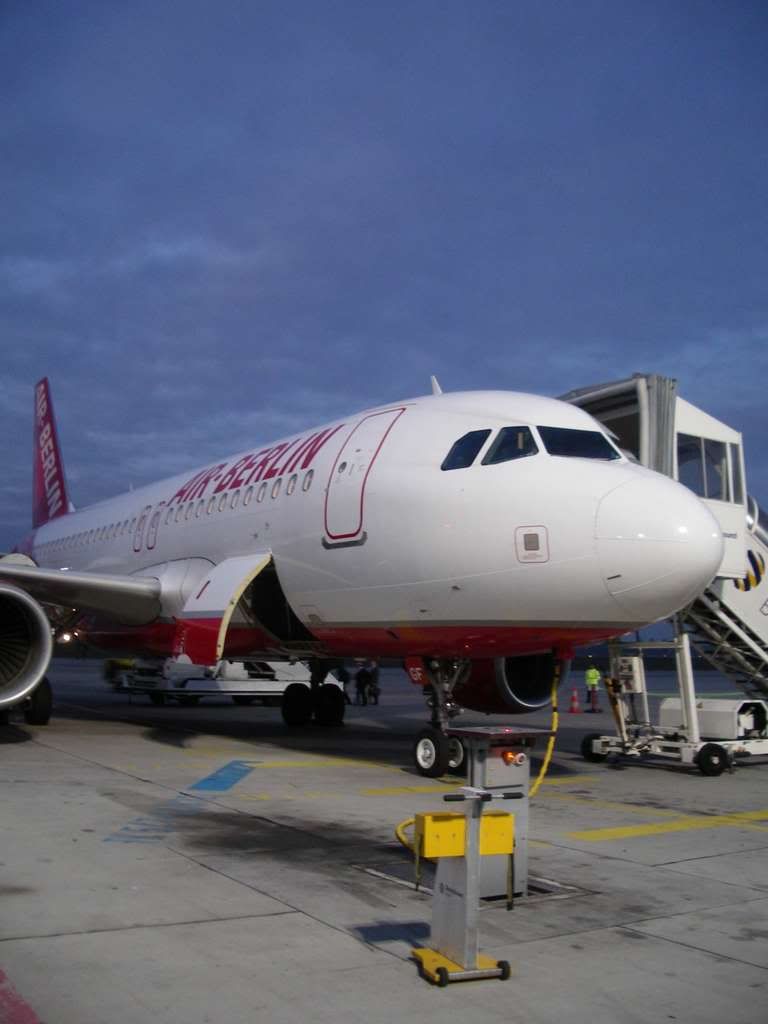 Three female FA´s, friendly so far.
The cabin fitted with bright grey leather seats, clean, legroom ok.
A very friendly and funny welcome from the flightdeck during boarding, it seems the german captain in a good mood today.
Departure from runway 08R quick and powerful, good views on the route, west of LEJ, ERF and further to STR.
Flight level 28.000 feet, free drinks and snacks on offer.
No more comments from the flightdeck.
What seems like an aprroach to runway 25 turned in a STR flyby with a scenic view to the nightly flashing lights of the "Cannstatter Wasen Volksfest"
and later a sharp turn to runway 07. The landing was so soft, nearly no chance to mention the final touchdown.
Once more airbridge deboarding and quickly on the way back home.
So, four new registrations to my log.
I´ve had a flight departing THF done some years ago, but no flight into THF, a real nice experience.
And finally doing this together with two fellow other aviation enthusiasts.
Hey, Mark and Eric, that was a real great day of flying around and meeting you again, guys.
The usual high quality at LH, also not bad to fly BrusselsAirlines, but service need to be updated.
Also no problems there on airberlin.
BRU is a nice place to visit and what about THF:
Immediatelly time to go and visit it with the closure ahead.
Comments welcome,
Markus (FLIEGER67)
Upcoming:
Spain B462/B733/A343
Italy: B738/A109/A109/B738
Greece: B734/B734/B733/RJ100/A306/B735