Hi,
Back in late July, the idea came up with fellow a.net members Flieger67 (Markus) and BA319-131 (Mark) to do a day of flying together, and to include our possible final visit to the soon to be closed Tempelhof, "Zentralflughafen" in Berlin.
Best way to do this travel for a good fare was on SN, out of BRU. This airline will operate her last flights to THF on October 26, 2008 and move to TXL afterwards. The airport (THF) will be closed forever on October 31, 2008 and an important piece of aviation will become history. The airport building is actually the third largest building in the world. Quite amazing!
Flights were secured in no time. We would all meet up at BRU, flying together on the THF run and then split up again and head to our home airports.
Since I had to come from nearby AMS, not too long by car or train to cover the distance, I checked for the cheapest options. Trains were close to 50 Euro's for a single journey, so taking an airline staff ticket on a KL flight to BRU was the better option for me.
Wednesday, October 8th, 2008.

No queues for security, neither at Alitalia's counters!
Passing security at AMS went smoothly this morning. Nice for a change. Long walk to my gate, B27. A busgate located on the ground floor. Many other flights on the Cityhopper fleet departed from here, at least MRS, FRA, LJU, BRE and my flight to BRU. I handed my boarding pass and ticket to the friendly ladies at the counter. Once boarding was called, and all revenue passengers were in the bus, my name came on the speakers to come forward and I was assigned with 8A, a window seat. The seat next to me was blocked off, she said. Nice gesture, and I had a window seat, so all OK with me.
In the bus I got a short ride on the for me well-known apron at AMS. The Fokker was parked at the first row of parking positions, next to the odd PH-MJL (the F100 in white, for short use by KL). I boarded as the last passenger, grabbed one of the many newspapers on offer this morning and was greeted by a friendly purser.

Entrance towards the bus-gates

Boarding PH-OFO, on the commuter aircraft apron at AMS
AMS-BRU
Flight No.:
KL1723
Date:
08OCT08
STD:
0920
ATD:
0929
STA:
1010
ATA:
1015
A/C:
Fokker 100
Reg No.:
PH-OFO
Seat:
08A – Economy Class
My 7th ride on the Fokker 100, and the first on this same machine.
View Large
View Medium


Photo © Jui Kanokwan Seeharat-LadyspotIT
This Fokker 100 flew previously with TAM and joined with KL in 2007.
Doors didn't close, and when I was seated I noticed strange noise outside. I found out that something was wrong with the main gear. A maintenance team from MP was checking and working on it, resulting in nearly 10 minutes delay on departure. These F100's are becoming KL's worst nightmare nowadays!
Business Class, so they call it, was 5 rows in 2-3 configuration. 22 seats sold and occupied. Good load! But Y-class was more convenient. Loaded maybe just over half full, many vacant seats and more personal space for each passenger. Most passengers were originating from the longhaul Skyteam network I suppose, or business men working for the European Union or so. I think that the flights are still making good money for this airline!
A combination of 2 runways was in use for take-off; meaning outbound peak. 24 for the West and North heading flights, so we got 18L, for South and East departures.
Taxiing took about 10 minutes. We passed by some construction works on taxiway-A, and got clearance to start after an Air France A321.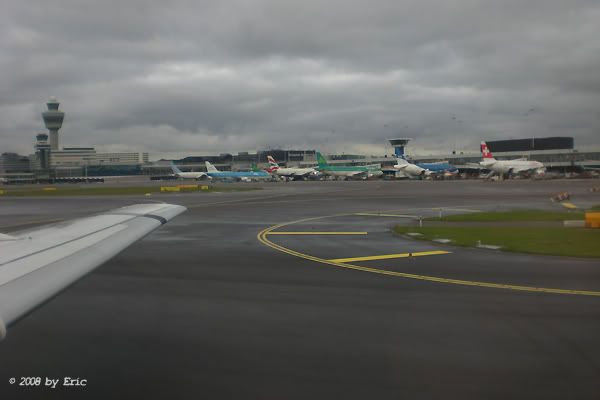 European traffic on D-gates
About 1 minute (!) after being airborne, the seatbelt sign was switched off and the plane levelled more and more. We got in a very slight climbrate, enabling crew to start the service. Estimated flying time was said to be 25 minutes.
The crew were 3 females, who started the handout of a very tiny plastic cup with orange juice, and a small chocolate cookie (Choco Prince, for the Dutch readers). Business Class got the same as we got in Economy. How I know? The seperation curtain wasn't closed. Quite poor for C class. Even on this short flight you might expect at least a sandwich in C-class.
Also a point to mention; there was no inflight magazine 'Holland Herald' in my seat, neither in the seat next to me. Positive to mention is the good seatpitch on the Fokker 100, by far better then on many B737's or Airbuses.
The flight went smooth, garbage was collected by the crew in a plastic bag. Looks a Ryanair style or something like that. Nothing wrong with it, but I didn't expect that on KL.
During descend, we passed over the city of Antwerp, it was good to recognize. At least for me, since I regularly visit this city myself. ANR Airport was also clearly visible.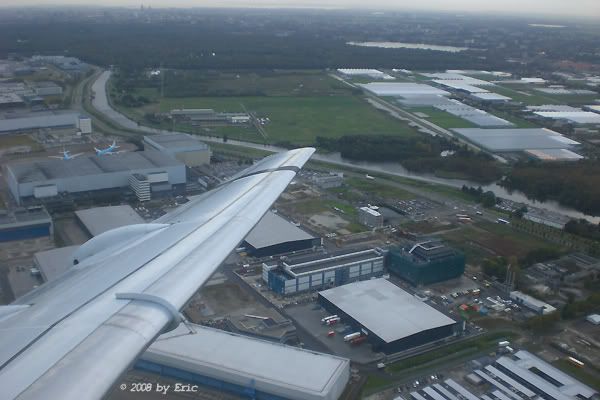 Airborne runway 18L…

Dutch "Polder" landscape below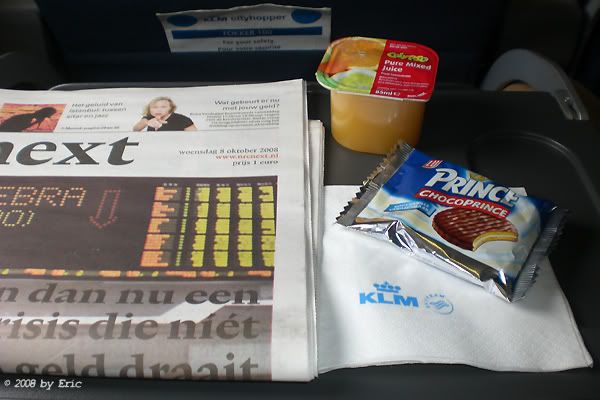 What you see, is what you get, on KLM

Overflying Antwerp Airport (Deurne)
Landing was very smooth and calm, runway 25L. Interesting traffic on the ground. I counted at least the following: (3x SN A333, DL B752 & B763, AA B763, 9W 3x A332 & 1x B77W, UA B772 and the European traffic). Overall it was a calm and quiet airport. We arrived with a minor delay, using the newer terminal. Gate A58.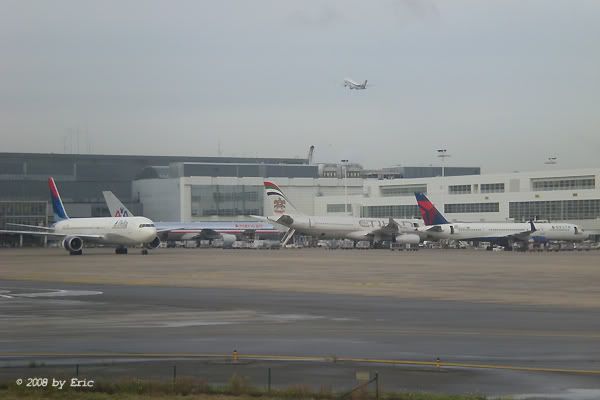 The 'heavy' morning traffic at BRU
After some sightseeing in the beautiful terminal, I went outside to meet up with Mark in the restaurant. Mark arrived from LGW not long before and went for some spotting. Later we were joined by Markus who arrived from HAM and together we spend some more time.
I decided to join SN's Privilege programm and had to change my FFP on this flight. I connected my BA account to this reservation, but the very friendly female groundstaff was willing to adjust these details for. She also handed a new boarding pass. I must say that the staff was acting professionally and with full friendliness, even to me, a b.light-traveller on them.
We all walked together to the A gates. By surprise we noticed that the gate for our flight was exactly the same as the one were I arrived on earlier from AMS. Not much later, we found a gate change for our flight, the that surprise was now gone again.
Mark did some spotting during our walk through the terminal. I was happy to see some
one
world charging stations at BRU. Nice and modern equipment, with a good design.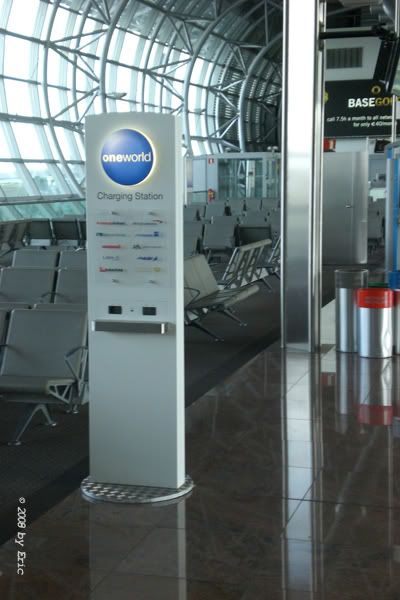 oneworld charging station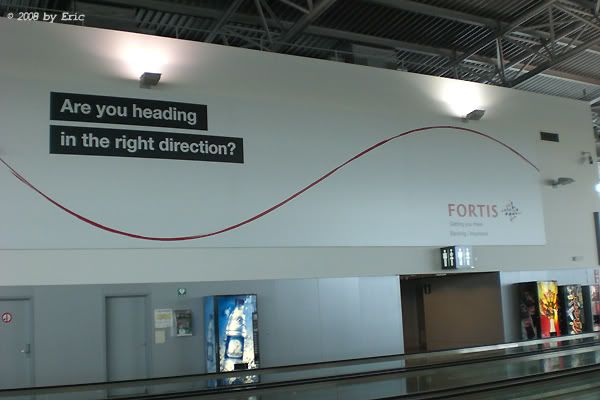 I don't think you're heading in the right direction, right now!
We saw our equipment arriving on the stands, being an Avroliner RJ-100. Quite a shame, since the aircraft shown upon booking and in the various reservation systems all showed the RJ-85, which would be a new type for both Mark and myself. It didn't really matter for Markus – he's a frequent traveller on any plane nowadays it seems
At least the –85 is frequently covered by LH for him. Now, I've to wait until December to score one of these…
The seating area at our gate offered plenty of seats for everybody and gave a spacious feeling. It was a pleasant place to prepare for the flight, until it was called for boarding at 14:50hrs. We all noticed the young female first officer, and somebody on the jump. Probably this younger crew was being checked on the type. Anyway, we felt save with 3 people upfront on the flight!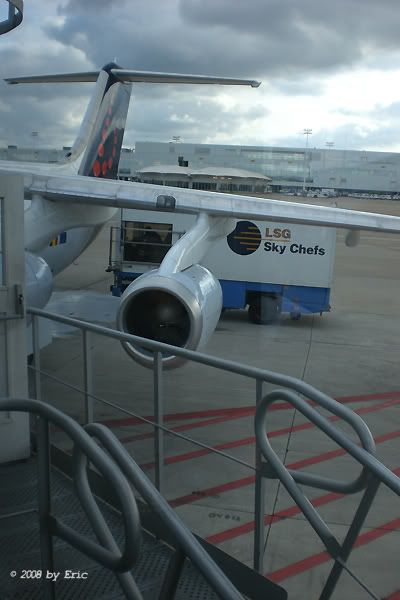 Boarding the Avro…
Boarding was done in 10 minutes. It went all pretty smooth and in order.
BRU-THF
Flight No.:
SN2585
Date:
08OCT08
STD:
1500
ATD:
1507
STA:
1625
ATA:
1622
A/C:
BAe Avro RJ-100
Reg No.:
OO-DWE
Seat:
17A – Economy Class
My 4th ride on the RJ-100, and the first on this particular machine.
View Large
View Medium


Photo © Daniel Werner
This frame was previously flying in the colours of Delta Air Transport and Sabena.
Actual blockout was slightly behind the schedule. After the startup we taxied to the active runway for departures, being 25R. We were followed by D-ADHS, a LH Regional Q400. We had a, at least in my opinion, quite long roll for takeoff. I think the RJ-100 can do it faster to get airborne. Although, this might have to do with the power setting on the engines for take-off and a cost reduction campaign with SN flightcrew. It was all smooth, and after a left turn, it offered some good views on BRU airport.

Lining up runway 25R

Sharp turn left, great views!
The rest of the flight was uneventful. Mostly clouds underneath, and since the crew started a sale of food and beverages on the flight, I decided to try something.
A menu-combo was unavailable for me, since they had no sliced apple in stock. I tried to take a candybar (same price) in this combo but the crew refused to do so. Therefore, I decided to take just a water and a 'Chilli' sandwich (containing piri-piri chicken and some veggies). Price together was 6 Euro's. Not bad, considering the very large sandwich.
Then we come to the payment,… I handed my creditcard, but their machine refused it many times. Then I decided to give my other creditcard. Also refused. I complained about their machine. Later she tried again, then it worked fine. I had to provide a digital signature on a writing pad of the machine. A lot of hassle for this kind of transactions to be honest. And it all took a while, so some other passenger 2 rows behind me was getting hungry by that time
I have to mention the quality of the sandwich: it was fresh, tasty and large sized! Good value for money on SN (when I compare with other BOB food on other companies).

The sandwich that I bought on board
The load on this flight was near 70%, seating was in 2-3 layout. Pitch was quite tight for me, but OK. For future travellers with SN, take a note that seat 7A is at a blind wall, no window on that seat. So avoid it when possible.
Finally it was time for the long awaited visit to Tempelhof. After a nice approach over parts of Berlin, we landed ahead of schedule on runway 09R. A word of welcome to Berlin was done in 3 languages: Dutch, French and German. So I doubt if Mark did understand the situation, being a British traveller on board.

Just before touching the concrete at runway 09R
Parking was under the roof, disembarking at the front and rear door. Enough photo possibilities for us, apron staff was friendly. We noticed quite some other passengers making pictures when they got out. It would've been a unique experience for many, not only for us.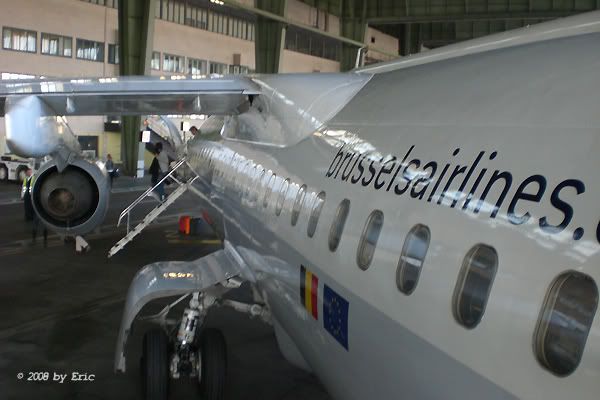 Disembarking OO-DWE at Tempelhof

Parking lot for planes, under the roof!

Let's check if you we charge you for heavy baggage…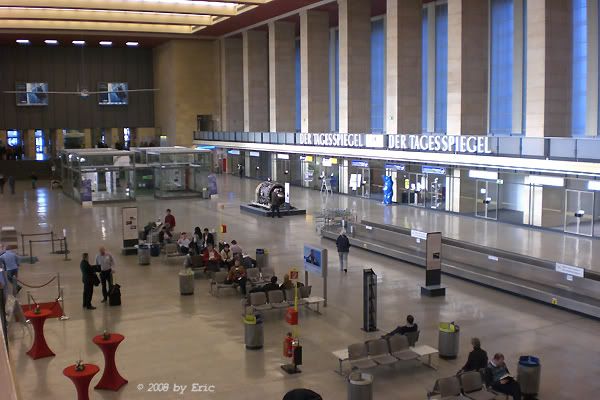 Impressive airport hall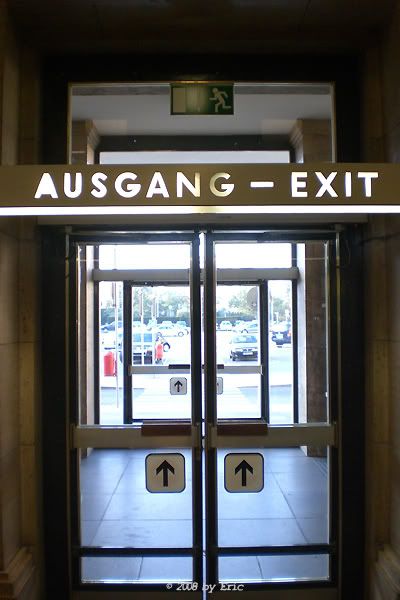 First and last time to pass this exit, for me…

Goodbye Tempelhof
I would like to refer to Markus' report giving some more details on THF:
https://www.airliners.net/aviation-fo...ums/trip_reports/read.main/135337/
After some sightseeing around the airport, Markus was our guide to another Berlin airport, Tegel (TXL). The subway and change at Berlins main trainstation brought us into the TXL-bus which brought us straight to the airport. A packed bus, during the rush hour. Nevertheless, we got some sights on the city, which is from my point of view on of the most interesting cities in Europe.
Once at the airport, it was time for us to say goodbye to first; Markus. He had a AB flight back to STR and we dropped him at terminal C. He finally departed home on an A319.
By that time, Mark and I were having a walk on the observation deck, making some pix of Marks' equipment to LHR later that night. G-EUUI was the A320 he would be travelling on.
Also 2 LH A300-600R's were on stands, always interesting to see.

G-EUUI at the gate, will operate to Heathrow later that night
I also had to say goodbye to Mark, his flight was due to leave soon. Just before, I came with him in the BA Terraces lounge, being a guest on his account. A nice and friendly gesture, thanks! I was able to relax for a while, read the newspaper I got earlier that day on my KL flight, and enjoying my deserved German beer for the day.
Although, after the BA flight left, and an IB service to MAD, I was the only remaining person in the lounge, feeling myself a bit more uncomfortable as a 'guest', and since my check-in was opened as well, I decided to leave also.
My flight was also leaving from the 'low cost' terminal C, checkin for transavia was done at 2 counters.
I was informed about the exit rows by a good friend of me, and cabin crew on HV. He said, take row 11 when you're on a –700. So I requested this row, and got my window seat. Friendly staff.

Terminal C @ TXL
Security was a breeze, very quiet and super friendly staff! This HV flight, is almost the last departure out of TXL that day, with another scheduled departure 10 minutes later, the NB flight to CPH.
Not many pax in the waiting zone, seems to become a quiet flight back home.
My aircraft arrived at 21.04 hours from AMS, parked on the apron. Boarding started at 21.15hrs, 2 buses for the pax and delivery to the aircraft. I noticed a document stating a load of 75 pax on this flight. As my aircraft was a B737-700 with 149 seats, the load was just over 50%. Quite bad! With these loads, I wonder when this route will be discontinued.
Boarding by stairs, front door only. Greeted by a cabin crew on the apron. And again when entering the aircraft. I was shocked to see that my friend gave wrong information and that row 11 was a 'normal' row, and row 12/13 were the exit rows. My seat didn't have recline as well for this reason, so for future travellers; avoid row 11 whenever possible on these aircraft
For my flight, I accepted it for the short ride.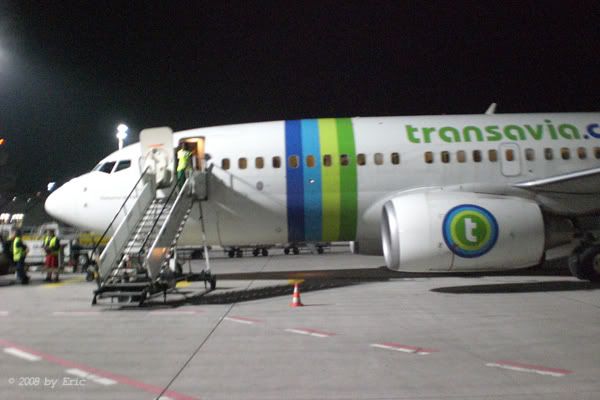 Boarding for Amsterdam
TXL-AMS
Flight No.:
HV6876
Date:
08OCT08
STD:
2140
ATD:
2137
STA:
2300
ATA:
2250
A/C:
Boeing 737-700/WL
Reg No.:
PH-XRX
Seat:
11F – Economy Class
View Large
View Medium


Photo © Adam Rowden
Delivered factory new to the airline in April 2003.
My 1st ride on this machine, although my 94th flight on a Boeing 737. (I won't make the 100 this year)
Doors closed early, clearance for departure and pushback also early and ahead of schedule. So far, so good. Safety demo on drop-down screens, all clear. Checks were performed by the crew (2 females, 1 male/beginner).
Seats 10A/B were very annoying for many pax, with their few month old child crying the whole cabin together. This made me decide to play my audio on my cellphone (in flight mode), although officially this isn't allowed. My neighbour in 11D was doing exactly the same by the way. I think everybody can imagine how annoying these crying babies can be on a very late evening flight and being tired after so many travelling.
Takeoff was from runway 08R. During the uneventful flight, videos were playing, e.g. a insight view on the airline, and 'Joey', a comedy. Food/Drinks for sale, they didn't sell well on this flight. Crew disappeared in the forward galley, chatting all together in sight of all the passengers. I can understand them actually, it's quite boring for them as well on such a flight.
The captain came on the speakers, mentioning about our landing which was due. Winds from the Southwest at AMS, and we would be landing in Northeast direction. Nice, I thought, tailwind…. Taking into consideration that it was near winds calm, it wasn't a problem of course. So, landing was done at runway 06, being a very smooth landing, I almost didn't notice the contact with the runway.
Taxiing was done in a minute. Parking was at C13, one of the closest gates after vacating runway 06. Connecting the passenger bridge took a while (common thing at AMS it seems), but finally I made it into the terminal. I was back home 30 minutes later by my own car, just before midnight, and I was able to take my rest. Next day was in the office again….
To conclude, I can only say that it was a great day. Nice to ride the Fokker 100 again, short flight, and I was lucky not to experience any problem on the KL F100 (KL put some mainline B733's in the cityhopper network to cover up the technical delays in the F100 operations). First time on SN was pleasant, want to fly them again. Staff overall friendly on the ground, on board just ok. Interesting equipment for me. Transavia was just to suit my needs. Fare was the cheapest available to me, but I wouldn't recommend them when it comes to seatpitch, prices on board etc. HV lately faces some issues (technical/operational) on the B737's as well, creating some major delays in their operations from time to time. But usually, this is a very reliable leisure & no frills airline from Holland.
Your comments on this travel are mostly appreciated. Thanks for letting me know!
Cheers,
Eric