Hi
Time for another report on one of my latest travels. Since LA was operating a inner-European stretch on their A340-300, is wanted to fly on this aircraft. Until then, the A340-300 was still missing in my log (only few the A346 twice before), and LA is an interesting carrier as well. Timing of the flight, to combine it with other flights on a one-day-trip was good, and I looked into my possibilities, for a reasonable budget of course.
Booking of the LAN flight was done easily on their convenient website. Connecting flights were too expensive so I grabbed my hands on some oneway staff tickets via my employer.
The travel took place on July 22, 2008. Checked the early morning flight on KL, being quite full and therefore a risk to be offloaded. IB was full too, only C class available. Let's take the chance on their A321. Since I travelled IB not too long ago before (sorry guys, tripreport will come online later), I know that the legroom on IB is pretty good in Y.
I listed myself on IB, went to their check-in counter at 0730 hours and got a boarding pass without seat assignment. This is quite usual, when travelling as sublo.
Security was convenient, I have to say. Can be different some days at AMS. Without stopping at the taxfree shops or Starbucks, I went to gate B12. The A321 was already boarding.
I called at the desk, mentioned my intentions to travel on this flight, and got seat 28B assigned. Such a bummer, in a middle seat in the back of the A321. I don't like A321's in the rear cabin. They can be quite uncomfortable when you ask me.
I requested any other seat, got the reply that the flight was full, but nevertheless the lady printed another boardingpass with seat 8E, 'window seat' on a 2 seater-row. Flight attendant would be my neighbour in opposite direction. I was happy again
Boarding was done in a minute, my neighbour was a 4 year old boy (his mother was in row 10B). He was doing fine, only interested in his PSP and sometimes asking me questions about the aircraft and the flight to me. Doors closed, newspapers (also Dutch ones) distributed and staff was overall very friendly.
AMS-MAD
Flight No.:
IB3215
Date:
22JUL08
STD:
0805
ATD:
0809
STA:
1030
ATA:
1057
A/C:
Airbus A321
Reg No.:
EC-ITN
Seat:
08E – Economy Class
My 10th ride on the A321, and the third (!) time on this same machine. My other 2 times on EC-ITN were in June 2008…
View Large
View Medium


Photo © Karl Nixon
Not too happy with being again on this aircraft, I was happy enough to be on the way to catch my ride on the LAN A340. A little ATC delay on departure, assigned runway in use was 36L, meaning about 20 minutes taxiing. Takeoff delay was finally more then 30 minutes, caused also by the busy morning outbound peak at AMS.
Takeoff roll was quite long, good load (aprox 99% of the seats occupied I think) and might be with reduced powersetting on the engines for cost saving by IB.
My seat had no direct window, and I was only able to look a bit through the tiny window in the emergency exit. Anyway, I had my newspaper, brought my musicphone, played on my own PSP, and slept a bit more. No free service on IB nowadays in Y. Crew came around with a BOB (Buy on Board) service. I had a coffee, which costs EUR 2,-. The crew automatically provides me with a receipt, also stating the flight number. Pretty good I think, especially for the people travelling for business and need a money refund by their employer.
Cockpit crew came with inflight information, in clear understandable English language. We flew at 33,000 feet, ground speed was 910km/h, outside temperature -46 degrees Celcius and we flew over Paris, heading for San Sebastian and then descent to Madrid. We would arrive delayed and they apologized for it.

A smooth ride, overflying France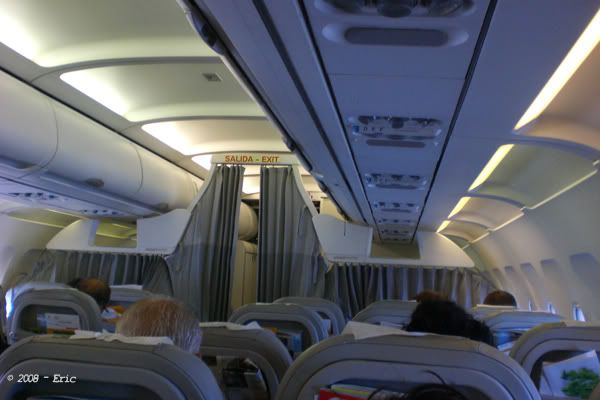 Cabin view on the Iberia A321

Approaching Madrid Barajas …
And so it was, we had a descent with occasionally moderate turbulence into Madrids runway 18R. The actual landing was rather smooth. The weather was good too, sunshine everywhere and it seemed to be quite hot outside.
We docked in at Madrid's beautiful terminal 4, gate J57 (spot 344 if I remember correctly). Upon disembarking, friendly greeted by the senior cabin crew.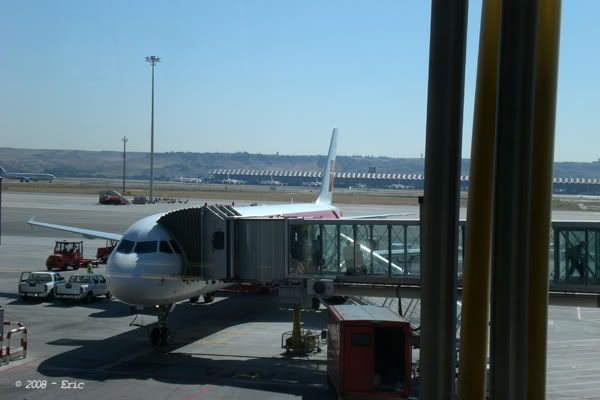 EC-ITN parked at the gate, after arrival from Amsterdam
At MAD, I was looking for a check-in/transit machine in the airside part of the airport. This was not possible. Since LA is part of
one
world, IB as well, and I'm working for a
one
world company as well, I decided to go to the IB assistance desk. Staff was very friendly and willing to help me. But after trying several times, the lady explained that checking me in for the leg to FRA was impossible due to another system. I had a nice chat with her, since I was not happy with this situation. She understood my opinion, and I think the alliance has to improve more for passengers convenience.
So finally I had to enter Spain and proceed upwards again to departure level to check-in for the LAN flight. Also here, I did not find any self-service kiosks. On the other hand, a well designed and styled LAN desk/counters were available, but closed. I checked with LA staff, and they said I had to wait for another 20 minutes until opening. So I did and the desk opened indeed at exactly noon.

Check-In counters for LAN at Madrid Airport

More LAN at Barajas …
Friendly staff. I informed about the incoming arrival from SCL, and the lady replied that the flight was on time. I got my requested seat, window, and in the rear part of the cabin.
After check-in, I headed through security. Grabbed a lunch at McDonalds, and then proceeded to the satellite building of Terminal 4 → T4S. Also the satellite building is convenient and gives a spacious feeling. Very good views on the apron and runways. Lots of seating for waiting passengers. I enjoyed watching the variety in traffic at MAD, and also saw the LAN A340 arriving from SCL. Not long before, also a LA B763 arrived.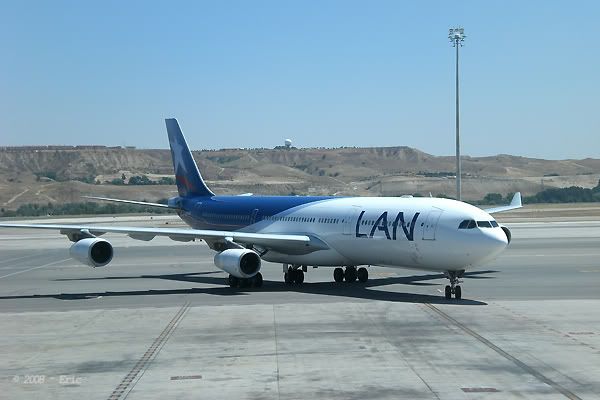 … and more : the A340-300 arriving from Santiago !
It parked at gate R18, but the gate on my boarding pass showed R16. And yes, a while later, the screens showed a gate-change for my flight indeed.
During disembarking, I noticed a real lot of passengers getting off at MAD. I wonder if any of those were in transit for their onward flight to FRA or if they stayed in MAD/connected to other flights.
Boarding eventually started at 14.50hrs, well arranged by the ground staff. Business class uses a separate lane. Three groundstaff for this process. I overall got a good impression. It all went smooth, and during boarding the aircraft, I was greeted by a male cabin crew.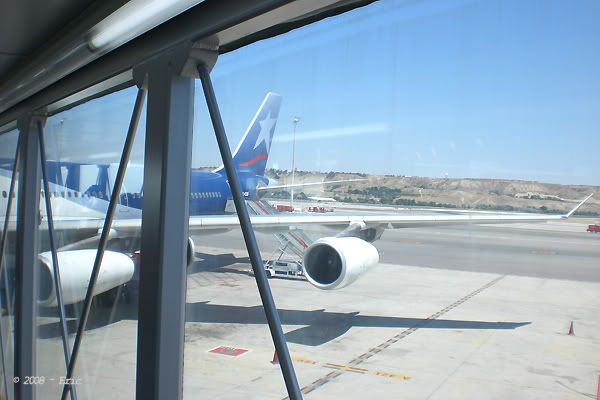 Boarding!
MAD-FRA
Flight No.:
LA704
Date:
22JUL08
STD:
1515
ATD:
1542
STA:
1750
ATA:
1816
A/C:
Airbus A340-300
Reg No.:
CC-CQF
Seat:
37L – Economy Class
My 2nd ride on the A340-300, first on this machine.
View Large
View Medium


Photo © Andrés Contador - AirTeamImages
First impressions on the cabin were a bit boring. I don't like the purple/greyish interior colours.
I went to my seat and greeted my German neighbour. Layout was 2-4-2, and I took my window seat. I've to mention that the seatpitch in Economy is pretty tight and one of the worst I've ever experienced on a longhaul aircraft. The seat provides a plug for earphones and minimal recline. It also offers IFE, but not with the largest screens.

Boring colour setting in the cabin

Personal IFE screen
I was very surprised with the load on this flight. Boarding finished on time, and I think the cabin was almost fully booked. I didn't notice any available seats. The captain informed us to relax a bit and that we had to await ATC clearance due to congested traffic above mid-Europe. I think that we got a slot.
The cabin crew handed out blankets and free headphones. Nice, for such a short flight. Pushback was done a little 30 minutes late. After starting up the engines, runway 15L was ours for departure. The distance from our gate to the runway was short, and we were airborne a few minutes later.

Taxiing out for departure
The climb was rather slow, something I expected on this machine. On the other hand, my experience with IB on also an A340-300 was somehow different. The air around MAD was still unstable, and we occasionally hit light turbulence after departure.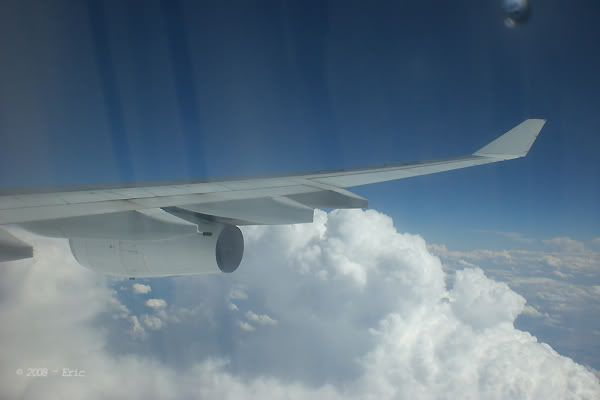 Once in the air!
Service started a few moments later. From the front to the rear, the very attentive cabin crewmembers handed out meal-trays. I was pleasantly surprised by this service level, since I didn't expect it (to be honest).
The tray consisted of a fruit salad, a sandwich with ham, and a vegetarian wrap. Additional a cup of water was given, as well a drink of choice. I had a white wine, which came in real glassware. LA also provides metal cutlery.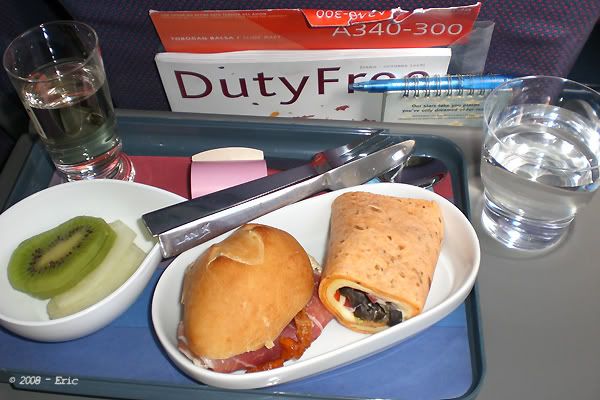 Time to eat! Good food on LAN …
The flight went smooth, passed near TLS (I actually saw the airport and Airbus factory), passed by the famous "Millau viaduct" on highway A75 in France. I still have to drive over it myself some day! It's a fine piece of architecture! Then we flew over the Swiss Alps, and I easily recognized the cities Thun, Interlaken and Brienz, as well the Brienzersee/Thunersee below. Unfortunately, the Jungfraujoch was in the clouds. The flight continued and passed by Stuttgart, were I waved to Flieger67, and further descent to FRA. The arrival procedure was rather interesting, since I was able to see the airport completely on my righthand side. After continuing this approach path for about 10 miles, the Airbus made 2 sharp right turns to pick up the glideslope for an runway 07L approach. Some light bumps hit the A340.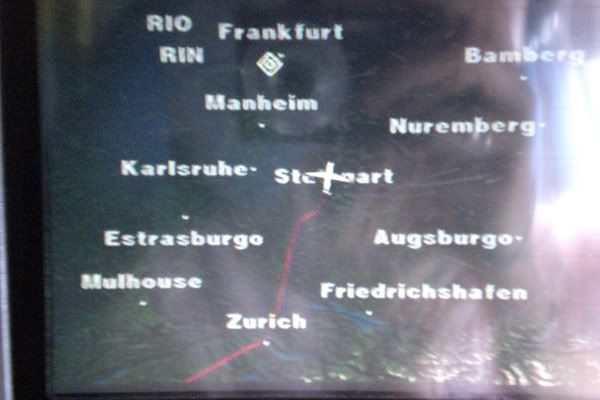 "Hello Stuttgart"

Final turn for a runway 07L approach
Landing was very smooth. We quickly vacated the runway and stopped immediately on the taxiway. Heavy traffic (A340) was departing right behind us, also on runway 07L. Due to traffic we had to hold our taxiing to the gate. After some minutes more delay on the ground, we finally blocked in at, I think, the A380 gate at FRA (not sure about the gatenumber though).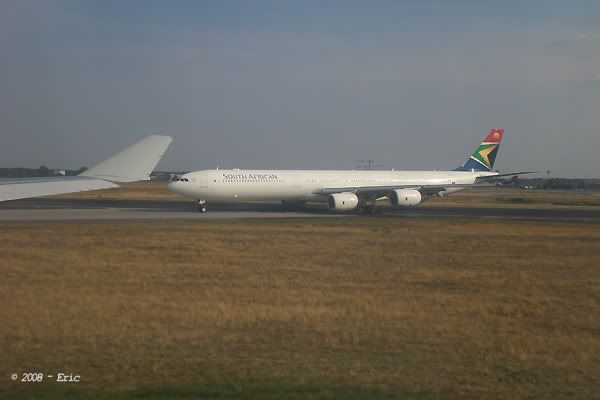 This big sister came in as well
Disembarking took a while, since I was far in the back of the aircraft. When leaving the aircraft, I did not notice a friendly goodbye or something like that. The crew did their great job already inflight.
After landing at FRA, it was time to go home of course. But, this was one of the announced days of strikes at German carrier Lufthansa. Since I couldn't connect timely on the last KL flight, I had to put my money on LH's last AMS bound service that day. I really hoped that the disturbance for other flights was minimized during the day and no cancellations on earlier AMS flight happened.
I checked at a very quiet LH transfer counter, located somewhere between terminal T2 and T1, basically friendly staff. I tried to talk a bit with the male agent, in my best German language. I informed a bit about the strike and the situation, but he did not reply much to me. Finally he gave a boarding pass without seat number and wished me luck.
I had a large beer at a bar near the A-gates, good views on the taxiway and runways. I saw also a lot of interesting traffic, including JL B777-300ER, OZ B777-200ER, CA A340-300, KE B747-400. Also the LA A340 which brought me in, departed back to MAD and SCL.
My flight to AMS would leave from gate A36. The gate was conspicuously quiet. When the single male gate agent showed up, I introduced myself and requested a seat. He did not give a seat immediately so I settled down again. Boarding started at 20.50 hours, finished 10 minutes later. Light load, for sure!
I finally got a boarding pass, window seat, quite in front of the cabin. Good thing, since the flight was on an A321 again.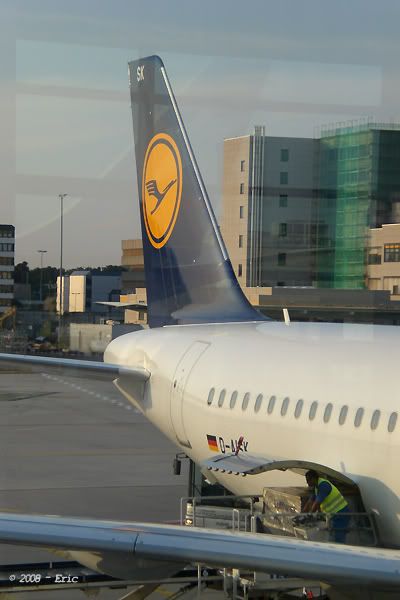 The A321 being served, prior to an Amsterdam bound flight
FRA-AMS
Flight No.:
LH4688
Date:
22JUL08
STD:
2110
ATD:
2106
STA:
2220
ATA:
2209
A/C:
Airbus A321
Reg No.:
D-AISK
Seat:
12A – Economy Class
My 11th flight on an A321, first on this very new machine.
View Large
View Medium


Photo © Florian Kondziela
I was friendly greeted by the cabin supervisor, and another female crew in the second galley. The cabin was very lightly loaded with passengers, seated at every 2 or 3 rows. I guess about 50 or 60 passengers on this rather large Airbus. Did they rebook everybody? Was everybody afraid of flying LH that day? Anyway, this would become a comfortable flight for me.
The crew started with apologies for the lack of catering on the flight, caused by staff on strike. Nevertheless they would be able to provide a small snack instead.
Pushback was ahead of schedule. Cockpit crew announced a flight time of 45 minutes only, and wished us a good flight to Amsterdam. The A321 taxied to runway 07R, which was a pretty unusual choice in my opinion.
Once in the air, the crew started a handout of sealed plastic bags with some food items.
This included a cup of water (0,2l), a small sausage, a cake and a piece of rye bread. Pretty good actually. No further service, also no coffee/tea.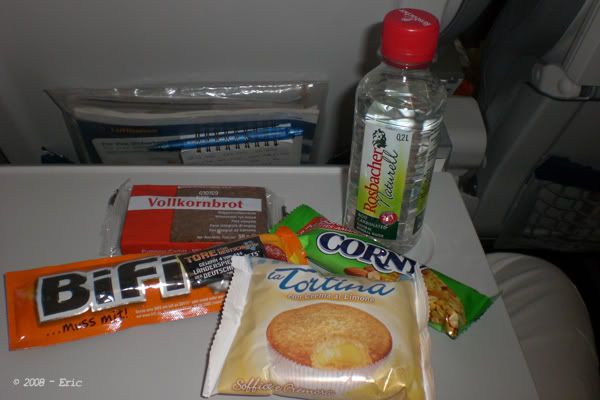 Contents of the snack-package on Lufthansa
The flight was pretty smooth, quiet, uneventful and pleasant. I listened to lounge-music, which totally corresponded with my overall feeling at that moment.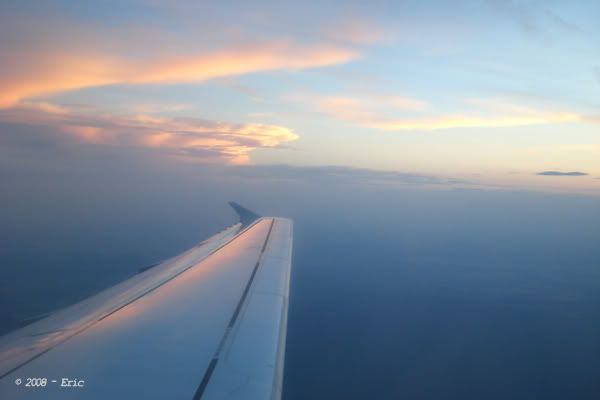 Some CB's around, that evening the eastern part of Holland was hit by severe thunderstorms
Approach was for runway 06, nearly passing over my own house, followed by a touchdown ahead of schedule. A friendly goodbye was given by the crew when I got off the aircraft at gate B13.
This was a day that ends well, another day of travels finalized. The LAN A340 is in the books, as well a few others. Happy with a good seat on IB, happy to see LH operating as normal on this day (for me), and happy to be home again after a tiring day.
I hope this report gave at least some idea about the LA service and possibilities to enjoy a route like MAD-FRA v.v. more on this Argentinean carrier then on e.g. LH or IB.
Thanks for reading and your feedback.
Cheers,
Eric