GLA-YYZ
30th September
G-FCLJ
STD- 1305
Actual- 1315
STA- 1535
Actual- 1615
View Large
View Medium


Photo © Eric Fortin - AirTeamImages
The departure time meant my alarm was set for a relatively civilised time, unfortunately it also meant we'd be hitting the M8 towards the tail end of the morning rush hour since we were coming through from Edinburgh. In the end the journey from door to door took almost 2 hours, so not great at all! The problem is GLA is on the West side of the city so in order to get there from the East (Edinburgh) you have to plough straight through the city centre which at that time of the morning is slow going to say the least!
This meant it must have been about 1115ish when we checked in at 'T2' at GLA, which isn't actually a terminal at all it's just a shed adjacent to the main terminal housing extra check-in desks.
Was surprised to find no queue waiting for us, but wasn't going to complain. Hadn't pre-booked seats so were assigned 23AB and 24AB which was fine, as long as I had a window seat.
Now checked-in we headed back to the main terminal to proceed through security. There wasn't much else happening at GLA there was no departures at all between 1120 and 1220, the only other flight checking in other than the usual BD and BA stuff was EK which had 9 desks dedicated to it!
Through security with no queues or problems to report and into the departure lounge. I'm not a fan of the airside layout at GLA, they have seperate departure lounges for internationals and domestics with seperate security points for them, and with pretty limited facilites it has to be said, thankfully it was quiet because I could imagine the main lounge being very crowded when there's more flights.
The good news is BAA has just about completed the 'skyhub' project which is going to provide a centralised security point and I'm sure a much improved airside experience.
We headed down the pier to the gates about 1205, which is what they had said our boarding time would be, although I knew that was optimistic and we would be lucky to be boarding more than 45mins before. I think it was only our aircraft and a US B75W on the pier at the time.
Right enough boarding didn't start until about 1225ish, after the preboard they boarded by seat row number, being quite close to the back we were in the first group. First impressions were postive, other than the fact we were in the 2 rows immediately infront of the toilet. The legroom (which Canadian Affair pushes as the big selling point on these flights) was great as expected with everyone being treated to emergency exit row levels of legroom. The seat pitch is advertised as 35", and I'm about 5' 10" and could stretch out fully without hitting the seat or intruding on the person in front. The leather seats were comfortable enough too, so overall probably the most comfortable I've been on any aircraft before.
Boarding must have finished about 1250 (I noticed the EK B77W arriving about this time too) however the fueller wasn't finished until 1305, how he could have finished up late considering the aircraft had been on the ground since earlier in the morning I don't know...
The Captain came on the PA to introduce himself and the rest of the crew, to explain we were still waiting on the fueller, and that the flight today would be somewhere in the region of 7hrs 40mins due to strong headwinds.
We were closed up as soon as the fueller had finished and the paperwork had been passed to the flightdeck, and off blocks about 1315.
Taxiing out to r/w 23 I thought that with a full passenger load, and a longer flight today hence a heavier fuel load we could be in for a long run. Passed the EK B77W on stand, an impressive machine, looked like there was quite a lot of cargo going on too, I counted about 7 big pallets waiting to be loaded.
We had to hold for a Loganair S340 in front of us to depart, and then for another one to land. After that we were good to go. Was surprised to see us backtrack, as I thought GLA had parallel taxiways. Having now looked at a GLA taxi chart though it would seem we had held at B1 instead of A1 for some reason, the taxiway up to A1 looked pretty narrow so is it the case that only smaller aircraft can use A?
http://www.egpf.co.uk/
Is this a regular thing for the heavier stuff to do though?
After the surprise backtrack, I was then even more surprised to have the Captain hold us on the brakes while the engines were spooled up to take off power, I thought we were heavy, but not that heavy, and GLA has ample runway length for a B752!
The take off run did feel pretty long, and we weren't airborne until just after the international pier. I'm not sure if that could be classed as a long take off run or not to any GLA locals?
Our routing would take us close to PIK, Belfast and Shannon before heading out over the Atlantic. We would be shown 3 films (Ironman, Dumb and Dumber and Kung-Fu Panda), which I thought was quite good going, something for everyone. I watched the first 2, sure a PTV would have been better but it didn't bother me not having one, and I would happily trade one for the extra legroom we had.
The crew first came round with a drinks cart since all drinks are charged for. We were then served a hot 'meal' about 2 hours into the flight which consisted of a small salad, chicken in a white port sauce and veg, a roll, cheese & crackers, a mango/passionfruit cheesecake thing and a very small 'tub' of water, I wouldn't call it a bottle lol. It wasn't too bad actually, by airline food standards.
The flight was rather uneventful, the skies below were pretty cloudy and there was very little turbulance. The highlight of the flight would be this though, something I had been hoping to see. I caught sight of it (Swiss A340) on the horizon and gradually got closer and closer until they went right under us at what I'm sure must have been minimum vertical seperation. A very cool thing to see: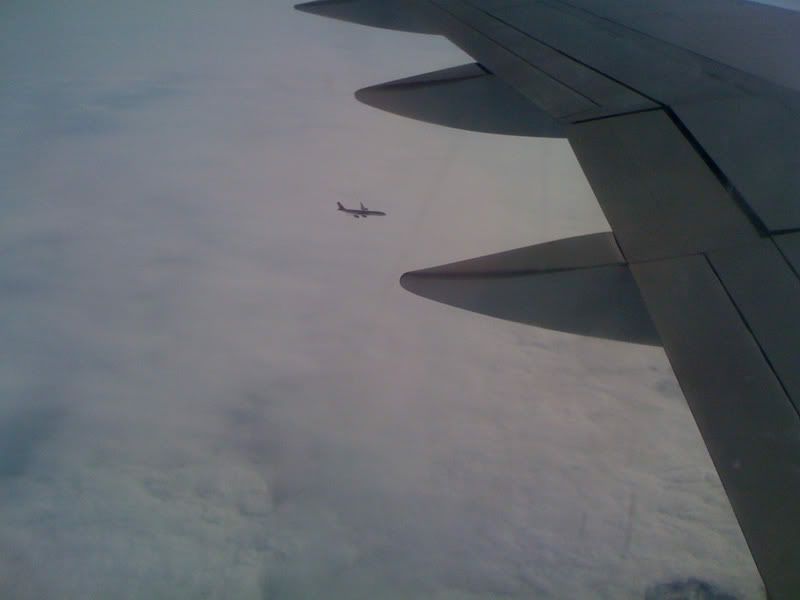 Shame the photos actually make it look furthur away than it was!
The Captain came on to give use a brief update, we had initially been at FL330 but had now made it up to FL380 and the crew came around with another drinks/snacks cart.
About an hour and a half to 2 hours before landing the crew came round with another hot snack, this time in the form of pasta in a arrabiata (basically tomato/garlic) sauce, another roll and crackers and a terry's chocolate orange segment (not a whole one unfotunately
). Again this was perfectly edible so I can't complain haha.
After that they came round with the duty free cart which I didn't bother with.
I spent the rest of the flight listening to my MP3 player and admiring the view, by now we were over land with some great views over the Eastern seaboard of Canada as we flew down the St Lawrence and then over Montreal. It had clouded over again by the time we had started our descent into YYZ, we did manage to get a great view of downtown Toronto in the distance once we were through the cloud on final approach though.
We landed on 23 (I think) and taxied in to our stand at Terminal 3, I noticed a KL B744 landing just after us. We were on blocks at 1615, which meant a block time of exactly 8 hours, give or take a minute or 2, so a long flight indeed. Only had to wait about 5mins to clear immigration, minimal wait for our bags (just as well because baggage reclaim was a rather gloomy, depressing looking place) and then straight through customs.
Overall it was a good flight, no complaints. The crew did their jobs well and I was as comfortable as I've ever been on an aircraft so the 8 hours passed quickly enough and I wasn't dying to get off so I could move again, the extra room really does make all the difference.
YYZ-GLA
9th October
G-FCLH
STD- 1740
Actual- 1733
STA- 0520
Actual- 0450
View Large
View Medium


Photo © Sven De Bevere
After an enjoyable stay in Canada it was time to leave, it would have been better if the departure was later but beggars can't be choosers. We were at check-in about 3 hours before, with only a small queue it wasn't long until we were checked in. No seats pre-booked again so we just took what was left, which in this case was 28AB and 29AB. There seemed to be a few security points to choose from, the one we went through was quiet so no hold ups there.
We now had quite a lot of time to burn which I mainly spent keeping an eye on the movements, and with one last trip to Tim Hortons for some Timbits. Anyone who hasn't had them, you're missing out.
Our aircraft landed about 1545 if I remember rightly, shortly followed by the KLM B744 again which it came on stand right infront of me which was interesting to watch.
G-FCLH arriving
KLM B744 arriving
FCLH during the turnaround
Boarding started at about 1645 I think, we were a bit furthur back this time in the rear section of the aircraft. I quite like it there because with the toilet/closet acting as a bulkhead from the rest of the cabin is feels a bit more peaceful and chilled out. However for some reason this aircraft was without overhead airvents, not a major issue but I would have preferred to have had one! Anyone know why there wasn't any? I didn't think overhead airvents were an optional extra?
The Captain introduced the crew over the PA and described the routing we would be taking which took us out over Montreal to Gander where we'd then cross the Atlantic making landfall North of Ireland this time, over the Hebrides. Unfortunately it would be dark about an hour after departure so we wouldn't actually see any of this.
Strong tailwinds meant a short flight time of just under 6 hours.
No delays to report this time, by the time everybody had boarded and we had closed up we were off blocks nice and early at 1733, it would be another full flight.
We taxiied out to r/w 24R (I think) behind an AC E175 and a Jazz Dash8. We also had to hold for an AC A319 to land, then we were clear to go. After an initial climb we seemed to pretty much level out for a good 5mins as we turned left to head East, giving us a great overview of YYZ and the whole of Toronto in the evening sun. 2 films would be shown on this shorter flight, Chronicles of Narnia and the latest Indiana Jones. I would have watched Indiana Jones but unfortunately they showed it second so I was trying to get some sleep instead.
Very hazy unfortunately:
Just as with the first flight, after having already come round with the drinks cart a hot meal was served about 90mins to 2hours into the flight which this time was beef in an onion gravy with some veg along with the usual roll/butter/crackers/creamcheese, and probably a couple of other things I've forgotten...
Once this had all been completed the crew dimmed the cabin lights and I tried to get some sleep, which was made easier by having ample legroom, I'm sure more seat recline than normal due to the increased legroom(maybe might seat was just broken lol), a blanket and a pillow. But after all that I still only managed to get an hour at the most I think before the crew came round with breakfast about an hour and a half before landing, I'm not great at sleeping when flying, but with the short flight time by the time the dinner service had been completed and the lights dimmed etc, it didn't really leave that long to try and get some sleep until the crew would be serving breakfast.
The breakfast was by far the most questionable meal out of them all, it was meant to be an omlette with beans and something that I think were meant to resemble hash browns, plus the usual things on the side. It wasn't as good as the others, that might have been because I wasn't in the mood for it, breakfast always seems to be the worst, but I ate it anyway.
After breakfast it started to get quite bumpy, enough for the captain to warrant putting the seatbelt sign on for about 10mins. Nothing too major though, can't beat a bit of turbulance in my book lol.
Soon enough we were starting our descent into GLA where we had been advised by the captain that the weather left a lot to be desired. Sure enough, we didn't break through the cloud until we were on final approach and it was pouring down, we had massive vapour streams coming off the wings in the moist air. A very smooth landing on r/w 23 followed with no reverse thrust used, not even idle. Having said that, at the ungodly hour we landed you wouldn't want to be waking anyone up!
We were on stand at GLA at about 0450 so just over 6 hours in the end and a nice 30mins early, as we were the only flight arriving at that time there was no hold ups at immigration or baggage reclaim.
As with the first flight, I had no complaints the crew were attentive, the flight was early and there was that extra comfort on board again. If I was really nick picking I could say I would have liked an air vent and the breakfast was a bit on the dodgy side though.
In conclusion I'd certainly recommend these TCX flights to anyone, it's vastly different to their European charter work where you're crammed in like sardines. Flying the B752 over the atlantic was no bother, who wants to be crammed on a B744 with more than 400 seats when you can stretch out in comfort on one of TCX's B752s with 187.
Apologies for the lack of pics, and the poor quality of what ones there are, they were taken on my phone, but hopefully are better than nothing. Thanks for reading, you're comments are more than welcome.