M E L B O U R N E
Monday, October 20, 2008 –
If one were a publicist for Qantas, one could indeed say how crisp spring mornings smell of sweet, fresh beginnings, or put springs into steps as one skips merrily aboard the world's largest passenger plane. But alas, upbeat corny this trip reporter ain't; more like grumpy, old cynic as he creaks to the rhythm of this sunburnt country that has
bastard
as a term of endearment. Putting things in perspective is not his forte today as he steps off the A380 in LAX a little worse for wear, and already regretting that he's mad enough to reboard the same plane for another 14 hour flight tonight.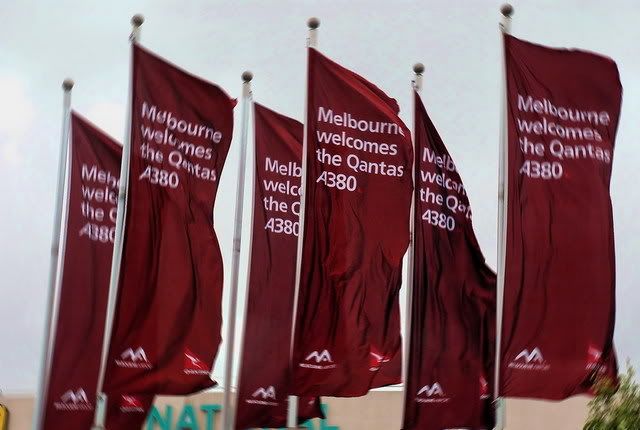 That today is special is without question. A Qantas publicist would already be making some reference to history being made. But hyperbole has its risks. The self-styled "world's most experienced airline" has, over the past months, been going through more than its fair share of experiences – all of them forgettable. Poor Qantas, needs all the good news it can buy.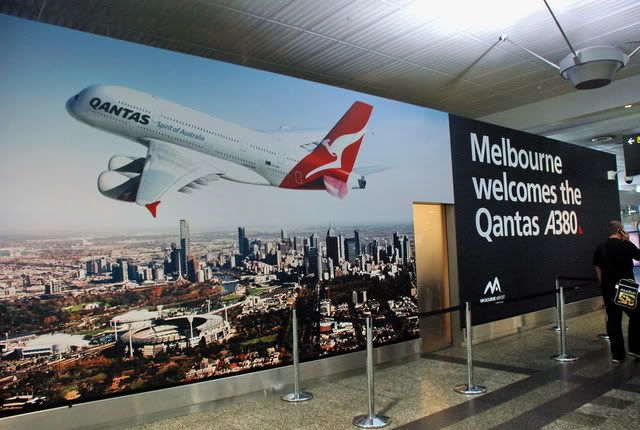 pre-boarding
Aussie journalists have not been the kind to Qantas, and CEO Geoff Dixon sensing he's got a better chance at winning hearts by using self-deprecating humor welcomed passengers to the first Qantas A380-800 flight by saying he'll cut short his speech. "Based on our recent experience, I'd better stop now to ensure we don't have any further delays," says Dixon.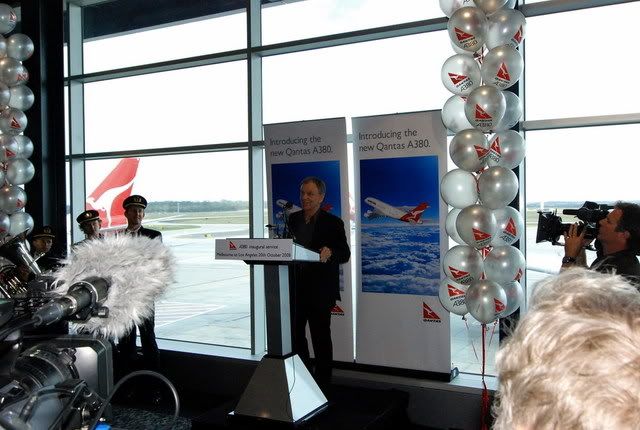 Media was out in full force at the gate area, and Dixon - who was a fellow passenger on QF 093 to Los Angeles – was the centre of attention.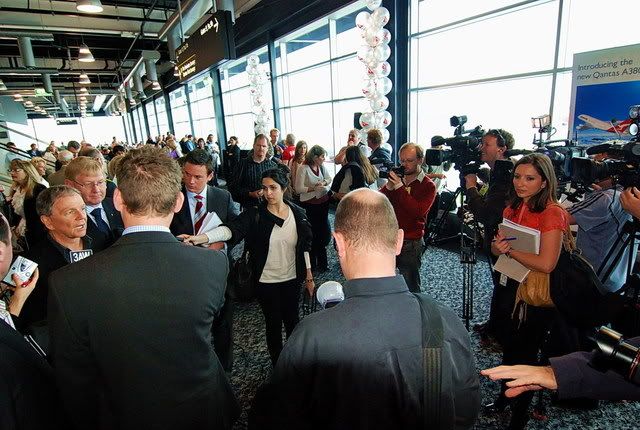 But there were other distractions. Like a traveling band of musician-pilots who entertained passengers.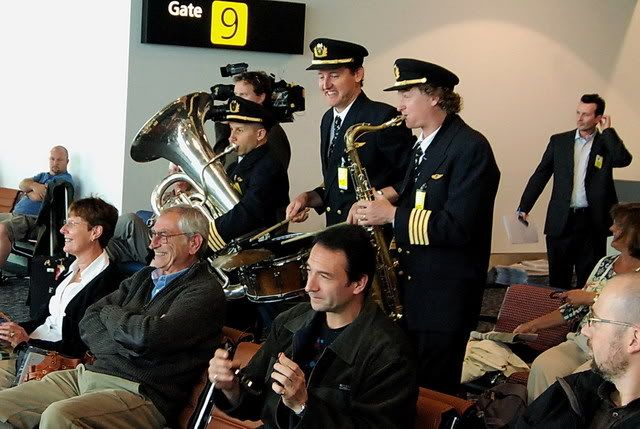 The Age is Melbourne's local newspaper – special first Qantas A380 flight editions were printed.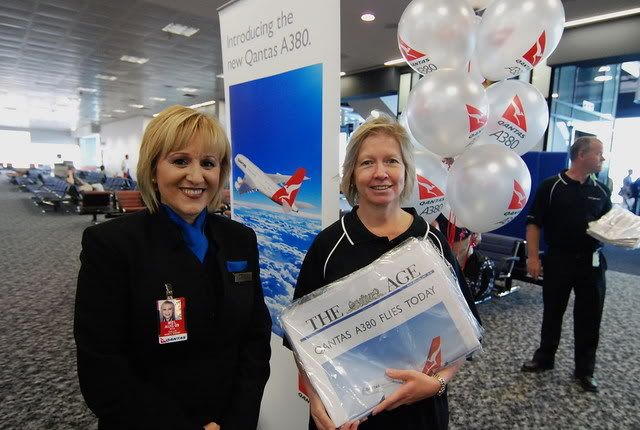 And the arrival of the crew of QF 093 in their new uniforms - which are not so different from the old.
Here's a peep into what other flights are serving Melbourne today. I love this RELAX thing they've got here.
Still, the highlight of the day is the bird sitting outside Gate 9. And what a beauty. VH-OQA "Nancy-Bird Walton" (Serial Number 014) was delivered to Qantas on September 19, and had spent the past month flying within Australia and to New Zealand on a series of test and promotional flights. Today, it is on its first scheduled mission.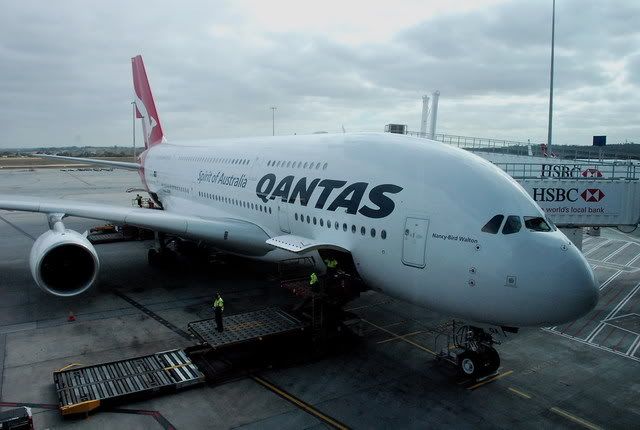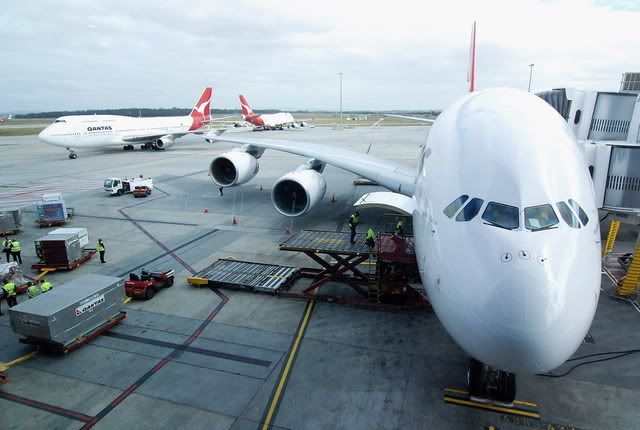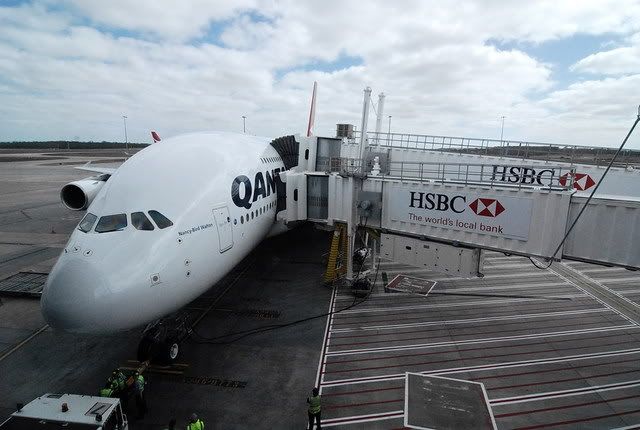 departure
Boarding is surprisingly leisurely, even though only two aerobridges are in use. Qantas seats First and Economy classes on the lower deck, while Business and Premium Economy classes are located on the upper deck.
I wonder if traffic lights was an inspiration for Qantas designer Marc Newson. The first of three economy class cabins is the "red" zone.
Next comes the infamous "green" zone, which is so popular with A.net members.
And finally, the "orange" zone at the rear of the aircraft.
The seat-cushion colors are only apparent from the front looking back. As a passenger, all you see for most of the flight is the uniformity of the coal colored seatback.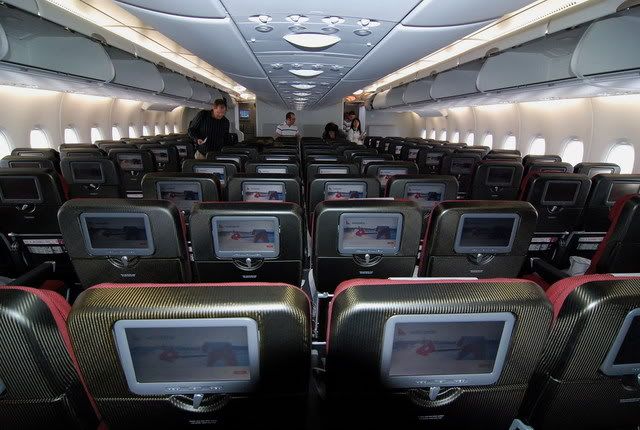 My seat is 77A in the last row of the "green" zone.
The legroom in Economy is decent too. Comparing this with Singapore Airlines' A380, I have to say that the Qantas offering is more comfortable. Fourteen hours was remarkably bearable. Twenty eight hours on the other hand...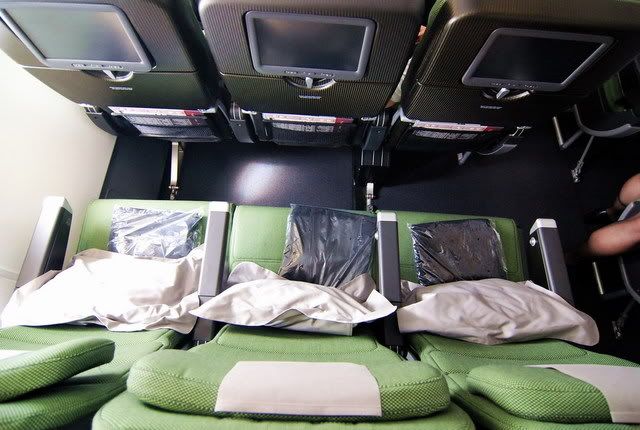 One notable difference between Qantas and the other two operators of the A380 is the selection of overhead bins. Opting for the A330-type bins for the main deck, the Qantas cabin does lose a degree of headroom "spaciousness" compared with the others – but there's no denying, the bins are huge!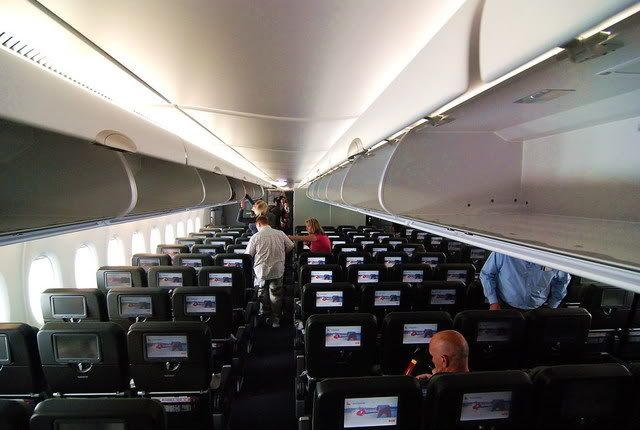 Flight attendant Lesley welcomes me aboard, and is excited to be flying on the first Qantas A380 flight. She tells me the premium classes are all full, but Economy is going out with 60 empty seats – one of which ends up next to me, so I have no complaints. But considering both Singapore Airlines and Emirates were almost all full on their inaugurals, is this a sign of the times?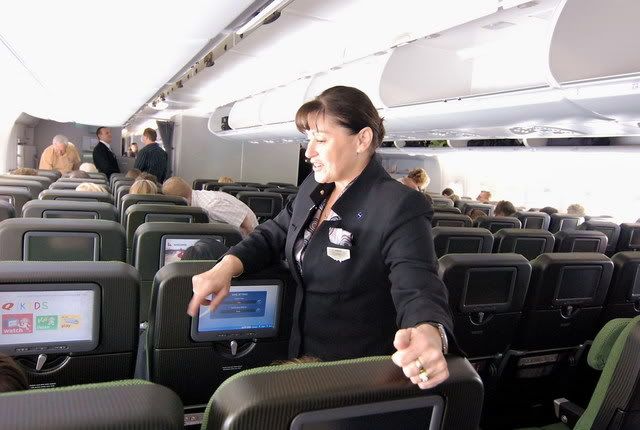 Lesley shows a passenger how to use the inflight entertainment system.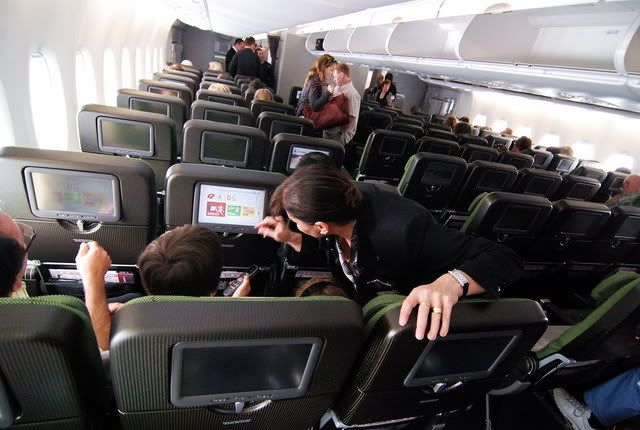 We push back on schedule at 11.15 a.m. Flight time to Los Angeles is 14 hours, says Steven Reid, cabin service director on board QF 093.
Captain Mal Stewart welcomes us aboard and says that "from a pilot's perspective, this plane is absolutely outstanding." The engines are almost silent.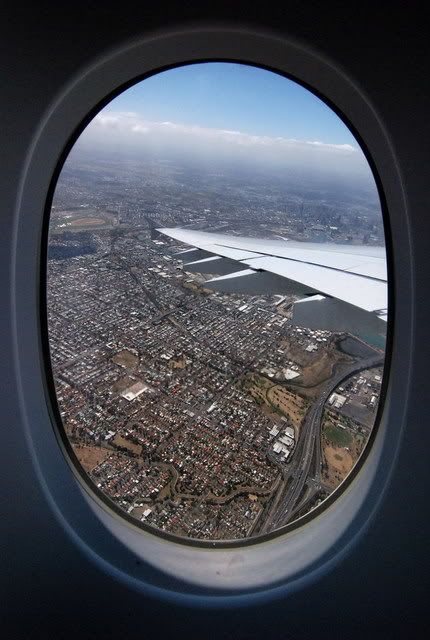 Lifting off from runway 16, we first head south towards the coast.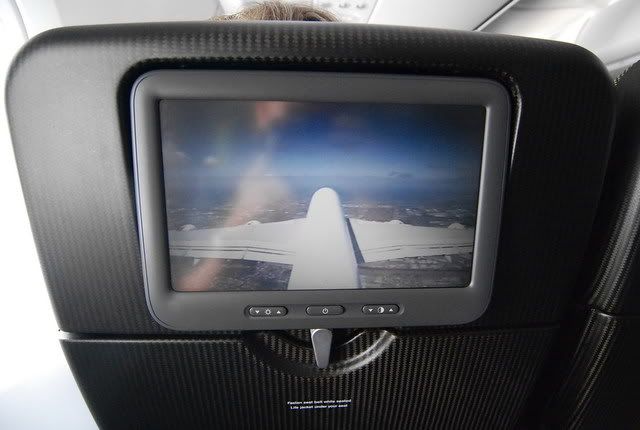 We turn back to fly over the city of Melbourne before heading east towards the Tasman Sea.
amenities & inflight
Controls for the IFE are concealed within the armrest. There is also a touch-screen PTV.
Qantas offers some of the most interesting entertainment options aloft. It's not about having a million movies on demand, but rather the selection that's important.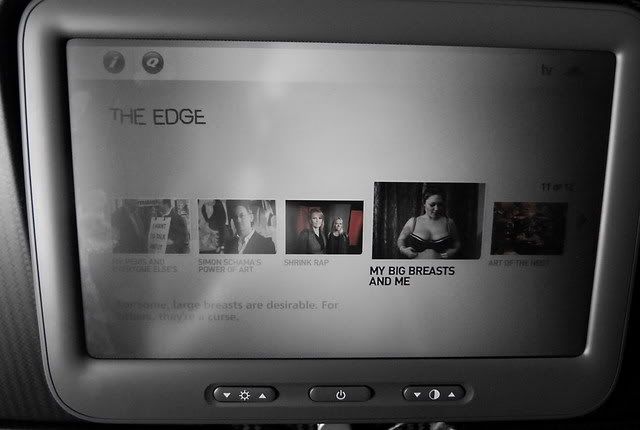 The seat belt buckle design is a little different, and rather nice.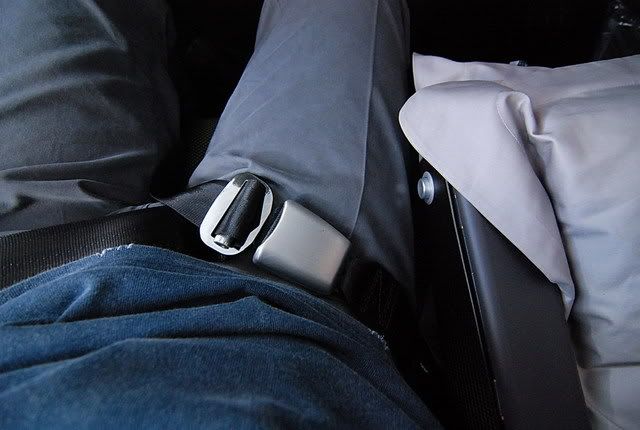 The legrest (or rather leg-net) may not seem like much but it works much better than the ones you currently find on some other airlines. And when not in use, its presence is hardly noticeable.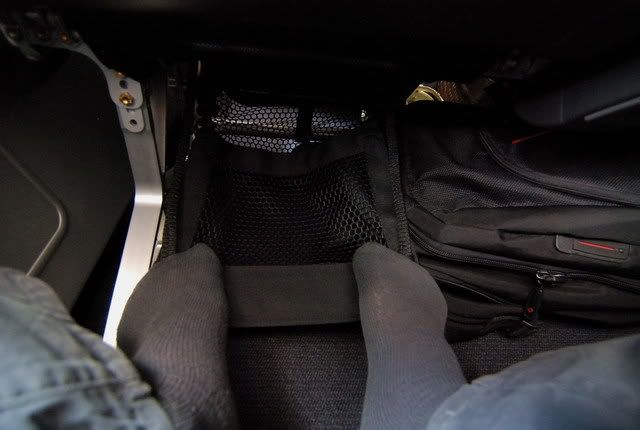 When Captain Mal Stewart comes for a walkabout, he is mobbed by passengers asking for autographs on their boarding passes. Qantas didn't give out certificates for this flight.
Ian, my neighbor at 77C , looking mighty pleased with his autographed boarding pass.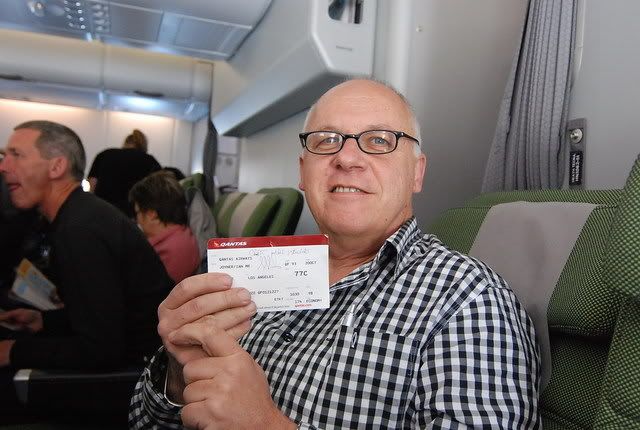 A welcome feature on the Qantas A380 Economy are the Snack Bars, of which there are four. By far the largest of these bars is at the back of the lower deck. Mini pizzas, pretzels, soft drinks and fruit are on offer. Flight attendant Matt, replenishing the supplies, says passengers are snacking more too. "It's all disappearing very fast," he says.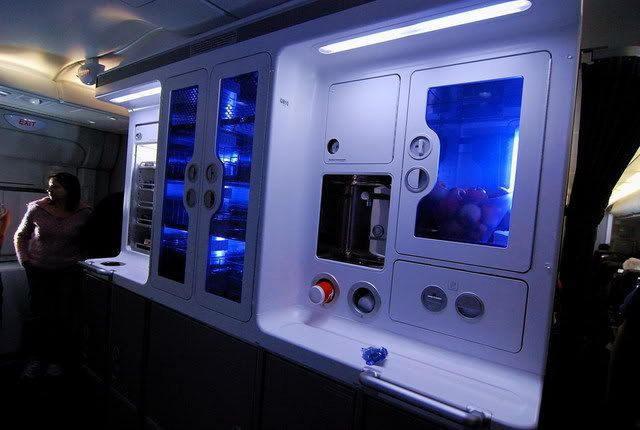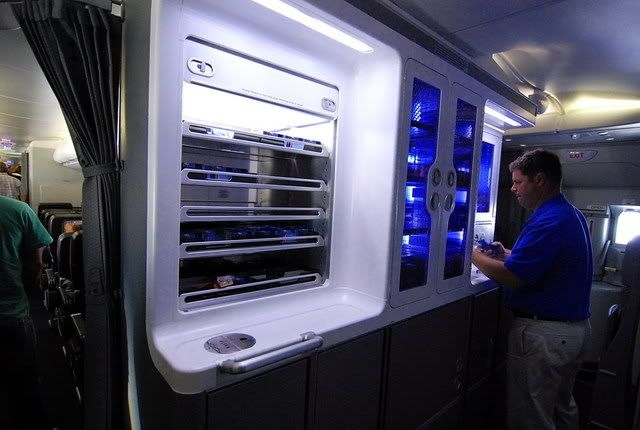 The now obligatory bathroom scene.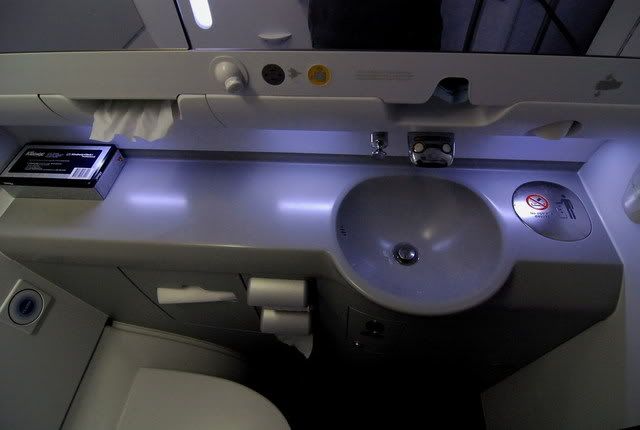 The front galley between First Class and Economy. This is as far forward as I manage to go.
Some passengers also try to visit the upper deck only to be met by a crash barrier.
Mood lighting in Economy.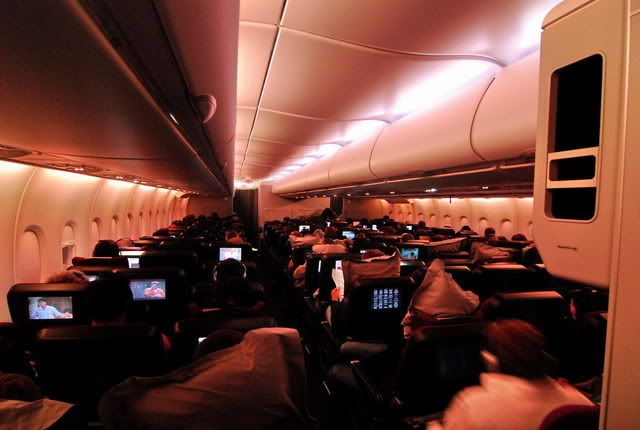 meals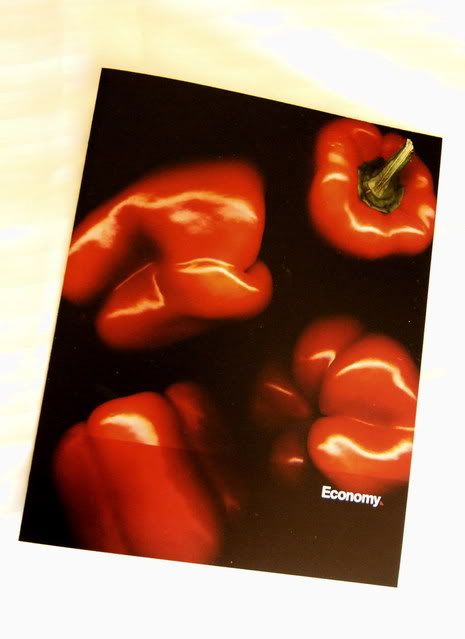 Two meals are served on this flight. I quite like the journey planner which gives the passenger an idea about when the meals will be served.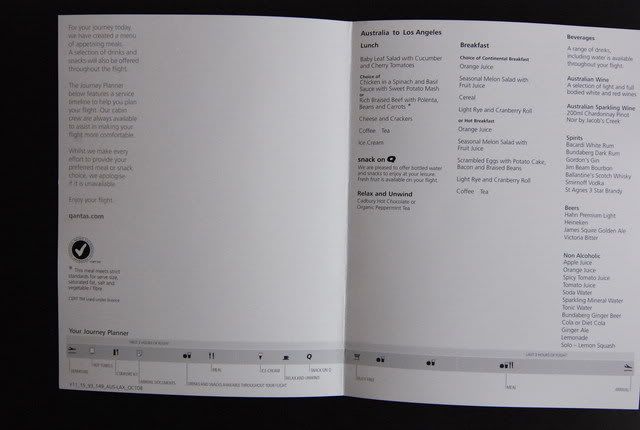 Flight attendant Lauren serves lunch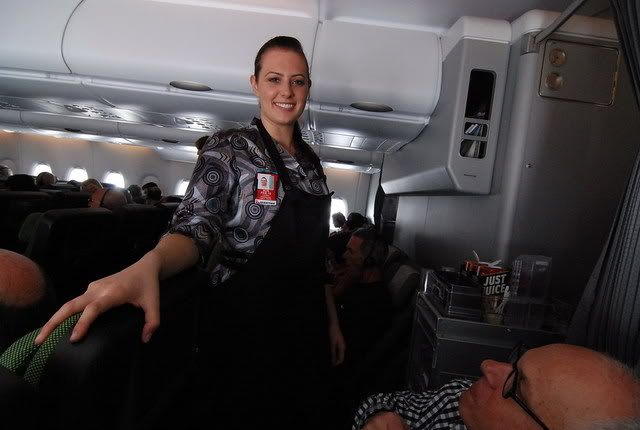 Breakfast is served two hours before arrival.
And in between, a substantial bag of goodies is passed out.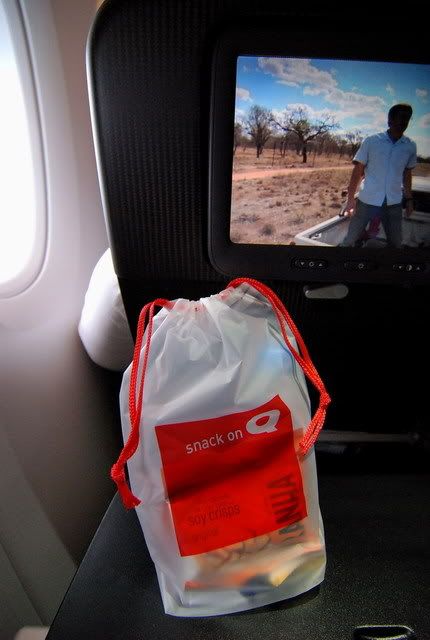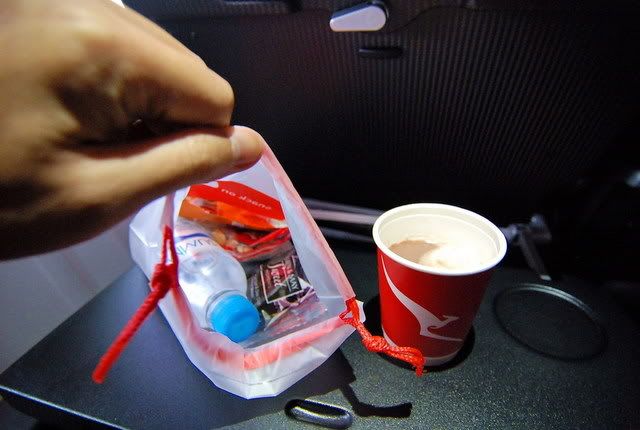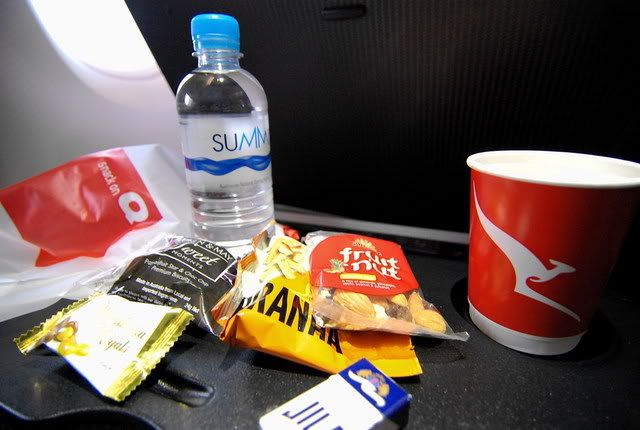 arrival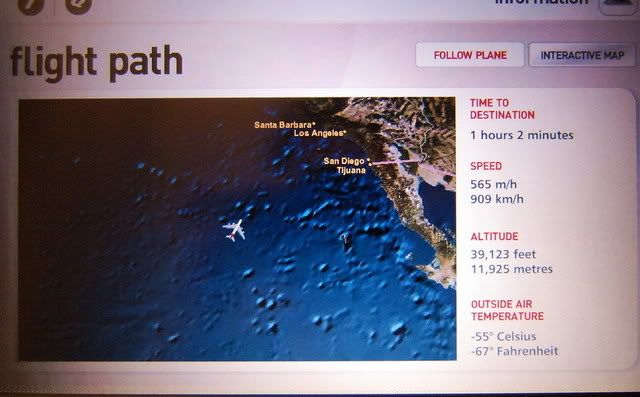 An hour out of LAX, the sun rises on another Monday. Looks very overcast on the Pacific Coast.
Landing on runway 25L.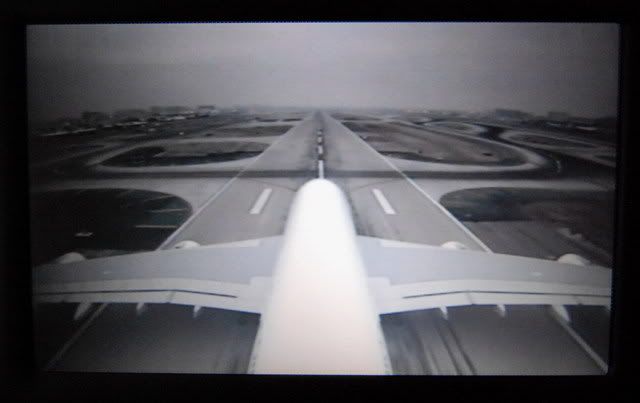 We are accompanied to the Tom Bradley International Terminal gate by LAX fire trucks, a convoy of vehicles carrying media and a chopper hovering overhead.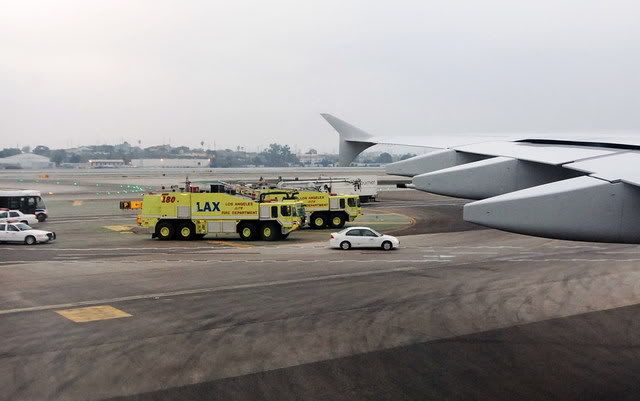 L O S ~ A N G E L E S