Stunning landside approach into (STR-DUS-) AGP
Hello, dear readers,
with the more and more upcoming autumn scenery here in southern Germany, I was in desperate need for some sun.
Where to go?.
Malaga with its newly opened Picasso Museum will be interesting and together with a nice aircraft combination, no question, booking was quickly done.
Lets go.
STR (Stuttgart-Echterdingen) - DUS (Düsseldorf-Rhein-Ruhr)
Duration: 50 minutes
Service Lufthansa 901 operated by Eurowings BAE146-200 D-AJET
Scheduled: 08.20 // 09.25
Actual: 09.10 // 10.00
Gate: 161 Seat: 17A
Load factor: around 70%
Fare: 66,08 EUR per leg
History:
18.12.1991: Delivered to Contiflug
20.03.1995: In service with Eurowings
Leg no. 5 on the BAE146-200 and the first on this machine
I was not far from the airport, monday afternoon, so decided for a quick stop to collect some real paper boarding passes from the self service machines.
Quickly done, only me at the several machines in Terminal 1. Secured my seats, window last row, as always.
Boarding was announced at 08.00 am. I´ve arrived after an unsuccesfull try to cut the airport parking fares, park-and-ride Degerloch was completely full
at around 07.00 am. Time enough for my first departure of the day to DUS.
I´ve droped my bag at the special gate, where the agent cant believe my unusual routing, on LH via DUS to AGP, that sounds not the usual for him!.
Only some minutes at security and when I´ve arrived at the gate, the screens showed a 20 minute delay for the inbound flight from DUS, later consequently also 20 minutes
delay for departure.
The golden Sky to Antalya:
Boarding from the downstairs bus gates was surprisingly called neverthelles nearly ontime.
Some minutes to wait in the bus for the last pax and some more minutes beneath the plane.
Always nice, boarding a new reg.:
Riding ´da-jet!:
Or maybe something big?:
No, I will stay with the BAE: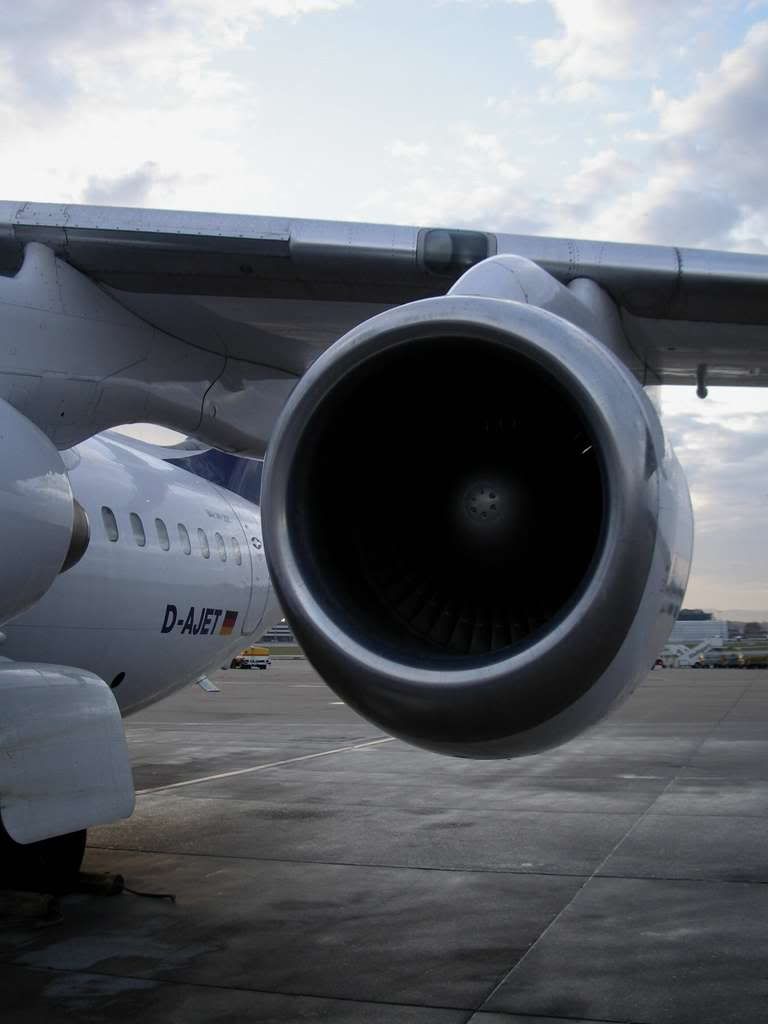 A friendly welcome from the captain during boarding, but no sorry or explanation for the delay.
Departure from runway 25, a right turn heading for FRA and further to DUS.
Clouds near STR and DUS, good views near FRA.
Approaching FRA:
FRA: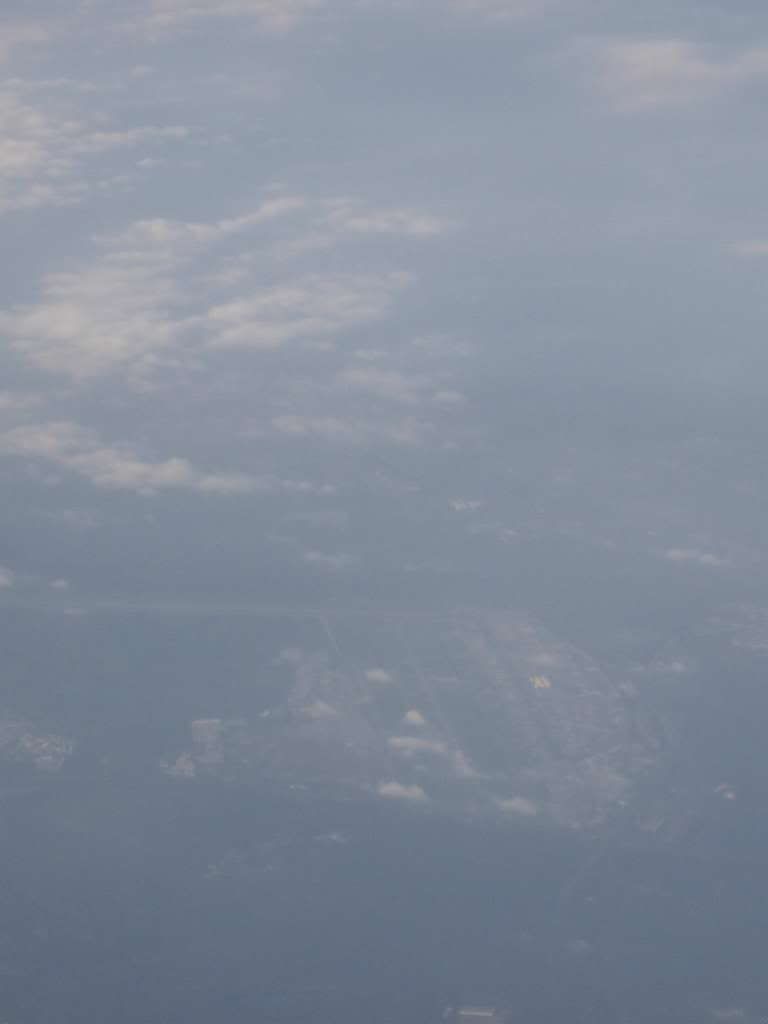 One male, one female FA, both friendly and in a good mood.
Confortable 2/2 seating in row 17. The cabin fitted with bright grey leather seats, clean and good legroom.
Inside D-AJET:
Service was free coffee or beverages, nothing to eat on this short leg.
No more comments from the flightdeck, therefore no flightlevel information.
The flight itself was calm, low clouds and rain near DUS.
Touchdown on runway 23R , 10.00 am the printed boarding time for the next leg!.
I´ve prepared me for a quick and rainy bus deboarding but thankfully a finger gate waited for me.
A, according to my log, well known neighbour at DUS:
DUS (Dusseldorf-Rhein-Ruhr) - AGP (Malaga-Pablo-Ruiz-Picasso)
Duration: 2 hours, 50 minutes
Service LH 4528 operated by Lufthansa Boeing 737-300 D-ABEI
Scheduled: 10.30 // 13.35
Actual: 10.55 // 13.45
Gate: A 80 Seat: 23A
Load factor: Not more than 40%
History:
07.11.1991: Delivered to Lufthansa
Leg no. 31 on the B737-300 and the first on this machine
A very short connecting time, but no problem, the arrivval gate was only some 50 meters beneath the departure one.
No plane at the gate there. Only seconds thereafter the scheduled classic B737-300 arrived and was parked.
D-ABEI at the gate: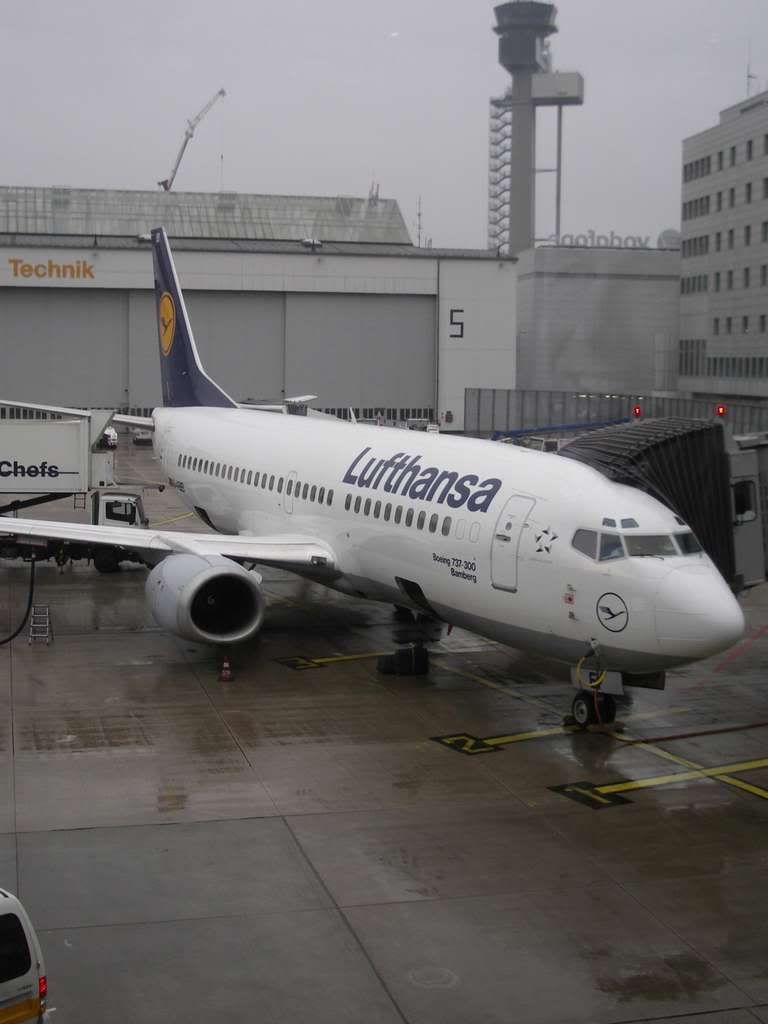 Ground handling: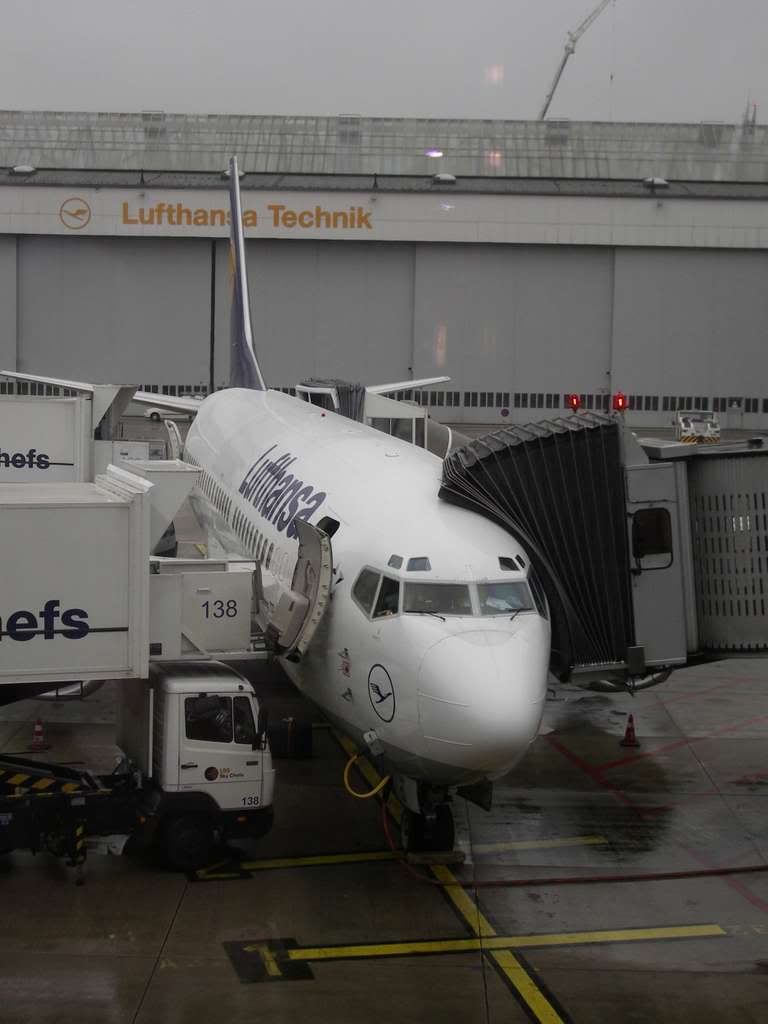 Not that much pax around, looks like a low load today.
Boarding was called. Again the dark grey leather seats, good legroom. I´am once again surprised how good looking and clean these LH classics are.
Inside D-ABEI: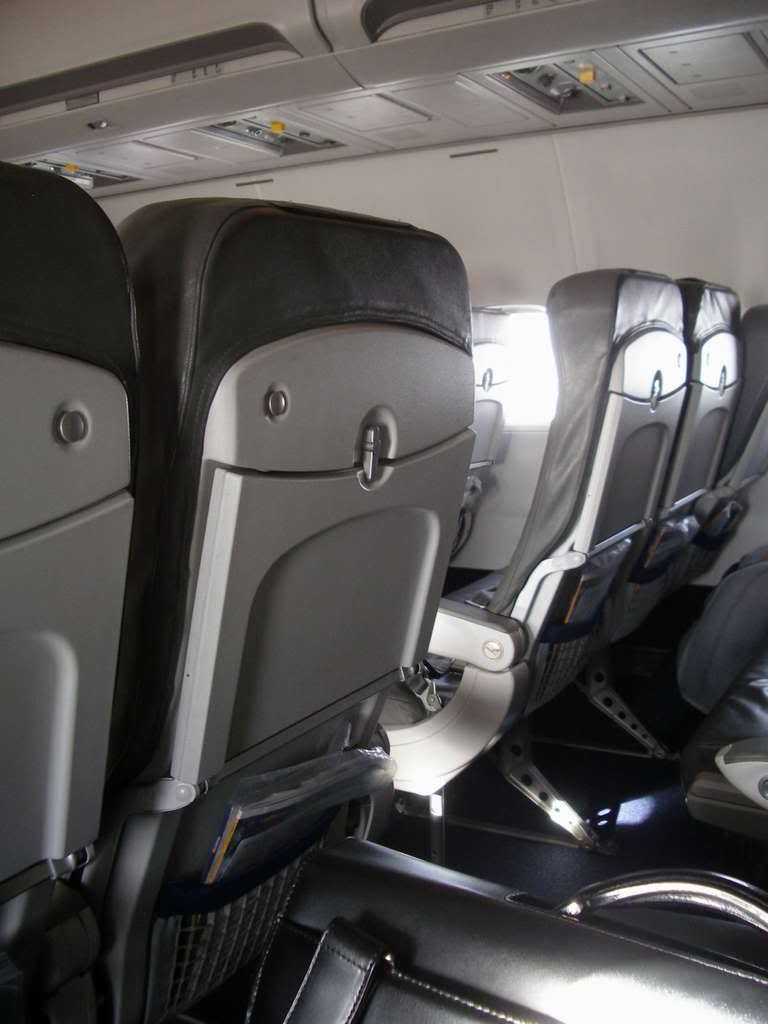 Three friendly female FA´s on the machine.
I´ve changed my seat quickly do the second last row, be aware, no window on that classic machines in the last row.
Also a friendly welcome from the flightdeck during boarding.
Departure fast and powerful from runway 23L, the classic seems like a little race machine.
Detailed explanations from the FO inflight. We´re cruising at 33.000 feet and going via Maastricht-Luxemburg-Dijon-Toulouse-Valencia to Malaga
with a strong headwind in the area around Dijon.
Clouds above Germany and northern France, good views above Spain, a calm flight.
Built an new airport new VLC: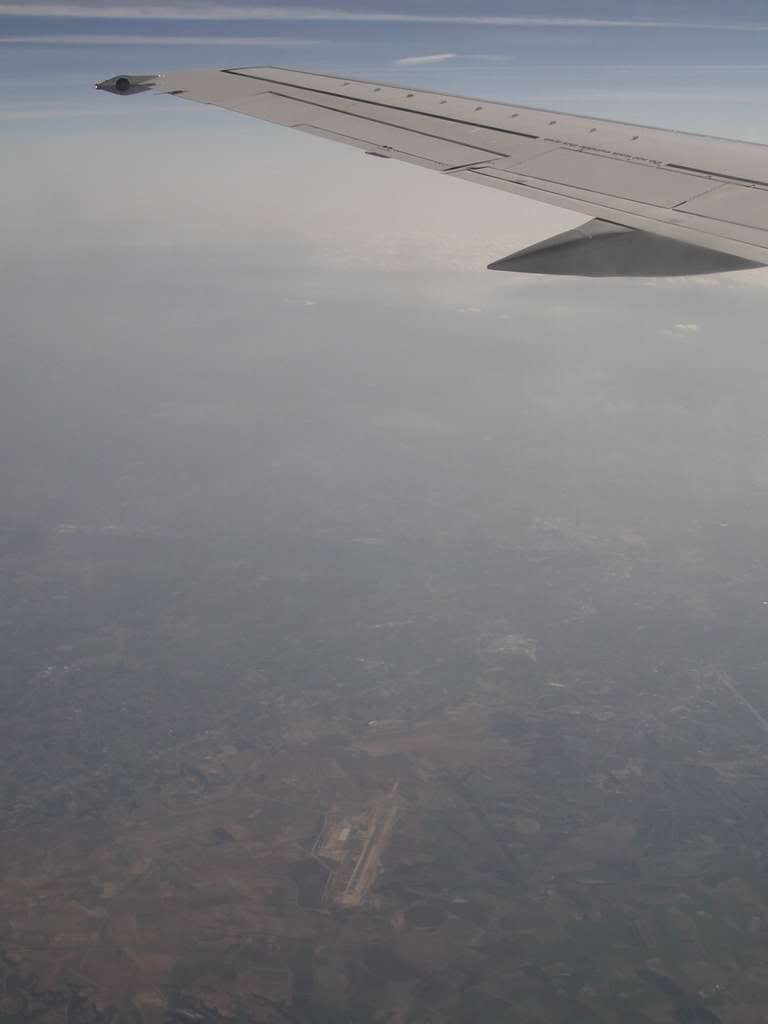 Reaching the med near VLC: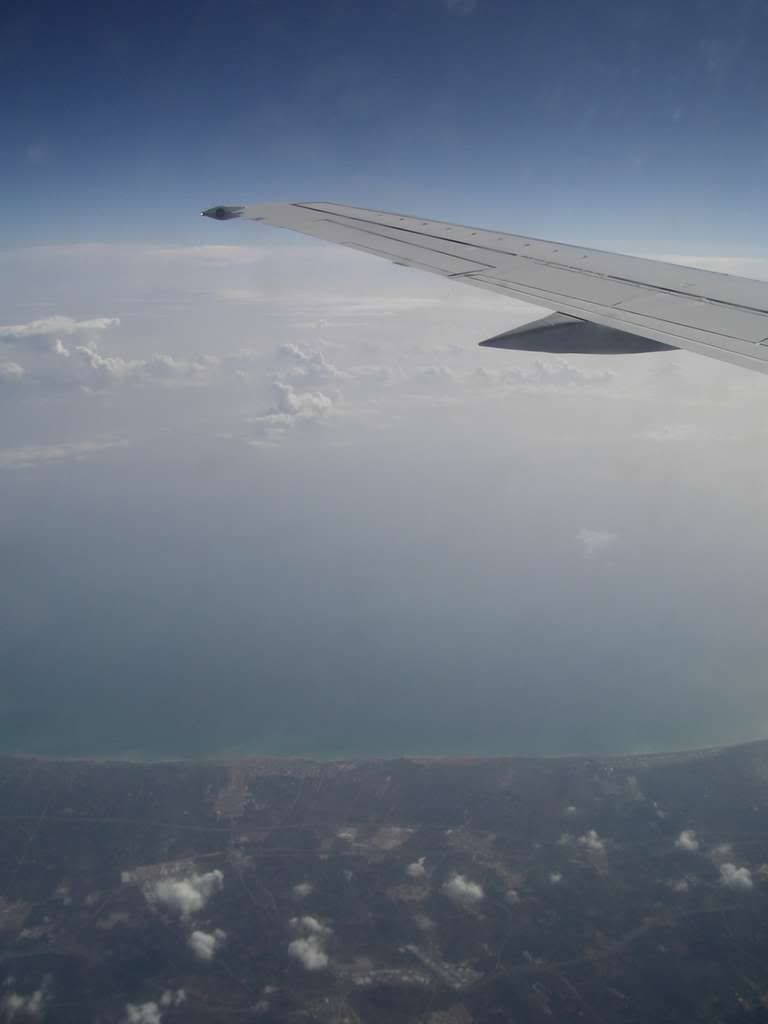 Service was really good, a tray with a hot meal, twice drink services, not bad at all.
Meal service:
My first visit to AGP was an seaside approach and I´ve read about the more difficult landside one.
Very low above the hills:
Joining the valley:
Finals: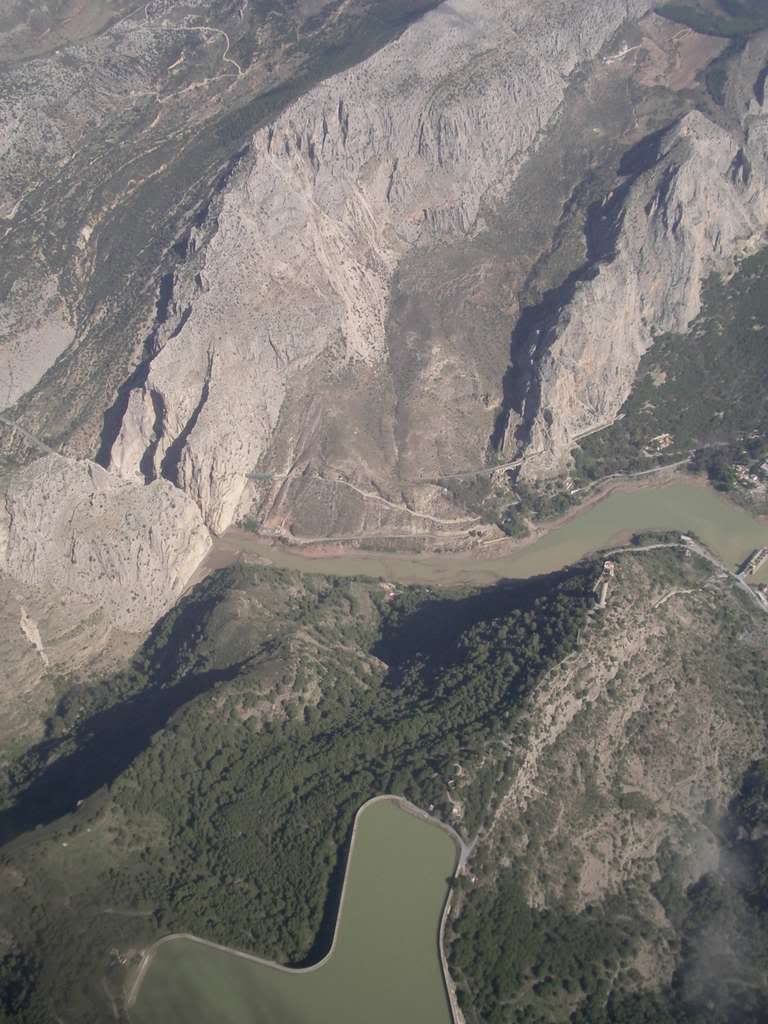 Yeah, it was really stunning, we´re going steep down low above some hills in a valley and landed heavy and fast with hard brakes on AGP´s runway 13.
A nice experience.
Just landed: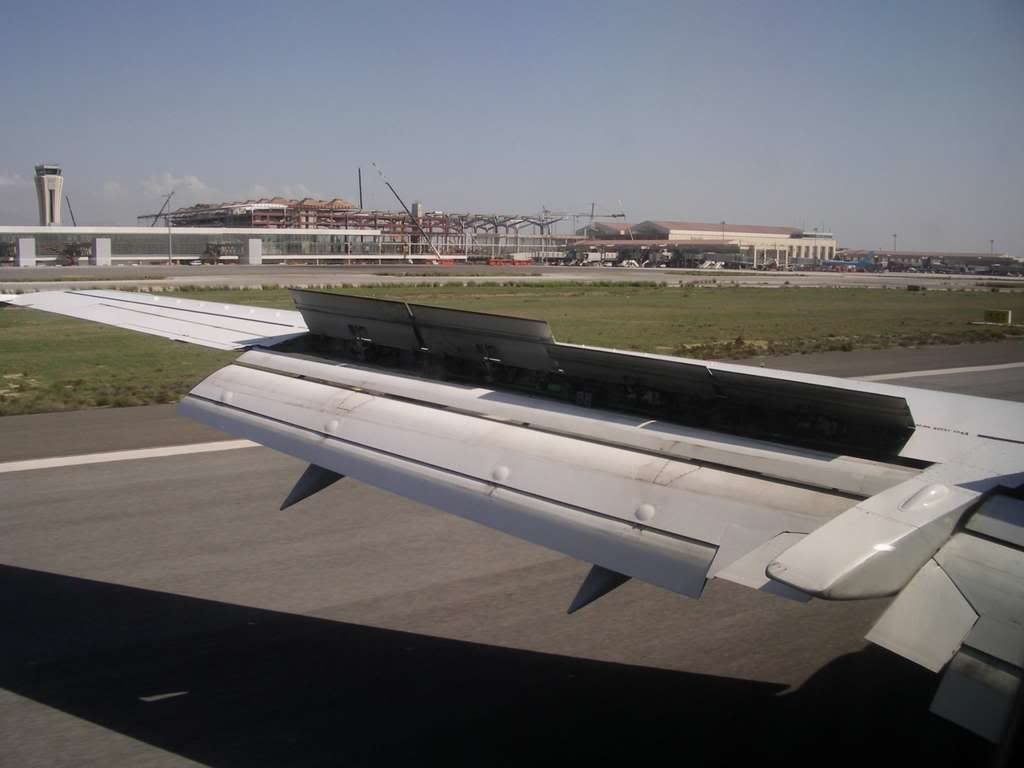 A finger gate for deboarding also there in AGP, but with much better weather than in DUS.
AZ at the gate beneath:
My bag arrived quickly and soon thereafter I was on the search for the Renfe station. Not that easy with all the construction activity around, but finally found it,
only EUR 1,20 to the new Maria Zambrano station.
My accomodation was the newly opened Barcelo Malaga, located directly beneath the train station with a entrance from the station.
Barcelo, the entrance: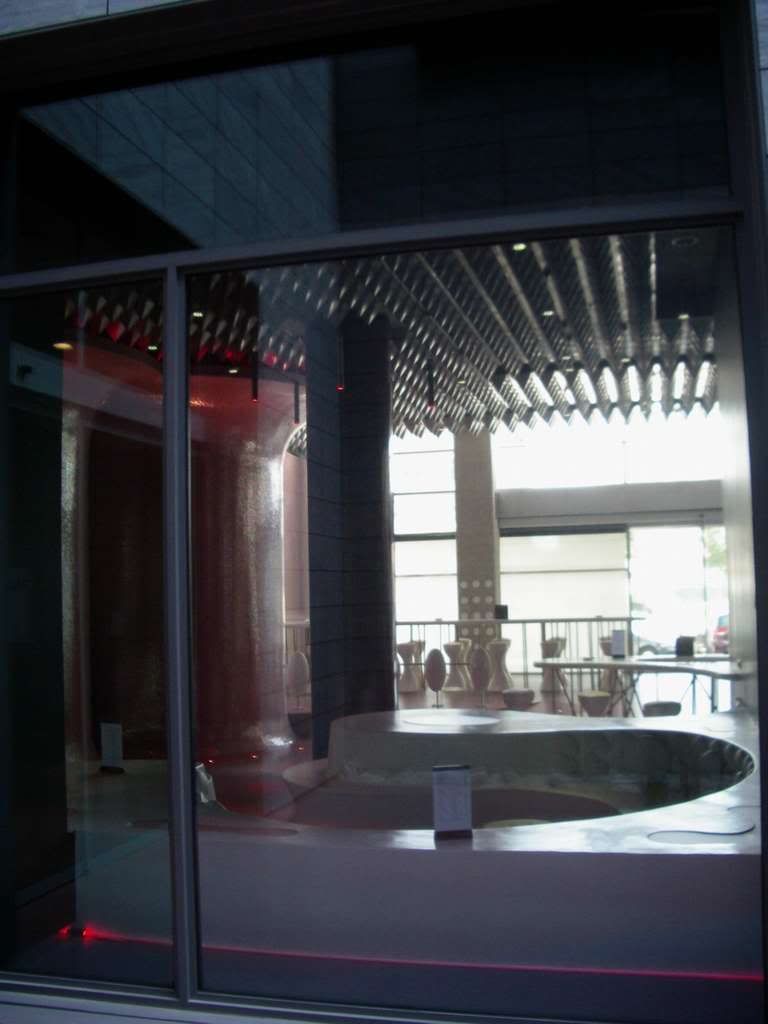 My room:
And again: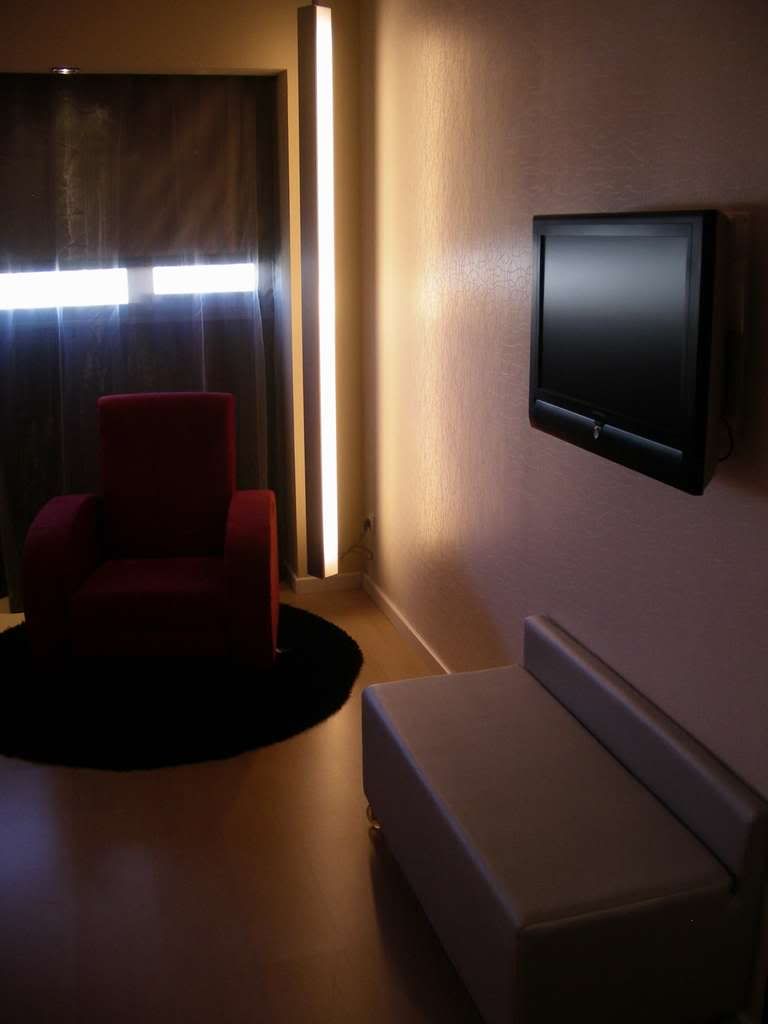 Superb designed, calm, a recommendable place to stay.
The weather was, lucky me, sunny and warm, here are some pix from Malaga downtown.
The cathedral: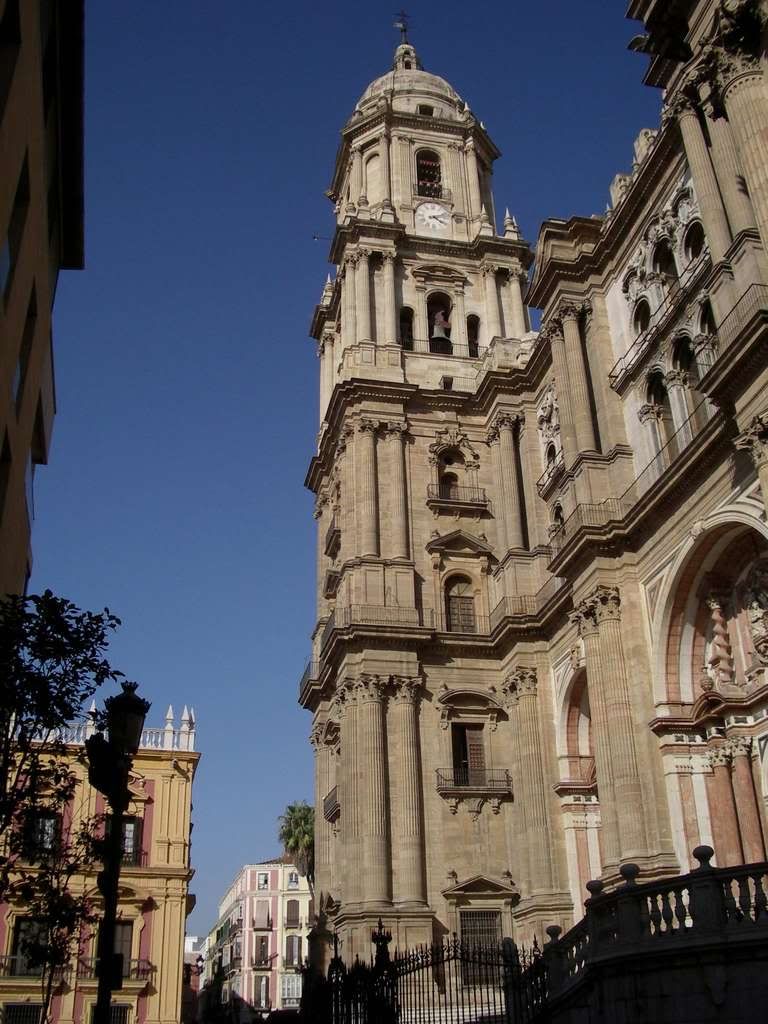 And again:
A building nearby:
The rear side: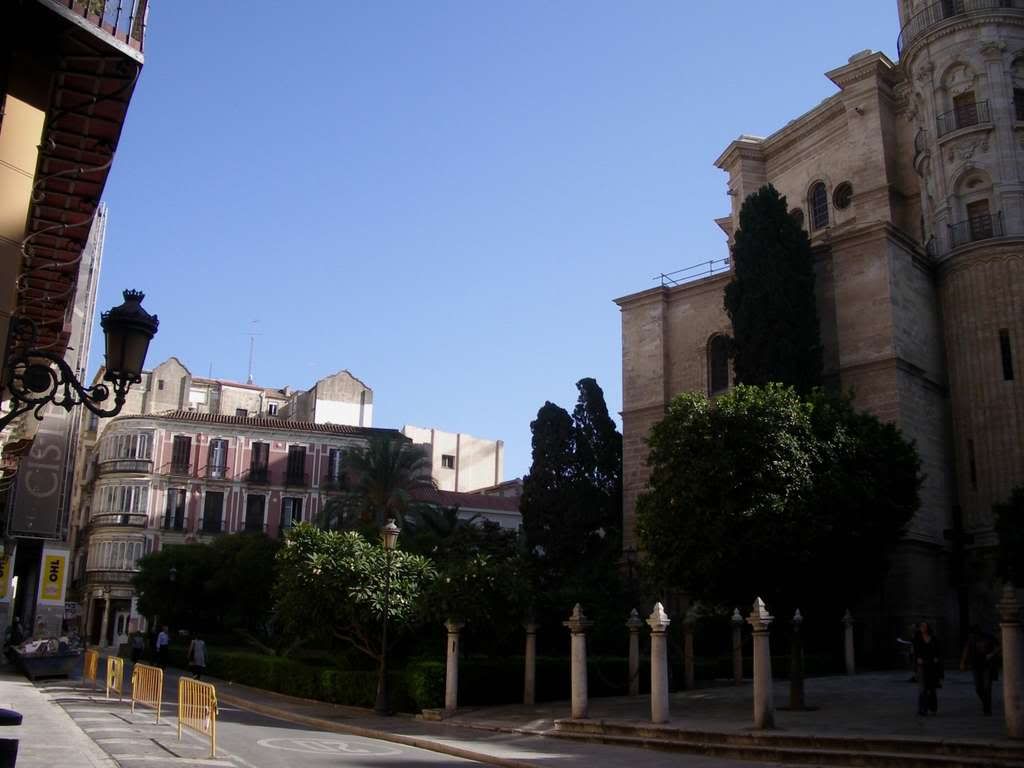 Palms and bells:
Reaching the Picasso museum: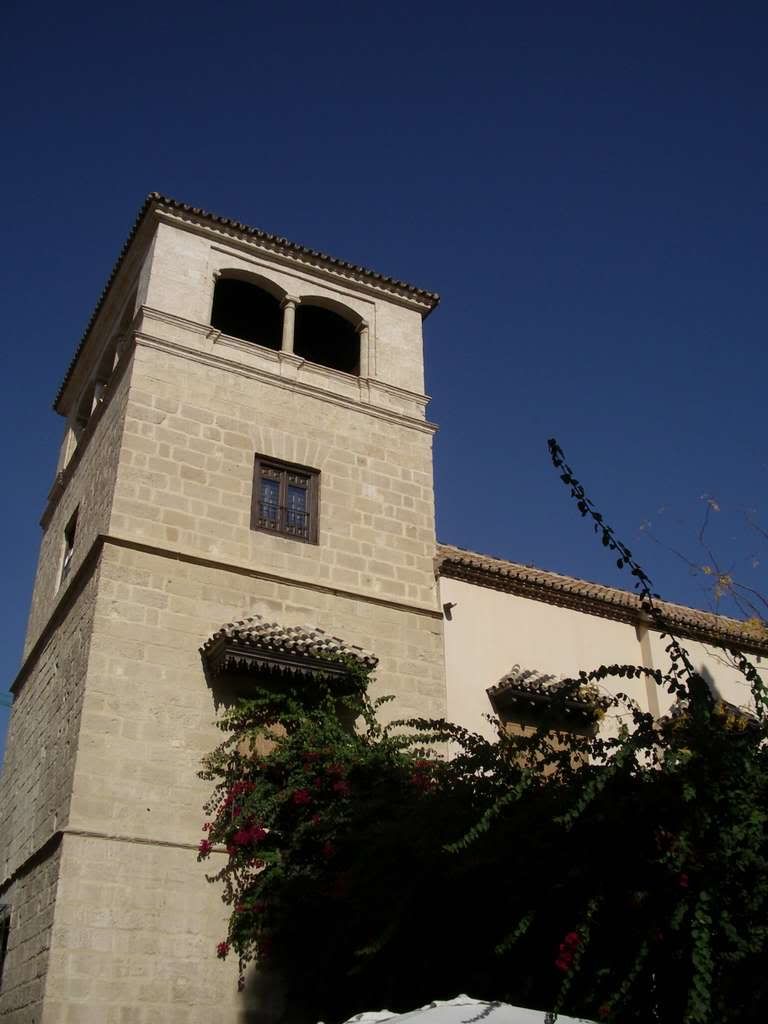 The building: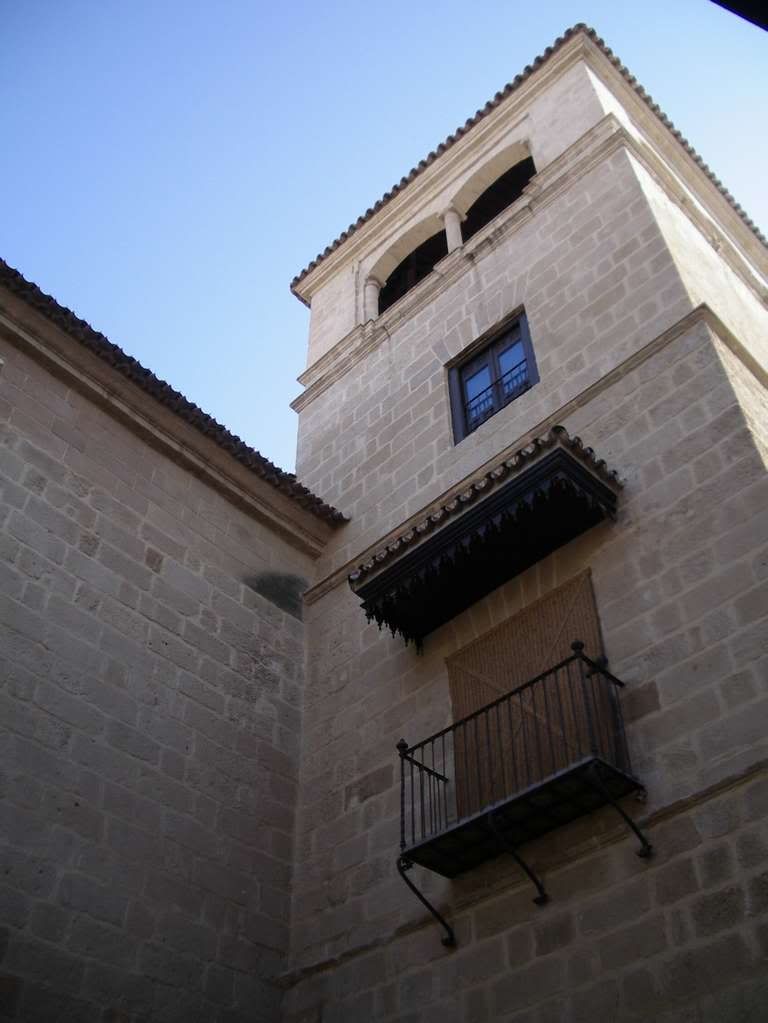 The entrance:
I´ve had a really nice day there in Malaga, departure homebound will going on early the next morning.
Which way?. That will be a new story.
Comments welcome,
Markus (FLIEGER67)