Hi folks,
after a busy summer without much holidays it was time for some new flights. Due to a visit to LH Technik in HAM I decided to spend a whole week in Hamburg, because flying ex HAM means much more possibilities than from my regional airport PAD. I checked several websites for interesting offers and ended up booking a trip with BA and one multi-leg trip with LX. This TR deals with the BA trip to LHR. The reason to the LHR trip was that I have never been to the new T5 before and BA offers interesting fares in Y and C and I have never been on BA yet. To compare their service with other carriers I booked the outward flight in Y and the return in C. The return in C made it possible to visit the BA lounge galleries, what I have read much about in TRs from fellow A.netter Mark (BA319-131).
Flight: BA 965
Route: HAM-LHR
DATE: 21. Oct. 2008
SCHEDULED: 11:25 // 12:05
ACTUAL: 11:16 // 12:03
A/C: A320-232
REG: G-EUUR 6th flight on an A320, 1st on this one
SEAT: 13F
CLASS: ECONOMY
History: delivered to BA on 29th July 2003
View Large
View Medium


Photo © Mark Kwiatkowski
I chose a hotel in Hamburg next to a subway and suburban train station. Therefore it was easy to get to the airport. When the day came I headed to the airport without ruffle by public transport. At the airport I went into Terminal 1 where BA is located, but the counters were still closed. So I wandered around for a while.
Check in hall in Terminal 1:
BA desks just before opening: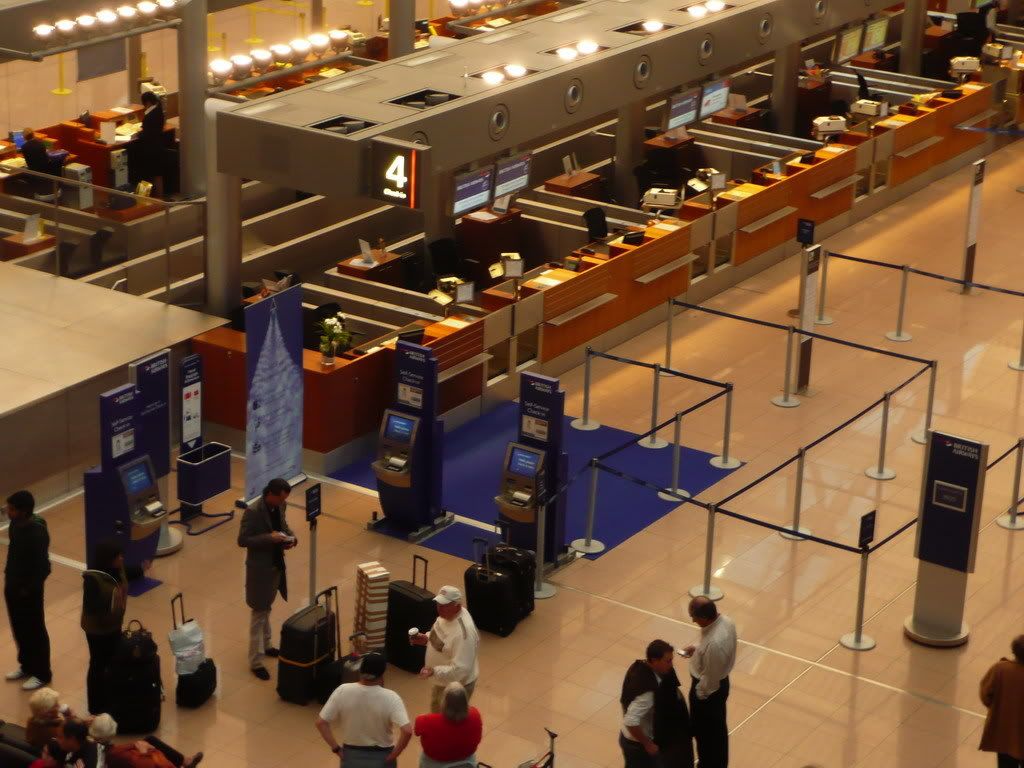 At 9:20 BA opened their desks for the 11:25 flight to LHR. There was a desk for normal check in and one desk for bag drop. I was the only one who wanted to use their check in kiosks. A BA agent helped me through the program. It was easy to use and I made sure to collect my first oneworld miles.
My boarding passes:
Then I went through security. I was the third in line and after two minutes I was airside. Unfortunately it was a rainy day in Hamburg. Therefore it was difficult to make many photos, because the windows were full of raindrops.
AF 320 and LH 321: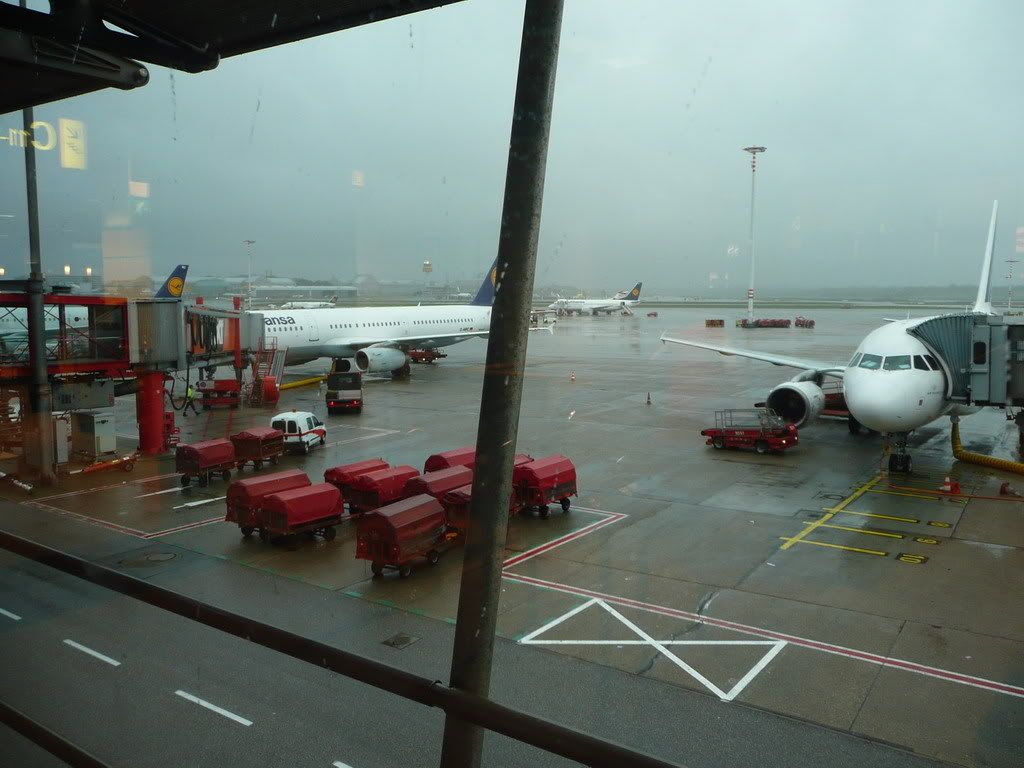 LH 321 to FRA:
I headed to the non-schengen gates. They are located in a separated hall after a passport control. I settled down at the windows and tried to take some pics.
A new Star Alliance member: TK A321.
Then my plane arrived from LHR:
Boarding started 5 minutes late. I was welcomed aboard by a friendly elderly female f/a. The aircraft was clean inside, but looked a bit worn. To my satisfaction the two seats next to me kept free. The captain welcomed us in English on the speakers with some flight information. The safety demo was manually done in English by the f/as. Due to the light load (70 %) push back started 9 minutes ahead of schedule and we taxied to rwy. 33. Take off was fast. We climbed through the clouds and soon we had sunlight.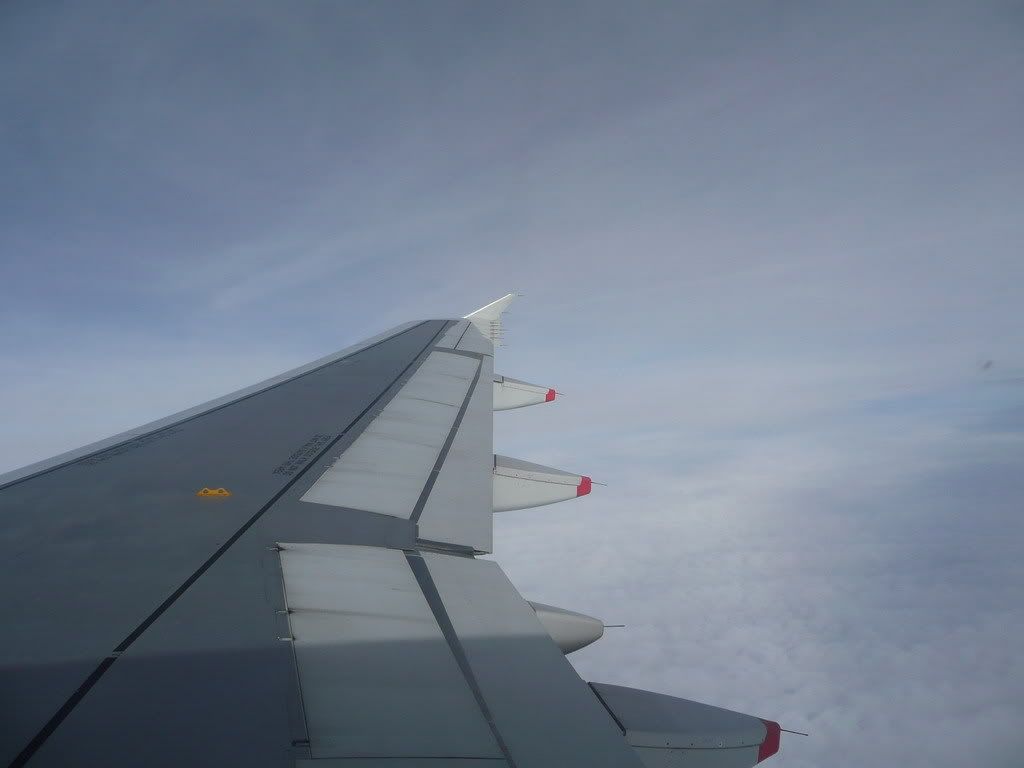 When the seatbelt signs were switched off the crew started their service. Two young female f/a served the Y cabin. We got a drink and had the choice of a candy bar or some nibbles. I took an orange juice and the nibbles:
I like it when there are overhead screens on European flights. So I could follow our route over Bremen, Lelystadt and over the North Sea to England. Altitude was 34,000 ft. Sorry about the poor quality, the screens were three rows in front of me: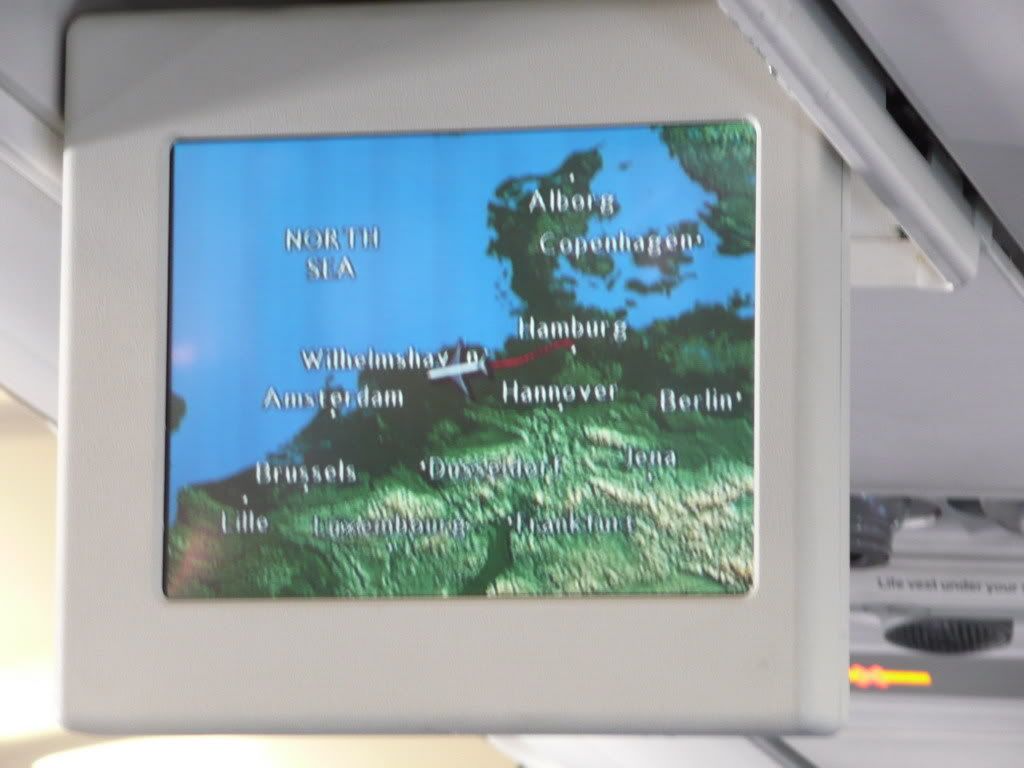 Nice view outside:
Nice weather and the North Sea under us:
Then we reached the British coastline:
Soon later we begun our descent to LHR: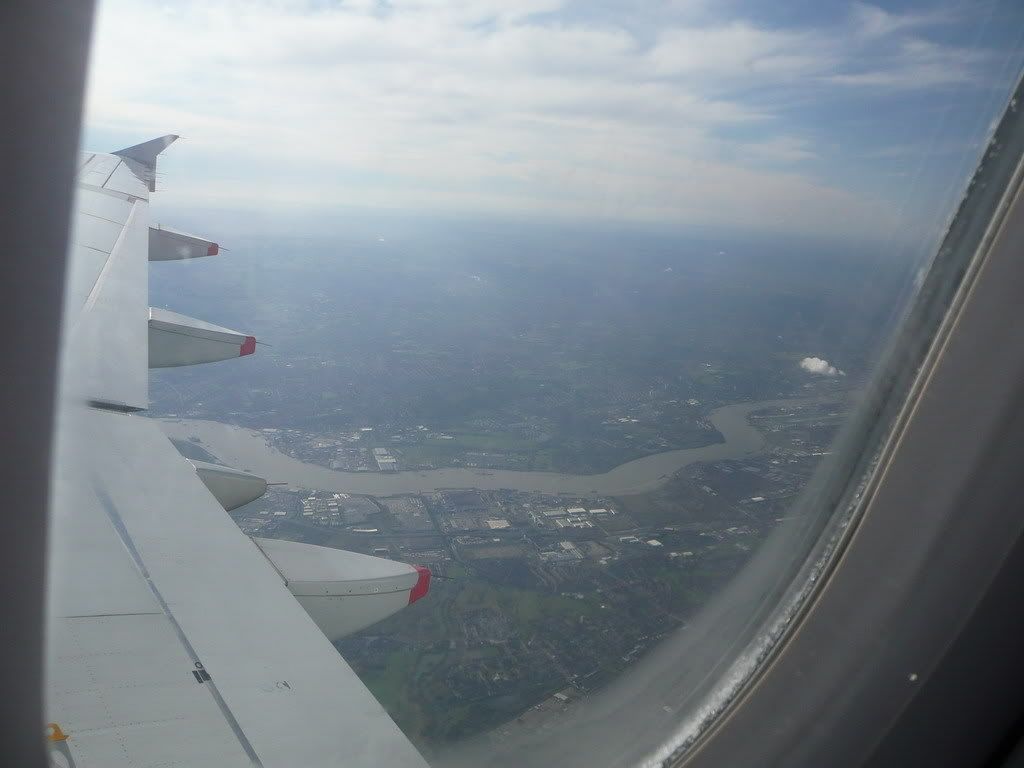 But we got a holding and made two or three circles over eastern London: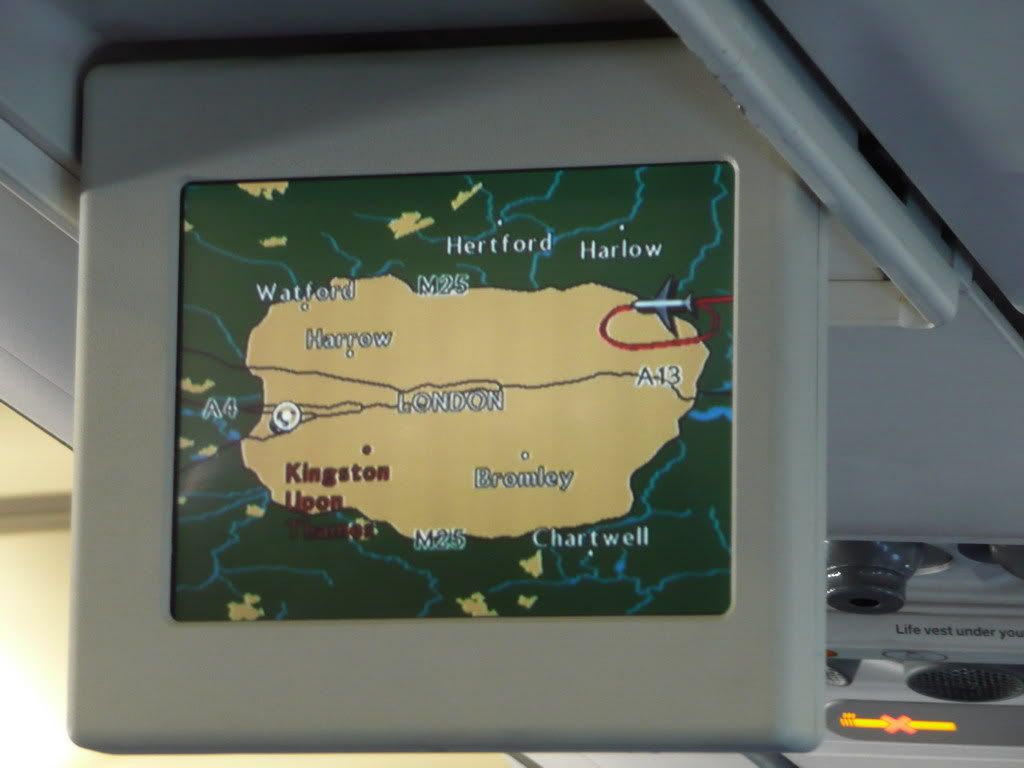 On the approach I had a great view over the city of London: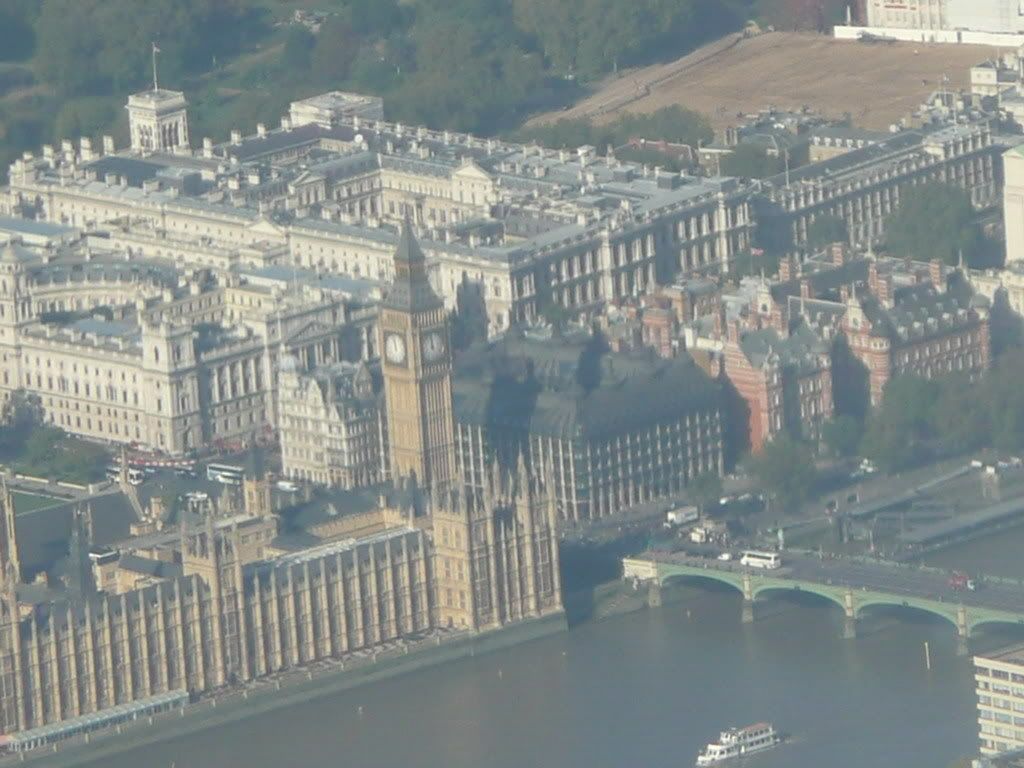 And here we are at LHR: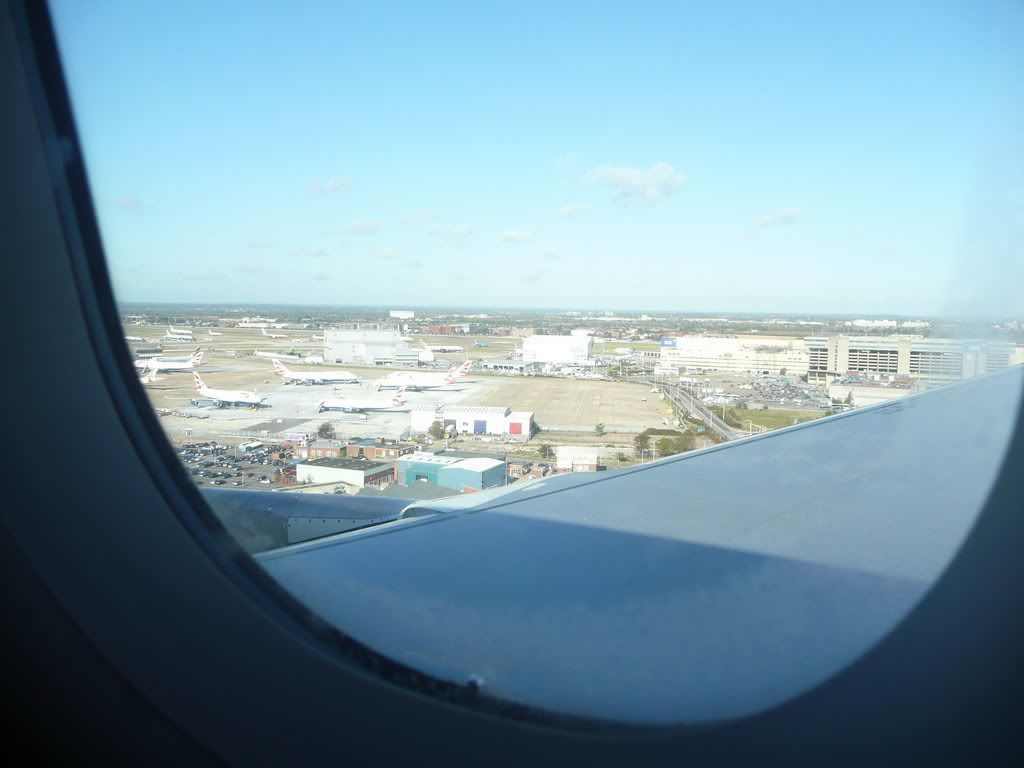 We landed on rwy 27L. My first aircraft I saw was the SQ A380: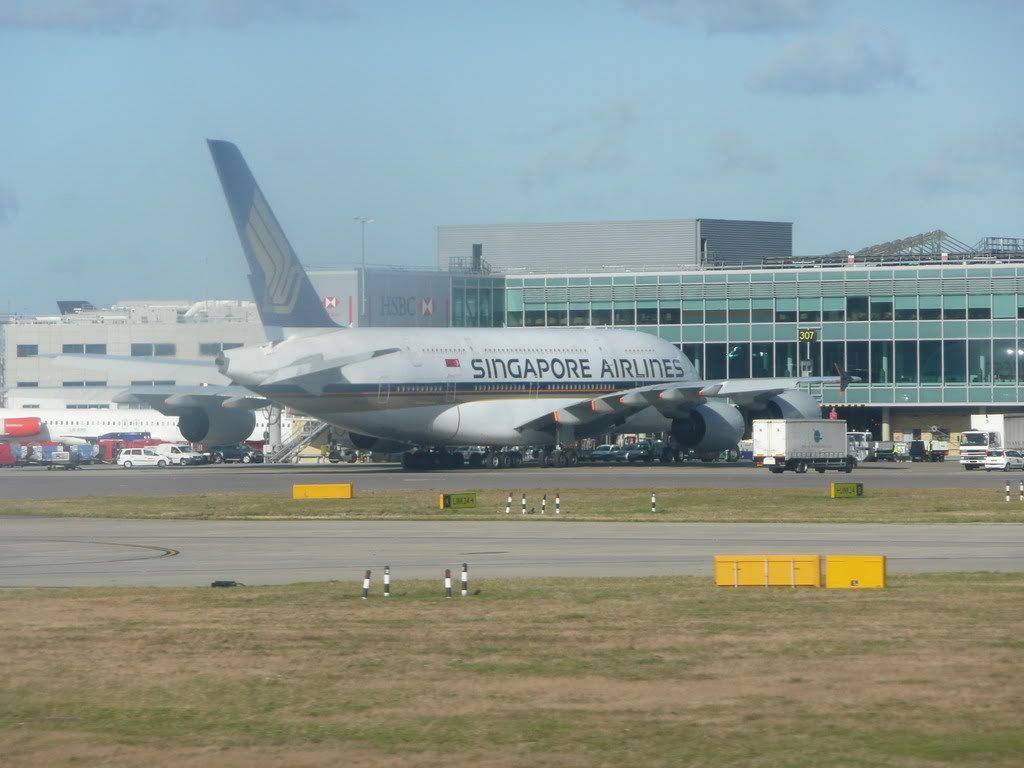 And push back SQ A380:
Welcome to Terminal 5:
We had only a short taxi because we got position 522 at the beginning of the building and arrived two minutes ahead of schedule. Disembarking was fast. After a long walk I reached the baggage claim.
Because I had no luggage I went through passport control and outside. I must say all ways are well signposted. Not like CDG (see next TR).
I like the London Taxi, but never had the chance to get a ride. Today I had again no time to go downtown. It was my 2nd time to LHR, but I have never been to London City.
Departure level at sunny T5:
A departing QF 744:
The landscape around looks nice:
I then went back inside and explored the check in facilities. The hall is spacious and full with daylight.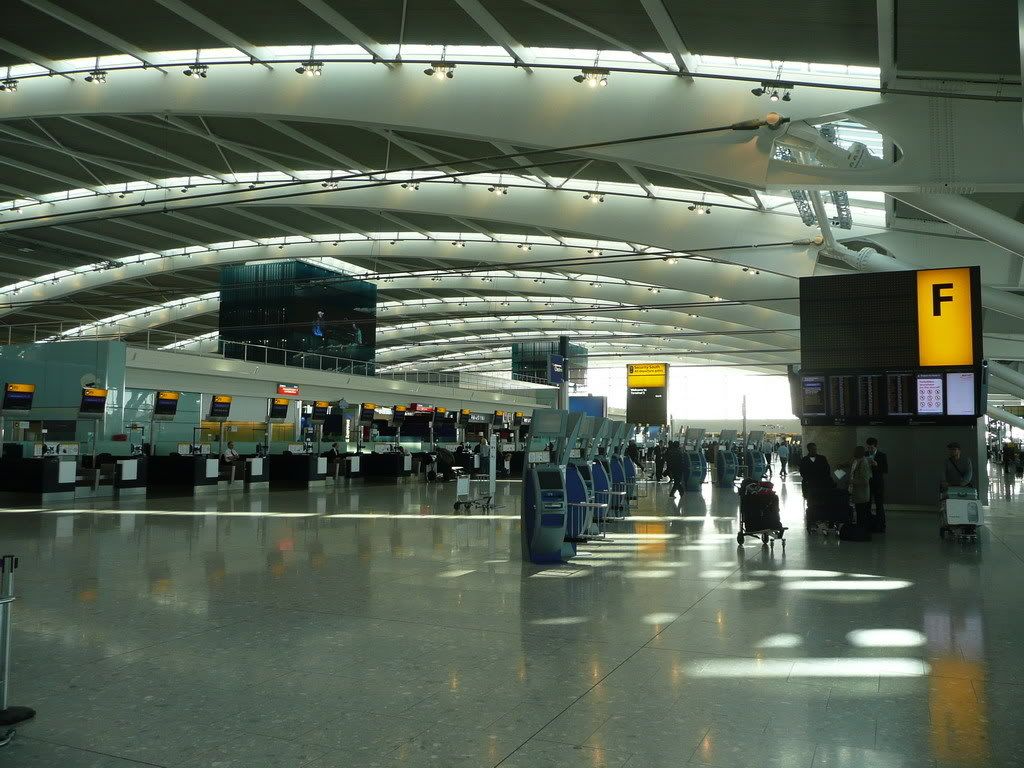 I passed security at the south end. It took me some minutes with some slow people in front of me and shoes off and so on. Then I was airside on the upper level and started thinking, how to spend the remaining time.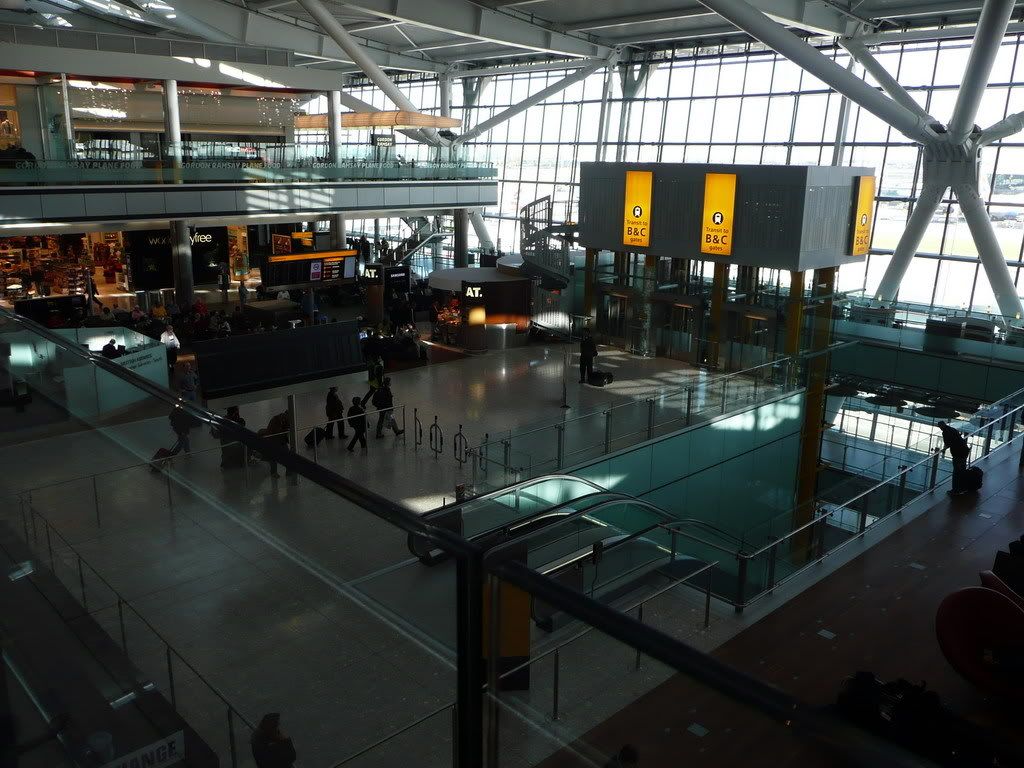 I heard about the restaurant of Gordon Ramsay, a British star cook, but decided to eat in the lounge. After looking around and reading several restaurant menus and walked downstairs and followed the signs to BA's south galleries. I could just manage it to resist a seafood bar with oysters.
The entrance to the BA galleries was on the lower level, but the business lounge for club travellers was back on the top floor. I showed my boarding pass and was inside. After reading several TRs and checking BA's website I expected something special, but now I got a really sensory overload. There was so much to see and to do. What a difference to other business lounges like LH at FRA. After looking around I used the free internet computers to check mails. Then I surveyed the food- and winebars and picked up a snack and some white wine.
After finishing my small meal I went to the windows and settled down in a comfy chair. I had a great view outside onto the apron and the runway, but unfortunately the runway was used from the other direction, so not much to see apart from taxi traffic:
Due to the nice sun it was a little bit to warm at the window and I changed my seat close to the beverage bar and helped myself with a whiskey.
The beverage bar:
Good old whiskey:
Instead of the crowded LH lounges it was very smoothly and with enough free seats in each area. There were places to work, to read newspapers and to eat…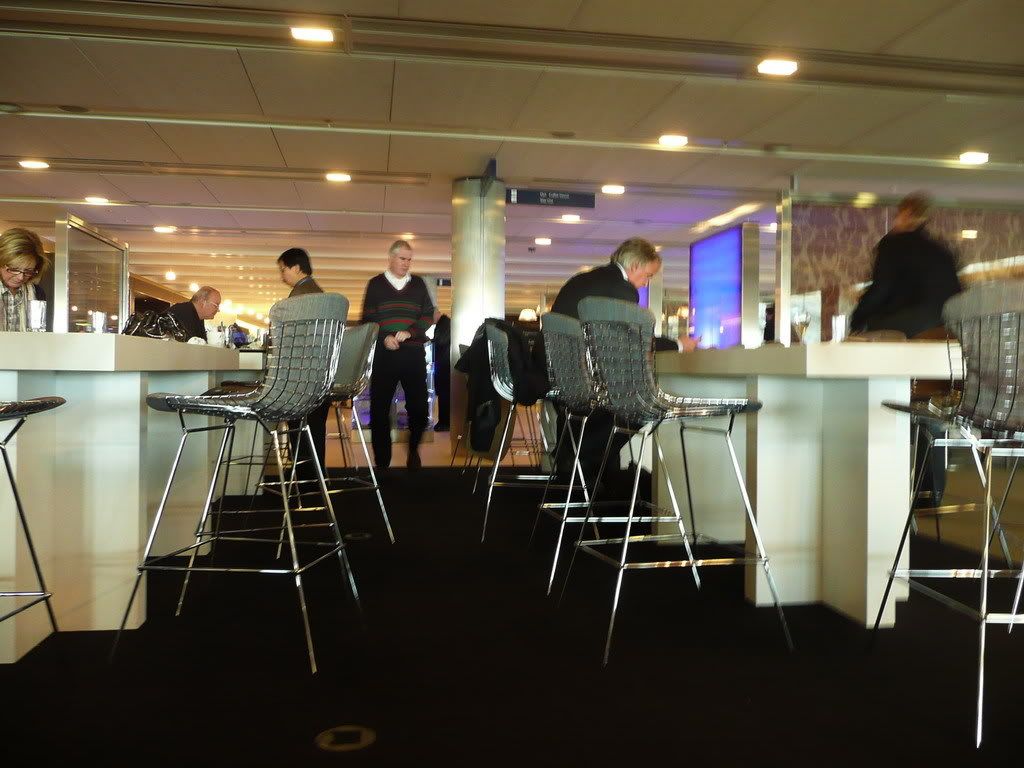 … places to eat… (note the wine shelves in the background)
… and free computers and a copier. Note the screens with information about the departure gates:
Flight: BA 966
Route: LHR-HAM
DATE: 21. Oct. 2008
SCHEDULED: 15:15 // 17:55
ACTUAL: 15:40 // 18:15
A/C: A320-232
REG: G-EUUL 7th flight on an A320, 1st on this one
SEAT: 3A
CLASS: BUSINESS
History: delivered to BA 20th Dec. 2002
View Large
View Medium


Photo © Enrico Pierobon SpotIT
View Large
View Medium


Photo © Roger Andreasson
Boarding was scheduled for 14:45, so I left the lounge at 14:30 and headed to gate A12: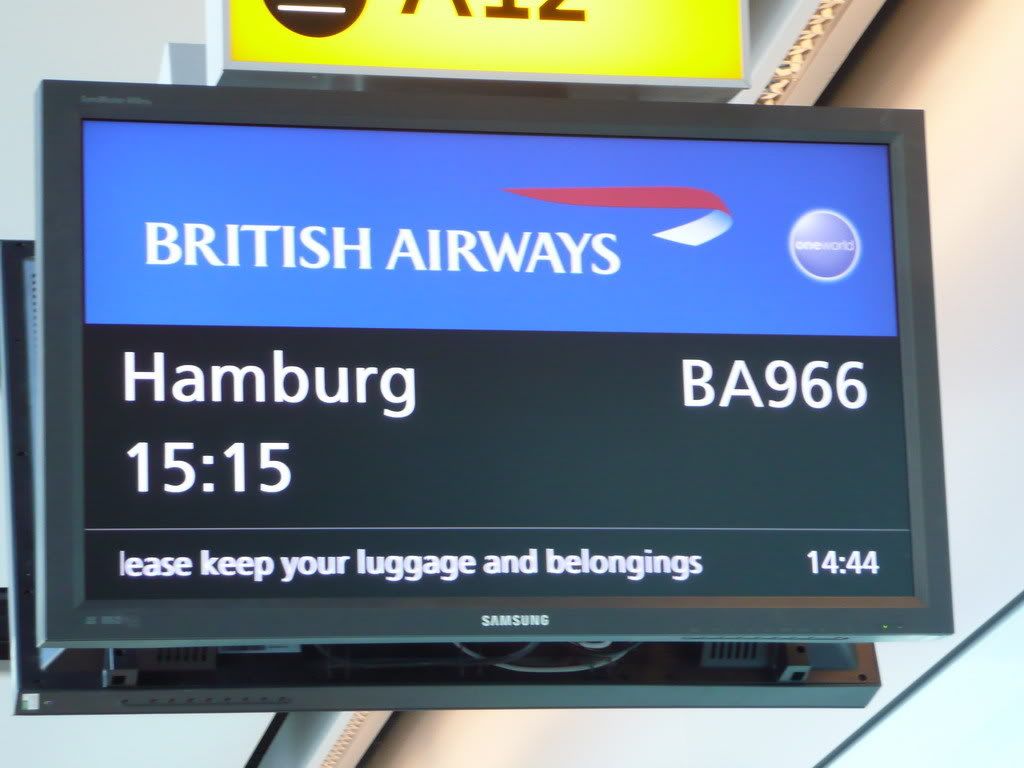 The view outside is great, but for spotting the steal construction is disturbing:
View onto the apron with G-EUUL to HAM on the right side:
Gategourmet brings my meal?:
What's this? Any idea?
Right! Boarding started without any pre-boarding in a huge crowd more than 25 minutes late.
On board I was greeted by a young friendly female f/a. I sat down in my seat 3A and had a nice view to a neighbour B767:
Again I was lucky to have the row to myself. The BA A320 has a 2-3 config in C-class. The middle seat on the left side is just an armrest and some space. The middle seat on the right side is a full seat and in two rows it was occupied.
After boarding the safety demo was shown on the screens in English and German this time.
Not that I need a German version, but there were some people on the plane where I doubted that they spoke English. Furthermore I think it couldn't be wrong to play the language of the destination country.
While taxiing to rwy 27L the captain welcomed us aboard and apologized for the delay because of the late inbound of the aircraft.
Taxiing to rwy 27L with nice views:
B757 Air Astana: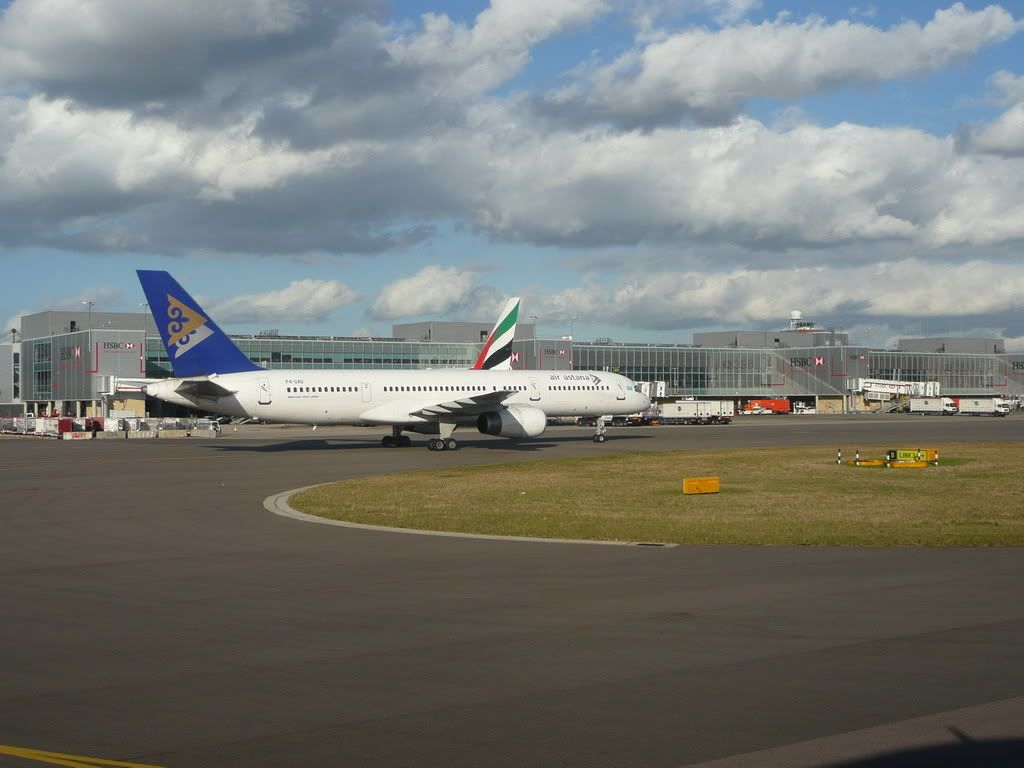 NZ B747 and B777 (never heard before that NZ serves LHR with a B777):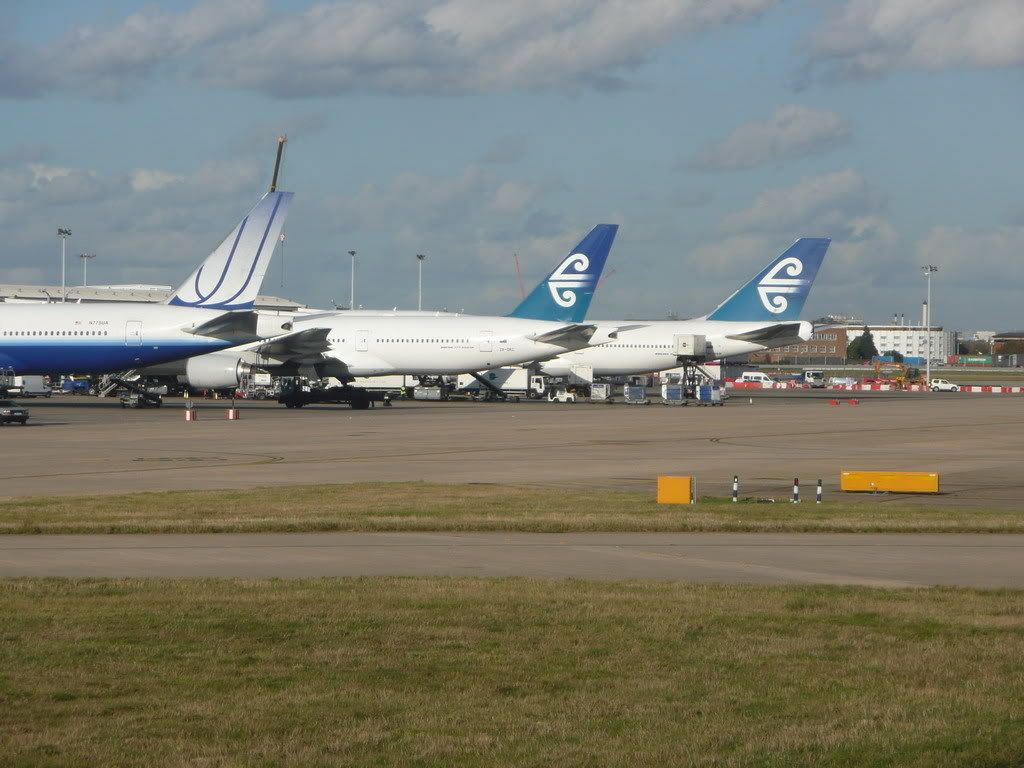 I was also astonished to see an AF B777:
Has BMI a new livery?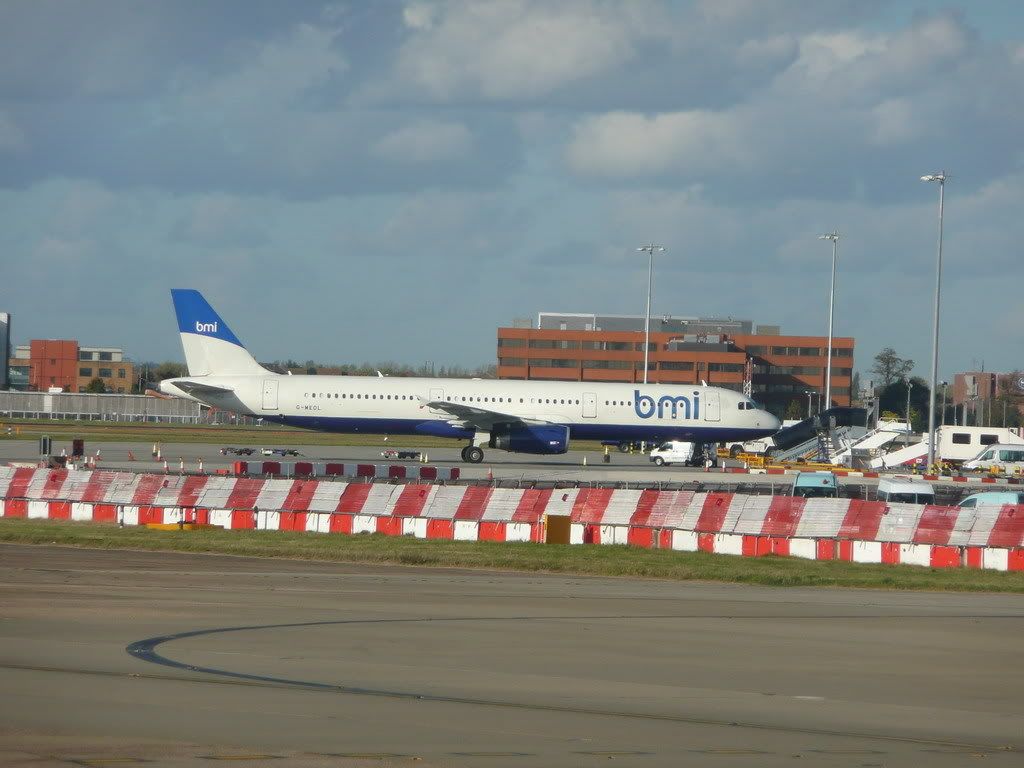 He he, looks funny:
Beautiful British landscape after take off:
Our way out of England:
After the seatbelt sign were switched off the crew started to prepare the meals in the front galley: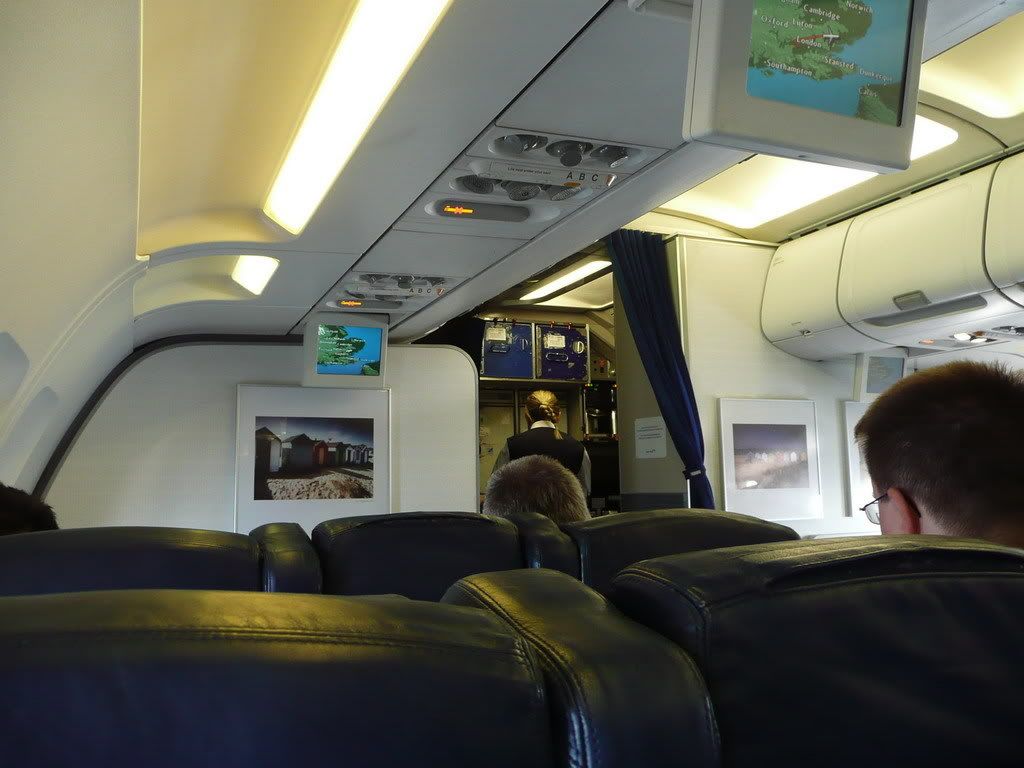 The young female f/a served the c-class section while two other young female f/as served the y-class with drinks. A fourth female f/a worked only in the front galley. Due to the short hop to HAM I expected only a cold meal, but soon I could smell a yummy scent from the galley.
While waiting for the meal I could see that we were leaving England:
Then it was time for the meal. It consisted of a hot puff pastry filled with mincemeat. To it a sandwich with ham, a sandwich with cream cheese, a raisins roll and jam were served. Everything very delicious:
With tea and orange juice. I also like metal cutlery: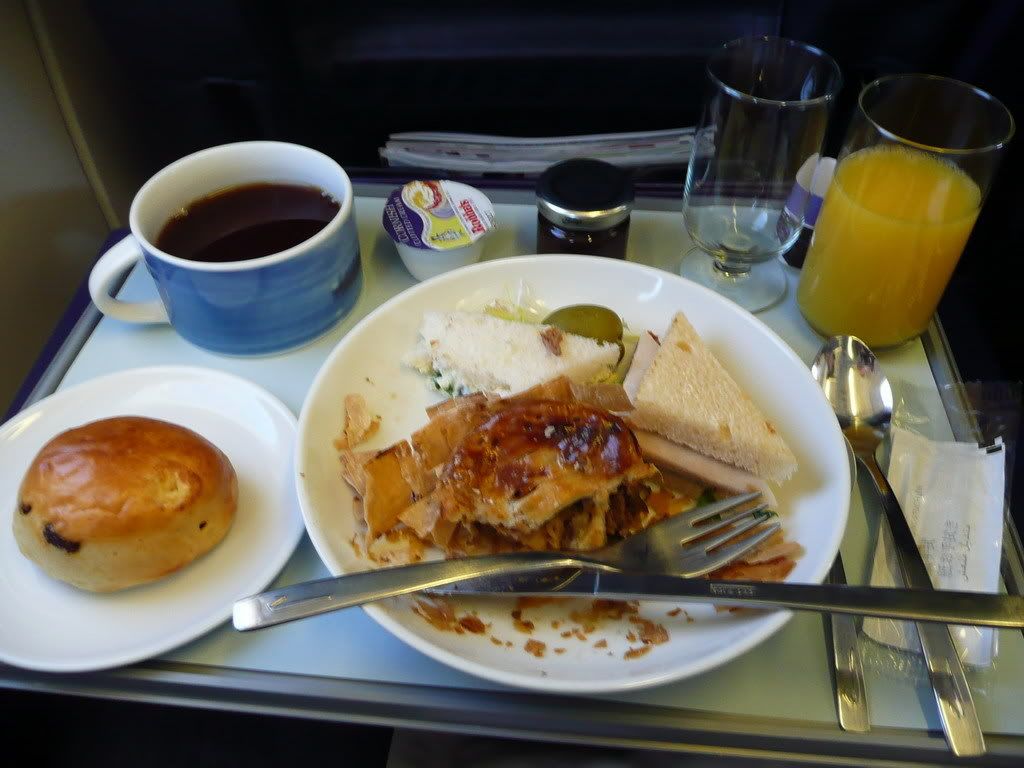 Back over Netherlands in 33,000 ft crz alt:
After the meal service a visitor from the flight deck got a snack:
Back over Germany. Nice white carpet: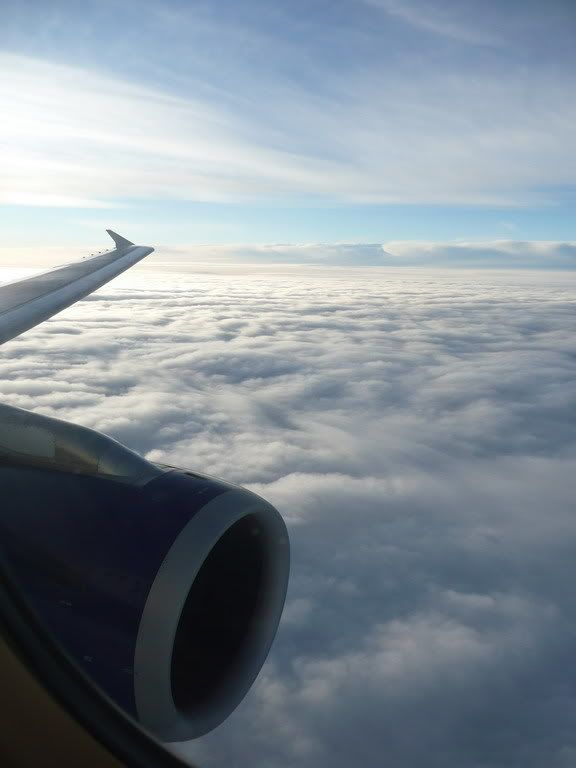 Then we started the descent through the clouds. Here you can the Elbe river:
All in all it was a nice first c-class experience. The seat pitch was ok for me:
We landed on rwy 23 in rainy Hamburg and taxied to the gate. After disembarking the pax had to go a far way to the baggage claim in terminal 1. I had no luggage, so after passport control I left the transit zone via the baggage claim in terminal 2, because I had the plan to check in at the Lufthansa desks and to pick up my boarding passes for the next day, unsuspecting a disappointment would wait for me. But this is a new story coming up within the next days.
Conclusion:
BA was a nice experience. Booking was easy. In my oneworld profile I preferred window seats. At the check in kiosk I was offered window seats
. The new T5 at LHR and the BA galleries were mind-blowing. The crew in both classes was friendly. In Y the service was nothing special, just business as usual. In C the meal was tasty. Beverage refill on demand. At that day I had no other C-class experience to compare, because it was my first business class flight. But the next day I would have my next experience on another carrier. No problem to fly BA in both classes again. Actually it's not necessary to fly in C within Europe. But I was curious to explore the service and the fares were acceptable. For the whole trip I paid € 306,- incl. all taxes and charges.
Questions and comments are welcome!
Cheers,
Stefan