....
..............
So time to go on another Swiss mini trip. This time it was to be Vienna. I had not been for around two years and wanted to see it again. I booked my flights on Swiss.com and got an E ticket emailed to me. I also booked a hotel in the city center and a private transfer from the hotel to the airport at 4am the next morning to get the flight back.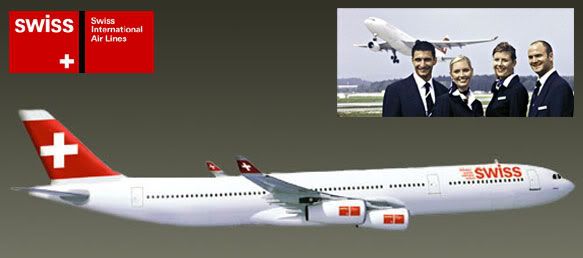 DATE : 04NOV08
ROUTE: DUB-ZRH
AIRLINE : SWISS
FLIGHT : LX 401
A/C : A320-214
REG: HB-IJP
CLASS : BUSINESS
SEAT : 4A
Progress of Terminal 2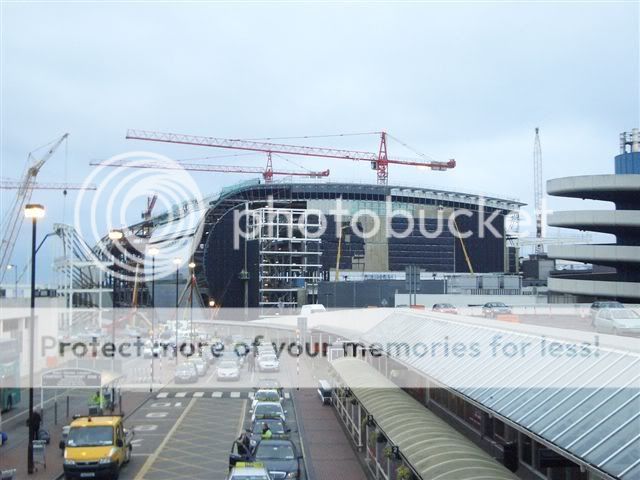 I checked in two hours before as usual. The girl at the desk printed off three boarding cards which was usual on a 24 hour turn around. Then she looked puzzled and asked me where I was going LOL. I told her that she should indeed have DUB-ZRH ZRH-VIE and VIE-ZRH. She said no and I looked at the boarding cards and told her she had printed off the DUB-ZRH twice!! Anyway she realised and gave me one of the DUB-ZRH and the ZRH-VIE and ripped up the dupe DUB-ZRH one. I said I can get the VIE-ZRH one the next day and that it did not matter. She tried to make it print out but it didnt issue. No big deal.
I then went through security and this morning it was full of fools. Why do people wait until they are ready to walk through the X ray arch to suddenly take out their coins and mobiles etc... It just delays everyone.
Smart looking bags
I then went to the Anna Livia lounge and the BMI lounge. No photos as you have seen them many times and nothing has changed ... OH actually one thing has changed in the BMI Diamond Club !!
We have a Peanut machine now .... no doubt part of the LH improvements
Time to head to the D gates which is a good ten minute walk. This always seems to be my gate now ( D64 ).
Time to board and I was greeted by a friendly crew.
Water and refresher towel
The automated safety demo video was not working so the crew had to do it manually.
Click to view safety demo video ::
Pilot Announcement video click to view ::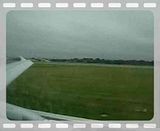 Delta Airlines take off video click to view ::
Take off video with Aerial view of the airport click to view ::
Swiss uniform is much nicer IMHO. Interesting to note that Swiss now offer flights to the Maldives/Sri Lanka and other tropical places on through tickets from London and Dublin. Connecting to the Edelweiss flights in ZRH.
Time for the nice meal
Then Coffee and Chocolates
We dare to dream ?
After a nice flight time to land into ZRH
I spent some time in the shops and the Senator lounge before going to the A gates for my flight to Vienna.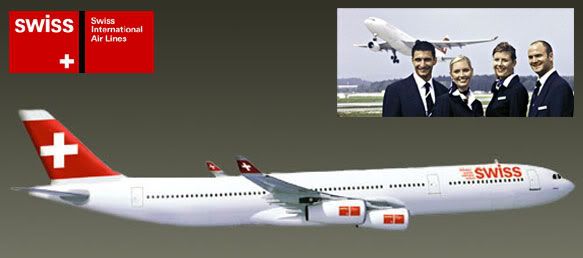 DATE : 04NOV08
ROUTE: ZRH-VIE
AIRLINE : SWISS
FLIGHT : LX 1582
A/C : A319-112
REG: HB-IPV
CLASS : BUSINESS
SEAT : 4A
I was greeted by a very friendly crew.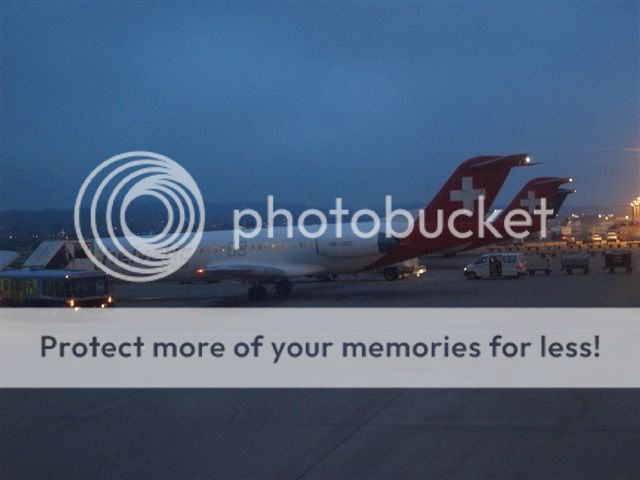 Time for the meal service and this was really nice for such a short 1 hour flight.
The mini mousse desert was laced with cherry liquer. It was really nice.
Very tasty. The meal service had been delayed because of heavy turbulence and the pilot advised that it was not safe for the crew to carry out their duties. This meant that crew were really pressed for time but they managed it well. The wheels came down and the crew were still racing to put meals away but they did in just in time.
Wien by night
Landing Video click to view ::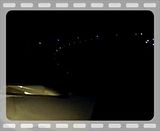 Vienna airport reminds me of the old LHR Terminal 2 in the 90's. Old looking and tatty. Passport control was a long process and its something I had forgotten about Vienna. Also the immigration officials love their job. Two Austrian looking people walked through no problem then when I presented by British passport she looked at me and closely at the passport & scanned it !! She did not smile or say anything. Charm school did not rub off on these lot!!
Time to get the CAT express train to the City Center. It costs EUR9 oneway .
The place is a building site and the dust and noise were terrible. I had to stand and wait 15 mins waiting for the train to arrive .
Video ::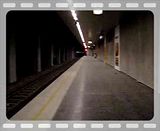 Train arrives Video ::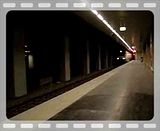 The train arrived in Vienna and there is so much change since I was there before. The train station is not a place to be at night and the whole place has been knocked down and replaced by pre fab until the new building is constructed. There were alot of weird looking people sitting around on the floor and the smell of urine was horrible.
Time to walk to my hotel . Once I got to the Parkring things were alot nicer. i guess once the construction around the train station is complete it will be a more welcoming place.
I checked into my hotel which was near to the Greek Orthodox church and then spent the evening waling around the local area. Some nice restaurants and shops. I decided to eat Falafels and kebab from a take away and it was delicious. After that I went back to my hotel for some sleep as my transfer was collecting me at 4am. I watched a bit of TV following the US elections then fell asleep. I woke up at 0330am and switched on the TV no change in the US election news so I got ready and went to reception and checked out. My driver was waiting for me at the desk. We got to the aiport very quickly and I then went to check in at the SSK's.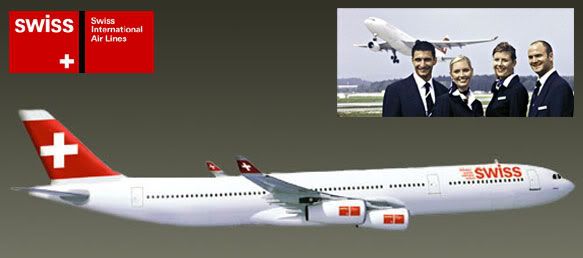 DATE : 05NOV08
ROUTE: VIE-ZRH
AIRLINE : SWISS
FLIGHT : LX 1585
A/C : A319-112
REG: HB-???
CLASS : BUSINESS
SEAT : 4A
This one did not work .
This clock reminds me of the pictures of THF that Flieger posted.
I tried to check in at this kiosk and it worked.
Model behind the desk at Olympic Airlines
Senator check in and ticketing area
I had to wait for 30 minutes for the lounges to open so I took a walk around .
Finally it was 0530 and I went into the Senator lounge ::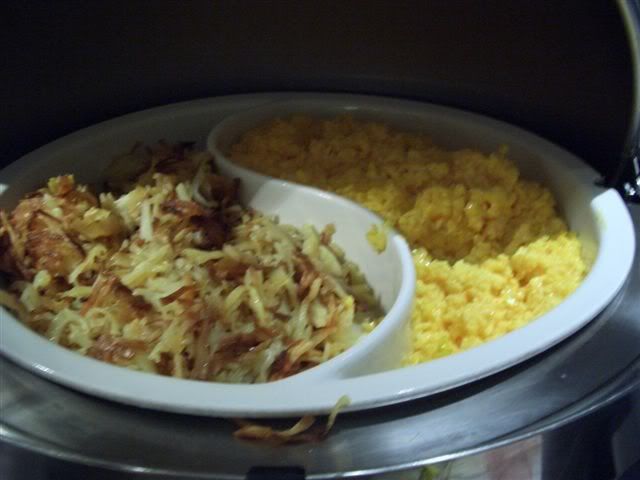 The food was really nice and I was quite impressed.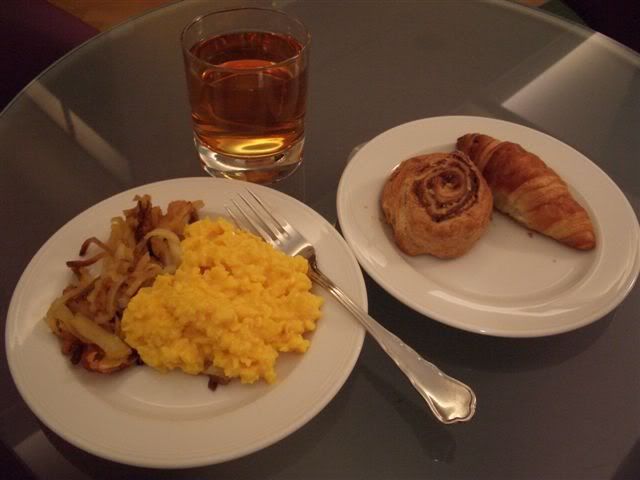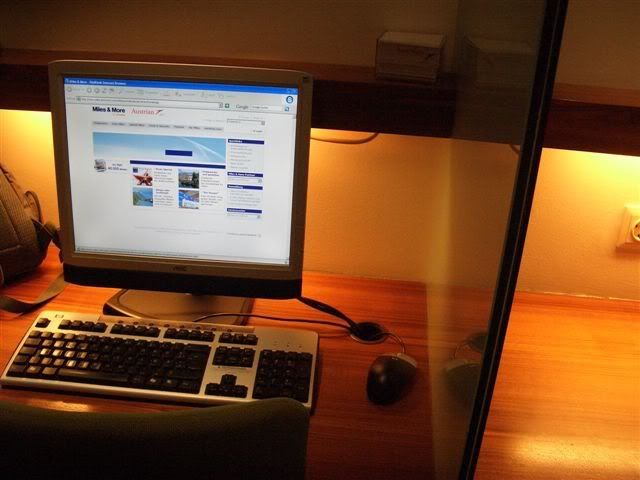 I then left the lounge and went to see the Business class lounge ::
I walked in and people were standing around the TV's. Obama was making his victory speech. I was so happy to see that. The Austrian airlines lounge agent said ''thank god'' and everyone smiled. It really was a great start to the morning and I will never forget where I was when I heard Obama's speech.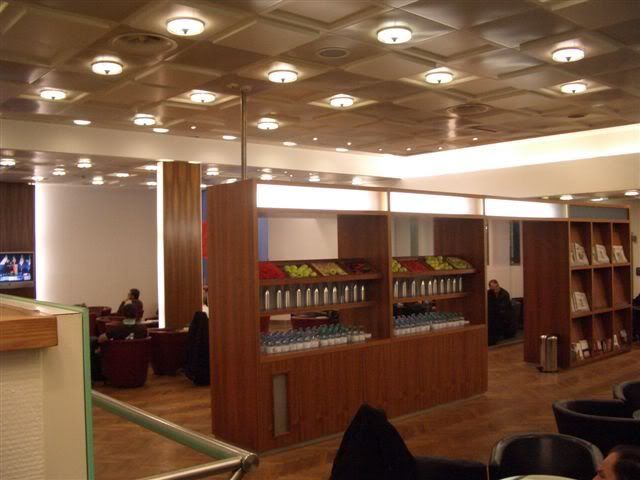 Time to go to the boarding gates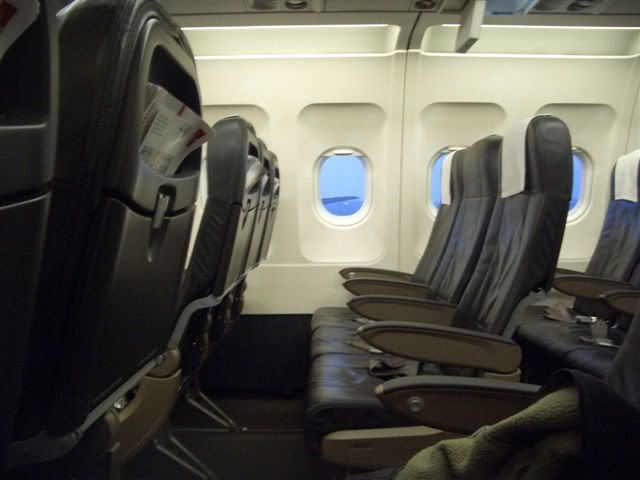 On the ground Video click to view ::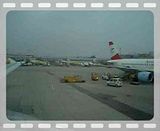 Waving us off...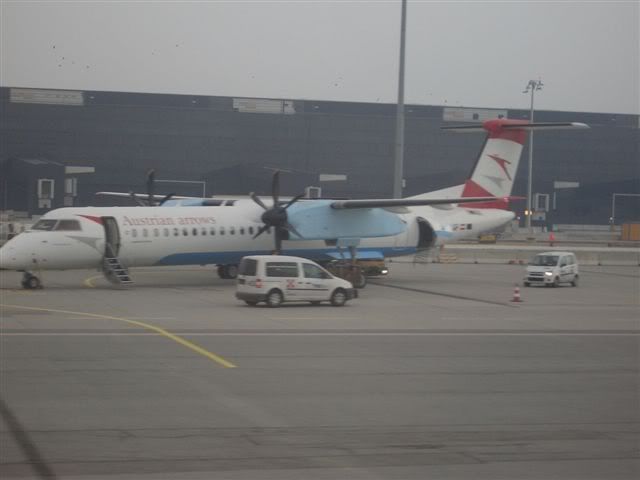 Take off Video click to view ::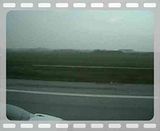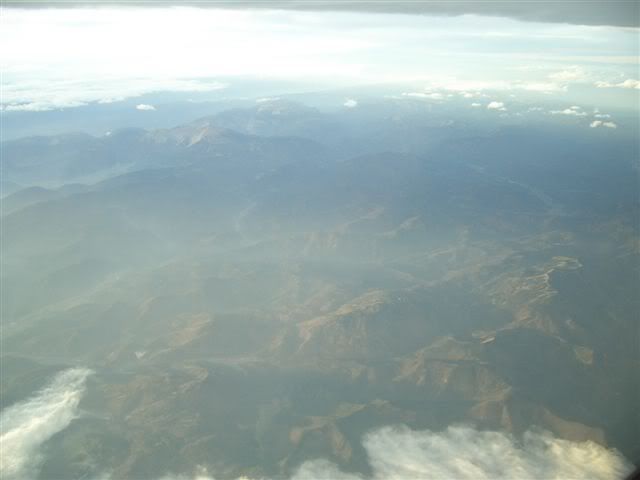 After take off breakfast was served. It was very nice .
SZG ( I think )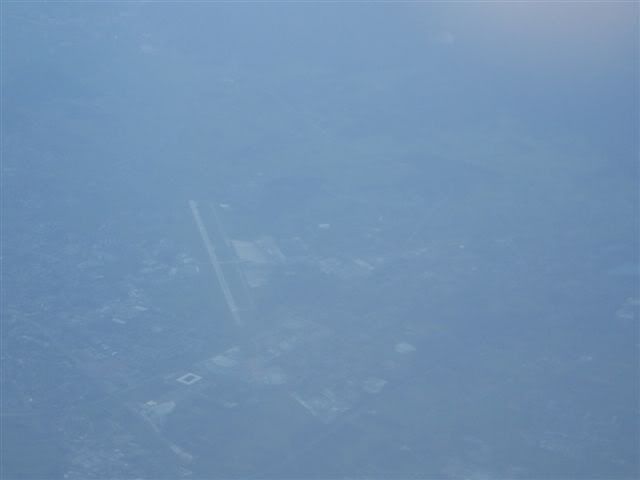 After a while I had a mini sleep then it was time to land in ZRH. Cloud cover was very low.
Closed viewing area !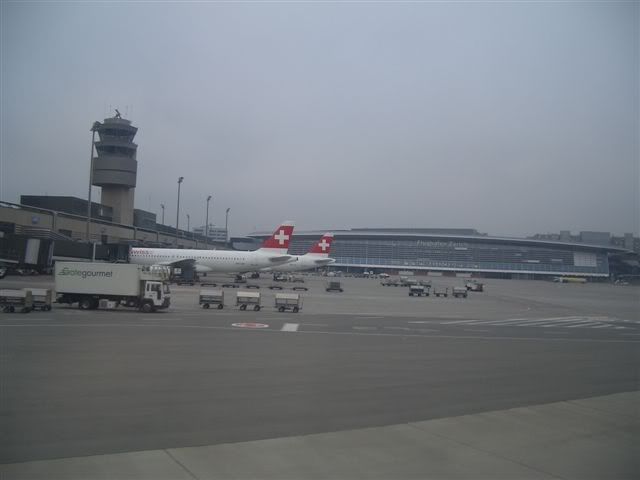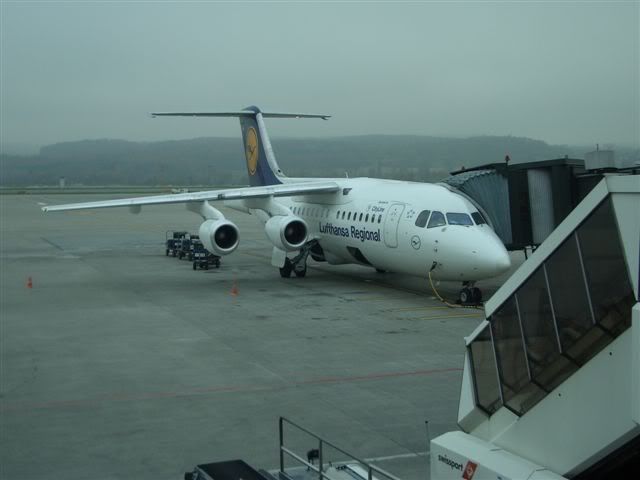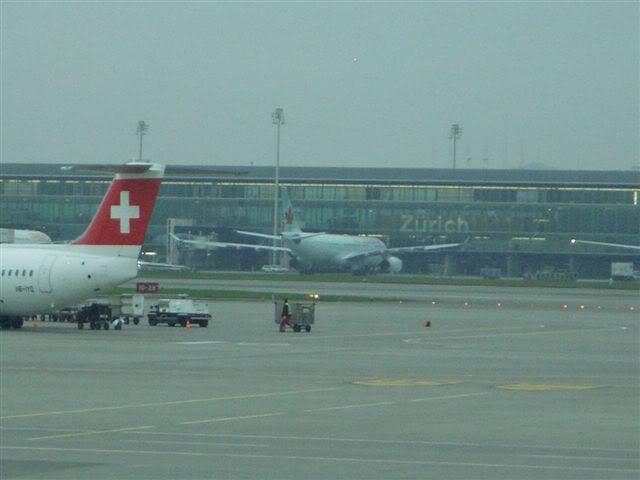 No time for lounges , straight to the next gate. As I approached the Business class priority que a young hippy student type guy came from the Economy class que and said ''Im sorry '' as if I was jumping the que!! I just pointed to the Business class sign and went in front of him. Turns out he was on my flight. Maybe he didnt realise.
DATE : 05NOV08
ROUTE: ZRH-DUB
AIRLINE : SWISS
FLIGHT : LX 401
A/C : A319-112
REG: HB-IPT
CLASS : BUSINESS
SEAT : 4A
Boarding was delayed due to a last minute aircraft change. I dont know why .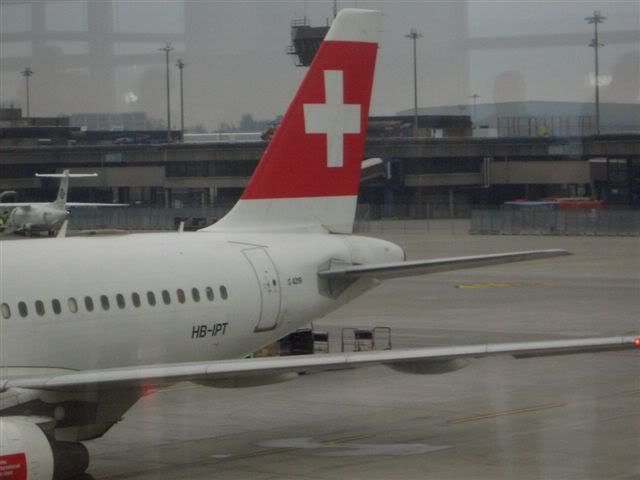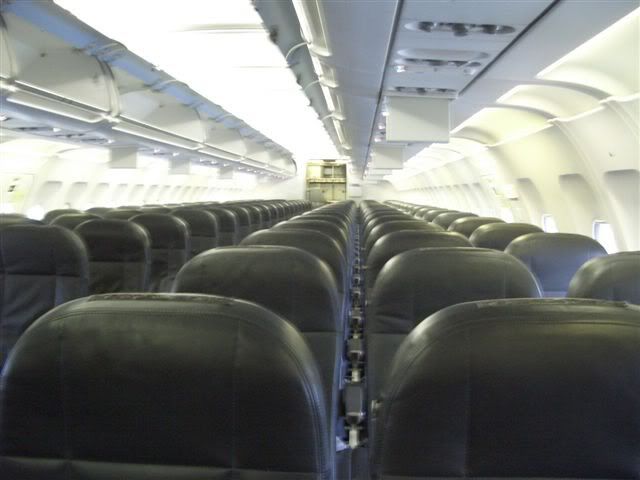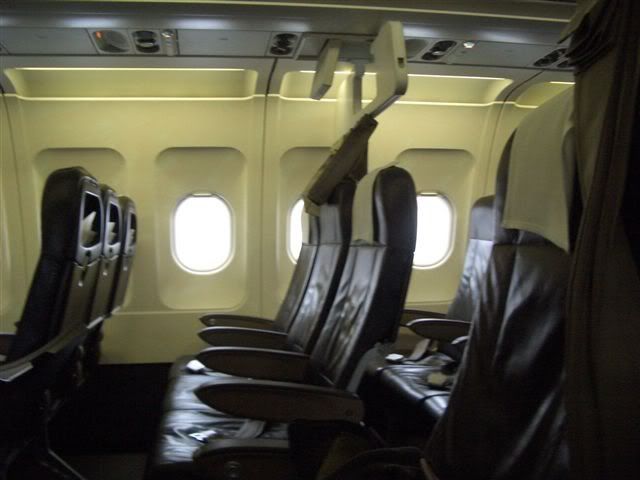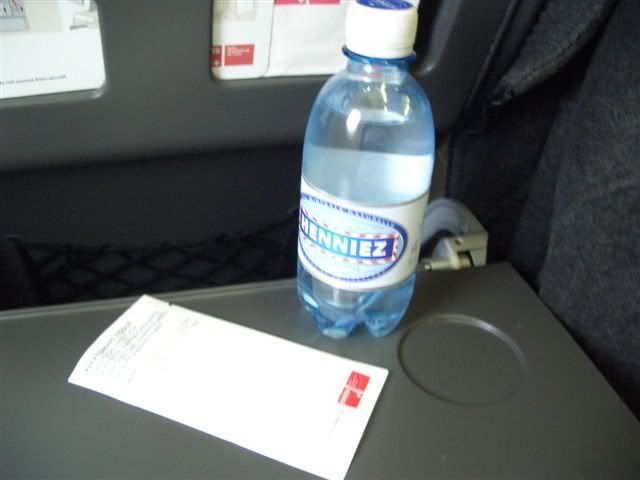 On the ground video ::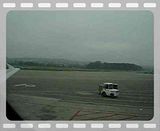 Take off video ::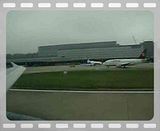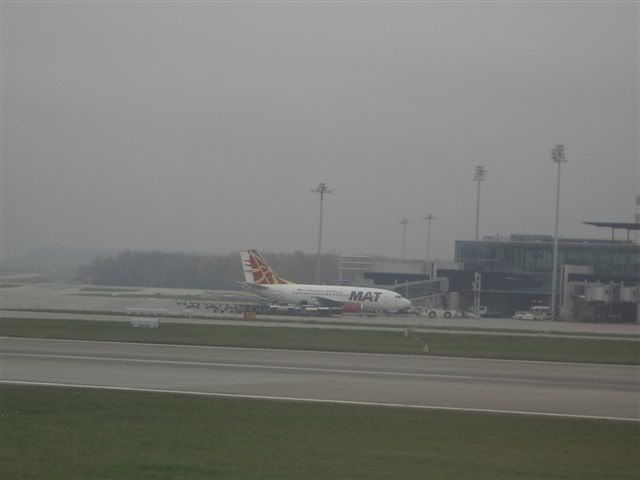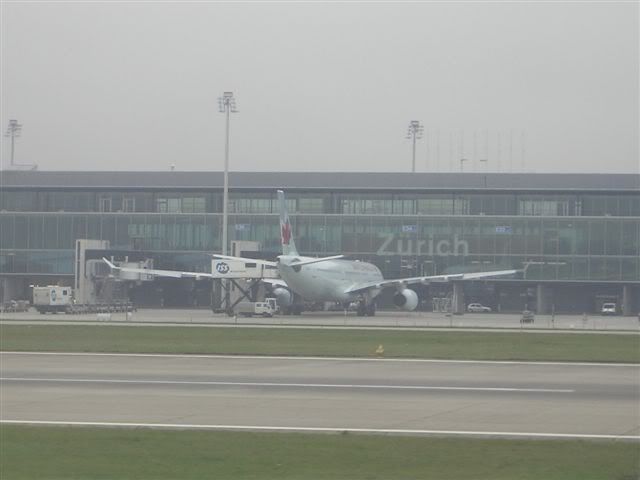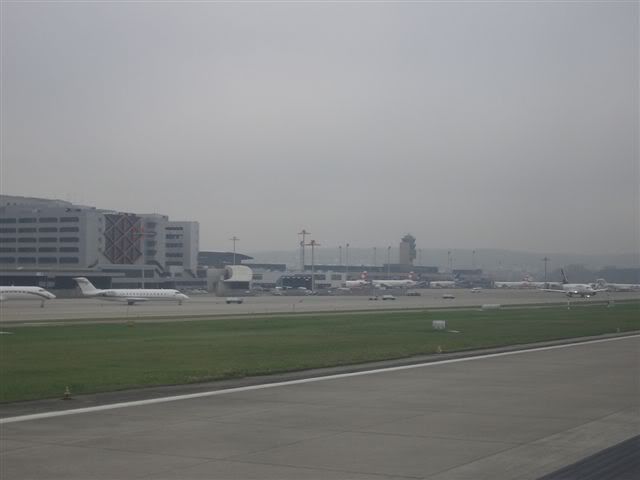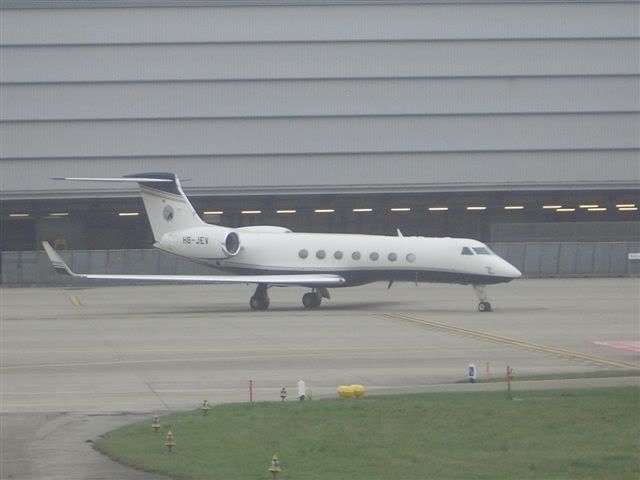 Progress Video ::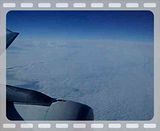 Time for another nice Breakfast my 3rd of the morning LOL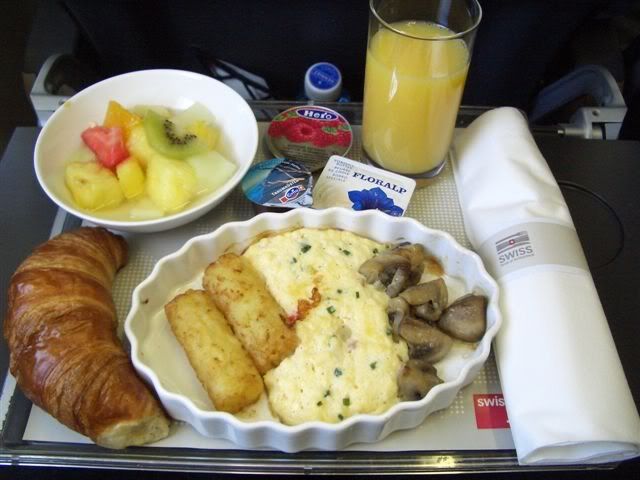 After that I slept for a bit . Then time for landing in Dublin .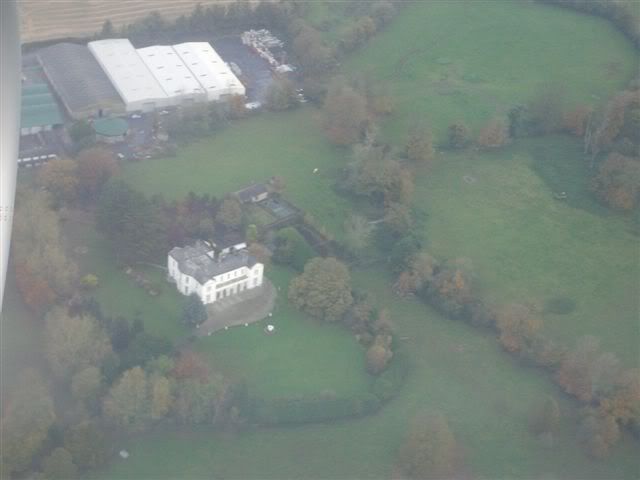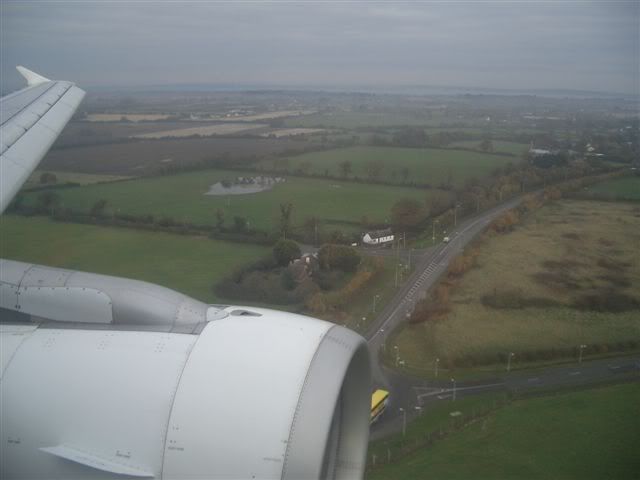 Anyone remember Eircell ( 088 ) lol....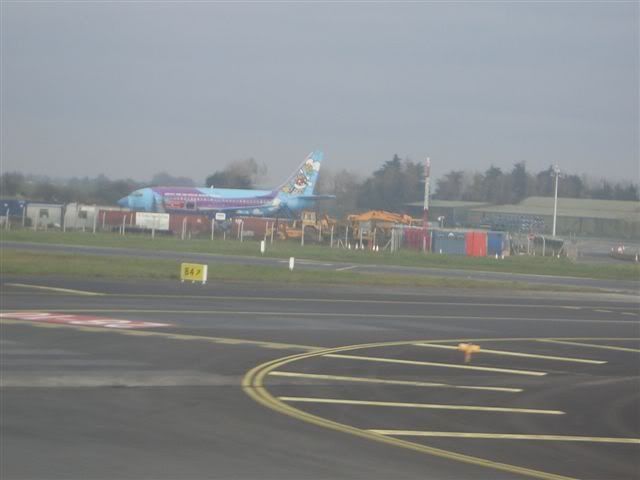 So thats it guys. Another good Swiss experience. I liked Vienna for the few hours I was back in it. I would like to go back but would next time stay at the Marriott or Radission in the Park Ring. It really makes the difference. I hope all the building work gets finished soon.
Comments and suggestions appreciated as usual.
OA260