First Class BA & QF MEL-SYD-BKK-LHR pics & video
This trip report concentrates a lot on food both in the air and on the ground, although at the end is a 2.5 minute video of my flight landing at Heathrow which may interest plane spotters. I also focus a bit on my stopover in Bangkok at the Sukhothai hotel which really impressed me. I will soon publish the second part of the report covering my return trip to MEL.
Although I have been travelling a bit on SQ in 1st class lately, I was so impressed last year with BA in 1st class (see my trip report
https://www.airliners.net/aviation-forums/trip_reports/read.main/109501
) that I decided to get the same tickets to Europe again for August 2008, even though it meant having to travel via SYD.
My planned flights were as follows:
22 Aug MEL-SYD QF432 J dep:12:30 arr:13:50, est flight time: 1:20;
22 Aug SYD-BKK BA10 F dep: 16:35 arr: 22:55, est flight time: 9:20;
26 Aug BKK-LHR BA10 F dep: 00:20 arr 06:20 est flight time: 12:00;
24 Sep BCN-LHR BA481 J dep: 18:30 arr 19:50 est flight time: 2:20;
24 Sep LHR-BKK BA9 F dep: 22:00 arr 15:15+1 est flight time: 11:15;
27 Sep BKK-SYD BA9 F dep: 18:10 arr 06:05+1 est flight time: 8:55;
28 Sep SYD-MEL QF415 J dep: 08:00 arr 09:30 est flight time: 1:20.
I stress that these were my planned flights. Actually, things changed a bit on my outbound journey both to SYD and from BKK. But I had little warning of this when I arrived at the domestic terminal and headed for the new QF Business lounge.
The QF Business lounge in the domestic section of MEL is just an area taken from the original QantasClub lounge and divided off to provide a more exclusive space for people travelling in business class or Platinum QF members. As I qualified on both criteria, there were no impediments to me entering this section, although the experience was under whelming to say the least.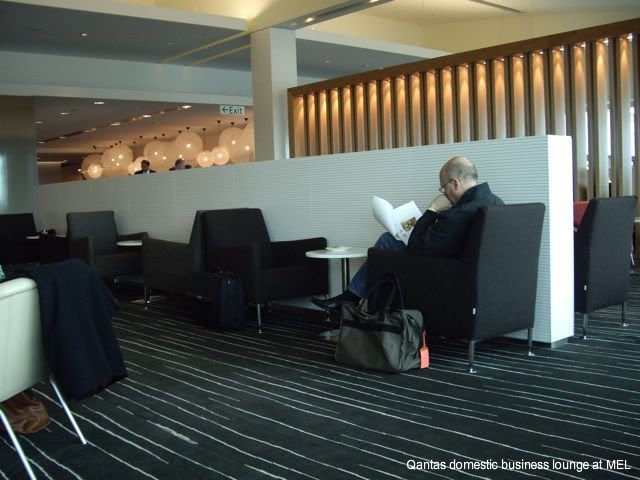 The service and facilities are the same as the old QantasClub lounge except it was less crowded. I don't know why it is so special unless the QantasClub service has been downgraded.
Although I had allowed almost three hours connection time in SYD so that I could enjoy the QF F lounge, as things turned out I barely made the BA10 flight. QF432 was delayed at the gate in MEL for about 90 minutes due to QF being overly bureaucratic about a cargo door scratch noticed by a baggage porter, and refused to move the plane until all the required paperwork was signed off. This is QF being very cautious about everything during what has been a terrible few months of engineering incidents. Mind you, another of my reasons to fly long haul with BA was due to my concerns about QF incidents – and here I am on the first leg of my journey with one! Some passengers were so annoyed that they forced the crew to open the door and let them off the aircraft. OK for them, they only had cabin baggage to worry about.
The inflight service was very ordinary for business class, with little leg room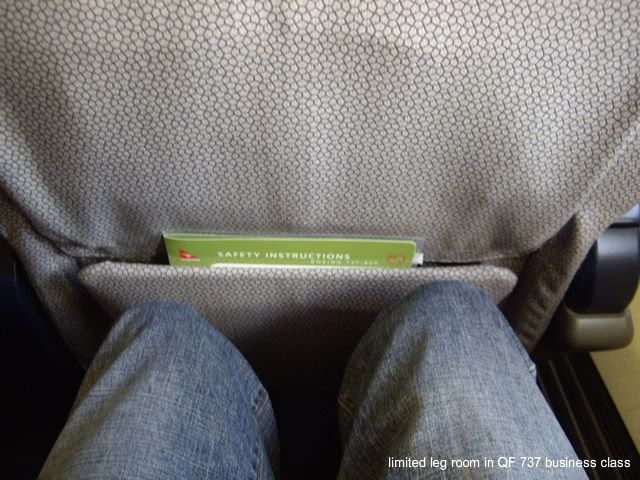 and a basic lunch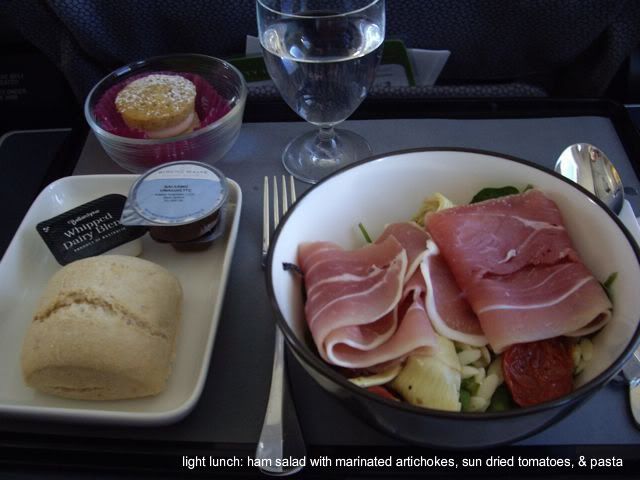 I think that in future I will only travel J class on 767's domestically because they provide a lot more leg room.
When the flight finally arrived at SYD, my connection time had shrunk to about 60 minutes. OK – maybe enough time for a quick champers in the QF F lounge. But no, I had to wait 45 minutes in an increasingly crowded transfer lounge while the QF bus drivers casually took their time. No mind that they advertise a maximum waiting time of 20 minutes! Then the actual transfer time in a crowded bus that seems to do a perimeter drive of SYD airport left me with barely 5 minutes to get through immigration and security before the BA10 departure gate closed. I read recently that there was a serious accident when one of those transfer busses collided with another vehicle on the tarmac. I wasn't surprised given the drivers' cavalier attitude and how they overcrowd the busses.
I was so strung out worrying that I might miss BA10, it was especially welcoming to be greeted by calm, smiling BA crew, escorted to my preferred seat of 2A and offered a nice chilled glass of Bollinger La Grande Annee 1999. I can't remember the first glass actually touching the sides of my throat, but by about the third I was savouring it more and beginning to drift into that wonderful mellowness that quality champagne affords – and this is before the plane had even left the ground.
I like the BA 744 F cabin - the sense of privacy that those large chairs provide with the way they are angled towards the windows – an approach I note QF have taken with the F seats in their A380.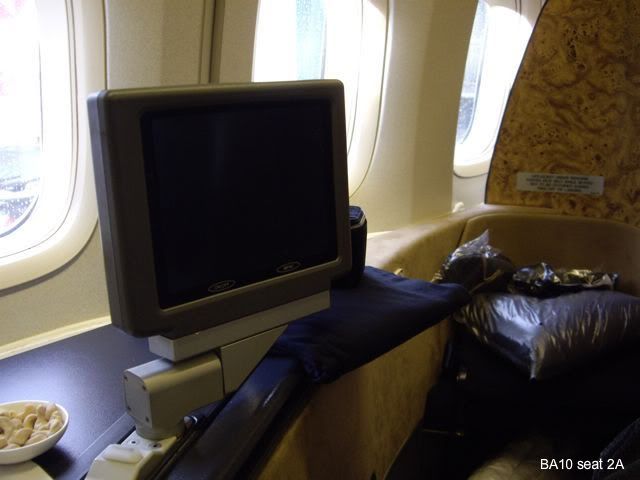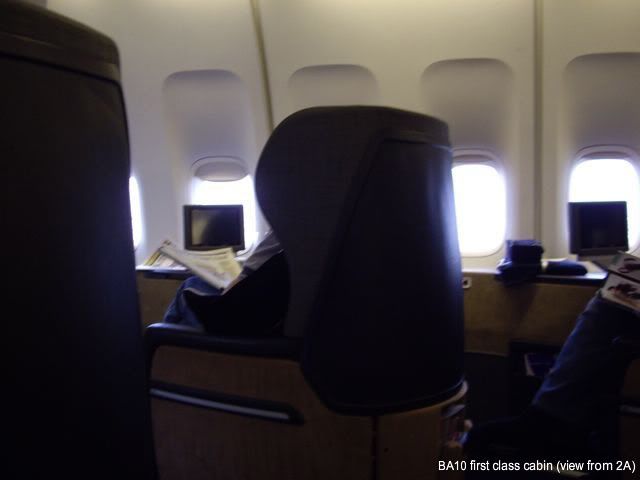 As usual, the FAs busied themselves handing out amenity kits, reading material, and menus.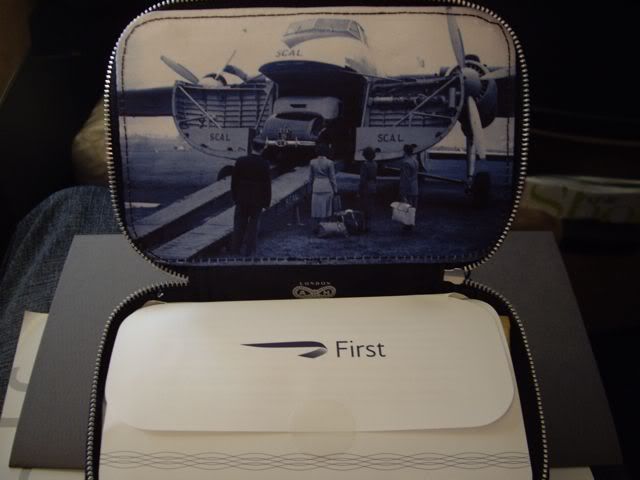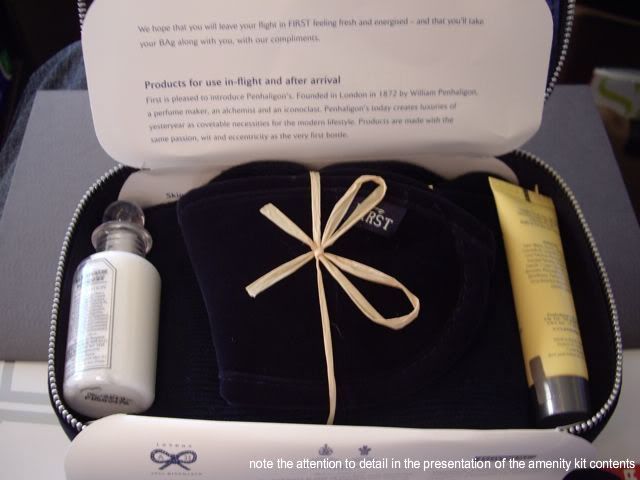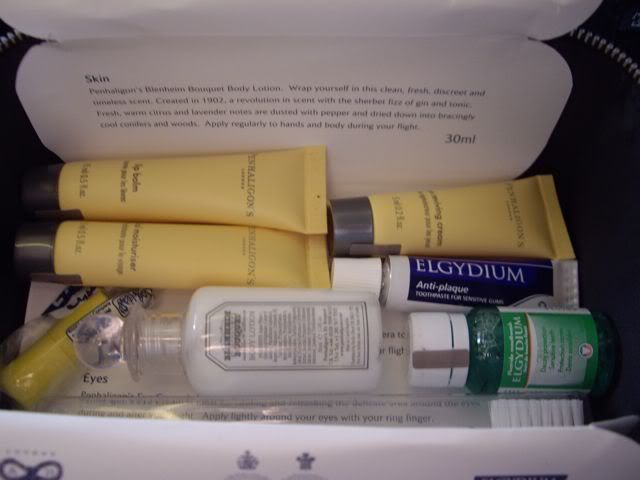 At least there were no delays with BA10 and soon we were airborne and I was anticipating what to have for dinner while sipping on a further glass of Bollinger and nibbling some delicious hors d'oeuvres.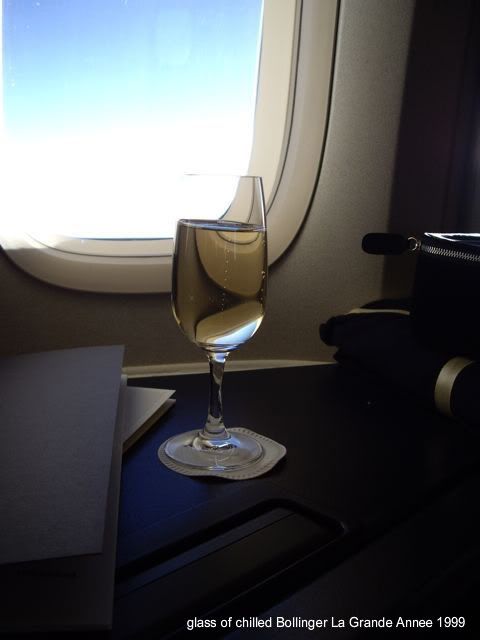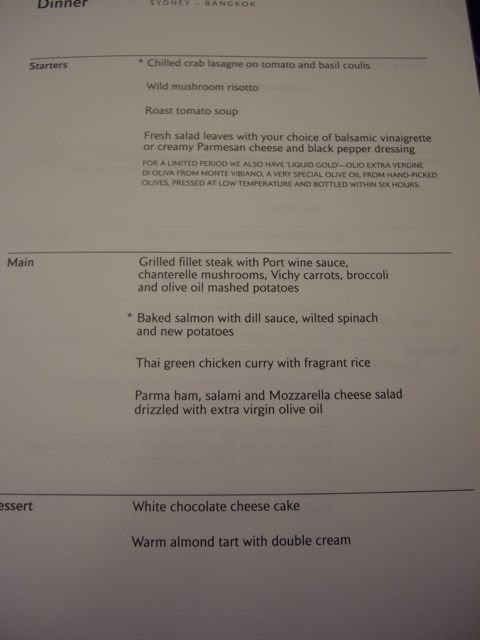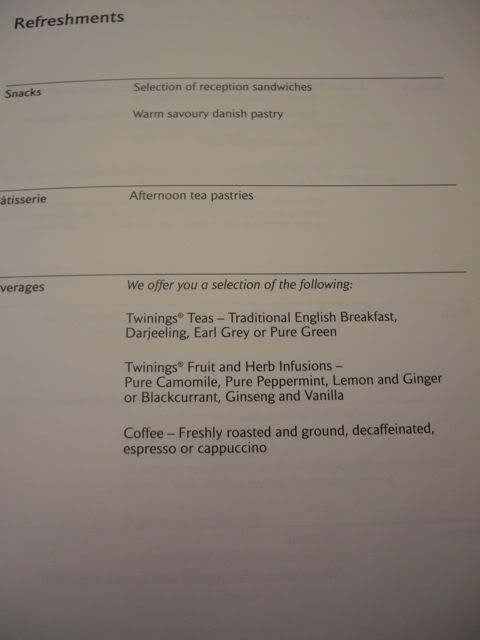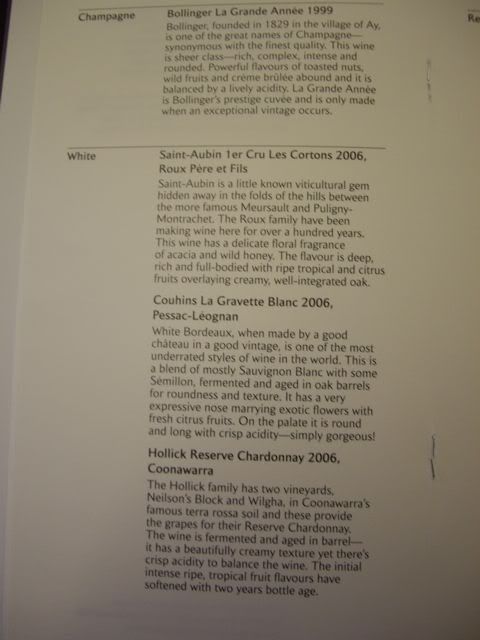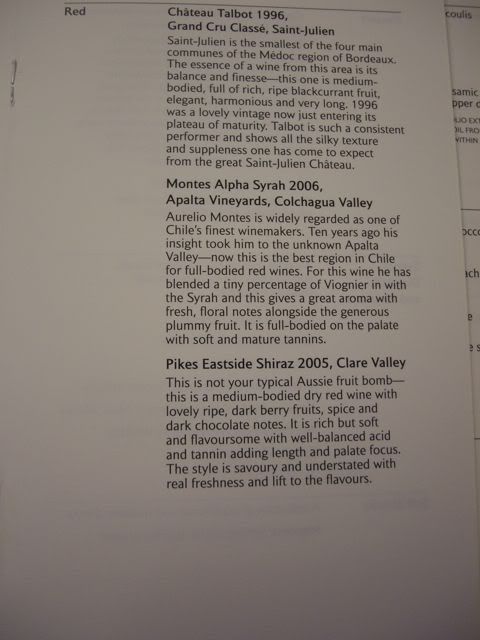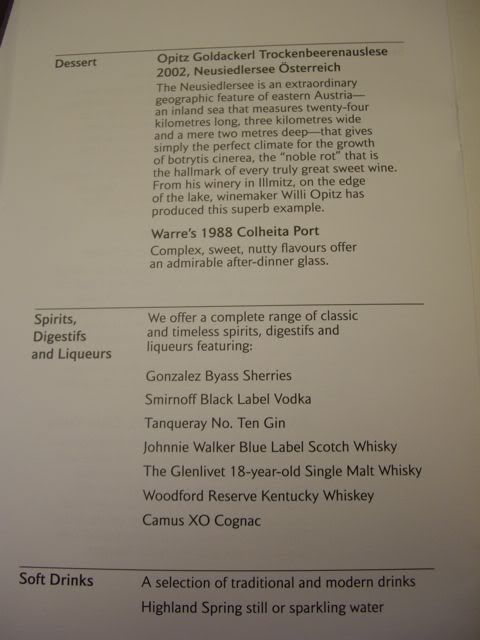 Very soon, my table was set up for dinner
I continued with the Bollinger with the first course but then changed to Chateau Talbot 1996 - a delicious full fruit wine and a perfect match for my main course.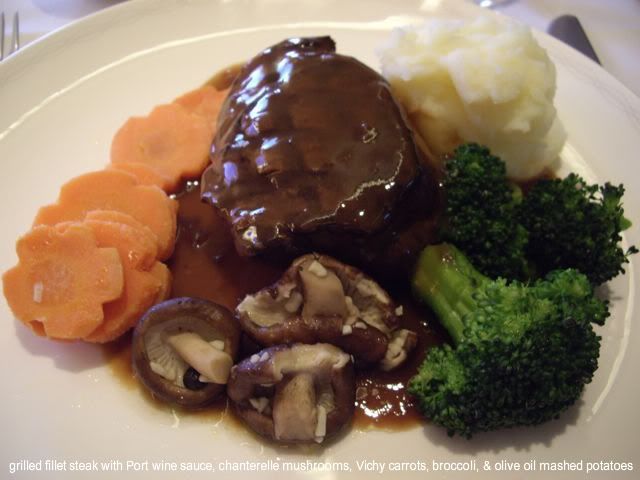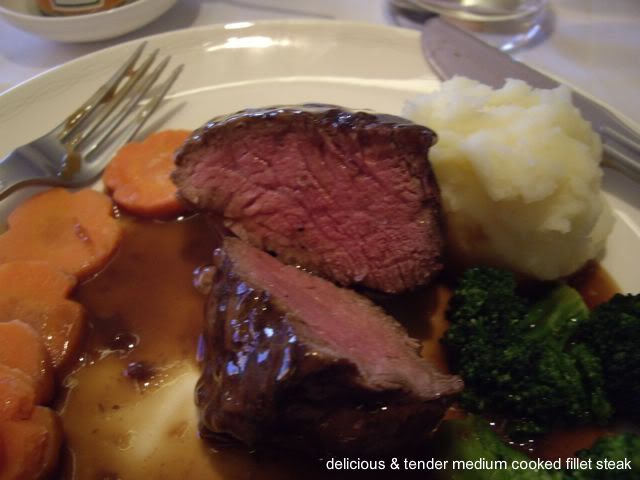 I slowly enjoyed the various dinner courses as the hours ticked by and the flight continued across the Australian interior with dusk approaching.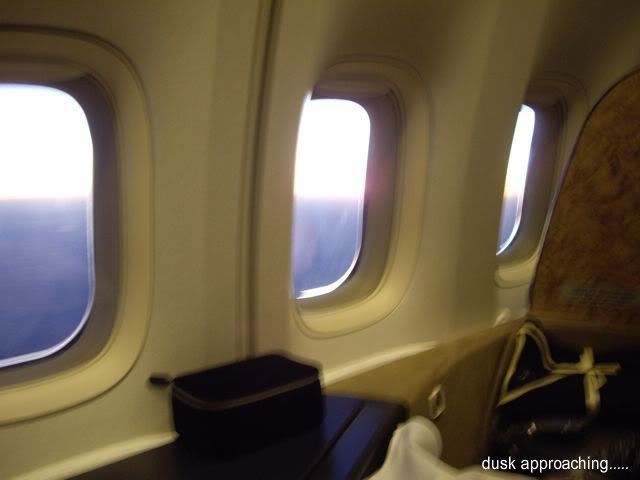 Time for dessert
and a glass of Opitz Goldakerl – an ideal wine to accompany the cheese cake.
Finally, my usual cappuccino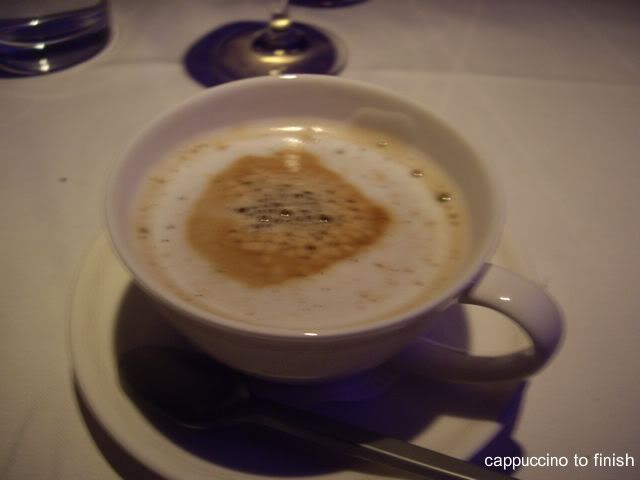 while contemplating the sunset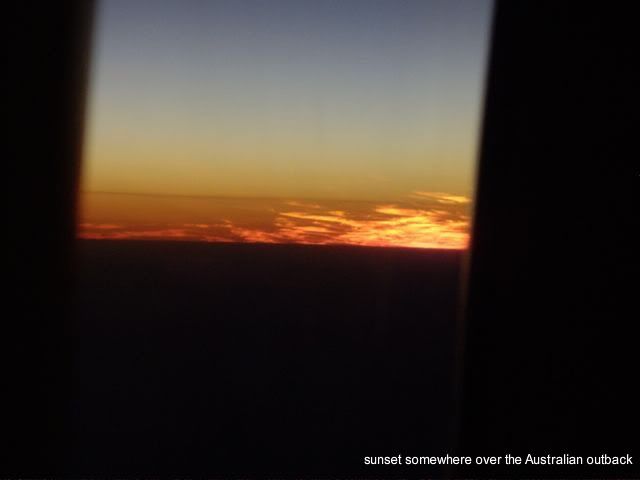 Although my journey had begun anxiously with the flight delay from MEL and then the transfer at SYD, by now I was well and truly relaxed and nodded off for a kip while the flight seem to quickly make its way to Bangkok. In fact, it seemed like I had barely shut my eyes when I was being awakened for the descent into BKK.
I don't remember much about what followed except that exit through Suvarnabhumi airport was swift and efficient, and soon I was in a taxi on my way to the Sukhothai Hotel in Bangkok for three nights.
The Sukhothai is an amazing hotel. For my review of the hotel please look at Tripadvisor
http://www.tripadvisor.com/ShowUserR...31-Sukhothai_Bangkok-Bangkok.html.
In the meantime, here are some pics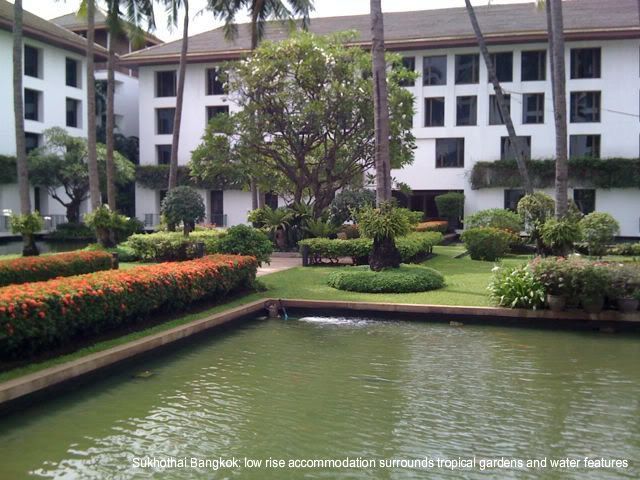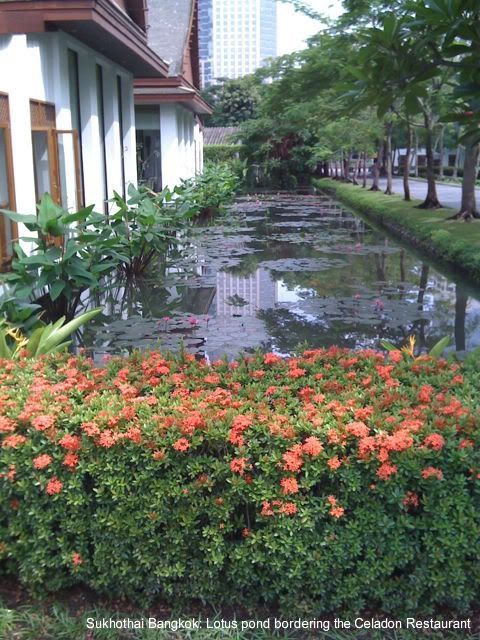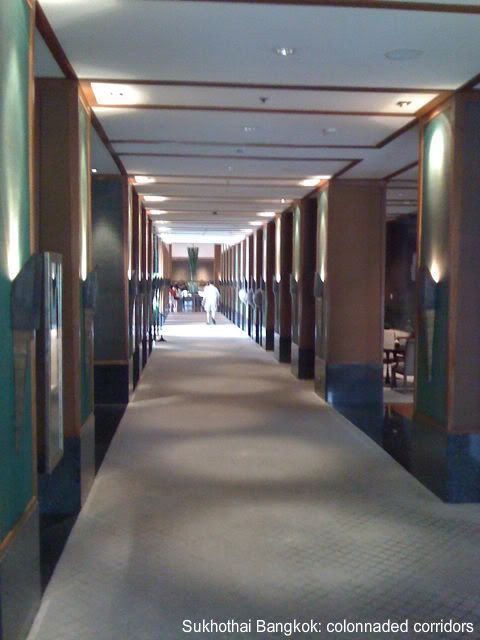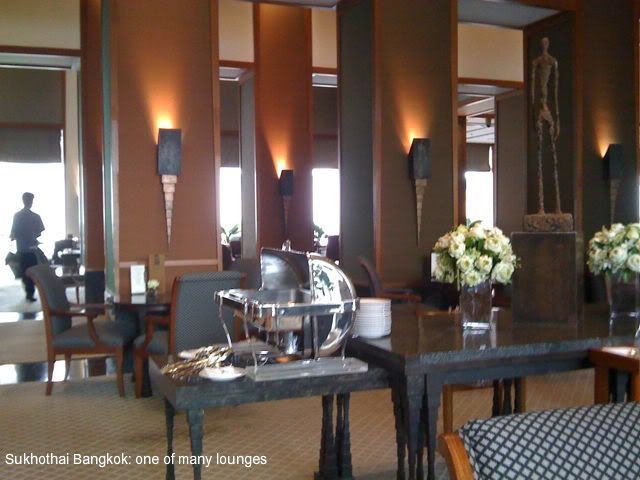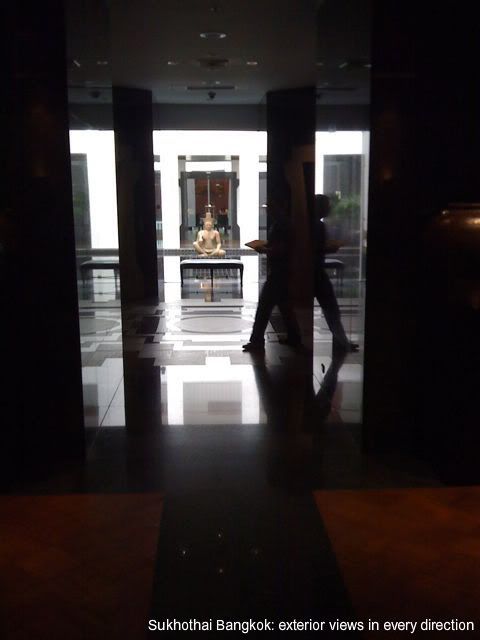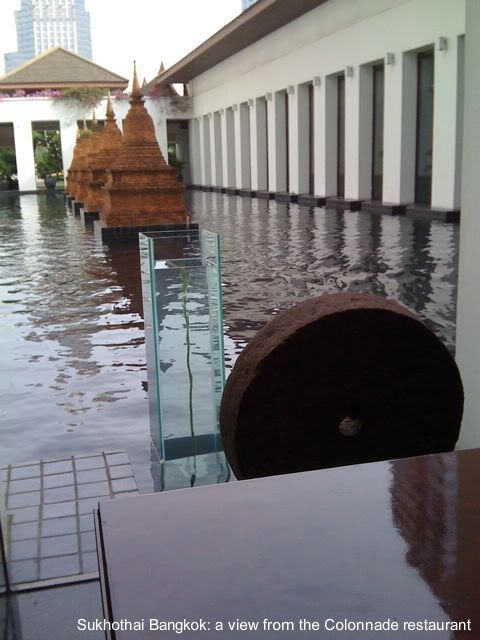 It is a beautiful hotel with all those colonnades and water features and the food is great too. Every morning in the Colonnade restaurant they served an enormous breakfast buffet from which I chose only modestly: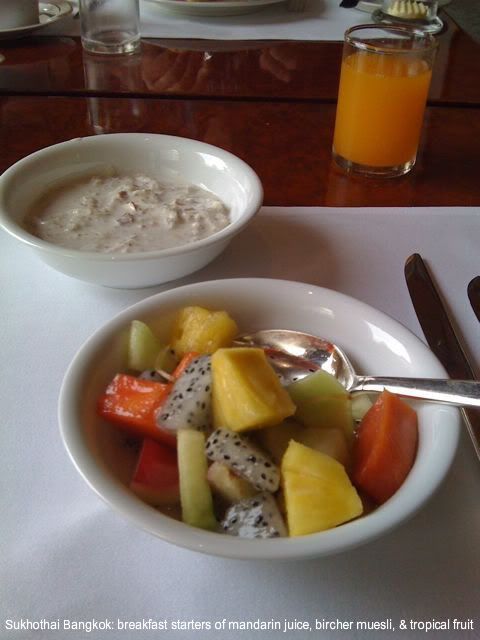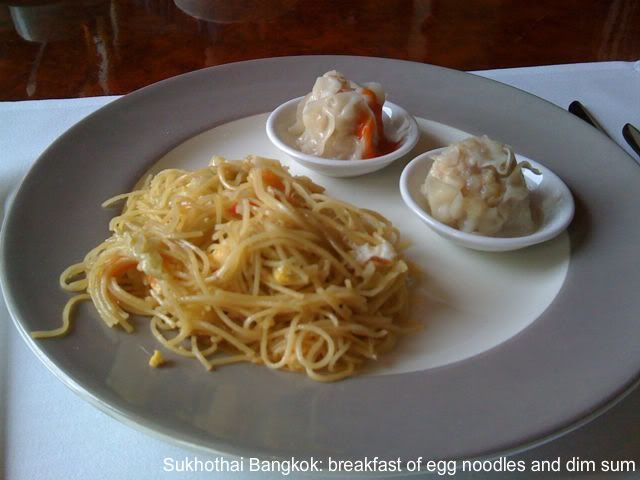 I also dined at their signature restaurant Celadon: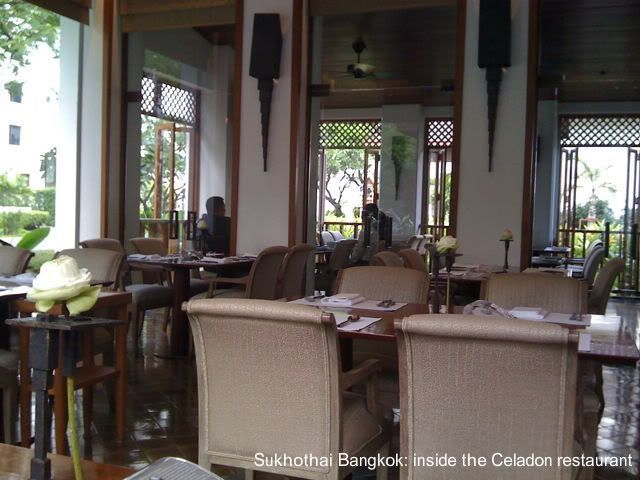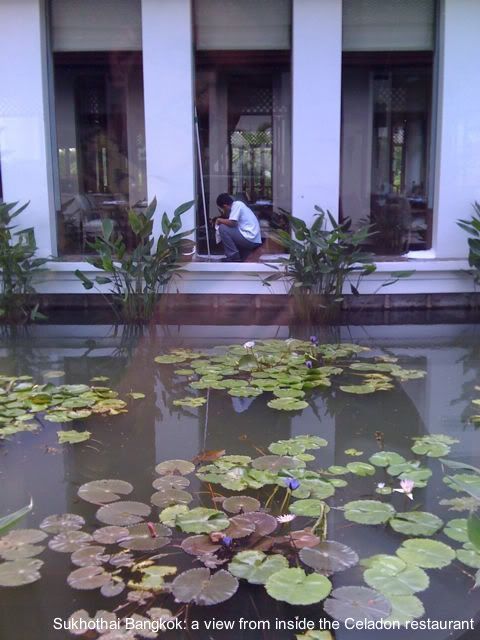 where I had the following treats: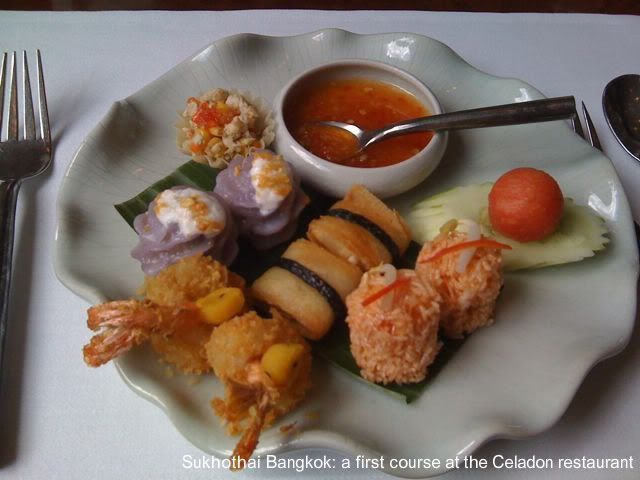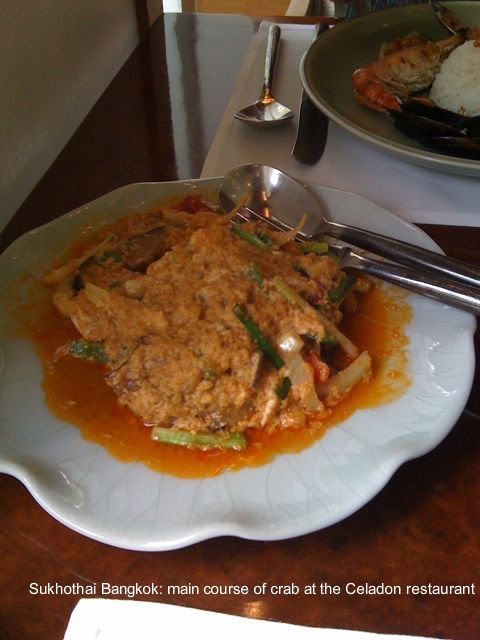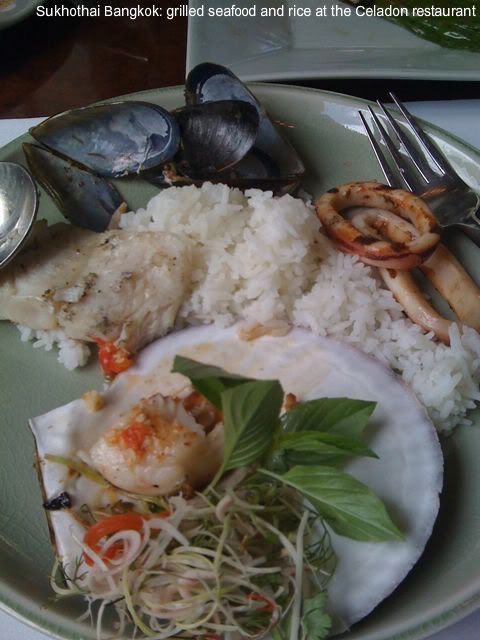 On the day I was due to depart on BA10 for London, I received a call from the airline informing me that the flight had been cancelled due to a technical problem and would I mind transferring to QF1 – an almost parallel 744 service to BA10. It seemed that I was going to have to fly QF longhaul afterall! Anyway, I later found out that I was lucky to be on the flight at all. So after a late and reluctant checkout from the Sukhothai, I got a taxi to the airport and proceeded to checkin. By the way – don't be fooled by the taxi drivers in Bangkok – it costs a bit over 300 baht between the airport and the city centre plus 100 baht for tolls if you take the expressways (which I highly recommend if you want a 30 minute drive rather than one that takes over an hour). What am I saying! Heavens, at these prices the taxis are incredibly cheap – less than a third of what you pay in Australia! So don't argue with them – just give them the money.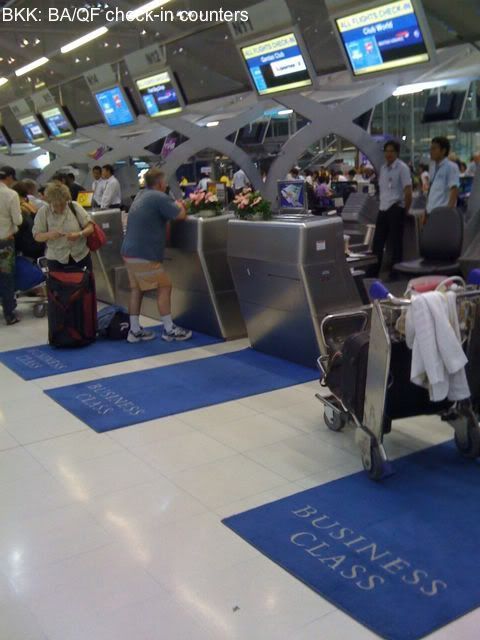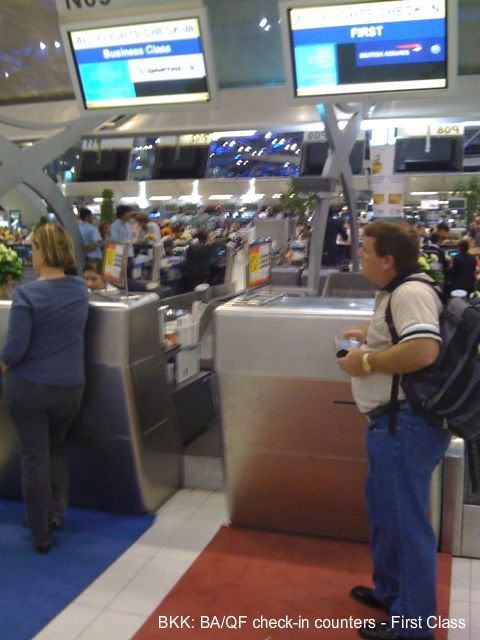 There was a very irate passenger checking in at the Business Class counter who was being told that she would need to fly via Tokyo to London since BA10 had been cancelled and J was full on QF1. She asked if there was space on QF1 in F and although apparently there was, she was refused an upgrade unless she paid the difference in fare! I wished her luck as I got my boarding pass (and secretly wishing myself luck that QF1 would have no difficulties….).
Anyway, I decided to head for the wonderful, if small, BA/QF First Class lounge at BKK to drown my anxieties.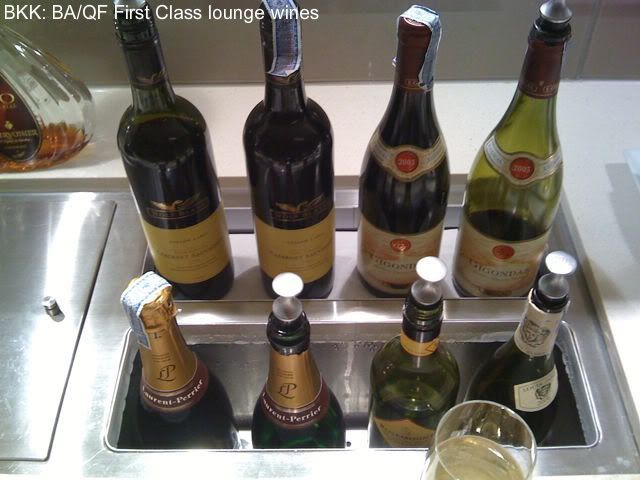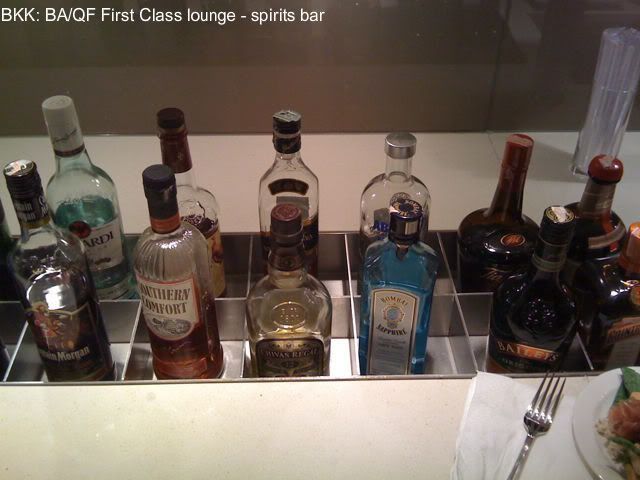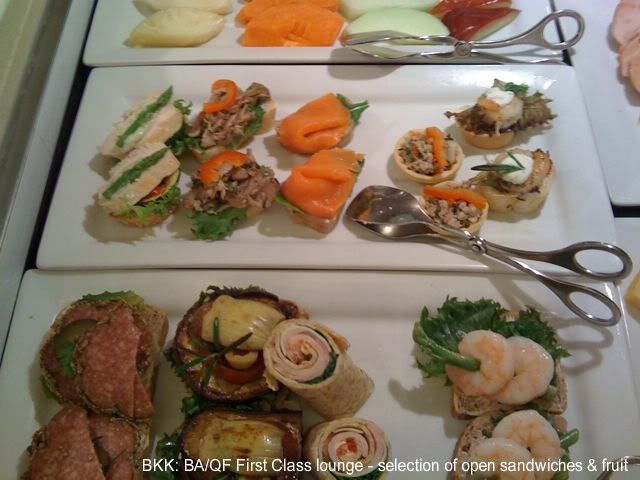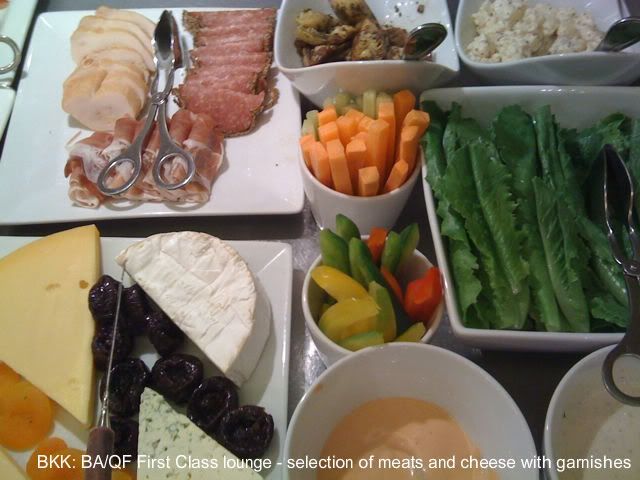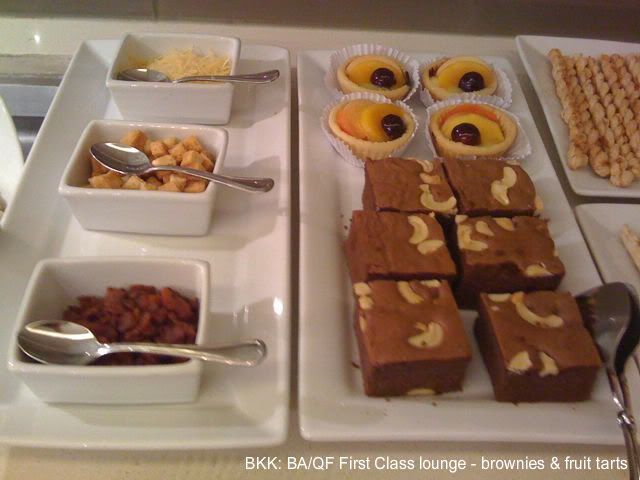 There was also a hot buffet, but by the time they filled this up, the lounge was too crowded to take pictures. As you can see, there is plenty of liquid and solid refreshments to cheer up even the most anxious of passengers.
Amended itinerary:
26 Aug BKK-LHR QF1 F dep: 00:35arr 06:25 est flight time: 12:50.
On boarding the flight I noticed the F cabin was full – in fact the whole flight was full. Not surprising given the cancellation of BA10.
The following interior shots of the First Class cabin on QF1 were actually taken just before the flight landed at Heathrow as is obvious from the daylight, but I include them here as the logical place for cabin shots, i.e. when I boarded the flight and sat in my preferred seat 2A, this is what I saw (minus the daylight and maybe the cabin was slightly tidier…).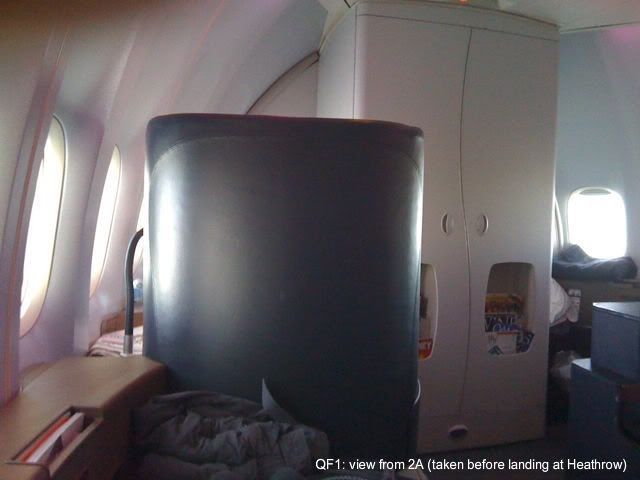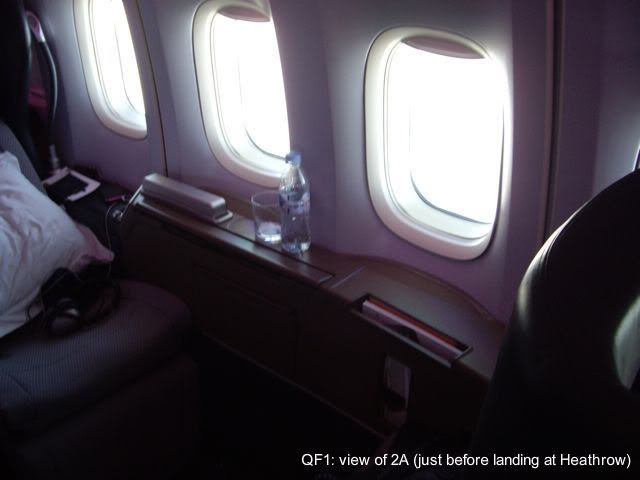 Unexpectedly travelling on QF1 gave me the opportunity to review their 1st class amenity kit for men: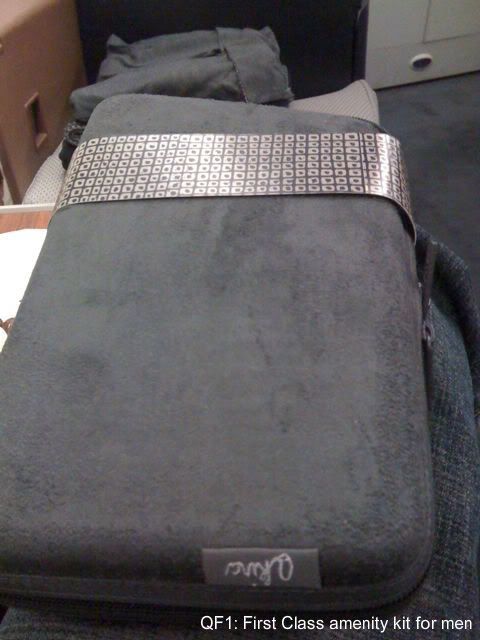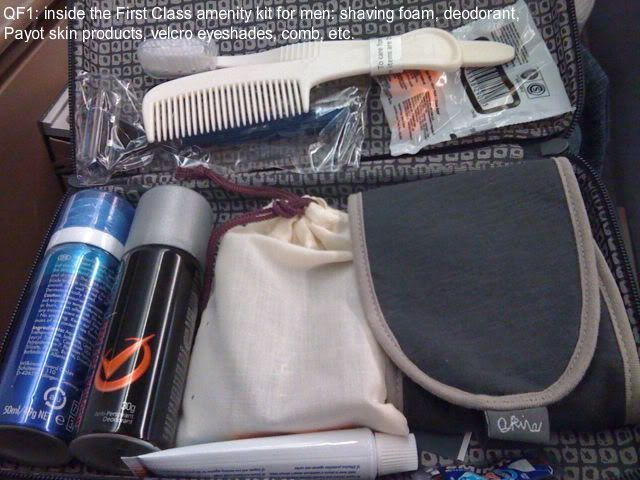 I think the kit is not as well presented as BA's, but its contents are probably more useful.
As usual, I had champagne before takeoff and as a pre-dinner cocktail with canapes.
The canapés were olives, some sort of savoury biscuit, and some sort of dip – very tasty. The champagne was luscious – vintage Charles Heidsieck I think, because it was definitely not Krug nor Dom which are the other two mentioned in the winelist:
The following excerpts are the relevant pages for the BKK-LHR sector from the beautifully presented (and colourful) QF1 First Class menu: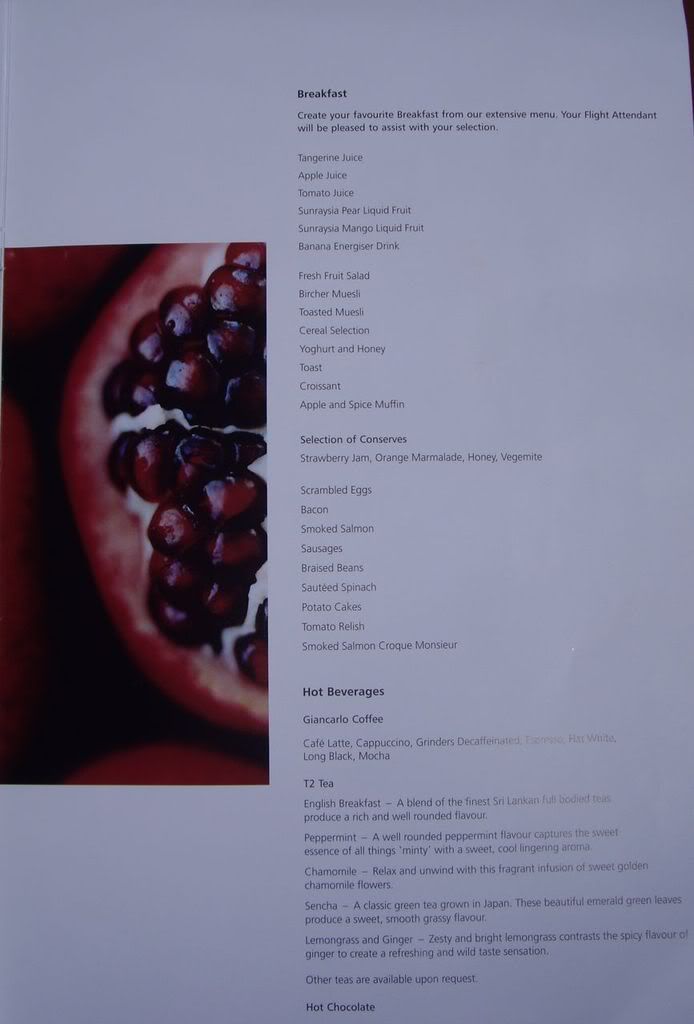 For entrée, I opted for the Salad of Prawns and Roasted Tomatoes: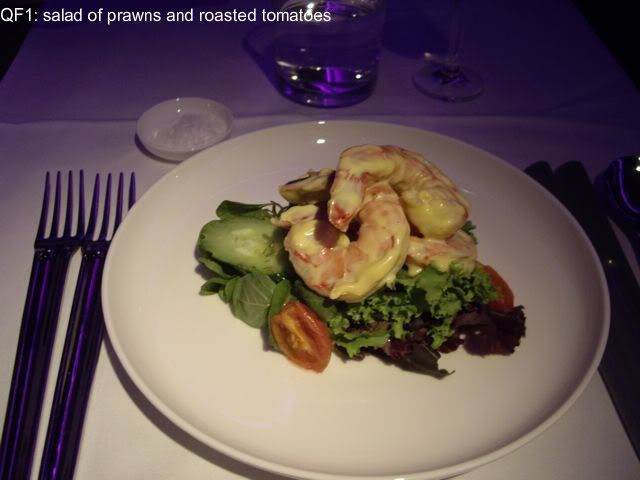 This was a more refreshing dish than it looks and I am pleased to say consisted of freshly cooked prawns, not the frozen and tasteless cooked ones that often appear.
I elected to stay with the champagne for this course, but then changed to the Cullen Diana Madeline Cabernet Sauvignon Merlot 2005 to accompany my main course of Basque Style Chicken with Artichokes, Roast Potatoes and Green Beans. Both the wine and the chicken were succulent and well matched.
I just adore cheesecake and figs so naturally for dessert I chose the Raisin Cheesecake with Honey Poached Figs , and washed it all down with a delicious glass of De Bortoli Noble One Botrytis Semillon 2004 – probably the finest 'sticky' in the world.
Overall, the food was excellent and reminded me that Qantas still has the best First Class food with BA running second and SQ a distant third in my opinion.
By the time I finished the meal a couple of hours had elapsed and the local time was quite late – probably 2am. I had already changed into my sleeper suit before dinner and so I was ready for sleep rather than engage with the IFE. Despite being slightly anxious about the flight I fell asleep for several hours.
When I awoke, there were only a couple of hours before touchdown. Plenty of time for breakfast and a clean up before landing at Heathrow.
I decided on my usual breakfast: juice, bircher muesli with fruit, croissant with jam, scrambled egg with smoked salmon, and cappuccino. It was just right.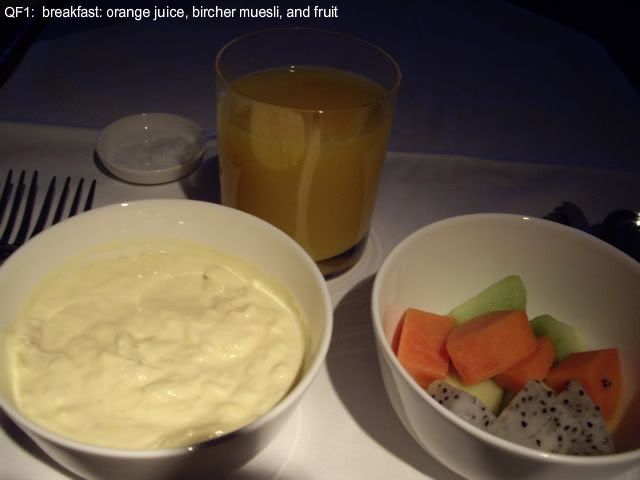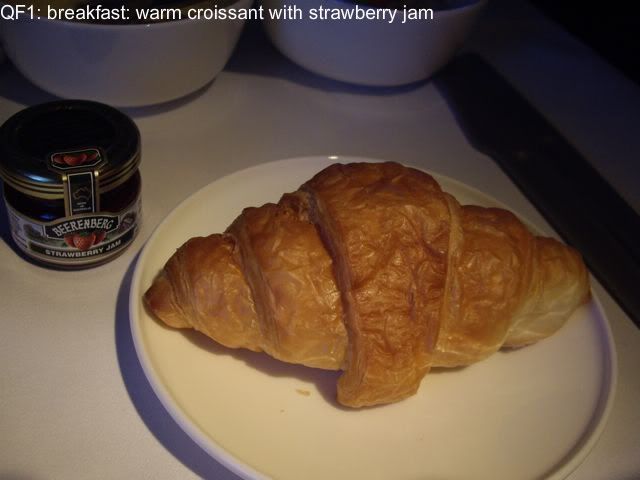 Having changed and refreshed myself, I now impatiently watched the air map to see how much longer it would be before we landed.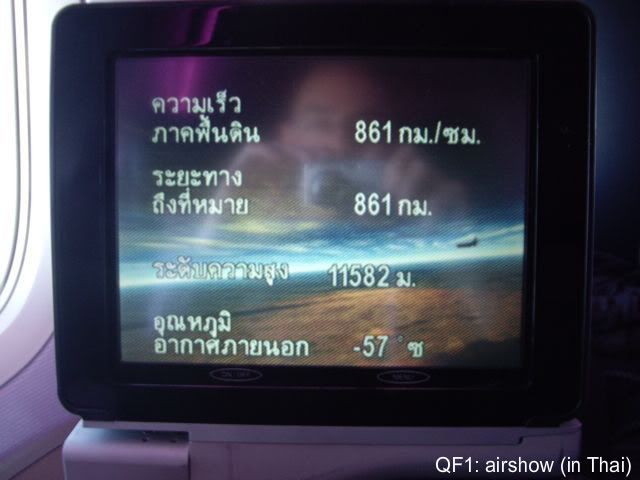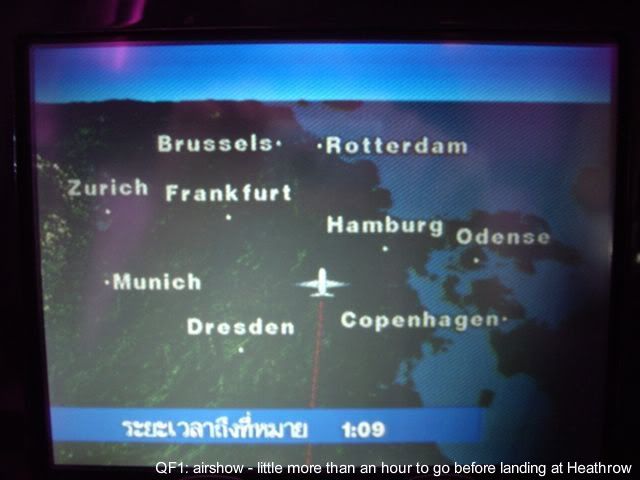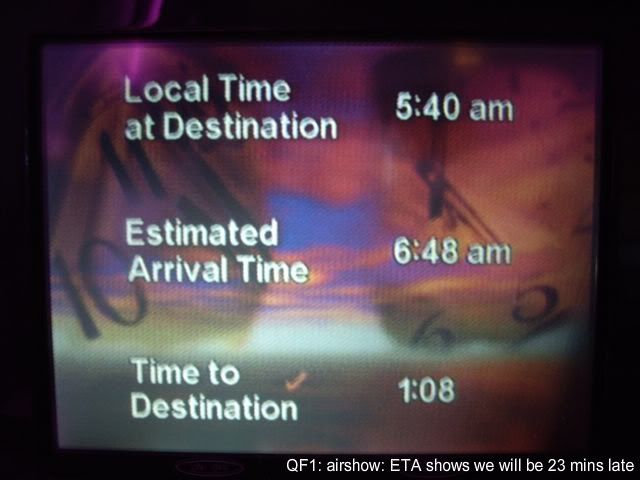 Despite the warnings about not using electronic devices during landing, I activated my HD camera to record our landing at Heathrow. Let's face it, my using an electronic device will be the least of QF's engineering worries!
http://s42.photobucket.com/albums/e3...n=view&current=QF1landingatLHR.flv
Leaving the plane and being processed through LHR T4 was uneventful. It was nice being armed with the express card for immigration, although being among the first off the plane and with no other competing arrivals at T4 at that time, there were no queues.
I think I retrieved my luggage quickly – I don't remember. I took the express to Paddington as the quickest method to reach central London. The taxi from there to my hotel: "One Aldwych" seemed to take longer – but that is another story.
Overall, the service on BA and QF was excellent and, in my opinion, equals SQ for long haul in first class. SQ might have a younger fleet, slightly better cabin service, and better services to MEL, but their food is nowhere near as good as QF or BA, and being a foodie at heart, that is an important consideration for me.
Thank you for reading.