In short, it was an incredible adventure.
Over the past several months I have been planning on taking DL on a mileage run to get my Sky Miles account over the 25K mile barrier. After looking at several options, I decided to also included a one-way train ride in the mix, as I had an extra day off from work to use before the end of the year. Eventually, I decided on a routing that would take from from ATL to ORD on Delta, ORD-SFO (in Amtrak city code-ese, CHI to EMY) on Amtrak, spend one night in SFO, and then SFO to ATL on DL the next day. I would be in Coach class in the air and on the rails. Even though I have taken this train, the Californiza Zephyr, three times previously, I have never taken it during the winter, so I was hopeful that I'd get some snow along the way. Boy, did I ever! Also, although most of the pictures came out OK, some did not...sometimes it's tough to take good shots through somewhat dirty train windows.
Here's a map of my travels this go around...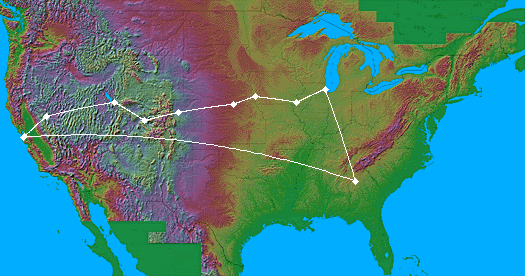 12/3/08
Delta Air Lines
DL 778
ATL-ORD
McDonnell Douglas MD-88
Dep: 0735
Arr: 0842
Load: 94/142
This was a 7:35am departure so I got to the airport around 6:00am and found a pretty close in parking spot in the garage. I printed my BP at a kiosk before entering the main terminal, and off I went to security, which was only about a three minute wait at that time. I made it to the gate (A-2) with my two carry on's by 6:20am. Boarding started for this flight at 7:05am. It was sort of full, but most everyone (including me) on the three seat side of the plane had the middle seat next to them empty. We were delayed on push by 20 minutes since they were de-cicing in ATL that morning so we had to wait for our number in line. We pushed around 7:55am (right before a 757 headed to MSY at the adjoining gate) and made our way into the line. De-icing was complete by 8:30am, and we were airborne at 8:38am. Flying time was announced at 1h41m. It ended up being a very smooth flight all the way. Inflight service was typical fare for a short flight like this....full beverage service with a choice of peanuts or Biscoffs to munch on. Biscoffs for me, all the way. As usual on DL, the crew was very nice and pleasant, and the plane was comfortable and spotless. After making our way over the snow covered fields of Indiana, the landscape dried up some as we approached Lake Michigan. We flew out over the lake for some time before approaching ORD from the North. Very smooth final approach and the landing was smooth as silk. All in all, great flight. Here are the pics from DL778: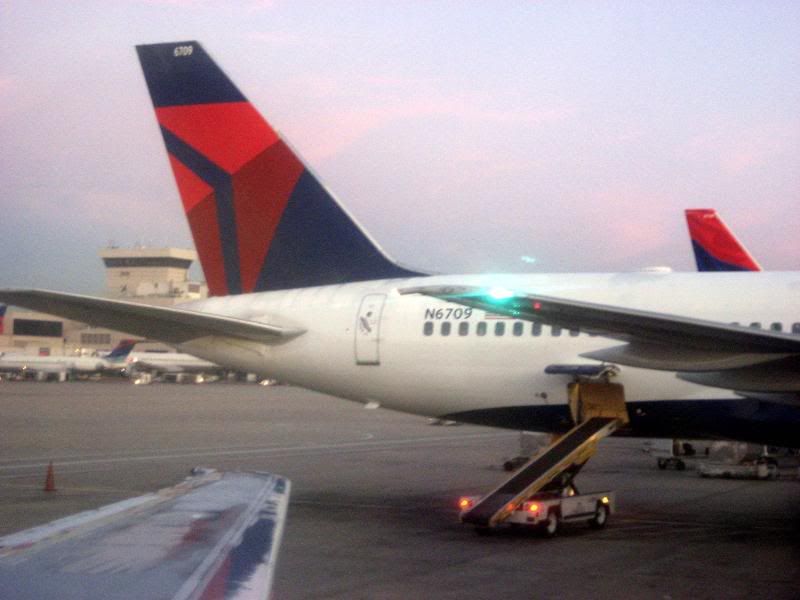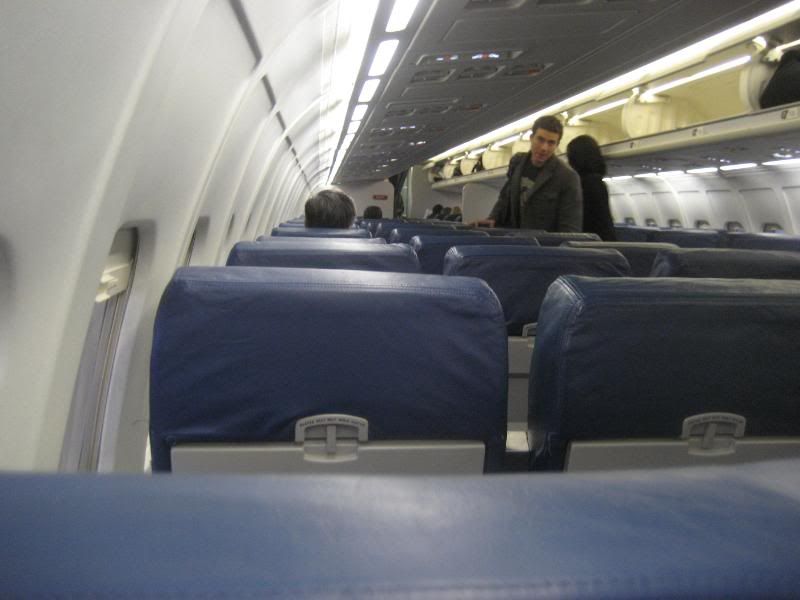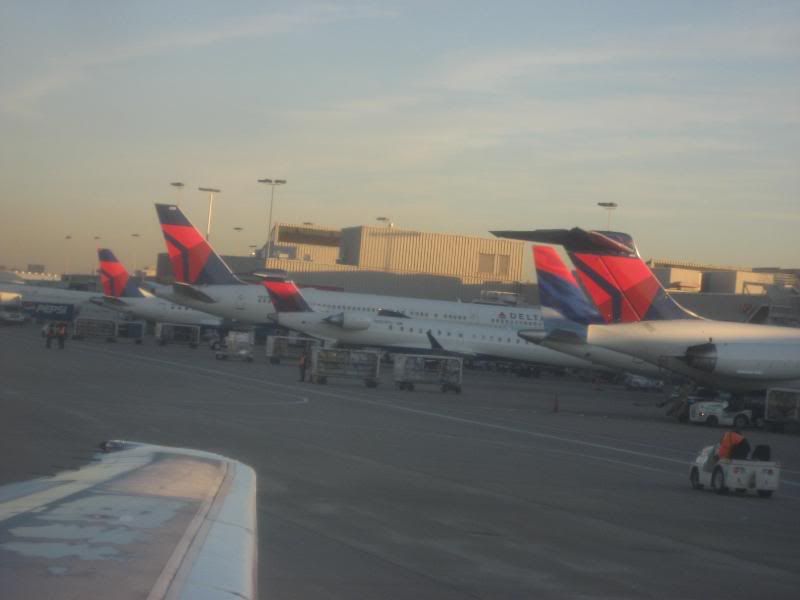 Boeing 757 headed to my namesake city.
I just couldn't resist.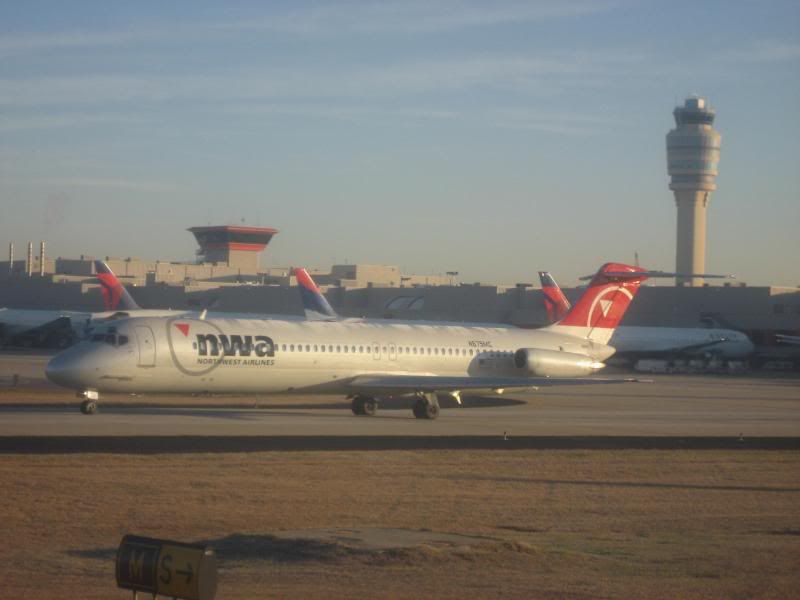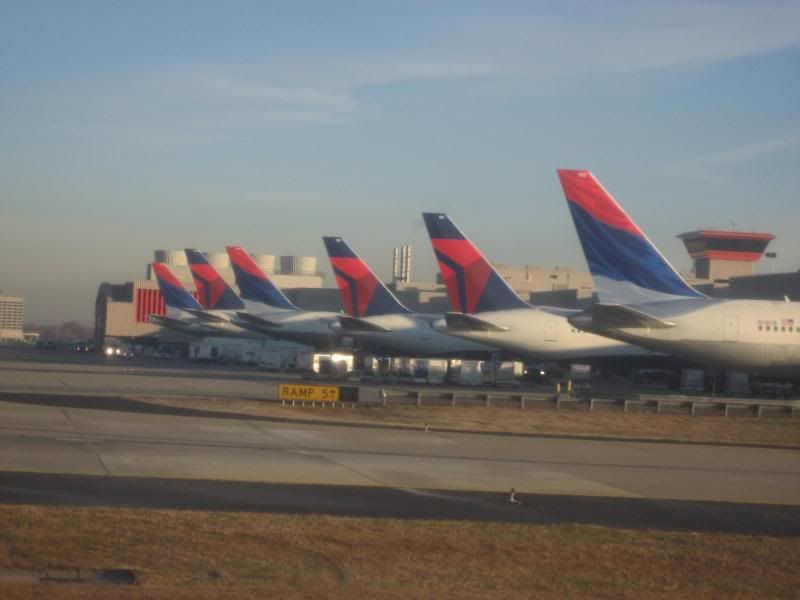 De-icing pad near Concourse E.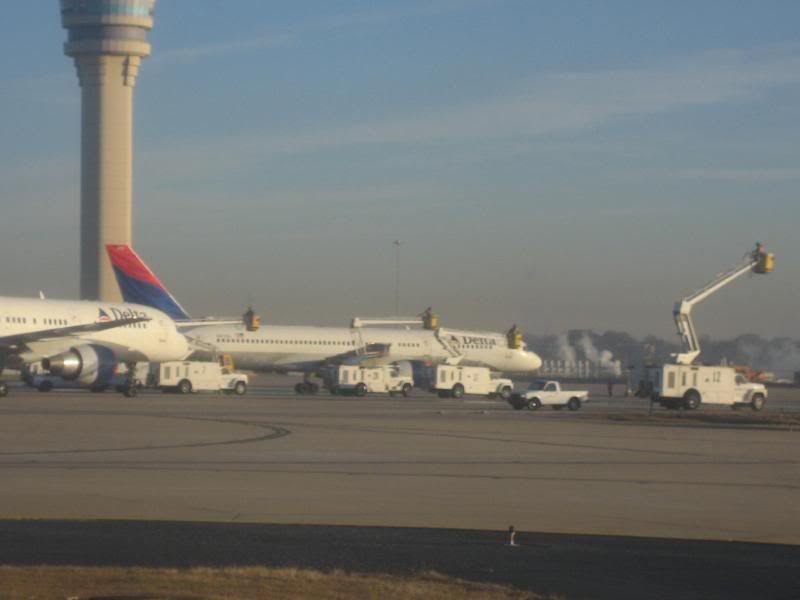 77L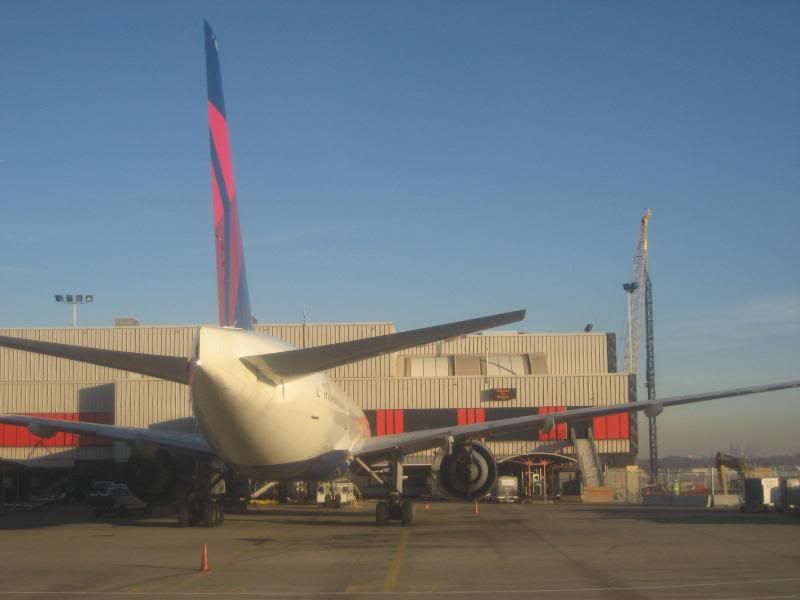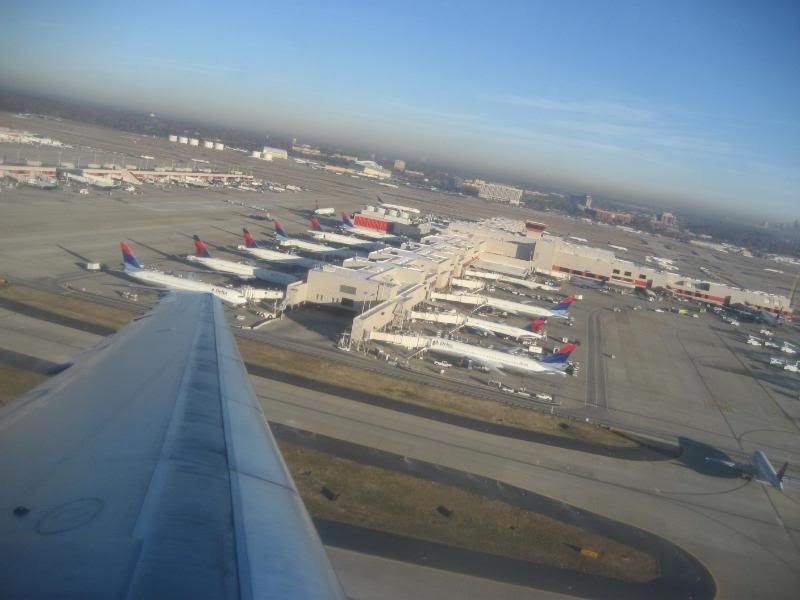 Downtown ATL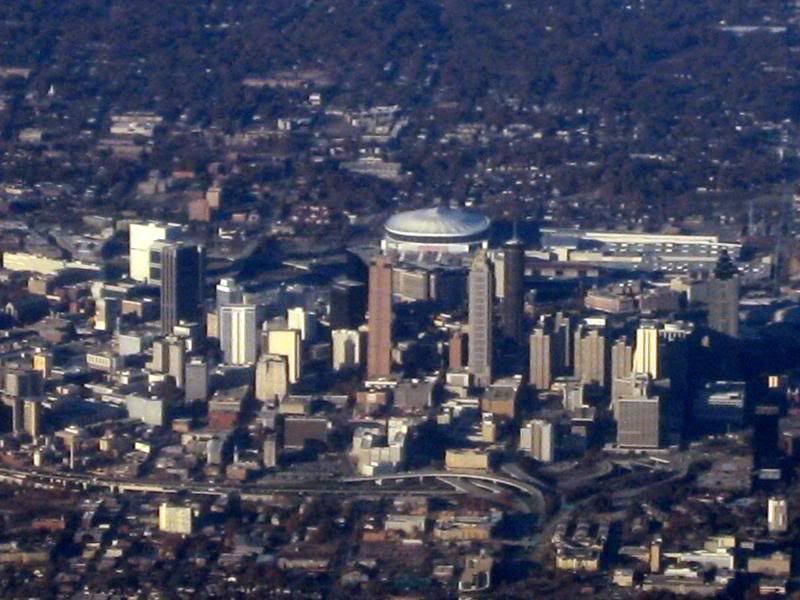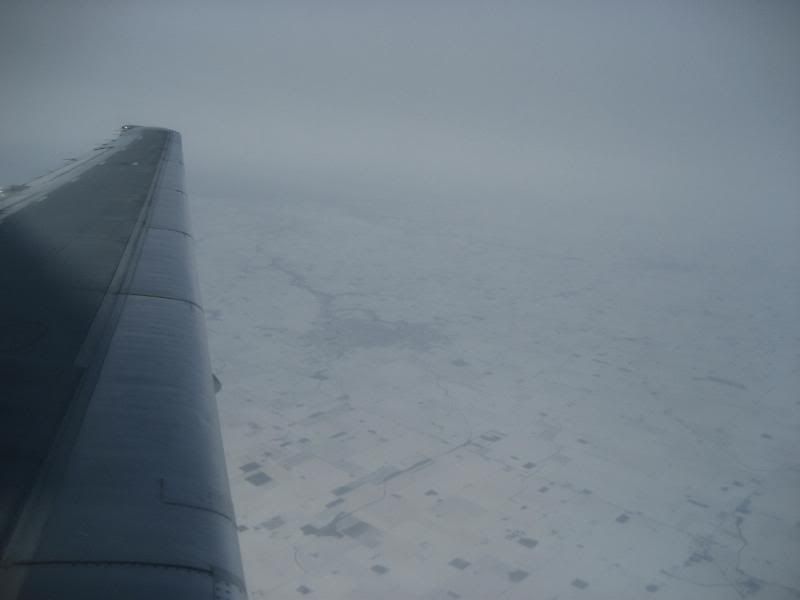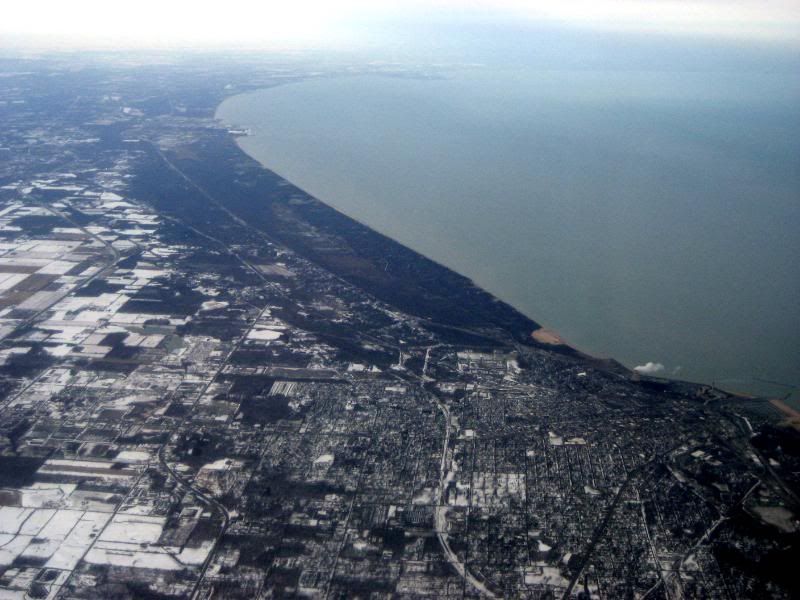 I love Chicago.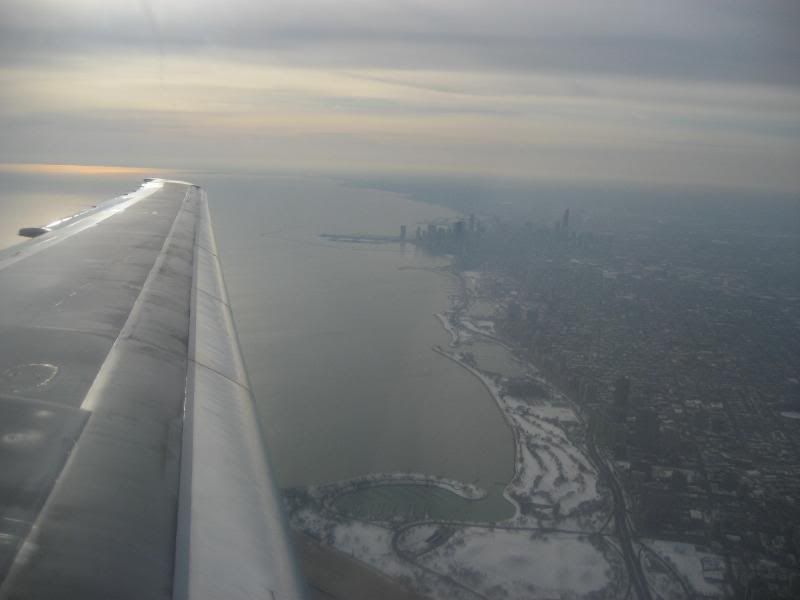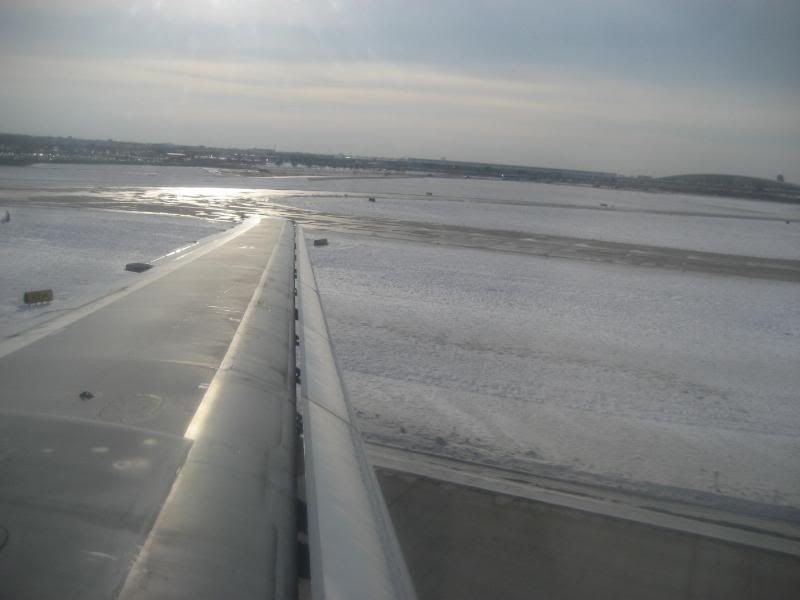 ** Transfer in Chicago **
I was in the ORD terminal at around 9:30am, so I had basically four hours to kill until my train started boarding. I decided to just make my way downtown. So, I walked to the CTA station in ORD and took a Blue line train to downtown. It's really the best way to go from ORD to the city center. On the walk to the station, I spotted this sign...how ironic...
Anyway, the ride to downtown Chicago (more specifically, the Clinton Street stop, just 2 blocks away from Union Station) took about :50, so that killed a nice chunk of time. When all was said and done, I made it into the station by 11:00am. It was not snowing in Chicago but it was blustery outside so I decided to just hunker down in the station and wait for my train to leave. Here are a few pics from the walk to the station and in the station itself...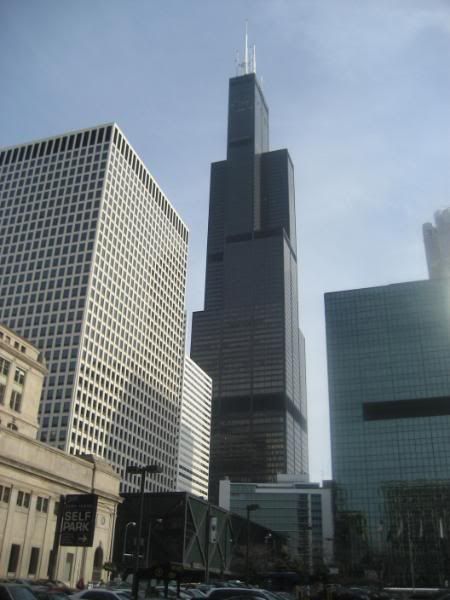 The Great Hall.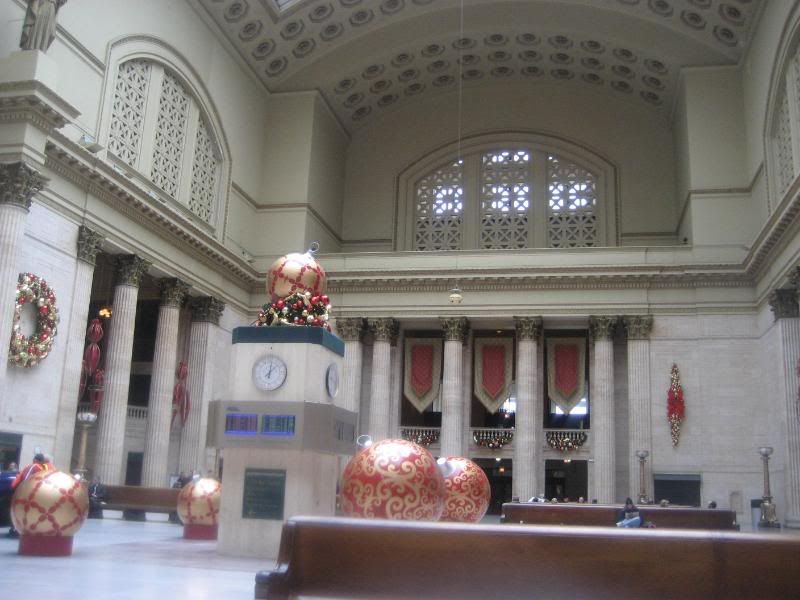 The general boarding area for Coach passengers (gate F) onAmtrak trains.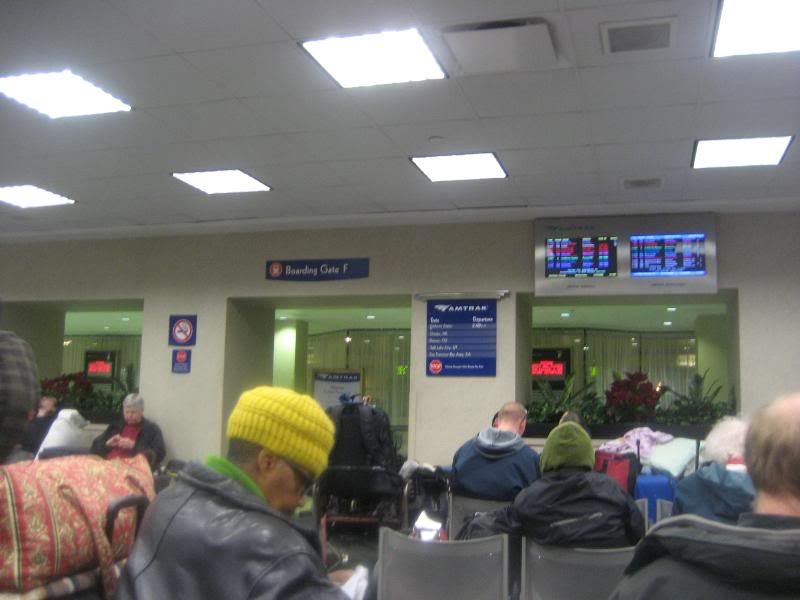 After enjoying an excellent, gourmet Chicago Hot Dog meal, I printed my train tickets from one of the Quik Trak kiosks, and took a seat in the crowded general boarding area. Before I knew it, it was 1:30pm, and the boarding for our train, train #5 California Zephyr, was called.
12/3/08 - 12/5/08
Amtrak
Tarin #5, California Zephyr
CHI-EMY (Emeryville, CA)
Dep: 1400
Arr: 1740 (+2)
Major stops en route: Omaha, Denver, Salt Lake City, Reno
Coach load: approx. 85% CHI-DEN, approx. 50% DEN-RNO, approx. 65% RNO-SMF, approx. 15% SMF-EMY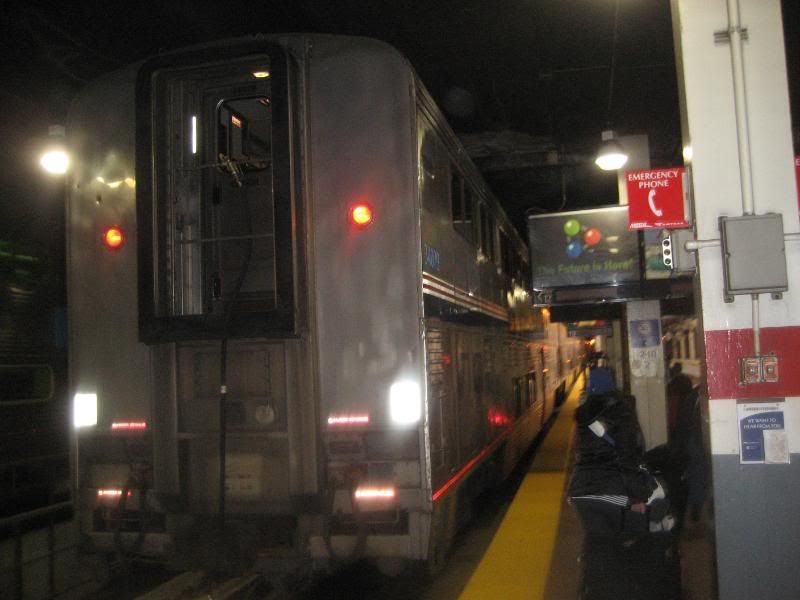 General boarding was called at 1:30pm from gate F. Our train was located on track 12 so it was a very short walk once we exited the building. The train had a typical consist which included 2 P42 locomotives, 1 baggage car, 3 Superliner Sleeping cars, 1 Superliner Dining car, 1 Superliner Sightseer Lounge car, and 3 Superliner coaches. I noticed that this was an unrefurbished (meaning no power outlets at every pair of seats) coach car so I lucked out and snagged one of only two pairs of seats which actually had an outlet. About a minute after I sat down this girl came up to me and said "Oh man, you got the seat with the outlet!" Nodding my head all I could say was "Yeah, I'm going all the way to Emeryville, so I'll need to use it." She said she was too, so I told her that she could use it anytime. She was thankful. Anyway, as it turned out, I had a pair of seats to myself (and did for the whole ride) so I could stretch out and get comfortable.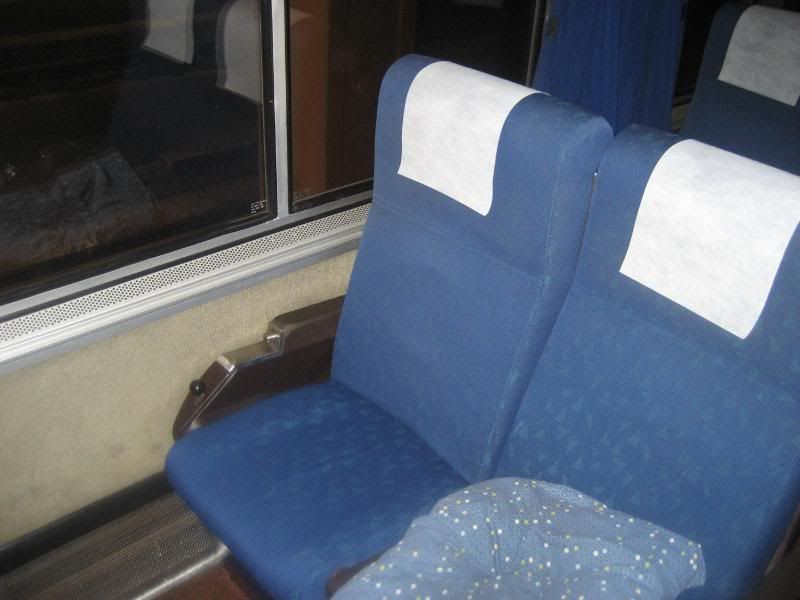 We departed right on the tick at 2:00pm.
Remember how I said earlier how it wasn't snowing in Chicago? Well it still wasn't snowing when the train departed, but it did start to snow as soon as we left our first stop in Naperville, and it didn't stop snowing until we reaached the middle part of Colorado. In fact throughout much of the afternoon as we chugged along through Illinois and Iowa it was near white out conditions. It made for a pretty ride.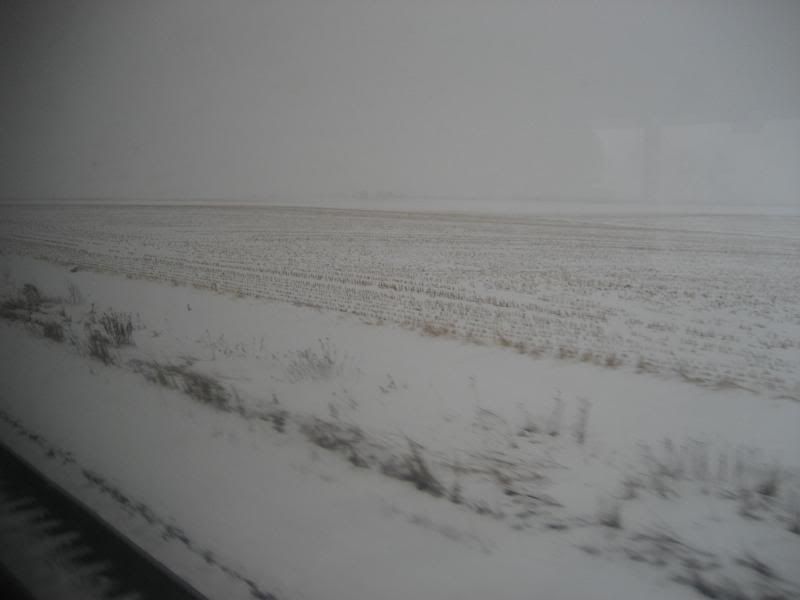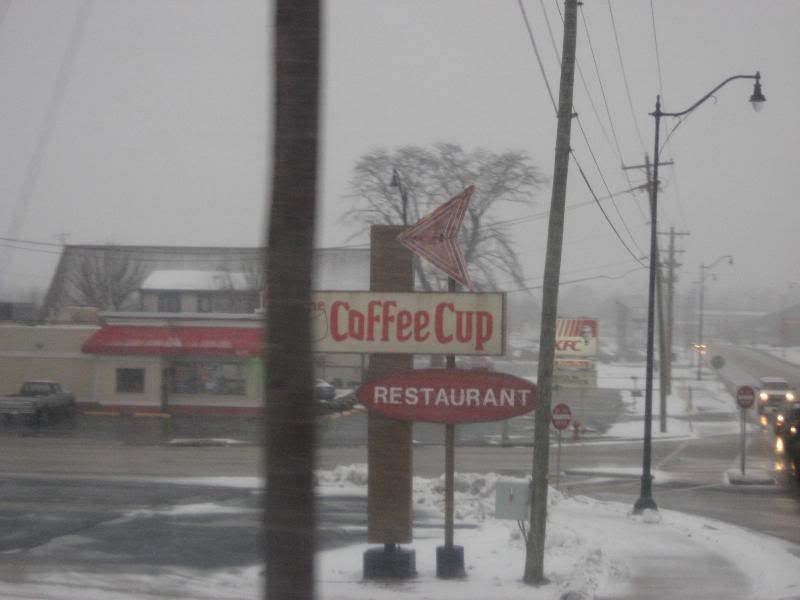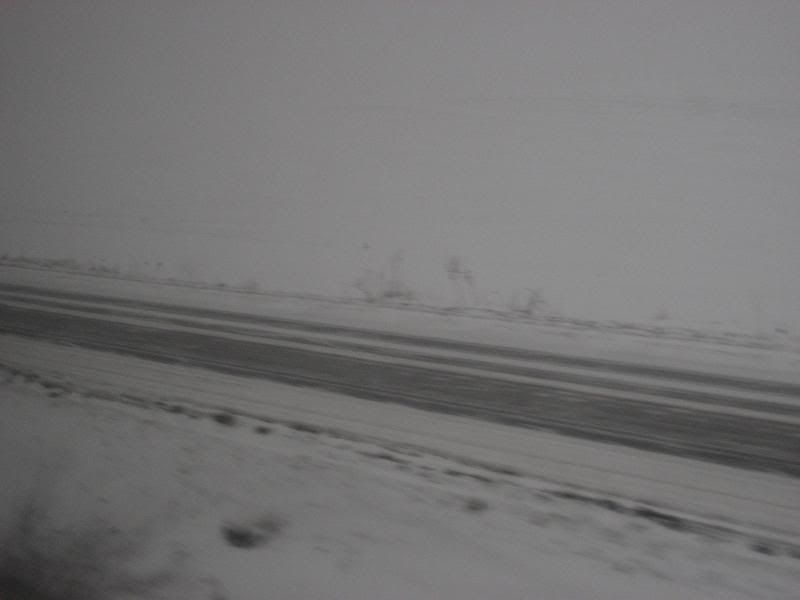 At around 6:00pm as darnkess took over, I decided it was time for dinner, so I made my way to the lower lever of the Sightseer Lounge car to the Cafe area to buy something. I ended up eating dinner in one of the booths on the lower level since it wasn't crowded down there...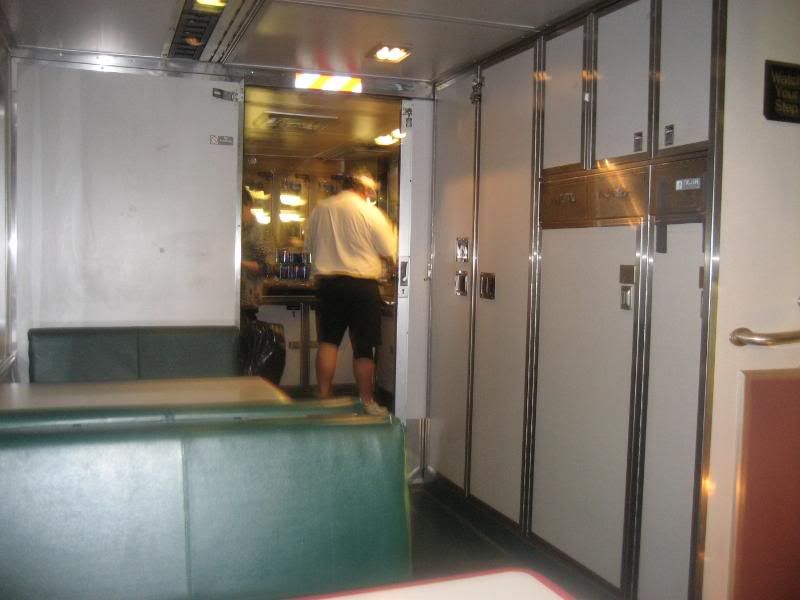 We were on-time into Ottumwa, Iowa which is a crew change point for the Zephyr, so I stepped off to get some fresh (and cold) air...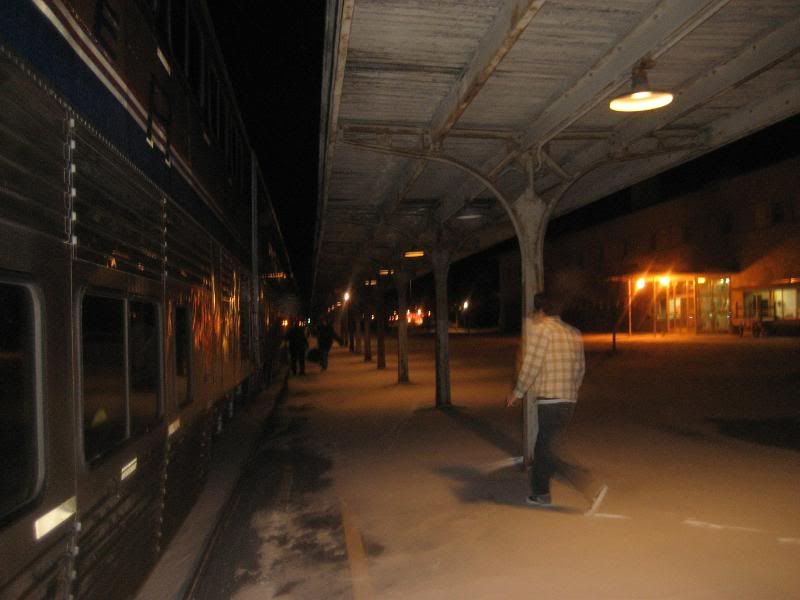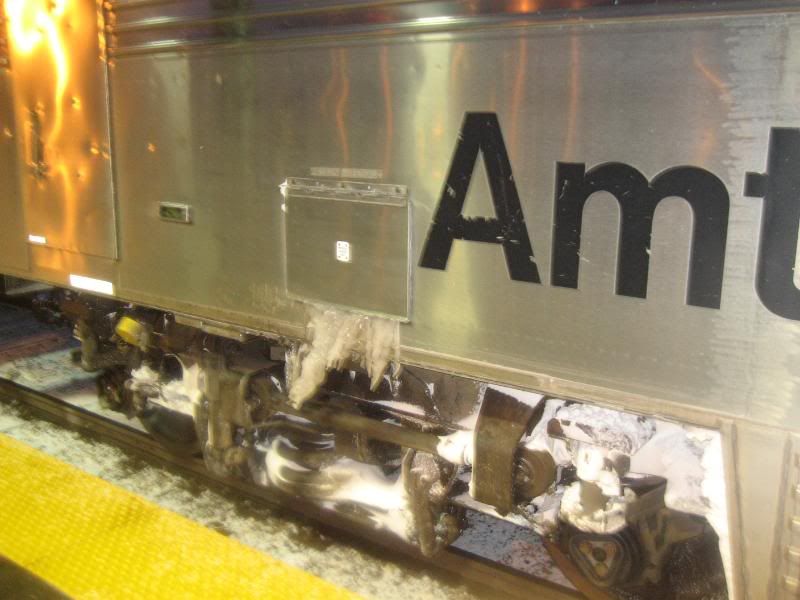 I spent the rest of the evening listening to some music and doing some reading. I was pretty tired so at around 9:30pm, after they turned the main lights in the car off, I decided to just call it a night. Having two seats to yourself makes sleeping easier. I eventually fell asleep and only woke up a couple of times during the night to change positions. I woke up around 6:15am and recognized some of the surrounding area...we were approaching Denver, and we were way ahead of schedule.
We came to a stop in DEN at 6:45am, exactly :50 ahead of schedule. Many people de-trained here. The train wouldn't leave until 8:05am so I stepped outside to see just how cold it was...and let me tell you, it was freezing. It was 18 degrees, IIRC. decided it was too cold to walk down to the station, so after I made a phone call and snapped a few pics, it was back into the warm train car for me. Here some pics at DEN...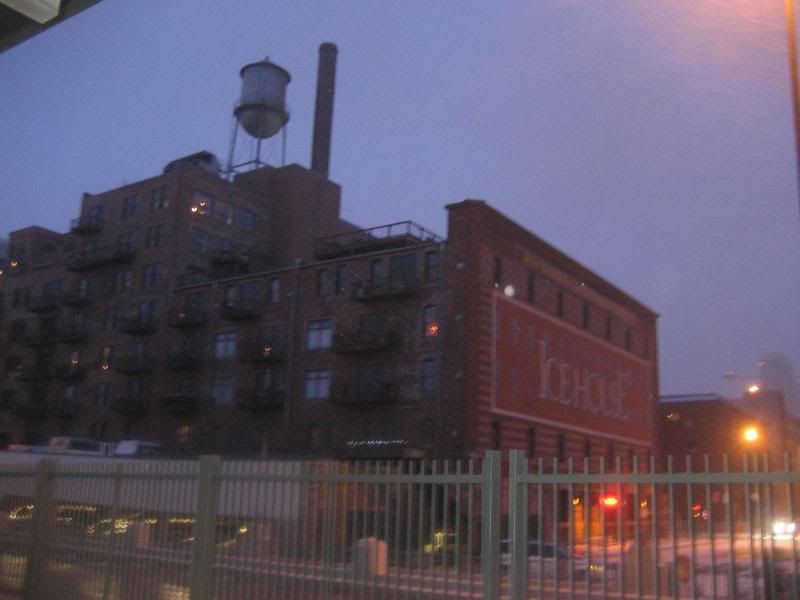 DEN Union Station with the huge neon "Travel By Train" sign.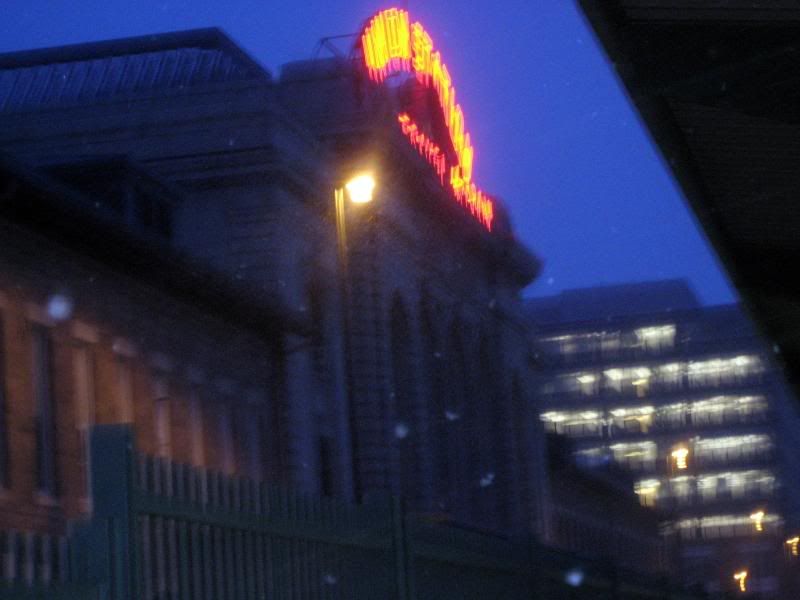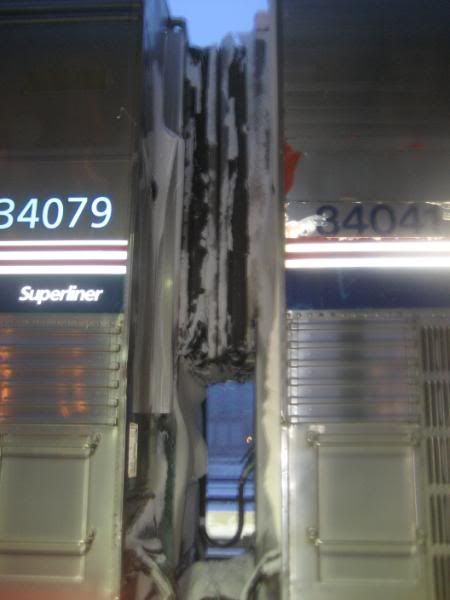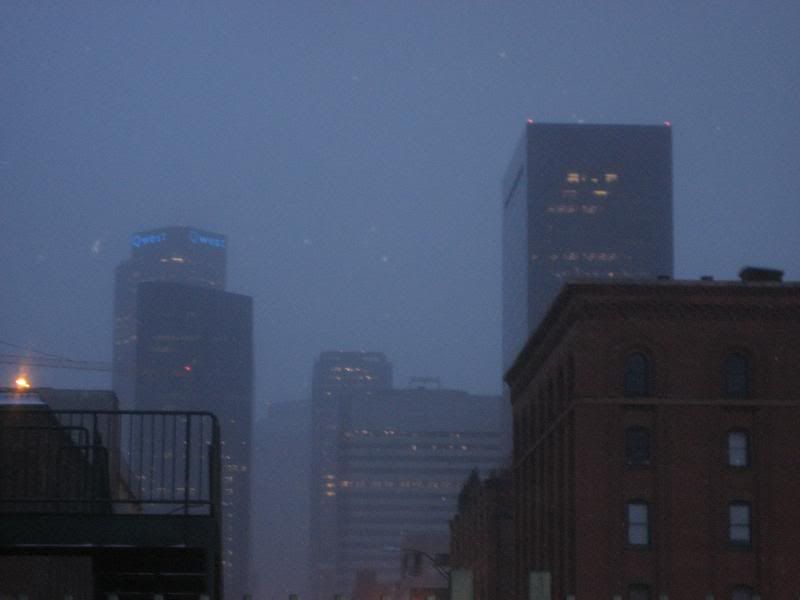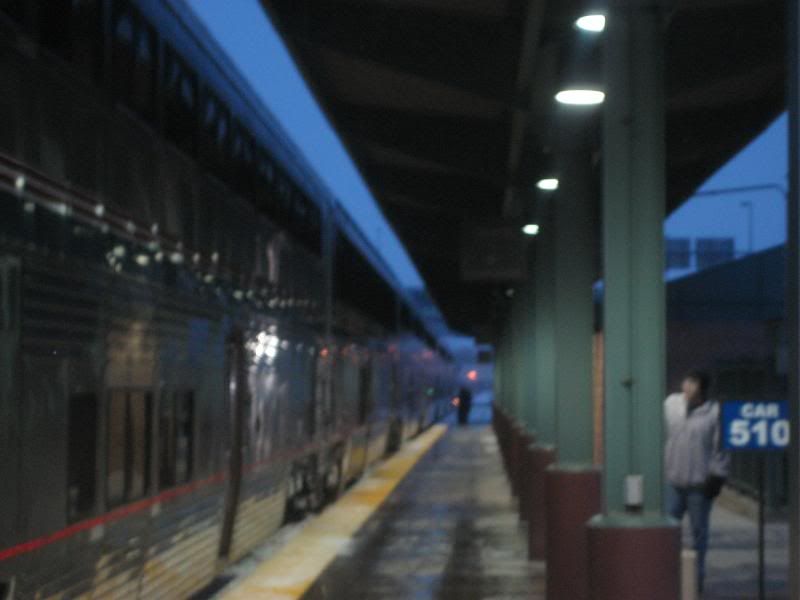 At about 7:30am, just before boarding, I took my camera, phone, and route guide book and found a seat in the Sightseer Lounge car. This is where you want to be as the train starts its trek through the mountains. The car fills up quickly as soon as the train leaves DEN so it's good to snag a seat in advance.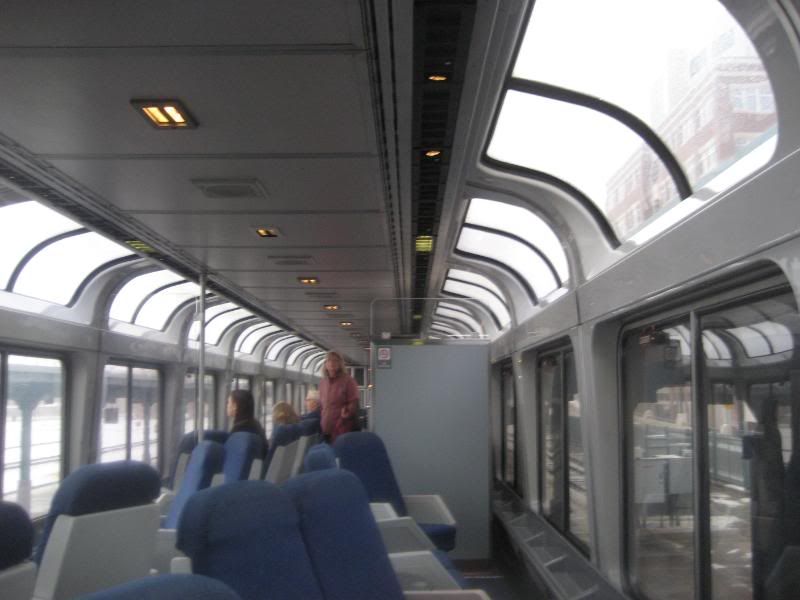 We departed DEN on-time at 8:05am, passing Coors Field.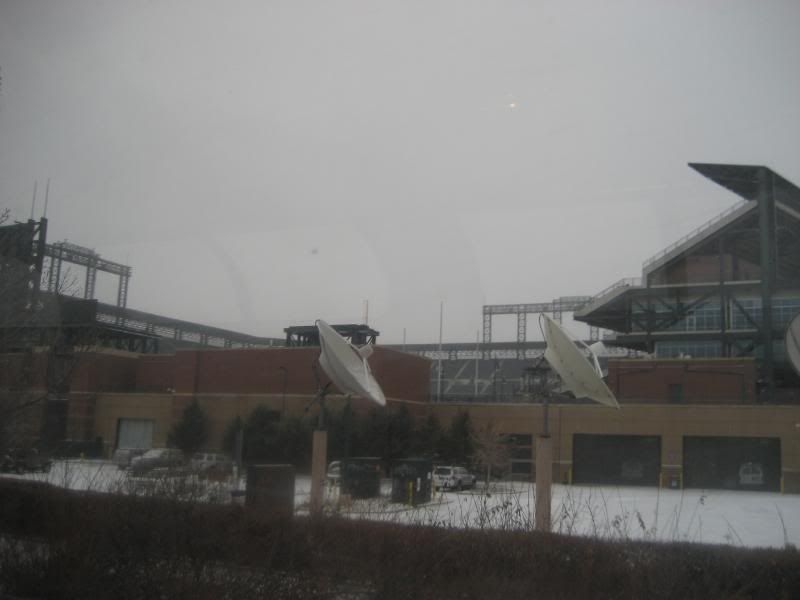 About :30 after leaving the station, after passing through residential areas, the train quickly gains altitude as it reaches Plainview, and negotiates "Big Ten Loops" as it climbs higer.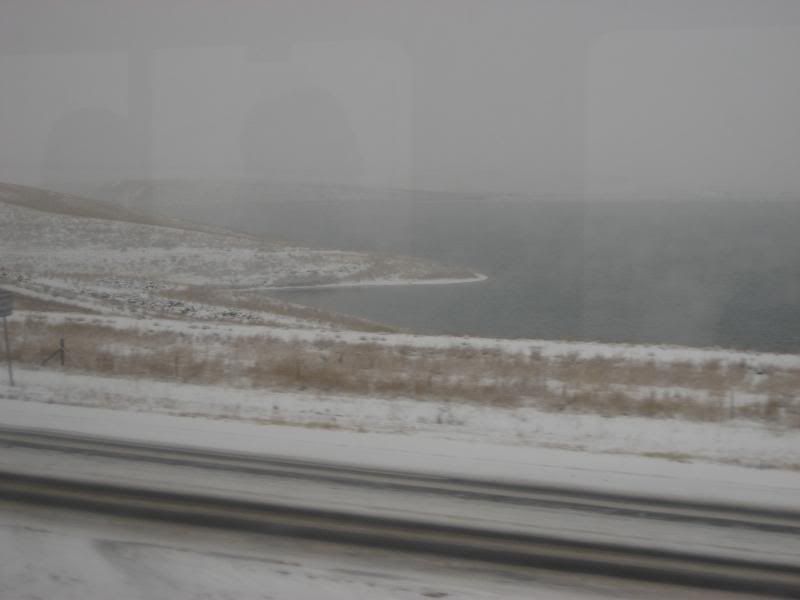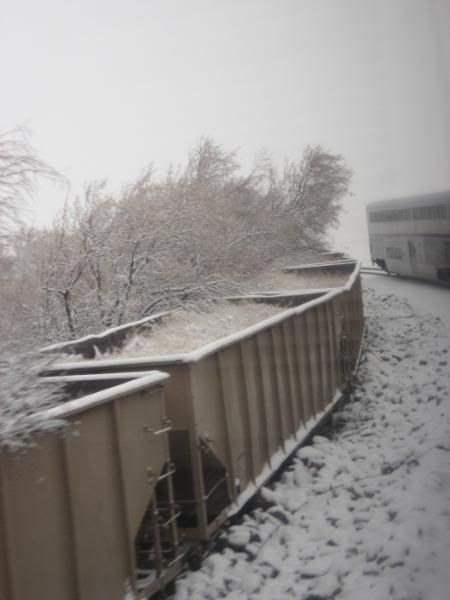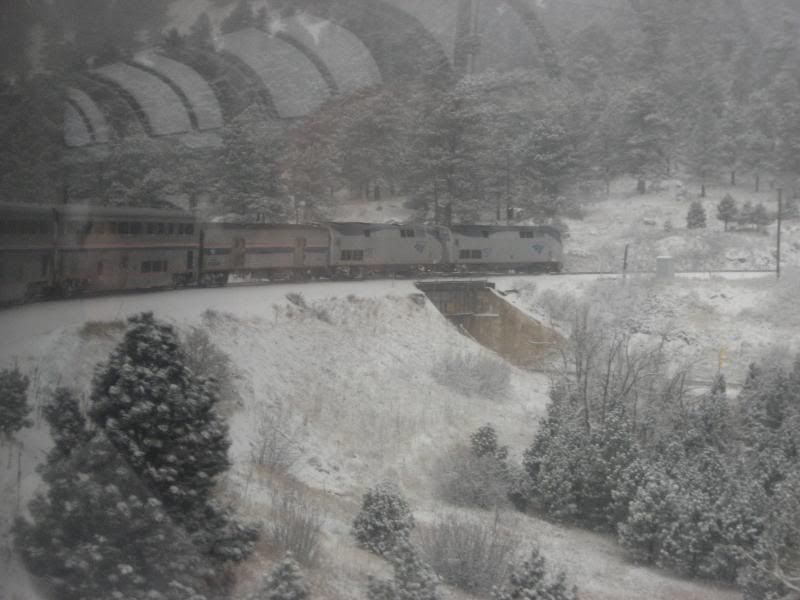 The next hour and a half is, in my opinion, the nicest hour and half in U.S railroading, as the train meanders its way through 20+ tunnels and through numerous canyons as it approaches the 6 mile long Moffatt Tunnel which crosses the Continental Divide. The snow made it all the more enjoyable.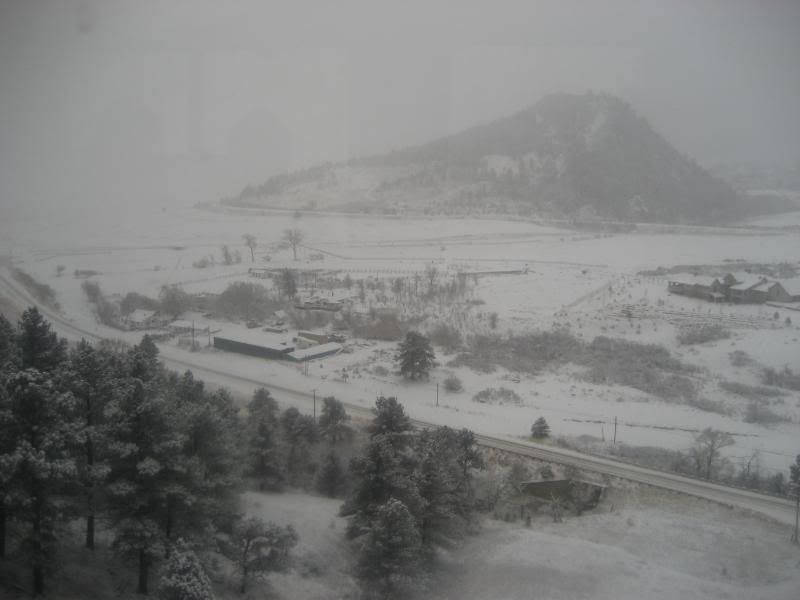 Deer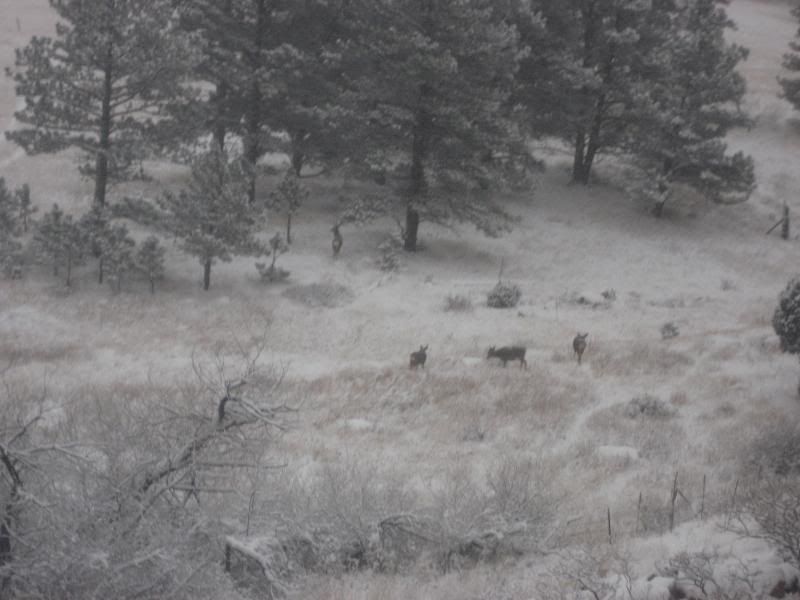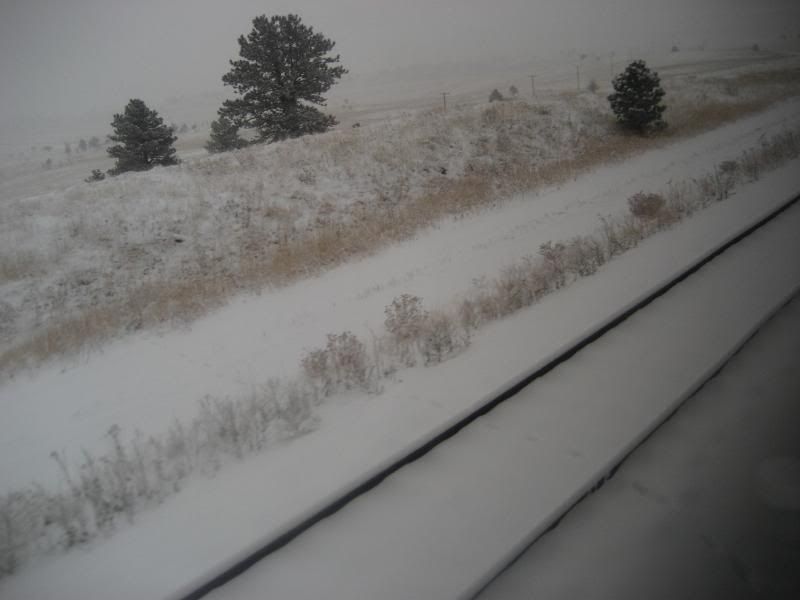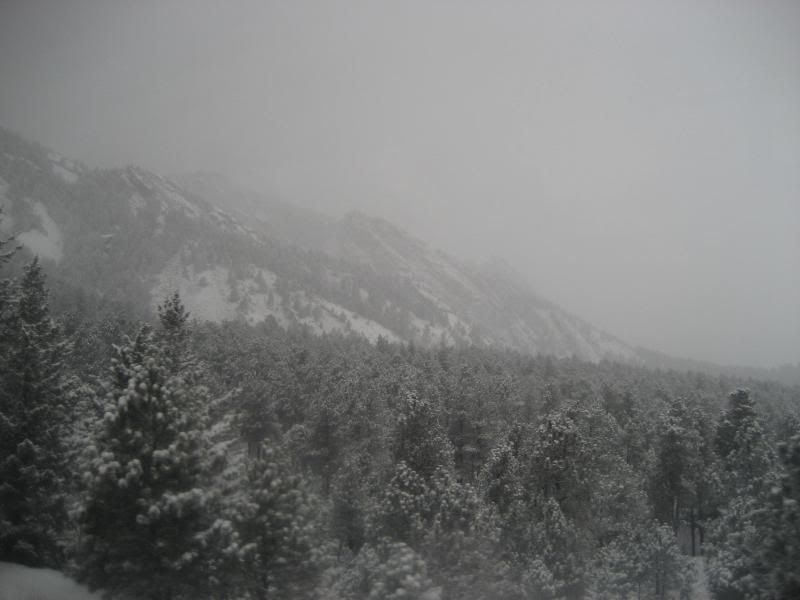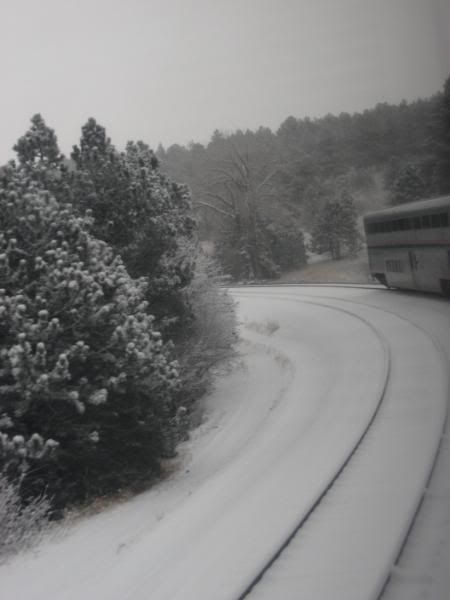 Entering one of the many tunnels.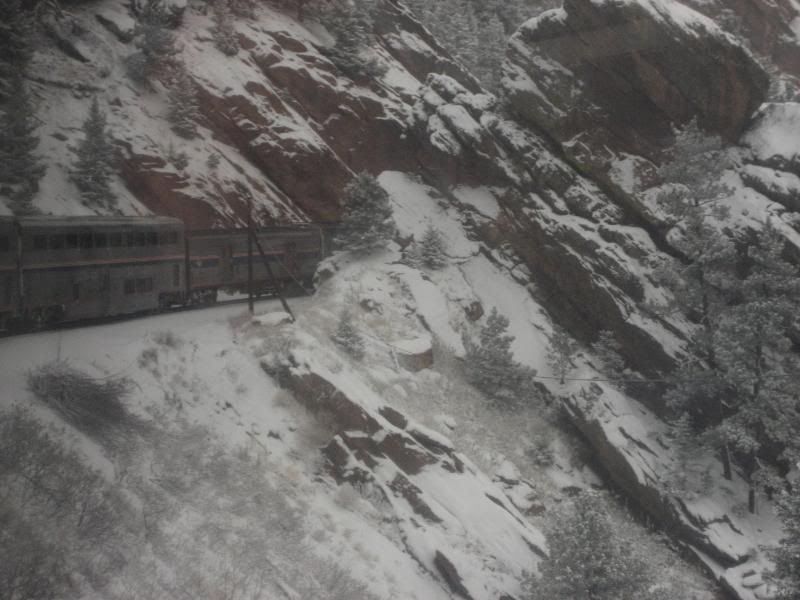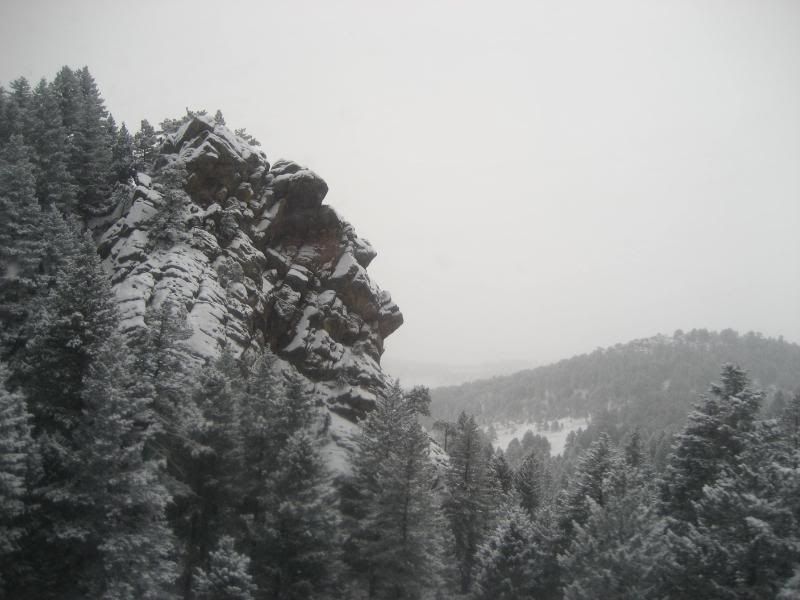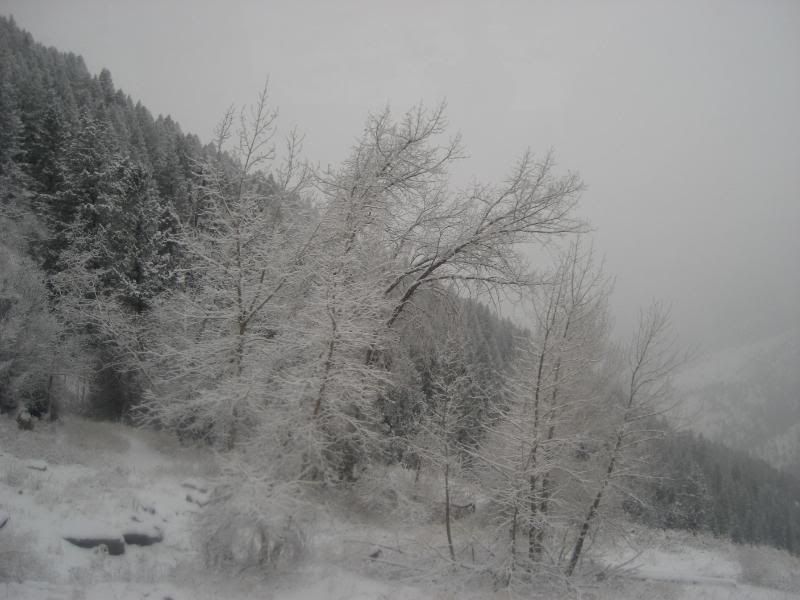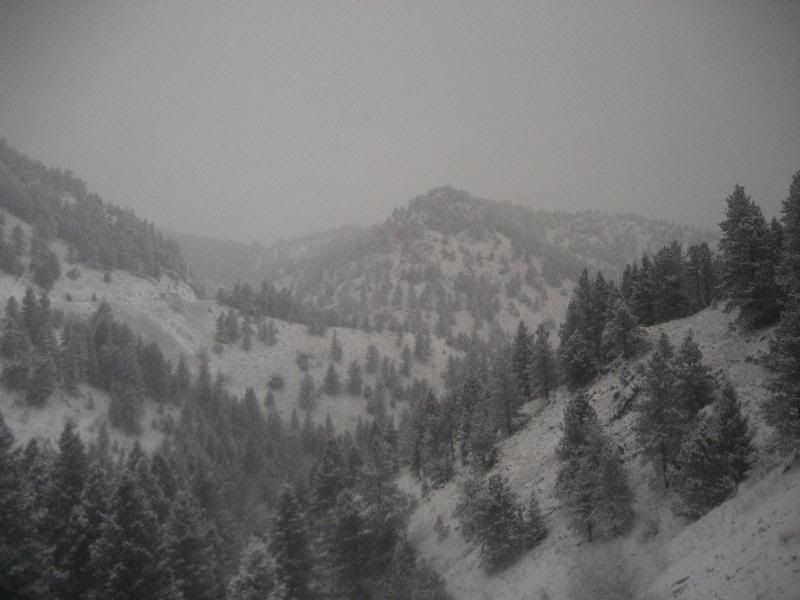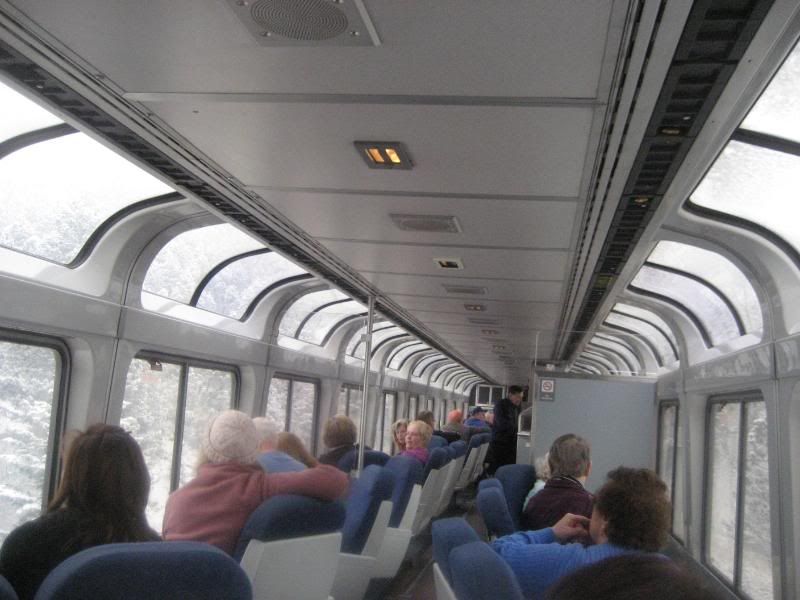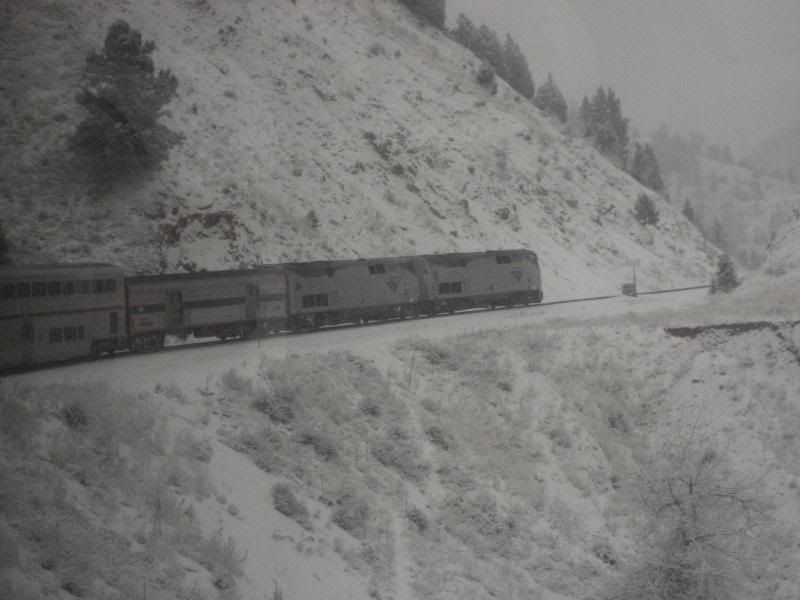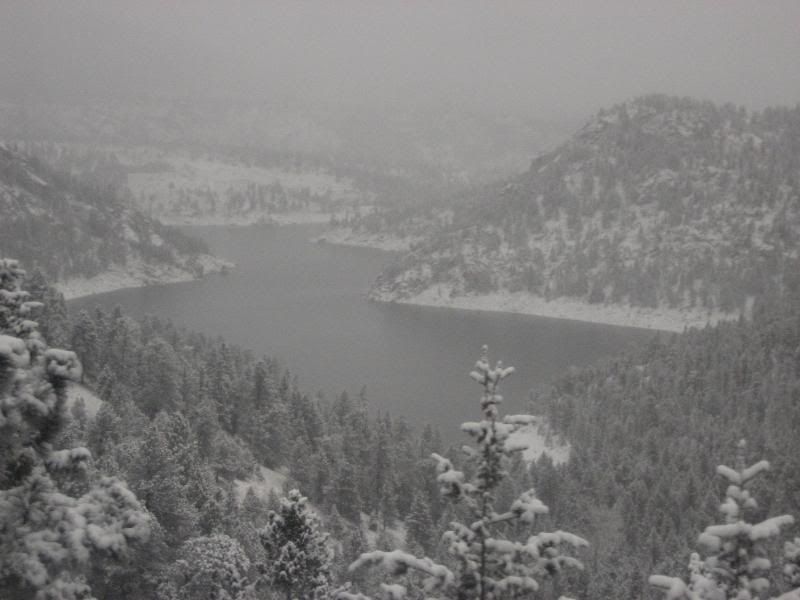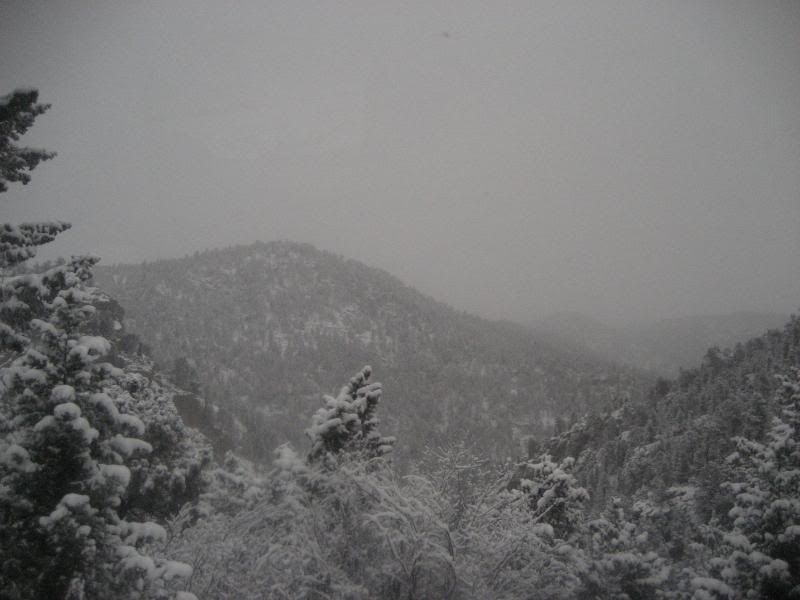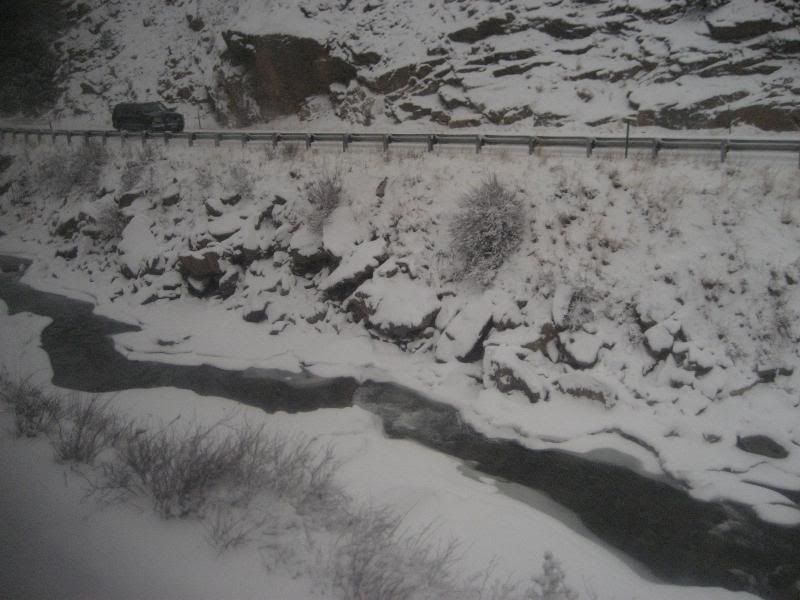 As we approached the Moffatt Tunnel, the snow got deeper and heavier. At one point, it completely covered the adjoining track. Also in this area I managed to spot the former Rollins Pass line, which was the original D&RGW (Denver and Rio Grande Western) railroad line over the Continental Divide before the Moffatt Tunnel was built. The railroad has been removed from the pass but much of it can be used today by Jeeps and off road vehicles in the summer.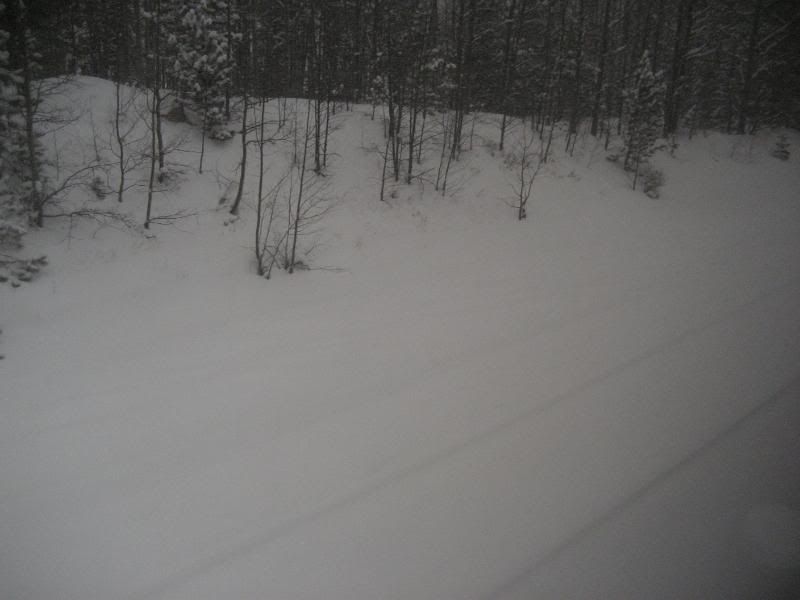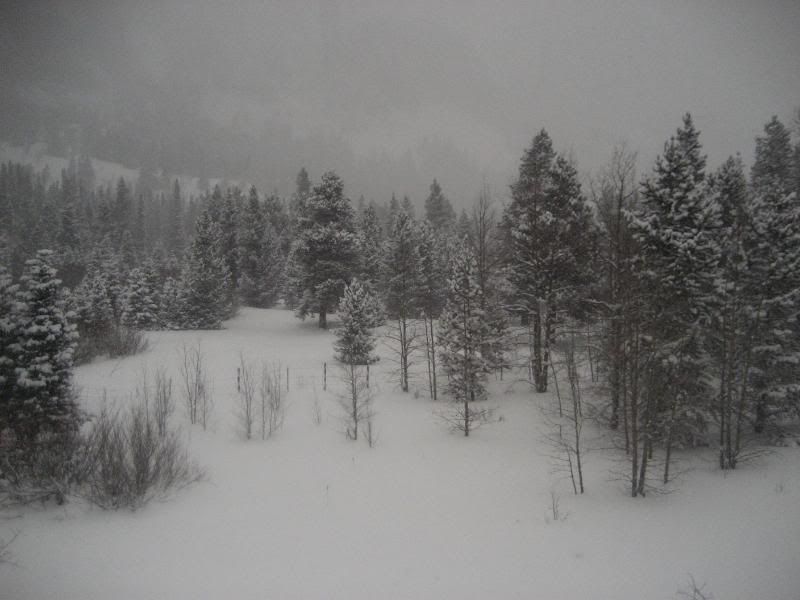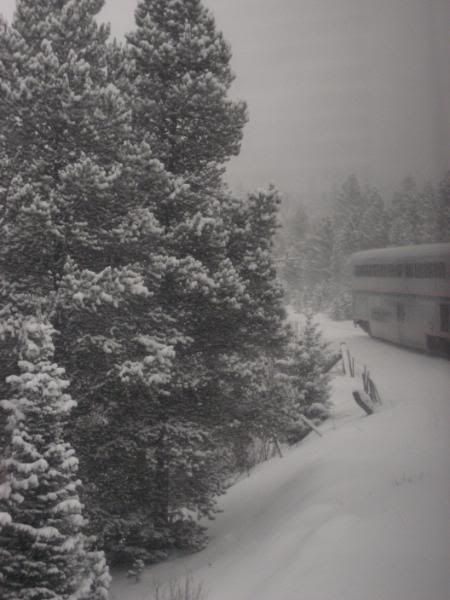 You can see the Rollins Pass line here climbing to the right.
Entering the Moffatt Tunnel. It takes about 10 minutes to go through it.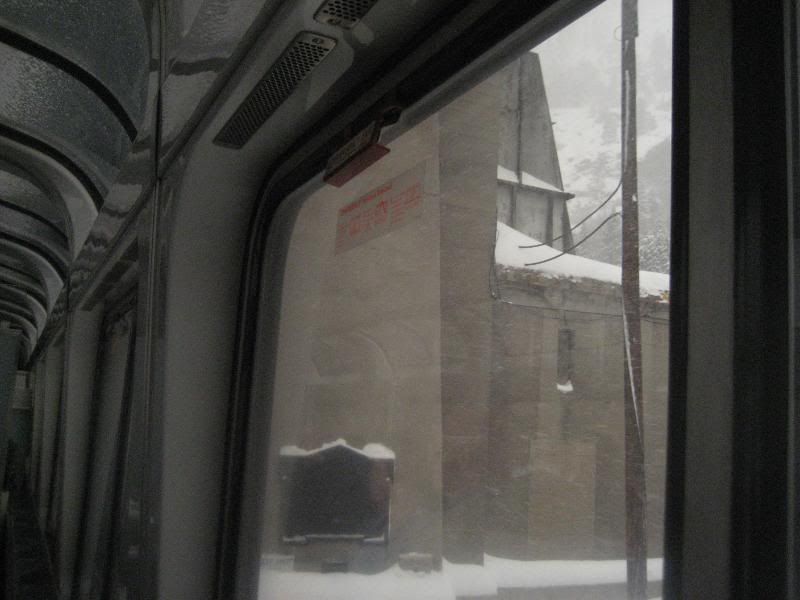 As soon as we exited the tunnel, the Winter Park ski area was visible on the immediate left. I had skied there three times before and it made me want to jump out and do it again.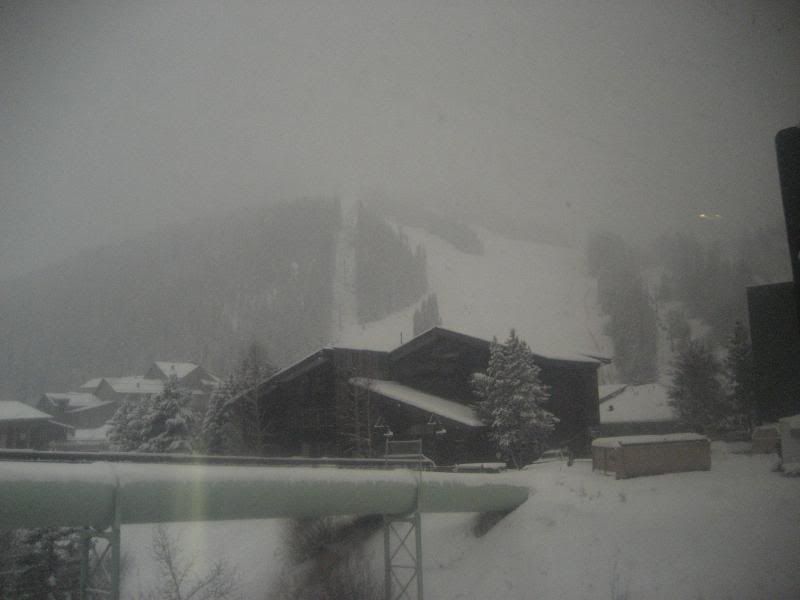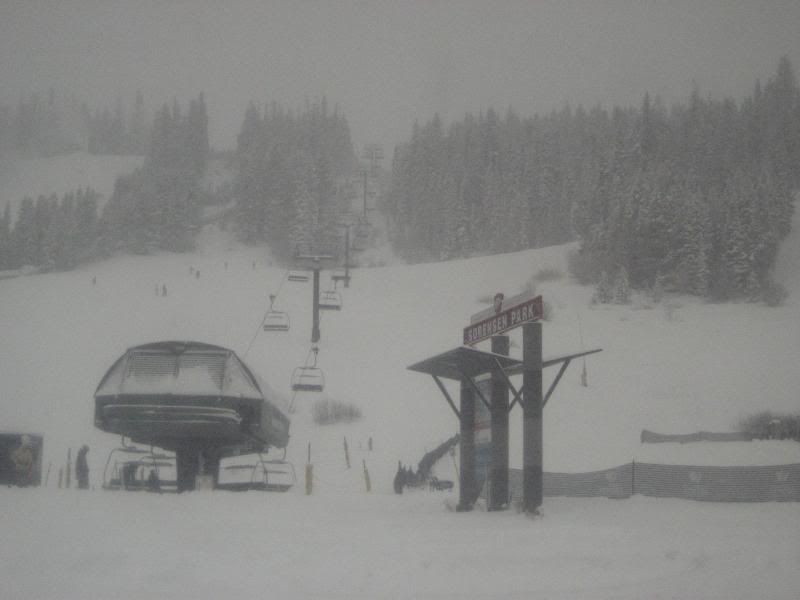 We stopped just a few minutes later at the Winter Park/Fraser station, and I stepped off here to get some pictures and to say goodbye to this girl I met on the train who was going to spend the season in Winter Park skiing as an instructor. I felt like I was in one of those old ski movies from the 1980's...Hot Dog, The Movie perhaps? Ski Patrol maybe?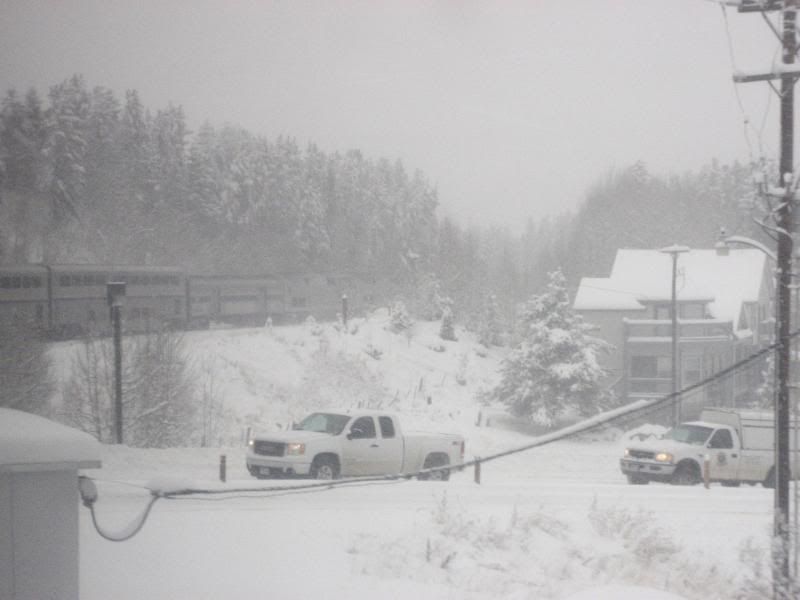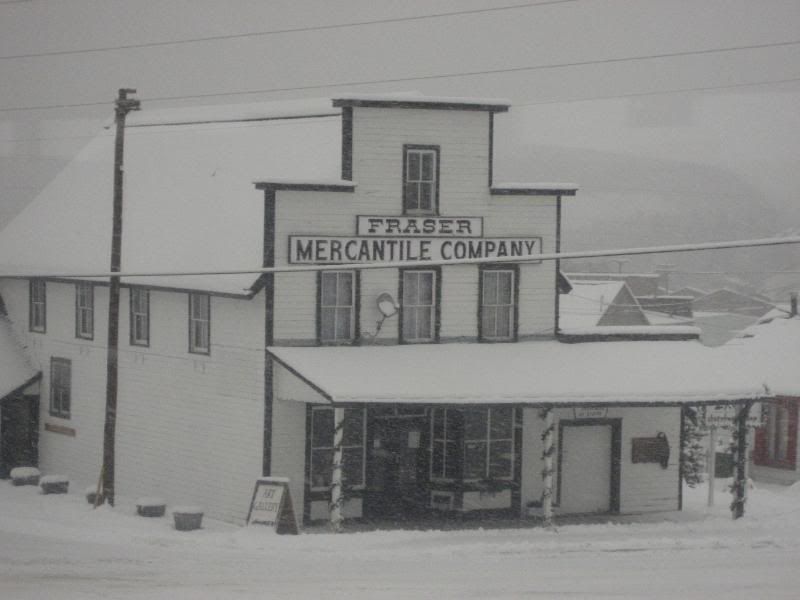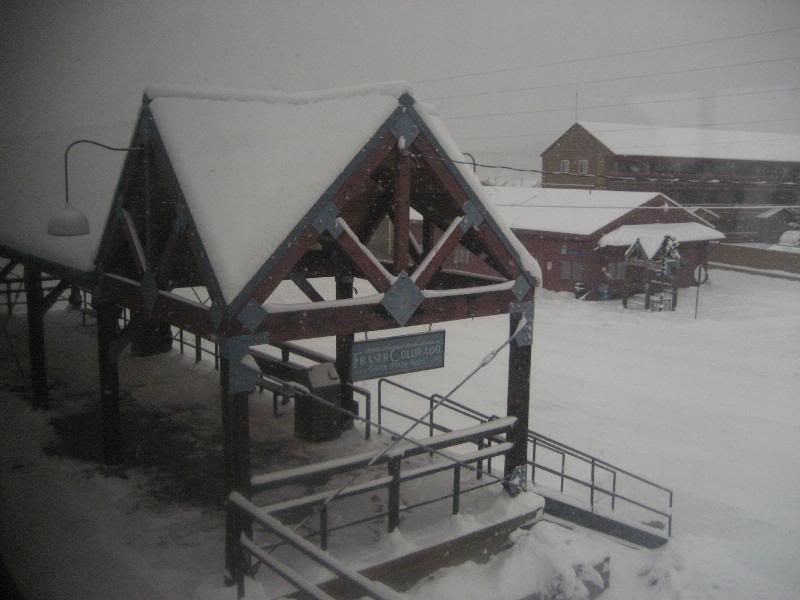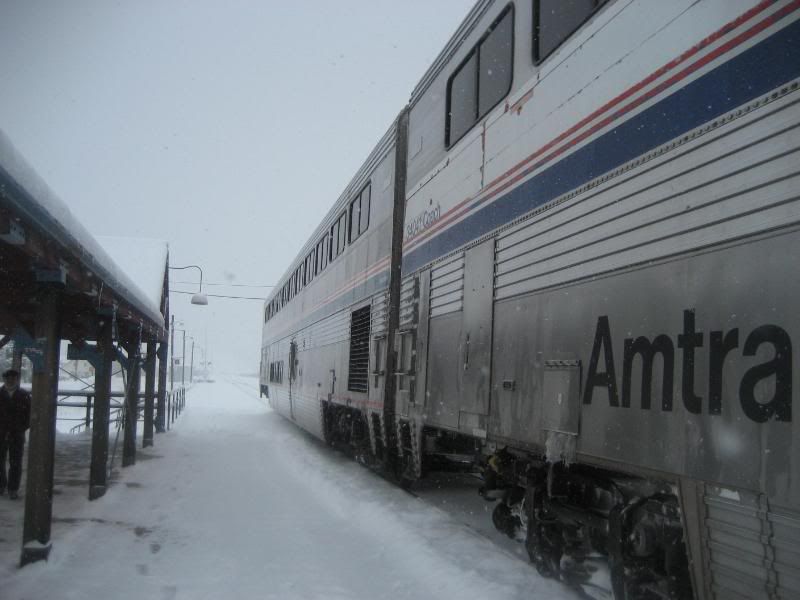 Your's truly, being clobbered by snow.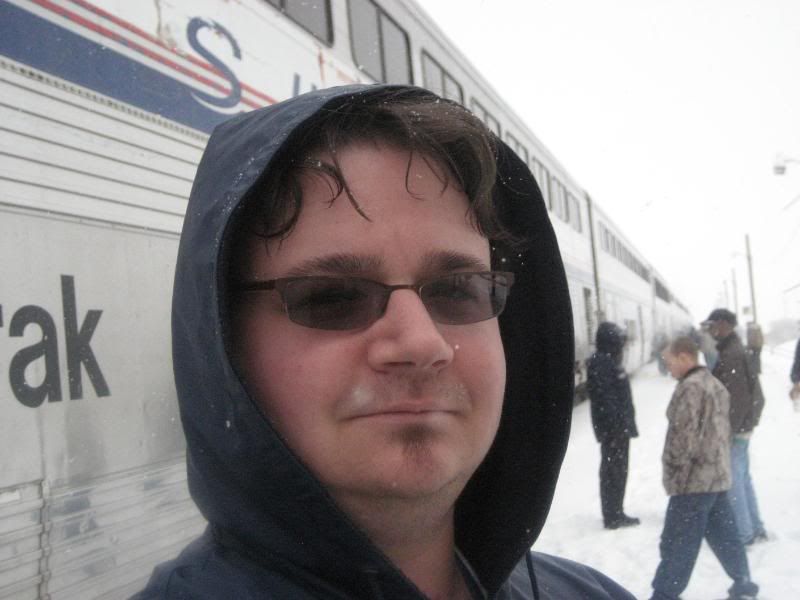 As we departed Fraser I noticed that the car behind us was empty...I suppose it emptied in Denver...so I took a stroll to the back take some pics. I also managed to take a video which I will post later. I'm glad I got the picture and video because the car was locked off shortly thereafter and would not re-open until Reno, NV.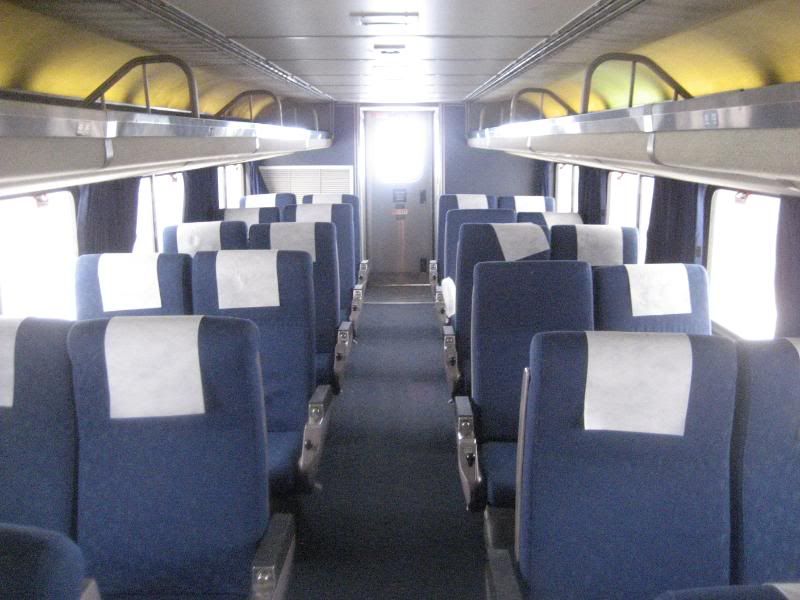 I'm going to let the pictures do most of the talking for a bit. Next stop was Granby, followed by Glenwood Springs. The snow tapered off a bit after Granby but picked up a bit as we approached Glenwood. Mind you, we were on time the whole day.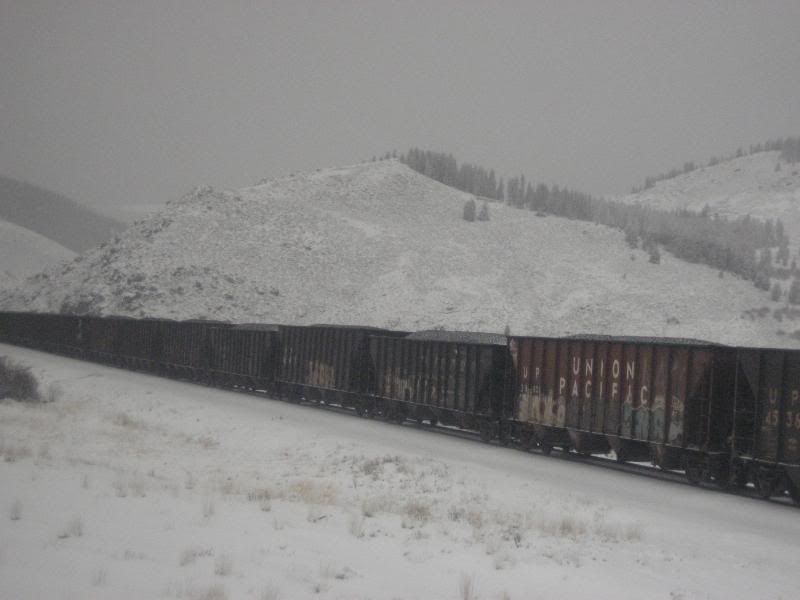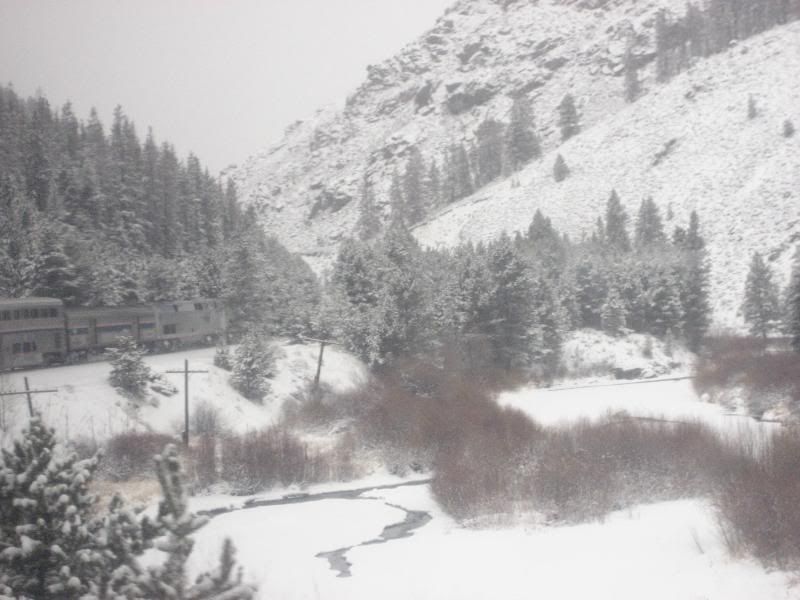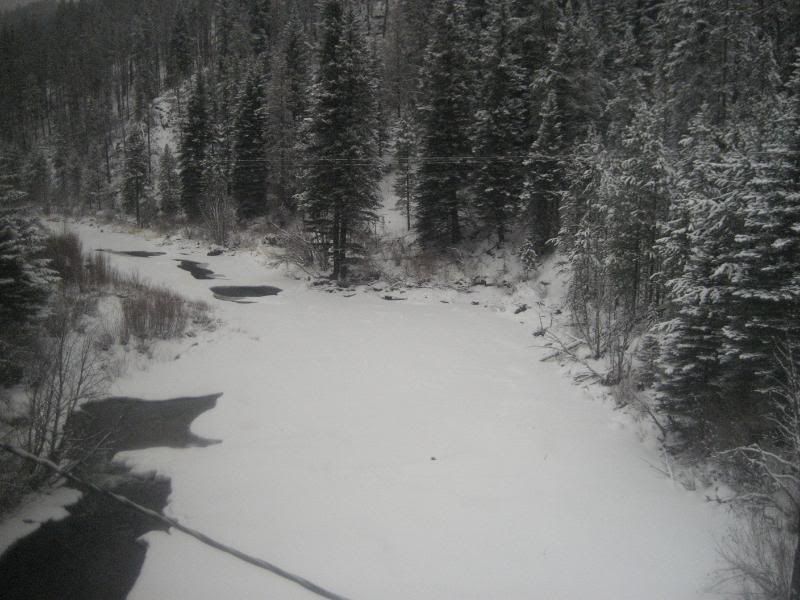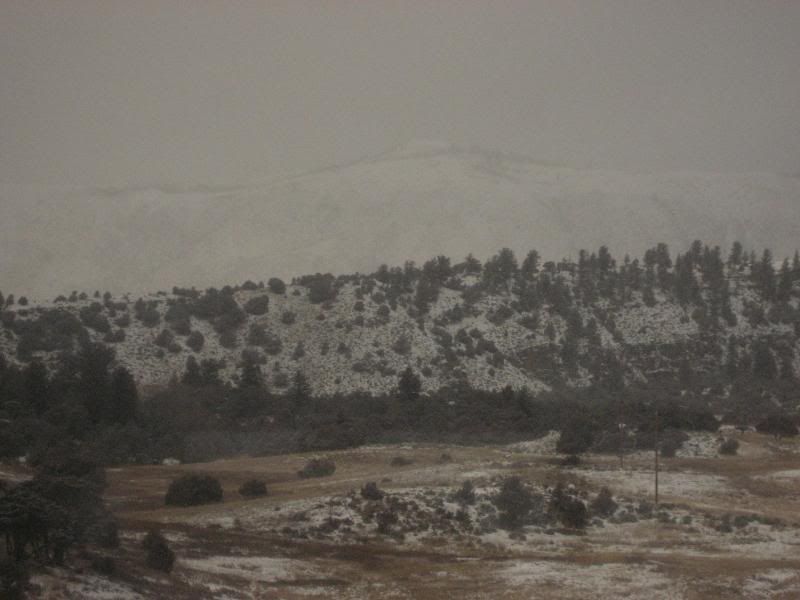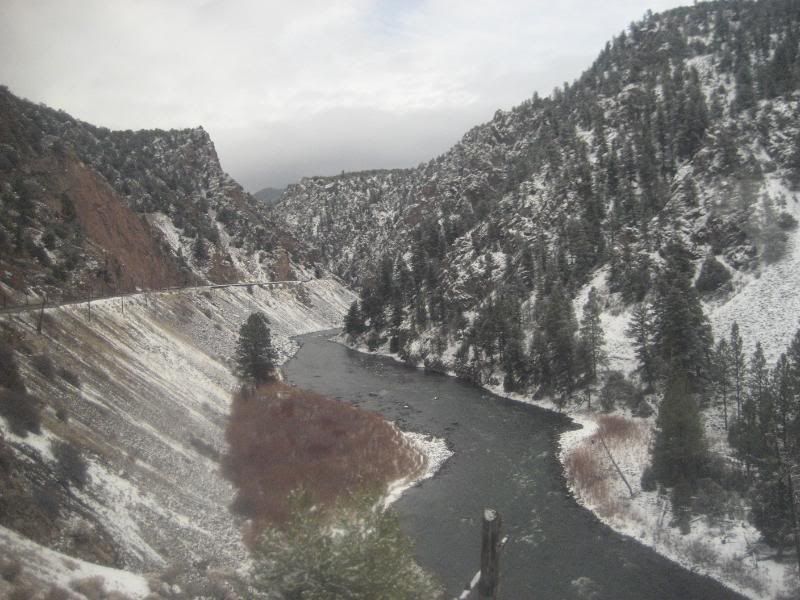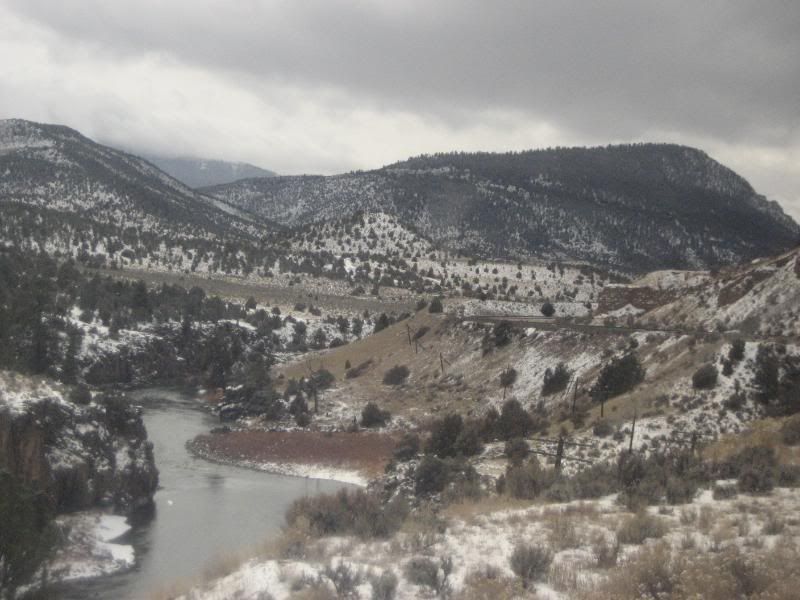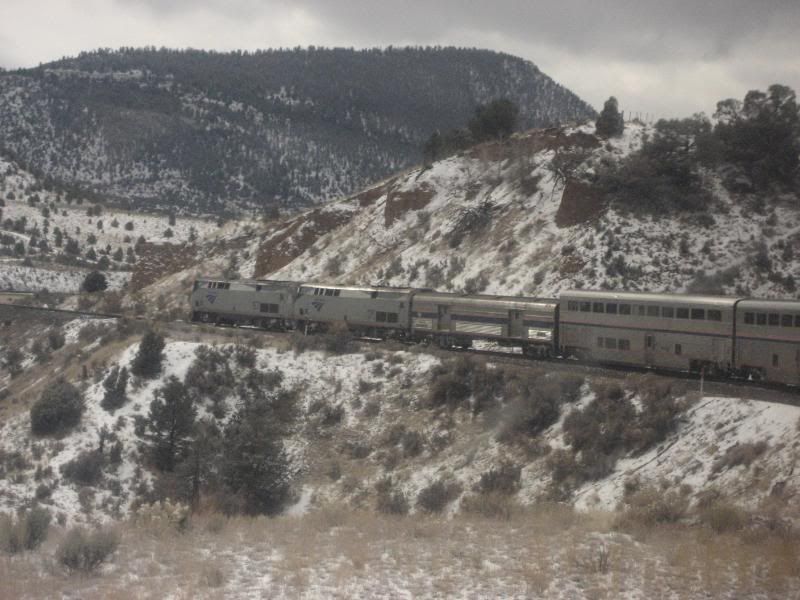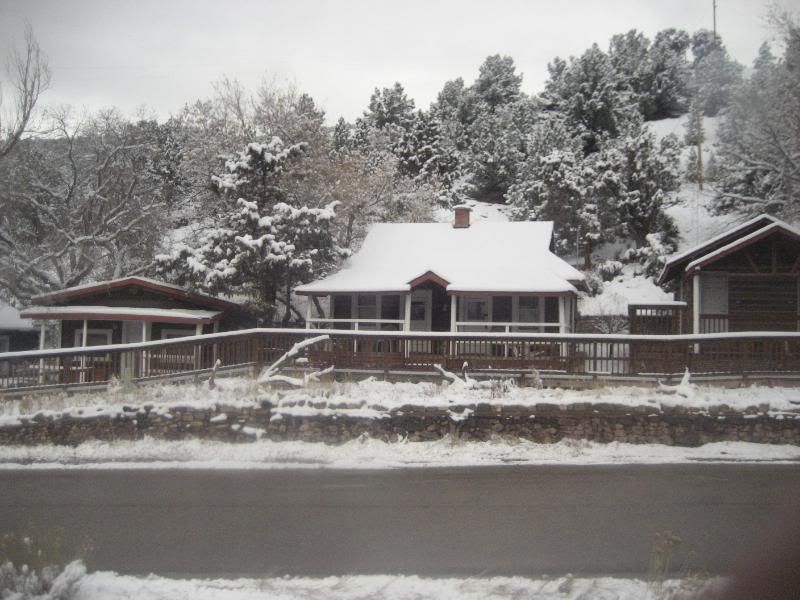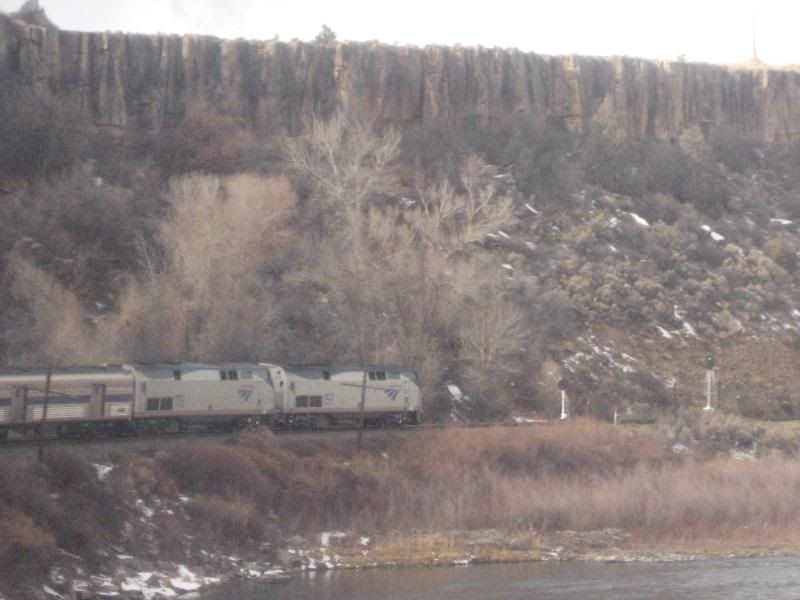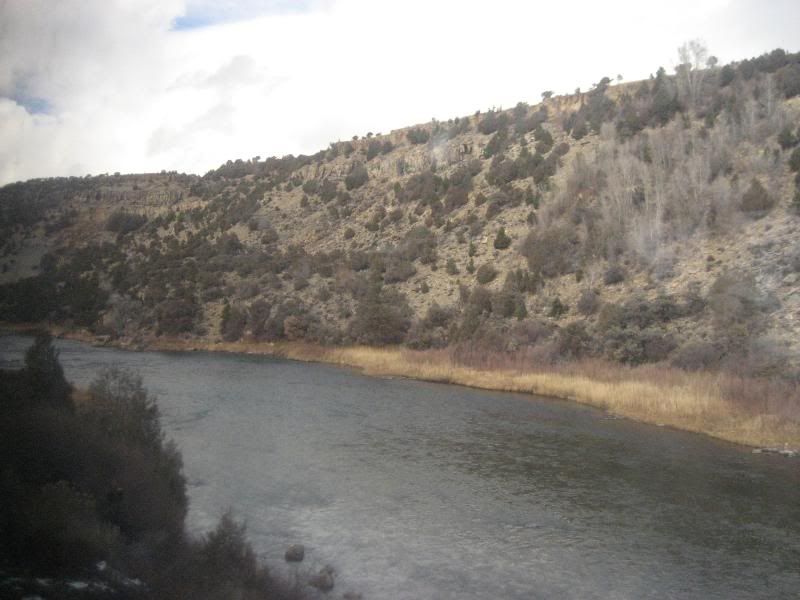 Waterfall high up in the mountain.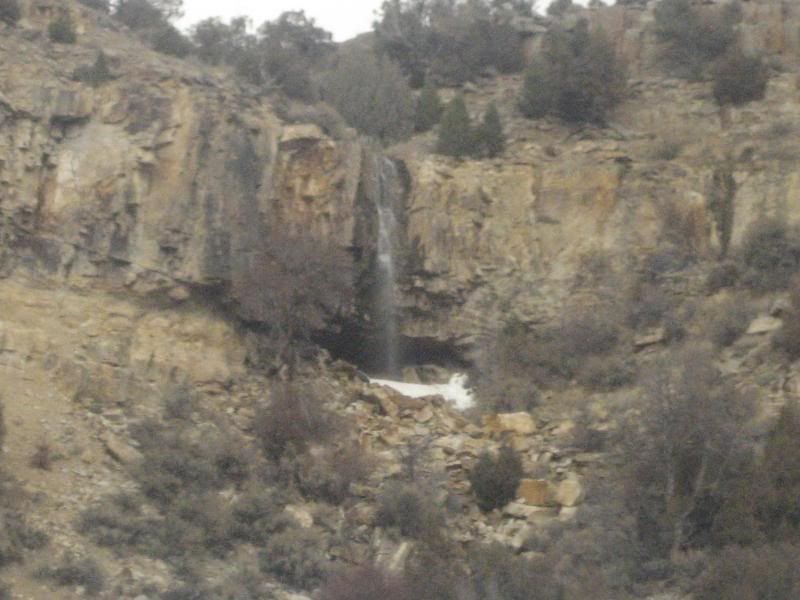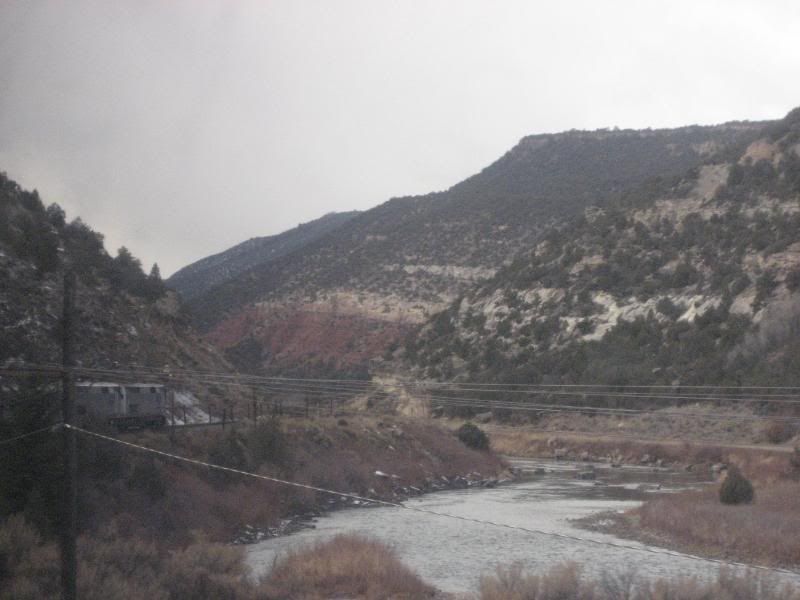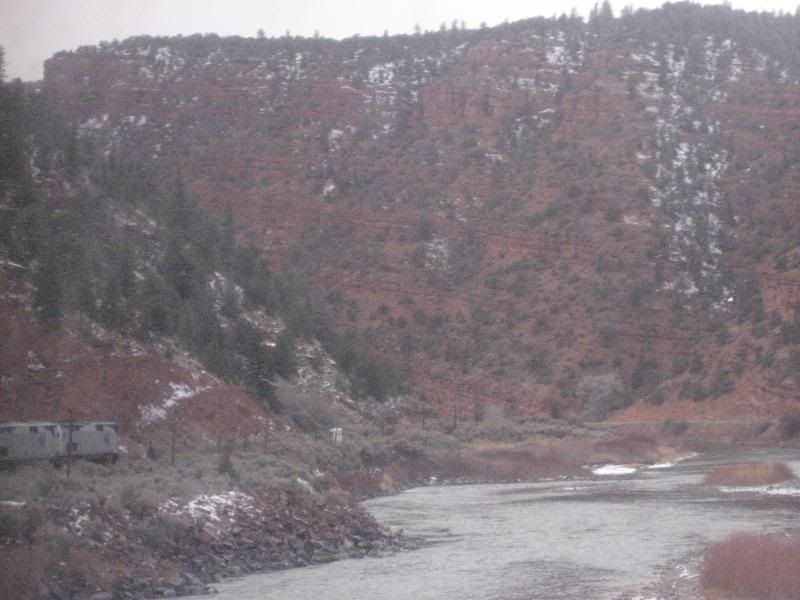 What would a train ride be without cows?
Not that clear, but it was the best I could do. We went through that tunnel shortly after this was taken.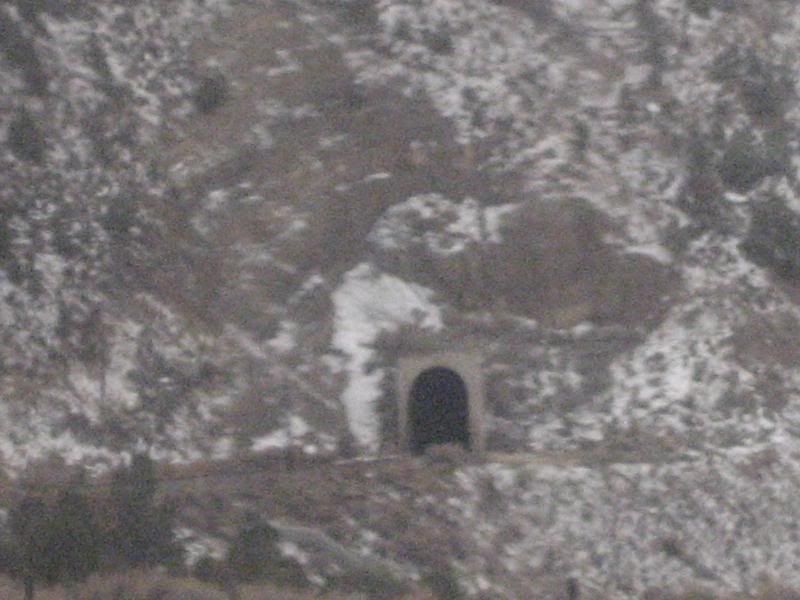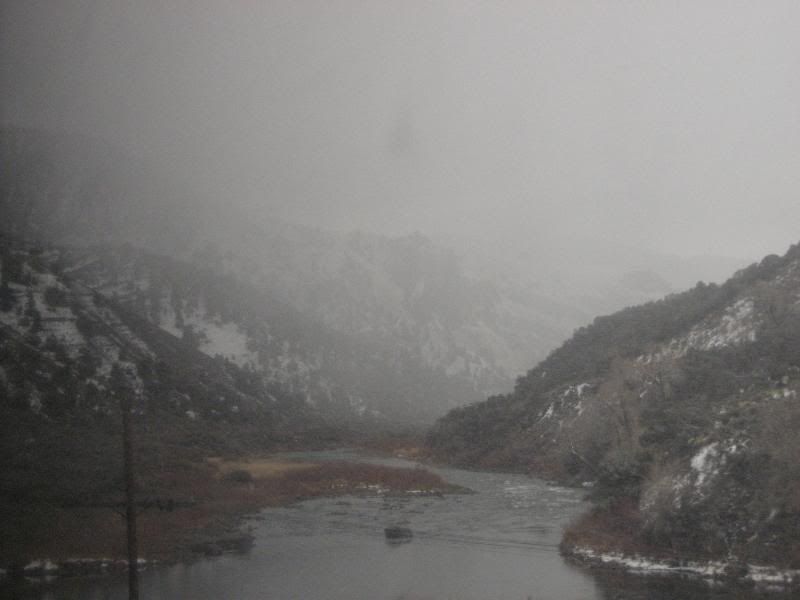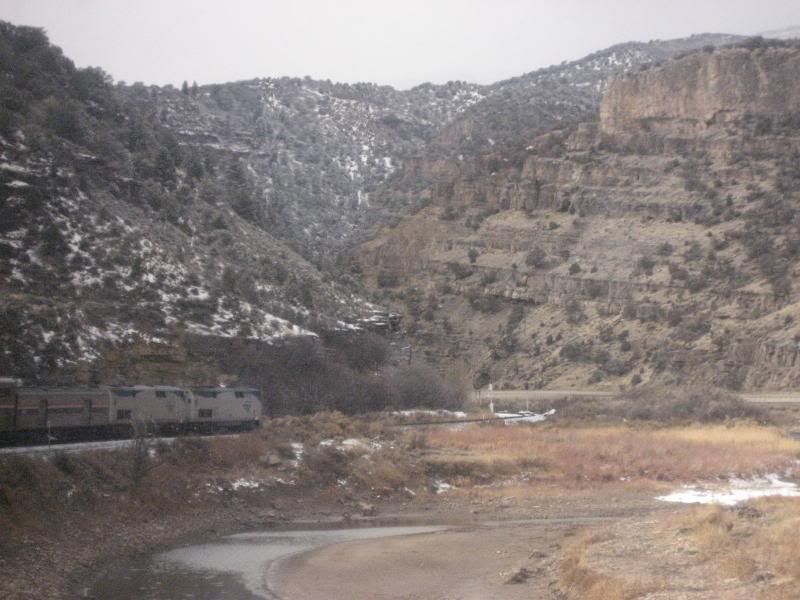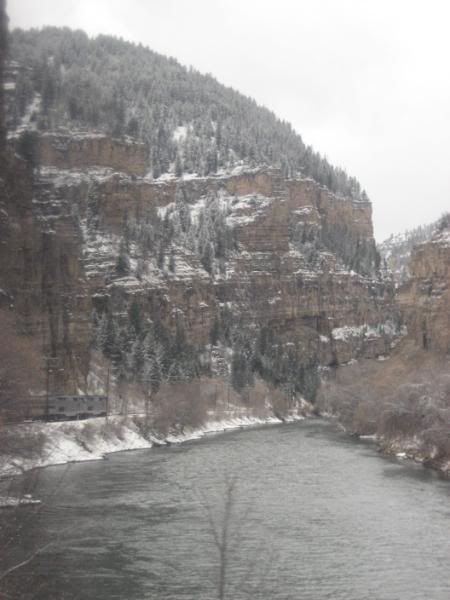 As we enter Glenwood Canyon, I-70 makes an appearance.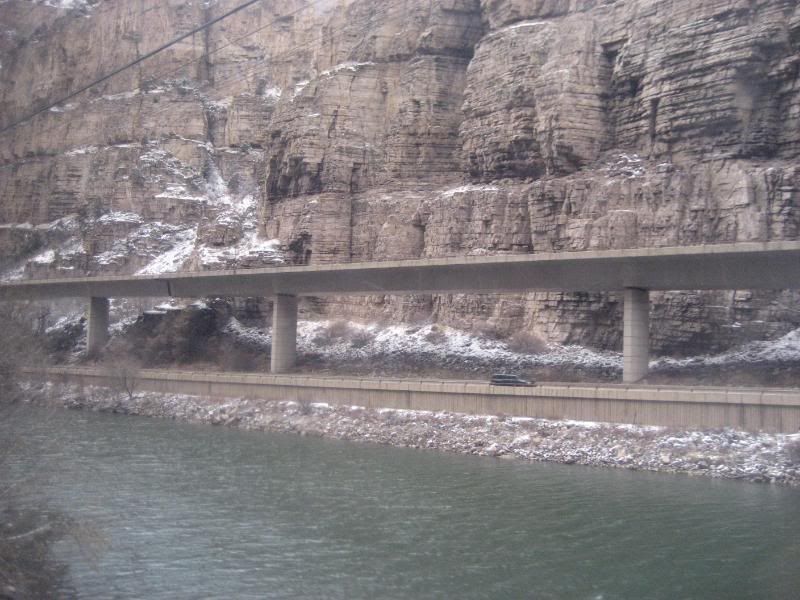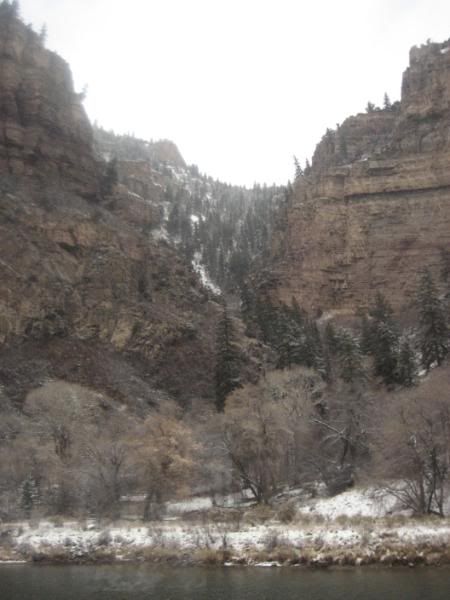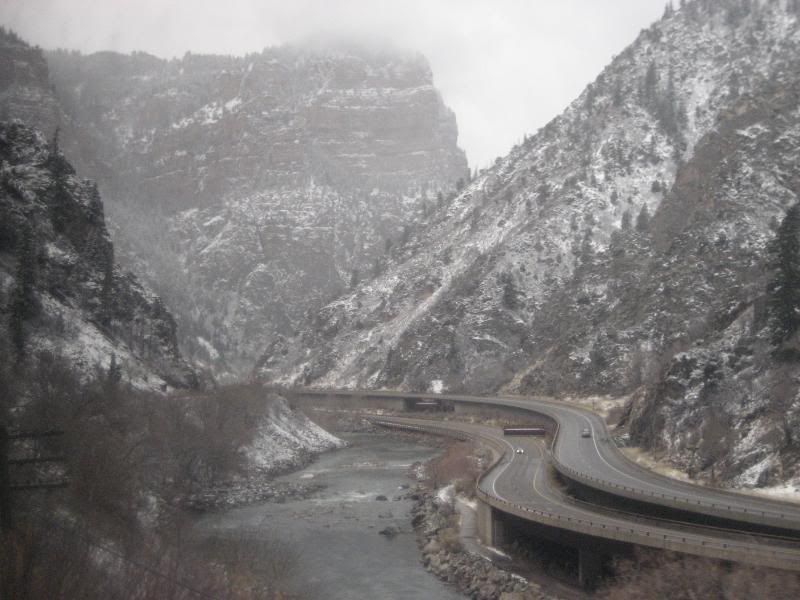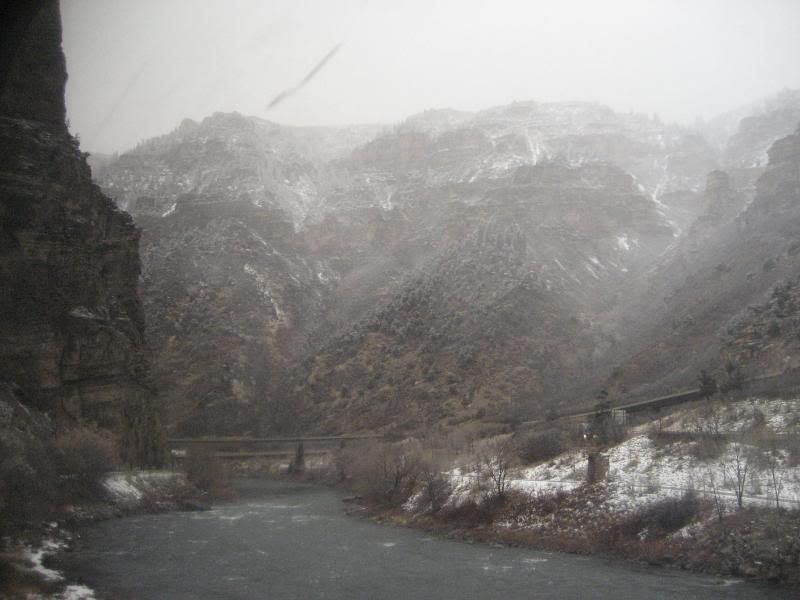 Arriving beautiful Glenwood Springs, CO.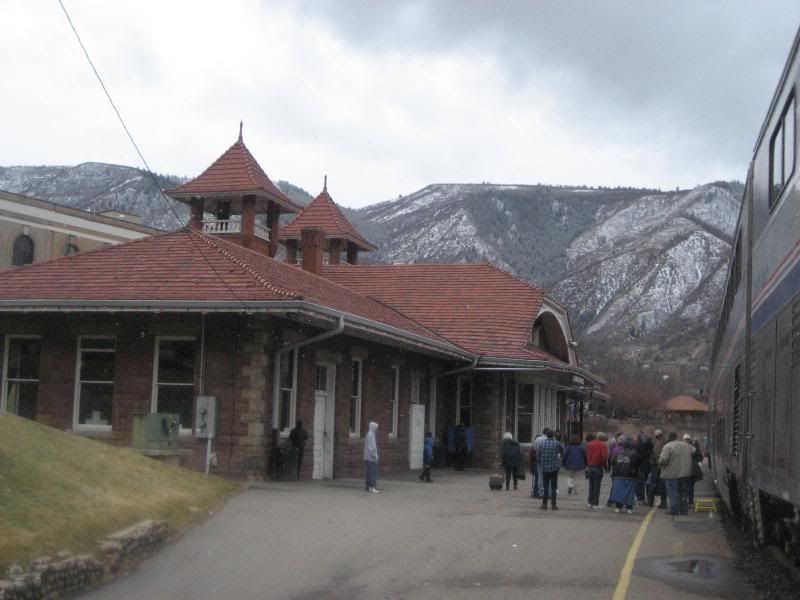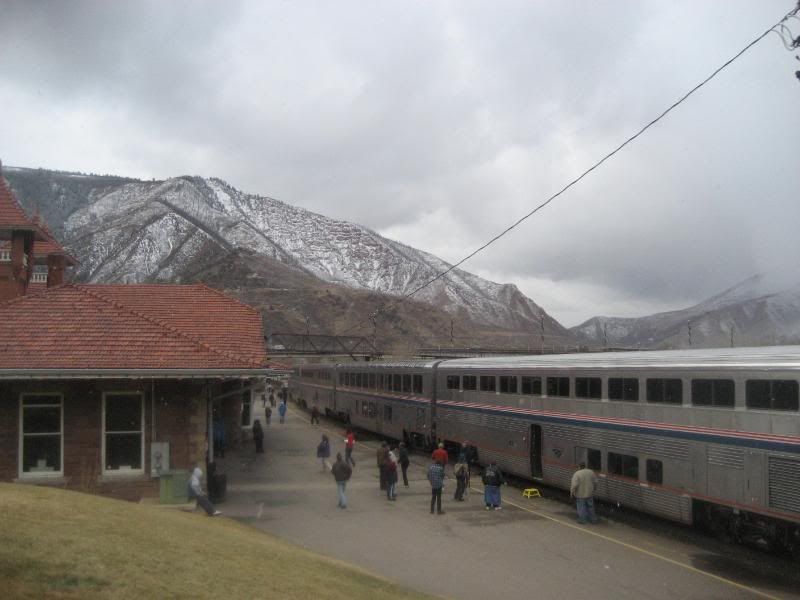 Next stop: Grand Junction.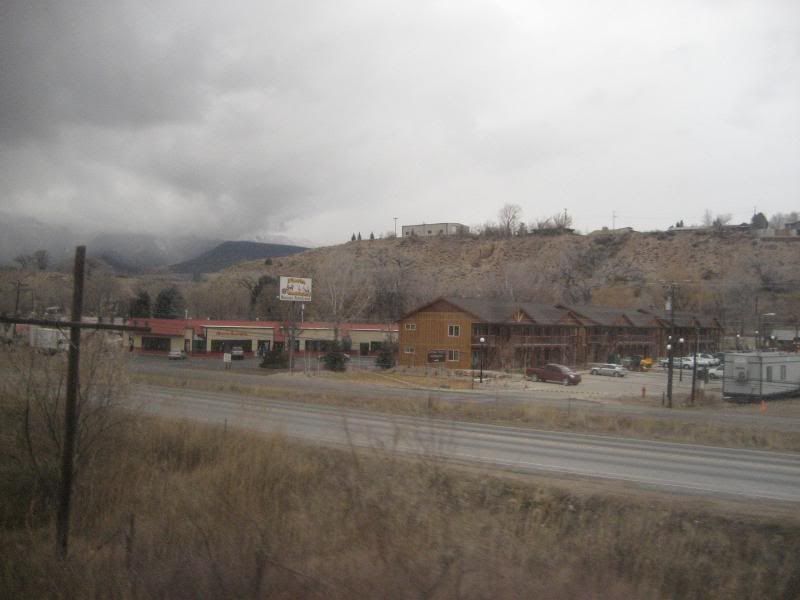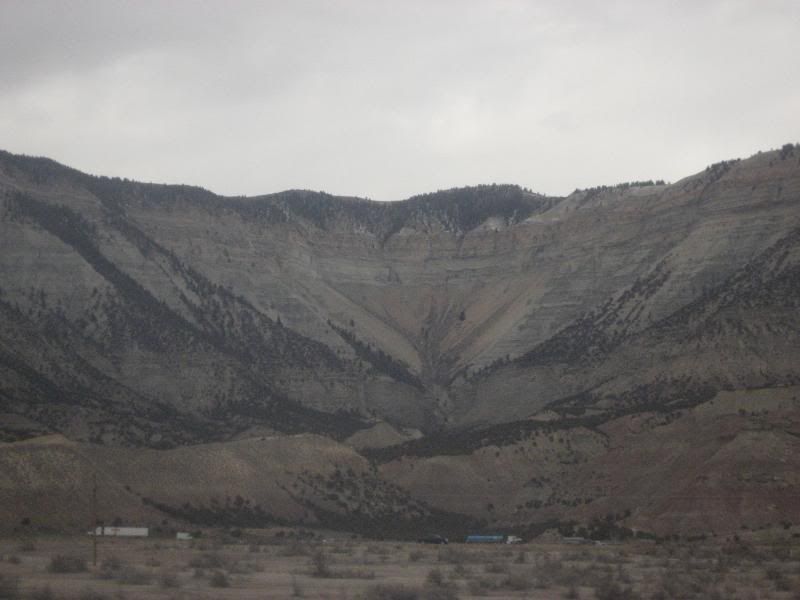 Ski area seen in the distance. Anyone know which one this is?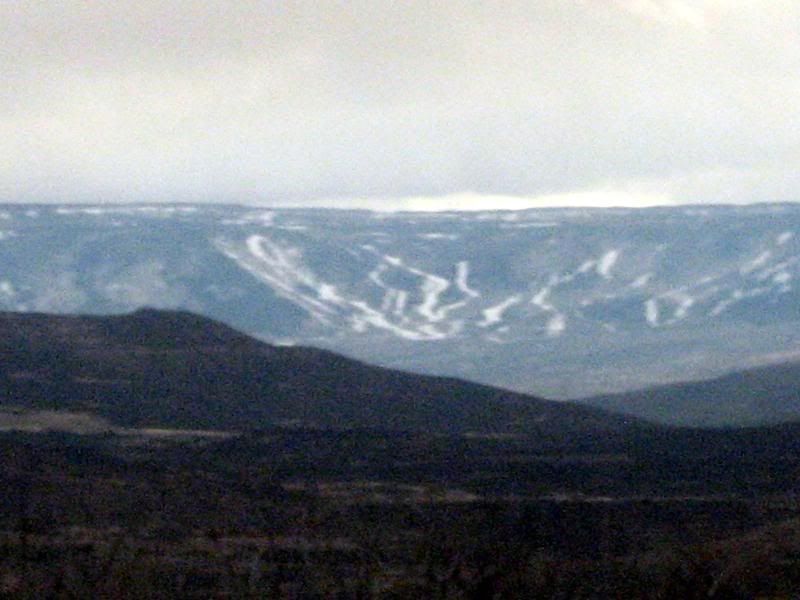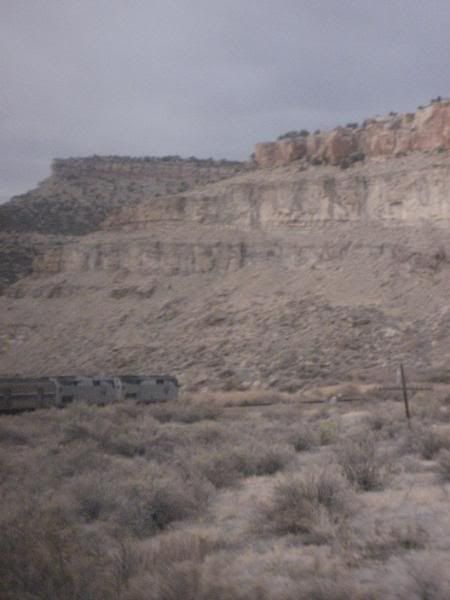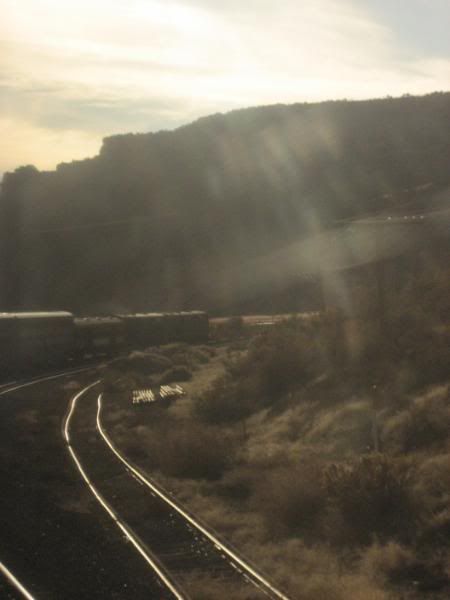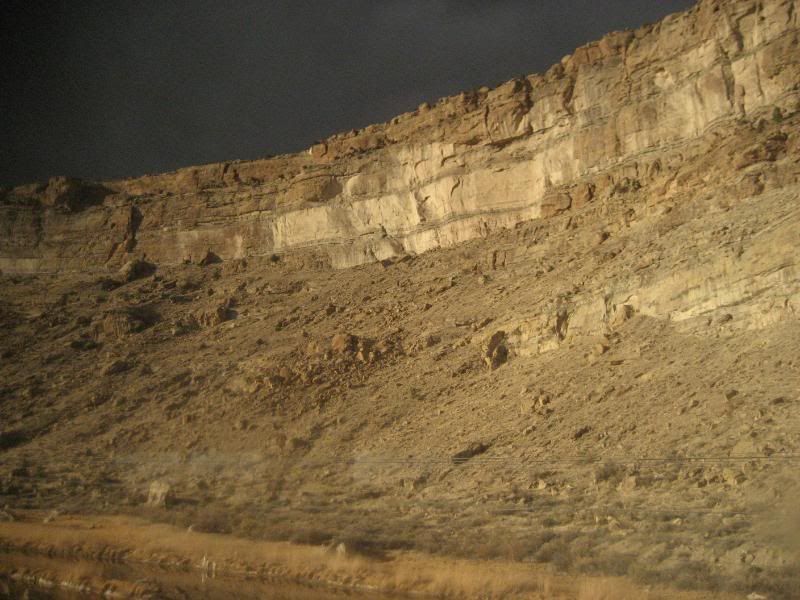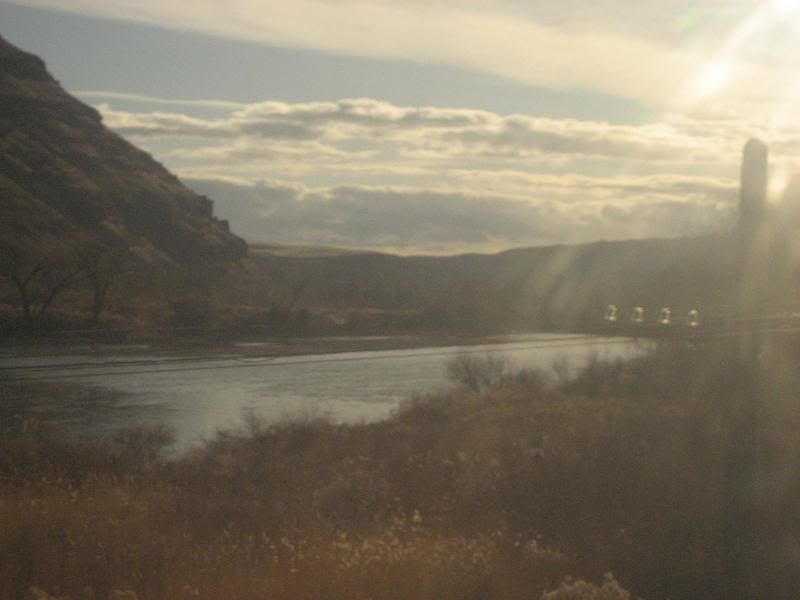 Arriving GJT. This is a service stop for the train and since we were early, we had nearly an hour to kill. The station has a small gift store which sells souvenirs and snacks.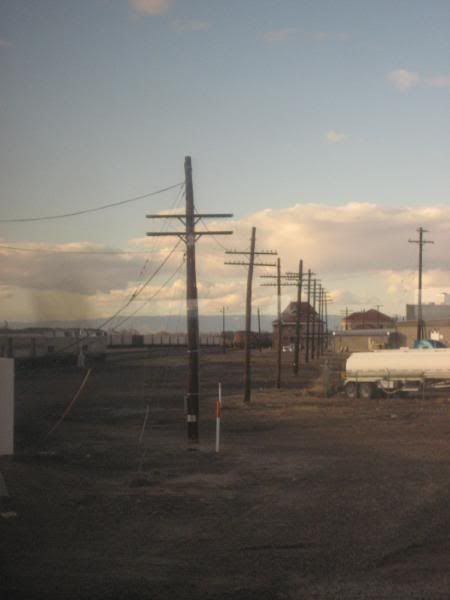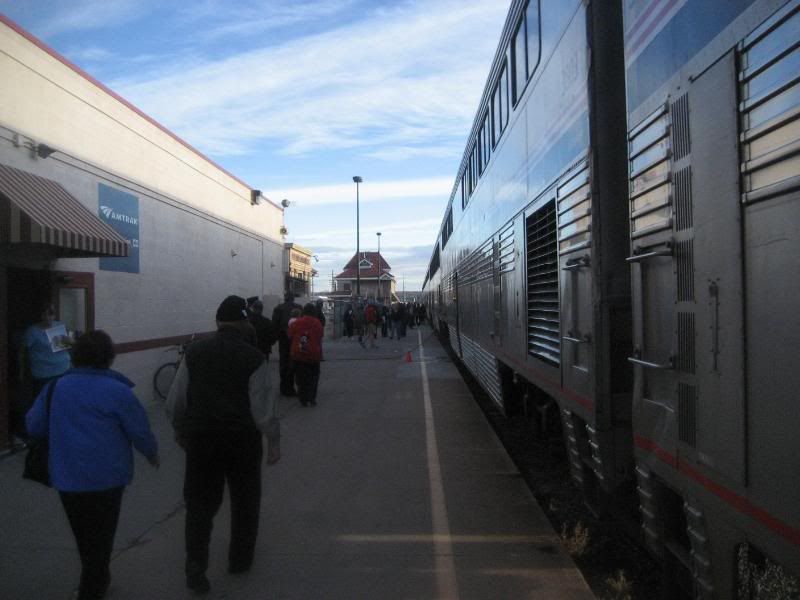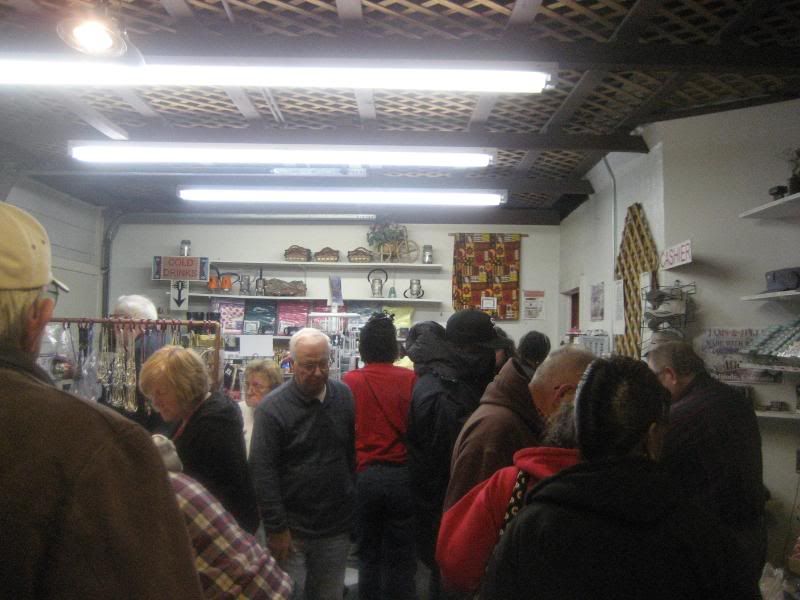 I took this same exact picture last May when I took the this train.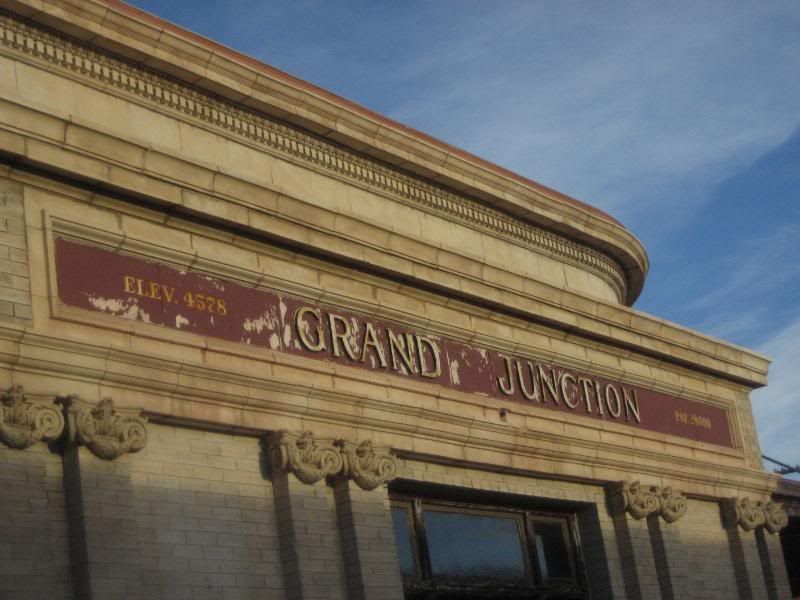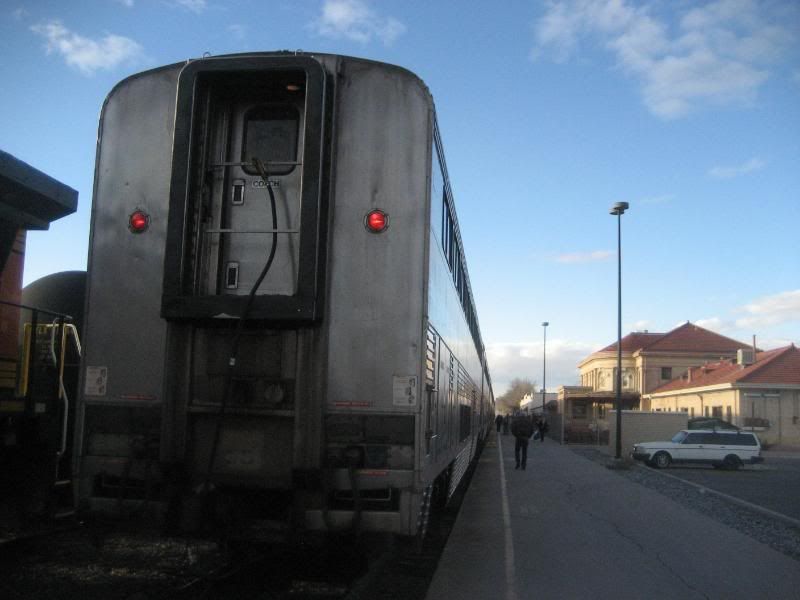 We departed GJT on-time and made our way through Ruby Canyon before sun fell over the Utah desert.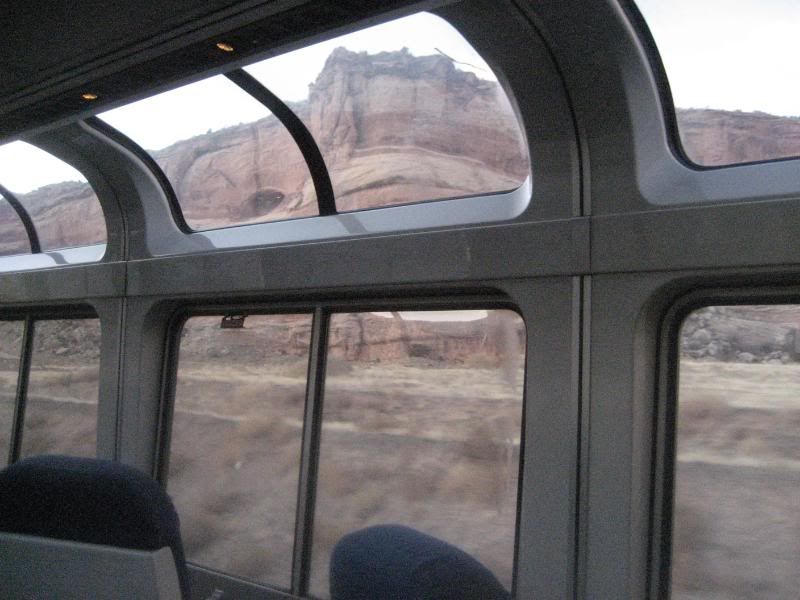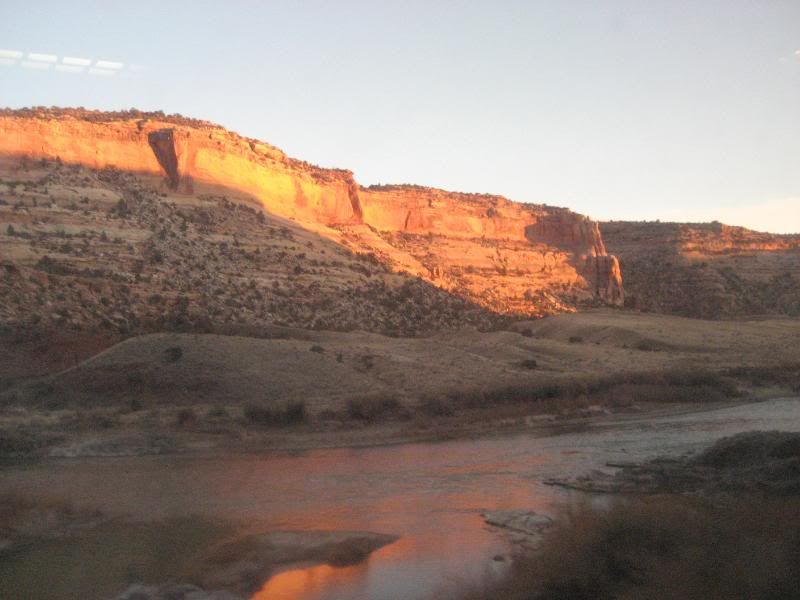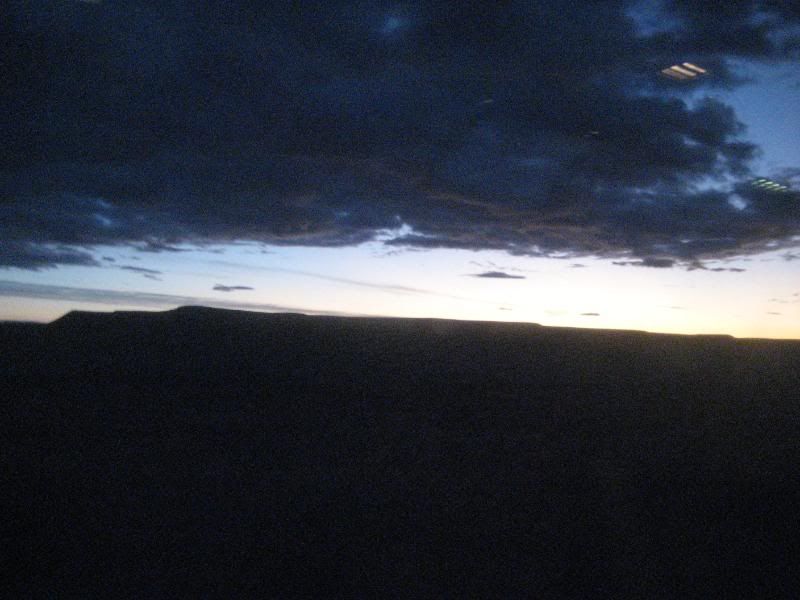 I spent most of that evening in the Lounge car chatting with fellow passengers. Lots of stories were told. I consider train travel to be one big social experiment. A community type atmosphere evolves on the train as the trip progresses. I really enjoy it. Overall I consider myself to be a rather shy person but for some reason the train brings out the more social side of me.
After having a late dinner in the Lounge car, I returned to my seat around 9:00pm and did some reading before enjoying the approach into SLC, roughly an hour ahead of schedule. I was going to go visit the SLC station but ended up being too tired to do so. I fell asleep not long after we arrived at 10:30pm.
I had a pretty restful sleep that night, only waking up in Elko around 3-something in the morning. I woke up for good shortly after 6 to find us somewhere in the Nevada desert. We ended up falling one hour behind schedule in the middle of the night because of a broken rail, which Union Pacific crews had to fix before we could pass.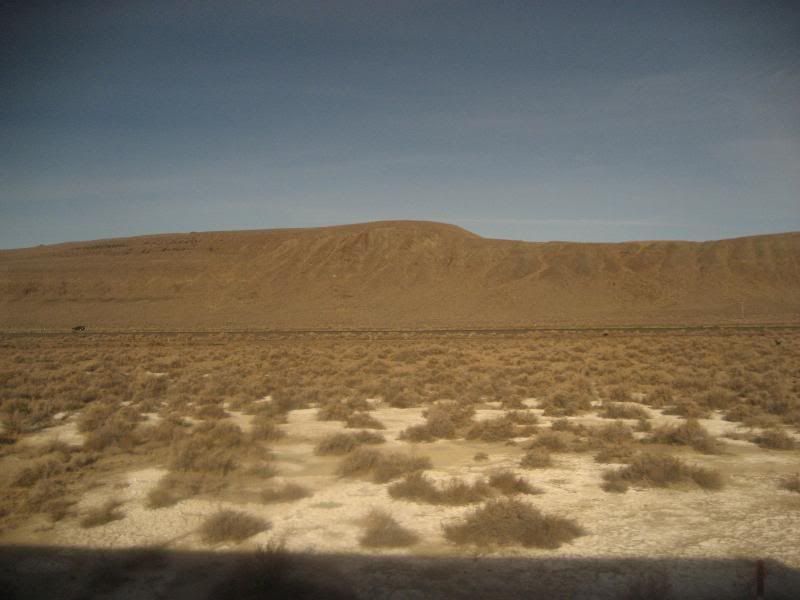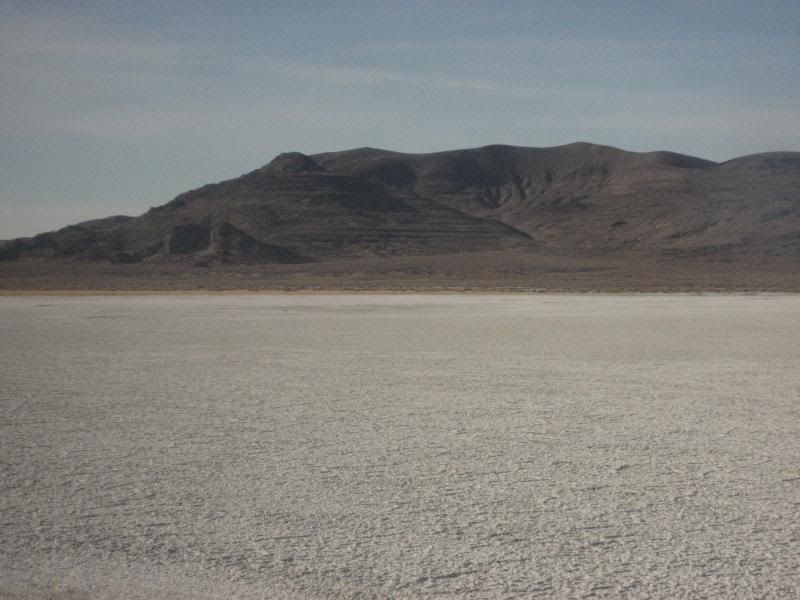 After a few hours of desert running, we arrived in Sparks, NV, just a stone's throw away from Reno.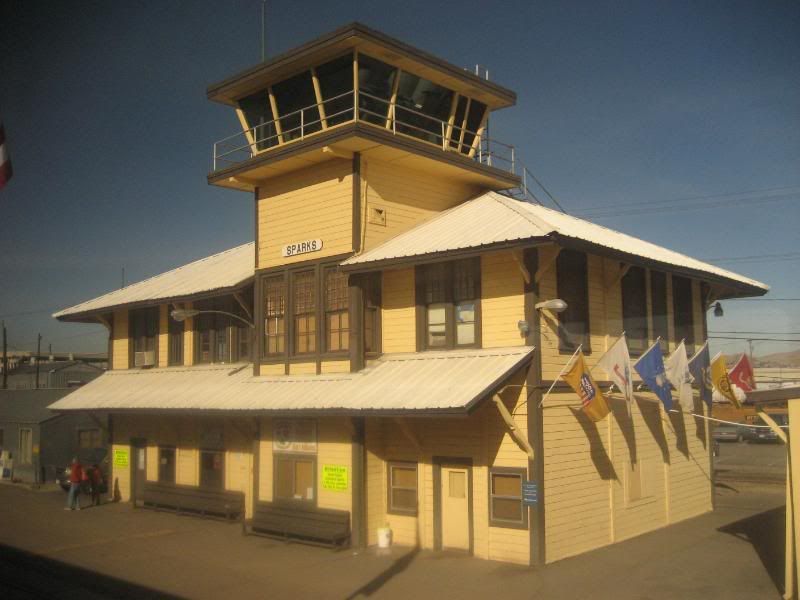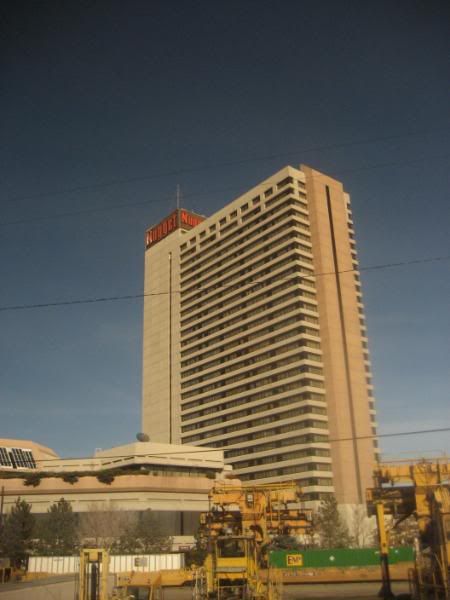 Ten minutes later, we descened into the "Reno trench". Up until 2004 the rairoad went directly through downtown RNO, effectively blocking traffic whenever a train passed through. So, a 30 foot deep, two mile long tranch was built so car traffic wouldn't be disrupted any longer. A good number of people boarded in RNO, and they opened up the empty car behind mine, so a group of 15 could sit together.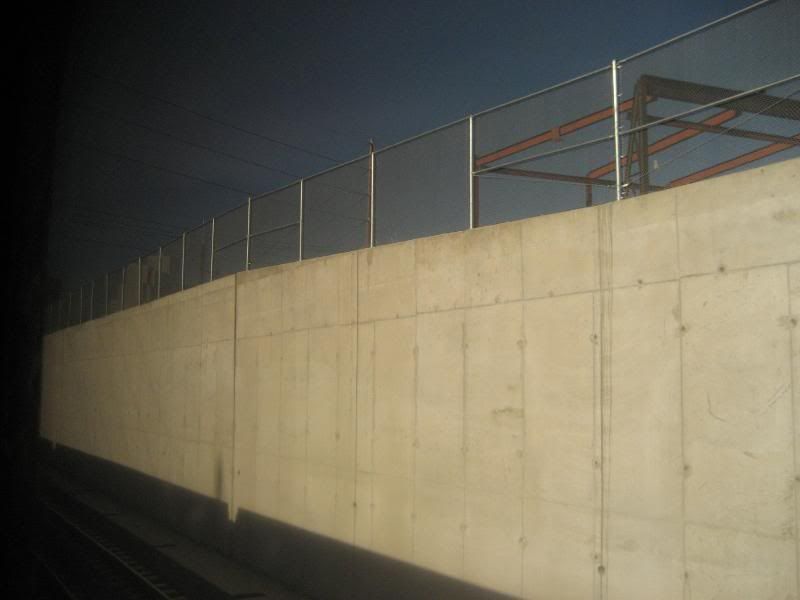 Once we left RNO I went back to the Sightseer Lounge car and found an open seat for our trek through the Sierra Nevada range. It was a nice day for a train ride through the mountains.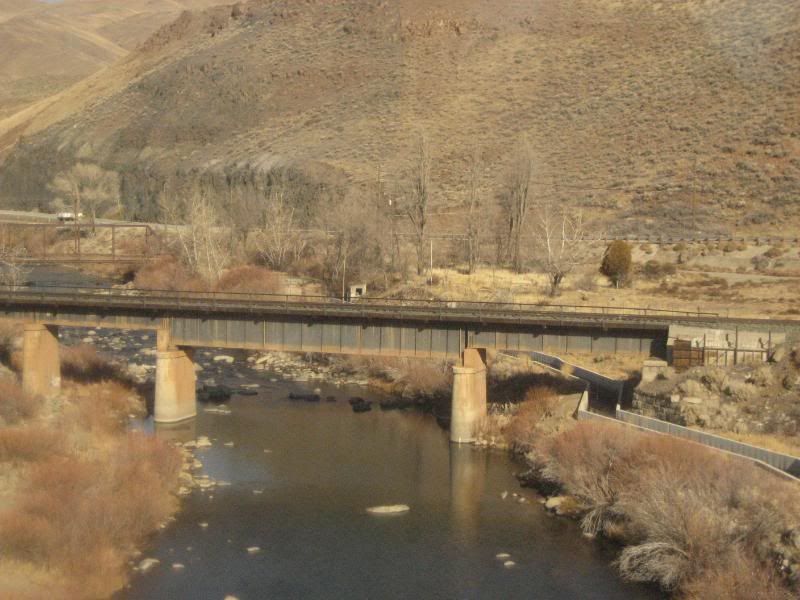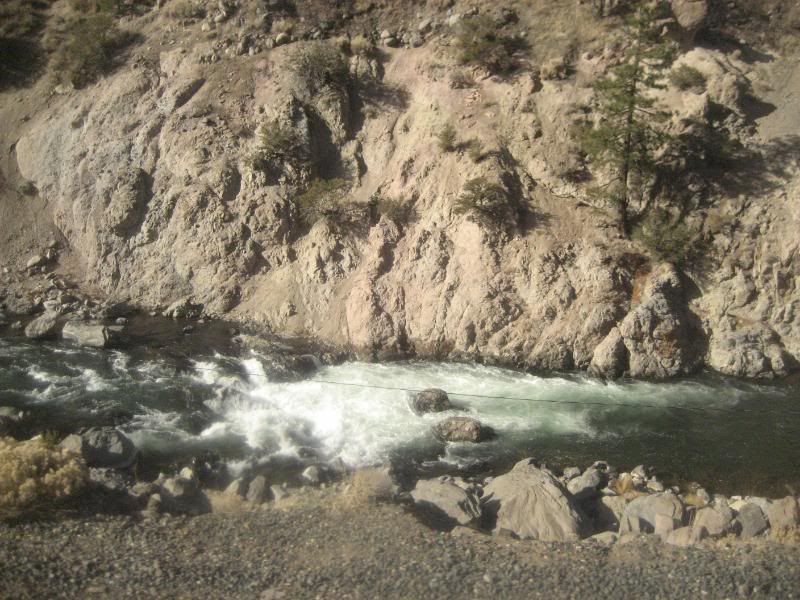 Truckee, CA.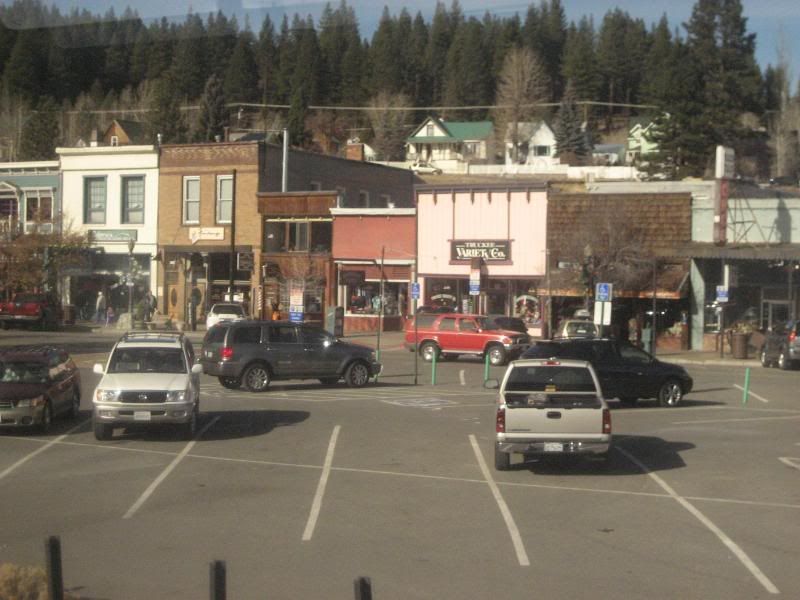 Climbing up the grade towards Donner Pass.
Donner Lake.
A snow shed and a tunnel which we went through a few minutes after this one was taken.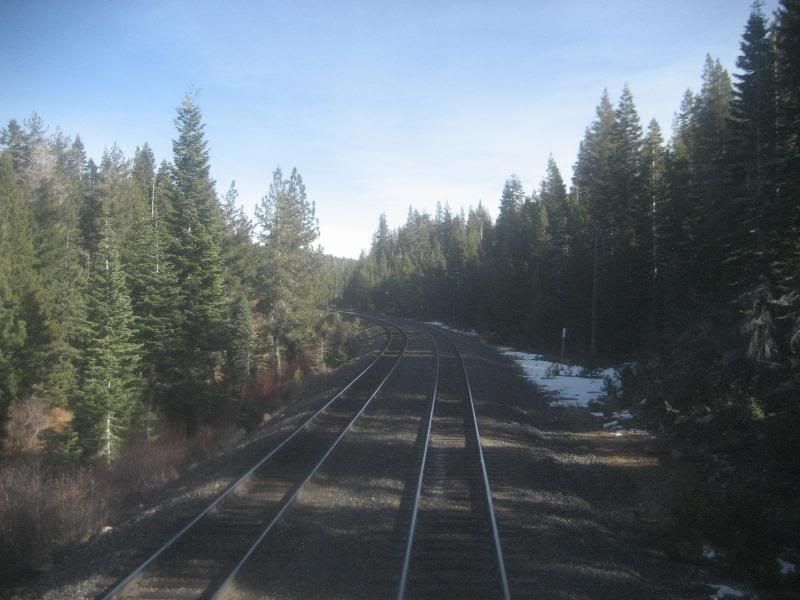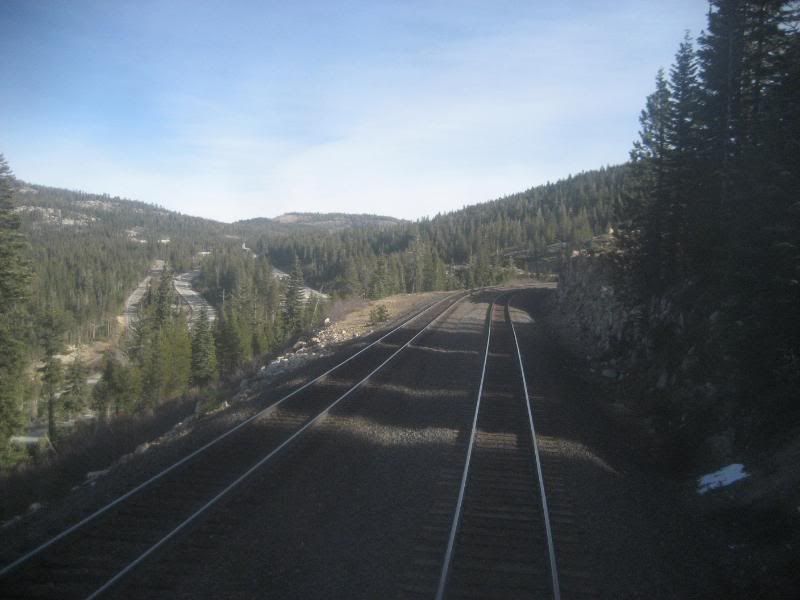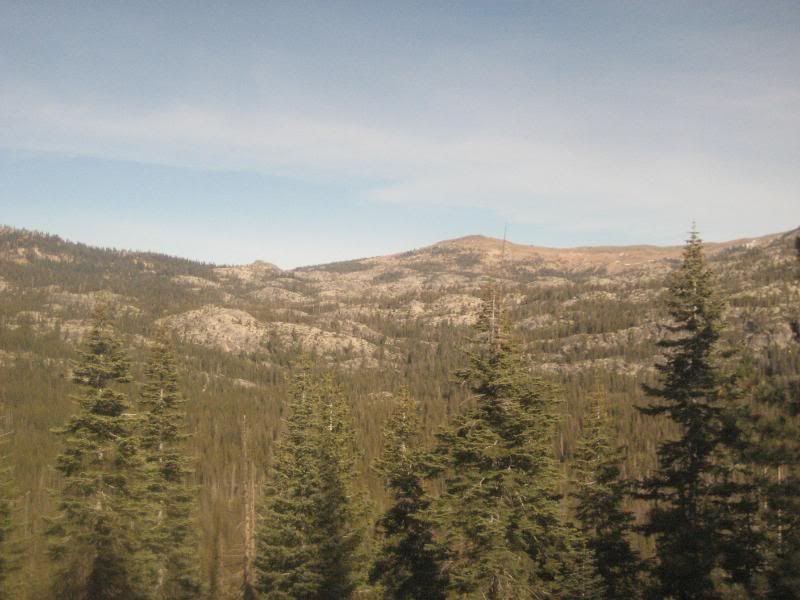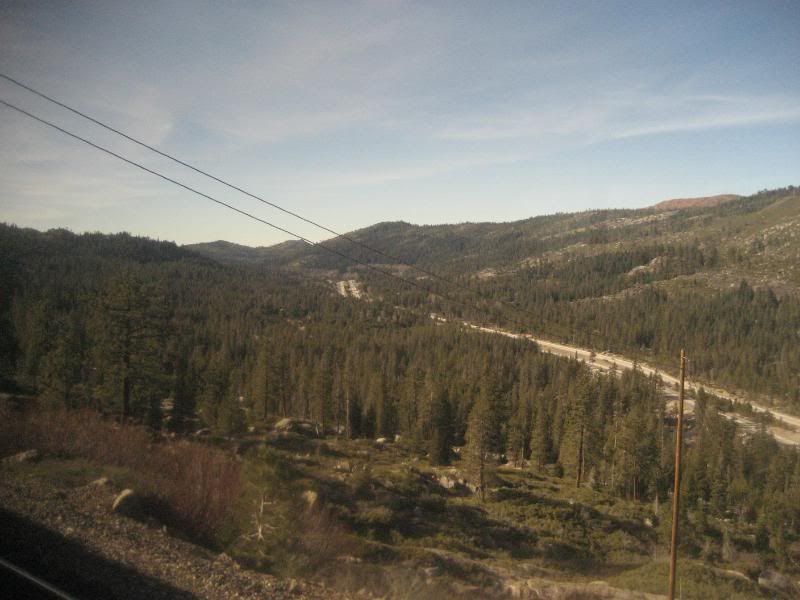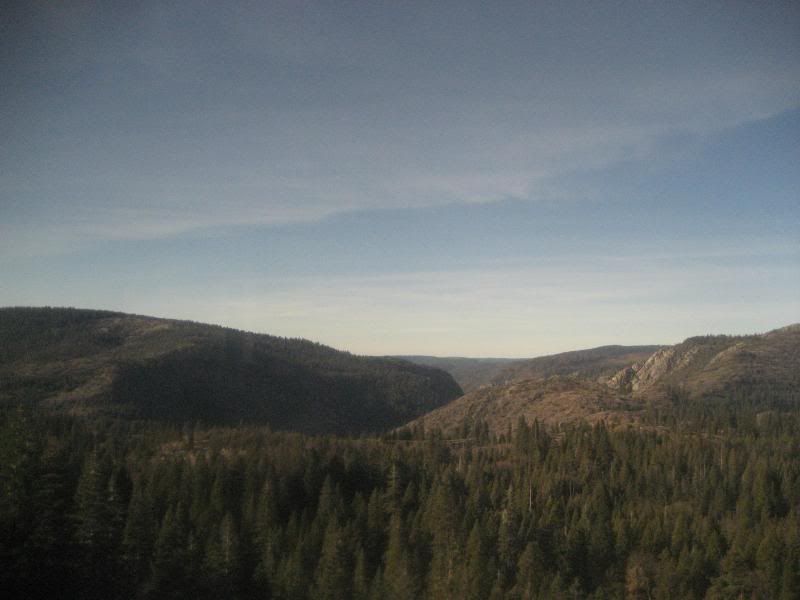 We eventually left the mountainous region as we approached SMF. Shortly after departing SMF night fell.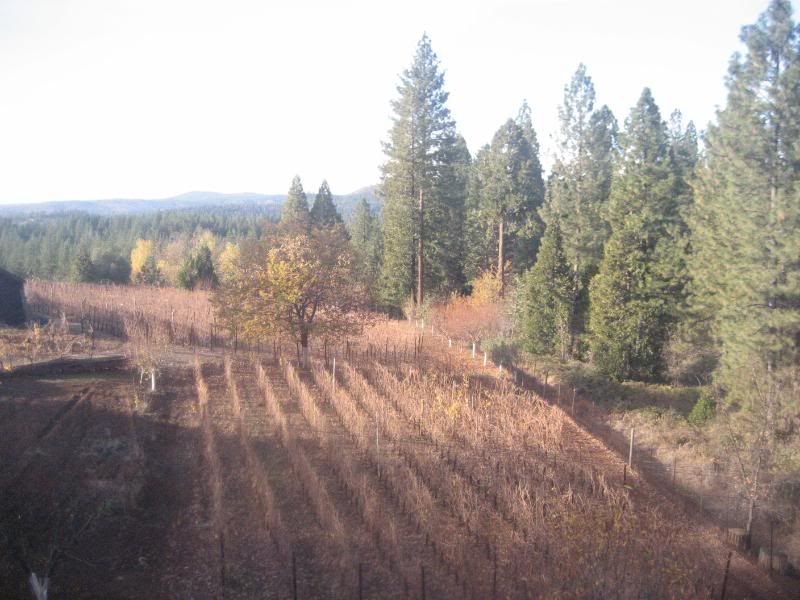 Crossing the American River in SMF.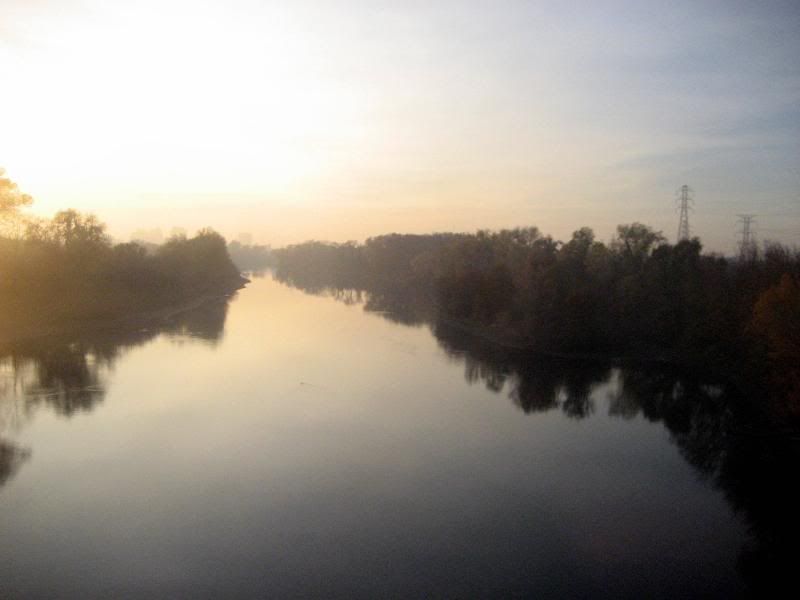 Sacramento skyline in the hazy distance.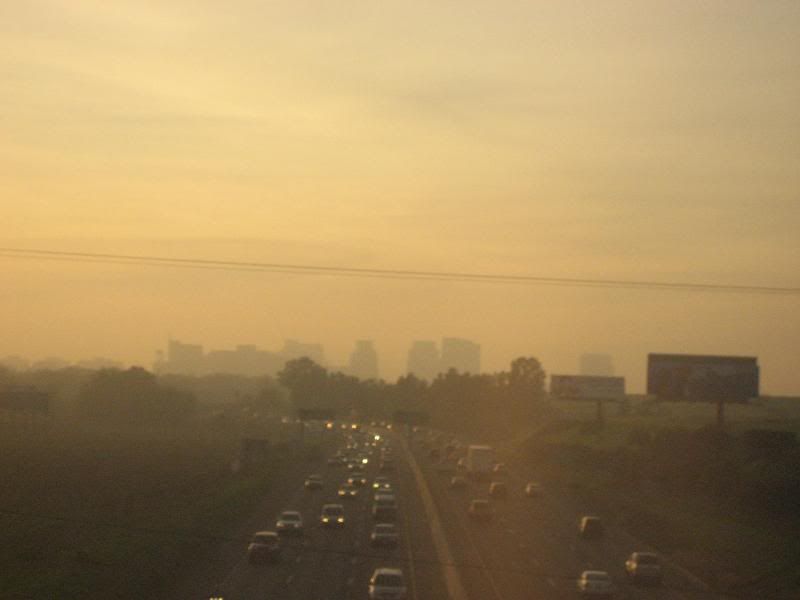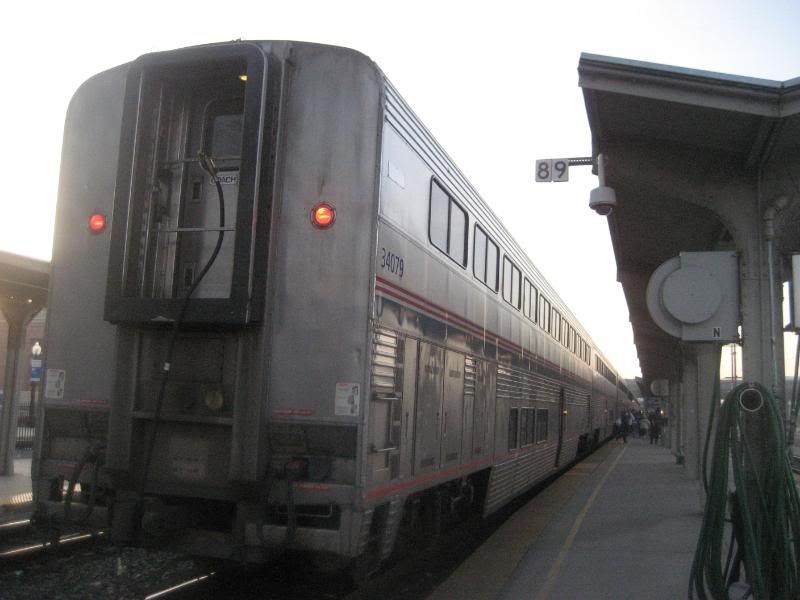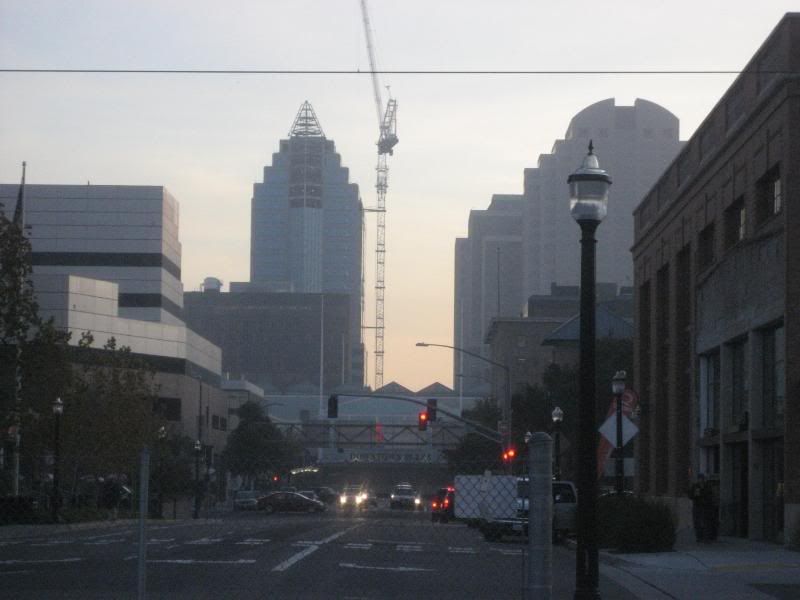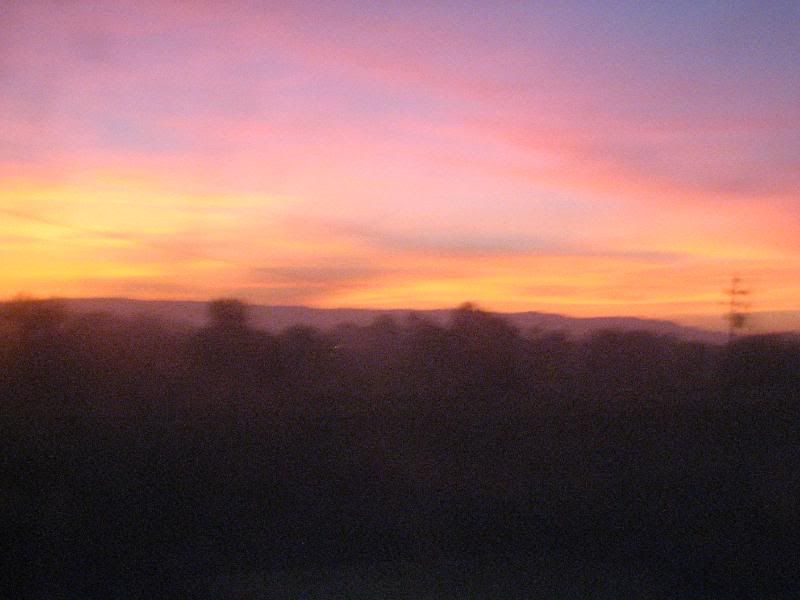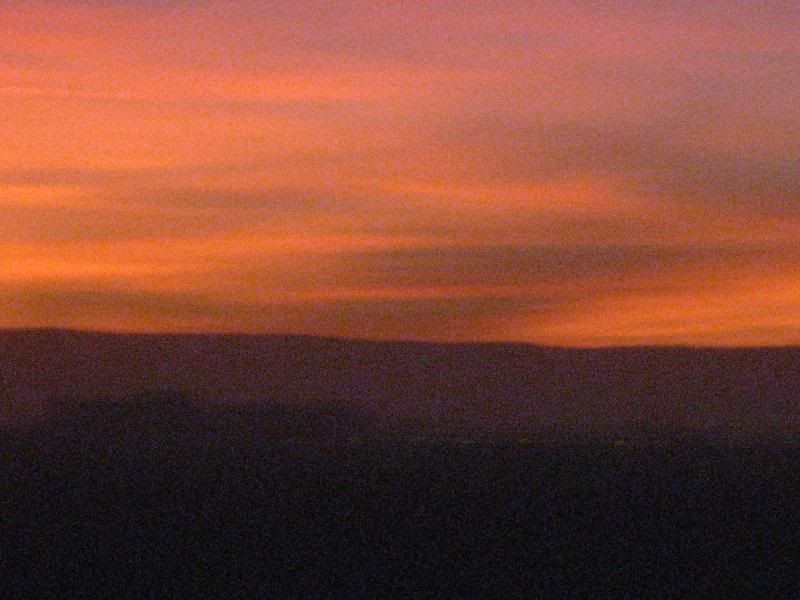 And finally, after nearly 54 hours, we reached the end of line: Emeryville, CA. It was an incredible journey, and one I hope to do again at some point. There's nothing like taking a long haul train ride to ease your mind.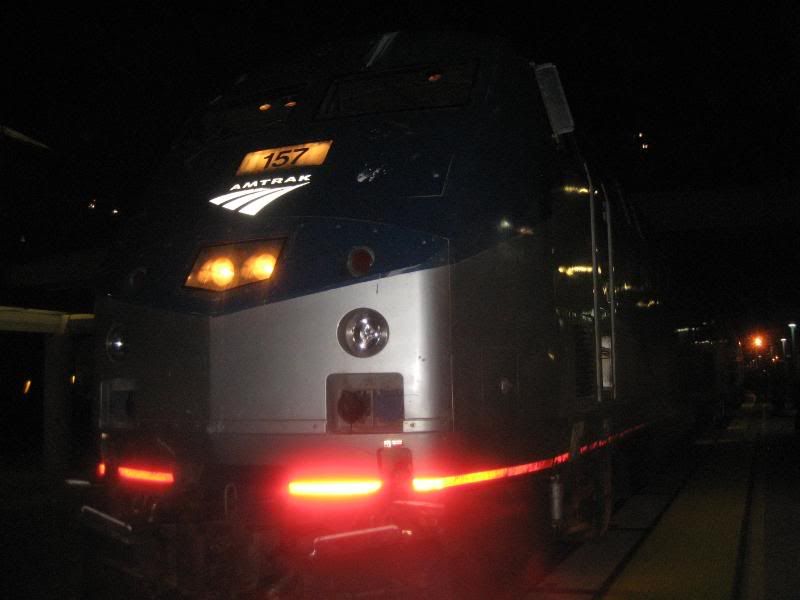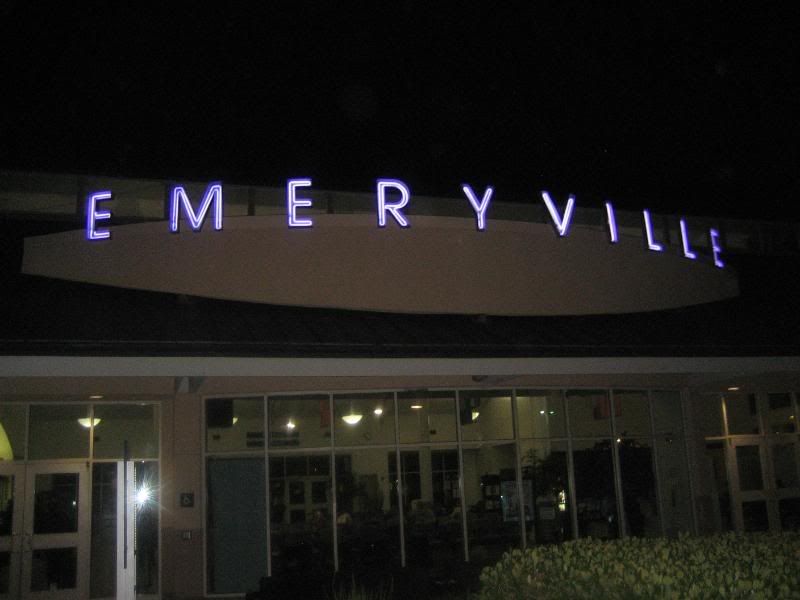 I took the Amtrak Thruway bus from the Emeryville station to the Ferry building across the bay in downtown SFO where my friend Pierre was waiting for me. We then met some of his friends and caught a show and then had a late dinner before calling it a night. Needless to say I was happy to have a bed at my disposal that night. The next morning, we had brunch, and then I was dropped off at the airport for 12:00pm to catch my 1:07pm DL flight back to ATL. He has a 1979 Silver VW bug convertible....a fun ride with the top down!
12/6/08
Delta Air Lines
DL 1070
SFO-ATL
Boeing 767-300
Dep: 1307
Arr: 2044
Load: 93/254
My chariot awaits.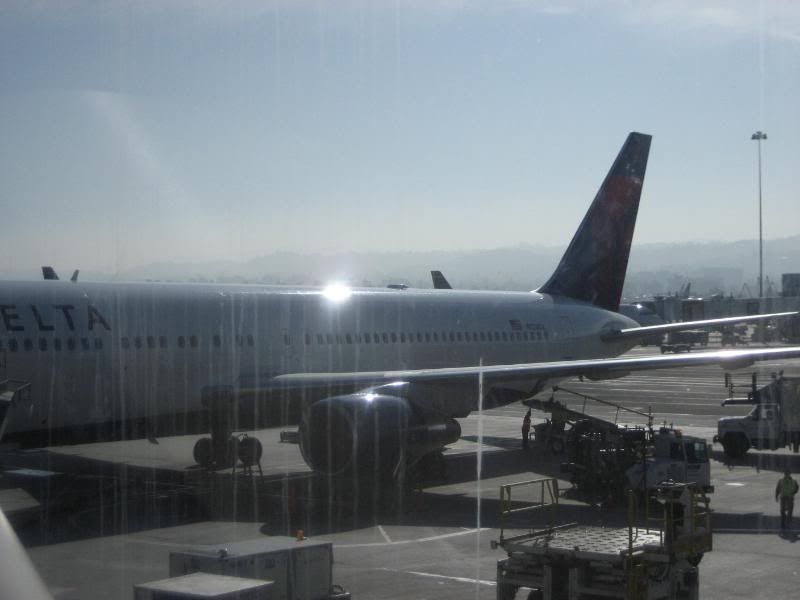 This was an empty flight, which suited me just fine. Boarding started at 12:35pm, and I was on the plane and seated by 12:45pm. I had seat 37A, and only one person was seated behind me. Most of the Y passengers were in the small Y cabin in the front and the main Y cabin was nearly empty. This plane was equipped with AVOD, and the system worked as advertised. Push back was right on time and we were airborne over the bay about five minutes later. Flying time was announced at 4h10m, and Captain Kirk (James Tiberius, perhaps?) announced that we would arrive ATL ahead of schedule. About an hour after takeoff, the crew came around with a beverage, snack, and BOB service. I had a Margarita and a Turkey sandwhich of some sort, both of which were good, especially the Margarita. I also had a nice chat with two of the F/A's about my train trip and they were very interested in it. I have to say it was one of the best crews I have ever had. Great job, DL. I spent the rest of the flight watching the live map and listening to a Bright Eyes and Nine Inch Nails CD which were available for listen. DL really has a superb IFE system and it makes the time pass quickly. A water service was offered mid flight, and then another full beverage/snack service was offered 1h30 before landing. Nary a bump was had during the entire flight, and we touched down in ATL about 15 minutes early. Our arrival gate was A2.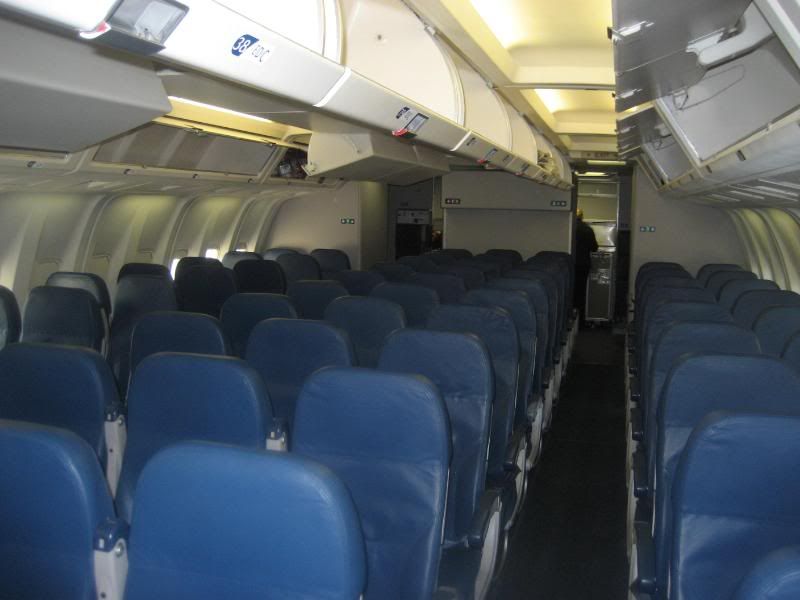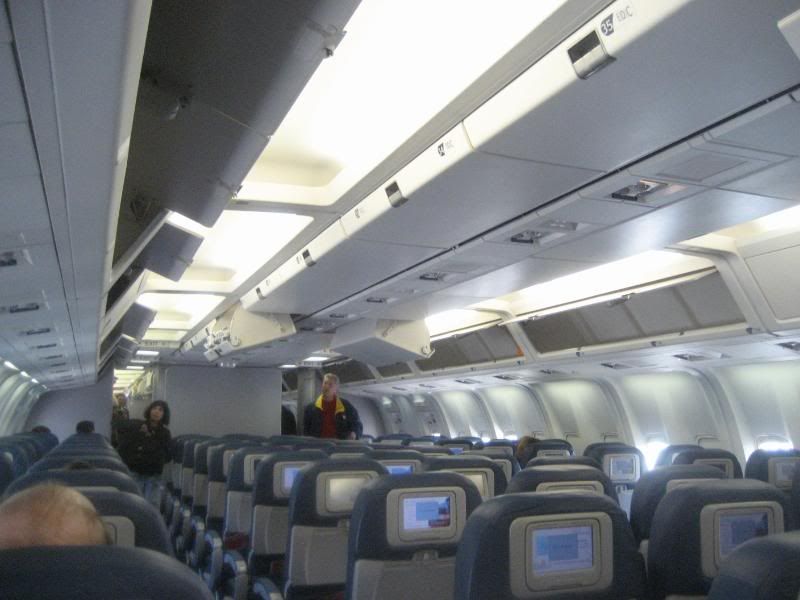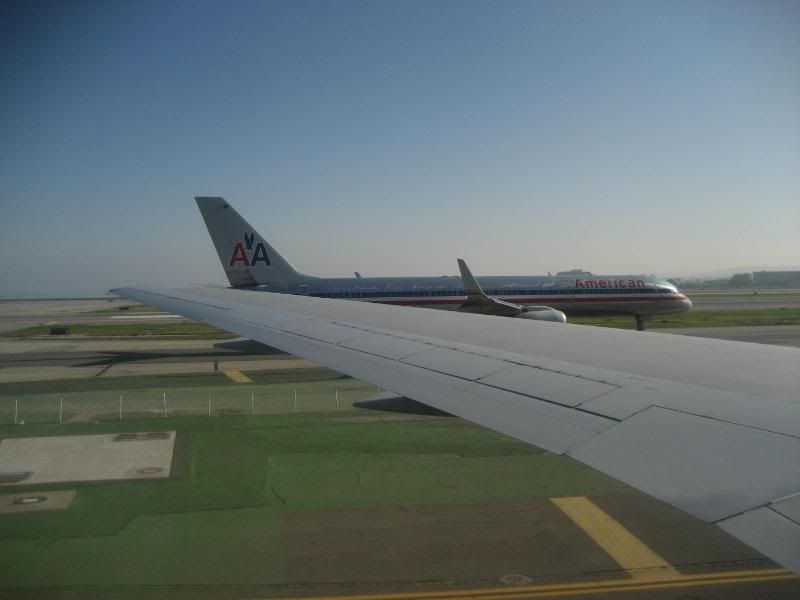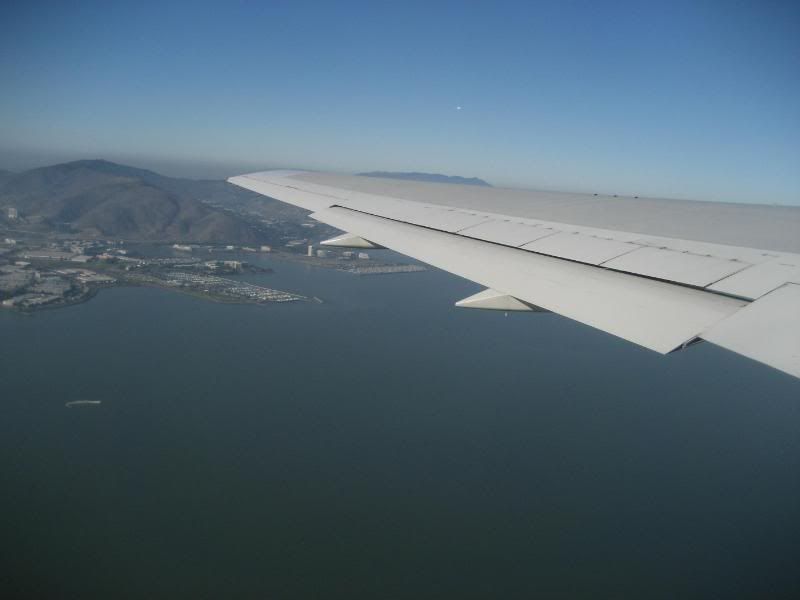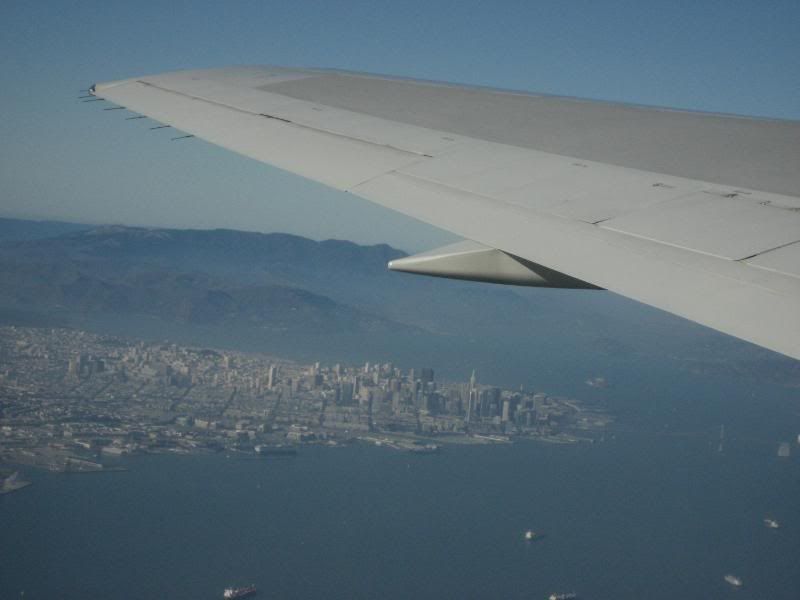 Mount Diablo. My friend Mauricio (RIP) and I drove to the top of it back in '03.