Feedback always appreciated.
Trip Report: 058
Flight Category: Y-ILR (See Report End)
Date: 9 Nov-08 (See Report End)
SDT/SAT/Dur/Delay: 1755/2050/07:55 hrs
Flight:
American Airlines AA 155
, 3265 miles
Routing: LHR-BOS
Aircraft: 763
Seat: Economy, 21A
I > Background:
I had been on a 1 month away assignment in London and decided on a quick trip to see my friend who works in the industry and lives in Boston. J class fares were ridiculous, so I decided to fly Y on cheapest available … which happened to be American Airlines. I believe there has been several reports on AA transatlantic products, but do think this is the first on the LHR-BOS segment.
II > Pre-Flight:
a) Before Airport:
American Airlines (AA) is the world's largest in RPM and passenger fleet size. Based out of DFW, it was one of the 2 flag designates of Bermuda II. Subsequently, it serves LHR from its "hubs" at BOS, ORD, DFW, LAX, MIA, JFK, and RDU … most destinations being served over 1x daily. BOS-LHR is served almost twice daily using a combination of 777 and 763 aircraft.
Ticketing for the flight was done on the extremely well designed and easy to use American Airlines website at
www.aa.com
. The site is crisp and clear, and one can view their booking later and do modifications. I also liked the fact that you do not need to register with the site to view your PNR details later. Also, they seem to have fixed small bugs like having the ability to add a FFP other than AA. However, you still cannot make modifications online to your FFP once selected. The only thing that was annoying was that I had to call AA's phone support to book an exit row seat as a One World Emerald (via LAN). However, not really that negative as LAN does not even allow its own OW Emerald's to do the same.
b) At Airport:
American Airlines uses the derelict T3 of LHR. Now, T3 is LHR at its worst with dingy never-ending windowless corridors which you go through like a maze helped by signage that makes you shiver. On the brighter side, there are very few places where you can have a café and see the world go by. American has a separate "room" and entrance for First and OW Emerald fliers. However, when I got to the airport, this was not manned … so I went to the rather empty Business class counter and was efficiently checked in by one of the agents. He also informed me of the AA flagship lounge and of departure time.
Given I had some time to spend, I wandered aimlessly across T3 and took some photos – only to have 2 random check-in staff warn me that I was creating a security hazard and that they take security very seriously. Um, ok. Having got that warning (and the fact that the LHR T3 check-in area is too dark and creepy for me), I cleared security and went to the "holding room" … this is where all the shops and café are. After sometime there, I went to the AA flagship lounge – which had remarkably decent food (for an AA lounge), shower and internet facilities. Again, not too bad. Boarding was announced 50 minutes prior, and I walked to my gate and for additional security (I somehow always manage to get "SSSS" when flying AA – it's the only airline in the U.S. that triggers it. Weird!). Boarding was relatively smooth and soon I was onboard. There was not a single FA to greet the passengers at the door and the crew were busy in the aft galley busy talking amongst themselves. No help or assistance with the baggage was provided during the entire process. While an airline can nickel and dime its way to profits, I put a premium on human service and this continues to be unacceptable to me. Anyways, Y load was around 70%.
Airport - External:
(London Heathrow, T3)
Check-in:
Airport - Internal:
(Pre-Security: Dark and Dingy)
(FIDS)
(Post-Security: "Holding Room")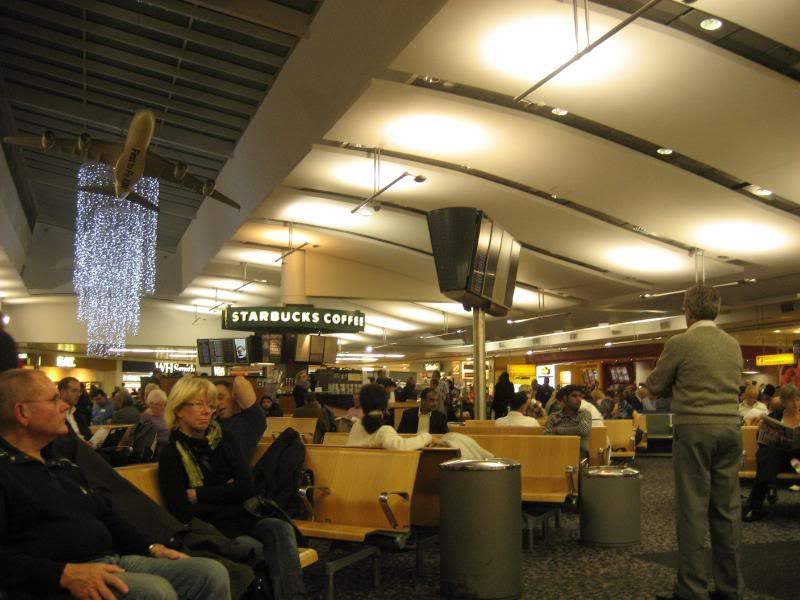 Scenes of the tarmac:
(Taken from the lounge)
Lounge
(American Airlines Flagship Lounge)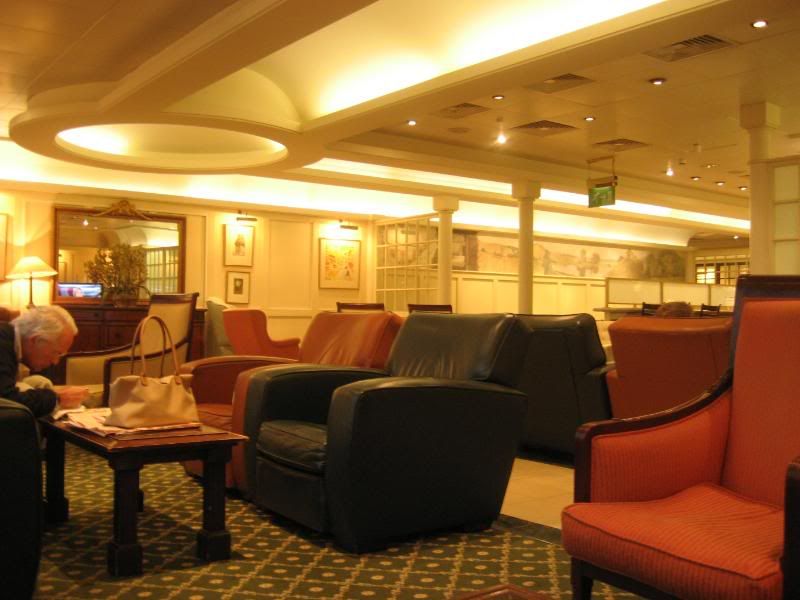 (Food)
Boarding:
III> In-Flight:
a) Service Schedule + Impressions:
Drinks, then dinner, then duty free. Movie started during dinner service. 90 minutes prior to landing, second meal service.
b) Aircraft + Seats:
While AA's 763's are relatively well maintained (except the bathroom), they were showing the age. Some of the controls were pre-historic! The cloth based seats were better than average, though what is up with the very skimpy seat cushion?! Since I had the reclining exit, legroom was generous and recline was industry average. Seat pitch in the rest of the Y though is EXTREMELY stingy at 30". I would not want to be seated there!
Aircraft:
(763)
Views from Aircraft:
NONE
General Seat Views + Seat Legroom
(Legroom)
(Antiquated Controls)
Seat Recline + Angle View:
(Decent Recline)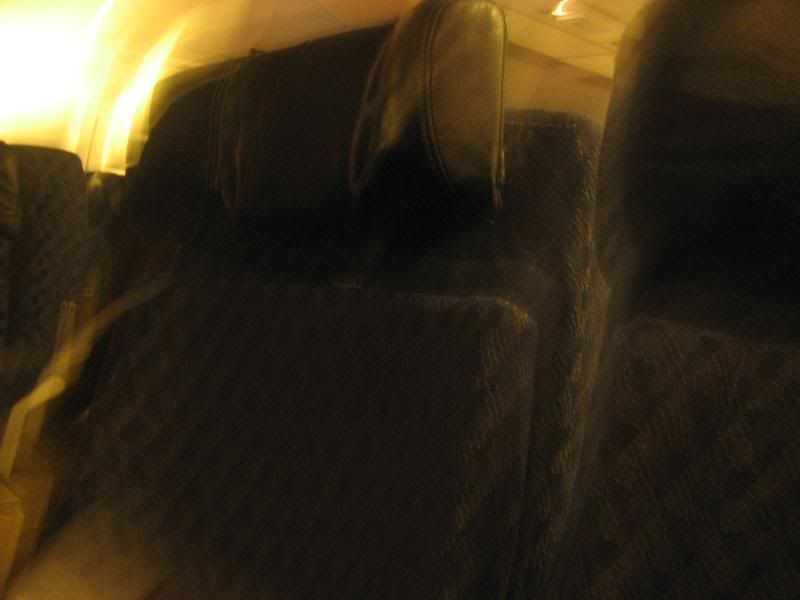 Cabin:
(Photo Courtesy: Suresh Atapattu)
c) Meal + Beverage:
Prior to the dinner service, there was a drink run. I am not used to shell out money for alcohol on international flights, but that is exactly what I had to do. It was 6 USD for a gin and tonic, and I took advantage of the arbitrage opportunity by paying 3 GBP for it. It is amazing that a mainline airline charges for alcohol – given its European competitors do not. Anyways, after the beverage run, came the meal service. The male FA asked, "chicken or beef" … and I chose the chicken. It was nothing special, and no better than a TV dinner. It was by no definition the best meal I have had in Y … however, it wasn't the worst either.
90 minutes prior to landing, a second meal and beverage service was made. This time it consisted of a pizza box – again, it tasted right out of a frozen TV dinner. The Walkers biscuit were a nice touch.
Interestingly, there were absolutely no water runs throughout the flight.
(Pay for your drinks)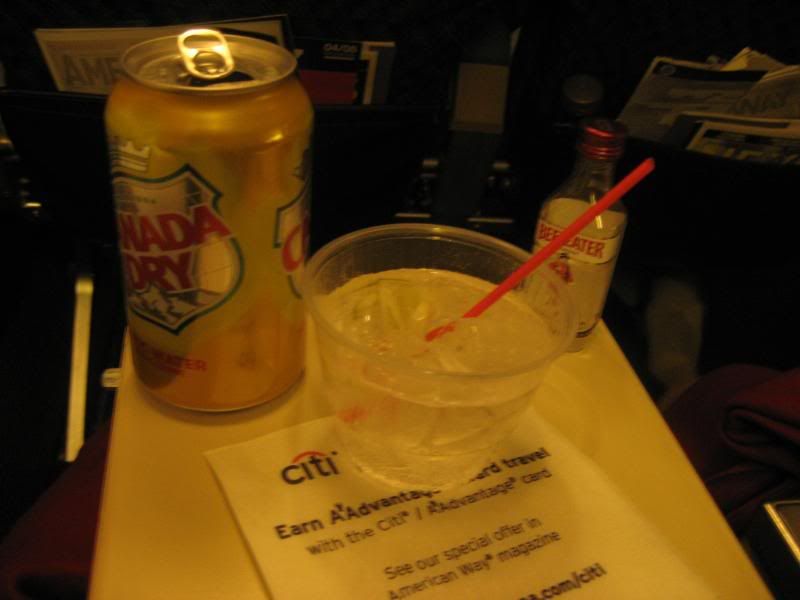 (Dinner)
(2nd Meal)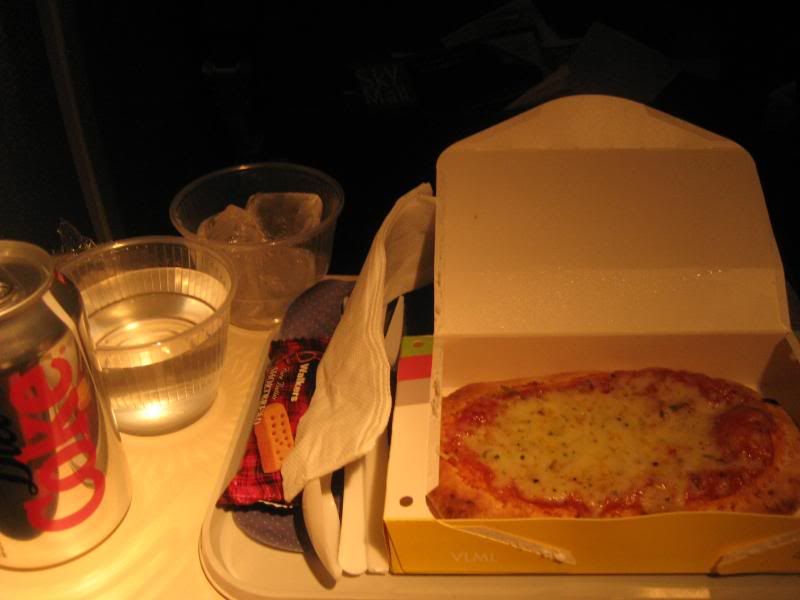 d) Inflight Entertainment:
The 763's have an antiquated IFE system which features old video monitors with equally old controls and headphones. It was very much early 1990s than something you'd find in 2008. Only one movie was played ("Devil Wears Prada" and after that the video programming switched to the inflight map. The AA inflight magazine was just average as well. Thus, my iPod got lots of play
.
("In-flight magazines", Boarding Passes, etc.)
e) Crew:
Ok. As I have mentioned several times over, the crew makes or breaks a flight. I wish I could come out of this one with either an empathetic endorsement or stinging criticism … but frankly, the AA crew were a mixed bag. There was one woman who went out of her way to welcome and make her passengers feel good. I observed her and she won me over with a simple gesture. Since I was across from the bassinet seats, I observed a father sitting on the floor trying to feed his child. Upon seeing this, the FA went to the crew storage area and got a J-class blanket and put it on the ground so the dad could sit down. Small things like this make lasting impressions. Of course, I took her name and a letter of support has been dispatched to American.
The rest of the crew were detached. There were literally invisible during the flight – except the meal services, the duty free run, and to bring the U.S. immigration and custom forms. Nowhere to be seen during boarding. No water runs. Nothing. Oh, and besides the aforementioned FA, no smiles.
IV> Post-Flight:
Landing at Boston was smooth and within 10 minutes I was out of the door. A new U.S. personal best for me.
V> Impressions + Scores:
American Airlines gets the job of getting you from point A to B reasonably well. Ground service was good … and the one FA definitely stood out in my mind. Additionally, the food served on board was slightly above average for Y. However, they really must do something about the antiquated IFE offerings and the surly crew. Usually, I find most international U.S. crew to be above average (ok, some of the surly senior NWA and UAL transpacific crew are an exception) … but this crew did not win me over. Their low service standards were reminiscent of the lazy crew I find on Iberia and Air France … do the minimum and then disappear.
Also, flying American reminded me all the small touches I like (even in Y) on Asian airlines – like hot and cold towels; welcome drinks; water runs; sweets; dessert; etc.
Anyways, I would recommend flying American only if they win on price, miles, or schedules. Else, there are better product offerings for competing routes – British and Virgin on LHR-BOS for example.
1.0 > RESERVATION: 8.0
2.0 > CHECK-IN: 7.0
0.5 > LOUNGE: 7.5
0.5 > BOARDING: 5.0
2.0 > SEAT: 6.0
0.5 > AIRCRAFT OVERALL AMBIENCE: 5.0
1.0 > IFE: 6.0
2.0 > CREW: 5.0
2.0 > FOOD: 6.0
0.5 > BEVERAGES: 4.0
0.5 > A.KITS + OTHER FREEBIES: 5.0
0.5 > DISEMBARKATION: 9.0
1.0 > ON-TIME RECORD: 10.0
WEIGHTED OVERALL IMPRESSION (WOI): 6.41
(Pre-flight WOI of all reviews: 6.43)
* Weighted Overall Impression (WOI) aligns scores with what matters most. Weights are indicated alongside each category.
(Scores are based on comparison with other airlines in THAT class of service – No comparison of Y vs. F for example)
VI> Other Trip Reports:
PREMIUM:
8.61:
Air Canada (49): YYZ-SCL: 06/2008
8.11:
Aeroflot (33): MOW-DEL: 09/2007
8.04:
Korean Air (40): NRT-ICN: 10/2007
8.02:
Delta Airlines (24): JFK-CDG: 08/2007
7.46:
LAN (55): YYZ-JFK: 09/2008
7.82:
Singapore Airlines (06): EWR-SIN: 09/2006
7.14:
Swiss (52): SCL-GRU: 06/2008
6.93:
Delta Airlines (18): SEA-JFK: 11/2006
6.81:
Air Canada (17): ICN-YYZ: 10/2006
6.70:
KLM (32): EBB-AMS: 08/2007
6.25:
Korean Air (45): NAN-ICN: 10/2007
6.11:
TAP Portugal (53): GRU-OPO: 06/2008
5.75:
Singapore Airlines (16): CCU-SIN: 10/2006
5.64:
NorthWest (46): ICN-NRT-SEA: 10/2007
5.39:
LOT (54): WAW-JFK: 06/2008
4.42:
Air France: CDG-JNB (25): 08/2007
ECONOMY: Long + Medium:
9.26:
Air India (48): JFK-DEL: 02/2008
7.38:
Avianca (01): BOG-LIM: 07/2006
6.26:
Jet Blue (21): CUN-JFK: 02/2007
6.06:
Air Canada (04): YYZ-YVR: 09/2006
5.89:
USA 3000 (19): PUJ-BDL: 01/2007
5.79:
Air New Zealand (42): RAR-NAN: 10/2007
5.46:
TAP Air Portugal (23): OSL-LIS: 05/2007
ECONOMY: Short
8.56:
Paramount Airways (38): BLR-MAA: 09/2007
8.24:
Kingfisher (14): IXA-GAU: 10/2006
7.87:
Indian (34): BOM-MAA: 09/2007
7.72:
Alliance Air (13): CCU-IXA: 10/2006
7.57:
Indian Airlines (10): DEL-CCU: 09/2006
7.23:
West Jet (03): YYC-YVR: 09/2006
7.15:
JetLite (37): BOM-GOI: 09/2007
6.70:
Spice Jet (09): CCU-DEL: 09/2006
6.63:
Air Fiji (44): NAN-SUV: 10/2007
6.58:
Air Tran (02): EWR-MDW: 08/2006
6.44:
CO Micronesia (39): ROR-YAP: 10/2007
6.41:
Pacific Sun (43): NAN-SUV: 10/2007
6.41: American Airlines (58): LHR-BOS: 11/2008
6.37:
Skybus (47): SWF-CMH: 02/2008
6.33:
Kenya Airways (29): NBO-BJM: 08/2007
6.33:
Sky Europe (56): LTN-BTS: 10/2008
6.31:
Indigo (15): GAU-CCU: 10/2006
6.31:
easyJet (57): BUD-LTN: 11/2008
6.22:
Air Link Swazi (28): MTS-JNB: 08/2007
6.22:
Air India (36): HYD-BOM: 09/2007
6.13:
Adam Air (07): SIN-CGK: 09/2006
6.13:
Air Rarotonga (41): RAR-AIT: 10/2007
6.00:
Transairways (27): INH-MPM: 08/2007
5.95:
Air Canada (05): ALB-YYZ: 09/2006
5.85:
SAS Norge (22): OSL-AES: 05/2007
5.81:
LAM Mozambique (26): JNB-MPM: 08/2007
5.69:
Air Deccan (12): IXZ-CCU: 10/2006
5.67:
Rwanda Air Exp (30): KGL-NBO: 08/2007
5.07:
Go Air (35): MAA-HYD: 09/2007
5.00:
Sky Airline (51): IQQ-SCL: 06/2008
4.96:
Valuair (08): CGK-SIN: 09/2006
4.78:
Air Comet Chile (50): SCL-IQQ: 06/2008
4.74:
Fly 540 (31): MYD-LAU: 08/2007
4.33:
Viva Aerobus (20): ELP-MTY: 02/2007
4.11:
Air Sahara (11): CCU-BOM: 09/2006
(Note on Codes: Y – Economy, J – Business, F – First :: I/D – International/Domestic :: SR/MR/LR – Short/Medium/Long Haul)
(Note on Date: Dates are modified to be +/- 3 days from actual flight date to not reveal actual flight pattern)
VII> Other Pictures:
NONE