This report will cover Delta flights from PHL-ATL-SNA featuring the 737-700, which I believe is a first for a.net. The second part will feature United flights from SNA-ORD-PHL all in first class, with an unexpected/unwelcome surprise at the end.
My camera is a crappy 4 mega pixel point and shoot so I apologize for the quality of the pictures. I am getting a 10 mega pixel camera for x-mas, so my next report (probably PHL-ORD-SEA-ORD-PHL mileage run in January) will hopefully have better pictures.
Background
When I first found out that Delta would be putting the 73W on flights to SNA I knew I had to get on it. Plus my skymiles would expire in December if I didn't fly sometime soon. Perfect reason to book a trip over a weekend for no reason. To even sweeten the deal there was a one way first class fare to SNA from PHL for sub $350. I booked it almost immediately. I knew I wanted to fly United back to PHL just in case I would be short of Premier for the year this would seal that issue. As it turns out I didn't need the flights but the miles always help. I had originally booked these flights for November, but due to work I had to change the dates to December 13 and 14. Kind of pissed about the 250 bucks in change fees, but what are you going to do….Now to the flying
December 13
Routing: PHL-ATL
Flight: Delta 1015
Aircraft: N913DN MD-90
Seat: 2A
Departure: 12:40 PM from gate A13
Arrival: 2:31 PM at Gate B1
Take Off: 27L
Land: 8R
My father and I left our house a little after 10:00 AM for the about 30 minute drive to the airport. He graciously dropped me off at Terminal A at 10:45 AM where I then proceeded to the kiosk to grab my boarding passes. Security was quick for 11:00 AM on a Saturday. I wondered all the way down to the food court and got some lemonade from chick-fil-a. Came back to the gate and hung out. I got to the airport so early that the earlier flight was still at the gate. MD-88 at the gate at A13.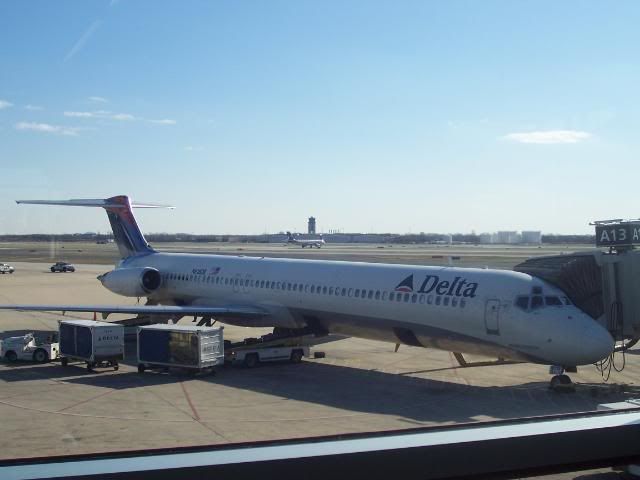 I was debating trying to standby for this flight but I knew I would probably never get another chance to be on a MD-90 so I stayed with my flight. Soon enough my plane pulled into the gate. A little longer than the plane that just left.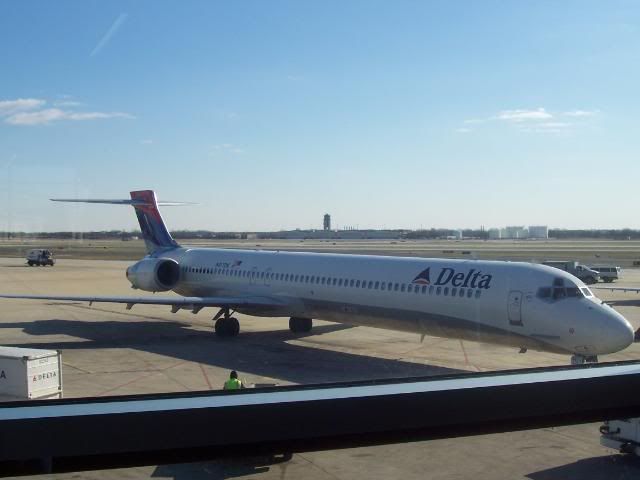 Boarding started promptly at 12:10 PM. I was probably the 3rd person on the plane, and took my seat. First impression of the first class cabin is that it feels quite cramped. There was standard leg room for domestic first.
We had quite a light load today, first class was 100% full but coach could not have been more than 20% filled. I don't understand why delta runs so many flights to Philadelphia from Atlanta. Pre departure beverage was offered and I took the first of many jack and diet cokes. The beverage was served in a plastic cup but I understand this just for the pre departure beverage. Makes things easier for the FA. I would rather have the drink than no drink at all even if its in a plastic cup. We had a quick taxi out to 27L where we had no wait for take off and did a rolling take off. The MD-90 is incredible quiet. Besides the sensation of being thrust into your seat you would have no clue that the engines had spooled up and you were taking off.
Some scenes as we took off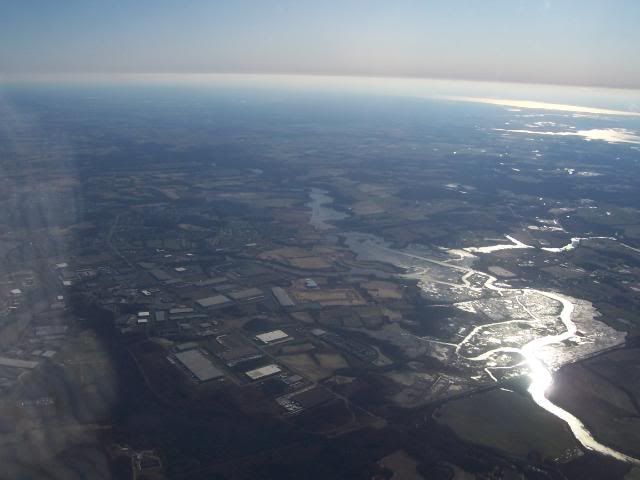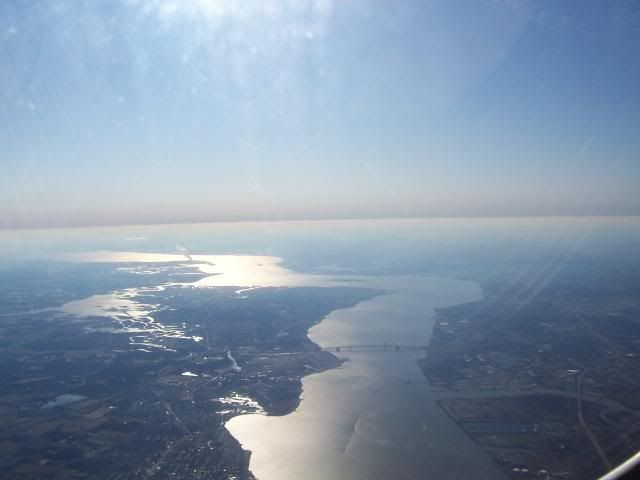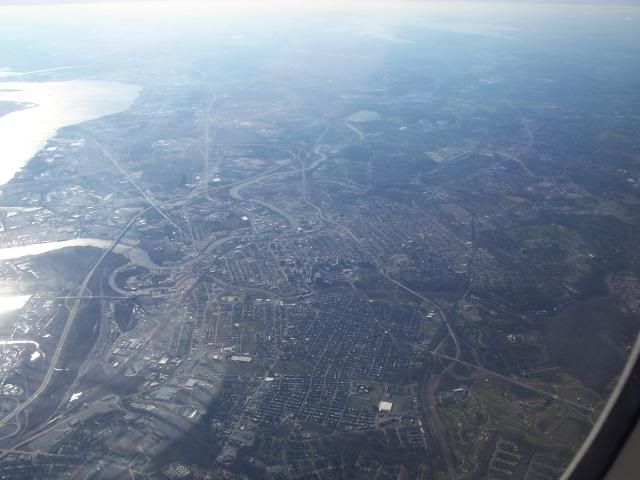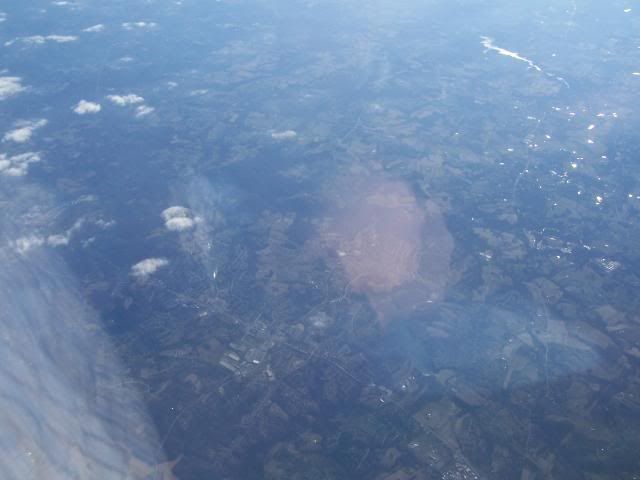 The chimes went off quite quickly as we passed through 10,000 feet, probably due to the light load. The announcements were inaudible, I don't know if this was due to a broken system or the loudness of the air circulation system. Drink service started shortly after, and I chose a jack and diet this time in real glass. The snack basket came around and I grabbed a Quaker chewy chocolate chip bar and some biscoff cookies. Delta's MD-90 have over head screens but due to the short flight they did not play anything on them.
Drink and IFE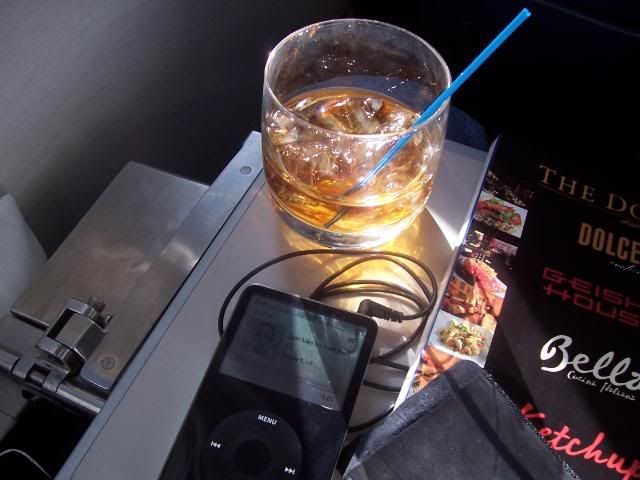 We passed an airport enroute shortly after take off which I think is IAD but not 100% sure.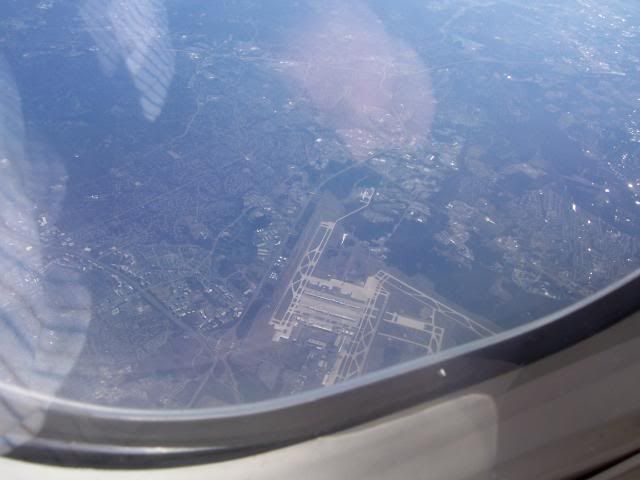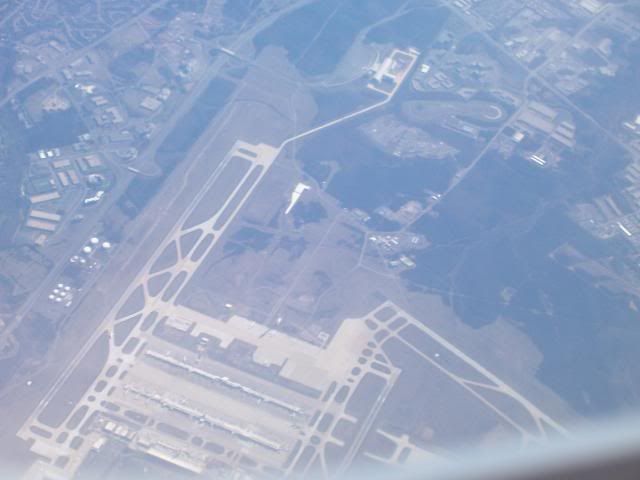 For a good 40 minutes of the flight a plane was flying next to us, but too far to make out any familiar markings.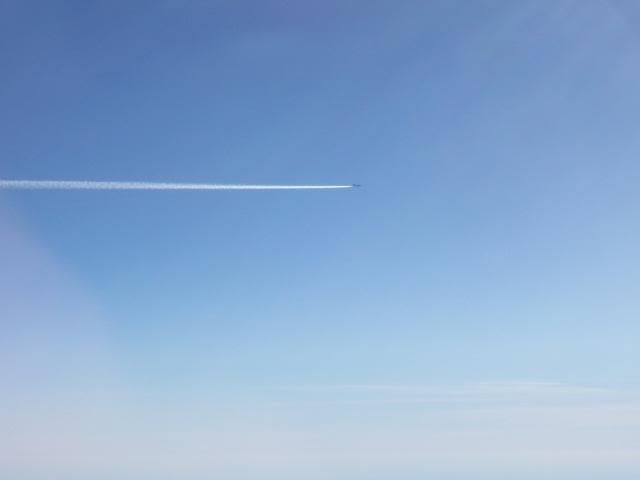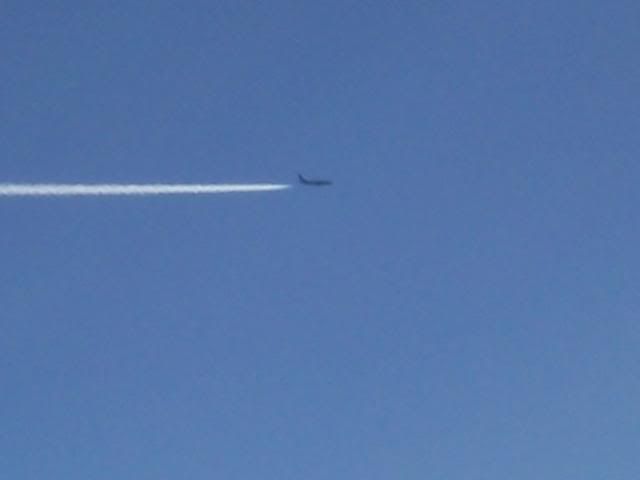 My seatmate went to the bathroom, so I took this opportunity to snap some pictures of the cabin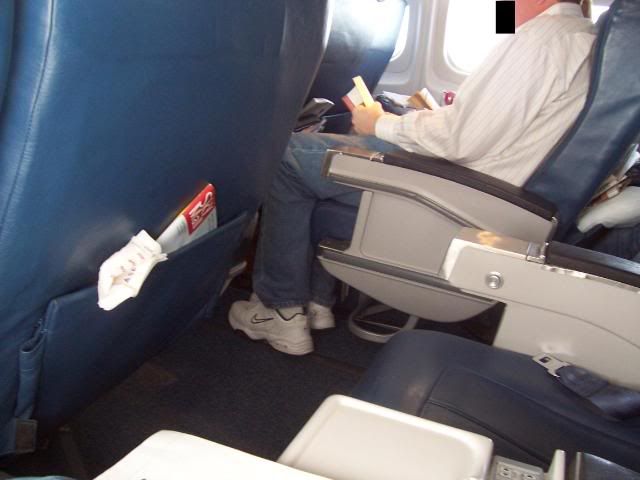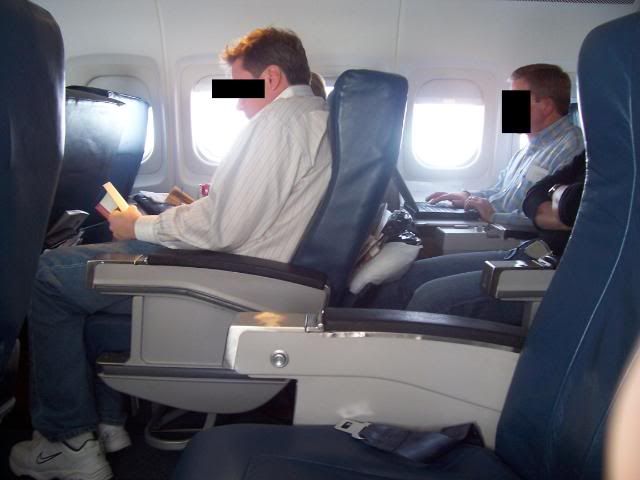 I also went to the bathroom and coming back I saw the passenger manifest posted in the galley. I took a quick peak and 4 of the 12 seats were NRSA's also 6 of the other passengers were delta or skyteam elites so I am not sure if they were op-ups or full fare, but still did not seem that promising for this route. Drinks were re filled once throughout the flight. The nice and attentive purser asked again but I declined. Not much happened for the short 1 hour and 48 minute flight so I will show some pictures of the scenery.
ATL soon came into view as we turned to line up with 8R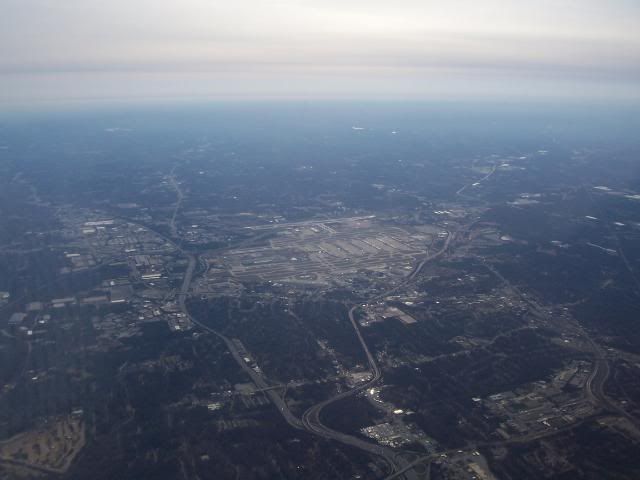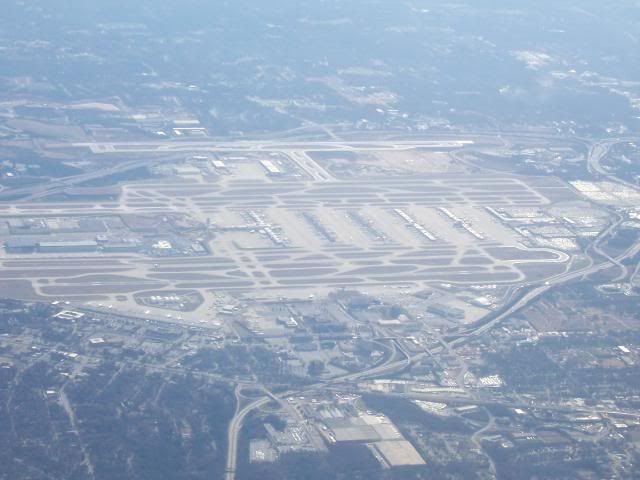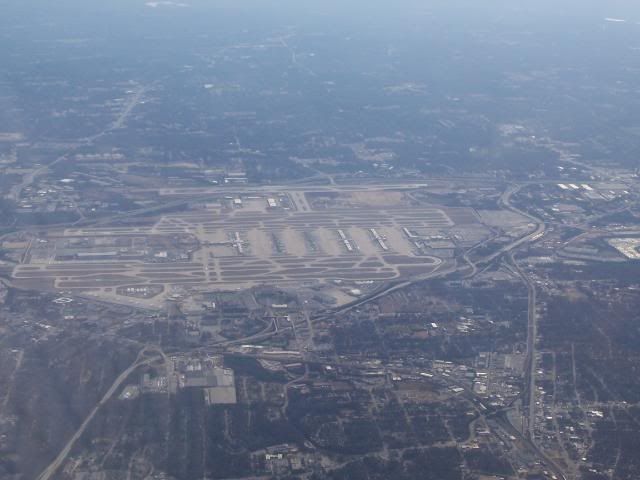 I believe this is down town ATL from I could be wrong.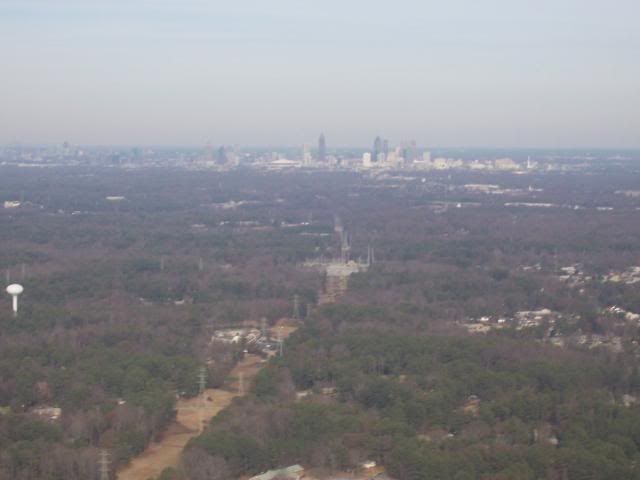 The following pictures are touchdown and taxi: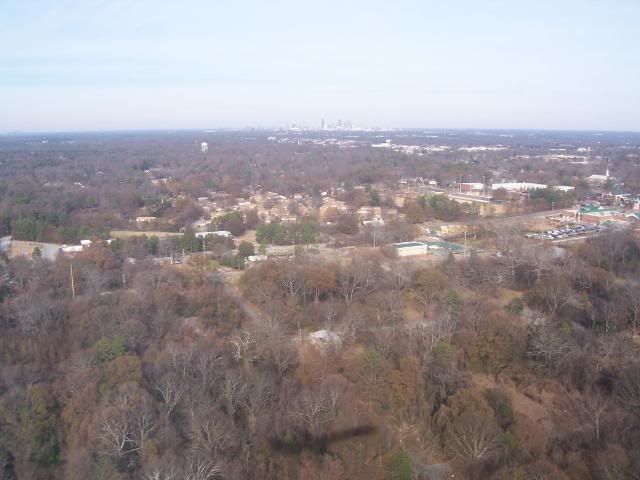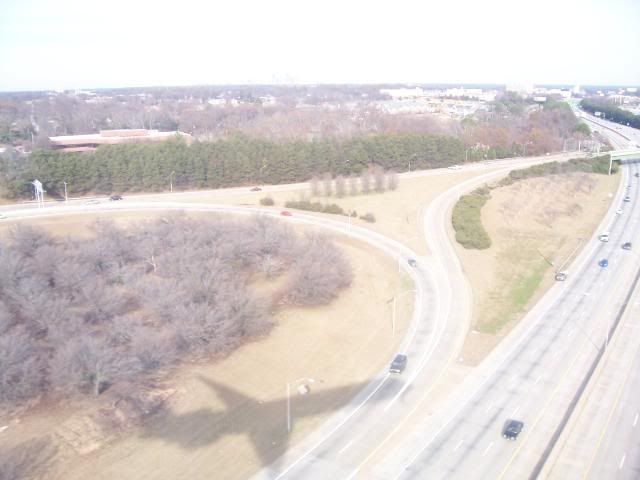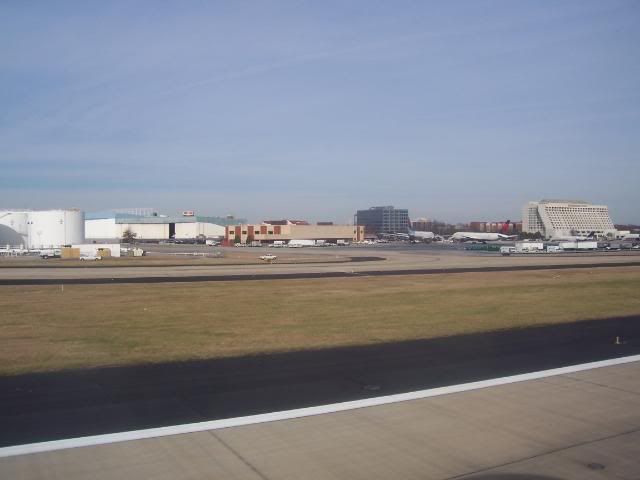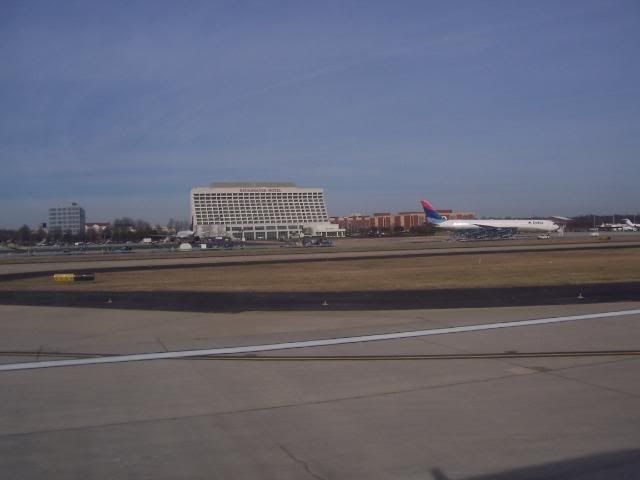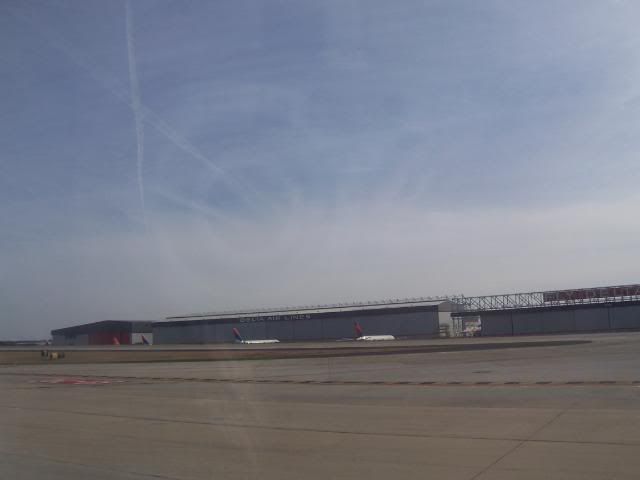 Fly Delta Jets!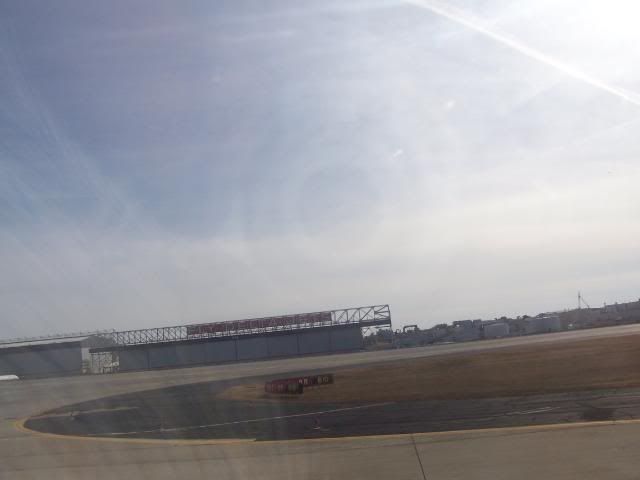 I believe off in the distance that is one of Delta 77L's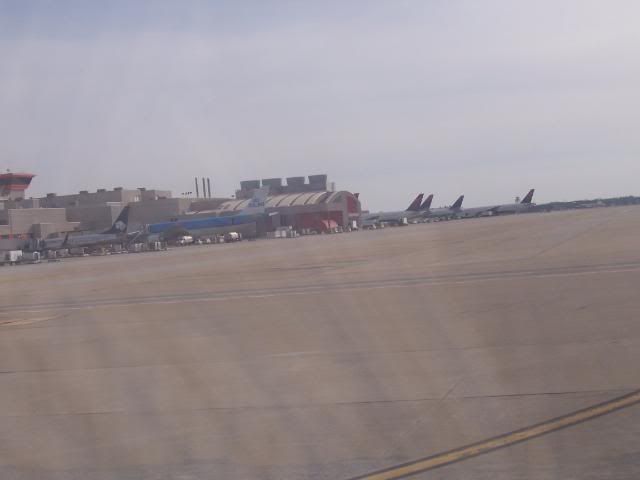 Passing aircraft at the gate on the way to B1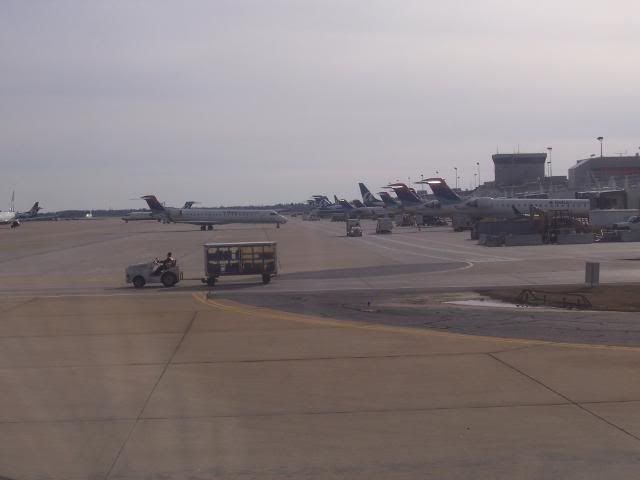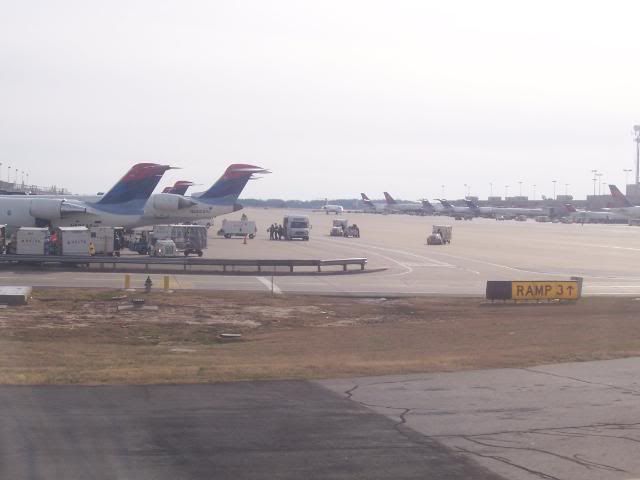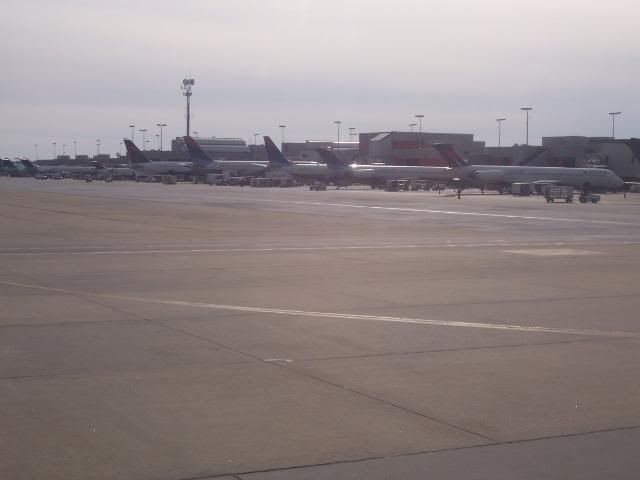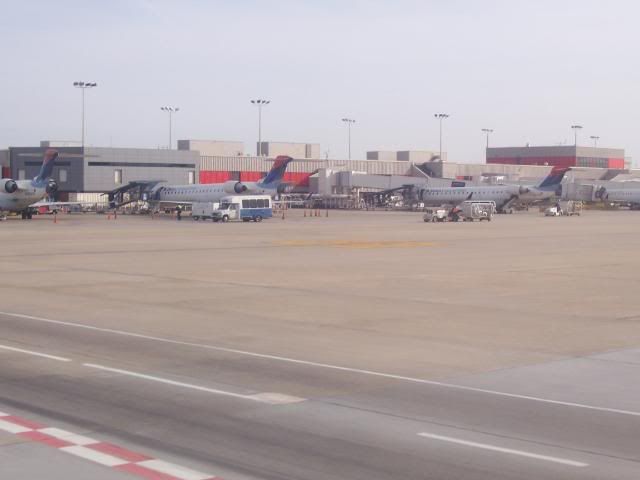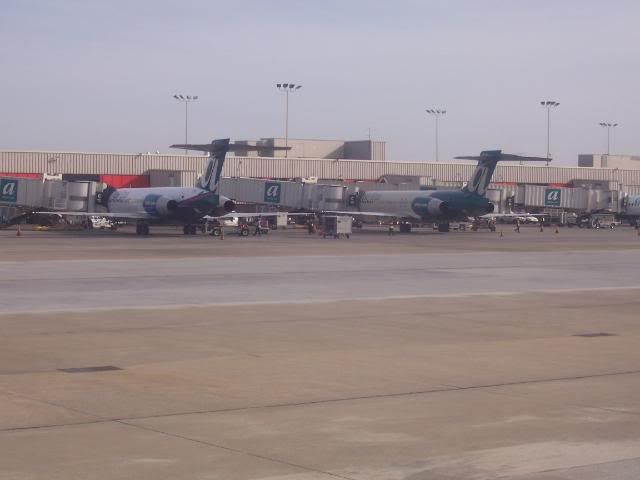 I had about 1.5 hours in ATL before my connection to SNA. Luckily the connecting gate was B25, so I roamed around B terminal too see what kind of action there was. Nothing to interesting though, mostly 757's and MD-88s.
I camped out at B25 and waiting for the 73W to arrive from SNA.
Pulling into the gate, my plane N302DQ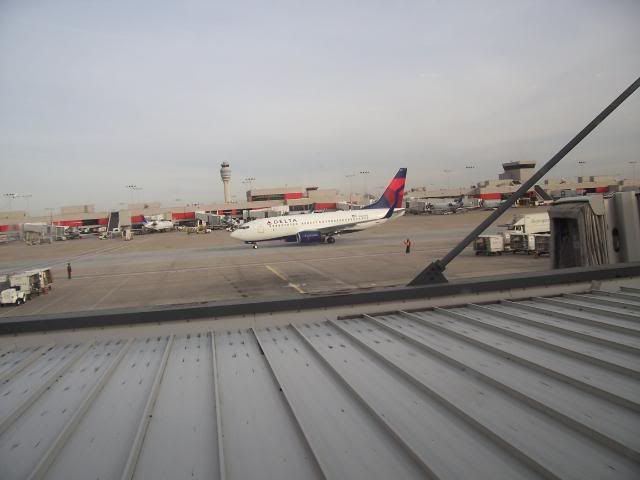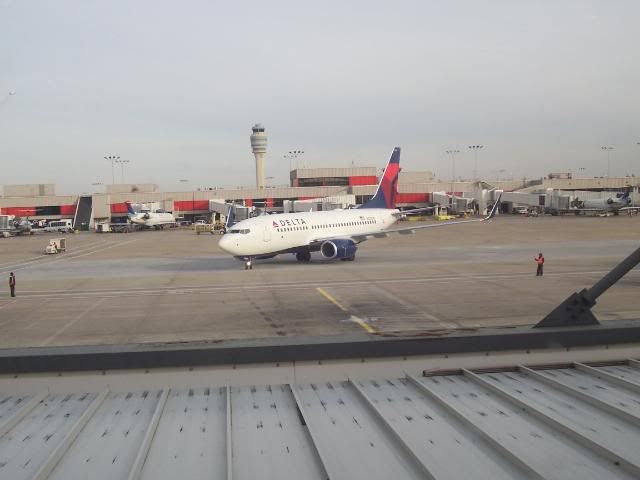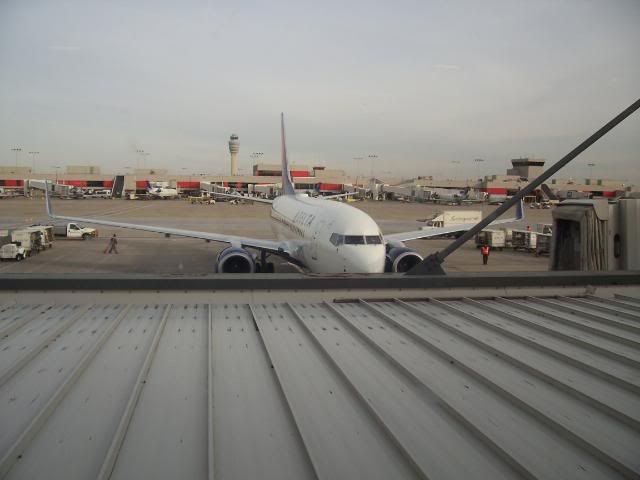 December 13
Routing: ATL-SNA
Flight: Delta 917
Aircraft: N302DQ Boeing 737-700
Seat: 3D
Departure: 5:00 PM from gate B25
Arrival: 7:00 PM at Gate 11
Take Off: 8R
Land: 19R
Boarding started at 4:10 more or less on time. Again I was one of the earlier ones to board. Delta promotes this breezeway boarding for first class and elites. But on both flights they did not even utilize this feature. I don't know if their phasing this out or was it just for my flights. Leg room was a little bit better than on the MD-90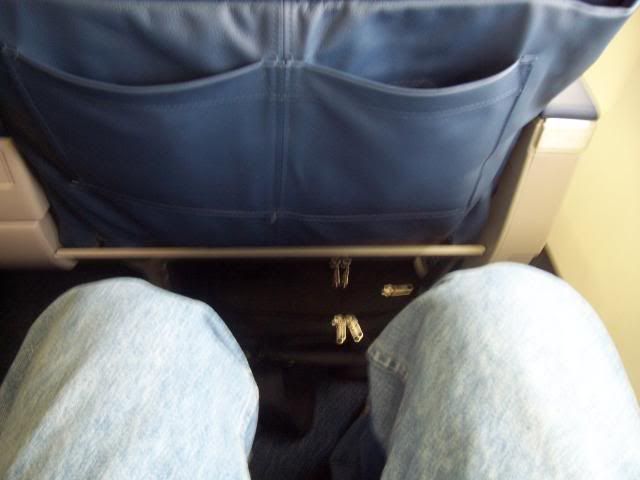 Pre-departure beverage was handed out again, and again it was a joke and diet in a plastic cup. 757 next to us to I believe Phoenix
The PTV scrolls through advertisements while on the ground, you can't start anything or look at the map until the wheels leave the ground. Cute girl though!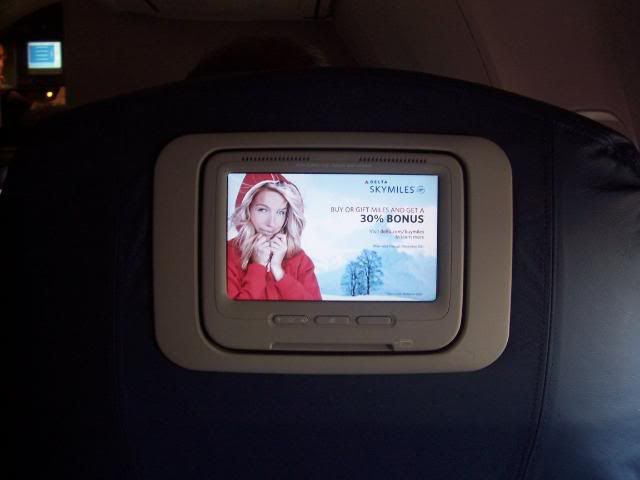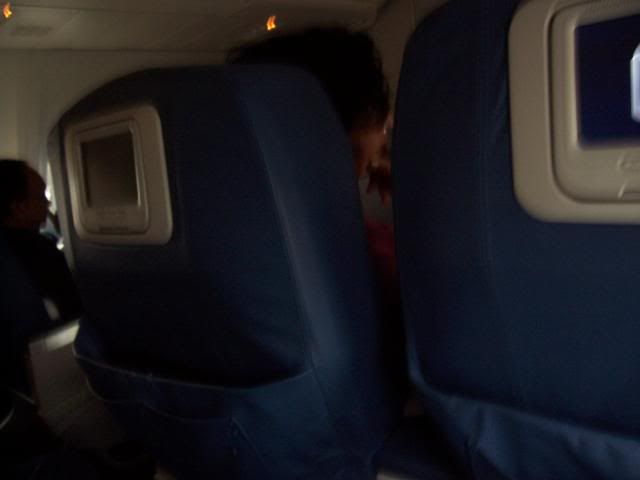 We pushed back on time and taxied back out to 8R for take off. Announcement by the captain stated we will be arriving a little late due to incredible strong headwinds, at times above 150 MPH.
I love shots like this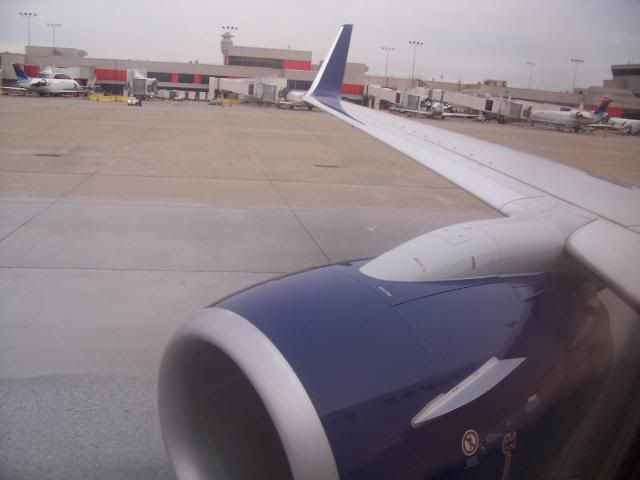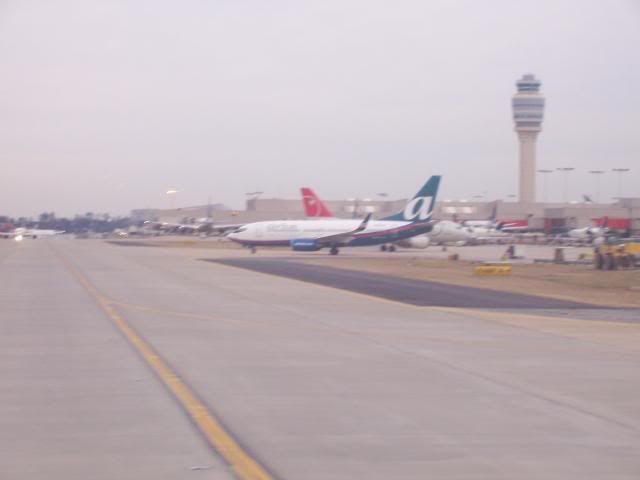 Delta CRJ-700 about to take off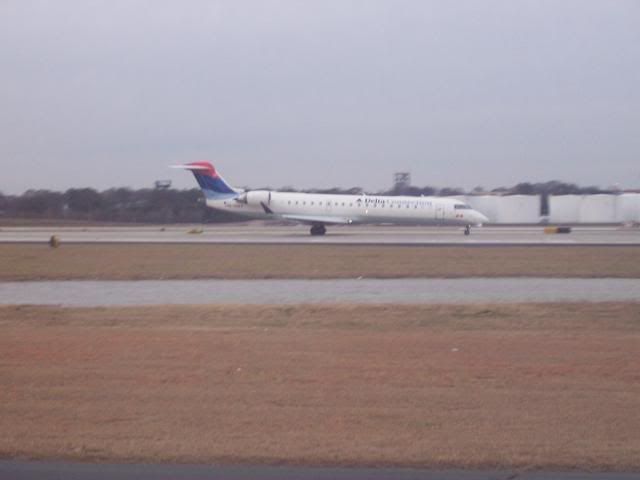 Delta 737 landing on 8L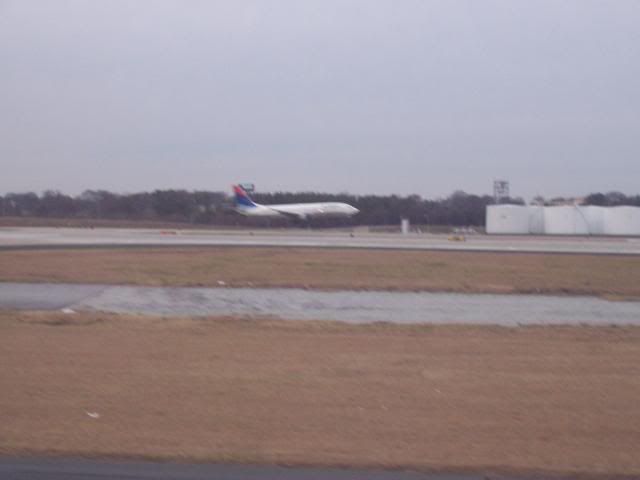 American MD-80 rolling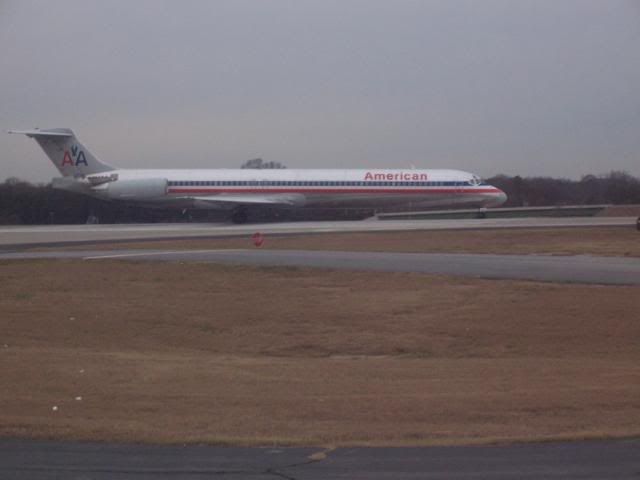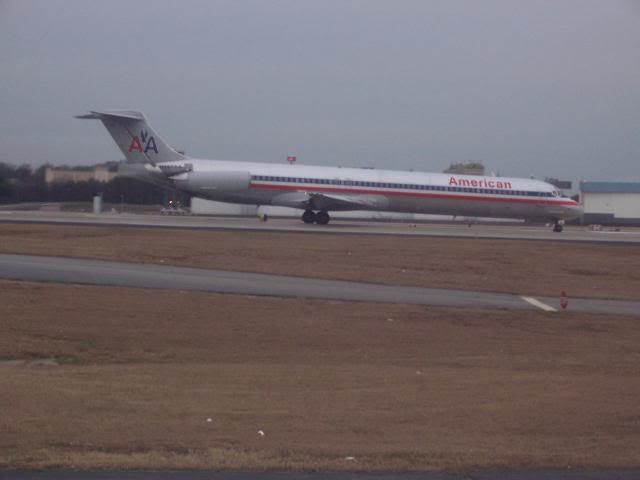 Looking back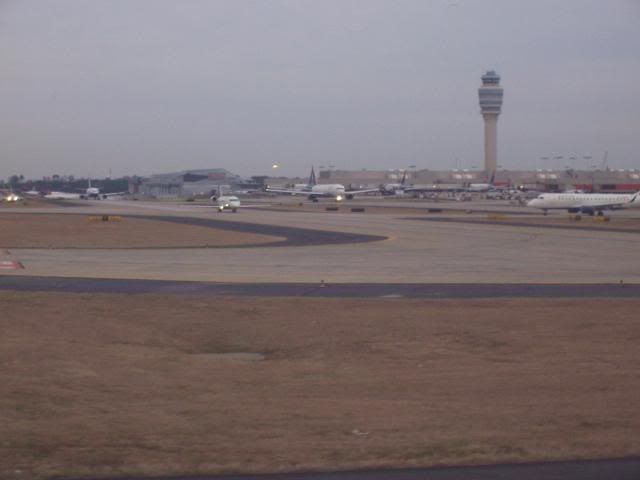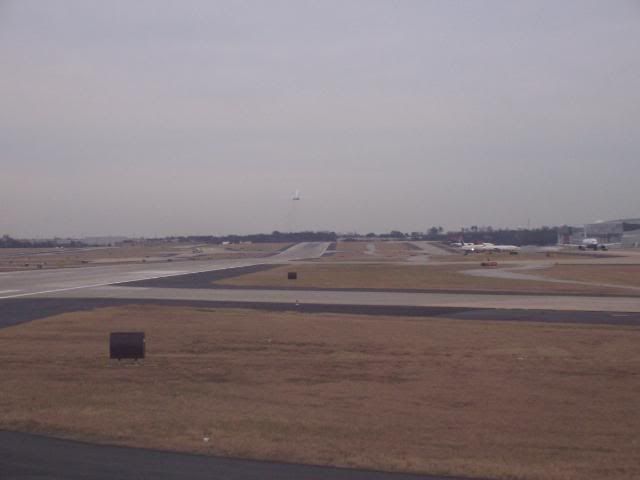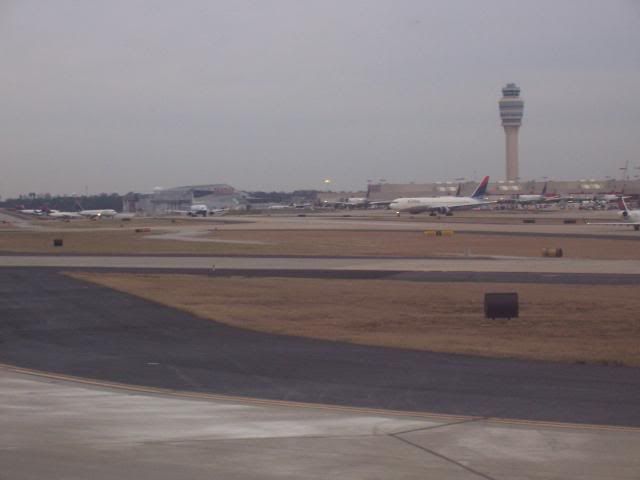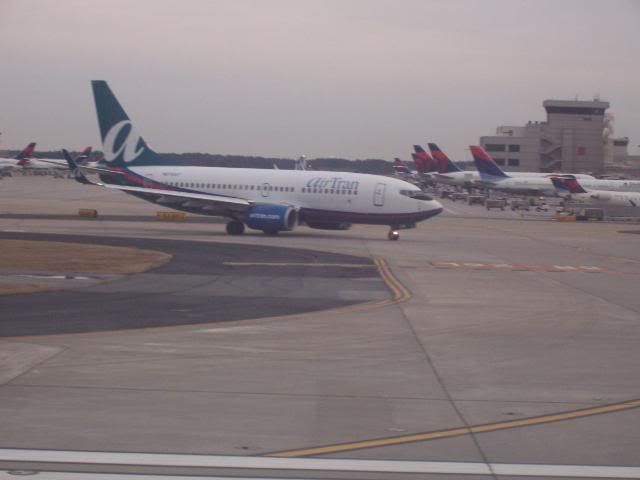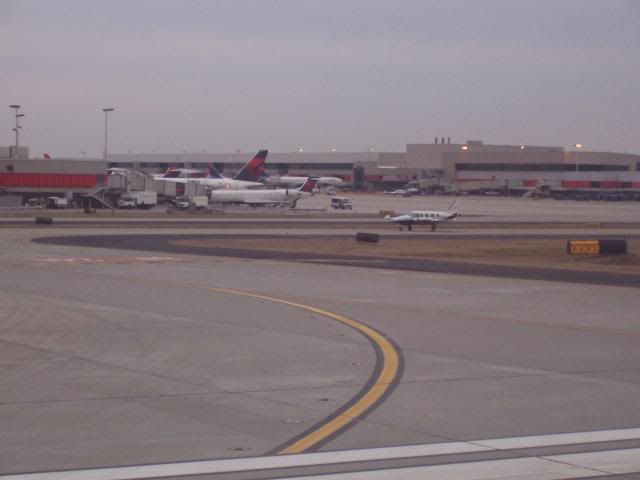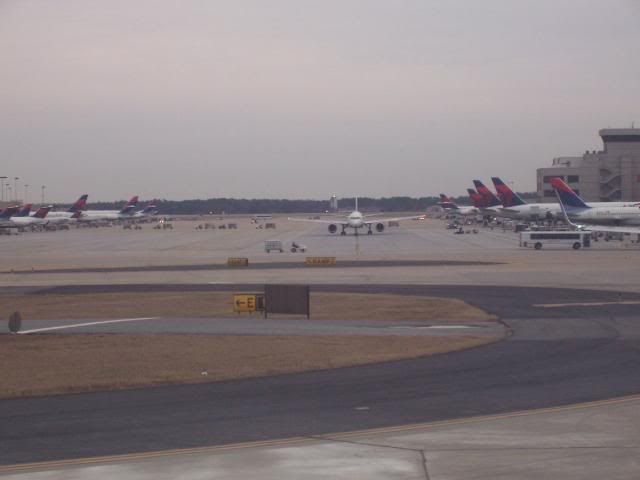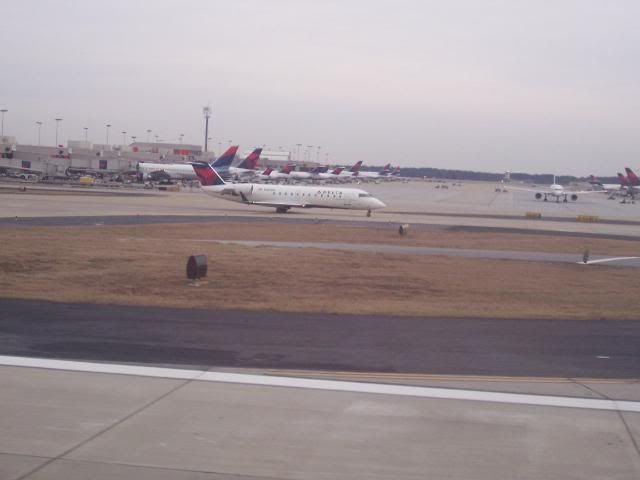 We passed a delta 767 and united 737 as we rolled down the runway for take off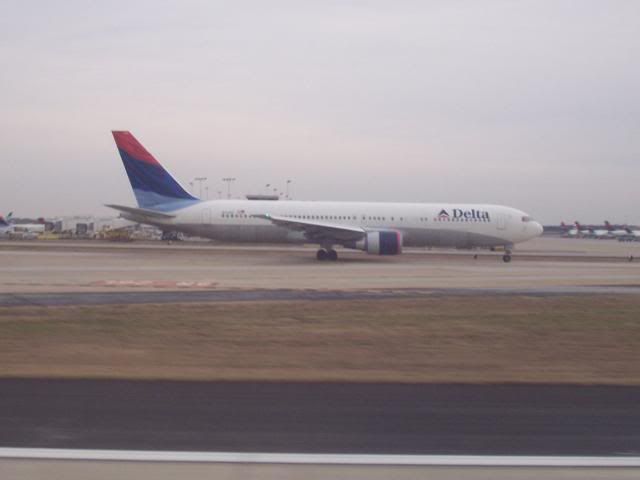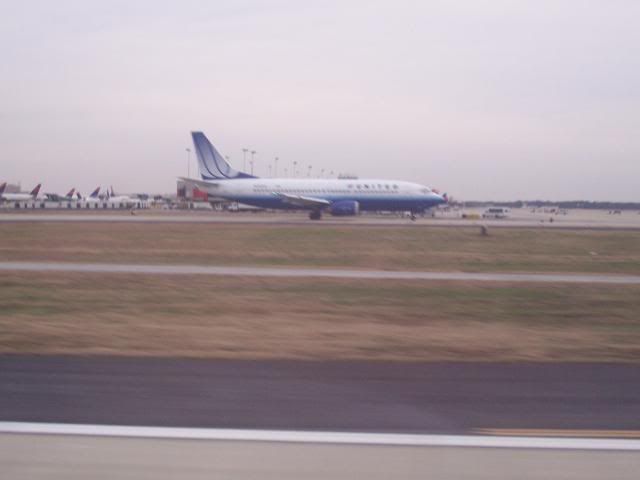 Leaving the ground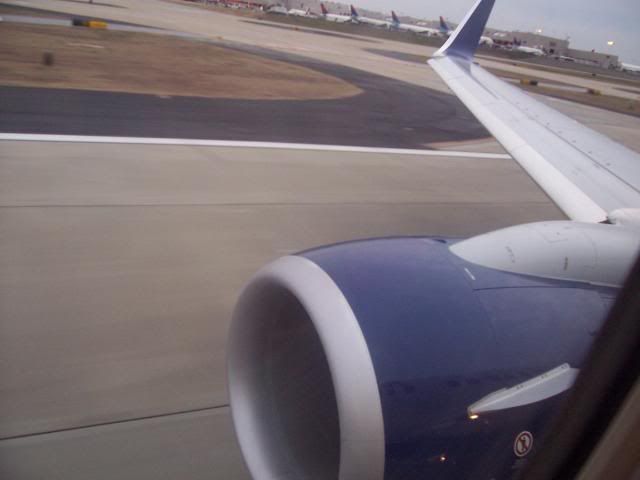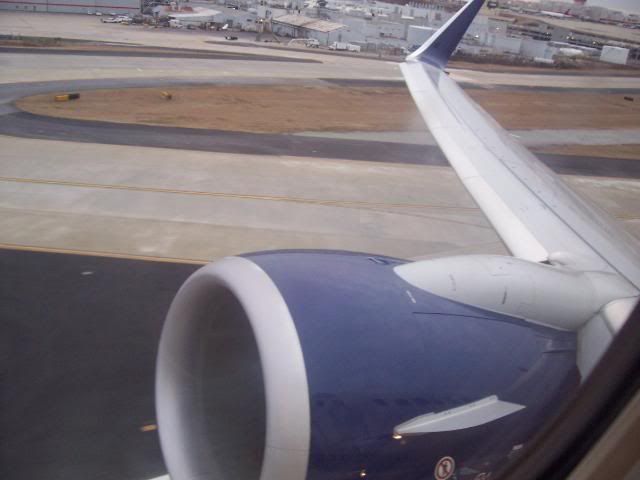 I believe this is the Delta maintenance center, by the fly delta jets sign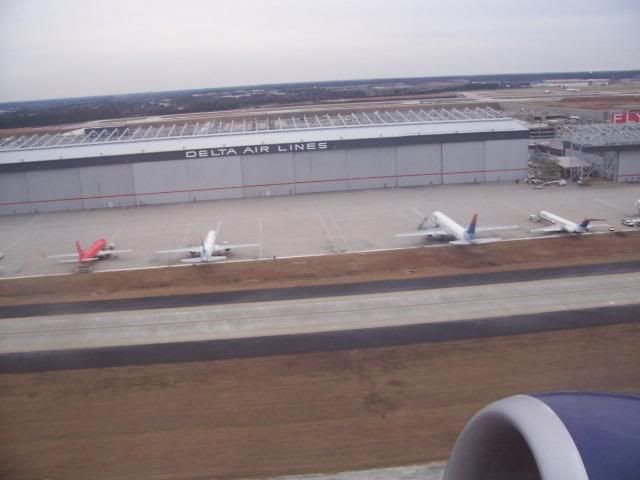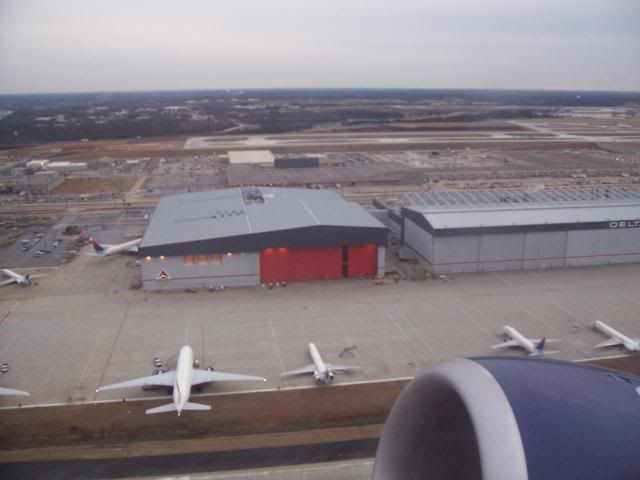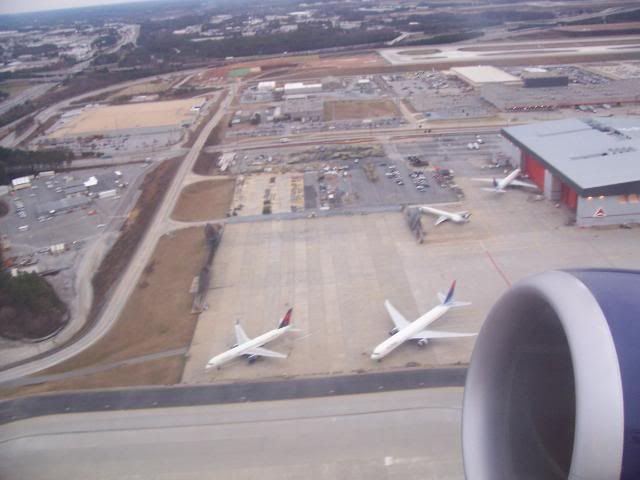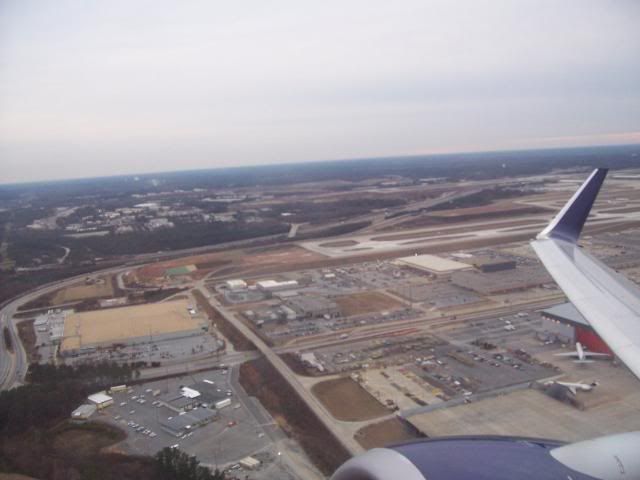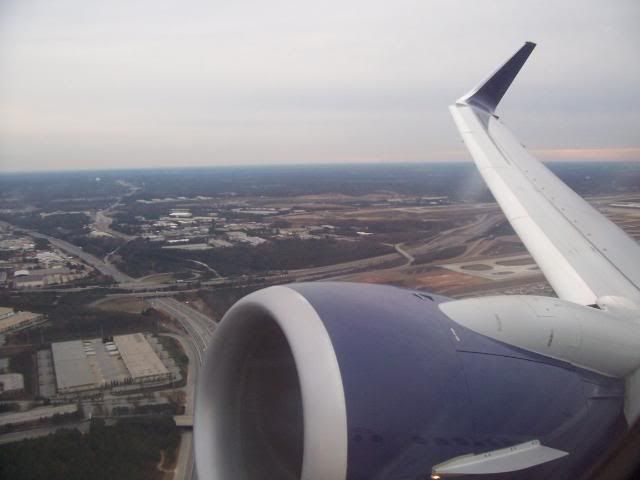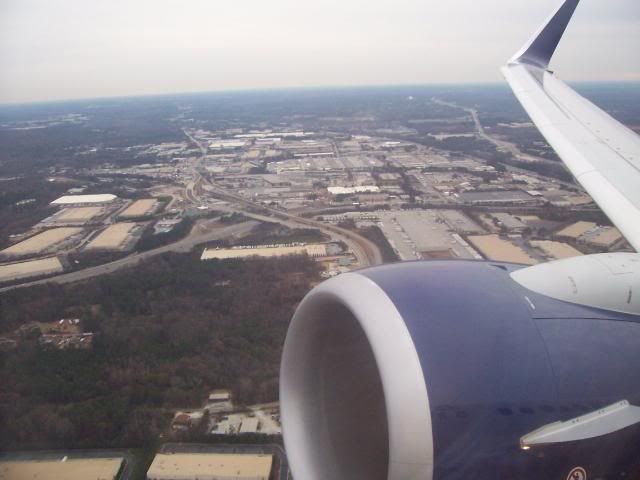 My PTV shortly after take off displaying some flight details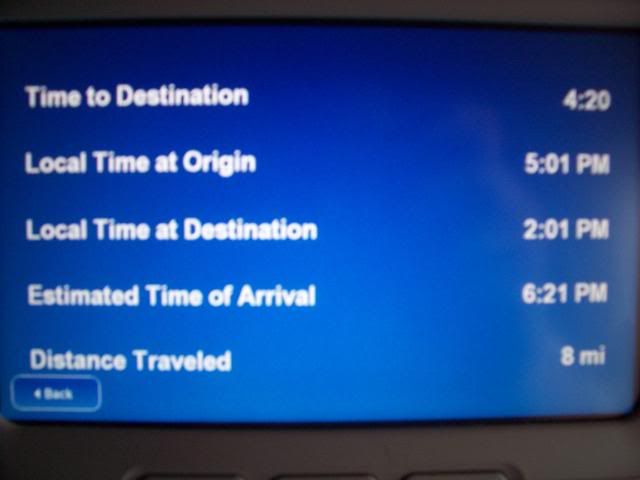 Our partial reflection in the engine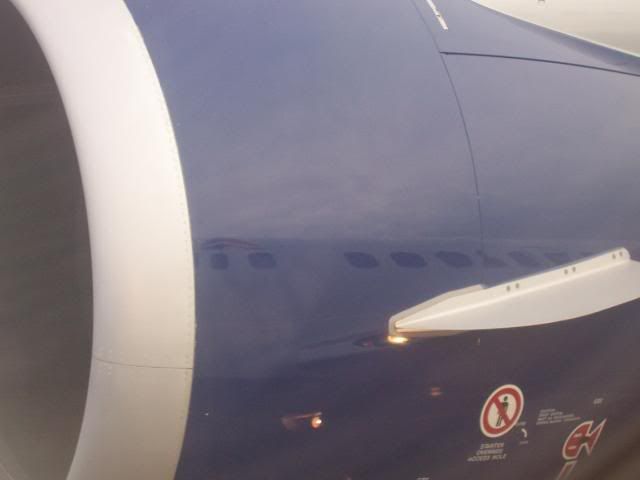 Winglet
Our route across the US this evening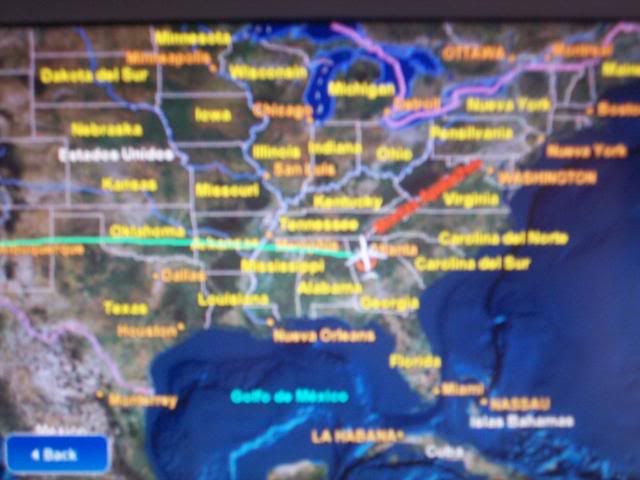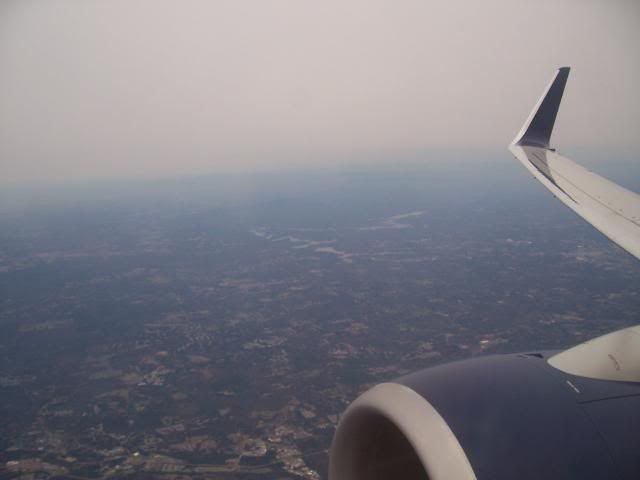 I began watching pineapple express on the PTV. All the movies and shows are free for those seating in first.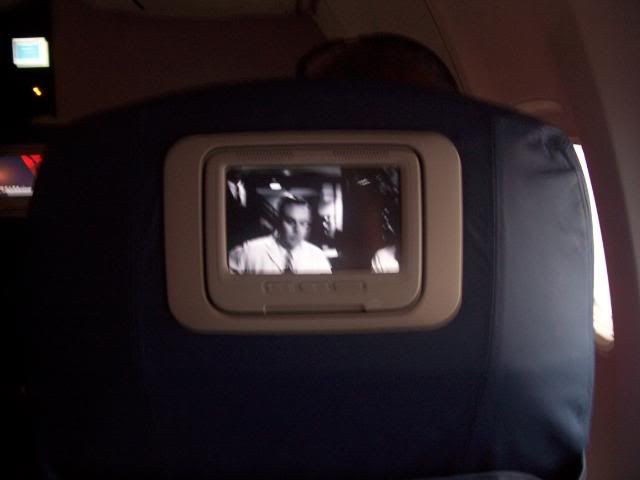 We broke through the clouds around 17,000 feet if I remember correctly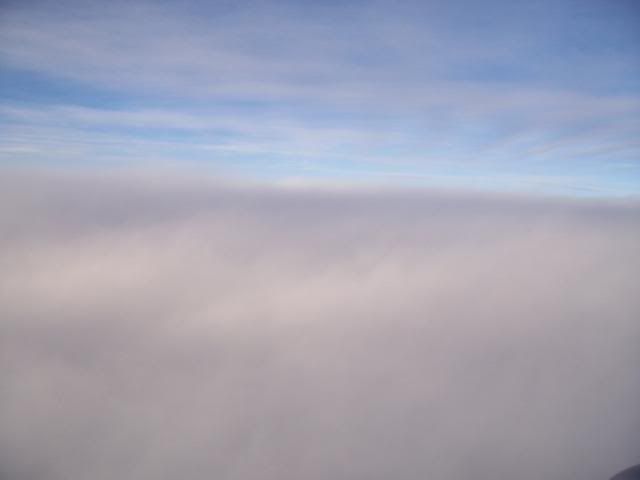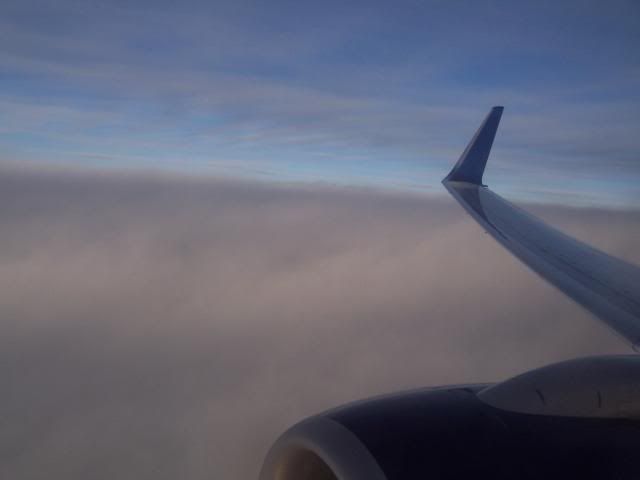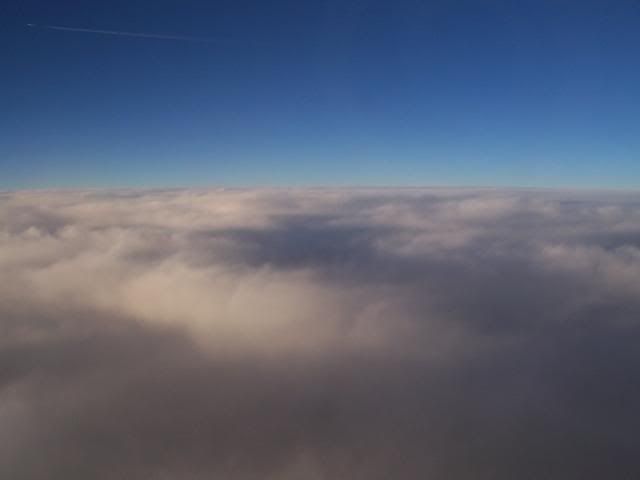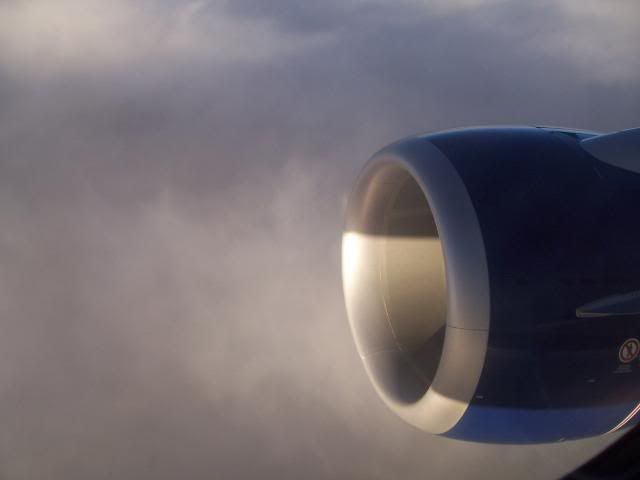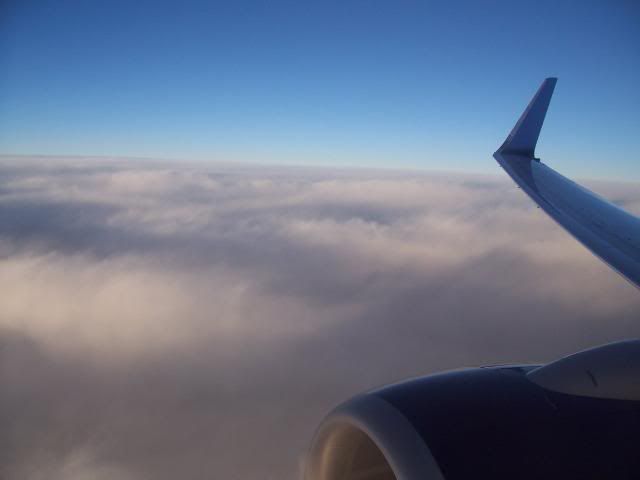 Cabin as we reached cruising altitude and dinner service began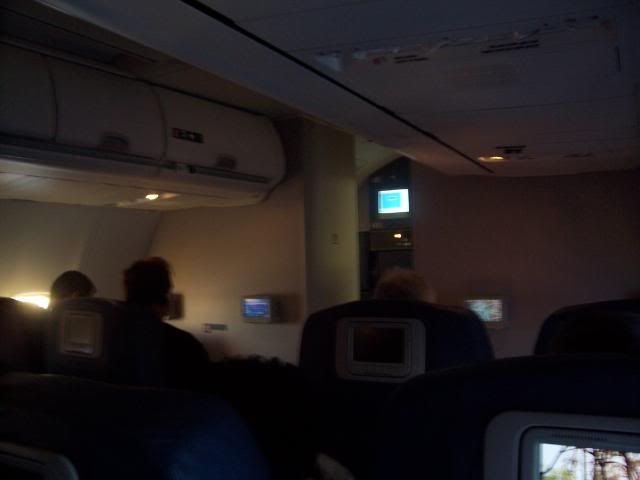 The purser on this flight (did not catch her name) was awesome. She always had a smile and the look on her face that she was working hard to make sure all 12 of us in first were taken care of. I didn't look into economy but from what was said on the PA it was 100% full.
I am used to flying United first and have never been on Delta first. But on United the place mat is a real cloth napkin. On delta they give you this thick paper thing with the delta logo on it for your tray table, not very classy, but better than nothing I guess.
A hot towel service was done before the drink orders were taken, always a nice touch. The purser took our individual drink orders, I of course got a jack in diet which came in a real glass.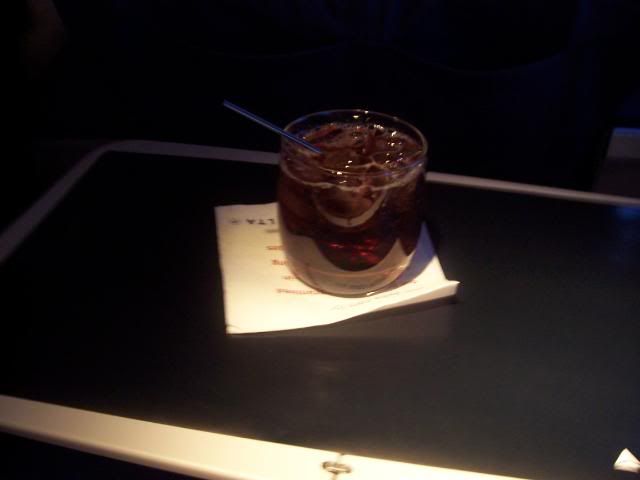 It was getting dark out, but there was still some light out, I like the sky when its in that in-between stage.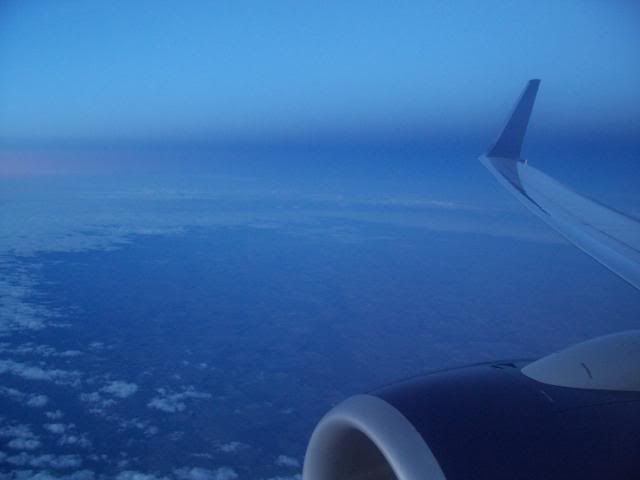 Dinner today was a choice between short ribs or vegetarian pasta. I choose the pasta, short ribs sounded too messy.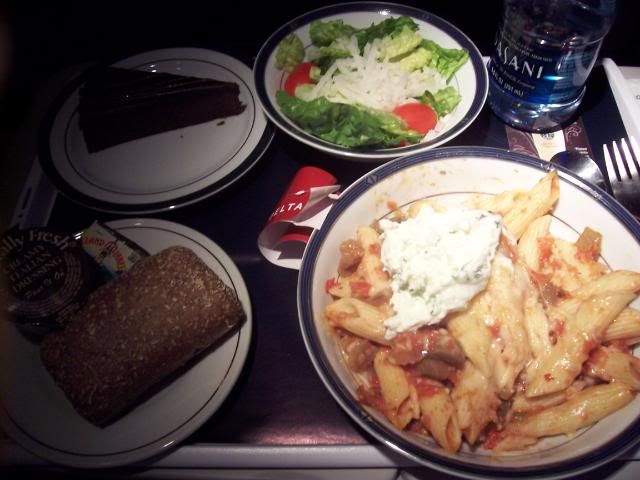 The meal came with a salad, bread, and a piece of chocolate cake. I finished watching pineapple express, and then messed around with the TV shows for a while. I played the trivia game as well, but I found the questions kind of difficult. I actually won one round though.
Not far out now. This flight was a little over 5 hours which is a little long for this flight, which is a direct result of the head winds I assume.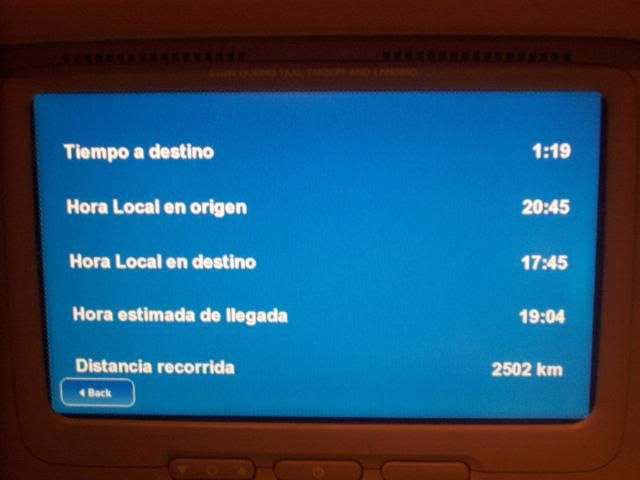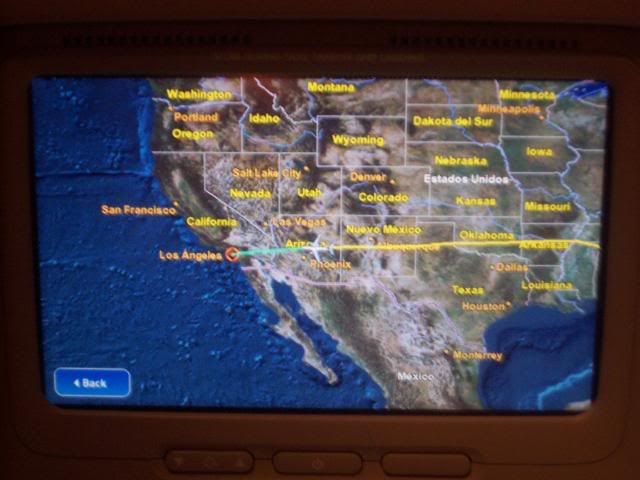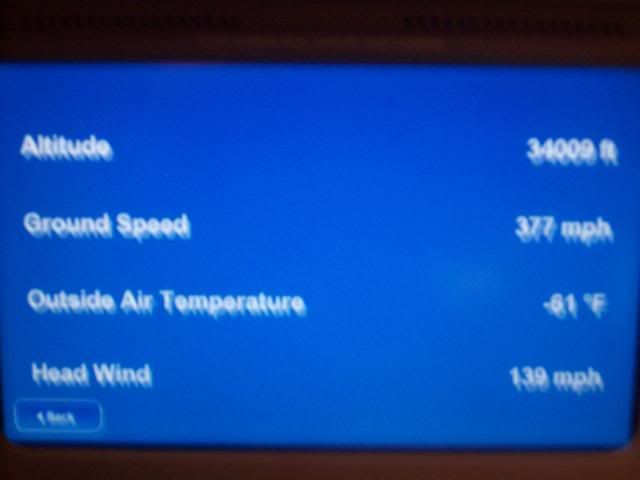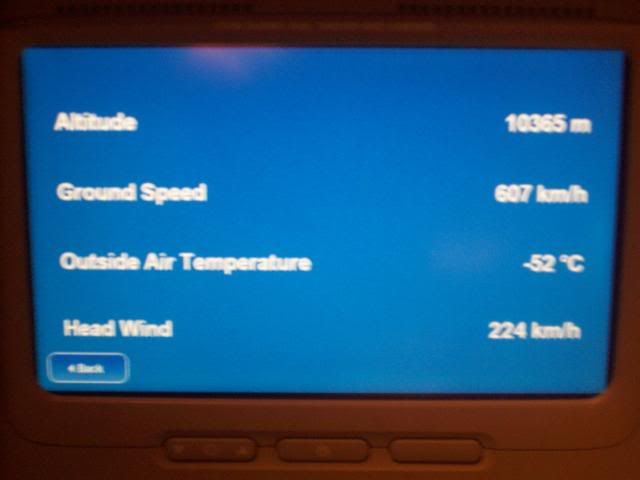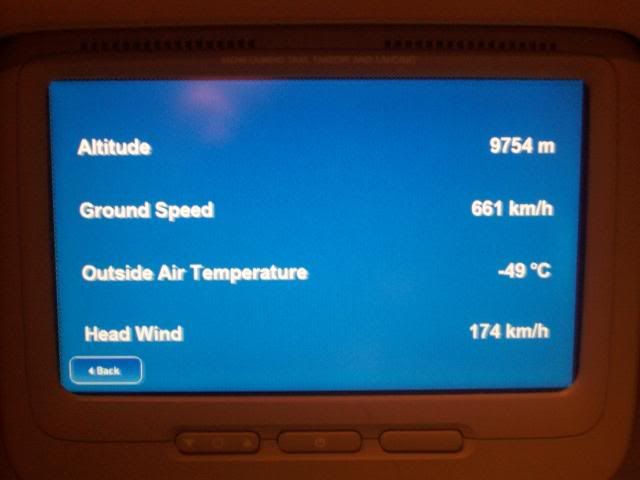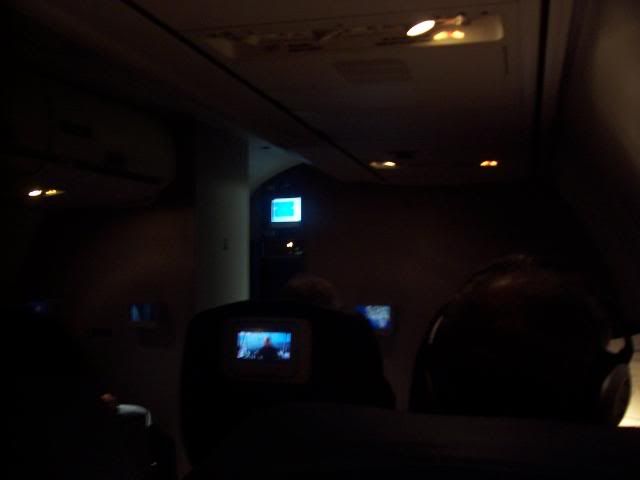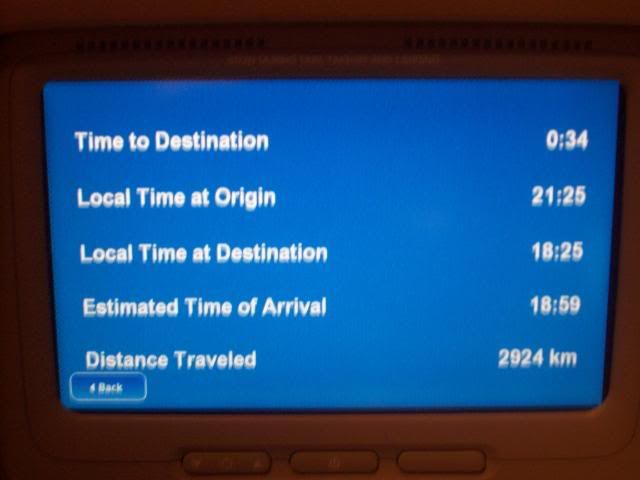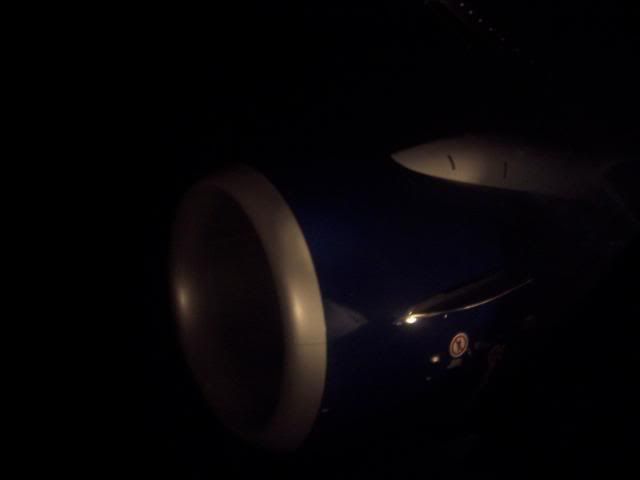 About 1 hour from landing the purser came around with the snack basket if anyone wanted anything else, of course I obliged. She did frequent runs of drinks throughout the entire flight. If I had any GTEM cards like United has for Delta I would have given her one. We landed shortly after 7:00 PM and taxied to gate 11. SNA was pretty quiet at this time of night, with a couple departures between 7 and 8. With no bags I was quickly at the curb trying to figure out how to get to the Hilton across the street. I called them and they said that you can walk there, so that's what I figured I would do. I weaved around the parking garage for like 15 minutes before seeing a door. Walk out the door and your suddenly on the sidewalk, I walk to the light and walk down the block and check into my room.
Goodies from the Flights
Room, I ordered a room with a king, but for some reason they gave me 2 queens. Being Hilton gold I was hoping for an upgrade, but that did not happen. I did get a free breakfast and free drink coupon at the bar, both of which I did not use. I also thought I would get free internet, but that didn't happy either. It didn't matter, I just wanted to sleep anyway.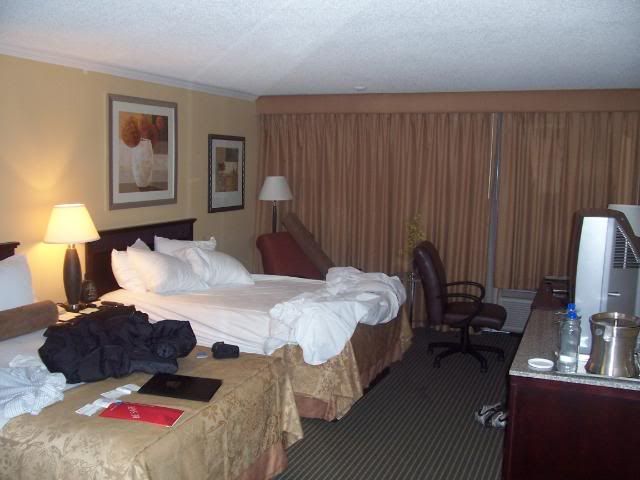 I was tired by this point, so I surfed around the internet for a little bit, but then hit the hay, in anticipation for the next day! My flight the following day left at 8:00 so I set my alarm for 5:30 AM to leave by 6:00 AM. The RCC opens at 6:30 on Sundays so I wanted to have some time in there to get breakfast and go on the internet. I didn't know how bad weather would be in ORD, so I wanted to be ready with back up plans just in case.
Part 2 to follow