Welcome to part 2! Part 2 will cover United flights from SNA-ORD-PHL with an unexpected/unwelcome surprise at the end. After re-reading part 1, I realized I made numerous grammatical and spelling errors. I want to apologize now for that, as it was late and I was just trying to get the trip posted. Hopefully this part will feature fewer errors. Enjoy!
Unfortunately, I woke up before my alarm at 5:00 AM. I went to bed around 9:00 PM. I find it easier to stay on east coast time when doing these quick trips to the west coast and back. So really I got plenty of sleep, but no one likes to wake up before the alarm. I took a shower and packed up my things, checked out and began the short 10-minute walk to SNA.
The Hilton Irvine shortly after 6:00 AM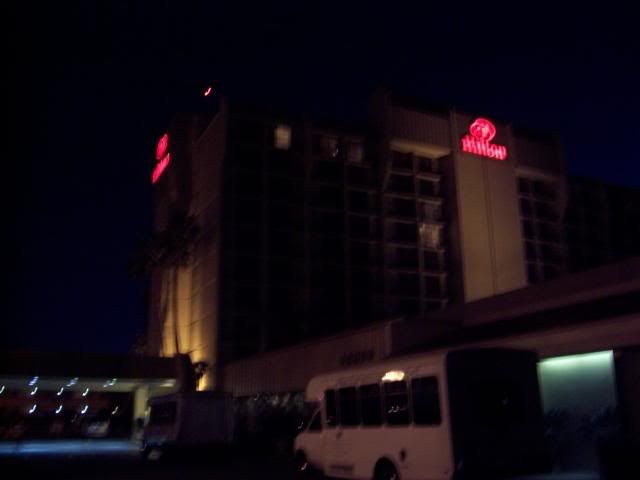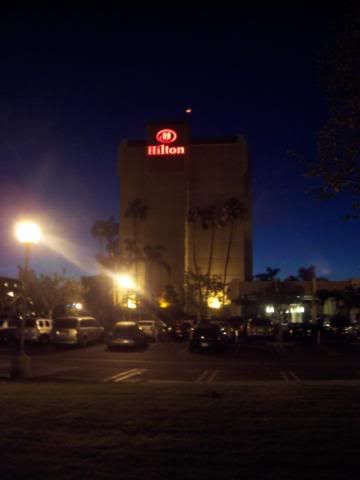 Looking across the street at the parking structure of SNA, the parking garage goes on for a good 2 or 3 blocks. The streets looks really cool at night: it's lined with palm trees down the center and the street lights make it look picture perfect. I attempted to capture that….fail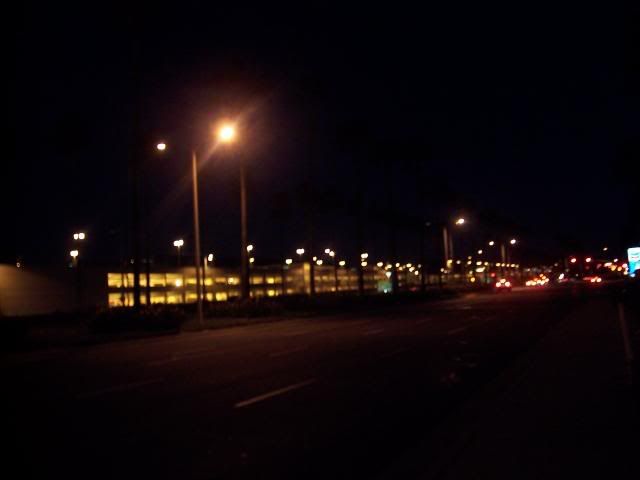 When entering from the street, just find this sign and the door is right there to enter the parking garage. Walk straight across, past the cars, cross the street and you are at the terminal.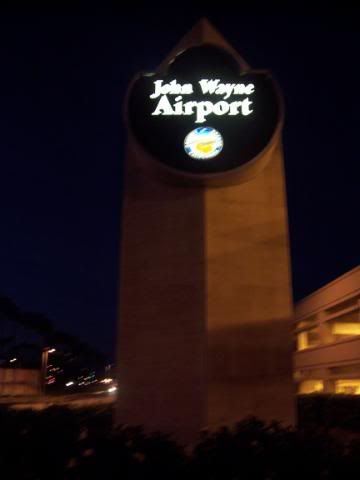 Check in was very quick at this time of the morning -- only my flight to ORD, another flight to DEN, and a flight to SFO. Went through the priority security lane, and was airside within 5 minutes. At this point it was only 6:20 so I waited outside the elevators by gate 7 to gain access to the RCC. The elevators do not function until 6:30 AM on the nose. Rode it up and was the 2nd person to enter.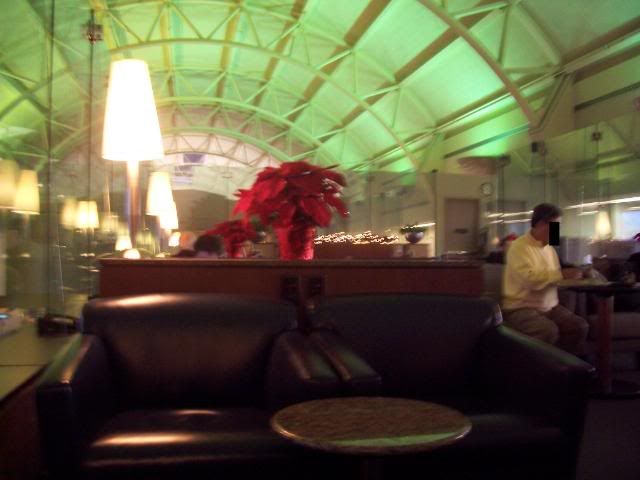 The RCC is quite small and is above the terminal but very open. Not as quiet as others but still a nice place to relax, check your e-mail, and grab a quick bite to eat.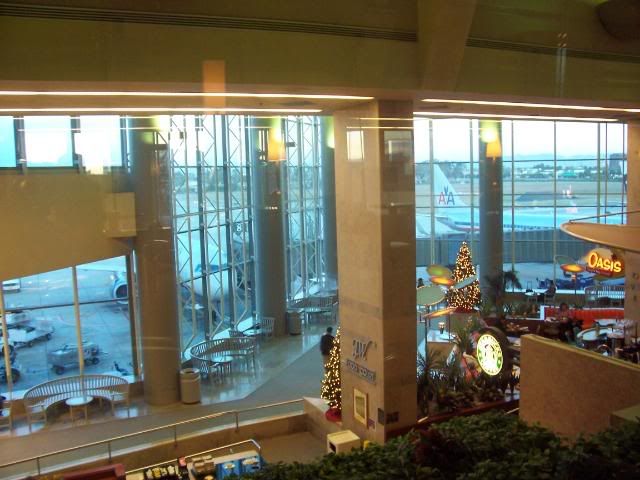 I checked the weather in ORD to make sure my flights to and from ORD would be on time, which looked like they would be.
The coveted gold boarding passes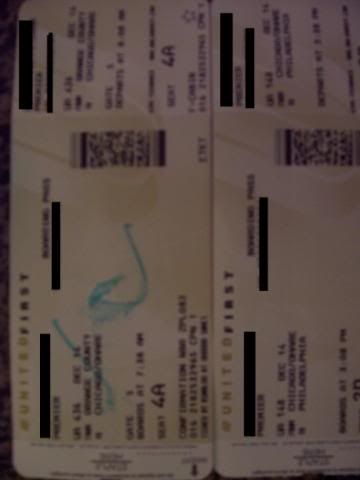 About 35 minutes I made my way down to gate 5 where an old c/s 757 was waiting.
December 14
Routing: SNA-ORD
Flight: United 436
Aircraft: N533UA 757
Seat: 4A
Departure: 8:08 AM from gate 5
Arrival: 1:21 PM at gate C25
Take Off: 19R
Land: 14R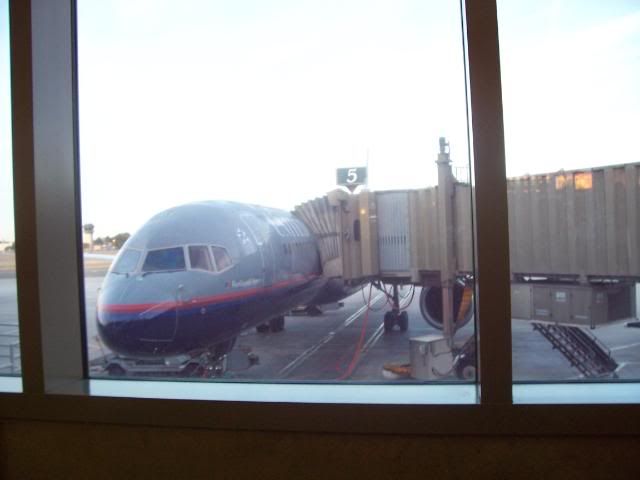 Boarding started promptly 30 minutes before departure. There was quite a crowd growing at the gate, so I had to wait a little bit before I could get on board. A pre-departure beverage was offered of either water or orange juice, I opted for the orange juice. Next to us was a Southwest 737.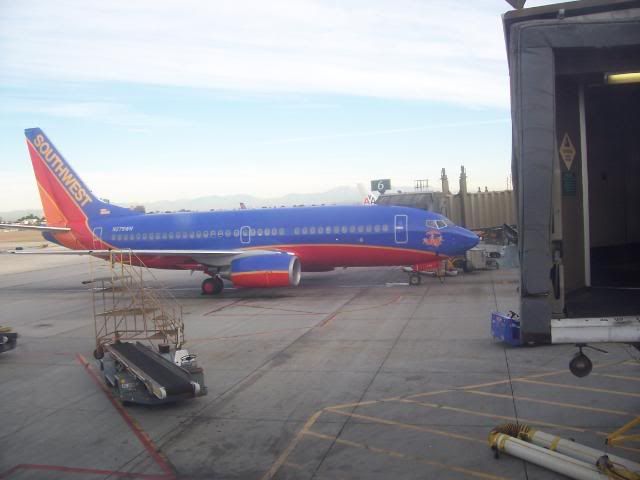 Legroom was the standard 38" for United domestic first. First class was full, and I never got a chance to see what coach was, but from the gate area it looked pretty full.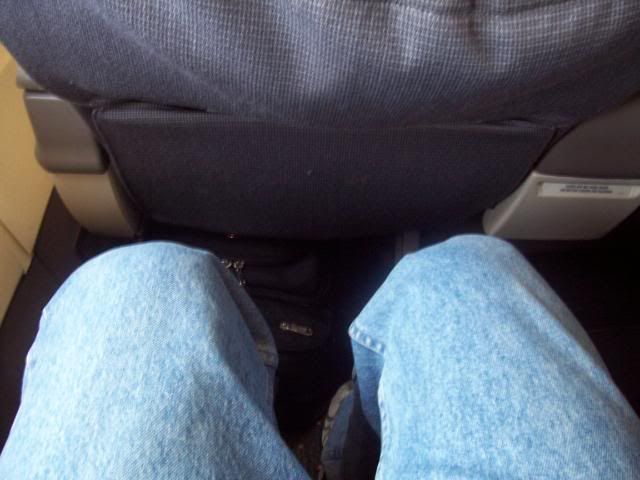 Pushback was more or less on time and we taxied towards runway 19R for take off.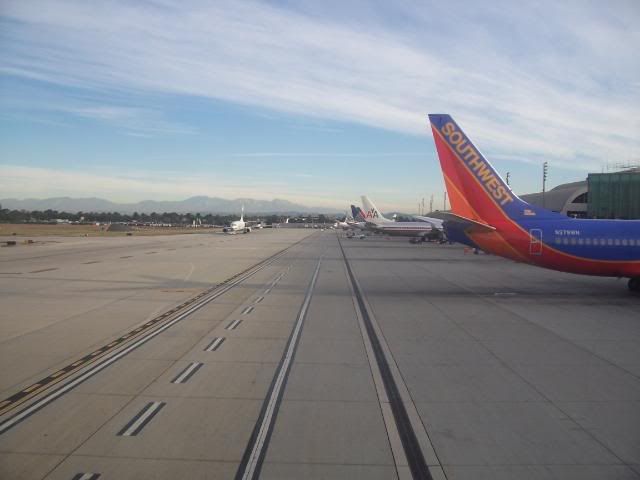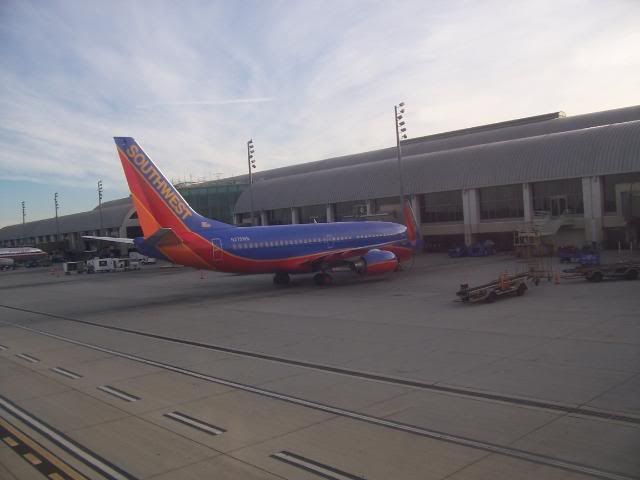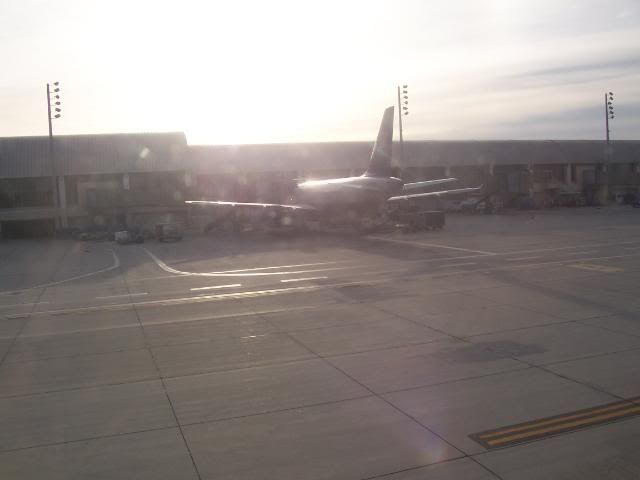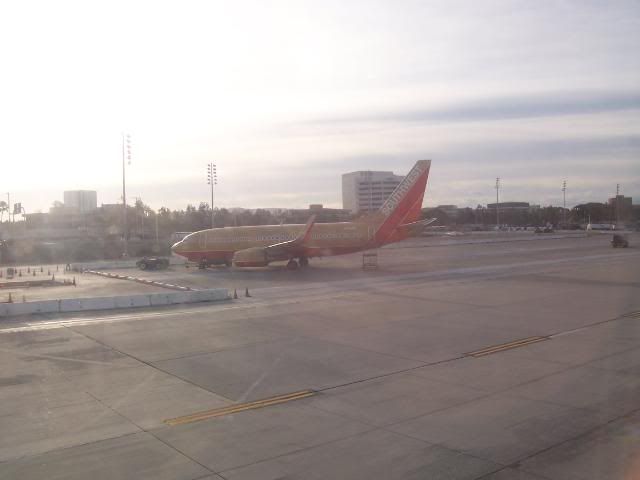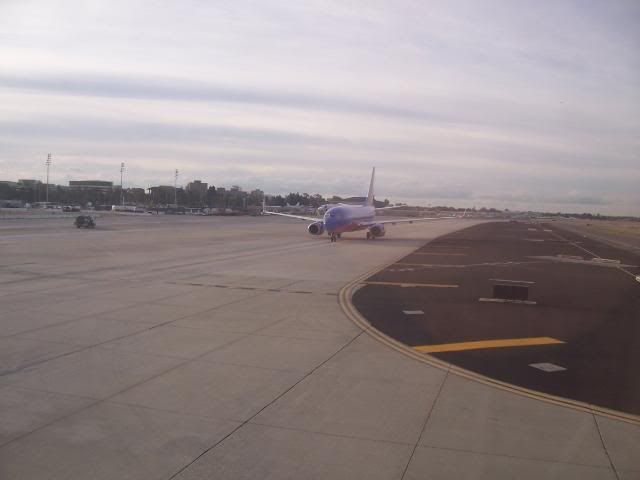 The following shots are the planes that took off before us or landed before us. I'll let the pictures do the talking.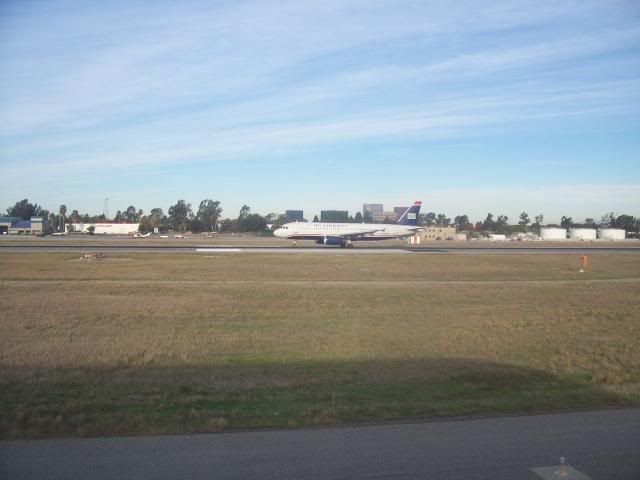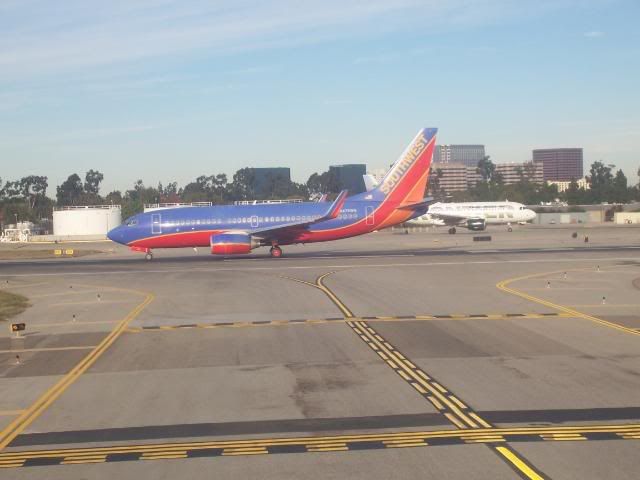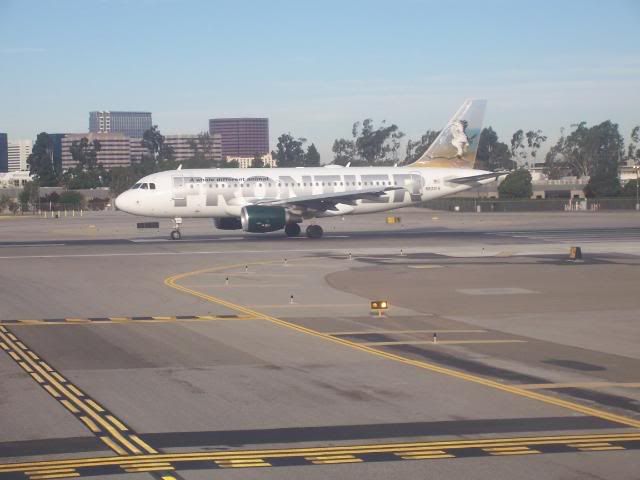 I found it surprising though how many GA planes there were leaving SNA. I assume it is the people with big money who live in the area? Locals might have better insight on this.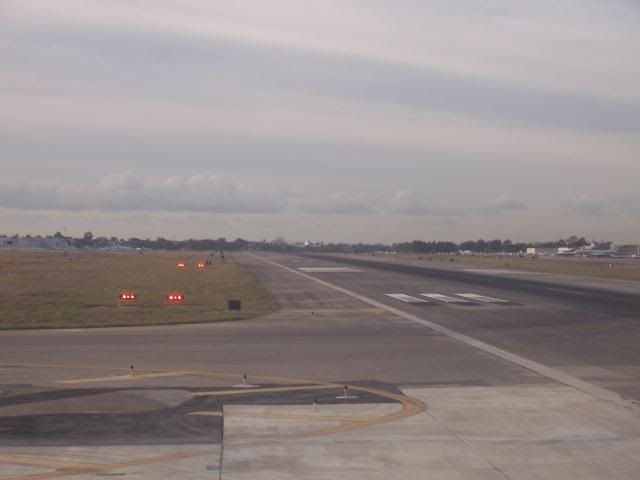 It was now our turn to take off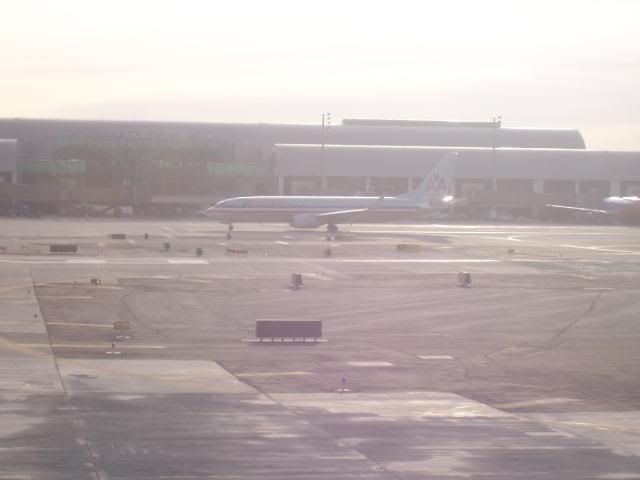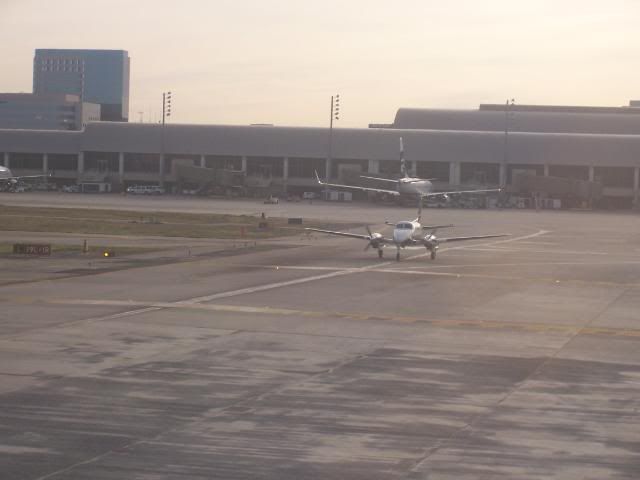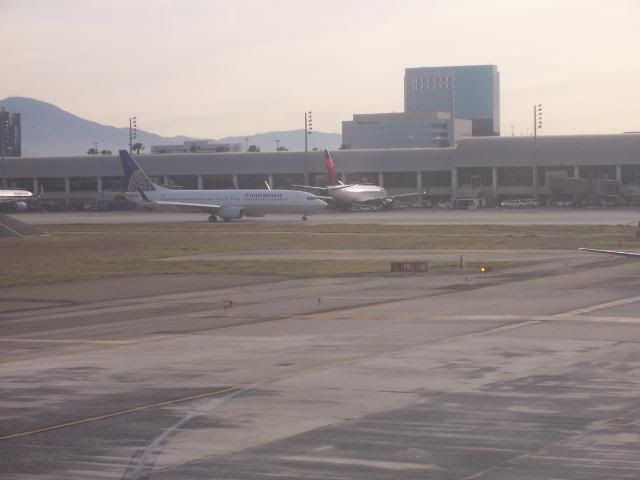 I have read all about the "famous" SNA take off. The captain even made a special announcement about it. The engines began spooling up with the brakes still set. The brakes were released before the engines were in take-off position, though. The climb out did seem more steep than usual, but I did not really notice the engine pull back. I think it's around 3000 ft. I was busy snapping pictures so maybe I wasn't paying attention. I tried to feel it, but it seemed pretty normal. I will have to go back to try again.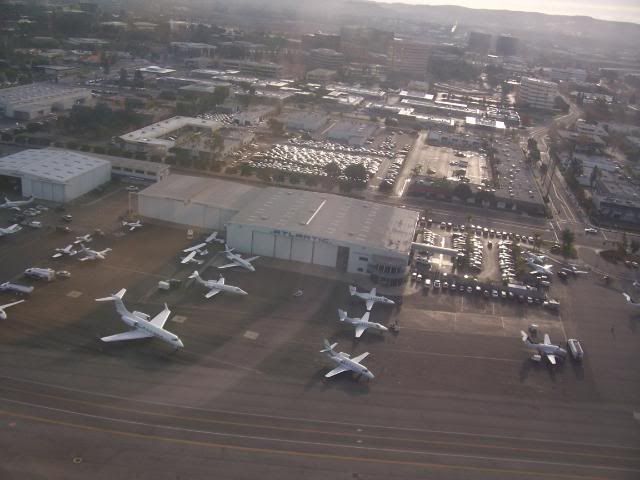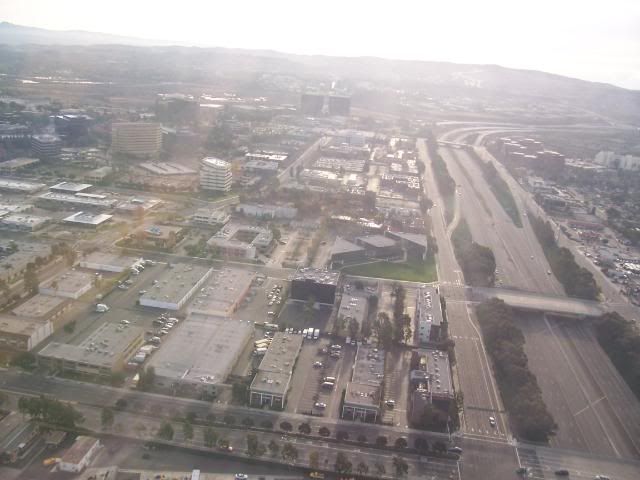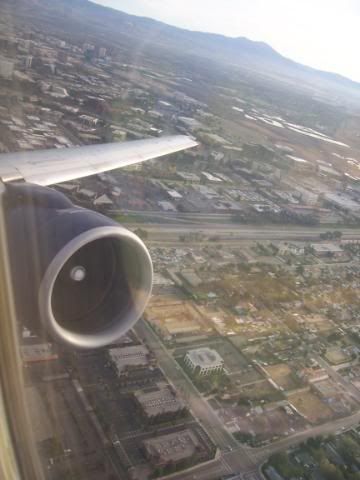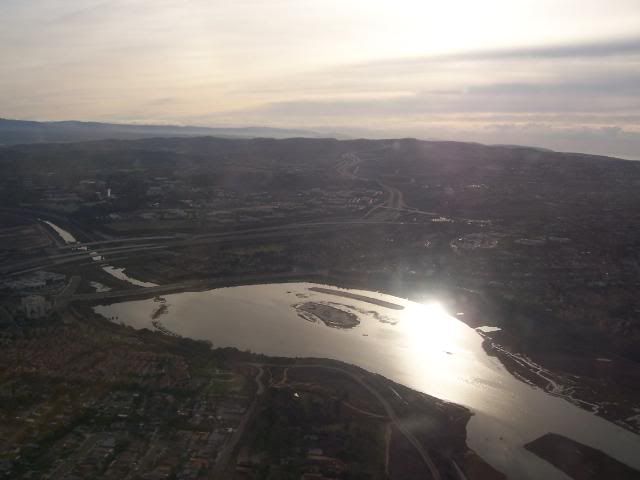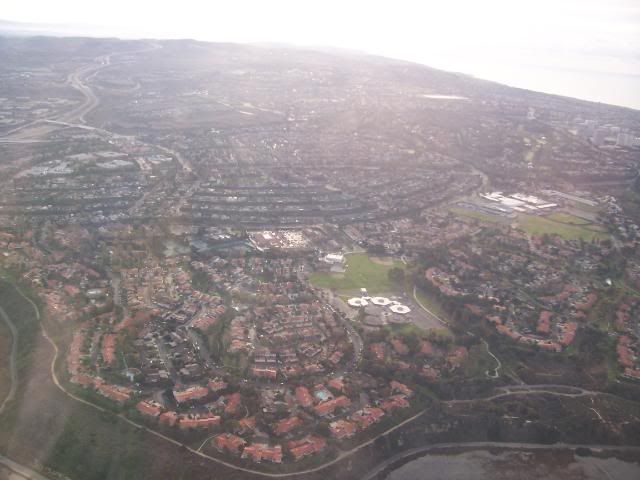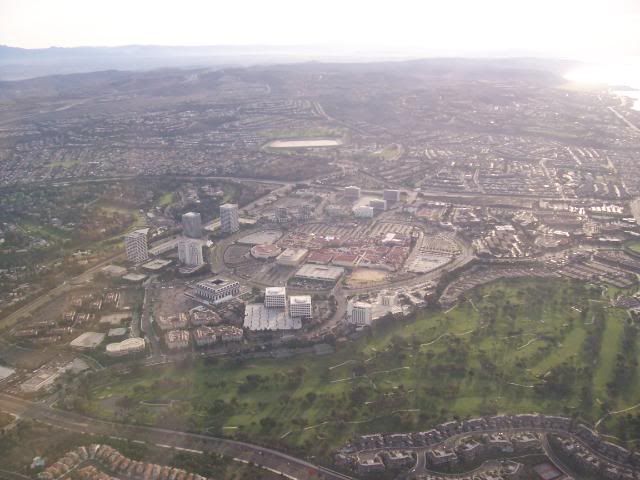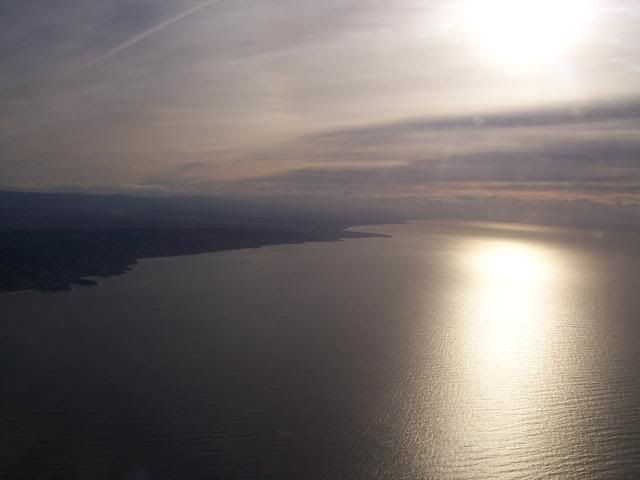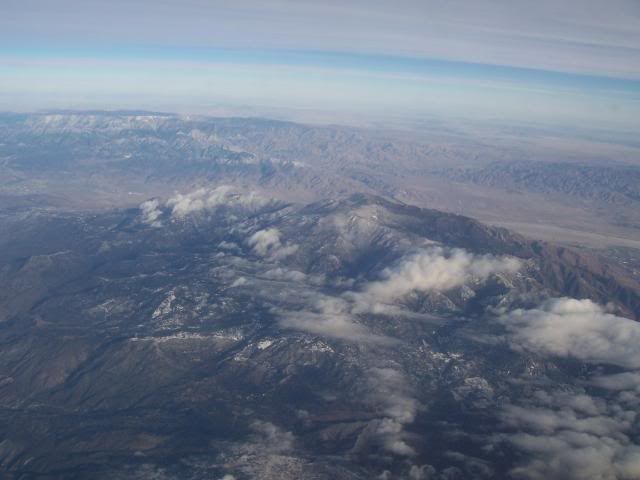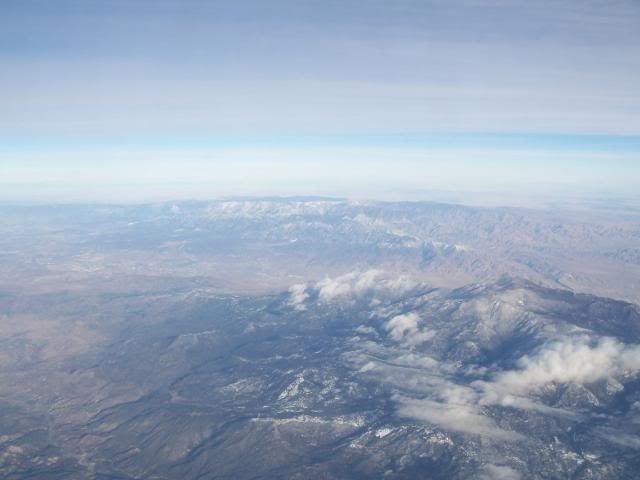 Soon enough we were at a safe altitude for the flight attendants to begin the breakfast service. Drink orders were taken and I opted for more orange juice. Hot towels were distributed which it always a nice touch. Cloth napkins were also laid down on the tray table. The choices today were either a spinach omelet or the normal fruit and I believe bagel meal. When the flight attendant came to me she only offered the spinach omelet, which is what I wanted anyway. My neighbor didn't get anything and it looked like other people in the cabin didn't either. Maybe the FA knows most people want the hot meal so she doesn't even offer the cold one unless they run out?
This picture makes the omelet look disgusting, but it was actually really good. I always think plane food is good, so I don't know if I luck out or just have weird taste buds.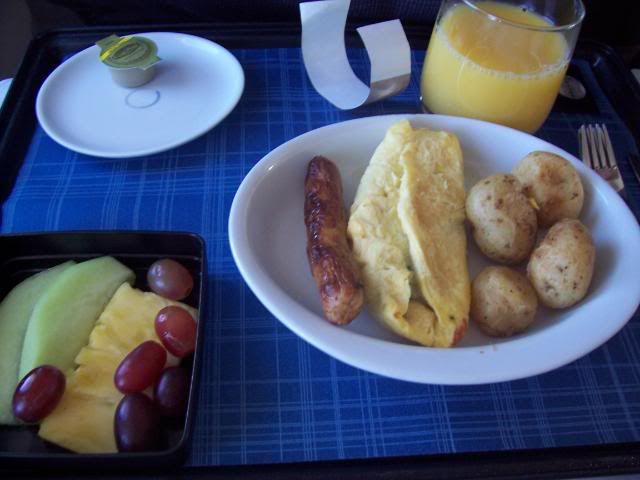 The movie was Sisterhood of the Traveling Pants 2, so I decided I could better spend my time watching a movie on my lap top. So my obligatory shot of the IFE.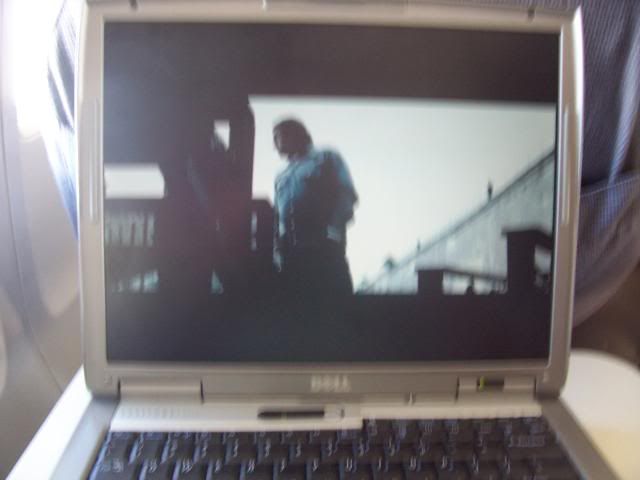 The flight attendants came around multiple times offering drink refills, which is always appreciated. The flight passed rather quickly and those 150 MPH headwinds from the previous day were now 150 MPH tailwinds. We were soon beginning our descent into ORD.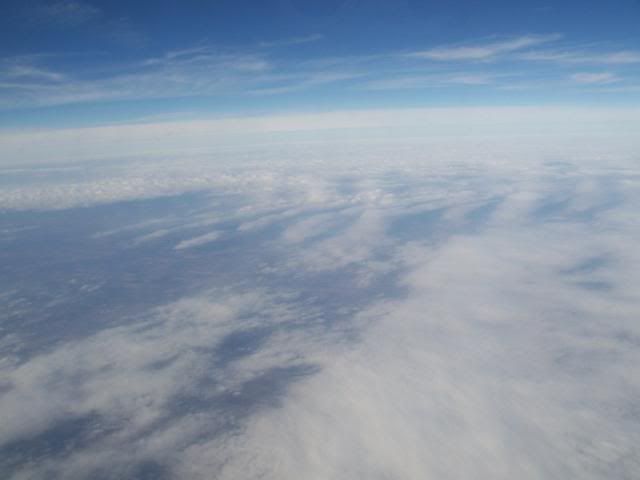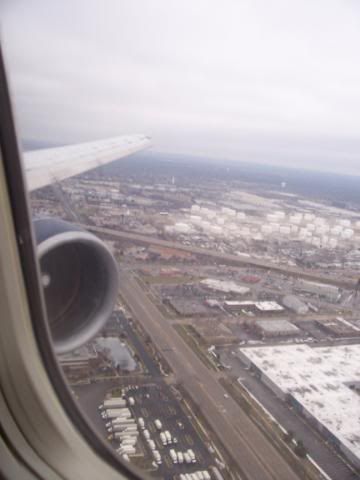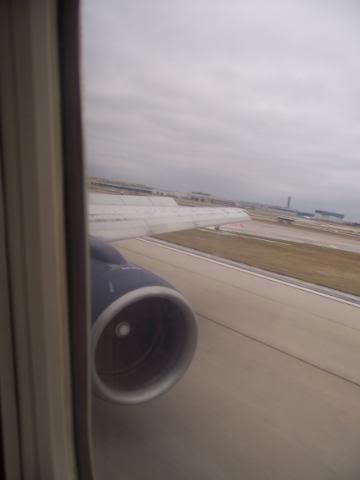 We made a smooth touch down on 14R despite the 20 knot winds, according to the captain.
We had a kind of long taxi to gate C25.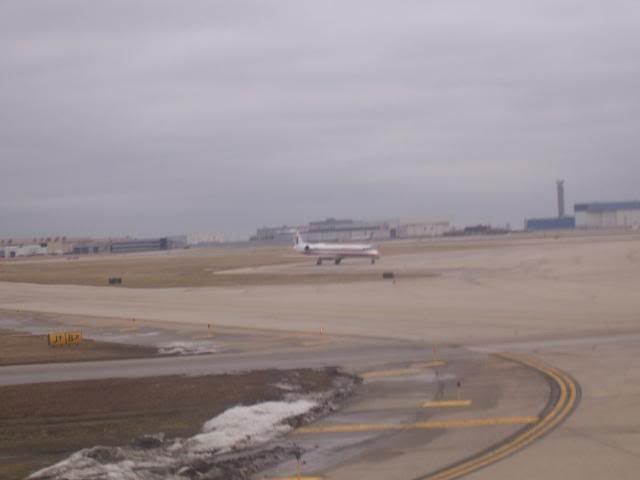 My next flight was departing from the B concourse so I immediately made my way over there. I have been wanting to check out the new RCC that opened a few months ago by B18 . I didn't get any pictures of the lounge but it was quite nice inside. Next to the bar there is a counter top with a ton of outlets, so I camped out there for the hour or so I had before my flight to Philadelphia.
December 14
Routing: ORD-PHL
Flight: United 148
Aircraft: N938UA 737-500
Seat: 2D
Departure: 3:38 PM from gate B4
Arrival: 9:09 PM to gate D11
Take Off: I think 22R
Land: 27R
My 737 at gate B4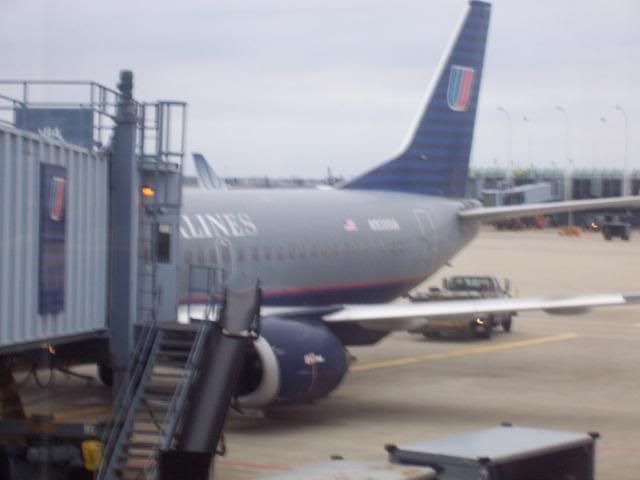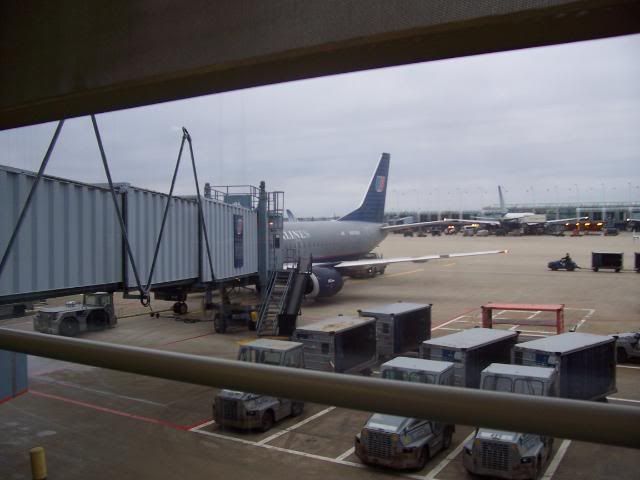 We pushed back on time, and had a short taxi to (I think) 22R but it could have been 22L. It was getting kind of dark at this point and my camera was not cooperating so the pictures weren't really turning out.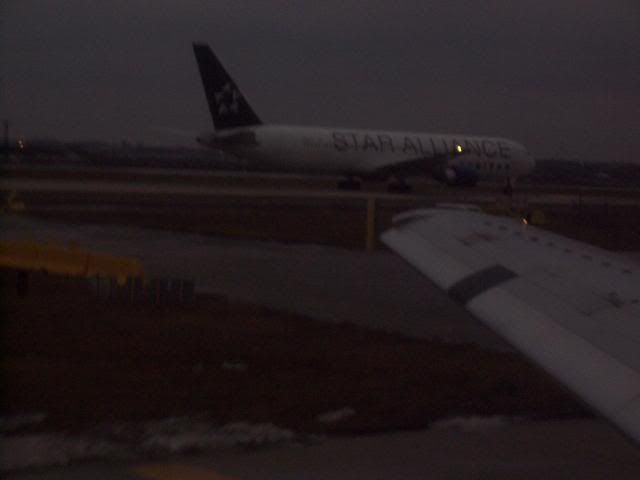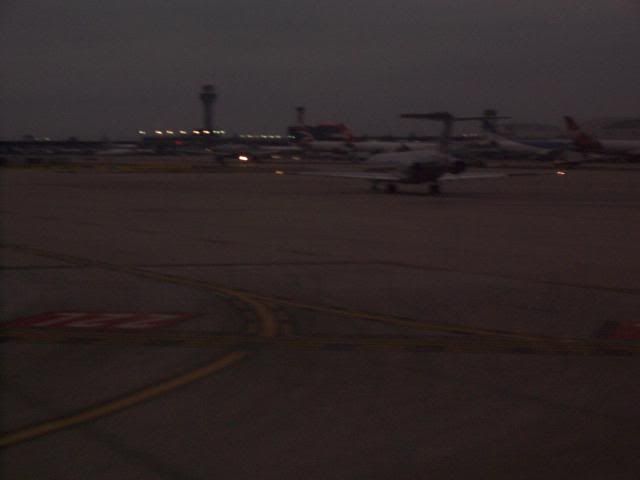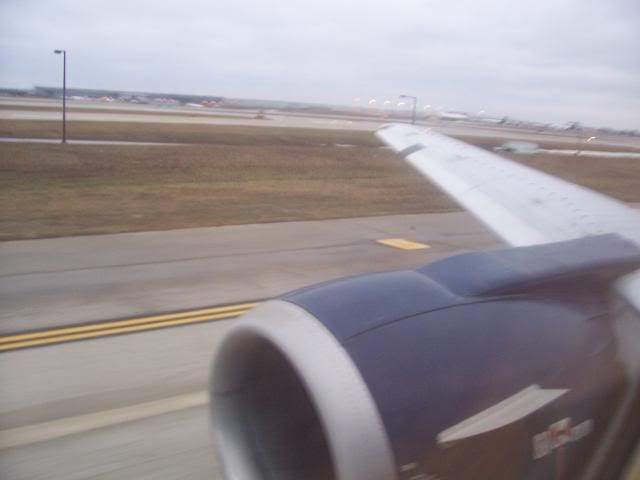 Again legroom on the 737 is the same as the 757.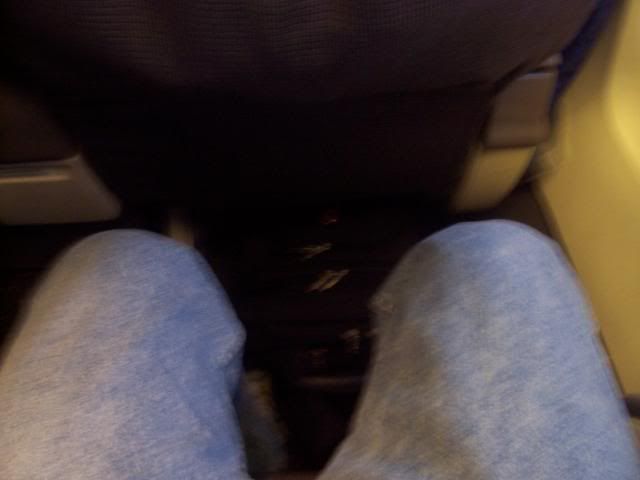 We did a rolling take off and shot into the air. The cloud base was real low, probably around 1000 feet or so. We didn't break through the clouds until way past the chimes of 10,000 feet. The purser came around and took drink orders. I ordered a jack and diet. Now she was kind of young, I would guess low 30s or high 20s, and she carded me. I have only been carded on planes twice, and both were by younger FAs. The older ones never seem to care. I don't know it seems like a weird correlation. She also distributed hot towels and set the cloth napkins on our tray tables. United used to offer a full meal service on this flight, but now it has been reduced to what they call a "snack". This consists of a piece of ham and roast beef, along with some fresh fruit, crackers, and some cheese. It is very good, just not very filling, for this time of day.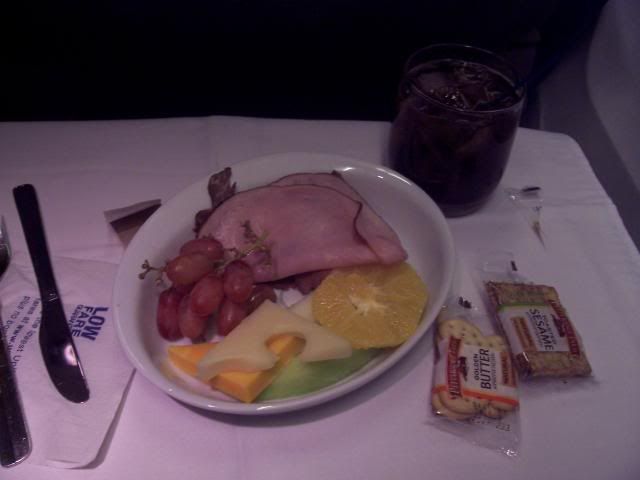 I got a refill on my jack and diet as the plates and napkins were being removed. I settled in with the new Artie Lange autobiography for the remainder of the flight. Somewhere around Altoona, PA I feel asleep only to be awakened by the captain making an announcement that we had been put into a hold over Harrisburg due to an emergency at PHL. He said that we could not circle for very long because we did not have enough fuel for this. I was just praying that we would not get diverted, because that just leads to massive delays.
After maybe 15 minutes, the captain announced we had been moved closer to PHL but were now going to be in a hold over Allentown and that was our new diversion point if need be. We did not make it even to Allentown because within 4 minutes the captain said we were diverting to Harrisburg and the flight attendants should prepare for landing. I believe we came down on runway 19 and headed to gate B2 (I think). We landed around 6:46 PM. The captain had no new information about what the deal with PHL was, but said that we would take on fuel and be ready to go as soon as we could.
The captain kept us as informed as he could with constant updates, which was much appreciated. He said that we had a wheels-up time of 8:08 so they would let us off the plane, but we had to be back at 7:40 PM. Now I don't know if you have ever been to MDT but there is not much there. We had bathrooms, a Starbucks, and a small sports bar-type place. I wandered around the terminal a little bit to see what was around. I overhead the gate agent say that 7 US planes had diverted to MDT. I also saw 1 Comair plane from either JFK or BOS that diverted, and 1 Pinnacle plane from MEM I guess? I left my camera on the plane so I took a picture of our plane at the gate on my phone.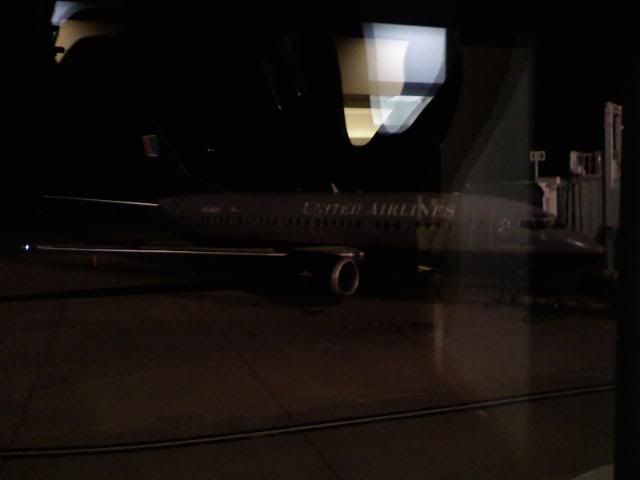 Since there wasn't much happening in the terminal, I headed back onto the plane and snapped some pictures of the empty first class cabin and the fuel truck.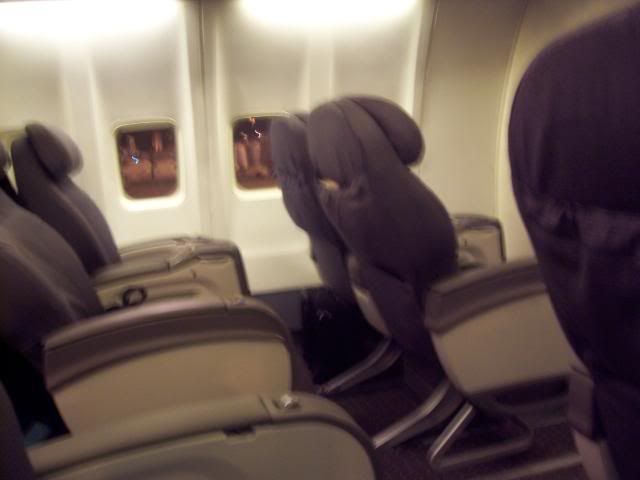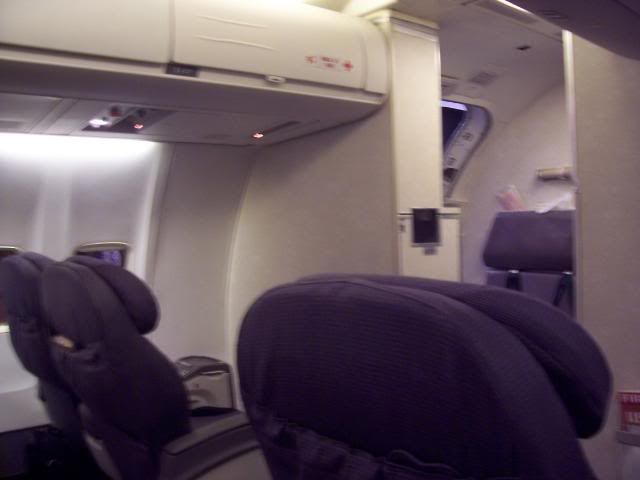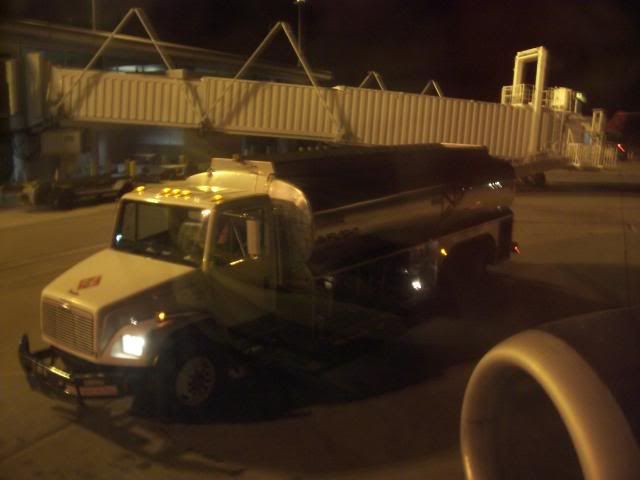 Soon the passengers meandered back onto the plane and we prepared for pushback. I overheard the gate agent tell the flight deck that 3 people decided to rent cars and drive to PHL. One woman, when she came back on, demanded to speak to the captain. She asked him how much fuel we were taking on board. The captain replied 13,000 pounds. She asked whether that was enough for us to circle for 3 hours above PHL after we take off. The captain kind of paused and said, "Well, if we take off we are going to land. I am not going to take off if we cannot land." The woman didn't really believe this, but went on her way to her seat. I found this a very interesting exchange and glad the captain handled it in what I thought was a very respectable manor.
At this point, I saw my seatmate's boarding pass and it said Global Service. So I began talking with him about his travel habits and job, etc. It was very interesting to meet someone with that status who was incredibly humble about it. He said it can get very embarrassing at times. For example, in Japan he was about 10th in line for the first class/GS boarding lane. A woman was walking down the line to ensure everyone was in the correct line. She stopped at him and told him he had to go to the front. He said, "No, it's fine, I'm so close, its fine." And she basically ordered him to board first. It sounds great to us minions, but I can see how it could be embarrassing. He also told me a story about his friend who actually got the captain's meal because he did not like what was being offered in business for their ORD-NRT flight. It seems United is more than accommodating for its GS's. The captain also let us know at some point that a plane landed at PHL with the landing gear not extended. He did tell us that no one was hurt though. I later learned that it was an Air Wisconsin CRJ from Norfolk with only 3 crew on board.
We pushed back around 8:05 PM for the taxi to runway 19. I tuned into channel 9 since, for the flights from SNA-ORD and ORD-MDT, it was off. I was happy to hear it was back on. The Pinnacle plane was in front of us under the call sign "flagship", which sounded kind of cool over the airways. We got to the runway and both our flight and the Pinnacle flight were told to shut down our engines. Due to PHL opening back up, there was gridlock with too many flights coming in. Great….
The Purser was really great at this point, offering the passengers in first a drink because who knew how long this delay would be. We got clearance to start up our engines around 8:30 PM, though, and waited for the Pinnacle flight to take off before taking off at 8:40 PM. We got up to 11,000 feet for maybe 20 seconds before beginning our approach into PHL. It was a very quick (about 20 minute) flight, and we landed on 27R at about 9:09 PM -- almost 3 hours late. The line for take offs at 27R had to have been 10-15 planes, with more planes pushing back from the gate. With only 1 runway in use, PHL was truly a mess. I'm glad I was not trying to leave -- it probably took some flights hours to get out of there. I have included the Flight Aware map of our flight just because I found it interesting.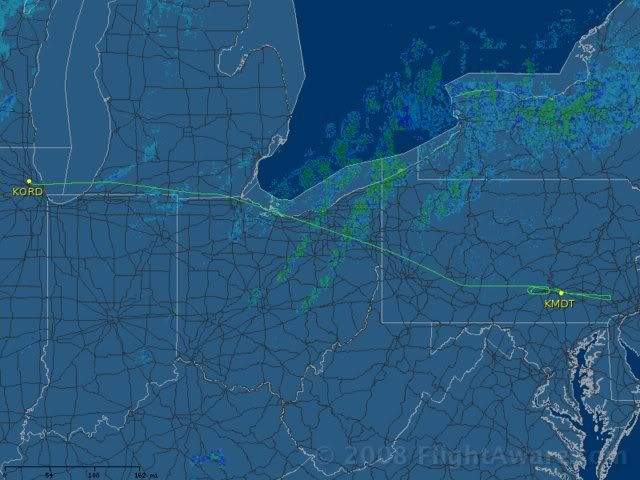 That ends my last flight of 2008 and subsequently the 100th and 101st flight of my life. I have a MR booked for January on United up to SEA, and am trying to work out a long weekend in TPE in February for a wedding. So more TRs in the future planned. Thanks for reading, and happy New Year!