Dear AirTran and Delta,
I'm sorry I cheated on you with US Airways. I've learned my lesson.
Love Always,
Me
Friday, 5 December 2008
US Airways Express operated by Mesa Airlines
US2647 ORF-CLT
Bombardier CRJ-900 N923FJ
Scheduled departure/arrival: 09:24 - 10:49
Pushback: 09:21 Gate A6
"Flights to Charlotte are on a 20 minute hold" starts: 09:30
Engines restarted: 09:56
Wheels up: 10:02 Rwy 5
Wheels down: 11:06 Rwy 18C
Arrival: 11:18 Gate E24
Seat: 12A
View Large
View Medium


Photo © Kyle Donagher
Just a couple of weeks before my flight, Norfolk International Airport had made this big announcement and there were lots of news stories about how "getting through security will be a lot easier..." because of the three types of security lines (family, casual traveler, expert traveler) and there's all these signs at the airport about them. Predictably (this is Hampton Roads, after all) they only had one line open so everyone got sent through the "family" line. They must have learned from Wal-Mart: Build 40 checklanes, never ever have more than three open at a time.
My last experience on US Airways was two years ago and at the time I flew on three CRJ200s. The CRJ900 is an improvement over the CRJ200, but that's not saying a lot. The overhead bins are a little bigger... my small duffel bag won't go in the overhead of a -200 but just barely fit (with much shoving) in the -900 overhead. Still, I guess I'm spoiled by the giant overhead bins AirTran uses.
The windows on the -900 are also positioned better, except that Mesa has the seats lined up in exactly the worst possible place, because only every other "window" is actually a window and they line up perfectly with the your shoulder, leading to this view: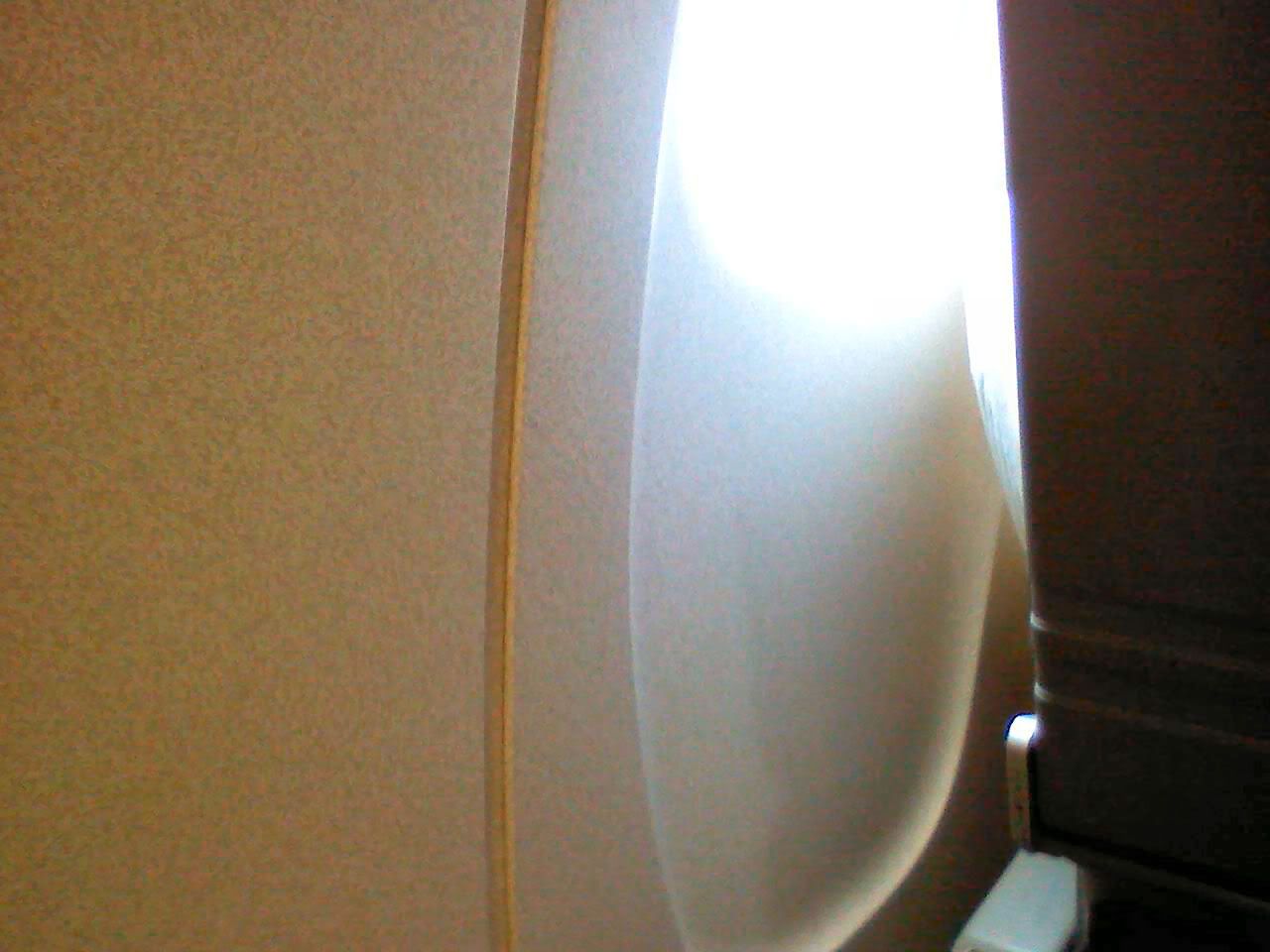 The flight was relatively full and we pushed back on time, but taxied
very
slowly to the end of 5. Just before we got there, the captain told us that all Charlotte traffic was on a 20-minute hold. We got to the runway threshold and stopped, shut off the engines, and sat for 26 minutes before we heard one of the engines restart. A couple of minutes later the captain told us we were getting ready to go, and we waited for two GA planes to land on 5 before we lined up and took off. Once airborne, we climbed to just 22,000 feet and the beverage service began. $2 for a soda, and no snacks... not even for sale. No problem, I had breakfast and should have had a few minutes to grab a snack in Charlotte before boarding my Tampa flight. Except that we were so late getting to Charlotte that I had to run from the far end of E to the far end of B to make my connection.
US Airways mainline
US1021 CLT-TPA
Airbus A321 N?????
Scheduled departure/arrival: 11:30 - 13:12
Pushback: 11:34 Gate B14
Wheels up: 11:52 Rwy 36C
Wheels down: 13:10 Rwy 18R
Arrival: 13:14 Gate F84
Seat: 28F
During our final descent into Charlotte, the FA was announcing gate assignments for connections (this is when she said we would be parking at "E30" even though I can't find E30 on any CLT terminal map, I think we were at E24) and then said "don't worry, if we're late chances are your connecting flight is also delayed." So
of course
I was on the one flight leaving on time. Figures. Navigating around several thousand people who were in no particular hurry, I finally made it to gate B14 right at 11:30, and was among the last 4 passengers to board. Which was disappointing, because this was my first Airbus ever and I wanted to at least get a good look at her from the concourse before boarding. As it was I was so rushed I couldn't even tell you whether she had blue paint or white paint.
After the safety demo we were in the air and they brought out the drink cart, and still no snacks available. At this point I would have gladly forked over $5 for a bag of chips. But they only sell snacks on flights longer than 2:30. A $2 Sprite later I settled in and started to take in the A321 interior. Okay, reasonably comfortable seats and not-unpleasant cabin. Then I looked up at the air vents and noticed the lack of a lighted "No Smoking" sign... in its place was a "Turn off electronic devices" sign. And I remember thinking "That's brilliant!" Honestly, not smoking is a given on planes these days and that directive can be permanately posted somewhere, you don't ever need to turn that sign off so why bother with it? Just print it on the back of the seat in front of you along with the "fasten seatbelt while seated" order. Which it was on the A321. Meanwhile, up above is an indication of when it's okay to use your iPod and when you should put it away. Genius! Since this is my first Airbus flight ever, I'll put this question to the peanut gallery: is this a US Airways thing or an Airbus thing?
On my last mainline US flight a few years ago, the FA gave a rather desperate-sounding sales pitch for the US Airways MasterCard, so I was expecting that this time. It didn't happen, in fact there was little interaction with the FAs at all on this flight. They weren't rude or anything... I will say this about all of my flights on this trip: both the mainline and Mesa crews were professional and courteous. But US Airways (East) still has that stuffy corporate boardroom feel to it. After all those years being headquartered in DC I guess they can't help it.
We touched down smoothly on 18R and had a short taxi to Airside F. I quickly found a fast food restaurant and had lunch. My ride was running late so I had about 45 minutes to kill and after not having time to get any grub in Charlotte I was pretty hungry and food trumped spotting. I pulled out my laptop and tried to check my email, only to find that the "free WiFi" at TPA wasn't working. Anywhere. I tried it in several different places and was able to connect to a router but not get to the Internet. Never mind, I'm on vacation anyway.
Monday, 8 December 2008
US Airways
US1128 TPA-CLT
Boeing 757-200 N920UW
Scheduled departure/arrival: 10:25 - 12:02
Pushback: 10:35 Gate F86
Wheels up: 10:45 Rwy 9
Wheels down: 12:00 Rwy 18C
Arrival: 12:18 Gate B7
Seat: 29A
View Large
View Medium


Photo © Michael Licko
On a very cold (for Florida) Monday morning I made my way back to the airport and took an absurdly short train ride out to Airside F and went through security. Last year when I visited TPA I went through one of those x-ray booths that shoot air at you. But that was a different concourse (A, I think) and F only has metal detectors. I bought a soda at the newsstand and then found my gate and tried again to use the WiFi. It worked this time and I sent some of my long weekend pictures to a couple of people, then got out my book and read until boarding. I was in zone 3 but after they called zone 2 there was a few minutes' delay before continuing. Then, in the middle of zone 3 boarding they sent a woman in a wheelchair down the jetway. Normally if you are wheelchair-bound and are not present for pre-boarding, they board you last to avoid just the sort of backup that this caused. The man pushing the wheelchair basically deposited her at the aircraft door and then left her to get herself on the plane. Because the woman needed assistance to get to her seat, and there was only one flight attendant at the doorway, the FA asked the woman to sit in the first row by the door until everyone else was aboard and there was a flight attendant available to assist her. Holding her at the gate until the rest of the herd was aboard would have made it easier on her, the flight crew, everybody.
We pushed back about ten minutes late and waited in line for runway 9 for another ten minutes before taking off. The usual rocket 757 takeoff, we were at cruise in no time and I went back to my dead-tree IFE. This time, we did get the FA begging us to apply for a credit card, and pushing their inflight shopping magazine... "If you make a purchase during this flight you get yada yada just ask for an inflight order form blah blah please give us your money..." Anyway, this particular 757 flight means I have now been on three different airlines' 757 fleet: AA, DL, and now US. This one seemed much older, at least the interior did, than either AA's or DL's 757s.
I brought a snack with me this time so I had the energy I needed to make another sprint across 4/5ths of the entire length of CLT to catch my connection to Norfolk. Even though we landed on time it took 18 minutes to taxi to B7. Still, I should have had half an hour to get to E12. Except that I was near the back of the plane and it took nearly 15 minutes for me to make it to the door. So I started sprinting through CLT
again
and made it to the escalators where E splits off from D... and there were about five or six motorized carts there all trying to go a different direction, creating gridlock. Instead of the drivers deciding one of them should go first, they all tried to go at the same time. One of them nearly ran over a pedestrian. It was a mess, and they were blocking all access to the stairs and escalators.
US Airways Express operated by Mesa Airlines
US2624 CLT-ORF
Bombardier CRJ-900 N?????
Scheduled departure/arrival: 12:54 - 14:02
Pushback: 12:55 Gate E12
Wheels up: 13:00 Rwy 18L
Wheels down: 13:44 Rwy 5
Arrival: 13:45 Gate A4
Seat: 10F
9D
Once I finally made it around the traffic jam and down the stairs, they were announcing the final boarding call for 2624 to Norfolk. As I approached the gate, the CSA yelled out "Norfolk?" I yelled back "Yes!" At this point it's still 12:45, departure is still 9 minutes away, but when I got to the gate the agent acted like I was holding up the entire airline. "Hurry up, they're ready to leave". So I make it down the stairs, across the ramp and up the steps into the CRJ, where a FA was blocking the path to 10F. I made the usual pointing motion to indicate that I was assigned the window seat, and the man in 10D shook his head
and the flight attendant pointed at 9D and said "just sit there." Okay, fine, I'll sit in 9D. As it turns out, despite the gate agent making me feel like I was the slowpoke ruining her dispatch, I wasn't even the last person on the flight. One more passenger boarded 2 minutes later, and guess what seat was printed on his boarding pass? 9D, of course. The FA pointed at 8C and told him to sit there.
Despite all this, we actually pushed back on time and were "first in line for takeoff" so there was no delay getting airborne. I still had half of my bottle of Sprite from the newsstand at TPA so when the beverage service started I asked for just a cup of ice. "That'll be a dollar" the flight attendant cracked, then smiled and waved it off, handing me a complimentary cup of ice. In the air less than 45 minutes, we landed 17 minutes early and made a quick taxi to A4.
So, how to I rate this one? Somewhere between the low end of "Meh" and the high end of "Ugh!". It didn't completely suck but it wasn't much more than just transportation, even for an airline geek like me. The positives: courteous, professional flight attendants; the A321; on-time arrivals despite the best efforts of the inbound flights to delay things; not connecting in PHL not getting stuck on a Dash-8. The negatives: pretty much everything else. I really, really wanted to enjoy these flights particularly since I got to add two new aircraft types to my list (CR9, A321) but the whole thing was a big disappointment. What little bit of CLT I got to see as I was running past it at warp speed looked nice, and they are apparently building a third parallel runway so maybe those ground stops won't happen as much. But my overall opinion of US Airways has dropped considerably. It's been what, three years since the merger? They apparently still don't have it together.
I miss Piedmont.