It's taken me a while to get around to this report so some of the details are a little sketchy, however the basics are here so hope you enjoy the report.
Having arrived on AA270, we had a 5 hours to kill before our flight to London, we could have had a shorter connection, but being a plane spotter, a longer layover in LAX was a must.
After a coffee in the terminal we headed out to the car park roof next to the TBIT, spending close to 2 hours there, weather was perfect & I made 25 new planes for the log, not bad for a couple of hours.
Nic was happy reading her book.
07.09.08 BA268 747-436 G-BNLM 62A
2nd Flight on this aircraft & 16th 747 Flight
SCH DEP 21:15 SCH ARR 15:30
ACT DEP 21:14 ACT ARR 15:13
View Large
View Medium


Photo © Ryan Hemmings
We headed into the terminal and I decided to check if BA wanted to change our AA issued boarding passes for BA issued ones, it turned out they did, so good move to get it out the way now.
Departures board
TBIT is slowly being renovated, at least the check in desks: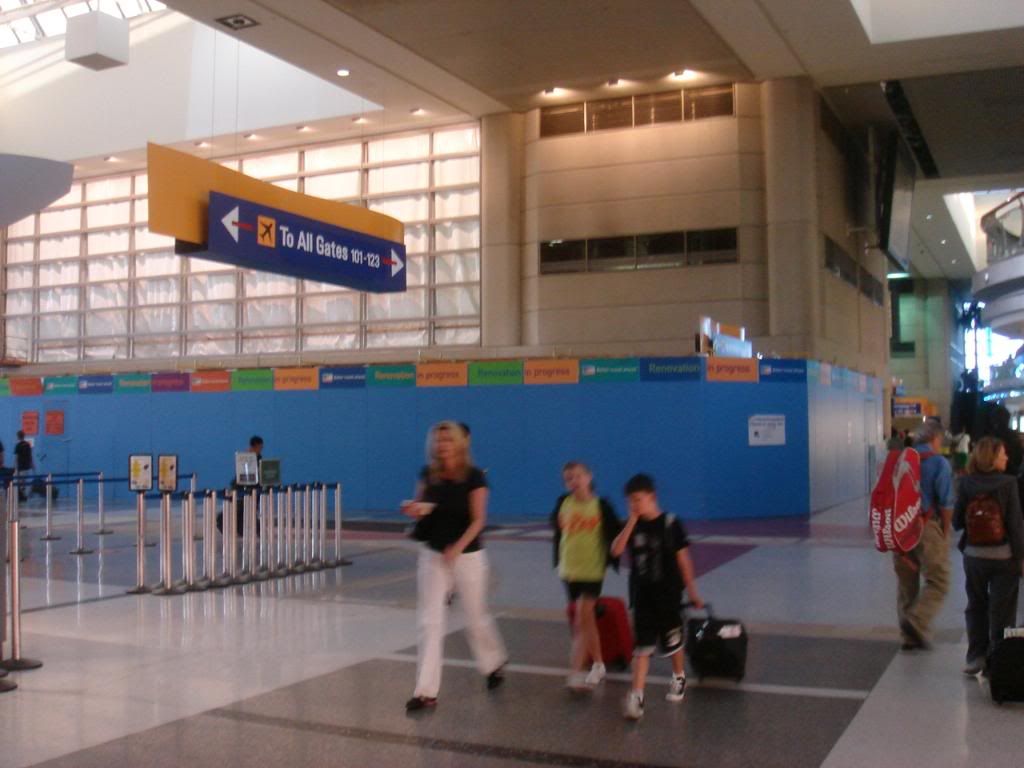 The new ones are a big improvement over the old ones: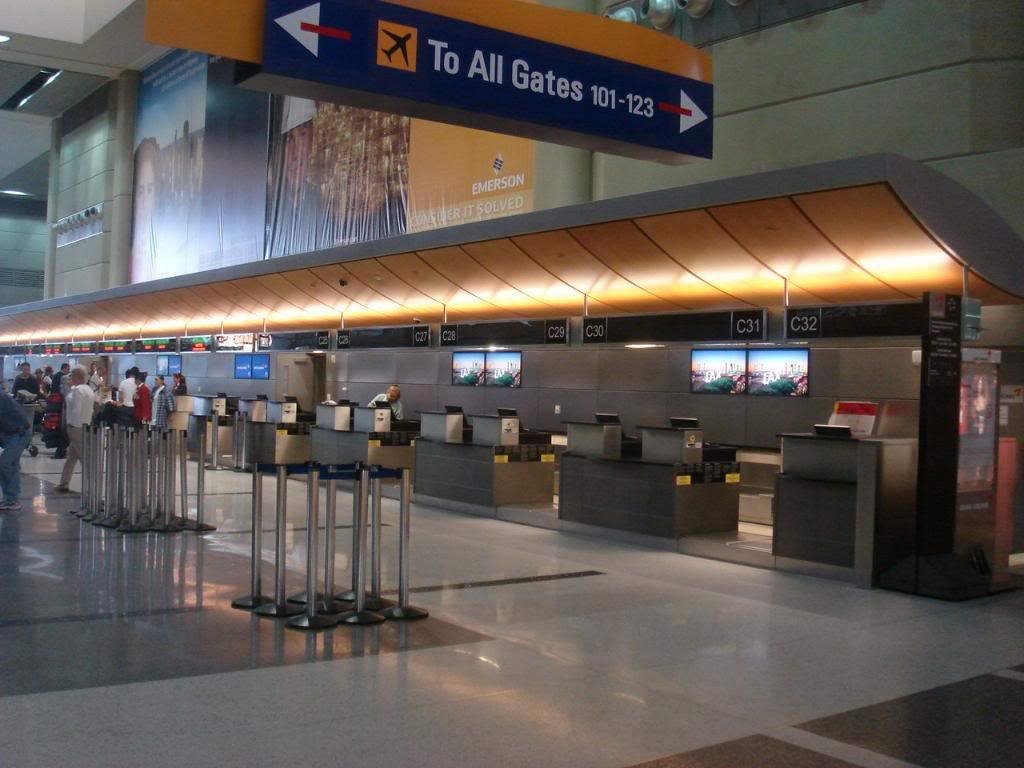 LAX (as with most US airports) has yet to latch onto the Duty Free possibilities, it compares poorly to airports in Europe and Asia in choice of goods for sale, so after our quick browse and purchase of a couple of bottles of Wild Turkey, it was time to head to the lounge.
Oneworld have a joint lounge in LAX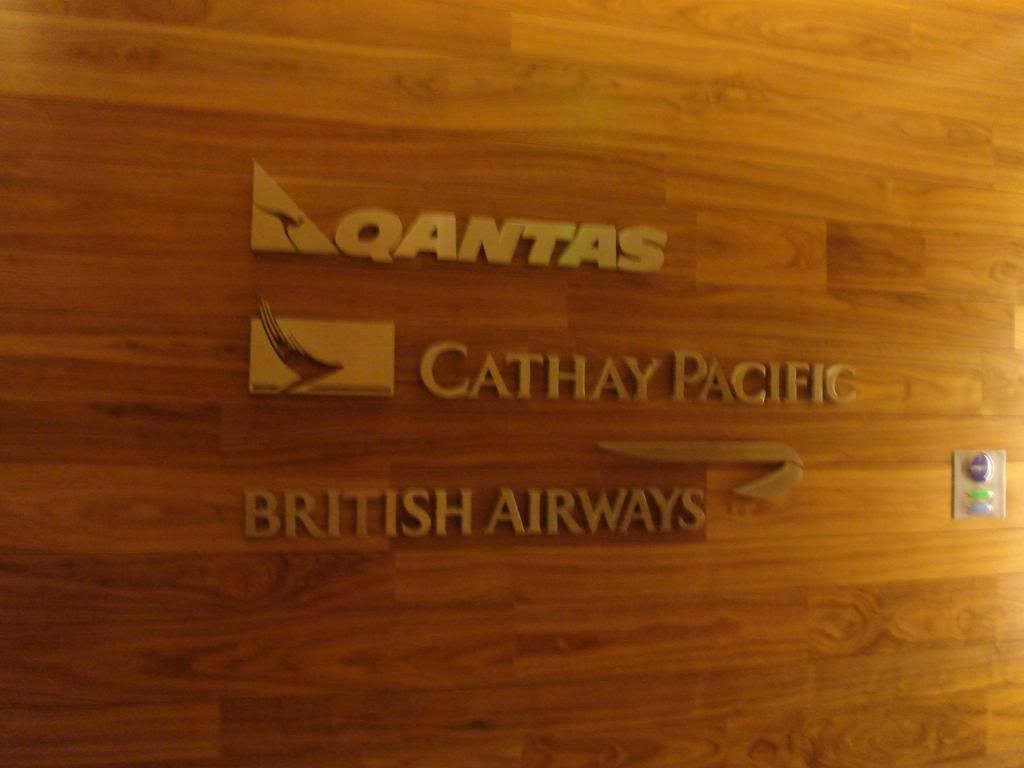 I can say it is a vast improvement over the previous facility BA used. Plenty of computers, relaxing seating, showers, drinks and various hot & cold drinks provide you with distractions to pass the time.
From my view point, the lack of windows in the Business section was a shame, I do like to see the ramps etc.
Had a freshen up and grabbed some snacks, soup and had a few glasses of Champagne.
Lounge & toilet view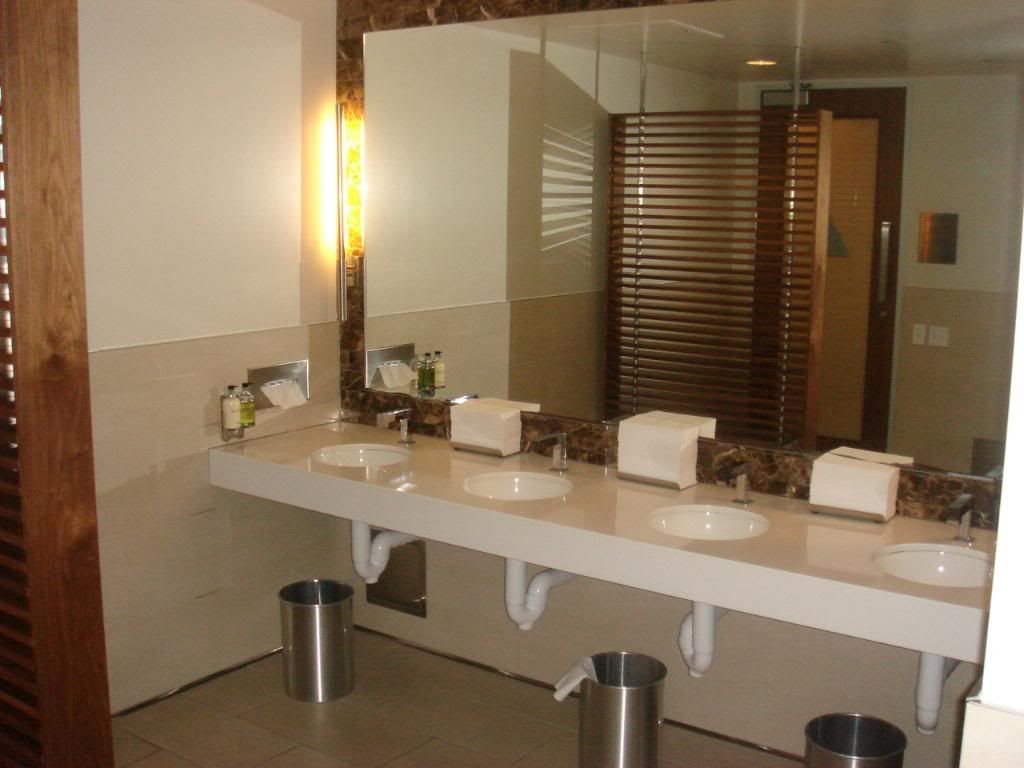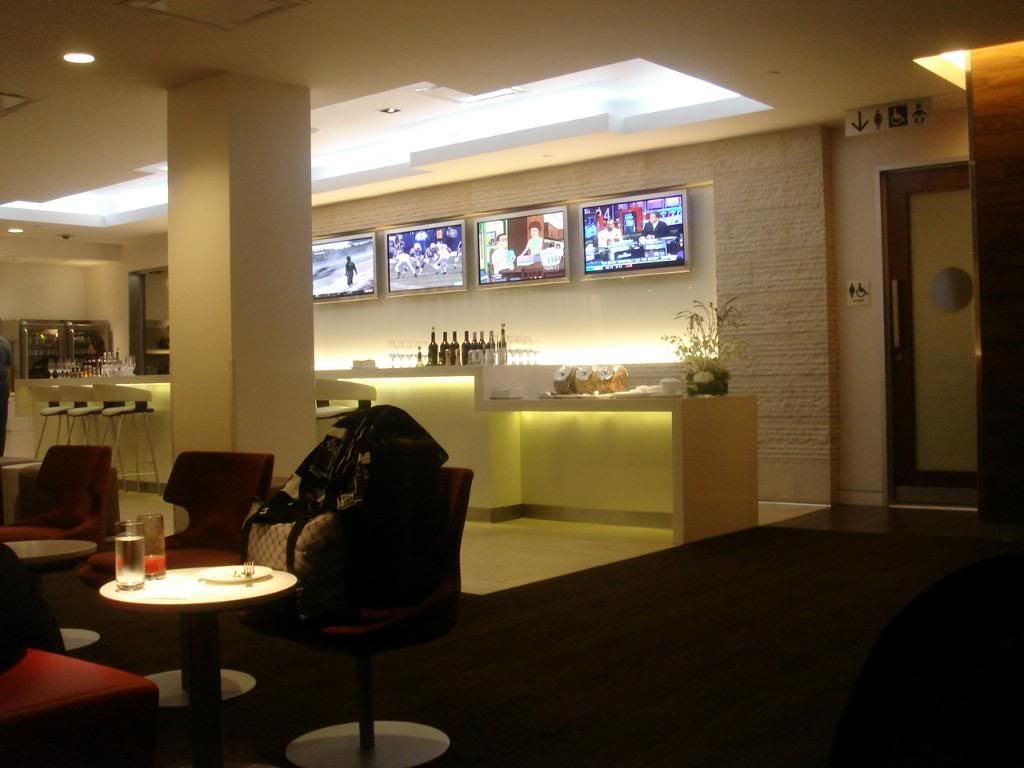 Not many departures to go tonight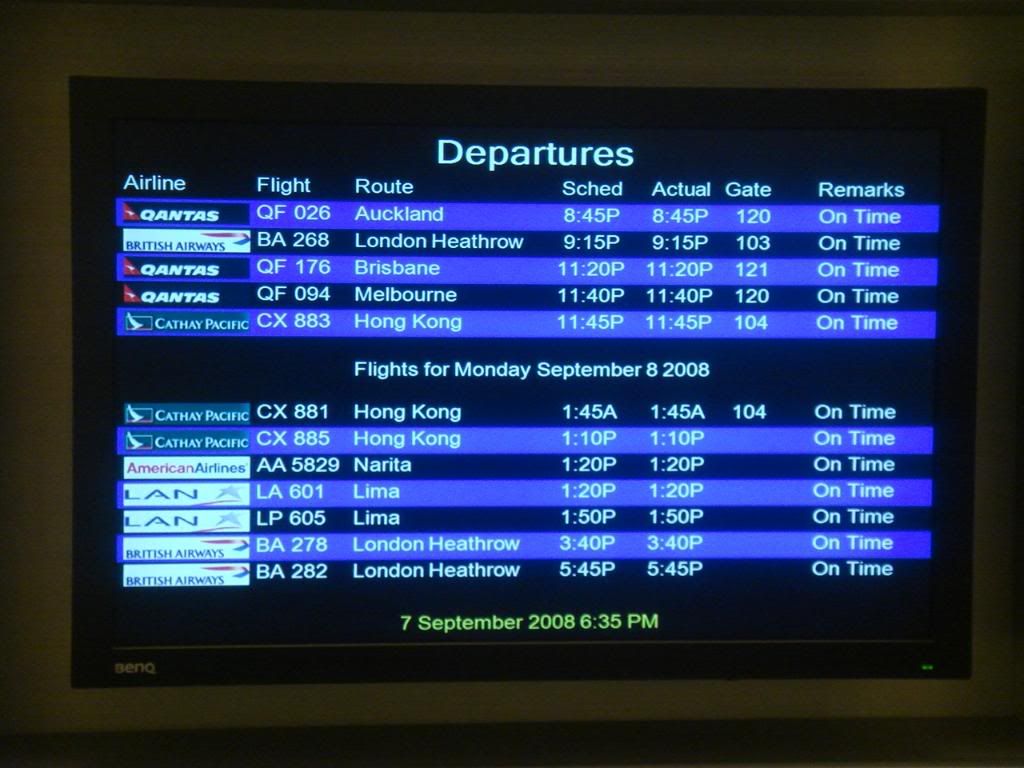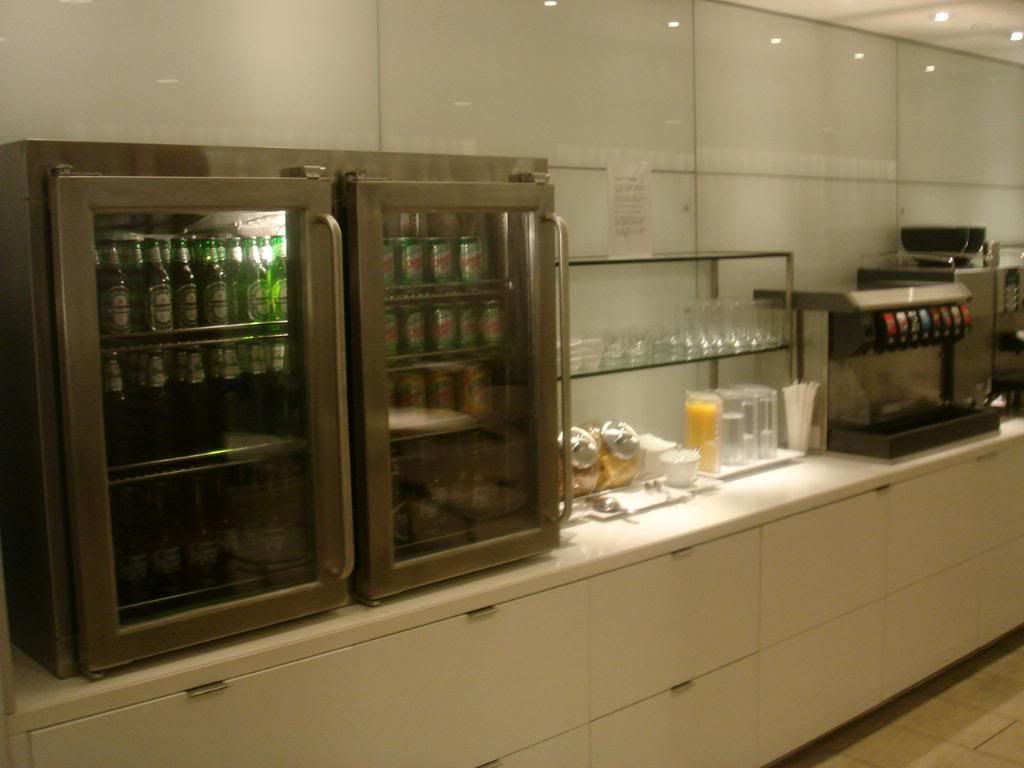 Chicken Noodle soup, very nice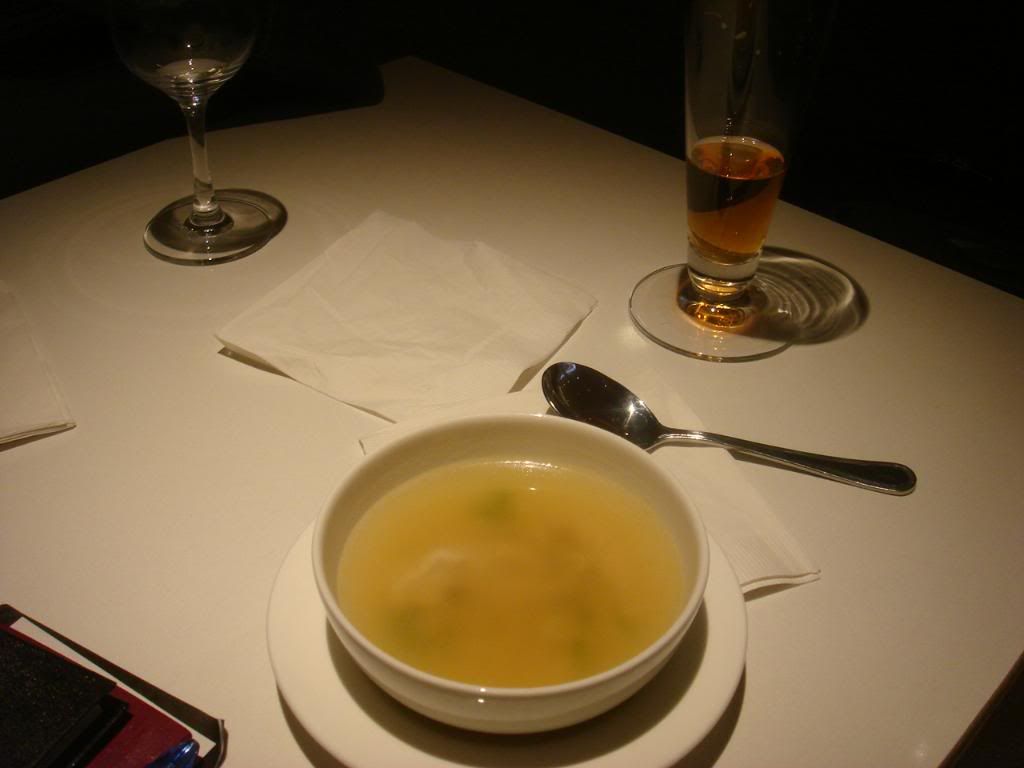 Boarding was called at 20:42, the departure gate tonight being 103 – the gate area looked busy when we arrived but headed to the priority line to by pass the masses.
A nice friendly welcome aboard as always, up the stairs and to our allocated seats, 62A & B.
View from 62A.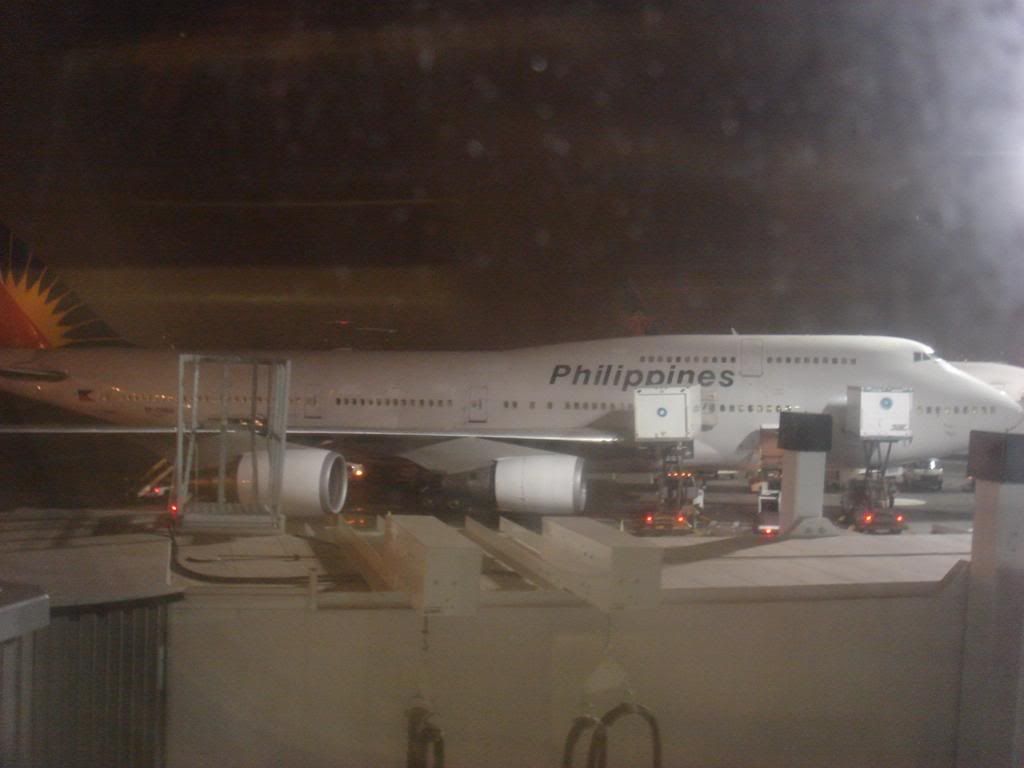 The usuals were offered, OJ, Water or Champagne, took the latter – amenity kits and menu's were also passed out.
Safety video
Push was slightly early
though we had to sit at the end of the taxiway as the final weight & balance figures has not been approved – funny, never happened to me before today, same thing occurred with AA270 earlier in the day, amazing!
Holding pictures
After departure
the crews were quick to start drinks and the meal service to allow as much sleep as possible.
I took the Fresh seasonal salad as the starter and the Asian beef for main – the beef was really tender, may not look much but it was really great.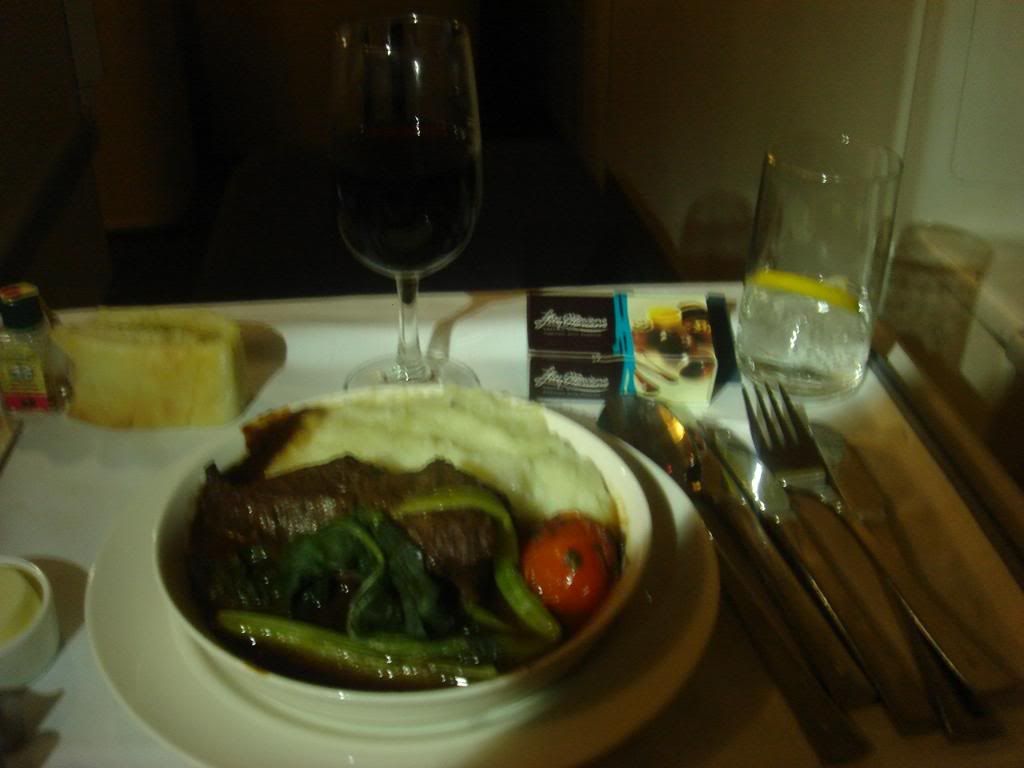 The meal was washed down with a few glasses of a tasty red, don't remember which one now.
I managed a good 5 to 6 hours sleep, had a wander downstairs, Club was full on both decks, WTP was full and Y was almost full, pretty amazing, this being the 3rd and last BA flight from LAX today.
Tatty cabin
Breakfast was served, the fruit was nice and fresh, the bacon roll was good too though no full English I had hoped for, but given it was now afternoon local time, I guess it makes sense.
Descent began
heading in over London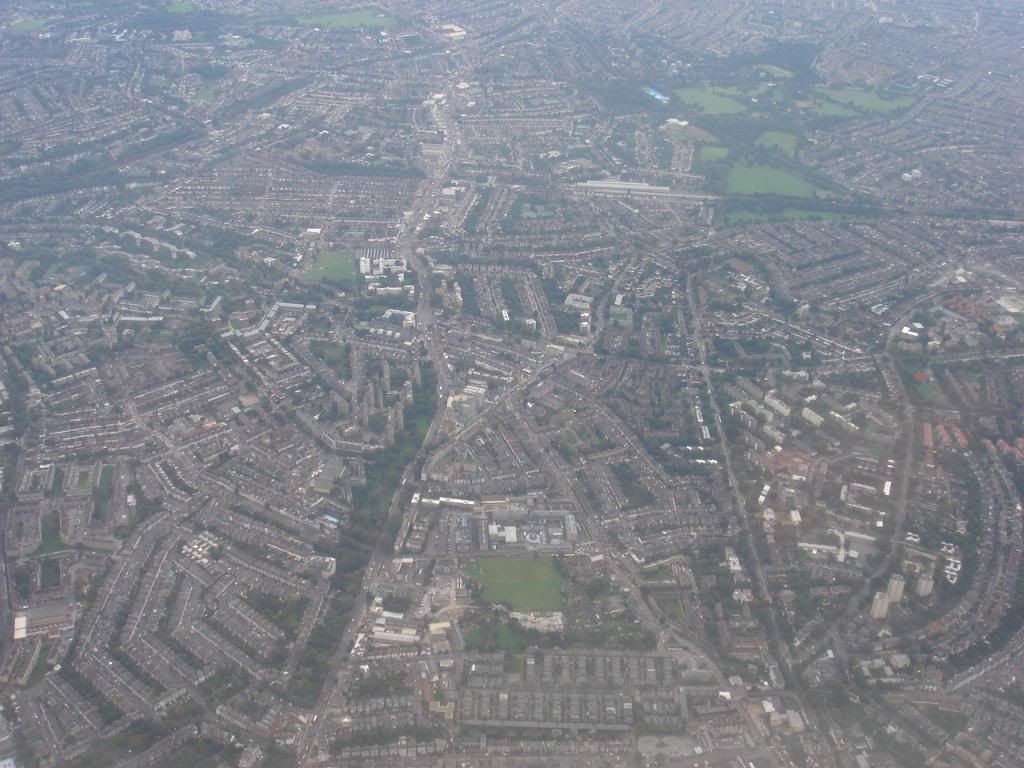 for arrival on 27L, touchdown at 15:13, 17 minutes ahead of schedule.
BNLM took a short taxi to T5B and before we knew it, our travels were over as we left the plane.
Immigration was pretty quick as was the baggage – none missing either!
BA were once again excellent, really enjoyed their flights and the comfort of sitting in 62A – this and 62K are the best J seats.
As I pointed out before, the 747 fleet is looking a little tatty in areas, a shame really as the service and product are excellent. They may not have the bling bling of EK & EY for example, but the service is consistent, something those carriers cannot manage.
Hope you enjoyed, pls feel free to drop comments or questions, will answer where possible.
Kind Regards
BA319-131 - Mark