Last month I joined the mass exodus of Embry Riddle students to and from Daytona Beach at Christmas break. I still haven't quite figured out how Delta fills four flights a day out of Daytona, but around Riddle's breaks, they couldn't have enough capacity. My departing flight out was the early-morning MD-88 on December 11th, and even this crack of dawn departure was 100% full.
I had booked my flight with Delta almost four months in advance, allowing me to find a round trip fare for even less than competing low cost carriers out of Orlando. Even with the shuttle to Orlando that Riddle provides, Delta's advance fare made it worthwhile to fly out of the often expensive Daytona Beach airport. This also gave me the chance to experience Delta mainline equipment into Portland, a rarity in the past few years of all-CRJ service to PWM.
KDAB-KATL
Flight # DAL782
Equipment:
MD-88 (N977DL)
Scheduled Departure:
07:05
Actual Departure:
07:05
Scheduled Arrival:
08:00
Actual Arrival:
08:05
The end of the semester at school left me eager to get on my way and get into the air. I ended up arriving at the terminal almost two hours in advance of my flight. This was a mistake on my part. I should have taken advantage of the size of the Daytona Beach airport, and gotten an extra hour of sleep. The check in line was two people long, and security was equally quick. (The TSA officials at DAB's checkpoint were genuinely helpful. Probably a byproduct of only screening a few hundred people per day.) For being so low-traffic, DAB's terminal facility has a very big-airport feel to it, but with everything being maintained to the standards of Orlando to the south. Just smaller.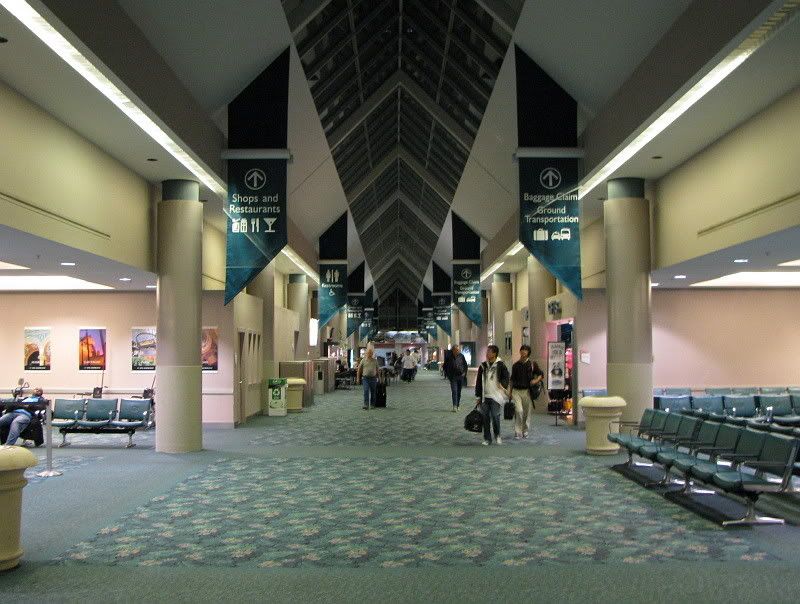 DAB's small terminal. (yep, this is pretty much all of it)
The early morning darkness made any spotting difficult, although there were only two planes at the terminal to see. (my MD-88, and a US Airways CRJ heading off to Charlotte) I settled in at the gate area (along with a few dozen other Riddle students) and awaited boarding.
Almost a half hour before the scheduled departure, boarding began with pre-boards and first class, and proceeded with boarding zone groups. Delta has split boarding into almost a dozen "boarding zones" which entirely makes sense, but when they call groups three at a time it sometimes makes me wonder why they don't just cut down the number of groups by a third.
I boarded with zone four and took my seat in 31E, a window seat in the back of the aircraft just across the aisle from galley/rear door. Sitting near the back of the MD-88 gave me a new perspective of how long the plane really is.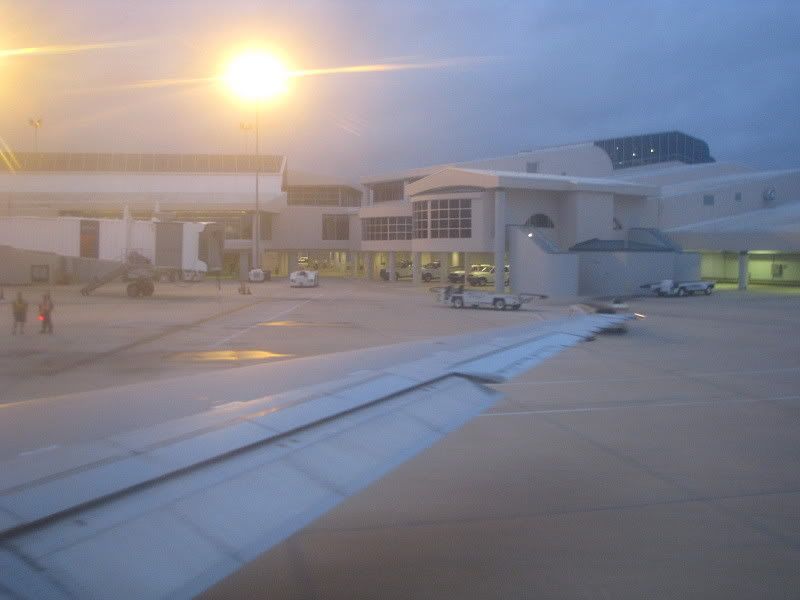 View out the window just before pushing back from the gate.
I attempted to take a few photos of the Riddle campus at the Daytona Beach speedway out the window, but it was too dark and too bumpy to get anything more than a blurred mess of colors. We took off of Runway 25R, taxiing past the quiet Riddle ramp, and rotating right next to the speedway.
Climb out was uneventful, and the Flight Attendants quickly came around with drinks and a choice of peanuts and biscoff cookies. Although Delta does not offer the whole can of soda, their cups are much larger than the traditional airline cups. Even though they are mostly filled with ice, it gives the impression of getting more than usual.
I chose the peanuts.
Approaching Atlanta conditions became increasingly overcast, and when we broke through the clouds approaching ATL it was quite rainy below.
Taxiing to the gate was much quicker and easier than I expected. With ATL being the busiest airport in the world, I expected a long taxi and wait to get to the gate. Instead, everything was extremely streamlined, and we arrived at the gate without having to stop a single time.
My connection to Portland left me a little more than an hour in Atlanta, and having little knowledge of the airport layout, I quickly made my way to the connecting gate. Upon arrival, a flat-screen monitor displayed the connection information for all passengers on the arriving flight, making it unnecessary to go find any further display screens.
After a quick ride on the underground tram, I made my way down the seemingly infinitely long concourse to gate A3, where my flight to Portland would be departing in a half hour.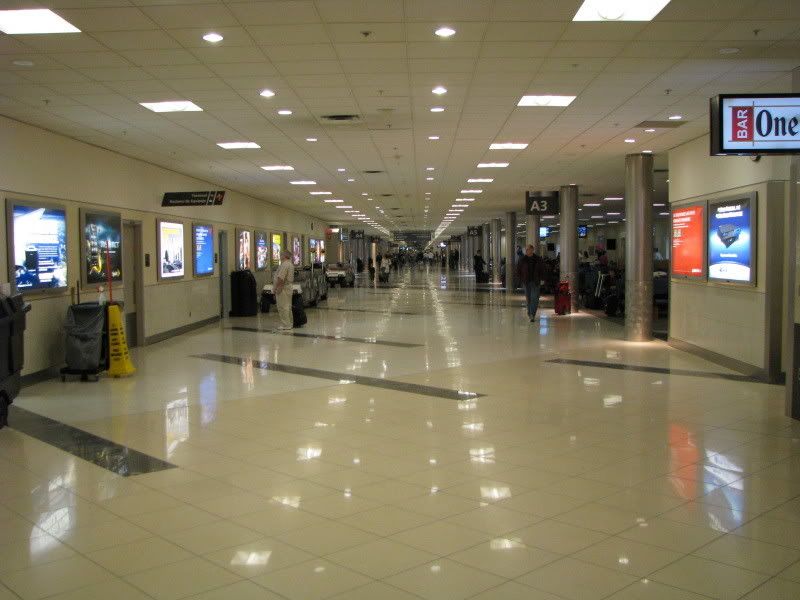 One of ATL's endless concourses
KATL-KPWM
Flight # DAL1647
Equipment:
MD-88 (N909DL)
Scheduled Departure:
09:30
Actual Departure:
09:30
Scheduled Arrival:
12:05
Actual Arrival:
11:40
With all the rain being blown into the windows, spotting was made quite difficult, which was quite unfortunate with the wide variety of aircraft in Atlanta to see.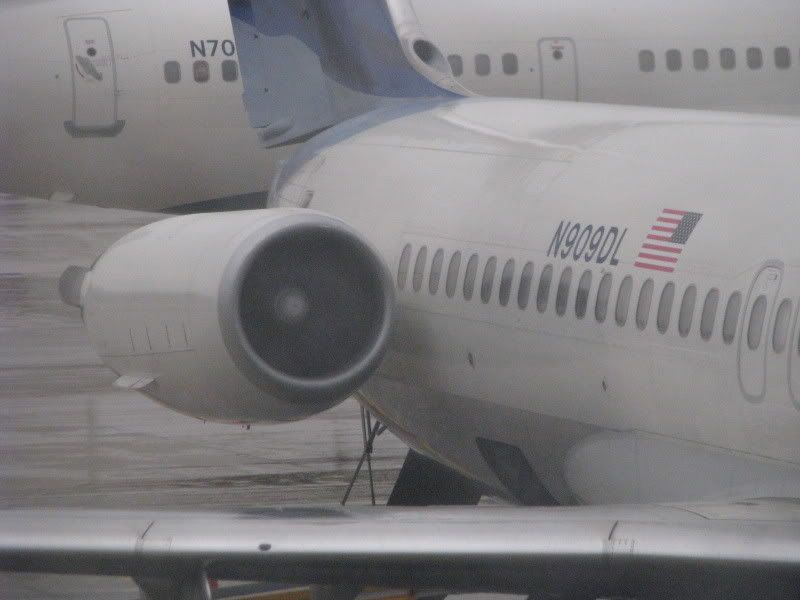 The aircraft to take me up to PWM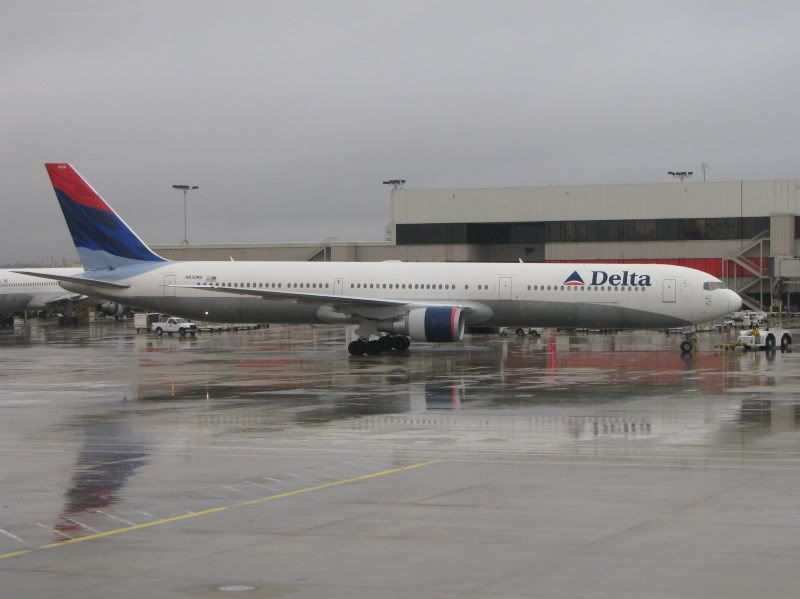 A 767-400 departing the opposite terminal, as seen through one of the few clear windows around.
For the flight up to Portland, I took seat 14A, a window seat quite close to the front of the plane. On this flight, in addition to the complimentary drink and cookies, a buy-on-board meal service was offered. The options included a chicken salad, generic chips/cookies, or a turkey sandwich. I went with the turkey sandwich. It wasn't a
bad
sandwich, but for $8 I would have expected slightly more. In an attempt to be "gourmet" the sandwich featured a sun-dried tomato roll, which had the potential to be quite tasty. Instead, it was a roll with gobs of tomato paste on top, leaving soggy bread underneath. After I got past the tomato, it was a good sandwich.
Thanks to some tail winds, arrival in Portland was almost 20 minutes earlier than scheduled. We broke out of the clouds right over my home town of Gorham, providing decent views on approach to Runway 11.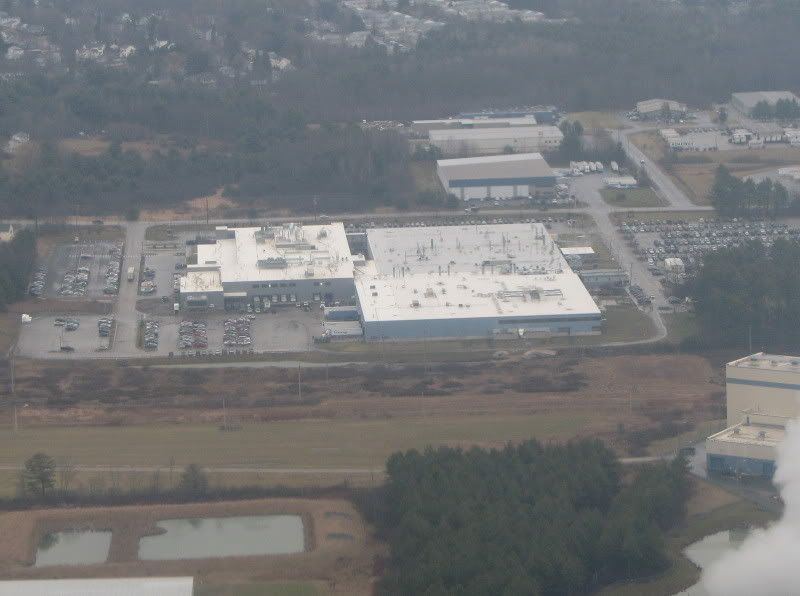 IDEXX Labs, my employer for the past two summers.
A video of the landing can be viewed
here.
With the early arrival, I was left with a good amount of time at the Jetport before my ride arrived. After a brief conversation with the first officer, I went outside to spot aircraft from the parking garage roof.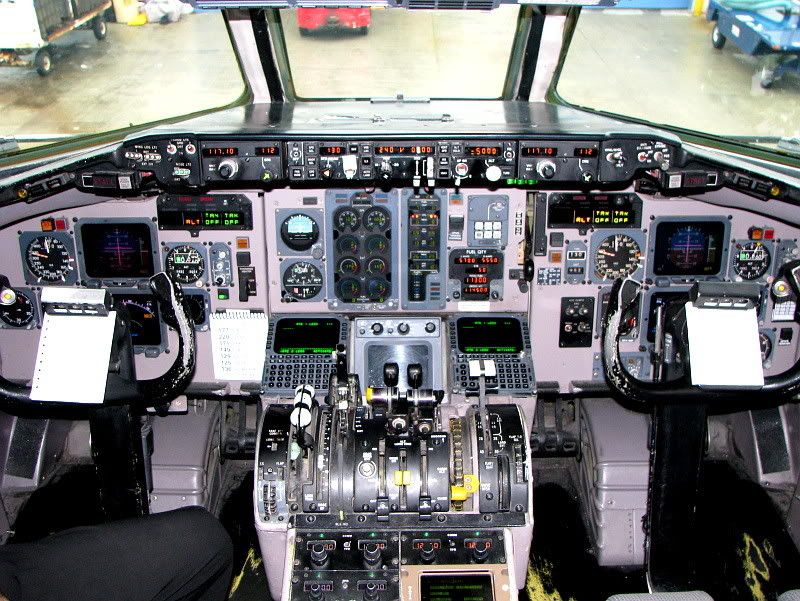 MD-88 Flight Deck
It seems that Portland's Air Traffic Control is in the holiday spirit.
After nearly a month of rest and relaxation with family a friends (and one instance of my girlfriend trying to kill me on the slopes of Sunday River), it was time to return to Daytona Beach on January 5th. My flight this day would follow the same route as my arrival (in reverse, of course), although it would eventually take nearly twice as long.
KPWM-KATL
Flight # ASQ5674
Equipment:
CRJ-700 (N753EV)
Scheduled Departure:
12:35
Actual Departure:
13:15
Scheduled Arrival:
15:50
Actual Arrival:
16:35
Since I didn't particularly want to leave my car parked at the Jetport for three months, I got a ride in to the Jetport with my father on his way to work, arriving at the airport nearly four hours before my scheduled flight. I didn't mind waiting at the airport this long, since there were planes to watch and things to do. Unfortunately, Delta didn't expect anyone to be arriving so early, so I ended up waiting almost 20 minutes before someone checked the counter and found me waiting to check my bag (on the plus side, I was the first in line to check in...)
The check-in agent was helpful though, and I was quickly on my way. Since I was wearing my Embry Riddle Flight Team jacket he mentioned that he was an FIT grad, and probably should hate me or something, but nonetheless he promptly got me on my way.
With four hours to kill, a laptop with Flightaware, and a newly purchased Airband scanner, I settled in for a morning of spotting. The first hour or so was slow, with only corporate jet traffic, but as time went by the traffic picked up.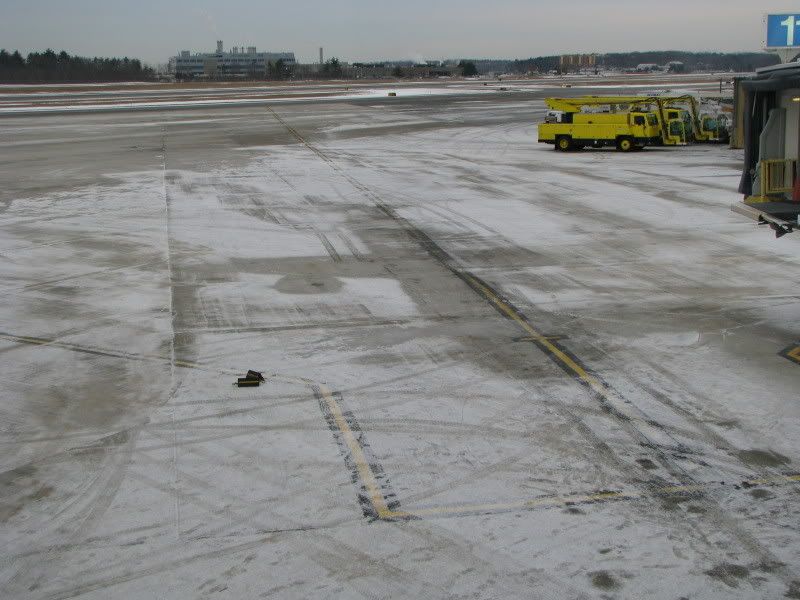 An empty gate, clearly showing where a plane had been parked the night before.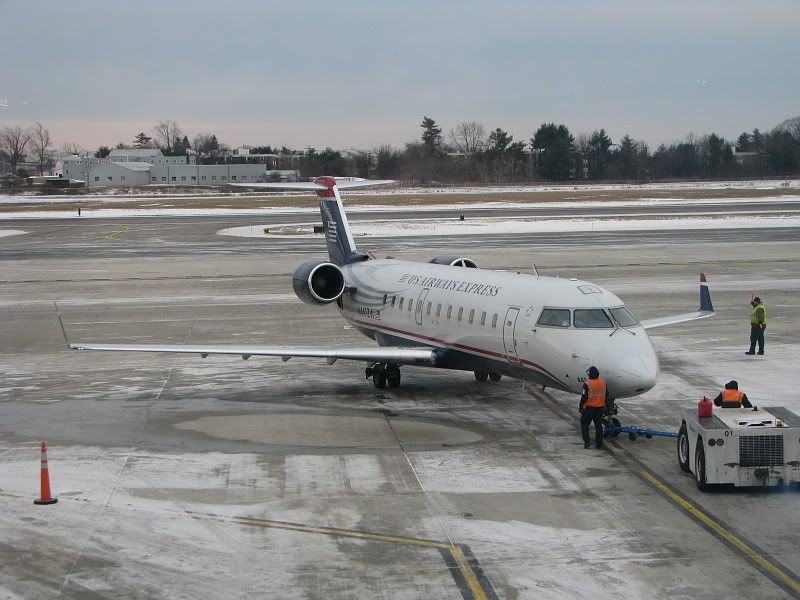 A constant stream of US Airways CRJs kept me moderately entertained.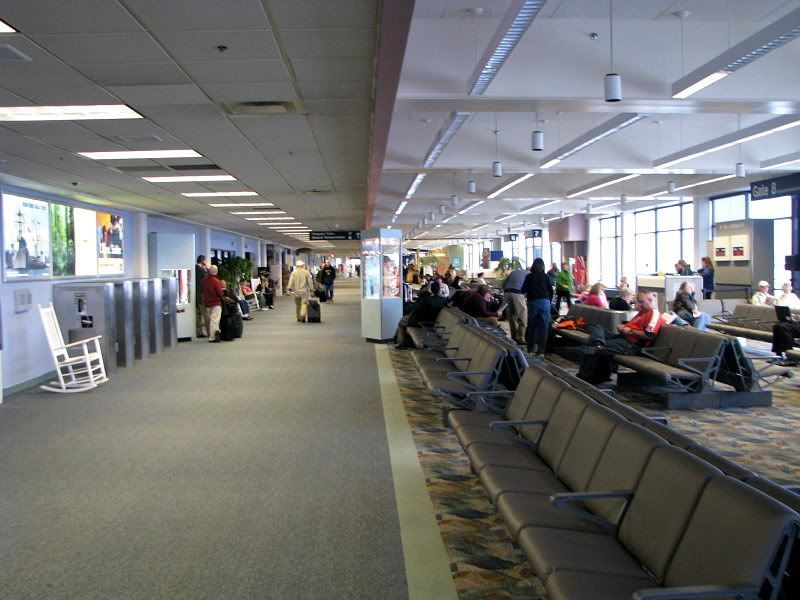 The terminal begins to fill up for the mid-day rush.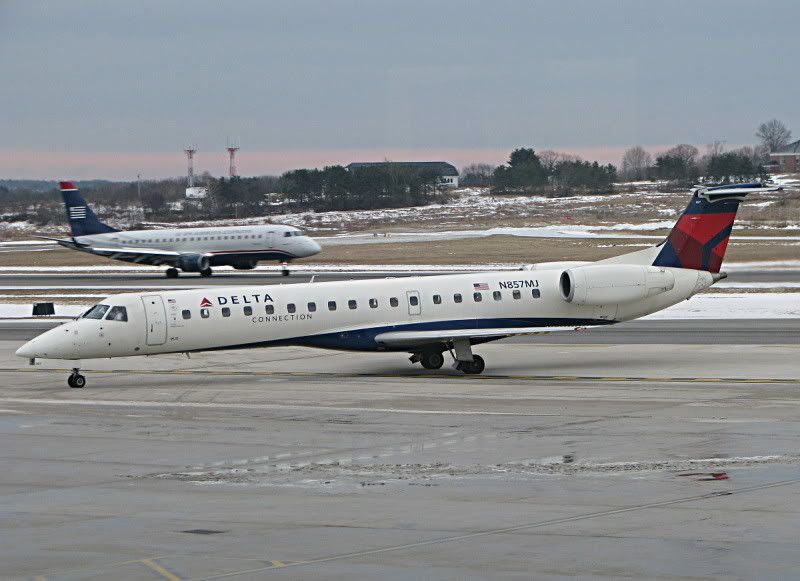 A Delta ERJ coming in from JFK, with an E170 caught landing in the background.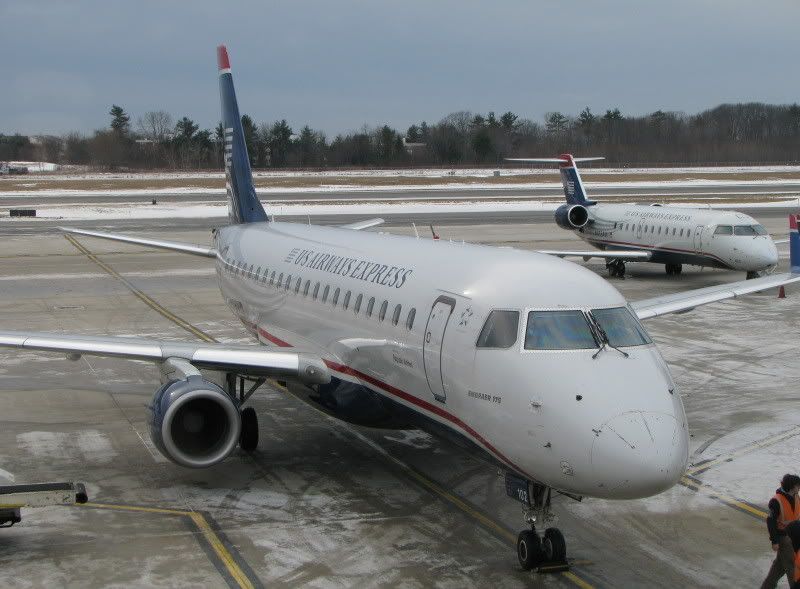 A common lineup for the US Airways gates at PWM.
As the scheduled departure time approached, I noticed on Flight Aware that our aircraft would be nearly 45 minutes late in arriving. At that point, I decided to walk across the terminal to the Shipyard Brewing Company to grab a bite to eat before departure. I chose the typical airport fare (cheeseburger and fries) but the menu did feature a number of unique-to-Maine items, like lobster rolls and lobster quesadillas.
Upon returning to my seat by the gate, Greg Hughes (the Jetport's Public Relations manager) came up to me and wished me luck on my next semester back at school, which I thought was pretty neat (how many people can claim that they get a personal sendoff from airport officials when they go flying?)
Shortly thereafter came some bad news from Delta. The flight was oversold by 10 people. Since the flight was downgraded from an MD-88 two months ago, I had assumed that the issue of 70 less seats available had been worked out by now. Luckily, 10 people did take Delta's offer of $400 Delta Dollars and a taxi down to Boston for an alternate flight. Boarding then commenced, about a half hour late.
My plane to ATL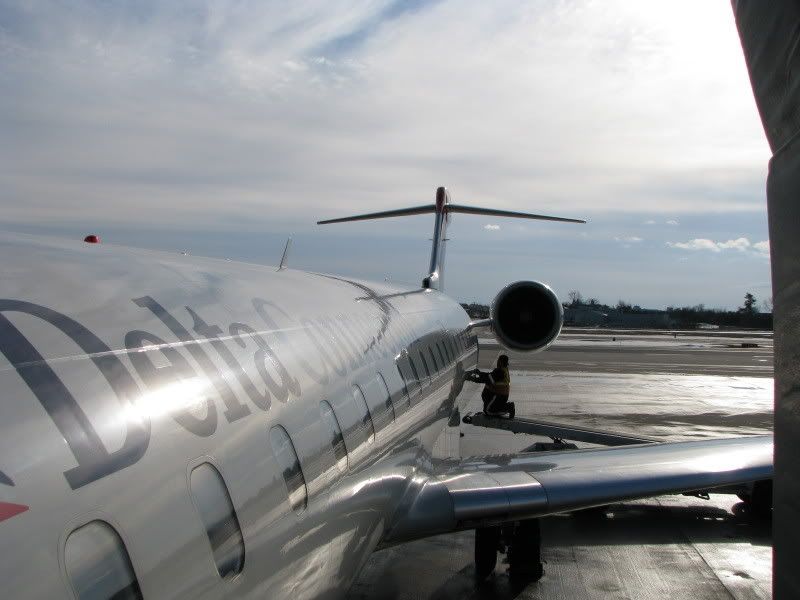 Taken just as I stepped aboard.
After everyone was on board and I had settled into seat 8A, we taxied down to Runway 29 where we spent 12 minutes in the penalty box before departing. As seems to be my luck lately, almost the entire flight was overcast, affording very few views of the scenery. Instead, I settled in to read "Beyond the Black Box: The Forensics of Airplane Crashes." A slightly odd title to read on a plane, but a good book nonetheless.
Service was the same drink and peanuts/cookies offered on my flight from Daytona beach, and there was no buy on board available, so I was glad to have eaten beforehand.
Approaching Atlanta, we broke out of the clouds next to a pair of MD-88s. In a first for me, we conducted a triple-parallel approach, staying nearly in-line with each other right until the runway. Upon touchdown we passed a 767, which promptly passed us and took off on a parallel runway. I do enjoy big airports.
If you look closely, you can spy two MD-88s, approaching runways 28 and 27R/L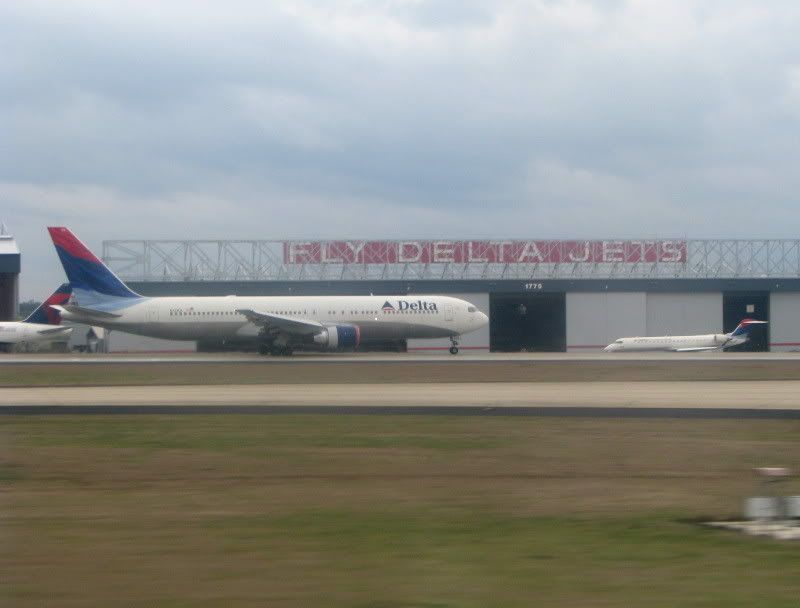 Racing a 767, with the famous "Fly Delta Jets" sign in the background.
Due to the delay in Portland, a number of people on board had very tight connections to make. I settled in for my 4-5 hour layover.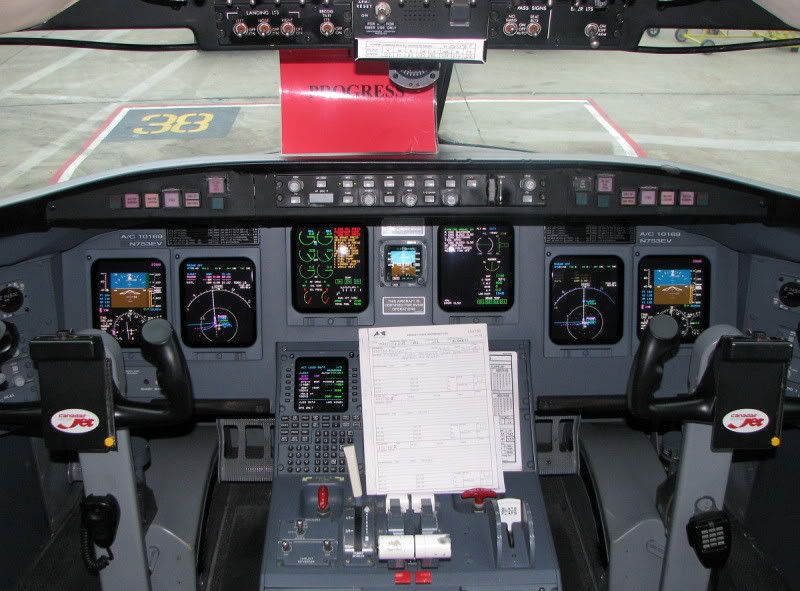 CRJ-700 Flight Deck
KATL-KDAB
Flight # DAL1473
Equipment:
MD-88 (N997DL)
Scheduled Departure:
20:10
Actual Departure:
20:30
Scheduled Arrival:
21:00
Actual Arrival:
21:30
As the sun set over ATL, I was able to take a few pictures, but once again, nothing excellent. My flight to Daytona was scheduled to depart out of gate A13. As the scheduled 8:10 departure approached, the gate was changed to gate A3, the same gate I had departed to Portland from nearly a month earlier.
Along with the gate change came a brief delay, but nothing out of the ordinary for ATL that day.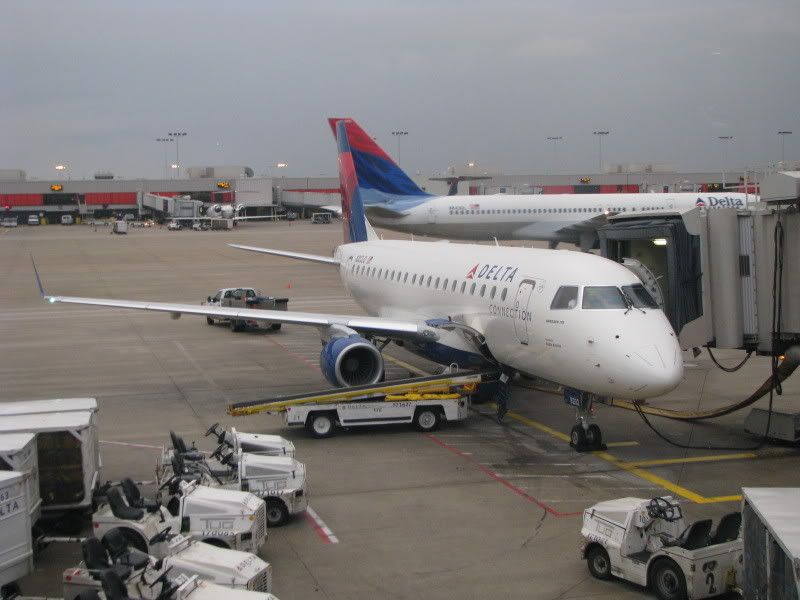 Nice looking jungle-jet parked at the next gate over.
The flight to Daytona was once again 100% full, mostly Riddle students returning from break. With the exception of a rather talkative passenger seated in the row behind me, the flight was entirely uneventful. Seated in 26A (the exit row) I had a little more room to spread out than usual, but I didn't find the seat as much of an improvement as the exit rows on other aircraft types.
After landing and a quick wait at the luggage claim, my Christmas break ended with a 2 minute cab ride back over to the Riddle dorms.
Overall Impressions:
Daytona Airport:
Small, empty, and under-served. I would love to see some additional service at Daytona Beach, but for now it really seems like a ghost town. A well-maintained ghost town.
Atlanta Airport:
Big. Really, really big. Even with its massive size, Atlanta seems to run quite smoothly. There's no chance of the personal feel or relaxed atmosphere of smaller airports like Portland and Daytona, but on the operations side, Atlanta really seems to have things down to a science.
Portland Jetport:
Of course my opinion is going to be biased, but I really do enjoy the Portland Jetport. It's just small enough to be relaxed and personal for check-in and airport services (not quite for the TSA though...), but big enough to offer a wide spread of planes to watch and destinations served.
I hope you've all enjoyed reading my trip report!