Feedback always appreciated.
Trip Report: 064
Flight Category: Y-DSR (See Report End)
Date: 23 Dec-08 (See Report End)
SDT/SAT/Dur/Delay: 2045/2245/02:00 hrs
Flight:
Kingfisher IT 433
, 750 miles
Routing: HYD-CCU
Aircraft: 320
Seat: Economy, 1A
I > Background:
My flight back to Saudi Arabia via Kuwait from Chennai was sold out by a day and I was offered a complimentary hotel for the night in Chennai. Since I did not want to just hang out in Chennai, I decided to surprise my friend who lives in Calcutta (whose wedding I went to earlier in the year) by visiting him for 1 day. Since I had missed the morning bank of departures to CCU and had to wait until the evening flights, I decided to take advantage and do a 1-stop routing via HYD. I wanted to check out the first of India's many new airports. I wanted to ask whether my "IADS" was truly being slowly replaced. The last time I visited HYD (in 2007), the airport had all the quintessential elements of "IADS" (See:
https://www.airliners.net/aviation-fo...s/trip_reports/read.main/116646/).
Also, I wanted to see if service standards had fallen on IT given all the industry turmoil.
We have seen some reports on IT before on A.Net … including mine. This is the first on the HYD-CCU segment.
II > Pre-Flight:
a) Before Airport:
Kingfisher Airlines is the airline owned by liquor baron Vijay Mallya. It is a premier airline whose low-cost brand (erstwhile Air Deccan) is now called Kingfisher Red. It is one of the 6 airlines in the world with a five-star Skytrax rating (not saying much I know) and now has ventured internationally with flights to LHR. The economic viability of these routes are yet to be seen of course.
Ticketing for the flight was done using the excellent Kingfisher website (http://flykingfisher.com/). The site is a delight to use both visually and in terms of ease. I was able to book my flight and make seat selections online. Additionally, I am able to make changes to the reservation and to my seating. This is one of my most important requirements and I was happy that IT's IT (jaja) lived up.
b) At Airport:
Hyderabad airport is definitely the sign of a country on the move. It is a far departure from the traditional Indian airports and a true delight to use. Of course, the nostalgic in me is going to miss the "IADS" airport … but, oh well. I mean, it is unlike the current generation airports. Once you get in, there is an air of quietness which reminds you to pinch and remind yourself that you are in an Indian airport. Also, unlike other Indian airports, there is no pre-screening of bags. You sort of enter the airport and go directly to check-in. Check-in was a breeze and the polite agent assigned me row 1 with no problem. She was very friendly and said that my NWA mileage number was already there and joked that it was "her honor" to check "the first person from Liechtenstein to use the new airport". Armed with my boarding pass, I went through a smooth security into the very unlike-India post-security gates area. There were many shops and eating options (though, very pricey for Indian standards). I got an excellent massage at the massage parlor from a bunch of Indian girls from N.E. India. After the massage, I went to the quiet bar and just hung out.
Perhaps the environment plays a soothing role as when boarding was announced, it was calm and collected and an organized line. None of the pushing and rush that is usually hallmark of airports in India, Latin America, or Portugal (jeje). The HOT IT flight crew greets you at the door and helped many settle in their seats and with their bags. Everything had a calm air of classiness about it. Y load on the flight was around 90%.
Airport - External:
(New Hyderabad Airport)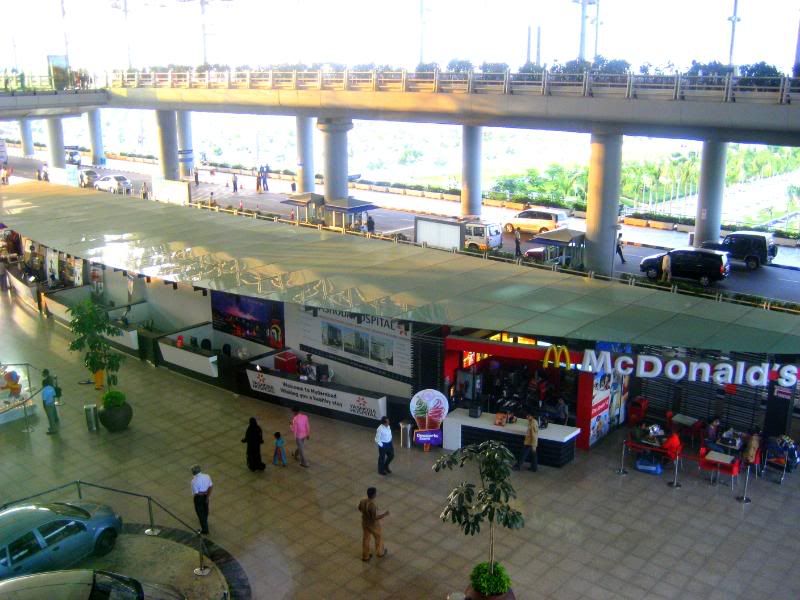 Check-in:
(Efficient and orderly)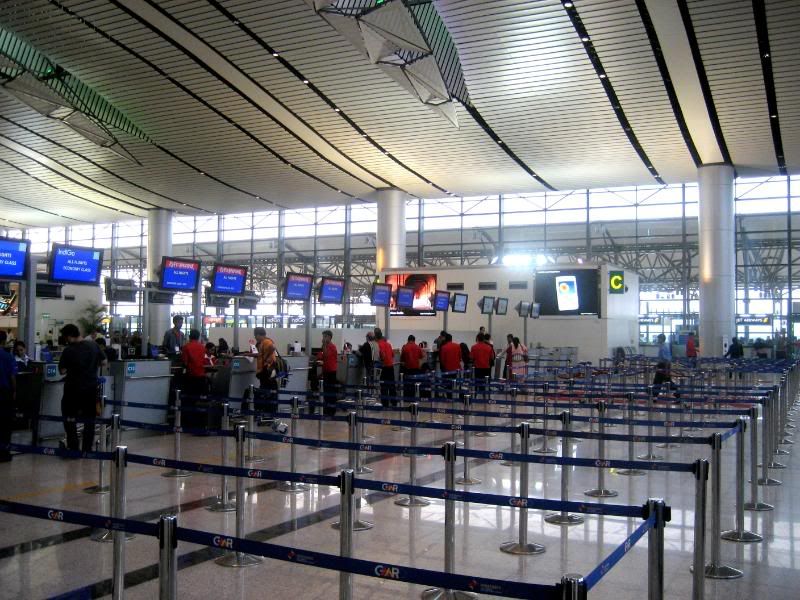 Airport - Internal:
(Internal)
(FIDS)
(Post Security)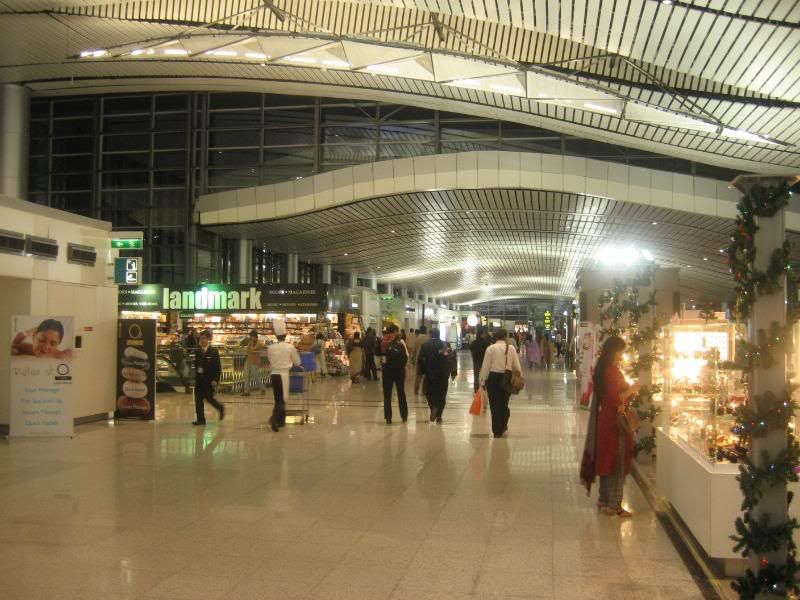 (My peaceful corner of the bar)
Scenes of the tarmac:
Lounge
NONE
Boarding:
(Remarkably civil)
III> In-Flight:
a) Service Schedule + Impressions:
Kingfisher's service is more on par with J class in most parts of the world. Service starts with water and fresh lime juice while on the ground. Upon take-off, hot towels, menus and "amenity kits" are distributed. Then, full meal-service. Prior to landing, chocolates are distributed. Keep in mind, this is a 2 hour domestic flight in Y.
b) Aircraft + Seats:
Kingfisher's 320 looked smart decked in red seats with leather beige headrest. The small coat-rack hook was a nice touch and enhanced the premium feel of the airline. The seat was very comfortable with generous legroom and recline. The cabin felt very fresh and airy. Also, I was very impressed at the immaculate level of bathroom cleanliness. Impressive!
Aircraft:
(IT 320)
Views from Aircraft:
(HYD Airport – note the new S2 logo)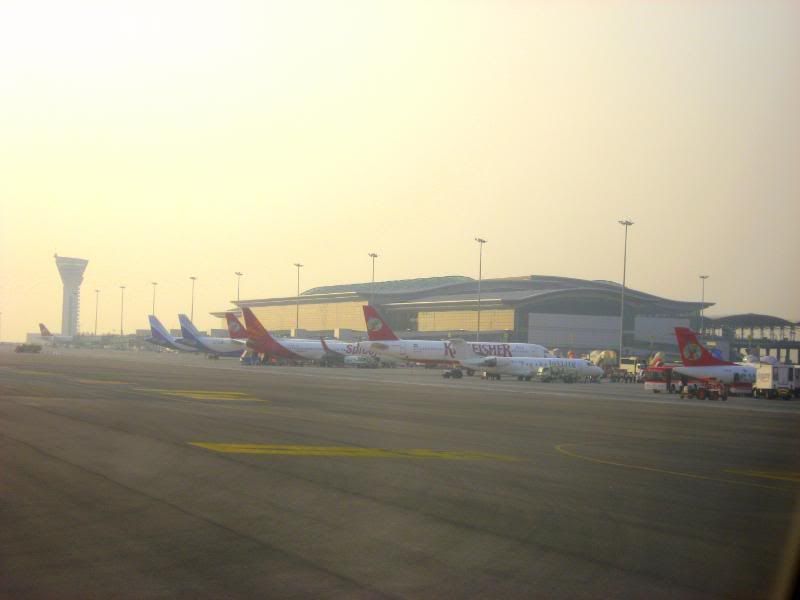 General Seat Views + Seat Legroom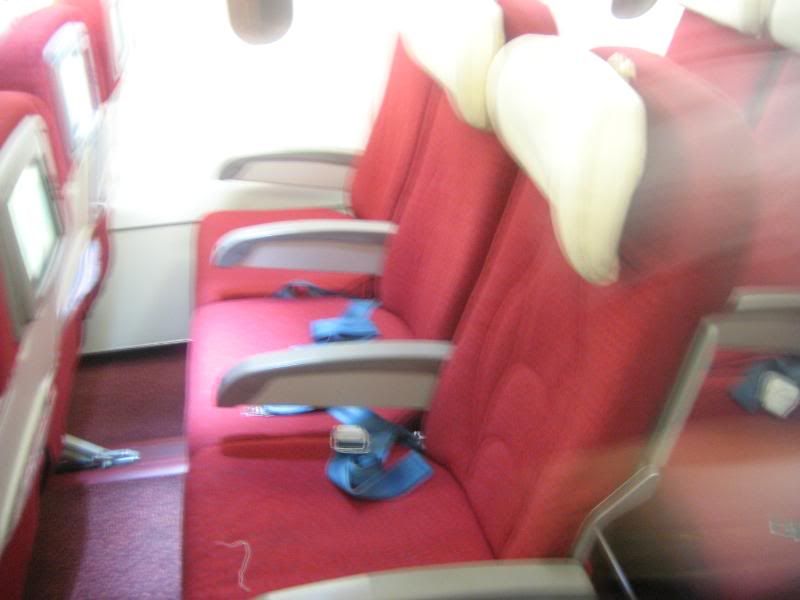 (Seat legroom)
Seat Recline + Angle View:
(Not shabby)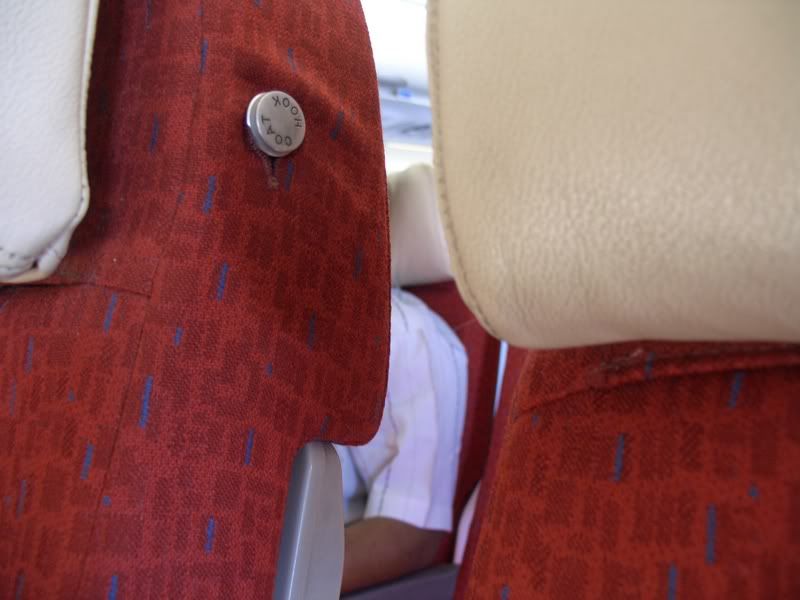 Cabin:
c) Meal + Beverage:
Upon boarding, you get a bottle of water and some fresh lime juice. I am convinced that Indians are addicted to the later as all airlines seem to be offering the same. What's up with that? How many airlines do you know in the world which offers a choice of 2 excellent dinner entrees on a 2 hour flight in Y? IT is one of those few in the world (and many seem to be in Asia), and I must say that the food choices were excellent. I chose the Thai red curry chicken and it was absolutely excellent. Succulent chicken enhanced by aromatic rice and mushroom curry. Really good stuff. It was washed down by diet coke and then some excellent tea. Just prior to arrival, there was a chocolate run. A great final touch. I did crave for a glass of wine – but perhaps India will relax its domestic flight liquor laws in the near future.
(Menu on the 2 hour domestic flight in Y – no, they did not give the 9W fan as part of the "enhanced cooperation" initiative. I got it on the MAA-HYD flight and thought it was a cool idea – especially for Indian summers)
(Bottles at take-off)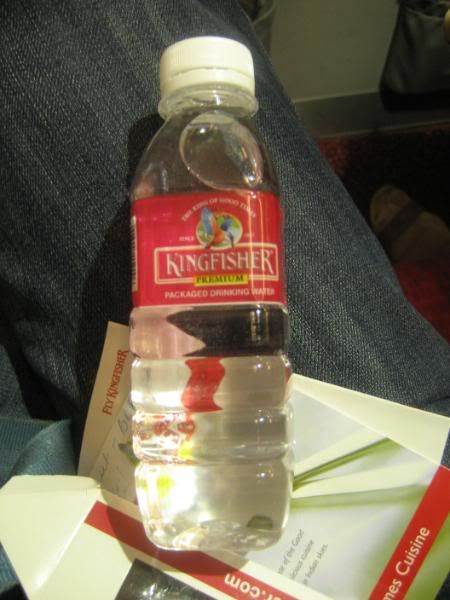 (Fresh lime juice at take-off)
(Meal – absolutely delicious)
(Chocolates on arrival)
d) Inflight Entertainment:
Simply fantastic for a domestic flight of this length. 12? channels of TV (including several movies) and 10 channels of music along with the usual moving map and information channel. On a side note, Kingfisher First passengers enjoy AVOD on 8.4" LCD screens with noise-canceling stereo headphones and over 60 channels, games, etc. The in-flight magazine HI-BLITZ was glossy Vogue-like. I actually missed the more "earthy" domestic content driven magazine on AI/IC. IT felt a little too "westernized" for my western tastes!
(Map)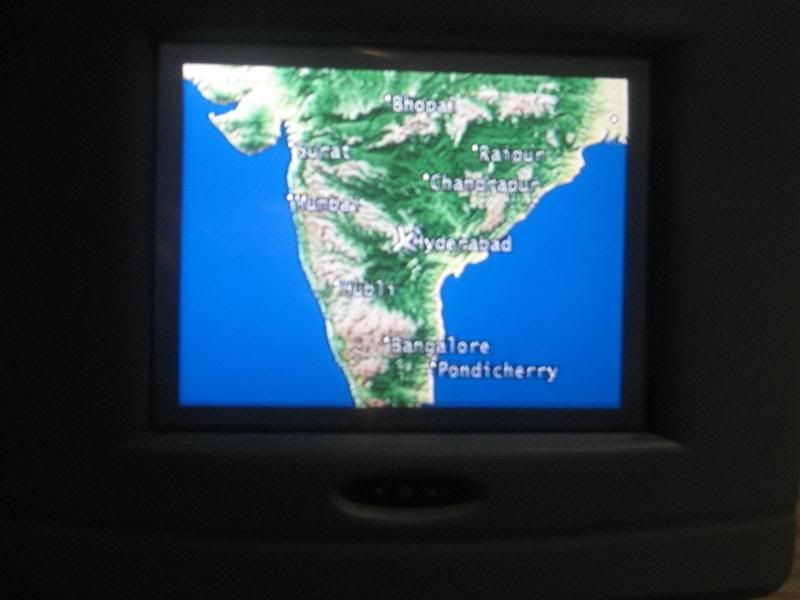 ("In-flight magazines", Boarding Passes, etc.)
e) Crew:
As I have written before, I felt like I was watching the Miss India competition unfold in front of me. The crew were HOT and certainly one of the best looking girls I have seen at 37,000 feet. They were extremely polite and complied with all requests efficiently and immediately. They greeted each and every passenger and the pax all seemed to appreciate by many thanking them at arrival. It was a mutual love-fest. One thing though … while flawless (very SIA-like), I still think they lack the natural warmth that is so present in IT's peers – AI, IC, UL, and even 9W.
IV> Post-Flight:
Calcutta airport was efficient … and my bag arrived moments upon arrival. I was actually shocked.
NONE
V> Impressions + Scores:
The Indian aviation environment has gone through turmoil in 2008 after being the toast around the world (and certainly on A.Net). Given the unfolding drama, I was actually pleasantly surprised to see that IT's service standards have not faltered. If the hallmark of a great airline is consistent service, IT definitely makes the cut. From an excellent ground experience through the fantastic new HYD airport, to great crew, excellent meals, and good IFE, IT checked all the boxes needed to make it a great airline. For the sake of the traveling public, I do hope IT stays. It would be a shame if it did not. I would recommend IT without any hesitation and go out of my way to fly them. 2 thumbs way up again.
1.0 > RESERVATION: 9.5
2.0 > CHECK-IN: 8.5
0.5 > LOUNGE: N/A
0.5 > BOARDING: 8.5
2.0 > SEAT: 8.0
0.5 > AIRCRAFT OVERALL AMBIENCE: 9.0
1.0 > IFE: 8.0
2.0 > CREW: 9.0
2.0 > FOOD: 8.5
0.5 > BEVERAGES: 6.5
0.5 > A.KITS + OTHER FREEBIES: 7.5
0.5 > DISEMBARKATION: 8.0
1.0 > ON-TIME RECORD: 10.0
WEIGHTED OVERALL IMPRESSION (WOI): 8.54
(Pre-flight WOI of all reviews: 6.48)
* Weighted Overall Impression (WOI) aligns scores with what matters most. Weights are indicated alongside each category.
(Scores are based on comparison with other airlines in THAT class of service – No comparison of Y vs. F for example)
VI> Other Trip Reports:
PREMIUM:
8.64:
Turkish Airlines (59): JFK-IST: 11/2008
8.61:
Air Canada (49): YYZ-SCL: 06/2008
8.11:
Aeroflot (33): MOW-DEL: 09/2007
8.04:
Korean Air (40): NRT-ICN: 10/2007
8.02:
Delta Airlines (24): JFK-CDG: 08/2007
7.46:
LAN (55): YYZ-JFK: 09/2008
7.82:
Singapore Airlines (06): EWR-SIN: 09/2006
7.14:
Swiss (52): SCL-GRU: 06/2008
6.96:
Etihad (61): JFK-AUH: 12/2008
6.93:
Delta Airlines (18): SEA-JFK: 11/2006
6.81:
Air Canada (17): ICN-YYZ: 10/2006
6.70:
KLM (32): EBB-AMS: 08/2007
6.36:
Privatair (60): MUC-BOS: 12/2008
6.25:
Korean Air (45): NAN-ICN: 10/2007
6.11:
TAP Portugal (53): GRU-OPO: 06/2008
5.75:
Singapore Airlines (16): CCU-SIN: 10/2006
5.64:
NorthWest (46): ICN-NRT-SEA: 10/2007
5.39:
LOT (54): WAW-JFK: 06/2008
4.42:
Air France: CDG-JNB (25): 08/2007
ECONOMY: Long + Medium:
9.26:
Air India (48): JFK-DEL: 02/2008
7.38:
Avianca (01): BOG-LIM: 07/2006
7.07:
Sri Lankan (62): KWI-CMB: 12/2008
6.41:
American Airlines (58): LHR-BOS: 11/2008
6.26:
Jet Blue (21): CUN-JFK: 02/2007
6.06:
Air Canada (04): YYZ-YVR: 09/2006
5.89:
USA 3000 (19): PUJ-BDL: 01/2007
5.79:
Air New Zealand (42): RAR-NAN: 10/2007
5.46:
TAP Air Portugal (23): OSL-LIS: 05/2007
ECONOMY: Short
8.56:
Paramount Airways (38): BLR-MAA: 09/2007
8.54: Kingfisher (64): HYD-CCU: 12/2008
8.24:
Kingfisher (14): IXA-GAU: 10/2006
7.87:
Indian (34): BOM-MAA: 09/2007
7.72:
Alliance Air (13): CCU-IXA: 10/2006
7.57:
Indian Airlines (10): DEL-CCU: 09/2006
7.23:
West Jet (03): YYC-YVR: 09/2006
7.15:
JetLite (37): BOM-GOI: 09/2007
6.70:
Spice Jet (09): CCU-DEL: 09/2006
6.63:
Air Fiji (44): NAN-SUV: 10/2007
6.58:
Air Tran (02): EWR-MDW: 08/2006
6.48:
Air India Express (63): CMB-MAA: 12/2008
6.44:
CO Micronesia (39): ROR-YAP: 10/2007
6.41:
Pacific Sun (43): NAN-SUV: 10/2007
6.37:
Skybus (47): SWF-CMH: 02/2008
6.33:
Kenya Airways (29): NBO-BJM: 08/2007
6.33:
Sky Europe (56): LTN-BTS: 10/2008
6.31:
Indigo (15): GAU-CCU: 10/2006
6.31:
easyJet (57): BUD-LTN: 11/2008
6.22:
Air Link Swazi (28): MTS-JNB: 08/2007
6.22:
Air India (36): HYD-BOM: 09/2007
6.13:
Adam Air (07): SIN-CGK: 09/2006
6.13:
Air Rarotonga (41): RAR-AIT: 10/2007
6.00:
Transairways (27): INH-MPM: 08/2007
5.95:
Air Canada (05): ALB-YYZ: 09/2006
5.85:
SAS Norge (22): OSL-AES: 05/2007
5.81:
LAM Mozambique (26): JNB-MPM: 08/2007
5.69:
Air Deccan (12): IXZ-CCU: 10/2006
5.67:
Rwanda Air Exp (30): KGL-NBO: 08/2007
5.07:
Go Air (35): MAA-HYD: 09/2007
5.00:
Sky Airline (51): IQQ-SCL: 06/2008
4.96:
Valuair (08): CGK-SIN: 09/2006
4.78:
Air Comet Chile (50): SCL-IQQ: 06/2008
4.74:
Fly 540 (31): MYD-LAU: 08/2007
4.33:
Viva Aerobus (20): ELP-MTY: 02/2007
4.11:
Air Sahara (11): CCU-BOM: 09/2006
(Note on Codes: Y – Economy, J – Business, F – First :: I/D – International/Domestic :: SR/MR/LR – Short/Medium/Long Haul)
(Note on Date: Dates are modified to be +/- 3 days from actual flight date to not reveal actual flight pattern)
VII> Other Pictures:
NONE