I went down to MSY for my brother's birthday recently and I took FL this time, as they had a price which was roughly $250 cheaper than DL. I'm all about adding to my SkyMiles account, but in this case, DL just wasn't an option for me. On the ATL-MSY route, while DL and FL generally match fares, FL seems to have far more sales in the market. I'll go DL every time if the price difference is not a huge one....but since the flights are so short and the price difference was so large this go around, I quickly scooped up a ticket on airtran.com and called my friend (and fomer co-worker) with FL in MSY to let him know that I'll be flying the Tran again. He was pretty happy to hear that.
This report will cover the trip back to ATL mostly. The flight down on the 4:18pm departure was basically on schedule. I paid $49 to upgrade to Business class on the way down since the flight was oversold and I didn't feel like being squished in like a bug. Also, to be honest, I was in the mood for a few drinks after a long day at work. So it was a win/win situation...and I still saved $200 over flying the big D.
FL has a nice C product for what it is. I have always found the seats to be fairly comfortable, and the pre departure beverage service is nice. On the way down to MSY we had two full beverage services plus the snack basket to choose from. One thing that disappointed me was that the XM radio was INOP, but since I had my iPhone fully charged, it wasn't really a big deal. It was an old colored 717 which took us to MSY, and the approach, I must say, was a very interesting one. We were doing a VFR approach to runway 28, coming in over the city from the east, and then maybe seven miles from the field, we made a sharp right turn, and continued to fly about 20 miles due north out over Lake Pontchartrain at about 3,000 ft. Once we neared the north end of the lake, we then did a 180, and turned back to the south, eventually landing on runway 19. I'm guessing the winds changed at the last minute. It made for a very scenic flight over the New Orleans area, and several passengers commented on the same.
After spending a couple of short days in NOLA, it was time to head back to ATL, so I got my brother to drop me off a little after 4:00pm for my 5:47pm departure. I decided to break out the camera as we neared the airport exit off of I-10 to take some pictures of MSY....inside and out....for the viewing pleasure of the a.net community. It's an airport that's talked about fairly regularly, but not seen in pictures all that often. So, I figured it was time to remedy that. Please note that the pics didn't turn out all that great because it was a a petty nasty, dreary day, but I did the best I could.
The airport access road connecting I-10 to the terminal parallels runway 1/19. Here was what I saw today. Note the FX DC-10 hanging out below.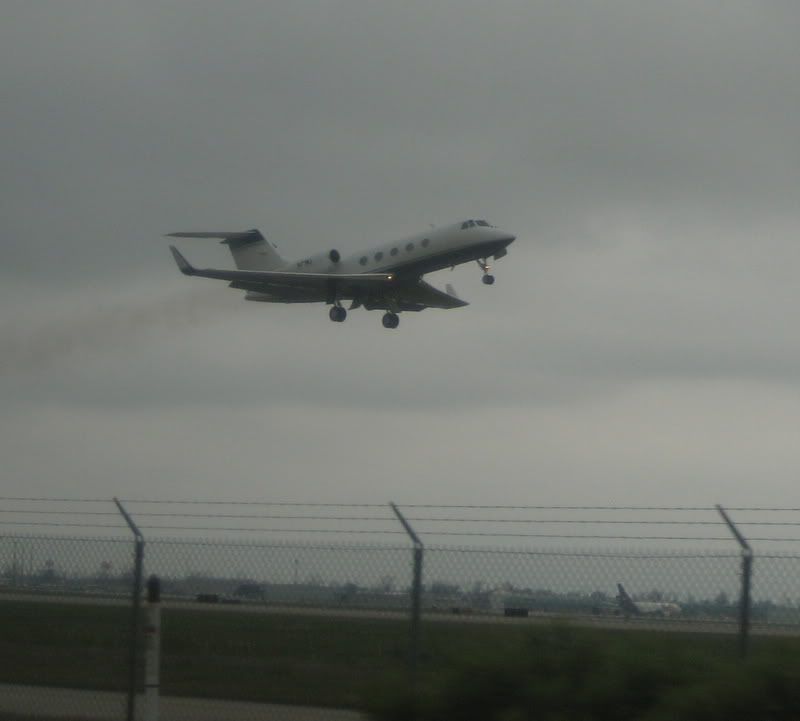 New sign on the access road.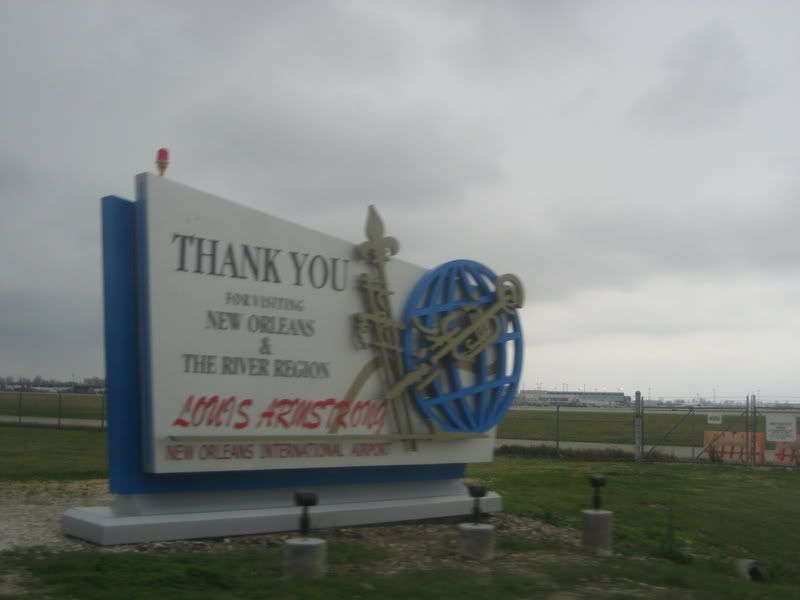 New signage everywhere, in fact....a welcome change from what it used to look like.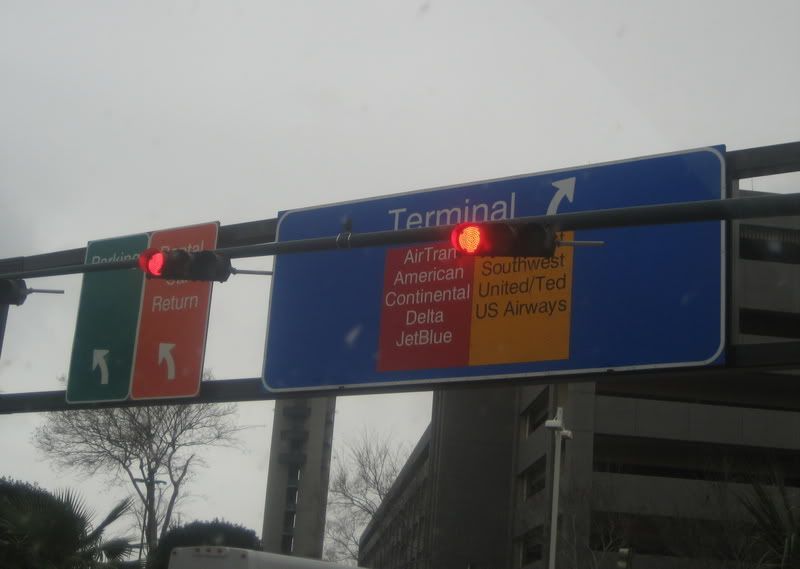 "Jetway Graveyard", aka, the old ramp for gates A2/A4.
US E70 pulling in.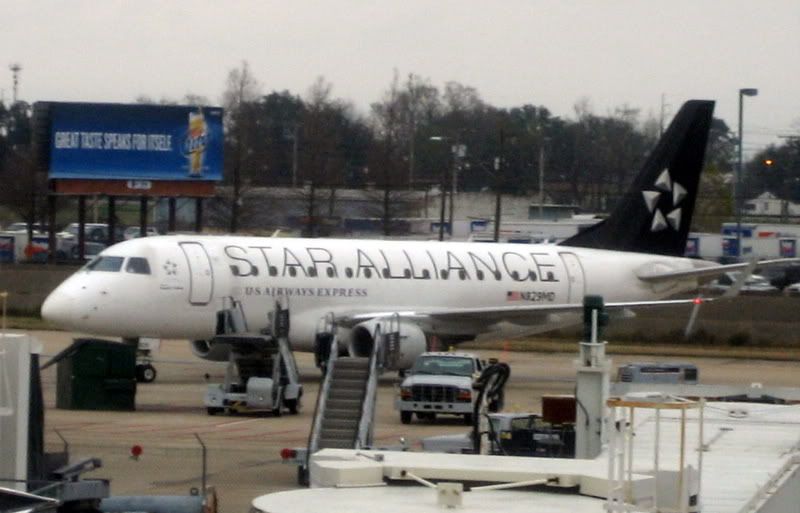 Main departure level.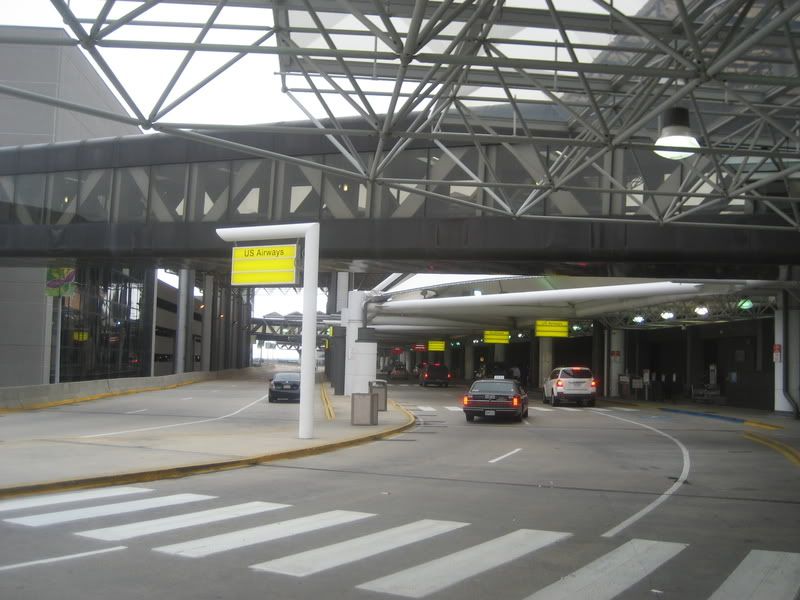 The East lobby area. Further down the way are concourses A and B.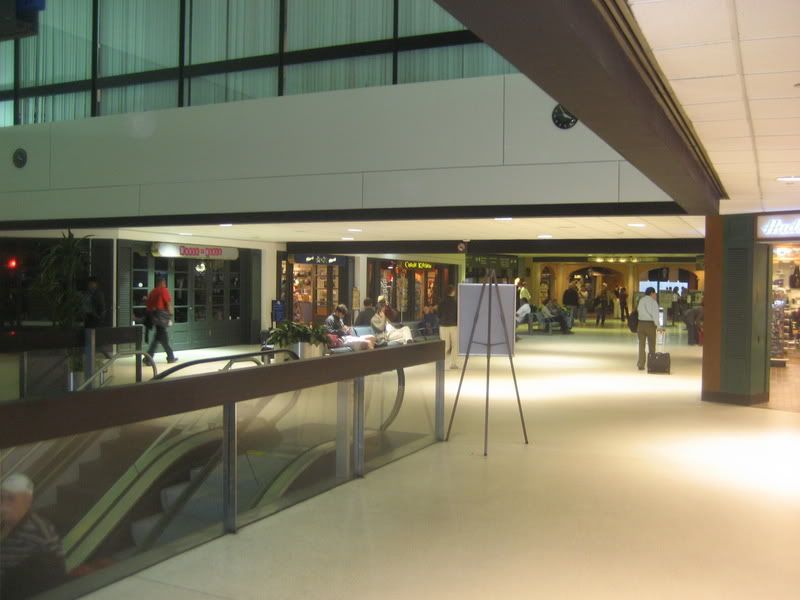 Change is in the air.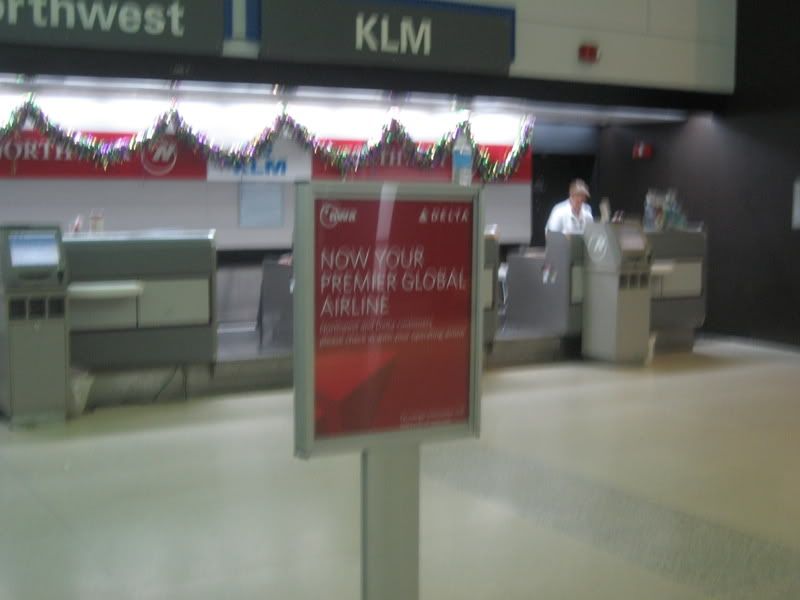 Looking down the main ticket lobby.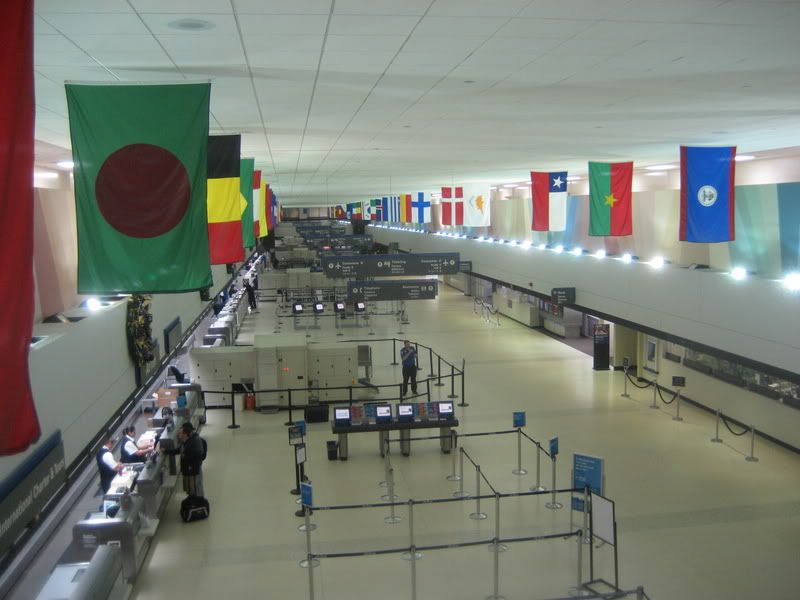 FIDS system located in several locations throughout the terminal as well as a couple in each concourse. This is supposed to get upgraded to a newer system shortly.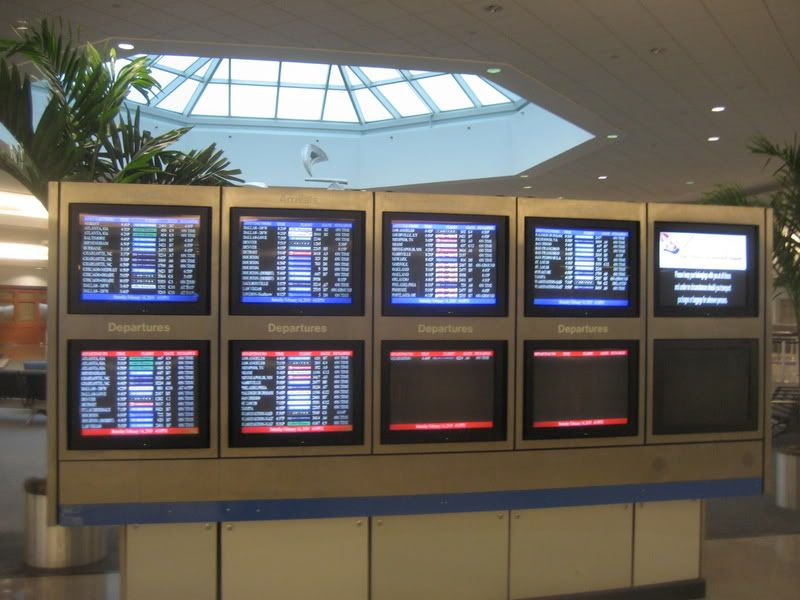 West ticket lobby area, home of CO/DL/B6.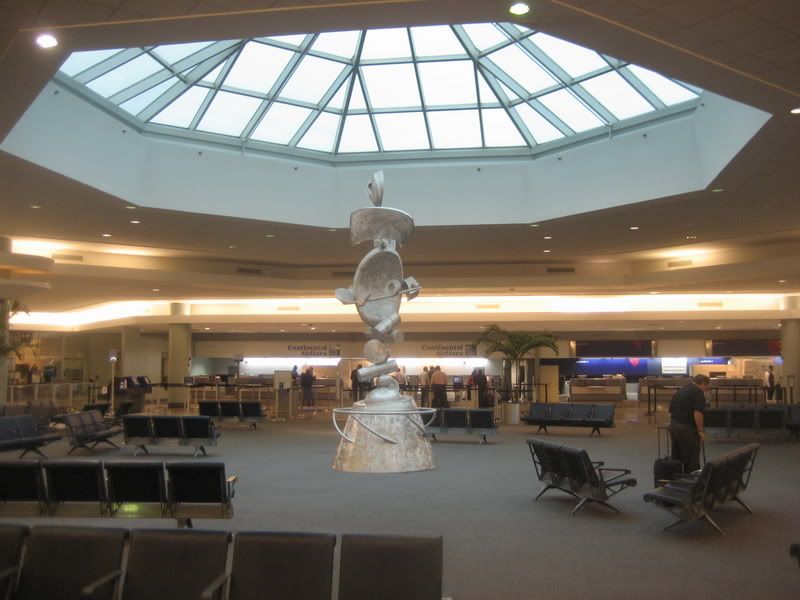 Huge mural depicting famous N.O musicians throughout the years.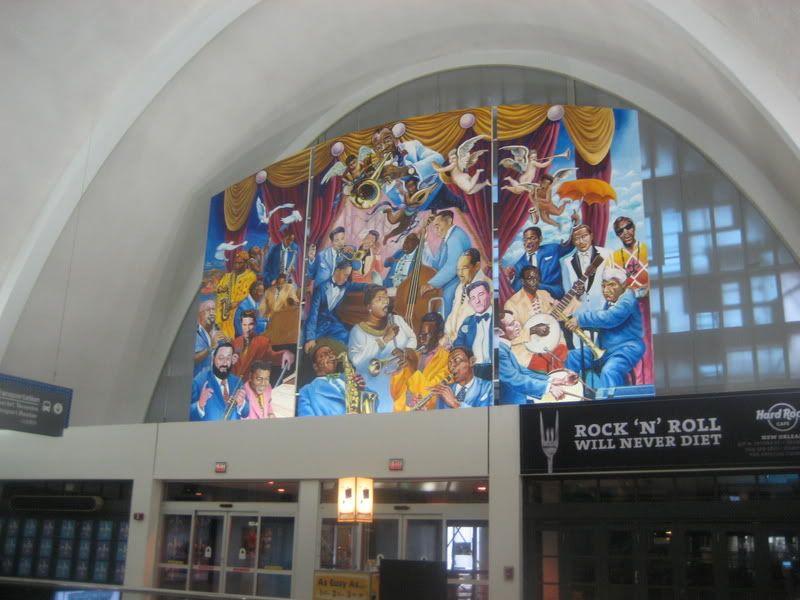 The Parabola area in between the main ticket lobby and the DL/CO/B6 ticketing area. Home of the Concourse C checkpoint.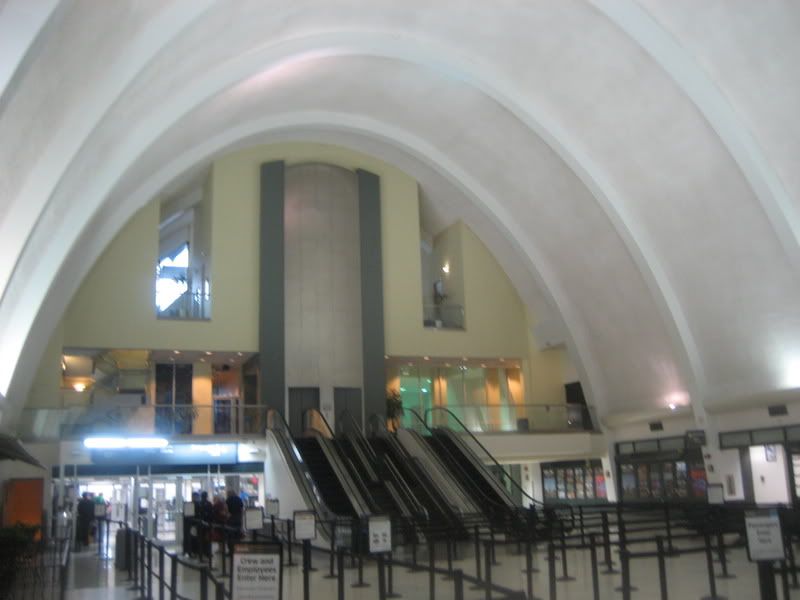 Down to baggage claim level.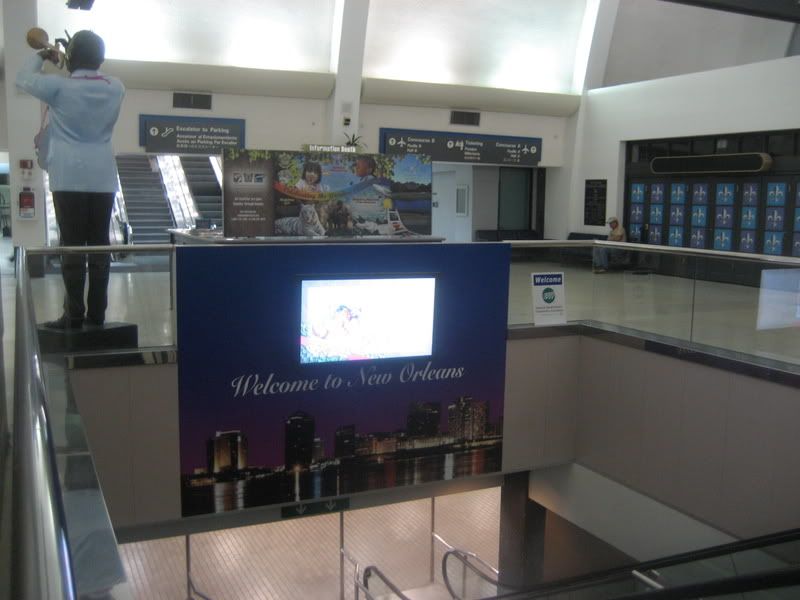 Concourse C.
What's wrong with this picture?
UA 320 undergoing MX at the end of the B. They had the right engine cowling open.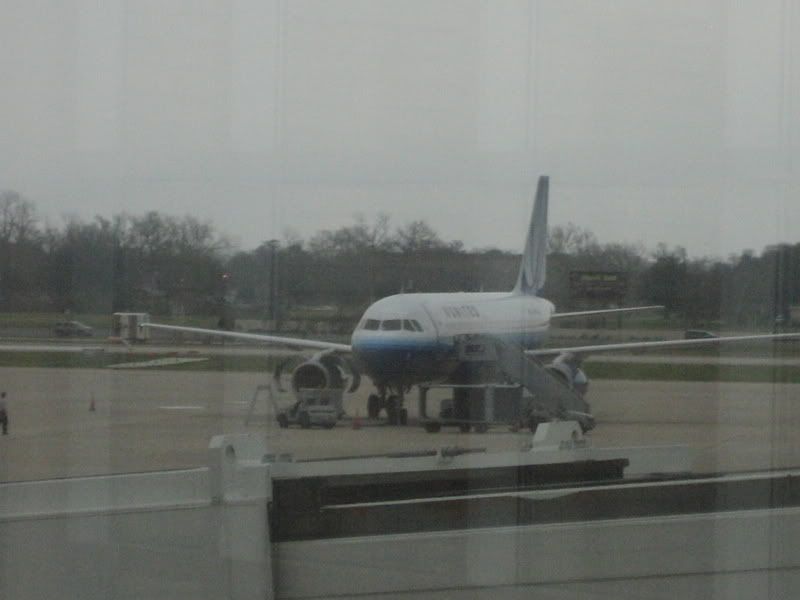 NW CR9 from MSP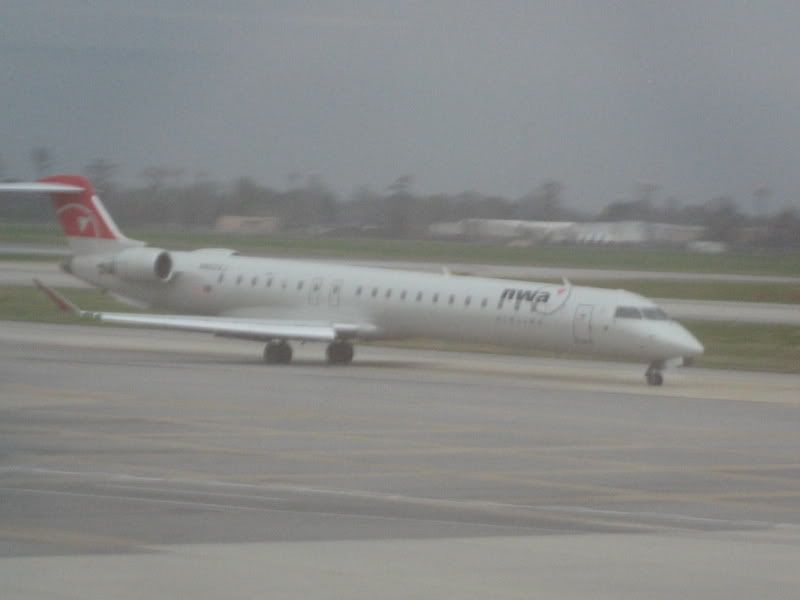 Mad Dog from ORD
CO 737 classic from IAH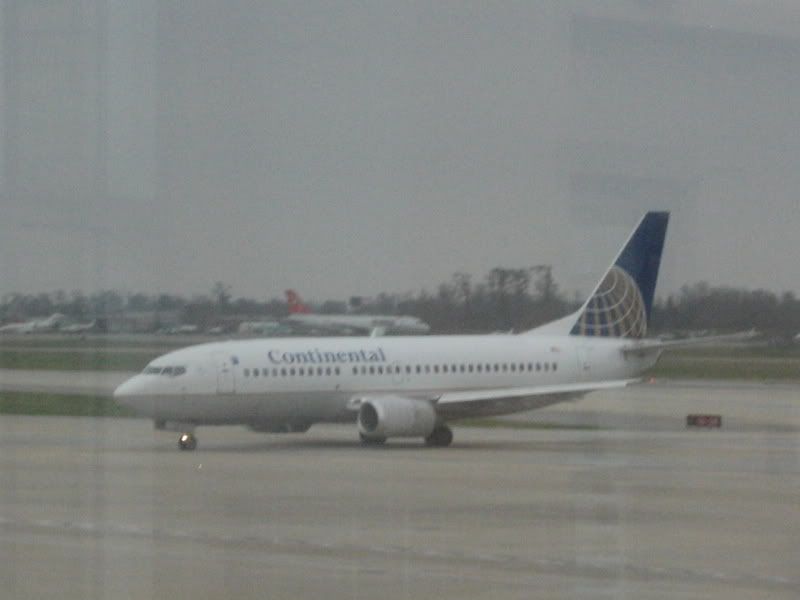 AA 738 from MIA
Who knows where this one was coming from?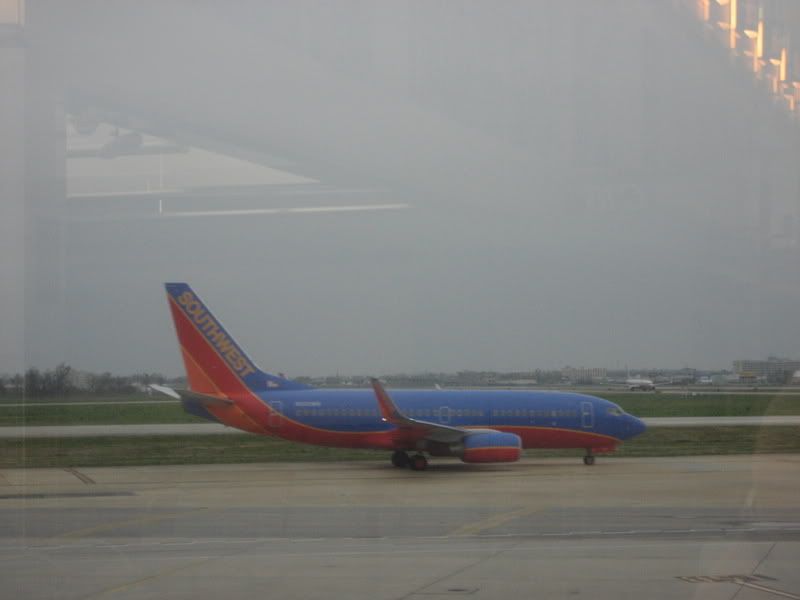 The highlight of my afternoon.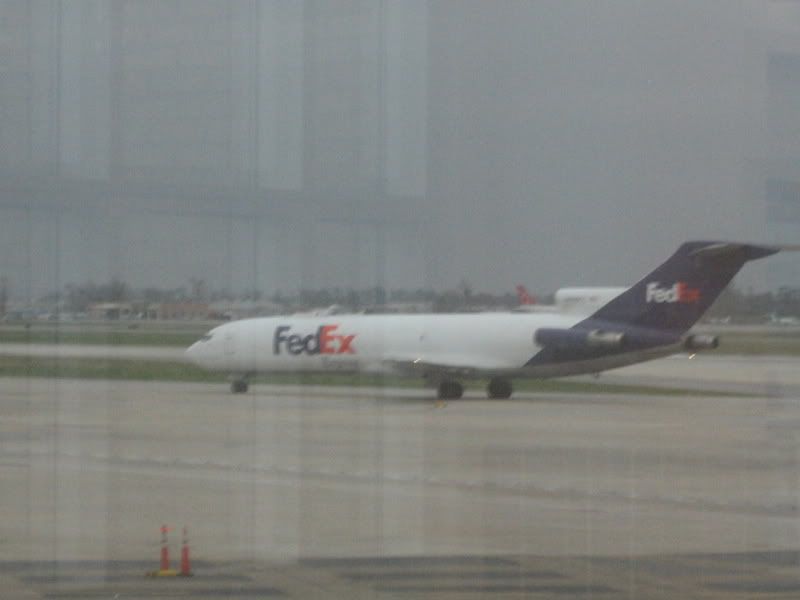 This guy blasted off of runway 28 just a minute or so later and shook the entire terminal.
Finally, after an hour an a half of reminiscing and enjoying the sights (and downing a really high quality bowl of Jambalaya from the Creole Carvery), it was time to bid MSY adieu and take to the skies once again.
AirTran Airways
Flight FL 447
New Orleans, LA to Atlanta, GA
Boeing 717-200
Dep.: 1747 (1747)
Arr.: 2008 (2005)
Seat: 27F
Boarding started promptly at 5:15pm. Since the flight wasn't too full, my zone number was called shortly thereafter. I made my way down to my seat, 27F. As I got settled in I noticed two things right off the bat. First off, the cabin was extremely dirty. Crumbs everywhere. Next, I noticed that my armrest had a broken XM radio console. The one next to me worked, but it was sort of protruding out from the armrest. I figured it would last another couple of flights before it went kaput. Also the armrests themselves were very, very loose, and the one on 27D was basically hanging off.
Push back was on time at 5:47pm and we made a quick taxi to runway 1, passing the broken UA 320, a WN 733, and a NW CR9 on the way. After waiting for a DL MD-88 to land on runway 28, we were airborne into the murky and choppy skies. Here's a link to the takeoff video...
http://www.youtube.com/watch?v=Dn8cGhEGJkw
The first twenty or so minutes of the flight were really bumpy. We got rocked pretty hard. Eventually we made our way to FL300, and the ride smoothed out a bit. In flight service commenced at that time and it was the usual bag of pretzels and cup of soda for the folks in steerage class. Nice group of F/A's, as usual. I spent the rest of the ride reading the in flight magazine (which featured a cover story on New Orleans) and listening to the XM from the armrest next to me. Before I knew it (only a :55 flight) we started our approach into ATL, made a smooth landing, and parked at gate C-16. Not a bad flight overall, and the 717 is a pretty nice airplane, but FL needs to work on cabin maintenance a bit as well as cabin cleanliness. Here are the pictures...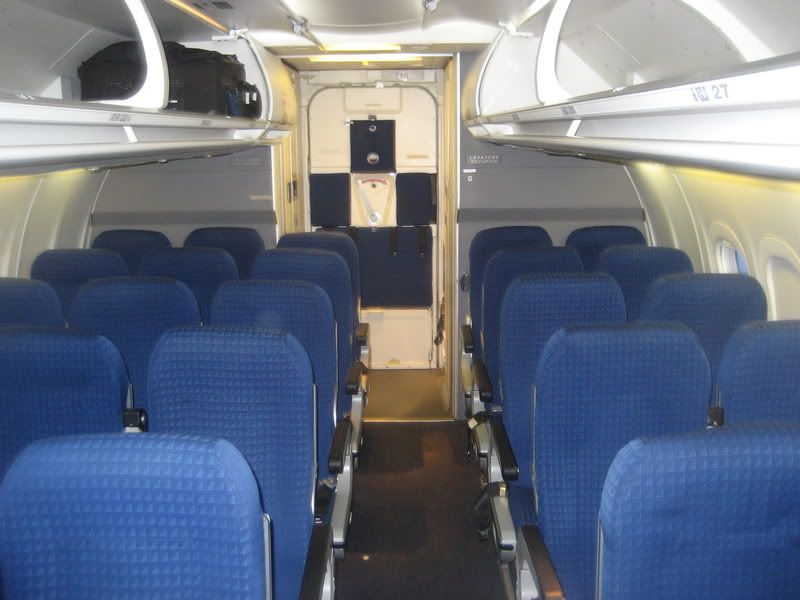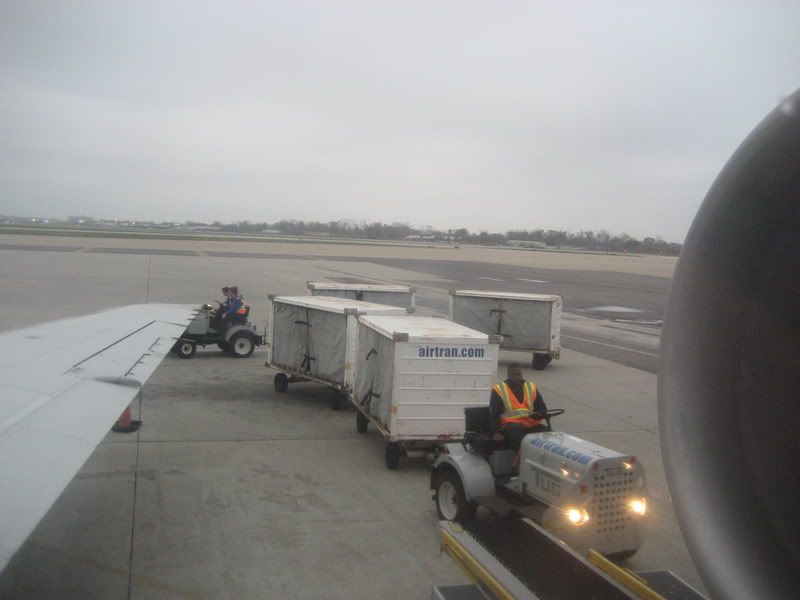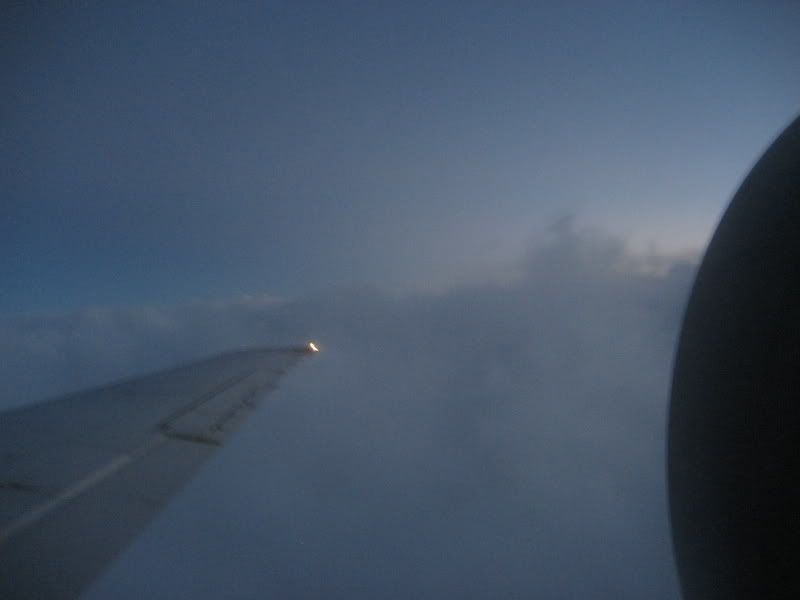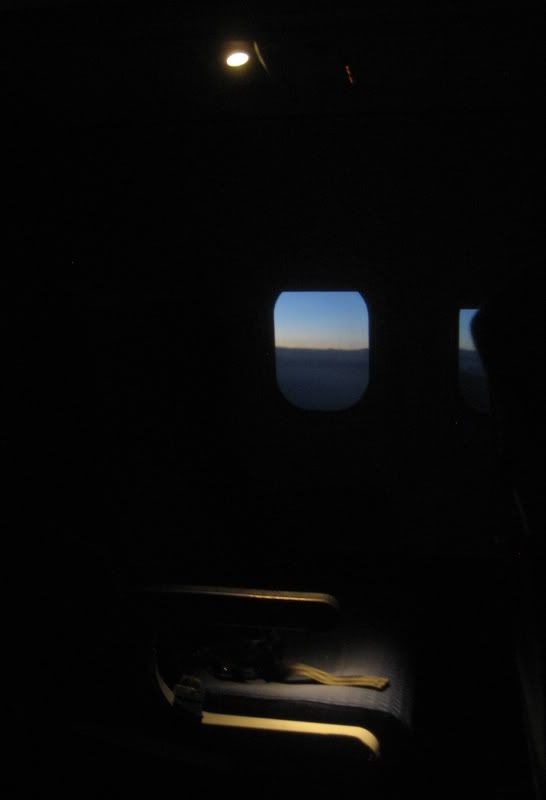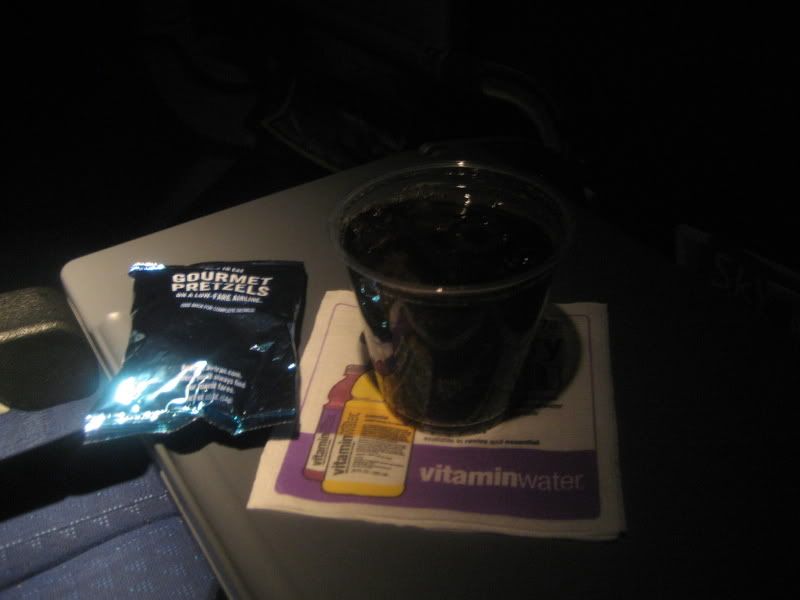 Thanks for reading.
My next report will come in April after my ATL-MSP-SEA-FAI-ANC-SEA-ATL trip on DL and AS.