Hello Dear readers, here is part 3 or my 6 part trip, hope you enjoy.
08.02.09 JL188 MD-90 JA8065 22A Economy Class
1st Flight on this aircraft & 2nd MD90 Flight
SCH DEP 06:35 SCH ARR 07:55
ACT DEP 06:37 ACT ARR 07:52
View Large
View Medium


Photo © K.L.Yim
View Large
View Medium


Photo © Alastair T. Gardiner - WorldAirImages
I got up early and walked from the hotel to Terminal 2, then took the walkway to Terminal 1 where the JAL flights operate from, it took just over 5 minutes.
Train station
Shut, just when you need one most!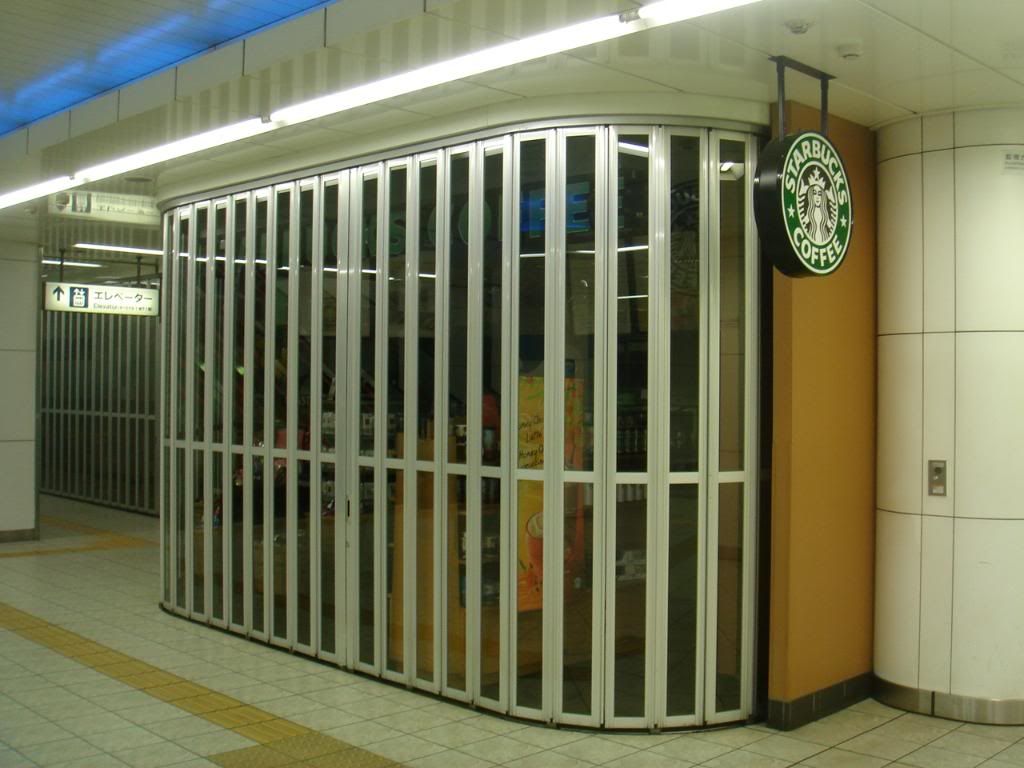 I had checked out this walkway the previous day, having spent the afternoon spotting @ T1, great afternoon BTW!
The terminal was not that busy at 5:00am, I think I got up too early, but better safe than sorry.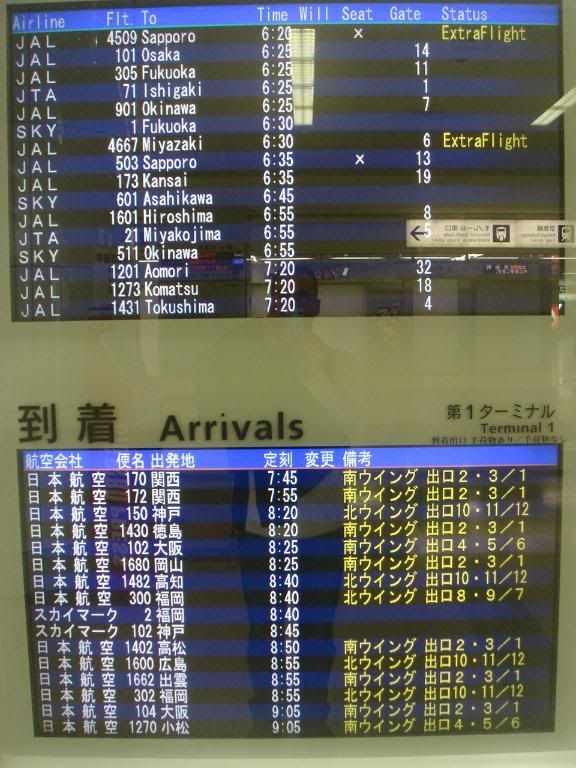 According to the numerous signs, check-in opens at 05:30, despite these signs, as soon as the staff had arrived to set up for the day, people went to try and check-in, even the regular First Class passengers were trying it – all were sent away!
05:30 arrived so I went to the JAL Global counter, this can be used by Oneworld Sapphire and above.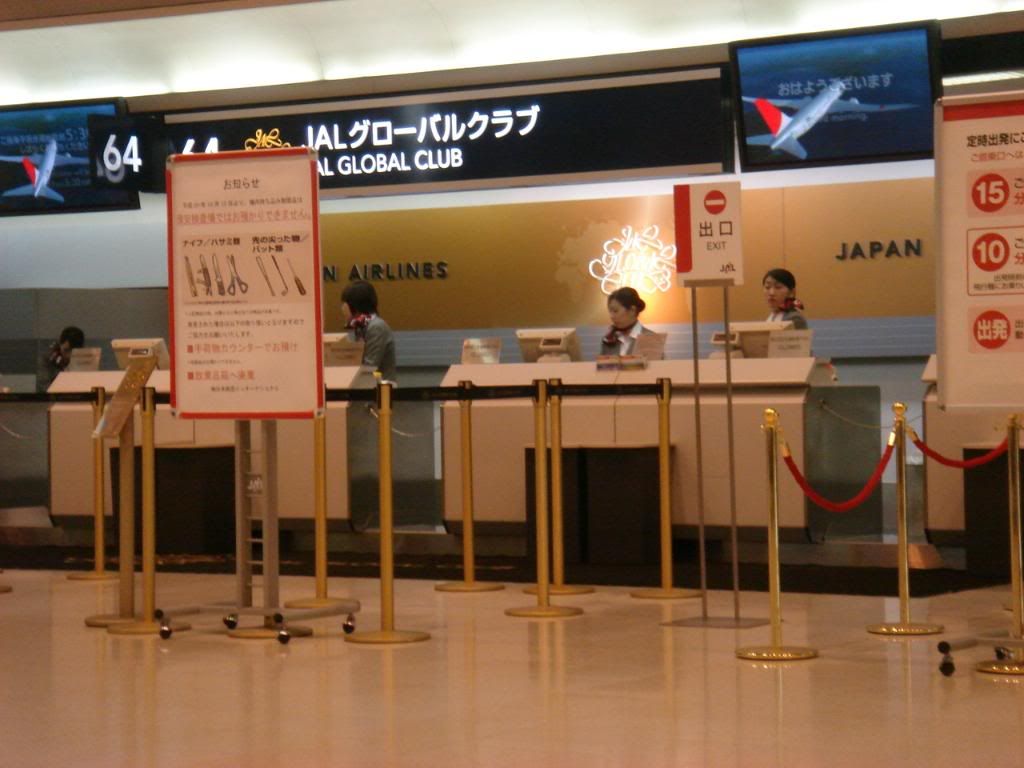 Got my boarding pass for 22A and headed through security.
I must say the security staff are polite and actually helpful, quite a change from others around the world..........
Here are a few pictures post security:-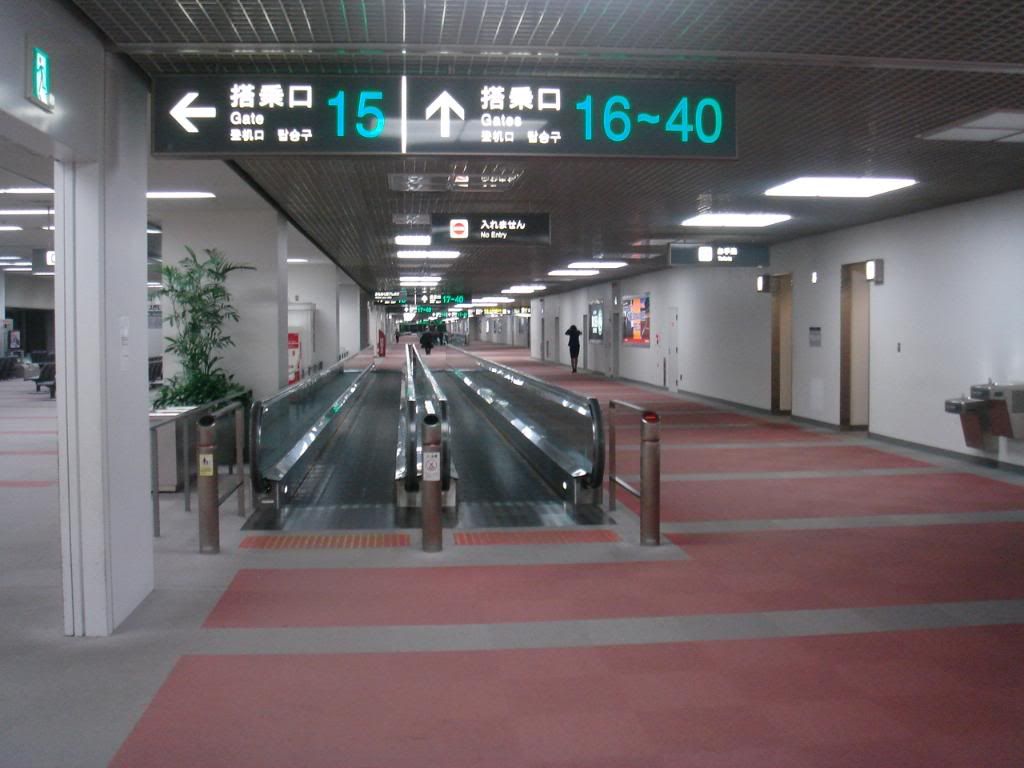 I found gate 19 and sat down with a drink I had purchased in a store, needed it as it was like a sauna airside, quite awful!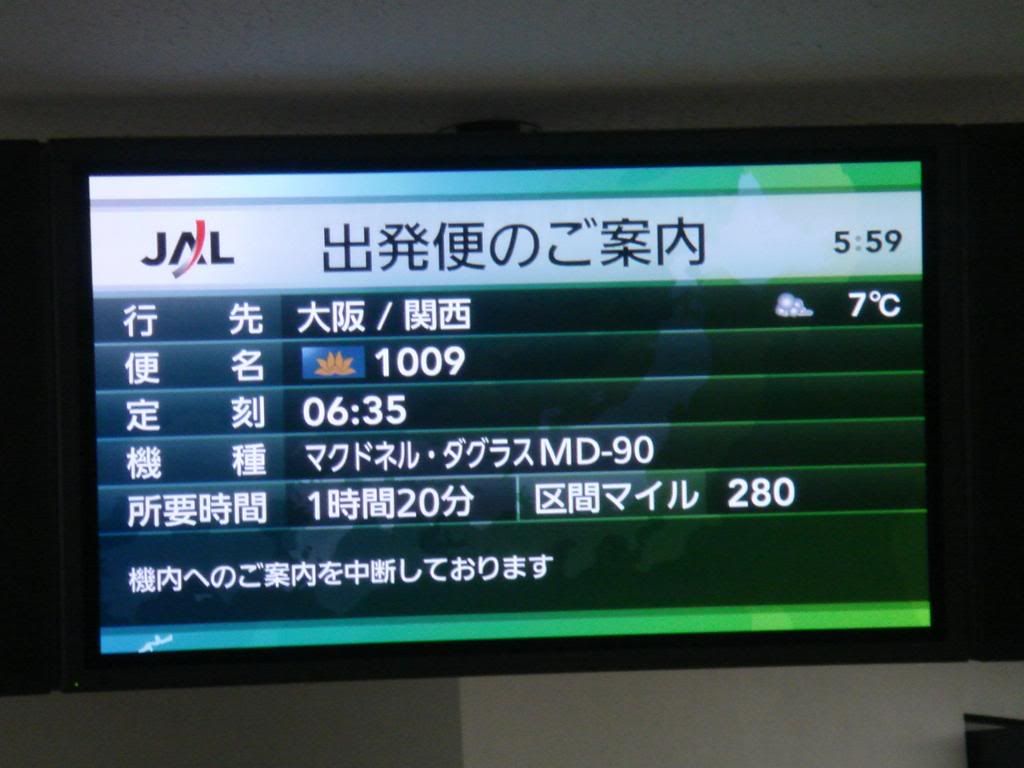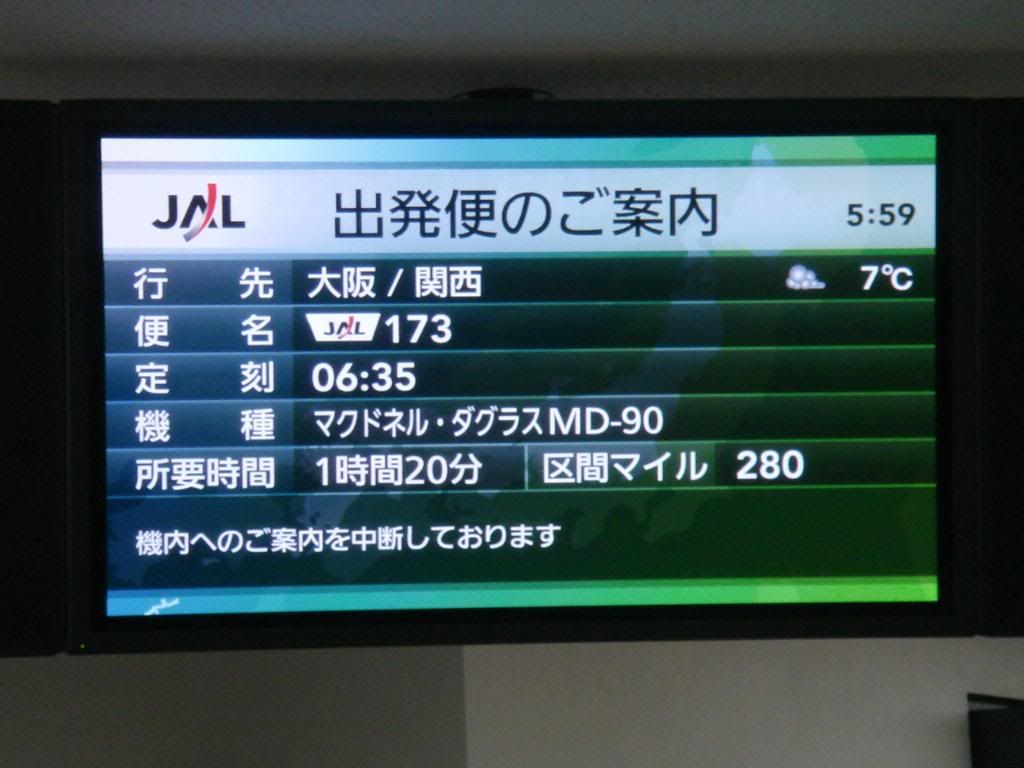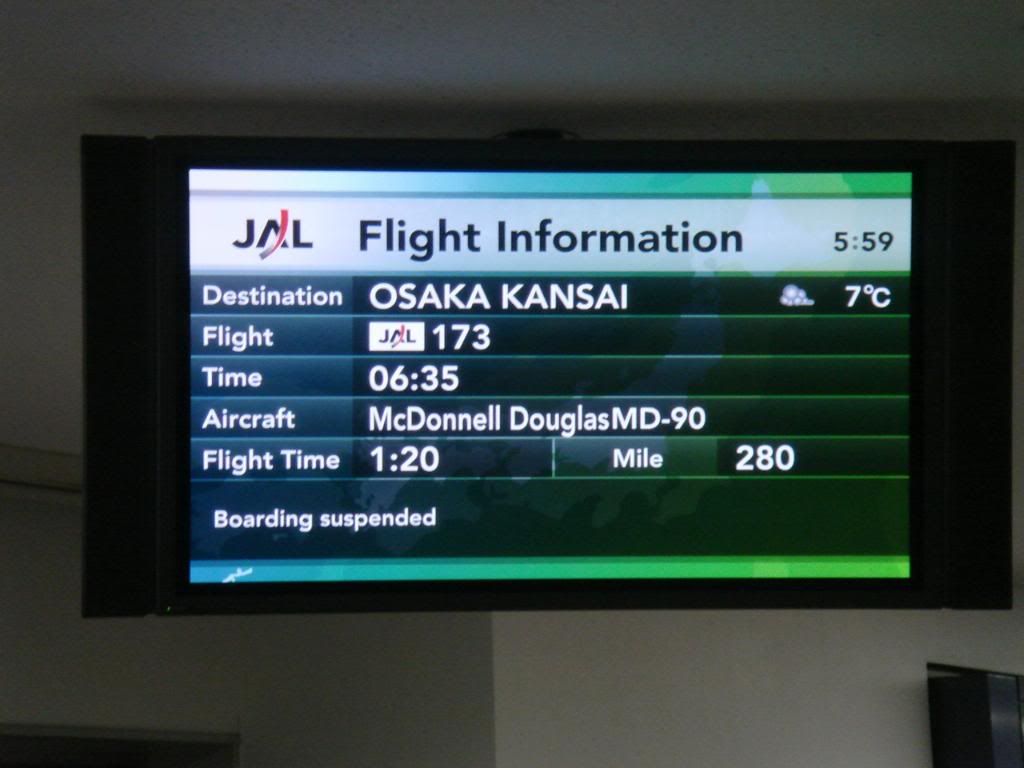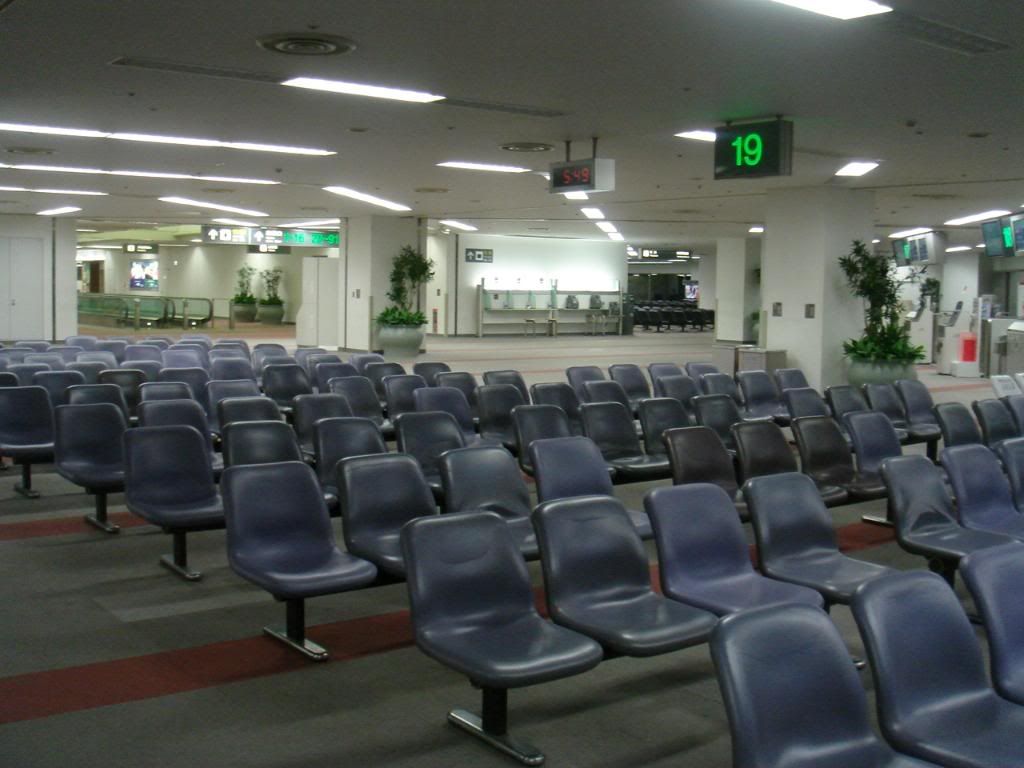 Can you see my plane?
Boarding started at 06:25, quite late but it seemed today's load was going to be quite light. I took advantage of status pre-board and was about the 5th person on the plane.
I had expected to be some way down the plane – having been allocated 22A, however, 22A is less than halfway down the plane and well forward of the wing, economy starts at row 15, quite odd! In addition, JAL number the 2-3 layout in economy as A,C & H,J,K.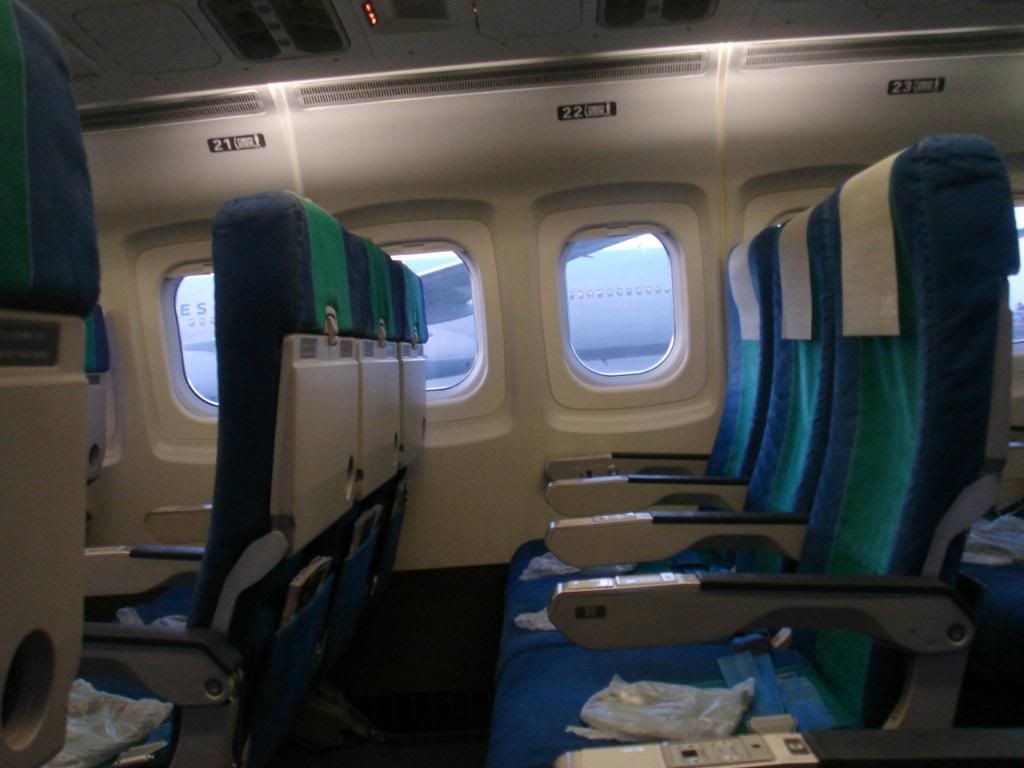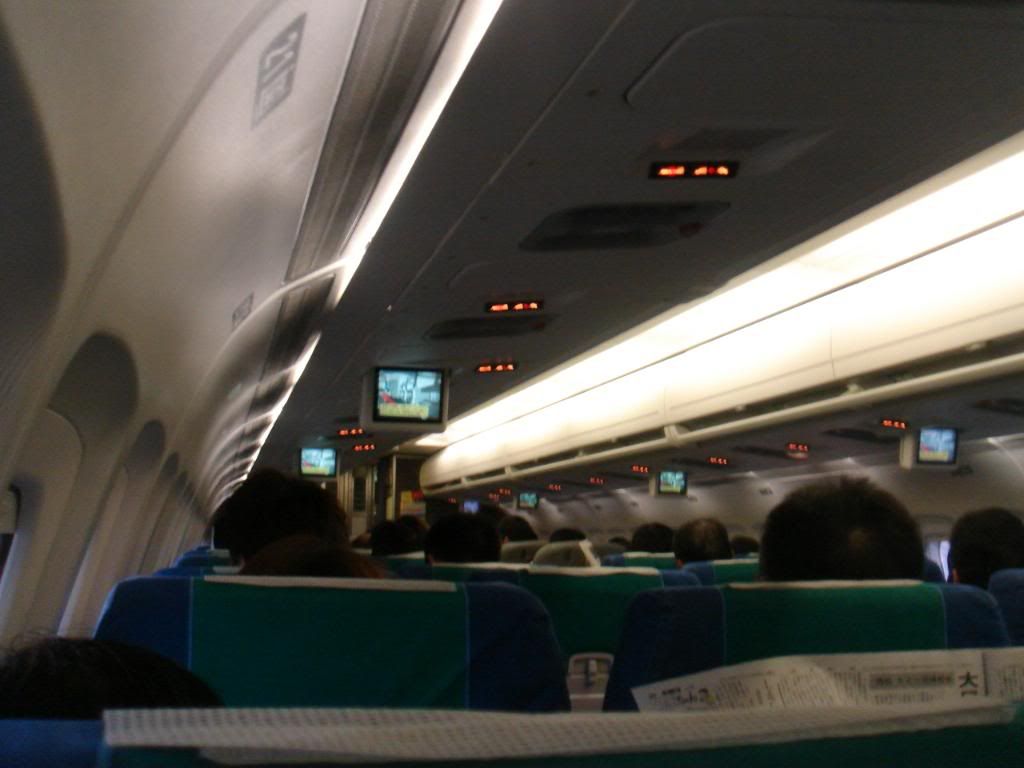 Despite the lack of passengers in the gate area, a steady stream of passengers boarded the plane, the seat next to me was occupied by a male passenger, despite wearing a suit and looking tidy, he smelt like he has spent the night in a bad drinking a skin full.
View outside
Boarding was complete and doors closed at 06:35, despite the row of 3 seats opposite being empty, we must have had an 80% load this morning.
I suggested with gestures that my seat mate might like to move to the opposite row and have all 3 seats to himself, he declined!
Thankfully a passing FA had a word in his ear and he moved, I gave the FA a big smile, she smiled back
Push back occurred 2 minutes behind schedule at 06:37, we quickly headed off to our departure runway, having a nice little taxi past the terminal, here are a few pictures:-
Ramp Rats waving:-
The JL ECO 772 with observation deck above:-
More JAL:-
Pushing in ahead of us
Our turn came, wheels up at 06:55, here are a few views:-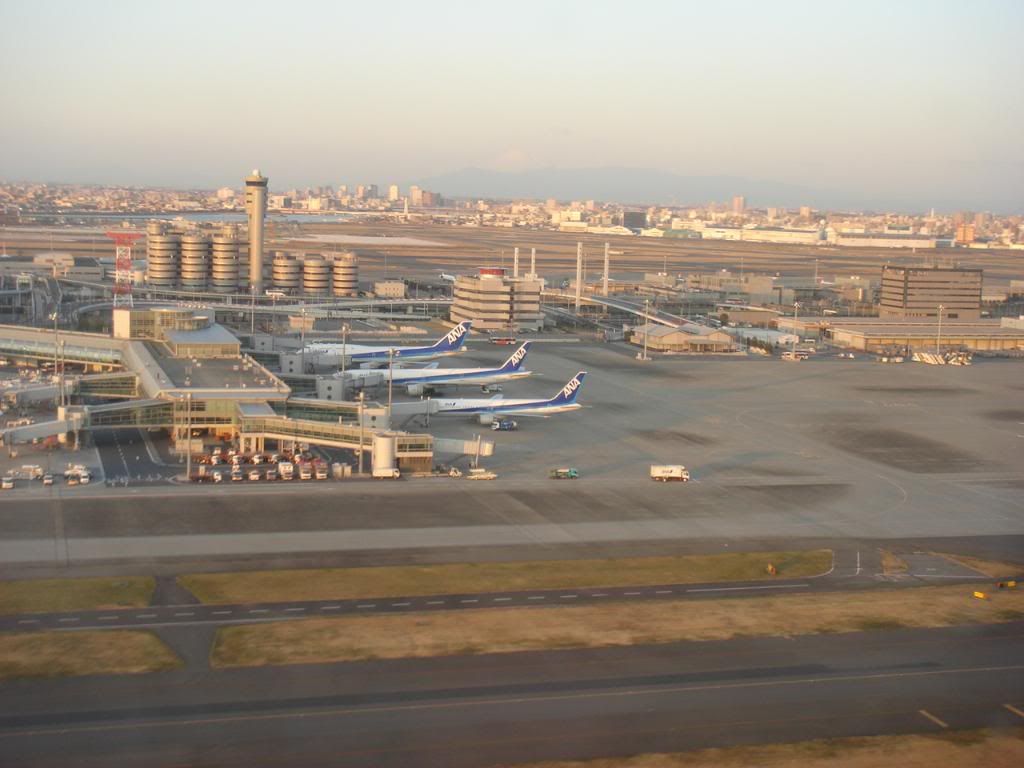 Once released the crew went around offering papers later coming around with a drinks service, tea, coffee, soft drinks, no snacks, not even in Business.
I had a cup of coffee, it is coffee, honest!
The rest of the flight was uneventful, I had a bit of a sleep as I was tired.
Not sure what time descent began, but we landed at 07:52, a few minutes ahead of schedule.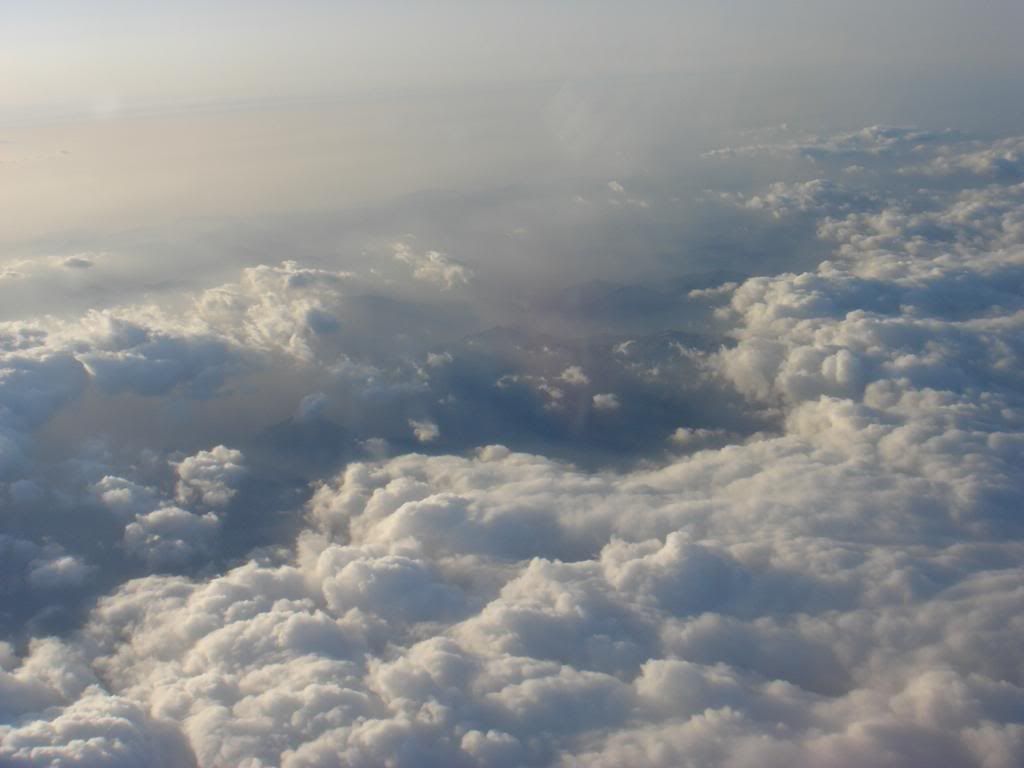 The weather outside was looking a bit grey but thankfully there was no rain.
A short taxi and we docked at gate 22, it seemed to take a while to get the finger attached.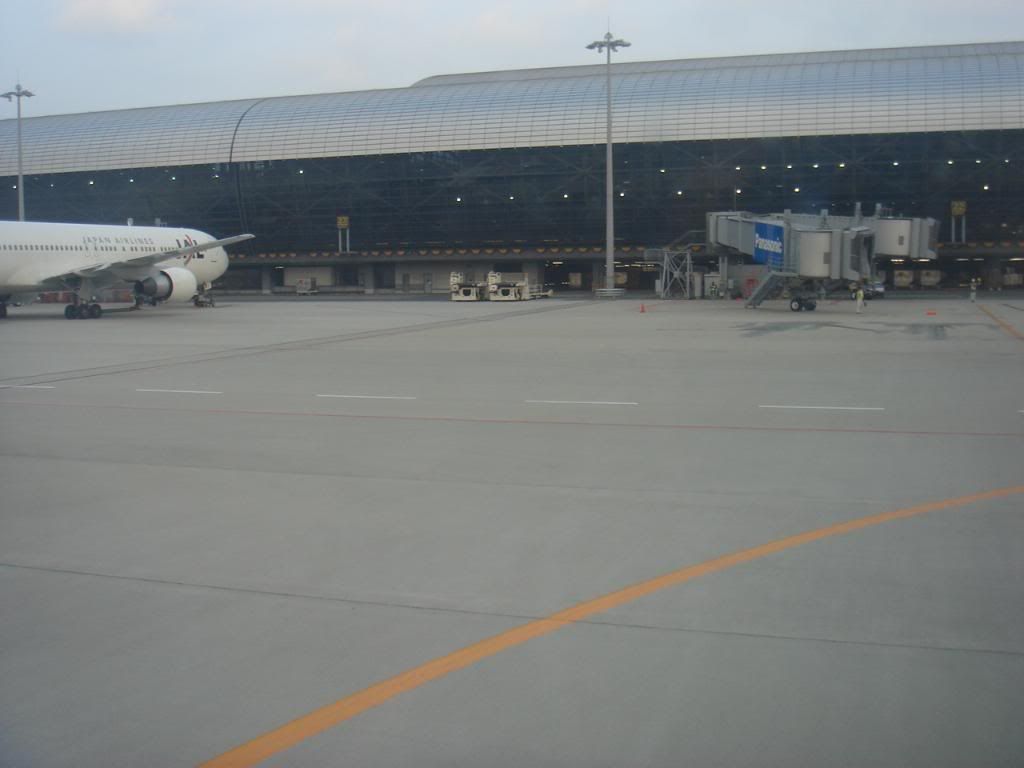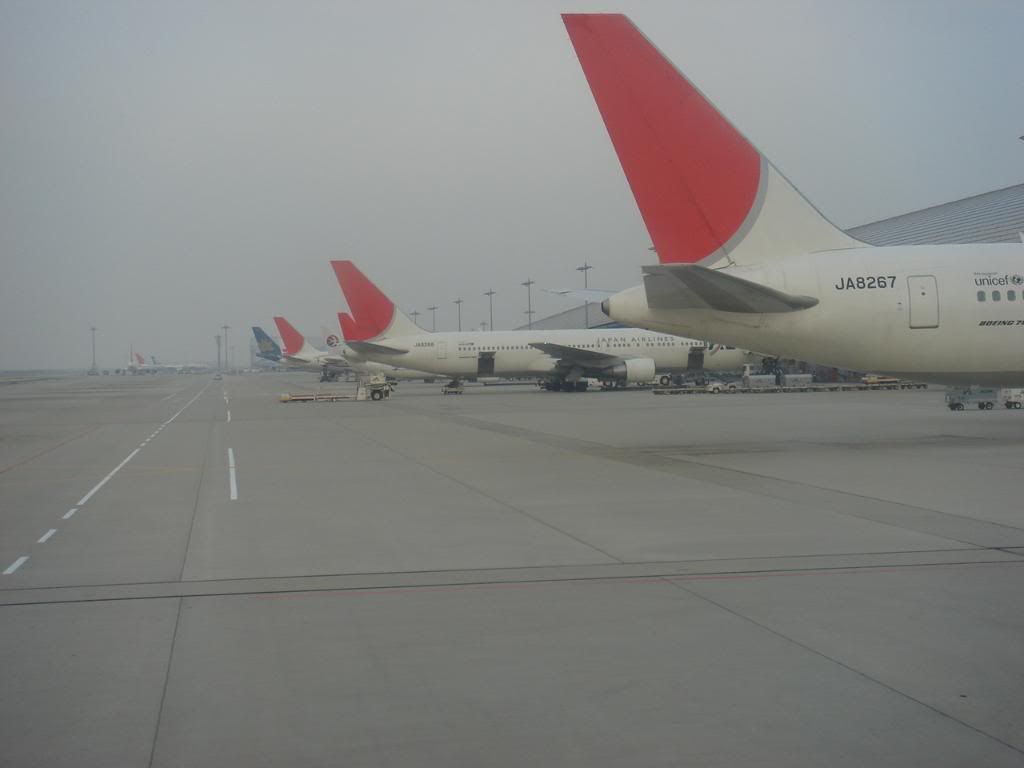 My plane
Once off I left airside, grabbed a Starbucks and went to stop 1 on the lover level, this is where you get the bus for the observation hall.
The ride takes about 10 minutes and costs 100 YEN.
Here are a few pictures of the day:-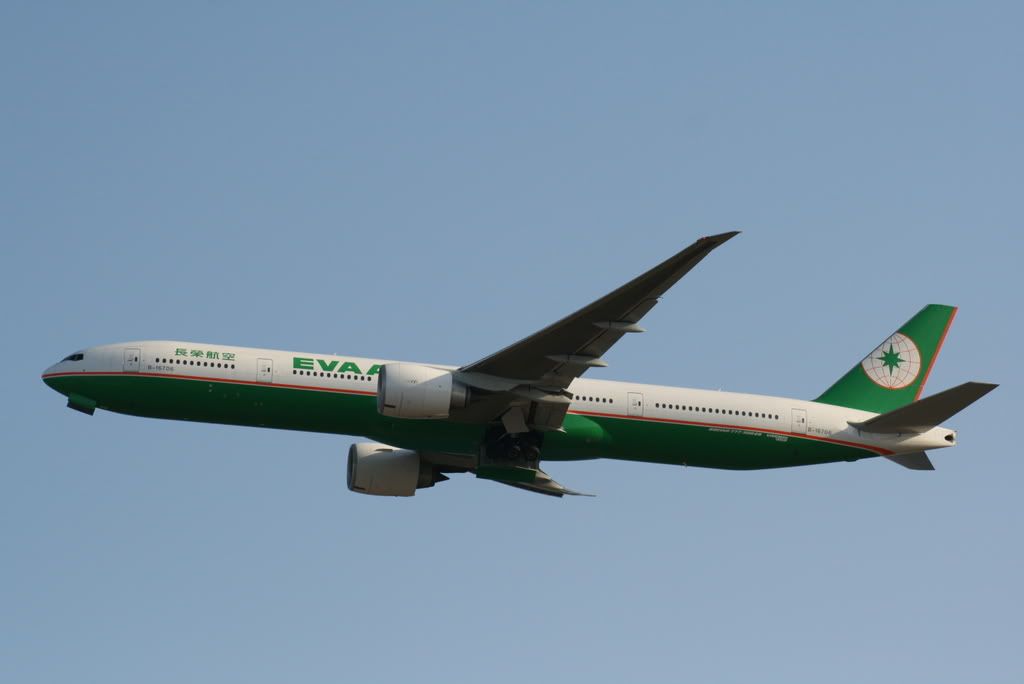 08.02.09 JL188 MD-90 JA8064 83K Business Class ?
1st Flight on this aircraft & 3rd MD90 Flight
SCH DEP 19:15 SCH ARR 20:25
ACT DEP 19:18 ACT ARR 20:16
View Large
View Medium


Photo © Alastair T. Gardiner - WorldAirImages
No pictures in the database of this plane in JAL c/s.
I arrived back in the terminal around quarter past 5, I decided I needed to grab some food before the flight, I'd rather eat early than late, it would be getting on for 9pm if I waited until getting back to Handea.
Checked in and got seat 83K for my MD-90 flight back to HND, yes it is right, row 83 on an MD-90!
The check-in agent advised me I could use the lounge since I was travelling in Business Class – not sure how this happened, booked today's flight via OPODO, unlike ANA, JAL does not allow on-line seat purchase to most of the world!
In addition, today's flights cost more than double the ANA flights I managed to book on-line directly.
On the way to security I saw a Mcdonald's, so I headed in to grab a quick bite, reason being it would allow me more time to spend in the lounge.........big mistake, the lounge was tiny, was almost full, was boiling hot and did not even have a beer – I needed a beer after a hard days spotting, so I left and went into airside, expecting to find a nice bar, wrong again, ended up buying a can of Kirin Beer in Blue Sky and sitting on a hard wooden chair, not quite what I had in mind.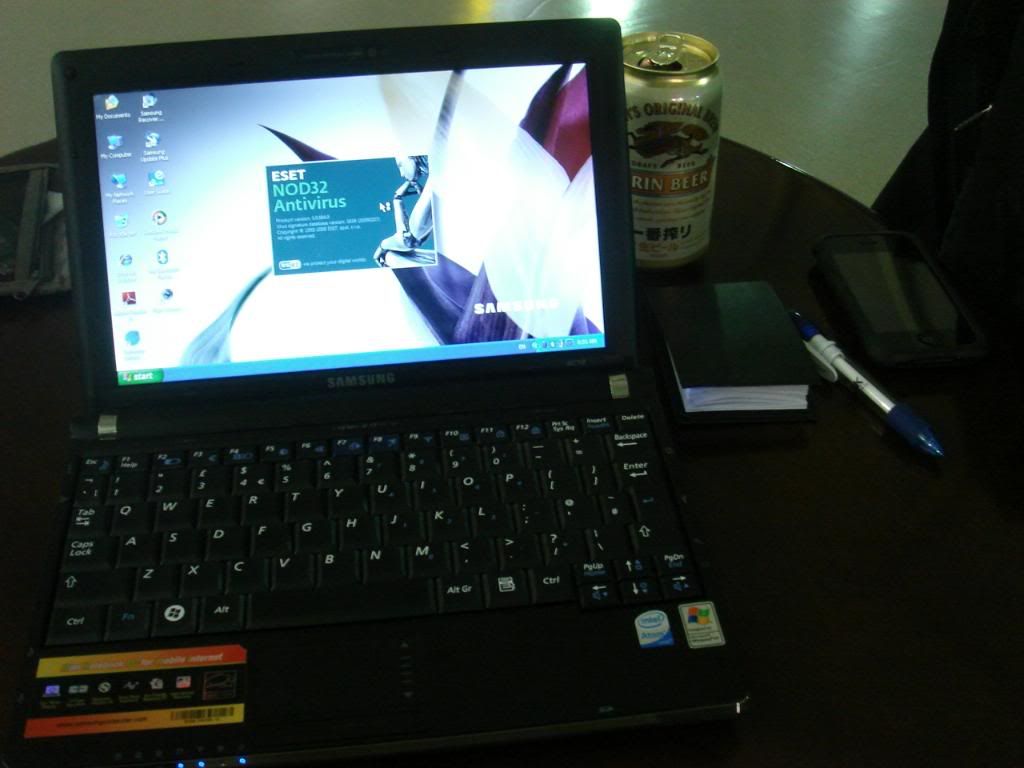 Whilst here, I decided to type up this report, I'm trying to stay ahead of the game, still got unwritten TR's from last year which may not see the light of day 
Airside
My plane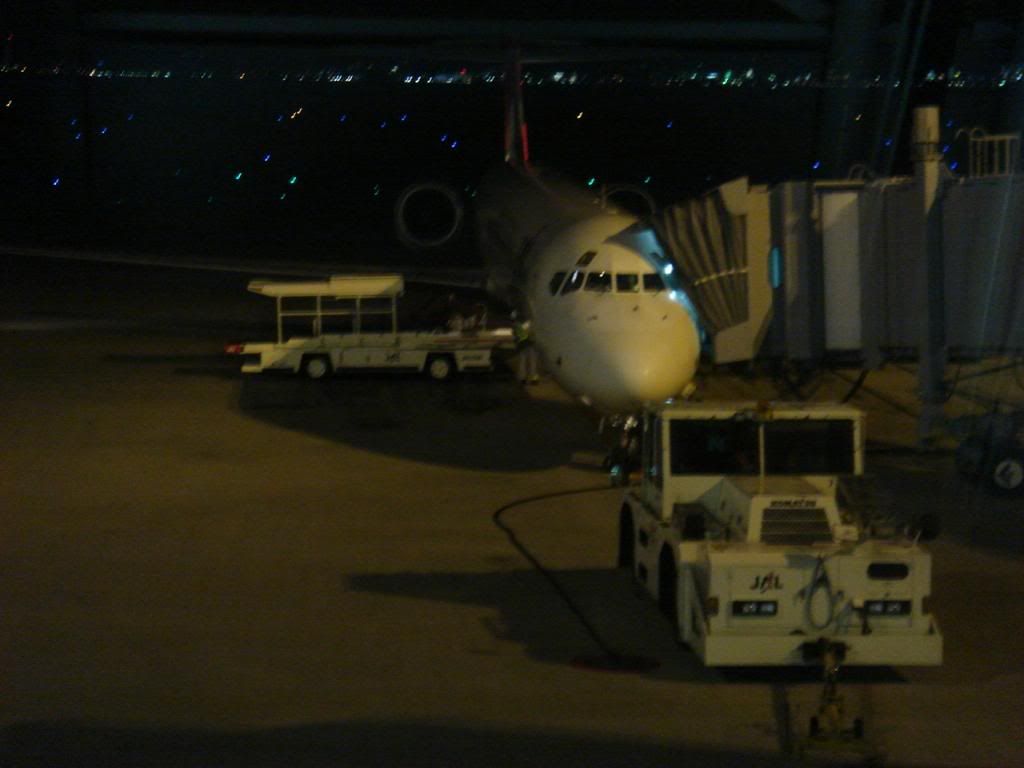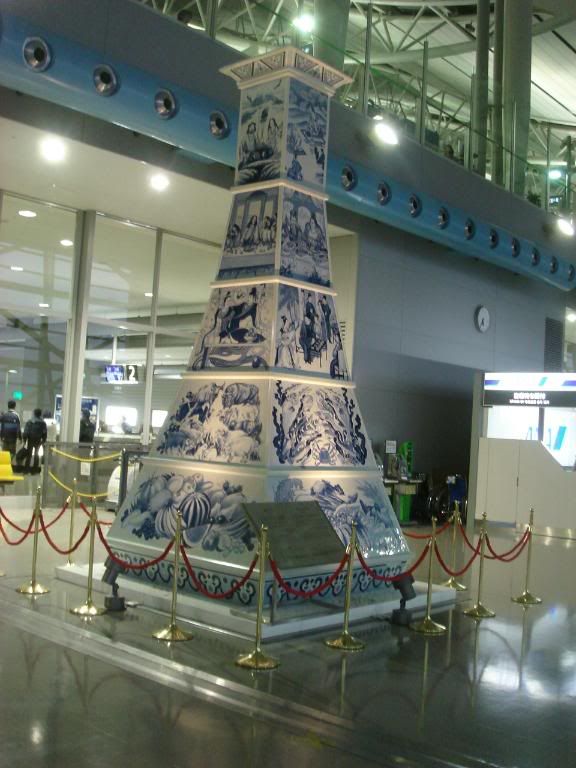 Boarding started at 19:00, this time I was not able to pre-board and was advised I was not travelling in Business Class, I had merely purchased a bigger seat, I was a bit confused at this point so went and sat until other passengers had boarded.
The gate agent thanked me for waiting and again advised the bigger seats were not business class (despite the boarding pass having J on it and the check-in agent said it was business), I said it was pretty unclear especially as the boarding pass clearly has J on it.
I might add the return flight gave me extra miles and double the tier points on my BA Exec account……
Anyway, got onto the plane, it was boiling, I mean really hot!
I was in row 3, thankfully row 2 still had some overhead bin space for my bag and coat – flight looked very full, could not see another empty seat when I took mine.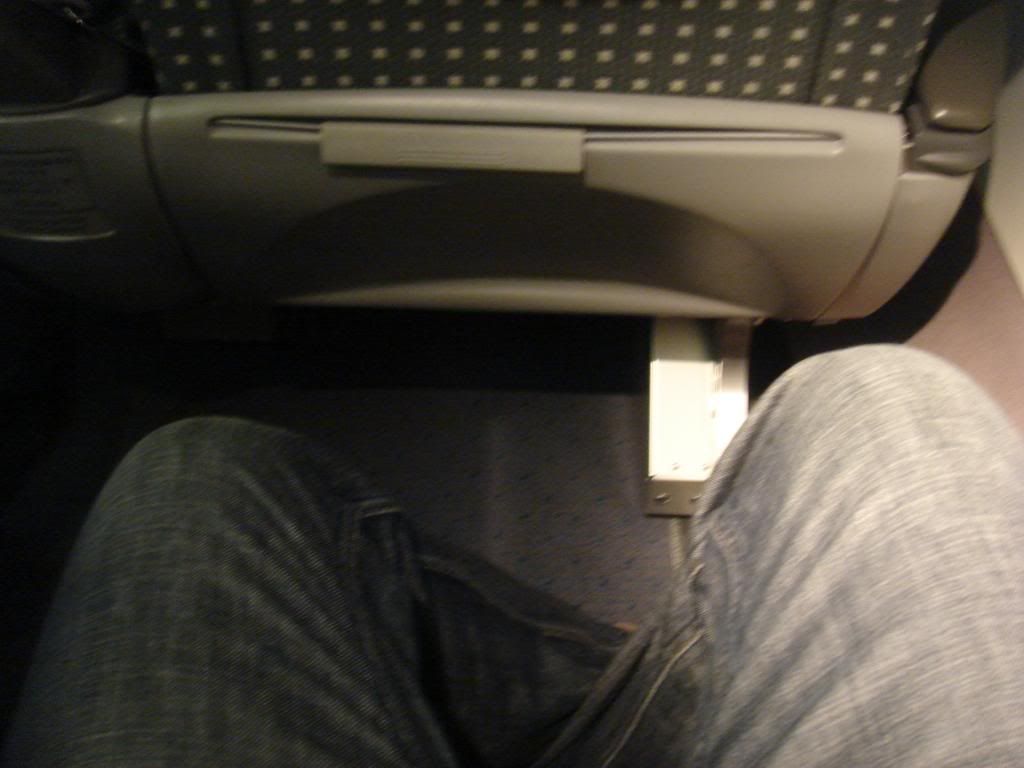 Despite the heat, the guy in the seat next to me had a blanket as did numerous other passengers, amazing!
Push back was 3 minutes behind schedule, here is a picture of the terminal from the plane.
Wheels up after taxi at 19:29, here is the only shot I took after takeoff.
I'm sorry to say I slept for the rest of the flight as I was pretty shattered,I guess service would have been similar to this mornings flight.
Wheels touched down at 20:16, some 9 minutes early, a short taxi to the gate and off the plane, was back in the hotel by 20:40.
All in all, JAL were fine, though the confusion over the bigger seat/business class thing was annoying.
Hope you enjoyed my day, nice to get on another 2 MD-90's - the return flifgt had originally been a 73H, please feel free to post any comments or questions you may have.
Best Wishes
Mark