Background: I had been thinking for the longest time of going back to the UK for a couple of days in order to get some data I had left in my old lab. I also thought it would be nice to see some old friends and, for once more, breathe some fresh Scottish air.
The original plan was to travel in October but due to some paperwork problems I had to transfer my ticket to February and pay Delta some extra $300. I was to fly out of ORD (via JFK) to EDI on Feb 12 and return (via the same route) on the 16th. However, 5 days prior to the flight I received a phone call from Delta informing me that their company had stopped flying out of EDI on a daily basis and that I would have to come back either on the 15th or the 18th. Neither option was good enough for me so I asked their representative to get me out of EDI on my original dates through some alternative route. To my surprise, however, she claimed that she could not do so. I decided to agree to be transferred to the flight on the 18th, hoping that I could perhaps change it later on. I called Delta after a couple of hours asking if I could be transferred to a flight for my original dates but once more I got a negative response. Being rather frustrated I popped into our live chat on A.net and talked to a few guys about my situation (I am terrible with names, so I cannot name you guys, but I want to thank you once more for you help). They all encouraged me to call again and insist that my request is satisfied and, if necessary, that I should ask to talk to a supervisor. I did so and this time the guy on the other end of the line had no problem to look for a flight to accommodate me. Despite his efforts he could not find anything for the 16th and offered me instead an EDI-CDG-ATL-ORD route for the 17th with CityJet, AF and DL. I had no choice but to go with that.
Feb 12 2009
Delta Connection flight 6614 ORD-JFK
CRJ-100
On the day of departure, and given that I did not have much luggage with me, I decided that I should use public transportation to get to ORD. I took the No6 bus from Hyde Park and then, once downtown, I transferred onto a blue line CTA train to O'Hare. I had checked in electronically the previous evening so I went straight ahead to the security checkpoint and then looked for my gate. I had 3 hours to kill until my flight so I wondered about concourse L for a bit and then sat down to read my book and charge my phone. I was wearing an Argentinean jacket so a couple of Argentinean people that were waiting for their Iberia flight to Madrid came up and talked to me.
Iberia A340 ready to depart for Madrid
With this and that time went by and it was time to for my flight to JFK. However, 15 minutes before the scheduled boarding time we were announced that due to strong winds at JFK our flight would be delayed for 2 hours. This was really bad news because my layover in JFK was meant to be just 1h. Even worse, my flight to EDI was the last one of the day to leave for the Old Continent and I immediately knew that it would be a long night at JFK. I tried not to think about it and I chose to watch the Heat-Bulls game that was shown on a screen opposite my gate.
Some of the early evening traffic at ORD:
Plenty of United traffic of course
LOT
AF
EI
Air India
An identical CRJ-100 to the one I was about to fly, standing at the same gate I would later depart from.
Two hours later, we were ready to board on our tiny CRJ-100. I was one of the first few in line but once the gate attendant tried to scan my boarding pass she told me that I had to step aside because the machine "didn't like my pass". After everyone else had boarded, she asked for my passport and tried to see what was wrong. After about 10-15 mins of trying to figure out so (and after making several phone calls) she gave me a new boarding pass and told me that the problem had occurred because I had checked in virtually the night before. I ran to the plane and once I got in the one and only flight attendant on board gave me a strange look and said "Oh, there he is, at last" (even though I am pretty sure what she really wanted to say was "Where the hell have you been"). I just said something along the lines of "It wasn't my fault" and sat on my seat. I had never been on a CRJ-100 before and I found its size rather entertaining. I did not take any pics of the interior, mainly because I initiated a long conversation with my seatmate that lasted until we landed at JFK. The winds were pretty strong on approach but, despite the strong wobbling, the pilot made an excellent job of landing us smoothly on the tarmac. The flight attendant asked everyone to allow me, and another two connecting passengers, to de-board first, so I made my way into the terminal as fast as I could. It was already 1 hour past the scheduled departure of my flight to EDI but I was hoping that perhaps it would also be running behind schedule due to the winds. It was however not. After wondering about the Delta terminal, unable to find anyone to talk to, I was guided to exit the secure area and talk to someone at the check in counters outside. Long story short, I was told that I had to wait until 10:30pm the following night (it was midnight already). I was provided with a hotel and 3 meal vouchers and headed over to the AirTrain which got me to the Federal Circle where a shuttle bus would take me to my hotel. Once I got there and switched on the TV I found out about the CO crash at Buffalo.
View from my hotel room
The news were all about the CO3407 at Buffalo
Feb 13 2009 (initially scheduled for Feb 12 2009)
Delta flight 96 JFK-EDI
B767 (instead of B757)
I knew I had to check out at 11am so after a quick shower I forced myself to sleep. It was 2am by that time already. I was back at JFK by 11:30am and I quickly scanned the area for a good spot for photos. Fortunately there are plenty of such spots so I kept moving between them trying to get some decent shots.
Cargolux with the NYC skyline on the background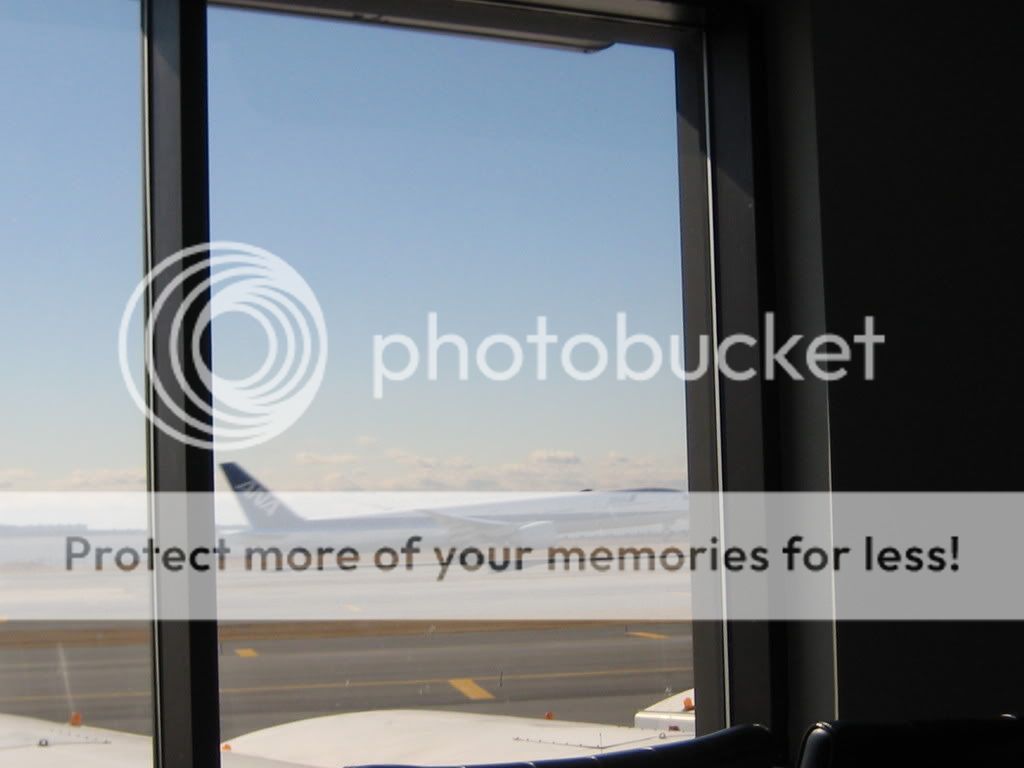 ANA taking off
A big Korean bird
Straight from Athens
AF in JFK
I had some incredible views of the take offs from this window. Here an AA 767
JAL about to take off
More NYC skyline. I was asked to stop taking pictures by one of the security guys right after I shot this one.
A very stylish TC tower.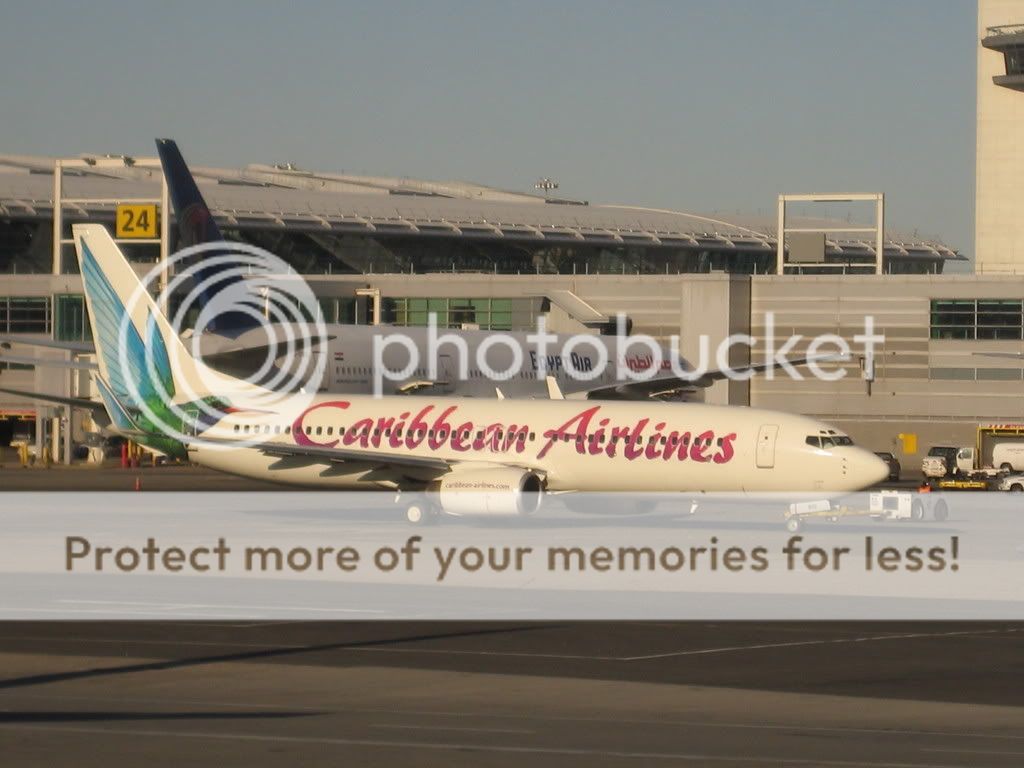 Some exotic traffic
Air Jamaica
Exterior of the Delta terminal
Despite the many interesting birds in sight it was a painful 12-hour wait and I could not wait to get onto my flight. At 9pm I headed to gate 9 but no sooner did I do so than we were asked to move to another adjacent gate because the equipment on the original gate had broken down. Shortly before boarding we were announced that instead of a 757 we would be flying a 767 and that some of us would have to get new boarding passes. After boarding was complete we were told that catering was not loaded yet (due to the sudden change of aircraft) so we would have to wait for it. It took about an extra 30 mins. The pilot announced that it would be a quick taxi to the runway but instead it proved to be a painfully slow and long one. Prior to taking off he also announced that we were 3rd in line but I counted 9 planes taking off before us. Weird.
The flight was OK. I had 2 seats to myself so I stretched and caught some Zzzs without feeling too uncomfortable. The 2 movies that were shown were not of my taste so I chose to read instead. After the movies were over, the route map was put on the screens but despite the fact that we were south of Iceland it kept showing that we were flying still over Connecticut. I walked over to the flight attendants at the galley (they were having some eats at the time) and told them of the problem. They said that they would try to see what the problem was but the problem was never fixed. We had a smooth landing in EDI and the passport check took literally a few seconds.
Interior view of our 767
Not that much of leg space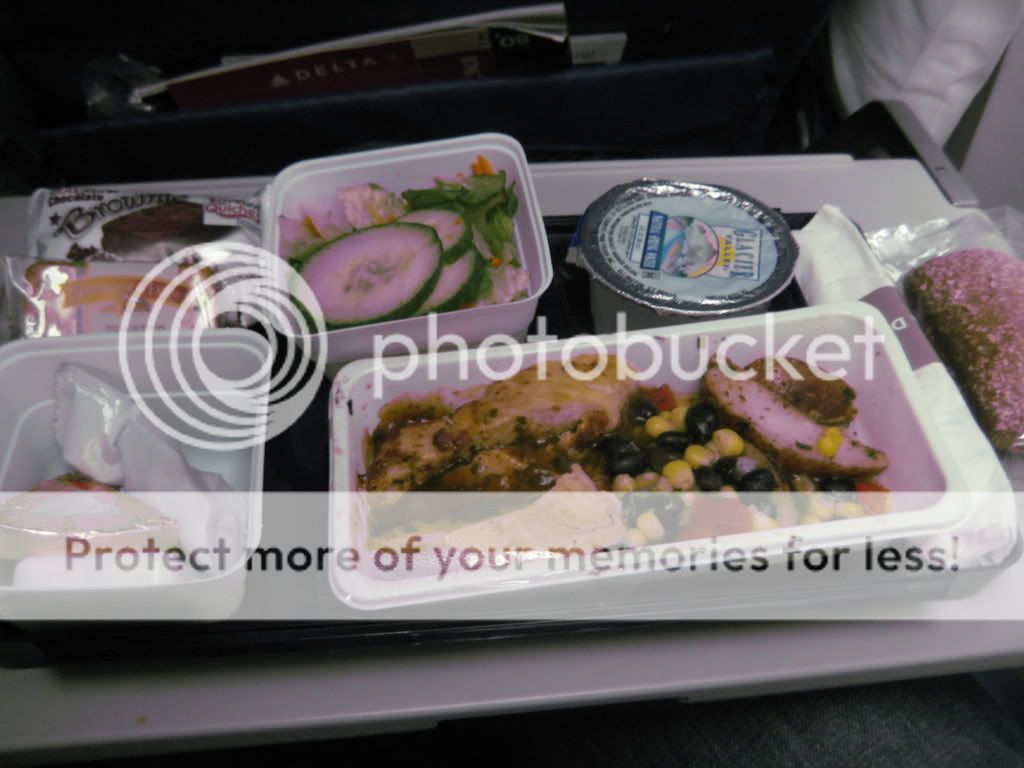 Hot meal service. It was OK but nothing special.
Flying over Long Island
Somewhere over the North Sea
Breakfast served about an hour prior to landing
Snowy Highlands
During our final approach to EDI
EDI
Our Delta 767 at EDI. Not a common sight anymore...
My 3 days in Scotland were spent traveling between Edinburgh and St.Andrews and taking care of business. Before I knew it, it was Tuesday and time to get back home.
Here are some shots from my stay there:
St.Andrews Cathedral ruins
Driving over the Forth Bridge
Driving by the Dundee Airport
Rail bridge connecting Fife with Dundee
Forth Bridge seen from the train
A Delta 757 leaving for NYC, as seen from the train, the day after my arrival.
The train that brought me back to Edinburgh from Dundee
Waiting to go back to St.Andrews
Ships at the firth of Forth
The Old Course at St.Andrews
North Street at St.Andrews
The West Sands of St.Andrews
Edinburgh
It says it all (about British Food...)
Leuchars train station as I was leaving for Edinburgh on my last night there.
Feb 17 2009
CityJet flight 5051 EDI-CDG
Avro RJ85
I took the No100 bus from Waverley Station and 25 mins later I was in EDI. While checking in I noticed that my assigned seat for the CDG-ATL leg was an E one (on a A340-300) so I asked to be changed to either an isle or a window one. I need that extra leg space, or at least something to lean against in order to sleep or get comfortable in general. The lady at the counter was more than happy to change my seat to a window one (K). I was very pleased with this but it was not until later that I was met with an ugly surprise (see below). The security check was fairly quick and I made my way to the lounge. To my disappointment I noticed that the big windows that gave viewing access to the tarmac and the airstrip were covered with huge advertising banners, presumably due to the ongoing work to the face of the building. I was really looking forward to shoot some photos through these windows. After buying some duty free I made my way to the gate.
EDI as seen from gate 3
Some easyJet traffic
Nice touch
We boarded on time on our Avro (named Collanmore Island) and we pushed back with only a short 15 min delay. It was sad to leave UK back. Soon I had fallen asleep only to be woken up for the cold croissant and drink service.
Our aircraft
Leg space was OK
Window view
Cold croissant service
Some other aircraft passing underneath us
De-boarding at CDG
I had only once before been in CDG and I had forgotten how nice it looks. I had no time to waste though and I rushed to take the train to my gate.
Obviously lots of AF birds in CDG
Feb 17 2009
Air France flight 388 CDG-ATL
A340-300
I made it to the gate for my flight to Atlanta just on time. While boarding, a problem with my passport forced me to wait for about 10 mins before being allowed onto the plane. It was not made clear to me what the problem was. Our aircraft was a lovely A340-300.
The A340-300 that would take us to ATL
I had 2 seats to myself yet again and I tried to make good use of all that extra space. However this was the lovely view from my window seat.
Leg room
Amenity and menu
Drink and crackers
Hot meal. Orzo pasta salad with vegetables, olive oil sauce, Espelette chili pepper and sheep's-milk cheese, Beef Bourguignon with mashed potatoes and french green beans, Camembert cheese, an Actimel yogurt, and a pistachio apricot cake. It was delicious!
Pre-landing cold snack. Equally delicious!!
I was very pleasantly surprised by the AF service. Very clean aircraft, polite crew, an amazing and huge movie selection and some of the best quality food and drink service I had in a while (not to forget the metal cutlery)!. I had one of the most pleasant flights for quite some time, even without having a window! Once in Atlanta, I had to rush to get as far front in the immigration line as possible because I had to also collect my luggage, re-deliver it, get a boarding pass and make it to my gate in less than 60 mins. Immigration was painfully slow (more than it is usually) perhaps because of the unusually large number of people requiring an interpreter.
Feb 17 2009
Delta flight 1946 ATL-ORD
MD-88
Once through, I took care of my luggage and headed to the train for terminal B. I got my boarding pass form the gate and no sooner did I do that than we had to board. I did not take any photos because it was fairly dark and I did not have a good view of our aircraft from where I was standing. I was given an exit row seat, which was highly appreciated. Service comprised of 2 small peanut bags and a drink (I chose a Bloody Mary mix). Our MD-88 was a bit old and rusty but the ride was smooth and pleasant.
Overall I have to say that it was a crazy few days. It wasn't Delta's fault for my ordeal but I have to say that I appreciated the fact that I was given a hotel and 3 meals. Other than that, their service was simply OK. As for AF, I don't know what to say. The service was truly amazing and so was CDG. If I ever have the chance again, I would choose them over an American carrier to do a Trans-A crossing.
Thanks for reading. Any comments would be welcomed.