Continued From


Part One: Summer Wandering Pt.1 - Yak42s; An140; & Chernobyl

Part Two: Summer Wandering Pt.2 - Yak42, An24, An140, & B732



Summer Wanderings; Part Three:

SIP-SVO-GYD in Aeroflot Business Class

Welcome to this third short installment covering my travels during last summer, focusing here on the Simferopol-Sheramento-Baku flights which I took in order to bypass Georgia; here is a little background to the situation: Originally I had planned to take the weekly Odessa-Batumi ferry, which takes some 36 hours to sail across the Black Sea, however, at the time I was planning my trip some considerable friction emerged between Georgia and Russia, so I decided it would be best to plan a route around Georgia, as I had already booked my travel home from Baku and therefore needed to get there on time. Initially I planned to take a direct flight from Kiev, but then I discovered some reasonable fares on Aeroflot from Kiev and Simferopol, and that the latter was operated by one of the rarest commercial airliners there is; the Ilyushin 86. This sold me on the idea - I simply had to fly it, and from €178 all the way to Baku it was an excellent deal, although I was extravagant I spent an extra €100 for Business Class. There was method to this; the first two possible connections to Baku from Moscow were western aircraft, so I chose to wait 17 hours for the next Tu154 operated flight – so by flying in C I'd have lounge access and thus somewhere comfortable to while away the layover, as the cost and hassle of getting a visa just wasn't worthwhile. Tickets were booked via the Aeroflot site, but because the SIP-SVO sector was operated by AeroflotDon, I had to wait until I next visited London in order to collect paper tickets.
Day 20; Monday 14th July 2008:
For my return trip from Yalta to Simferopol I decided to give the trolleybus a miss; once was enough for the experience, so on the return I took a mini-coach from Yalta's bus station. Buying your ticket was the difficult part, because only a handful of people had grasped the concept of queuing, meaning that half of the ticket sellers' time was taken up yelling at people to get back in line! The coach was twice as expensive as the trolleybus, but it took half the time and by 11am had arrived at the train station in Simferopol – there are some busses which go directly to the airport from Yalta, but I hadn't managed to find one, so I negotiated a price for a taxi onwards to the airport, arriving shortly after check in had commenced.
The flight was being handled in a smaller and, by the look of it, newer annex to the main International check in hall (the lower building on the right hand side of the photo above) with four assigned desks, but no dedicated line for C class passengers. At the time I suspected that because SIP is predominantly a leisure destination receiving holiday or charter flights, there was no need for a separate lane, but on reflection I think most premium passengers bypass this area completely and proceed straight to the lounge. At first the agent was confused by my long layover in Sheramento, but after making a couple of phone calls she confirmed that my hold bag would be checked right through to Baku and handed me a boarding pass for the initial leg to Moscow, whilst giving instructions on how to find the lounge, situated upstairs in the main area of the terminal. Walking into the main terminal I was surprised by the number of German flights that day; I had no idea the Crimea was popular with holiday makers from Germany!
Upon entering the lounge I was made to feel very welcome; being asked straight away what I would like to drink and shown a selection of available snacks, before I was relieved of my boarding pass and passport, and told to make myself comfortable. The facilities couldn't be called modern that's for sure, but the lounge, which was made up of several sitting rooms linked by an open corridor, did have a certain stately appearance; even if it did reminded me slightly of the day room at my elderly Aunt's care home, only - how do I put it? - without the smell! It was quite busy until a couple of St Petersburg and Novorossiysk flights siphoned off most of the occupants, but even so I managed to find a quiet corner where I duly relaxed into an old green armchair. My passport was returned after a few minutes, along with the snack which I had ordered, and now sported its second red exit stamp from the Ukraine – this has to rate as my pleasantest experience clearing immigration ever; sat with a glass of wine, leisurely skimming a copy of the Moscow times.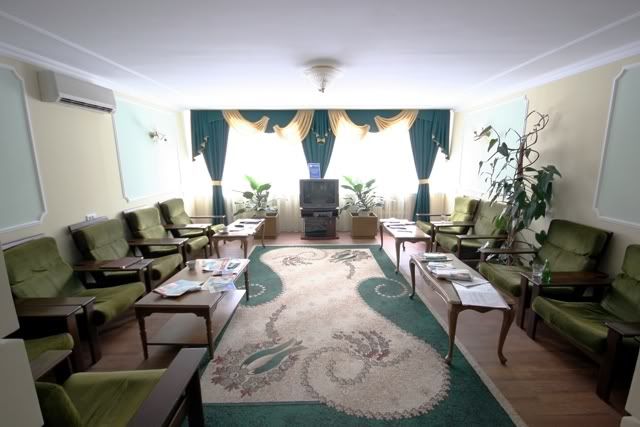 When the time came to board there was no tannoy announcement, instead I was asked in person by one of the assistants if I would like to follow her through to the dedicated security lane; exclusively for use by premium passengers – a very nice touch which really exenterated the feeling of flying in business class. There was a further hallway where myself and the other passengers had to pause until the X-ray machine span back into life, then after some very brief security formalities we were ushered down a flight of stairs and towards the minibus which would drive us straight to the awaiting aircraft.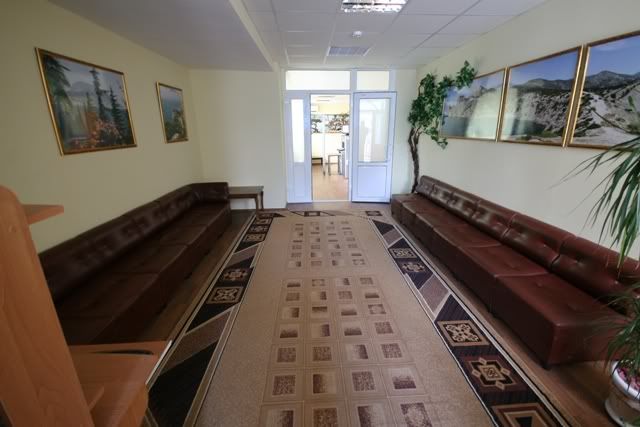 Until this point I had absolutely no idea what aircraft would be operating the flight as, nice as the lounge may have been, there were no views towards the apron. I'd already made up my mind that the only substitution I'd be happy with was an Il-62M but, as the bus turned towards the apron, it was evident that this giant Il-86, overshadowing everything else with its presence, would be my ride up to Moscow. Part of me was a little disappointed that it didn't wear the iconic blue cheat-line from the old Aeroflot livery but, as I reminded myself; it's still an Il-86 at the end of the day, so I really can't complain!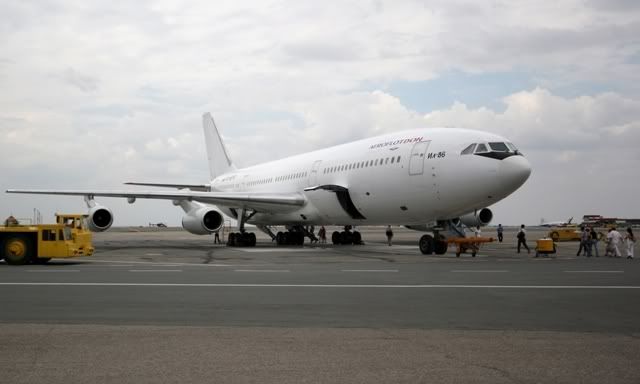 Passengers flying in economy class were still walking out to the plane, so the bus waited a few moments until they had climbed onboard, and then dropped us right in front of the first set of integral air stairs. It's this feature which makes the Il-86 unique and why it was so popular with Aeroflot for operations to some of the more remote airfields within the former Soviet Union, where the infrastructure otherwise couldn't handle an aircraft of its size. As I lifted my foot onto the first step it was hard to contain the boyish excitement; Yak 42s and An24s might be rare, but this aircraft was
ultra
rare! After climbing the steps set into the lowered door you first enter a small vestibule area in the belly of the aircraft which contains a couple of crew seats and a bunch of mismatched catering carts. Then you take a left turn to ascend another flight of stairs, situated above the nose-wheel well right in the very centre of the fuselage, which lead up into the business class cabin. I'm not sure what I had expected, but it was every bit like walking into a flying museum which had been preserved from the 1980s! The two cabin crew members who were assigned to the Business Cabin gave me a courteous welcome and showed me to seat 2K, as for some reason 1A was already occupied, then enquired about my choice for a drink - there was no question about it; such a special occasion warranted Champaign!
Unfortunately the officials made it clear that no photographs were to be taken during the boarding process, so this moment is only a memory in my head which I can share with you, but as it was the very same aircraft which I'd seen and photographed a few days previously, I've included some more pictures from then – it was better weather too: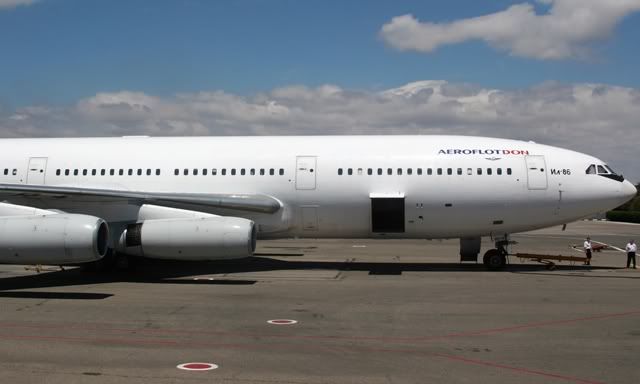 As the last economy passengers trickled onboard, final preparations for departure were made; the door through which I had entered on the lower deck was raised up to be closed and the tug attached with a gentle nudge on the nose-wheel. By now a KrasAir/Air Union B737-300 was the only aircraft keeping the Il-86 company on the ramp, so no traffic to impede the pushback, which glided the aircraft out onto the taxiway. Then, with a momentous burst of noise from behind, the first engine stirred into life – the sound was almost indescribable; at first it was similar to the 'fizzy' noise produced when you light a Catharine-Wheel, then it accelerated rapidly into a low pitch throbbing drone which resounded like thunder throughout the cabin, filling your ears with a sense of power. With all four on line and powered up, you could have been mistaken for thinking the Space Shuttle was providing the thrust - if it was this loud at the very front, then what on Earth must it be like at the back on the cabin?! The noise surged in volume and the aircraft began to trundle forwards, embarking on the three and a half kilometer long taxi to runway 01L.
This aircraft, RA-86141, was number 103 off the production line (according to
www.planelist.net
and
http://www.aerotransport.org/
) and the last Il-86 ever to have been assembled – three more had been ordered and possibly even laid down for Orient Avia, but these were never finished and have since been scrapped. I'm slightly confused by the information, but I think it was completed in late 1991/possibly early 1992, and delivered to VASO leasing, but may not have entered service until 1997 when it found a home with AJT Air, remaining there until 2004 when it was returned to VASO airlines, who are responsible for its stark 'Eurowhite' livery. In 2007 it was sold to Aeroflot, who in turn passed it to AeroflotDon in early 2008, so really, this aircraft has performed only portion of it's intended life at just 16 years old, spending much of that time in storage anyway – hence it will be even sadder when it's inevitably mothballed forever in the coming years; a victim of stringent noise regulations and poor fuel efficiency.
SIP-SVO
Simferopol to Moscow Sheramento
Carrier:
Aeroflot Don
(1st sector on airline)
Flight:
D9 136 (SU136)
Aircraft:
Ilyushin Il-86
(1st sector on aircraft type)
Registration:
RA-86141
Date of First Flight:
During 1991 (Exact date unknown)
Seat:
1A (2K taken)
Block Departure Time:
14:10
Take off Time:
14:30
Block Arrival Time:
17:10
Touchdown Time:
17:16
Distance Flown:
770 miles
Total Flying Time:
1 hour 46 minutes
Fare:
€271.85 one way
Upon reaching the runway a couple of 737s from Air Baltic and Ukraine International had just landed and were taxing towards the terminal – another option I looked at was to take Air Baltic from SIP to GYD via Riga, but I'd already booked my return flight from Baku with BT and didn't really want to fly them twice. The was a long pause after aligning with the runway, until the engines were opened up to screaming pitch, propelling the plane slowly down the bumpy runway. Strangely though, it seemed slightly quieter on take off than when they had first been started up, but perhaps that's because my ears had grown accustomed to the noise, or that the majority of the noise footprint was now being left in the aircrafts wake! The roll was quite long; lasting around 50 seconds before the plane gradually began drifting skywards, having utilized less than 2500m of SIP's massive 3700m runway which, as I mentioned in the previous installment, had been designed specifically for the Il-86 in order for it to still get off the ground fully loaded during the hot summers on longer flights to Central Russia.
Below is a video of the take off, after a while you may wish to skip to the three minute point though, as there was a lengthy pause on the threshold between lining up and the roll commencing, which isn't the most interesting of things to watch.
http://www.youtube.com/watch?v=cegLBH2IikM
On many occasions the Il-86 has been portrayed as the Russian's equivalent of the A340-300, being slow to climb and underpowered, in addition to any physical similarities the two share. Whilst it certainly wasn't the quickest of jets off the mark, I found that it climbed pretty well after the first few minutes, from which point on the noise in the front cabin also decreased dramatically, although it still sounded as if a small thunderstorm was brewing behind me! By chance, Simferopol's runway points directly towards Moscow, so the departure was flown entirely on runway heading for most of the climb out, pushing up through a light scattering of clouds to reach the deep blue sky, and only changing course some 100km out; banking a little to the right and flying out over the Sea of Azov, which sparkled aquamarine blue some 25,000ft below.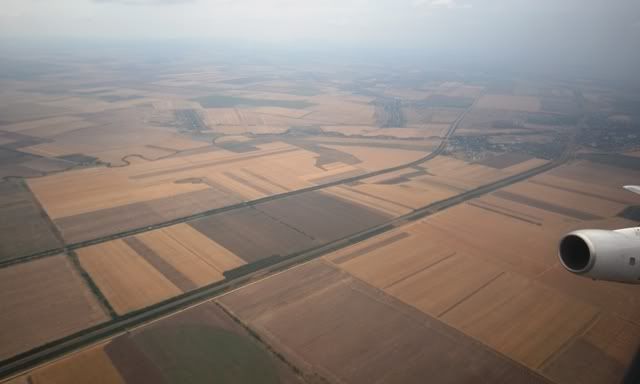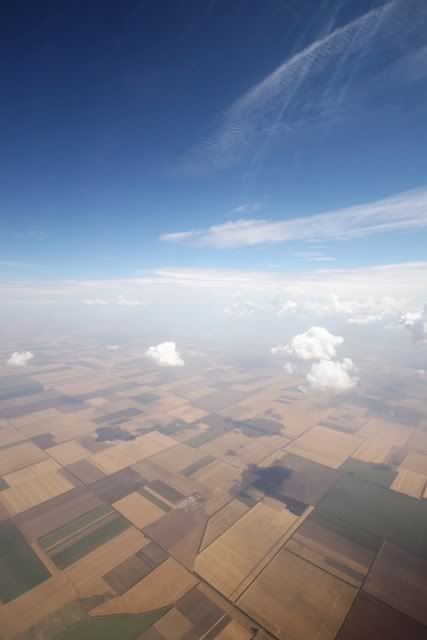 The crew wasted no time, commencing preparations for the service just a few minutes after take off. The menu handed to me was yet another surprise; presented in a dull brown leather case which matched the color of the seats exactly – unfortunately they wanted these back almost immediately, as it was embossed with the Aeroflot logo and would have made a fantastic souvenir! Interestingly though, when you looked inside there wasn't actually a choice; all it did was present you with a list of things which you would shortly have the option of eating. After retrieving the menu one of the stewardesses arrived with the glass of wine I had requested and to make up and lay my table, returning five minutes later with the meal, which consisted of a bowl of soup and a couple of bite-size bread slices, topped with seafood. Presentation wise it was nothing spectacular considering this was business class but, whilst the food wasn't the most inspired of dishes, it tasted good – just don't ask me what the soup had in it; I have no idea!
My main criticism would be the portions, there really wasn't enough to call it any more than a light snack.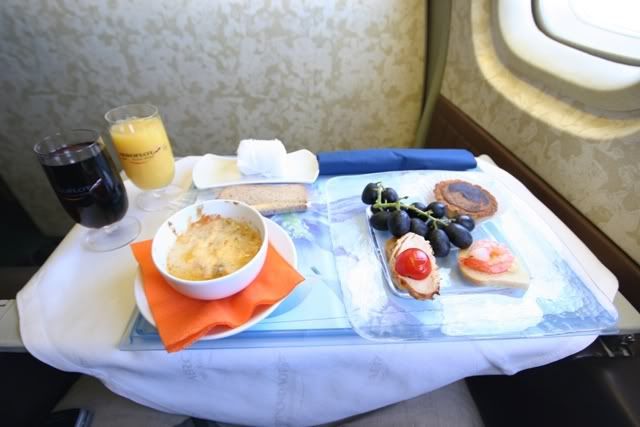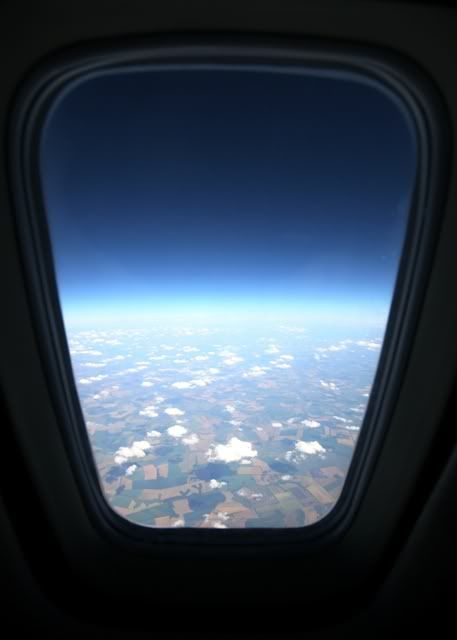 I was itching to explore the rest of the aircraft, so once the service had been cleared away I got up and took a wander through the cabin to take some pictures, starting with the front of the aircraft. Because of the stairway leading down to the lower deck, the business class cabin had an unusual arrangement which made it feel very dark and cramped; one block of seats sat sandwiched between the stairwell and the divider to economy class. I'd find it bad enough being in the middle seats, let alone hemmed in between two walls like that!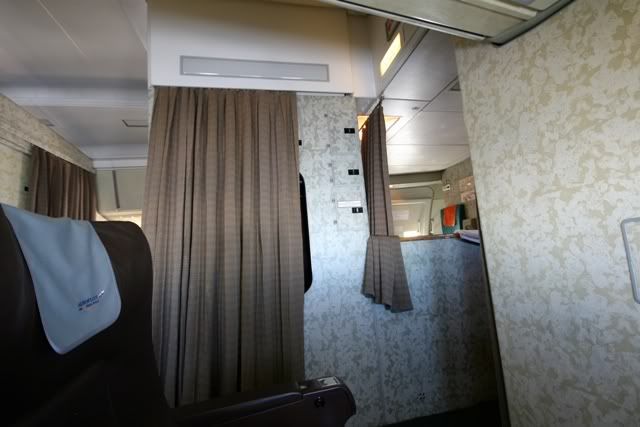 Judging from their appearance I'd say that the seats, clad in dull brown leather, were original - they certainly looked pretty dated and had evidently seen better days. That's not to say they were uncomfortable though; each one featured two comfortable armrests, ample width and an acceptable degree of recline, although this was made slightly pointless in my bulkhead row due to the absence of legroom to stretch your legs into once reclined back. I wasn't at all impressed with the cleanliness; something had been spilt on the carpet around my seat, and the leftover residue still attempted to glue your shoes to the floor whenever you put them down, and in general there were crumbs and little bits of paper lodged in the seems of the seats, all much more reminiscent of cattle class on a charter than being up front in a premium cabin.
In general the cabin reeked of 1980's kitch and was verging on a beige nightmare in places; the seats; curtains; and floral pattern on the walls and paneling pulled together to create an overpowering and gloomy environment, even though the aircraft wasn't built until the early 90's – which I found rather odd. The most interesting feature was definitely the stairwell, with real wood used for the handrails and a foldable cover which prevents people from falling down it by accident. This also proved especially useful in preventing people from trying to access their checked luggage during the flight; part of the concept of having integral air-stairs on the Il86 was that passengers could load and unload their own luggage when flying to or from airports which didn't have adequate facilities to handle 300+ people at once, however, because they knew where it was placed some passengers would attempt to reclaim items before reaching their destination! Trials showed that this idea was not time saving anyway, as it lead to passengers fighting to recover bags at the destination. Once, when I was younger, a friend who has worked in Moscow/Siberia for many years told me a story about the 'Russian's version of the 747' – on several occasions his seat was located on the lower deck of the aircraft, with no windows, and once he had to sit in the baggage hold itself. For years I pondered over which aircraft this could have been and dreamed of flying one, of course, I have my answer now!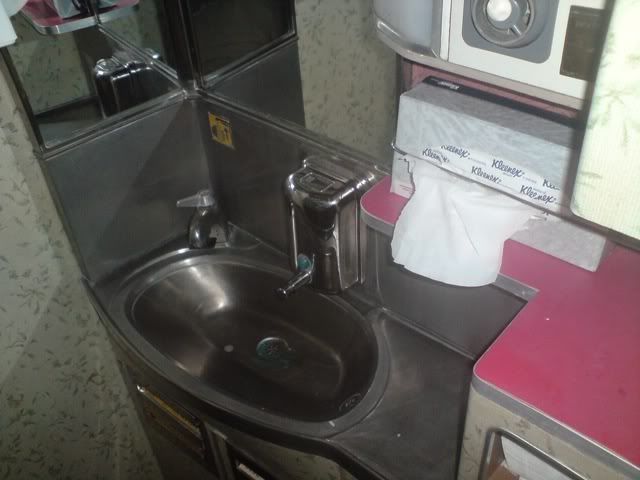 The toilet, which I snapped a shot of with my mobile, is located just forward of the curtain in the picture below and directly behind the cockpit, it was a pretty clinical and drab affair; the sideboard had long since faded to pink from its original red and yet more floral patterns adorned the walls, but it was clean and still served its purpose.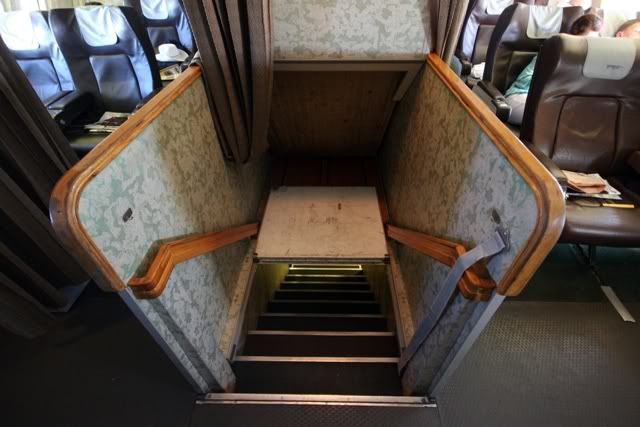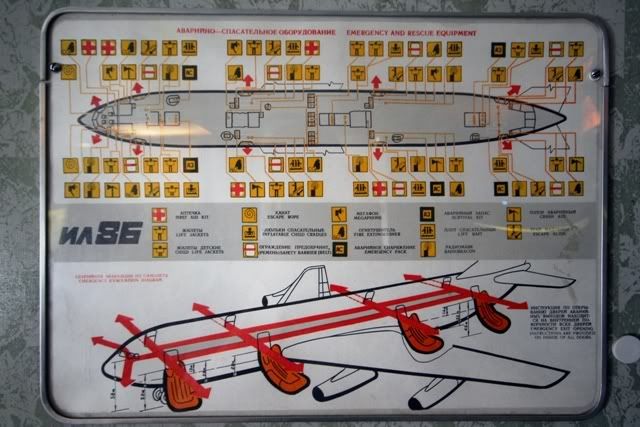 This has to be one of the most complex safety instruction cards I have ever seen, listing the location of every single piece of emergency equipment onboard – impressive for an airliner of it's time. The Il-86 is very much a 1970's design; it might have flown commercially for the first time in February of 1981, but it had first taken to the skies some four years earlier in late 1976. The total design process lasted more than ten years from its conception in 1969 following a request made two years previously by the Soviet Ministry of Civil Aviation, who desired an aircraft which could equal western designs like the Tristar, DC10 and 747 in time for the Moscow Olympics of 1980 – a goal which was missed in the end.
Parting the curtain to walk back into the first of two economy cabins I was greeted by a refreshing site – space! There are no central overhead storage bins in the Il86, so the cabin appears to be cavernous, especially compared to the business class section which had exactly the opposite feeling. Economy seating was in a standard 3-3-3 configuration, narrowing at the back, whilst the lack of overheads in the middle means that the fan and seat numbers are located in the back of the headrest – a novel idea.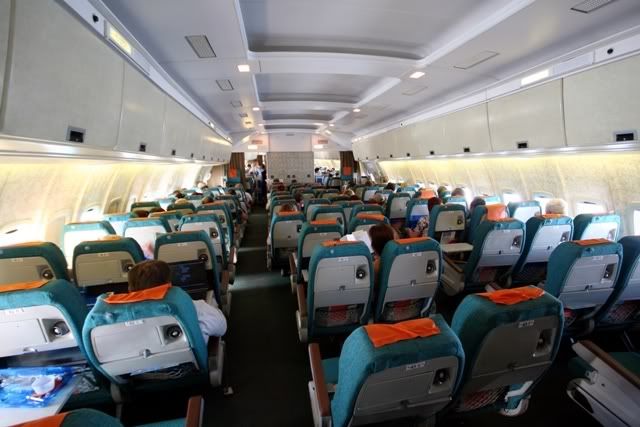 The only problem with being seated right at the very front of the aircraft is that I couldn't really see the wing or engines from my seat, so passing back down through the cabin I made sure I got some pictures of these. I certainly didn't miss the noise however; right at the back it was a steady roar in your ears which I imagine would get very tiresome after an hour or so!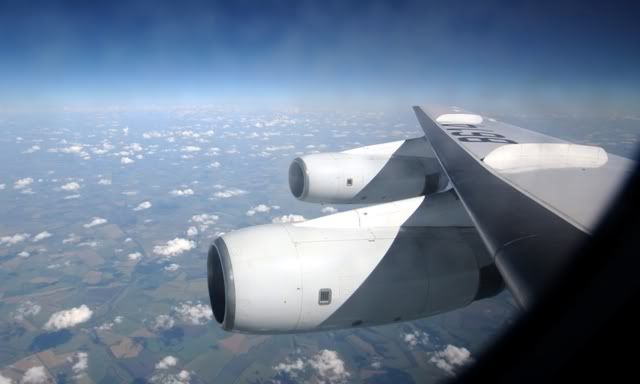 By the time I had returned to my seat, I was convinced that this was one of the most amazing aircraft I'd ever flown on; I love quads for a start so I'm biased, but it's just something about the design and aesthetics of the Il-86 which captivated me. I'd not been sat down for long when the descent began, ushering a hushed silence across the cabin as the engines fell quiet outside. I might not have been able to visit the city, due to not having a visa, but the approach to Sheramento provided some spectacular aerial views along the way, including the Moscow State University – which is the huge symmetrical building in the photo below.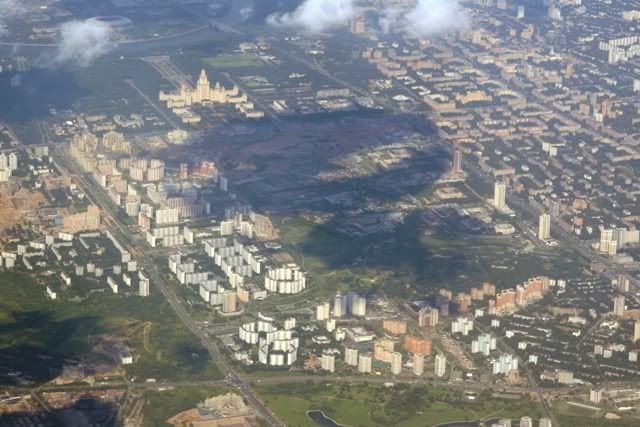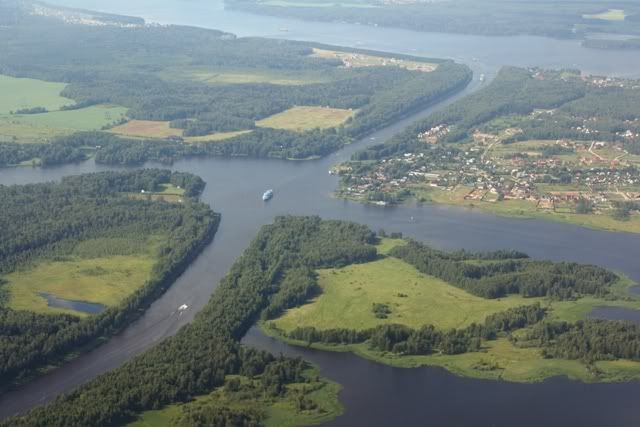 The airways took us a little way North of the city, before twice banking sharply to the right in order to join the approach pattern for Sheramento – it was a little like being over London with other aircraft crisscrossing the sky; a Tu154 passing below on final approach to Vnukovo, and another Tupolev from Aeroflot passing just a few miles to the side. A smooth and stable approach, interrupted only by a few children screaming, was followed by a firm landing on runway 25R, although it was still gentle enough for passengers to mark their approval with a round of applause as the four mighty Kuznetsov turbofans clamored into reverse thrust, issuing a wave of noise in all directions. My first and most likely only Ilyushin 86 flight had come to an end.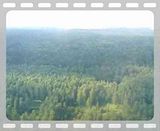 http://www.youtube.com/watch?v=hXv-d5VW6mg
The fun wasn't
entirely
over though, we still had to taxi to the stand, passing by some impressive examples of Russian and other metal along the way:
Three resting/retired Tu134s and Il-96-300;
RA-96011
: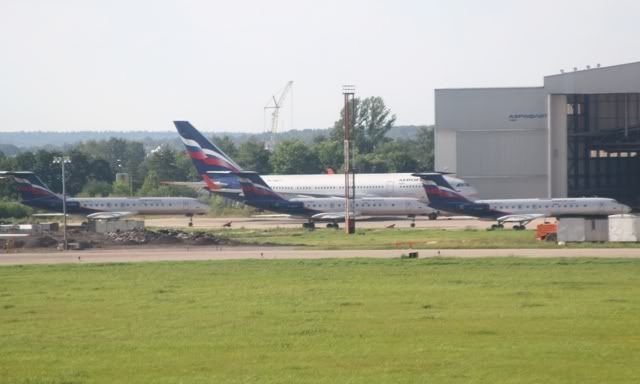 Aeroflot maintenance area: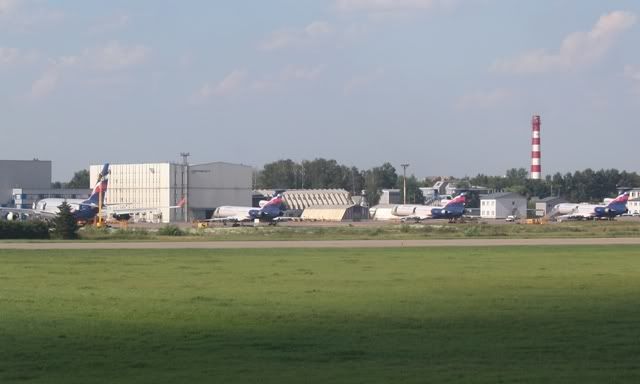 General overview of the North side of SVO, lots of Il-62s parked up:
Ariana Afghan B727-200;
YA-FAS
: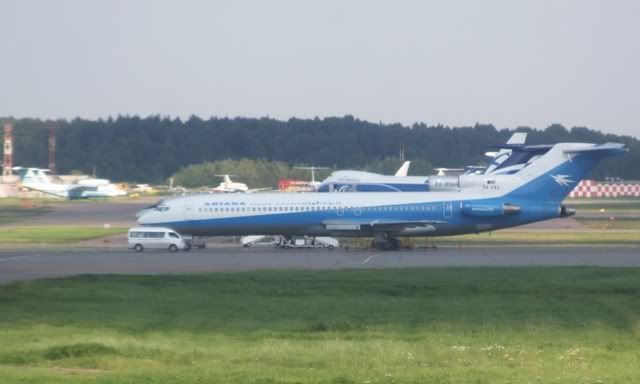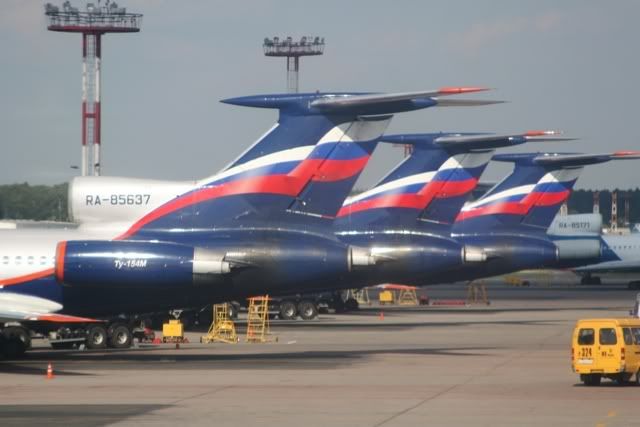 Rear view of AeroflotDon sister ship
RA-86124
:
Dalavia Il-62M;
RA-86560
:
The taxi eventually led to a remote stand alongside
RA-86560
, an equally rare Il-62M operated by Dalavia, by the look of it the aircraft was going to be departing within a few hours. Had I been in possession of a Russian visa I would have gone straight to their ticket office and booked myself on the flight, regardless of the fact that I'd miss my flight on to Baku – because it would have been worth it for a ride on such a beautiful aircraft! Alas, I had no visa, so I could only stare out of my window and hope that one day soon I have a chance to fly on another rare aircraft. The engines idled and were then shut down, spinning freely for a couple of minutes before falling silent.
As expected, business class passengers were to be allowed off the aircraft first, however I decided to ask the crew if it would be possible to see the cockpit. I'd heard the Russians were a little touchy about this, certainly in the Ukraine it had been impossible most of the time, so my fingers were crossed as the stewardess asked a member of the three strong flight crew who had just entered the galley. 'Sure – not a problem, you can take some pictures' – and with that all four members of the flight crew calmly walked out, down the stairs and exited the aircraft, leaving me alone in the cockpit to take pictures of anything and everything that I wanted, I honestly couldn't believe my luck!
I had to drag myself out after what seemed like forever; it was such a fascinating opportunity to see this museum piece whilst it was still 'alive', the nerve centre of which was a mass of switch banks, dials and displays – there was not a single LCD in sight. On my way out to the bus I captured a last few reminders of this amazing flight, I'd missed the special minibus for business class passengers, but to trade such a minor loss for what I'd just seen was very good value indeed!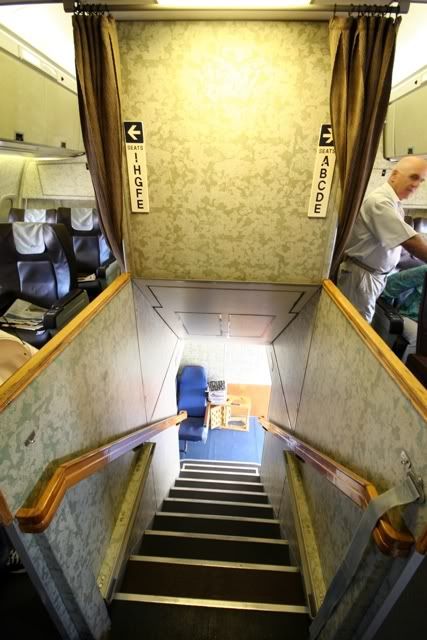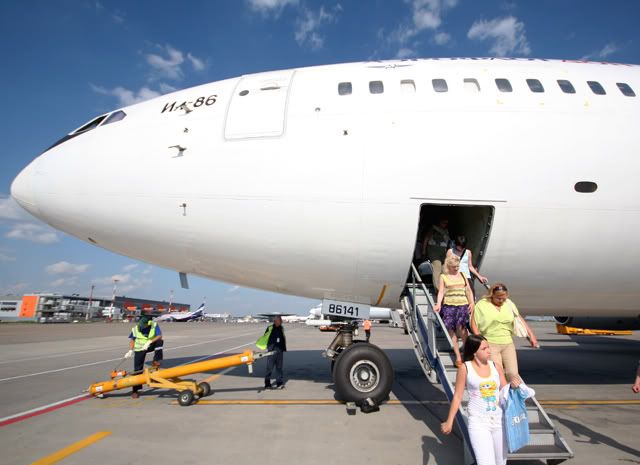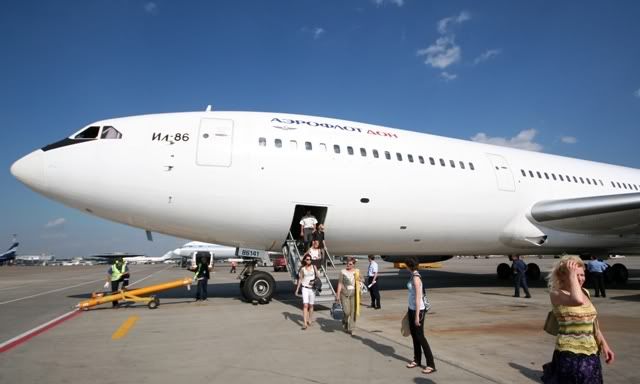 The drive to the brand new Terminal C, newly constructed at a cost of $87.7 million, gave a tantalizing view of many more beautiful Russian planes, as well as the iconic design of Terminal 1, with its suspended circular roof. Upon arriving I was the only passenger transferring, making my way to the transit area which was a rather dull and gloomy room. My passport and tickets were taken and I was told to take a seat whilst something or other was processed. There were several other people waiting, most heading to India and the Far East, and after a short while I was called back to the desk and presented with my passport and a boarding pass for my flight the next morning to Baku. Next, I was to proceed through security and then take the shuttle bus to Terminal 2, although before I did anything at all I had to pass through another security lane, after which I found myself in the rather odd departures lounge. I say odd because, although it's completed, it didn't look or feel finished; the roof trusses were left exposed in places but not in others, but the most striking thing of all was the absence of people – it was deserted and had a strange feel about it. Bored shop staff jumped to attention as I walked past, but I wasn't interested in duty free; all I wanted was a drink and something to eat, but all the cafes were closed! Fortunately there was a little shop tucked away in a corner and charging exorbitant prices, I had no Rubles either, so I had to pay by card which attracted an annoying transaction fee for the privilege.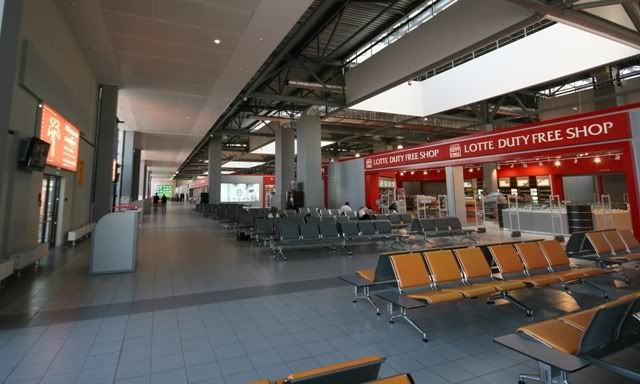 I took a little time to stroll around whilst waiting for the bus to depart, in a way the terminal began to grow on me from floor level, rather than my first impression of it from above as I exited the transit area. The bus arrived and I approached the gate from where it was boarding, however the agent checking passenger's tickets before letting them pass refused to let me on, telling me that I should wait here a little longer. I have no idea why, but it was clear that she wasn't interested in a dialect, so I sat back down and decided to wait for the next bus, in an hours' time. I wasn't too bothered though - I was only heading over to T2 so that I could access the business lounge, but for now I had a brilliant view out over the tarmac, and nobody seemed to mind me taking pictures.
Transaero B737-524 (ex CO);
VP-BYJ
& Aeroflot A319-100;
VP-BDM
: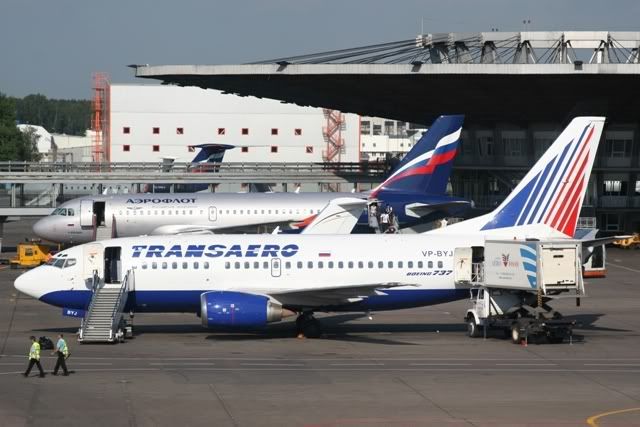 Aeroflot; Tu154Ms;
RA-85647
(foreground) &
RA-85648
(background):
Aeroflot; Tu154M;
RA-85647
:
Air China; Boeing 777-2J6;
B-2067
:
Aeroflot Cargo; DC10-40(F);
VP-BDE
: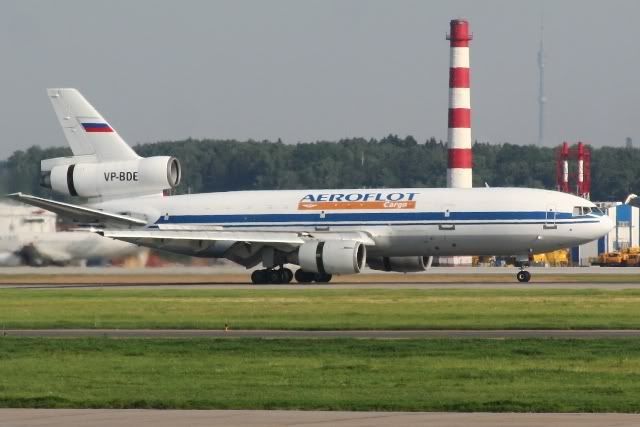 Aeroflot Nord; Tu134A-3;
RA-65034
: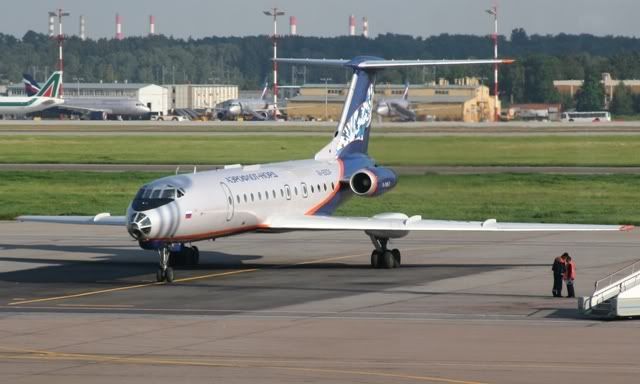 Aeroflot Don; Il-86 sister ships;
RA-86110
&
RA-86113
:
Aeroflot Don; Il-86;
RA-86110
:
Transaero B737-524 (ex CO);
VP-BYJ
closed up in front of Terminal 1: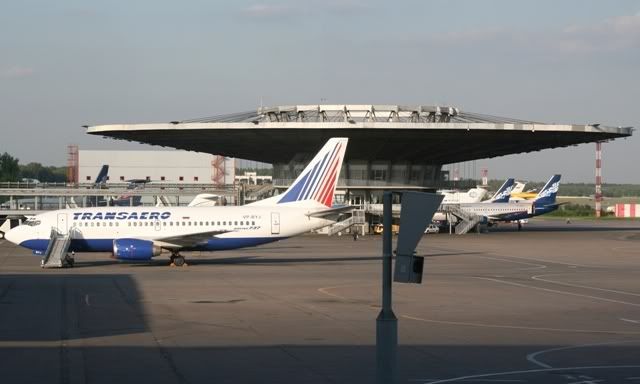 In the end I was quite glad I'd stayed behind, as the hour flew by and I got some great shots. The bus pulled up once more, and this time there was a different women checking passes who had no issue with my boarding it for the ride around to T2 – and what a ride it was! The runways are far too busy to try and cross, so the bus follows the service road all the way around the perimeter, passing through the maintenance/dumping area for Russian types and a handful of parked western jets as it did. I know it's not great footage, but I managed to film much of it on my phone: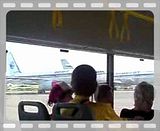 http://www.youtube.com/watch?v=FeeKFYXtMV4
A while later, on the opposite side of the runways, there was an equally good view of the new Terminal A/2A's construction progress: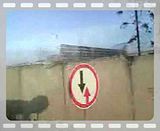 http://www.youtube.com/watch?v=vJC8d9bnEOY
Entering Terminal 2 there was a further security check made of my passport and boarding pass, after which I was let into the departures lounge, with almost 15 hours left to kill before my next flight. I took a walk around to satisfy my interest in the architecture, then headed for the lounge, located upstairs in the centre of the terminal. The heavy frosted glass door opened into a small vestibule containing racks of newspapers and a help desk – I'd heard many bad reviews of this lounge, with passengers complaining at only being allowed access two hours before their flights departed. Fortunately I encountered no such problems, the two members of staff were very helpful and polite in their welcome, giving me a brief overview of the lounges' facilities and instructing me on where to find the internet kiosks. I headed right into one of the seating areas – it was busy and there were very few seats free, but I managed to find somewhere to sit and then went off to find some snacks and a drink. The bar was well stocked with a good variety of native and foreign beers, wines and all varieties of soft drinks, so I took a local beer and to accompany it a selection of pastries – the most substantial food on offer. Sinking into a deep leather seat I studied the surroundings; the lounge had the feel of a British clubroom, only not quite so classy, and with very little space – considering that this serves as the SkyTeam lounge as well it's absolutely tiny, a lounge double the size would not be misguided, but I imagine that with the opening of 2A the capacity issue will be addressed.
Slowly passengers drained away, gradually being picked off with each departing flight and freeing up the computers located at one end of the lounge. I was bored stiff by this stage, so decided to surf the net for a bit and catch up with friends and family back home – I wasn't missing anything particularly interesting, but it helped to let family know where I was before I entered Azerbaijan. Unfortunately the lounge closes at 02:00, or when the last Aeroflot flight departs, for cleaning and replenishment - so once the late running Tbilisi service had been called for boarding I was asked if I could vacate the area. Aside of this being annoying, I found it very odd – I wasn't the only person utilising the facility overnight, but there was no choice in the matter so I slipped outside. The terminal building was cool and silent, lights dimmed as if the building itself was sleeping. On the tarmac below a Tu154 was pushing back for TBS, it's windows lit up like pin-pricks of light – little did I know at the time, but this would be amongst the last SVO-TBS flights operated, as the two countries were by now only a few weeks away from military conflict.
Day 21; Tuesday 15th July 2008
For a while I stood on the balcony, looking out over the empty terminal below and listening to the old analogue departure board clacking away to itself as it cycled through to reflect the departure of tonight's final flight; I think these are much nicer than the modern LED equivalents, or the comparatively tiny LCD screens which are used at many airports nowadays for flight information. The ceiling of the terminal building was unusual, made up of thousands of copper colored tubes arranged beside each other in a tightly regimented formation. Walking around, it looked like they were beginning to replace it with a more sterile and modern solution to match Terminal A, a great shame if it is the case, as it's this sort of feature which gives buildings their identity.
The floors and seats were littered with transiting passengers like me, who were over-nighting in the terminal. The cold floor on which many were spread out asleep looked most uncomfortable and even the seats looked uninviting for laying on, so I considered the upgrade to business class well worth it for the lounge access, which re-opened again at 4am. It was this huge layover, necessitated by my desire to wait for the next SVO-GYD flight operated by Tu154 equipment, which influenced my choice in flying C; I spend a lot of time in airport terminals waiting around for flights, but I think that amount of time in Sheramento would have driven me mad.
The lounge was empty when I reentered, my boarding pass and documents were checked again, whereupon I returned to the computer station with a drink and another pastry, to resume surfing the internet – this time trying to find out if there was a bus available into Baku from the airport and enquiring further about the illusive domestic flights in Azerbaijan. I still had ages to wait before the flight left, so during this time I formulated a plan for the coming days; I'd aim to fly to Nakhchivan and back on the Tu154 and 134 during the remaining week, then on the Sunday I would fly on AZAL's new ATR42-500 service to Ganja, from where I could carry on to Tbilisi by train or bus. Then on the following Wednesday evening I'd fly to Baku from Tbilisi in order to transit (hopefully avoiding buying a second visa) to the Air Baltic Baku-Riga flight which I was already booked on, early Thursday morning. To my pleasant surprise, on the 1st July Azerbaijan Airlines had introduced an online booking system, which was new since I last looked, and enabled me to book the Tbilisi flight there and then, although it wasn't possible to do the same to Ganja. It was also a lot cheaper than I'd been expecting, so I was rather pleased!
Time dragged by and passengers came and went, until eventually a boarding call was made for SU147 to Baku. Walking towards the security area for the gate I had everything crossed that it was indeed a Tupolev, if I'd waited all this time only for the flight to be subbed by an Airbus then I wouldn't have been happy! My luck held though, it was a Tu154M, as scheduled. I had to pass through security yet again, my belongings taking another trip through the metal detector, whilst one of the security guards got very upset that I'd left a coin in the back pocket of my jeans which set the detector off, and he had to get up and frisk me… A long line of passengers had already formed for boarding, but with no priority lane for business class or elites I just decided to hang back in the seating area, rather than push in front of everyone else as a couple of other people were attempting to do.
SVO-GYD
Moscow Sheramento to Baku Heydar International
Carrier:
Aeroflot
(1st sector on airline)
Flight:
SU147
Aircraft:
Tupolev Tu-154M
(1st sector on aircraft type)
Registration:
RA-85661
Date of First Flight:
During 1989 (Exact date unknown)
Seat:
1A (2A taken)
Block Departure Time:
10:10
Take off Time:
10:26
Block Arrival Time:
14:10
Touchdown Time:
14:17
Distance Flown:
1215 miles
Total Flying Time:
2 hours 51 minutes
Fare:
€271.85 one way (as above)
Walking down the air-bridge towards the silver Tupolev, shimmering in the morning sun, my excitement at flying on another Russian type was muted slightly by my tiredness – some 28 hours awake were beginning to take their toll. Upon entering the front left door the stewardesses' welcome was rather brief, promptly directing me to my seat at the very front of the aircraft, although I subsequently decided to move back a row so that I wasn't in the same position as my previous flight on the Il-86, when I had reduced legroom because of the bulkhead. I must have been one of the last to board as a few minutes later the door was pulled shut and the air-bridge pulled slowly away. During pushback I thought my eyes were going mad and that I was seeing two 767s in the former Aeroflot livery – close, but these were in fact two DL machines arrived from New York and Atlanta which were wearing the 'Deltaflot' livery. The aircraft operating my flight was 19 years old and had flown with Aeroflot for its entire life, flying under the guise of CCCP-85661 for the first couple of years until the break-up of the soviet union – after withdrawal during 2009 it will probably see out it's days flying holidaying Russian tourists on summer charter flights to the sun.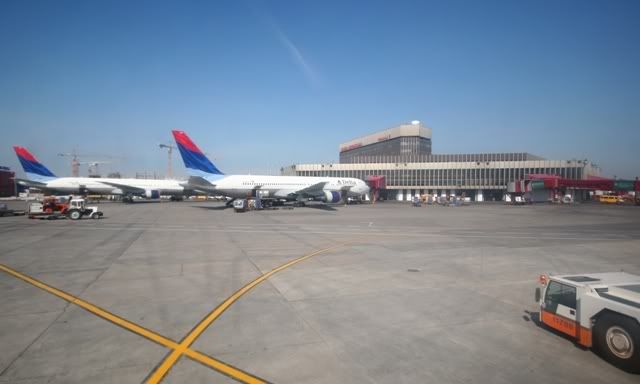 My face was pressed against the large window for most of the taxi, eagerly watching the movements which comprised a rough 50:50 mix of Western and Russian aircraft. In line before us were a bunch of Aeroflot Airbuses, departing out in quick succession until it was our turn. Lining up with the same runway which I had arrived on; 25R some 17 hours earlier, there was a short pause before the three Aviadvigatel D-30KU-154-II turbofans spooled up and set the plane rolling, slowly accelerating it down the bumpy concrete surface. In a way the noise reminded me a little of Thunderbird 2 from the
Thunderbirds
; both shared the same kind of mechanical whine as they powered up, although at the front of the cabin, where I was sitting, it was impressively quiet. Some 50 seconds and 2600 meters of runway later, the nose rose gradually into the air, the ground receding beneath when a slight clunk and vibration under my feet signified that the gear had been retracted. Next stop, Baku…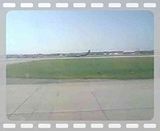 http://www.youtube.com/watch?v=i3djQWSQoVQ
The suburbs of Moscow grew smaller as the Tupolev endeavored to gain altitude, skirting the South of the city, until forests and fields replaced the buildings far below. Once the engines had throttled back from take-off power the cabin noise decreased considerably – I wouldn't put it in the same league as sitting up front on an MD80 series aircraft where you can literally hear a pin drop, but it was certainly comfortable; I'd put it on a par with sitting over the wings in a classic 737 (300/400/500 series). Like the previous flight, the crew wasted no time in commencing the meal service, presenting me with a menu card almost as soon as they were released from their seats.
Opening the folded card, the options were presented in Russian on one side and English on the opposite, covering both breakfast and lunch - but as it was now after 10am only the latter was applicable.
There was no choice of appertiser; you either had it or you didn't, but for the main course I elected for the Grilled Lamb, although it was a tough choice as each one sounded delicious and I was very hungry.
On taking my order the table was laid at once, subsequently the appetizer was produced almost immediately - along with a choice of bread rolls, which I washed down with a glass of red wine. I wasn't too keen on the cream cheese, but that's because it just isn't to my taste, the rest of the dish was delicious and a decent size this time – it's a long time since I'd eaten caviar.
Dill marinated prawns in olive oil
Salmon blini cake
Salmon caviar in mini tartlet
Ruccola cream cheese
The crew were very attentive throughout the service; ensuring that my glass wasn't empty and keeping a distant watch over the cabin, so that when I finished my appetizer the plate was promptly cleared away. A few minutes later the main course arrived, evidently fresh from the oven as the stewardess warned me it was very, very hot – certainly too hot to eat until it had cooled down a little!

Grilled Australian Lamb with Pomegranate sauce,
accompanied by creamy Polenta with Parmesan and Asparagus

Other Choices Available

Pan-fried Red Snapper with Hollandaise sauce,
accompanied by mashed Chives Potato and roasted vegetables

or

Spiced Chicken breast stuffed with dried fruits and nuts,
accompanied by Basmati rice, roasted vegetables and tomato Basil sauce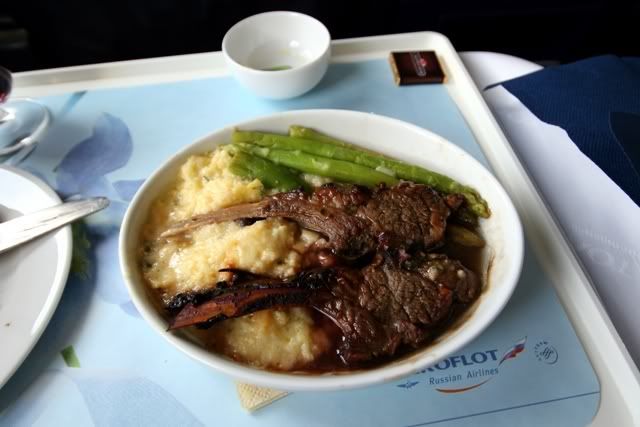 I was a little disappointed by the roast lamb; the asparagus was over steamed and stringy, whilst the lamb chops were very fatty and contained too much bone and gristle, meaning there was little in the way of meat on them, the saving grace being that what there was tasted good when you got to it – I just found having to pick off the fat first rather off- putting. The polenta was delicious though, it's a sort of creamy substance similar in texture to mashed potato, but made from ground cornmeal. Historically it was a low class food eaten by peasants, but in recent years it's enjoyed an upper class renaissance – I can see why too!
Like the appetizer, there was no choice of desert course, which was a
Short dough tartlet with wild berries, and "A. Korkunoff" bitter chocolate'.
This was nicely presented and very sweet, but completely to my taste, so much so that I completely forgot to take a picture before I ate it! Finally, in a vain attempt to maintain consciousness, I ordered a coffee – but it wasn't working, as I sat thinking of the adventures ahead of me in Azerbaijan I could feel myself drifting off to sleep. The cabin was quite cold now, so I laid the huge blanket provided over me and nodded off for 40 winks.
Refreshed, I woke back up a short way into the descent towards Baku – a little annoying as I'd planned to walk back up the cabin to take some pictures but, just as I started to get up, my actions were thwarted by the seatbelt light flicking on, so I had to suffice with a few shots of the business class cabin from my seat. I found the seats themselves to be very comfortable, although a little too bulbous in places – especially the headrest, as it pushed your neck too far forwards if you relaxed back into the seat properly. Aside of this, they were similar in other respects to the ones installed onboard the Il-86, but upholstered in a dark navy blue and by the feel of it containing a little extra padding on the seat. Again the width was excellent and, unlike the previous flight, the surrounding cabin was clean and more modern in appearance. The degree of recline was excellent, but looking across the aisle I noted that when the seats were placed in their fully reclined positions it became virtually impossible for the people sitting in the row behind to leave their seats, especially the window seat, which is a feature I really wouldn't like.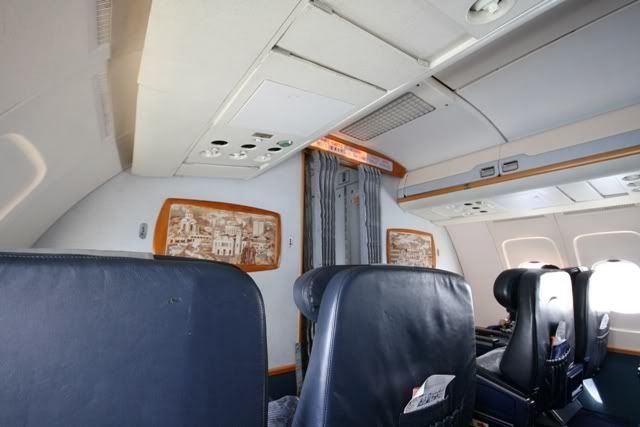 Down below the deep blue Caspian Sea stretched away towards the horizon, and into which the Absheron Peninsular (on which Baku airport is located) soon protruded. By definition, the Caspian isn't actually a sea, but is in fact the world's largest (saltwater) lake, contained within an endorheic basin and fed by rivers flowing into it from Azerbaijan, Kazakhstan, Iran, Russia and Turkmenistan, the two largest being the River Ural and River Volga which flow from the North. It's actually quite 'new' as it only became landlocked from the Paratethys Sea after tectonic uplift 5.5 million years ago, and there are plans to link it with the Black Sea again by means of a 700km canal.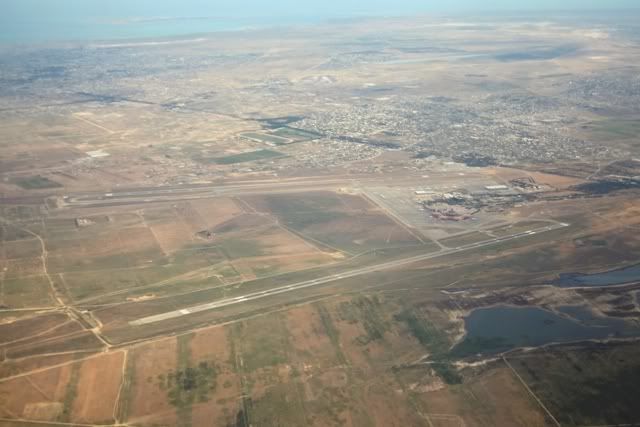 Baku Heydar International Airport, where I'd shortly be landing, drifted past to the left as we flew out over the Baku bay, making a sharp 180 degree left hand bank to approach the airfield. This also provided an excellent view of some of the first oil platforms ever constructed – interestingly they weren't isolated like modern drilling platforms, but instead linked by a series of snaking roadways built above the water on piles sunk into the shallow seabed. In total there are hundreds of miles of these roadways which stretch far out from the shoreline into the sea, although not all of them are still complete as many platforms and roads have simply been abandoned, left to rust and disintegrate, finally falling beneath the waves.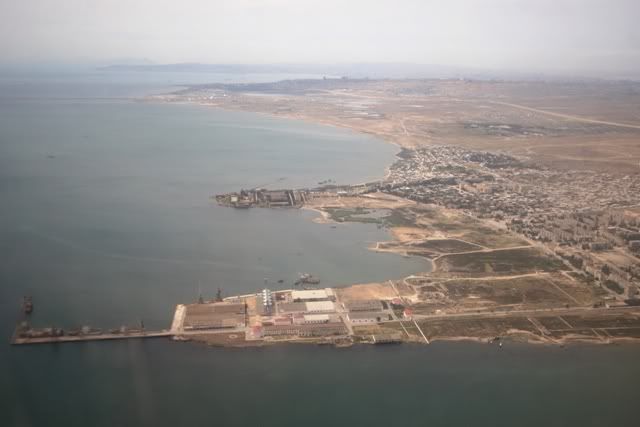 Flying over the coastline the land sprang up to meet the aircraft, I wish I could have filmed the landing, but unfortunately my phone was completely out of battery. The smooth approach gave way to a very clumsy touchdown; smacking onto the tarmac of runway 34 a few minutes late and using its entire length to stop before backtracking towards the terminal. Once docked with the air bridge the doors were opened and I thanked the crew for their hospitality, before heading up into the terminal, managing to catch a quick picture of the aircraft using my phone.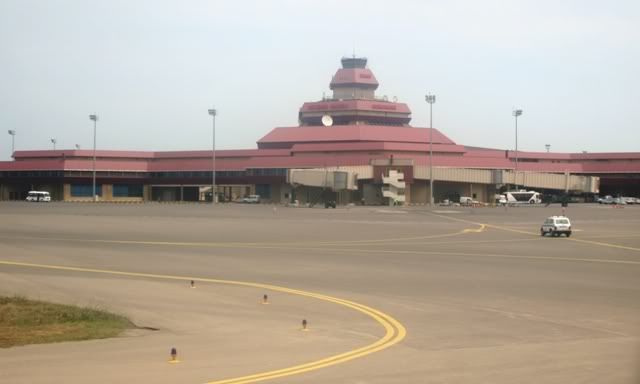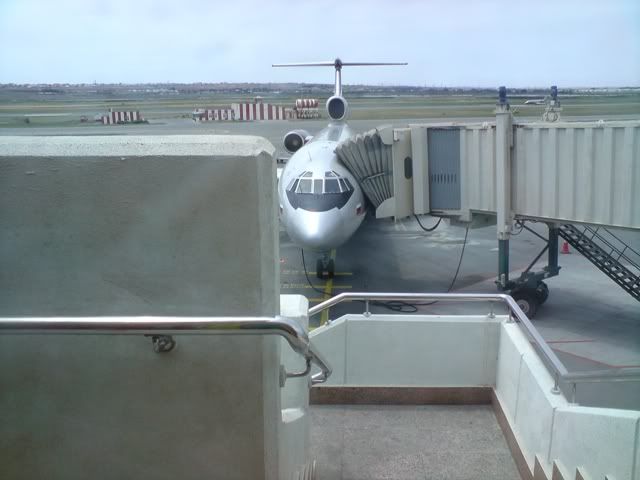 Now came the fun part; border control! Even though it was half the price, I had not applied for an Azerbaijani visa in advance because by the time I factored in two lots of transport to and from London to apply and then receive it, plus paying for an invitation letter, it would have actually worked out more expensive. I was told by the embassy that the visa cost at GYD on arrival was 100 New Manat, or about €80 – sure enough that was the displayed charge. I presented my passport, return ticket, the two passport photographs and a completed visa form, but something was wrong; the official who was supposed to be processing the forms studied what I had written carefully, then simply pushed them back towards me. "20 Euro" he said calmly, looking completely disinterested about the whole matter. I gathered straight away that he was after a bribe, so I took my forms up to one of the border control points, but they just directed me straight back to the visa official, who had a smug look creeping across his face. I tried to bargain but there was little I could do – he had the power and I needed him to cooperate and let me in, so reluctantly I gave him the 20€ and waited whilst my application processed.
Perhaps I gave in too quickly, because his confidence had certainly grown by the time the next traveler arrived at his desk, a man from Belgium, who he attempted to charge €160 in total for the same visa, that's €80 straight in his pocket! Before he handed over any money though, I had a quiet word with him out of sight and earshot of the visa guy, mentioning how much I paid and that he was being taken for a ride, meaning he also paid 'just' €20. By the time some Japanese businessmen had arrived he'd pushed his price up to €200 per person, but unfortunately they didn't speak English and paid up immediately.
After a fairly long wait I was called back to the desk, with a nod and a smile he handed back my passport with a full page visa now stamped inside of it, and directed me towards the border control desks, who added their own stamp to the page before letting me through to the luggage belt. This would have been even more useful if my luggage was there, but no, my bag was nowhere to be seen. Straight away I feared that it hadn't made the connection in SVO, so by now god knows where it would be, but after a long hunt for a member of staff I was eventually lead to a small room, filled with police officers sat around talking and smoking. I expected them to start asking me questions about what it looked like, which airline I had flown in etc… but instead my bag was lifted up from behind a desk, and carried through to me! I moved to take hold of it, but the officer carrying it yelled "No!" and pointed towards an X-ray machine. Now was rather an unusual time to be scanning it again, but once it came out the other side and they had checked that the baggage tag matched my luggage receipt, I was free to leave.
As we were both heading to the same part of Baku I shared the cost of a car into the city with the Belgian guy I'd met at the visa office – if you're unsuspecting it can cost you $50+ for the 30-45 mine drive, whilst it costs a local a fraction of that figure. A new 20km highway has recently opened from the city centre directly out to the airport, slashing the journey time, so it wasn't long before I arrived at the gate of the old city near to Baki Soveti. I normally find that the directions provided hostels are completely useless, but on this occasion they were spot on – finding the way quickly to my destination, the quaint "Thousand Camels Hostel", tucked away in a little back street. Yes, I did just say that, I went from flying in business class to staying in a budget £10 a night hostel – I doubt many people do the same, but it works for me!
A few pictures of Baku, more are to come in the next section of the report: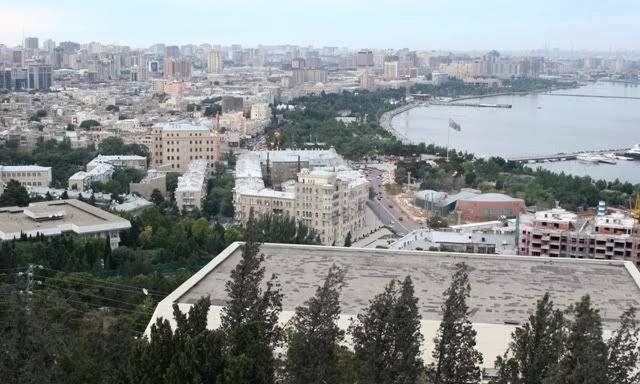 So here I was in Azerbaijan, two thirds of the way through my trip, and having just flown on two of the most amazing aircraft Russia has ever produced! Looking back I'm immeasurably glad that I managed to get a ride on the Il-86 when I did; in the past few months it's gone from being illusive to nye on impossible to catch a ride on, and is an experience which I will remember forever. I still consider that choosing to fly in Aeroflot's business class was a good idea, although their domestic/short haul former Soviet Union product does need some attention and could do with being brought up to the standard of their long haul international business class, but considering the fare paid I think the service I received was excellent value for money even so.
Here is also where I conclude this section of the report. Thank you again for looking and I hope that you have enjoyed reading Part 3 of my travels, as ever Part 4 is now underway, but it's completion depends on University workflow, as I te