So i told myself that I'd do a trip report, so here goes..
My trip to see family and friends in florida.
I took pics, but it was with my cellphone. You all will have to excuse the bad quality on most of them, but they all give the general idea of things.. hope you all like it.
March 1, 2009
BWI-CLT
flight: US 1171
aircraft:E-190 (N952UW)
View Large
View Medium


Photo © Dan Vincent - New England Airports
I arrived at BWI at around 0340 in some moderate to heavy snowfall.I was glad to be getting out this early because i knew later in the day there would be very bad weather delays. I knew there wouldnt be much of a line and i was right. Checkin was quick and pleasant.
US ticket counter at BWI:
I then went to the D terminal security line which is a few steps from where i checked in, id say there was about 20-30 people in line already. The gates to security were not open yet, they opened a little past 0400. I made my way down to gate D24. I was so excited to finally be able to have my first flight on an E-190. I never seen an E190 that close up before and was amazed at its size. A few pics of my plane:
and kind of hard to see, but heres the ramp agent hooking up the tow bar in some more nasty weather: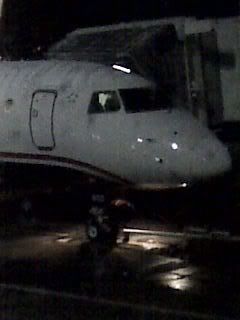 Boarding began at around 0505, and I walked aboard. I noticed that the interior was nice and clean as i walked to my seat, 19F. I would have taken a pic of the US A319 that was parked next to us, but there was snow and ice obstructing the view.
We heard the safety demo, which was a recording. Im not sure but it may have been revised since the hudson landing. The recording repeated where the exits were twice, and when it was done, the FA's again repeated the nearest exits, and the onboard floatation devices.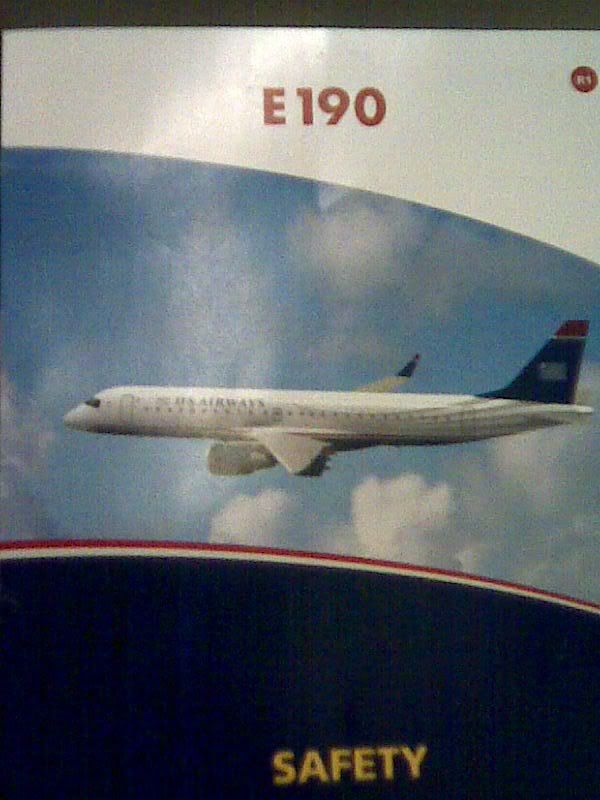 Engine start-up was nice and smokey, first number 1, then number 2. We then taxied out to get de-iced. I have never been de-iced at BWI before, only at PIT and CLE. The trucks were set up near the start of rwy28. It was really cool. The first coating was an orange-ish color, then after that, a spray of blue-ish green chemicals. The first one to get rid of ice, the second to prevent any more ice from building up; thats what the captain said.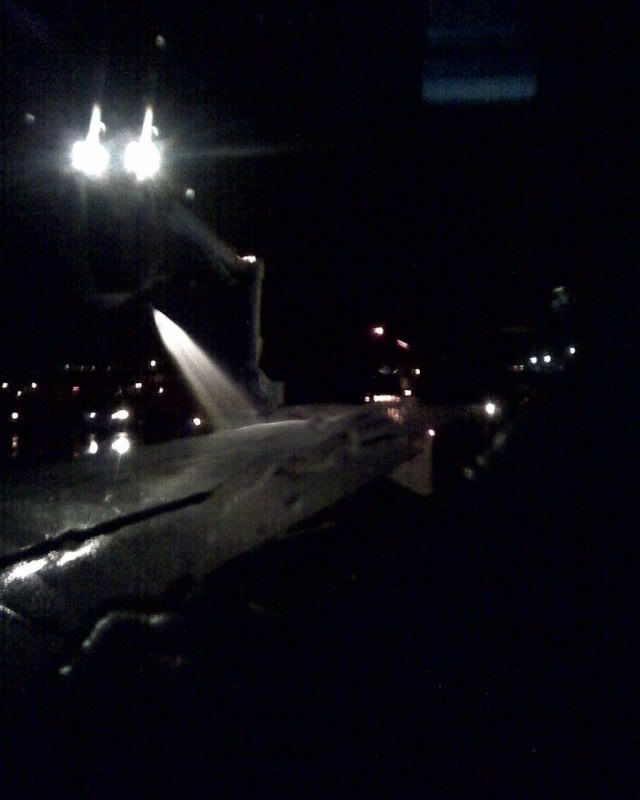 After de-icing was finished, we taxied quickly to 28 for departure. Takeoff was powerful. I really liked the sound of those engines. We took to the dark cloudy skies at about 0600. Initial climbout was nice, a few bumps here and there, nothing that bad. Once at cruise altitude, the FA's came through the cabin with COMPLEMENTARY BEVERAGES. I had an orange juice, and it wasnt in the usual small cups with their logo on it, it was in a larger one with no logo; i should have taken a pic but i didnt, oh well.
The real turbulence came as we were making our decent into CLT.
when i took that pic, we were experiencing heavy turbulence. There was a woman a few rows behind me that was obviously not enjoying herself. Everytime we made a sharp drop or turn, i could hear her scream slightly. I though that was funny.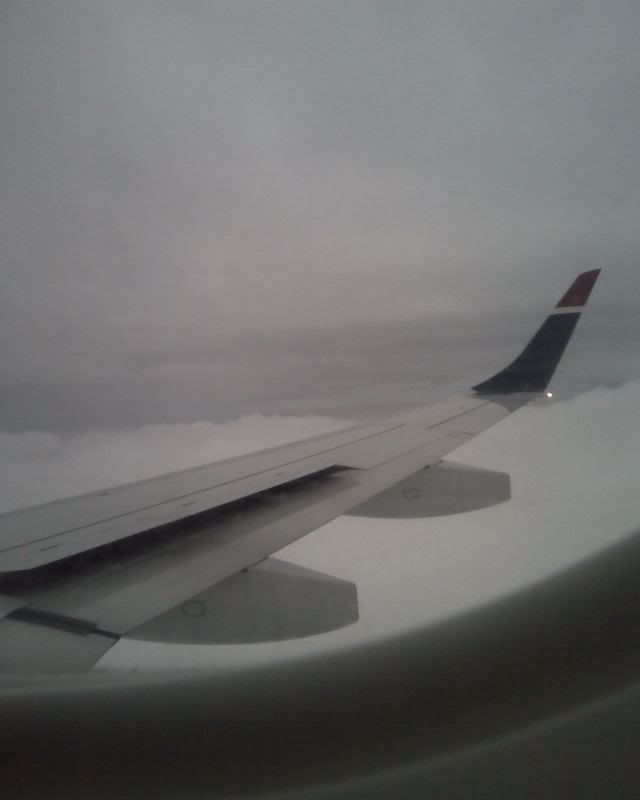 when i took this pic, i could see snow wizzing past the winglet, but you probably wont be able to see that. We were on our way down thru the muck into CLT. The captain came on and said that the weather in CLT was rain, and gusty winds, "so it will be bumpy all the way down". and i thought, "cool".
Sure enough, it was very bumpy all the way down, the plane was being buffeted in all directions from the winds. We finally broke out of the clouds very low. Then we made a nice nose-high landing. Very good landing IMO considering the conditions. Im not sure which runway we landed on, but we came in from the south and it was on the eastern runway closest to downtown charlotte because i could see the city to my right as we were landing.
We held short of the gate for a moment, waiting for the ramp: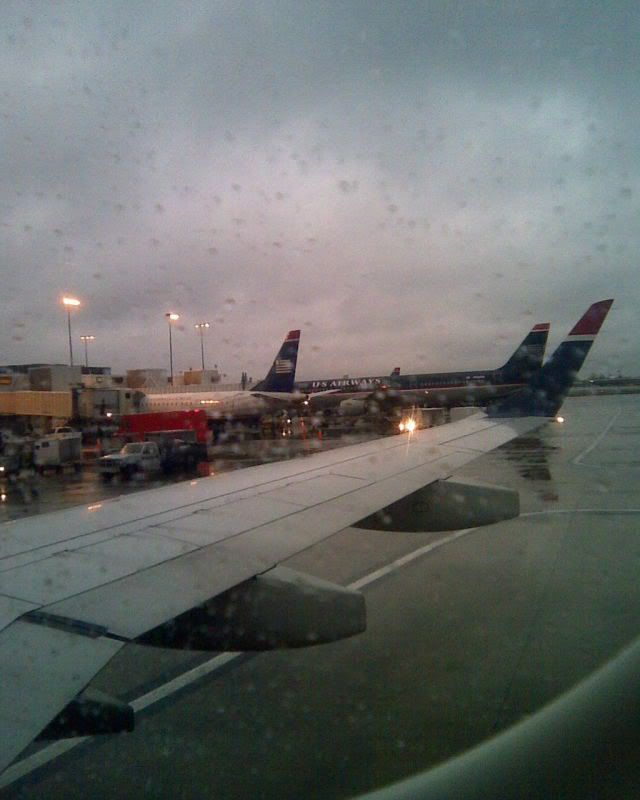 And parking at gate C9 just a few moments later, next to an E170( or was it a 175, not sure)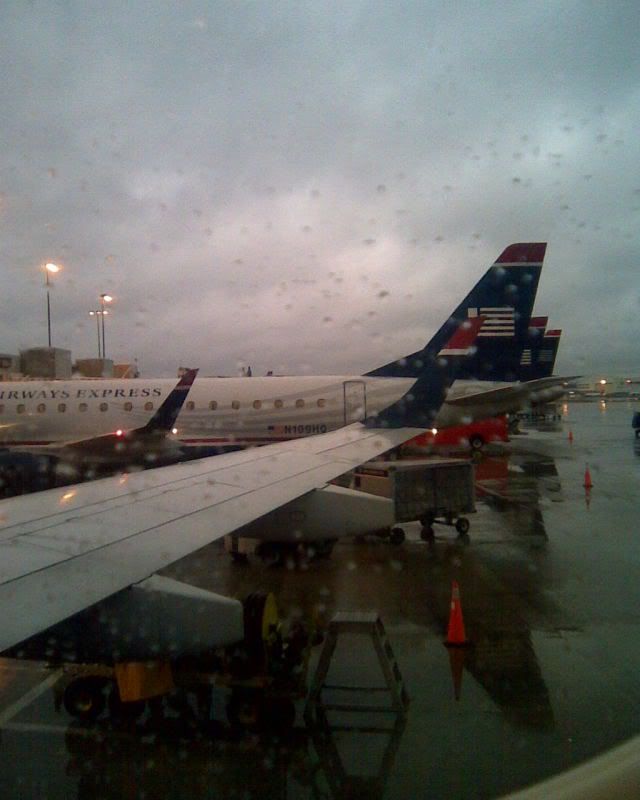 I de-planed and started to make my way towards B10 for the FLL flight.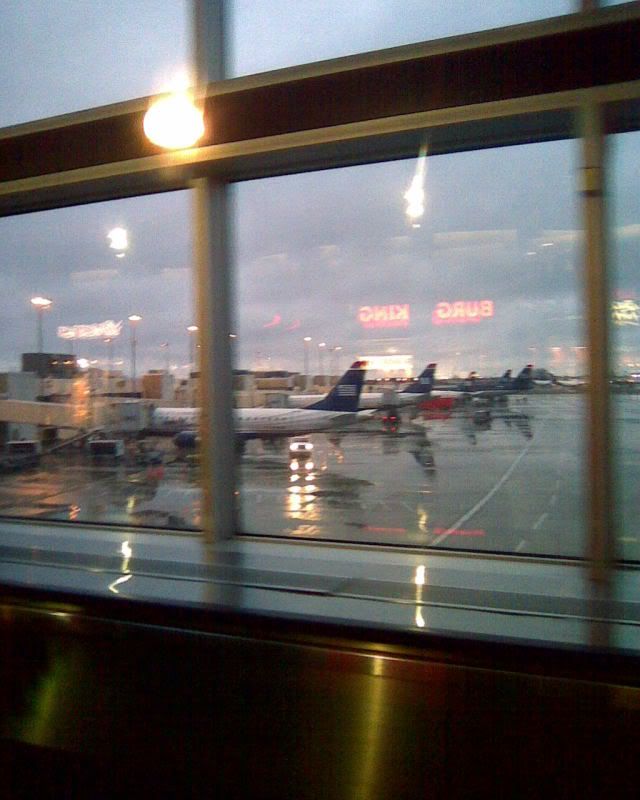 as i was walking through the atrium on the moving sidewalk, i took a pic of the plane i flew in on, which was second from the front. here is our route, BWI-CLT:
http://flightaware.com/live/flight/A...1/history/20090301/1037Z/KBWI/KCLT
As i was walking to the gate, i was nearly run down by one of those little beeping carts. Except this one wasnt beeping. I turned around after dodging it just in time and gave the US emplyee a look that clearly said, "WTF?!". Only after she had passed me did she turn around and yell, "excuse me!".. After thinking to myself, "what a b****", i turned around and kept walking, shrugging off the whole thing.
When i arrived at B10, boarding was already in progress. They had called zones 1 and 2. I was in zone 3. i got in line, and boarded shortly after that.
march 1, 2009
CLT-FLL
flight: US 989
aircraft: A321 (N189UW)
View Large
View Medium


Photo © Alex McKnight
by the time i got to my seat, 18F, and looked out the window, the rain was coming down pretty hard.
This flight had very nice FA's, it seemed to me that they were all in a good mood. We pushed back a few minutes late and taxied away. Once again, please excuse the quality of the pics, i know they suck, i just thought id put them up anyway just for the heck of it....as we taxied to the runway: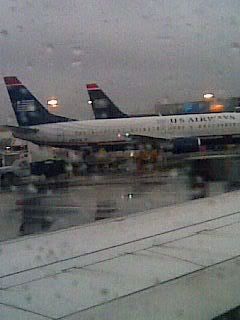 We waited behind a CRJ, then watched an A320 and another A321 land. Then the CRJ tookoff, and we were next. Behind us was an A320. Thrust was applied, i was pushed back into my seat, and we rolled down the runway, i think it was rwy36, im not sure. But it was the parallel rwy to the one we landed on in the E190. The takeoff was fast, and i felt the plane side to side movement because of the wind. Then we left the ground.
This takeoff was probably the bumpiest takeoff ive ever experienced. and it lasted for a while, well into climb out. Ive never seen the wings flexing so much on an airbus before. The captain came on and told us that we were going to have a little longer flight time than usual, to avoid a complex of thunderstorms along the coasts of soucth carolina and georgia. This would take us on a more westerly route. Of all the times ive flown from CLT-FLL, we've always taken the east route, over eastern georgia, then off the coast over the atlantic. That day was different, here was the route we took:
http://flightaware.com/live/flight/A...9/history/20090301/1304Z/KCLT/KFLL
I knew the route was different because i could see a large body of water to our west, and if you are over florida flying south, it could only mean that its the gulf of mexico. I was pleased by the pleasant surpise. We flew directly over TPA, then eastward over the everglades.The COMPLEMENTARY BEVERAGE SERVICE started, where i again chose the orange juice. It was a very nice flight:
Soon it was time to start making our decent into FLL. Nice white puffy clouds, bright blue sky,..who wouldnt love it here?
Since we were coming in from the west, and we were eventually to land on FLL's 27R, here is my feeble attempt to capture downdown Fort Lauderdale as we were on the downwind: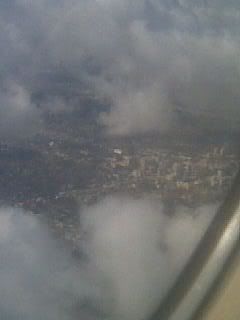 and aftermaking the U-turn to line up with 27R
Passing next to Port Everglades, filled with cruise ships: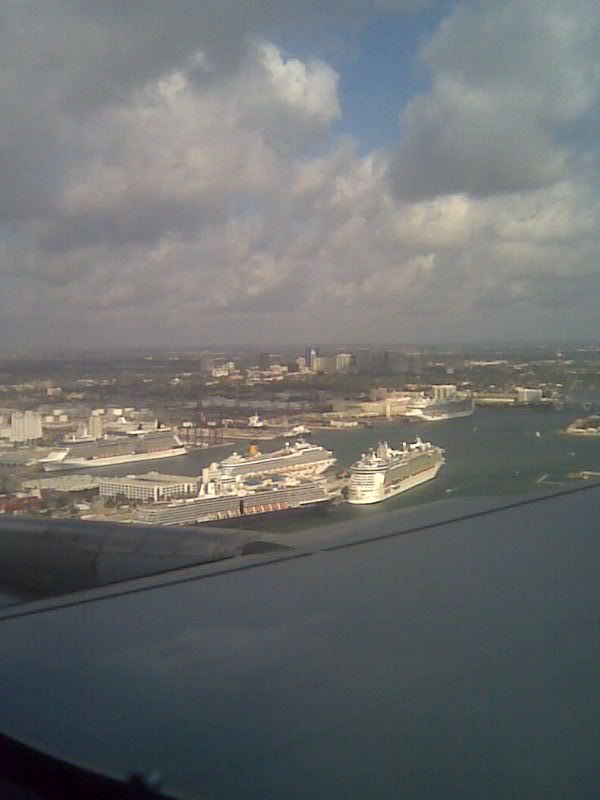 and Touchdown! Welcome to FLL.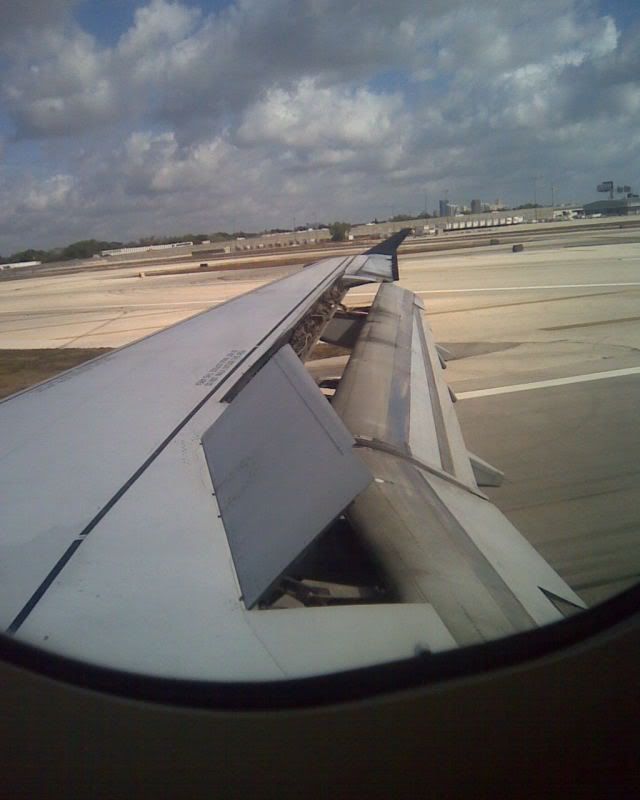 It was a good landing, with a decent amount of reverse thrust. We turned off the runway and taxied to our gate, E8 i believe it was. Waited the usual wait to de-plane, as i looked out my window and watched a US A319, B6 E190, and DL 757 takeoff from 27R; by that time my phone battery had died, so no more pics.
I finally de-planed and walked through up past security, and before i walked downstairs to baggage claim, i saw a mad house. TONS of people were in line for Airtran check in, i looked down the way a little and saw even more people in line for all the other airlines as far as i could see. I went to baggage claim, and you all will be happy to know that my suitcase GOT THERE and was one of the FIRST ONES OUT.
I went back upstairs to departures, because i found that its easier for the people picking you up from the airport to pick up from departures upstairs, because downstairs is always more crazy and has more traffic. Once i walked outside, i could see lines as far as i could see for curbside check-in. Not only for airtran, but i looked across to the other terminal and there were crazy long lines there too. I finally figured out that they must have all come off of those cruise ships i saw as i was landing. I waited about 5 minutes, and then my grandparents came to pick me up and i left the airport.
All in all it was a great trip. Not to be biased or anything, it really was a great experience on US. The only bad part was that woman driving that cart in CLT that almost hit me, thats all. Both flights were awesome and fairly ontime despite the horrid weather. Checking in at BWI was quick and simple. FA's on both flights were great and polite. And my bags arrived when i did. What more could one ask for?
I hope you enjoyed reading, i will be posting my return trip which will be FLL-PHL-BWI on March 18. I'll post it soon after that date. Thanks for reading. Questions and comments are welcome and appreciated!  
[Edited 2009-03-05 10:13:21]