So it was now time for my annual journey back to the motherland. Last year I took VS & EK on a rather odd journey, from LAX-LHR-DXB-ADD, and it was just too much. Here's the link for the trip report from last year for a comparison.
https://www.airliners.net/aviation-fo...ums/trip_reports/read.main/119335/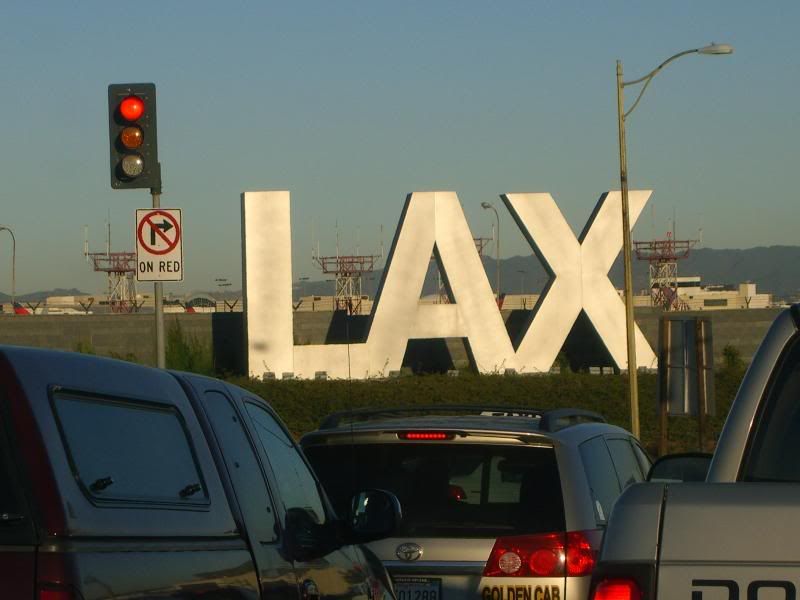 I-105 West Offramp to Sepulveda Blvd/LAX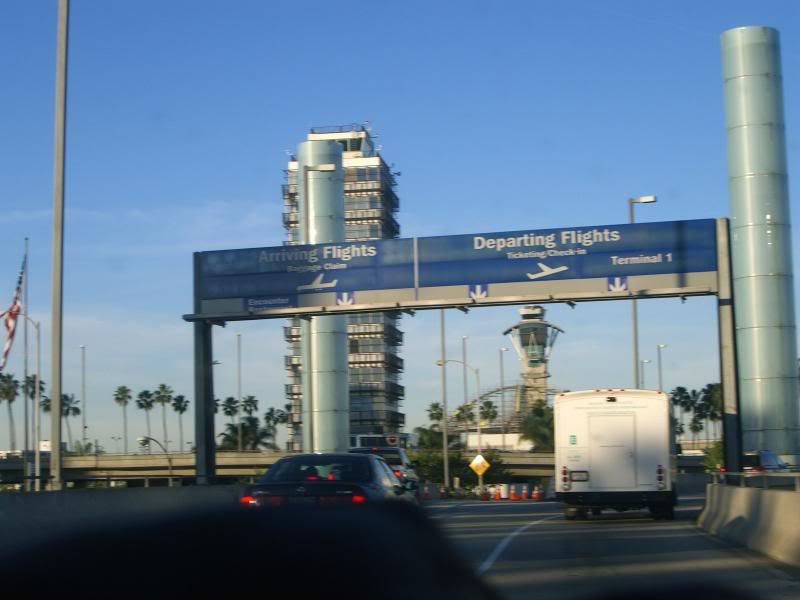 Heading to Departures
So I checked in rather late...when one travel's to Africa (or any third world country) you tend to have to take something back home FOR EVERYONE. I had only 1 suitcase for my personal belongings, and had 2 additional, plus other people at the airport handing me various documents and paperwork. Albeit annoying, as long as they paid the additional fees for luggage, I said no problem. It was embarassing trying to reorganize my luggage at the check-in counter, but once all was said and gone, I had 3 suitcases tagged all the way to Addis Ababa, and was time to run off to the gate...it was 8:15 by this time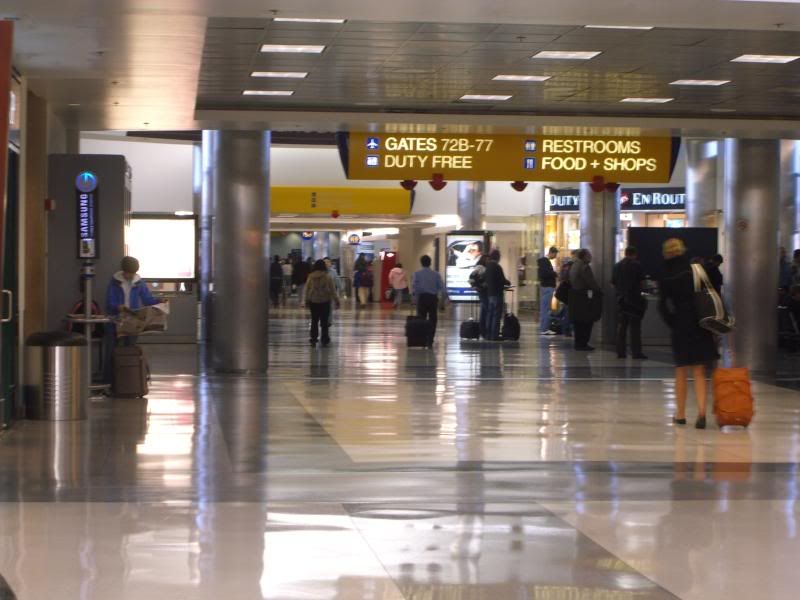 LAX-United Terminal 7
I had about 5 minutes past security to grab some food before boarding. Before I knew it, it was time to begin my 25 hour journey to Ethiopia!
December 10, 2008
United #324
Airbus A319
Los Angeles, CA (LAX) 9:03AM - Washington, DC (IAD) 4:59PM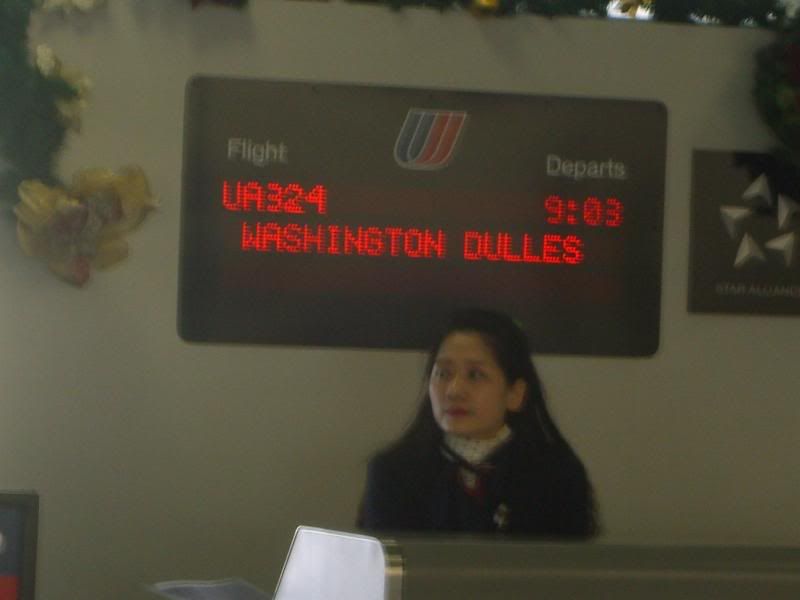 Boarding was called exactly at the time printed on my boarding pass.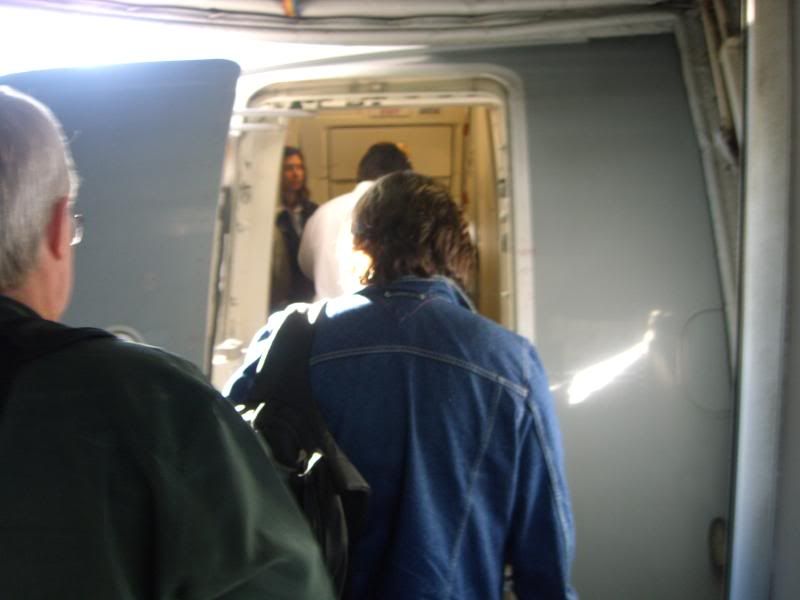 I settled into my seat and was ready for this 5 hr flight to DC
Taxiing was rather short...LAX did not seem busy at this time, and before I knew it, we were roaring down 25R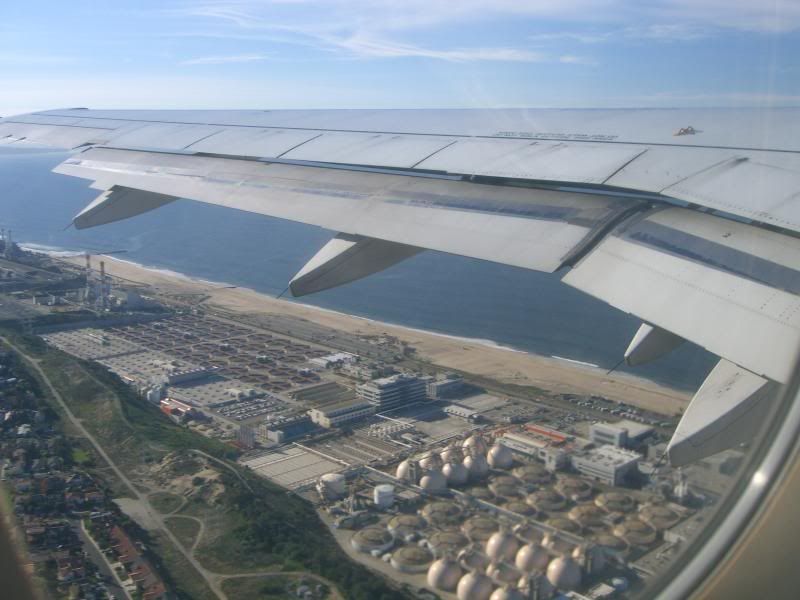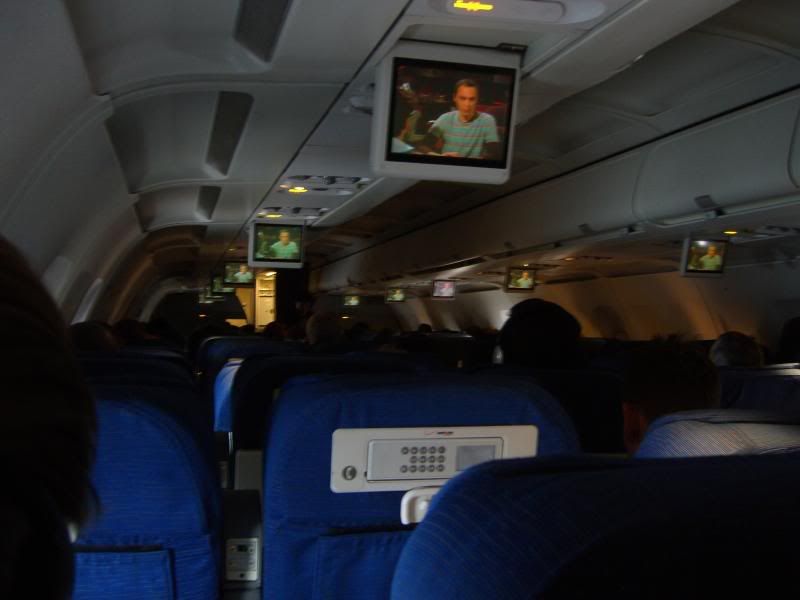 United had some inflight movie, I can't remember because I wasn't watching. Service consisted of a soft drink and some crackers...typical domestic US flight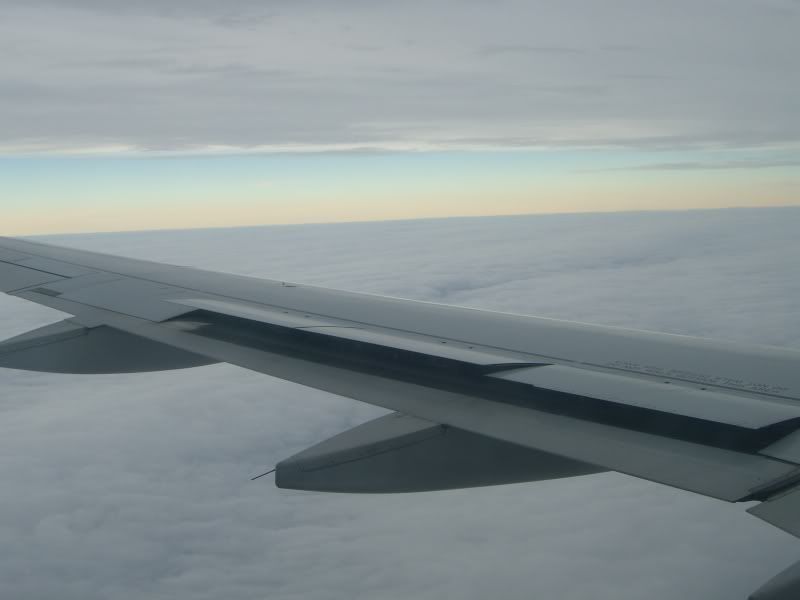 Between dozing off and channel 9, the 5 hours flew by pretty quick, and we were on our descent to Dulles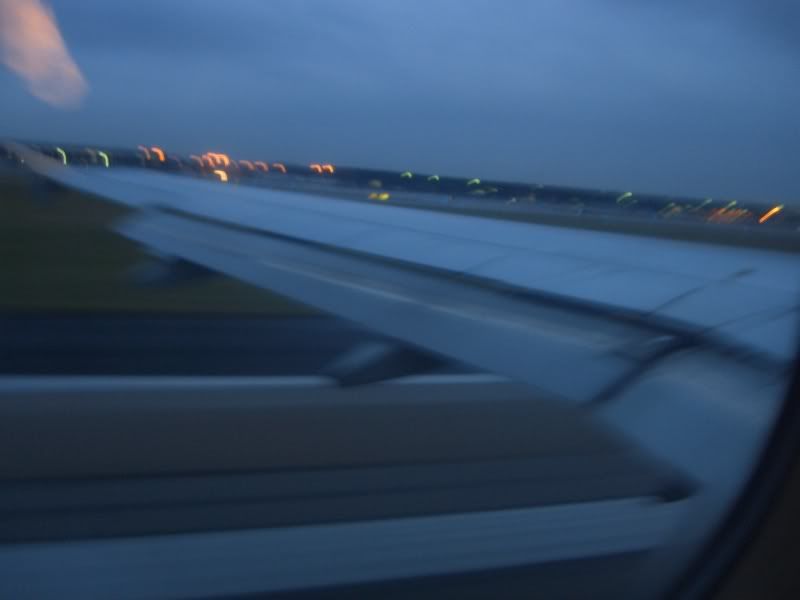 We arrived right on time, and I was off to find the Ethiopian gate. This was my 1st time at Dulles, and we had to ride around in some space buggy or whatever you call it...I think the official word is mobile lounge?? Regardless, they offered some nice views of the airport. Lighting was not helping me out, and all my pics turned out bad.
United and Ethiopian do have an interline agreement, but only for luggage...therefore I did not have my boarding pass and had to line up. It seemed like 1/3 of the passengers were connecting and were in line, which for a 767, is alot. United got me to IAD at 5, and Ethiopian wasn't supposed to depart until 8:30...3.5 hours to connect.
The line was ridiculously long and took forever, so I suspected something was wrong. Once I got to the front, my suspicions proved correct. The computers at the desk failed, or something to that regard, so they had to manually check in everyone. Not a good start ET!
Once I got to the front, they handwrote my passport info, baggage tags from UA, and so on, and issued me a handwritten boarding pass. This was my 1st time with ET, and so far, it was meeting my expectations of a 3rd World Carrier. I am Ethiopian, and was completely embarrassed by the scene. They did not assign seat numbers on the boarding pass, so it was mayham to board. The passengers that originated in IAD, and checked in at the counters pre-security had normal printed boarding passes, and tried to board among the mass who wanted to get on.
They announced that because of the computer crash, it would be open seating. As soon as I heard this, I muscled my way through the pack, and somehow was able to secure an exit row window seat!!!!!!!!!!!!!! On a 15 hour flight, being 6ft 2 in, this was CRITICAL. My disappointments about ET were quickly forgotten, as I was stretching out in comfort.
December 10, 2008
Ethiopian #501
Boeing 767-300
Washington DC (IAD) 8:30PM - Addis Ababa, ET (ADD) 7:30PM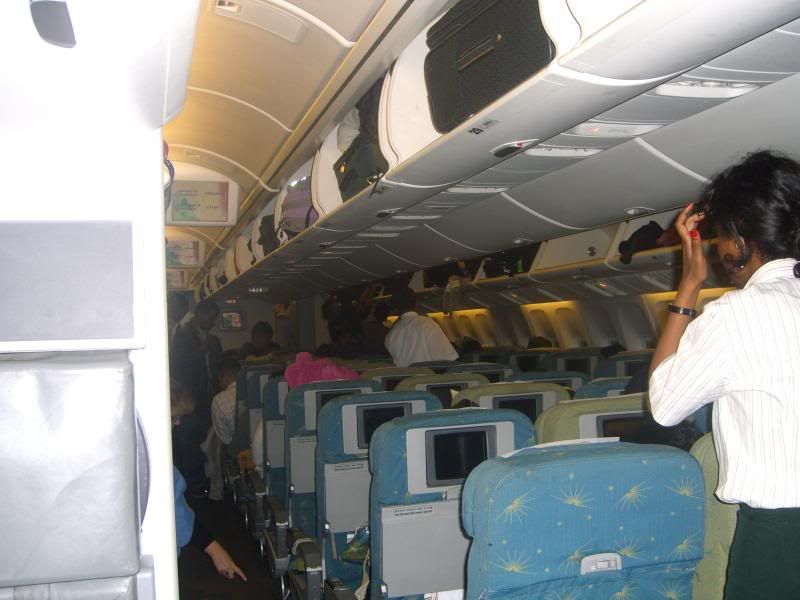 on board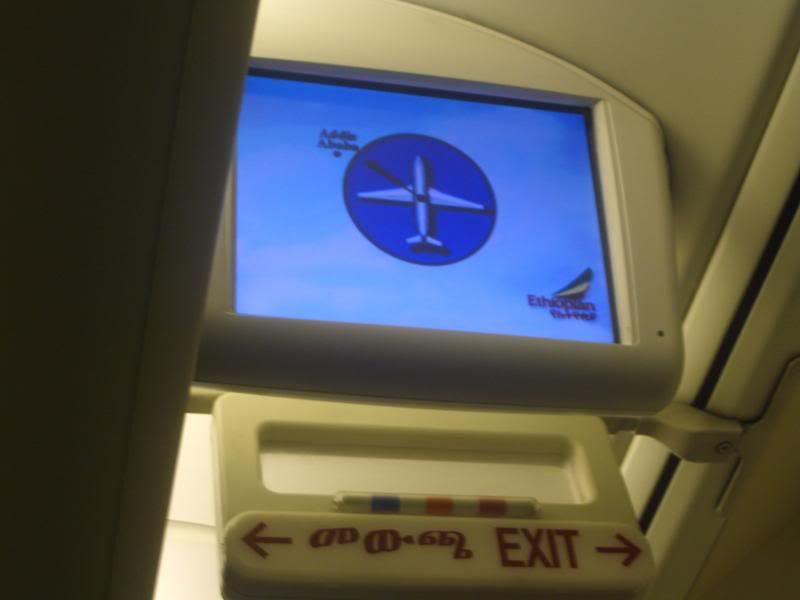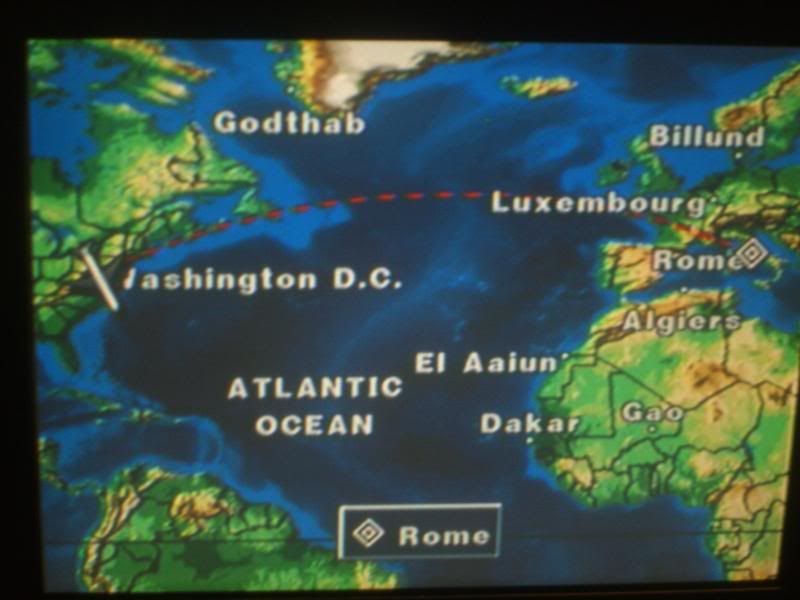 there was no point trying to take pictures as it was pitch black outside. Due to the delay in boarding, we left an hour late.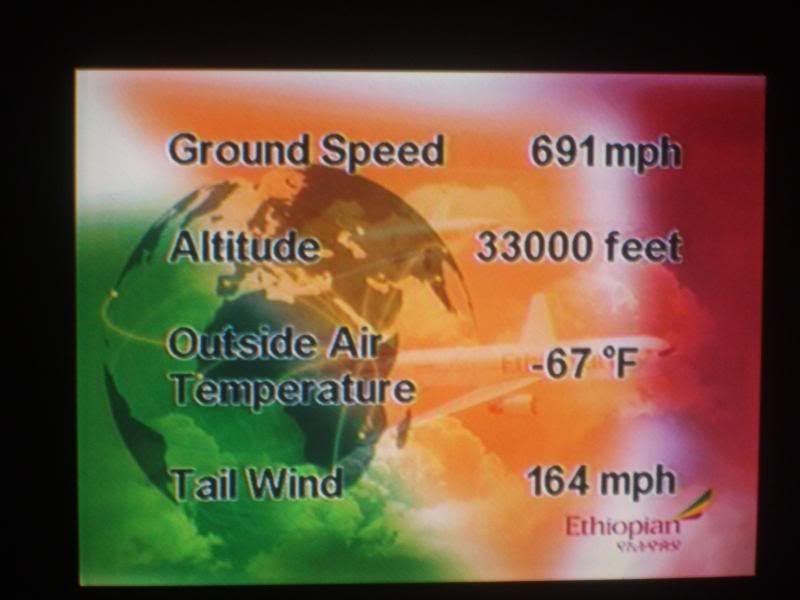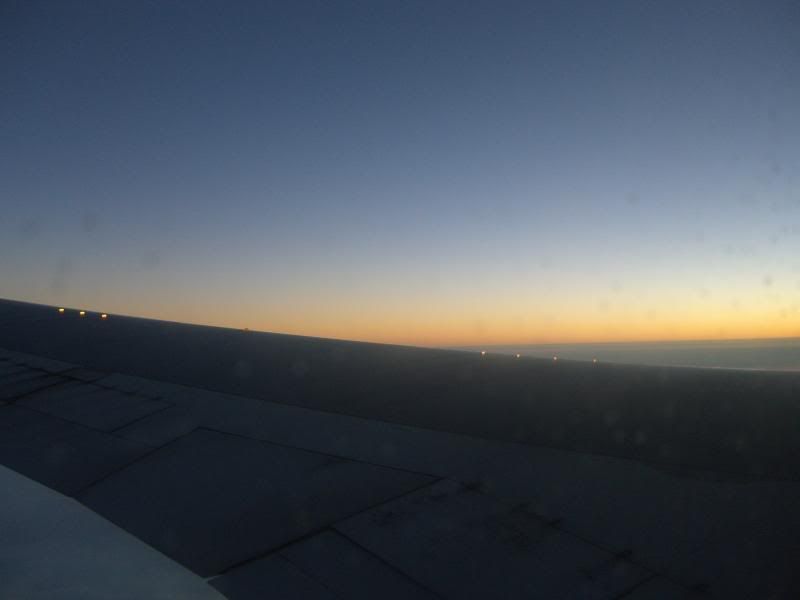 Descent into Rome-Fiumicino for a scheduled fuel stop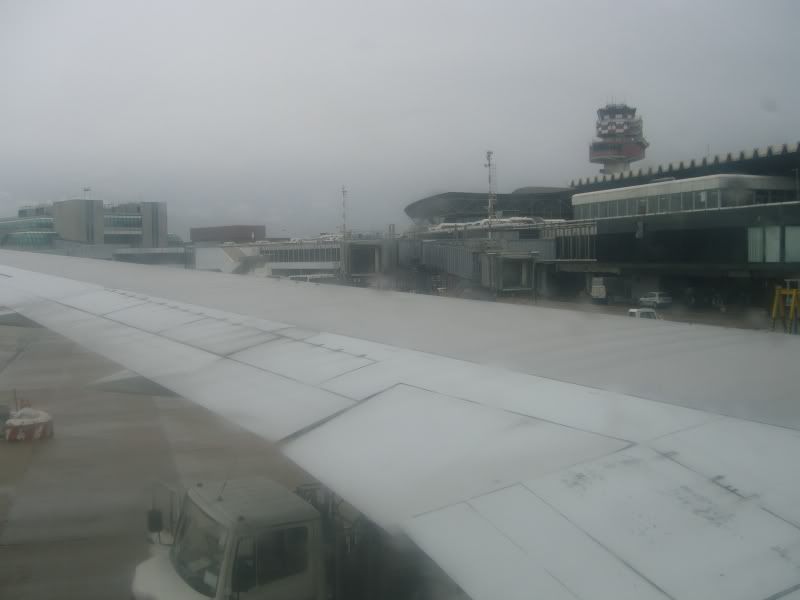 At the gate. We got a new crew, fresh food, and a cabin cleaning. The Italian cleaning crew were yelling at each other in Italian and I found it funny. I'm sure they thought none of the Ethiopians on the plane could understand, but I am actually studying Italian language in college, and heard them complaining on how they hate servicing this flight for various reasons..
Fast forward several hours, and by this time, I am getting rather restless. I have been traveling for maybe 20 hours by this point, and was ready to get the hell off the plane. Finally, the pilot announced descent into Addis Ababa. I knew I wouldn't get any good pictures because it was pitch black...check out my trip report from last year as the Emirates flight arrives in the daytime for some good pics.
Hallway to Immigration...sorry about lighting. Photography in Ethiopia is still pretty sensitive, and I had no motivation to get in trouble with authorities.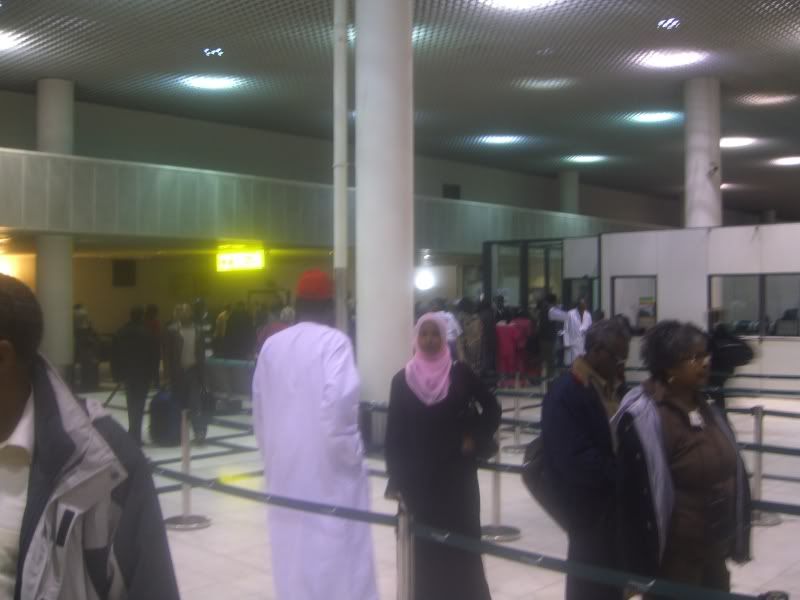 Queing for Passport Control
I noticed that the vast majority of the passengers did not have visas, and were applying for them on arrival. HUGE MISTAKE. The process takes forever, and if you're in the back of the plane, or are arriving with the huge mass of European Arrivals later that night (BMI, Lufthansa, KLM, etc), you can easily add 2 hours at the end of your trip. It is very simple to apply for one ahead of time at your nearest Ethiopian Consulate by mail..1 day tops.
Anyway, because everyone was applying for visa-on-arrival, my line was short, and was thru with my stamp in 5 minutes.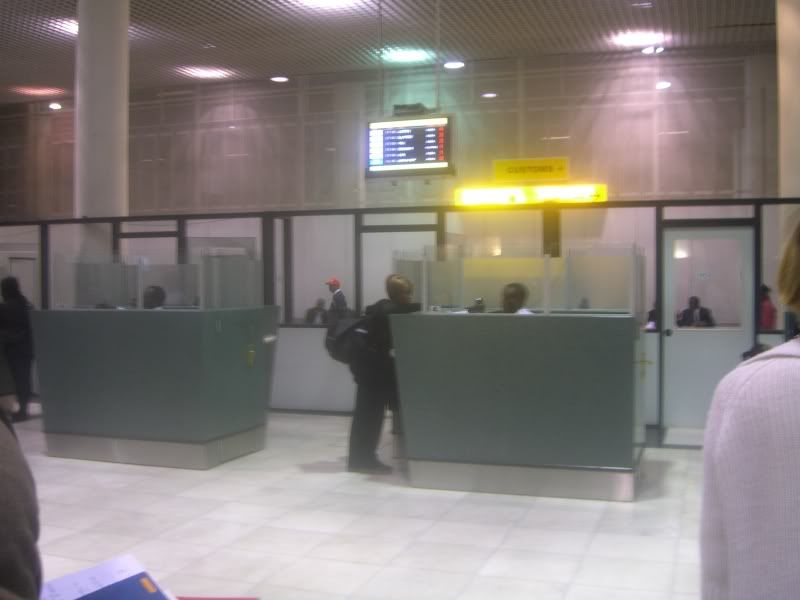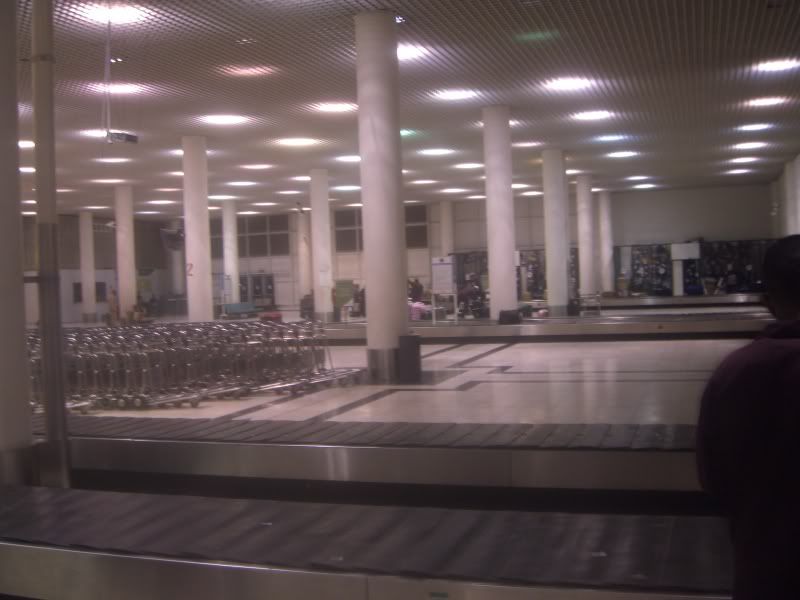 baggage claim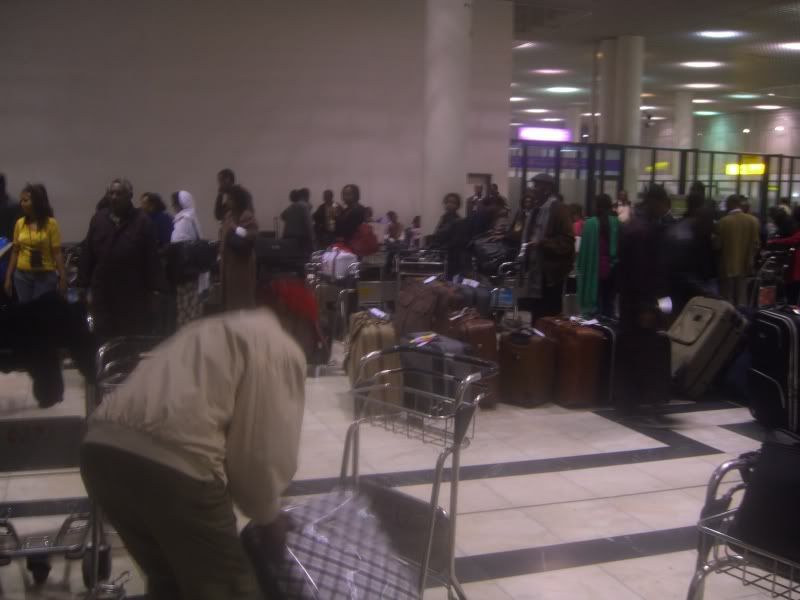 waiting for our luggage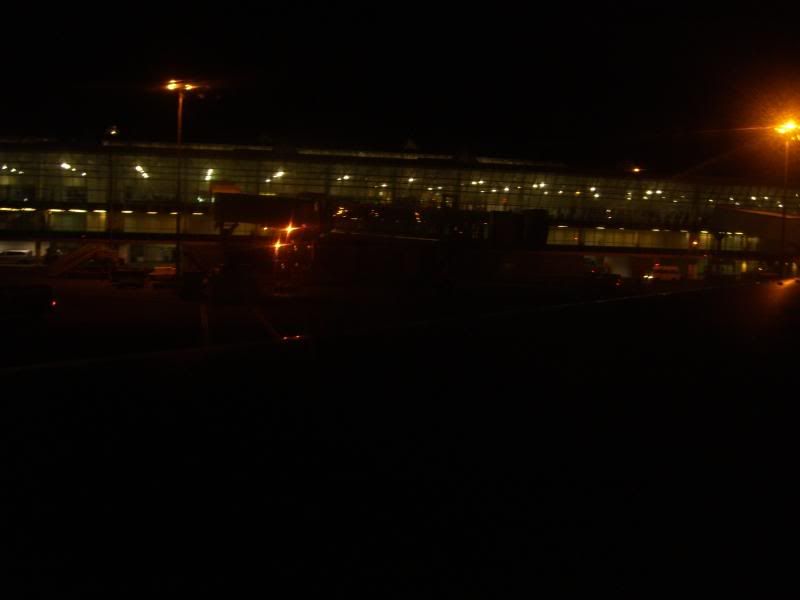 before i knew it, i was out.
Here's some pics from the city of Addis Ababa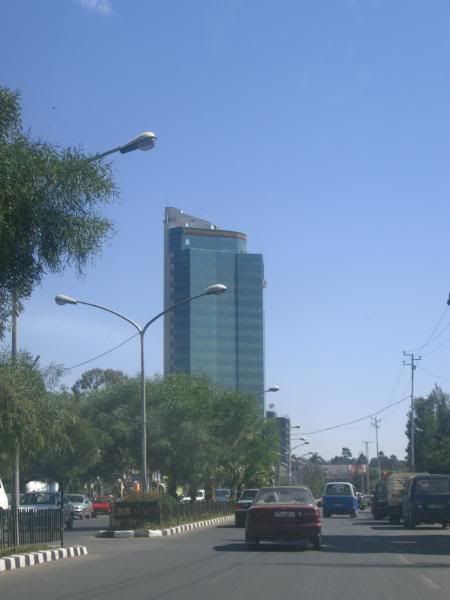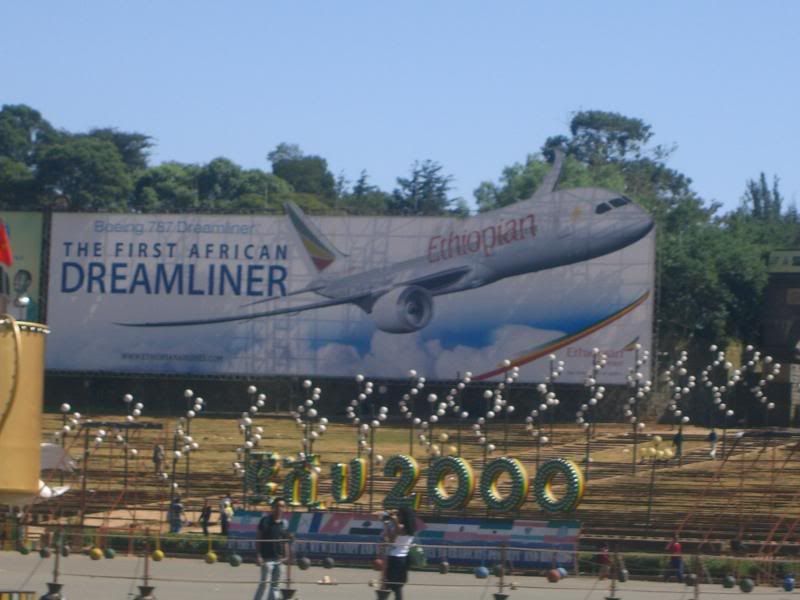 Ethiopian is definitely ready for the 787!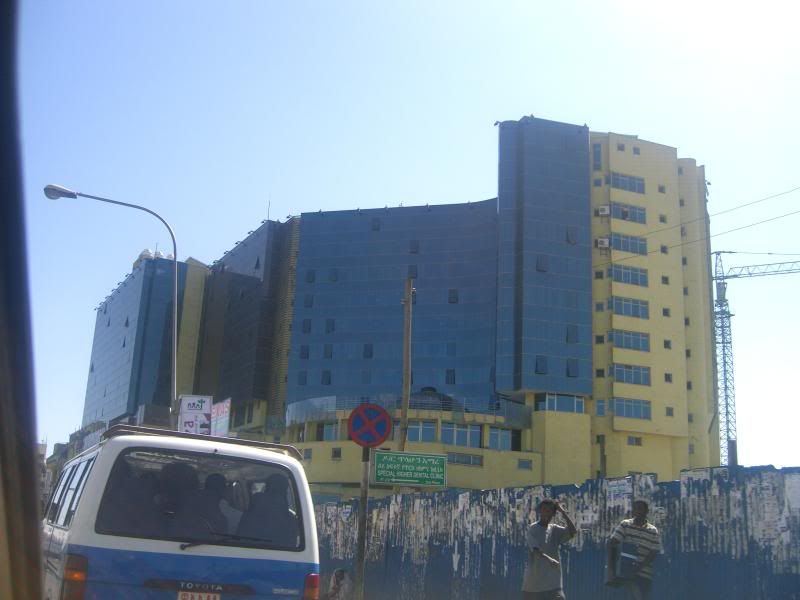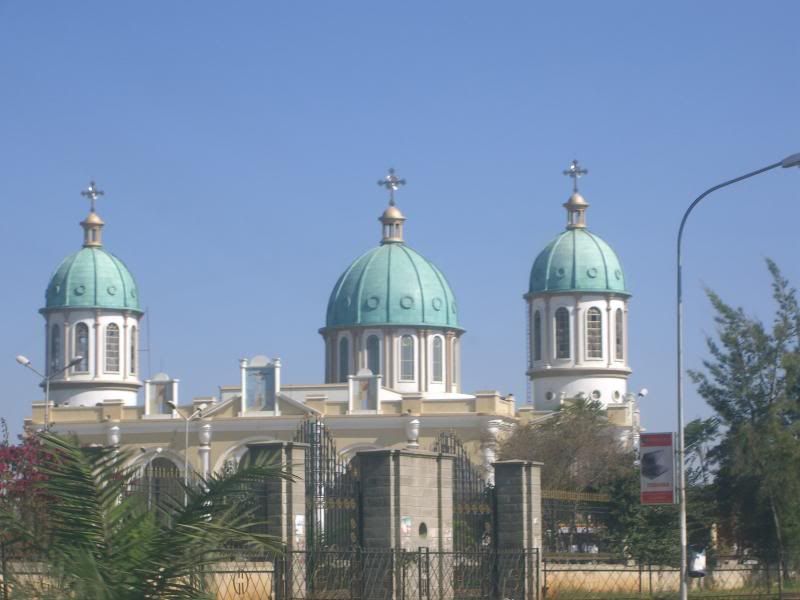 United Nations Conference Centre
This was mostly a business trip, so I didn't do too much sightseeing. Check out the report from last year for some better "touristy" pics
Originally I was planning on coming back Jan 3, but I had to cut my trip short, and get back before the New Years. A quick stop to the ET ticket office, and I had my date changed for a mere $100 fee, period...no increase in fare or anything. My routing was horrible however, routing me from IAD to Chicago, then on to LAX, with a 8 hr layover in DC. This was my only option, so I took it, hoping that I could somehow get on the nonstop when I arrived in DC.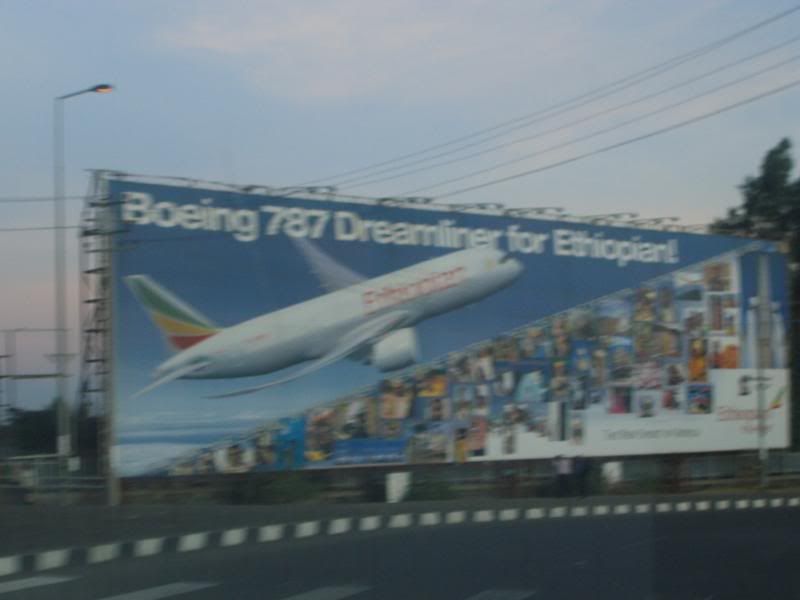 on the way to Bole Int'l Airport, another 787 ad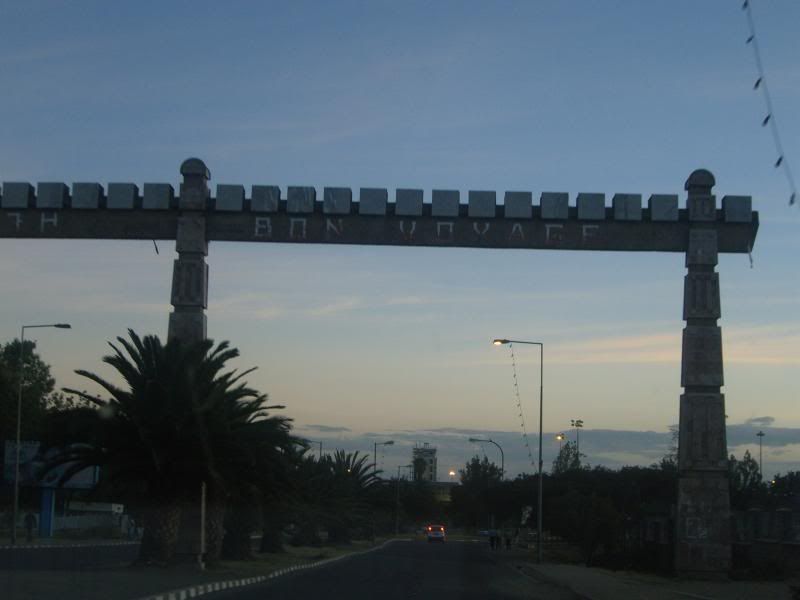 Bon Voyage Sign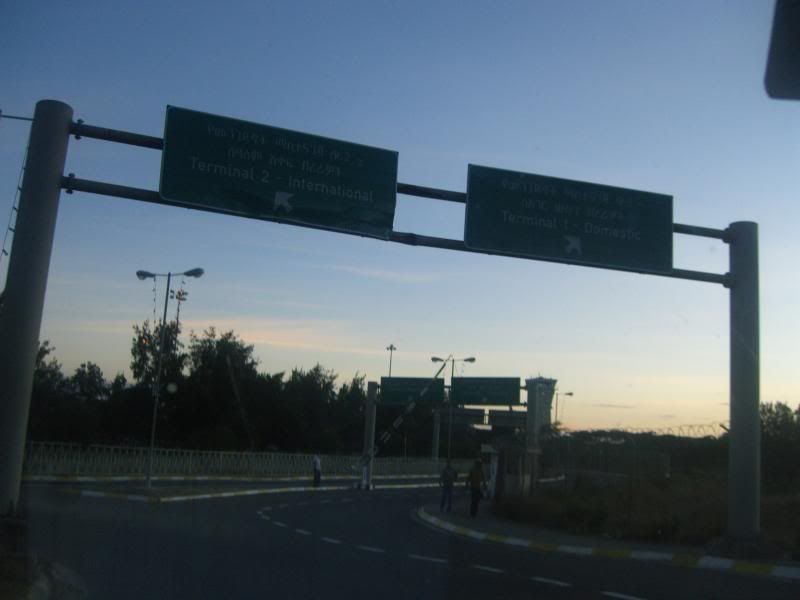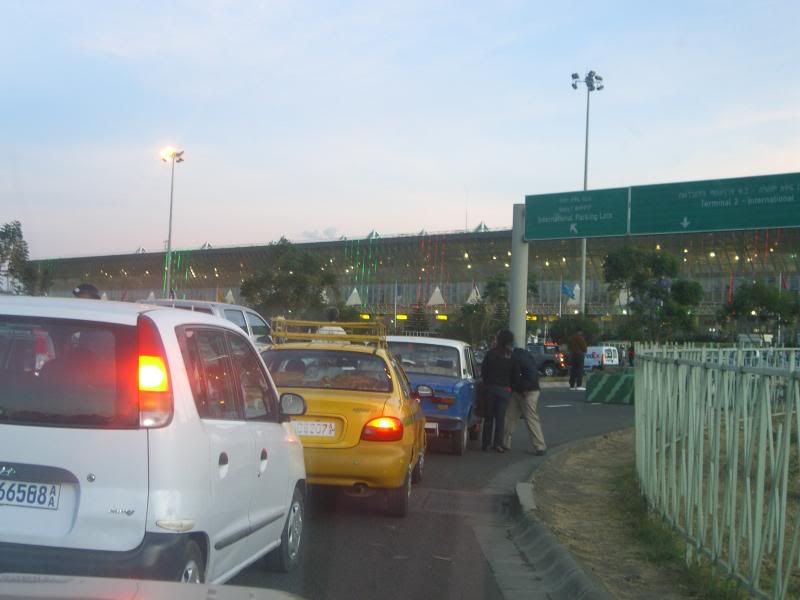 security check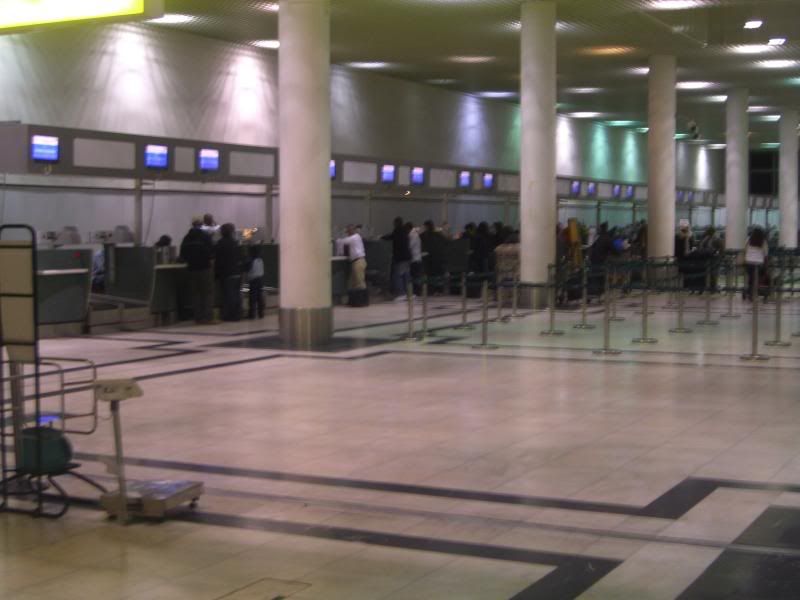 check in counters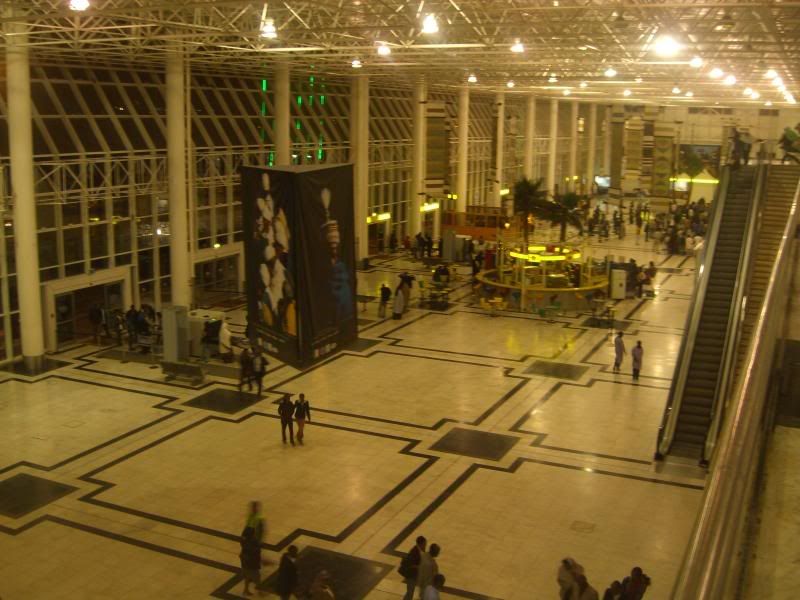 public area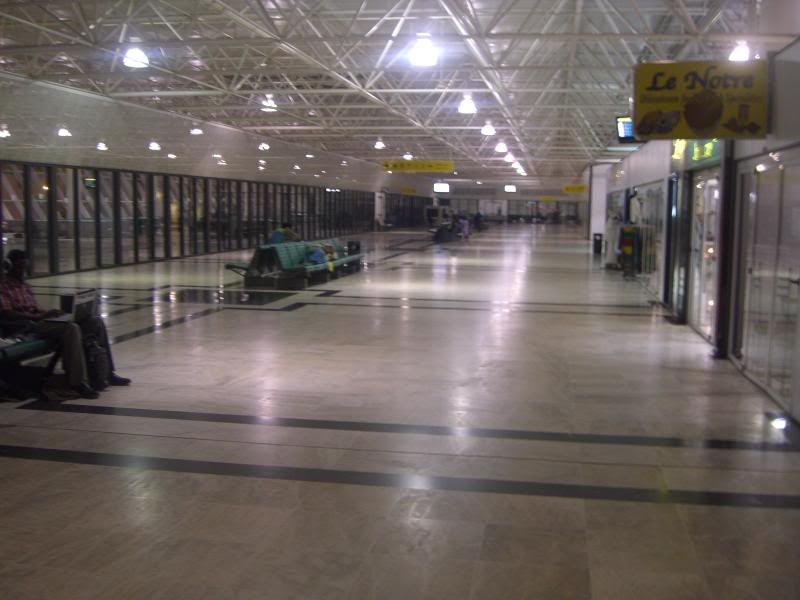 post immigration.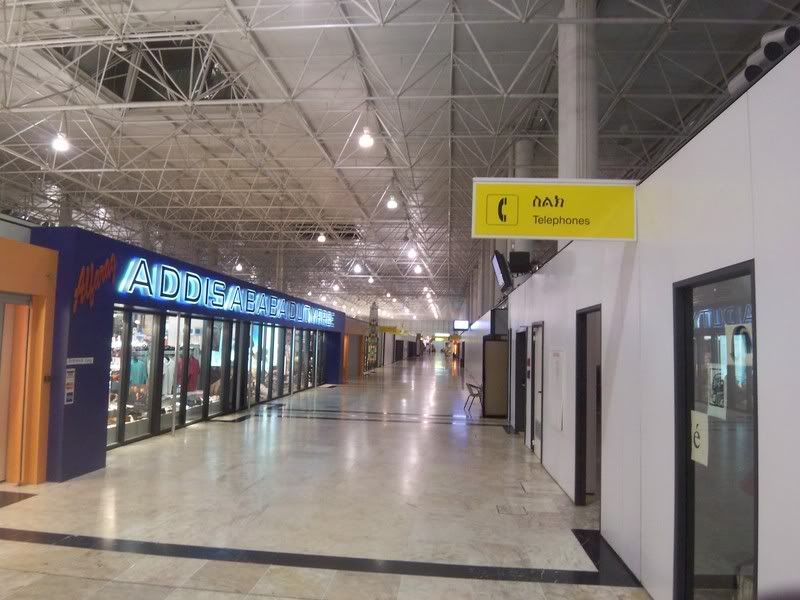 Addis Ababa actually has some excellent duty free shops. I arrived too late to do some extensive shopping, but I definitely purchased some alcohol...my 21'st birthday was in about a week, so I had to prepare. I was scared of bringing it back to the US and having it taken away, but I had some spare Birr (the Ethiopian currency) and opted to try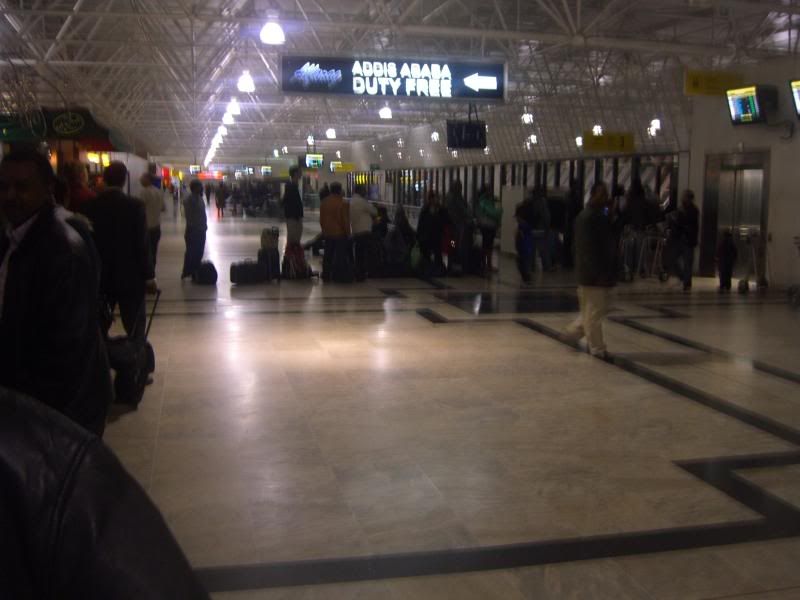 line to enter the gate. there is another extensive security check at the gate.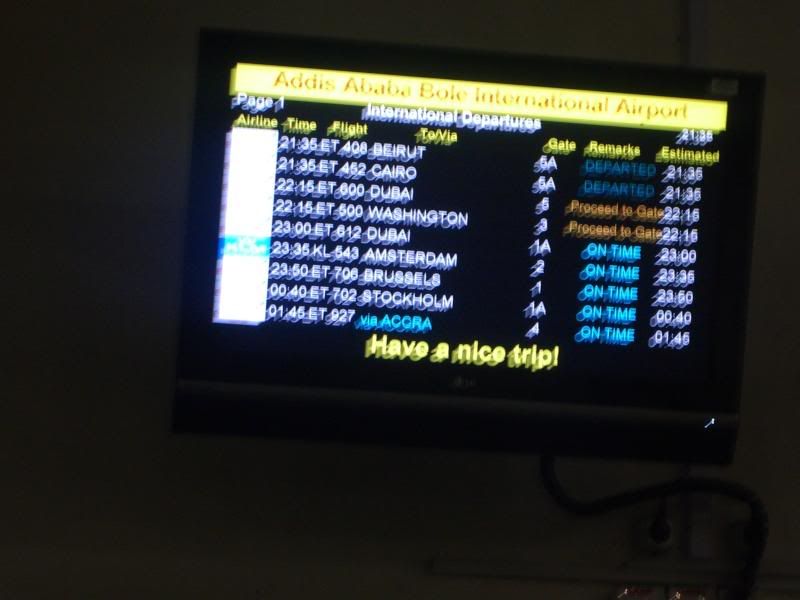 sorry its blurry, i was not trying to use the flash to avoid attracting attention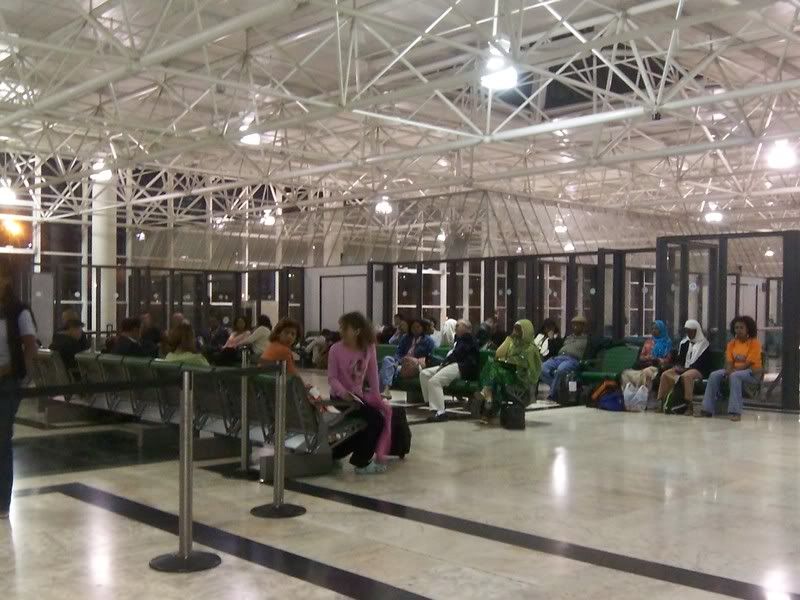 gate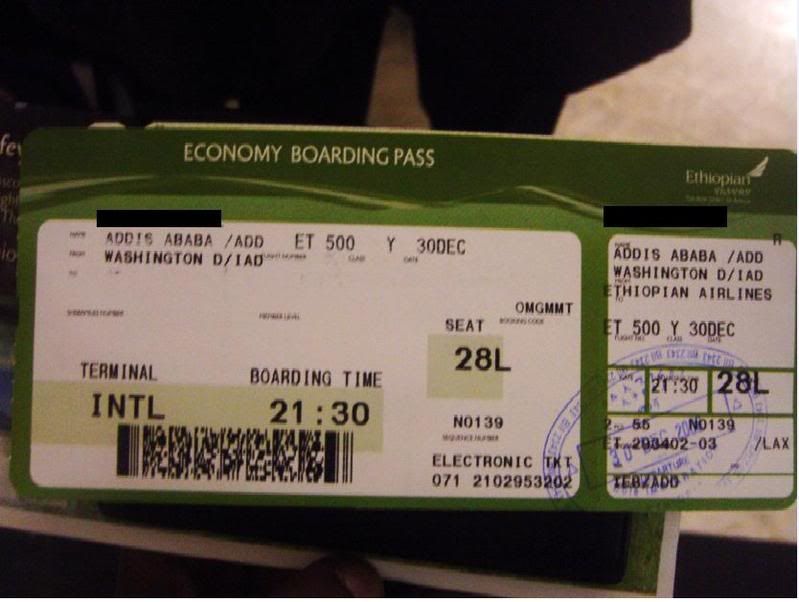 boarding pass
December 30, 2008
Ethiopian #500
Boeing 767-300
Addis Ababa, ET (ADD) 10:15PM - Washington, DC (IAD) 7:20AM
best shot i could get, sorry it was dark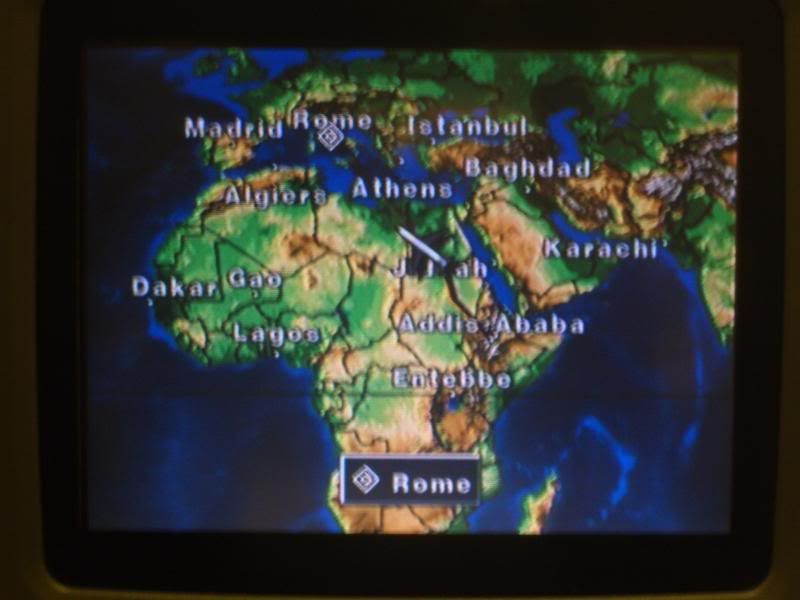 on our way to Rome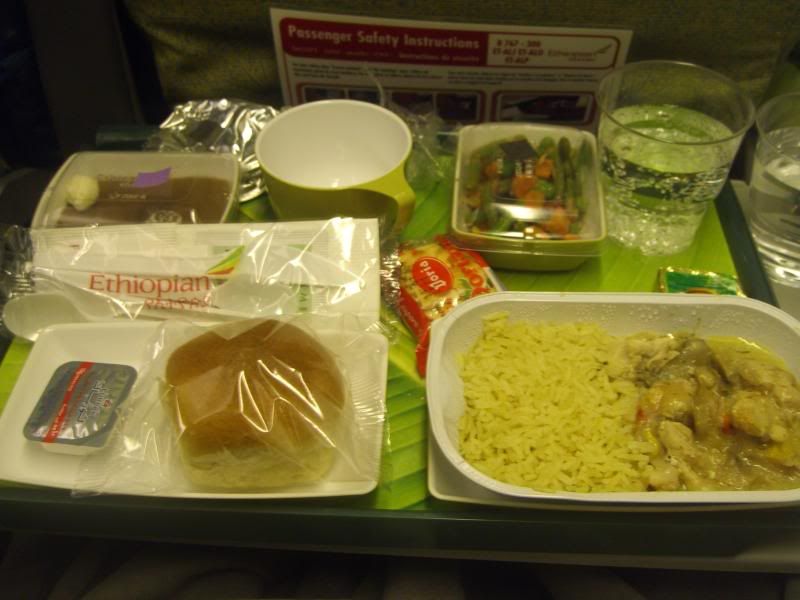 dinner
sorry I didn't really comment too much on the meal service. dinner was actually very good. the chicken was cooked just right. There was also a breakfast service prior to arrival in DC.
Also, important to note, Ethiopian offers free unlimited alcohol!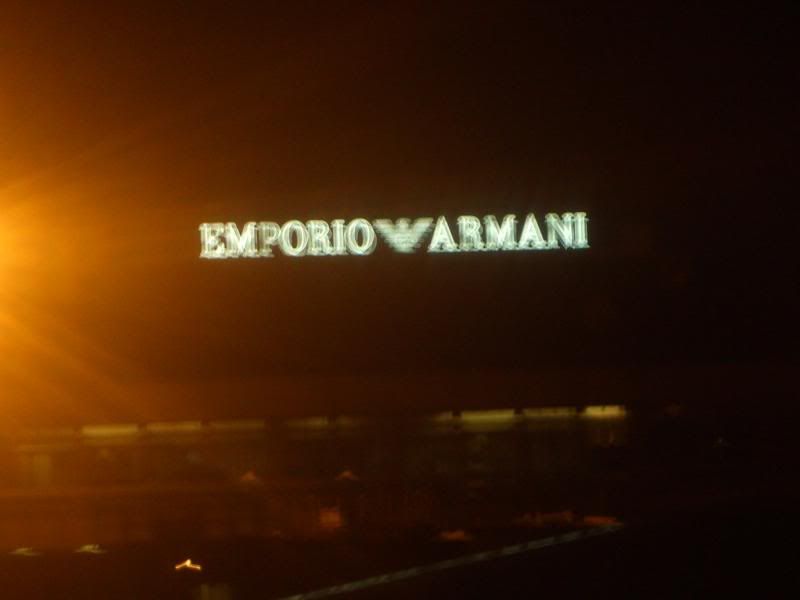 My only proof of being in Rome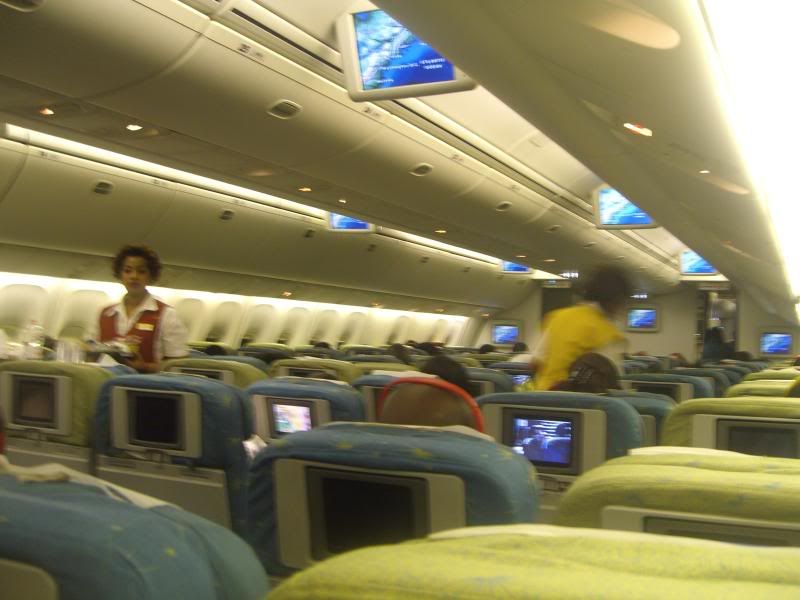 crew distributing meals
I really wished I got a shot of them in their formal uniforms. Ethiopian flight attendants hands down are the most attractive in the industry!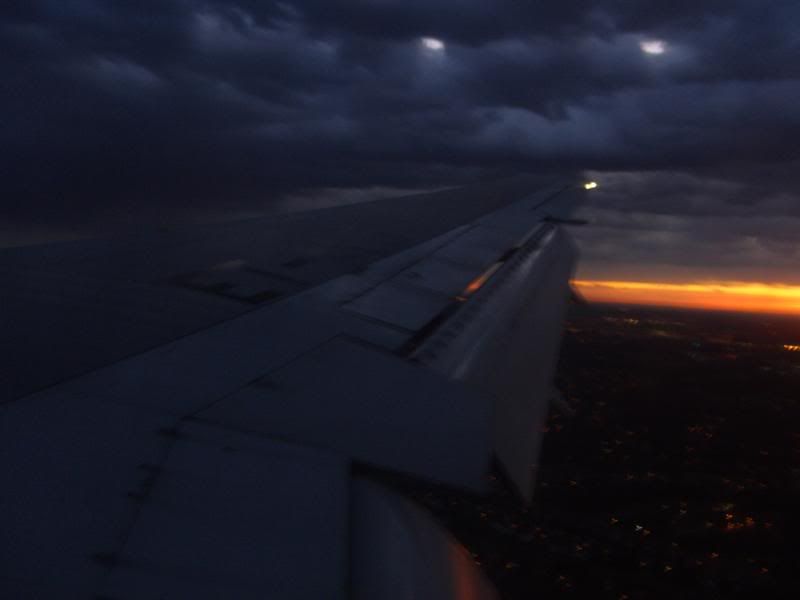 after a 17 hr journey, approach to IAD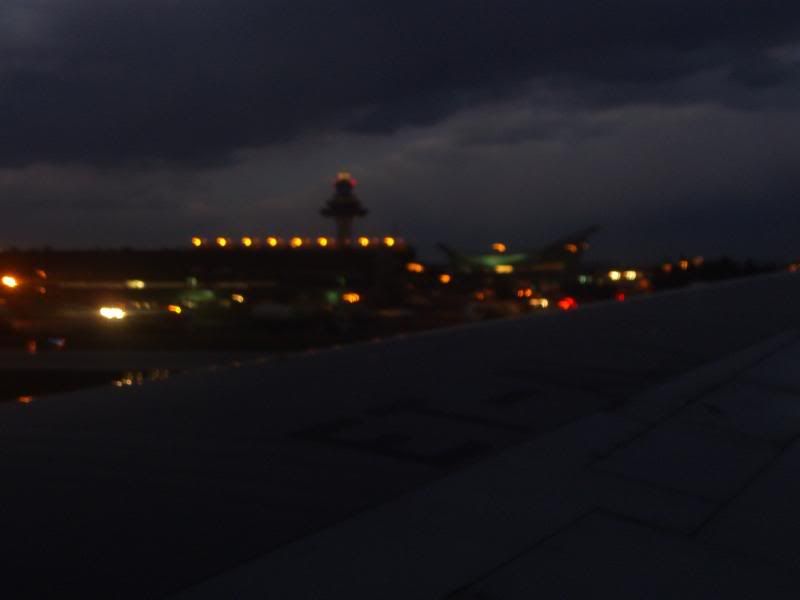 arrival at the crack of dawn
The funniest thing happened after we landed. The entire cabin started to applause and cheer. I found this odd, but after the 17 hr flight, I couldn't help but join in the cheers. This also happened when arriving in ADD, but not in Rome...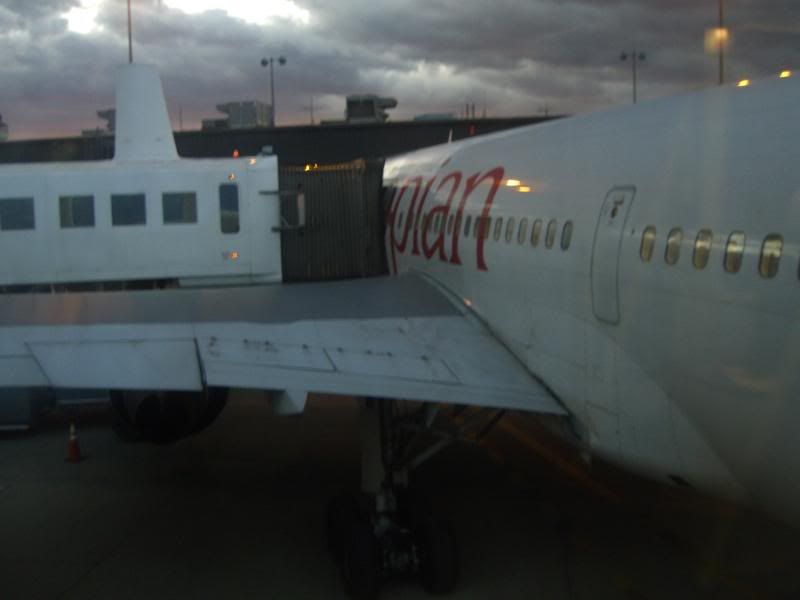 parked at the gate, boarding our spaceship lounges
Immigration was long...maybe 60-70 minutes to pass through. The South African Airways flight landed just before us and there weren't that many passport inspectors working. When it was my turn, I was passed through in no more than 30 seconds. Quick scan of the passport and stamp, and a polite "Welcome Home." I was antsy, because I was really trying to get on the 9AM IAD-LAX nonstop instead of staying over 8 hrs
Luggage took FOREVER to unload. Ethiopian spreads its luggage over 2 separate carousels which really confused people. Eventually, an agent came and told us that luggage was being separated...people who were terminating in DC were on one belt, and all connecting luggage was on the other. Finally my luggage turned up and I passed through customs.
Prior to exiting the International Arrivals Building, there is an Ethiopian agent who checks your luggage tags. If you terminate in DC you go through, but if your connecting, he directs you to the international luggage recheck that United has in the building. I asked the United agent if I could get on the nonstop, and he told me I'd have to go to the Special Services desk in the main terminal.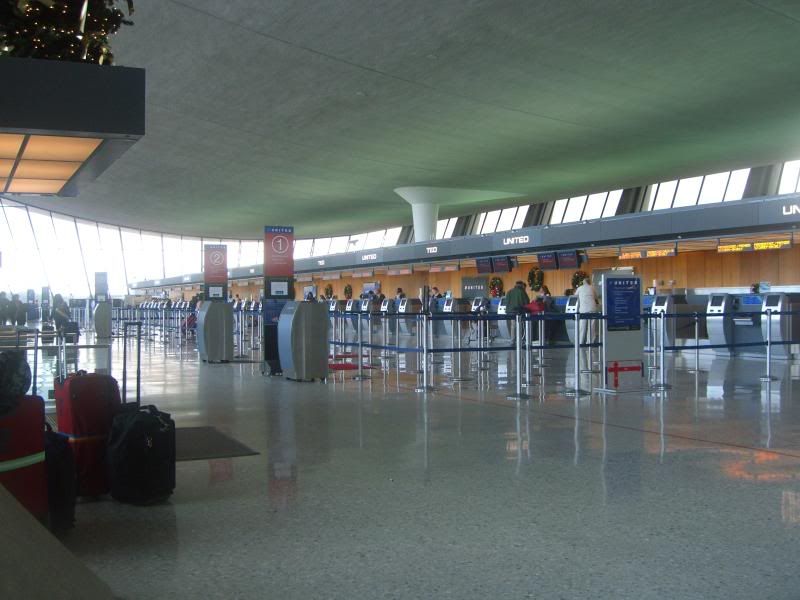 United IAD check in area
It took 2 hours to clear customs and immigration, so getting the 9AM was done. The agent put me on standby for the noon LAX flight and re-tagged my bags as well. She also gave me boarding passes for the IAD-ORD-LAX confirmed flights I had. I asked what are my chances and when she looked, she said not good. There was a bunch of Global Services listed, and they're going before you, she muttered. Then she said it looks like there is gona be alot of misconnects from some European flights, so maybe... and wished me good luck. Regardless if I got on the flight or not, my luggage would be on the non-stop
There was 3 hrs until noon, so I roamed the building...I just got off a 17 hr flight and was in no mood to sit down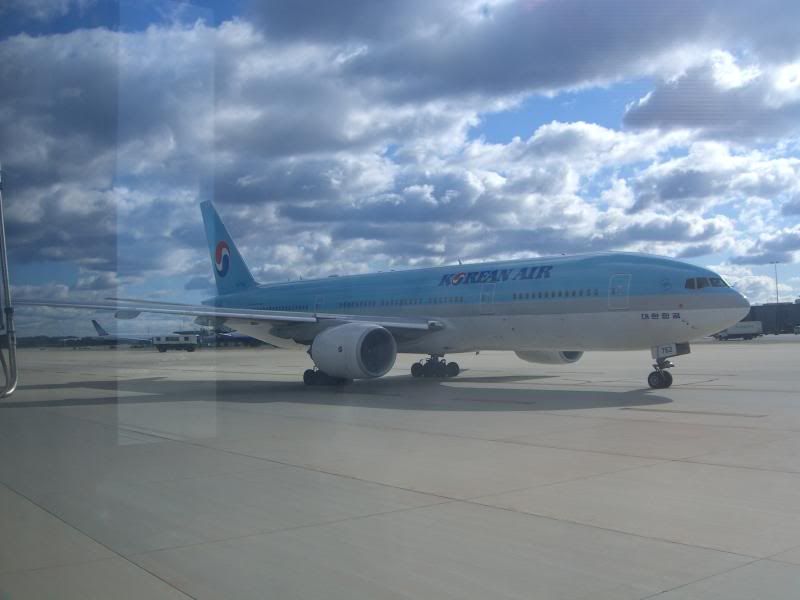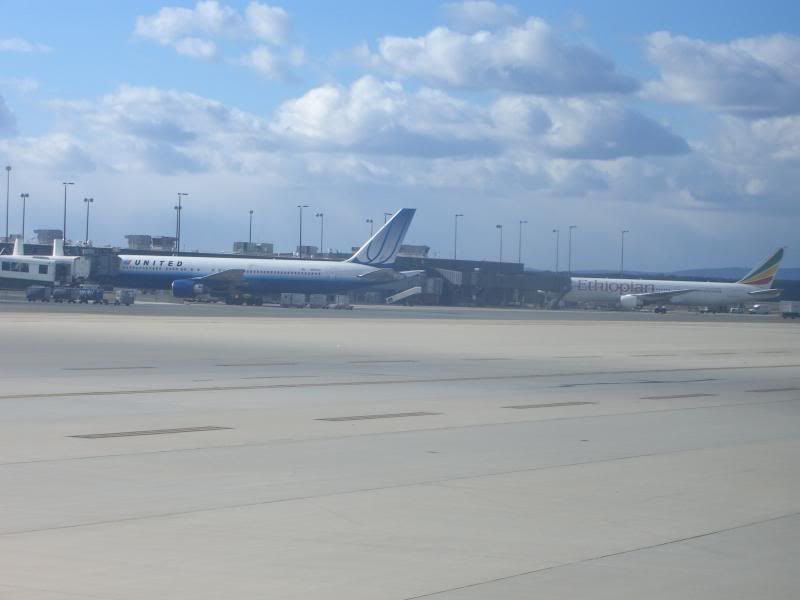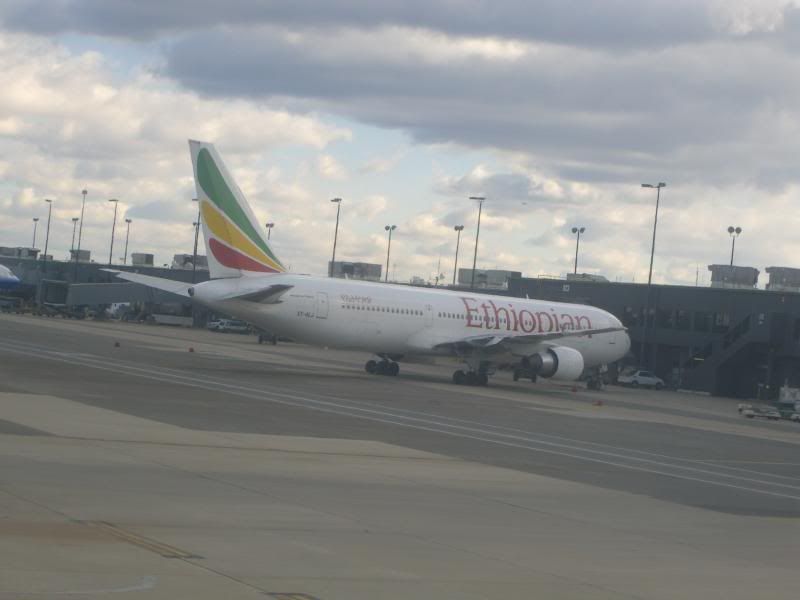 the plane that just dropped me off will sit in IAD idle until 8PM
Finally, it was time for the flight, and the gate agent read off names one by one. There was so many people before me, but finally my name was called, and a window!!! Now, off to LA!
December 31, 2008
United #49
Boeing 757-200
Washington, DC (IAD) 12:30PM - Los Angeles, CA 3:15PM
sorry no shot of the gate or plane, I grabbed my boarding pass and ran on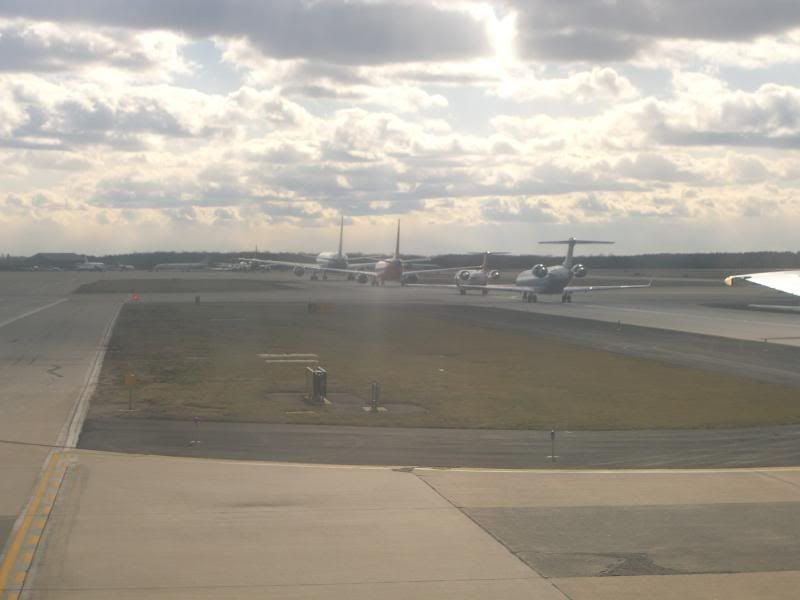 traffic on the tarmac
right before we took off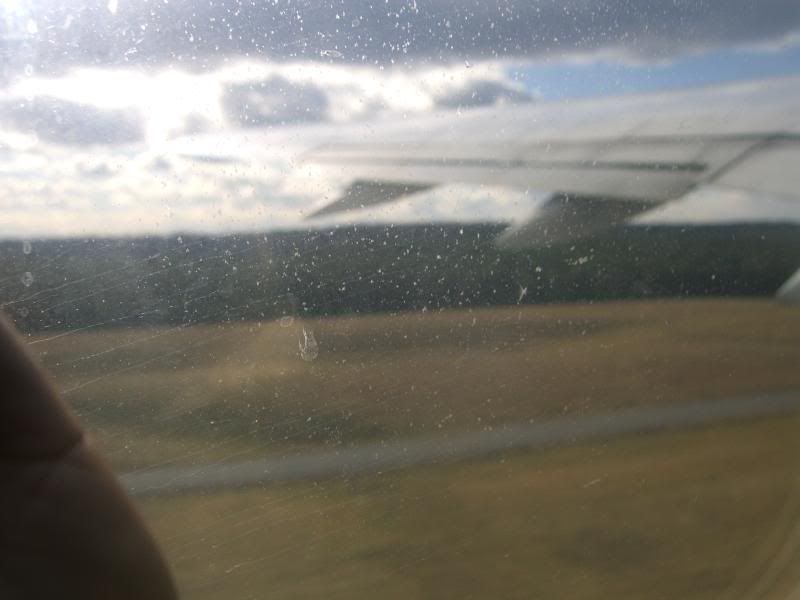 take off from IAD
somewhere over the midwest
I was ridiculously antsy, and could not wait to get the heck off this airplane. Service was generic again...something to drink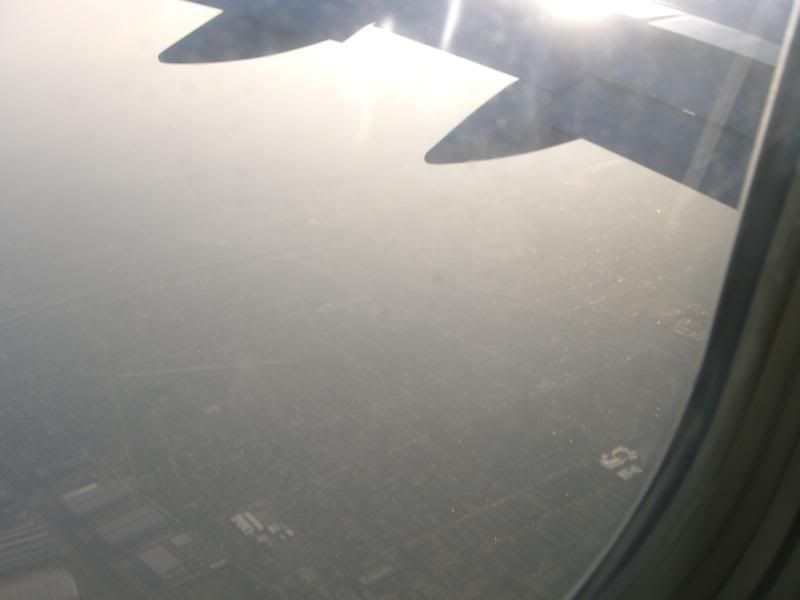 Descent into LA
110/105 Fwy Interchange (for those that are familar with LA)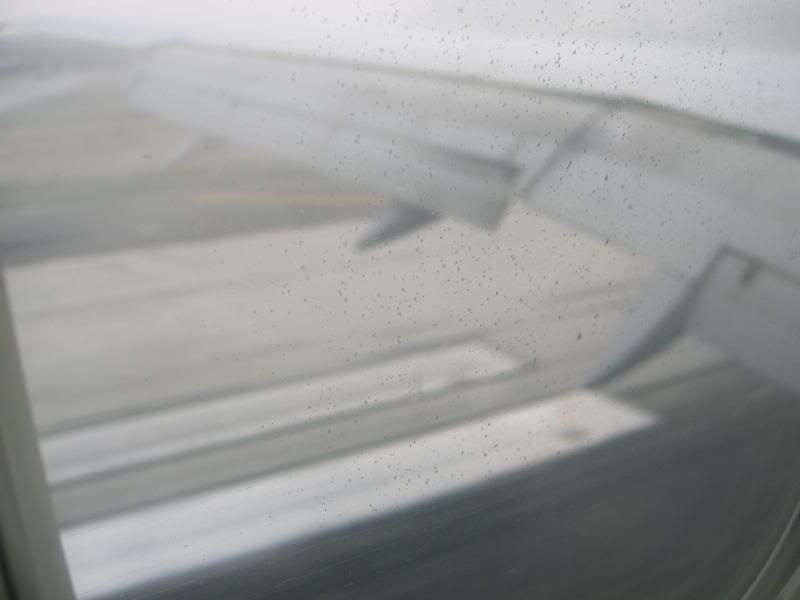 landing
it was a horrible day in terms of weather for LA. At least it was 60 degrees. Although DC was clear, it was 5 deg, and for anyone from SoCal, that is beyond unbearable! I stepped outside at Dulles to get some fresh oxygen after being in a metal tube for 17 hrs, but quickly realized that I'd have to settle for the terminal air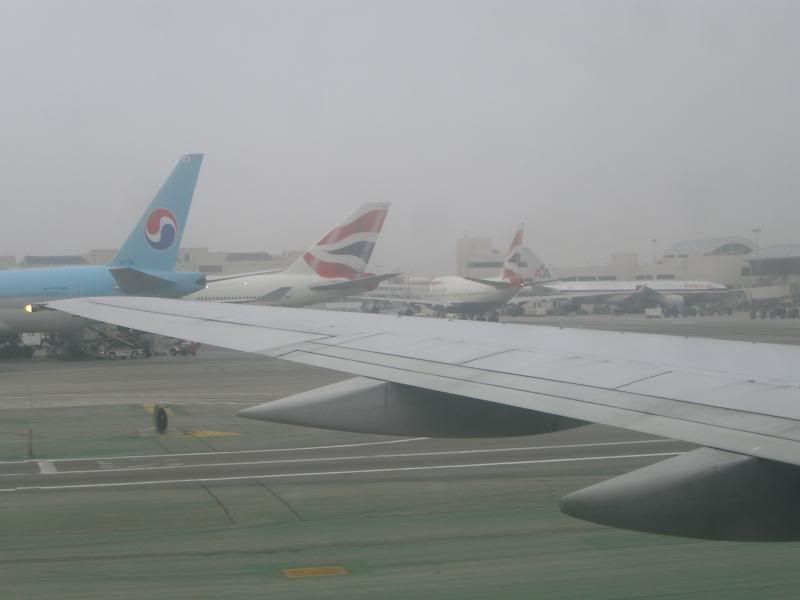 Heavies at Bradley term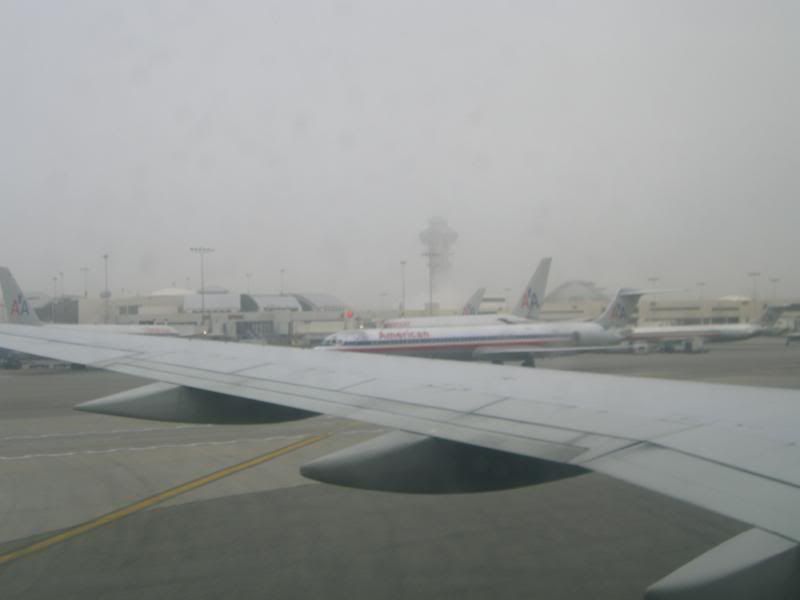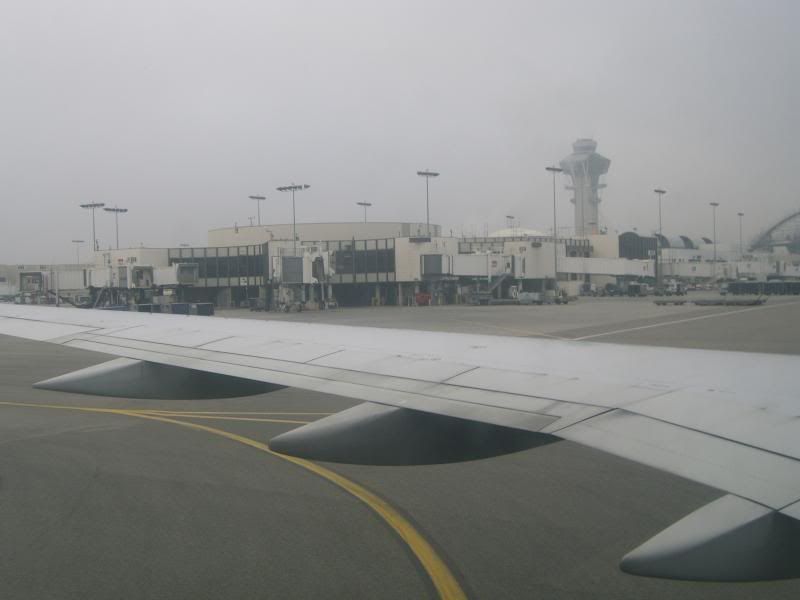 the ridiculously underused Delta T-5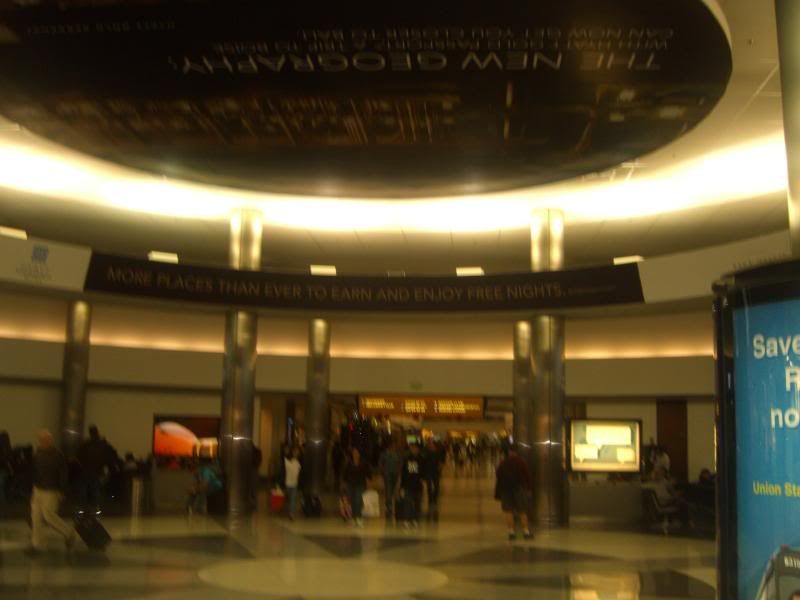 Back inside Terminal 7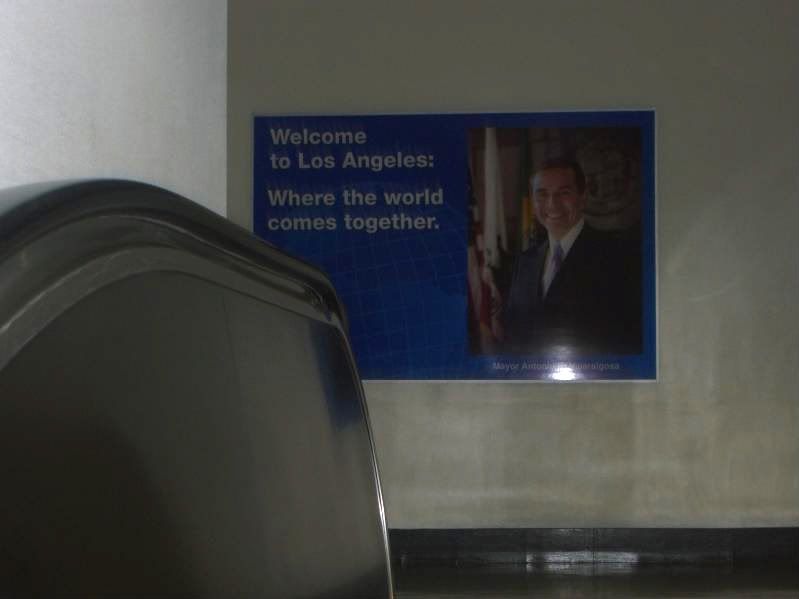 Finally HOME...greetings from LA Mayor
Curbside at LAX
Conclusion: United got me to DC and back on time. Was the service spectacular, no, but they did their job.
As for Ethiopian, they are definitely on the up rise. The ground operation in DC definitely could use some work, however their service in the air is excellent. The flight attendants are just dolls, and go out of their way to make sure you are completely satisfied. The ability to be so polite and professional with Africans, in my mind, is exemplary. I don't know how ET generated US$920 million in operating revenue (34% increase over last year) while providing FREE alcohol (I had Black Label!!?!?!?!) (see press release here
http://www.ethiopianairlines.com/en/news/prarchive.aspx?id=24).
Even more stunning, Ethiopian is offering a Buy 1, Get 1 ticket free?!?! check it out on their newly designed website
http://www.ethiopianairlines.com/en/default.aspx
I don't know how they are able to make money in this global fiscal situation, but their onboard product is excellent.
In conclusion, minus the computer issues in IAD, they are definitely a great and solid airline, and with a spectacular hub in Addis Ababa, they clearly are the "New Spirit of Africa" I will definitely be taking Ethiopian Air over the connection in Dubai with Emirates...see the disaster from that here
https://www.airliners.net/aviation-fo...ums/trip_reports/read.main/119335/
THANKS FOR READING, COMMENTS GREATLY APPRECIATED