Quality and Style in Economy Class:
Hong Kong-London on Air New Zealand Boeing 747-400
View Large
View Medium


Photo © Sneeze Lam
Intro
The final part of my recent trip report series will give an impression of
Air New Zealand's
long-haul Economy Class product on the Hong Kong-London route. Lufthansa short-haul flights can be found here frequently, so I won't go into detail about the connecting flight to Munich.
Background
Back in September, after finding the reasonably priced Hainan Airlines one-way connection between Munich and Beijing, we needed to add a one-way return flight from Hong Kong. Air New Zealand was offering the most attractive fares (via London Heathrow, including a Lufthansa connection), so it was a quick decision - considering that all NZ long-haul planes had already been equipped with the revamped Economy Class.

All those who have missed parts 1, 2, 3, 4 and 5 or want to read more about the background of the trip simply need to click here:
Striking Newcomer: Berlin-Beijing On Hainan A330
PEK-SHA, China Eastern A330 & Shanghai At Night
SHA-SZX, Shanghai 757: Delayed By The Military
"The Wings Of Taiwan": EVA Air A332, 744 Combi
Taiwan Trio: TransAsia, UNI Air And The Taipei 101
Chek Lap Kok Spotting
After returning from our short side trip to Taiwan we had one full day left for spotting at Chek Lap Kok Airport. However, when we stepped off the train at Tung Chung station at Lantau Island we realized with disappointment that the approach direction still hadn't been changed - aircraft were landing on runways 07L and 07R (opposite side of the main terminal complex) which makes it almost impossible to take good pictures. Nevertheless, we took a bus to the top end of the island while hoping for the best.
We stepped off the bus near the HAECO maintenance area and discovered a very interesting bird: ex-Cathay Pacific Airbus A340-642, still registered B-HQA, but already painted in Hainan Airlines colors: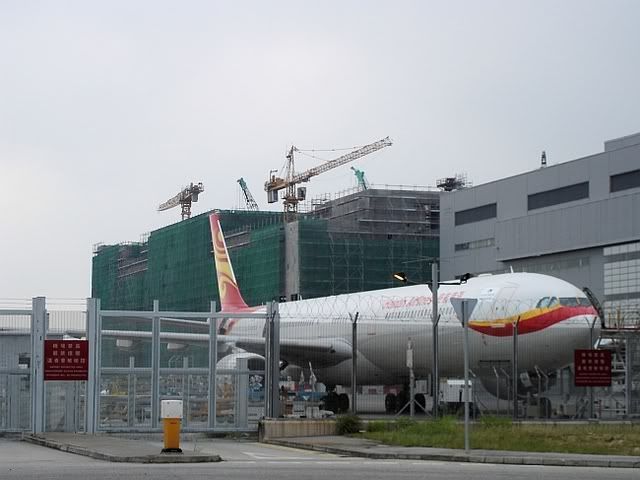 We walked to a place near the water and sat down on some rocks. It was very windy and visibility was limited. Aircraft were using the more distant runway 07L for landing - and it was difficult in many cases to see the registrations.
At least it was easy to see the departing aircraft clearly. China Airlines Airbus A340-300 bound for take-off and a parked Dragonair Boeing 747-300F: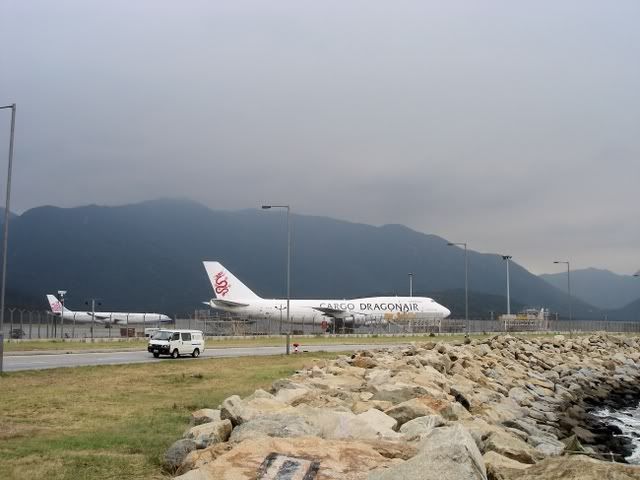 Cathay Pacific Airbus A330-300 undergoing maintenance: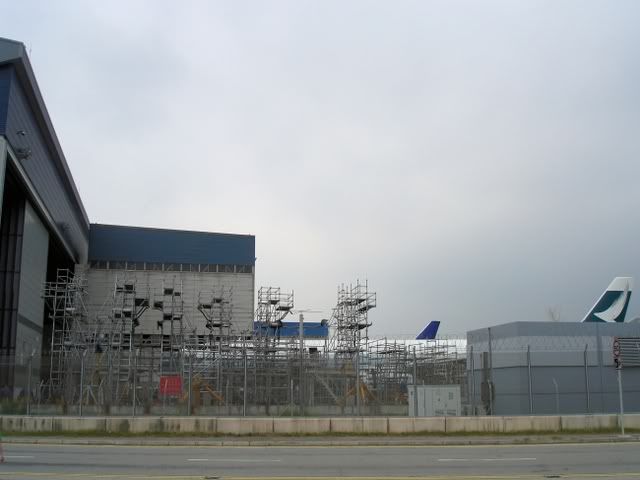 We met some spotters from England who weren't amused about the situation either. After about two hours we left the scene and tried to find a place where we could see the planes shortly after take-off. We finally sat down on a grass field close to numerous logistics warehouses - but security staff sent us away after a short discussion. On the way to the bus station we passed Cathay Pacific's headquarter, named
Cathay City
. This is
VR-HDA
"Niki", a DC-3 on public view outside the Cathay Flight Training Centre: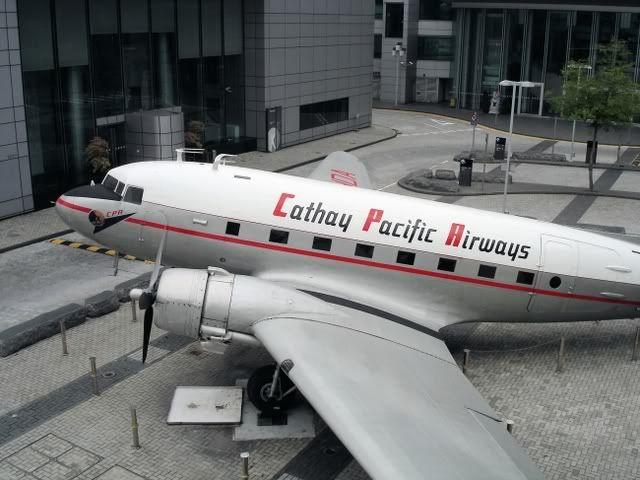 We went to the main terminal hall, still hoping for the best, but the approach direction wouldn't change. I could get a limited number of registrations while having a seat in the terminal, but many aircraft were already too high. In the early afternoon we decided to return to Kowloon. I had logged 62 new registrations which is not bad - but much less than expected.
The view from our hotel room was not as spectacular as during our first stay in
The Salisbury
, but still enjoyable: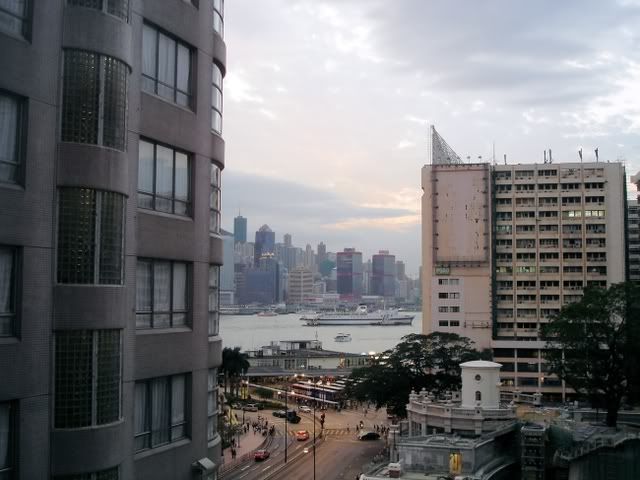 "A Symphony of Lights"
After having dinner in the
Harbour City
shopping mall it was time to watch
"A Symphony of Lights"
from the pier – a multimedia presentation named
"World's Largest Permanent Light and Sound Show"
by the Guinness World Records. The daily show creates an all-round vision of coloured lights, laser beams and searchlights performing a spectacle synchronised to music and narration.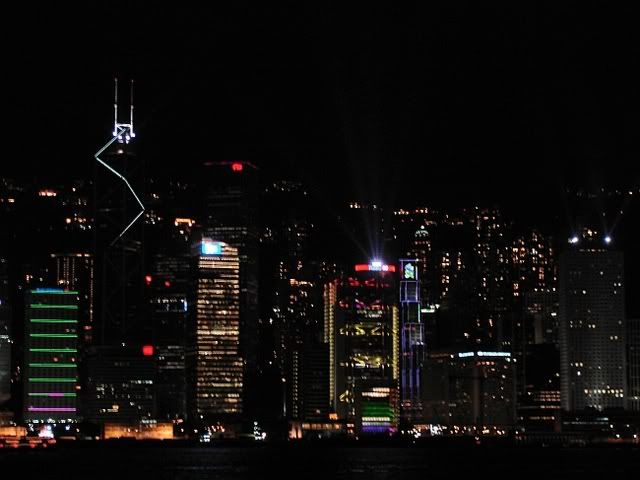 The cruise ship
Costa Allegra
at the Harbour City pier: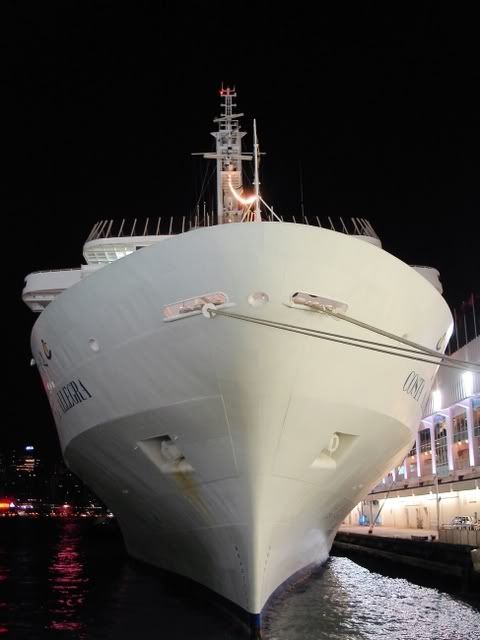 Sunday, 09 November 2008
Hong Kong (HKG) - London (LHR)
Air New Zealand, NZ039
08:21-13:57 (08:15-13:35)
Flying time: 13:06 (hrs)

Boeing 747-419
ZK-NBV "Christchurch" (s/n 1180), delivered in 10/1998
Economy Class, Seat 62J
The Endless Check-in
NZ039 was scheduled to leave Chek Lap Kok at 08:15, so we had to be at the airport very early. We took a taxi to Kowloon station and bought tickets for the first Airport Express train departing at 05:50. We stepped off the train 24 minutes later and walked straight to the Air New Zealand check-in area. After ten minutes in queue, a friendly agent welcomed us and entered our data. We got the reserved seats on the NZ flight (row 62), but not the requested rear cabin seats on the Lufthansa flight. Apparently the system had allocated seats on the LH sector automatically, but the agent then promised to change it manually. We thought it wouldn't be a big deal, but it took no less than 20 minutes to get it fixed. I don't know which problem occurred, but the agent had to call a colleague who took the boarding passes and disappeared again. We were kindly asked to step aside so that we wouldn't block the counter any longer. Finally, we got new boarding passes with the requested seats. The waiting time was really long, but they had managed to solve the problem. Alternatively, in order to get rid of the problem quickly, they could have advised us to change the seats after arrival in London. So one can be satisfied with that kind of service.
We quickly passed security and soon discovered
ZK-NBV
, a 1998 model named
"Christchurch"
.
Cabin Comfort
Friendly flight attendants welcomed us at the door and in the aisle - some of them were tall and brawny men, apparently well-prepared to deal with any kind of air rage.  
The slimline seats were very comfortable...
...and seat pitch was simply amazing. According to
Satchmo
, the rather small IFE box under the window seat wasn't a problem either.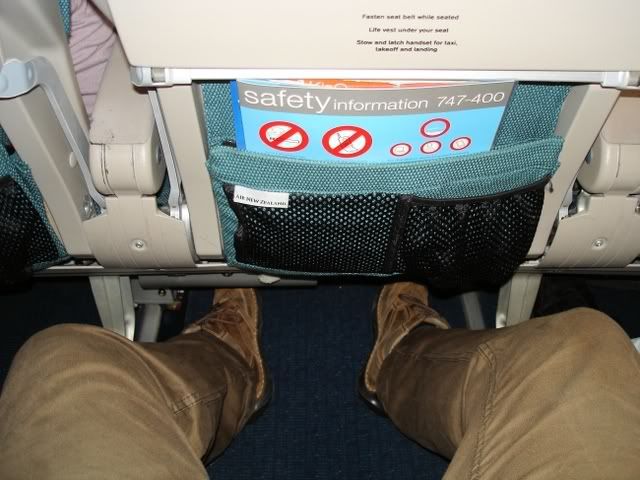 Large and well-adjustable inseat screens: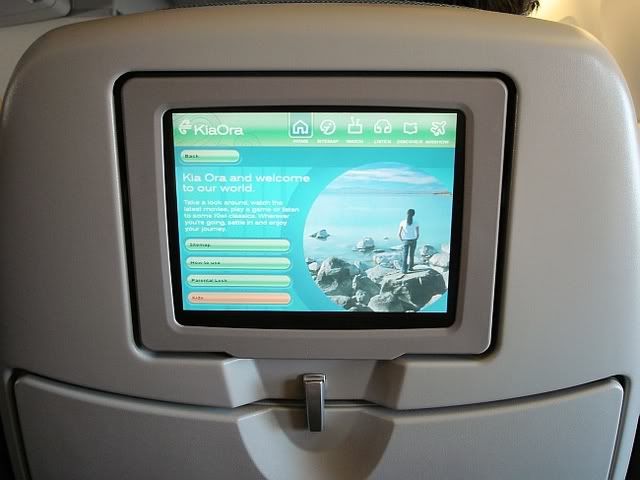 Rear cabin view (picture taken later in the flight):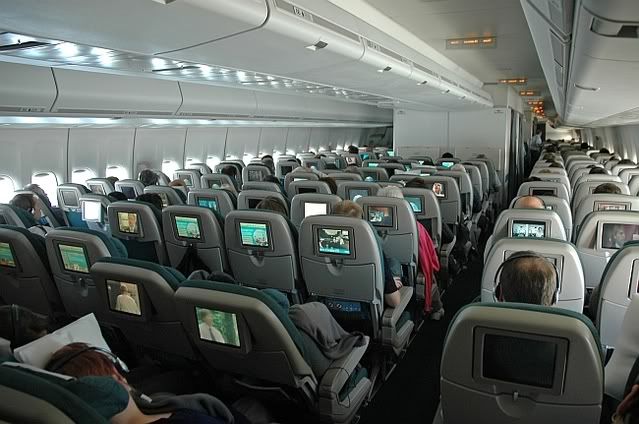 Picture by Satchmo
In-flight Entertainment
NZ's 747-400s are equipped with an audio and video on-demand (AVOD) entertainment system which is called
KiaOra
.
The system offers a wide selection of entertainment options:


- More than 75 movies (including Chinese, Japanese and Korean original movies)

- More than 65 TV features

- 17 radio channels

- More than 260 music CDs (playlist builder)

- 20 video games

- Airshow channel with in-flight data and maps

- Destination information and travel guides

KiaOra
was easy to operate and all options were available without interruption or other problems. The entertainment guide was quite useful, too. Main menu: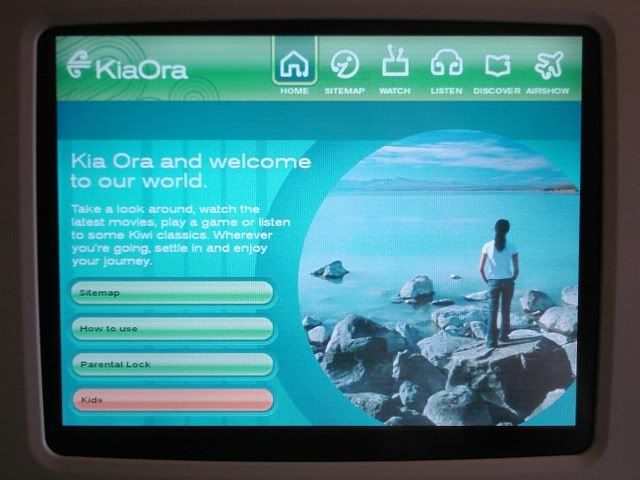 Departure
The flight was completely full, at least in Economy Class I didn't spot an empty seat. Not surprisingly, it took a while until boarding was completed. Honestly, I wasn't sure whether it would be such a great pleasure to spend more than 13 hours in the middle seat...
ZK-NBV
left the gate six minutes late and started taxiing to runway 07R.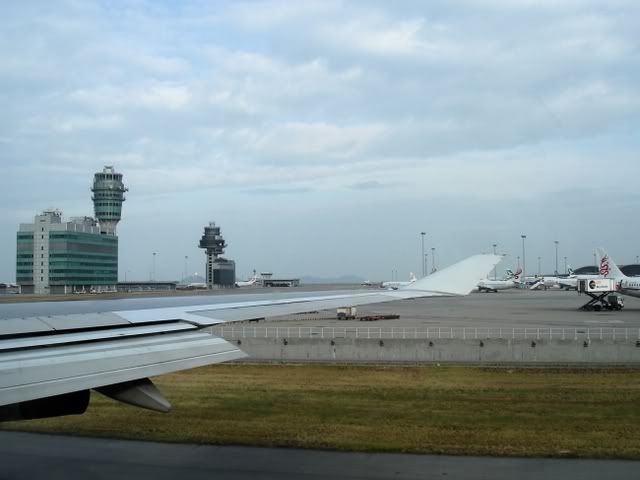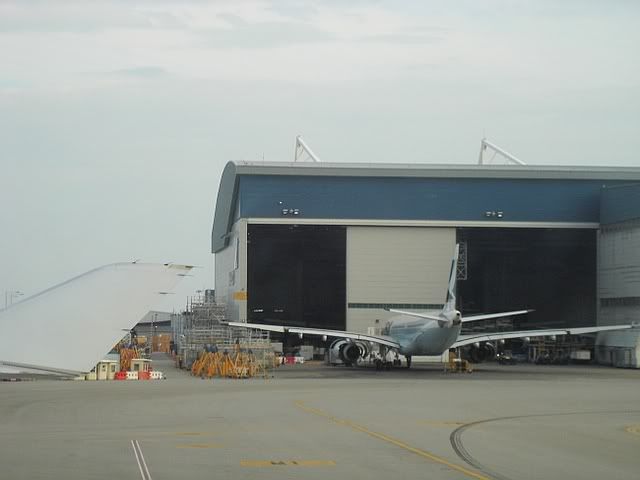 Final turn...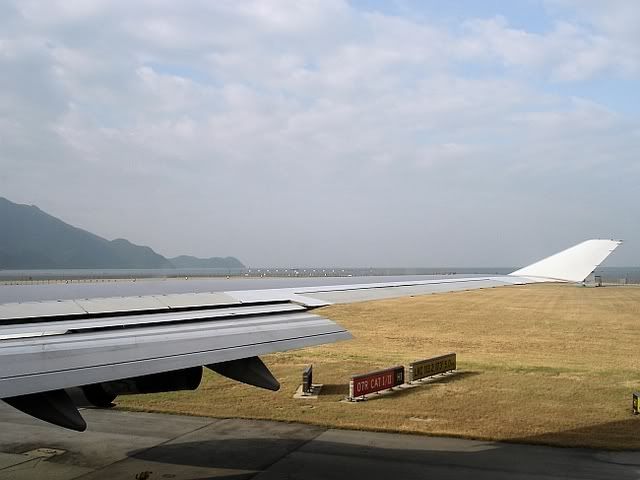 ...also visible on the map: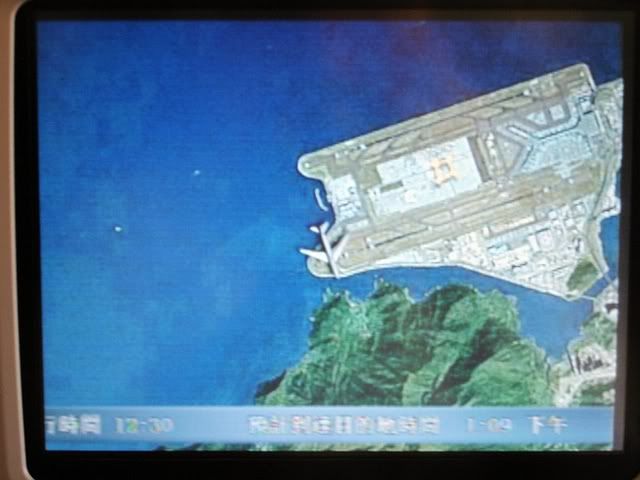 The four GE CF6-80 engines started howling and the heavy plane began its rather long take-off roll.
Picture by Satchmo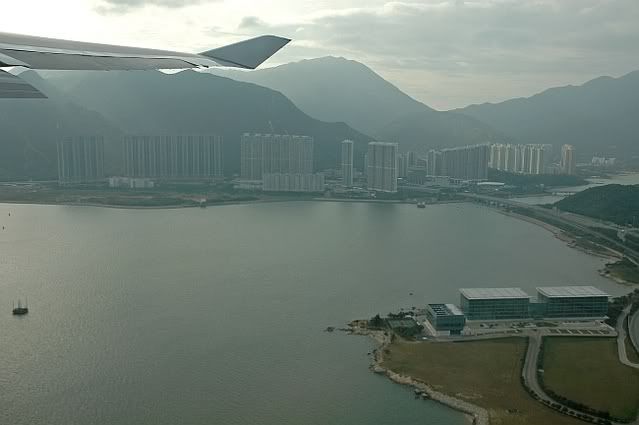 Picture by Satchmo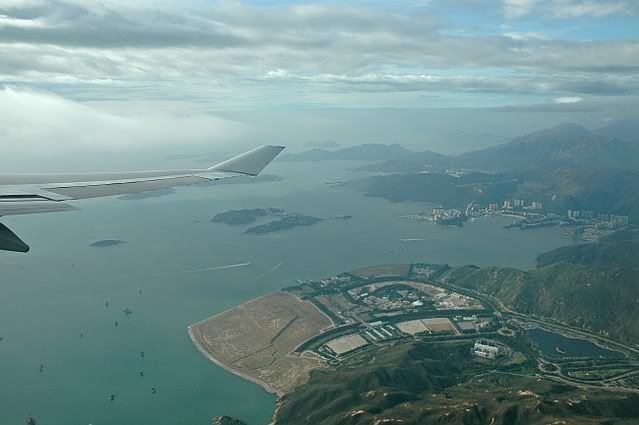 Picture by Satchmo
Shortly after lift-off we passed Hong Kong Island:
Picture by Satchmo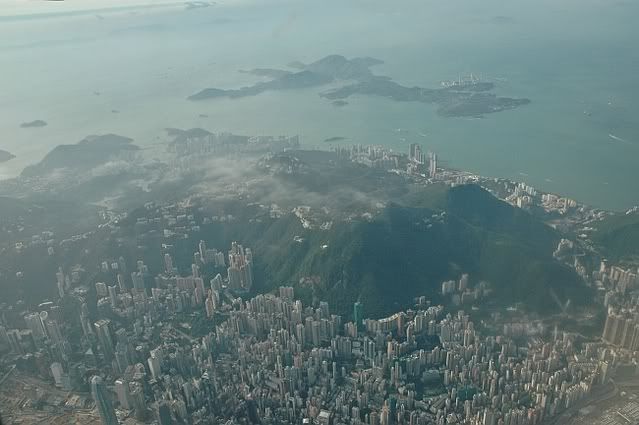 Picture by Satchmo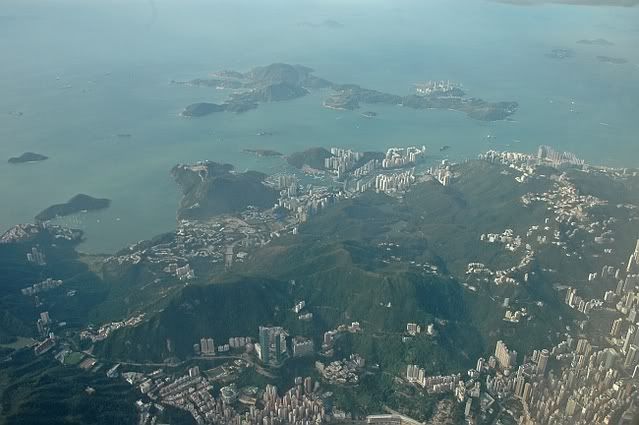 Picture by Satchmo
Breakfast
The flight attendants started serving breakfast about 45 minutes after take-off. I ordered the Western option, consisting of scrambled eggs, sausage, hash brown and grilled tomato.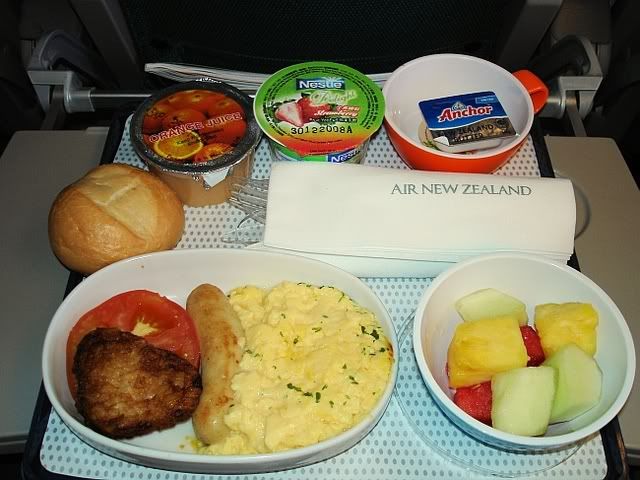 The sausage was quite tasteless, but the eggs were really good. I also liked the fruit salad which tasted really fresh. I can't complain about coffee, either. Apart from the quality of the (filling) meal, one has to praise the presentation.
Impressive Scenery
After breakfast it was time to have a closer look at the entertainment system. Of course, sometimes it was worth it to switch to the window: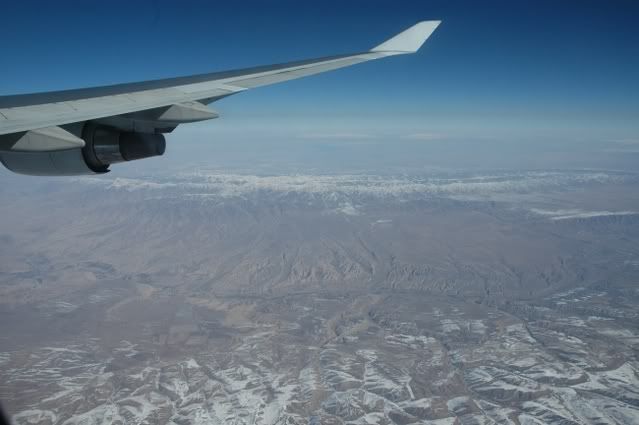 Picture by Satchmo
Cruising altitude 9144 meters, still more than 10 hours to go: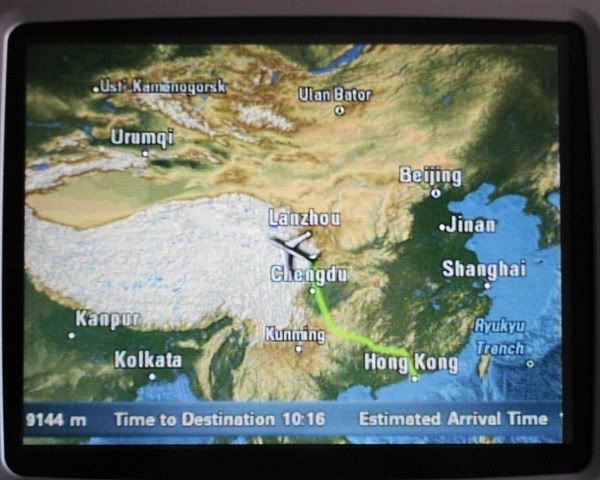 Different view: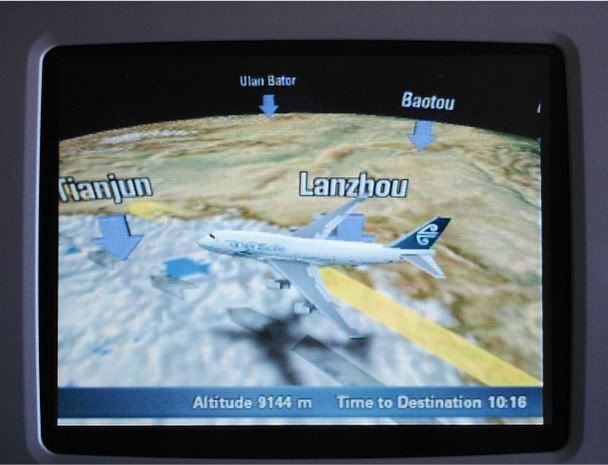 Snow covered mountains: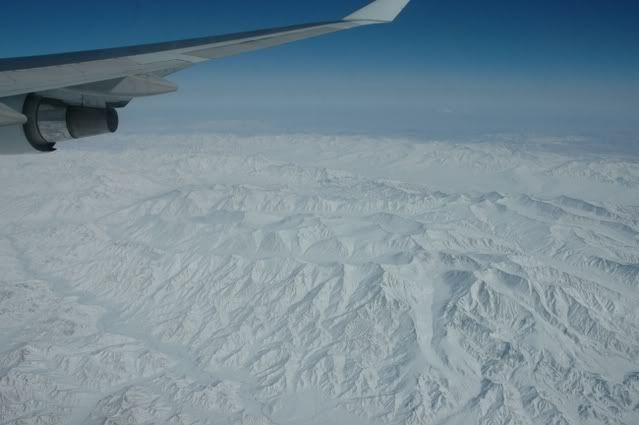 Picture by Satchmo
All the snow had disappeared again just one hour later: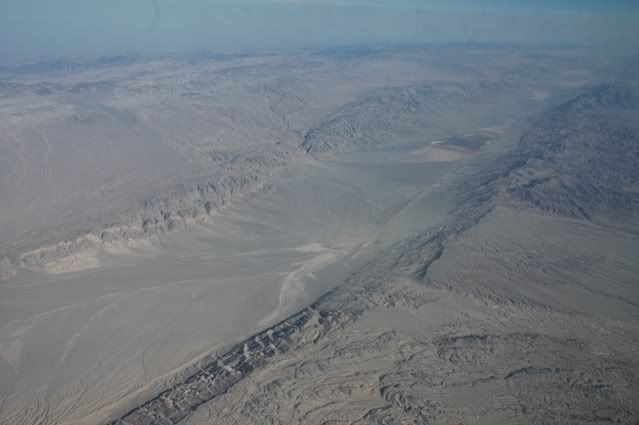 Picture by Satchmo
Snack
The flight attendants started serving a snack about five hours after breakfast. We got a tasty ciabatta bread sandwich with ham, cheese and tomato sauce as well as a delicious "cookie & cream" ice cream.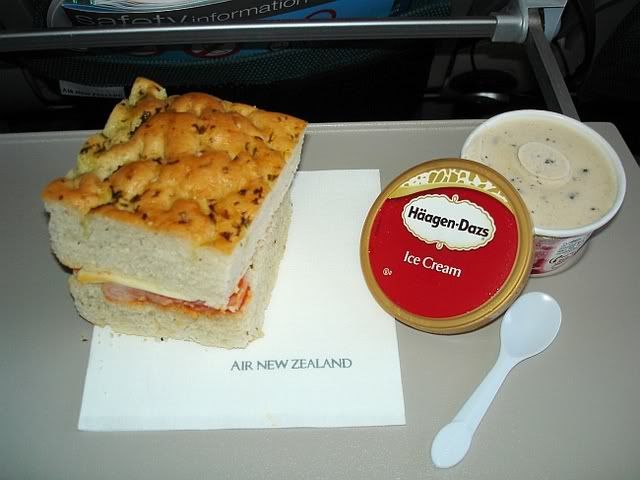 When drinks were offered some minutes later it was time for the "ginger ale test". First of all, I got a Britvic 150 ml can which didn't taste bad. Some time later, when another round of drinks followed, I ordered ginger ale for the second time. The friendly female flight attendant opened several compartments of her trolley and finally said:
"I'm sorry, there's no more ginger ale left."
However, I had spotted a well-known can and told her:
"But I have seen one!"
She checked again and suddenly confirmed my sighting:
"Oh, you are right!"
So I got a 330 ml can of Schweppes ginger ale this time - which I liked better than the former.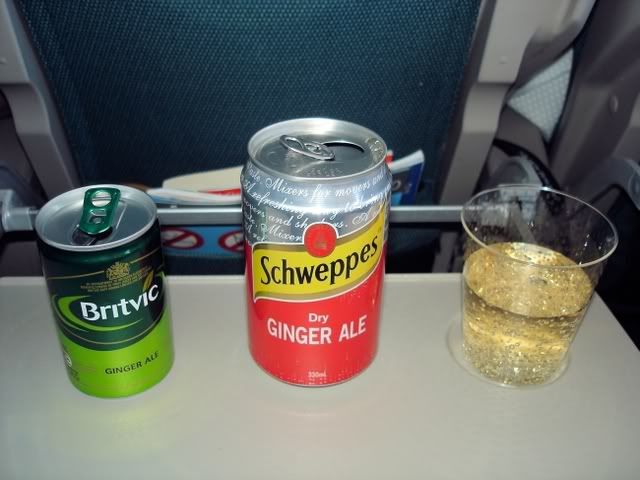 Places of Interest
NZ's excellent IFE helped a lot to kill the time. When we were cruising over the Baltic Sea I was quite surprised to find the same odd entry on the map as on the Hainan Airlines TXL-PEK flight:
"Wilhelm Gustloff, 1945"
. The entry refers to the sinking of the German passenger ship Wilhelm Gustloff in 1945, actually the worst maritime disaster in history.
Another entry on the map referred to the sinking of the
"Kronan"
in 1676. I hadn't seen similar entries before on my numerous flights, but I was told there are indeed other carriers also showing disaster sites on the map.
Passenger Conflict
After more than 10 hours in the air, some passengers' nerves were apparently overstrained. Only a few meters away, one man jumped up, turned around and angrily shouted at an older passenger sitting directly behind him. It was only a matter of seconds until one of the brawny flight attendants showed up and unmistakeably told these guys to stop the dispute immediately. The older (German speaking) man and his wife then tried to argue with the flight attendant, but the latter explained that he doesn't speak German and refused to start any discussion about the issue. Apparently, the older guy had constantly been pressing against the reclined seat back in front - which had turned the other man crazy after a while…
Lunch
Almost two hours prior to our arrival it was time for lunch. I ordered beef with mashed potatoes and vegetables - and again I was surprised by the quality of the food and the presentation.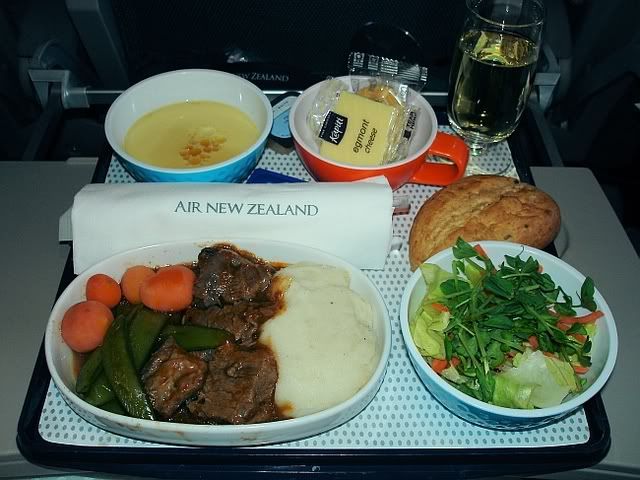 Except for one fatty piece of meat, the main course tasted really good, no matter if sauce, vegetables or mashed potato. While I couldn't complain about the fresh tasting salad, the dessert wasn't my favorite: it was a vanilla pudding apparently accompanied by a ginger sauce. Again, a very friendly flight attendant offered drinks and I ordered a half glass of white wine. She was actually very generous and almost filled it up. She smiled and said:
"Well, it's a good half glass of wine."
Approach
Some 18 minutes prior to our arrival,
ZK-NBV
was flying at an altitude of 5180 meters: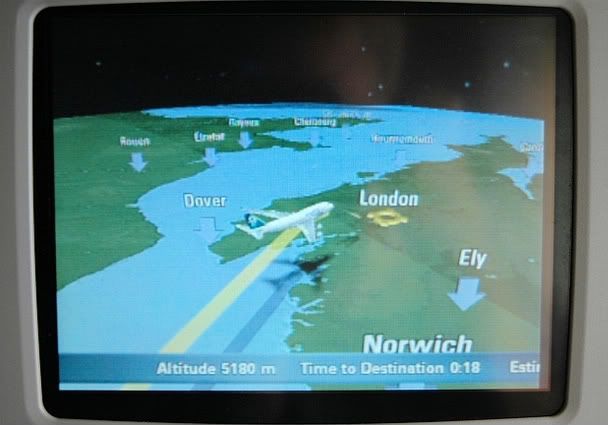 Picture by Satchmo
Flying over London is always a pleasure...
Arsenal London's home, the
Emirates Stadium
: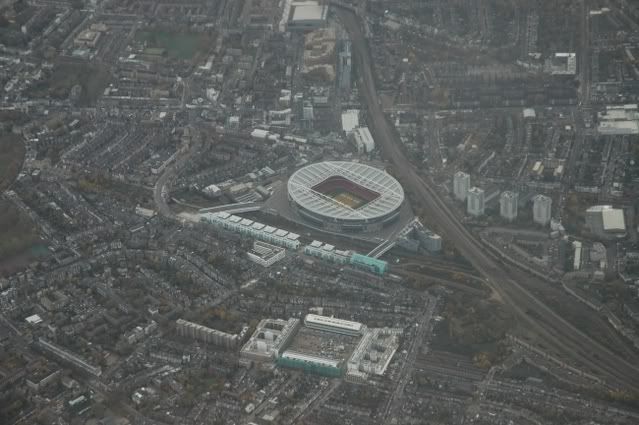 Picture by Satchmo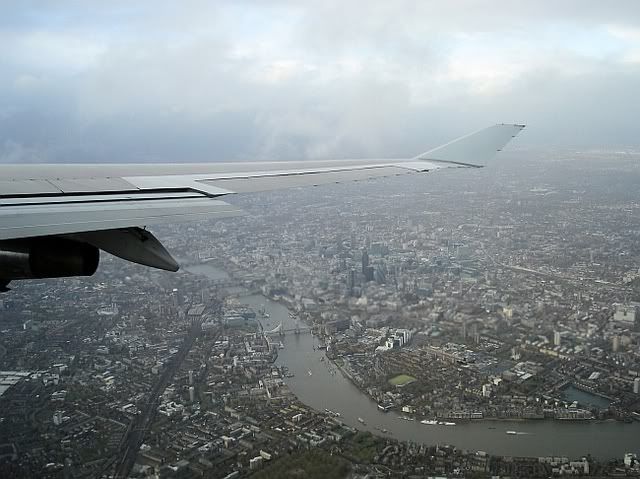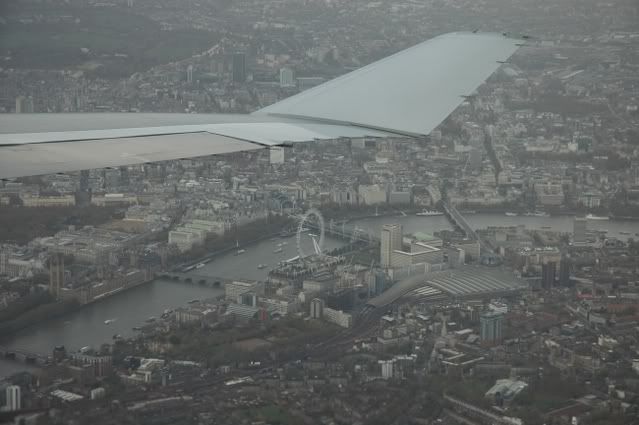 Picture by Satchmo
Strong winds were turning the final approach into a bumpy one.
We finally touched down on runway 27L at 13:49, after a flying time of 13 hours and six minutes.
Sunday, 09 November 2008
London (LHR) - Munich (MUC)
Lufthansa, LH4757
15:34-18:11 (15:25-18:15)
Flying time: 01:16 (hrs)

Airbus A321-231
D-AISF "Lippstadt" (MSN 1260), delivered in 06/2000
Economy Class, Seat 36A
Bumpy Take-off
It took about 30 minutes to reach the gate for flight LH4757, the last sector of our tour. Due to construction work in that part of Terminal 2 it wasn't easy to see the movements outside. At least I managed to get 22 new registrations until we left the ground again.
D-AISF "Lippstadt"
was scheduled to operate the flight today - we hadn't expected to get a -200 version because most A321s based at MUC are -100 models.
We left the gate only a few minutes late, but the captain informed us that we wouldn't be able to take off for another 20 minutes. United's Boeing 767-322ER N653UA painted in Star Alliance colors:
The well-known
ZK-NBV
together with the company's Boeing 777-219ER ZK-OKA (flying to AKL via LAX) and South African Airways Airbus A340-642 ZS-SNC, painted in Star Alliance colors: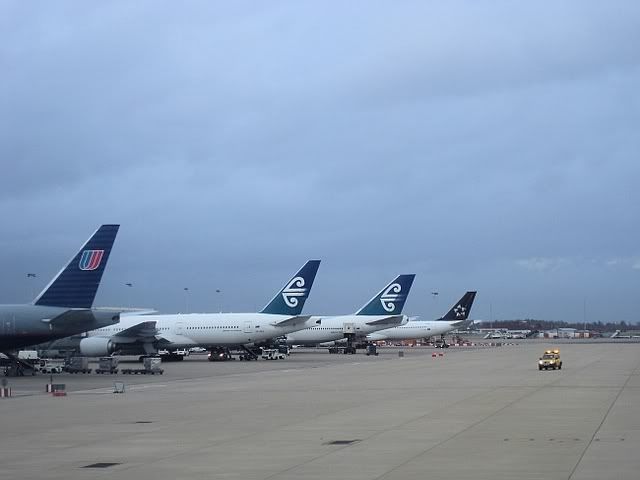 That's what's left of the Boeing 777-236ER once registered G-YMMM: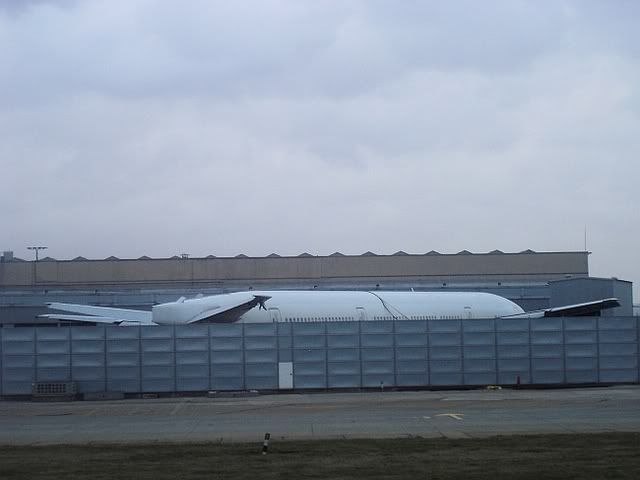 Strong winds were still blowing at Heathrow which resulted in a bumpy take-off on runway 27L: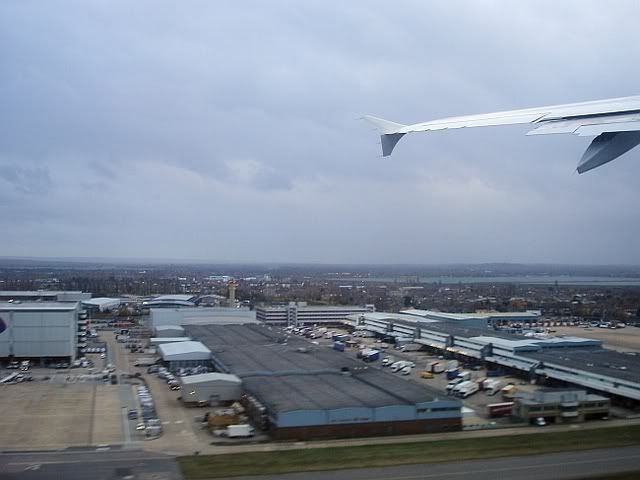 Dry Sandwich
The remaining flight was rather uneventful. However, I was a bit surprised about the slightly worn interior and a dirty seatback - and I was quite disappointed by the catering. Flight attendants offered cheese sandwiches and Giotto candy - which seemed to be ok at first sight. However, the sandwich was extremely dry - quite ironic to see the new "Discover Flavour" logo on the paper bag...  
  At least the coffee was good, the flight attendants were quite friendly and the flight arrived on time.
Conclusion
I had read many reviews of
Air New Zealand
prior to the trip - and now I know that all the positive talk about the airline's Economy Class is justified. It's a high-quality Economy Class product with style: comfortable seats, generous legroom, clean cabin in good shape, advanced AVOD entertainment, friendly and motivated staff, tasty and well-presented meals and snacks, a large selection of drinks. What else do you need? I spent more than 13 hours in the middle seat and didn't feel wrecked at all after landing in Heathrow. No doubts, I would fly Air New Zealand again and can only recommend anyone to give that fine airline a try.
For the record: Apart from flying on several new airlines and visiting many great places during the tour I logged a total of 421 new registrations – not as many as during the Japan tour in 2007, but still hugely satisfying.
Best Regards,
PlaneHunter
[Edited 2009-03-10 13:13:53]