I flew to Dubai to conduct due diligence for Planereality.com
Here are some photos from outside Terminal 1 in Dubai:
some of tonight's departures:
LH #631: DXB-FRA
BOEING 747-400
DURATION: 6 HOURS
I found myself stuck in the check in lobby at the Dubai airport. See, I had arrived too early, before the Lufthansa desk opened and I had not printed my boarding pass online; hence, I could not pass through security. The check in desks are not staffed by airline employees, but rather airport employees. Some airlines only operate 1 or 2 flights per day from Dubai and when a flight is "open" for check in (roughly 3 hours before departure) the desk staff simply change the signage and the monitor to reflect whatever flight they are preparing.
By the way, passengers have to pass through a security screening just to get to the check in area. This was a free for all. People running into each other, knocking bags off the x-ray machine. People's bags were passing through the x-ray while they still had a five person wait to pass the metal detector, causing a pile up of bags on the other end. Oy vey...
Interestingly, the check in lobby looked and felt like Grand Central Station at rush hour on steroids. Some people were running, yelling, sweating and just plain frantic. I sat back, watched the action and snapped a few….
I was second to check in at the Business Class counter. No sweat.
Security was a breeze. Just past the security check point, I saw a British guy storm up to a Dubai Military officer and demand to speak with whoever was in charge.
"Why?" the officer asked and sternly informed the Brit that he was indeed in charge.
The British man said something to the effect that the security personnel were rude, un-professional and their behavior would make people not want to return to Dubai.
There was another American next to me and we looked at each other and chuckled because neither of us would ever dream of saying something like that for fear of never being let back into Dubai or worse yet, not being allowed to leave!!! The officer and the plantiff walked off and I proceeded to the terminal.
PRE-DEPARTURE FROM DUBAI
After I was through security, I still had a few hours to kill In the Star Alliance lounge right by gate 126; nothing special here; small & crowded; limited seating; 2 service areas, both self serve with full bar, beer & champagne. Finger sandwiches like tuna salad; roasted veggies and flank steak. Candy, potato chips, raisins, cheese & crackers were also available. Some passengers had nowhere to sit. The bathrooms had lots of water on the sinks and floor-the stalls have a spray gun (like the one in your kitchen) not sure if that's to wash down the seat or wash your behind (didn't use it for either). Free, slow Wi-Fi was also available.
Boarding was chaotic as everyone in the gate area crowded the door to the ramp. The first announcement the gate agent made was for all those coach passengers seated in the back of the plane (i.e. rows 40-70) to board. Only after she had said that, she immediately then offered boarding for First and Business Class passengers to board. First time I had seen this and it certainly added to what was already a jam-packed mess.
Our ride to FRA:
Once seated (14A), sparkling wine, juice and water were offered. I was surprised to see some crumbs between my seat and the wall of the aircraft. There was also a giant black hair on the headrest next to mine. Besides these two items, the plane was new and clean. The amenity kit was hidden in a compartment behind the seat and I didn't find it until an hour into the flight.
About the same time, the steward laughingly showed me where the tray table was.
It took a long time to start the 1st meal service, or at least what I thought would be a meal service. Much to my dismay, only a snack was offered; no menus, no linens and when I asked for utensils, the steward looked shocked. I attribute the lack of food to the fact that this flight left at 2:25am local time. The FA's were very diligent about refilling cocktails and water.
snack: chilled beef, fruit and very tasty chocolates:
All of a sudden, out of nowhere, the plane hit what I thought was a massive air pocket. It was large enough of a jolt that even the FA's serving drinks braced. The pilot immediately came on the PA and explained that another plane had cut us off and that plane's wing had dipped into our flight path….(??) I started to wonder what qualifications were required for pilots in the part of the world. I mean, not our Lufthansa 747 pilot, but Iran Air or Royal Brunei Air? Yikes….
I felt like I was the only one awake on this flight, but it did not matter because the super professional FA's routinely checked on me to ensure I had all the water and whatever else I needed throughout the night. I was warm and it was tough to sleep. The seats move in just about any direction you want, but when they are all the way reclined and you lay into the shell of the seat, they become a little too narrow for broad shoulders, making on your side the most comfortable way to sleep. Somehow, I managed 90 minutes or so of shut eye.
Shortly before landing in Frankfurt, the cabin lights were turned on a second meal service started. The same male FA recited the breakfast choices in German, even though we had already had a conversation in English. I asked him to repeat it in English: "Mushroom pancake (?), muesli or continental cold plate." I went with the 3rd option which was tasty but not terribly filling. Some variation of deli meat (definitely turkey based as we were flying out of the Middle East) and fruit.
With that, we landed in Frankfurt and I faced a 6 hour layover.
my seat after arrival from DXB:
LH #444: FRA-ATL
AIRBUS A340-300
DURATION: @10 HOURS
A 6 hour layover is bearable; however, the one I experienced was extra difficult because of the hour the layover occurred. I was still on EST time and my arrival in Frankfurt was 6am local (midnight EST). Essentially, I pulled an all nighter. Yeah, I could have slept sitting upright somewhere, but somehow a had a few ounces of adrenaline left (which I would pay for later)
A business class boarding pass gave me access to Lufthansa's business lounge, but not the Star Alliance Lounge (like in Dubai). Look, if I spend a few thousand bucks on an airline ticket, I should be entitled to any available lounge. My guess is that the only difference between the two lounges was hot food consisting of breakfast protein, which I was in dire need of and that is really the only reason I was annoyed. Plenty of drinks and continental breakfast items were available. There was also a shower available.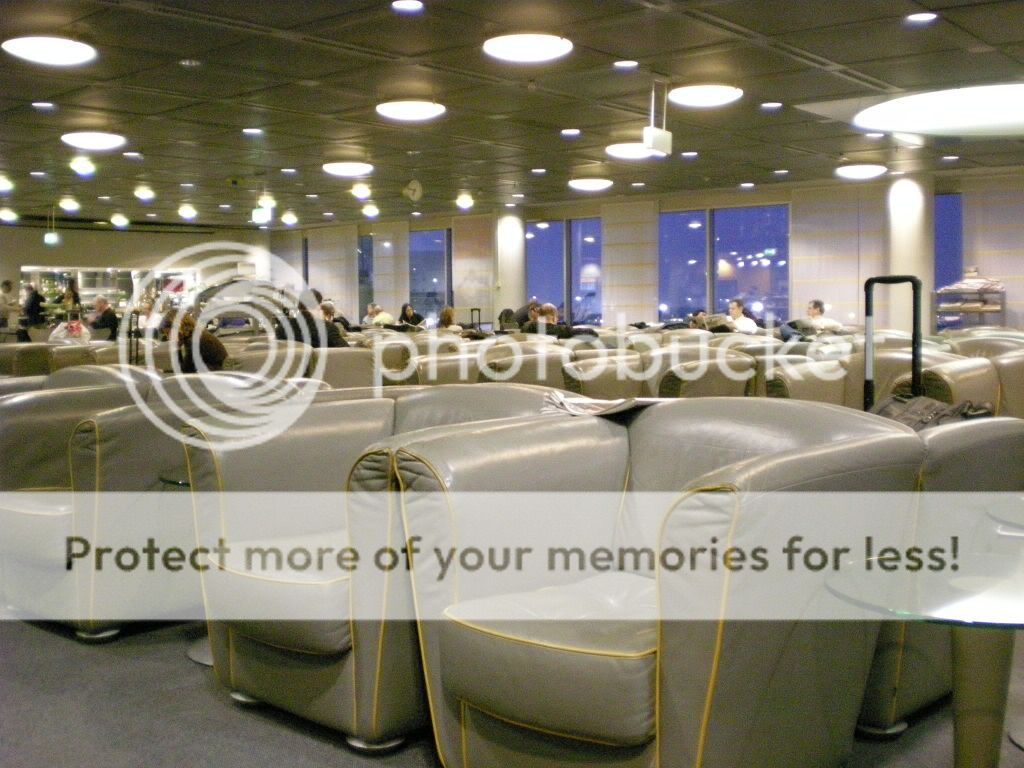 After an hour in the business lounge I walked around for a while…a long while.
Here are some photos of my layover: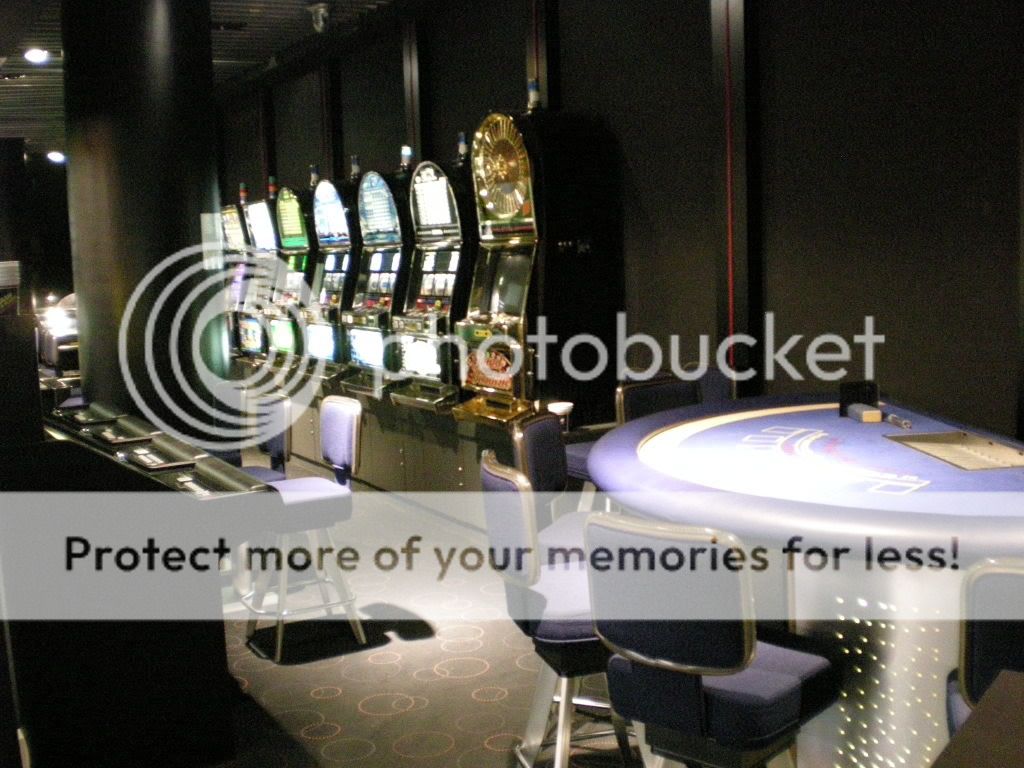 our bird to ATL:
A bad picture, but a good representation of how I felt.
Finally, I was on the plane for a leisurely 10 hour hop to the US. What is so impressive about Lufthansa is how genuinely important it is to the flight crew that each passenger has a pleasant experience. You're flying with people that take pride in their tasks and execute with passion.
First lunch was served. Lufthansa does it right-when food was served on this 2-2-2 configured plane there was a FA in each isle serving food with an additional 2 fa's behind with drink carts. The FA called me by name when offering me a beverage.
shrimp cocktail with mushrooms:
outstanding beef stew with carrots, pickled pearl onions and beaten mashed potatoes:
The seats on this Airbus were the same as the seats on Lufthansa's 747-almost lie flat. I took a walk to the rear of the Business Class Cabin and found it completely empty...perfect! The FA said the cabin is typically full, but not today.
Sleep came quickly after lunch. The in flight entertainment consisted of the typical movies, music and games. I believe the movie selection could use more variety. I am not a movie buff, but of the 2 dozen movies, I had only heard of half of them.
After a nap, I watched "Journey to the Center of the Earth." Not tops on my list but I killed two hours.
A "snack" and more cocktails were served before landing.
The "Asian" snack: chicken with satay sauce and marlin with mango salsa:
I would not think twice about using Lufthansa's J product again: sincere service, clean planes and delicious food.
Thank you for reading