Having never been to the City of Copenhagen, or to CPH airport, I decided to change this and booked a long weekend break. SAS operates three daily flights between my home airport Stuttgart (STR) and Copenhagen (CPH). However, during the week before Easter the schedule had been reduced to only one flight per day so I had only one return flight to choose from. But as this one remaining flight was the afternoon flight which I would have taken anyway I was fine with it. Originally the outbound flight was scheduled to be operated by an MD-87 which I was looking forward to as I have never been on that particular type of the MD-80-series and flying a "Mad Dog" once again would be nice. However, a few days after my booking, the flight was downgraded to a Cimber Air Canadair Jet. As the return flight was scheduled to be on a CRJ anyway, I would enjoy this type of aircraft twice.
Saturday, 04 April 2009
Stuttgart (STR) – Copenhagen (CPH)
Airline: SAS Scandinavian Airlines (operated by Cimber Air)
Flight number: SK 668
Scheduled departure time: 07:00
Scheduled arrival time: 08:40
Type of aircraft: Bombardier CRJ 200LR
Registration: OY-RJH
This aircraft was built in 1995 and delivered to Lufthansa CityLine as D-ACLS. In 2007 it was sold to Cimber Air.
And here are two pictures of this aircraft when it was still flying for Lufthansa CityLine:
As I live close to Stuttgart Airport I decided to use the late-night check-in the evening before. SAS in handled by Star Alliance partner LH at STR. Without any waiting time a friendly agent checked me in. She asked me for my seating preference. I opted for a window seat in the second last row and got a boarding pass for seat 12F. Three airlines are involved into my booking: LH, SK and QI: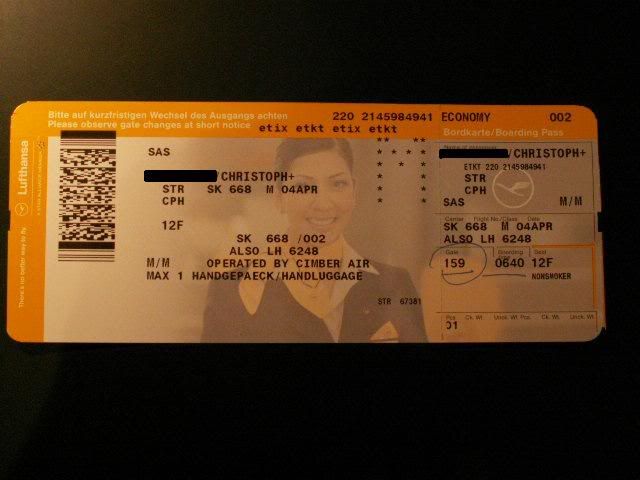 On the morning of my flight I arrived at Stuttgart Airport by train. It was the weekend before Easter and the airport seemed to be busy. Nevertheless waiting time at security check was short and I made my way to gate 159, a bus gate on the ground floor of Terminal 1.
Boarding was scheduled for 06:40 but it started even a few minutes earlier. There were 35 passengers plus 2 infants on this flight which was a load factor of 70%. A bus took all passengers to our aircraft which was parked on a parking position far away from the terminal, close to the general aviation apron. We reached the aircraft but the doors of the bus remained closed. Three technicians of Lufthansa Technik were working at the plane, talking to the captain ad checking something at the fuselage of the aircraft. After about 15 minutes waiting time in the bus, we were taken back to the terminal. The LH-agent who was responsible for this flight expected the passengers at the gate. She asked us to leave the bus and enter the gate area again, and then she made an announcement. There was a technical problem with the electronic system of the aircraft and the technicians were working on it. She apologized for any inconvenience. The next information would be given in 15 minutes, at 07:15, and we were asked to stay close to the gate during that time:
One of the passengers who had obviously a connection flight demanded to be re-booked to a Lufthansa-flight but the agent replied that this was not possible at this time as the problem with the aircraft might be fixed soon. She always remained calm and polite, although the passenger was quite angry. At 07:15, as promised, the agent made another announcement. The problem wasn't solved yet, the next information would be provided in half an hour, at 07:45, and passengers could leave the gate now. Only one minute later the telephone rang. The aircraft had been repaired and boarding could start now. Those passengers who had already left the gate area were called back by an announcement and a bus took us back to our plane.
The aircraft for this flight was OY-RJH in Cimber Air colours: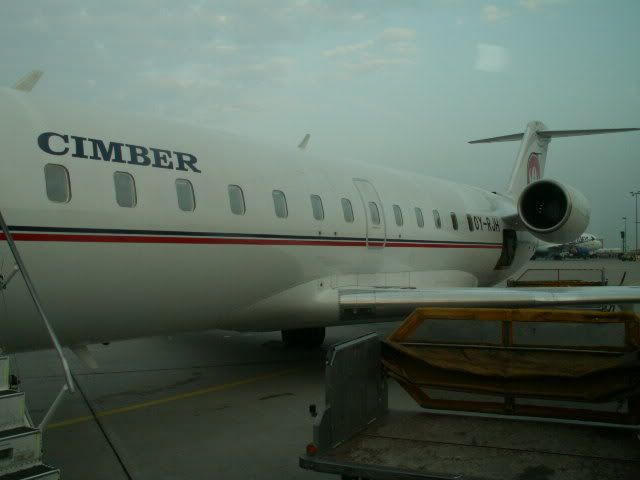 It is a former LH CityLine plane that used to fly a round with the reg D-ACLS. Funny coincidence: I have already had a flight on this aircraft when it was still in service for LH, from STR to MAN in 2000.
Boarding OY-RJH: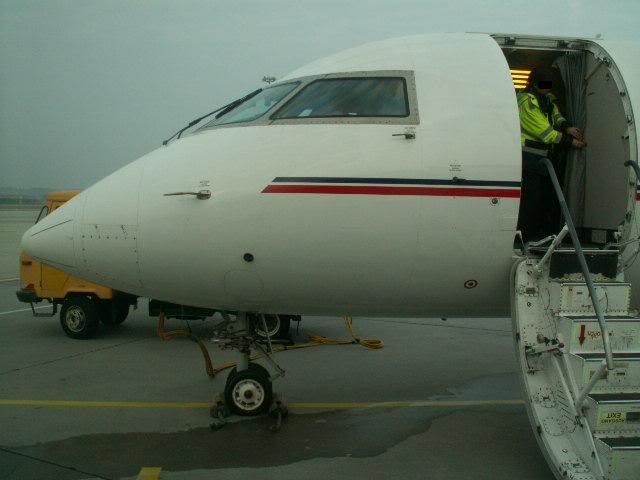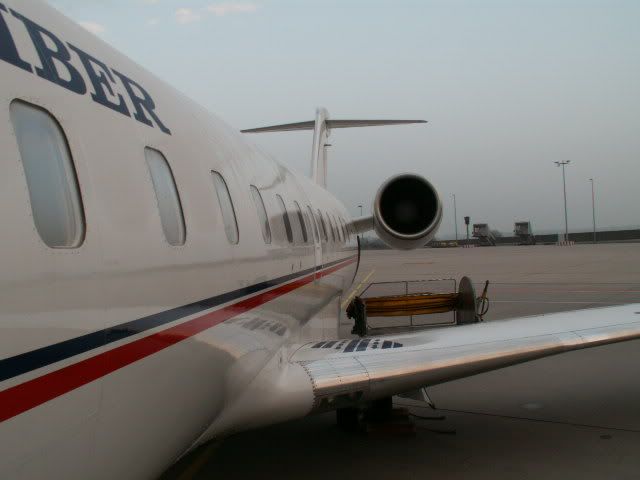 There was only one (female) flight attendant on this service who welcomed all passengers. Danish newspapers from the day before as well as one German newspaper from the present day ("Sueddeutsche Zeitung") were available at the front door. SAS offers a three-class system even in regional aircraft with Business Class, Economy Extra and standard Economy. The Classes were marked by signs attached to the seat rows saying "Economy Extra starts here" and so on. "Economy Extra" is used for the more expensive flexible Economy-fares and you still get free food and drinks while it is "buy-on-board" in standard Economy. One row was reserved for Business Class and another one for Economy Extra, but nobody was sitting there. The cabin was still equipped with the LH CityLine seats and cabin design which looked still all right.
I proceeded to my seat in the rear of the cabin. When all passengers had taken their seats, the flight attendant had to re-seat the two infants as they were both sitting oh the left side of the cabin. They had to move to the right as the additional oxygen masks are only available on the right in this aircraft. The flight attendant also placed some infant life vests in the overhead bins close to the parents and informed them about it.
The captain made a welcome announcement in English and Danish language. He apologized for the delay and informed us that we would depart as soon as possible. The flight attendant performed the safety demonstration manually, accompanied by a tape in Danish and English language. We were off-block at 7:45 which was 45 minutes behind schedule and taxied to runway 25. The "morning rush" had been over so we could take off immediately: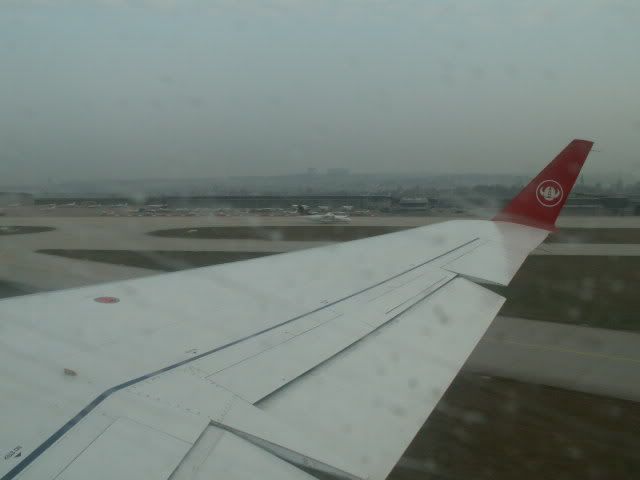 Terminals 1, 2, 3 and 4: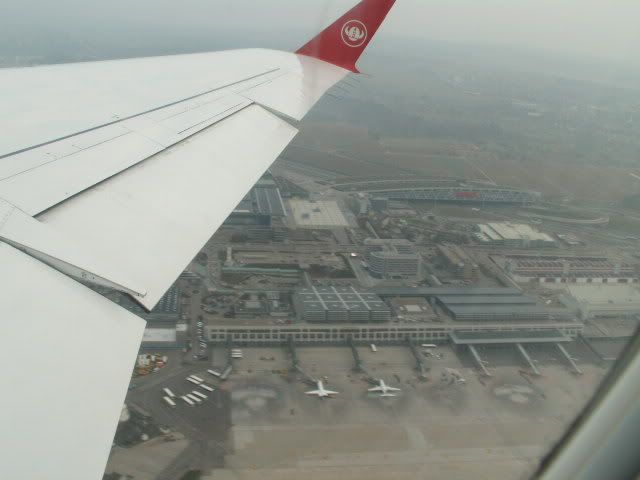 Exhibition centre: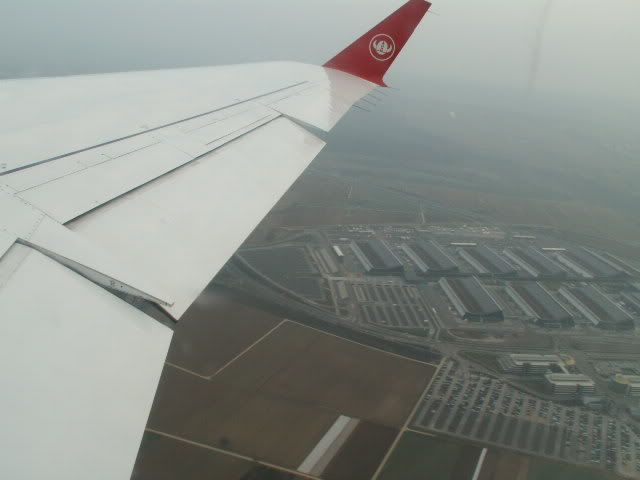 The town of Echterdingen: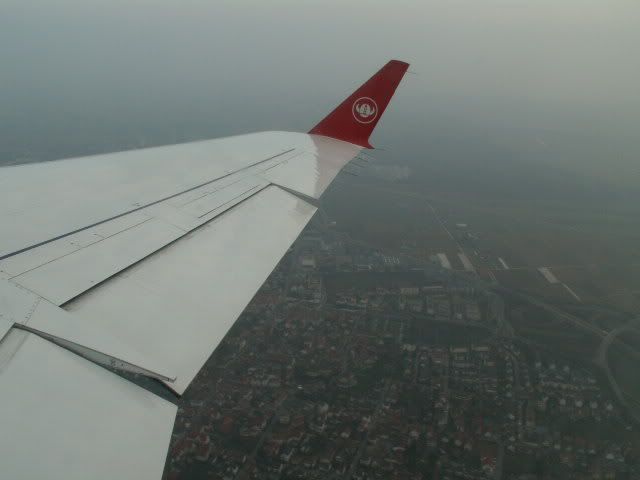 It was clouded over Southern Germany that day so there was not much more to see outside. I looked into the seat pocket where the Cimber Sterling in-flight magazine could be found (in Danish language only) as well as the SAS-publication "Menu & More", which included the menu card and a few articles about the airline SAS, in English language only. Here you can see the breakfast menu:
Note that breakfast "Menu 2" is also available with beer. Beer for breakfast – these Danish people really know how to live well…
I opted for Menu 1 for EUR 7.00 and got a breakfast bag and a coffee: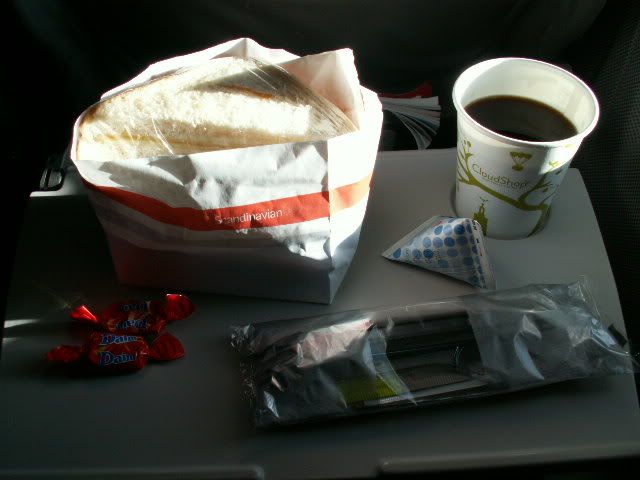 Inside was a sandwich, yoghurt and an orange juice: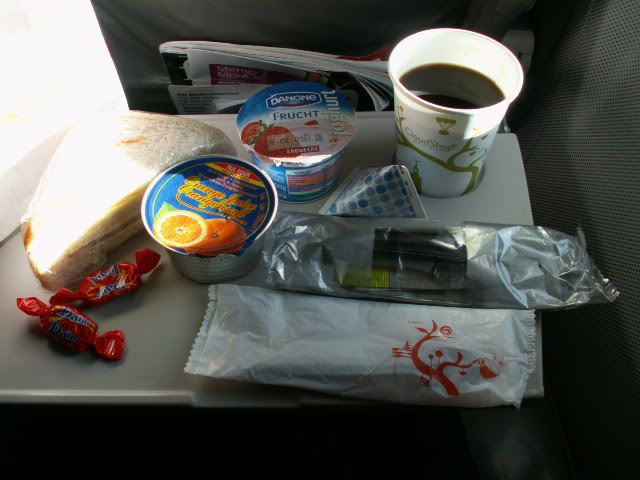 The sandwich with cheese and ham didn't taste bad, however I found it a bit "basic" for the price; it was about the same quality and quantity as what you get for free on LH or other mainline carriers. The flight attendant didn't sell much, only a few coffees. I was the only passenger who bought something to eat.
An in-flight cabin shot. The past of the aircraft with LH CityLine is still visible with the typical grey leather seats: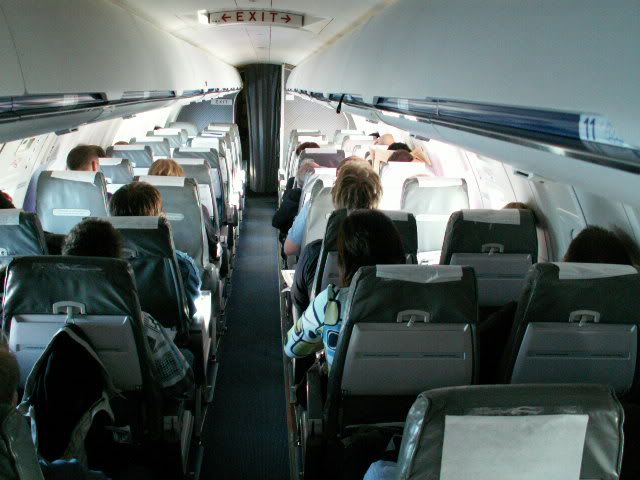 About 20 minutes before landing the captain made another announcement and informed us about the weather at CPH which would be nice and sunny but still cold in the morning with about 8 degrees Celsius.
The Swedish coastline which is located on the opposite side of CPH: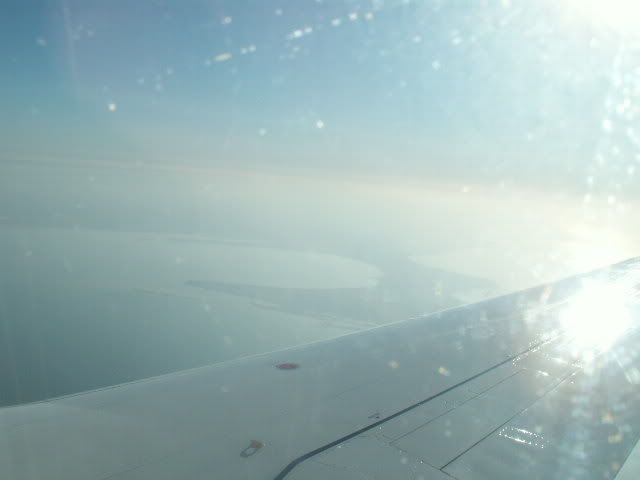 The bridge across the Oeresund, linking Denmark and Sweden: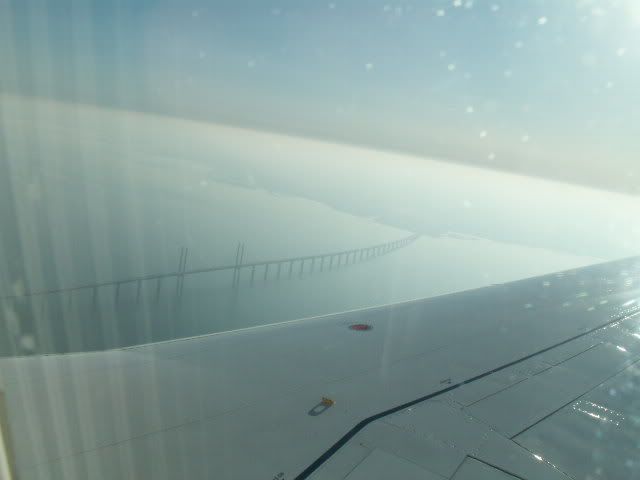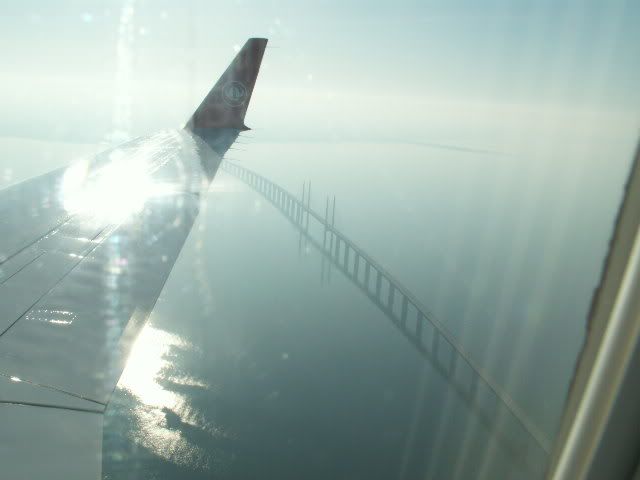 Reaching Denmark: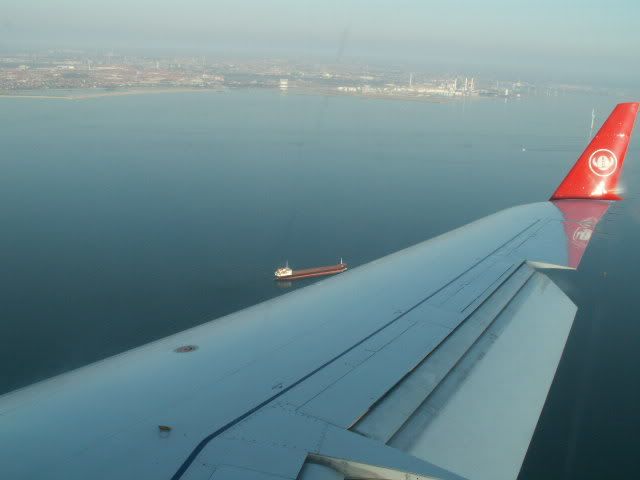 The coastline: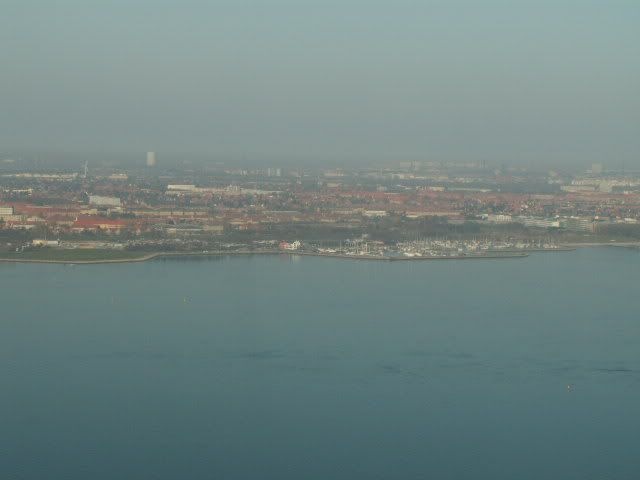 Final approach: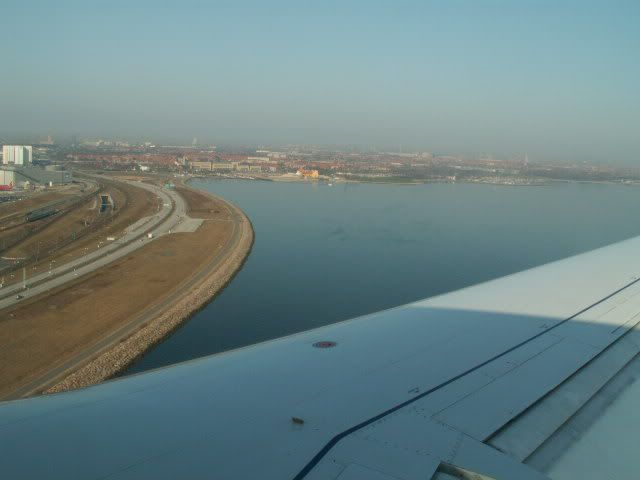 Parked Air Greenland long-haul aircraft: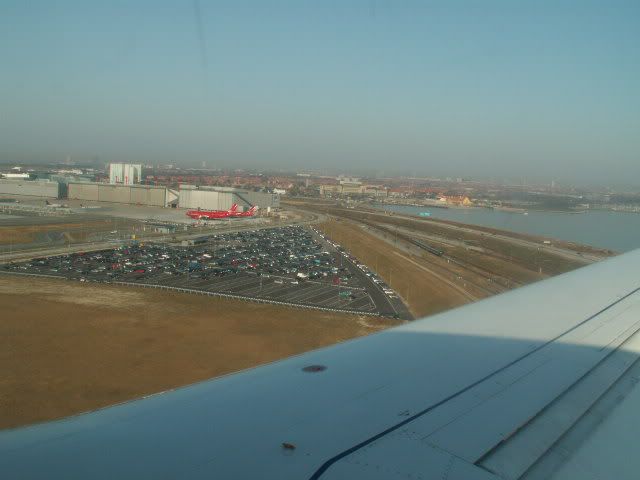 Cargo ramp: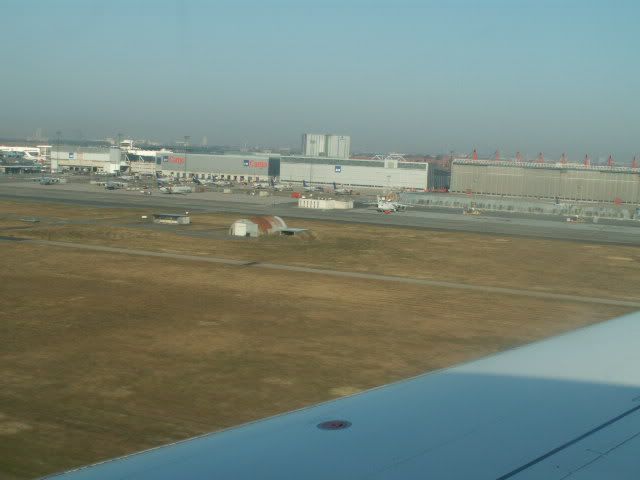 Touch-down on runway 22L: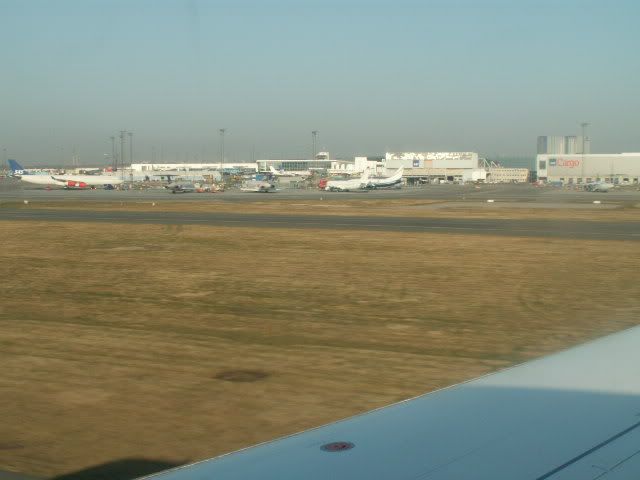 We taxied to a parking position at the B-gates:
The flight attendant once again apologized for the delay which had been reduced to 30 minutes. We were on-block at 09:10 and all passengers left the aircraft: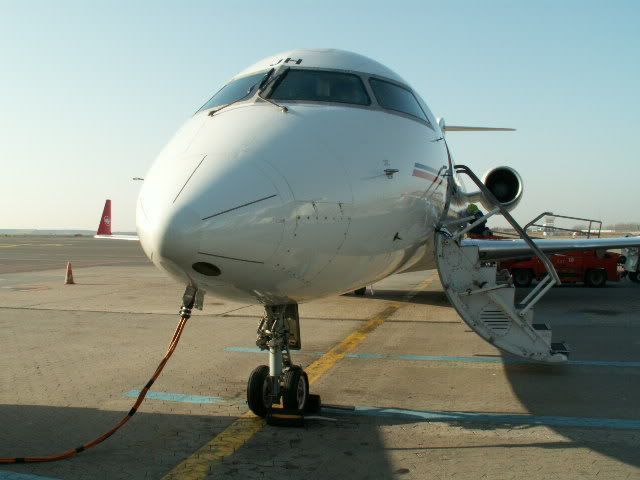 As the CRJ can't use the jet-bridges, we had to walk the short distance to the gate and climb up the stairs. OY-RJH at the gate: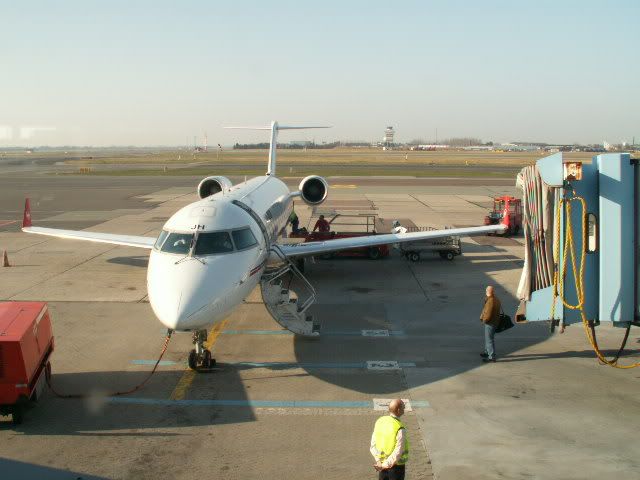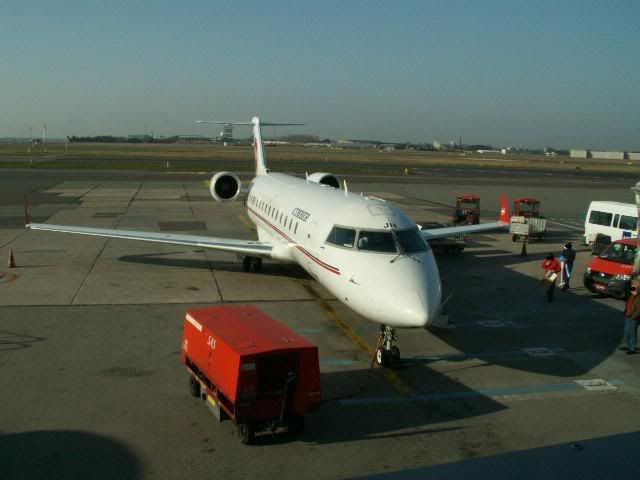 About half of the passengers had connecting flights; the others (including me) proceeded to baggage claim where my luggage arrived quickly.
I took my luggage to my hotel which was located close to the airport, and then I took a metro train to downtown Copenhagen. The new metro system runs automatically, without any drivers. This is the view from the front window: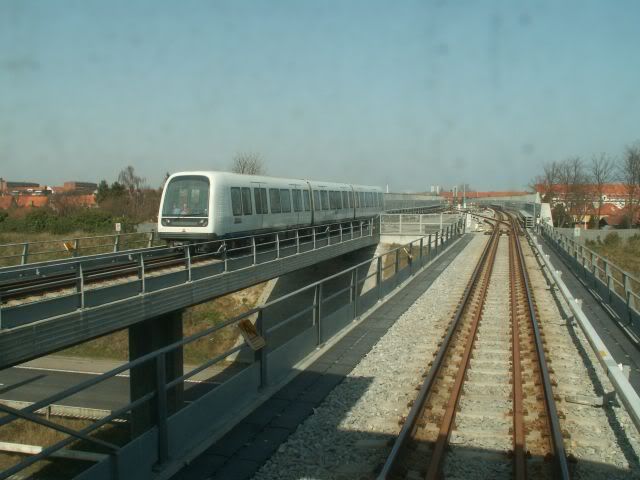 For those of you who are interested, here are a few pictures of the City of Copenhagen as well:
"Nyhavn", one of the nicest sites of Copenhagen, with lots of restaurants and bars: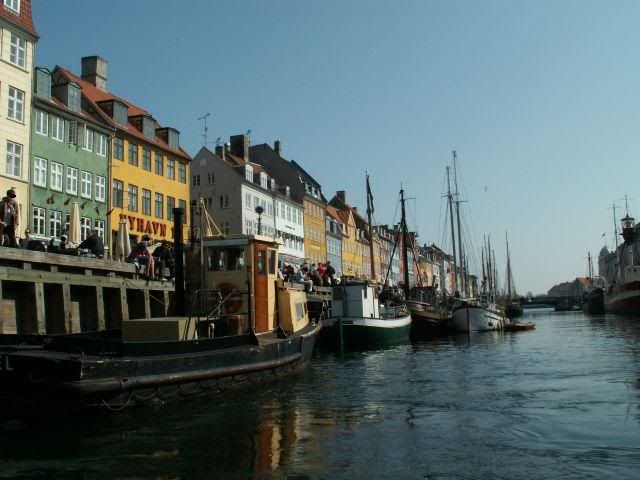 Copenhagen is famous for its modern buildings and architecture. The new playhouse: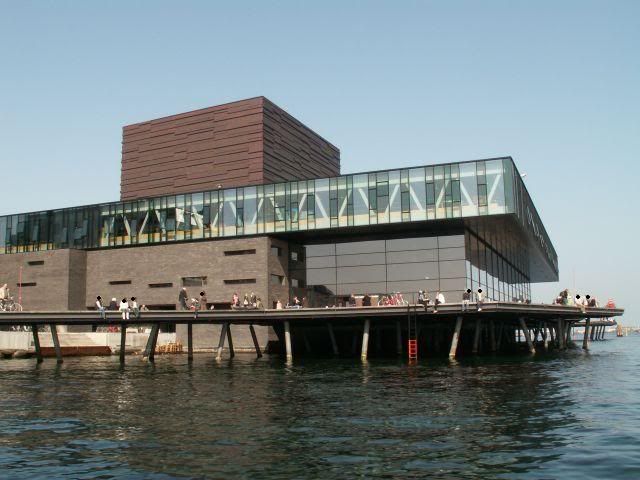 The New Opera: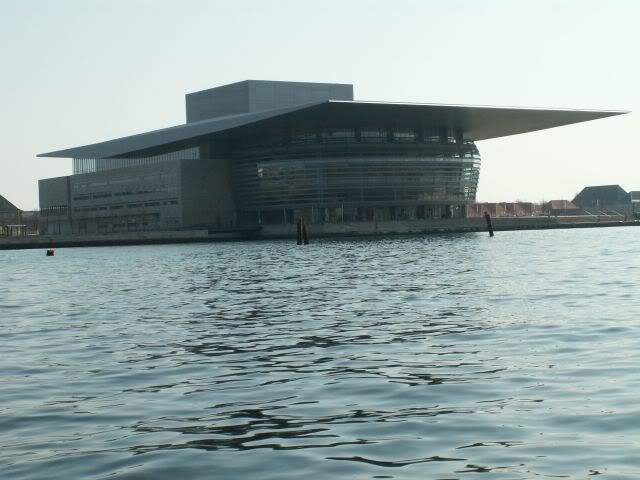 Amalienborg Castle, where the Danish Queen lives: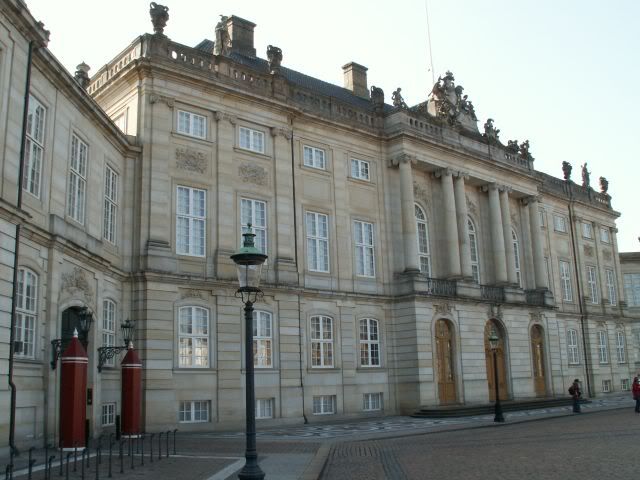 "Little Mermaid" the famous statue placed in the old harbour: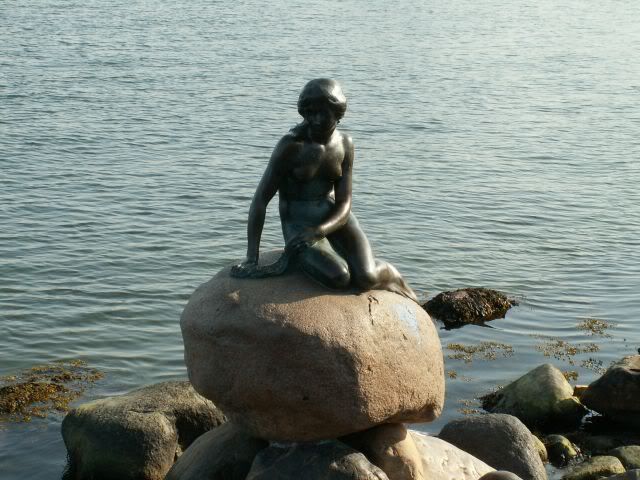 Town hall: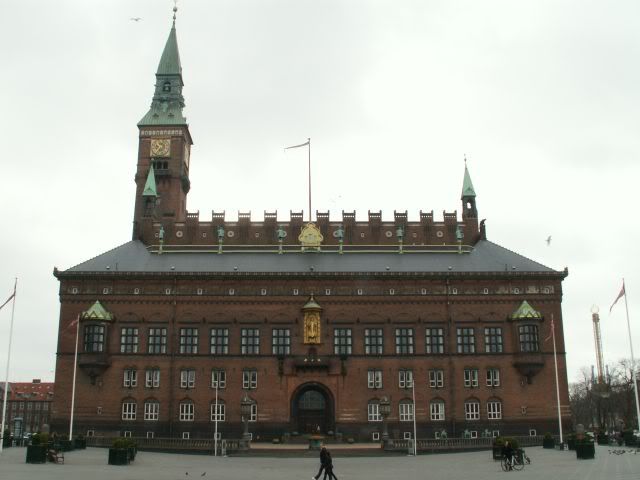 The "Round Tower":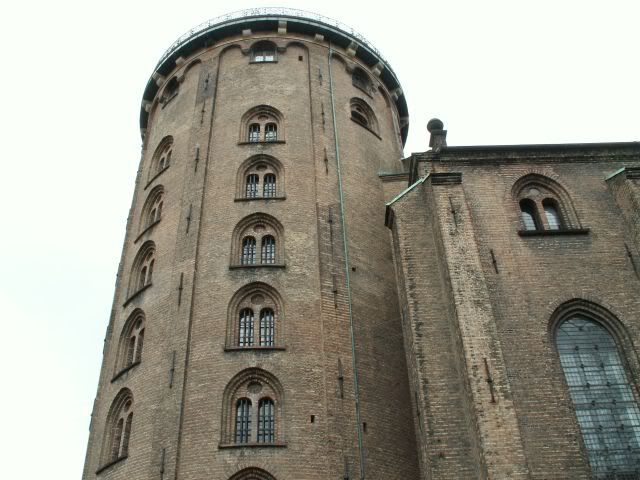 View from the top of the tower: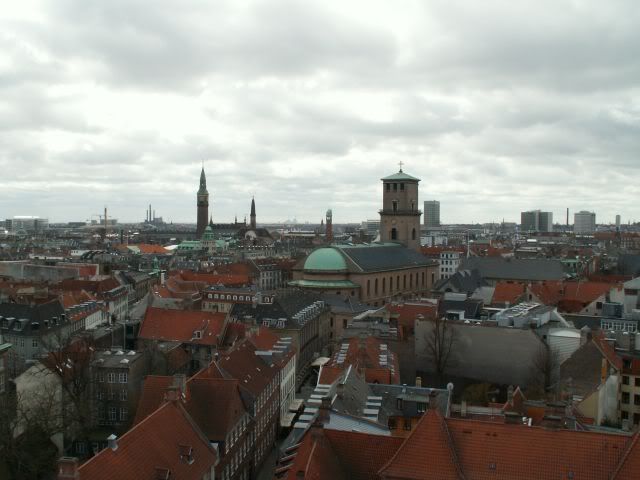 The city is definitely worth a visit with its beautiful location by the sea and lots of interesting places.
Monday, 06 April 2009
Copenhagen (CPH) – Stuttgart (STR)
Airline: Scandinavian Airlines (operated by Cimber Air)
Flight number: SK 1655
Scheduled departure time: 15:15
Scheduled arrival time: 16:50
Type of aircraft: Bombardier CRJ 200LR
Registration: OY-MBT
This aircraft was built in 2002 and delivered to Maersk Air (Denmark) who leased it out to Air Nostrum first. In 2003 it returned to Maersk Air. In January 2005 the aircraft was transferred to Cimber Air. Since September 2005, OY-MBT is operated for SAS.
And here are some pictures of this aircraft with its previous operators:
Similar to BA, SAS has reduced personal check-in to a minimum. There are only very few staffed "full-service" check-in counters. People are asked to use the machines instead and place their luggage at drop-off counters. As my hotel was located close to the airport I decided to go there the evening before to fix my seat. I inserted my LH frequent flyer card into one of the machines, chose my seat 12F (like on the outbound flight), then I was asked how many pieces of luggage I would check in. I chose "1" and the bag-tag was printed immediately which you have to attach to your luggage yourself. Then the machine said: "You don't need a boarding card for your flight. If you want to have one, insert your card again and choose the option -print boarding card-". I decided that I would like to have a boarding card, so I inserted my frequent flyer card again and printed one. I really wonder if it saves so much money to abolish boarding cards, especially as SAS uses the "cheap" ones without the magnetic strip and without colours anyway. On the other hand it might cause a lot of confusion when people enter the aircraft without boarding cards and forget their seat number. I didn't see anybody without a boarding card the next day during boarding, so I guess most people still prefer to have one. Here is my boarding card and my bag tag: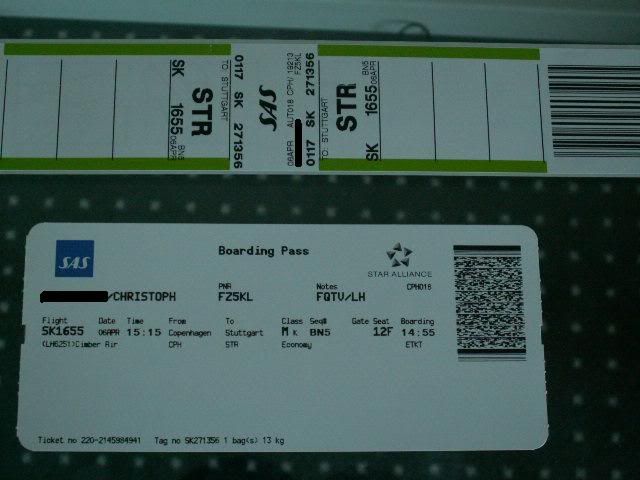 The next morning I went to the airport at about 9:00 in order to have time for some spotting:
Terminal 3 is used by SAS and Star Alliance partners exclusively: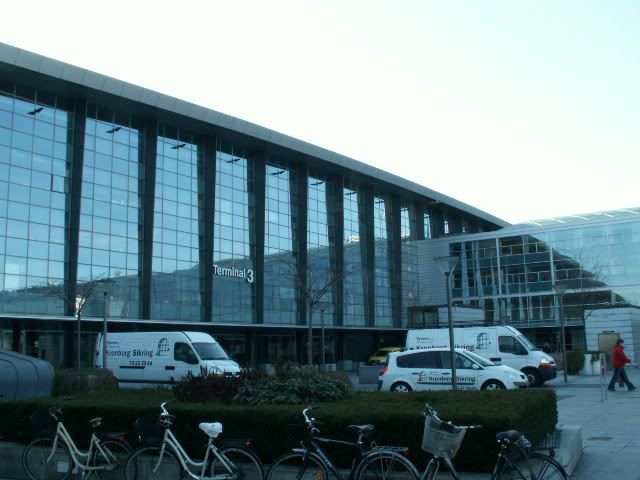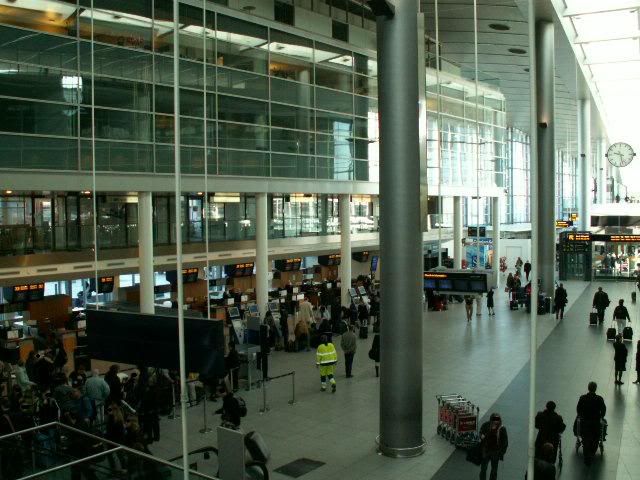 I took my trolley to one of the drop-off counters where a friendly agent had a look at my boarding pass and my bag tag and then sent my bag away. This process was a matter of seconds.
Two minutes waiting time at security check, that's acceptable: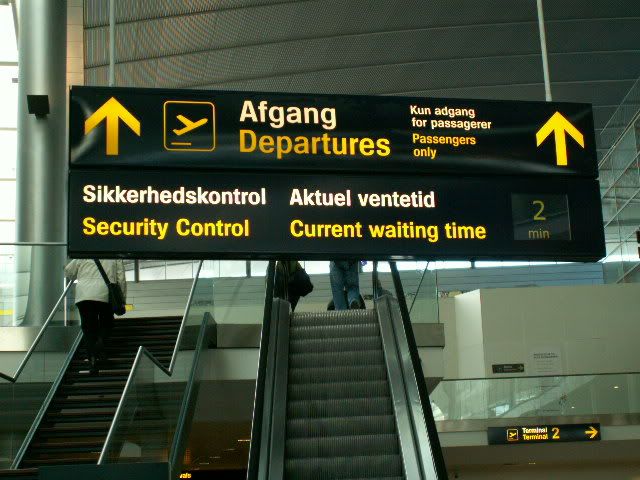 I went airside to explore the airport. It is very modern, really nice with glass fronts and good views to the apron. A small copy of the statue of "Little Mermaid" is placed in the gate area: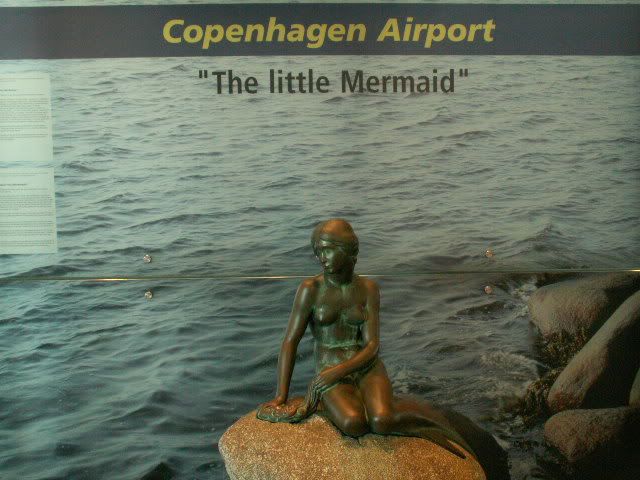 Central gate area: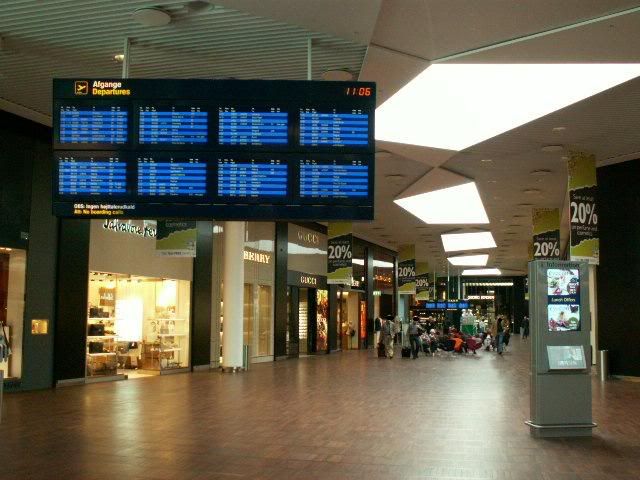 Different tails at the Non-Schengen area: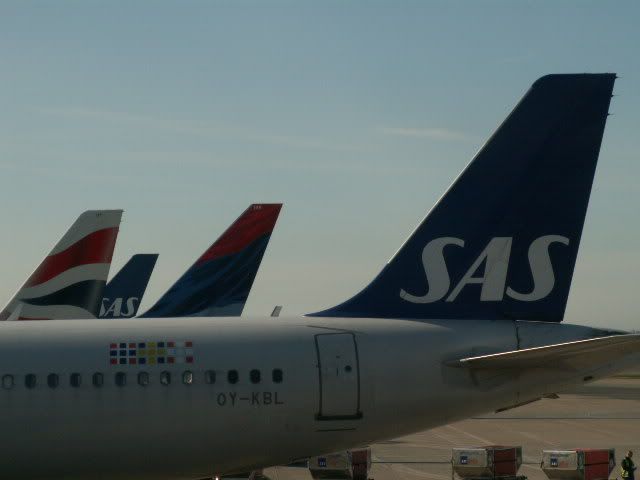 The A-gates which are used for domestic flights: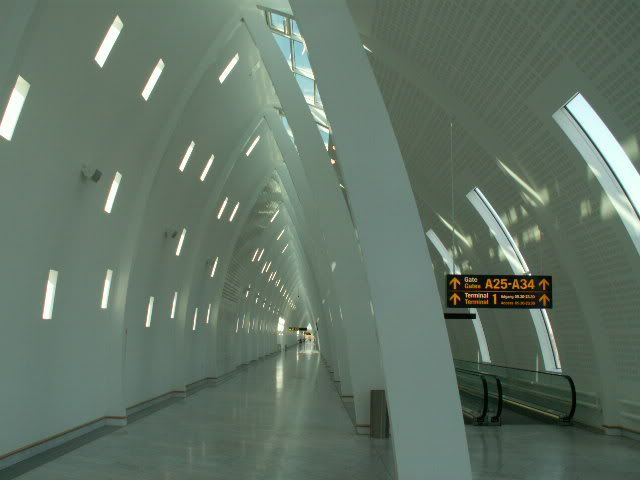 Sterling B 737-700, now flying with Cimber: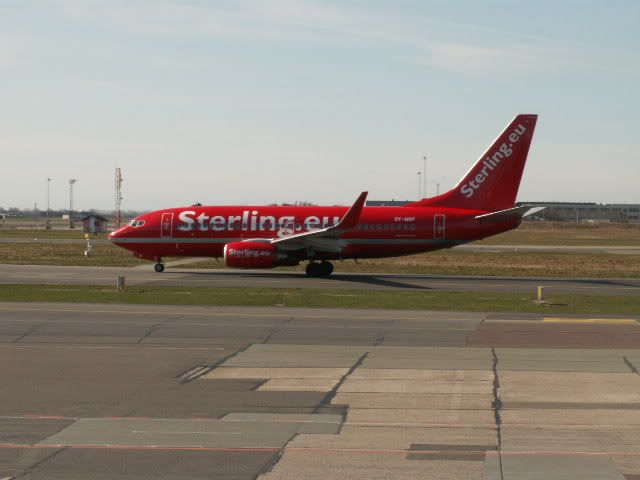 Atlantic Airways, bound for the Faroe Islands: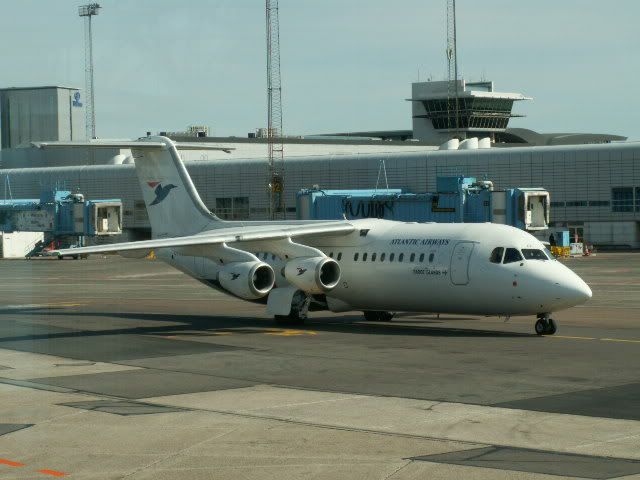 Icelandair B 757-300: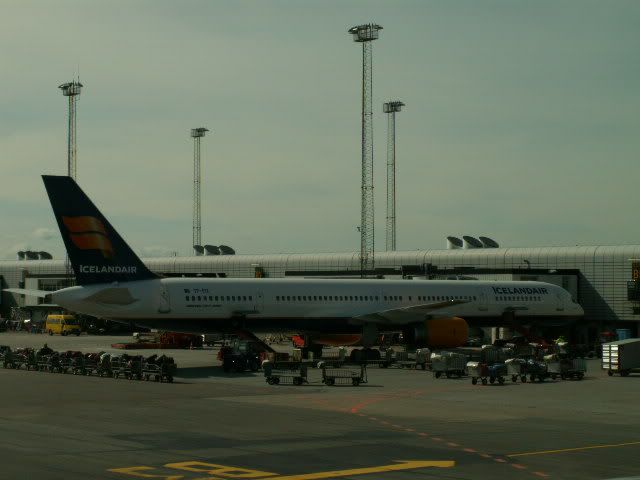 SAS' newest toy: the CRJ 900: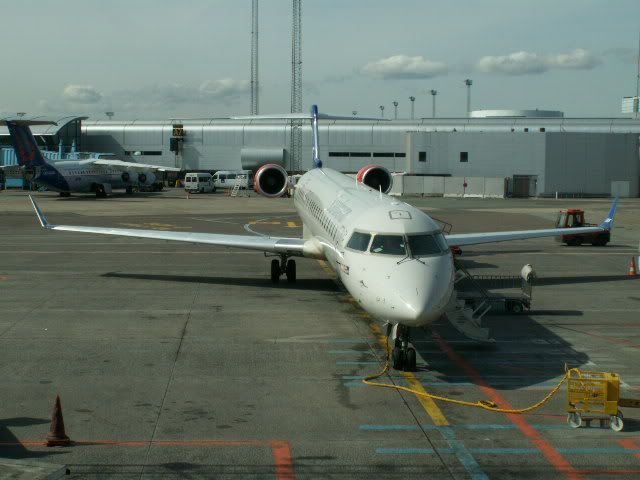 The gate for my flight to STR was announced about 90 minutes before departure. It would be gate B6: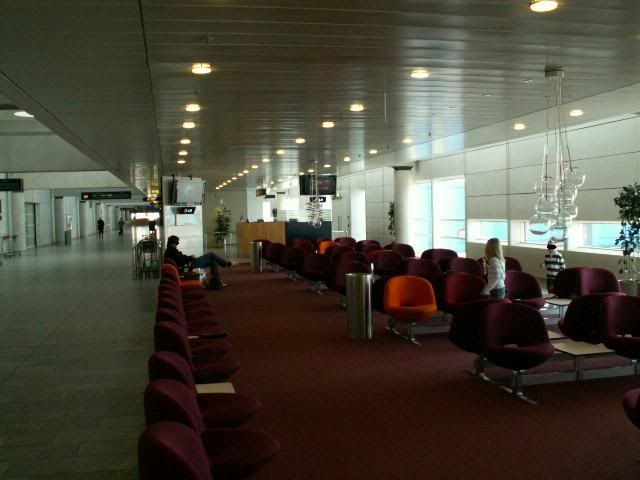 At 14:15, one hour before departure, the aircraft for my flight arrived from POZ. This time it would be OY-MBT with "Flying for SAS"-titles: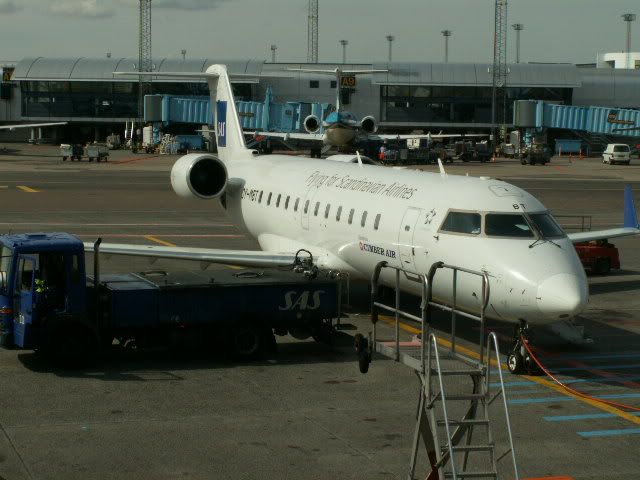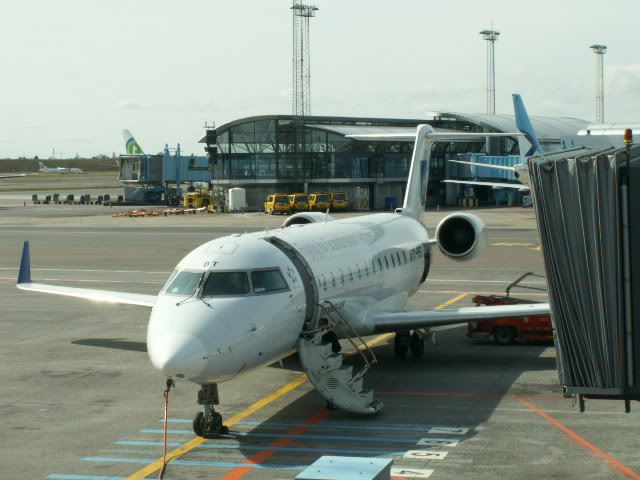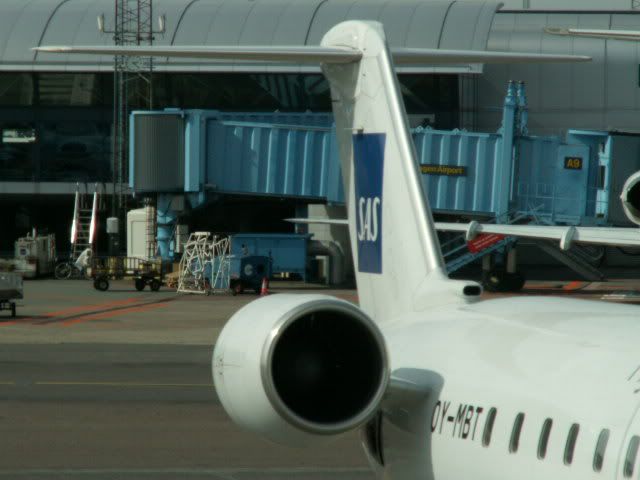 Boarding started 20 minutes before scheduled departure. A friendly female flight attendant welcomed all passengers. This aircraft had come from Maersk and was equipped with dark blue leather seats: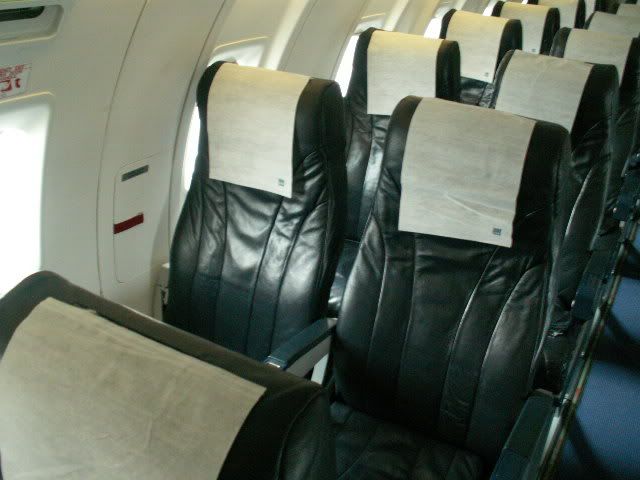 The first row with only two seats was reserved for Business Class, the second row for Economy Extra, all other rows for standard Economy. This time there was a full load in all classes which probably also resulted from the fact that there was only one flight per day in the week before Easter, other than three flights per day the rest of the year.
The captain made a welcome announcement and informed us that we had an inbound slot for STR which meant that we wouldn't leave CPH before 15:40. I found it rather strange to have an inbound slot for a medium-sized airport like STR. Later, after arrival, I would find out that there was a strike of the air traffic control at STR and only about 25% of the regular capacity was available. After all we were lucky to be able to fly into STR at all; lots of other flights were cancelled or diverted to FKB.
Anyway, after about half an hour waiting time we went off-block and taxied to runway 22R where we took off soon: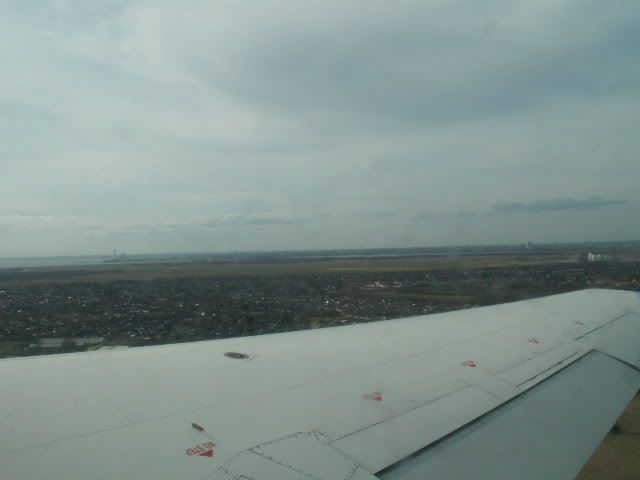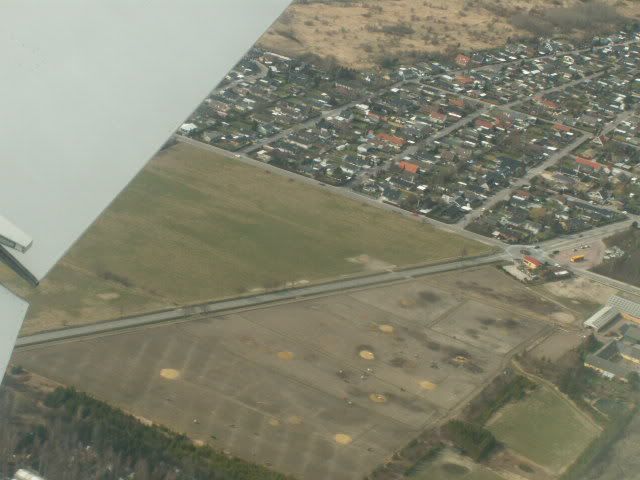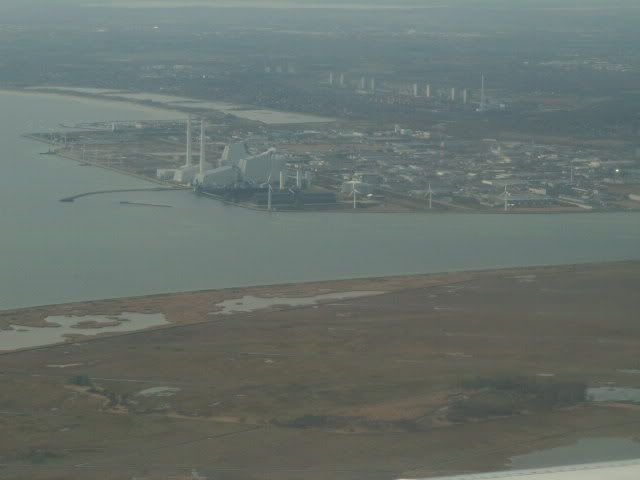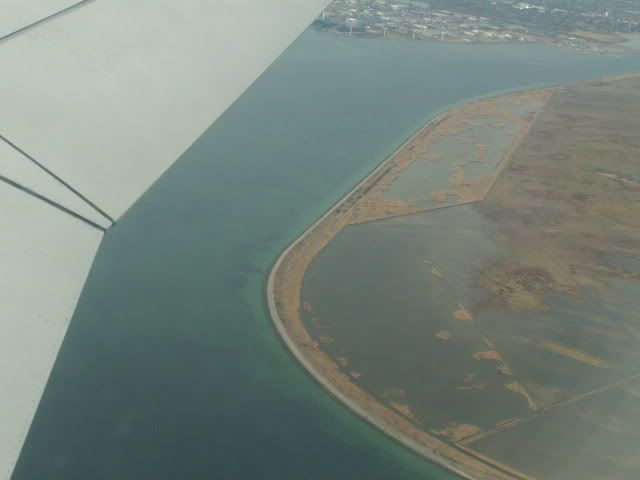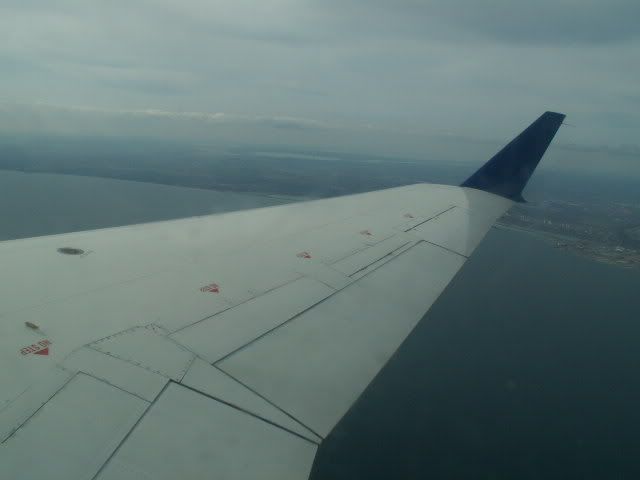 When we had reached cruising altitude, the flight attendant offered food and drinks for sale. I had a coffee and a muffin for EUR 4.00: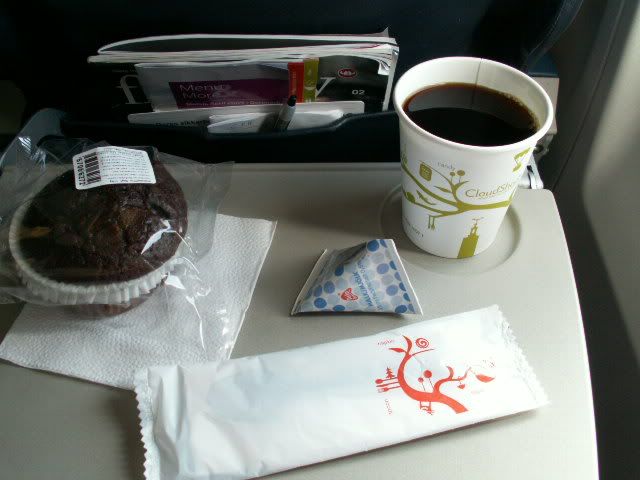 Despite the high load not many people bought anything. Nice clouds outside: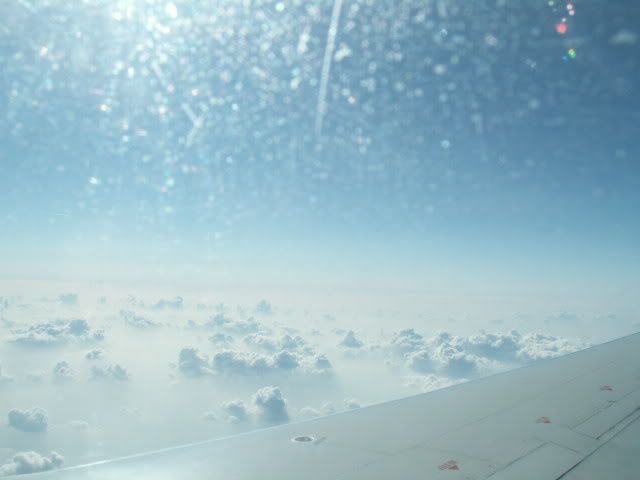 The remaining flight time was uneventful as it was mostly clouded outside.
Soon we were reaching Southern Germany: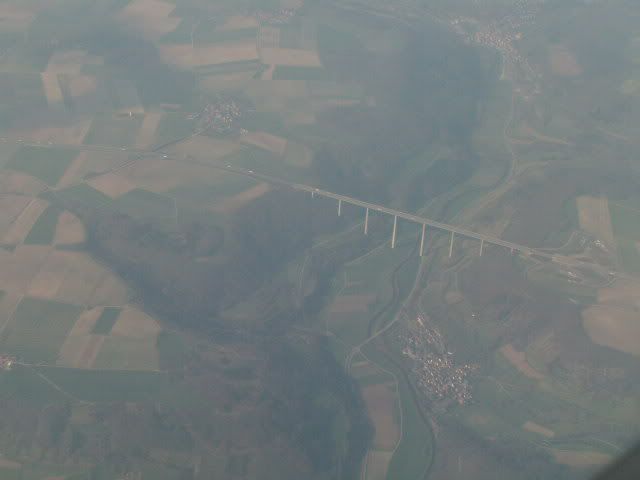 The River Neckar with the town "Marbach am Neckar" on the right: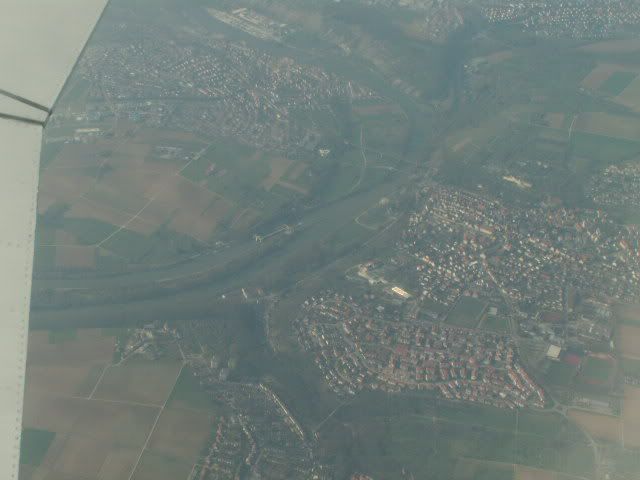 The City of Ludwigsburg: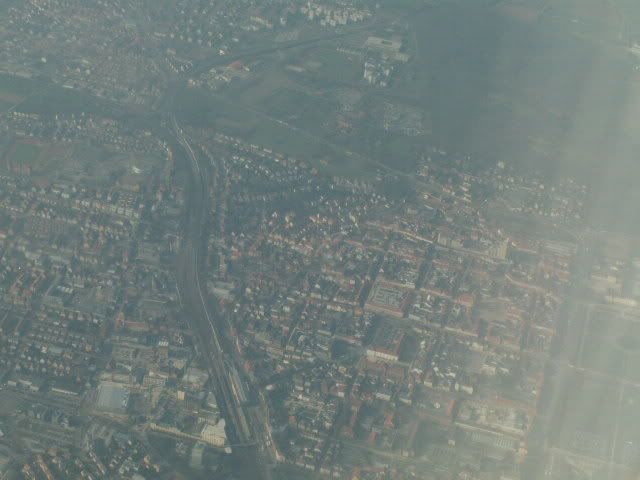 The town of Hildrizhausen: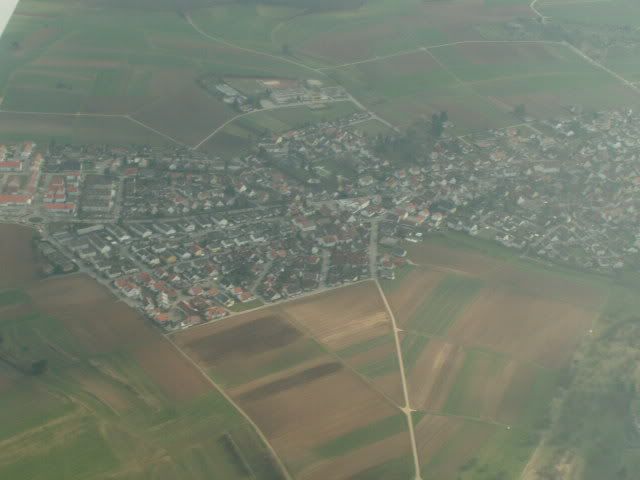 The town of Holzgerlingen: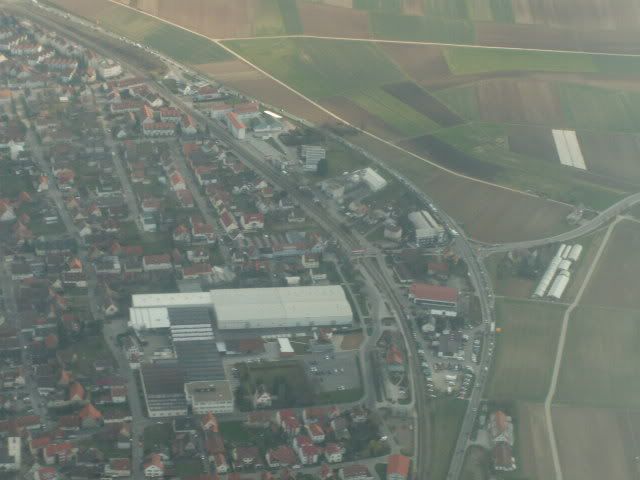 Final approach: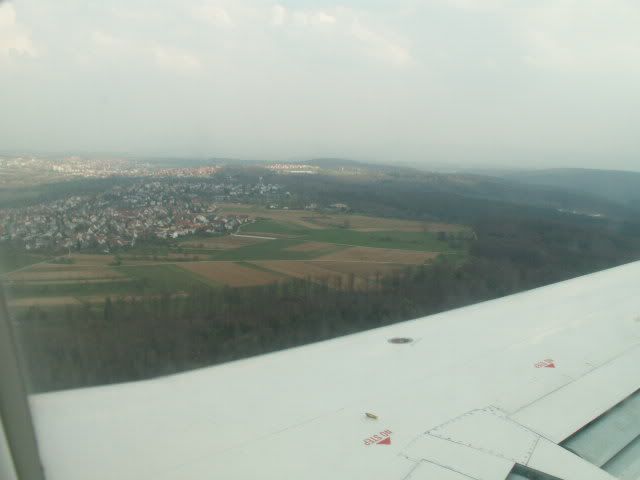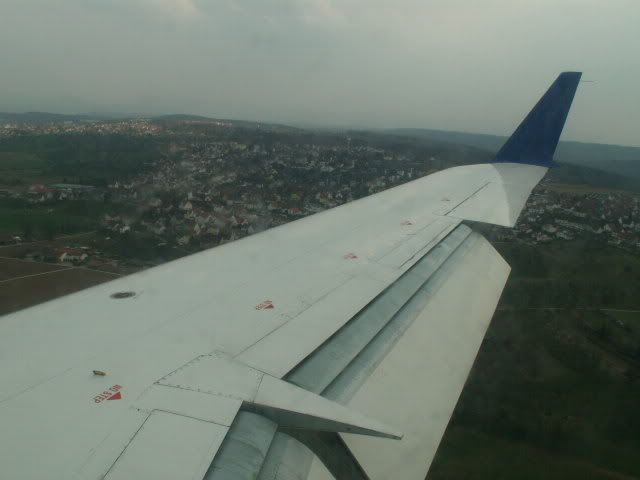 The cargo ramp: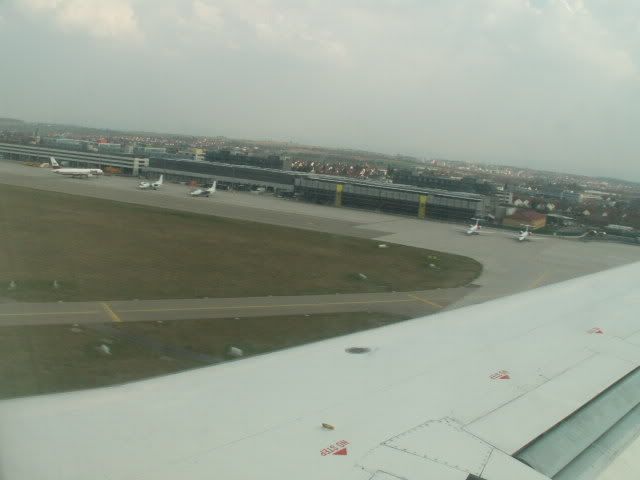 We touched down on runway 07 and taxied to a parking position on the apron where we were on-block at 17:10, about 20 minutes late due to the strike. Leaving OY-MBT: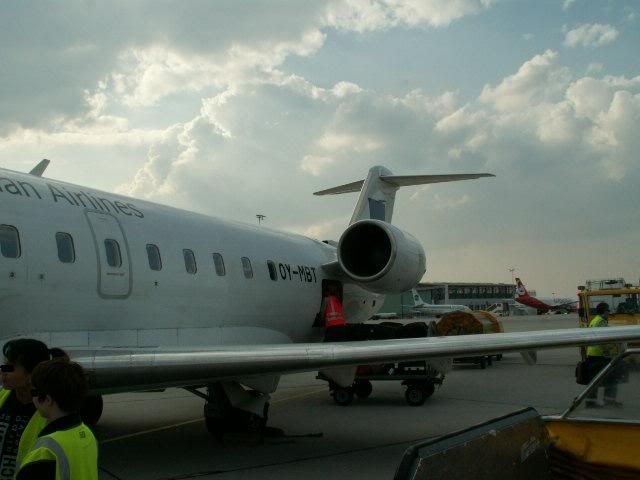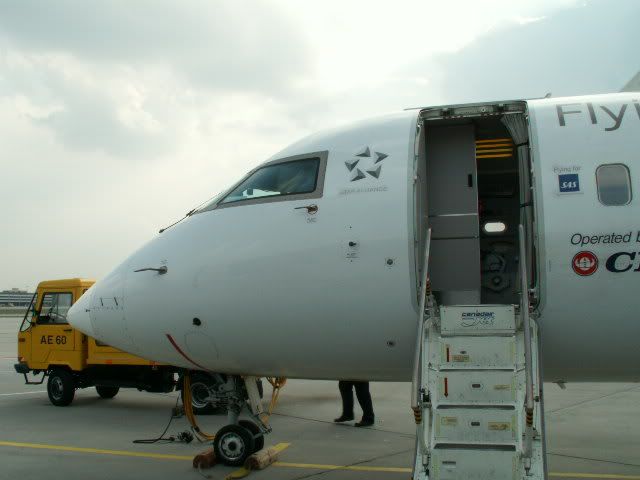 A picture taken from the bus: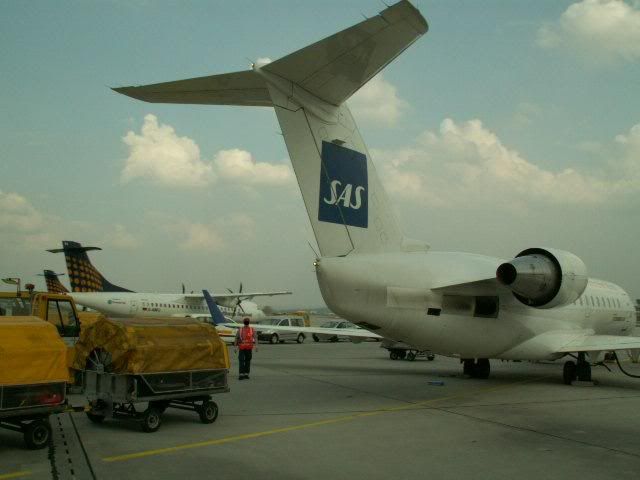 Then the bus took all passengers to the arrivals facilities of Terminal 1 where my luggage arrived quickly.
OY-MBT on the ramp, waiting for its return flight to CPH: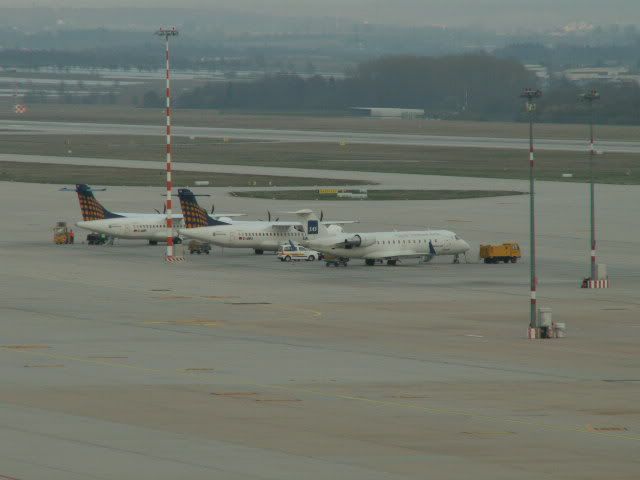 Conclusion:
All in all the SAS product is OK. Especially Cimber Air did a good job on both flights with friendly flight attendants and good information from the flight deck. A small technical delay like on the outbound flight can happen with any airline and the delay on the return flight wasn't Cimber Air's fault. The SAS-product on short-haul is very basic, not bad but nothing special either. Flight prices usually aren't that cheap, so a free drink would be nice. I think SAS is the only larger European "mainline" carrier together with IB who still stick to the "buy-on-board"-strategy. All in all I would fly SAS again if time and price are right.
Thanks for reading my report. Questions and comments are always appreciated.
Regards
Christoph