This past Tuesday I finished my final exams at Embry Riddle and headed back to Maine for a much needed break. While I'm going to miss Riddle over the summer, I was certainly anxious to get home. Riddle's schedule, giving only a week break per 4 month semester, is rather taxing (especially in the engineering curriculum.) At the moment I'm still letting my brain catch up with all the knowledge I've been bombarded with in the past two months.
After checking out of my dorm room I departed Daytona, taking the "DOTS" (Daytona-Orlando Transit Service) shuttle down to MCO. The DOTS shuttle offers pick up and drop off anywhere in the Daytona/Deltona/Deland region, so I was able to get on the shuttle right outside the dorms, and get dropped off curbside at Airside A a little more than two hours later.
Enjoying the view of DAB out my dorm window for the last time. Next year the view will be of Spruce Creek's taxiway Echo!
Anyways, on to the flight:
KMCO - KJFK
Flight # JBU 154
Equipment:
A320-200 (N652JB)
Scheduled Departure:
17:35
Actual Departure:
18:30
Scheduled Arrival:
20:30
Actual Arrival:
21:26
JetBlue's check in at Orlando is set up with the self-service kiosks set away in an alcove opposite the check-in counters. It took me a little while to find the kiosks, but when I turned around and found them check in was really quick. With no line at the kiosks and maybe 5 minutes at the bag drop, I was quickly checked in and ready to wait in the half hour security line.
Arriving at the TSA checkpoint, I was surprised to find that the "experienced traveler" line was longer (and more full of young families) than the "family" line was. So it goes. Despite the terrible line, the TSA personnel were surprisingly friendly (they must be paid well). When the contents of my pockets went through the X-Ray, a TSA official noticed the outline of my F-4 Phantom keychain and commented as it came out of the machine that he was a fan of the F-4 himself. This surprised me, first that the screeners were paying enough attention to the the X-Ray images to notice a specific key-chain, and secondly that he was able to identify it as an F-4 from just the sillhouette. Impressive on both counts.
Orlando's terminal was nice, as always. When not under construction, Orlando's airside wings always strike me as being very well maintained, clean, and generally having an inviting atmosphere (much to the contrary at the other airsides that are under renovation.) Not many airports have ponds flanked by palm groves right in the middle of the ramp.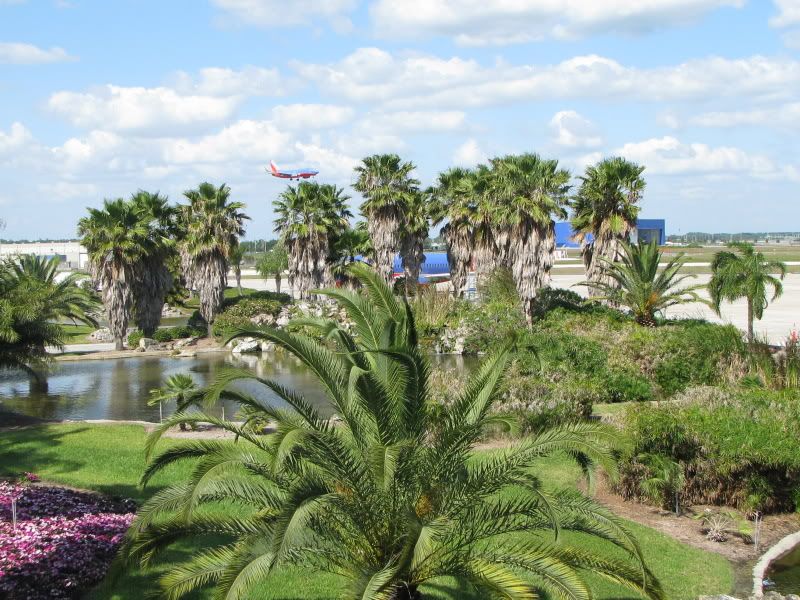 Can you spot the hiding 737?
JetBlue's airside is shared with Southwest and I must say, I prefer JetBlue's half. Southwest flies many, many more flights from MCO than JetBlue does, and it shows. Just walking down the concourse through the crowds is a difficult task of navigation. I sat at one of the Southwest gates for a while admiring the view and I overheard a number of ridiculous conversations between passengers and gate staff. I have to give a great deal of credit to Southwest's ground staff. With the number of screaming children, screaming adults, and screaming adults acting like children that they deal with, they deserve all the praise that can be given to them.
Southwest's extremely crowded concourse.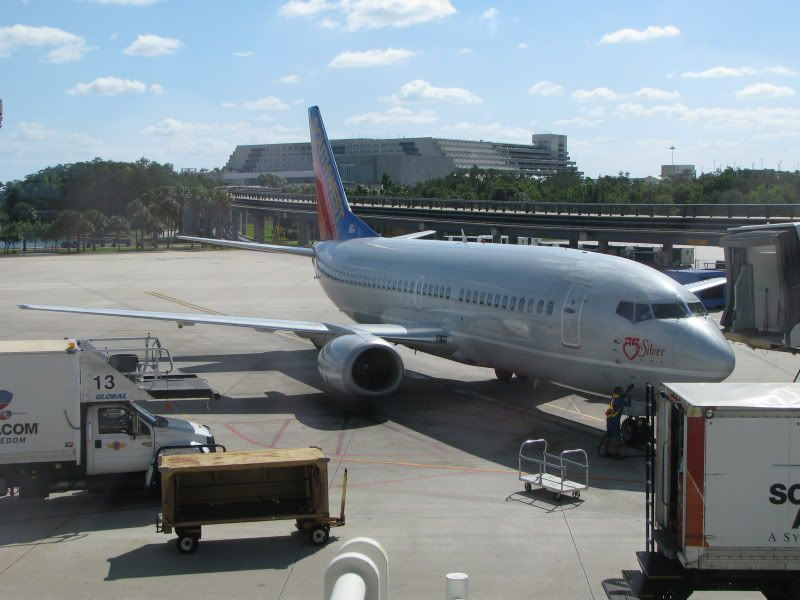 "Silver One" pictured in a typical Orlando scene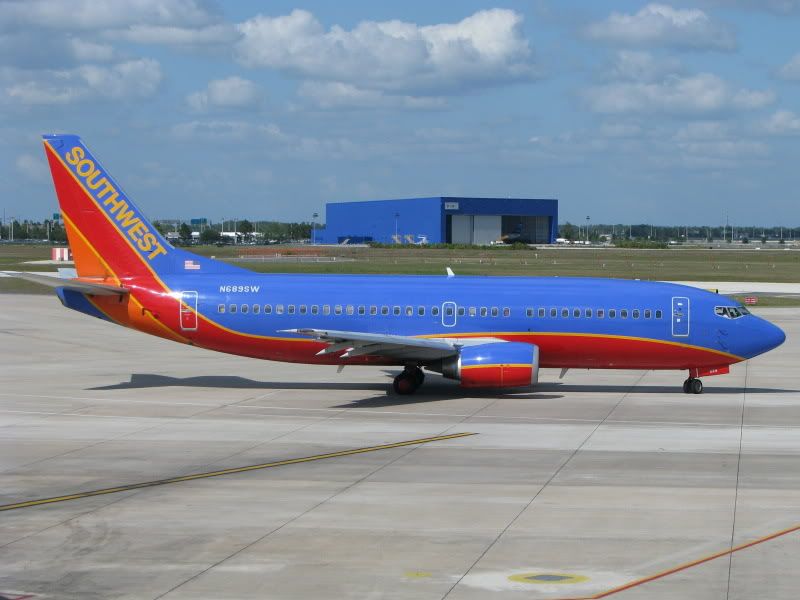 I must admit, Southwest's blue livery looks very nice in the afternoon sun.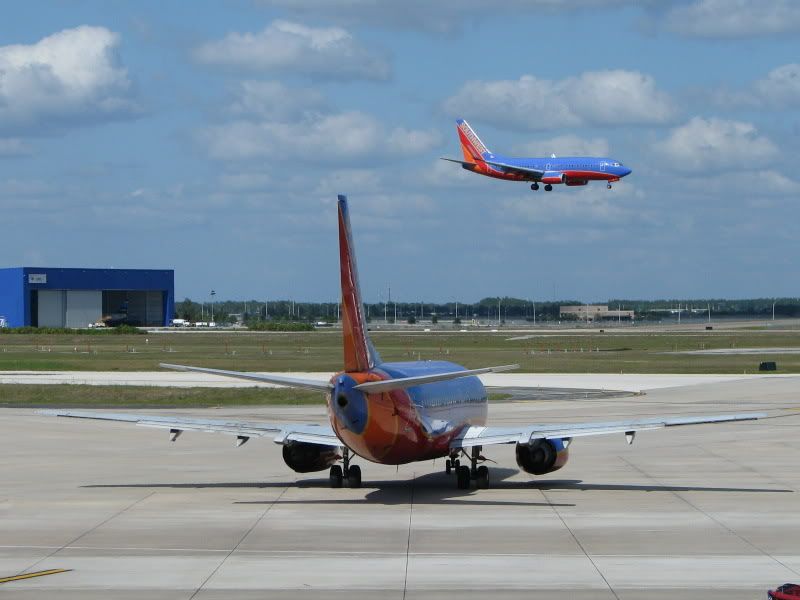 More Southwest than your body has room for!! (pardon the Powerthirst reference. If you have no idea what I'm talking about, don't worry about it. Random internet fad from a couple years ago.)
After getting my fill of plane-spotting on Southwest's side of the airport, I headed back over to JetBlue's rather deserted concourse. While starting to write this trip report I watched a number of flights arrive, one of them being the non-stop Embraer from Portland, Maine. Being curious about the load factor on the flight, I counted the passengers deplaning. On a plane that seats 100, I counted 92 passengers deplane. Not bad, being a leisure flight that should be suffering in this economy.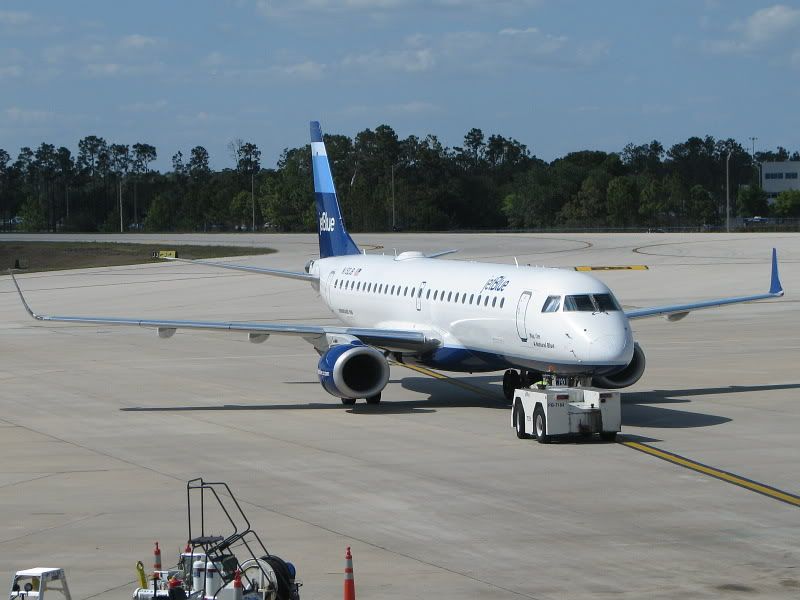 Flight 1149's E-190 pushing back about an hour later, departing to White Plains
Shortly before my aircraft should have been arriving from New York, the departure board was revised from a 5:35 departure to a 6:20 departure. The gate staff announced this was due to a ground stop in New York, and they would be trying their best to get us out as soon as possible.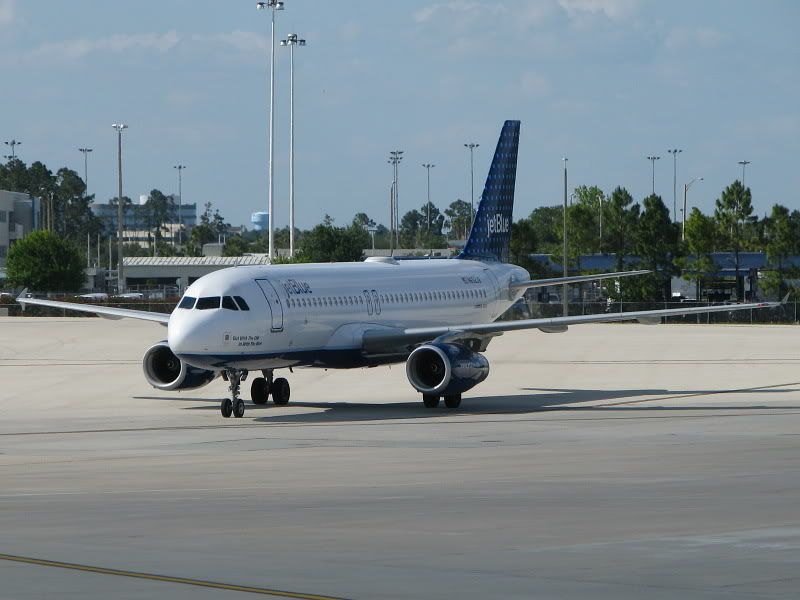 My flight up to JFK, pulling into the gate just a few minutes behind schedule.
Hoping to make the best of the delay, I asked the gate agent if it would be possible to board early to take a few cabin photos for Airliners.net (I also mentioned a certain other website which is more likely to accept my photos...but I won't speak of that here.) She responded that she would ask the captain when he arrived, and that if I stayed in the gate area she would get back to me shortly.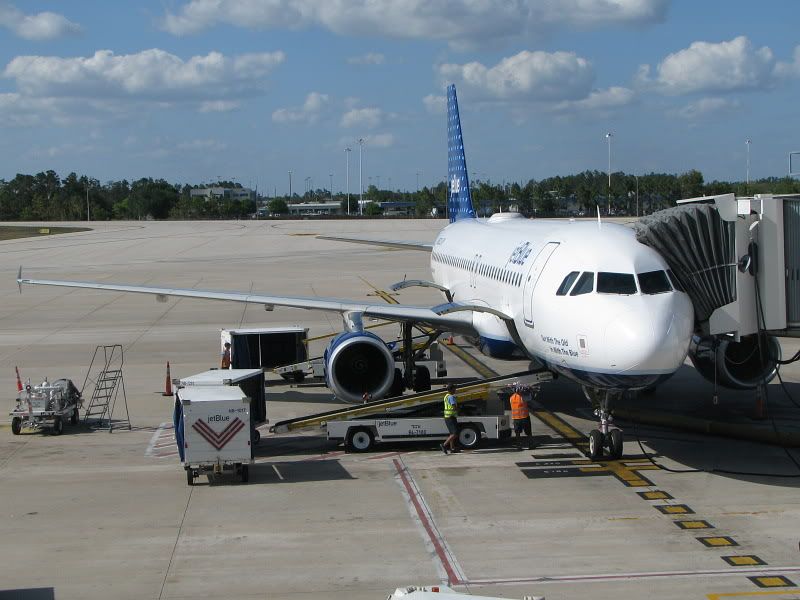 Another shot of the aircraft, "Out With the Old, In With the Blue"
About fifteen minutes later, the gate agent approached me and informed me that the captain had agreed to let me board to take some photographs. She escorted me down the jetbridge and introduced me to the captain. We talked for fifteen minutes or so about aviation and flying in general. I was wearing my Eagles Flight Team polo, so we discussed Embry Riddle and the Flight Team. It turns out the First Officer was a Riddle graduate, and they had been discussing Riddle on the way down when they overflew Daytona Beach.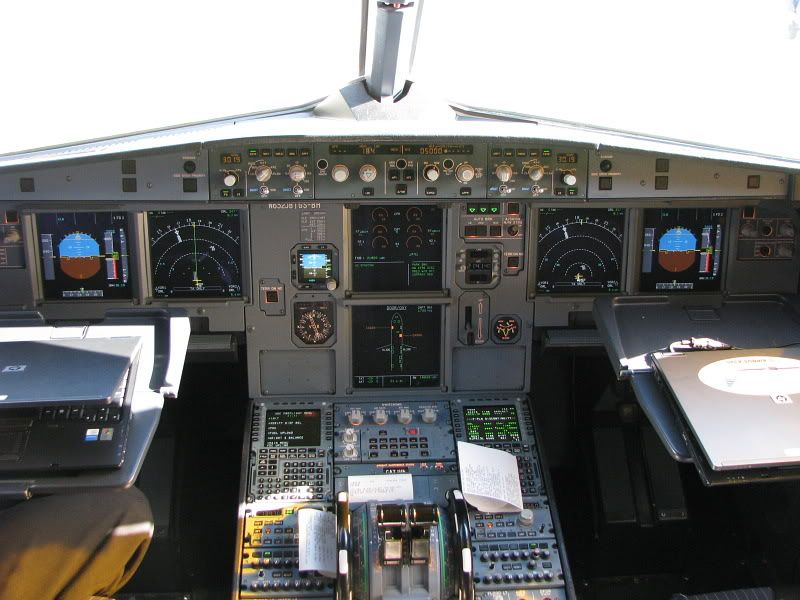 The A320's flight deck. Note the paperless cockpit, featuring a pair of HP notebooks.
After about fifteen minutes of interesting conversation, the captain had to do his pre-flight walk around, so I went back into the cabin to take a few photos. I introduced myself to the cabin crew, took a few shots, and then took my seat in 11F.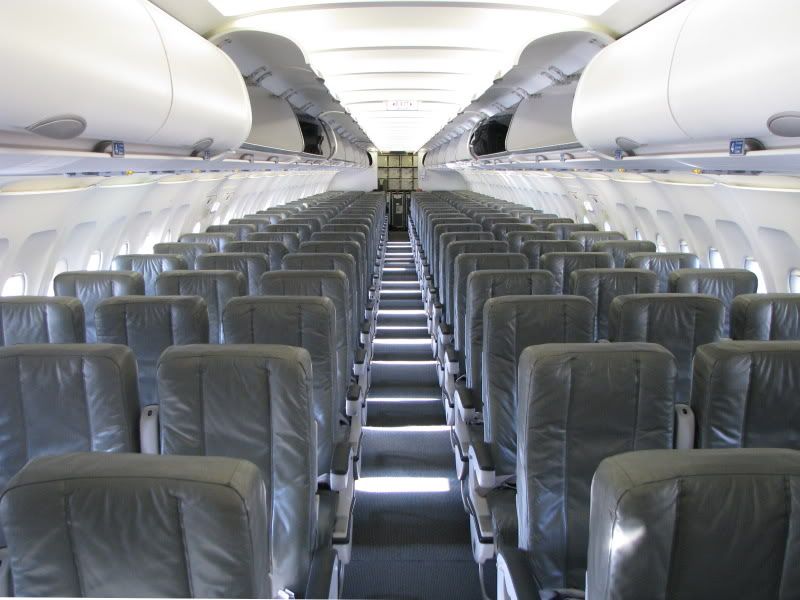 I didn't notice the two Flight Attendants sitting in the back row until my camera's flash prompted them to both peer up over the seats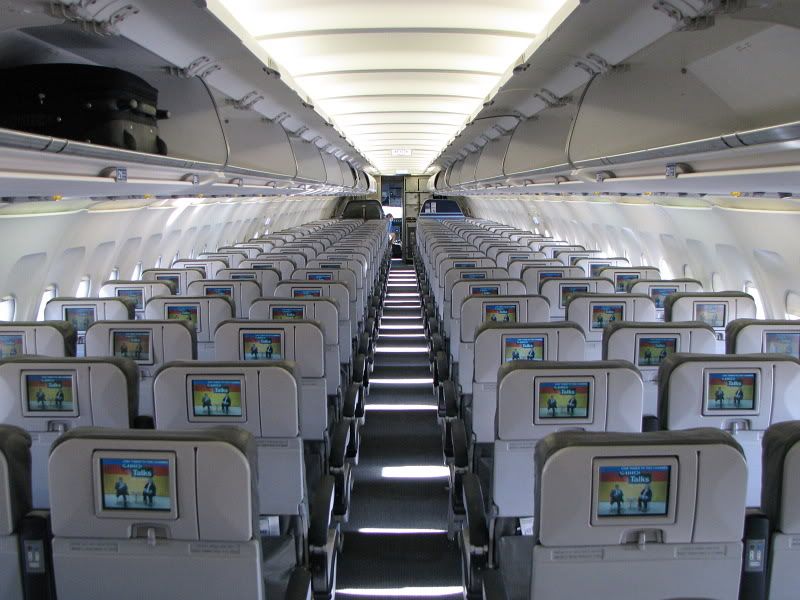 Looking forward.
On JetBlue's A320s, row 11 is the second exit row, and is one of the "even more legroom" seats. At the time I booked the flight, these $20 seats were the only window seats left open. The seat was well worth the extra $20. As the rest of the passengers boarded, I found out that the middle seat next to me was empty. I ended up with more leg room than I could possibly need, and an empty seat next to me. Add that to the fact that the flight crew was now addressing me by name, and I felt like I was in business class.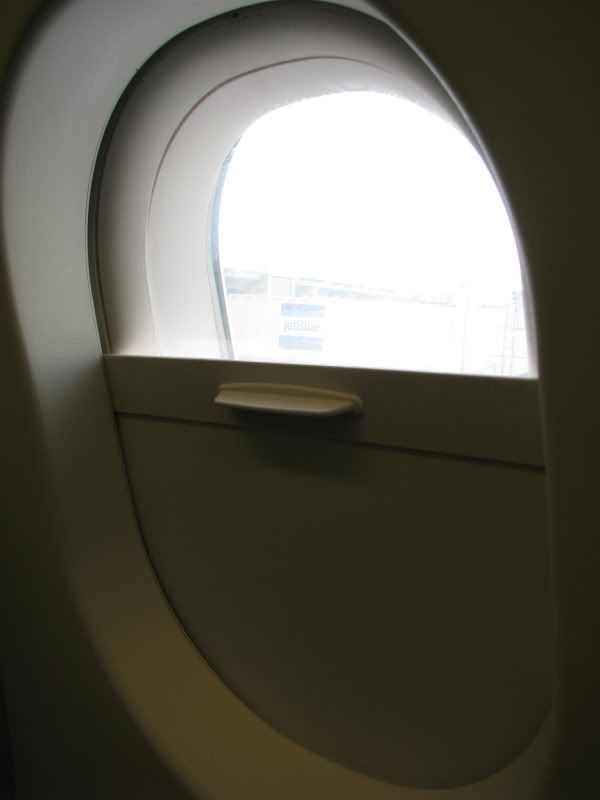 Somebody put my window in upside down!
As we approached our 6:47 wheels up time, we taxied to runway 36R and promptly took off into the hazy Florida skies. Take off in the A320 was surprisingly quiet (for being less than 5 feet from the engine), and I quickly settled in to watch some free in-flight television.
About fifteen minutes after take off, I happened to notice a familiar sight out the window, as we passed over Daytona Beach at 30,000 feet.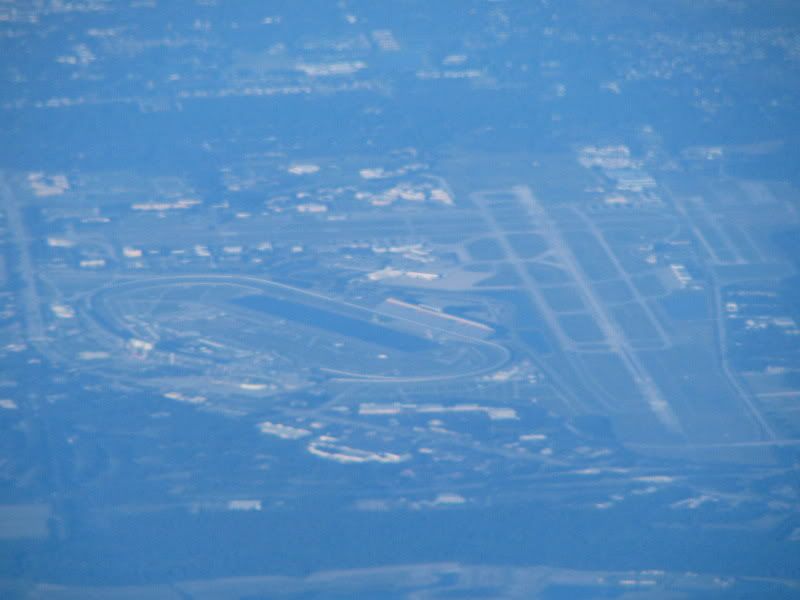 A very hazy KDAB.
The next hour and a half in flight was taken up by the Discovery Channel. There were a few interesting documentary programs on, and I kept myself entertained with tales of Mexican prisons and manufacturing turbine blades.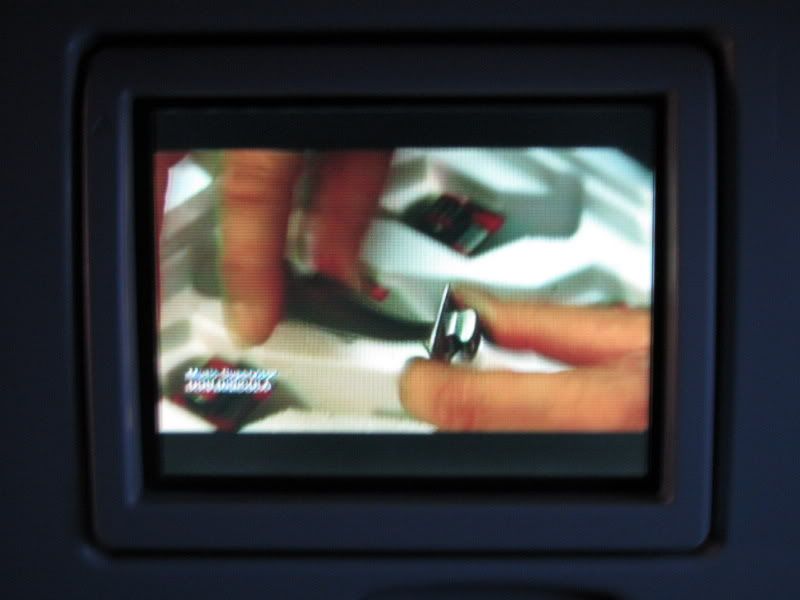 "How It's Made" making a CFM-56 compressor blade.
Service on this flight was standard for all JetBlue flights I've been on. The FA's came around taking drink orders before delivering ice and full cans of drinks, followed by a snack bag with the standard options of Terra Blues, Trail Mix, Cookies, or a few other choices. As novel as Terra Blue chips are, I've found them to be hit-or-miss on taste. While I usually find them quite tasty, the bag I got this time had quite an earthy dirty taste that I didn't much care for. This sub-par bag of chips was one of only two very minor complaints I had this trip. The other is in regards to JetBlue's moving-map channel. It seems like more and more ads keep getting added, which means less and less map. It takes almost a minute of ads to see the map (which in itself is disappointing. The aircraft image takes up almost as much screen as the entire state of Maine.)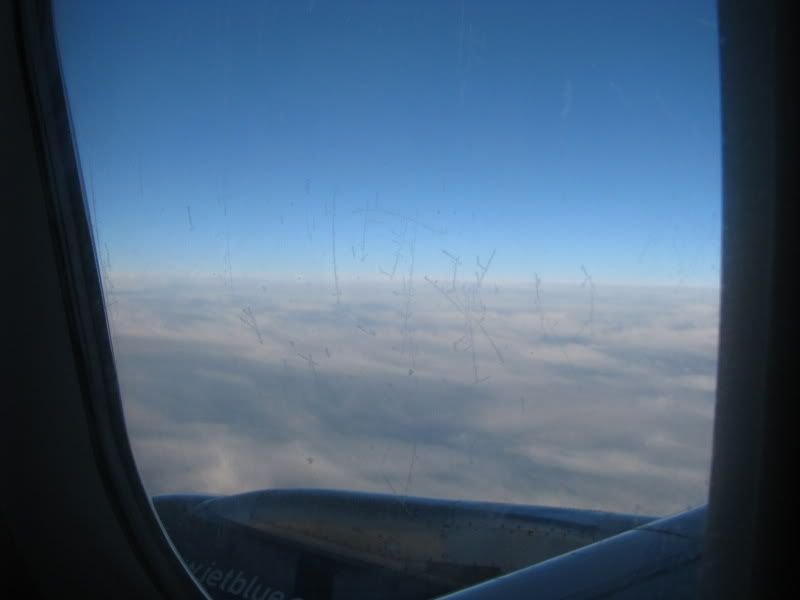 In flight somewhere over Virginia-ish. Does anyone know what causes these interesting ice crystal formations on the windows in flight? I've always been curious about that...
As the sun set over New Jersey, I noticed something strange. Can anyone tell from this picture?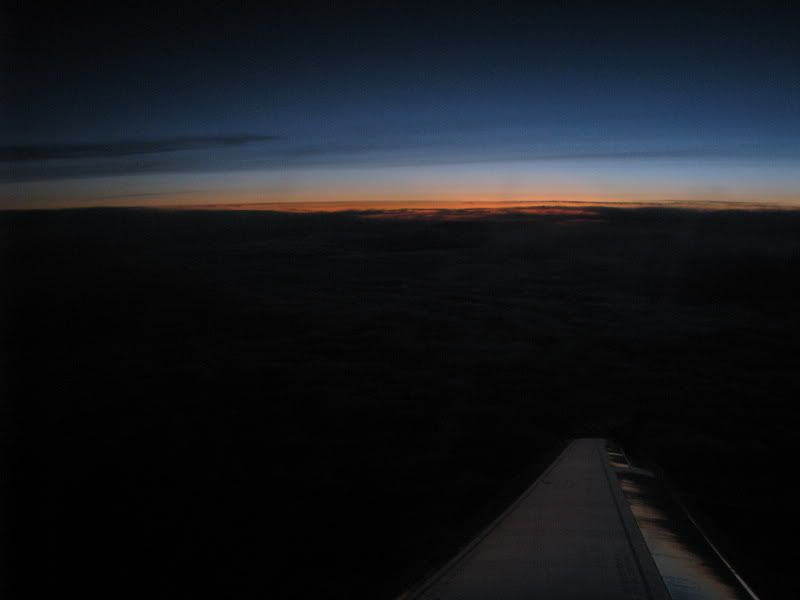 The sun sets to the west.
What's strange about that picture? Well, I was sitting on the right hand side of the aircraft, and we were traveling to the North. I shouldn't have had any view of the setting sun to the West. A minute or so after making this observation, the captain came on the PA to announce that we were in a holding pattern, and would hopefully be cleared into JFK sometime soon. After about a half hour of circuits over New Jersey, we finally made our way down to New York. After overflying the west side of the airport, we made a quick turn to final to runway 13L and landed approximately an hour behind schedule. Luckily my layover was scheduled to be just under two hours, and I quickly made it across the terminal to my connecting flight to PWM.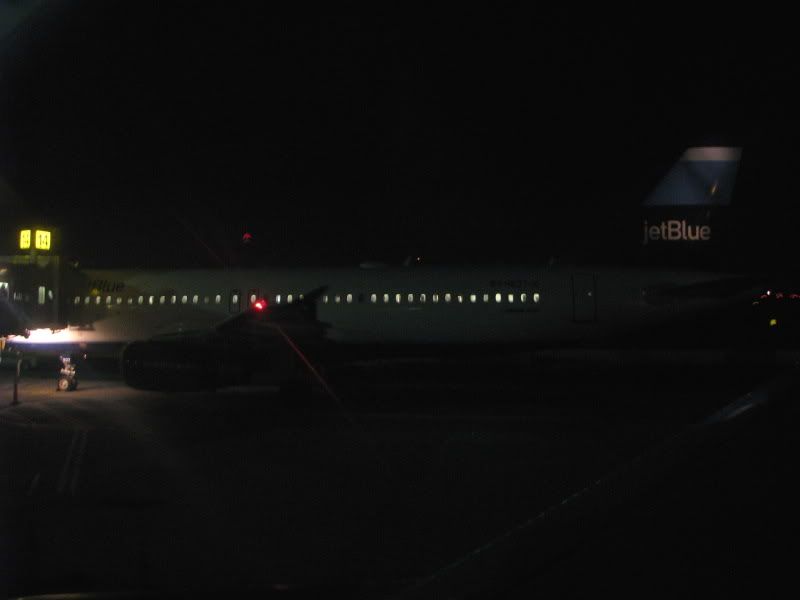 At the gate at JFK.
KJFK - KPWM
Flight # JBU 608
Equipment:
EMB-190 (N247JB)
Scheduled Departure:
22:25
Actual Departure:
22:25
Scheduled Arrival:
23:47
Actual Arrival:
23:40
The next leg of my trip was a quick flight up to PWM. The best way I can describe this flight is "uneventful." This flight would be on an Embraer 190 named "Blue is So You." I arrived at the gate area about 15 minutes before boarding started, and I quickly checked my Email using JetBlue's free WiFi in the terminal. Despite all the hype about the new Terminal 4, I didn't find it all that spectacular. Yes, there were a lot of over-priced shops to waste money at, but when it comes to basic passenger amenities, the terminal didn't have any real advantages over a traditional terminal at any other airport.
Upon boarding, I took my seat in 8D. Even though the E-190's leg room is much less than that of my "even more legroom" exit row seat, there was still more than enough space. Additionally, the seat design makes the space available seem much more spacious than a traditional seat would.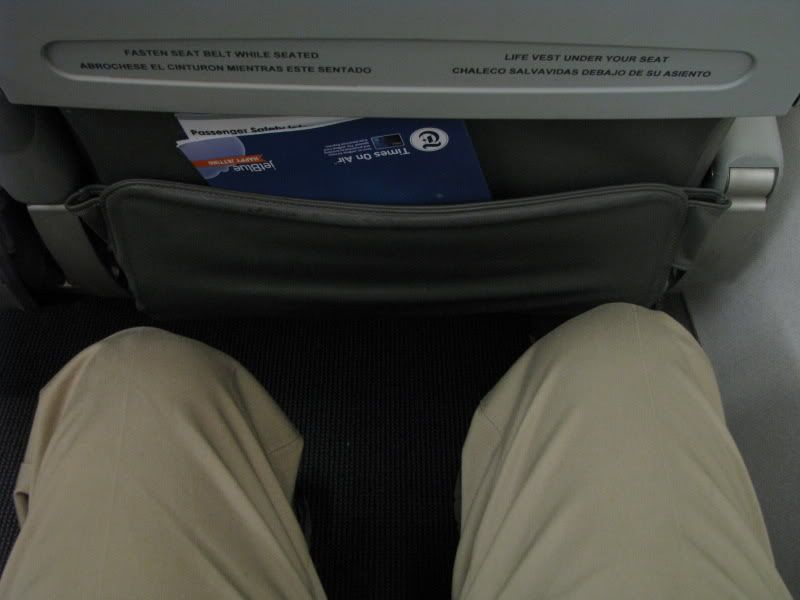 Plenty 'o Legroom
We took a rather circuitous taxi around JFK so I'm not entirely sure which runway we used, but I suspect it was 13R. Taxing past the other airline terminals, I caught a glimpse of Emirates' A380 resting overnight.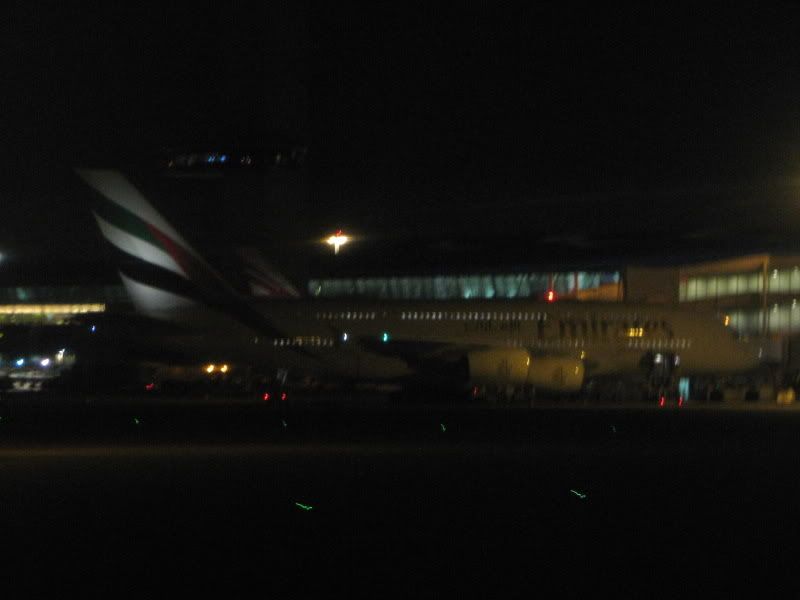 Sorry about the picture quality. It was dark.
In flight service was revised for the short flight. A limited selection of drinks and snacks were available, but still better than many airlines offer. I went with the cookies this time, and settled in to watch a show about telemarketing. (don't ask...it's a somehow addicting show...)
We only reached a cruising altitude of 17,000 feet, and quickly arrived at PWM. We made use of Runway 11, and taxied in to Gate 10, past a whole fleet of RON aircraft. Parked for the night were a pair of CRJ-700s, a Q400, a 717, a pair of E-170s, 3 CRJ-200s, a CRJ-900, and an ERJ. Add to that our E-190 and another E-170 that came in after us, and that's using every parking spot the terminal has to offer.
It took about fifteen minutes for our baggage to come out, and after that I was on my way home, done with my first year at Embry Riddle.
Despite my delays, I really enjoyed this flight. JetBlue's staff continue to be friendly and courteous in everything they do. Their planes and terminals are spacious and comfortable. JetBlue's product (in my humble opinion) is superior to any other economy class product in the domestic US market. If JetBlue's JFK hub was not so crowded and delay prone, I would rate them as nearly flawless.