Hello everyone, It's been some time since I've posted one of these. Well, here I am about two years later with nothing better to do right now then recap my recent flight home to MKE. Enjoy!
Since last summer I've traveled more than I have ever in the past, mostly because I just completed my first year at Embry-Riddle in Daytona Beach and had to commute between FL and WI several times for holidays, etc. Time constraints prevented me from being able to compose these trip reports for my last few flights, but now that I'm home before pretty much all of my friends who are still in class till mid-May I actually motivated myself to dedicate a few hours on this not so exciting Sunday night towards putting this together.
Let me begin by saying a little about my first full year at ERAU. I'm an Air Traffic Management major with minors in Flight, Aviation Safety, and Meteorology. With the completion of finals last week, I have pulled in 50 credit hours to date so I'm moving along quite well for a first year student. My degree program requires 120 credits so Ill be doing what I can to reach that total within 3 years instead of the typical 4. This summer I'm doing the International Aviation Appreciation European study abroad to pick up another quick 6 credits and I cant wait to we leave in July!
Overall, I've enjoyed most of my time at Riddle thus far. It's a great academic facility, but the whole social scene is a little awkward at times. This semester marked the beginning of my flight training at Riddle. I started my instrument rating training in Jan and since beginning my private back home I've logged about 120 hours.. only which .1 have been actual instrument!  
Flying here has been very rigorous and exhilarating. Just a few weeks back I flew my long IFR cross country DAB-PIE-MLB-DAB and landed back at DAB at 2am! My late flight block (MWF 7:45-midnight... and usually later than that) was exhausting but taught me how to manage my time better than I ever thought I could. After this semester though I've decided that I'll probably be dropping my flight minor to focus solely on ATC as a career. Flying will always be a big part of my life but the economy/job market just don't seem practical for an airline pilot. I am eager to become a controller though, and hopefully will land a position in MKE or ORD tower in just a couple years if all goes as planned.
Here's a few pics I took of campus/flying. All the flying pics were taken while observing a friend working on his private last semester...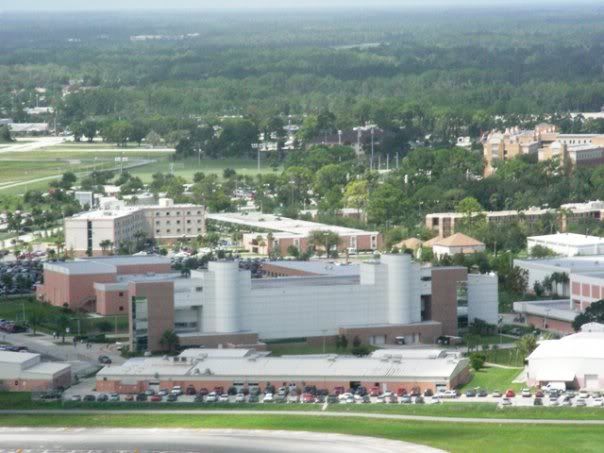 campus aerial while departing from 7R
on the ILS 7L
the ERAU stunt plane during homecoming
Riddle C172s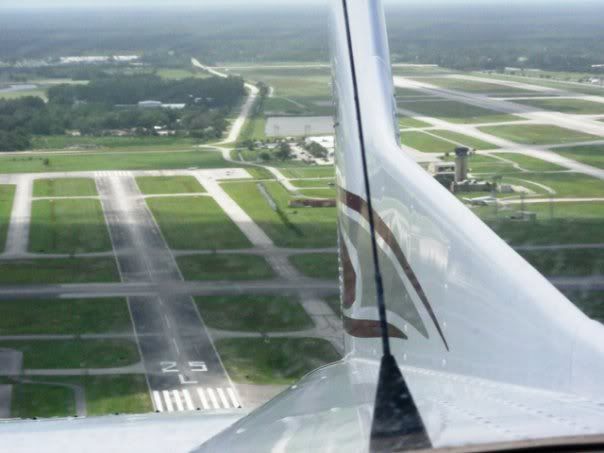 After getting moved out of my dorm, it was time to say good-bye to Daytona for four months. Besides the heat and the beach I don't think I'll be missing much  
I was just ready to head home and see all my friends again in WI hoping that by the time I arrived the ground was actually thawed out!!
I had several, equally expensive flight options to get home, but I opted to go with YX. With all the talk about Midwest getting rid of their remaining 9 717s in the future I wanted at least one more flight on their beautiful aircraft.
Fri morning (5/1) my mom and I drove the usual I-4 drive over to MCO to return our rental car. Without any hassles we headed straight for ticketing and made it straight to the counter with out any wait. We had to check four bags ($15 for the first and $25 for the second) because I was bringing an insane amount of clothes home for the summer.
My third time through MCO in 9 months, went as flawlessly as the rest. Every time I fly out of MCO reinforces in my mind how efficient and well designed the airport is. I never had to wait longer than 10 minutes to get through security, even the day before thanksgiving and this time was no exception. In fact, it only took about 5 minutes this time. Taking the tram to airside 1, I was surprised to see the not so aesthetic appearance of the interior. I did not realize before this trip that airside was the oldest and was undergoing renovation. It wasn't really that bad but the lack of air conditioning made it slightly uncomfortable that hot afternoon.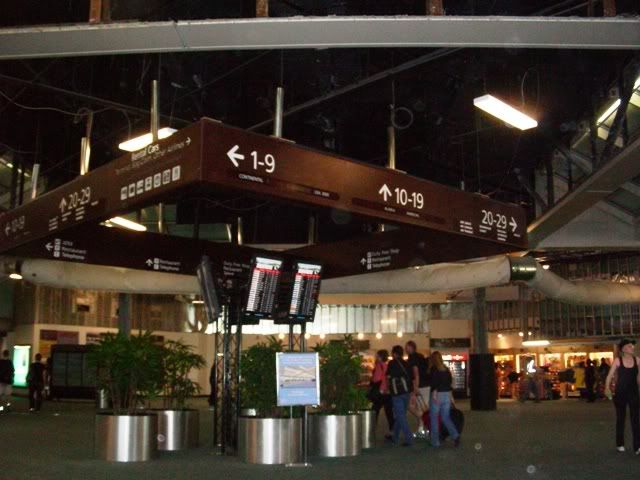 Inside airside 1
One thing I noticed right away was the lack of any Midwest airlines logo or name anywhere to direct passengers. If it wasn't for the gate number I would have had no idea where to go. This coming from a rather experienced traveler bothers me, because the average traveler could easily be confused. I can understand that Midwest has reduced its flights out of MCO and has gone seasonal to MKE but their name should at least appear somewhere in the airside while they are there.
I was happy to find out that our gate (24) was surrounded by all the Canadian air carriers. Once we arrived at our gate I was tempted just to sit and rest my already exhausted mind and body from a week full of finals and moving, but I let the aviation dork in me come out and I decided to waste some time spotting, something I have been letting go slightly in the past year as aviation becomes more and more of a routine and way of life.. god, I never thought I'd say something like that, but it's true.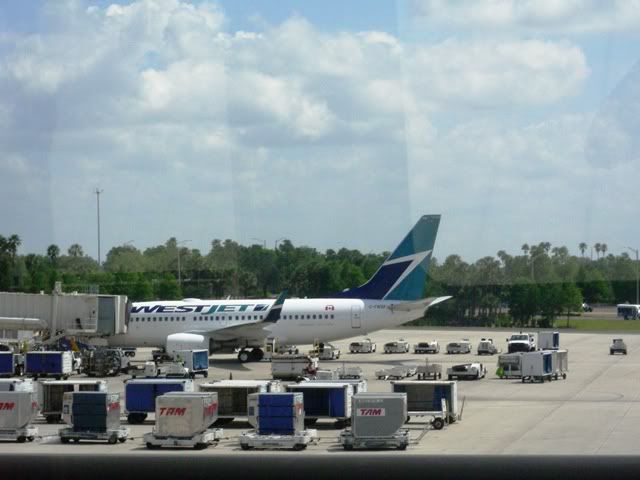 While walking around I did notice a few (mostly elderly folks) wearing masks due to all the hype over the swine flu.
After I saw all that was to be seen, I went back to the gate and enjoyed MCO's free WiFi on my laptop. I tracked our plane (as YX 90 from MKE) to make sure it was running on time and also looked up our route. Having my flight bag with me as a carry on I referenced my approach plates to see what we were about to do, and in this case we departed via the JAG3 (Jaguar three departure direct to DBN VOR).
Midwest Airlines flt. 91
MCO-MKE
717-200
seat 6A
load factor: ~90%
Scheduled departure Actual departure
1:43 1:45
Scheduled arrival Actual Arrival
3:11 3:13
our flight path
Once the aircraft arrived at the gate and deplaned, the turn-around was expeditious and we began boarding right on time.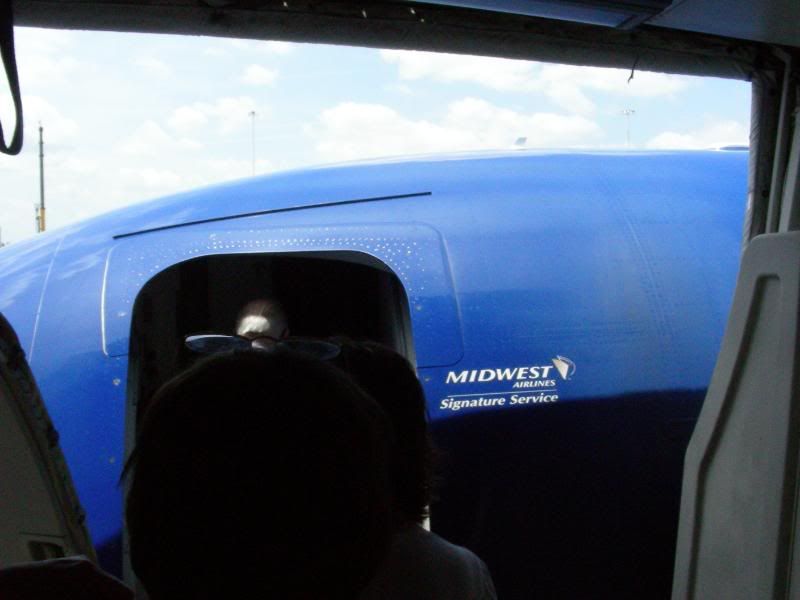 about to step into one of the classiest airplane's.. YX 717's!!!! haha I know I'm a little biased, so get over it!  
My seat, 6A. Decided to pay the additional $30-35 for the signature seat and let me say it is definitely worth it!
Cockpit door open while we waited for one late passenger to arrive
Now that's good legroom! the footrest is always nice as well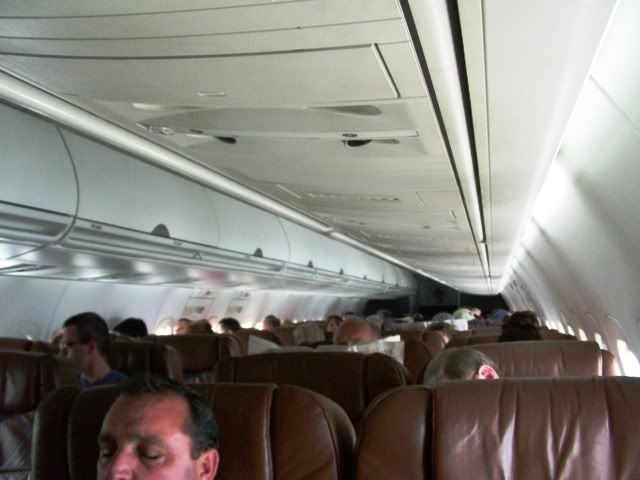 Cabin shot looking to the back... I think I scared the guy directly behind me when this was taken, but then again who cares, I was doing this for Airliners.net haha All the regular saver seats were full with the only empty seats being in the few rows of signature seats behind me.
With the late passenger finally in his seat, cabin doors were shut and push-back initiated. Midwest's safety information is all recorded these days, which at first I didn't like but it has definitely grown on me. Its clear and professional 100% of the time so not a bad deal.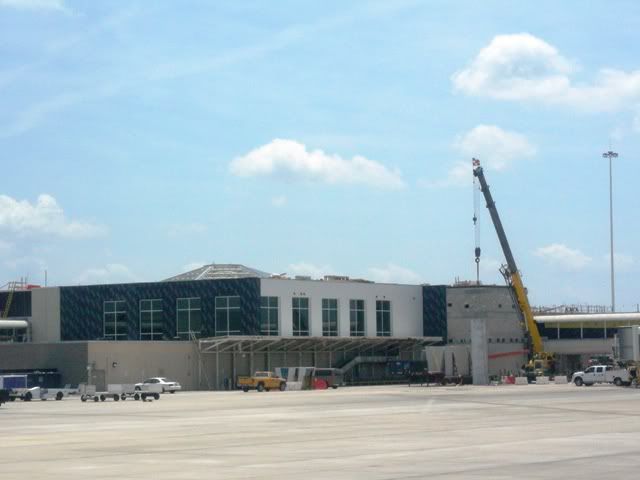 construction on the exterior of airside 1
We taxied to RWY 18L via J2, C1, J. I noticed pretty quickly that we were doing an intersection departure at J and 18L because the taxiways and runway north of that point are closed, for what I am not sure. Anybody know?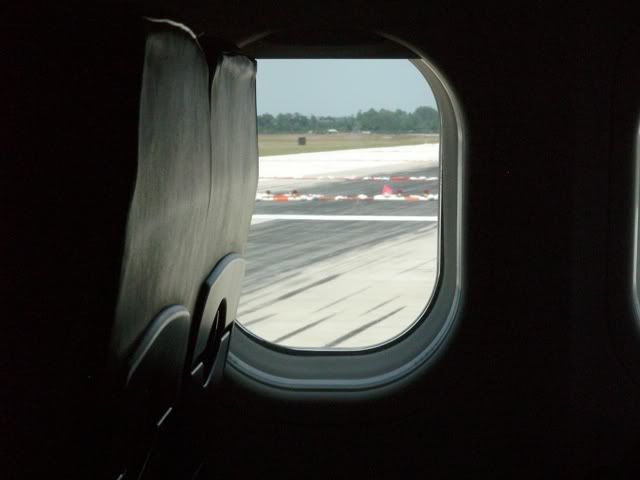 tried to snap this shot across the cabin out the opposite window to show the barricades on the closed portion of the runway.
pulling onto 18L.. the pilots made a really wide turn before aligning the nose wheel with the centerline as if they were performing a short-field takeoff like we do in the C172s lol
For the next 2-3 minutes or so we positioned and held on the runway possibly for the standard 2 minute wake turbulence separation from a heavy departure on the east-side.
Then before long, "Midex 91 turn right heading 220 cleared for take off 18L"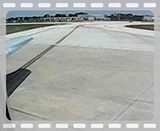 The majority of the flight was very smooth with a light-chop from clear air turbulence over Georgia which prompted the pilots to flip on the seat belt sign. The cabin announcement to remain seated with seatbelts fastened was once again all recorded. Shortly into the flight the pilots mentioned the route of flight and they continued to update our position a few times, one thing I appreciate of pilots who go the extra mile in making a few additional statements.
somewhere over Georgia
Starting to get a little hungry, I opened the in-flight-guide and checked out my food options.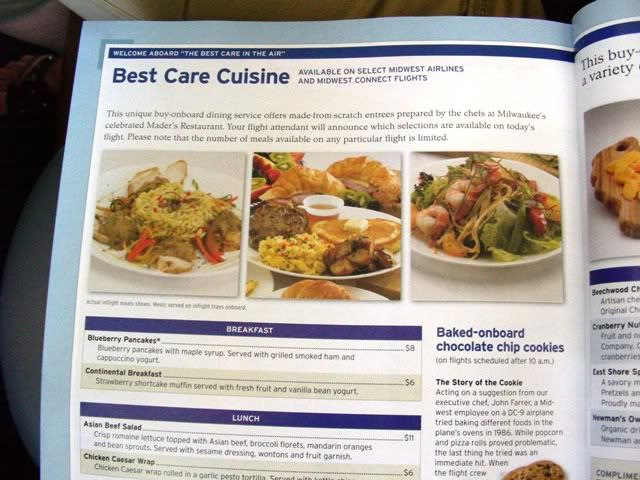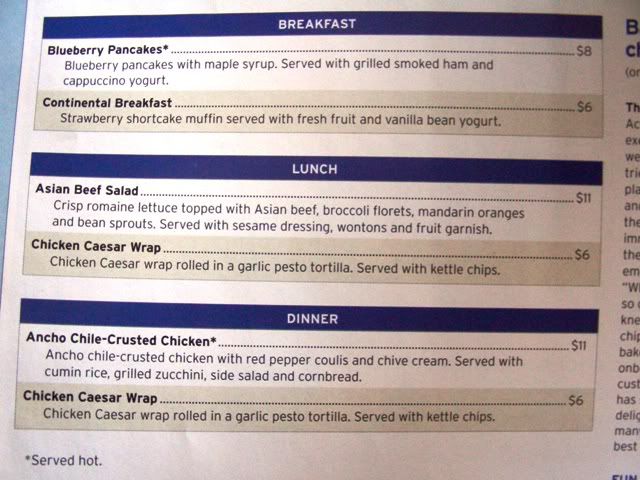 I've had Midwest's buy-on-board food in the past and have been very satisfied with it so I was willing to try it again. This time I went with the $6 Chicken Caesar wrap and the $4 cheese curds.. yeah yeah I'm a typical Wisconsinite lol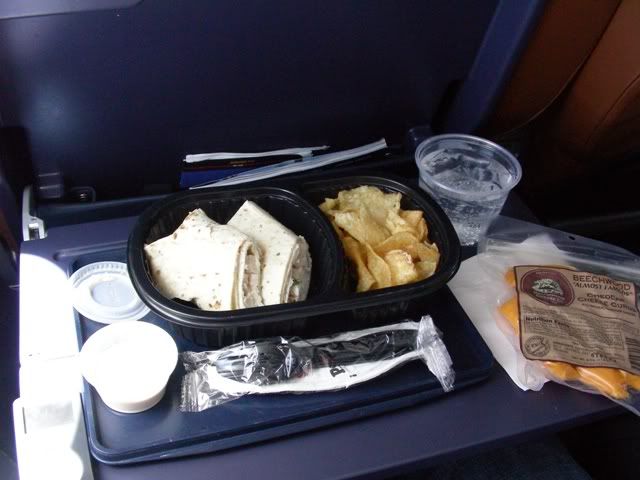 The food was pretty darn good and after eating I started to doze off a little with my iPod on and was soon awoken by the smell of the always delectable chocolate chip cookies. And I'm not joking, the delicious smell of the freshly baked cookies truly did awake me, no lies. In fact I was laughing about that with the FA and she told me of a story where she waved a cookie in front of this guys nose while he slept and sure enough he woke up. Must be a lot more common that I had thought!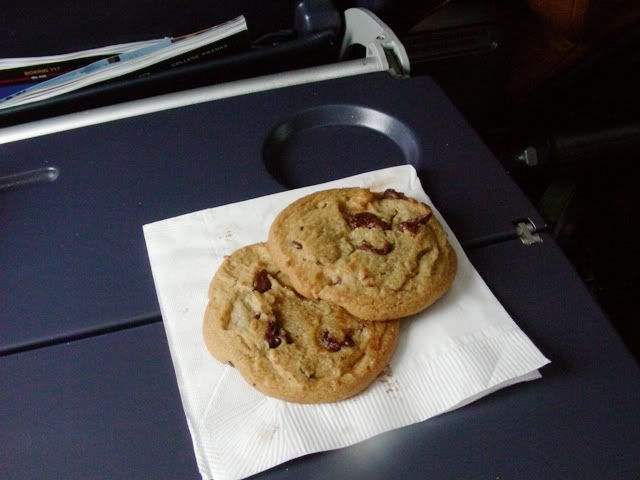 Yum  
With the cookie service came a second round of drinks which is rather nice compared to most domestic flights I've been on. The flight attendants did a great job and were very friendly/personable, however, they seemed to have a lot of work just for the two of them. Then I figured out that Midwest probably configured what would normally be a 3 FA cabin into one with 2 instead by only having 99 seats total. The 717 is configured with 40 2x2 signature seats and 59 3x2 saver seats so that they did not exceed 100 which would require a third FA onboard.. just another of Midwest's little measures to reduce costs I presume.
The service was overall great, except at times it took just a tad bit long for the trash to get picked up, but after observing and reasoning through it all it made sense and was not a big deal. After the cookies I started to doze off again and this time actually fell asleep for about 30 minutes or so. I think the combination of my exhaustion and the extremely comfortable seats made my little nap quite justifiable. Hell, it's hard not to fall asleep in seats like those! The retractable headrests that come out of the seat tops are also another nice touch of added comfort.
As the pilots gave one last position report (approaching the southern tip of Lake Michigan) we were already on our way down from FL 350 passing Chicago around 20,000 ft... but because we were in IMC the city was unseen. We popped out of the clouds about 15 minutes from MKE still over the lake. We got vectored for the visual 25L approach, which I was not terribly excited about because that's the most common approach I get when I land at MKE. Damn westerly winds ever heard of variety??
The lakeshore along Cudahy, WI
video of the final approach and landing at MKE. Touchdown was smooth with a slight right crosswind. We landed pretty much right on schedule and made our way towards D42. To get there we had to taxi around the entire terminal ramp which provided lots of photo opportunities...
My future place of work on the right? Lets hope so! It's a great facility and I've met so many controllers and supervisors from there. I should hopefully be going up in the next few weeks for another visit/shadow day. maybe I'll snap some photos this time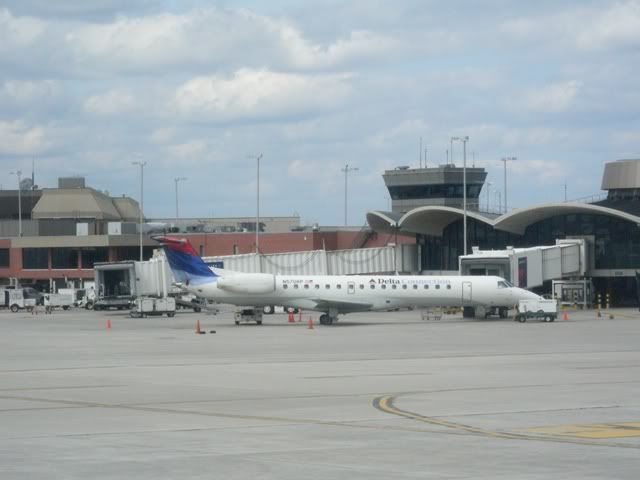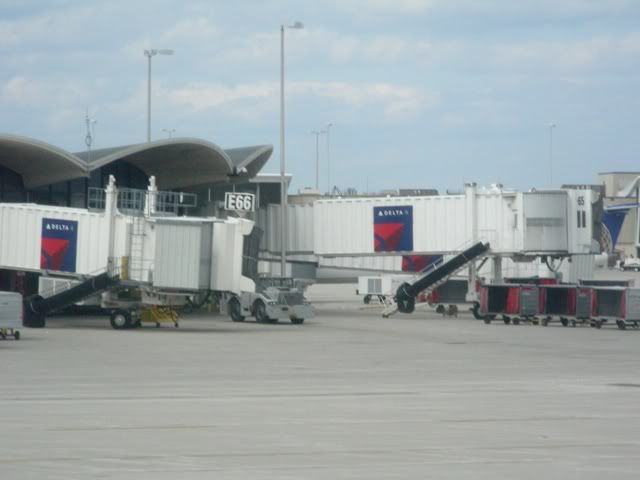 Delta's new E gates (6 total)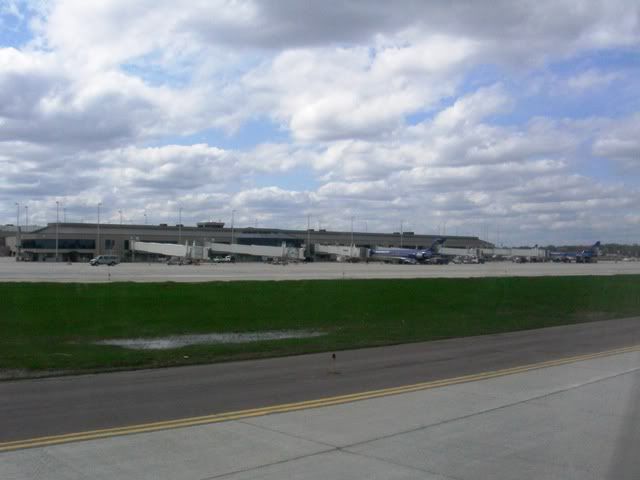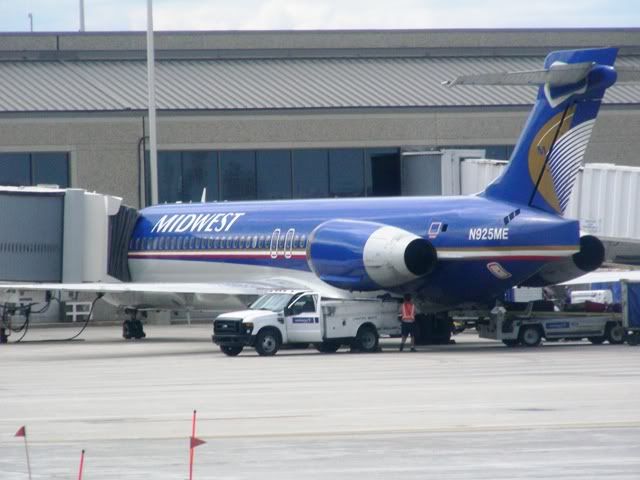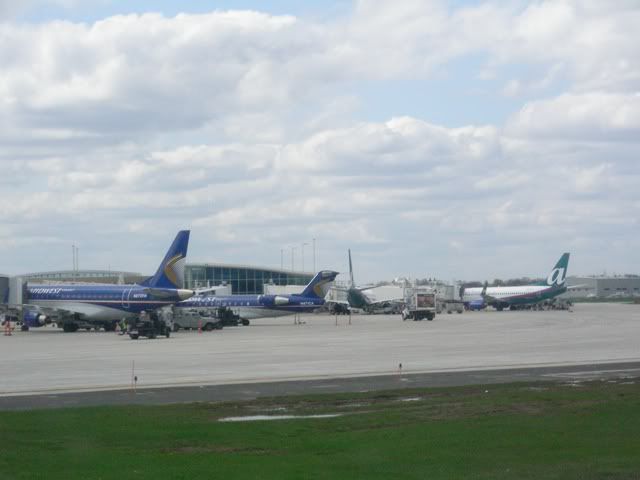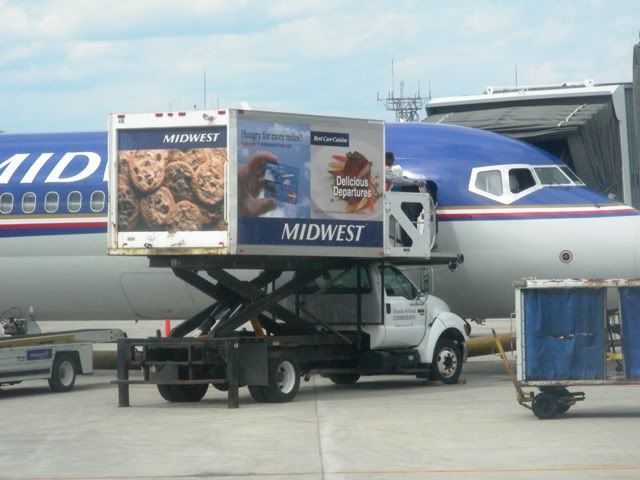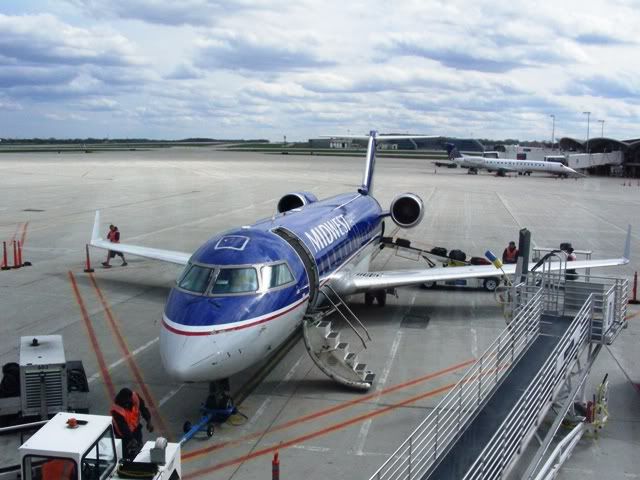 Inside the stem of concourse D with the ground level boarding area down below. Very appealing to the eyes... I must say MKE has really come along in the past several years.
MKE had a fair amount of activity going on at the time of our arrival.. catching a glance of the departure board as we deplaned, I saw that our 717 was to head to LAS shortly thereafter. Claiming our 4 bags went well and before long I stepped out side and instantly wished the 90 degree weather was back! 58 just wasn't cutting it at the time  
Summary: Well, once again I'm pleased to have gotten to fly with Midwest. If it's not too obvious, I'm in love with my little hometown airline and their unique product. It's just disappointing to see all of their cutbacks and service reductions. I hope the best for Midwest and do not want to see them turn into a virtual airline with all outsourced flying; as the trend appears so now.
It's good to be home for this much needed break from the Riddle routine. It'll be nice seeing some familiar faces again and I'm sure this first summer back from college for all my friends will be enjoyable and definitely one to remember. Thanks for reading!
-Gaston
[Edited 2009-05-04 00:27:20]