Hello dear readers, time for a new trip report. My last flight was back in January (to JFK), so it was time for some new flights. I was looking around for some time and ended up with a short break to DUB.
I arrived at PAD about 1 hour prior to departure. Check in was done online the night before. Not much traffic at the Check in counters and after a short wait I dropped my bag and showed my id card, because my final destination Ireland is a non-schengen country. Then I went through security where I was the only customer. Then on to gate 6 where the LH business lounge is located as well. It's a small lounge without staff. When entering the lounge you have to type in a code number on a panel next to the door. You get the number at check in. I sat down for a while and watched out of the window and waited for the incoming flight from FRA. Soon thereafter D-ACJH arrived and parked in front of the lounge.
Flight: LH 1171, operated by Lufthansa Cityline
Route: PAD-FRA
DATE: 16. May 2009
SCHEDULED: 09:00 // 09:45
ACTUAL: 08:55 // 09:35
A/C: CRJ200LR
REG: D-ACJH (little Europe), 22nd flight on a CRJ100/200, 4th time on this machine
SEAT: 14F
CLASS: ECONOMY
View Large
View Medium


Photo © Nigel Fenwick
This aircraft was delivered to LH Cityline on Oct. 27th 1998 as a CRJ-100LR. I'm a bit confused about the type, because nowadays they are called CRJ-200LR. I don't know the difference from a 100/200 and LR/ER. Is there anybody out there who can answer this question?
It's already my 4th flight on this particular plane. Usually I'm disappointed to miss a new entry to my log, but flying on a plane with a special livery is a way of consolation.
I left the lounge a few minutes prior to boarding to take some photos: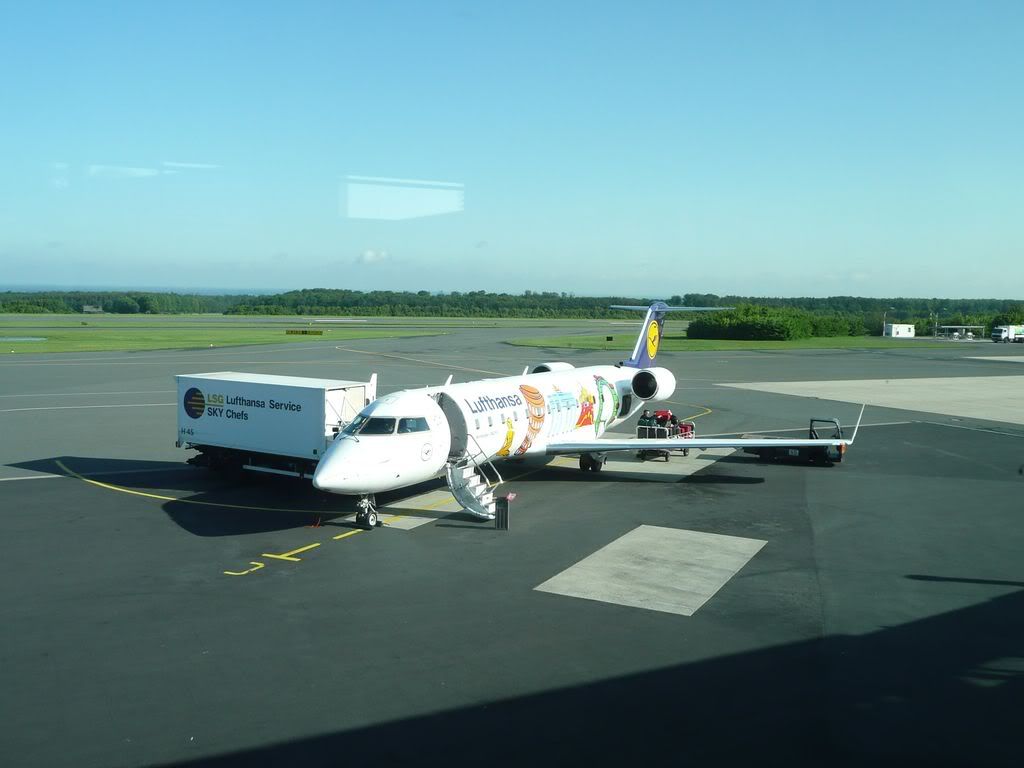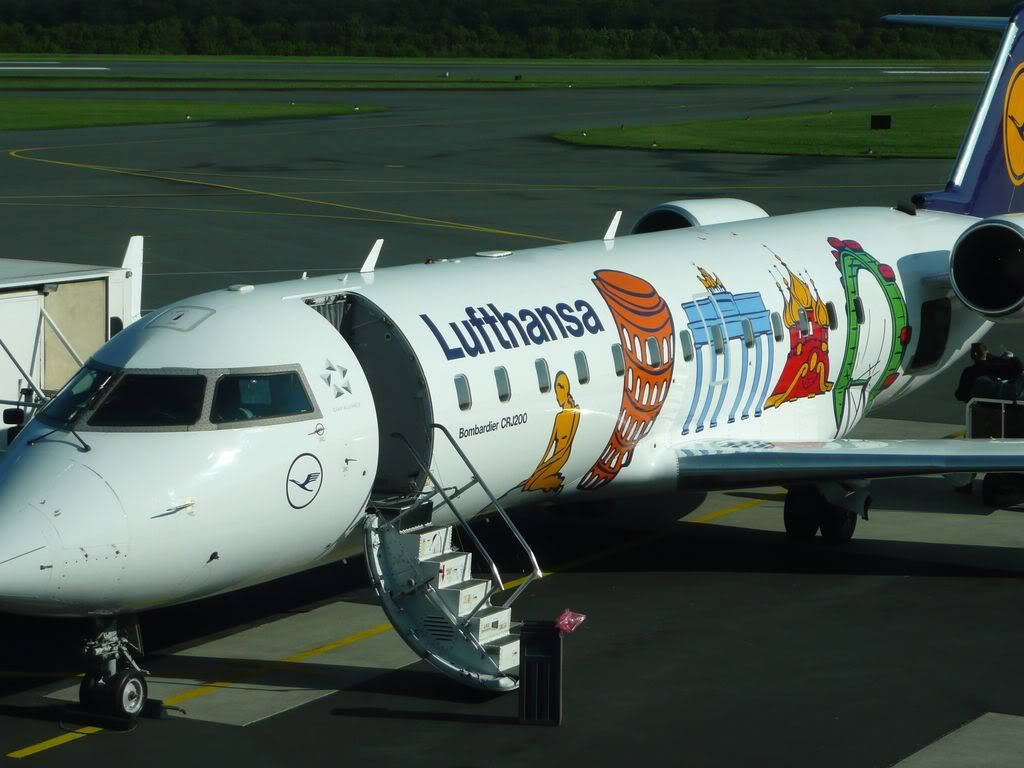 Boarding started on time and we went down the jetbridge to the apron.
At the door I was greeted by a female f/a. My seat was 14F in the last row. The aircraft has 13 rows. Row 13 is missing, perhaps they are superstitious? The seat next to me remained empty. In 14A was a LH cockpit dead head crew. 14B remained empty as well. Today only the last 5 rows of the plane were economy, the front part was filled up with business pax. Good load today, also the economy section was pretty full. Nevertheless LH will suspend operations from FRA to PAD. From July on all LH pax will have to fly via MUC.
Boarding was completed soon and the captain welcomed us aboard, followed by the stewardesses ballet, the manually safety demo. We left the parking position 5 minutes ahead of schedule and took off from rwy 24. The flight was uneventful, one round of beverages and soon we started our approach into FRA.
Inflight:
We landed on rwy 25R and taxied to a remote stand at the Cargo City. A bus picked us up and brought us to terminal 1. Most pax were transit pax, me too, but I left the airside area and went upstairs to the check in desks to change my self printed boarding pass into a really one. Economy desks were crowded, but thanks to my frequent traveller card I could use the business desks with only a few minutes to wait. I got my boarding pass without questions and went down again to the regional train station. I had about 6 hours to kill. I could have had a shorter connection, but I always prefer to have some time to visit the city of Mainz. I lived there some years ago and now I use every chance to go there again, so I did on this sunny Saturday morning again. The ride took about 30 minutes and here we go:
Rhine river in the city: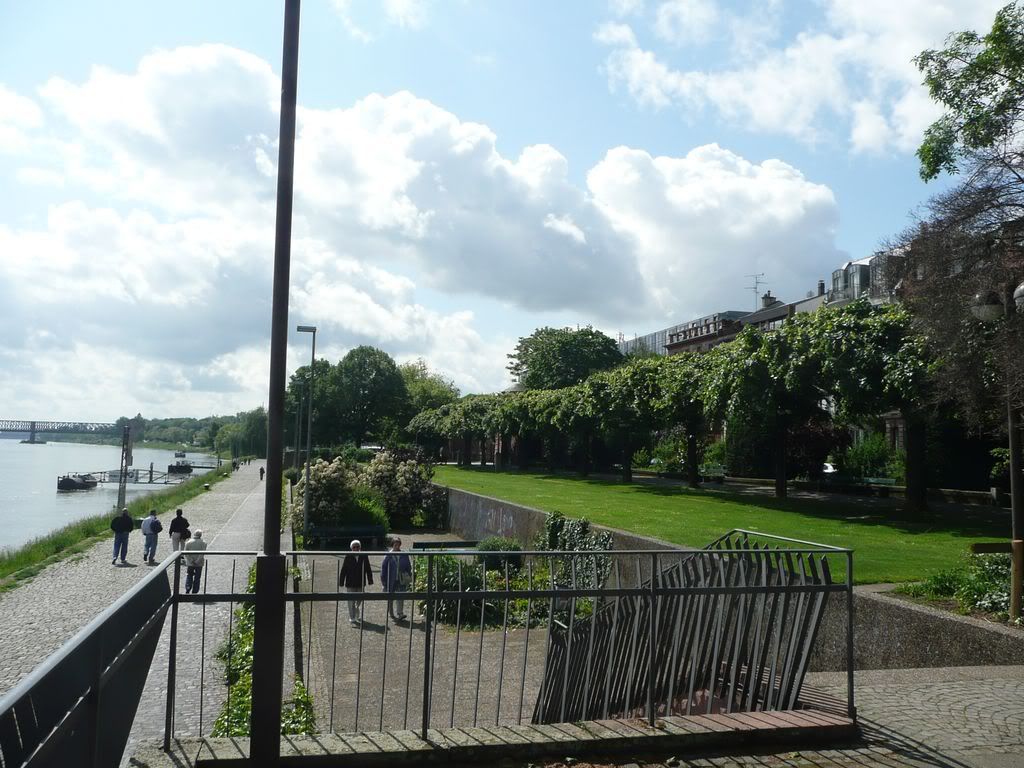 The market:
After strolling around I went to the brewery and had lunch:
After lunch I took the InterCity train to the airport where I arrived at the long distance train station:
The bridge from the train station to terminal 1:
After reaching the terminal I entered hall B, which has two security checks. First I headed to the left one, which was just got closed for some reason. A female guide wanted to lead all pax to the other entrance. Between the entrances are some shops and a bar. Luckily I knew the other entrance and took a shorter route and hurried to the right entrance, where nobody was in line, so after only a few minutes I was airside. First I strolled through the main shopping and dining area, then to the east gates and at last to the west gates, where I wanted to enter the business lounge. In my experience this lounge is not as crowded as the other ones. But I couldn't find the entrance because of extensive construction works the lounge was closed. I remembered that I read something about this in the LH magazine last time and that there should be another lounge area. I asked a LH agent at an empty Chennai gate and she told me, that I got by already. I went back and noticed, that the lounge was now only a separated gate area. Everybody could look over the barrier into the lounge, but the beverage and food area was hidden behind a bend. I didn't take anything, but I saw a bakery where you could get fresh bread and sandwiches, fresh made on demand. Nice Idea IMO. The lounge was pretty empty, only a few sleeping pax. I took seat at the window and enjoyed the view.
The bakery and beverage area:
LH A319 D-AILU:
LH A333 to KWI:
The A pier with the sky train station on the roof:
LH 744 D-ABVN towed to the A pier:
Flight: LH 4982
Route: FRA-DUB
DATE: 16. May 2009
SCHEDULED: 16:20 // 17:20 (1 hour time difference, duration 2 hours)
ACTUAL: 16:15 // 17:05 (gate to gate)
A/C: A321-131
REG: D-AIRO (named after the city of Konstanz), 5th flight on an A321, 1st time on this machine. It was delivered to LH on Dec. 11th 1995.
SEAT: 15A
CLASS: ECONOMY
View Large
View Medium


Photo © Richard Lundgren
Soon it was time to leave the lounge. My gate was B32. It is a bus gate in the centre of the B pier. Another security check was necessary. After some minutes boarding was announced. I was one of the first pax down in the bus. The bus brought us to a position between the B and C pier, which has no own gate. We boarded the aircraft by stairs:
View from my seat:
We were greeted by a male purser at the door. Boarding was completed fast. The seat next to me remained empty again. At the aisle sat another man. Doors were closed and another welcome from the cockpit. Stewardess ballet (safety demo) was again done manually. What a pity that LH doesn't have screens on their medium fleet.
While taxiing to rwy 25R, busy new C gates: three LH 744, the first is D-ABVA, which flew me to JFK back in 2007.
A towed LH A340-600:
At rwy 25R we had to wait for an incoming LH A300-600. I love these planes:
We took off at 16:23 and headed north west.
After the seatbelt signs went off the crew started their service. We got a banana-chocolate bar, a wholemeal bread with cheese and a drink. I chose a tomato juice with salt and pepper:
After a while in the air the captain came again on the speakers and informed us very detailed about our route today. We flew via Eindhoven, Rotterdam, north of London, Manchester and Liverpool towards Dublin. Our crz alt was 36.000 ft and the speed 850 km/h. Over Liverpool we would begin our descent into DUB.
Reaching the UK:
Leaving the UK: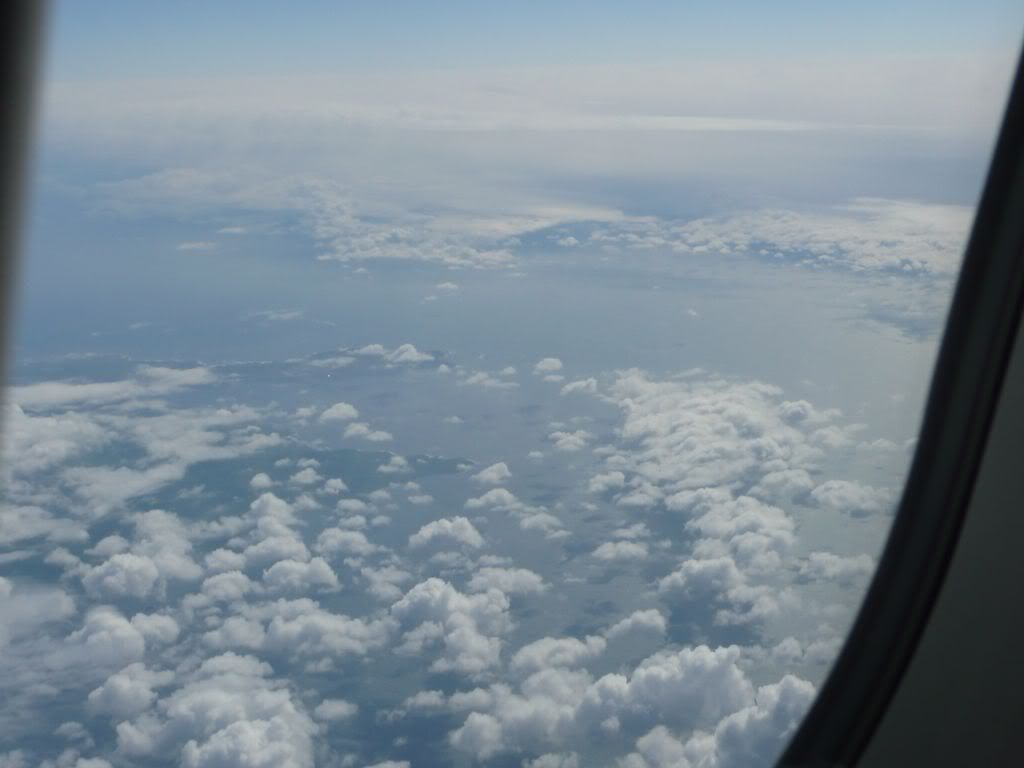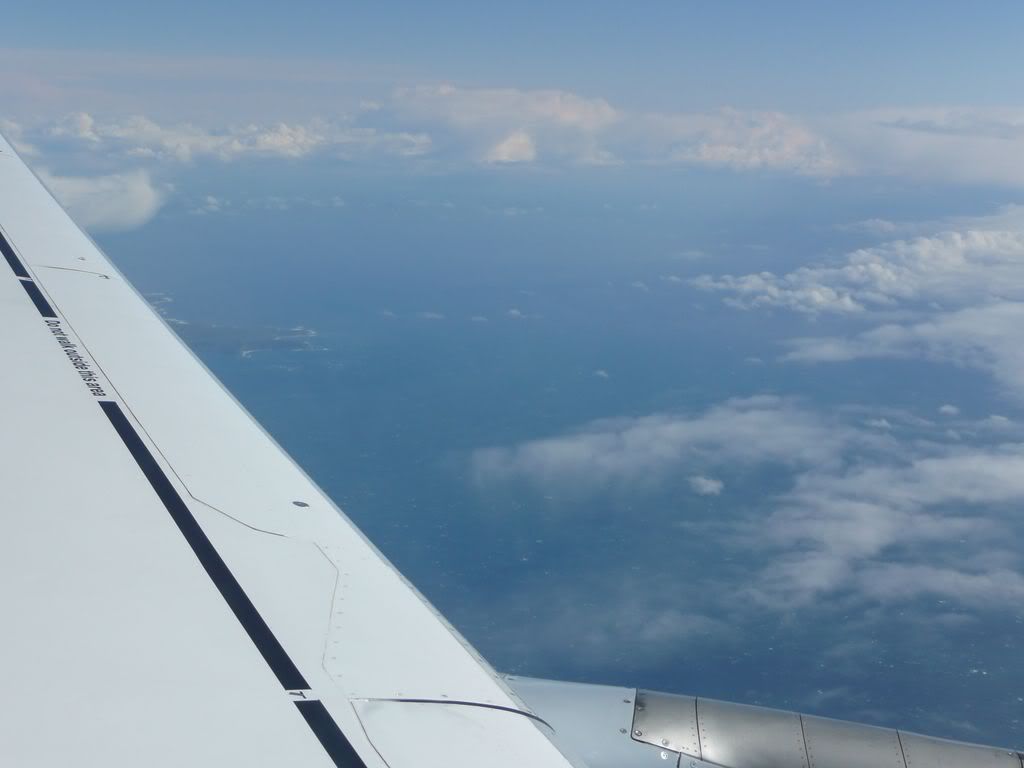 Because of that the captain and the purser were soccer fans and this Saturday afternoon were several important games in the German soccer league, they informed us three times about the current scores. They did it only in German and informed the other pax in English, that the soccer score would only be interesting for German pax.
The purser was a tall strong looking man around 50. No smile on the face, like many A.netters describe the uncourteous LH crews.
Back in 1999 I've been already to DUB. Then we had an approach from the sea to the land. I remembered that I had an A seat and a beautiful view over Dublin city. Therefore I chose an A seat again today, but unfortunately we made our approach from land to sea. After getting through the clouds:
The airport is already visible:
We landed on rwy 16: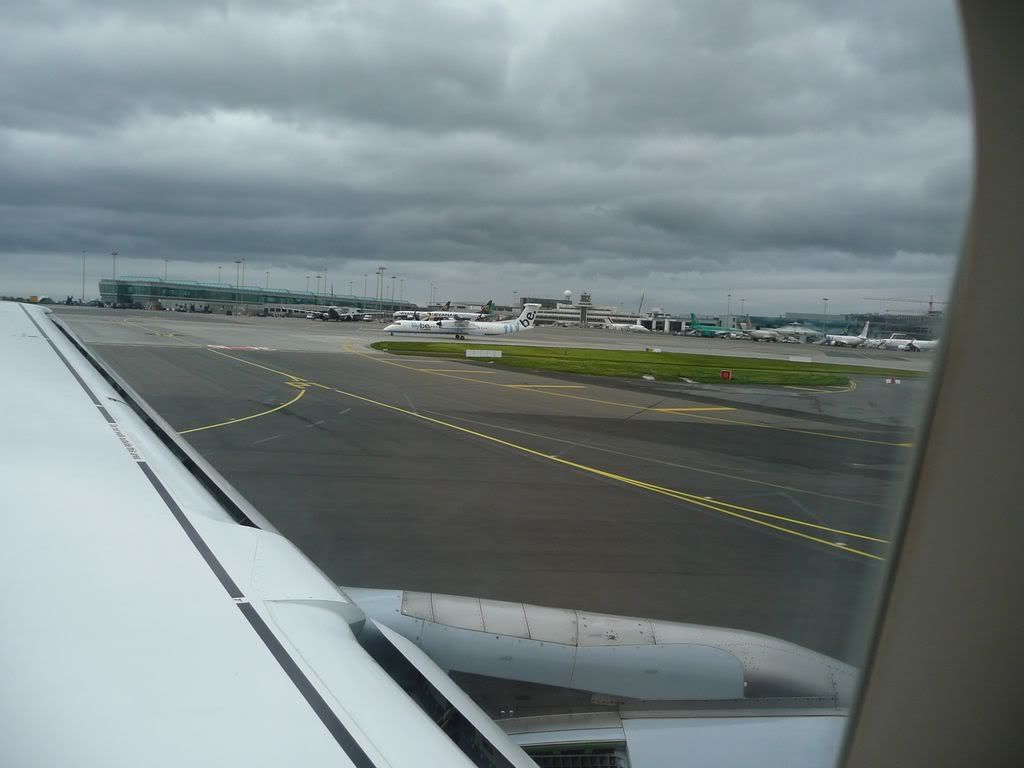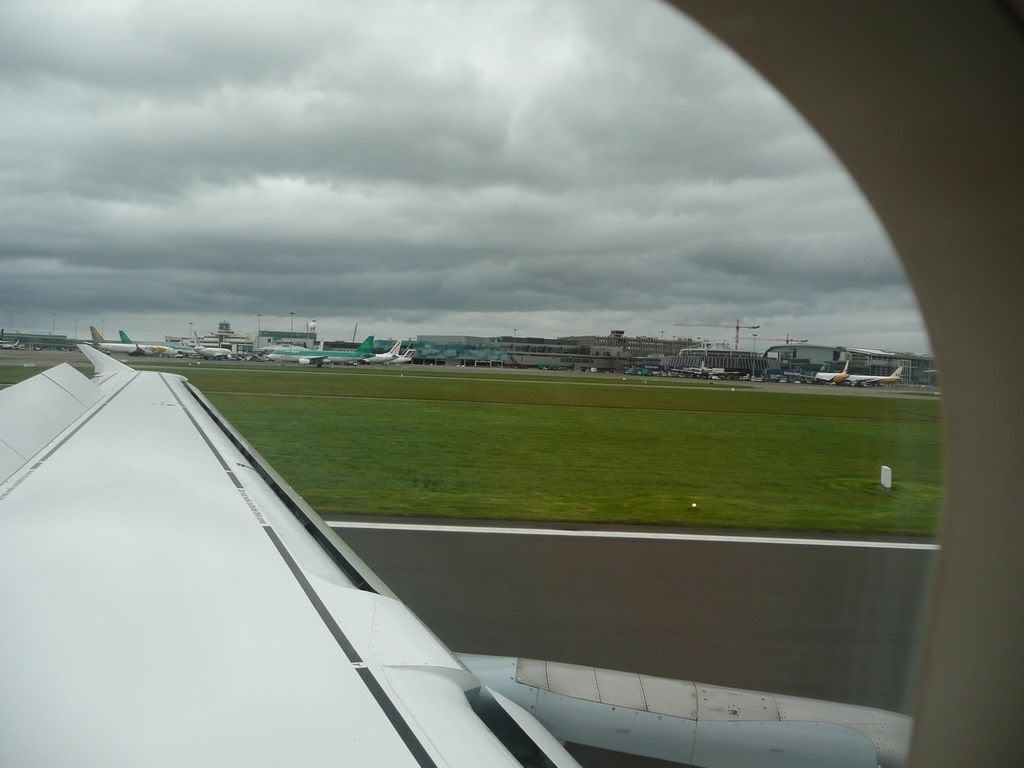 A 737 Cargo: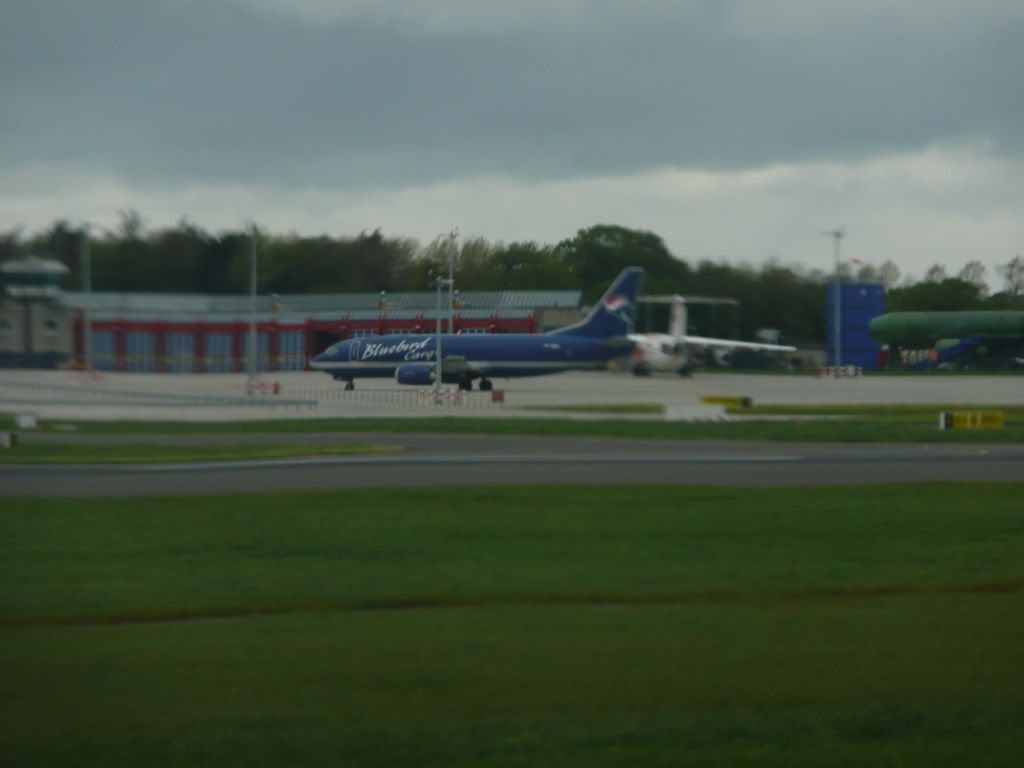 While taxiing the purser said: "Ladies and Gentlemen, outside it is green, it is raining and it is cold. Welcome to Ireland!"
Two locals and a visitor on remote stands:
We reached our parking position in front of the terminal, but without a jetbridge. Therefore we had to use the stairs and walk into the terminal. I thanked the purser for the soccer scores with a smile. Now his face turned friendly and he smiled as well. Nobody was behind me this moment, so we had a quick joke, said our goodbyes and wished us a good day. He was a funny guy. Perhaps we Germans are only looking a bit grimly sometimes.
D-AIRO at the terminal:
This architecture is not made for photographers:
I walked a looong way into the main terminal:
The new terminal is still under construction:
Finally I reached the main terminal and came downstairs into the passport control hall. It looked already crowded, but it moved quickly and after less than 5 minutes I was through. I went to the baggage claim and waited some minutes until the belt started turning. I never understand the crowds scrambling for the belt without seeing their bags. I always wait in a distance and go to the belt when I see my bag. After grabbing my bag I went outside and looked for the hotel shuttles. As I couldn't find any I asked two police officers, who had a smoke, and they told me to go to the other site of the building.
I decided to go back into the terminal and up to the departure level to check in and get my boarding passes for tomorrow morning. The LH counters were already deserted. So I went outside again and to the bus station, which was assigned for the Radisson airport shuttle bus. Several busses came, for staff, for other hotels, and after 15 minutes my shuttle arrived and picked me up. The driver stowed my bag in the back of the Mercedes Sprinter. The ride to the Radisson Airport Hotel took just a few minutes.
I chose this hotel, because I've been to a Radisson in Wiesbaden/Germany before, which was very pleasant. Furthermore the Hotel is located at the airport and my return would be in the early next morning and I didn't want to get up at an early hour for a long ride to the airport.
And in my opinion it's always interesting to stay in an Airport Hotel, because in the evening at the bar I often meet interesting people from all over the world.
I entered the lobby and checked in. I got my door card and took the lift to the top (5th) floor. My room was booked on the Radisson website. They asked for additional wishes and I wished a room with airport or runway view. But when I reached my room I knew, that it was to the other side. The view out of the dirty windows was to the seaside, which wasn't bad either. Here are some pics of the hotel room. It was ok, but for a 4 star hotel and from this brand I would expect something different.
The room:
No comment:
Battered and overaged furniture:
Crumpled curtains: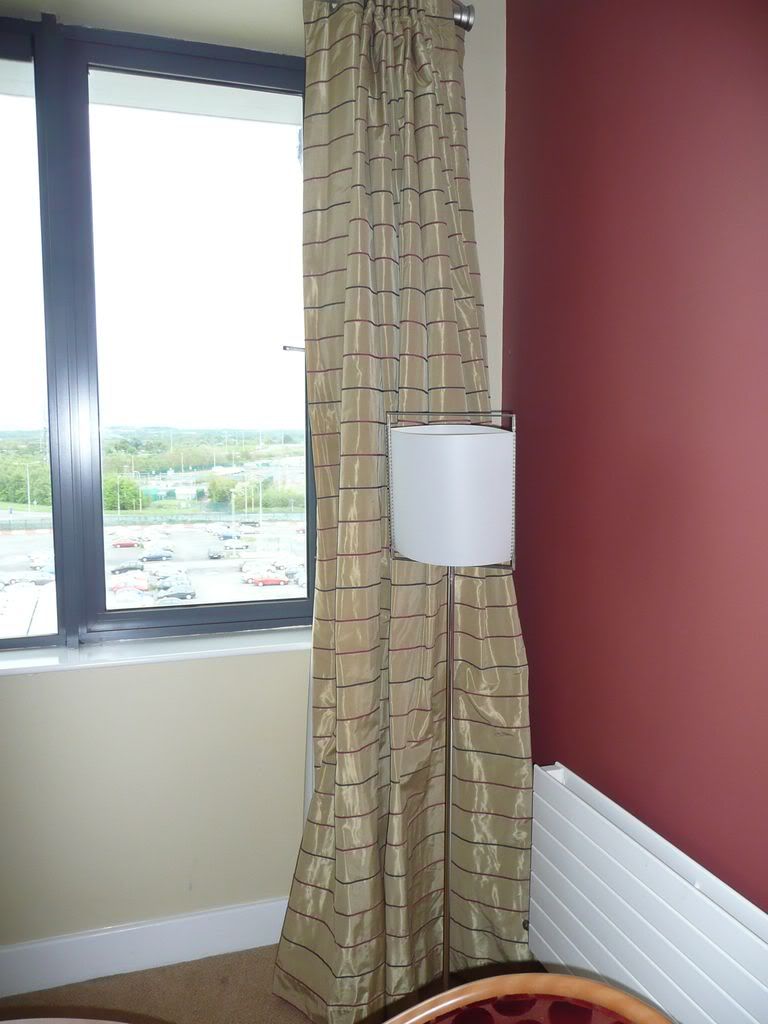 The view:
The bathroom:
Ironing board:
After a refreshment I went down into the restaurant. I chose pasta with a tomato-pesto, but the meal was below average. After the meal I changed to the bar, where already some people were sitting. Later I chatted with a native Scotsman who lives in Australia now and two young girls from Austria, who drove arround Ireland by car and had their last night in DUB before flying back to Austria. It was a nice and funny night with several beers for all of us
.
Conclusion:
LH did a good job again, all flights on time. Mealservice… well, we all know there is OS or maybe some other carriers. But it tasted good for that short flight I don't make a big fuss. The crew in economy was friendly. The purser, who served the C pax, was friendly as well. Perhaps sometimes it helps, when you see a serious LH f/a and give him/her a smile.
Radisson Airport Hotel at DUB: Well, not what I expected. Nevertheless the night at the bar made it up. Let's see, next weekend I will stay at MAN Radisson Airport Hotel. If it fails, maybe I will change to another brand. Anybody out there, who made experiences with Radisson Hotels?
That was part 1. The return flight will be posted in a separated report. Questions and comments are desired as always.
Cheers,
Stefan