Hello
I wasn't at first sure if I was going to write this report, as I had to wait until the flight mentioned "no longer operates" (for security reasons) hence why it has actually taken me so long to release it (since the day I actually took the flight). But alas, I hope you will enjoy it anyway.
The following report is about my flight home on "shore leave", with FlyGlobespan, whilst I was on deployment in the Gulf between September 2008 and March 2009.
View Large
View Medium


Photo © Tibor Mester
Leg 1:-
Date: 31 Jan 2009
Departure Apt: IUD (Al Udeid, Qatar)
Arrival Apt: BZZ (RAF Brize Norton, UK)
Aircraft: Boeing 767-300ER (G-CEOD)
Flight No: RR8841 (GSM 8367)
Seat: 6A - Economy Class
The 30th of January 2009 was to be the day I flew home on leave. However, bad weather and "ATC Delays" would soon change that......
It all started on the evening of the 29th of January, when I checked in for my flight at the 'British Passenger Terminal', Al Udeid Airbase (AUAB), Qatar. The base is one of the biggest USAF bases in the world, and is literally in the middle of the desert, but that doesn't prevent it from having its own fair share of "operating difficulties".
I knew the military "passenger service agents" who would be checking me in that night (I am one myself) as they were part of my deployed unit in the middle east, so I was almost guaranteed a seat in C class on this aircraft (there were 3 rows IIRC), provided no VIPs were due to fly on it.
Anyway, my flight was due to leave at 0730 local time on the 30th, and I was glad that I was able to be flying home in only a matter of hours, so settled down in the departure lounge watching TV and eating snacks.
During the night of the 29th, the excellent weather changed - very quickly, to such an extent that at 2am o the 30th, I couldn't see 50 feet in front of me due to..... FOG!!! Yes, there you have it, a very thick blanket of fog had moved in and effectively shut down the base, grounding all flights. We were soon informed that even C130 pilots were choosing not to land due to the zero visibility on the runway. That was an extremely rare event, apparently.
At around 0500 local on Friday, I went to speak to the agents, and was told that our aircraft was ready to leave DXB, for the short hop over to the base (the crew stopped in DXB between trips). "Thank god" I thought, but then I remembered the fog and thought, "even they can't land in this, or are the pilots going to try"???
At 0700 local, we were informed that the aircraft was waiting for permission to depart, and we would be told when it was in the air. Ok, that was pretty good, or so we assumed. The flight kept getting later and later, and by the time the fog cleared, at about 11am, the crew had been on duty for over 6 hours, and because of ATC in Qatar not telling ATC in the U.A.E that AUAB was now open again, the crew eventually timed out on hours. Darn it
So, the next thing was to tell the pax what was happening. Because of crew rest requirements, the new departure time would now be 0200 local on Saturday 31st January!! Now, in an ideal world, you would expect chaos, but this being the military, it was rather simple, and the news was rather well recieved by most of the troops
I was asked (well, more 'ordered' really) to "help out" the passenger handling agents, and happily obliged in helping them find 130 beds for the men and women who were on the flight with me. It was off to the "transit" part of the base for the troops - huge accomodation tents that can hold about 50 persons each.
Eventually, by the early afternoon, I had been awake for 32 hours and was told to "go get some sleep" by the captain in charge of my unit, and to report back later that evening at 2200hrs.
That evening (Friday), I was ordered back on duty, and was relieved at about midnight when we were informed that the aircraft was "in the air", and heading our way, woohoo!
So, with the aircraft on route, it was time to check in 130 pax for the flight, and it had to be done in about 1 hour, and no more.
So, as a team of 6, we managed to complete this task, much to the satisfaction of our Staff Sergeant, who for once managed to stay cheerful. Unfortuately, my C class seat was not forthcoming, due to a high ranking officer flying on the aircraft, with his protection team, et al (All seats were taken in C by those people, and flight crew rest seats too).
At 0200hrs local (Saturday 31st) the flight landed, and the ground crews immediately got to work loading the baggage tins onto the aircraft, while we loaded the pax onto buses for the short trip to the aircraft. After al the formalities had been completed, we departed at 0315 local (0015Z), some 19hrs behind schedule! Our flight would be flying IUD-PAD-BZZ, and would now arrive BZZ at 0900 local on the Saturday, instead of the scheduled 1445 Friday.... Ouch
Takeoff was very quick, due to the aicraft being half empty, and not long after departure, the in flight service commenced. We were served a breakfast meal while the in flight movies were shown.
Safety on board
I fell asleep not long after the meal was served, and woke up over europe to take a few pictures from my seat.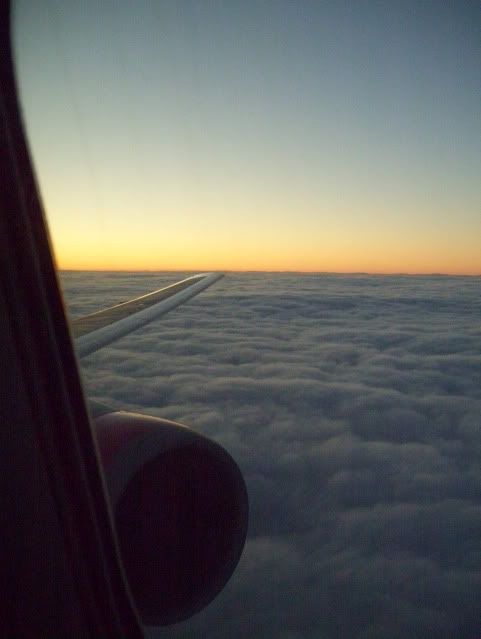 Troops on board (all in uniform of course)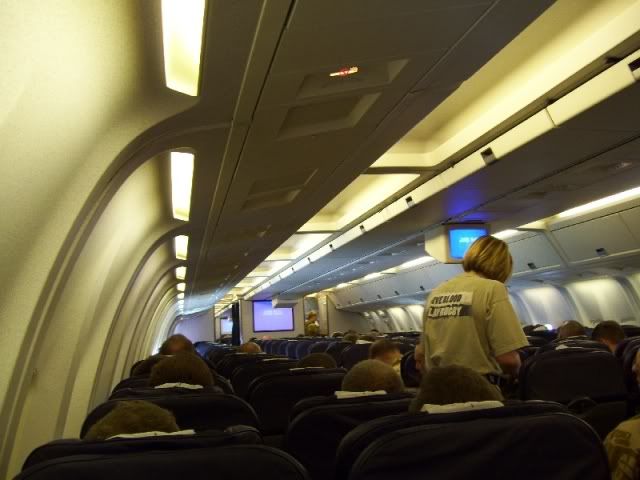 At 0800 local time (0700Z), we landed at Paderborn Airport.
Paderborn Airport
After only 50 minutes on the ground (!), with a change of flight deck crews, and some added fuel, we were ready to depart for Brize Norton. A snack was served during this very short hop, and after overlying LHR, we landed at Brize Norton airbase exactly at our revised scheduled time of 0900 local (0900Z).
Crossing the English Channel
A view of LHR from above
A few minutes after arrival, we deplaned and after a 1 hour (!) wait for my bags, I boarded a bus to Oxford, where 30 of us in our desert combat uniforms then boarded another bus (rail replacement) to Reading, from where we caught trains to London Paddington.
During my leave, I flew to the United States to spend time with my friends in Indiana, and this will be written about in another trip report soon, once I get around to it
I must apologise for the poor picture quality. For obvious reasons, the Canon 350D didn't go "On Ops" with me! I used a small pocket camera instead.
I Hope you enjoyed this report
Comments Welcome as always......
Lee
PS: I would like to point out (again) that the flight mentioned above no longer operates.