"Mission A380": The Disappointing Euro Legs
on British Airways, bmi and Aer Lingus
Intro
The third and final part of my latest report series about a trip to Doha ("Mission A380") covers the European sectors to and from London/Heathrow: MUC-LHR on British Airways (A319), LHR-DUB on bmi (A319) and DUB-MUC on Aer Lingus (A320).
All those who have missed parts 1 (including Emirates' A380) and 2 or want to read more about the background simply need to click here:
A380 Really a Step Forward? LHR-DXB-DOH On EK
Delights Of Doha, 773 & 77W: DOH-DXB-LHR On EK
Sunday, 15 March 2009
Munich (MUC) - London (LHR)
British Airways, BA953
16:05-17:15 (16:03-16:58)
Flying time: 01:35 (hrs)

Airbus A319-131
G-EUPY (MSN 1466), delivered in 04/2001
Economy Class, Seat 21F
Aircraft & Cabin Comfort
Checking in online on BA had been convenient on the day before, but unfortunately a dedicated counter at MUC didn't exist. So I had to wait in queue like all other passengers. 20 minutes later I passed through security and took a seat by the gate area window front.
G-EUPY
, an A319 delivered in April 2001, arrived on time.
The flight attendant in the back apparently wasn't in the mood for a greeting when I was heading to my seat. Anyway, the cabin was in good shape and the leather seats were quite comfortable: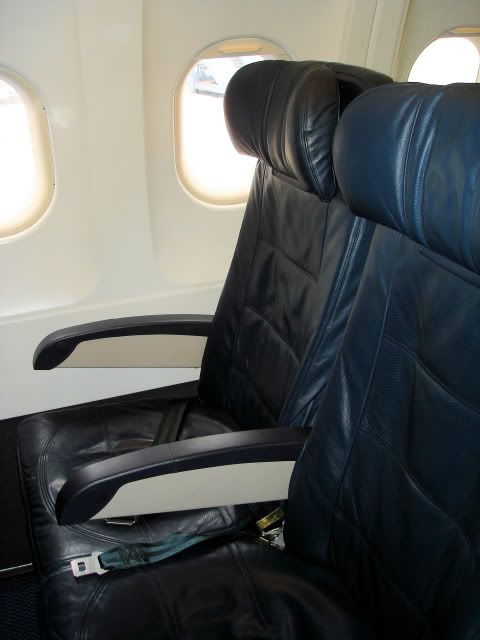 Seat pitch was sufficient for a European short-haul service:
Still painted in LTU colors: A330-200 D-ALPD:
Flight
We left the gate on time and soon broke through the gray clouds...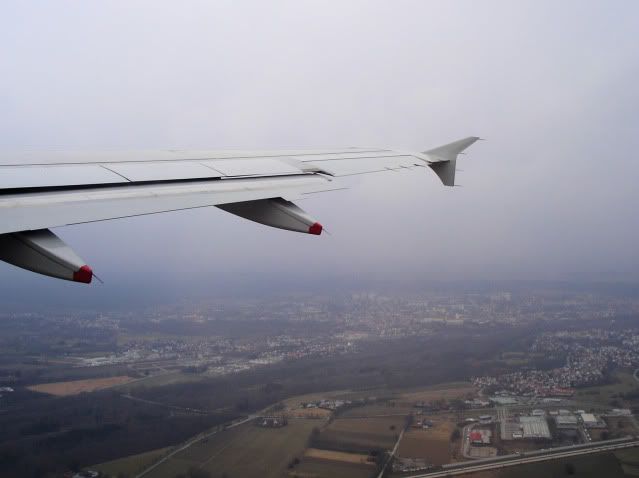 BA's A32X fleet is equipped with overhead screens - always nice to have an airshow on European flights:
Some years ago BA served rich sandwiches and even big dinner trays on European services, but all that has been replaced by cookies and muesli bars. While the other passengers in my row could choose between those two mentioned items, I was just given a bar (raisin & hazelnut):
White fuselage, red belly and red tail: Kingfisher A330-200 enroute to Heathrow: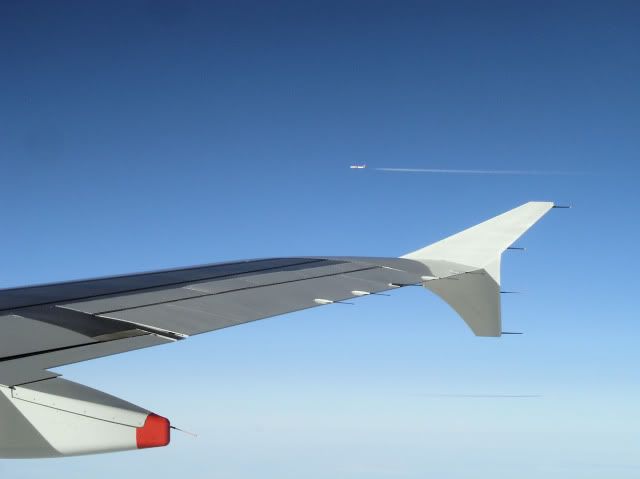 Who can identify that harbor?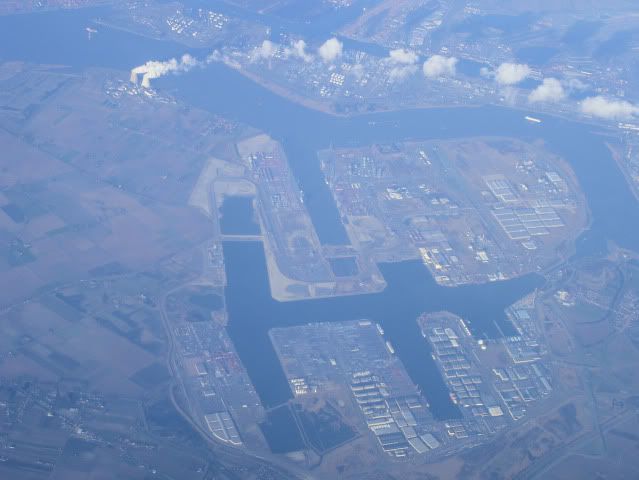 The approach to Heathrow's runways 27L and R is always enjoyable - if you are seated on the right side: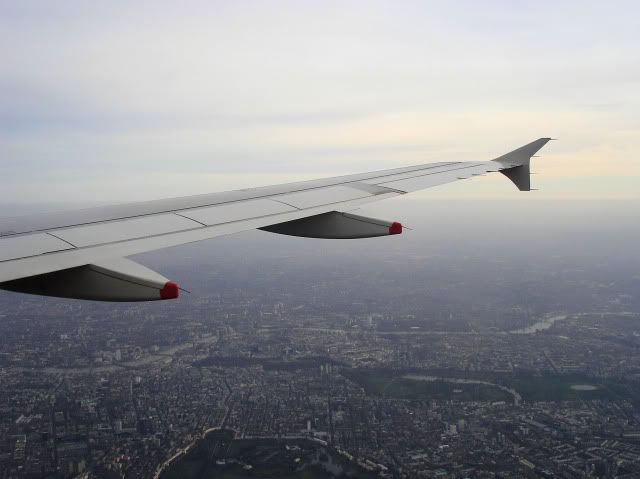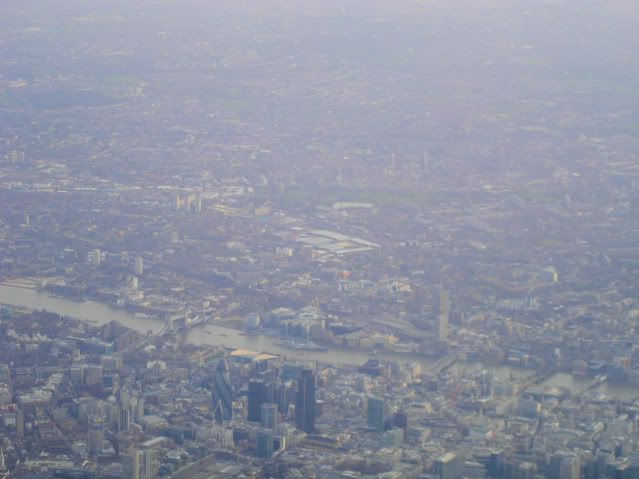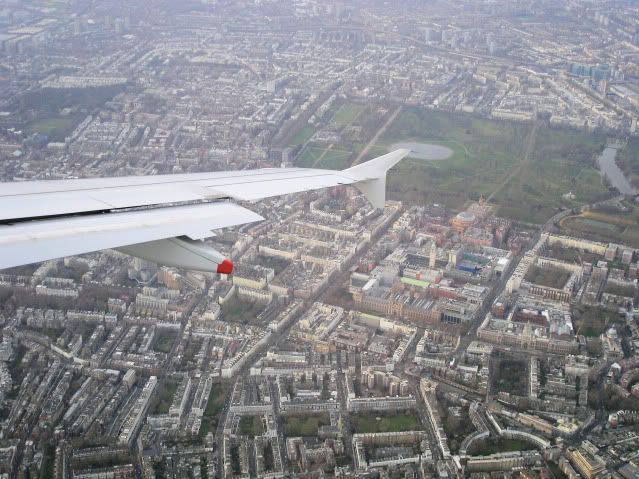 I arrived at the new Terminal 5 for the first time - it's definitely an impressive construction: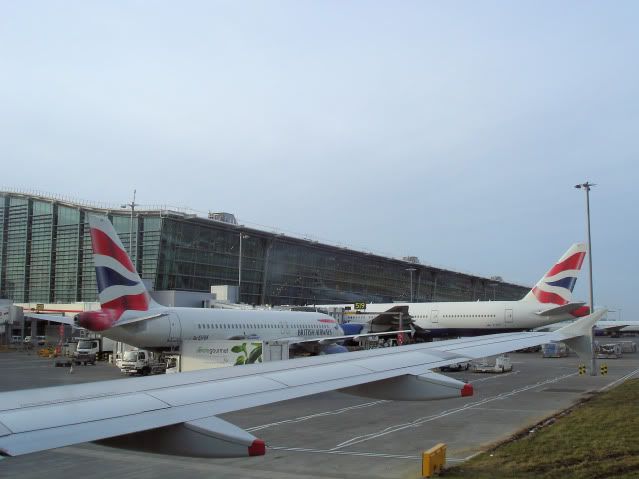 Spotting from the Jurys Inn
After grabbing my luggage I took a short subway ride to Hatton Cross and walked to the
Jurys Inn
, a hotel which I can only recommend: modern building, clean rooms, friendly staff and low rates.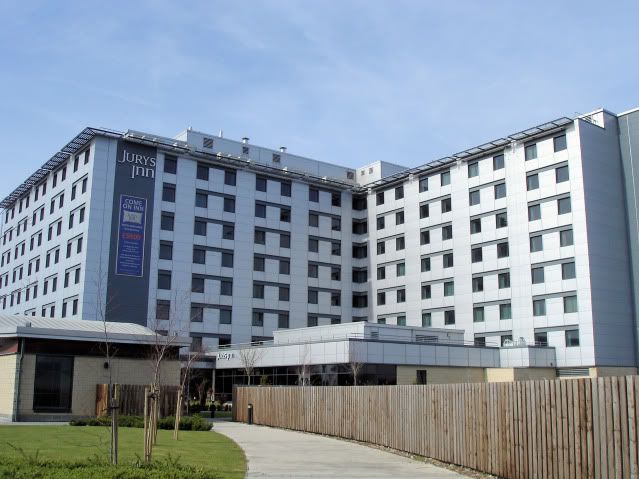 I asked for airport view and got a room facing runway 27L. It was becoming dark soon...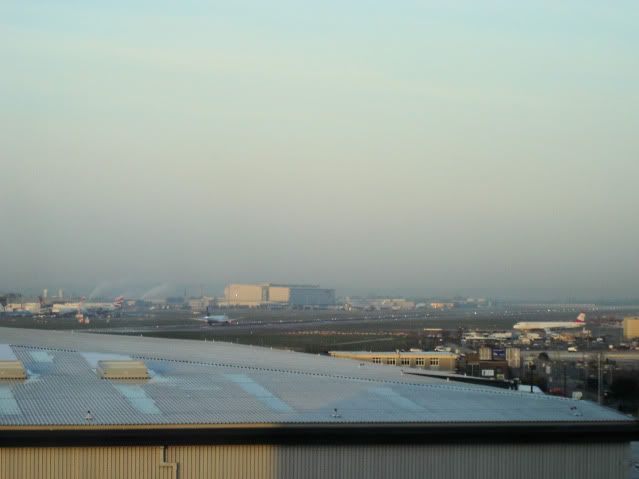 ...but I could see the registrations of most departing aircraft in the morning. This is VT-JEG, one of four Jet Airways 777-300ERs leased to Gulf Air:
British Airways backyard: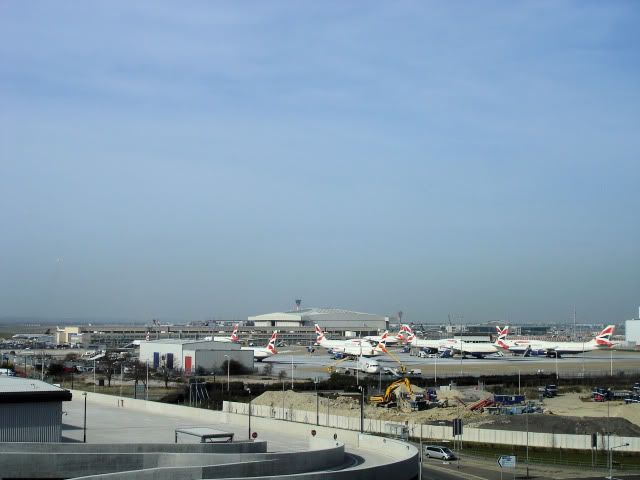 Thursday, 19 March 2009
London (LHR) - Dublin (DUB)
bmi, BD121
07:00-08:20 (07:06-08:37)
Flying time: 00:51 (hrs)

Airbus A319-131
G-DBCA (MSN 2098), built in 12/2003 and delivered in 02/2004
Economy Class, Seat 21E
No More Window Seats
After a short return trip to Doha and another night at the Jurys Inn Heathrow it was time to fly back home to MUC (via DUB). I didn't check in online on the evening before from the hotel - I had decided to show up at the airport early. However, my plan didn't work out. When I entered my data into a check-in kiosk at about 05:20 in the morning - more than 100 minutes prior to departure - I couldn't believe what I saw: no window seats left in the whole cabin!  
So I picked a middle seat over an aisle seat - because the chances would be a bit higher to see some more aircraft during taxiing.
Aircraft & Cabin Comfort
After passing security and several boarding pass checks, including a biometric face scan, as well as a long walk I finally arrived at the cramped Terminal 1 gate area. I hadn't paid attention to the number of rows during check-in so I was positively surprised to see that the originally scheduled A320 had been replaced by an A319.
G-DBCA
, the first A319 delivered to bmi, would operate the flight to Dublin: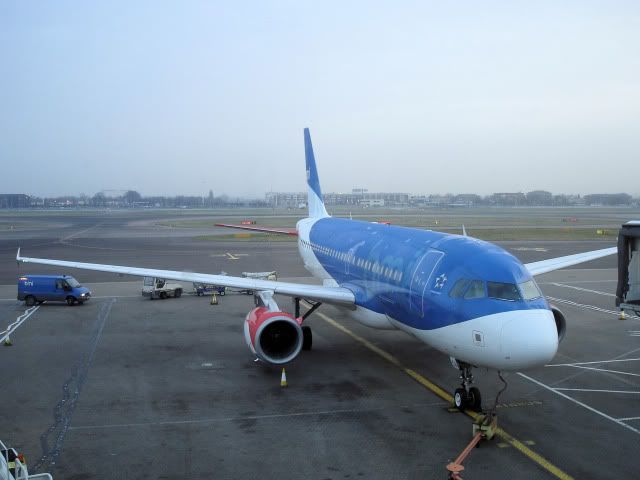 One flight attendant in the middle section didn't greet at all and looked quite grumpy when I passed. Probably I should have told her:
I'm so sorry that I picked the airline which pays your salary!"
The leather seats were quite comfortable...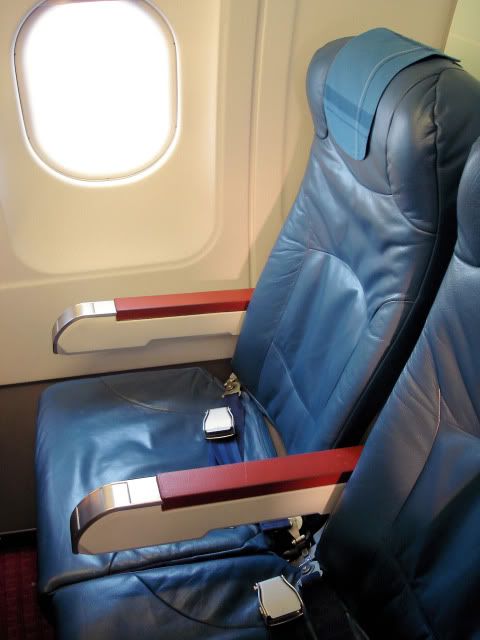 ..and seat pitch was sufficient, probably even slightly better than on BA's A319: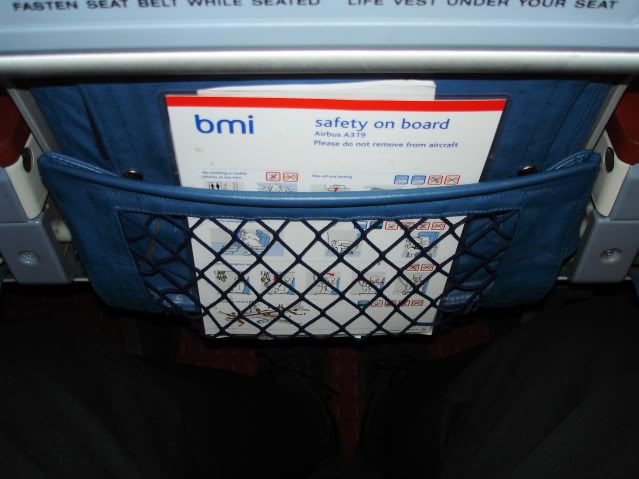 Lavatory Locked
The restrooms had been quite far away from our gate, so I decided to use the plane's rear lavatory during boarding. However, the door was locked. The flight attendant working the galley, another not-so-friendly one, told me that the lavatories would remain locked during refueling. A few moments later an announcement by the captain followed: passengers should not fasten the seatbelts until refueling would be finished. I had never heard that on a plane before.
No Photos!
While waiting back there I tried to take some more seat pictures. However, a man in a dark suit, standing in the aisle, too, and facing the second last row on the left side, immediately said:
"No photos!"
In the first moment I thought he would also be a flight attendant and I asked whether I should stop taking pictures due to the refueling.
"No, just not into this direction",
he replied. Now I realized the guy didn't belong to the flight crew. I had a look at the two other passengers in that very row - a big guy, also wearing a suit, was sitting in the window seat, next to a relatively young and small guy in the middle. The last row behind them remained empty, as well as the last row on the other side. However, these seats hadn't been available during check-in. I can only guess - probably these two guys in suits were cops accompanying a criminal?  
Sandwiches Not Available
Even though I had had a small breakfast at the airport, I wanted to try what bmi had to offer. Shortly after takeoff I had a look at the menu...
...and decided to order a breakfast panini for 5 Euro (GBP 3,50). All those who are interested can have a look at all the offerings here:
www.flybmi.com/downloads/bmi/mainline_menu.pdf
I ordered a panini, but the (once) grumpy flight attendant explained that those weren't available any more. So I asked for the sandwiches, but believe it or not, the flight attendants didn't have a single one left, either.  
I had been watching the flight attendants while they were moving down the aisle with their trolley and I can tell they really didn't sell much stuff. So it's very odd that no more breakfast items were available on a flight departing at 07:00 in the morning - quite ridiculous actually. My table remained empty...
Fog, Fog, Fog
While still at the gate in Heathrow the captain had already informed us about delays at Dublin due to heavy fog - and the situation hadn't changed meanwhile. The fog during approach became so dense that I couldn't even see the wingtip any more. No exact landing time was given by the flight crew, so it was hard to determine when we would touch down. After a while the plane suddenly touched the ground and it was still impossible to see anything outside, except for the wing and the grass next to the runway.
We left the runway and suddenly stopped for a while on the taxiway. The captain then announced that all the operations at the airport were being affected by the heavy fog.
"Everybody is moving very slowly"
, he said. We finally arrived at the gate no less than 17 minutes after landing.
Btw - what I also found interesting was an announcement earlier during the flight, promoting bmi's A330 services to Tel Aviv and Cairo as well as
"the famous Business Class"
.
Spotting at Dublin
I had to spend about seven hours at Dublin, but the conditions for spotting weren't good. First of all, it was hard to find a spot in the public area. There are some large windows in a bar, but you can't permanently stand around there with binoculars. I finally found a spot by a window in a passage between some restaurants and a restroom area. However, people were passing there all the time. The heavy fog was another problem - the situation didn't change significantly during the following hours. Anyway, I still got numerous new registrations.
Thursday, 19 March 2009
Dublin (DUB) - Munich (MUC)
Aer Lingus, EI356
15:30-18:55 (15:48-19:10)
Flying time: 02:02 (hrs)

Airbus A320-214
EI-EDS "St Malachy / Maolmhaodhóg" (MSN 3755), built in 12/2008 and delivered in 02/2009
Economy Class, Seat 28A
The Ultimate Self Check-in
I had hoped to be able to enter the gate area much sooner, but it was not possible to check in for the EI flight more than two hours before departure. After the check-in kiosk had finally accepted my data and printed a boarding pass I had to get rid of my luggage - and I was surprised about finding another set of machines, equipped with scales, for luggage-self-check-in.  
I put my luggage on the scale, entered my data and the machine printed my luggage tags. However, the process wasn't finished yet. While I was trying to add the tags to my bag, an impatient man waiting behind me touched the screen and somehow interrupted the process. Then I got an error message and the request to contact a ground staff member. What a joke!  
So I had to go to a counter - surprisingly staffed with human beings in Aer Lingus uniform - and explained the problem. At least they were friendly and immediately helped. But the whole "simplified" check-in process had taken much longer than a usual bag-drop check-in with assistance. What comes next, Aer Lingus? Self-loading of luggage into the aircraft's belly?  
I passed security and could finally proceed to the gate area. The weather was still bad, but at least I could take a seat by a large window front. I got more than 40 new registrations at DUB on that day, not bad at all.
Aircraft & Cabin Comfort
The aircraft arrived on time and I was glad to see it was
EI-EDS
, the newest A320 in the fleet at that time. It had been completed in December 2008, but neither Iberia, nor Comoro Islands Airlines nor AREF Logistics took delivery of the aircraft. Finally it was added to the Aer Lingus fleet in mid-February.
(The combination of dirty windows and (suddenly) bright sunlight prevented me from taking a reasonable picture)
Friendly flight attendants welcomed me on board and I took my seat in row 28. The gray slimline leather seats were less comfortable than on BA and BD...
...and seat pitch was low, too: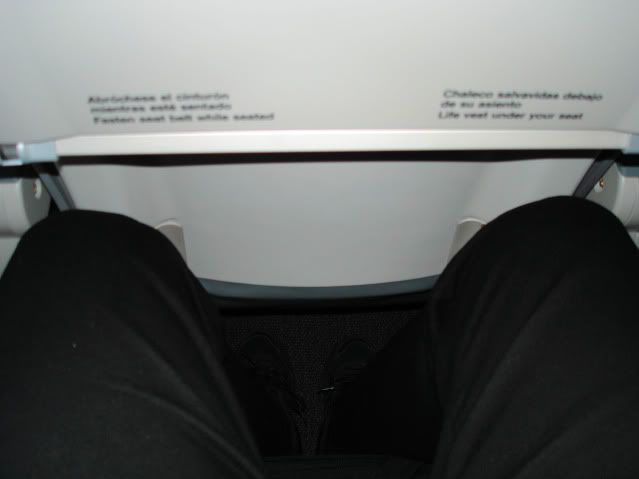 Departure
After every single seat in the cabin had been taken, we left the gate slightly late. One of Aer Lingus' A330-300s was being prepared for the late afternoon departure to JFK: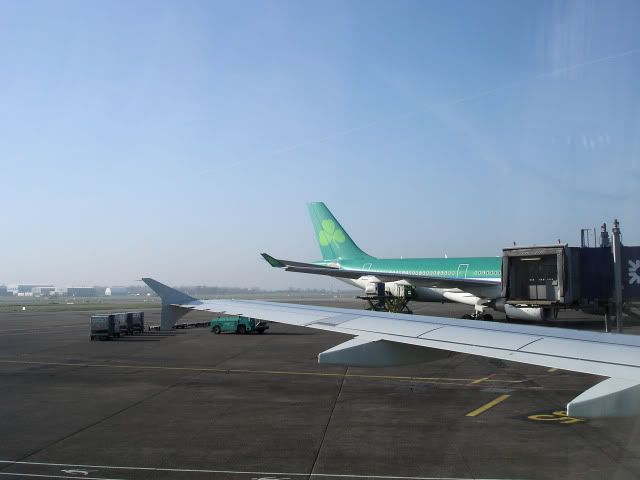 DUB's Terminal 2 will open in April 2010: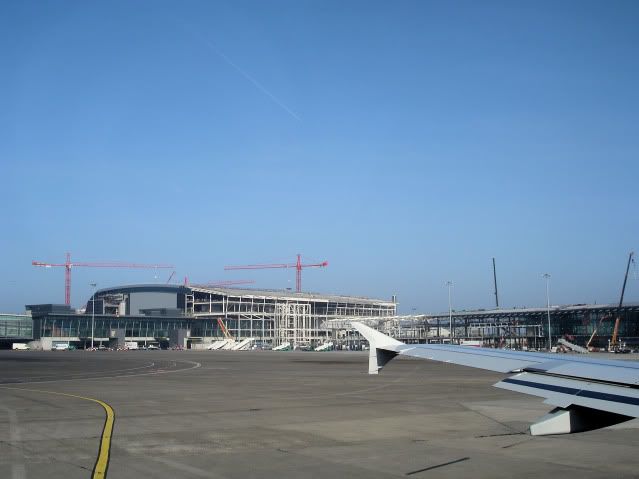 Cityjet's dull livery belongs to the worst in the industry...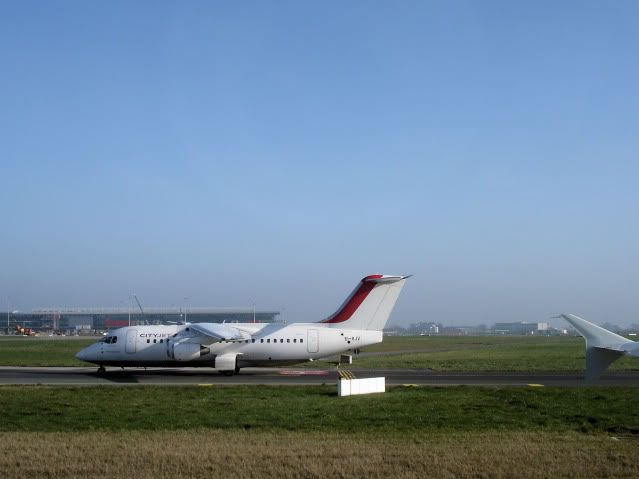 One last turn...
...and takeoff: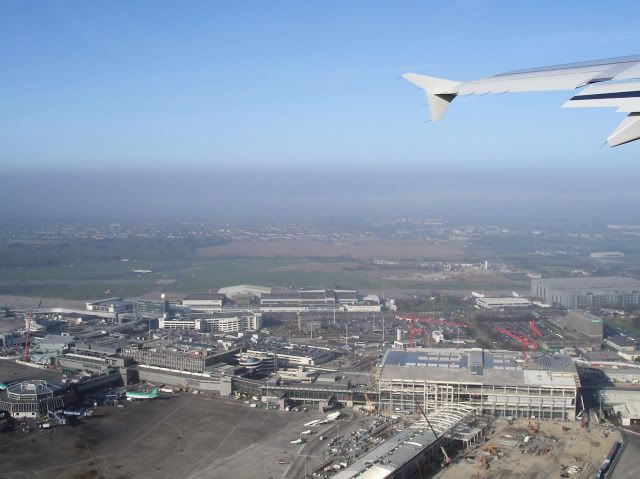 Hole in the clouds:
Snack Check, Volume II
After the disappointment on bmi I tried my luck again with the on-board sale of food. I had a look at EI's menu...
...and decided to order a ham and mozzarella panini for 5 Euro
(online version of menu not available)
. This time the flight attendant accepted my order and soon handed out the panini - and yes, it tasted quite good, definitely better than it looked.  
After I had finished eating it was time for a short walk. Packed cabin: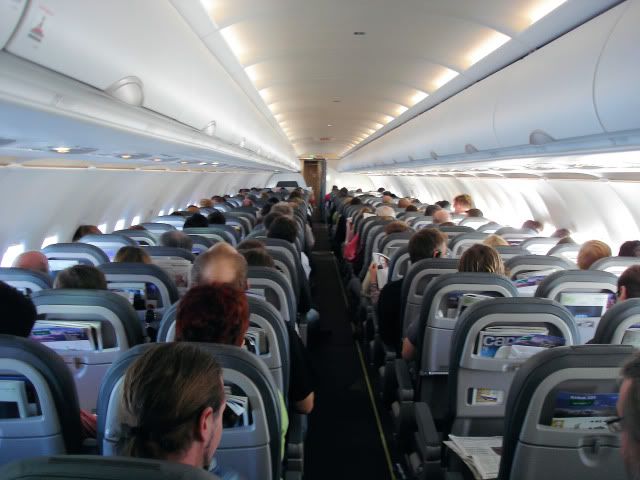 Beautiful light show during sunset: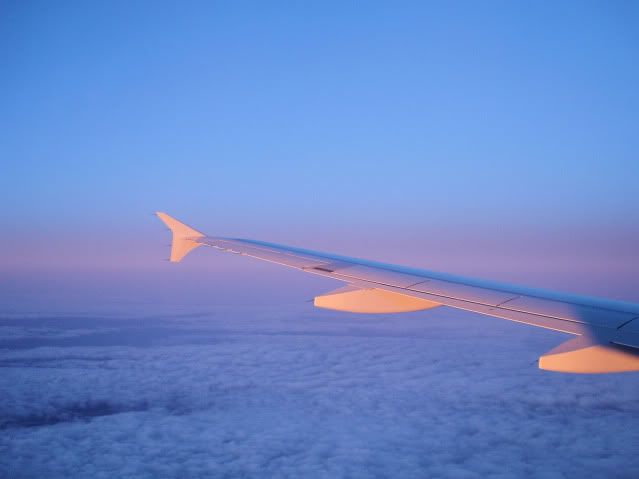 The remaining flight was uneventful and we touched down at 19:02, arriving at the gate eight minutes later. Time to go home after an exciting trip.
Conclusion
Of course my expectations had not been very high prior to these standard European short-haul flights, but in the end I was still disappointed. Seating comfort on British Airways and bmi was good, and I liked the video screens on BA. However, the catering and the service on BA used to be better than on Lufthansa a few years ago - times have changed. On similar LH flights you still get a sandwich - and whatever drink you choose (hot or cold), if there's enough time flight attendants usually ask whether you also want to get an additional (cold or hot) drink.
The flight attendants on BA weren't great, but still acceptable. However, I found the grumpy and unmotivated cabin crew on bmi annoying. It's also disappointing to see that another Star Alliance member has stopped offering free drinks on international services. And it's ridiculous that an airline which has switched to the on-board sale of drinks and food cannot even provide sandwiches on a morning flight.
Aer Lingus more or less operates as a full-scale low-cost carrier on European routes - cramped seating, drinks and food for sale only, "ultimate self-check-in" and annoying charges, e.g. for luggage and seat reservation. What I also found ridiculous was a kind of "handling fee" (5 Euro) which was added late during the booking process. At least the flight attendants were charming and motivated.
Which carrier would I choose again? Well, I will fly British Airways again, but I'm not keen on flying bmi and Aer Lingus again anytime soon.
Best Regards,
PlaneHunter
[Edited 2009-05-30 06:01:45]