Feedback always appreciated.
Trip Report: 072
Flight Category: J-ILR (See Report End)
Date: 13 Mar-09 (See Report End)
SDT/SAT/Dur/Delay: 2243/0625+2/14:42 hrs
Flight:
United Airlines UA 863
, 7417 miles
Routing: SFO-SYD
Aircraft: 744
Seat: Business (Upper Deck), 16A
I > Background:
A friend of mine was turning 30 and I thought it was the perfect time to pay a quick visit. Given the amount of UAL loyalists and UAL employees on A.Net, UA's J product has very few reviews and I could only find on NRSA report to Asia. I believe this is the first review of the new product on the 744 … could be very wrong though. And, I think it is the first UA coverage on SFO-SYD using the new product.
II > Pre-Flight:
a) Before Airport:
United Air Lines, Inc., is one of the major U.S. airlines and operates from hubs at ORD, IAD, DEN, SFO, and LAX. It is a founding member of Star Alliance and has a network spanning across the U.S., extensively into Far East/Oceania, with limited service to Europe, Latin America, and the Middle East. It has struggled to position itself since 2001 and I strongly believe that the lack of aircraft orders will come back to haunt this aging giant of the aviation industry. It is in the process of refurbishing its fleet of 763, 744, and soon the 772 to flat-beds on J and F as part of a major exercise.
United's website at
www.ual.com
is referred by many in the aviation community as the ".bomb" due to several technical glitches. I actually find the website pretty intuitive and easy to use. In a matter of minutes, I was able to book and pay tickets which arrived electronically in less than 5 minutes. I was able to book seats and request an upgrade, which surprisingly cleared immediately. I love UAL's higher Y buckets and I have plenty of SWU's to last a lifetime. Even more impressive is that UAL's site gives you access to modify your reservation and change seats as many times as one wish. Many brownie points .
b) At Airport:
San Francisco's international terminal is (in my opinion) the best terminal in the entire U.S. It is clean, modern, airy, and does not have nasty 1980s carpeting which seem to prevail through most other major U.S. gateways. Ok, the rental car counters are in a different planet, but I will overlook that. Anyways, UAL's premium desks were empty as the last bank of European departures had left (LHR, FRA), and SYD was the only flight remaining. The agent obviously knew this well and greeted me with a "Going to Sydney Mr. AM I presume?" She was genuinely happy to be doing her job, asked me if I was OK with the seat, and was able to change to UD at my request. Before letting me go, she reminded me of the location of the RCC and wished me a pleasant flight. Great positive start.
Quick security later, I was airside and went to the RCC and had the "matron" welcome me in with 2 drink vouchers. Like most lounges in the U.S., UAL's SFO RCC is nothing special and the quality of offerings is below average by any international standard. An assortment of cookies, some fresh fruits, a vegetable platter, a fancy coffee machine, and some juices was all that was on offer. The bar was well-stocked but you had to pay beyond the first two drinks. At the time I went in, most passengers were waiting for the LH and NZ flights.
Surprisingly, boarding call was announced for the Sydney flight 45 minutes prior and I made my way to an extremely efficient boarding process. One interesting thing was the sheer amount of people who had to have their "DOCS OK" check done by the agent at the gate. Shouldn't this be done at check-in?
Boarding was quick and efficient and I was welcomed on-board by a very senior all-female UAL crew. As I made my way upstairs, I still felt like a kid being all excited. There is something really magical about climbing the stairs to a 744 Upper Deck … even after all these years and flying, there just is something magical. Don't you people agree?
Anyways, as soon as I climbed up, I was greeted by the 2 crew members – a woman and a man who came by to take my jacket, offer me a welcome drink (by name), give me Australian immigration forms, and the "Expedited Arrivals" card. They were in good spirits and their welcome was genuine. J load was around 85%.
Airport - External:
(San Francisco's International Terminal)
Check-in:
(Empty Premium Check-in)
Airport - Internal:
(Internal)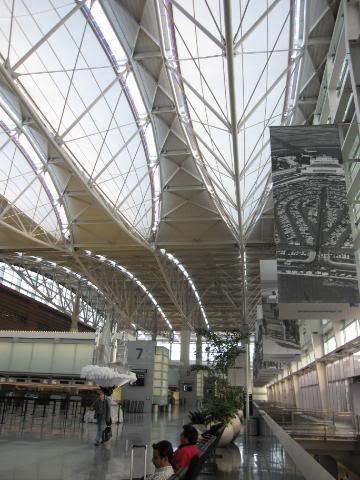 (FIDS @ Lounge)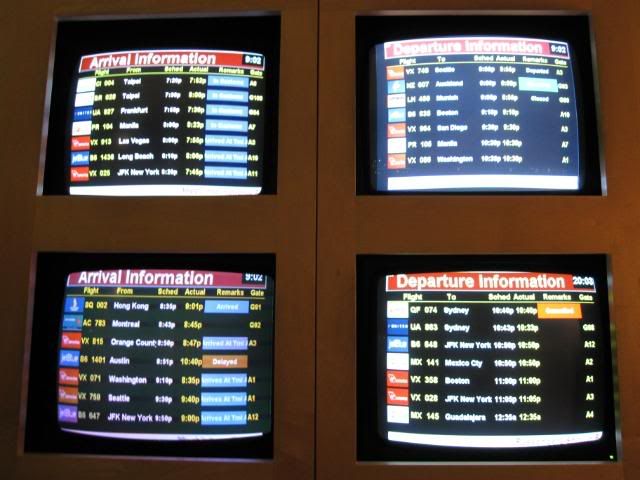 (Post Security)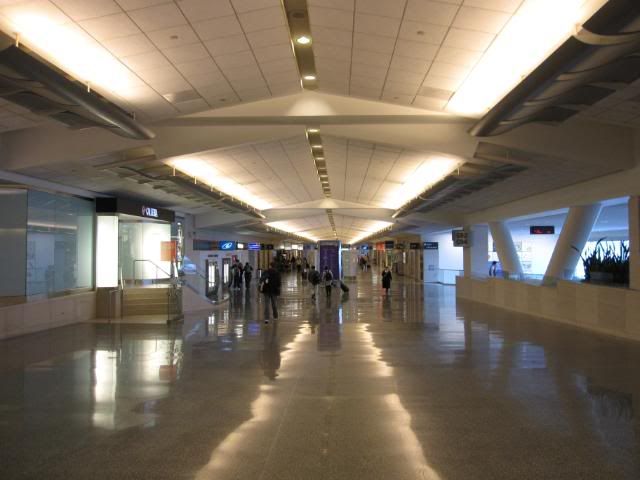 Scenes of the tarmac:
(Points given to who can correctly identify where this picture was taken from)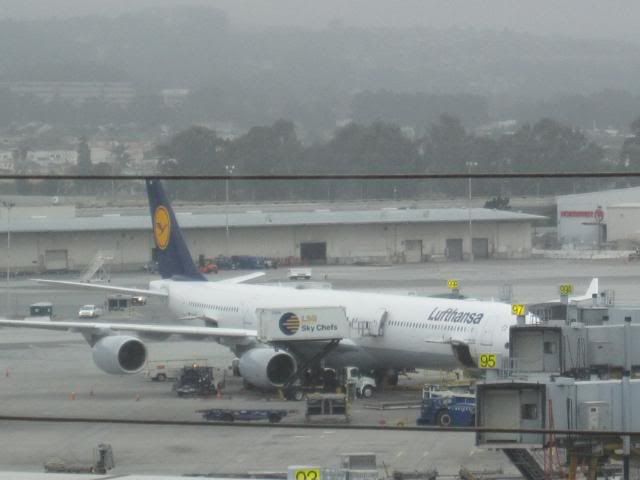 Lounge
(People pay for this? Lounge or cubicle offices )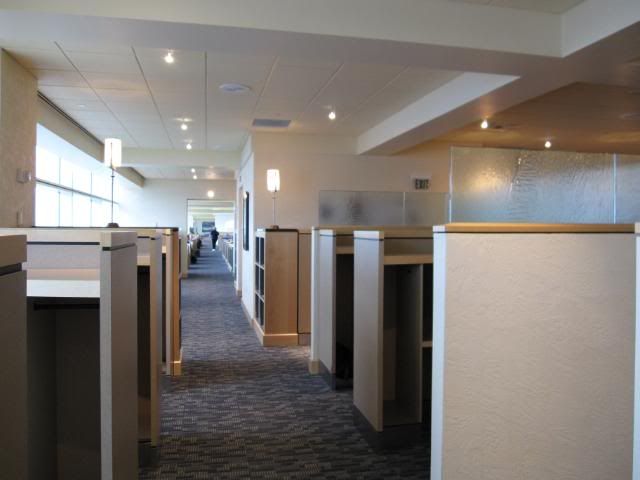 (Random food options)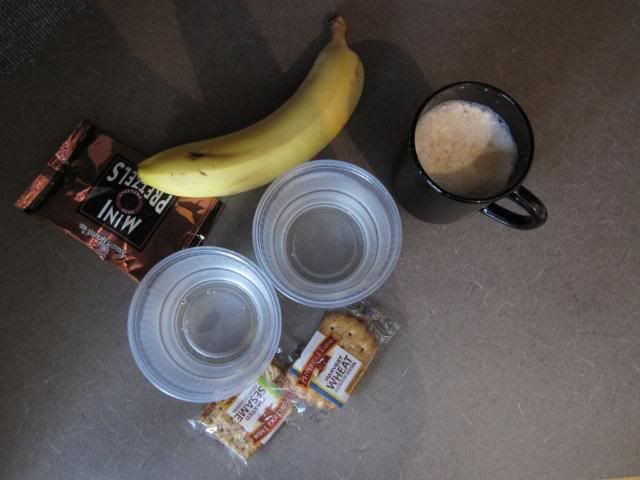 Boarding:
(Gate area)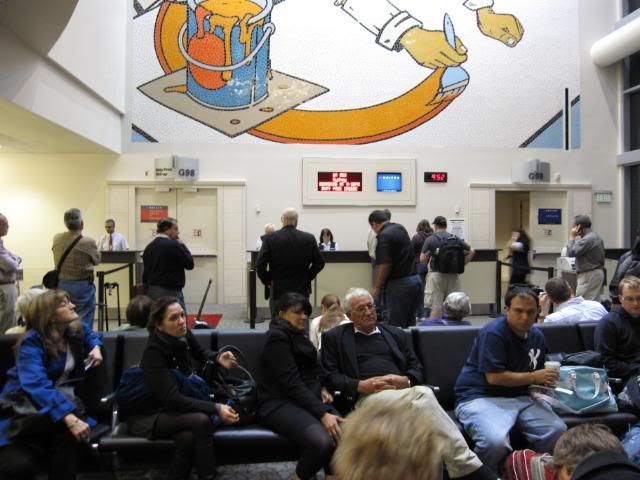 III> In-Flight:
a) Service Schedule + Impressions:
Prior to take-off, hot towels, drinks service, menus and order taking. Amenity kits on seats upon arrival. Immediately post take-off, customary warm nuts with beverage run, followed by dinner. Throughout the flight, snacks available either at snack counter or via crew for something more substantial. Breakfast 60 minutes prior to arrival.
b) Aircraft + Seats:
United's 744's have come a long way indeed. The new J seats are absolutely fantastic. While the cabin does show its age, no one can fault the new seat. Yes, there is absolutely very little storage around the seat (and this is why you get an Upper Deck window seat), everything else about it is perfect. There is ample legroom during seated position, the distance to the TV monitor is just right, it is comfortable to eat and work from, and MOST importantly, it is a true flat bed. Not only that, I have had my share of flying, and I can say that United's J bed is actually one of the better products out there and I am surprised not much has been about it. What is the most amazing part is that in flat position, it is remarkably flat. There is only one major "fold" (or, "break") ensuring that you get a seat without too many crazy angles. Truly, a joy to sleep in. And, sleep I did … I think a full 7 hours! Of course it is not perfect … and one must have to really cross the person in aisle seat to go out. Also, storage in the upper deck bins is significantly less than in the lower deck. Some of this is allayed if you get the additional bins in the window seat of any 744 upper deck. Finally, the bathrooms were remarkably clean and I did like the products being offered.
Aircraft:
(Still beautiful after all these years)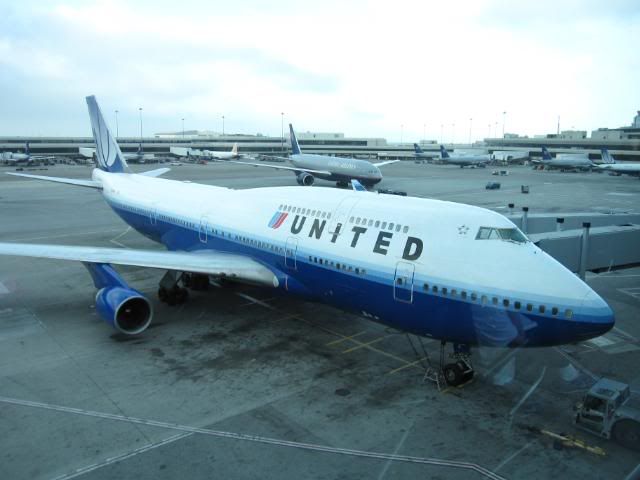 Views from Aircraft:
(SFO)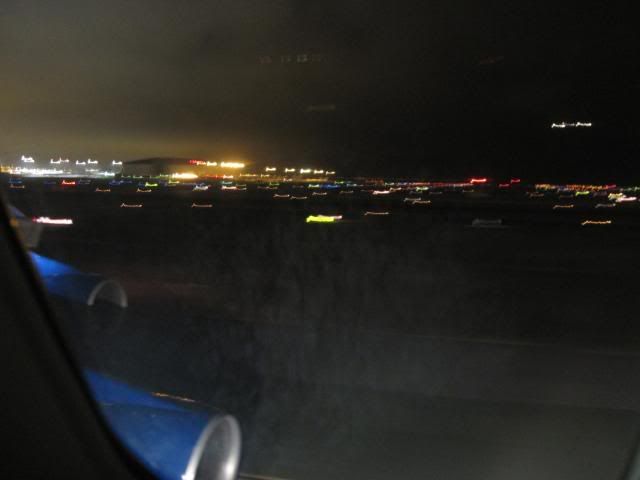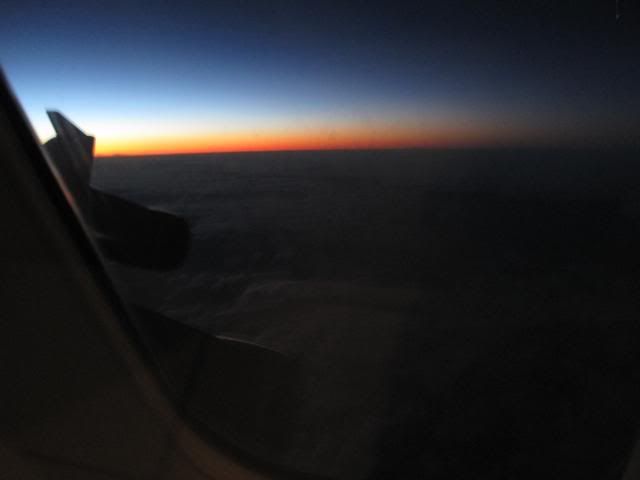 General Seat Views + Seat Legroom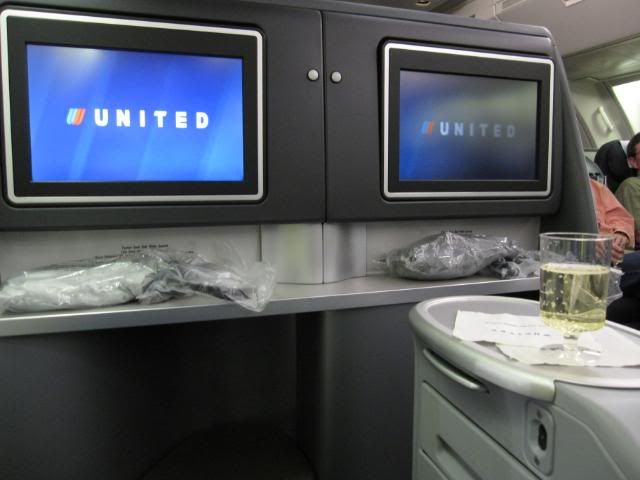 (Definitely more leg-room in the lower deck)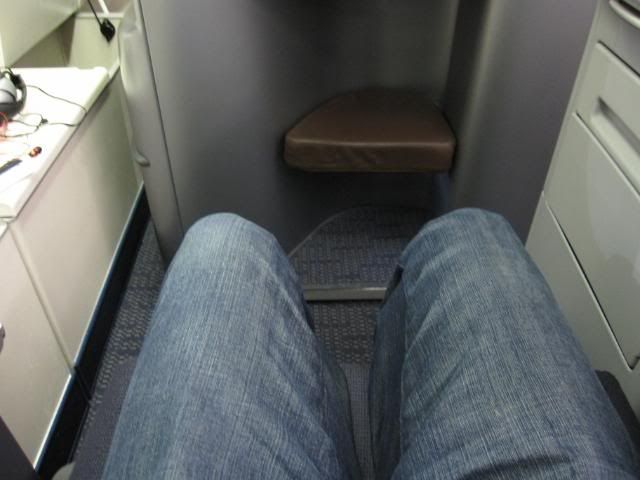 Seat Recline + Angle View:
(A very comfortable flat bed)
(Angle view)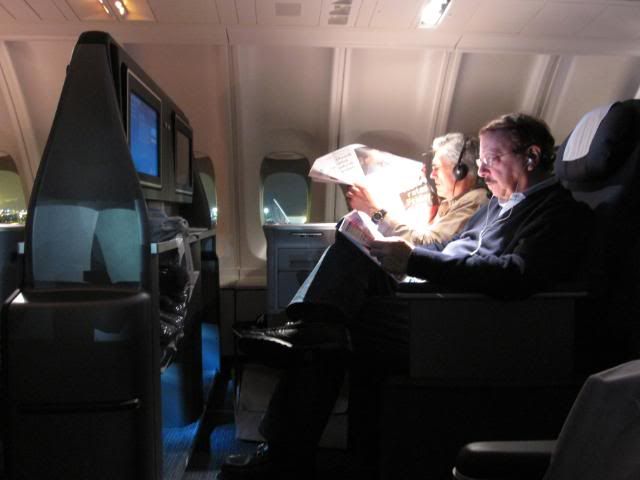 Cabin:
(Stairway to heaven…)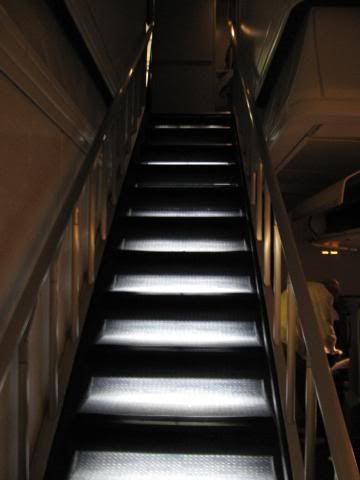 (Cozy upper deck)
(Storage)
c) Meal + Beverage:
United's J class food offerings were industry average for Business class. They were good … yet, nothing that would be winning any award any time soon. Dinner started with a rather excellent smoked salmon. For main course, I thought having just 3 options was rather poor. Moreover, my grilled mahi mahi was sub-par and I had to have it heated a second time for it to be edible. Dessert included a cheese selection or a chocolate truffle cheesecake. I chose the cheesecake and again, it was just average. Moreover, just having two choices is rather shoddy! Accompanying dinner was a rather generous beverage run … though the quality of wines was lackluster.
Mid-flight, one could go to the snack bar (which blocked the exit-doors) or order a sandwich. The cucumber and provolone one that I had was rather nice … and having it with tea hit just the right spot. Here again though, let me explain on why UA-J is just average. Fly any Asian or Mid-Eastern carrier's J class, and you'll get a selection of tea. Nothing of that sort on UAL. C'est la vie.
Prior to arrival, one could have a fresh fruit plate or cheddar cheese omelets. I chose the later and it was actually rather good. However, I still have to lament on the lack of choice. This is J class of a major flagship route … should there not be more options? If Sri Lankan airlines can provide me with 5 choices in Economy on a DXB-CMB run, why can't UAL J on a near 15 hour flight?
(Menu)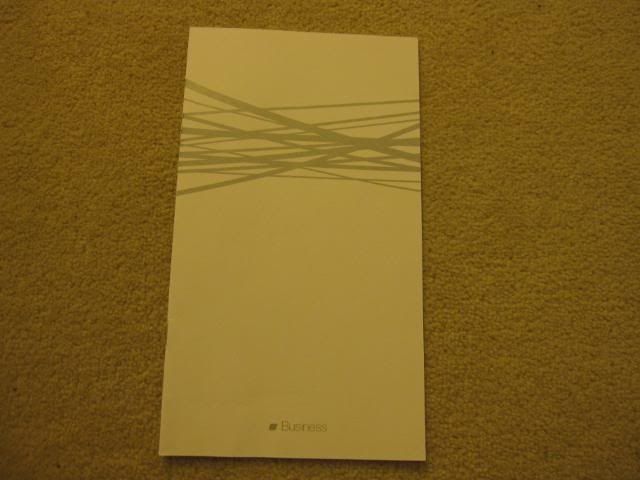 (Beverage Service – generous alcohol)
(Dinner)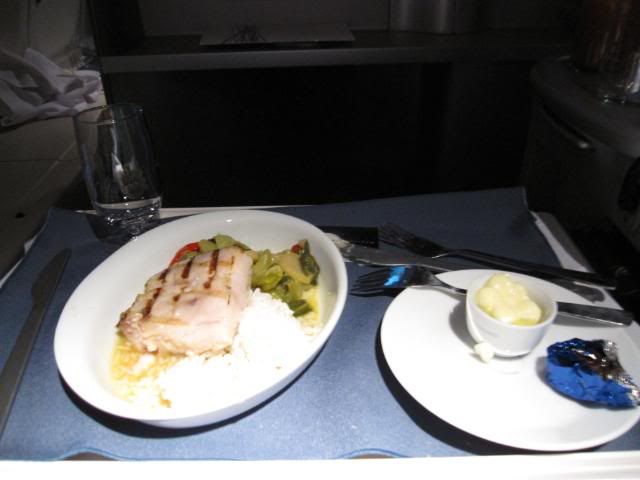 (Mid-flight snack)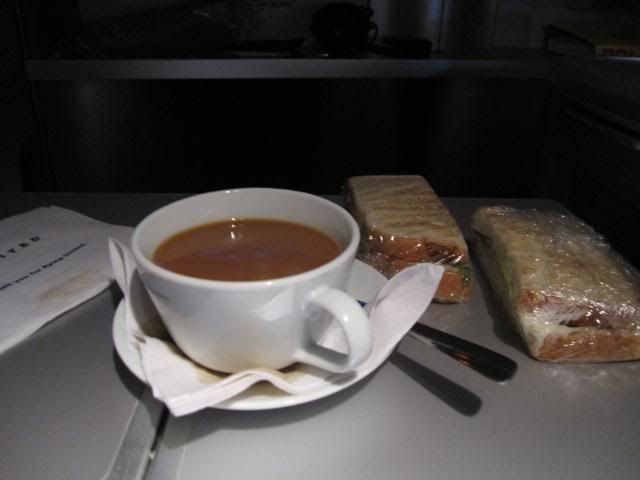 (Snack counter – blocks exits)
(Pre-arrival breakfast)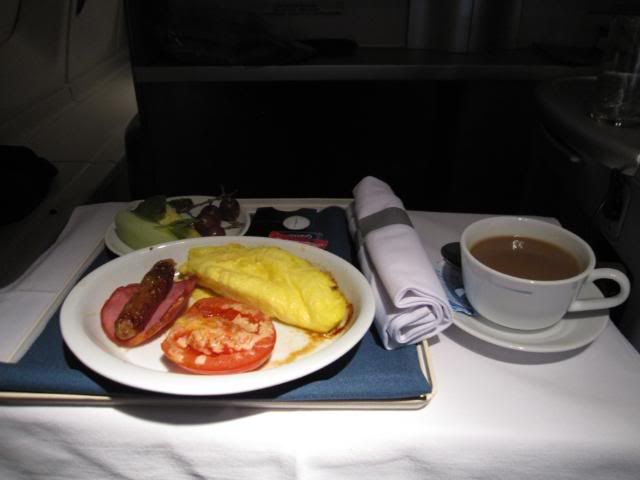 d) Inflight Entertainment:
United's new inflight entertainment system has come a long way. The screens are big and the quality of the video is very good. However, the headphones need to be improved and it seemed like a lot of my fellow passengers were having system issues that involved several re-sets. One thing … while a vast improvement, I thought the AVOD movie offerings were rather limited. And, having flown their J product several times over the last few months, it seems like their movies rarely get updated. Outside movies, I did like their TV offerings, and their music collection was solid with good intuitive ways to build your own playlist.
(AVOD IFE)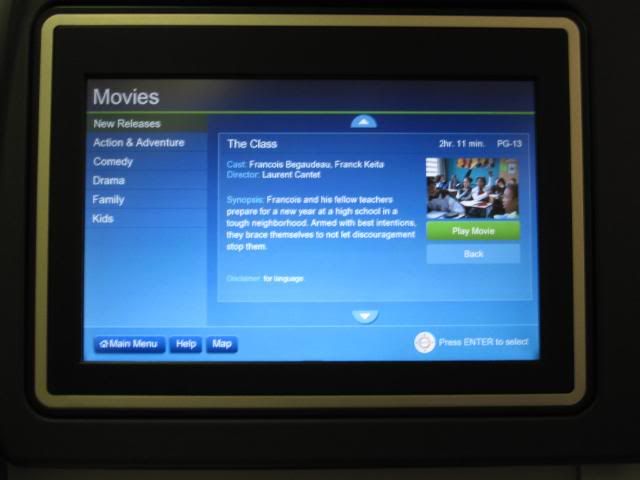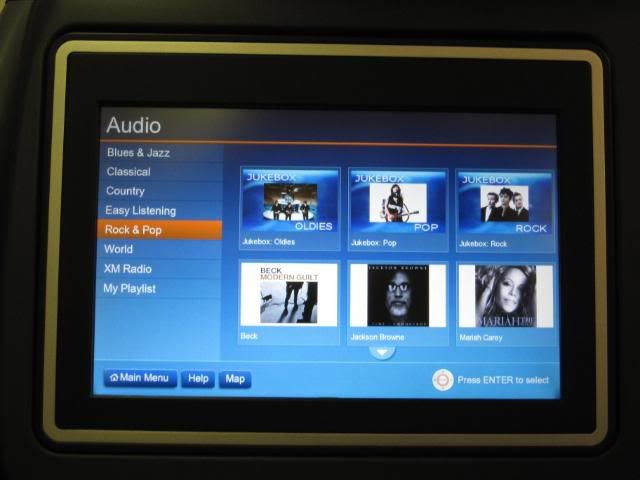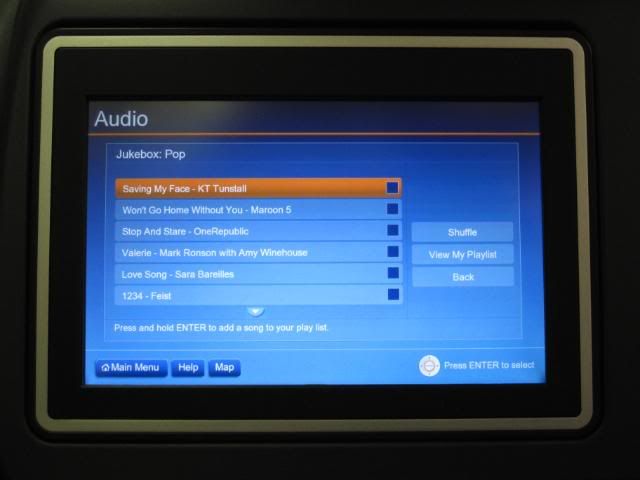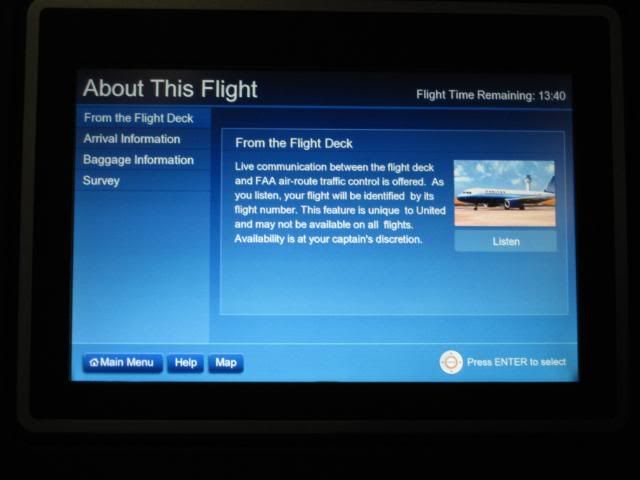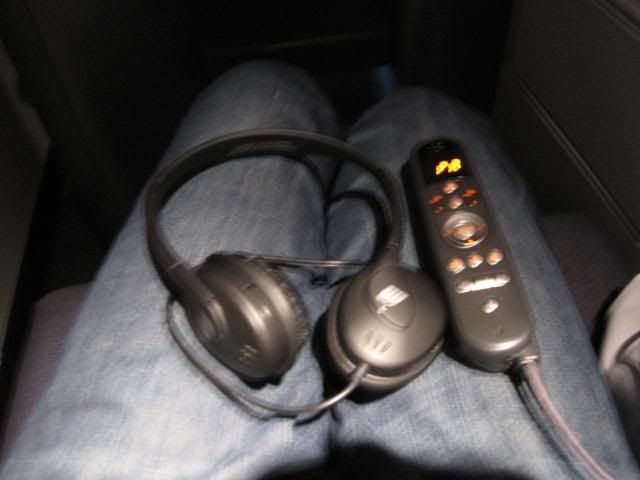 ("In-flight magazines" – incorrect month, Boarding Passes, etc.)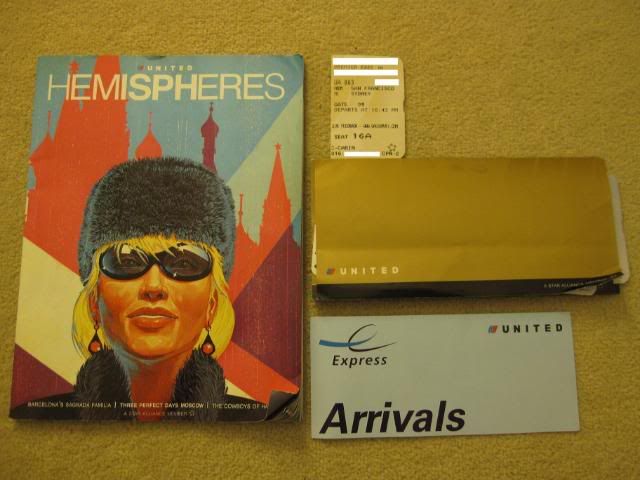 e) Crew:
This is where United really shone. In the upper deck, I was looked after well by two FA's … a male and a female. Both were excellent. They did all the "routine" things with smile and perfection – including genuine warmth during boarding, meals orders, meal deliveries, water refills (my glass was NEVER empty), beverage runs, etc. I was amazed at how quickly they responded to the FA call button. Impressive and completely unexpected … especially given that I had met some seriously surly "younger" LHR based attendants this year who had made me question why I gave so much of my money to the airline.
A final note must be reserved for a wonderful lady called CisXX … if she/her admirers/management are reading this, they know who she is. CisXX joined UAL after being ex-Panama and she embodied everything a great flight attendant must be. Throughout the entire period, she would only refer to me by first name. During the initial beverage run, she insisted on giving 2 bottles of alcohol (something I have never seen outside Air India). She would literally check on me every 15-20 minutes to see if I needed a refill or ask me if I needed anything. One noticing that I had gone through my first bottle, she asked if I wanted to have some fresh bloody mary, or whether I needed some fresh ice, or whether after having my wine sit for a while during dinner if I wanted a chilled glass! When she was taking my meal order, she noted that I had "4 stars" so I should not worry about not getting my choice. However, if I was not satisfied, she would go and see if she could get something from F-cabin! WOW! Just like in TV-commercials, when I dozed off, I woke up to a blanket around me and an additional pillow to make sure I was comfortable. Finally, around 4 hours prior to arrival, she noticed that I was reading "Aviation Daily" and asked me if I worked in the industry. After pointing out that I work as a management consultant, she just blew me away with her knowledge. We talked about the industry, UAL revenue management, yields on trans-pacific flights, "spill" effects on introducing a second daily departure to Sydney, V Australia's strategy, UAL's product, UAL's vision, and finally her remarkable days as an FA at PAA and now at UAL. I seriously was blown away! I mean, she knew more about the industry than many middle and upper management executives at airlines. WOW! WOW! WOW! Prior to arrival, I thanked her profusely and wrote her a 1K appreciation card. Interestingly, I was flying back 2 days later, which was apparently the same turn-around for the UAL crew. I was seated in the lower-deck. She came by and said, "Alex, you were hiding from me ... I found you a spot in the upper deck. Let me know if you want to switch". How could I resist? One of the best individual FA's I have encountered in my life. And, who would have thought she would have been a United woman?! CisXX if you're reading this … keep on doing your job … it makes people like me keep on flying!
IV> Post-Flight:
Arrival at SYD was remarkably smooth. Having the "Arrivals Express" card meant being able to meet my friends outside in 15 minutes. One thing of note ... there is some serious profiling at SYD on who gets secondary customs screening ...
(Pulling next to SQ's 380 ... the 744 is such a classier aircraft IMHO)
(Sydney Arrivals)
V> Impressions + Scores:
United's new J class is definitely a vast improvement over its previous product. While not perfect (lack of storage, inability to move out easily, IFE AVOD issues), the seat is pretty darn good. In lie-flat position, it is one hell of a good J seat. When I first saw the product (and there are some posts of mine on A.Net), I thought it would be cramped. However, I have been positively impressed. Of course, there are many things that are still VERY average about United ... the meal options and quality, the beverage options and quality, the quantity and quality of movies in AVOD ... however, I would suck it up if all of UAL's employees can be even half of the crew I had on this flight. CisXX was exemplary. Even outside her, all others were just good. Genuine warmth and caring that were even present at check-in! A thoroughly enjoyable and surprising experience. Now only if UAL can make this happen throughout the bloody airline. An overall excellent product made my people who truly make it a friendly sky. I would recommend UAL strongly, give it a two-thumps up, and fly the product without hesitation.
1.0 > RESERVATION: 10.0
2.0 > CHECK-IN: 8.5
0.5 > LOUNGE: 5.0
0.5 > BOARDING: 8.5
2.0 > SEAT: 9.5
0.5 > AIRCRAFT OVERALL AMBIENCE: 8.0
1.0 > IFE: 6.5
2.0 > CREW: 10.0
2.0 > FOOD: 5.5
0.5 > BEVERAGES: 6.5
0.5 > A.KITS + OTHER FREEBIES: 6.5
0.5 > DISEMBARKATION: 9.0
1.0 > ON-TIME RECORD: 10.0
WEIGHTED OVERALL IMPRESSION (WOI): 8.23
(Pre-flight WOI of all reviews: 6.46)
* Weighted Overall Impression (WOI) aligns scores with what matters most. Weights are indicated alongside each category.
(Scores are based on comparison with other airlines in THAT class of service – No comparison of Y vs. F for example)
VI> Other Trip Reports:
PREMIUM:
8.64:
Turkish Airlines (59): JFK-IST: 11/2008
8.61:
Air Canada (49): YYZ-SCL: 06/2008
8.23: United Airlines (72): SFO-SYD: 03/2009
8.11:
Aeroflot (33): MOW-DEL: 09/2007
8.04:
Korean Air (40): NRT-ICN: 10/2007
8.02:
Delta Airlines (24): JFK-CDG: 08/2007
7.46:
LAN (55): YYZ-JFK: 09/2008
7.82:
Singapore Airlines (06): EWR-SIN: 09/2006
7.14:
Swiss (52): SCL-GRU: 06/2008
7.02:
Qatar (68): DOH-JFK: 01/2009
6.96:
Etihad (61): JFK-AUH: 12/2008
6.93:
Delta Airlines (18): SEA-JFK: 11/2006
6.84:
ConViasa (65): CCS-DAM: 01/2009
6.81:
Air Canada (17): ICN-YYZ: 10/2006
6.70:
KLM (32): EBB-AMS: 08/2007
6.36:
Privatair (60): MUC-BOS: 12/2008
6.25:
Korean Air (45): NAN-ICN: 10/2007
6.11:
TAP Portugal (53): GRU-OPO: 06/2008
5.75:
Singapore Airlines (16): CCU-SIN: 10/2006
5.64:
NorthWest (46): ICN-NRT-SEA: 10/2007
5.39:
LOT (54): WAW-JFK: 06/2008
5.07:
TACA (66): JFK-SAP: 01/2009
4.42:
Air France: CDG-JNB (25): 08/2007
ECONOMY: Long + Medium:
9.26:
Air India (48): JFK-DEL: 02/2008
7.38:
Avianca (01): BOG-LIM: 07/2006
7.07:
Sri Lankan (62): KWI-CMB: 12/2008
6.41:
American Airlines (58): LHR-BOS: 11/2008
6.26:
Jet Blue (21): CUN-JFK: 02/2007
6.06:
Air Canada (04): YYZ-YVR: 09/2006
5.89:
USA 3000 (19): PUJ-BDL: 01/2007
5.85:
Spanair (69): MAD-LPA: 02/2009
5.79:
Air New Zealand (42): RAR-NAN: 10/2007
5.46:
TAP Air Portugal (23): OSL-LIS: 05/2007
5.19:
Air Europa (70): LPA-MAD: 02/2009
5.16:
Iberia (71): MAD-BOS: 02/2009
ECONOMY: Short
8.56:
Paramount Airways (38): BLR-MAA: 09/2007
8.56:
Kingfisher (64): HYD-CCU: 12/2008
8.24:
Kingfisher (14): IXA-GAU: 10/2006
7.87:
Indian (34): BOM-MAA: 09/2007
7.72:
Alliance Air (13): CCU-IXA: 10/2006
7.57:
Indian Airlines (10): DEL-CCU: 09/2006
7.23:
West Jet (03): YYC-YVR: 09/2006
7.15:
JetLite (37): BOM-GOI: 09/2007
6.70:
Spice Jet (09): CCU-DEL: 09/2006
6.63:
Air Fiji (44): NAN-SUV: 10/2007
6.63:
Jazeera (67): DAM-KWI: 01/2009
6.58:
Air Tran (02): EWR-MDW: 08/2006
6.48:
Air India Express (63): CMB-MAA: 12/2008
6.44:
CO Micronesia (39): ROR-YAP: 10/2007
6.41:
Pacific Sun (43): NAN-SUV: 10/2007
6.37:
Skybus (47): SWF-CMH: 02/2008
6.33:
Kenya Airways (29): NBO-BJM: 08/2007
6.33:
Sky Europe (56): LTN-BTS: 10/2008
6.31:
Indigo (15): GAU-CCU: 10/2006
6.31:
easyJet (57): BUD-LTN: 11/2008
6.22:
Air Link Swazi (28): MTS-JNB: 08/2007
6.22:
Air India (36): HYD-BOM: 09/2007
6.13:
Adam Air (07): SIN-CGK: 09/2006
6.13:
Air Rarotonga (41): RAR-AIT: 10/2007
6.00:
Transairways (27): INH-MPM: 08/2007
5.95:
Air Canada (05): ALB-YYZ: 09/2006
5.85:
SAS Norge (22): OSL-AES: 05/2007
5.81:
LAM Mozambique (26): JNB-MPM: 08/2007
5.69:
Air Deccan (12): IXZ-CCU: 10/2006
5.67:
Rwanda Air Exp (30): KGL-NBO: 08/2007
5.07:
Go Air (35): MAA-HYD: 09/2007
5.00:
Sky Airline (51): IQQ-SCL: 06/2008
4.96:
Valuair (08): CGK-SIN: 09/2006
4.78:
Air Comet Chile (50): SCL-IQQ: 06/2008
4.74:
Fly 540 (31): MYD-LAU: 08/2007
4.33:
Viva Aerobus (20): ELP-MTY: 02/2007
4.11:
Air Sahara (11): CCU-BOM: 09/2006
(Note on Codes: Y – Economy, J – Business, F – First :: I/D – International/Domestic :: SR/MR/LR – Short/Medium/Long Haul)
(Note on Date: Dates are modified to be +/- 3 days from actual flight date to not reveal actual flight pattern)
VII> Other Pictures:
(Sydney at departure includes Air Austral's new interesting CDG-RUN-SYD flight)
(@ SFO)
(Amenity Kit … can someone explain when they give out which one … these 3 are from SYD, return, and IAD-DXB)
(Some pictures I took of Sydney you may like)